At the end of the last blog post I told you that we were due to receive four sets of visitors during September and October but, before any of them arrived, we took the opportunity of hiring a car for a tour of Lefkada and to facilitate some serious provisioning – i.e. cases of beer, boxes of wine and bottles of gin!
Having stocked up, the first place we visited was the "Fortress of Agia Mavra" which lies at the north entrance to the Lefkada canal. We were rather disappointed that having paid the full price we were told, on entering the main courtyard, that much of the fort was out of bounds due to renovations and that, for whatever reason, we were not allowed to take photographs inside the fortress. Ever determined to find some photographic memento we found this view out of one of the fortress small gates.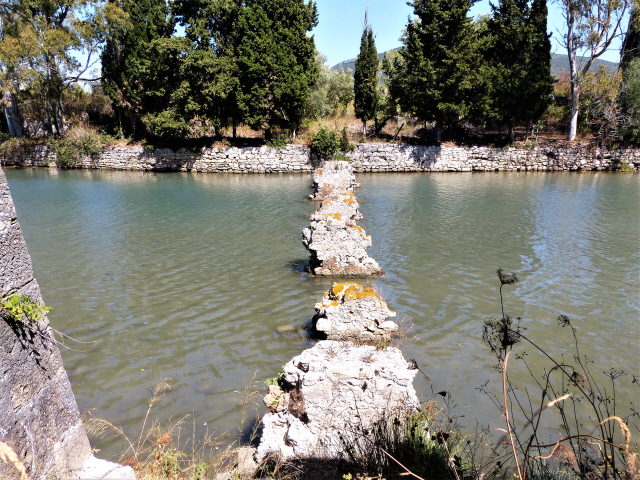 The staff who "greeted us" with this news were the most unfriendly we have met at any of the many archaeological and cultural sites we have visited. Maybe they were just having a bad day. Much better experiences were had at "Moni Faneromenis" where we were surprised to find a mini zoo…..
….. and at the popular small west coast resort of "Agios Nikitas".
Our full day excursion the following day started at the "Dimmosari waterfall of Nidri". As we had anticipated, there wasn't very much water – though the main fall at the end of the 15 minute shady and pleasant trail from the car park was still worth seeing….
…. and the huge boulders and gorge showed just how much the torrent must have flowed at some time.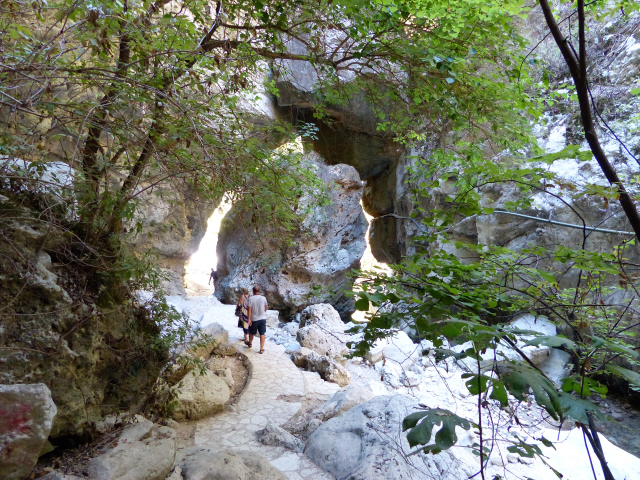 Coffee was taken in the small mountain village of "Karya"…..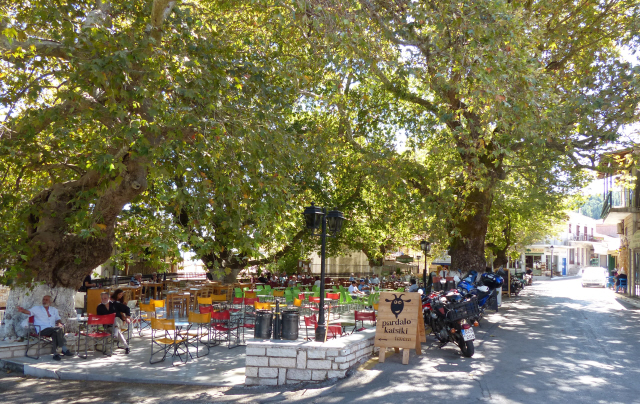 …..followed by lunch in the southern port of "Syvota"…….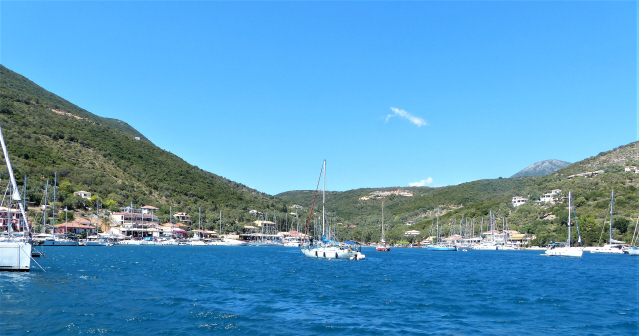 …..which, unlike hundreds of others, we haven't actually visited by boat.
Our first visitors….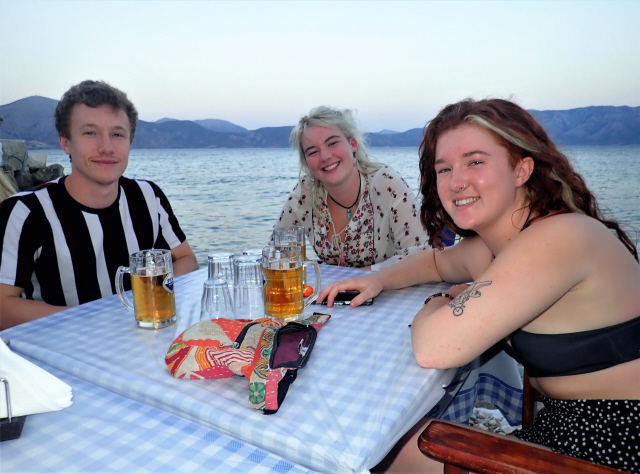 ……brought their own boat….
…. well, chartered it actually – but it was theirs for a week and they had a thoroughly enjoyable time.
One of the nights with them was spent on Kalamos….
….. an island we visited several times during the summer and, when  "Fly Free" took off for a couple of days to sail to Atako and Kefalonia, we revisited Kalamos windmill beach…..
… and the lovely beach bar…..
…..and also spent a night in Port Atheni on Meganisi – another beautiful anchorage….
….with the quiet village of Kato Meri above….
……..and another beach bar at Limenaria Bay a hot, dusty and hilly walk away..
Fortunately, John and crew's visit coincided with that of James and Polina, giving them, as well as us, a chance to catch up.
Although they opted for apartments in Ligia and in Preveza, rather than sleeping on "Owl and Pussycat" we were able to meet in the evenings between their quiet beach or pool days and our sailing.
But, unfortunately we had to cut short our time with James and Polina because a storm was brewing. We had been watching the weather forecasts closely as another "Medicane" threatened. Initially it was to cross the very south Ionian with the possibility of storm winds reaching Zakinthos and maybe southern Kefalonia. But whilst still a couple of days away, the storm tracked further north and the prediction changed to one of its eye crossing Lefkada or, as one model suggested, possibly even further north across Preveza and the Gulf of Amvrakia where we were.
We decided that discretion was the better part of valour and high tailed north. Having said a tearful goodbye to James and Polina mid-morning on 16th September we completed a 29 mile passage to Parga.
We reasoned that we could possibly stay there for the duration of the storms passing but, as often the case, there was a swell in the anchorage and we thought it was likely to get worse if there were strong winds to the south creating bigger waves. We were also aware that if the storm took its most northerly track, Parga was a bit too close to the eye for comfort. So, on 17th we moved a further 35 miles north to Gouvia on Corfu which, according to all forecasts was likely to get rain but little wind. And so it proved. There was absolutely no wind and only a bit of drizzle so we spent a comfortable day and had an early night as we knew we had a long day ahead on 19th as we needed to get all the way back to Preveza to meet Dave and Mags who were flying in that evening….. or so we thought!
We left Gouvia at 05.20….
… and anchored back in Preveza at 17.40 having completed the 64nm journey. The second half of the trip was into wind and pretty big waves which slowed us down and made for a bit of an uncomfortable few hours, but we were on schedule to meet as arranged. We therefore couldn't believe it when we received a message from Mags to say they were still in London as she had completed the PLF [Passenger Locator Form] incorrectly.
Fortunately they had been able to rebook to arrive the following afternoon so our mad dash back was not wasted.
We had a lovely nine days together……
…. and managed to take them to Meganisi where, from Porto Spilia we repeated a walk Mike and I had done previously to Little Vathy.
Whilst the weather had improved initially, on 23rd September it became rather unsettled and once again relatively strong winds were forecast – which meant a return to Vliho where we met up again with "Coriander" to celebrate Steve's birthday.
We had a fun evening out "entertained" by a thunderstorm which sent us scuttling to an inside table in the restaurant.
It had originally been our intention to take Dave and Mags to Ithaca and then drop them off on Kefalonia from where their return flight was leaving. As I said above, the weather was not really conducive for this and, probably more significantly, those two islands had been severely damaged by the Medicane. We were reading some dreadful reports of the destruction of roads and villages, harbours and boats. At Agia Efimia, where we had intended to drop them, five boats had sunk and three were aground. In addition electricity supply was intermittent and the roads nearby were just running with mud. I am not sure how many boats across the islands of Ithaca, Kefalonia and Zakinthos were affected in total but I heard of 44 sunk, 6 aground and 1 badly damaged. It was a worse storm than the one two years previously and might, unfortunately, be a sign of things to come in future years.
So, whilst Vliho may provide a secure anchorage it isn't really the best place to entertain guests. We also had to work out how to get Dave and Mags to Kefalonia and so we took a dinghy ride up to Nidri to have a couple of drinks and some lunch and see if the "Nidri Star" [the ferry between Nidri and Fiskardo] was operating. It seemed as though it would be sailing on the weekend – 26/27 Sept – so we decided to hire a car to show them around the area for the next couple of days. Mike went to enquire about cost…. and basically came back with a car. "But you haven't got your licence with you" I said. Seems as though the guy was so keen to get a sale that he didn't care. He had probably had a bad summer with few rentals and was glad of the money…. and the car wasn't exactly the most salubrious – but it did what we wanted so it was win/win.
We decided to do a day trip round the Gulf of Amvrakia and took them first to Vonitsa for coffee. Our next stop was Amfilokia which lies in the SE corner of the gulf and a place we hadn't been in the boat. We have avoided it because the anchorage doesn't read well in the guide. Now sometimes an anchorage is much better than Heikell describes [as with Mytikas which I wrote bout in the last blog] but this time he was absolutely right. The guide describes considerable chop with strong afternoon winds. Heaven knows what kind of chop that would be as there was more than sufficient with no wind!
Anyway we wandered around what is a rather ramshackle small town looking for lunch. The first place we stopped only did burgers which wasn't what we were looking for. The second looked the same but then the proprietress brought out a meze to go with the drinks and it was wonderful. Nothing like the menu and exactly the kind of thing we had wanted. Result.
Our next stop was the much prettier small town of Arta with its famous bridge.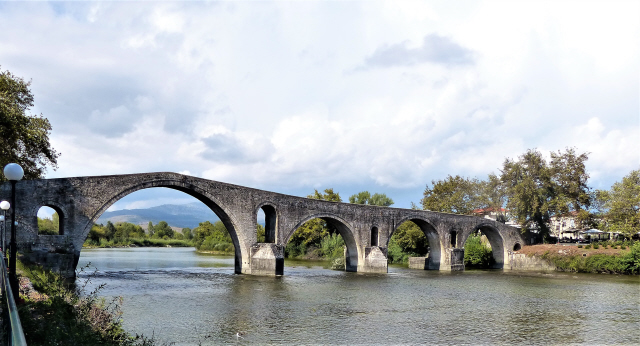 A landmark of the town, it was built in its present form at the beginning of C17. Following the liberation of Arta from the Ottoman Empire in 1881 and until the Balkan Wars [1912/13] the border between the then Kingdom of Greece and the Ottoman Empire was located on the highest arch of the bridge. Mike was surprised to read 1881 because we knew the War of Independence had started in 1821 and, although we were aware that it lasted some years, 1881 seemed like a very long time. So Mike researched it and found that Arta was in what was "Thessaly" and therefore just west of the border created provisionally after the Battle of Navarino – which ended the War of Independence in 1828 – and formalised by the "Treaty of Constantinople" in 1832.
Now on the north side of the gulf, I found a side road which skirted the shore. It started off as fairly wide and smooth but, as often the case, it deteriorated to a narrow bumpy track. Still, fortunately it came out in a small village and from there it was "normal" again and if we hadn't taken it we wouldn't have come across this.
It had, we think, just been run over by a guy on a motor scooter ahead of us. It wasn't moving but we weren't going to prod it to find out! The Greeks used to use snakes, particularly Vipers, as weapons. They tossed them onto enemy ships. You can imagine the chaos that could cause among the crew.
We also stopped to wander along the lagoon…..
…. and try to spot some flamingos. Success – though they were some distance away.
On the Saturday morning, as planned, Mike took Dave and Mag and their suitcases up to Nidri to catch the ferry. About an hour after he returned they called us to say that the ferry wasn't running and that they were going to get a room. That seemed rather unnecessary so Mike went and brought them back for another night on "O+P". It was fingers crossed the following day because we knew it was their last chance to get to Kefalonia without a long and probably uncomfortable passage with us to a harbour that might not be tenable due to the aforementioned destruction. Fortunately the ferry ran and all was well.
It was now nearly time for our fourth guests – Chris and John – who were due six days later, 135nm away. The weather wasn't good for leaving immediately and we knew that, if necessary, we could do the journey in one sail with an overnighter. However, our preference was for day sails and, luckily, the weather settled sufficiently to allow three separate sails of 30nm, 53nm and 52nmstopping at two anchorages we had been to before.
We arrived at Pylos at 2pm on 1st October….
…… ready to receive our guests on 3rd.
Chris and John flew in to Kalamata so it was another car hire to collect them and then, once back in Pylos, we all settled into the town square to celebrate their arrival.
Once again the weather was more suited to land based activities so we took them to see Voidkolia Beach….
…. and then to Marathopoli for lunch.
On our passages north and south we had sailed through the channel formed by Marathopoli on the east and the small island of Próti to the west. Fortunately the channel was flat calm both times – though there was a current running. We would not have liked to undertake such a passage on a day like this as the waves were really quite rough….
…… as John found out when he stood at the restaurant window for a breath of air and got drenched. Where was the camera – though I was laughing so much I couldn't have taken a photo anyway.
We had another two days lazing around Pylos. Chris and John went to the castle one day and we all went to "Chora" for lunch on the other. On our travels we also stopped to look at the Aquaduct just outside of Pylos Town.
It was then time to start making our way back to Kalamata, stopping at all the anchorages we had been to in June. But first, on leaving Pylos Chris wanted a closer look at the "Azure Window". Unfortunately it was cloudy when we left so we didn't really get the "azure" bit but we did see the window.
If only we had left 2 hours later it might have been a different sight altogether as this was the weather when we arrived in Methoni.
Being seasoned visitors, Chris and John happily – I think! – took the dinghy to shore…
…. to visit Methoni castle and another pleasant couple of days were spent at this quiet village.
We stopped for one night in Finakounda….
…… and then a further two in Koroni where we went ashore on the first night to our favourite Gyros restaurant….
…. and then had a beach BBQ on the second.
We arrived back in Kalamata on 12th October, spent a day settling in and another day showing them the highlights of Kalamata Town before hiring a car once more to tour some of our favourite places in the vicinity.
On our trip down the west Mani we visited three coastal villages/resorts.
Our favourite was definitely Agios Nikolaos which we all thought would be a lovely place for a relaxing break.

We also took them to the Ancient site of Messinia.
Even having been previously, Mike and I still found things we hadn't seen ….
….. or at least viewed them from a different angle.
There had also been further excavations in the eighteen months since our first visit….
….and new signs to show the site layout…..
….and having walked round it all there is definitely need for a comfy seat. Did I say comfy!
So, sadly, that brought us to the end of their holiday and the end of our sailing season for 2020 but we can look back on those last six weeks with happiness as we reflect on all the fun times we had with the lovely friends and family who came to visit.