This might break my blog record for the shortest post!
Between 30th June and 5th July we sailed the middle islands of the southern Kyklades, these being Folegandros, Síkinos and Ios. It was quite the whistle-stop tour but, because I want to dedicate a separate post to "Tis Mikrés Kyklades" [The Small Cyclades], I need to fill you in on the bit in between.
On 30th June, we sailed 20 nm SW from Mílos to arrive in the small port town of Karavostásis on the island of Folegandros.
We have visited this port once before when, on a charter holiday with friends Pete and Lesley, we entered in a rather less dignified manner as Pete had managed to wrap a fishing line around the prop which made docking a bit trickier than usual!
Anyway, this time we didn't even try to dock on the wall as most of it was "reserved" for, as we found out later, medium sized motor yachts. Instead we finally found sand sufficiently far from the harbour wall and settled in for 3 nights. For any yachties reading this who are considering going to Karavostásis [and haven't been before] then hopefully the map below, courtesy of Google, will help you.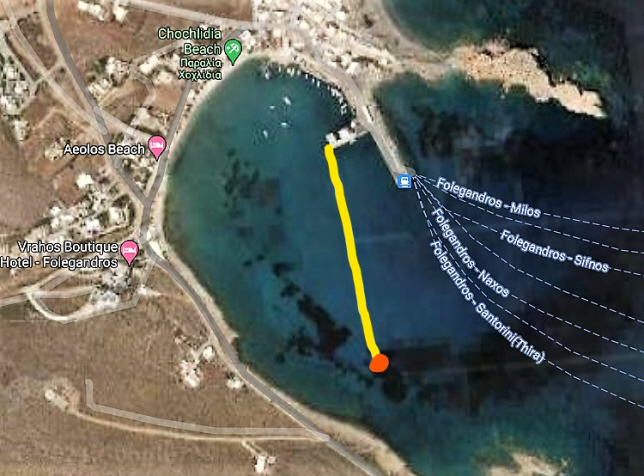 The orange blob is the approximate site of a buoy with a no anchoring sign on it. The expectation, therefore, is that you anchor to the left of the yellow line – which you have to try to imagine when you are there. Basically it runs from the inside end of the quay to the buoy. Woe betide if you anchor outside it – the port police lady there really likes her whistle!
However, the space is then limited further by the numerous rocks on the bottom. All of the grey/green colour nearer to the shore and most of the dark blue/black areas are not good holding. There are also a few more boats on permanent moorings than the four white dots on the photo.
All that said, there is – with care and consideration for others – room for about six or seven boats at anchor so don't be put off totally as the village and the Xora above are well worth the visit.
The Xora is purported by some [e.g. Lonely Planet] to be the best in the Kyklades. Whilst we didn't totally agree with this as we do like more rusticity and authenticity, there is no doubt that it is a very pretty Xora….
It is much bigger than you might expect and full to the brim with restaurants and, if you are craving some Craft Ale there is also a small beer shop, with tables, selling 330ml bottles for the princely sum of €6!
"Coriander" had joined us for nights two and three but the following day we parted company again as they wanted to go to south ?os in preparation for a sail to Santorini. Having been to Santorini we had no wish to return so headed 11nm east to Skála Síkinos.
What a lovely little place…..
….. but, unfortunately there was a lot of swell and the boat just rolled and rolled so, after a trip ashore for a photoshoot…
….. and a few provisions at the surprisingly well stocked mini market we were off again for 8 further miles to Ormos Milopótamou on Ios.
The bay is large with good sand holding throughout. It is lined with tourist shops, bar/restaurants and accommodation and it isn't somewhere we would normally stop. However, whilst there were speedboats with various water-sport attachments to thrill the beachgoers they were actually not that intrusive and our expectation of a broken night's sleep due to revellers and clubbers was not founded.
The following day, in need of provisions, we headed ashore but were told that meat could only be found in the Xora. I had not particularly wanted to go there as it is "party city" and I was a little concerned about the proximity of lots of young unvaccinated people but up we went and, because it was daytime and all the tourists were on the beach, the Xora wasn't actually that crowded and we managed to purchase everything on our list and, at least, look at the oldest part of the Xora
So, that more or less concluded our stay on Ios, other than another pleasant night at anchor…..
….. and therefore also concludes this post.
Yes, definitely a record!