I am thinking that wherever you are in the world the past six months will have been strange and, often frustrating. That has certainly been the case for us here in Greece. The strange can definitely be laid at the door of Covid 19 [with all its variants], the frustrating comes partly from that and partly from the repercussions of Brexit thrown into the melting pot of Greek interpretation and bureaucracy.
This winter [2020/2021] we arrived back at the marina in mid- October and thought that life would take more or less its normal course as [published] figures for Covid in Greece were fairly low and static as they had been throughout the summer. So, my birthday was celebrated in the normal fashion….
…. but then, on 6th November, a strict lockdown was announced with only about 24 hours warning. It meant the immediate closure of all bars and restaurants and all shops except supermarkets, specialist food shops like butchers and bakers, food/drink take-aways and pharmacies. We reverted to the previous lockdown measure of a 9pm to 5am curfew and having to complete a form or send a text message to a given number for permission to leave "home" with a maximum of two hours allowed for whatever you wanted to do. Driving to somewhere different for exercise was not allowed and, a new measure was introduced – that of having to wear a mask everywhere except your own home. So going to the marina facilities, going for exercise around the country lanes or going shopping all involved wearing a mask for the whole time. Whilst this wasn't too bad in the winter months it has become an increasingly hot, sticky and itchy business wearing a mask in up to 30C temperatures.
Periodically from Christmas onwards an option of click and collect was available for purchases at non-food shops – all well and good if you know what you want and can phone up and order it in Greek. Our chandler, George, speaks English so that was no problem and Mike found that if he went and hovered outside tool shops along his favourite "Athens Street" he was normally served without having ordered before turning up.
We were delighted when shopping restrictions were lifted further in early May to facilitate proper shopping with limited numbers admitted at any one time and even more pleased that at the same time restaurants were able to open their appropriately spaced outdoor tables.
Strange and frustrating though remains the order of the day when, whilst having to wear a mask you walk past tables where people are allowed to sit next to each other without one.
A couple of weeks ago mask wearing also became non mandatory whilst swimming in the sea – though I don't think people ever wore masks whilst doing that – or whilst, as one paper reported, "sun baking on the beach". Strangely, we have taken to swimming….
……. and walking along the beach recently. I am sure that sun baking is possible whilst on the move!
We have now reached an even stranger and more frustrating time when, it would appear, tourists who have begun to arrive in not inconsiderable numbers are not being made aware of the regulations when they enter the country and increasing numbers of Greeks [particularly younger ones] are all wandering around maskless. It is so tempting to join them but, in the main, we continue to stick to the rules. I say "in the main" because whilst we continue to cover mouths and noses where other people are around, we do take them off when we are the only couple wandering the local lanes.
Just one more comment I want to make about mask wearing and then, I promise, I will move on. My observation is that the human race seems to have evolved somewhat in the past few months as it is clearly now possible to breathe through one's elbow!!!
Fortunately, keeping ourselves busy has not really been an issue. We have steadily worked our way through the normal over wintering maintenance on the boat…
….and also changed a few things around and fitted new bits. As always, anything which needs wiring means basically taking the boat to bits….
… and reaching into tight spaces.
An unscheduled job was to degunk the water heater. It had started making a strange buzzing noise which was caused by the build-up of calcium – like the furring up of a kettle.
My favourite upgrade to "Owl and Pussycat" this winter has been the replacement of the grotty sun damaged rubber dorade with shiny stainless ones.
Mike signed up for a one month on line music course and found it really helpful and enjoyable and therefore has now started a longer one.
Both his confidence and skill have improved – which rather makes sense as they go hand in hand – and on occasions I have joined in with his "homework" though not by playing a musical instrument I hasten to add.
I remain an avid Sudoku enthusiast and we both read a lot. Food and cooking also play their part in helping us to pass the time. We have made several themed meals for each other and, having finished watching Australian Masterchef [which I started watching last winter], I found both American and New Zealand Masterchefs. All very different in style – but the main reason for watching is to get new ideas and pick up hints and tips.
We are now the proud owners of a small digital food thermometer…..
…… which has improved our steak cookery and Mike also used it to improvise a very successful sous-vide chicken meal.
Another attempt at improvisation didn't go quite so well. We saw one chef remove the middles of slices of corn cob with a small pastry cutter and stuff them. We had some partly cooked cobs and thought that as we didn't have a small cutter, maybe a small hole saw and hammer would do the trick….. well – see for yourself!
Fortunately, when it came to me making Mikes birthday meal I was a little more successful with my Salmon 5 ways!
Like most of you no doubt find, not being able to socialise properly is very frustrating. Whilst two households could meet up outside for exercise, we were not allowed to get together indoors – which we interpreted as including the cockpit. However, the rules were relaxed for Christmas and New Year's Eves and Days……….
…….. and for the rest of the time we made the best of a difficult situation…..
…… managed to celebrate both Mike's and Gill's birthdays….
…… and the Greek Clean Monday rituals were observed.
Unfortunately the 200 Year Independence Celebrations planned across Greece were not permitted, so all that Kalamata had was this banner.
Greek Easter Sunday [2nd May] was the last day of the restaurant closures and a day when once more two households could meet up.
Since then we have happily started to go out again to the marina bar and to nearby restaurants so Mike and I were able to celebrate our 10th Wedding Anniversary in style.
Just to finish off the lockdown "entertainment", I have continued to enjoy taking photographs – particularly of wildlife – though it is getting increasingly difficult to find new things to take pictures of – particularly when we weren't able to go anywhere. Still, here are a few things I found….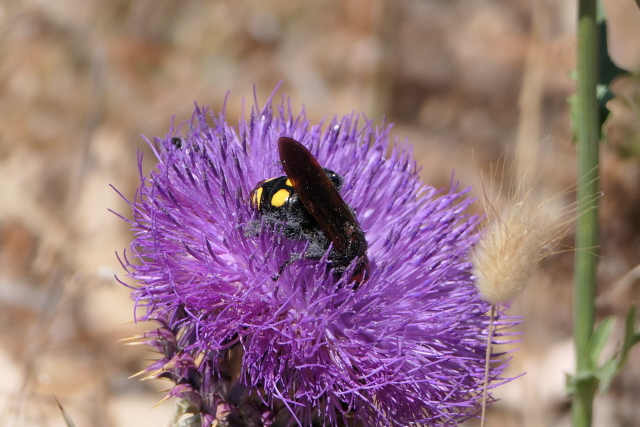 ….and last but not least these "damnable" beasties….
Walking up to town on Mike's birthday we realised we had forgotten our permission papers so, whilst Mike went back to the boat for them, I initially sat on a bench under the trees. I then decided to wander and take some photos. What I hadn't realised is there were a couple of the caterpillars on the underside of the seat and one made its way up my t-shirt. I didn't think anything of it until the following day when I woke up with an itchy burning back. Fortunately I then saw the caterpillar still stuck to the inside of my t-shirt so knew what had caused it but it took two days of hydrocortisone cream and some anti-histamine tablets to clear it!
At the start of this post I mentioned some Brexit repercussions and Greek ways of doing things. I am sure that there are several of these which have affected other people and/or which are yet to emerge, but the main thing which has been trying our [particularly my] patience and causing concern was the Greek interpretation of the Withdrawal Agreement [WA] with regard to the VAT status of UK flagged boats. To cut a long story short, over a period of 6 months [and counting] the Cruising Association [CA] has been challenging the original Greek Customs [AADE] position which was totally contrary to the WA with them stating that all UK flagged yachts, including those in the EU27 on 31.12.20 were to be considered non-VAT paid and therefore subject to the same rules as other 3rd country flagged boats [e.g from US, Canada, New Zealand etc.].
A couple of months later they conceded that boats already in the EU should be treated differently to those in the UK on that date [as per WA] but then decided that boats who had paid VAT in the EU 27 were OK, but not those who had paid VAT in the UK [i.e.the pre Brexit EU28].
Now, "Owl and Pussycat" was VAT paid by her first owners in Italy. So once there was agreement regarding the geographical position of the boat on Brexit Day we thought we were fine. Well, we are/would be except that the Customs guy here in Kalamata deems that the only proof one can have of VAT being paid is to have a stamped certificate from the relevant countries Customs. This is what they have in Greece. It is not what they do in Italy [or France – "Coriander" is French VAT paid]. As far as I am aware it is not what happens in any other European country so regardless of any Invoice and regardless of having an Italian Ministry of Finance stamped and approved copy of the Bill of Sale stating that VAT was paid there, the Kalamata Customs man doesn't accept it. Mike has spoken with other Italian boat owners, an Italian broker and an Italian solicitor, all of whom confirm that we have exactly what we should have to prove VAT paid status. Ah well…..
We now understand that the Greek Customs have finally accepted that all UK flagged boats which were in EU27 waters on Brexit Day and had paid VAT in the original EU28 prior to Brexit day and remain in EU waters are, in fact, to be considered VAT paid and customs formalities are not required. So, we are advised to steer clear of customs and just sail.
Unfortunately the directives from the Head Office of AADE seem to have been sent to only a few of the main Customs offices and not at all to the Port Police/Coastguard who regularly check boat papers. So, more work is being done in the background and, in the meantime we will try to keep our heads below the parapet and carry copies of the AADE directives which have been circulated by the CA to all members.
Another fallout from Brexit has been that all British people living in Greece have had to either establish temporary residence status and/or update it to the computerised system. In fact, the only issue for us really was the time it would take to do the latter because we obtained "Beige Residence cards" over 18 months ago, and just had to produce the same documents as then with added Health Insurance cover. So, without too much hassle we have been able to exchange these for the new Biometric cards which are now required. The original deadline for doing this was 30 June but it has had to be extended as appointments to do this in those places with higher numbers of British people living there e.g. Corfu/Rhodes are running into November. Here in Kalamata we received an excellent service and by the middle of April were the proud owners of our Greek card.
I mentioned Health Insurance because, as you may or may not be aware, the EHIC card, whilst it continues to be valid for short term i.e. holiday maker use and for emergencies only, it is not valid for longer term residence.
With regard to health, we wondered how we might fare with Covid 19 vaccinations. Well, I can report that after a bit of a shaky start, there is now a system in place to allow none Greek Social Security number holders to access the vaccine and the certificate of vaccination. In fact, we get two certificates, one for Greek use and one which is accepted across the EU.
So, we have been very happy to have been able to get this. It hasn't been plain sailing and, if we hadn't managed to get the biometric cards as soon as we did it is likely our access to the vaccine could have been delayed but, for us it has gone well and we are now fit to go.
The vaccination centre in Kalamata is at the General Hospital which is a few kilometres out of town and, we were advised, approx. €10 by taxi each way. Given that between the four of us we had three different dates for our first vaccines we looked into the cost of car hire. For eight days [to cover the three different times] the cost, with additional driver was €110 and we decided that this was a reasonable deal because it also meant we could get out and about as the restriction on travel had been eased at the same time restaurants opened. When we hired the car there was a limit of driver, plus two – hence the extra driver to enable both Mike and Steve to drive.
We took it in turns to have the car for a day and as well as the trips to the hospital at the allotted times we also went sight-seeing.
Day 1 was spent visiting the nearby town of Messinia and a couple of adjacent beaches……
….one of which had a kind of small lagoon behind it.
Day 2 was a relatively short drive down the west coast of the Mani peninsular, stopping at Mikri Mantineira for coffee….
…. before heading further south to the small fishing village of Kitries for lunch.
On our day three we ventured further afield and up into the mountain region to the north of Kalamata. Our destination was the Open Air Power Museum near the village of Dimitsana. This museum highlighted the importance of water power, in traditional society, as the main source of energy for the production of a range of goods.
Dimitsana was one of the villages in the area that knew how crude saltpetre was collected and they turned it over to the then Turkish rulers in lieu of tax. During the Greek War of Independence the Dimitsana inhabitants were active in supplying the Greek Army with gunpowder.
Two days before the end of the car hire period rules were relaxed again and, if wearing masks, four people could travel together so, we all went out for lunch twice, firstly to our favourite taverna in the hills near Ancient Messinia….
…. and secondly to the village of Agias Andreas to the south and east of Kalamata.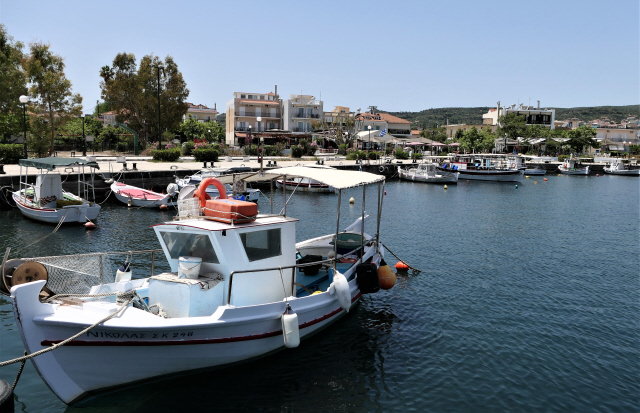 All in all it felt like a holiday.
For our second vaccinations we have just had the car for the two consecutive days of Steve and Gill's and then Mike's appointments and, other than the trips to the hospital have just done a bit of provisioning. My second appointment a week earlier fell on our wedding anniversary! It was at 16.30 so, instead of getting a taxi both ways we decided to walk the country lane way to the hospital which took just under two hours and was a very pleasant way to spend the afternoon.
So that's it. We are ready to sail and hope to set off tomorrow – Thursday 17th June.
BUT before I leave this post I have left best until last.
Amid all the strangeness and frustration of these past eight months we have had something to really celebrate. The birth of Claude Grant Hampson.
Unfortunately we haven't been able to visit Claude, James and Polina in Berlin as travel restrictions have prevented it. However, we hope to remedy this during the coming winter. Until then…. Watch this space for more travels on "Owl and Pussycat"