Most of the month of August was spent in the Northern Sporades where we had fun in the sun with family, friends and family of friends!
We left the Eastern Sporades on 5th August and made the 57 nautical mile crossing to the small island of Kyra Panagia – the island nearest to our departure point with an anchorage. Kyra Panagia lies to the north and east of the most well-known and popular tourist islands of Skíathos, Skópolos and Alonnisos and is within the National Marine Park of the Northern Sporades. It is, in fact, in Zone A of the park where overnight anchoring is prohibited everywhere except two bays on Kyra Panagía and, seemingly, on Skanzoura.
On the north side of the island is a magnificent, almost landlocked, bay – Ormos Planitís. Access is through a very narrow [82m] and shallow [6m] channel. "Owl and Pussycat" is just less than 5m wide so you would think that 82m should be a doddle but it certainly didn't look that way even though we had fairly light winds and no sea running. Heikell's Pilot Book warns that in strong north winds it is quite frightening going in and almost impossible to get out.
There are two forks to the bay. During our stay the more north easterly fork seemed the more popular but we were meeting up with Steve and Gill ["Coriander"] who were already anchored in the other fork. It was so calm once through the channel that I don't think it matters which fork you choose and we were more than happy to be in the quieter one.
The following day Mike and I decided to walk across the island and back….
……to view the other anchorage, Ormos Kira Panagia/Agios Petros which was really lovely to look at….
….and, as you can see, very popular even though the holding is reported, by Heikell, to be poor to mediocre. It is also an anchorage where long lines are used to restrict swinging so that more boats can moor. Long-lining isn't our favourite thing so we were happier in Ormos Planitís – though, as you read on, you will see that we got a bit more experienced at that type of mooring whilst in the Northern Sporades.
Other than visiting yachties, we read that the island is deserted except for a herd of cows and a big black bull of which there was no sign, some horses [ditto], several herds of goats which we did hear and see and a guardian, who we didn't. We think someone is around though, at least from time to time, because there seemed to be some form of penned area into which goats could be enticed by water troughs and via sloping ramps from the outside but then couldn't get out as no ramps were available to them on the inside. This might be for milking them or killing them – just conjecture on our part – with more of the same after we came across these.
Why four tortoise had died in one spot we have no idea and we didn't see any others, dead or alive, during our walk. There was nothing left of their insides but their legs were still there…..
On returning to the boat we immediately set of for our chosen anchorage for the evening – Ormos Xero on the small island of Peristeri. Reaching the anchorage before us, Steve and Gill reported that it was untenable due to swell. They looked at the other available anchorage on that island but it was full so we decided to head for Skantzoura.
I mentioned above that this is in Zone A of the park but it is not mentioned in the "exclusions" section as having available overnight anchorages. However, Heikell writes about three anchorages and, it was only when writing this blog that I spotted the anomaly between his section on exclusions and his description of available anchorages. We anchored at the south end of Ormos Prasso, along with two fishing boats and a number of other cruising yachts – so I don't think we were off limits. We spent two nights there and on the second night were treated to a BBQ courtesy of "Coriander" and an amazing sunset courtesy of Mother Nature.
Steve often says that he is going to dedicate a whole blog post to sunsets because there are so many wonderful ones. I know that many of my posts contain at least one – so I hope you don't get fed up of seeing them. We certainly don't.
"Owl and Pussycat" and "Coriander" then parted company again. Gill was keen to go west to "Mama Mia land" and Mike and I were equally keen to go east to take in the island of Skíros – the largest island of the Northern Sporades. We were even more pleased with our decision when we managed to get a great 5 hour sail before dropping the hook in the lovely anchorage – Agios Fokas.
We stayed twice at this anchorage, returning to it again on the evening before we left Skíros to facilitate an early start back to the main island group. You can see on the chart below that we anchored more or less in the same place both times.
We were lucky to have been able to do this. The area to the left inside the bolder green line is nearly all weed and we watched a boat drag in this area. The area within the less bold green line was also weedy and rocky. Thus there was very little available sand to anchor in but the patches that were there provided very good holding.
Other than Agios Fokas, the only other place we visited on the island was its main port – Linaria.
The Skíros Project/Linaria Port Authority is really quite progressive in its approach to visiting yachts. Staff are there to assist with berthing or mooring [they operate some excellent mooring balls as well as running the "marina"], have a small on site laundrette, provide information about the island and its positive environmental policies, and have a shower/toilet block with, if you care to join in, a one hour "disco music and bubbles" session at 7pm. The "bubbles" were the wrong sort for us – but visiting kids seemed to find it fun!
Although it was by far the most expensive berthing fee of the season, at €30 per night, we were happy to pay the price because we were there during a particularly windy spell. We had known this was coming and planned accordingly though, with hindsight, we would now be content to take the cheaper mooring balls which, in a northerly blow, were actually more protected than the wall. We completed their feedback form, which we felt was aimed more at charter boats than liveaboards, and made the observation that for our boat their fees were unnecessarily high as we do not require water or electricity. We took it because it was included in the price but at other harbours these services most often come as optional extras, with appropriate additional charges, making the actual berthing fee more reasonable. The price for "Owl and Pussycat" [14.8m] for one night at every other harbour which made a charge was €8 [excl water and electricity]
Buses on Skíros only seem to run between the port, the Chora [Skíros Town] and a couple of small resorts on the north east coast. The timetable also coincides with the ferry arrivals/departures so visiting the Chora from the port using public transport is generally only possible during the day. However, on a Saturday there is a late evening return bus and we took advantage of it, having caught the late afternoon bus up.
As with most Chora, the town is dominated by a fortress….
…… but we were not particularly interested in visiting this or the archaeological museum as we seem to have done plenty of those already. [I hear sighs of relief from regular readers who have, no doubt, seen quite enough photos of pots, statues and ruins!]
However, we were interested in the Manos Faltaïts Folk museum as it was described in "Lonely Planet" as a "not to be missed gem detailing the mythology and folklore of Skíros". I don't know what the person who wrote that saw because as far as we were concerned much of it was a hotchpotch of tat, books in higgledy piles or two or three deep on shelves and a retrospective exhibition of paintings by the museums' founder which were in a style similar to Picasso. The "exhibits" were randomly placed between chairs, on bookshelves, lying down on tables and hidden behind vases.
To be fair, there was a proper library as well which contained documents relating to the Greek war of Independence and unique private documents relating to the history of the island and, dating from the 16th Century, a remarkable collection of rare old books that cover a period of five centuries. However, as the documents were, unsurprisingly, in Greek with no explanations in any other language, much of their significance passed us by.
The museum lies on the ancient walls at the top of the town and commands an excellent view.
It is adjacent to the square dedicated to "Rupert Brooke", the WW1 poet who died on Skíros on 23rd April 1915 [aged 27] and is marked by a bronze in his honour.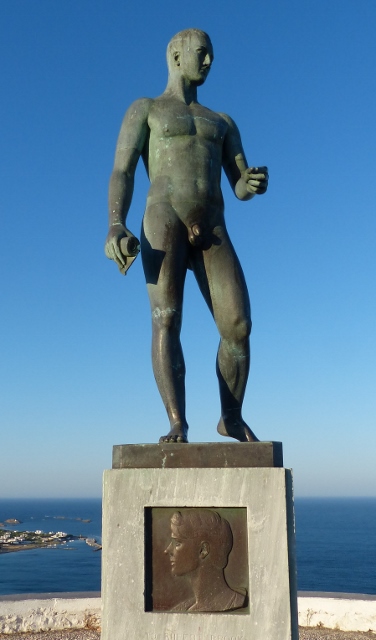 We enjoyed wending our way down the alleyways and smooth cobblestone streets back to the main square and thoroughfare where an excellent taverna meal rounded off our evening out.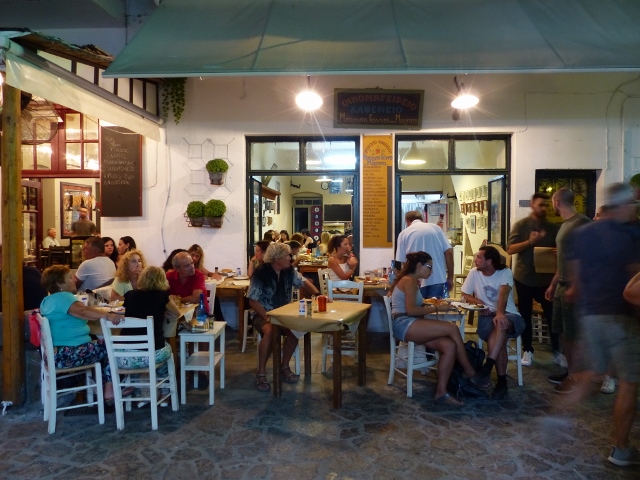 The only other place we visited on Skíros was the anchorage adjacent to Linaria town which we walked to quite easily from the harbour.
It was ten days after first arriving in the Northern Sporades that we reached its most popular cruising area and there that we spent the rest of our time sailing backwards and forwards around the islands. In total we spent five nights on Alonnisos, eight on Skópolos and seven on Skíathos, most of it in the company of Chris and John….
….but also with Steve and Gill and Steve's brother and sister-in-law, Chris and Liba.
Skópolos, the middle of the three, has two main settlements. Some years ago I visited Skópolos Town from Skíathos, when there on a non-boating holiday, and although it might have been nice to revisit it wasn't somewhere we wanted to take the boat. First of all, the prevailing northerlies were blowing most of the time which can make Skópolos Town harbour uncomfortable and, secondly, regardless of the excellent anchorages, many charter boats make for the town in the evenings and fight for the available space. We did, however, spend time in the other settlement, Glóssa….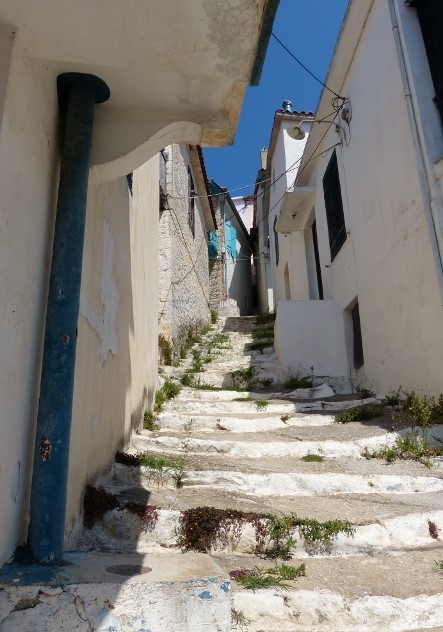 ….which can be reached by a long walk uphill, or better still – a bus up and then walk down – from the port of Loutráki on the north-west coast of the island.
The west and south coasts have most of the anchorages and, firstly with Steve and Gill and then with Chris and John, we visited Ormos Stafilos and Ormos Limonari….
We sailed into Ormos Agóndas for a look round on our first visit to that part of the coast but did not anchor or berth there on either occasion. Instead, we walked to it one evening from Limonari – amidst a bit of a moan from sis that the flat road I had promised wasn't exactly flat! Still, a nice waterside meal made up for it…
We also went to Ormos Panormou…..
…… with Steve, Gill, Chris and Liba where we actually long-lined.
You may remember, reading above, that we got some long-lining experiences in the Northern Sporades and this was one of them. The other was at what was our favourite harbour/anchorage on these three islands– Votsi on Alonnisos.
We were really pleased to have been able to spend three nights in Votsi. Mike and I had visited, by walking to it from Ormos Milia where we spent two nights at anchor after our crossing back from Skíros. It was somewhere I really wanted to take my sis – to enable her to re-visit places she had spent time at before the island became as popular as it now is.
Votsi has, to a large extent, remained quite low key, unlike the main harbour town on Alonnisos – Patitiri. Chris said that when she stayed there some years ago [we won't go into how many!] there were, I think, just two tavernas and a handful of apartments.
It is now bustling with ferries and charter boats and is awash with places to eat and drink.
From Patitiri it is possible to catch a bus to Old Alonnisos town which was virtually abandoned after the devastating earthquake of 1965. It remained that way until the 1980's when tourism started to take off and foreign visitors began to buy up and renovate houses there.
It now has quite a cosmopolitan feel and is at its liveliest in the evenings when all the restaurants open, but by day is fairly quiet except for a few locals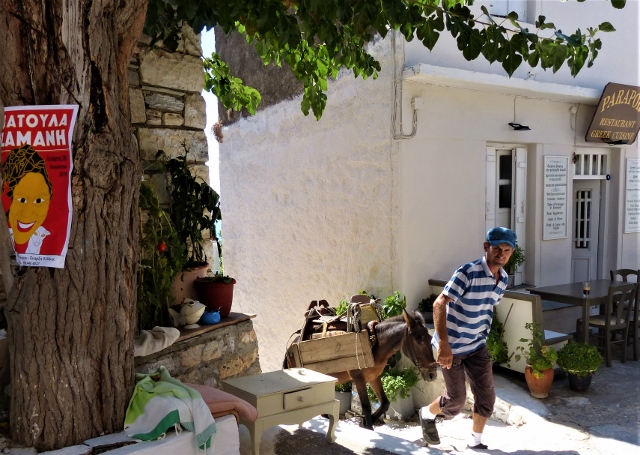 Skíathos was where we met, and two weeks later said goodbye to, Chris and John.
It is a great place to meet and greet with regular international flights from most European countries and internal flights available from Athens. It is also served by ferries from the mainland and that is the route our next visitors – Caroline and John – took having flown to Athens from the UK.
It was really good that the visits of Chris and John and Caroline and John just overlapped – and it gave Chris and John a good excuse to escape the confines of the front cabin of "Owl and Pussycat" and take up residence in their "spacious" apartments
We all had a great evening together…..
…… as Chris and John's Greek adventures wound to a close for this year and Caroline and John's began. But you will have to wait for the next instalment to hear about those.