Lying in the North East Aegean are three of Greece's less visited islands – Thásos, Samothráki and Limnos. Having said this, in recent years increasing numbers of Eastern European visitors are travelling overland and then taking the relatively short ferry crossings from either Kavála or Alexandroupoli to these islands and, therefore, they are becoming more popular. However, they are still not often visited by yacht so we were really pleased that we had sufficient time, and favourable weather, between 10th July and 4th August to sail to all three.
It is a 56 nautical mile passage between Mithimna, Lesvos and the southern coast of Limnos and then a further 3.5 nm up into the fairly large dog leg bay – Ormos Kondía. We therefore had a very early start [05.15] on 10th July and dropped the anchor about 12 hours later off the hamlet of Diapori, at the head of the bay, where we stayed for four nights.
When I said "favourable weather", what I actually meant was that there were sufficient good wind, wave and swell days to enable us to choose when to venture out and when to stay put and part of the reason we did the long crossing on 10th and then didn't move until 15th was a band of thunderstorms followed by unsettled weather which crossed the northern Aegean between 11th and 14th. The top wind strength we saw was 35kn but the thunderstorms accompanying it were really spectacular and I was glad we were well anchored given the severe wind shifts.
The rain and storms were early evening through to mid-morning so each afternoon we ventured ashore to look around. One day we decided to undertake a triangular walk taking in the quaint old villages of Tsimendria…..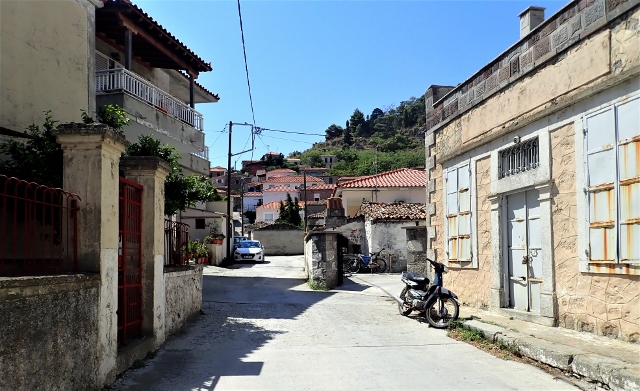 …..and Kondia…..
We remarked on how "British looking" much of the countryside was and wondered whether they have two grain harvests – as this was early July – or just the one early one because it becomes too dry to grow crops later.
On another day we crossed a short strip of land between our bay and an even larger one – Ormos Moúdhrou. With over half a dozen anchorages dotted round the shore it is popular with some yachts who make it as far as Limnos but, unfortunately, they were not really tenable during our time on the island. The large bay is actually considered to be one of the finest fleet anchorages in the Aegean and it was from here that the Gallipoli campaign was launched. Four hills at the entrance to the bay are named "Yam", "Yrroc", "Eb" and "Denmad". They were thus named by a group of British surveyors who were less than enamoured by their captain "Corry" and wished that he "May Be Damned". (A prize to the first person that sees it!)
Rather more successful than the Gallipoli campaign was the liberation of Limnos, just three years earlier, which began in the bay of Moúdhrou.
This monument was surrounded by a wire fence and it wasn't possible to see with the eye what was written on it. Glad I was able to zoom in……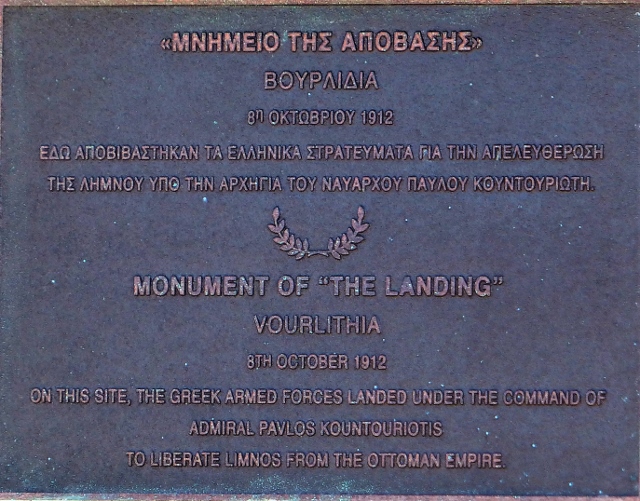 From Ormos Kondía we moved to the islands capital and main harbour, Myrina. As you might have thought when you saw the photograph at the top of this post – what a beautiful place. We certainly thought so and thoroughly enjoyed our two stays – before leaving for, and after returning from, Thásos and Samothráki. In total we spent ten nights berthed on the harbour wall though there was plenty of anchoring room in the fairly well sheltered bay.
Backed by volcanic rock and a Genoese castle…
…. the town is quite traditional with a "kafeneion" and/or "ouzeri" on most corners. Whilst it bustles early morning and during the evening, the afternoons are very quiet and on Sundays the main shopping street is deserted.
There is no charge for visiting the castle which, apart from goats [which we saw] and a small herd of deer [which we didn't], is deserted but fairly well preserved – in particular parts of the garrison, a cistern and an armoury/ammunition store.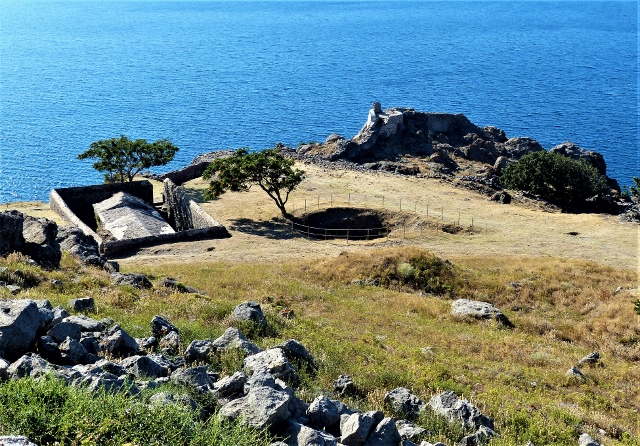 Munitions were also stored in the castle during the WWII German occupation – in the underground spaces accessed by vaulted tunnels. These are all now blocked, but one of the stairwells is still intact along with an Ottoman inscription preserved on one step.
The view south you saw above. North is where the Roman harbour was – though little remains. Now it is a very pleasant promenade lined by restaurants overlooking the bay.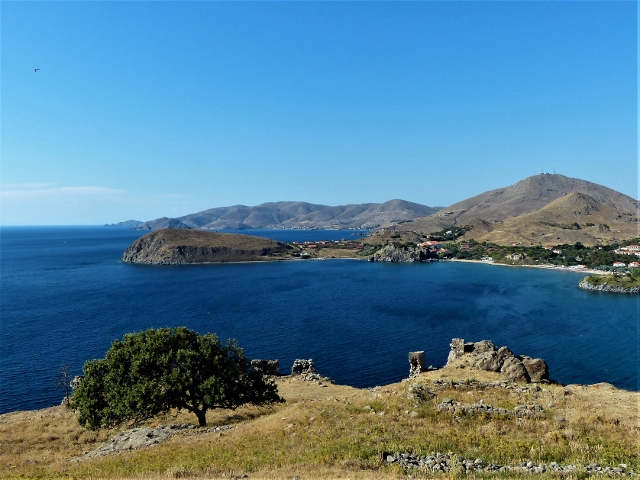 It is supposedly possible to anchor in this bay though much of it is off limits due to underwater cables.
Reading about the island in the "Lonely Planet", there seemed to be more than enough to see by car so, along with Steve and Gill, we hired one for a day. Having stopped briefly at a couple of bays on the south coast to suss out their potential as anchorages we went on the hunt for coffee – but found this instead!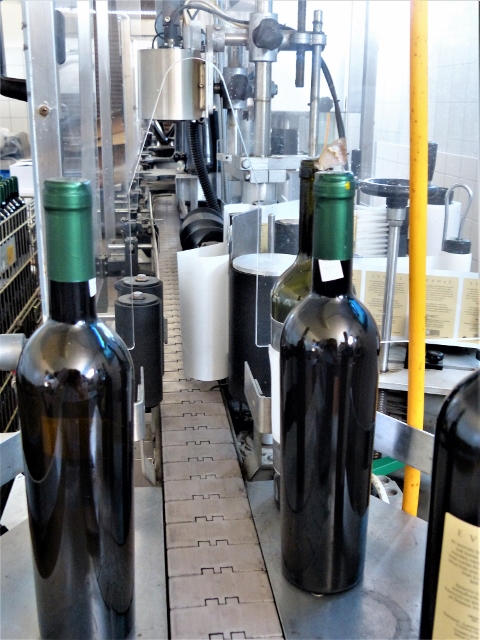 Well, you have to – what is wrong with a bit of wine tasting at 10.30am.
Purchases made we enjoyed coffee near Blenheim Cove and lunch in Moúdhros. We visited the east coast beaches where I think Steve would have liked to spend more time – kite boarding, wind surfing etc. Gill was really looking forward to seeing flamingos on the salt water lakes but we were all disappointed that there were none to be seen.
As you can see, there are no lakes – it is just a dried out salt flat.
We visited "Hephaistia"…..
…… and "The Chapel of Zoodochos Pigi"….
….where there is also a statue commemorating a local heroine who is said to have taken the sword of her dying father and continued the fight against the Ottomans in 1478.
Heading back west along the northern shores we had hoped to make it to the sand dunes of Gomati Bay. However, we were running short of fuel and, as the only petrol stations were back in Myrina we turned round before we got there. We did, however, stop to take in the fantastic rock formations – "Falarako".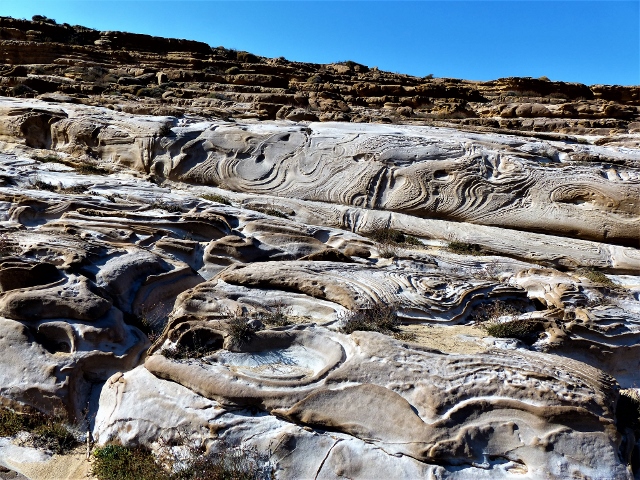 Formed by volcanic lava flow, the Falarako – translated as "bald heads" – are actually some large round formations which we missed. However, the name now seems to be applied to the whole area and we were very impressed by what we did manage to find.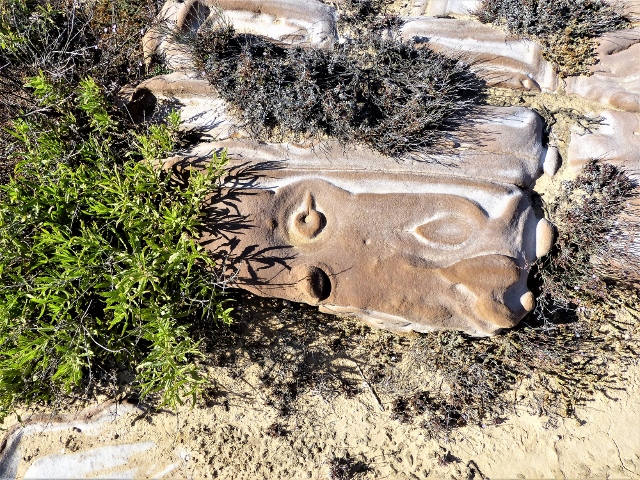 Steve and Gill were happy to spend more time on Limnos but Mike and I were keen to see Thásos and, if possible, Samothráki and on Sunday 21st July sailed to the northern tip of Limnos and anchored for one night under Moutzephlos point before setting out early the following morning for the 42nm crossing to the south western end of Thassos and an anchorage in Astris Bay. Described in the Cruising Guide as a pleasant day time anchorage we thought we would take a look as we had, by that time, been sailing for eight hours. With the small island of Panagia at the southern end of the bay and the whole island protecting us from the north and east we found the bay to provide great shelter that day and had no qualms about remaining there overnight before moving five miles north to Limenaria on 23rd.
As Thásos's second largest town and port it hardly gets a mention in "Lonely Planet" which is quite surprising as it is obviously a popular small resort and a really nice place.
What we found particularly good about it was the excellent public transport access to other parts of the island. We took two bus trips from Limenaria, firstly north along the coast to the fishing port – Skala Marion…..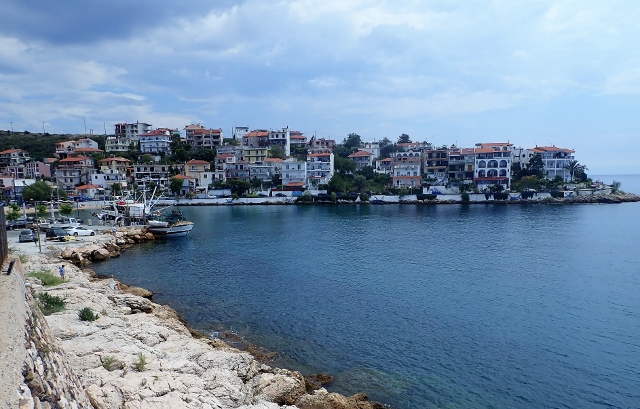 ……. where there was also a potential anchorage north of the village in a small bay just off the beach.
Secondly we ventured inland to Theologos, the medieval and Ottoman capital of the island, famous for its whitewashed, slate roofed buildings.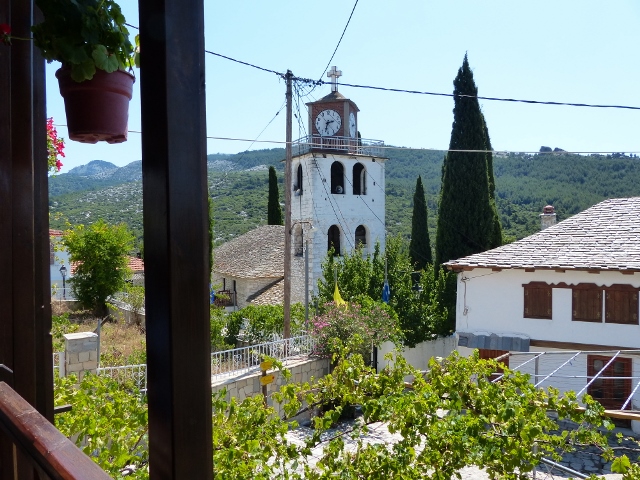 Here we found a small folkloric museum….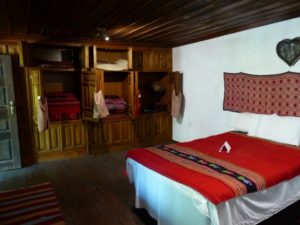 ….housed in the Chatzigeorgi Mansion. Metaxas Chatzigeorgis was president of the island from 1813 to 1821 when, as a member of the "Society of Friends", he led the islanders in the revolution against the Ottomans even though Thásos was, at that time, under Egyptian rather than Turkish rule.
From Limenaria we headed a short way [9nm] up the west coast to Kallirakhis, a small fishing harbour where a group of children waved as we entered and giggled as they spoke a few words to us to try out their English. Unlike them, the one taverna we found open had a seemingly unfriendly owner so, having drunk one small ouzo, we went back to the boat and enjoyed the sunset.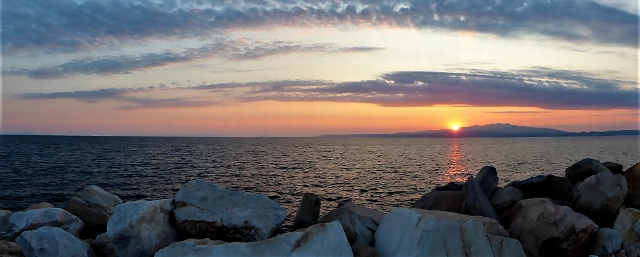 It was then only 12nm to the north of the island and its current capital – Thásos Town.
We spent two nights there and in the intervening day took in the old harbour and town…..

…….a few archaeological ruins in the agora…..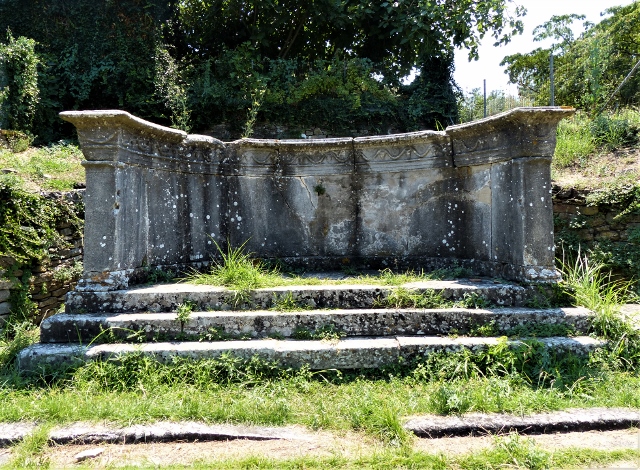 …… and, following signs to the ancient theatre made our way uphill and then up steps to find that the site was closed for renovations. Why the "closed" sign wasn't on the various signposts at the bottom and on the way up I don't know – no doubt someone's sense of humour. Having reached the closed gate I sat and waited as Mike, determined to find something to see up the hill, carried on. He said that trees had blocked the view all the way up and that, having given up, on his return downhill he spotted a vague track leading off and – lo and behold – the theatre…..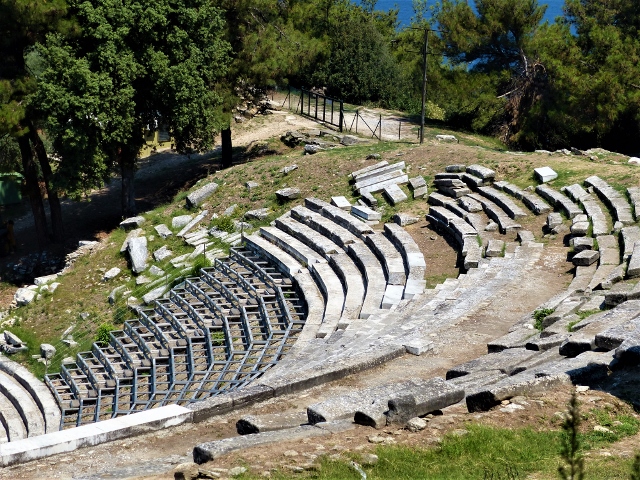 A reward for tenacity was called for so we treated ourselves to an evening out at the brilliant "Ambrosia" taverna….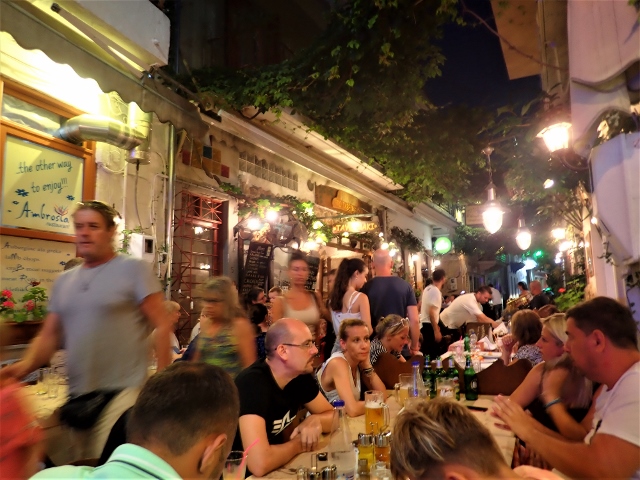 In all three of the Thásos harbours we had berthed alongside – with no charge, and it was exactly the same in Kamariótissa harbour, Samothráki which we reached on 29th July having sailed 40 nautical miles SE from Thásos.
The island is quite lush and forested and, although there was no evidence of the waterfalls which supposedly still gush in the summer, we did see plenty of greenery…..
….both during our day trip up into the mountain villages ….
… and again at Loutra [aka Therma]….
……which is a rather "modern hippy" type small resort with revellers enjoying full moon parties and live music on the beach most evenings. From what we saw of it from the bus, the entrance to the small harbour is now almost totally silted – preventing anything bigger than a small fishing boat from entering.
Before visiting Loutra we had got off the bus at Paleopoli so that we could see one of the most important archaeological sites in Greece – the ancient Thracian "Sanctuary of the Great Gods".
The temple and sanctuary operated from 1000BC until paganism was forbidden in C4AD and during this time was reputedly visited by the Egyptian Queen Arsinou, the father of Alexander the Great – Philip II of Macedon – and Herodotos the Greek historian. Whilst it looked like many of the other sites we have visited in the past 12 months….
…… the gods who were worshiped here were different, and the rituals and initiations which went on are scarcely known about. The reason for this is that death was the penalty for anyone who revealed the secrets of the sanctuary so, although everyone [man, woman, child, slave or citizen] was welcome it was a case of turn up, engage in what is believed to have been one or two [or both] initiations and then keep schtum.
The principal deities were the fertility goddess Alceros Cybele, her consort Kadmilos [god of the phallus] and the demonic Kabeiroi twins – the sons of Zeus and Leda. Knowing who the gods were and what they represented perhaps indicates an orgiastic element to the initiations – so, given the silence, maybe an early case of "What happens in Greece, stays in Greece!!!"
The Chora of Samothráki is set between two sheer cliffs and was difficult to see until our early evening bus was on its last approach and difficult to photograph because of there being so many small buildings packed into the space between the cliffs and up them.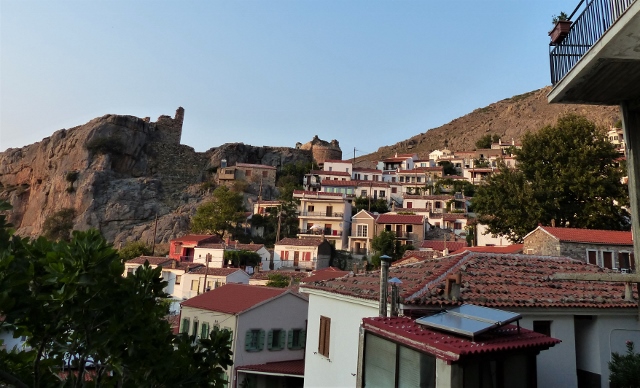 Perched at the top is, of course, the Kastro, closed in the evening….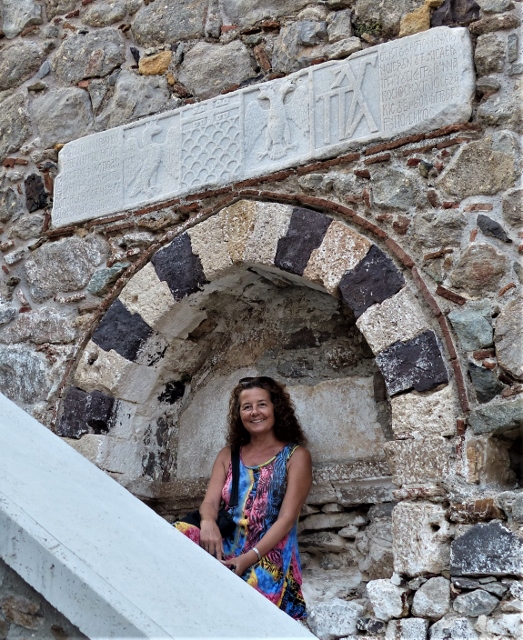 …. but we were happy to walk up to its walls and then have a drink in the overpriced Café-Ouzeri 1900.
And so we came to the end of our whistle-stop 10 day tour of the two most northerly and easterly islands and completed the circle by returning south and west to Limnos on 1st August.
As always we enjoyed various aspects of nature as we toured the three islands….
In relation to this fruit, it is interesting that on one internet site I read that Helen of Troy bribed Paris to award a Quince to Aphrodite as a prize in a beauty conquest and that is what started the Trojan War. Well, as far as I understand it, it was Helen's abduction by – or maybe her elopement with – Paris that started the war. Whether a quince was involved or not is debatable but why did I find it of interest you might ask?
Well, Mount Fengari, which stands at 1611metres [nearly 5,300ft] is on Samothráki and it is from this, the Aegean's highest peak that Poseidon, the god of the sea, is supposed to have watched the Trojan War unfold. A tenuous link… but a link all the same!
We are glad that we have seen it and all the other places on these three spectacular, more remote islands.