Well…. this is a "double thumbs up" blog. Firstly we managed to get out to the Cyclades – having spent the second half of last year's sailing season failing to do so due to adverse wind conditions. Secondly, having always wanted to spend Easter in Greece we finally did it – and in a place where Greeks from the mainland travel to celebrate. So now I want to tell you how it all came together.
We left Kalamata Marina on 13th April intending to just sail down the west side of the Mani peninsular to Porto Káyio. However, we made better progress than anticipated and, at 2.30pm, with the wind in our favour at a steady 12-15kn from the West, we decided not to stop at the bottom but to carry on east and cross to the nearest Cycladic Island – Mílos.
All was going really well. We were averaging 6.7kn, "Coriander" had also decided to change course and follow us and we had approximately 100 of the 145 miles to go when, at 5.55pm, an awful grinding noise came from below – the autopilot arm had stopped working. Mike spent just over 2 hours trying to see if he could find out what was wrong with it but to no avail. We still aren't sure whether it would have continued to work but it certainly didn't sound as if it was doing the mechanism any good. Even though we quickly decided we would have to buy a new one, we wanted to preserve as much of this one as possible hoping that buying whatever part had ceased working would then give us a spare.
This meant we manually helmed for the next 16 hours!!! OK, OK, I know – some sailors do it all the time but when you get used to one of the luxuries of modern boating then not having it makes it all feel rather worse – especially as we had to negotiate our way through a busy shipping channel – trying to keep an even course – in the middle of the night with basically no sleep for either of us. I suppose we could have turned round but by this time it was almost as far back as forward and it would have been into wind. We could have diverted to somewhere like Porto Heli – but it was just as far and we reasoned that a new pilot arm could be shipped just as easily by regular ferry as by courier overland. So – Mílos it was.
We passed the imposing cliff entrance at around 11.00am the following morning……
…. entered the "Caldera bay" 30 minutes later….
….and joined "Coriander" in the Agios Dimitrios anchorage on the southern shoreline….
A couple of G+T's preceded an afternoon snooze, a meal and an early night followed by a walk ashore the following morning to stretch our legs. Thus, by mid-afternoon on 15th April, with the wind due to increase and shift to the north overnight, and stay like that for the next few days, we were ready to move to the anchorage off the island's main town – Adámas ….
… where we had internet access and could try to find a Raymarine dealer. This proved remarkably easy and we were soon in touch with "Elektroniki", Athens who told us a replacement could be with us either by 20th or 22nd [4-6 days].
However, before we could settle down to alternately entertaining ourselves and doing the usual few bits of maintenance, we had to move the boat again because early the following morning Mike looked over the side and saw that we had fouled our chain on a very large old anchor which was lying on the seabed.
With a lucky "lasso" type rope trick and some help from Steve we managed to extricate ourselves in about an hour, after which R&R in the shape of frappes followed by a bus ride to the Chora was called for.
The twin settlements of Pláka and Tripití perch atop the edge of an escarpment 5km above Adámas.
We got off the bus at the "catacombs" stop and walked down the hill to visit the C1 Christian burial site which, according to "The Lonely Planet" was open until 7pm. They closed at 2pm, just 10 minutes before we got there! We therefore walked back up the hill, detouring to see a rather unspectacular theatre – in comparison to others we have seen – but we did find this sign…..
Yes – the "Aphrodite of Milos" was found here in April 1820 by a local farmer digging in his field. Apparently there was a dispute between France and Ottoman Turkey over entitlement and we all know who won. However, some stories suggest that it was during the dispute that she lost her arms which does rather conjure up an interesting mental picture of the ownership struggle!
The main church of the Chora is perched right at the top of the hill, from which there are spectacular views…
The title given to the photograph above was going to be the title of this blog but, due to the fact that the autohelm arm was delayed by 36 hours from the latest time originally given – a courier rather than supplier problem – it meant that "Owl and Pussycat" didn't actually make it to "that one, or "the one over there", namely Kimolos and Poliagos. "Coriander" did…. How much incentive do you need, Mr Toms, to catch up with your blogging? Mind you I haven't really got room to talk as it is two months since I last put fingers to keyboard.
Whilst in Adámas we also visited the Mílos Mining Museum, the volcanic island having a fascinating history of mineral extraction dating from the Neolithic period. At that time obsidian was exported to the Minoan civilisation based in Crete. Today Mílos is the largest bentonite and perlite centre in the EU. I am sure our friend Cathy will know all about these two minerals but, for the non-chemists out there – or those who haven't visited Mílos's museum, Bentonite clay is used medicinally in mud baths and also in excavation and foundation engineering due to its ability to swell and gel when dispersed in water. Perlite is a volcanic glass with a high water content which is used in various ways including horticulture, filtration systems and the explosives industry. So, now you now as much as I do.
We caught up with "Coriander" again on 24th April when we rendezvoused in the almost landlocked bay of Vathi on the SW corner of Sífnos.
We made the most of our two night stay by visiting the island's capital – Apollonia.
Labyrinthine….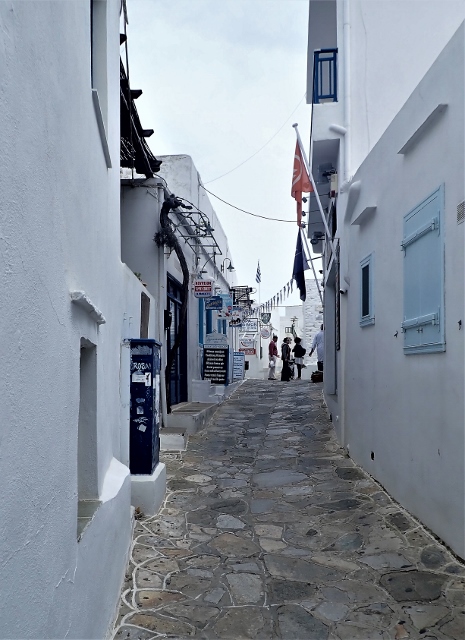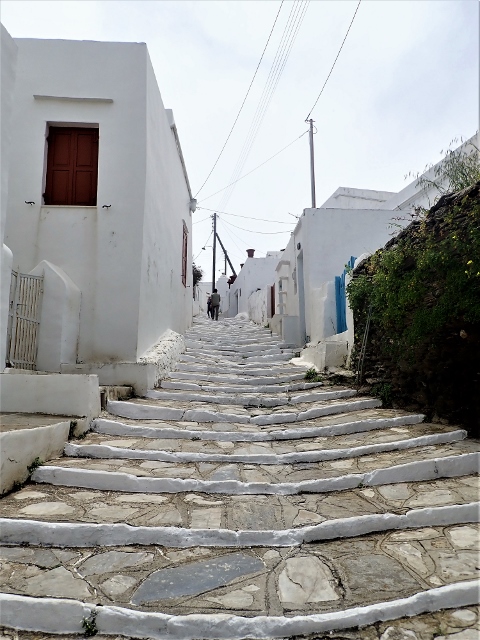 and church studded….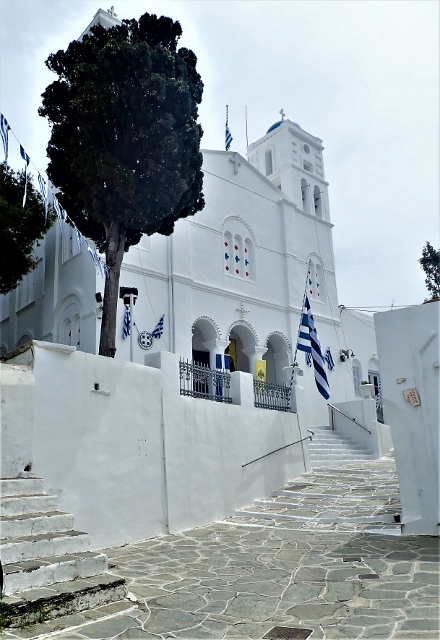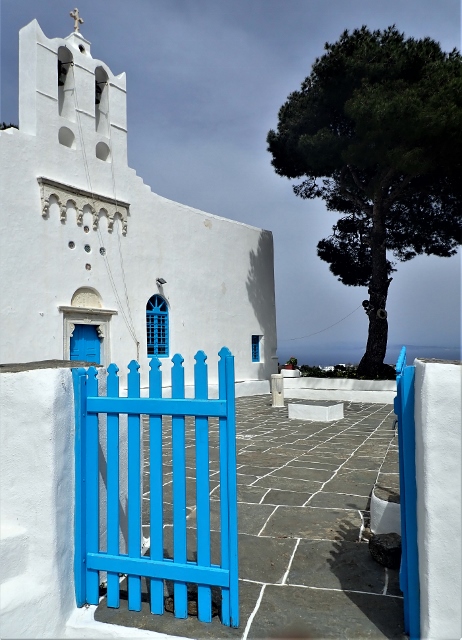 ….it provided a great day out. For those of you who like walking, Sífnos would be a great island for you to visit as it has more than a dozen signposted trails and fairly good bus connections to enable you to get around. We would have liked to stay longer but Easter was fast approaching and we had one more destination before reaching our chosen Easter venue.
So, a great four and a half hour sail east in 9-15kn winds during the morning of 26th April brought us to the "Dhespotico" anchorage to the south of Anti-Páros. Mike and I had been twice before to this well sheltered brilliant spot but never actually gone ashore onto Dhespotico Island. Time to "bag" another one by putting feet on land.
Not exactly a lot to see or do but it was a fun half hour before sundowners at the taverna on the shores of Anti-Páros.
Easter Saturday morning saw us motoring up through Stenón AndiPárou [the Anti-Paros channel] where we saw least depths of 3.3m going through the narrow gap to the west of Remmatonisi.
We dropped anchor in 5.5m water just to the west of Náoussa marina – very convenient for the celebrations to follow. I have long known that Pátmos is the most renowned Greek Island to visit at Easter but it was "too far, too fast" for what we wanted to achieve sailing-wise in April/May of this year so I was delighted when I read that Naoussa is the Easter destination of choice for many Greeks. We were not disappointed.
Following parties in the narrow streets around the harbour during Saturday afternoon and evening…..
…….. celebrants gathered inside and outside the church of Agios Nikolaos……
…. for the late evening mass – the "Resurrection Service". This finished when, at exactly midnight, the Priest proclaimed that Christ has risen and everyone lit their candles and greeted each other with "Christos Anesti" [Christ has risen] to which the reply was "Alithos Anesti" [He has truly risen].
Next year, if we are lucky enough to still be in Greece, we will know to buy candles.
Easter Day itself was almost a repeat of the previous day with parties outside every café, bar and restaurant. We had booked a table at "Mosxhonas" – a traditional fisherman's restaurant where they served "Magiritsa" – a lamb tripe soup – which, unsurprisingly, we didn't have – and whole lamb on the spit….
…. which we did.
Everyone was incredibly friendly and more than happy to have a party of Brits celebrate alongside them. Mike ended up with a new best mate after he had bought us wine and we had reciprocated with a few beers….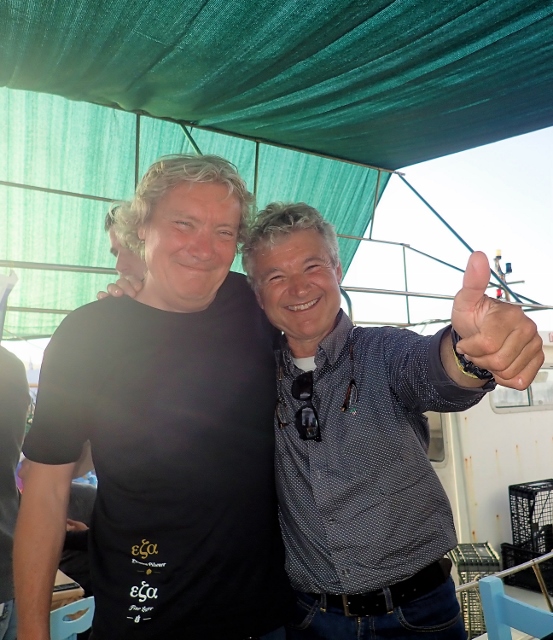 ….. and Gill and I joined in with some impromptu dancing. Another splendid day.
Despite us finding a small family restaurant, Naoussa can no longer be described as a quiet fishing village. Whilst there remain vestiges of the C15 settlement….
…. and the occasional un-renovated building, the narrow streets of the Old Town now house up market bars and chic designer shops – though we did find a rather more eclectic one.
Overall, it was a pleasant place to spend Easter and our bus trip the following day to the main port town of Parikia finished off nicely our stay on Páros. Similar tourist trappings to Naoussa led us to seek out less popular spots, in particular the "Frankish Kastro" with, as you can see, its outer walls built with stones from ancient buildings which once stood on or near the same site.
Apparently remnants of archaic temples to Athena and an Ionic C5BC temple have been identified.
As usual, churches abound and though I was particularly taken by the external architecture of Panagia Agios Konstantinos….
…. It was nothing compared to the splendour of Panagia Ekatonapyliani. I suppose with a name like that, translated as the Church of a Hundred Doors, it has to be something special – even if it doesn't actually have anything like that number of doors or gates!
The oldest remaining Byzantine church in Greece, it dates from AD326 and is actually three churches in one – the most ornate and largest being Agios Nikolaos….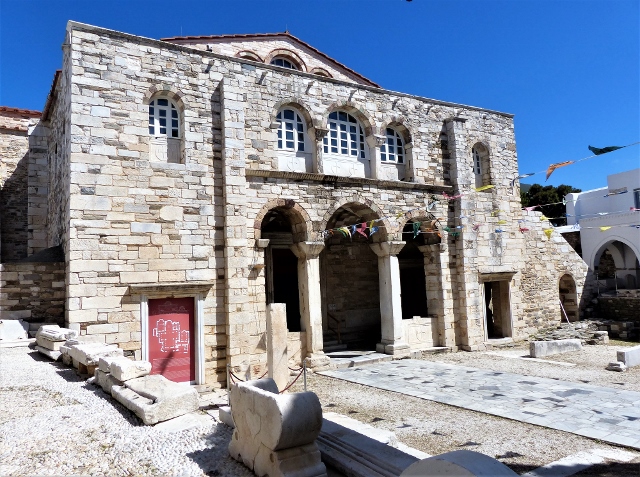 ….and the earliest, the ancient Baptistery.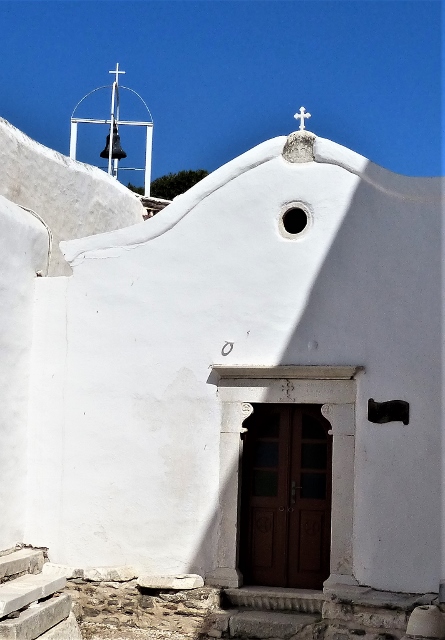 The courtyards contained elaborate marble structures….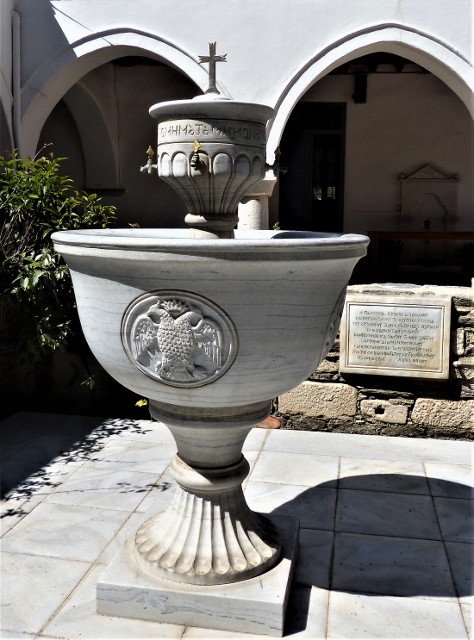 …including what is possibly the middle door of what was once a stone iconostatis …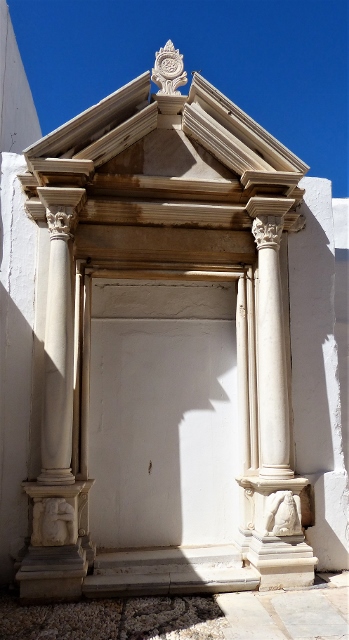 …. which would have displayed a minimum of two icons but, given its size and richness of carving….
…. probably many more.
From Páros we had intended to sail south to the Small Cyclades. The wind had other ideas and we therefore spent a rolling night at Viklagia, a deserted anchorage on the NE tip of the island, before sailing north to the lovely island of Rinia……
….from where, if you remember, we visited Delos – the subject of my previous blog.
With southerly winds still prevailing two days later we decided that since Mykonos was just six miles east we might as well go there. Mike and I had no particular desire to go as we had been once before on a visit which my sister will never forget – and neither, as you can probably tell, will I!  On that occasion we arrived in very lumpy seas with an engine which wouldn't work due to contaminated fuel and had to tack every two minutes to keep off the rocks until we could be towed into port before the charter company local mechanic came to sort it out. We were then directed to a corner space in the harbour next to a distinctly unfriendly live-aboard who had tied additional mooring lines across the quay which he refused to move and which meant we couldn't berth properly and therefore dragged in the middle of the night and ended up re-docking in a part of the harbour where we weren't supposed to be.
It was so windy the following day that full beer glasses were flying off tables and we could see that staff were handing out life jackets on the ferries. Wisely, Chris decided not to stay on the little charter boat we were renting and met us later in Poros. We learned several lessons about fuel, engines, how to be a nice neighbour and sailing in rough seas. We also decided that, in our view, Mykonos was overpriced, over visited and not at all Greek. That was back in 2002. Things haven't changed, with cruise ships now arriving every day.
That said… the island was just across the channel and Steve and Gill had not been so off we went.
A great attraction for Gill was a chance to visit the Shirley Valentine beach. Hmmm – Mykonos seems to have lived up to our memories because a walk over the headland brought us to Agios Ioannis and this….
Mykonos Town, Little Venice and the old fishing quarter were even more hectic than we remembered though, just above the main town, there are still some quiet alleyways to discover…..
…… which we found after re-visiting the marina/harbour and finding it a much changed – not necessarily for the better – as visitor berths for sailing yachts are now really exposed as the inner harbour has become the haven for trip boats and large motor yachts and the cruise dock.
A couple of bits of good news about the place are that there is an excellent butcher on the airport road out of the harbour and I managed to get a slightly better shot of the famous windmills than I did 17 years ago.
Windmills seem to be becoming a regular feature….
….. perhaps I should put together a calendar!
For the duration of our stay we anchored south of Mykonos town in Korfos Bay – which was actually quite nice…..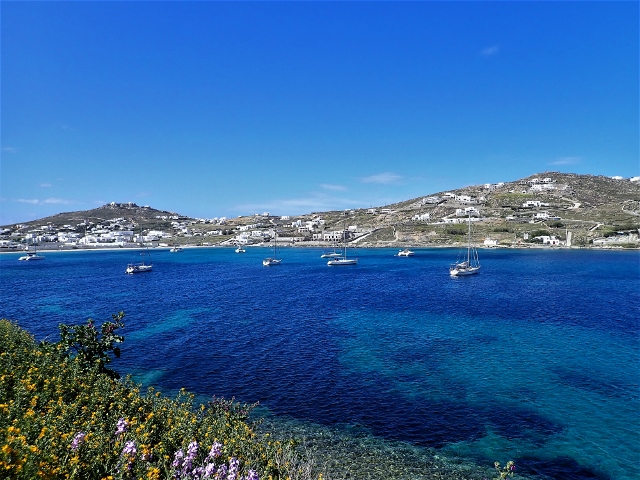 ….. and which, for us at least, proved to be a safe anchorage in the southerly storm which blew through on 5th May. We held firm through 18 hours of high winds [25kn+] which, during the most critical four hours, reached 35+ with several gusts of 46-48kn.
We certainly weren't sorry to leave especially as our 8 hour sail down from Mykonos and then through the Páros/Naxos channel proved to be a good one. That is except for the last hour when, having reached the southern tip of Naxos, we had to put the engine on to battle across to that's nights anchorage at Livadi Beach on Skhinóusa, where a pleasant evening was spent and some well-earned ouzo shared.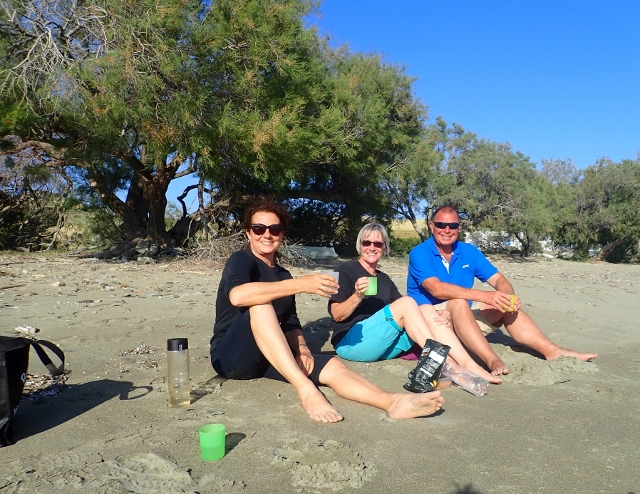 Skhinóusa was the first of two of the small Cyclades islands we visited, the second being Iraklia. We chose the Iraklia anchorage just 2.6 miles away from the Skhinóusa one which was, again, called Livadi [Pasture land] and the 40 minute crossing gave us plenty of time to settle in before walking to the island port of Agios Georgios where Mike and I had berthed previously……
…. a fantastic spot, not that the Livadi anchorage was exactly shabby!
In Ancient Greek times this cluster of small islands were densely populated but in the Middle Ages the inhabitants dwindled to just wild goats and even wilder pirates! It wasn't until after 1821 that recolonization began and, even now, only three of the seven "main" islands are inhabited. We chose not to visit the third which is, apparently, becoming a fashionable island for "in the know" visitors and is referred to by locals as "the Mykonos of the small Cyclades". Wonder why we weren't attracted by that one?
Our final Cycladian Island this year was Amorgos – an island with another story to tell from a previous visit in 2010 when Mike and sis's then partner, Bill, decided they could find their way back to the port from the Chora down the opposite side of the valley to the one we had all walked up. A couple of hours after Chris and I had settled into the taverna, having returned to the port by bus, two weary, bedraggled and scratched men appeared, having had to fight their way through undergrowth and down terraces and Mike almost blind because he had both lost his sunglasses and had P20 sun screen mixed with sweat dripping from his forehead.
So, what do you think Mike and I did this year – yup, the same walk – well the up walk anyway which was, I am sure, steeper than the previous time! I was certainly happy to finally see the Chora emerge….
…. and even happier to rediscover its delightful timeless beauty.
Now, did I mention a bus back? Well, not in May! Buses up and down don't run until June so, with hindsight we retraced our steps down the same path….
…..getting fabulous views as we descended.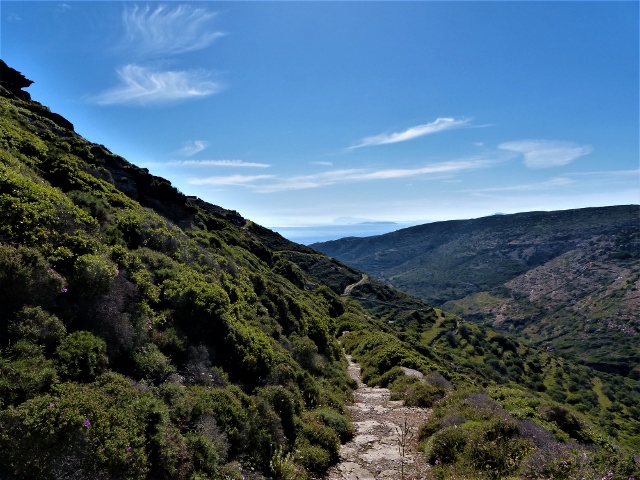 Another day and a much shorter walk along the northern shore…..
…..took us to yet another church….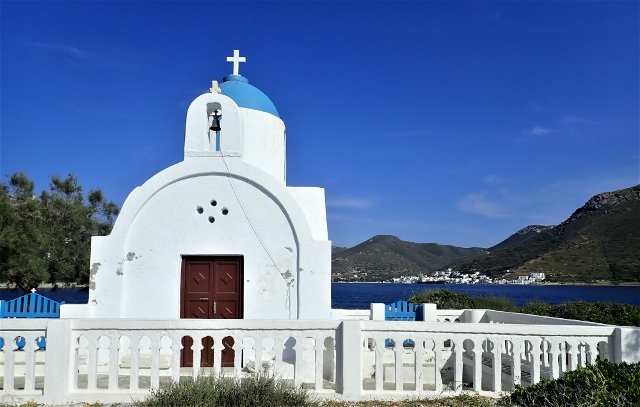 ….and also past one of two mermaids which "guard" the bay – the other, not surprisingly, being on the south shore.
We had anchored at Katopola, a popular yacht destination even this early in the year. Most visiting boats have to squeeze onto the harbour wall because the anchoring space is limited to a very small area at the head of the bay with an imaginary line drawn between the small fishing harbour mole and the small ferry dock in the main harbour area. This is because large ferries also come in to dock in the middle of the night and need swinging room. Interestingly we have since seen similar sized ferries manoeuvre in much smaller spaces [because they have to] but the Port Police are strict with their patrolling of the ferry requirements and we weren't going to argue – especially as we managed to be [just] inside the imaginary line – phew!
Whilst we walked to the main "town" to provision and to enjoy an excellent gyros meal one night, being anchored close to the fishing harbour encouraged us to partake of sundowners on the north side in the fishing hamlet of Xirokeratidi – lovely.
We also feel that for sailors visiting Amorgos, at least one night in the Nisis Nikouria anchorage is a must.
It is where we enjoyed our first BBQ of the year and an anchorage which provided us with a very fitting end to an action and fun packed month in the Cyclades – a start to this year's sailing season made even better by sharing it with good friends.