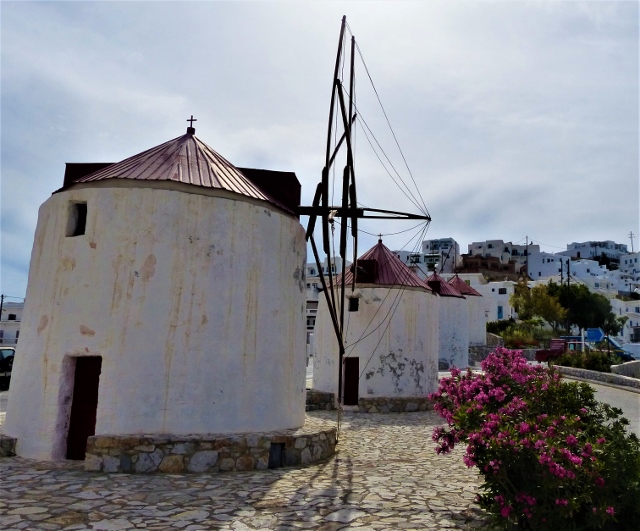 You might be wondering about the title of this post and why I have singled out Astipálaia. Well, it is really quite simple – we haven't been there before. The butterfly shaped island lies approximately 25 miles south-east of Amorgos and a similar distance west of its nearest Dodecanese neighbour – Kos. On our charter holidays in either the Cyclades or the Dodecanese, Astipálaia was always just that bit too far out of the way so we were determined to make it one of our destination islands this year.
Having now visited, I am glad we didn't make the trip as part of a two week holiday because we just wouldn't have done it justice.
Our first anchorage….
…… was on the northern tip of the islands east "wing" which we arrived at on the afternoon of 15th May having sailed 10 miles along the north coast of Amorgos before turning south east for the remaining 31 miles. In the ships log I have written "Bloody forecasts" which gives you a bit of a clue about the wind or, rather, the lack of it, so having planned to sail all the way after turning the corner, the best we managed was motor sailing!
Almost no-one lives on the eastern half of the island and Mesa Vathi is the only settlement in this remote corner. Approximately half a dozen families live here visited by only a few non-yachting tourists. For yacht crews, however, it is considered somewhat of a haven, because of the large, almost landlocked, bottleneck bay.
From the anchorage we weren't quite sure which building might house the taverna mentioned in the pilot and even when ashore it was not totally clear despite the painted sign.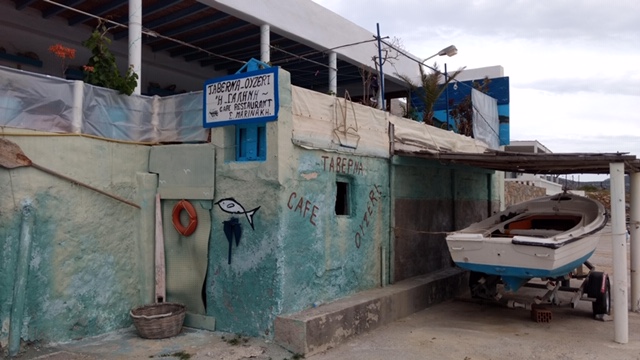 We finally realised that the "house" up the stairs was it….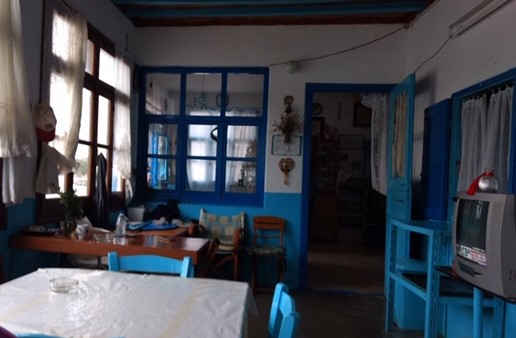 …. Maria's front room, complete with TV which, while we were there, a few members of the other local families came in to watch. Obviously the hub of community life, it is a great place with a friendly and welcoming atmosphere which, thanks to Steve, I have been able to share with you in pictures having stupidly left my cameras on board.
The following day we headed to the south of the island, trying desperately to sail at least part of the 17 mile journey.
We tried just about every sail combination but were forced to give up when our speed dropped to about 1.5kn.
We reached the lovely anchorage at Maltezána….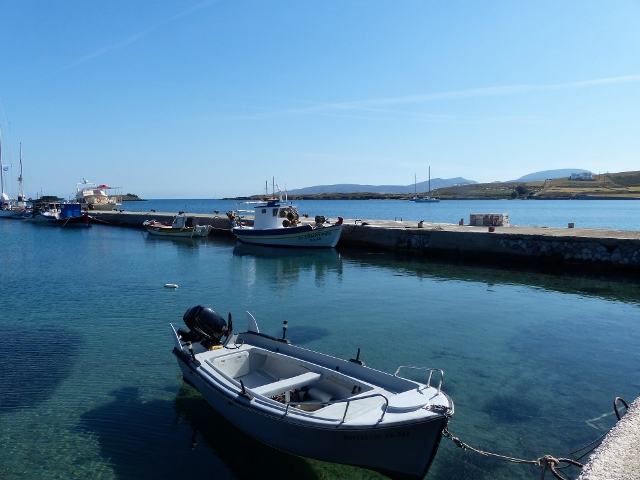 ……at around 2pm which gave us plenty of time to go ashore and suss out the ouzeries which we visited in the early evening.
Needing fuel we decided to move once more and the following day motored just 3 miles across to the main harbour – Skala – where we were lucky to get a berth inside the mole.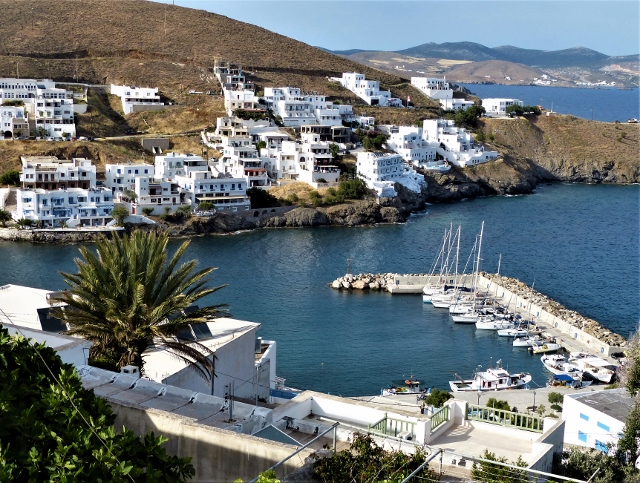 Skala is one of those places where once a boat arrives its crew are reluctant to leave so the turnover of available berths is limited, especially as there is only space for about ten boats in the first place.
As well as fuelling we needed good internet to download our TEPAI form. TEPAI is the new Greek cruising tax which finally came into effect this May and which has caused several yachties hours of heartache trying to properly complete the form and pay. We did it all online and used a system called "TransferWise" to make the payment. It all worked really well and we were able to print out our e.TEPAI form proving payment for the months of May to October after which time we are able to register ourselves as "Out of Use" with the Port Police whilst in Kalamata marina for the winter.
As with most Greek islands, the main town on Astipálaia sits at the top of the hill overlooking the port and, like many others, is known as "X?ra [Hora]" which literally means "country" or "land". The white houses spill down the hillside, dominated by the imposing "Kastro" at the top.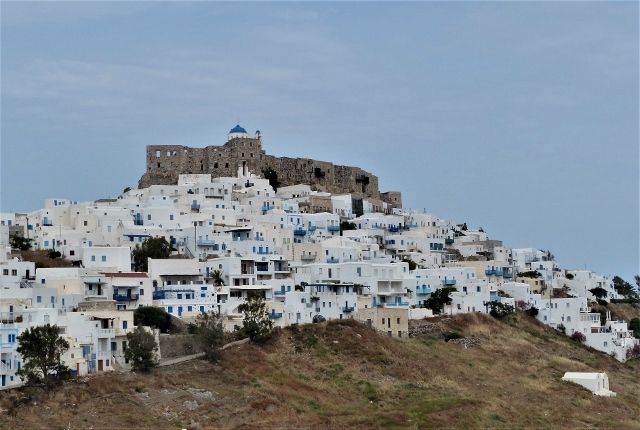 Unique in the Dodecanese and rare in other parts of Greece this castle varies from others in that it wasn't strictly military in character but was part of an outer circle of private dwellings built three storeys high as a defensive screen. The Venetian "Quirini" family built it in early C15 and, for the next 300 years up to 4000 inhabitants lived within the sheltered inner circle. As piracy declined in C19, openings were created around the city walls, the settlement expanded and many wooden stairs and balconies added. When a major earthquake struck in 1956 most of the buildings collapsed and the restoration work that has been done since is largely confined to the outer walls to limit the threat to people and property below. The interior remains in ruins except for the two churches.
On our way down from the castle we turned one of the many corners in the maze of streets to find these….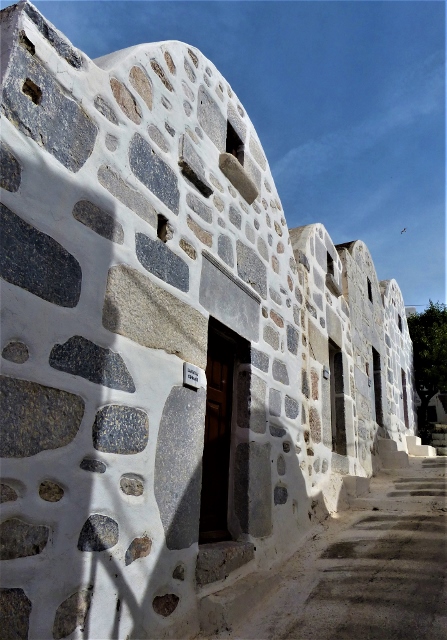 They are four of a group of nine small churches which form the "complex of Karah". I am not sure whether Karah is the name of the street, the area of the village, or has a particular Ecclesiastical meaning but they lined both sides of the lane and were quite a lovely sight.
Marking the entrance to the Hora are a row of Cycladic style windmills.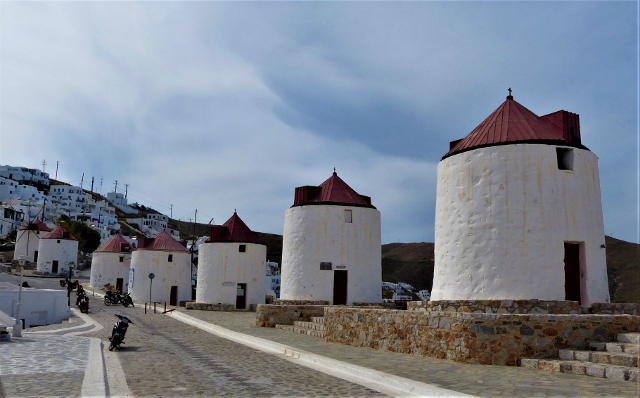 It is these and the typically Cycladic square white houses which often confuse people as to which island group Astipálaia belongs to but, whilst it might look Cycladic architecturally,  geographically it is one of the 165 islands which form the Dodecanese – quite a misnomer as "Dodeca" is 12!
Over the years Mike and I have visited all but three of the 15 larger Dodecanese islands and a number of the other smaller inhabited ones. This year we re-visited 10 arriving in Kos on 24th May from where we made our way north via Psérimos, Levitha, Kalymnos, Léros, Lipso, Arki, Pátmos and Marithos to northernmost Agathonisi which we left on 16th June.
Both Kos and Kalymnos were brief visits. Having made our way across from Astipália to Kamares on Kos we stayed just 2 nights – sheltering from a short lived "blow" which gave us enough time to walk up to the village above – Kefalos, from where we got a great view of this south western part of the island.

As you will know, Kos is a very popular and touristy island and, as a result, it is no longer one of our favourites [even though I have, in the past, had two very good and memorable holidays there with sis Chris]. Although we considered stopping briefly in Kos town, we didn't want to go into the marina and couldn't find anywhere to anchor which suited us so moved on.
On Kalymnos we visited just one anchorage – a well-protected narrow inlet on the east coast….
…. where two tavernas flanking either shore provide excellent mooring balls at no cost though we always visit the appropriate one, in this case "Kaladonis taverna", at least for a drink.
The two most deserted anchorages were those on Psérimos and Agathonisi.
Something which never ceases to amaze us is that when anchoring, the shores of the bays feel to be only metres away, despite what the measurements on the chart tell us. However, when going ashore, particularly if you are able to get above the anchorage, it is clear that there is plenty of room.
From both of these anchorages we walked up and across part of the islands to visit the main villages….
….where we enjoyed a couple of super lunches.
The most historically significant island visited was Patmos where we spent one night at anchor in Ormos Livadhia before going stern to for two nights on the quayside in, yes, you got it, Skala. "Skala" means ladder or staircase and, just as from the other Skalas – there is the Hora above to climb up to. As well as the main road, the route between Skala and Hora on Patmos can be undertaken via a "cultural path".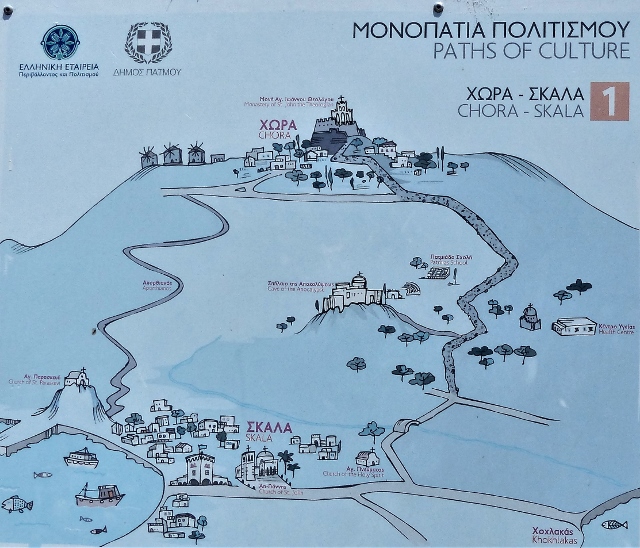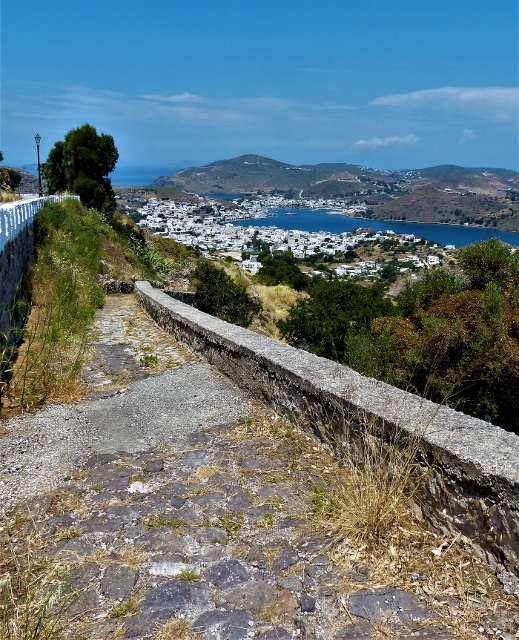 Known as "The Holy Island", Patmos is where St John the Divine lived after being banished there by a pagan Roman Emperor in AD95. He lived as a hermit in a cave between what are now Skala and Hora and heard the voice of God coming from a cleft in the rock. His terrifying visions were transcribed into "The Book of Revelations" and the Monastery of the Cave of the Apocalypse now stands on the site.
Unfortunately we arrived just before closing so didn't actually see the chapel. We might have got there earlier had we not spent as long as we did in the Monastery of St John the Theologian in the Hora – which was built and dedicated in 1088 after the Byzantine Emperor Alexis I Komninos gave permission for its construction. Architecturally it is the most fascinating monastery I have visited. It is immense and is full of arches and courtyards and bells and the eye finds it difficult to fully comprehend the shapes and true perspective – as does the camera lens!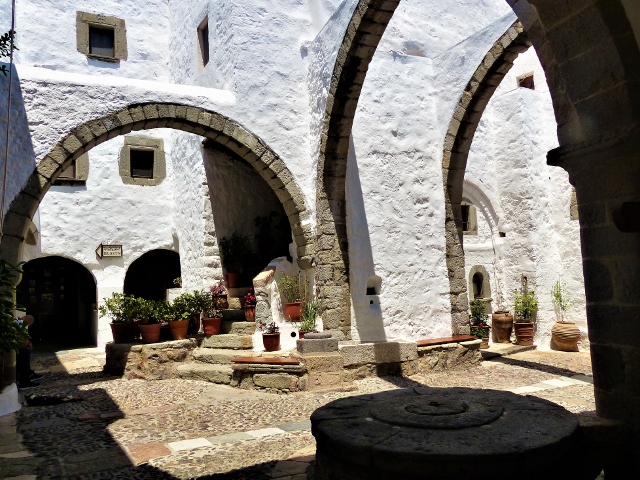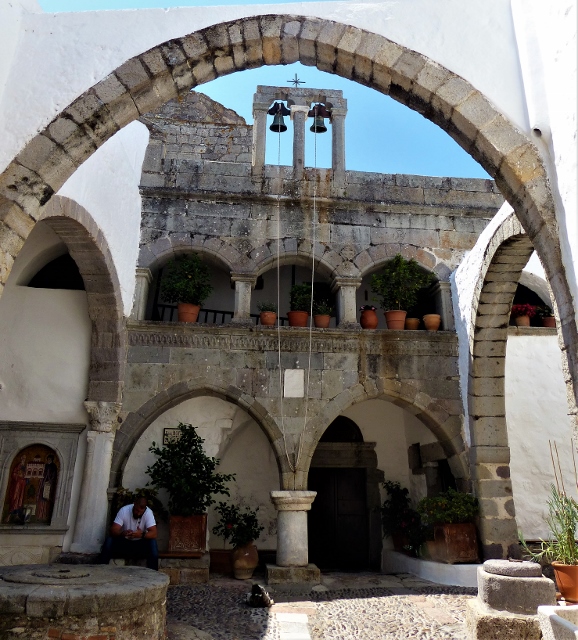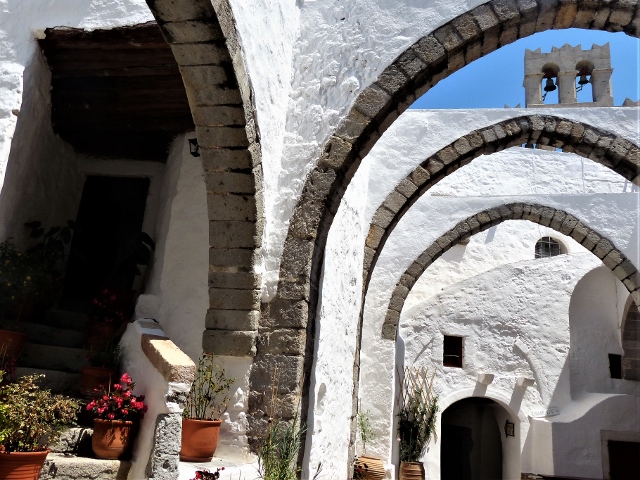 Whilst the museum contained several interesting artefacts, icons and paintings, Mike and I found these to be of at least equal interest.
I was particularly taken by the refectory …..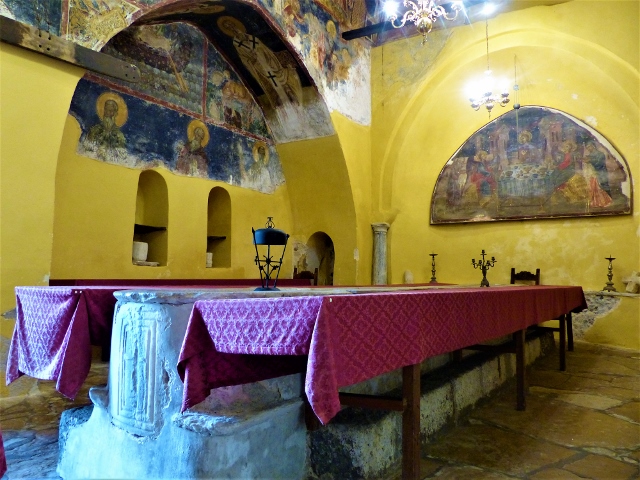 ….which is still used daily.
Descending via the cultural path we arrived in the northern part of the town which we hadn't seen before. We found a great homemade ice-cream shop which we returned to after dinner that evening, passed the head of the bay where fishing boats berth to rickety old pontoons….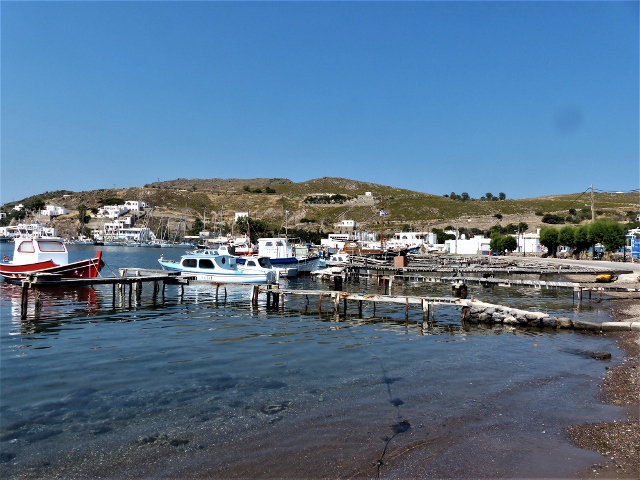 …..and ended up back in the main harbour/town where there is another reminder of the link between Patmos and St John.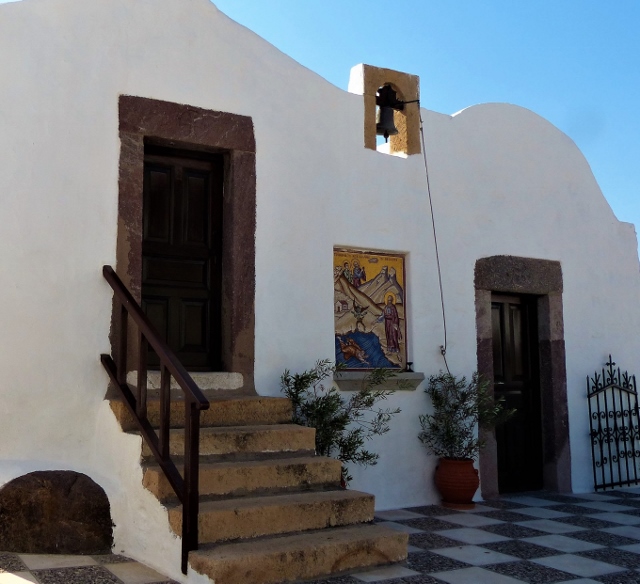 I noted above that Mike and I both found the museum in the monastery to contain some interesting religious art. It is unlikely that either of us would have felt this way had we not, 10 days earlier, visited Pandeli castle on Leros. The Lonely Planet describes the castle as more or less ruinous with few structures surviving. It does not mention the museum there or the excellent curator who, at no additional charge above the €2pp entrance fee, spent almost an hour talking to us about the different art forms by both passage of time and origin of artist. I recommend a visit to Pandeli for both this experience and also for the 360 degree views over Leros island.
The castle is reached by a zig zag stony path from Agia Marina or by road from Platanos. We went up the former and down the latter having walked first to Agia Marina from our anchorage at Alinda.
This was our second port of call on Leros, the first being Xirokambos at the southern end of the island where we spent 2 nights on one of the excellently maintained yellow "Aloni Taverna" mooring balls. From Xirokambos we caught the bus to see what Lakki [Leros's main town] had to offer. It was 31st May so still in the shoulder season but we were surprised by the lack of other visitors. Despite, or may be because of, several grand art deco style buildings….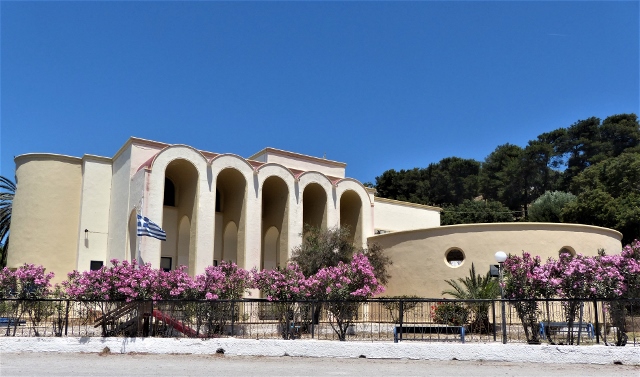 …. the town had quite an old fashioned and dilapidated air and it is fairly clear that most visitors to the island arrive at it by ferry and immediately leave for the beach resort villages. These buildings date from the Italian occupation when it was an Italian naval base and some of them have since been used as mental hospitals.
"Shoulder season" also meant that, having done some provisioning and eaten lunch while waiting for the 3pm return bus, we found that the timetable we had been looking at didn't start until 1st June – and there was no return bus! However, the taxi cost back to Xirokombos was only marginally more than four bus tickets would have cost us and we had enjoyed a decent lunch at a deli which, much to Mike's and Steve's delight, sold craft beer.
Obviously the weather determines, to a large extent, which islands and anchorages can be visited and in what order. The small island of Lévitha lies about 20 miles west of the other Dodecanese island and we were delighted when a weather window opened allowing us to sail there from Psérimos.
Lévitha was, and will probably remain, one of our much talked about yacht destinations. We first visited it around 15 years ago when the almost landlocked bay provided an excellent sheltered anchorage for the two or three boats there. Our second visit was about 5 years later when some laid moorings had been put in by the taverna owner and a modest charge was made – unless you ate in his farmhouse taverna on the hill, in which case they were free. On both those occasions we had eaten in very basic surroundings enjoying either goat or fish – depending on what was available – and a salad washed down by local retsina. We loved the experience and couldn't wait to re-visit this year taking Steve and Gill with us.
The anchorage was exactly as we remembered it – except there are now even more mooring balls…..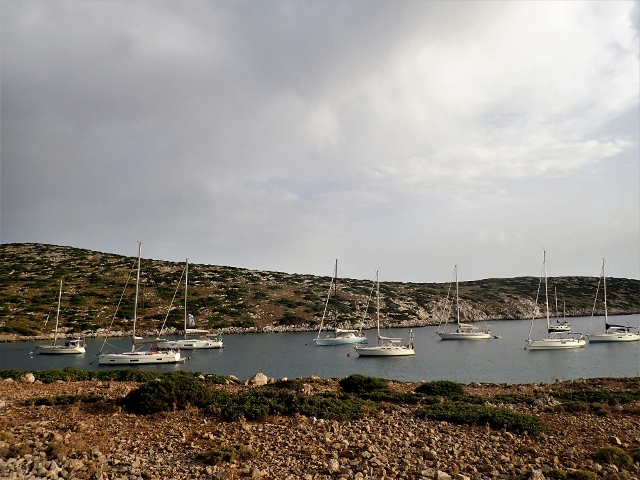 ….all of which were taken by late afternoon.
Unfortunately, that is where the similarities end. The modest taverna with a couple of tables has now expanded. Whilst still rustic….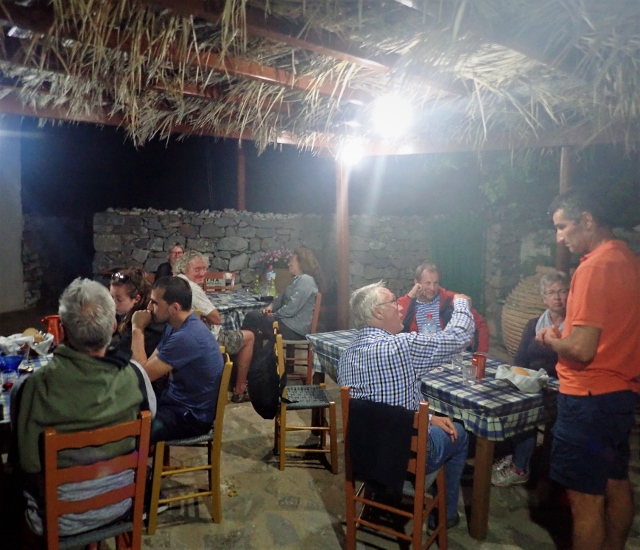 …. there is now a covered area and far more tables and an outdoor BBQ has been built to provide burgers! The enterprise has become quite commercial. I guess one can't really blame the owners – why not profit from what has become a yachting "institution". But we will not be returning. Maybe it was a mistake on their part – or rather a mistake on ours not to challenge the cost of the wine – but the price of the meal for four came to €86 [which is at least €20 more than we had been paying elsewhere for similar fare], and each boat was charged an additional €7 for the mooring balls.
Fortunately our faith in family run tavernas on almost deserted small islands was renewed when we later picked up a mooring ball on the sheltered east bay on Marathos island. We selected the last available orange ball belonging to "Taverna Stauragkos". It took us a number of attempts to secure ourselves to the ball because there was no pick-up line – which might explain why it wasn't occupied – but at least we provided entertainment for those crews already secured!
Peace reigned, dusk fell and an excellent Goat Kleftiko was demolished.
An island we really enjoyed spending time on was Lipsi. The small harbour is backed by a church crowned village….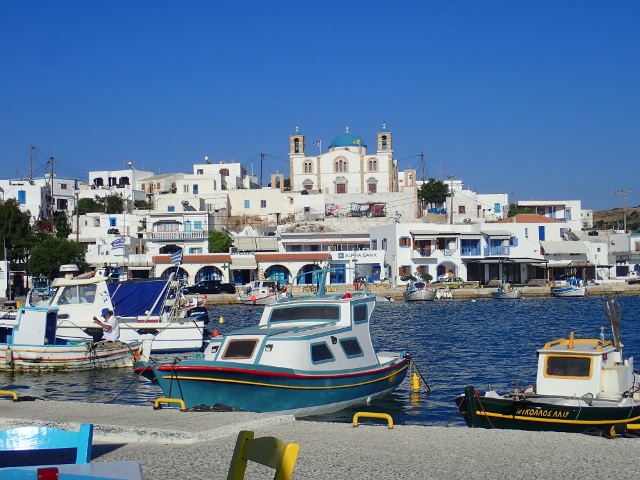 …. with the traditional blue and white colours predominating.
We chose not to anchor in the harbour as there was little room inside and the outside berths are subject to wash – particularly when the wind is from the SW as it was whilst we were there. Initially we anchored just inside "South Bay" but were asked to move by the Port Police because of the turning circle needed by the large visiting ferries. We are fairly sure we were tucked in sufficiently not to hinder them but it wasn't worth arguing about and we actually really enjoyed the North Bay anchorage which provided us with more shelter than we expected in lovely surroundings and clear water.
Lipsi village is the island's only settlement and the harbour is the hub of the action – such as it is. Such a laid back place where locals mingle with tourists. Our favourite spot in the early evening was this Ouzerie….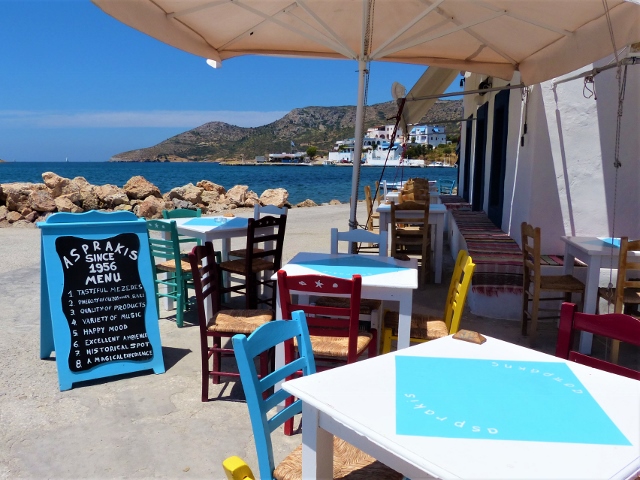 …… where, to my delight at least, the free meze included on one night a cheese and bacon stuffed pepper. Mike might have preferred the more traditional offering….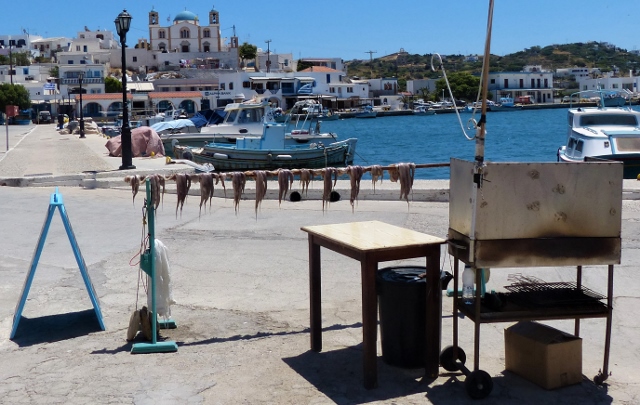 …… but didn't complain too much when we didn't get it!
And finally, our favourite Dodecanese island – Arki.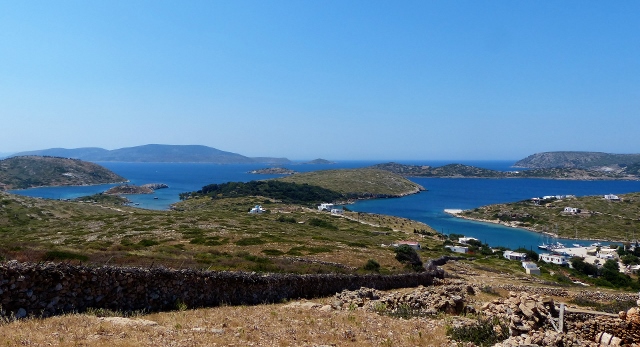 Having had the Lévitha experience it was with some trepidation that we returned to Port Augusta, on the small island of Arki, hoping that it remained as it had been on our last two visits. It lived up to all our expectations and provided us with excellent shelter for four nights in the narrow dog leg inlet.
Mike spent some time scraping the waterline but mostly we relaxed and enjoyed a couple of walks from the harbour across the island past small holdings with goat herds….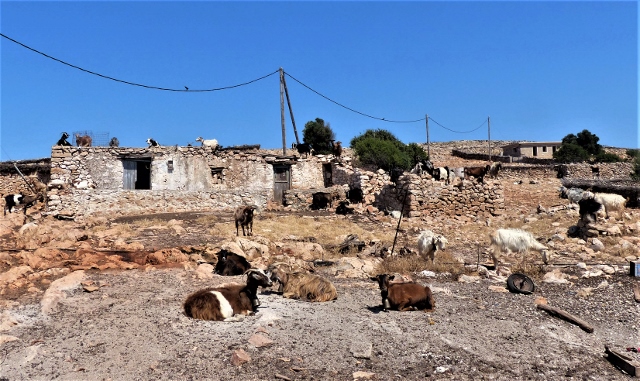 …. communing with nature in general….
….. and arriving at deserted bays.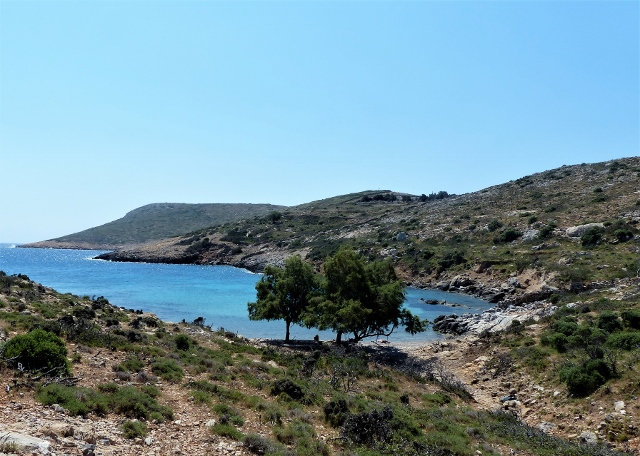 At 1.30pm on our final day there were just five boats moored.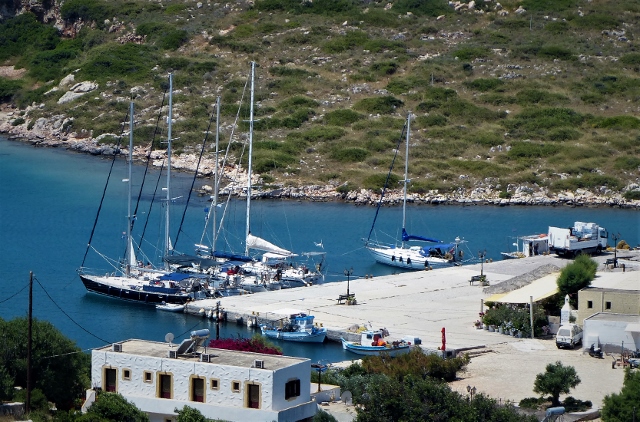 Three hours later there were almost twenty….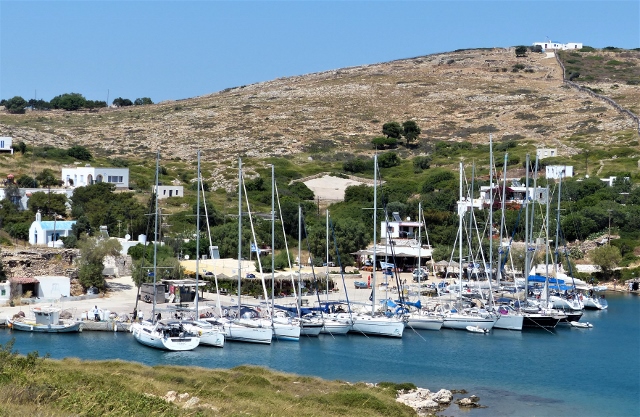 ……crammed in wherever there was an inch of space. Eight of them were a special antipodean flotilla which, apparently, happens for two weeks every year commencing and finishing on the western Turkish coast and taking in some of the Dodecanese. They were a lively bunch but did not detract from the fantastic atmosphere of the place.
We were really happy to be back- so pleased to find it still unspoilt, unchanged and a little bit "funky"…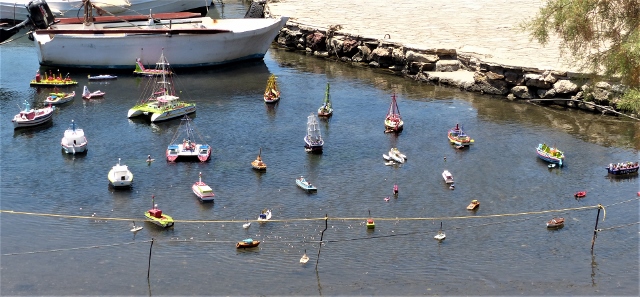 ….and a fantastic place to celebrate our wedding anniversary.
So, the Dodecanese did not disappoint. It would have been easy to spend the whole summer there visiting the islands farther south but we had previously been to some of these and new islands awaited us to the north starting with the Eastern Sporades which you will be able to read about in my next post.