For the 2018/19 over wintering season we chose Kalamata due to its position relative to last year's sailing plans, because it has a good bus link to Athens – and thus to the main Greek airport, that the marina is very reasonably priced and that Kalamata sounded like a nice place to spend the winter months. On all counts we were not disappointed. In addition, as the "jobs undertaken" at the end of this blog post shows, access to parts and, more importantly, skilled workers was great.
Kalamata is the capital of the province of Messinia and the second largest city in the Peloponnese. It is, of course, famous for its olives and, as we were there during olive picking season, we took full advantage and cured and bottled our own.
At one time it was the "end of the line" with regards to a railway link with Athens.
A park has now been created around the old terminus which is very popular with local families and forms part of a pleasant walk between the marina and the town.
There is both an attractive old town……
….and a large modern town. Much of the old town was destroyed by the Turks during the War of Independence. It was rebuilt in the 1830's, only to be almost levelled again by an earthquake in 1986. Remarkably much of the C13 "kastro" survived the quake and inside its walls is a small monument to "Kallimachos Antonakos" who was the head of the Archaeological Department in Kalamata at the time of the disaster.
Under his tutelage, hundreds of finds and monuments were catalogued and restored to retain the important cultural heritage of the city and surrounding area.
Just below the castle is the Cathedral Church of Ypapantis…..
….with its many statues of the Messini "episkopos" [bishops].
During November we travelled back to the UK for a couple of weeks seeing family and friends.
Our visit to Bury [Lancashire] coincided with an exhibition in the art gallery/museum which I was delighted to go and see.
Victoria was in the fifth form when I was a first year pupil at secondary school. I remember her writing and performing in a "One Act Play" at the end of that school year. It was a pre-cursor of great writing to come though, reading one of her school reports in the exhibition, it is clear that teachers do not always know talent when they see it!
As my three previous blogs describe, we also spent part of the winter touring and, in March our good friends Dave and Margaret came to visit for more socialising and sightseeing. In just under a week we packed in a visit to Kalamata castle…
…. a trip to the Caves of Diros….
…..a walk along part of the Menalon trail…..
….. a circuit, by car, of the bottom part of the western finger of the peninsular, visiting a couple of places we hope to visit by boat at a future date…..
….and admiring the Greek countryside as it comes alive in spring.
Had we known during their visit that one of the best ancient sites is practically on Kalamata's doorstep we might also have persuaded them to do that as well. Instead we visited Ancient Messini the following week with Steve and Gill.
A fantastic site easily as extensive as Epidavros and Olympia but, much less visited. There are two theatres, an agora, baths and the most impressive and intact stadium.
It was founded in 371BC and formed part of a chain of strongholds designed to keep watch over Sparta. We are really glad not to have missed seeing it or stopping for a fantastic late lunch at a local taverna nearby.
Christmas and New Year were both fairly quiet affairs as Kalamata, like other Greek towns and cities, saves itself for Carnival.
However, Three Kings Day is celebrated by a swim in the harbour for those hardy souls racing for the blessed cross.
Lent and Easter are very important celebrations in Greece and we were delighted to be able to join in the "Burnt Thursday" festivities….
…..when BBQ's are lit at nearly every restaurant and people eat all the meat they can before the start of Lent. A fabulous day – especially as it coincided with Mike's birthday – well, one of them anyway!
Carnival followed with the main event being the parade on Sunday 10th March…..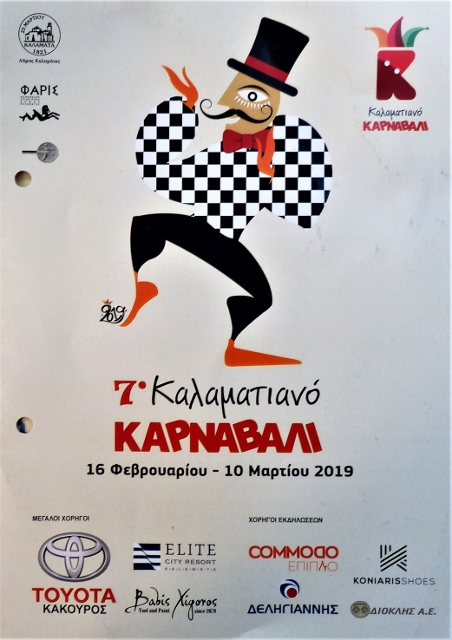 ….and then the "Clean Monday" celebrations the following day when a traditional bread…..
…. as well as olives, taramasalata and halva form part of the picnic that families take to the beach or into the hills where they indulge in kite flying. We opted for the nearby beach.
We now look forward to Greek Easter itself which, this year falls on Sunday 28th April.
Once again our winter wasn't just about fun – even though we did have a lot of that – and, as I hinted at the beginning of this post, there was plenty of work done too.
Winter 2018/19 jobs
Our biggest job this winter was to design and have fabricated a new stern arch and a bimini frame. It was a job we tried to have done in Spain last year but we were let down by the fabricator. This year Ioannis [Inox Kiriakidis] came up trumps
We then commissioned a full tent and some summer shades from Mixalis, a local sail maker/rigger who also cleaned, serviced and replaced the sacrificial strip on our genoa and jib and checked all our standing rigging.
We then fitted 2 solar panels and wind generator to the new arch and put LED cockpit lights on the bimini.
As always seems to be the case no matter how big or small a job, all of this entailed pulling the interior of the boat to bits!
And so we went from this….
….. to this….
In addition we:-
Replaced the main halyard, replaced the spare halyard with the old main halyard and replaced the topping lift with the spare halyard
Replaced the engine room blower and fitted an automatic fire extinguisher in the engine room
Replaced our VHF and fitted a new cockpit VHF speaker
Replaced all the screws on the running backstay base plates
Resealed the cockpit pedestal having sourced some really good grommets actually designed for putting pipes through walls but which fitted the bill for this job
Resealed the main cabin windows
Made a wire lock for the outboard
Fitted rubber snubbers and new stern lines
Replaced the Italian 240v sockets with European standard sockets, fitted 12v sockets in the forward and aft cabins and replaced 4 saloon LEDs
Fitted a new autopilot
Fitted a jib furler cover
Fitted a galvanic isolator
Did the annual service of the windlass, engine and outboard
Replaced our life-ring
Re-varnished and refitted the outboard support on the pushpit
So, all in all another busy winter work wise though the job list never ends and we are already adding things for the 2019/20 winter season which we have again booked at Kalamata Marina.
But for now we are happy to be sailing again and hope to report more great adventures as we head off, firstly to the Cyclades.