It's great to be back! Back writing the blog and back in Greece.
My first yachting experience was when Mike and I, with friends, chartered a boat in Corfu and sailed most of the Northern Ionian. That was 17 years ago and there has been a lot of water under various keels since then, but none of it in the Ionian so the three and a half weeks we spent there in June of this year was a brilliant experience, noting the similarities and the changes, reliving old memories and creating new ones.
On leaving Preveza on 8th June we sailed 35 miles north to Mongonisi at the southern end of Paxos….

….. and it was here that we quickly came to realise that one of the biggest changes is in the number of charter boats and, more evidently, the number of flotillas. Anchorages which 19 years ago may have had two or three boats in them are now crammed with boats, some rafted together, or berthed on jetties which didn't used to be there. The anchorage on the north of Paxos, which remains one of the most beautiful, is a prime example.

Reading some of the threads on forums aimed at "liveaboards" it is clear that this influx of boats is considered, by many, to be a bad thing. Indeed, at times it felt that the only way to get a decent spot was to turn up before 2pm [or even earlier in some places] but, looking at it from the Greek point of view – surely it has to be a good thing. For a country which depends highly on tourism it has to help with their economy. It also encouraged us to go to places we hadn't been before and find small towns on the mainland which, at least for now, are largely off the flotilla route. Additionally, we are happy to anchor so we don't need a berth and since flotillas seem to go mainly to places with harbour walls, quays or jetties, then being willing to anchor off makes it less of an issue.
Whilst on Paxos we took the time to walk into Gaios…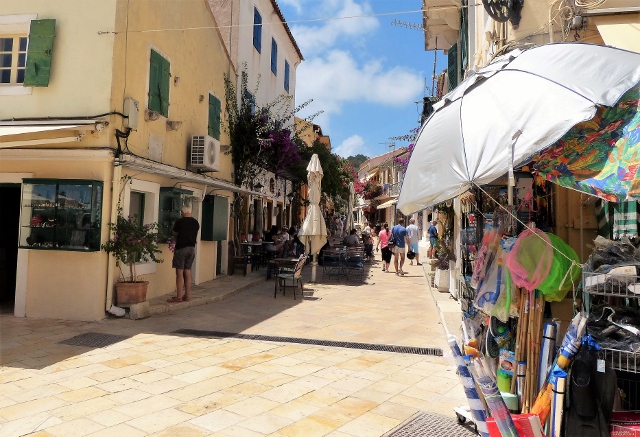 ….. a small town popular with tourists staying there or arriving by ferry on day trips from Corfu or Parga.
A channel runs between the town and the island of Agios Nikolaos, wide and deep enough for boats to pass through but only a few available berths.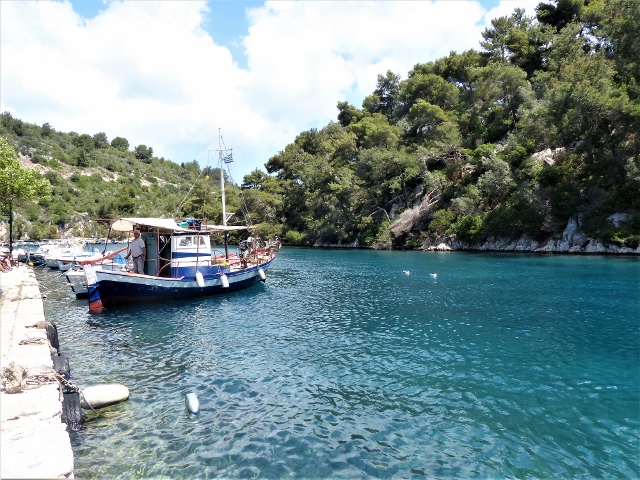 An anchorage at the south end of the channel looked promising in north winds ….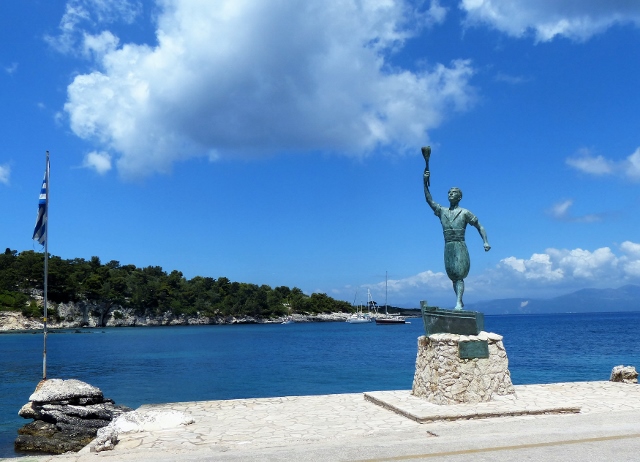 …. but, after walking back to Mongonsi via a drinks stop…..
….. we found, on moving to it, that it was very lumpy and rolling so we sailed across to mainland Parga instead.
It was on this trip across that we encountered something else which we hadn't remembered from our previous trip – fairly strong winds and resultant waves.
Our memory was of little or no wind and lots of motoring and, indeed there were days just like that in June this year….
…..but there were also big wind days which was great for getting the sails out except, of course, the wind – as all sailors know – always seems to be on the nose whichever way you are wanting to go!!!
More surprising weather wise were the number of thunderstorms occurring. Whilst they are to be expected in early spring and late autumn they aren't reported as a feature to anticipate from May to end September. However, here we were in June watching clouds mass over the mainland and sometimes the islands and sheltering from the odd raindrop.
In fact we continued to dodge storms right through the summer – and there will be more about that in later blogs. For now, I will just echo what was said to us by a very pleasant woman we spoke to in one of the Lefkas chandleries… "Greece is now almost Tropical. Its hotter and we get heavy rain and thunder throughout the summer. We have been careless with the planet and it is probably too late to change it". It would be nice to think that countries are now much more aware and that we could at least halt the change even if we can't reverse it… but I fear she may well be right.
Parga Town hadn't changed much, though Valtou Bay/beach was a complete shock. When we first visited there was one taverna at "The Yacht Club". Now the whole of the bay is full of hotel complexes and restaurants.
As my sister said "Better that they spoil that beach than the town itself" and, to be fair, other than a few more restaurants and shops lining the climb to the castle on the town side it remains a pretty, if very popular, place to spend some time.
We also revisited a couple of places at the NE end of Corfu….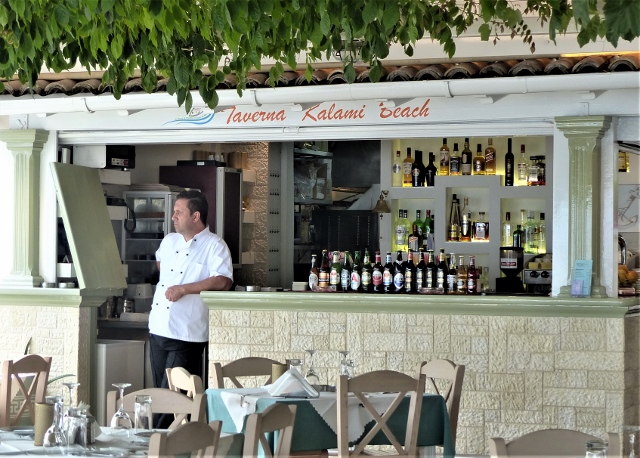 …. but this time also anchored at Corfu Town.
Wandering round we managed to find some out of the way back streets…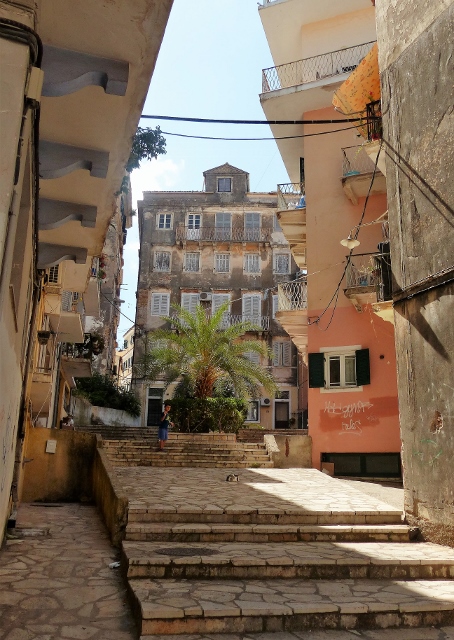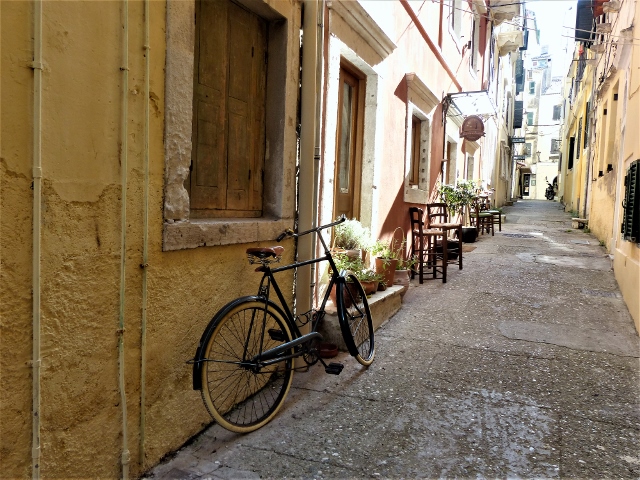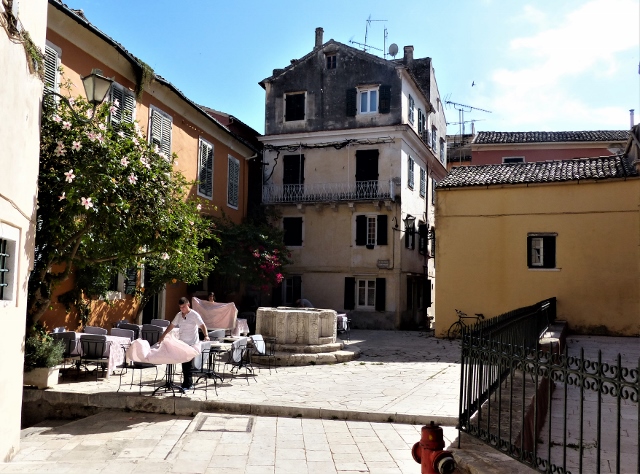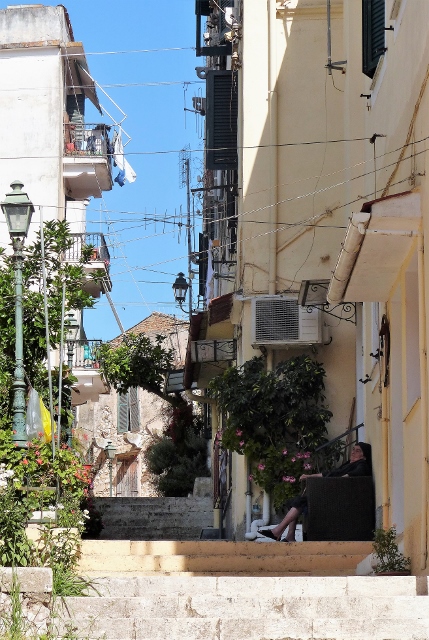 …which gave us much more of a feel of the real town which lies behind the castles and elegant pavements and buildings which most people see. Of course we saw those too….
… and found a small garden at the seaward end of the Palace in which were two very different but eye-catching sculptures.
Between Parga and Corfu town we had zig zagged across the stretch of the Ionian which separates the Greek mainland south of Albania and Corfu Island and this enabled us to visit two new, to us, mainland anchorages…..
….. and one towards the SE end of Corfu.
We loved them all, particularly Petriti which we visited again later.
Most astonishing was our entry to Sayiádha. The photograph below shows us somewhere between one and two miles out….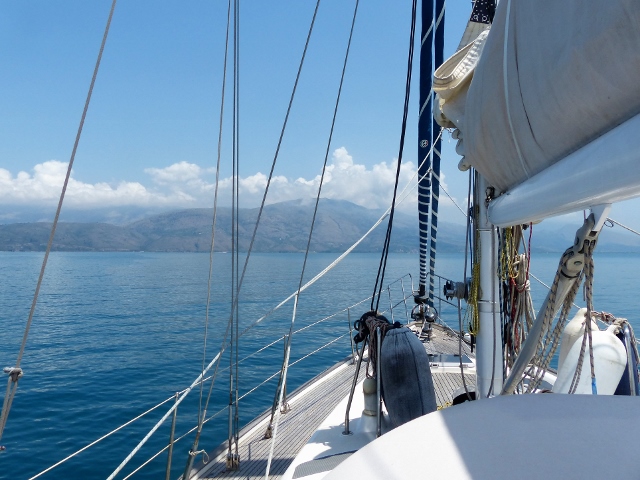 This was the depth.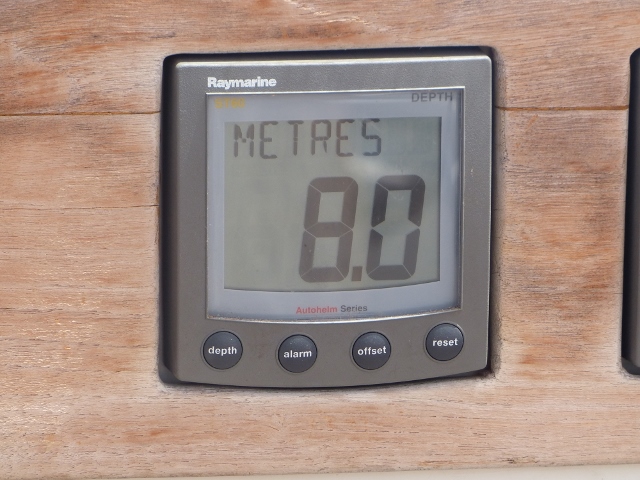 It stayed like that almost to the anchorage itself where we anchored in 2.8m. It was fairly similar off Petriti where shoal water extends about a mile to the north and half a mile to the east of the Cape.
When planning the places to visit I really wanted us to go to the islands to the north of Corfu. 17 years ago it was difficult to get to them in a charter boat due to the, then, uncertain relationship between Greece and Albania. To the good, all of that has changed and small and large boats now ply the waters regularly. There are three larger islands in the group, Orthoní, Erikoússa and Mathraki, though the very small harbour on the latter isn't really suitable for "Owl and Pussycat" and the surrounding reefs and numerous above and below water rocks all around the island put us off attempting that. Erikoússa and Orthoní read as being eminently possible and on 16th June we sailed north and west from Kalami to Erikoússa. I say sailed!! In reality, having waited until the wind started to get up around 11am we hoisted both main and genoa only to find that as soon as we rounded the NE tip it dropped. We tried going more north to get some breeze and managed another 30 minutes of sailing but that just resulted in 30 minutes being added to the overall journey time as we had to make it up when we finally gave up and made direct for the island. Ah well.
Erikoússa was a gem.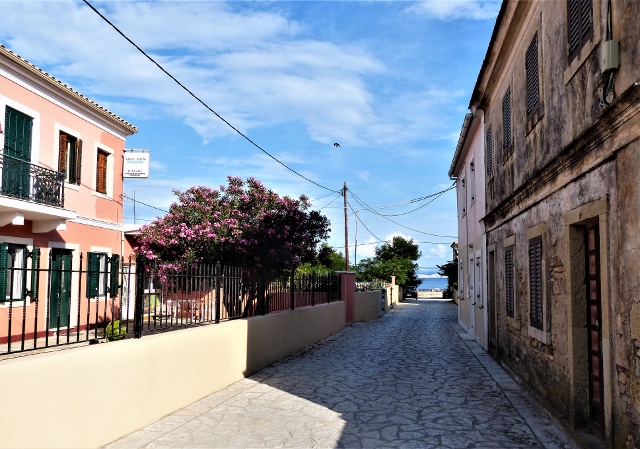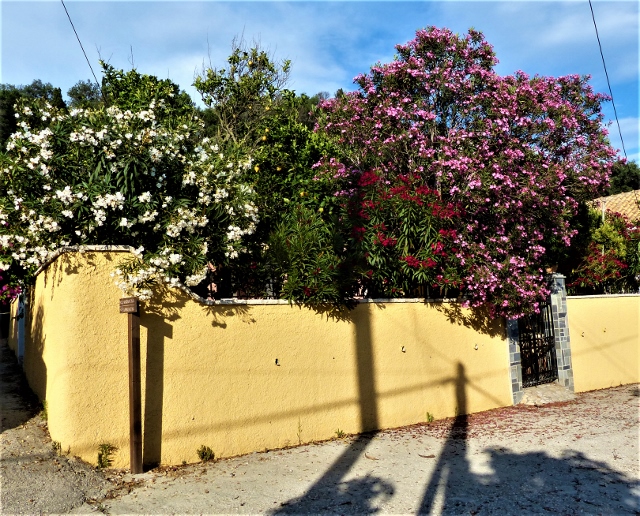 Upon arrival we went ashore to explore and saw a map which detailed a 12km walk….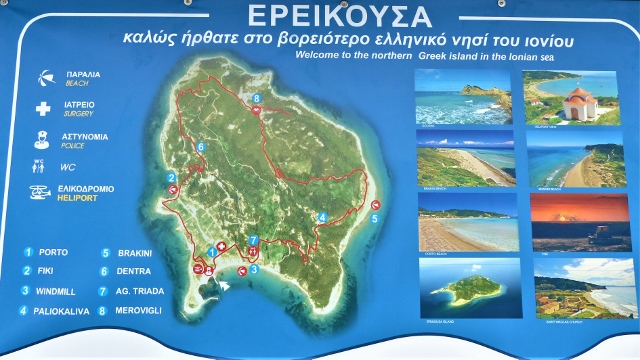 …. which of course we had to do the following morning.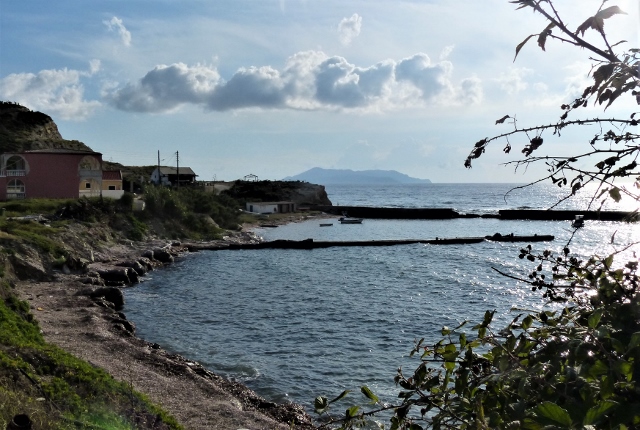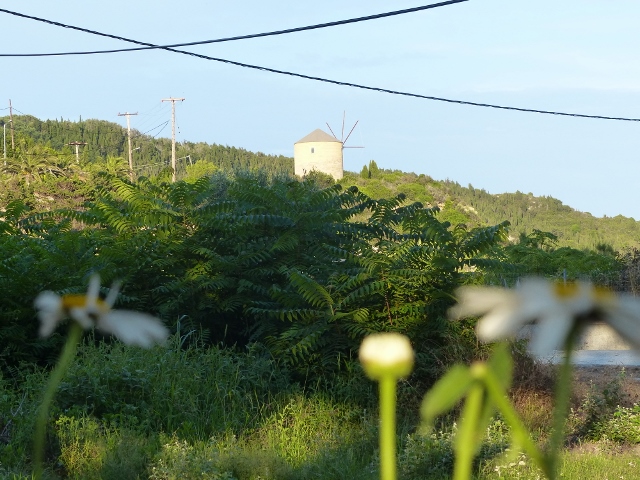 Lovely, even though it did involve several ups and downs… certainly more than expected on an island described as being difficult to spot from the sea due to its low lying nature!
However, less lovely had been the rolling we had done during the night and, from our vantage point in the restaurant drinking a well-earned beer at the end of the walk we could see that nothing had changed. So, it was decision time. Stay another night and hope it calmed down, move to Orthoní which is even more liable to ground swell or retreat to Corfu. Much as I would have liked to visit another out of the way place the thought of a second disturbed night wasn't high on my list of priorities so it was back to Kalami because our first choice of Corfiot anchorage, Agios Stefanos, was full by the time we got there [19.15].
Heading south again, Lefkas was our next stop. Although we had been to the island in 2001 we hadn't spent much time in Lefkas Town. We certainly remember the canal…..
… and vaguely remember stopping for some provisions but not for the night. This time we stayed three nights on the town quay. Although we believe it is possible to anchor between the harbour and the marina we only saw a couple of boats do it and, then, only for one night. The other choices – if you want to overnight – are the marina at approx. €80 per night for a 49' boat or the town quay at approx. €12 per night. No contest as far as we were concerned.
The Lefkas canal is a very busy stretch of water and boats queue early to make their way slowly towards the bridge which opens hourly. As you can imagine the early morning opening times are the most popular for boats heading north and we enjoyed watching the 9.00 and 10.00 "musters" as boats juggled for position in the queue.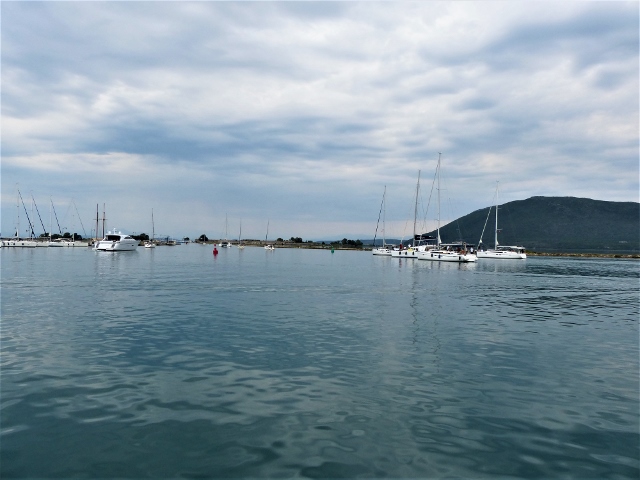 It certainly doesn't pay to be late. The bridge operator starts to close the bridge whilst the last couple of boats are still going through. Anyone entering the channel at the actual appointed bridge opening time would be very unlikely to make it as it takes a good 15 minutes up the channel at the pace allowed and only about 10 minutes for the boats to pass through once the gate has opened – and that's on a busy day. The afternoon we passed from north to south it only took about five minutes for the five of us going one way and an approximate equal number the other.
Something else it would not be wise to do is try to get a berth anywhere in Lefkas Town on a Friday, Saturday or Sunday. The marina is a huge charter base with most of its 630 berths used for that purpose and therefore very busy during hand over days. The west wall of the north canal at the town end, which boats are able to tie to, is also used at weekend for more flotilla turnarounds. We had arrived on the Thursday so were not fighting for the few spaces available when any boats left the town quay over the weekend.
We had already decided that we weren't going to take the boat to the south coast anchorages of Vasiliki and Sivota which we had enjoyed on our previous Ionian trip – mainly because we wanted to start heading east to the mainland and the Gulfs of Patras and Corinth. But, we did decide it might be nice to see them again and to explore the interior of the island which we have learned, over the years, that we enjoy doing. So, we hired a car for the day and off we went.
Whilst the two southern harbours were as lovely as we remembered them, the highlight of the day was the highest village on the island – Englouvi.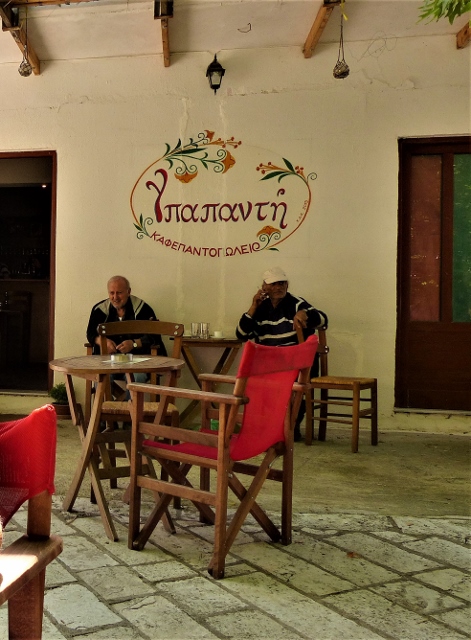 Time seems to have stood still here – though the displayed photographs on a billboard poster near the square demonstrated that whilst some activities seemingly never change, the people doing them do.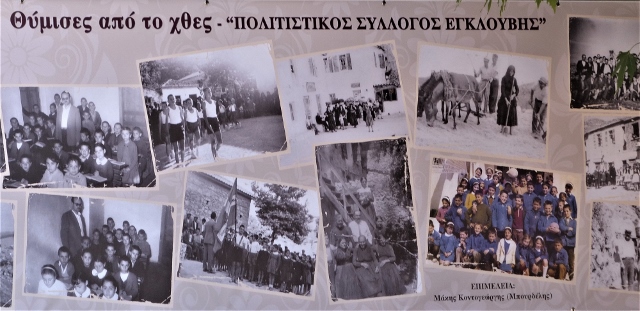 Churches were also a major feature….
…and the views quite stunning.
Something else that doesn't seem to have changed in Greece anywhere near like to the extent it has in other parts of Europe is Health and Safety. We have seen people swinging from unstable ladders, electricity connections which no HSE inspector would pass as fit in the UK, playgrounds with no "soft matting" and have visited ruins where in other countries metal waist level bars or ropes would have been placed to stop people from falling or even, in some cases, entering. Perhaps the most interesting thing we saw was this guy balancing on a thin wooden beam to fix some fairy lights in a bar.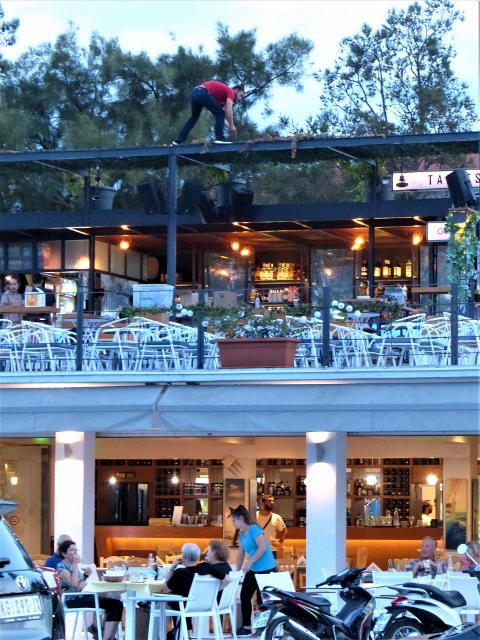 Earthquakes in 1948 and 1953 resulted in Lefkas Town losing much of its Venetian architecture. Though some older buildings do remain standing…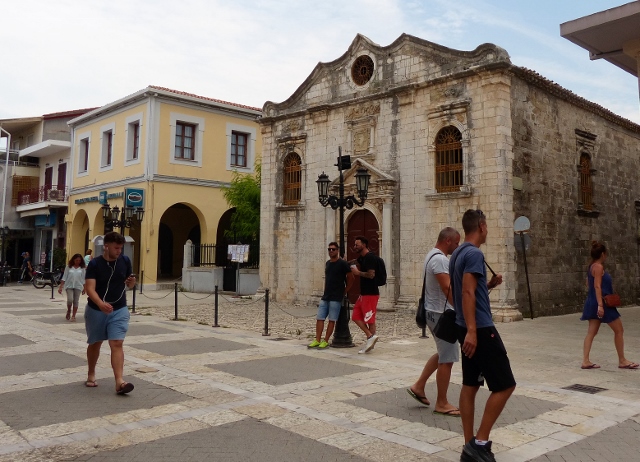 …. most streets are now lined with "quake proof" constructions vaguely resembling those often found in the Caribbean.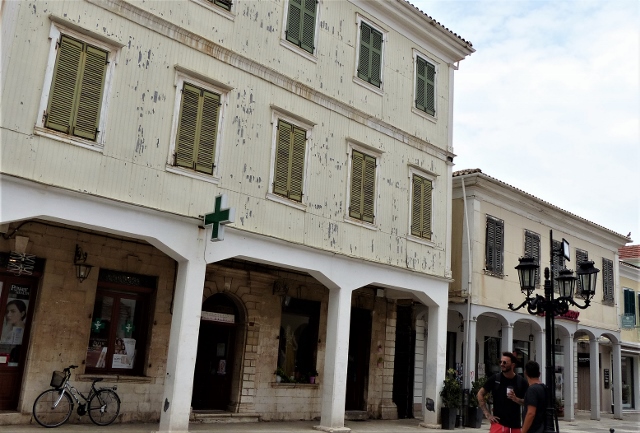 The remainder of our time in the Ionian was spent at places not previously visited. Although we had been to the small island of Meganisi we had not anchored in Ormos Abeleke or walked inland which we did this time.
The two islands of Kalamos and Kastos were extremely quaint and picturesque and exactly what you imagine if someone says "small Greek island".
Following our arrival at Kalamos we spent two or three hours watching charter boat after charter boat and flotilla after flotilla arrive to shelter from a forecasted two night blow.
It's amazing how many boats "George" managed to organise into some semblance of order that day….
……though he certainly reaps the benefit of his labours as at least 75% of crews eat at his restaurant.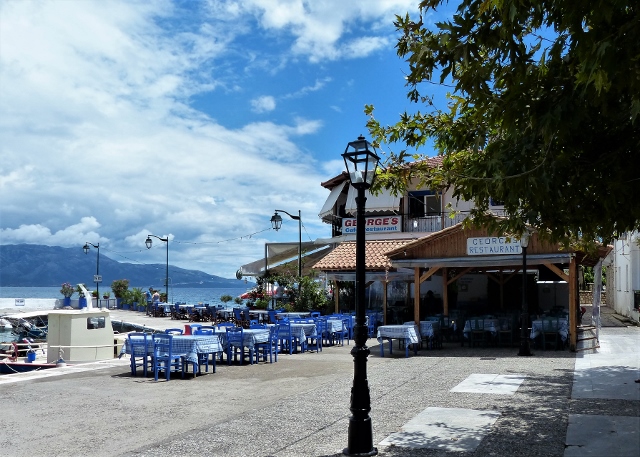 We were in the anchorage just outside the harbour and, as only two other boats were there to share it, we had lots of space to put 60m chain out and therefore spent two very pleasant nights waiting for the weather to calm. A lovely anchorage, as was Kastros…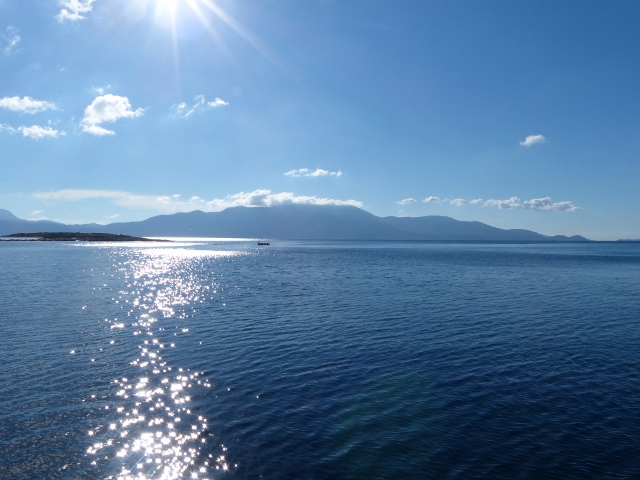 Our mainland stops were made at Palairos and Astrakos. We particularly enjoyed the former because of the upper town with a couple of traditional Ouzeries……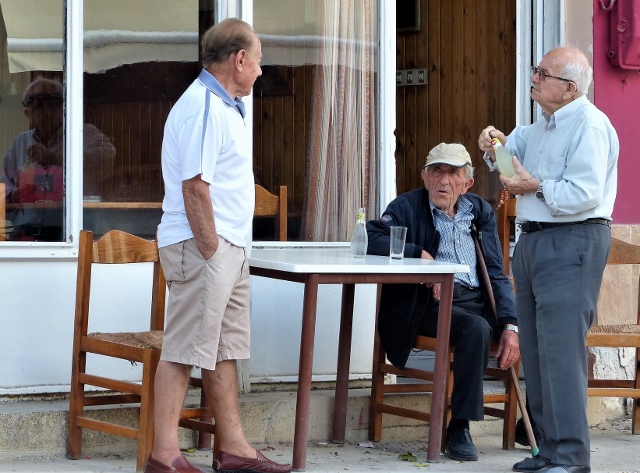 …. and an old fashioned barbers shop.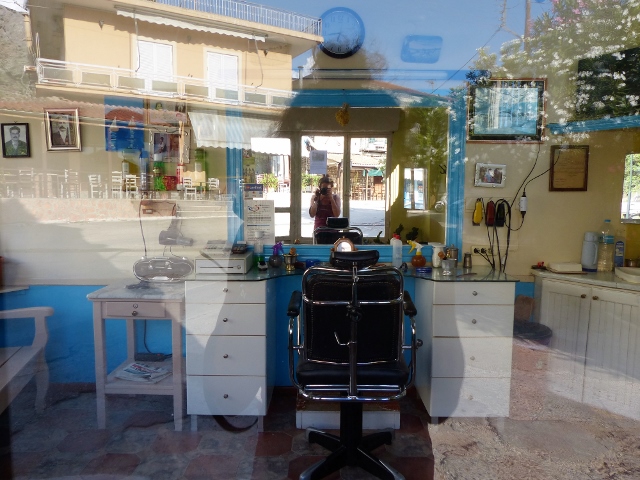 Next to the harbour was a small town square where there was a brilliant Gyros restaurant… so redolent of a classic local Greek restaurant at its best ….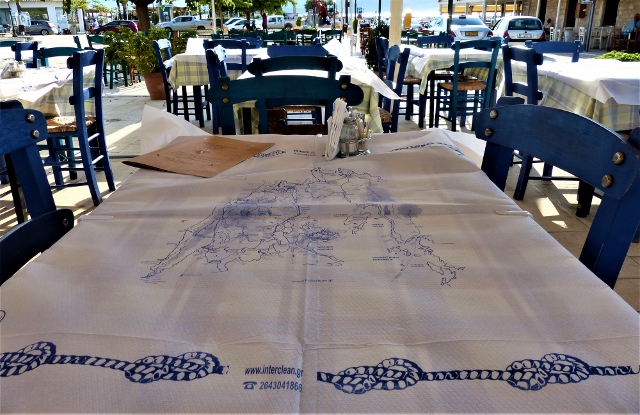 ….and where even the complimentary Meze included meat, French fries and tzatziki.
Unfortunately we had broken one of our cardinal rules and succumbed to the "sales patter" of a restaurateur we had met whilst strolling along the beach earlier and booked a table there.
Regardless of this mistake we had an enjoyable evening and there was nothing wrong with the view…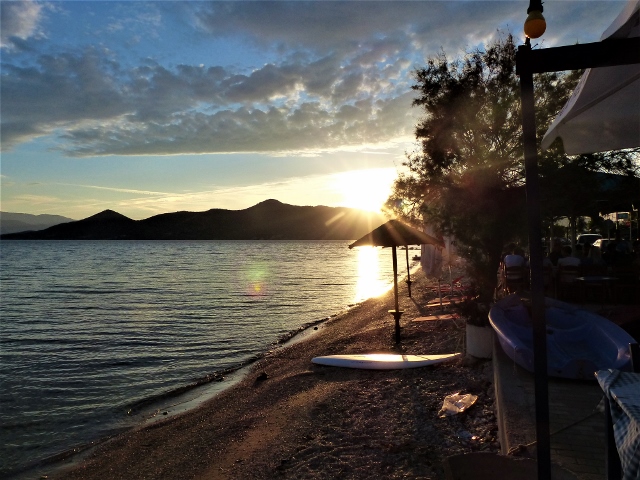 … and we found time to stop in the square again and watch as the local children played safely and freely as they seem to do everywhere in Greece whilst their parent "promenade" or drink coffees and eat ice-creams with their friends.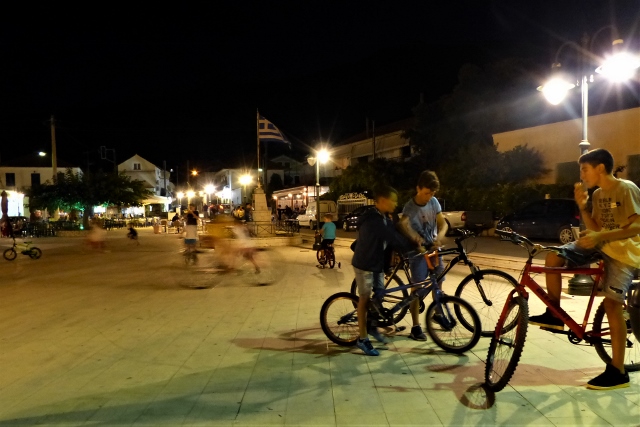 The latter, Astrakos, was a real surprise.
It was the second place since Preveza that we had gone onto a quay – the other 21 nights having been at anchor. Not only was it free to berth there, the water and electricity were also free – though in the event we availed ourselves of neither. We just made an appropriate friend!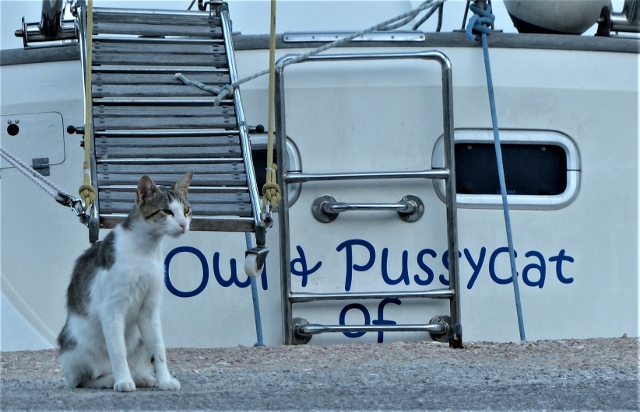 We really enjoyed the small working town and found a restaurant serving something we hadn't previously seen in Greece. Maybe some people won't want to see the next photograph, but I have to say it tasted very good.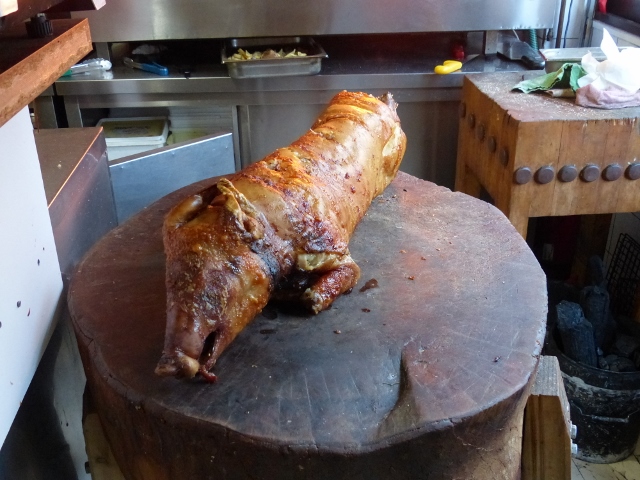 As you know we love eating and drinking and finding interesting shops or markets is always a pleasure. Markets per se seem few and far between – particularly in the islands, which is perhaps not surprising as many of them, especially the smaller ones, basically close down during the winter months. But somehow we always seem to be able to sniff out some good produce.
I am always keen to photograph wildlife and, once again the northern Ionian did not disappoint.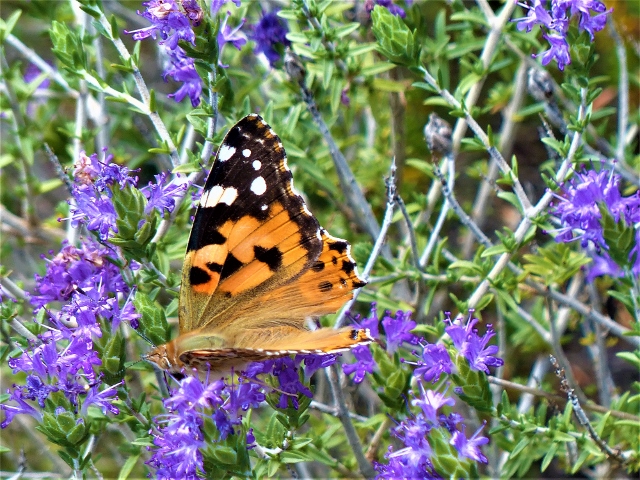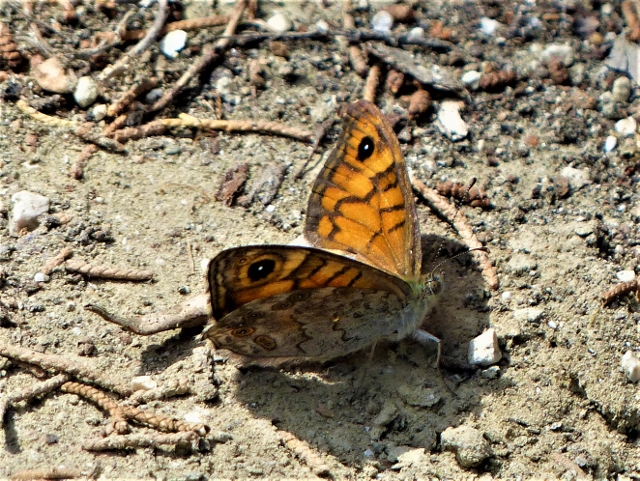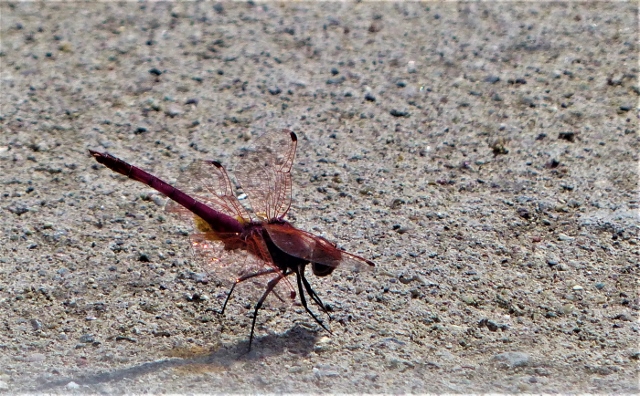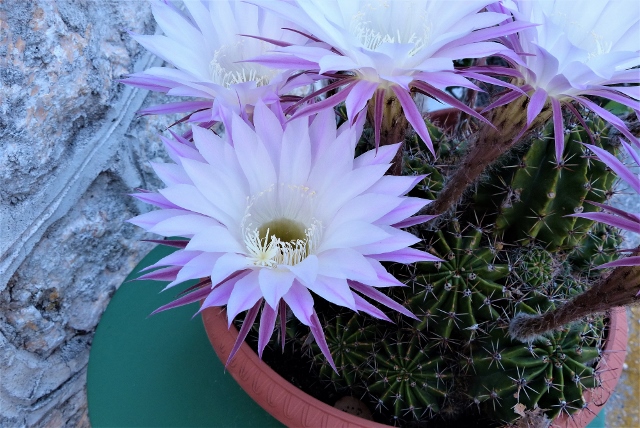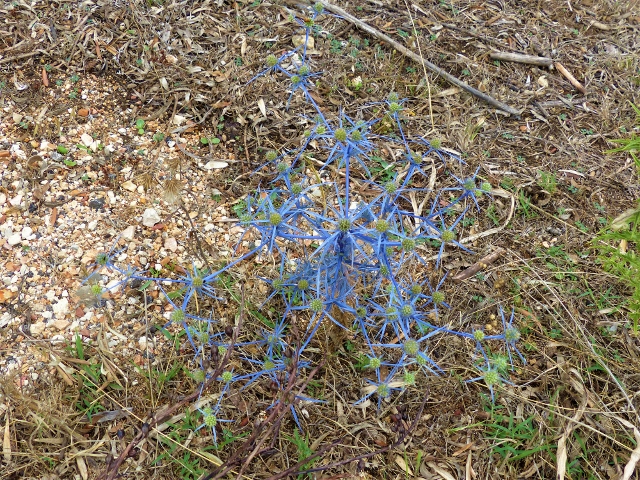 And, finally, because I mentioned Lakka in the context of crowded but beautiful anchorages, I didn't get the chance to include this photograph of a framed letter we saw attached to a wall there. Nothing else I have read about Paxos mentions a visit by him but who am I to say this is not genuine… and maybe some of you have information which confirms it so.