Sailing through the Corinth Canal is something that Mike and I have talked about over the years and which we sometimes considered for one of our bareboat charter holidays. However, we always ended up finding other itineraries – partly because we would have wanted to incorporate it into a "round the Peloponnese" trip which, we always decided, was too far for a two week charter. In terms of miles it is no doubt achievable but I could never decide which places I wouldn't want to stop along the route so there were always too many places and never enough days!
We were probably right not to attempt a Peloponnese circumnavigation in two weeks as, in July this year, we took 14 days just to get from Astakos – near the western end of the Gulf of Patras to the Saronic Gulf at the eastern end of the canal. As you will hopefully go on to read, we stayed more than one night in some places but even so, having now done it, we do not think that taking less time would really do it justice.
We left Astakos at 8am on 1st July for the 34 nautical mile leg to Mesalongion. Approaching the north coast of the Gulf of Patras as we did, from the west, we passed the low lying salt marsh coast – and its ribbon of islands. In calm weather it is probably possible to nudge towards the shoal waters and drop a hook almost anywhere but we had our destination in mind and, at about 2pm, approached the entrance to the dredged canal.
The canal is approximately 3 miles long and along both banks are interesting houses on stilts called "pelades".
It is possible to go alongside the quay or, according to the Cruising Guide, to get a berth at the marina. The latter had some boats moored in it but the office didn't look as though it was open [ever!] and, anyway, we had planned to anchor in the basin.
Heikell's guide describes the town as being a dusty kilometre walk away, past lots of reinforced concrete, but charming once you are there.
It was, indeed, quite charming and very quiet with just a few people watching the World Cup in a couple of the bars around the square.
As it was "beer o'clock" we decided to watch the match too and, unknowingly, chose seats at the "Byron Hotel" so named because the poet died here – in Mesalongion that is, not at the hotel!  Apparently there is a statue of him in the town but we didn't come across it. Having paid €6.50 for a small wine and small beer, probably one of our more expensive drinks in Greece, we moved to the taverna by the quayside for the second half. Large wine and large beer €6 with a small meze thrown in. Good result – once again I mean the price of the drinks, not the match score. [Incidentally, for anyone vaguely interested, it was Croatia 1-1 Denmark]
Overall our conclusion was that Mesalongion was not somewhere we would say was a "must do", especially if time was a factor. However, for us, it broke the journey at a sensible time, it was a very secure anchorage in terms of both shelter and excellent holding and it was an opportunity to see the pelades. Also, had we not gone we would not have witnessed this magnificent sunset.
Our next leg took us into the Gulf of Corinth. Passing from one gulf to the other means going through the Straits of Ríon and Andírrion, a one mile wide stretch of water once known as the "little Dardanelles". Venetian forts stand on both banks but the most spectacular sight is that of the suspension bridge.
Completed in August 2004 it is, with a span of 2,252m, the world's longest cable stayed bridge.
There are 3 navigable channels and as expected when, at 5 miles out, we called Ríon Traffic control on Channel 14 we were asked to make for the southernmost navigable passage as this is normally used for east bound ships. We now think we could have asked to use the northernmost passage – which would have saved us crossing to the southern side and then back to the north – because there was only a small motorboat coming the other way who, when he requested it, was given permission to go through the central passage, normally reserved for larger commercial traffic, just so that he didn't have to alter course.
Once through the bridge we needed to keep a sharp eye out for the car ferries which, to our initial surprise, continue to cross regularly.
On investigation I found that the cost of €6.50 for a car to use the ferry or €13.50, the bridge, to be the likely cause.
From the bridge it was just 45 minutes to Navpaktos where we anchored outside the harbour in 10m to keep us out of the breaking waves. Fortunately both wind and waves were gentle because not to have been able to stop here would have been a real shame. It was fabulous.
Under the shadow of the castle lies the small Venetian harbour.
Being typical Brits we generally tend to do as we are told and so when we read in the Cruising Guide that large yachts over 14m should not go into the harbour, as they would block it, we behaved and, as I wrote above, anchored outside. Having taken the dinghy ashore we found out that others didn't do as they are told, as a couple of boats moored there were longer than us, and that the statement that it would block the harbour was untrue.
Anyway, it didn't really matter. It wouldn't have been the easiest of berthing experiences and we were fine where we were.
So, we set out to explore the town. Although quite small it had everything in the way of supermarkets, bakeries, butchers etc and we had fun provisioning.
Around the harbour are numerous quaint café's….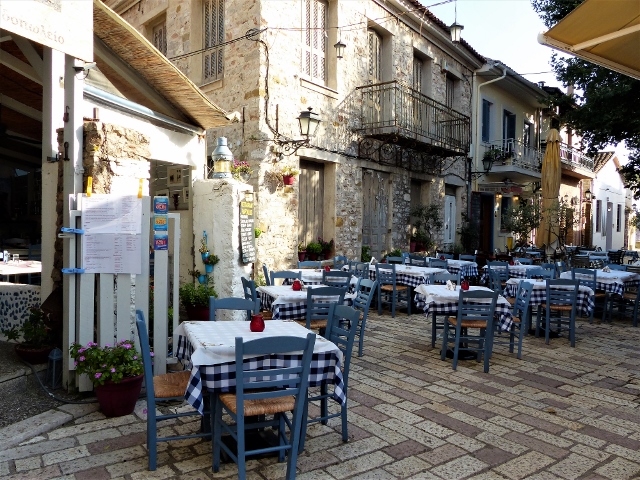 …… and along the harbour wall are several plaques commemorating various people and countries who assisted in the battle of "Lepanto" – which was the name of the town in medieval times – and in the Greek War of Independence. A small statue on the waterfront honours probably the best known fighter….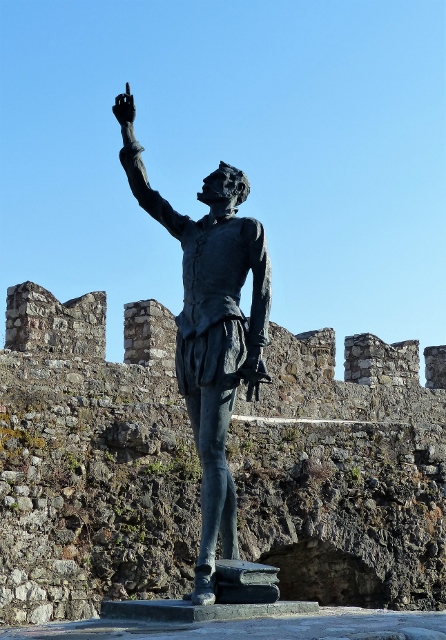 ….. Cervantes, who lost an arm in the battle.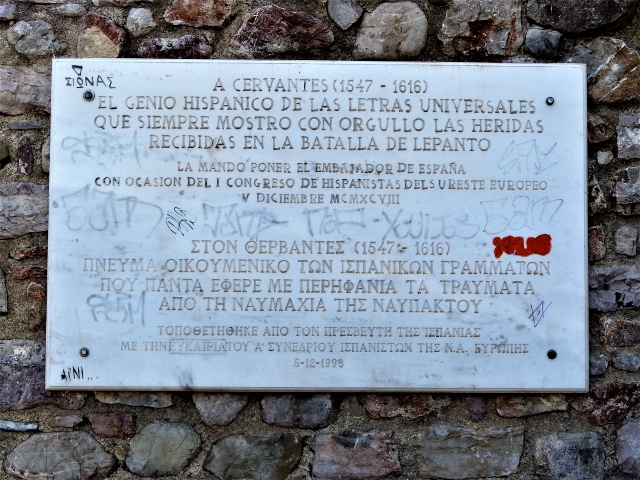 Unfortunately it was Mon/Tues when we were in Navpaktos so we could not visit what is apparently a stunning Ottoman mosque – called the "Fethiye Mosque" as it is only open to visitors for around 2 hours each Fri/Sat/Sun evening. We did, however, walk up to the "kastro".
It is a well preserved fortress which has five different layers built successively by Doric, Roman, Byzantine, Venetian and Turkish conquerors. The Tsaous Bastion was the final fortification, one of the constructions added by the Turks….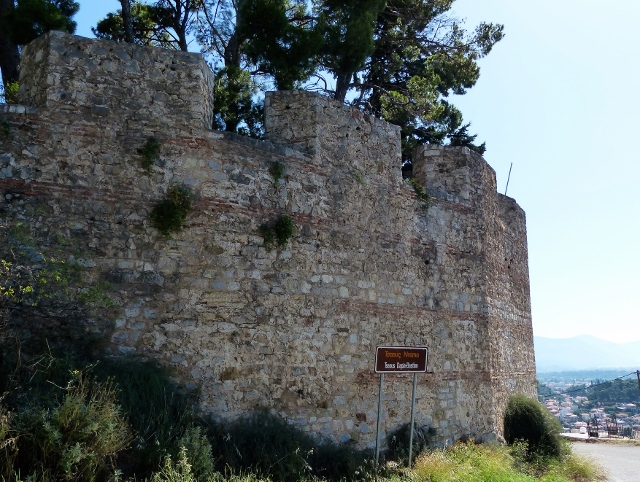 …. as were these baths situated in the second lowest level.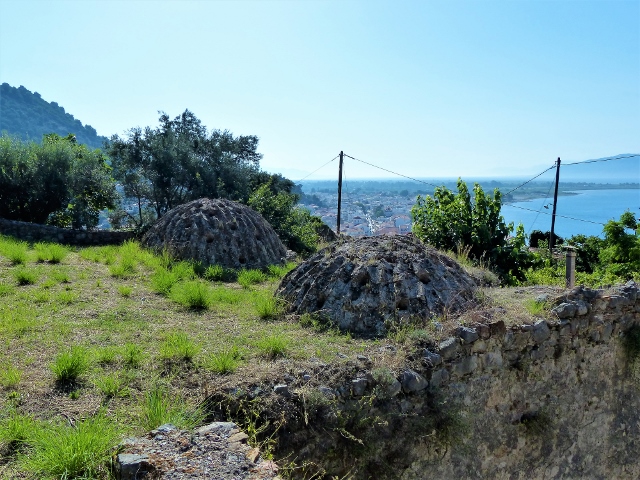 The citadel at the top is 200m from sea level.
It affords excellent views down to the harbour….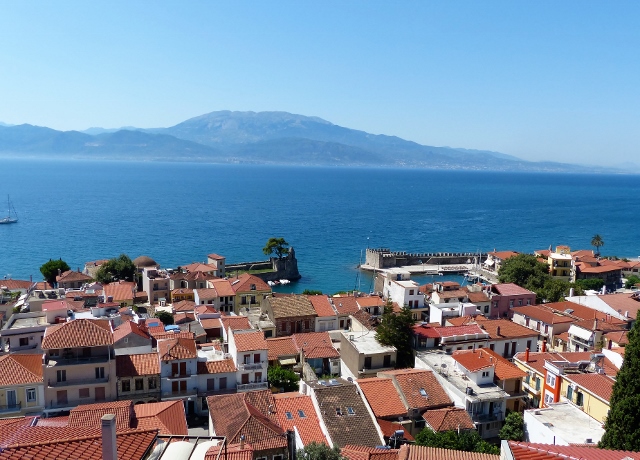 … and along the gulf.
We spoke with one of the custodians and he told us we should also visit Tzavellas Mansion which houses a small museum with exhibits relating to the Battle of Lepanto. We found the mansion but it was closed.
We walked up to a tower we had seen from the bottom, which was a bit of a disappointment…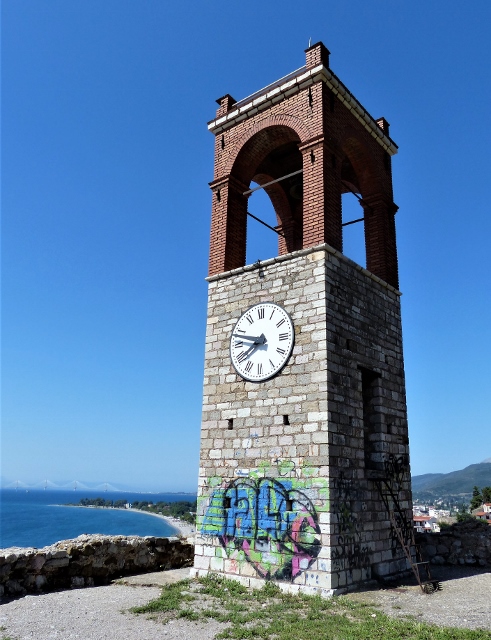 …and saw various wells, of which this is one.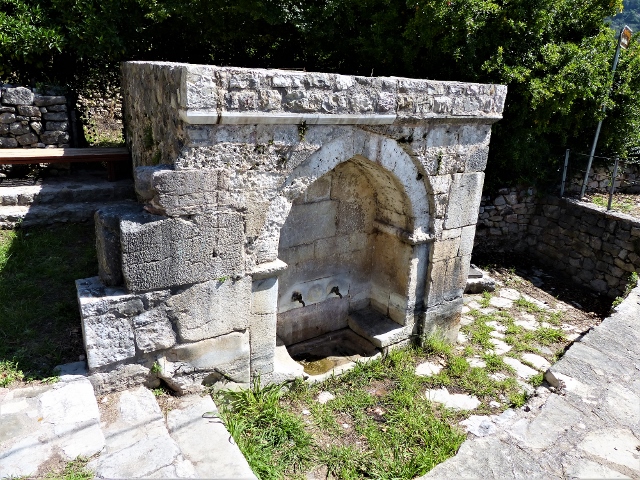 Navpaktos is surprisingly well watered in an area of Greece where water is scarce throughout the summer months.
We timed our visit to the castle perfectly. As we were heading back out to the boat the breeze started to increase and, once aboard, we raised the anchor for a lovely gentle 2.5 hour sail to "Nisís Trizónia".
This is one of the most popular stopover places in the Gulf and some people leave their boats here over winter. The marina is not actually operating commercially but the pontoons are in place.
Once again we preferred to anchor in the sheltered bay and spent two lovely evenings there.
The island is approximately 1.5miles long and 0.75miles wide and its single small village consists of a church…..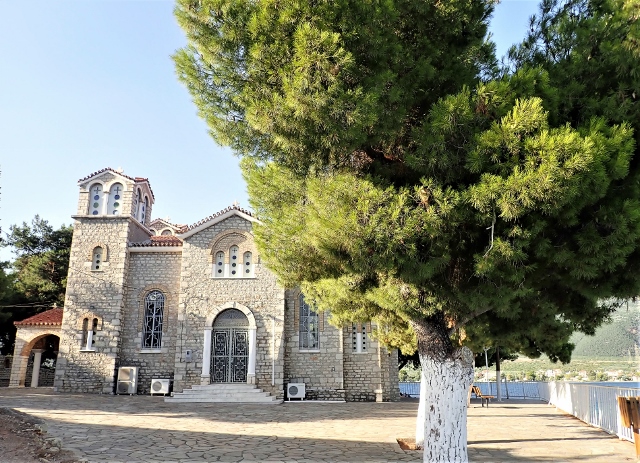 …. an hotel, a few guest houses and about half a dozen restaurants.
It is a very popular place to visit by ferry from Glifida just half a mile away on the mainland. Some friends happened to anchor at Trizónia on a National Holiday and found it packed, with every restaurant full to bursting. We saw it operating at a much less frantic pace and, as a result, enjoyed it much more than they did.
During the early afternoon on 5th July we moved eastwards again and were able to sail in 4-10kn wind 6 miles down the gulf to Skala Kallithea. The holding there is described as being good in sand. We found weed, poor holding, little room in a depth we wanted and winds being funnelled over the mountain directly into the bay so, at 7pm we decided to move to Panormos 7 miles further on – a very pleasant anchorage with better depth and more shelter.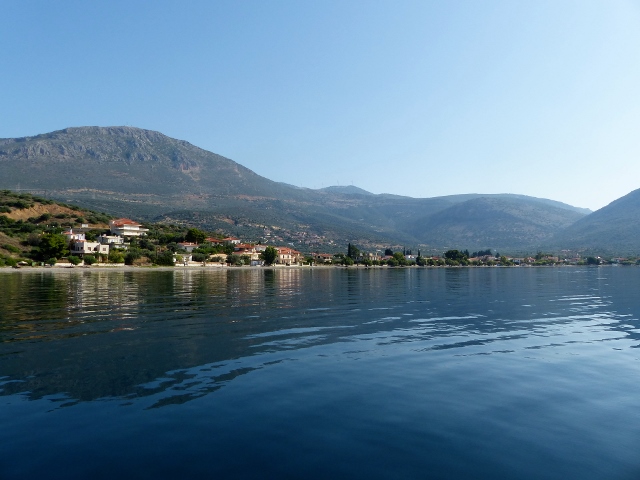 Our next port of call was the fairly large town of Itéa where we went alongside the breakwater of the harbour [no charge].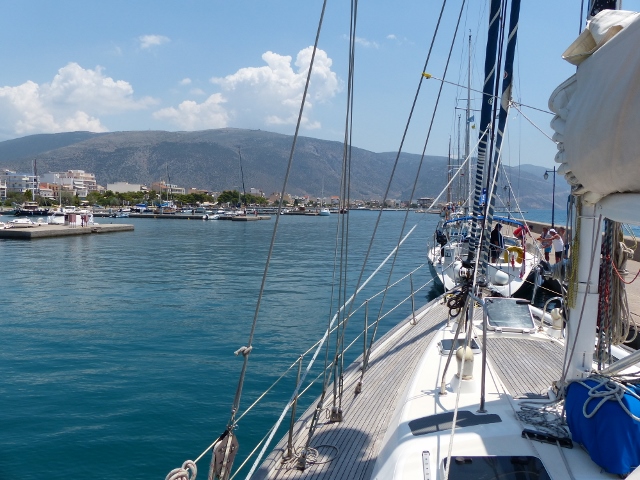 It is a fairly scruffy working town but the local people were really friendly and we loved the waterfront which bustled in the evening with people undertaking the traditional "promenade" before congregating in the numerous small ouzeries, coffee shops and gyros bars. Most people who go there are on their way too or from Delphi, which is a few miles inland, though probably more people visiting the site stay at Galaxhidi just 4 miles south of Itéa.
Galaxhidi is also a much more popular place than Itéa with yachties though the comments "not always good holding" and "can send a swell in" resulted in our decision to favour Itéa. We did however visit Galaxhidi, by bus, and can certainly see why it is so popular.
It has a history as a shipping town both in terms of boat building and as a thriving port and we had hoped to spend time at the Nautical Historical museum which, we have heard, is well worth a visit. According to the Lonely Planet it is open Tues-Sun throughout the summer. It was closed on the Sunday we were there! We contented ourselves with wandering round the town…..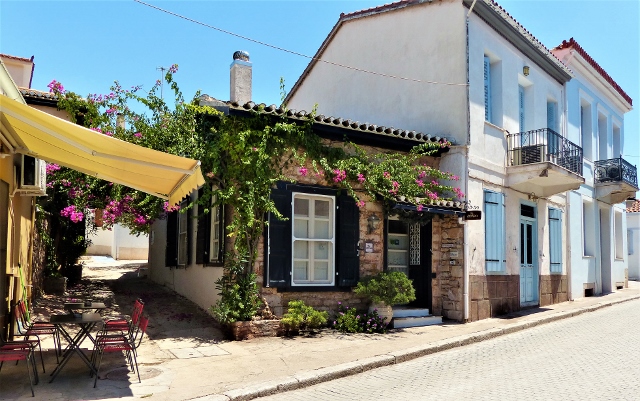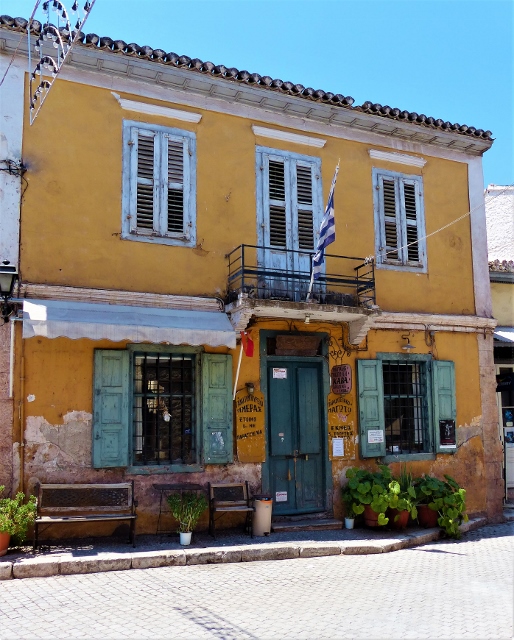 ….and had a great lunch.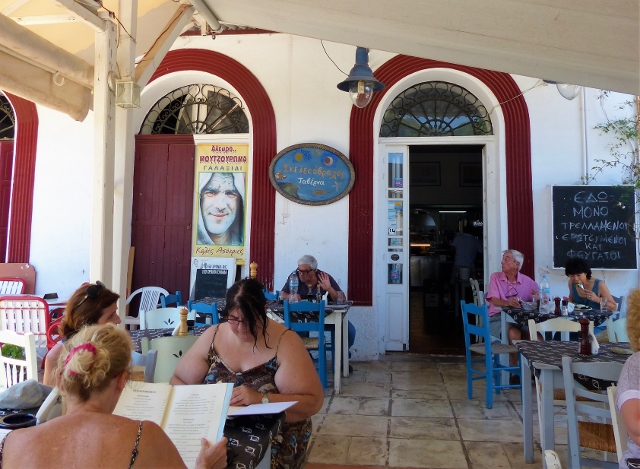 The proprietor [the guy waving!] came to chat with us and, whilst at our table, a friend of his turned up with some small "fresh from the garden" cucumbers which our convivial host proceeded to peel, slice, add salt and oil to and then left us in peace to enjoy as a pre meal appetiser.
We do sometimes have less positive experiences and "Andíkiron" was one of those. Having gone slightly out of our way to get there i.e. 10 nautical miles up 'Ormos Andíkiron to the head of the bay, we went alongside the outer wall of the breakwater. We had hoped to get an inside berth but for our draught there are perhaps three possible spots and they were already occupied by two French boats and some local fishing boats. We had been there about 5 minutes when a guy came along to charge us. It was only €5 per night and we happily handed over €10 intending to stay for 2 nights. Interestingly it was the only place we did not get a receipt!
We went into the town described as "a small and friendly Greek resort" to find it run down, with very little signs of any tourists and some locals who barely responded to our "Hellos". We stopped at a restaurant for a couple of frappé. There were only two tables with anyone at them. We were told they didn't serve just coffee – you had to eat. We have never been told this anywhere else in Greece. We left.
To top it all we had a really bad night with waves slapping the sides of the boat and jarring us on our lines. We thought that if either of the French boats left we would move inside the following morning, only to find when we awoke that they had been up before us and moved down the quay because they too had had an awful night. It was therefore no good taking those berths and, given the general unfriendly reception the town had given us, it didn't take us long to decide to leave – especially as the wind which had resulted in the waves and swell was actually forecast to increase.
So, on 10th July we moved to our final Gulf of Corinth destination – Kiato. We had intended going first to the inlet "Kólpos Domvrainis where I had picked a couple of fairly isolated anchorages with just a small village or taverna ashore. Unfortunately the weather conditions which had made Andíkiron uncomfortable would also have affected Vathi and Alikis so we headed straight across the gulf to Kiato.
We were really lucky and managed to get onto the end of the mole inside the small fishing harbour which lies in the SE corner of the commercial harbour.
We spent four nights in Kiato and found it to be a very different experience from Andíkiron.
Friendly, busy, great provisioning – including Lidl! – and no harbour fees. We also found a lovely restaurant and a very nice, if rather pricey bar, outside which we shared a couple of glasses of wine at sundown.
We had thought that we were going to meet Chris and John there at the start of their holiday so they could experience the Corinth canal. However, although we really liked the town it would be a stretch to describe it as a typical Greek holiday destination so we gave sis the choice of still coming to Kiato and "doing" the canal or meeting us on the other side in Aegina. She chose the latter. Therefore it was just Mike and I who set off at daybreak [06.40] on 18th July to transit the canal.
As with the Ríon bridge we followed the instructions in Heikell's Guide and contacted the canal authority – "Ishmia Pilot" on Channel 11 when we were 5 miles out. We were asked the usual questions – boat length, draught, number of crew/passengers etc but were then surprised to be asked whether we could pay in cash. Being the most expensive stretch of water in the world it was going to cost us [with an overall length of 14.8m] €264 to transit the 3.2 mile canal. Fortunately we had sufficient money on board and were therefore able to say that cash was OK.
We were told to proceed and call again at 2 miles out after which we were instructed to wait near the entrance where one other boat was already holding position.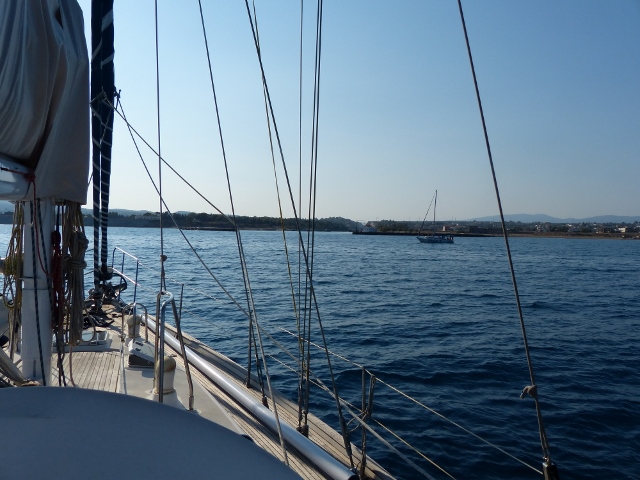 We were, we think, quite lucky as we were only there 20 minutes before the transit began. Others we know have had a much longer wait.
The idea of having a canal at Corinth goes back a long way with both Greek and Roman leaders making plans for one to save them having to haul boats across the Isthmus. Nero was the only one who actually started digging but work soon halted as he diverted his thoughts, and slaves, to combat Gallic insurrection. The present canal was started in C19 by a French company and completed by the Greeks in 1893.
At the entrance to the canal is a hydraulic bridge which is lowered into the water…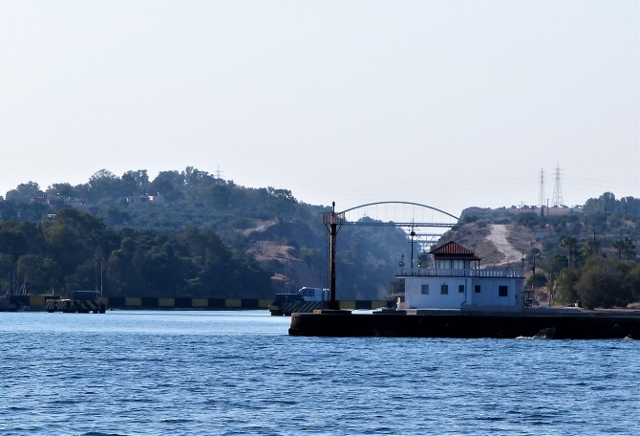 …and boats then enter.
We were the lead boat followed by "Lyndy Lou" with the smallest boat bringing up the rear.
It took about 30 minutes end to end and we enjoyed every minute.
Apparently the canal was enlarged following damage during WW2 – goodness knows how narrow it must have been at that time because as it is now it felt as if we could lean out and touch the sides.
Mike also had the sensation of sailing downhill ….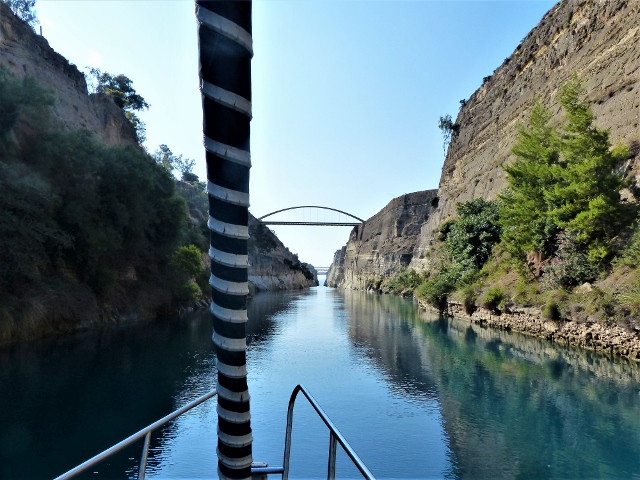 …..and, as with all bridges, even knowing our mast needs just over 20m clearance – to get the aerials safely through as well – and the clearance under the three bridges crossing the canal is 52m, it felt like a close shave.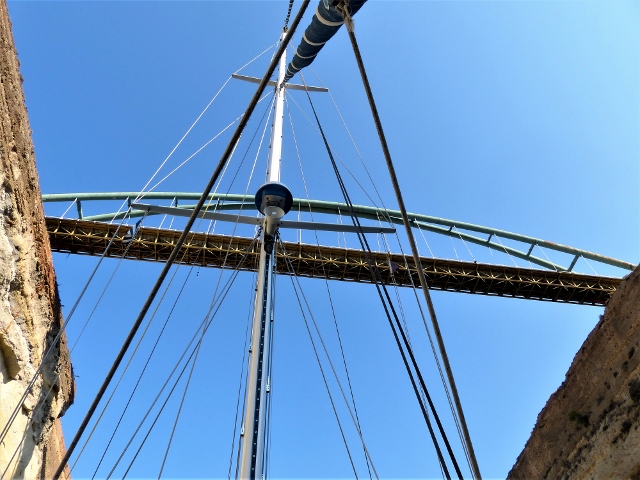 We emerged into the western basin……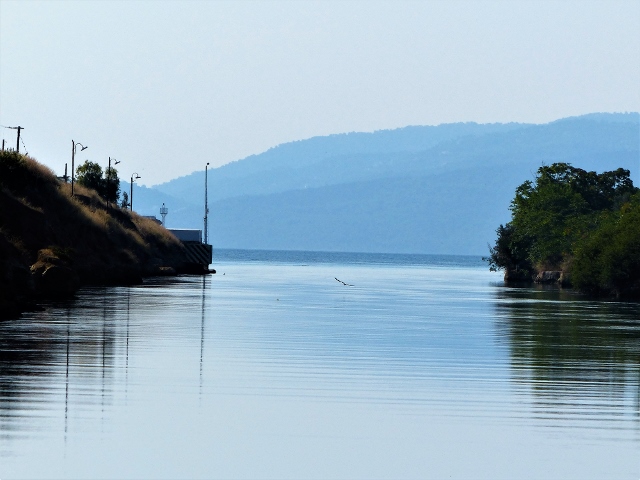 ….and, at 09.30, docked alongside to go to the tower to make payment.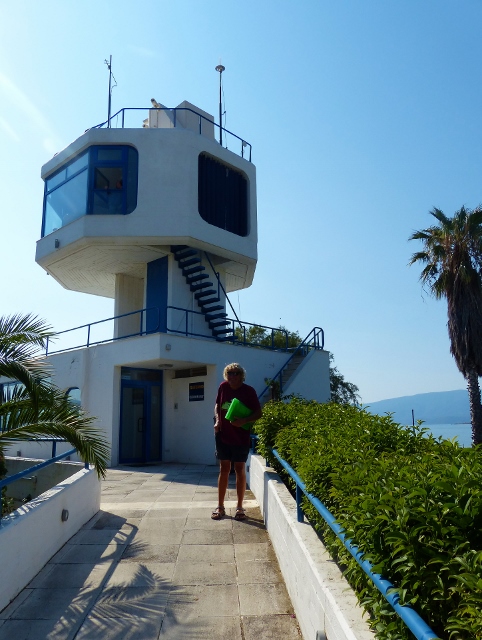 It was all very professional, took very little time and we still don't know why we were asked by the canal controller whether or not we could pay in cash because electronic card payment was what the guy in the payments office expected. It maybe that they want to make sure that if your credit card or their machine doesn't work you have the cash as a backup?
And so, that was that we were through into the Saronic Gulf in the Aegean.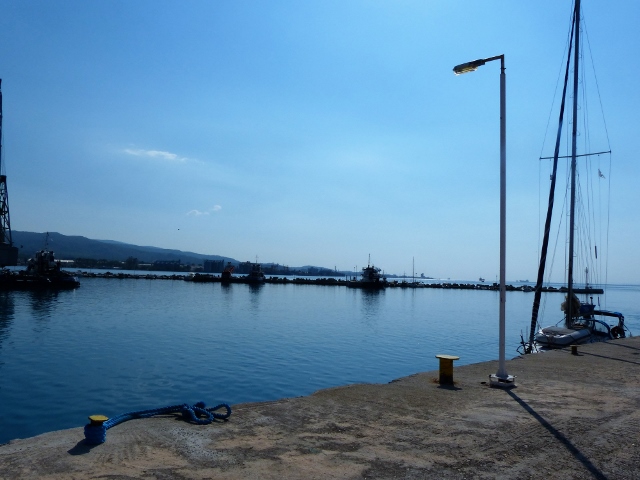 The Corinth canal cuts 150 miles of the journey from the Ionian to Athens but our observation was that it is little used other than by a few small commercial vessels, tourists boats which take trippers through and back and a handful of yachts daily. Throughout our passage from one end of the Gulf to the other we hardly saw any other boats – it certainly wasn't the busy waterway we were expecting.
With regard to commercial traffic I expect that the size of vessels today precludes their passage. I think it is a shame that more yachts don't use it – but the cost factor is probably an issue for some.
We would certainly recommend it even if boats don't go through the canal. So, if anyone reading this is considering a charter holiday in the Ionian region or bases their boat there and visits annually we suggest that they think about sailing at least around the Gulfs of Patras and Corinth as they are well worth it.