Following our sail past Stromboli [how could you ever forget that scintillating photograph at the end of the last post!] we headed south and slightly east towards Scilla at the northern end of the Straits of Messina. Timing is everything with the Straits. If you get wind, tide or current – or, heavens above, all three – wrong then it can be a bit of an uncomfortable trip, at best!
We had downloaded the App for our Android phone – look for "Correnti Stretto di Messina" on Google play or, I assume, something similar for i.phone/i.pad – which enabled us to select the best time in respect of tides and currents and used this in conjunction with "Windyty" – our favoured wind App – to work out our passage. It transpired that, on Thursday 31st May, between 6am and 8am was the best time to enter and we timed our approach pretty perfectly.
Dawn broke as we approached Scilla….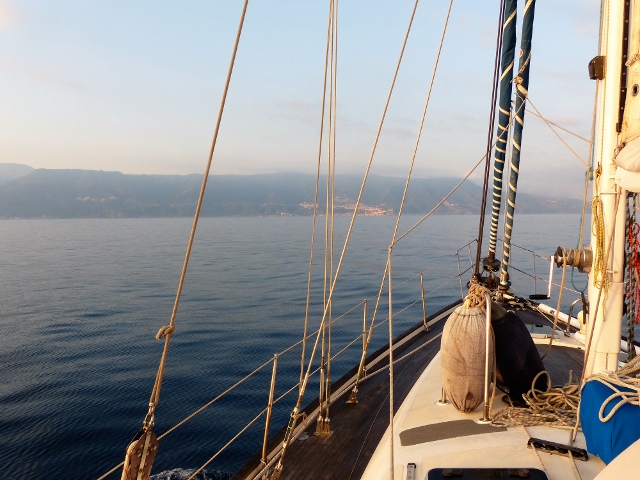 …..and at 6.30am we cleared our transit with the Vehicle Traffic Scheme. We had elected the mainland side of the Straits as we were heading east and didn't want to have to deal with the "roundabout" half way down the straits which the ferries use to cross between mainland and Sicily.
Having read some threads on various sailing forums we were very wary of coming into close proximity of either the above mentioned ferries or the swordfish fishing boats which ply these waters between mid-March and late June. Maybe some people do have bad encounters but all I can say is that the pilots of both these types of vessel were well aware of us and although they came close – sometimes very close in the case of the fishing boats…
…. we never felt as though they were intimidating us or expecting us to give them special right of way in the designated small shipping lane.
Of course, it does help having an AIS transponder to have prior warning of who and what might be coming your way.
The swordfish boats are a sight to behold – fascinating. These are the modern motor boats with huge lattice steel masts and massive bowsprits up to 50ft long…..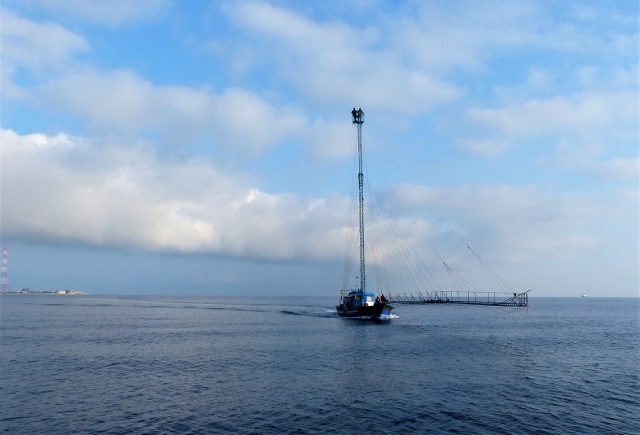 …a far cry from the original wooden boats with a 10ft mast for the lookout, four rowers and a chap on the bow with a hand held harpoon.
In the channel we encountered one fairly strong counter current but it didn't last long and having passed through the narrowest part of the Straits Mike turned the engine off and we had a pleasant sail for a while round Capo dell'Armi and along the southern coastline….
……until it bent north at Capo Spartivento….
…… whilst we retained our more north-easterly heading towards Preveza.
At around 2am we were about 40 miles south of Capo Rizzuto when we were beset by waves coming from two or three directions – or so it felt. Very much a "being in a washing machine" effect which rolls the boat in a most uncomfortable manner. We decided to go with the strongest wave on our stern quarter which meant turning about 30 degrees to the south. We were now heading more towards Cephalonia or Zákinthos – but at least it was still Greece!
Fortunately after riding this for around three hours we cleared the worst of it and turned once more for Preveza. Having entered Greek waters at 6pm on 1st June, our final [third] night proved calm and uneventful and at 11.55am on 2nd June we entered the Preveza channel.
We chose to anchor immediately north of the town in Ormos Vathy – a splendid anchorage…

….with an easy dinghy ride to the small fishing harbour to access the shore.
We had chosen Preveza as our Greek Port of Entry partly because it seemed like an obvious route from the Messina Straits and also because other sailors had reported on Noonsite/Captain's Mate etc that the process was fairly simple in Preveza with easy access to all authorities. That proved absolutely correct. Having arrived on a Saturday we couldn't actually do anything until Monday because the bank was closed but as EU citizens – just! [DAMN Brexit and what chaos it might create – but that's a rant for whatever and whenever it happens!] – we had no immigration or transit log issues and all we needed was the DEKPA [basically, a permission to be in Greek waters which must be renewed annually and produced whenever asked for by the relevant authorities].
First thing Monday morning we got the DEKPA application form from the tourist office, paid our €50 at the bank and went to the Port Authority. An extremely professional and competent Port Officer helped us to fill in the necessary paperwork and very quickly we were properly processed. The one and a half hour wait at the bank for our ticket number to come up was a bit of a pain – but that's just how banks are in Greece.
Over the weekend we had had time to explore Preveza Town – and what a surprise. I think I expected a "typical" port town – a bit dingy and a bit dusty and no real Greek feel. Completely the opposite. The harbour front had a nice promenade and once into the backstreets it was full of old buildings…..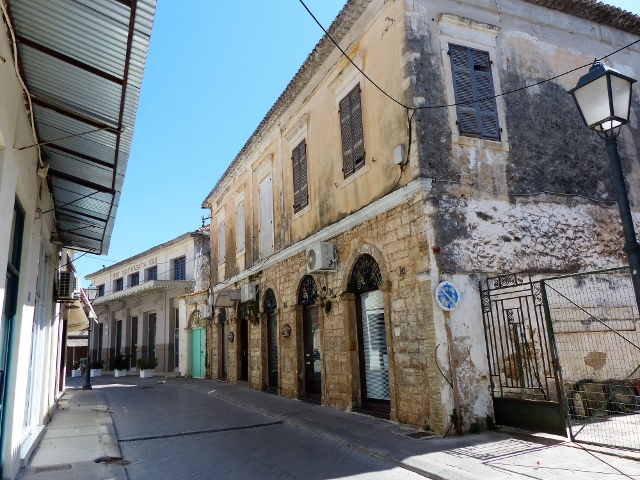 ……quaint…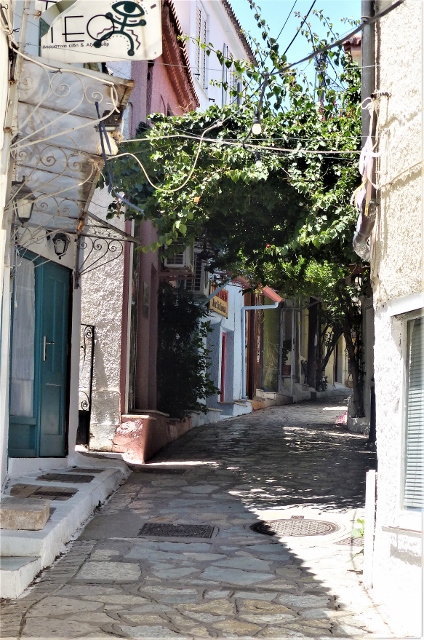 ….very clean….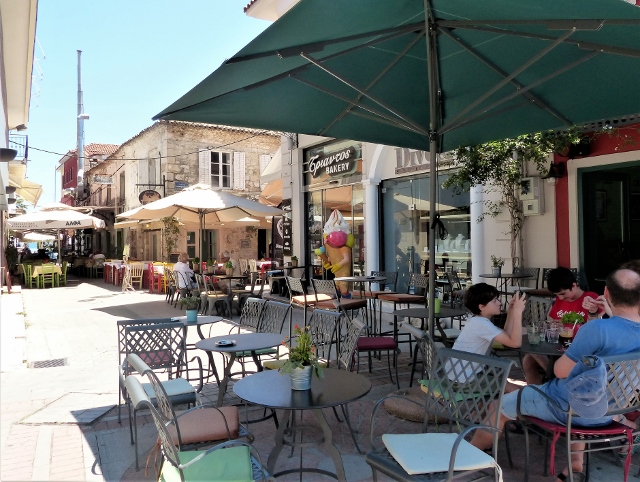 …with wonderful café's and restaurants….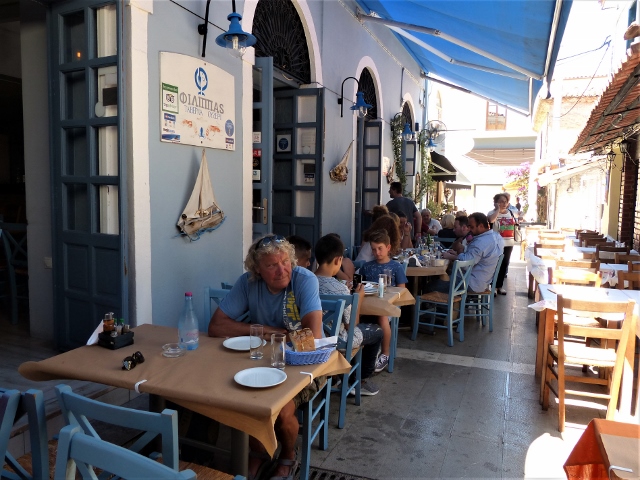 On the Sunday morning with, seemingly, the town to ourselves…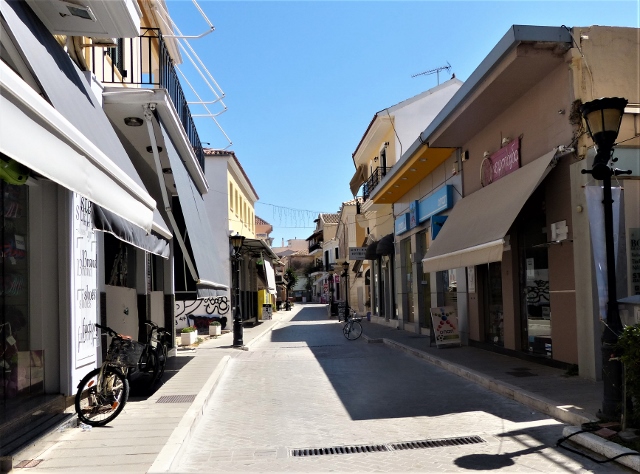 …we could explore further and came across one or two quirky things…
… and had all the fun of the empty fair.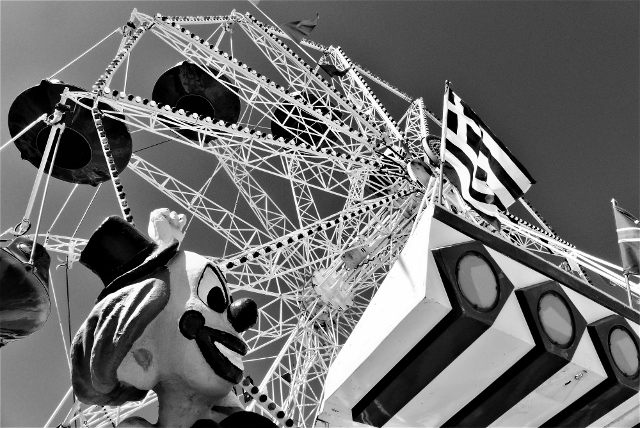 We had decided that as the Gulf of Amvrakia lies directly behind Preveza we should explore. The pilot shows more than a dozen anchorages scattered round the Gulf but we chose to visit just two, the first being at the far end and so, with a 20 mile trip ahead we set out at 10am on 5th, in absolute flat calm.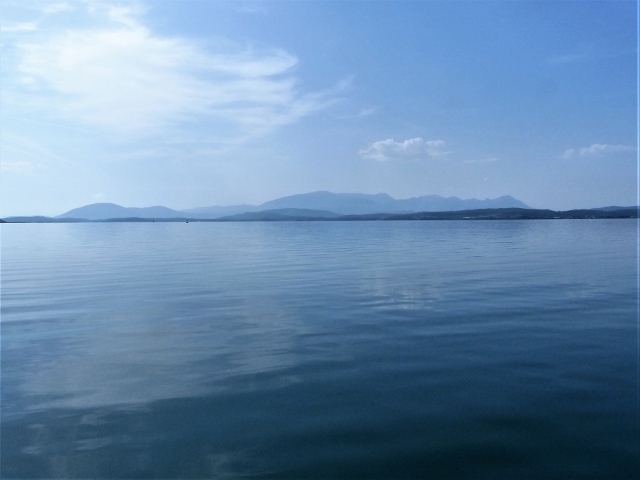 As with much of the coastal Greek waters there are several fish farms to avoid …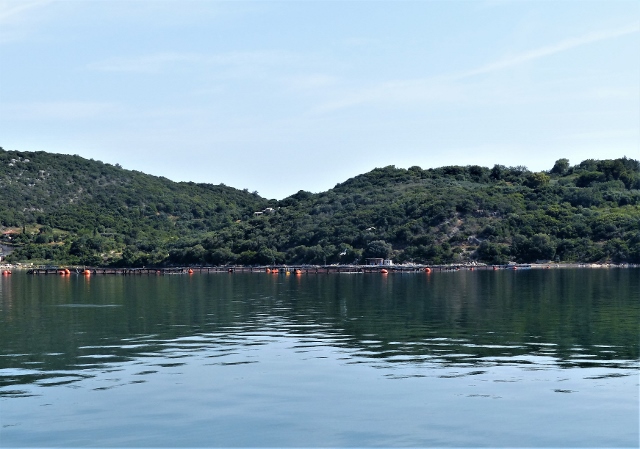 … though we didn't expect to pass a boat "graveyard"….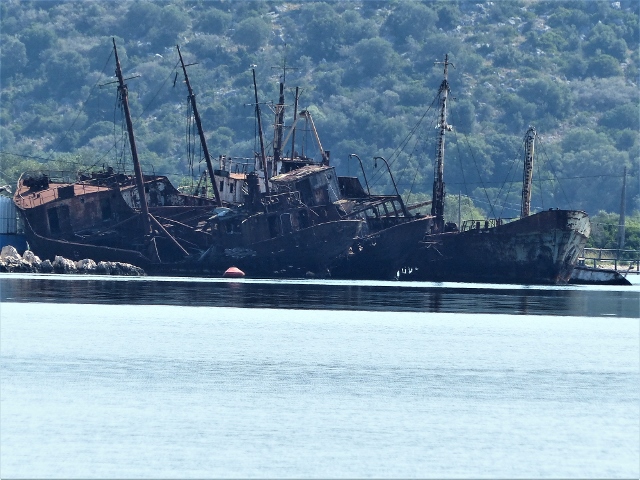 … or see a Pelican. [Yes, I know it's almost as bad as Stromboli, but by the time I had worked out what it was it was some distance away!]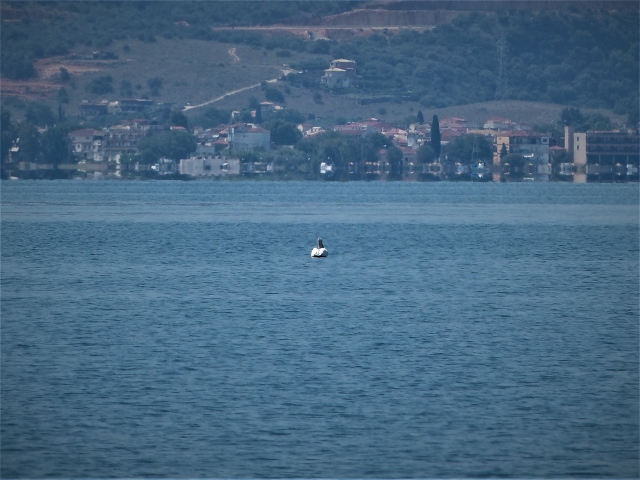 More birds awaited us ashore in Mendinhion…
The locals thought I was quite mad sitting on the pavement in the heat of the day trying to get a decent shot of the swallow fledglings.
Mendinhion itself was also a delight.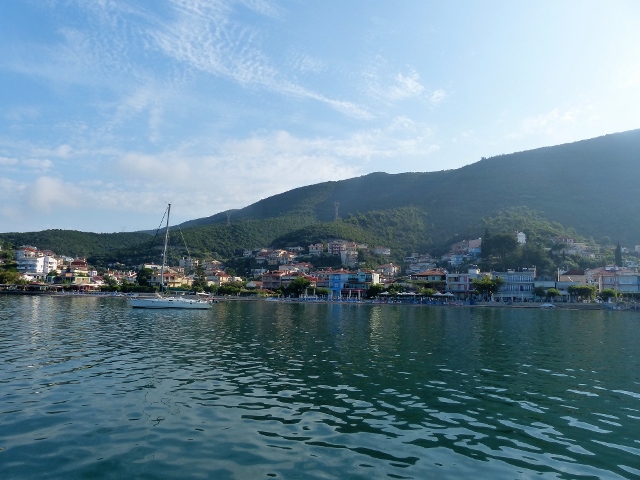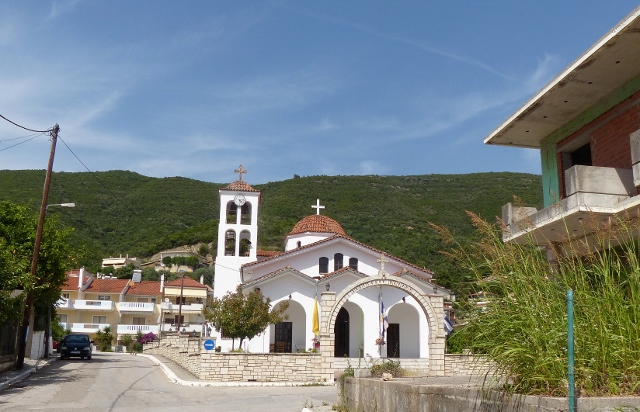 Very quiet with mainly local people and a few Greek tourists, passing through rather than staying. Let's hope they at least stopped for an Ouzo – each of which, for just €3, came with fantastic Meze…
When Mike started to raise the anchor to leave the following morning he called me to the bow and told me to bring my camera. All along the part of the chain which had been just below the waterline, and now fallen on deck, were tiny starfish.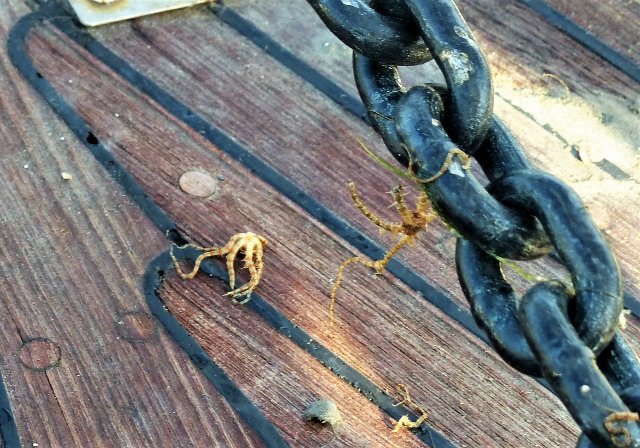 We used the washdown pump to safely return as many to the sea as possible.
Two thirds of the way back up the Gulf was our second stop – Vónitza – where, once again, we chose not to go into the small town harbour but to anchor in what proved to be a very sheltered spot in lovely surroundings behind Nisis Koukounitsa.
The town was about a 20 minute walk away and had, atop the hill, a Venetian fort to visit.
Whilst eating dinner on board that evening we were entertained by fishermen laying their nets in the bay….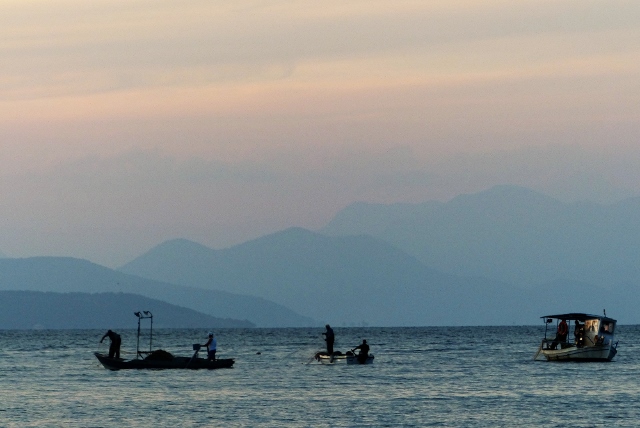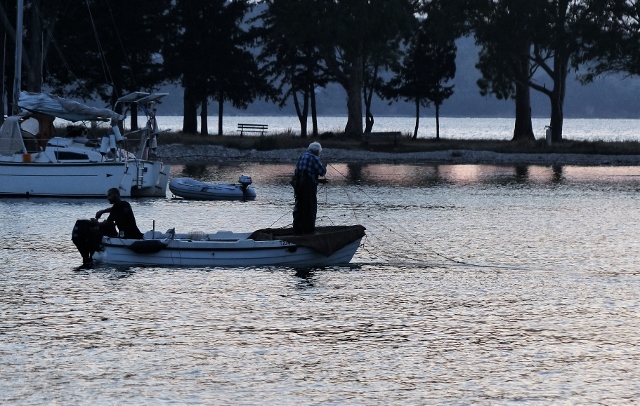 ….before being treated to our second glorious sunset in the Gulf.
The following morning we made an early start back to Preveza as we wanted a spot on the harbour to make provisioning a bit easier. Also, whilst I went to be pampered in the hairdressers, Mike sorted our Gas Bottle situation – we now have a Greek system [bottle and regulator] as well as a Spanish one and Camping Gas. Equipped for the world – until we get to the next place!!
All in all our re-introduction to Greece was brilliant and it was now time to explore the northern Ionian – but that's for next time.