Early [6.15] on the morning of 9th May we left Mahon and the Balearics for the 200 mile crossing to Sardinia. Initially we headed south of the most direct route as our friend Steve's magic passage programme had shown that we would get more wind and from a favourable direction that way. We didn't! We gybed a few times and tried to keep to that plan but at about the point in the log where I wrote "another wind shift – bugger" we decided that we would be as well just going the shortest route rather than continuing to move further away from our destination.
We crossed from Spanish to Italian waters at around 1am on 10th and plodded on through the day picking up the odd friend, or three, along the way.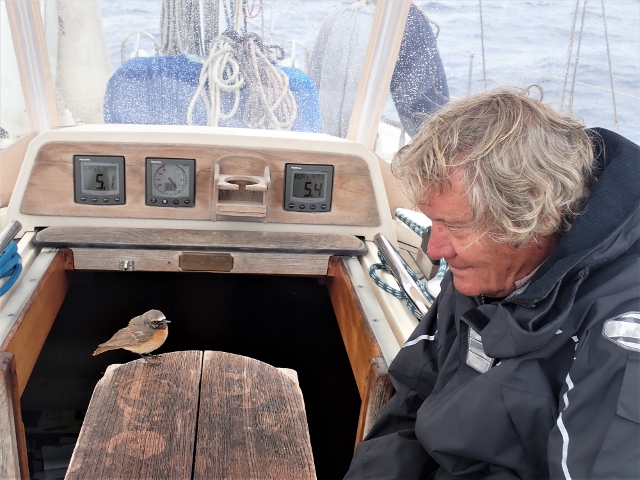 Our intention had been to make for the anchorage at Calasetta, on Isola di Sant Antioco, but I had spotted another anchorage which is marked on the pictorial chart of the San Pietro Channel in Heikells "Italian Waters Pilot" but which doesn't appear on our Navionics chart and about which Heikell doesn't actually refer to in the text of his book. However, our AIS showed that there were a couple of boats in there so we went for a look and found an absolutely brilliant anchorage just south of Punta Nera on the Isla di Santa Petro and, thus, just below the anchoring exclusion zone in the Straits.

In the end we spent three nights there with a night in Calasetta in-between, the last two nights being to shelter from some fairly strong N/NW winds – as we felt it was by far the best option other than, perhaps, spending two more nights in the marina.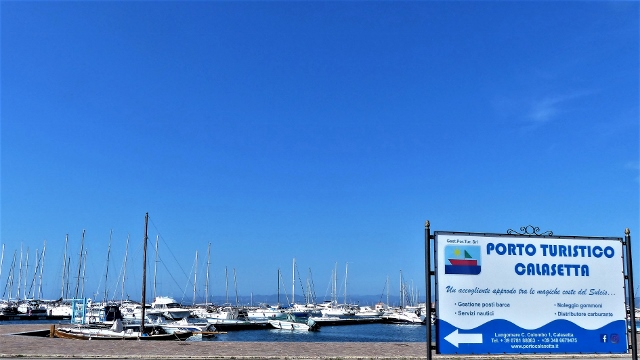 The marina cost was very reasonable at €37 for the night and, as we wanted fuel, we had been directed to tie alongside on the nearby dock whilst another boat filled up. When we explained we wanted a night there as well they just let us stay side tied so there was no messing around with taking the dinghy off the back and med mooring. Great! With very helpful and friendly staff and a laundry which cost either €7 or €7.50 [wash and dry] depending on whether a light or heavy wash as required it was, all in all, a very good experience.
We also really liked the small town….
…. with its old "Torre Sabauda"…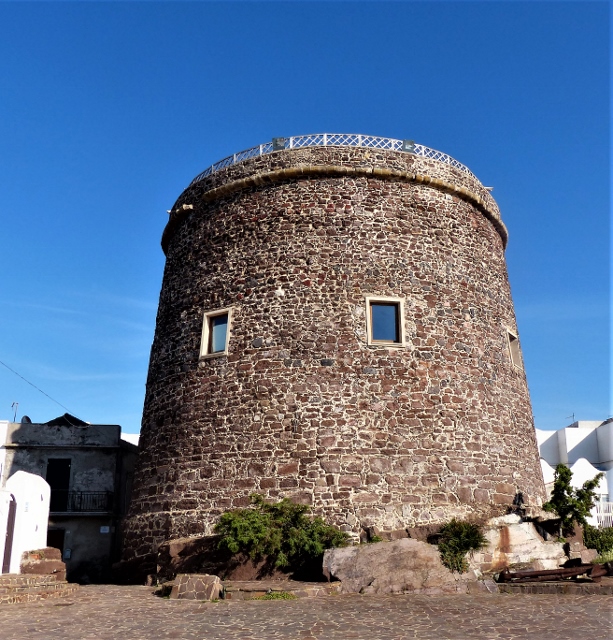 …containing a small museum of Phoenician-Punic artifacts on the ground floor [originally the cistern]…
….a wedding venue – should anyone want one for a small, select occasion – on the top floor and views from the rooftops.
The nights of 14/15 May were spent at Porto Teulada…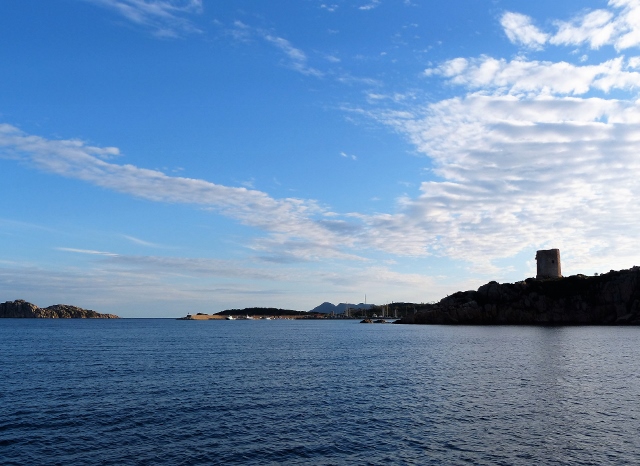 ….and Porto Malfatano…

….on Sardinia's south coast from where we made the last hop to Cagliari – a total of 65 miles from Calasetta. Cagliari's main site is "Il Castello", the Citadel rising above the sturdy Pisan and Argonese ramparts.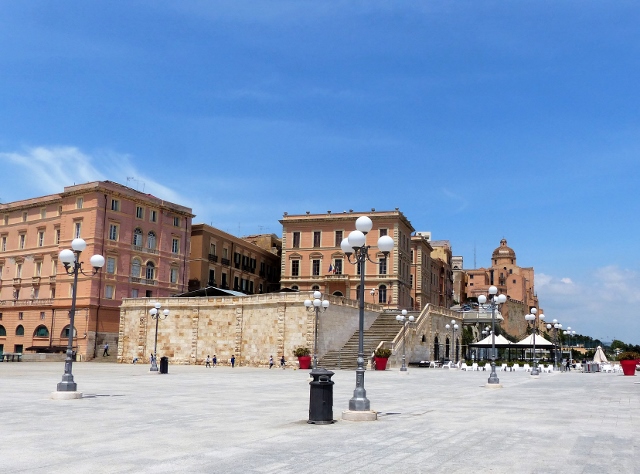 In comparison to other citadels- notably those I wrote about when we visited Corsica – Cagliari's is quite "scruffy", but its ramshackle nature had its own charm and it was nice to see a less manicured version of an old hilltop fortress.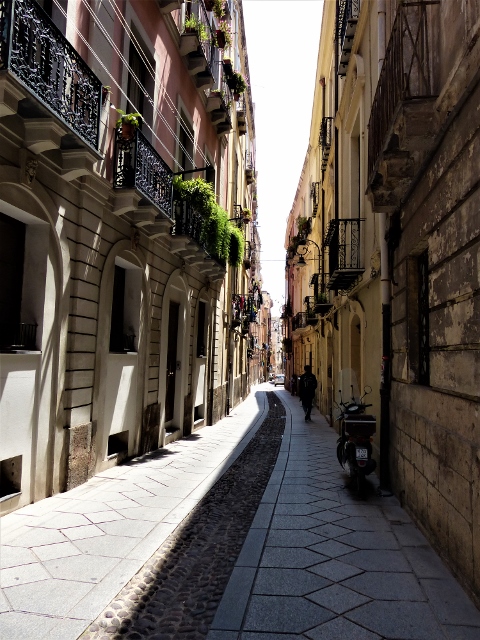 The views from the top were pretty good
Built in 1307 the Torre dell 'Elefante…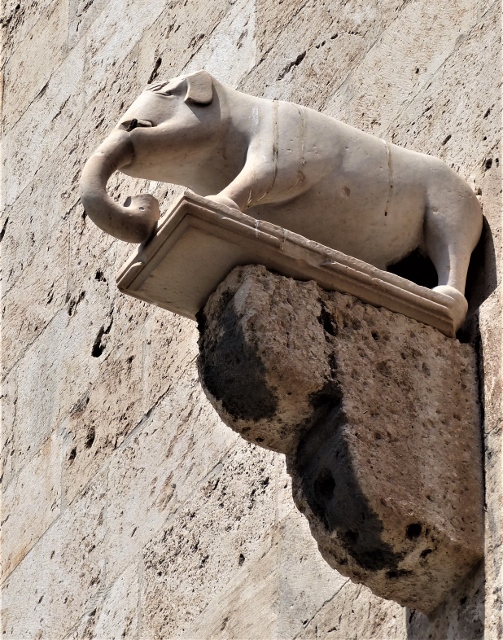 ….is one of only two Pisan towers still standing. The sculpted elephant guards the rather vicious looking portcullis.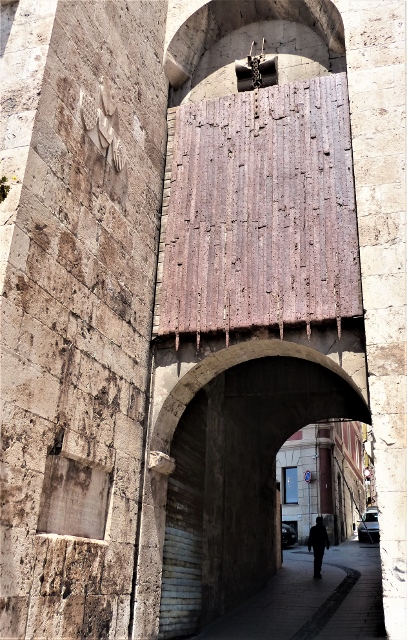 We spent 3 nights at Marina del Sole which was @ €45 per night, the cheapest option. It was a great little marina with a friendly bar open until around 8.30pm daily where a large beer and a glass of wine cost €5 – much more reasonable than town prices. The walk into town along the fairly new promenade took about 25 minutes and, on occasion provided some unexpected entertainment…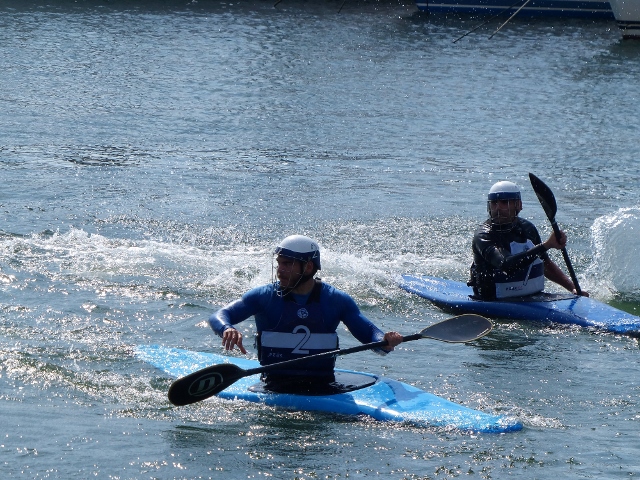 …..or there was the back street option along which we found a couple of chandlers and, on Thursday morning, a Farmer's Market.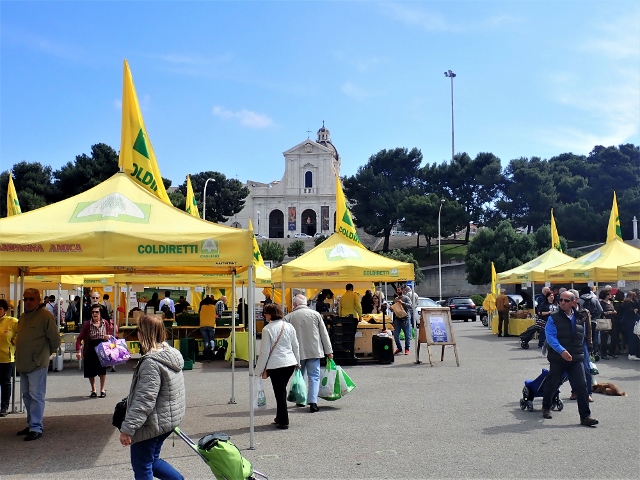 We also visited the main town market where Mike's favourite purchase was wine from the barrel.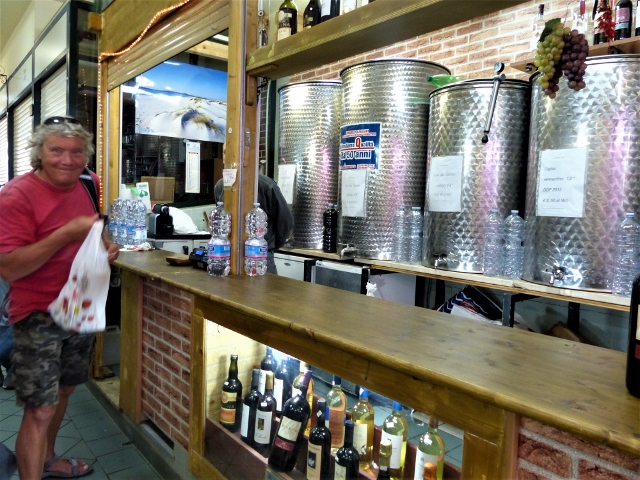 On one of the photographs above I mentioned a lagoon. A flock of flamingos live in the lagoon and, on our departure from Cagliari, we were graced by a pre dusk flight…..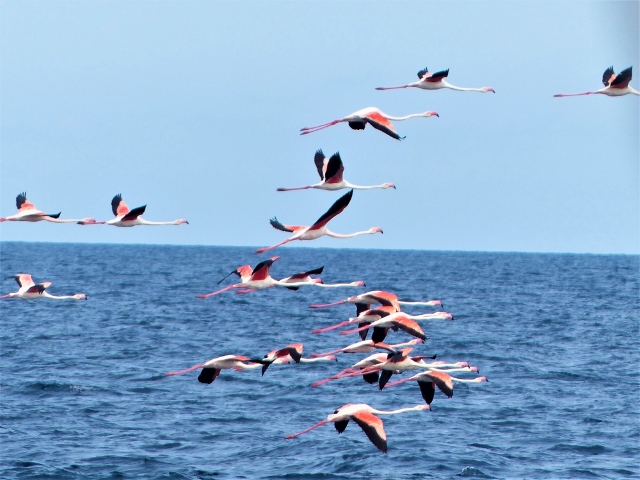 …. followed by a lovely sunset.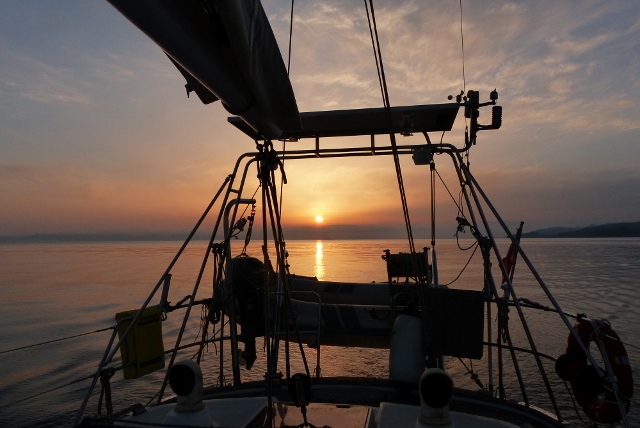 Our 202 mile passage from Cagliari to Ustica took just over 41 hours and even though the wind was generally below 12kn – and mainly just 5-7kn on the stern quarter – we managed two periods of sailing of around three hours each.
Greeted by dolphins…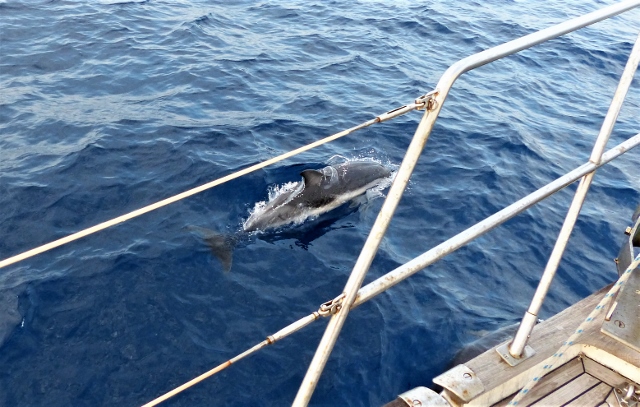 ….we arrived at Ustica at 8.45am on 21st May. We had deliberately timed our passage to arrive early morning as we were not sure whether or not we would be able to stay – due to the size of the harbour – and the nearest next landfall is about 50 miles away on the Sicilian mainland which, had we needed, we would have been able to make in daylight.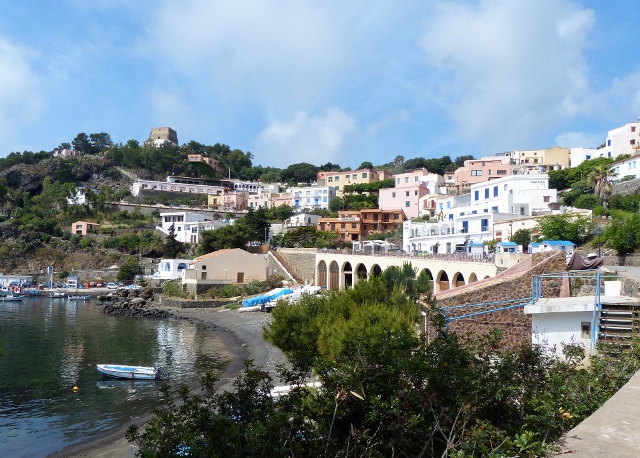 However, we were lucky. There was one boat already there but, with space for about four boats, we were able to stay which really pleased me as I had hoped we would be able to visit since first reading about it in the Pilot Guide.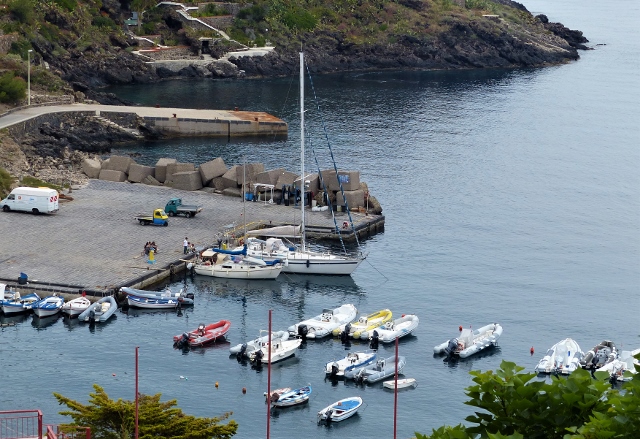 It is a magical place, full of local character!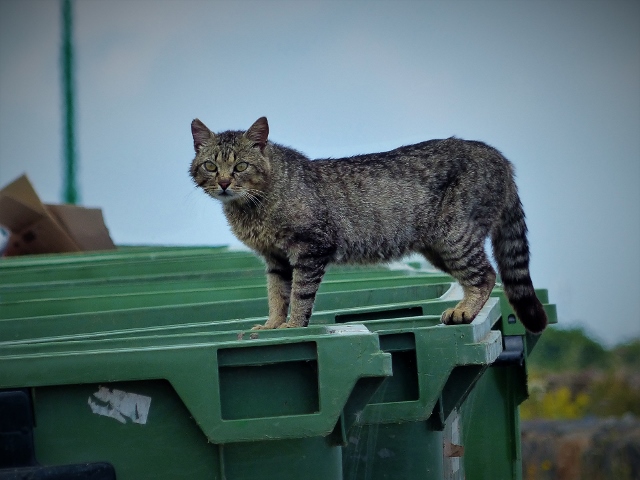 It was first inhabited around 2000BC and its history is peppered with accounts of mass deaths including 6,000 mutinous Carthaginian soldiers who were abandoned there to die of hunger and thirst and of a Bourbon colony who were massacred by pirates.
The waters surrounding the island have been declared a Marine Reserve and it is now best known for its dive sites which bring tourists and income to the island.
A map given to us by a "line handler" when we arrived showed that it was possible to circumnavigate the island by footpath – and eager as ever to see as much as we could we spent a lovely day doing just that.
It was a good job we had had the presence of mind to pack water and a picnic because there was no café or shop to be found other than in the town. We passed two which might open in the height of season but they were well and truly shut at the end of May.
The town itself is well known for its murals of which the following are just a few examples.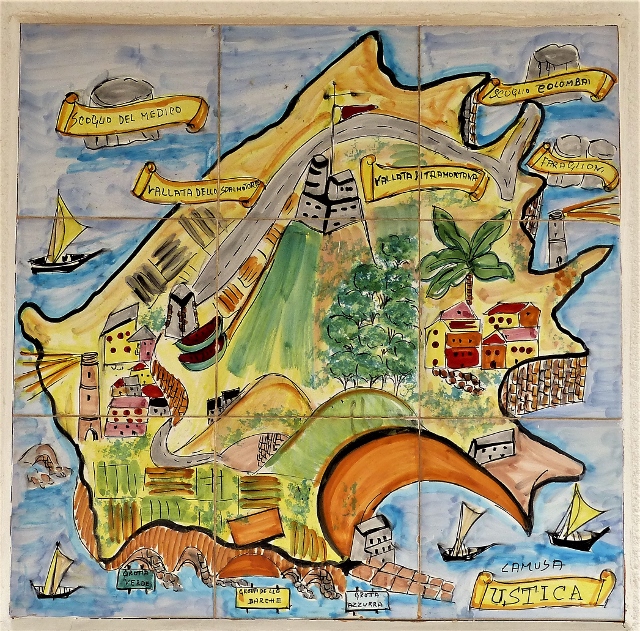 ….though both fail to record that the area at the bottom of the island is named "Arso"!
One other sign which we studied was this one about "Jellies".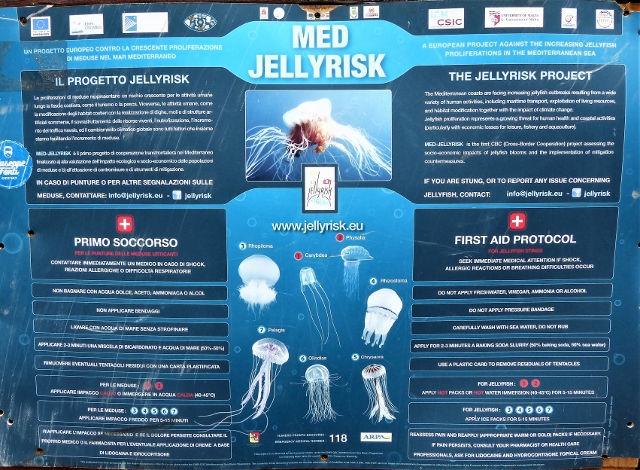 It was repeated throughout the Italian islands. Whether it is just this part of the med that has been particularly "infected", or whether we will find the same when we get to Greece we don't know. Certainly there were Jellies in some anchorages in the Balearics and we saw some here in Ustica harbour.
Whilst the nature reserve is of the marine variety we saw lots of wonderful flora and fauna as well…..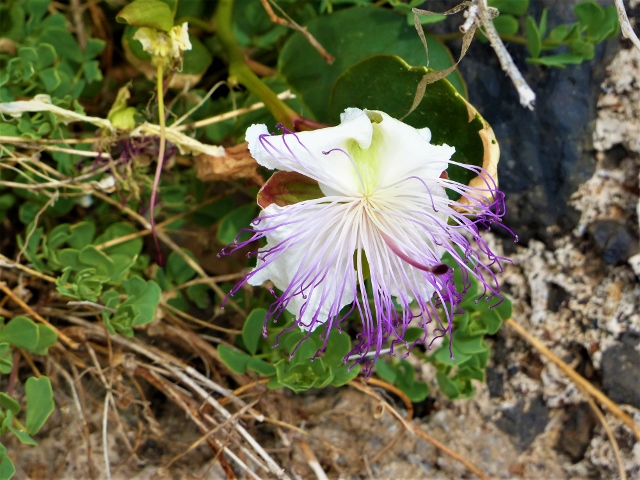 …. an island well worth visiting. We aren't really sure if there is a set charge for staying there – or whether it's all made up according to whim/season! On arrival we were told €40 per night. When Mike went to pay the following morning he was quoted €40 for one but €50 for two – which was an offer we couldn't refuse as it allowed us to do the walk. Our friends on Coriander who visited a few days after us got the same rate – maybe because they told the harbourmaster they knew what we had been charged but we have no idea what anyone else paid and on noonsite/CA forum various different prices are quoted! Whatever, to us it was well worth the €50 we paid.
However, on 23rd May it was "Goodbye Ustica" at 6.50am….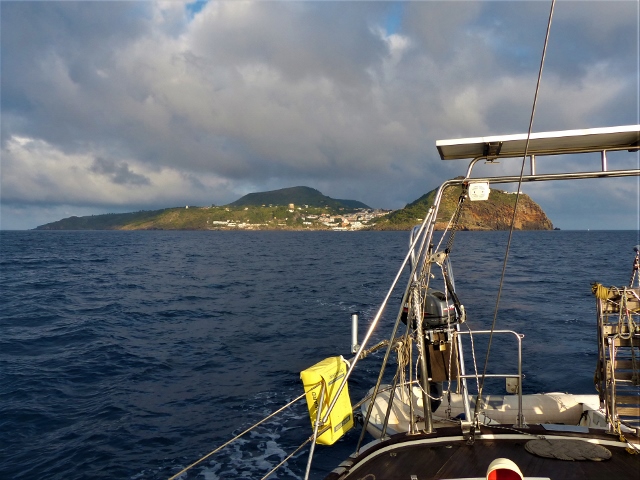 ….. and "Hello Aeolians" at 5.00pm.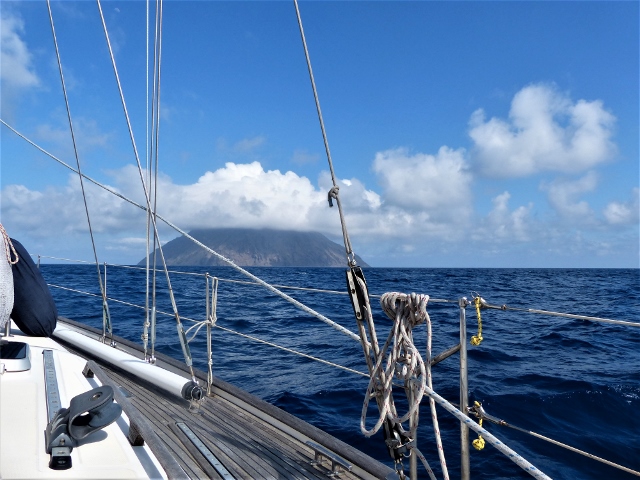 We didn't actually stop at Alicudi as we had been advised by our French "neighbours" in Ustica that the anchoring area was now full of fishermen's mooring balls which could be "borrowed – for a price". Instead we passed the famous Filicudi stack…
… and made for the island where we saw them anchored in a place which, according to our charts was "out of bounds" and which we didn't fancy anyway as to get below 20m depth you had to be practically up the beach. So in a rather inelegant fashion, due partly to the height of our freeboard meaning I couldn't thread the rope through the ring and the fact it was heavy and couldn't be lifted by boat hook, at our third attempt we managed to attach ourselves to one of the mooring balls here. This was for a €40 charge in what turned out to be an uncomfortable rolling anchorage. Won't be rushing back there.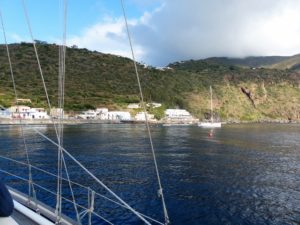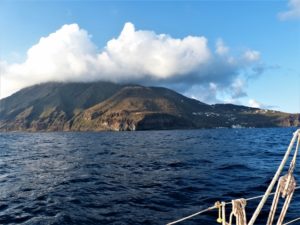 Our next anchorage outside the harbour at Santa Marina, Salina, didn't work either.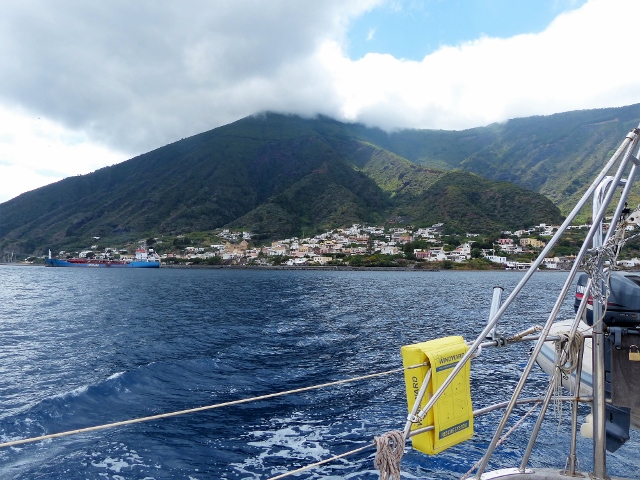 We didn't try the harbour as it is quoted as Band 6+ which normally seems to mean €100 and above for the night. The southern anchorage shown in the pilot is marked on the electronic chart as, again, out of bounds and the northern anchorage was basically pebbles and the anchor would not hold so we moved on to Isola de Lipari and found a brilliant anchorage – hurrah!

Porticello is "mentioned" in the pilot under "other anchorages". It deserves much more than that as a description. It is an area around 1-2 miles along the eastern coast where volcanic dust has created a sand like bottom with depths of up to 7 metres for about 300metres out. The water was crystal clear and, although the view was a little strange we thought it was great. It would be untenable in strong east or south winds but in the conditions we had it was perfect.
Wanting to visit the Archaeological Museum in Lipari we decided to go into EOL MARE marina in Pignataro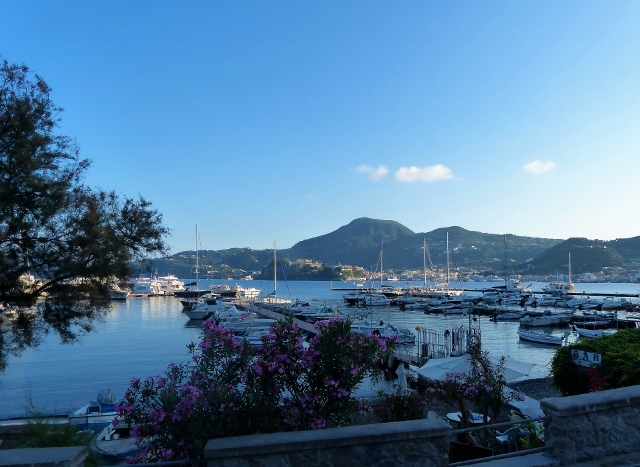 – about 20 minutes' walk from the main town. We were offered a pay for 2, stay 3 night "deal" which worked out at €33.33 per night. We think we hit on a May bargain as websites for most marinas in Lipari – where we could find prices shown – showed a substantial price hike in June.
Lipari Town is the largest urban centre in the islands and was a very pleasant place to visit.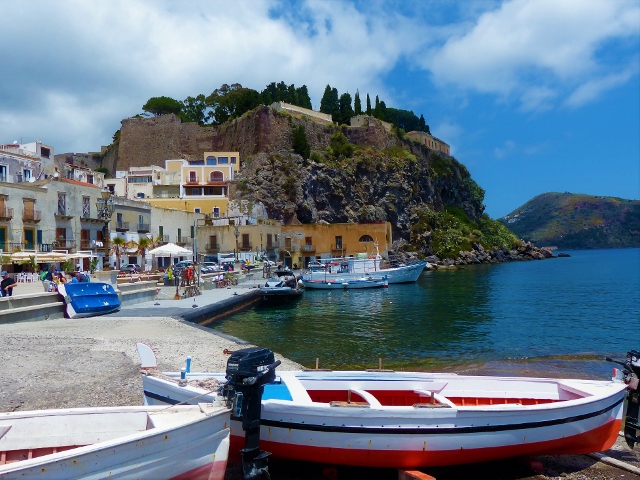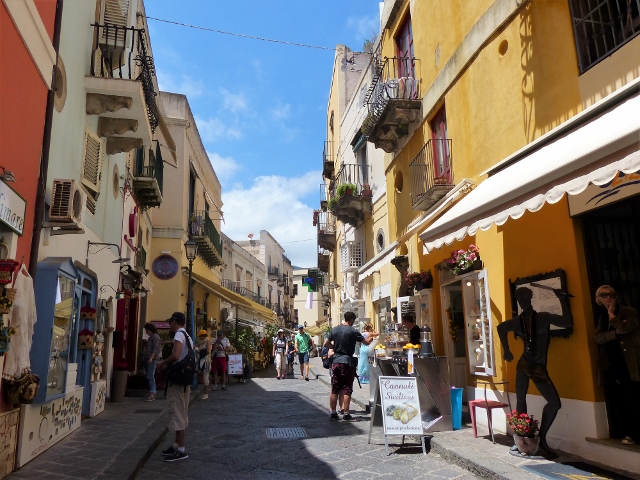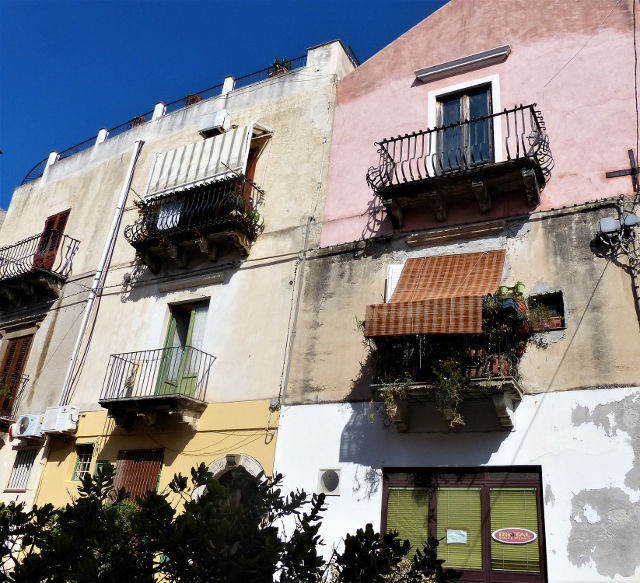 It has been the most important place in the Aeolians for the 6000 years during which it has been inhabited and its museum, set high on the citadel….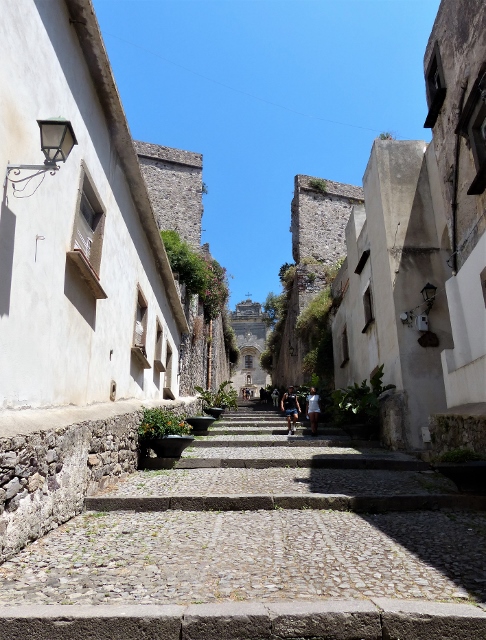 …. explains it all…..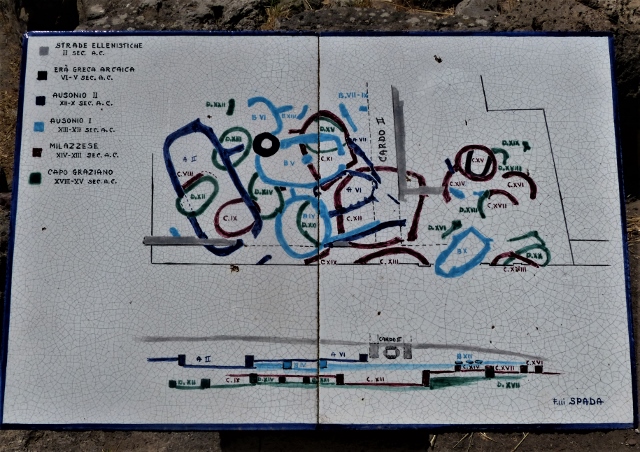 ….. though trying to equate the diagrams to the ruins wasn't always easy.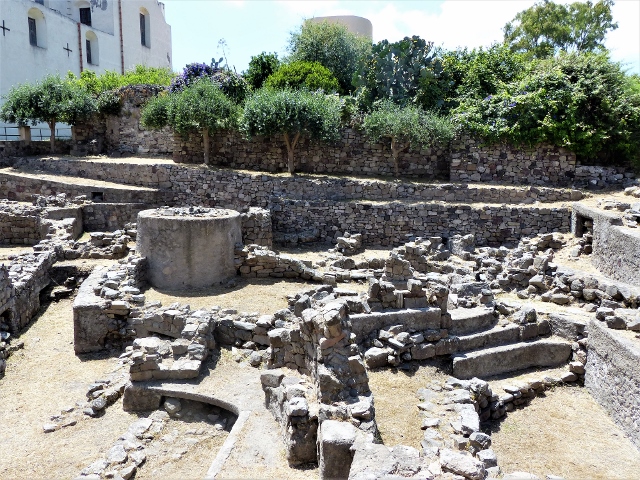 It was first settled by the Stentillenians who developed a flourishing economy based on obsidian….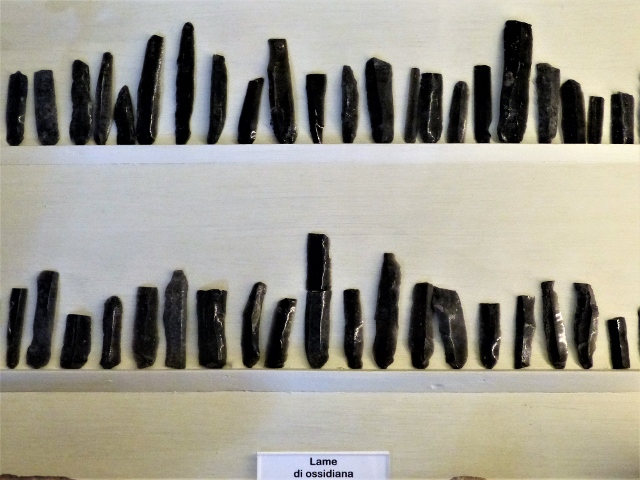 Greeks used the island as a base port on their east-west routes and the famous pirate, Barbarossa [Redbeard] was so attracted to the port that he sacked it in 1544!
The museum is described as a "must see" for Mediterranean history buffs.
Interested as we are in such things we agree that it is really for "buffs", for scholars of Greek and Roman artifacts who recognise the differences between one vase and another!
There were so many exhibits in every category – it was mind blowing.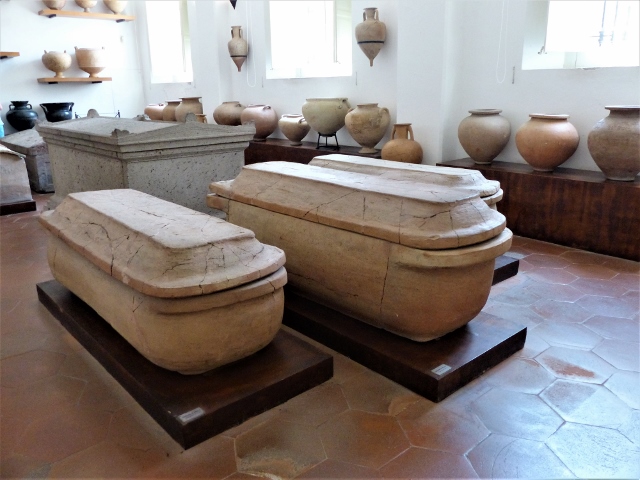 Some of the tomb figures were interesting…
…as were the Greek miniature masks and comic figures which represented the players from staged productions which the audience could buy as mementoes.
The skills of Roman craftsmen from C3-2BC is astounding…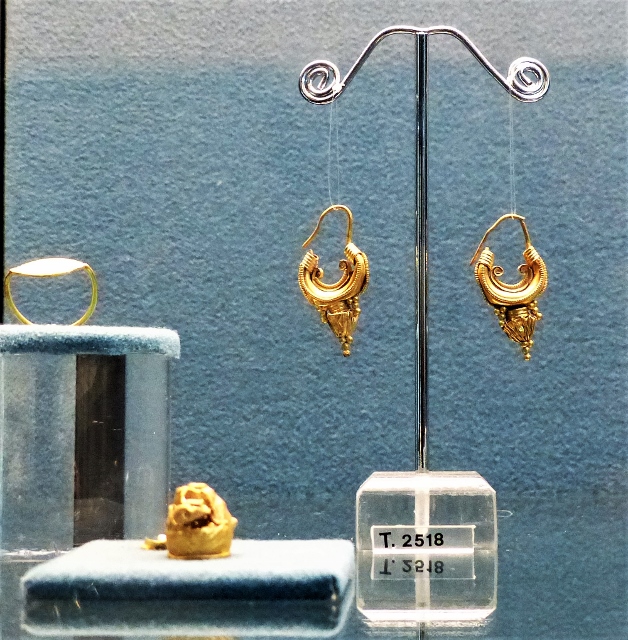 …and there were items which remind us that most times we haven't actually invented anything new.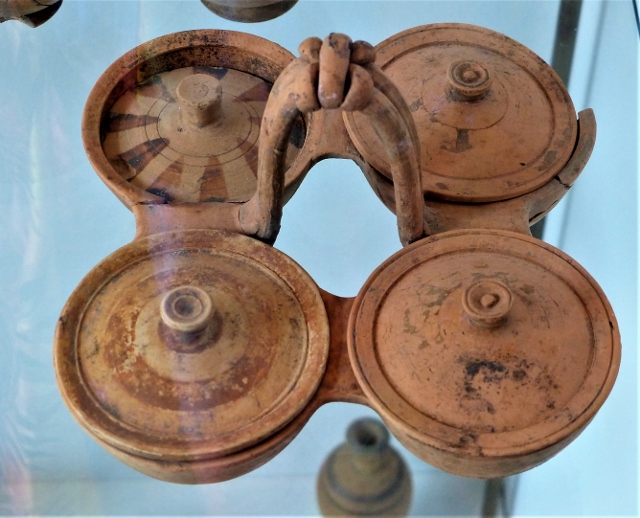 From Lipari we walked through the tunnel cut into the mountain to the other town on the island – Canneto.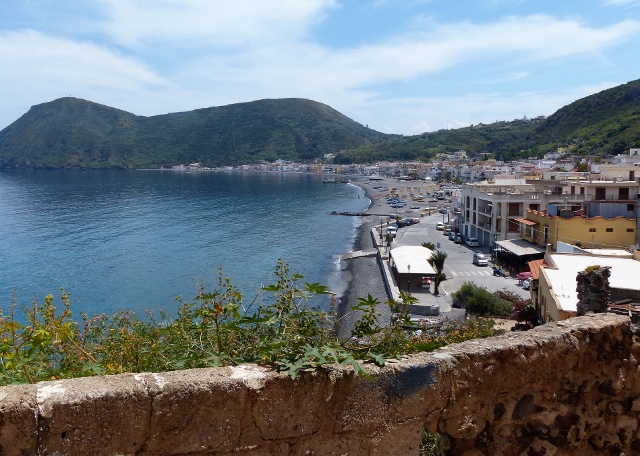 A rather strange town where holiday makers reputedly go for its beach…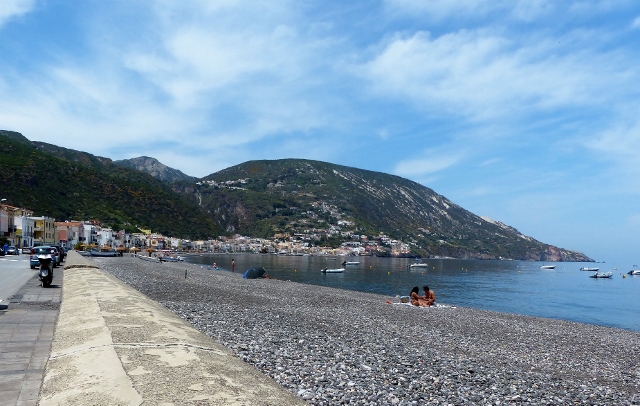 … which was a rather uninspiring stretch of pebbles in front of similarly uninspiring cafes. However, we found one bakery which sold some of the Sicilian classics.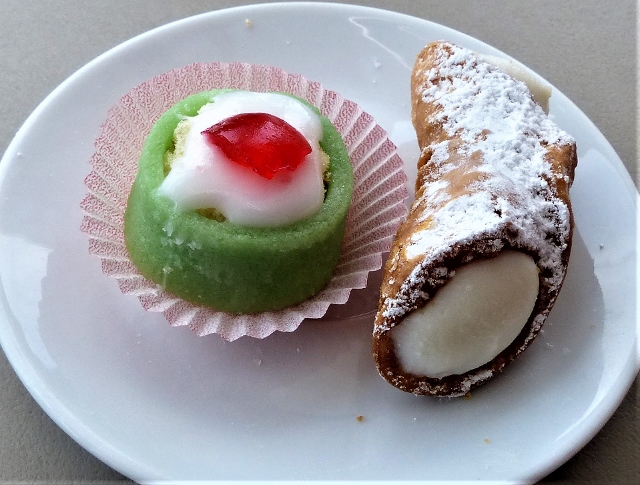 Cassata is a concoction of sponge cake, cream and marzipan topped with candied fruit – which, even though I love marzipan, I found much too sweet, preferring instead the Cannoli – a crunchy pastry tube filled with sweet ricotta.
By this time Gill and Steve had arrived on the other side of the island at a small anchorage at the bottom of "Valle Muria" so we sailed round to join them. The usual "nice to be together again" meal, drinks and chat ensued as we watched some late arrivals to the anchorage.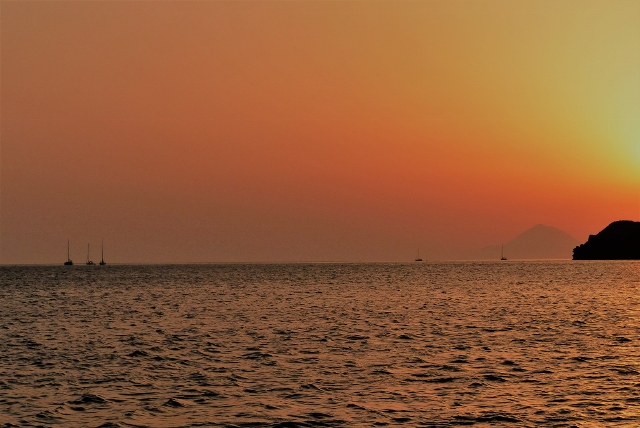 The following day we went across to Isola di Vulcano – the name speaks for itself.
The southernmost island, it is composed of two extinct craters [which originally appeared from the sea in 183BC] and one active crater.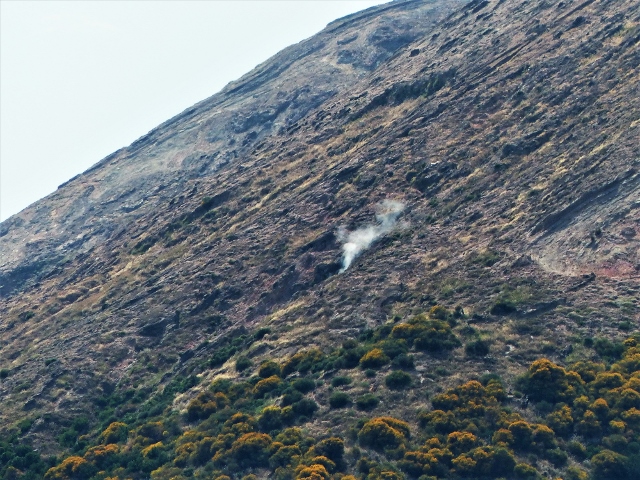 There are two possible anchorages and we opted for Porto di Ponente which provides better shelter generally [except in strong westerlies] and which, having seen them both, is by far the more attractive of the two.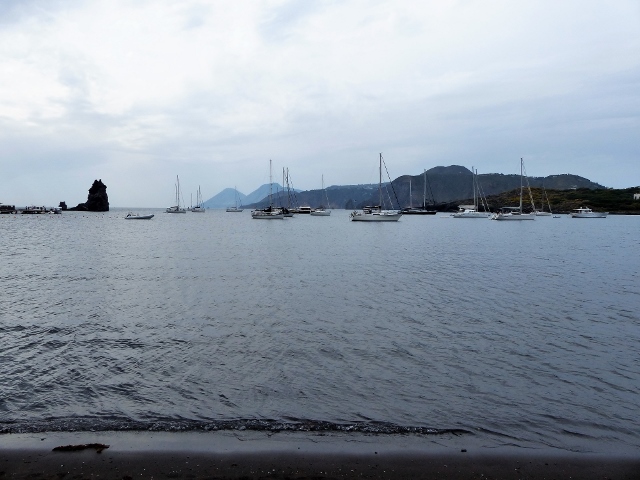 Mud baths seem to be one of the two main attractions of the island, the other being climbing the volcano.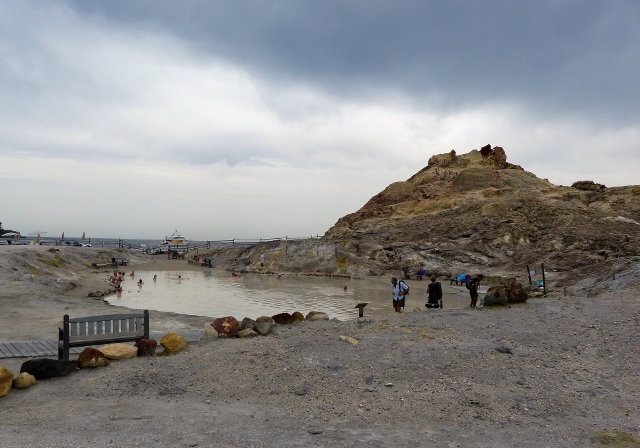 I'm afraid we did neither – we just had a lazy day wandering around enjoying the company of friends.
The following day was our last in the Aeolians and we went north to Panarea to spend the afternoon ashore there before setting sail for Greece.
BUT, wait just a minute, you may be thinking – surely she must have forgotten Stromboli. Well, no I haven't. We didn't actually anchor there but we had planned our route so that we could leave from Panarea late afternoon and sail round the north side of Stromboli at night before heading south again. We looked forward to it with anticipation – to see the volcanic lava bursts at night – but I'm afraid that as we approached the island, the only clouds we had seen for the past week descended….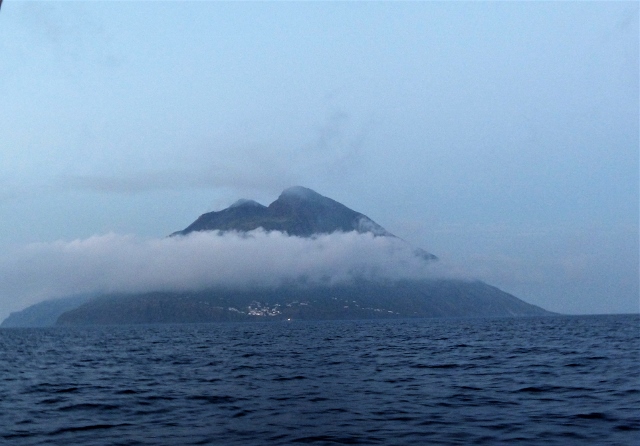 ….and although we did see a couple of bursts they were nothing like we hoped for. Maybe it was a slow night for lava eruptions? Maybe it is always like that? Lots of people pay money to be taken by tourist boat on a late evening trip and cruise ships stop on their way past. It doesn't help that I can't do night photography. So, hope you weren't anticipating much either dear readers – 'cos this grainy shot with a small red blob is all you get!!!!
Still, at least we can say we have done it.