As often seems to happen when I sort out photographs and sit down to write a blog, I find I have enough for two! So rather than leave you in suspense in the middle of an engine tale [because it isn't over yet] I have decided to tell you about some more beautiful places we have found to visit within a couple of hours drive from Livorno.
Apparently the author "Stephenie Meyer" considered Volterra the ideal place for her principle vampire coven in her book series "Twilight".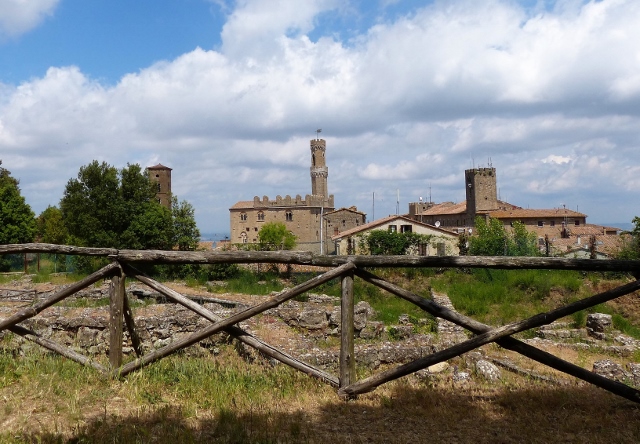 I can understand why the well preserved medieval town with its ramparts and Gothic architecture would serve such a purpose but, fortunately, there were no vampires in sight when we visited. Though as it was daylight I don't expect there would be!!
One of the most visited buildings in Volterra is the "Cattederale di Santa Maria Assunta" and its Campanile [bell tower].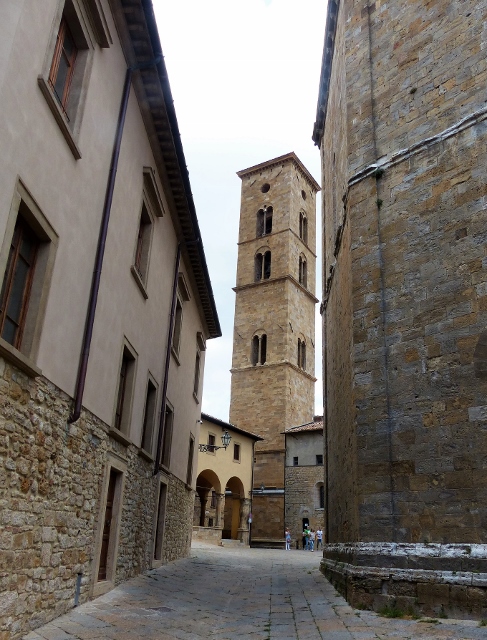 Unfortunately it is currently closed for restoration work but the C13 Baptistry opposite its main doors, in the Piazza San Giovanni, remains open.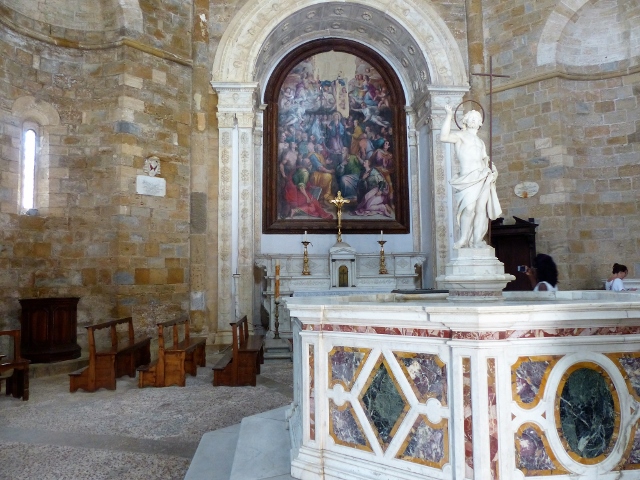 The marble font was created by Andrea Sansovino in 1502.
The original fortress ["Fortezza Medicea"], which you can walk past on the ramparts, is now a prison. No photographs of it were allowed but it is very imposing.
Equally impressive, and with no photograph restrictions, is the Roman Theatre just outside the medieval walls.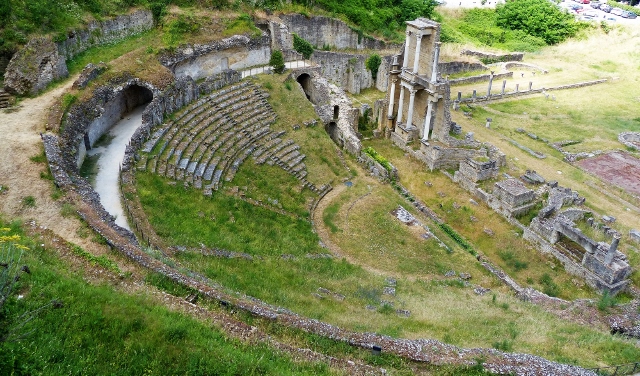 It was built in the first century BC and could hold up to 2000 spectators.
The main "Piazza del Priori" and the cobbled streets surrounding it are where most tourists seem to gather but when wandering around those streets, rather than gaze in the various tourist shop windows, I seem to have developed a fascination for letterboxes.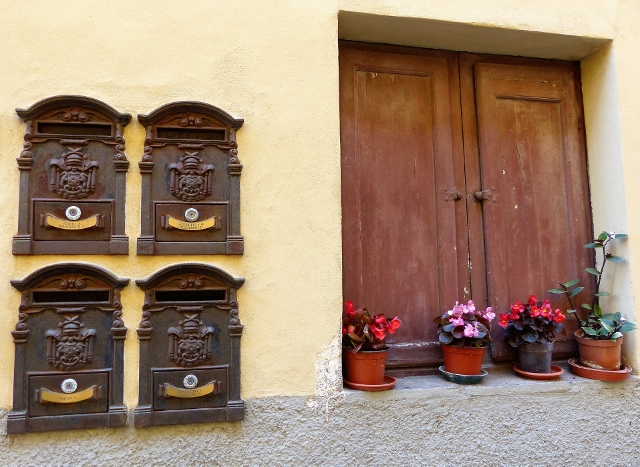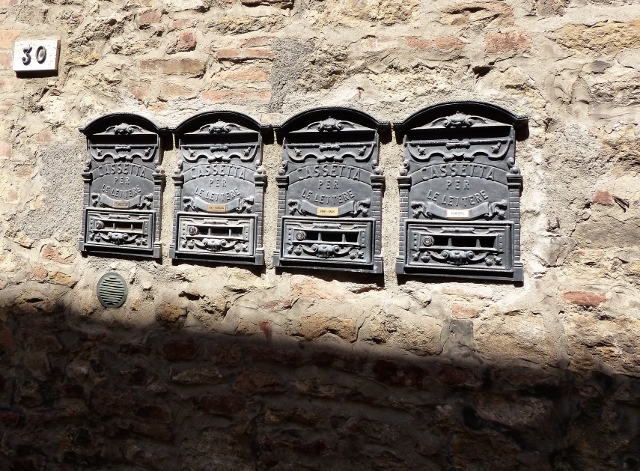 We chose to eat in the less visited "Piazza XX Settembre"….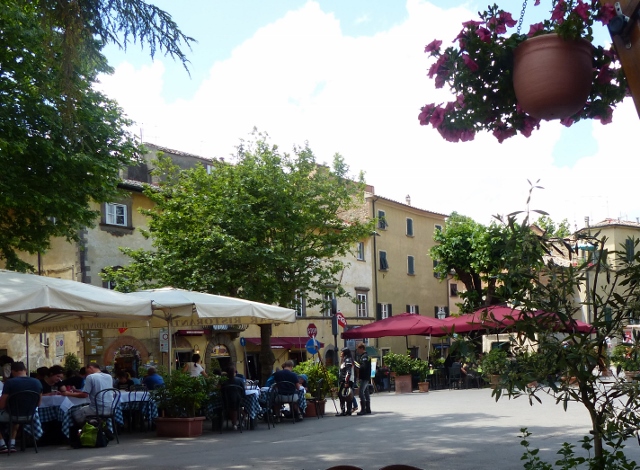 ……which has several restaurant options. The trattoria "La Carabaccia" is run by three sisters who make only two "primi" and two "secondi" each day.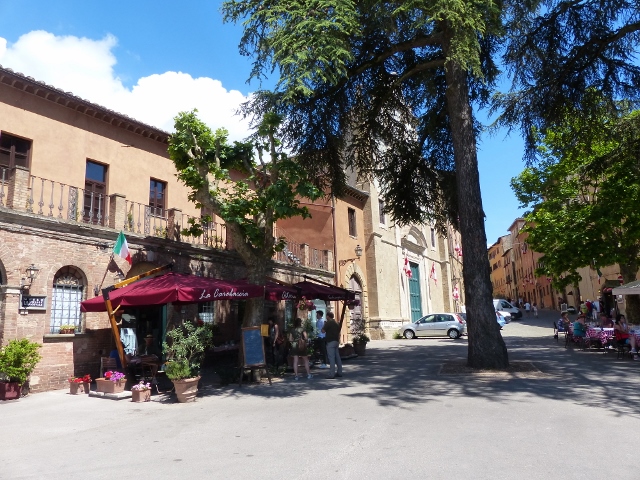 We both went for the wild boar tagliatelle and then Mike had lamb baked in the oven and I opted for the alternative, lemon chicken.
Another day and another excellent lunch….
……this time in the hill town of Barga, about 20 miles north of Lucca.
This town is dubbed "The most Scottish Town in Italy" as many of its residents are third/fourth generation Scots/Italians. Barga's silk industry, which had been operating since medieval times, saw its demise in C19 upon which many of its inhabitants emigrated to Scotland where they became firstly street traders and then opened ice cream parlours and fish and chip shops. Today, Barga boasts an annual Fish and Chip Festival [August 17], Burns night celebrations and a Celtic supporters club.
Our convivial host at lunch was not one of the residents with a Scottish accent though he seemed to have entered into the spirit of things.
The city grew as a castle surrounded by a line of walls and a moat. As well as being narrow……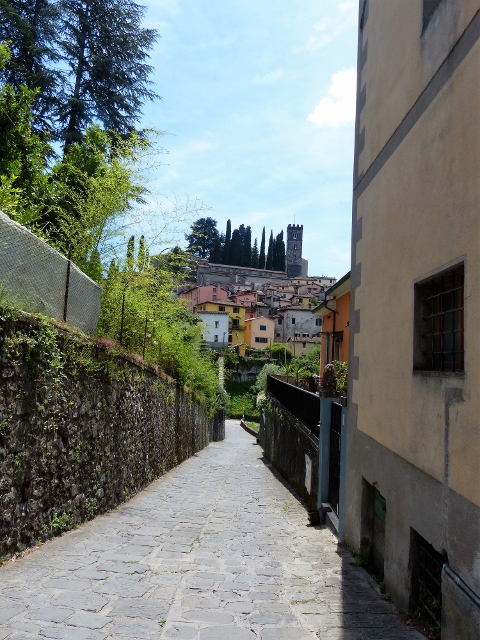 …… many of the streets have fairly steep inclines….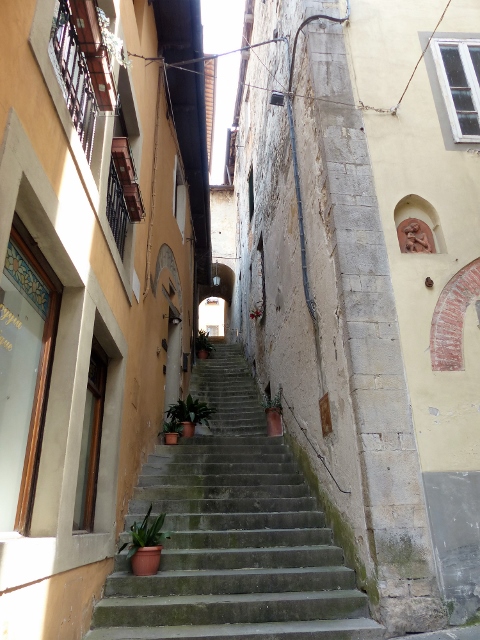 ….which are well worth the climb because standing by the walls at the top of the town next to the Cathedral affords a great view of the surrounding countryside……..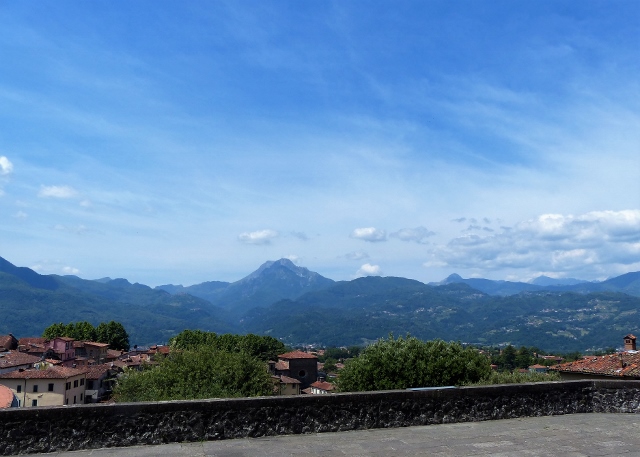 …..dominated by Pania Della Croce, the fourth highest peak in the Apuan Alps.
As you can just make out, there are many hilltop villages, most of which have historical churches/cathedrals and mainly fell under the jurisdiction of Lucca.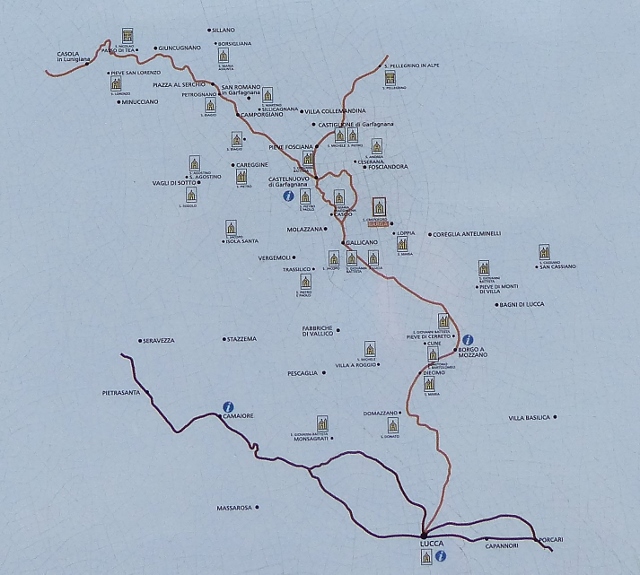 The region was part of the "Gothic Line" in WW2 and was the scene of intense fighting between the Allies and the Germans between October 1944 and April 1945.
Barga's Duomo – the church of San Cristoforo – was first built in 1000AD. Successively between C9 and C15 further building works took place – best evidenced around the tower….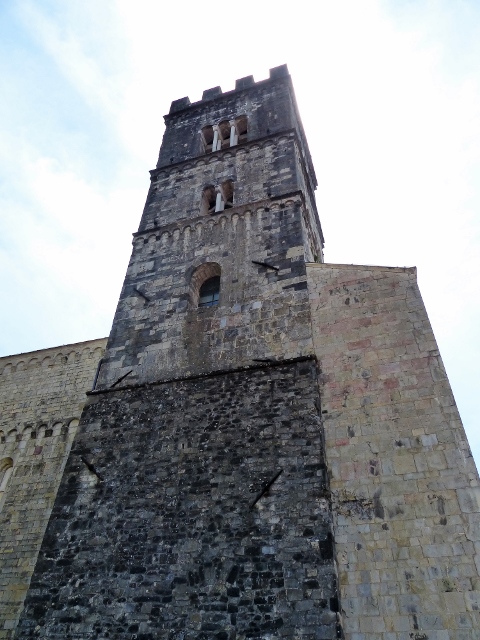 ….and resulted in a building with a fairly plain exterior…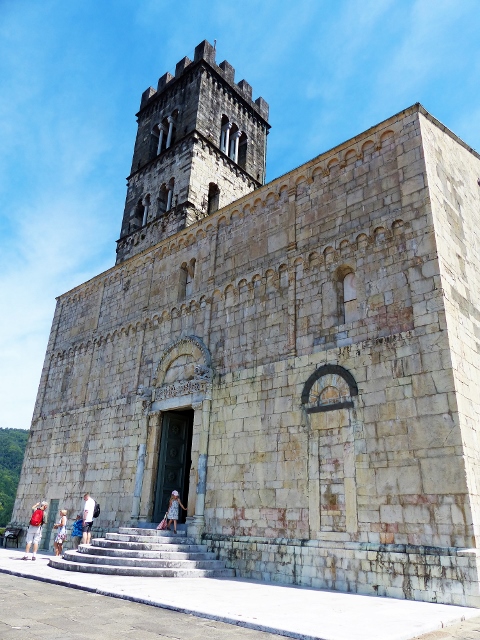 …..which belies its lovely interior.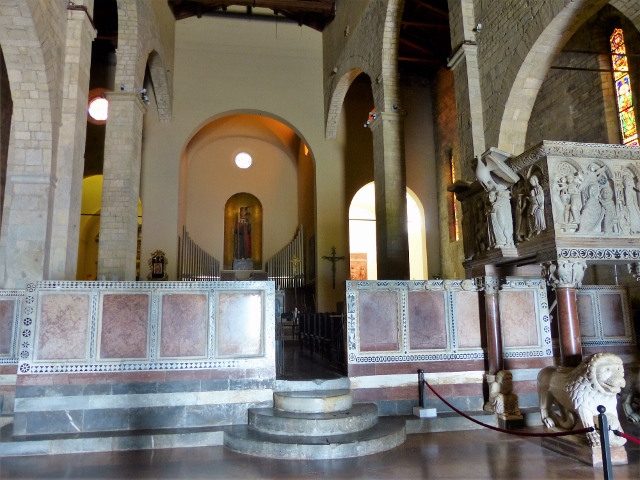 It is almost like a small church within a church, the pewed area a few steps up from the main floor of the church behind a red and white marble panelled wall.
Stone lions decorate the main door and form the base of the magnificent pulpit.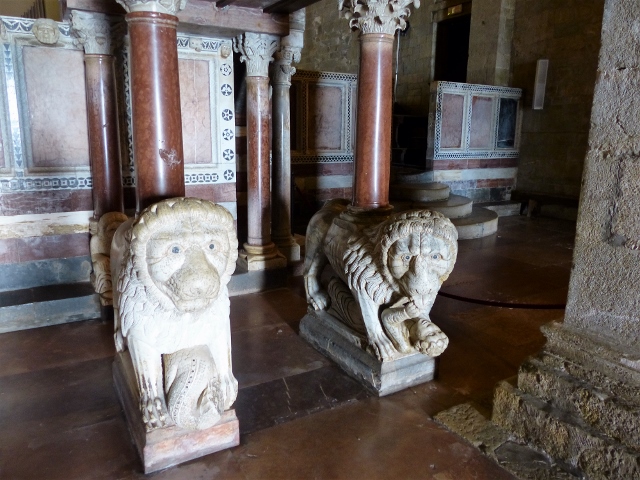 The "Grafitti" has also stood the test of time.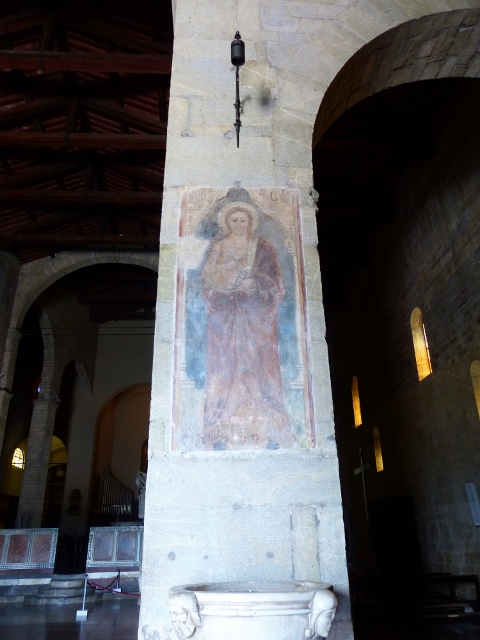 Linking the old town and the new and spanning part of the old moat is the C15 Barga aqueduct which is also a two storey semi-circular arched bridge. Due to the lush foliage it is difficult to see the lower, larger, arches.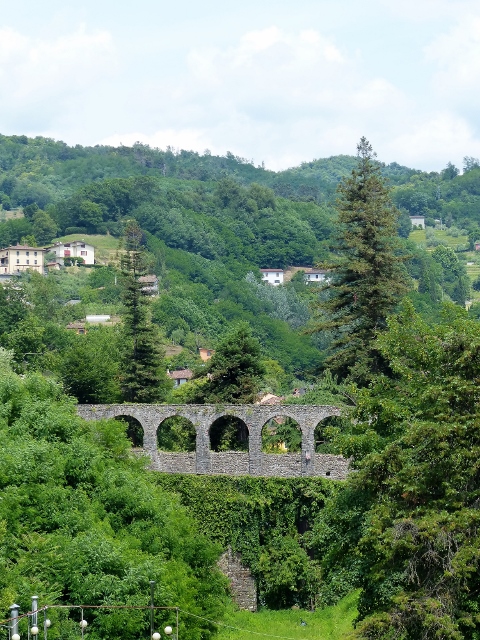 Of stone construction it was originally built to facilitate a good supply of water to the many fountains in the historical centre.
As well as the letter boxes pictured above, gardens – or rather parts of streets, doorsteps or courtyards which have been set aside for planting – have also captured my imagination.
The above were in towns I will be telling you about in a moment but my favourite was the one in Barga.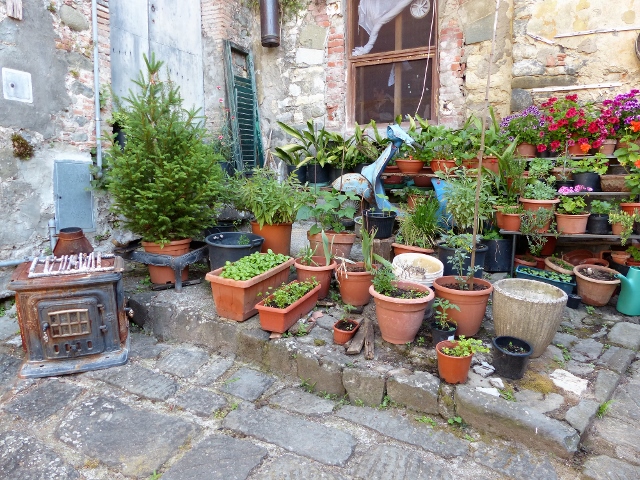 For our next lunch jaunt…..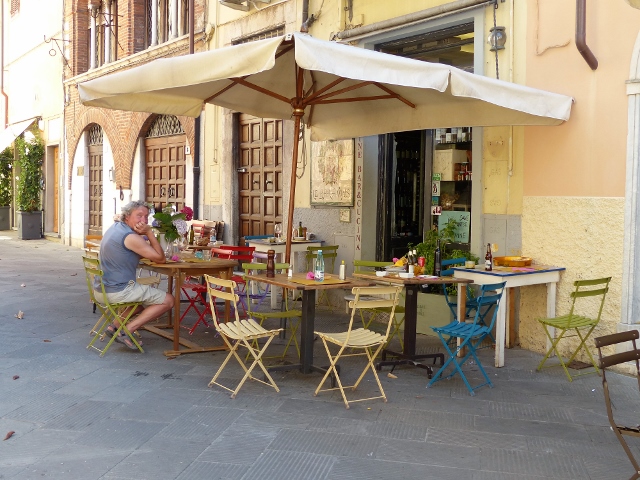 ……we went to Pietrasanta – a small town just outside Viareggio and therefore about 30 minutes north-west of Pisa. Not as much visited by tourists as other parts of Tuscany, Pietrasanta is renowned by Italians as a refined art town. Its historic centre is car free and full of small galleries, workshops and boutiques.
Michaelangelo came to the town in 1518 to source marble from its quarries and driving around the area you pass several marble distributors, the most famous being in Carrara just north of Pietrasanta.
This workshop seemed to specialise in copies.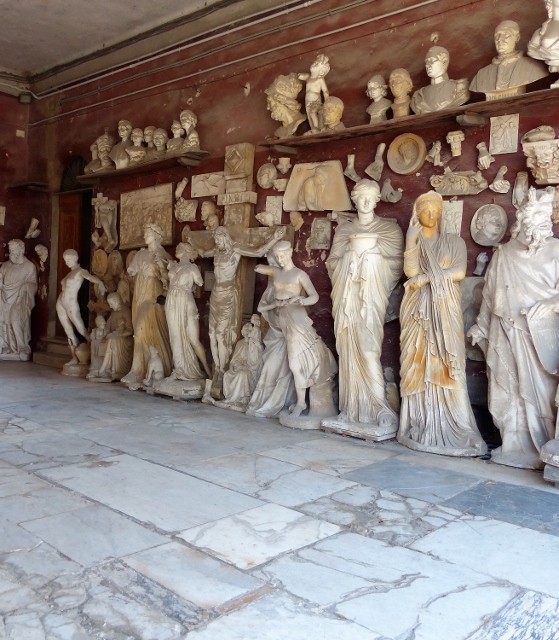 On the other side of the courtyard was one of the "Pietà"
It is impossible to miss the cathedral in the central square. The bell tower – 36m high – is actually unfinished. The red brick was supposed to have marble cladding.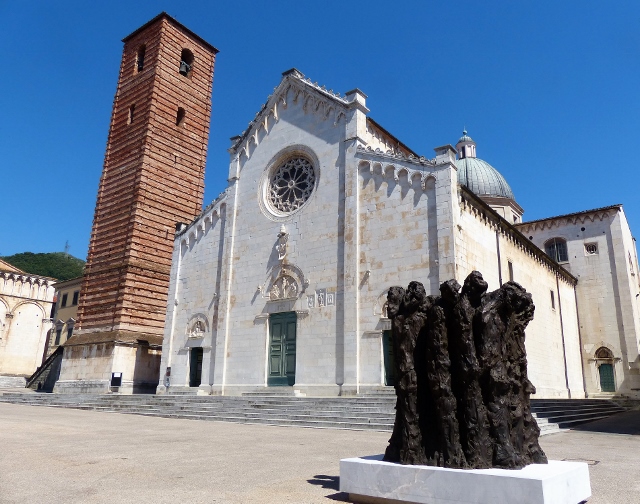 The statue outside is called "La Folla" [the Crowd] and is by the Danish sculptor Jørgen Haugen Sørenson.
Statues abound in the town….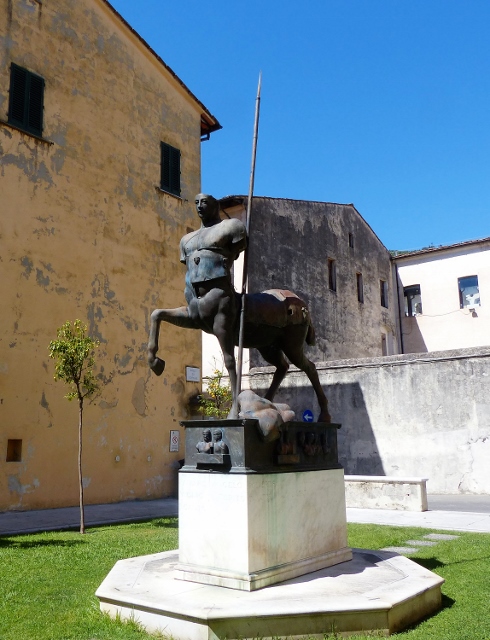 …. and a "Dance in Art" exhibition was being shown in the now deconsecrated church of St. Augustin which has an amazing sculpture above the door….
…but, being a Monday when we visited it was closed. However, two excellent exhibits were outside…..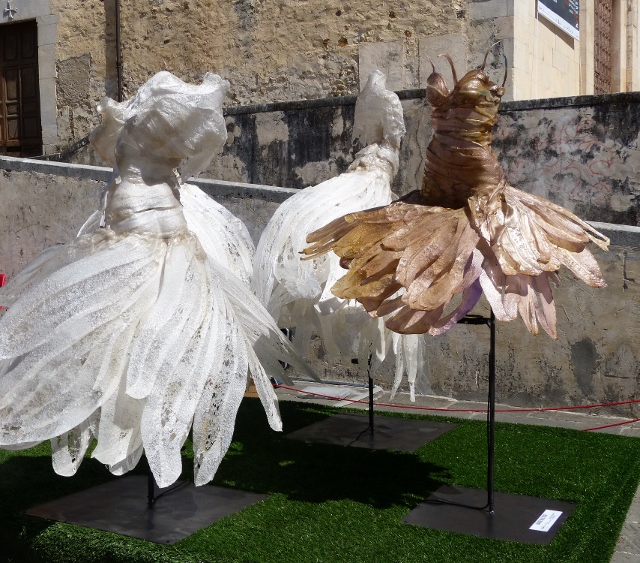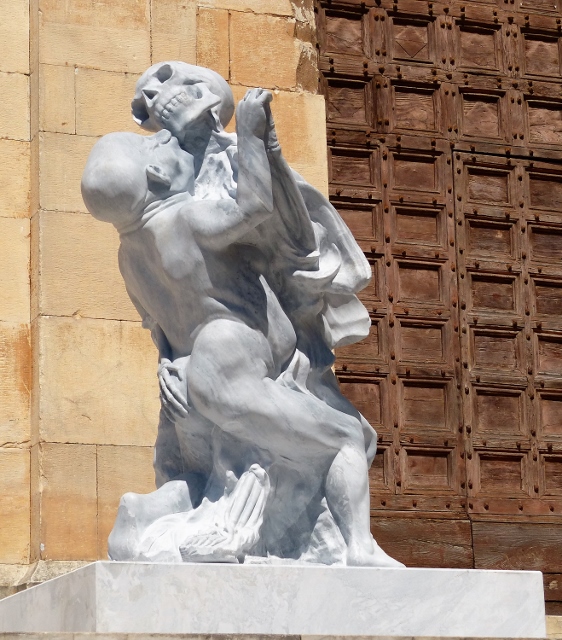 Whether they were part of the exhibition or not I don't know but without too much imagination and with a bit of a breeze [which there wasn't!] I think these could quite easily be seen to be "dancing"….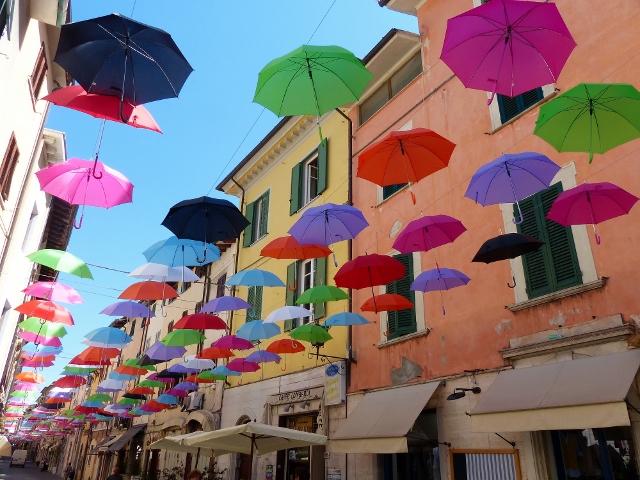 As I said above, Pietrasanta is just outside Viareggio – where we have been a couple of times to see the Yanmar mechanic. Viareggio itself is a holiday town. Its beach is about as long as Blackpool's which, for the uninitiated to the delights of one of the UKs most famous seaside resorts, is 7miles [11k]. The promenade, however, does not stretch the full length – being a mere 1.8miles [3km]. It is, however, lined with hotels, shops and cafes.
The cafes are outside buildings many of which have names incorporating the words "lido" [beach] or "bagno" [bath]. Behind the main façade there is often a theatre, restaurant, rooms or chalets, and beyond these the beach with umbrellas and deck chairs.
As Mike said – they are perhaps what could be classed as the first incarnation of the "all inclusive"!
I told you in my last post about the Italian love of the beach and sea and at weekends the beaches of Viareggio and other seaside towns are jam packed.
Whilst this photograph was taken just a five minute walk from our boatyard it is representative of that culture. We were wearing shorts and tee-shirts as we strolled along and were certainly overdressed. We remarked that even had I been wearing my swimsuit and Mike his swim shorts we would still have been overdressed! Bikinis and Trunks [all of the itsy bitsy, teenie, weenie variety] are generally the order of the day.
About 30 minutes south of Livorno – accessible off the SS1 or the SP11/12 – is the small town of Rosignano Marittimo. Regular readers may remember we previously visited Rosignano Solvay and I said that, had we known, there was the old town worth seeing in the hills behind it. Well, now we have been.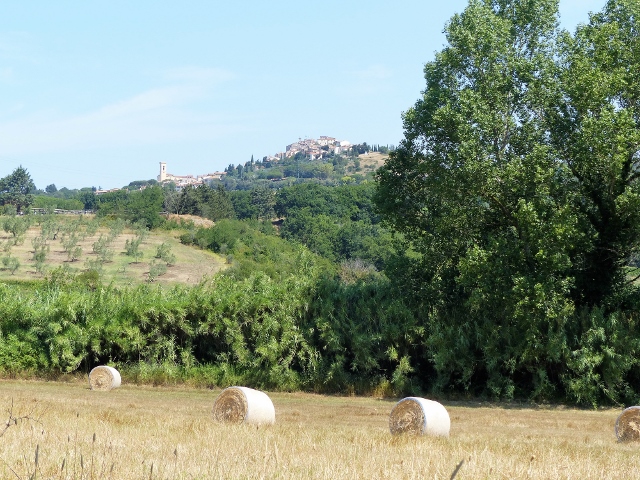 Rather than a cathedral being the focal point of the old town, in Rosignano Marittimo it is a castle.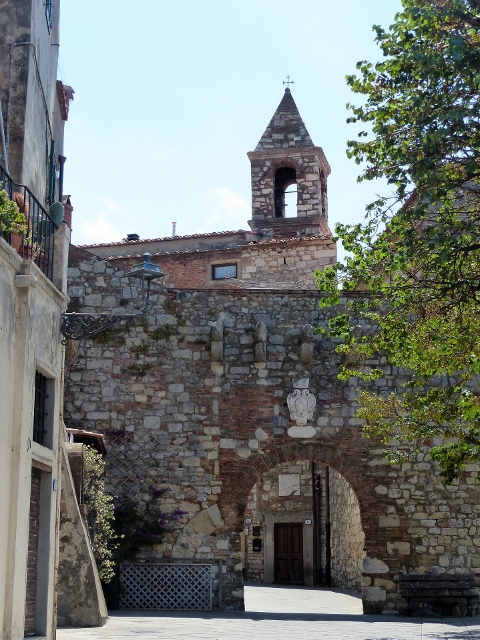 Inside its walls are a couple of "streets"…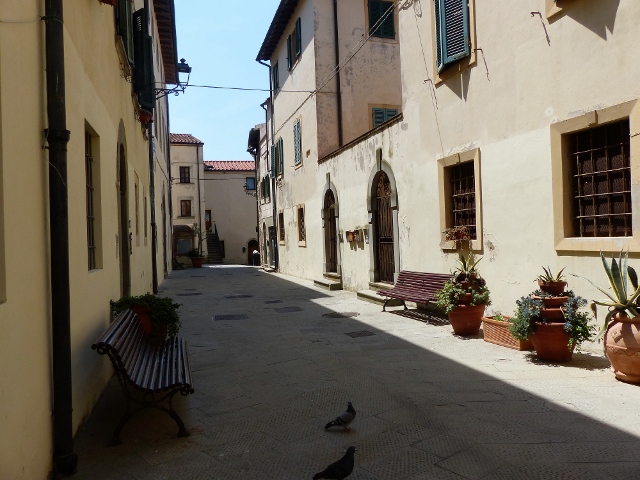 …..and as well as a few houses and an internally modernised administrative building of some sort there is a small museum spread over three floors and housing artifacts mainly from the Etruscan and Roman periods. The bottom floor is designed to represent a Roman Villa….
….and the upper floors house various coins, pots, jewellery, tools etc as well as information boards describing the agricultural, fishing, pottery making [amphora for the transport of local wines, olives and salt] and maritime importance of the town.
My favourite exhibits were these Etruscan utensils….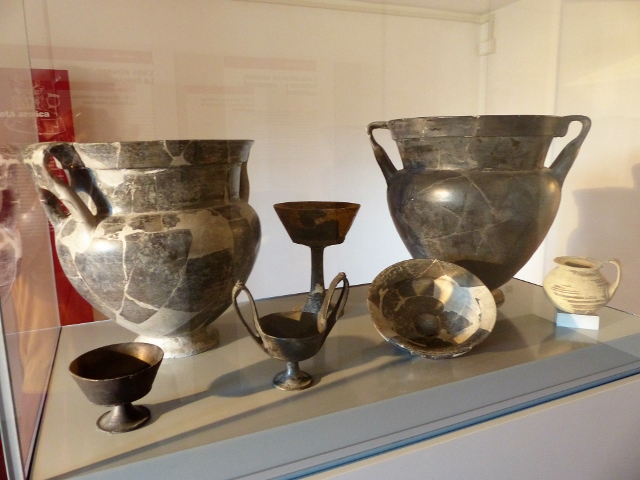 ….and these marvellous earings….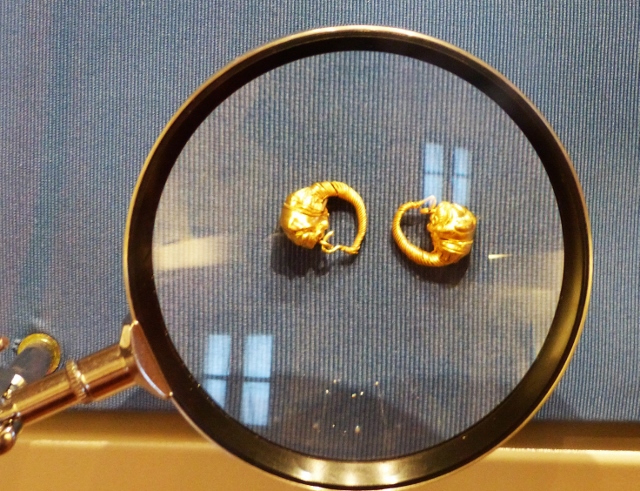 We also learned about the Roman Baths which were central to socialising and probably where business was also conducted. The baths could be owned by the State, by Private proprietors or by the Emperor and there were warm rooms, hot rooms, steam rooms, cold rooms, and games areas.
More interesting are the people who worked there.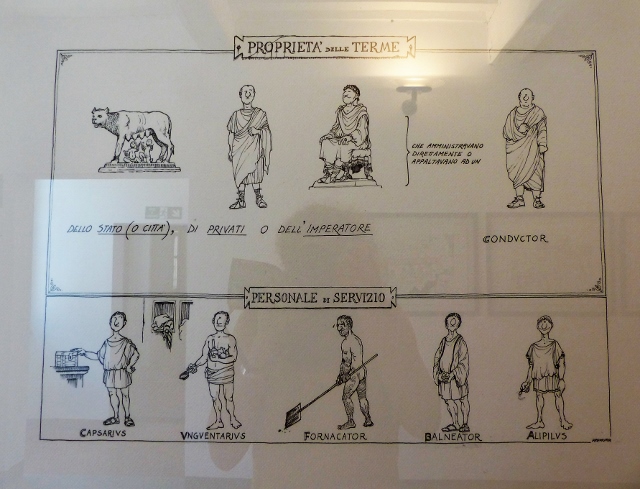 We worked out that the first two respectively took the money and handed out towels, the Balneator is the "keeper" of the bath-house [manager] and the last guy we think had something to do with scraping the skin. It was the guy in the middle who really had our imaginations running amok. What think you?
OK, OK – he was the stoker….and you can now let your mind run with that too!!!
Unfortunately the restaurant we had chosen for lunch didn't open at lunchtime, well not that day anyway, so we drove along the ridge road to Castel Nuevo Misericordia where we found a small Pizzeria/Trattoria….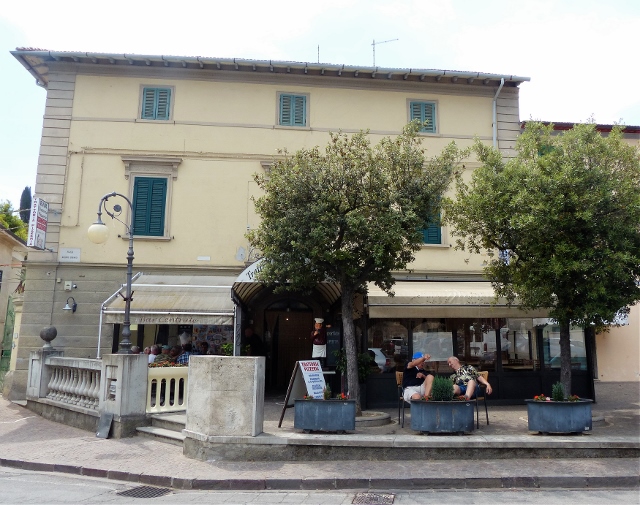 …….and had some excellent pasta [Tagliatelle with a chickpea sauce and Salt Cod and a Seafood Ravioli], Mixed Salads and half a litre of local wine for about £15 between us.
Finally, we were surprised and delighted one day to get a text from Martin and Ruth to say that they were on holiday in Italy and would be staying in Lucca for a night and could meet us there during the day. Once again we were rewarded by the views of the city as we walked the walls and saw things we had missed when we were there with James.
Best of all it was great to catch up with their news and share ours over another lunch and later introduce them to "Aperol Spritz".