So, there we were – ready to go. Unfortunately it didn't happen as we planned, but that is for another blog post. In the meantime I need to catch up with myself and write about some of the things we did during our limited leisure time whilst working on "Owl and Pussycat" and about our drive through France when we returned our car to the UK.
Although we seemed to spend a lot of time not working directly on the boat this was because, as I described in my earlier post, sourcing things was difficult and we spent hours driving around – often aimlessly. During the five weeks we actually only had two afternoons off – unlike the Italians who had one "Holiday" every week – and on one week two extra days tagged onto a weekend! They certainly seem to get a lot of National holidays here.
On the first afternoon we decided to drive north from our boatyard to Tirrenia. This is just up the coast from Livorno and it, and Calambrone which lies between the two, are two coastal "sprawls" which attract hundreds of Italians every weekend and holiday. Basically there is a long stretch of coast road along which are restaurants with beaches. It seems that you select your restaurant and then spend the day on their beach chairs. We didn't actually do this but drove the full length ending up at Marina di Pisa, a small town – which lies at the confluence of the River Arno and the sea.
At the edge of the town on the south bank of the river lies the small and attractive new "Marina Boccardano" [335 berths] which attracts local people to its restaurant…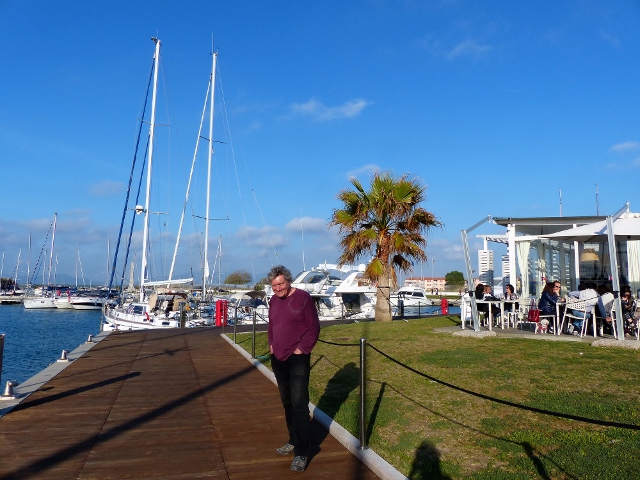 …and for walks along the marina wall.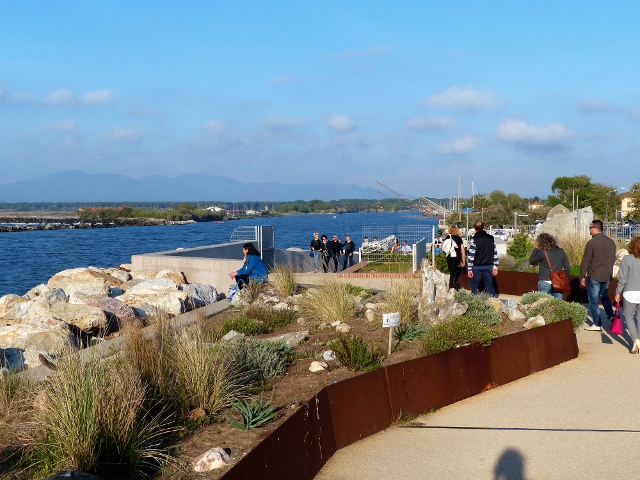 As you can just make out by the masts in the photograph, there are several other small marinas/boatyards going up the Arno towards Pisa.
I am not sure I would like to tackle the river entrance. Other yachts obviously do but it looked a bit rough and there can be up to 3kn of current flowing out of the river. Cables are also stretched across the river from which are suspended "drop nets" so a transiting yacht has to avoid the cables and any nets which might be in the water.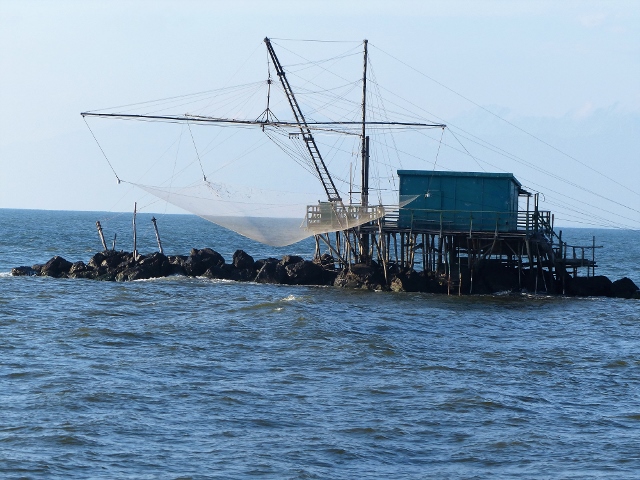 The fishing shacks are built on fairly shaky platforms above the rocks on the opposite side of the channel to the marina.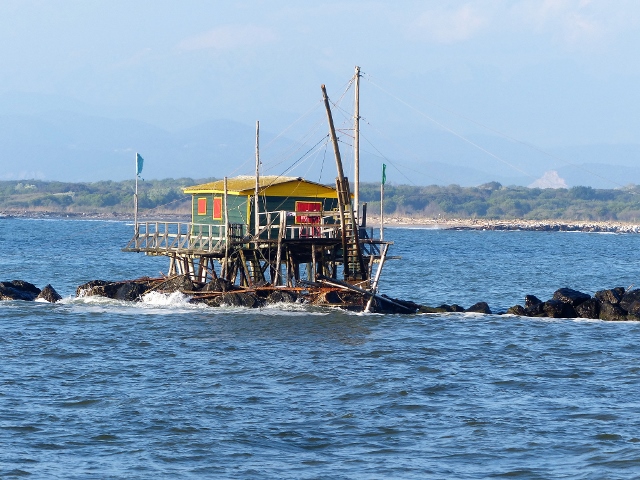 Not sure whether people live in them full time or just when they are fishing.
Fishing is a very popular pastime and these nets, which are raised and lowered about every two – three minutes, seem to be the preferred method by folk who set up their nets on small boats or on the quaysides, though rods and lines are also used.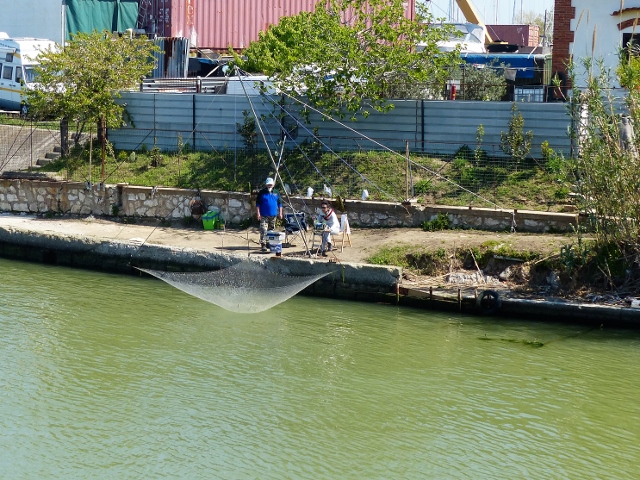 Our second afternoon jaunt took us south – to Rosignano Solvay and another, larger, marina called "Marina Cala de Medici". Fairly new and purpose built there are 65 designated visitor berths as well as several hundred permanent ones.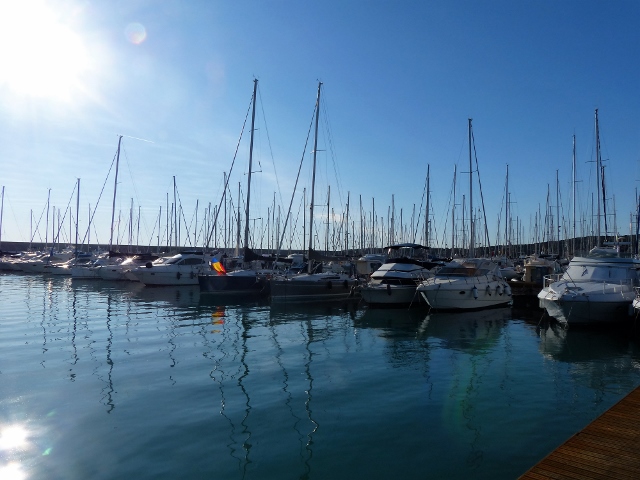 Again the town of Rosignano Solvey is popular at weekends with beach-goers and, above the new town is the old medieval village of Rosignano Marittimo which, unfortunately, we didn't know about and therefore didn't visit. Still we enjoyed people watching and found a beachside bar where I had my first "Aperol Spritz".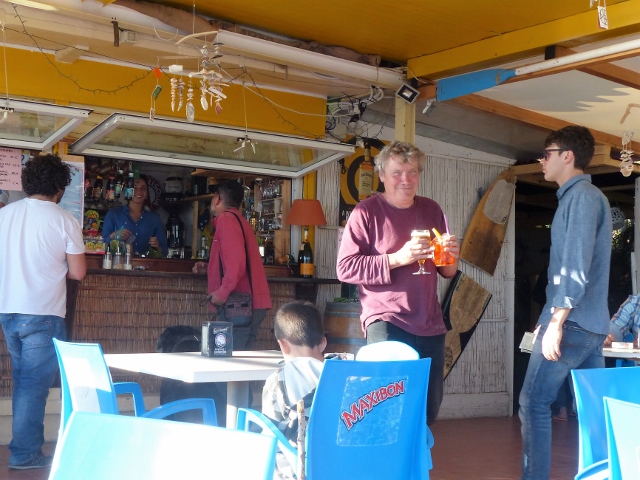 Aperol tastes a bit like Campari but is weaker both in taste and alcohol content. It is mixed with Prosecco and a little soda water to make the spritz and a slice of orange added. Very refreshing.
Whilst many people wouldn't consider shopping as "time off" Mike and I do enjoy finding local produce and trips to the local market felt like leisure time. The covered market itself is fairly impressive….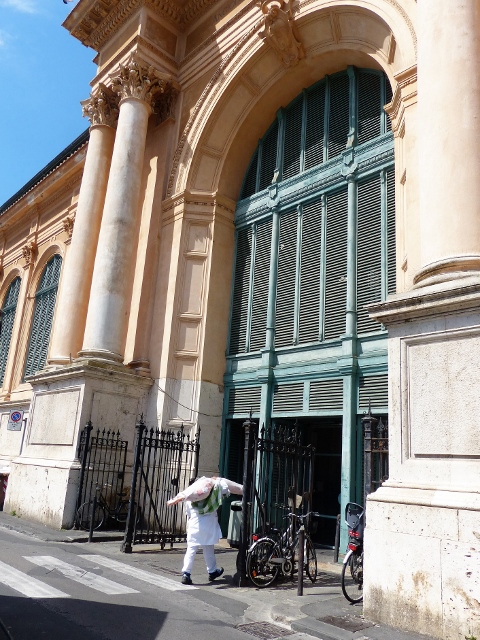 Operating since 1894 its main hall is 95 x 26 metres and is 35 metres high with elegant large windows and an iron and glass roof.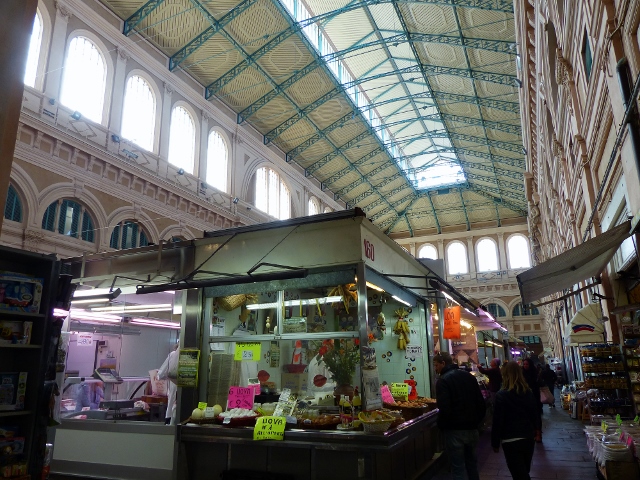 There are actually 92 cellars accessible from both outside and inside so that stall holders can get their goods in easily. A similar number of small store rooms are on the second floor above the stalls.
The hall in the photo above is mainly "farm produce" and there is a separate hall for fish and one which houses a variety of different stalls including bakers.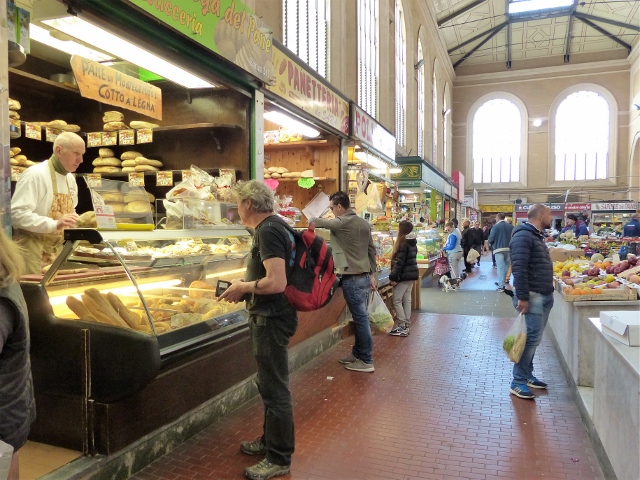 As well as the inside market there are numerous stalls in the pedestrianised area outside the market where there are more fish stalls….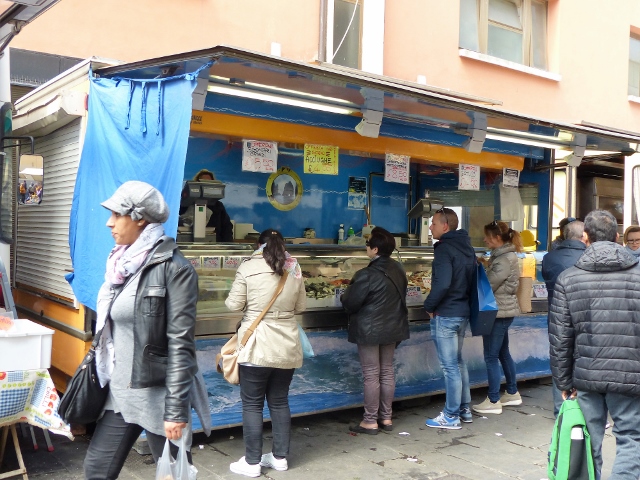 ….and most of the vegetable producers.
On one of our walks around town in the early evening Mike took the camera from me and told me to sit so I did…..
….in a city full of iconic scooters he had found one which suited me perfectly!!!!!!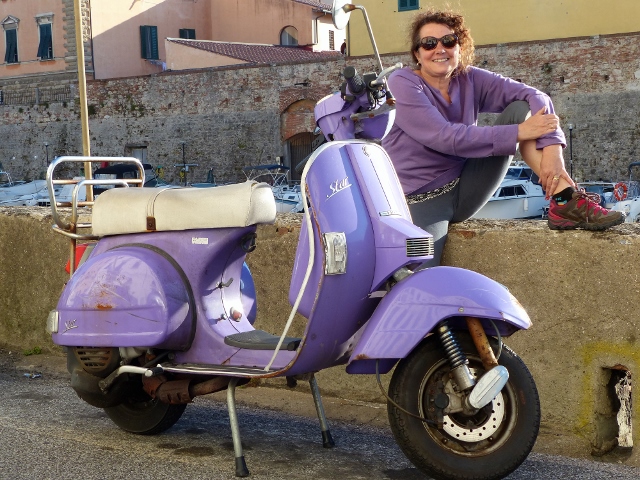 So, after five weeks it was time to return to the UK. As it was now early May we felt it was safe to drive through the Alps without having snow chains in the car so we made our way to Genoa and then headed inland past Alessandria, Vercelli and Aosta towards Mont Blanc and through the tunnel.
Mike said it was one of those things you should experience at least once – and, given the cost of a one way ticket [£40], it probably will be only the once! Having said that it saved several hours driving and the views were excellent.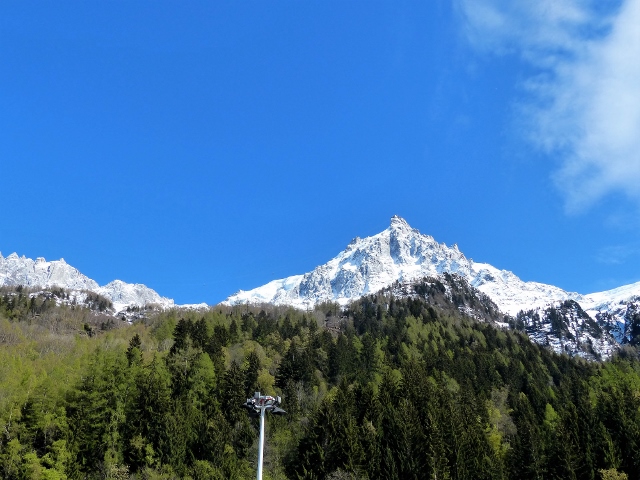 We even had a "Richard Burton/Clint Eastwood" moment.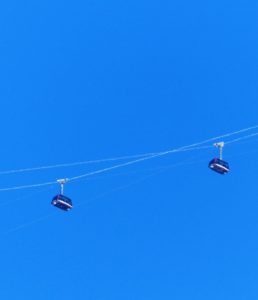 Our first night was spent in "Bellegarde-sur-Valserine" about which I have nothing of note to say. A rather scruffy town with ridiculously and disproportionately highly priced restaurants [and only two of which were open even on a Friday evening] so we ate take-away Pizza in our hotel room!
From brilliant sunshine the day before we woke to drizzle which continued for the next three days – except when it rained properly.
Still, we tried the make the most of it and made our way slowly north, the first day visiting Maçon with its very traditional "Mairie"……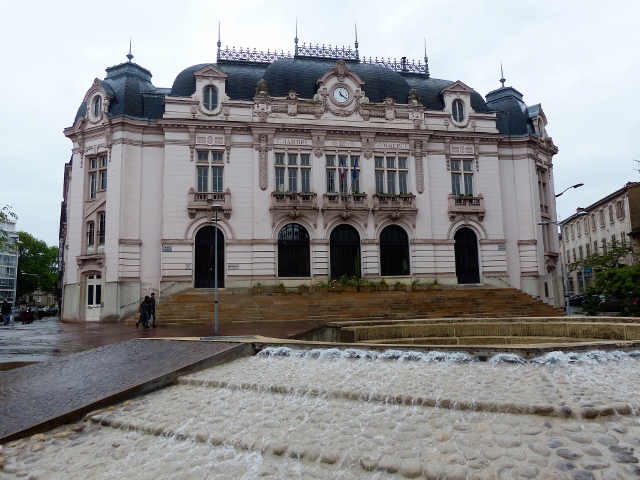 …. and Cathedral…….
…. enjoying a picnic lunch at Montceau-les-Mines which was a very quaint small town along the canal…..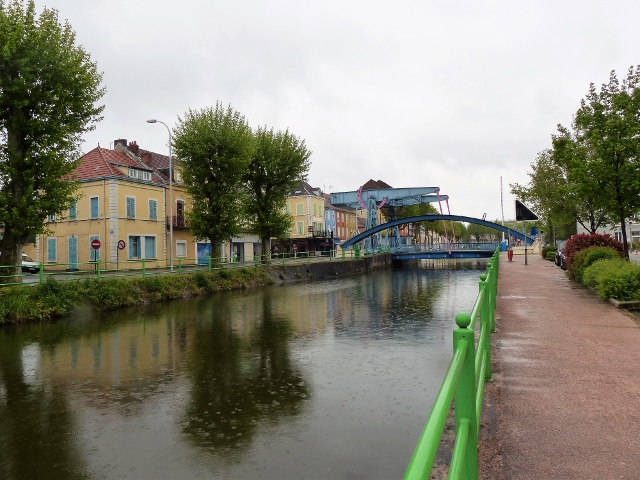 …..and visiting Beaume in the afternoon……
…. where we indulged in a small libation…..
….before making our way to our overnight stop – Troyes.
What a contrast to the night before. Troyes was brilliant and I would recommend it as a wonderful place to stop for at least one night. Wandering the streets – even in the drizzle – was a joy.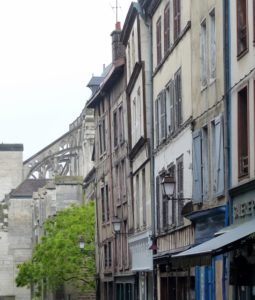 I was really taken by the gargoyles.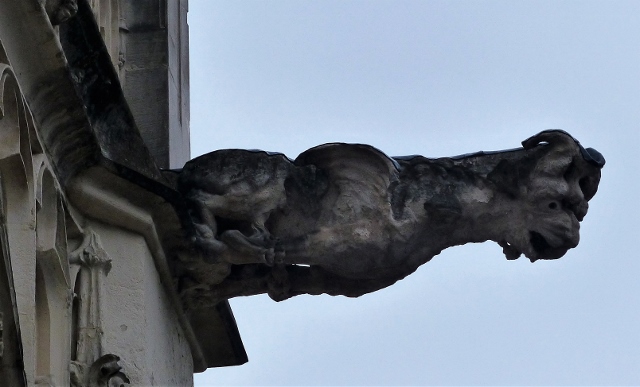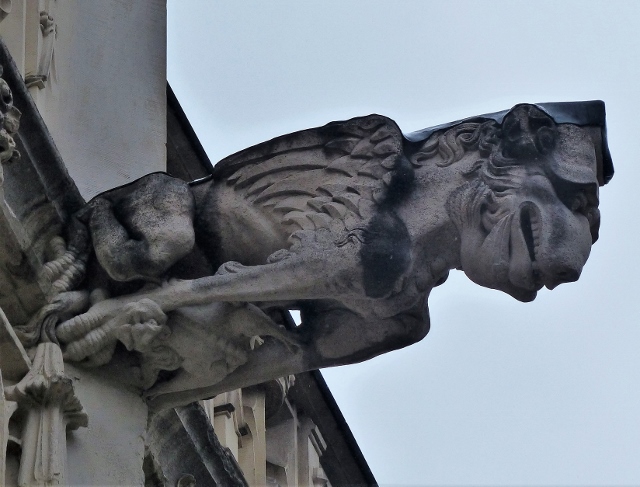 The buildings are equally enticing at night….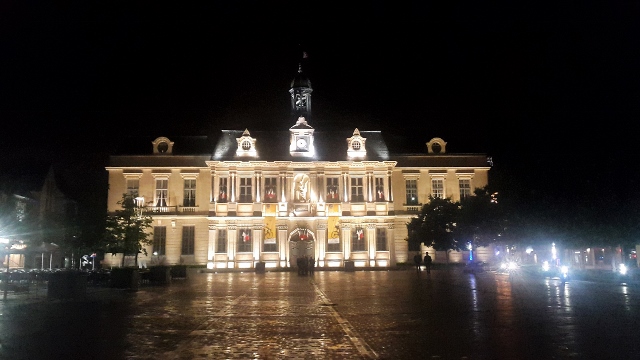 ….and even the closed carousel was lit up.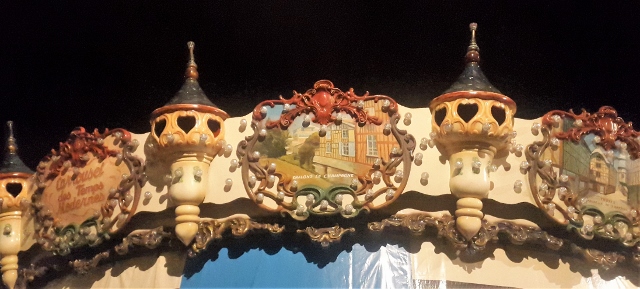 We wish we could have stayed longer but the ferry was booked so the next day we had to drive to Calais.
Calais wasn't as bad as I had anticipated. I don't know why I didn't expect it to be a pleasant place – probably because previously I have just driven to or from the ferry terminal on one of the main arterial routes or been driven to the wine warehouses on a day trip by coach. Yes, I admit, many years ago I did go on one of those!!!
It was polling day when we were there. Not sure whether all French polling stations have such a police presence?
Maybe it was just that this was the main [or only?] polling station in town at the town hall – which sits in its own gardens….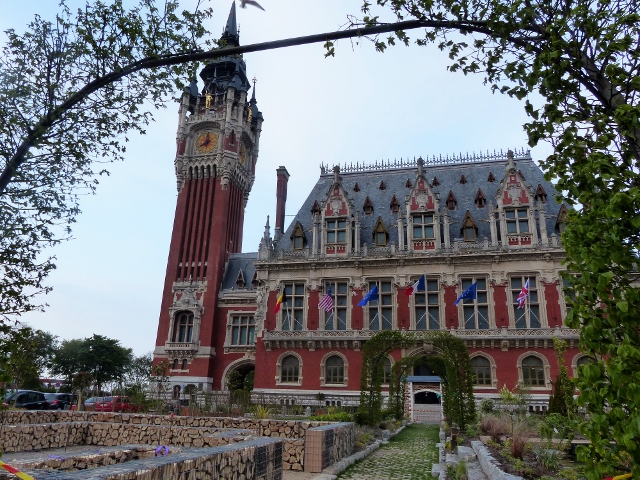 …. which also house a Rodin.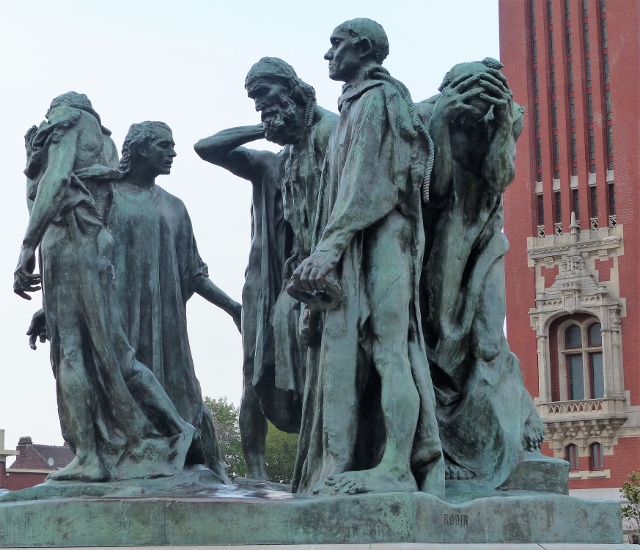 So, that was about it. We had just two weeks in the UK spent with family and friends as usual. Also typically, for us, the UK had had a dry spell during April but there was rain on most days when we were back early May. Some sunshine broke through occasionally and we had an afternoon of Gin and Tonic Devon cream teas with Chris and John….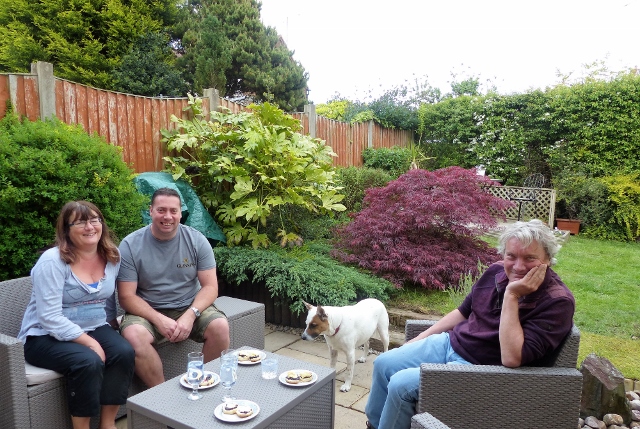 ….and, as you see, Preston – who was very interested in the scones!
All this was courtesy of Pantaenius. Yes! We won a prize. Mike completed a feedback form after our insurance claim for"Siga Siga"had been processed and we were, apparently, entered into a draw.
We received an e.mail just before we left Italy and the hamper was delivered while we were in the UK and what a hamper it was. Bursting with Devon goodies – we gorged ourselves on pate and cheese and wine and bubbly and jam and cream and ginger cake and a pudding and nuts and crisps and biscuits and fudge. We still have some more jam, marmalade and chutney awaiting our next return. In the meanwhile many thanks to Pantaenius for the excellent prize.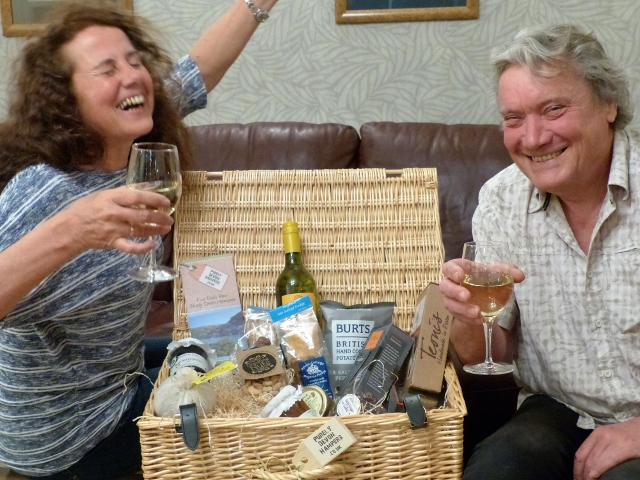 By the way – if any of you ever visit "Owl and Pussycat" you will see that we managed to get the actual hamper to Italy – it just fit inside our hold bag and we filled it with boat bits! It now has pride of place on a shelf in the saloon.