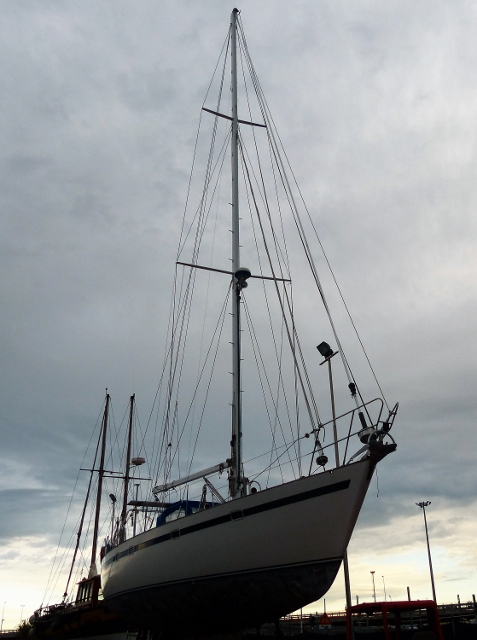 Well, "Owl and Pussycat of Ardrossan" [hope you like the name] is ready for "splashing" on Saturday [27 June]. Just a few words there – makes it sound quite simple doesn't it? But, let me tell you, it has been quite a challenge getting to this point. As many of you know, it all began on Thursday 9th February when we first viewed her. Having had our offer accepted Mike then flew back to Livorno again a week later for the survey – which went well. Arrangements for sale and transfer commenced and we had a list of work which needed doing before launch.
We knew it would take a while but I don't think either of us anticipated that it would be more than three months before we were ready. At this point Mike might possibly say that he did – but I know I didn't. I was trying to be realistic but was about a month out in my optimistic calculations.
So…. what took so long?
OK, OK I hear you all shouting "Bureaucracy" – and how right you are. I guess it was never going to be easy dealing with two languages and two sets of authorities and documents but even so it was a bit more complicated than we thought. Perhaps I should have been aware of the difficulties when, just after the purchase was agreed, I read a comment in answer to someone else's question on a forum that buying a boat in Italy and using an Italian surveyor was a foolish thing to do!
Fortunately for us, Sonia – the previous owner of the boat – is actually also a yacht broker and therefore knows her way around the [Italian] forms and departments but even so, she got frustrated with the things she had to ask us to do. At the time the initial paperwork was being done we were still in the UK so everything was being copied and faxed and we had to have our passport copies authenticated etc. For some reason, which we still don't quite understand, we also had to register with the Italian equivalent of the Dept of Work and Pensions. It was something to do with the tax payment which had to be made.  We now both have the Italian equivalent of an NI number. Well, you never know – it could come in handy!!!! Anyway, Sonia managed to complete all the Italian paperwork within the 3 week period which is required under Italian law and the boat was ours.
BUT…. Now we come to British Registration. Prior to leaving the UK we completed all the relevant forms and sent copies of all the documents we had which, on our interpretation of the regulations, met all the requirements. No surprise to you readers, I suppose, that we were sadly mistaken!
There were two problems. Firstly, the documents we sent did not apparently prove the previous five years ownership and secondly, even though we sent the original Italian tonnage certificate and a new one, in English, completed by the Italian surveyor, this was not acceptable.
We thought that the first issue would be resolved when we got to Livorno because Sonia had told us that she had all the boat documents we hadn't already had ready and waiting for us. What we did not know was that the Italian registry only returns some documents to its owner on de-registration and they keep previous Bills of Sale etc in their records. What they do give the owner is a transcript of their records giving details of all previous owners and dates and reasons for transfer of registration. Great, we thought, that should be OK ….and we sent a copy immediately. "Sorry", came the reply. "We need the original document and a translation into English and for both those documents to be authenticated." Yikes. Well, to cut a long story short we managed to get the document translated and then, again fortunately for us, the father of our boatyard owner's son's girlfriend [have I got enough/the right apostrophes there??] happens to be an English speaking Attorney who, for €90, did the necessary. It still took several days and two visits to his office followed by a frustrating morning trying to find a courier to get the documents to the UK – but more about that later.
Given that we had only had to pay £5 in the UK to have a Notary authenticate our passports the €90 seemed a bit steep but we were so grateful to get it done we didn't care and, given what was yet to come, it was a relative drop in the ocean and takes us back to problem two.
We now know that the British Registry only accepts Surveys of Tonnage from a few surveyors on their approved list. On the phone we were told that they would send us a list and that of course these included surveyors in different countries.  We received the list and they were all British surveyors. We phoned the Registry again thinking they had sent us an incomplete list. Oh no. These are surveyors who are happy to travel to different countries to complete the survey. Well, they would be. Nice job if you can get it.
Again, to cut short a diatribe, we opted for an RYA recognised surveyor who, when we spoke to him was – by chance – visiting Pisa the following week for another job and who agreed to take a detour to Livorno for us. I guess this was a bit of good luck but the £420 it cost us for the privilege didn't feel that lucky. I suppose rules are rules but we had already submitted two tonnage surveys and, if anyone is interested the way it is calculated, it is basically length x breadth x depth plus a "fiddle factor" of x 0.16 [which is standard wherever it is calculated]. Why it had to be a Registry approved surveyor to submit the same figures as the previous tonnage surveys heaven only knows.
But there you go…… £420 worth
The formal boat registration number meant that Mike could complete all the OFCOM stuff so we now have the relevant Call Sign, MMSI number and Radio Licence number. Thankfully that was on line and straightforward and free.
I think that's more than enough about bureaucracy don't you? So, now for the work.
As I said at the outset, overall we got a favourable survey from a very thorough surveyor. He spent a full day with the boat – including about three hours inspecting the outside with four different types of meter over every inch of the hull. Interestingly, in the aforementioned forum thread I mentioned, he was recommended as a "go for it" or "don't touch it" guy. There is no in-between. His reputation is that if there are any reasons not to buy he will advise against.  We had initially selected him as he was recommended by Cruising Association members and we later found out that he is also a surveyor Pantaenius use. I am putting together a list of useful names and addresses for anyone who is in or around Livorno and will post it soon.
But even favourable reports come with recommendations. The two main ones were that the below waterline through hulls should be replaced and that some remedial work needed doing to the base of the mast before she was put into the water again. He also strongly suggested that the sanitation hoses should be replaced – just because!!!
I am not going to go into any detail about the last recommendation – only to say that we have done it which is again only a few words to describe several hours work taking apart cupboards, crawling around in contorted positions trying to loosen and later tighten hose clamps and having fun with Mike's favourite job of plumbing before putting all the cupboards back into place.
The through hulls and some of the mast work we commissioned to Carlo – the yard owner. He was able to start this work immediately which we hoped would speed our launch date. He also has the expertise in these matters. We decided that although it was only the below waterline through hulls which had to be replaced we would actually have them all done. Mike has since wondered whether this was a good decision on our part because having seen the removed pieces he feels many needn't have been touched. But once bashed out there is no going back so its new ones throughout. Actually I think it's no bad thing. We should be good for at least twenty years now – and longer with most of them. The parts of the hull they go through have been examined, new coats of epoxy applied and every valve is in perfect working order. Of course it will be the big test on launch day but the work looks good.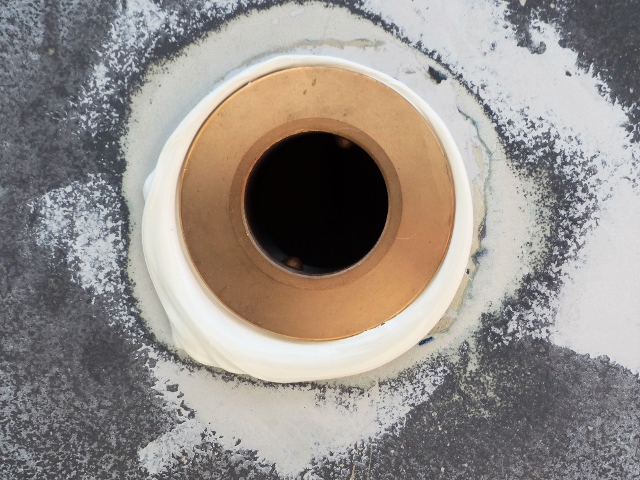 Now some of you may be wondering what was wrong with the mast base. When Mike told me about it I was quite taken aback – but really it was no big deal – other than the mast had to be removed to do the job. By "no big deal" I don't mean that it did not have to be remedied – as it certainly did – but the outcome is that we now have a much better arrangement at the mast foot.
The problem was that the base of the mast sits in the bilge – as I expect most keel stepped masts do? This is a new thing for us but we know that water gets into all masts and has to run out somewhere. "Siga Siga" had a deck stepped mast and there were small grooves at the base for water to escape onto the deck. So, water in itself is not a problem, except if it pools and, regardless of all other evidence being that the boat bilges are clean and dry, there have obviously been occasions when a little water has just sat there. Over time this caused corrosion….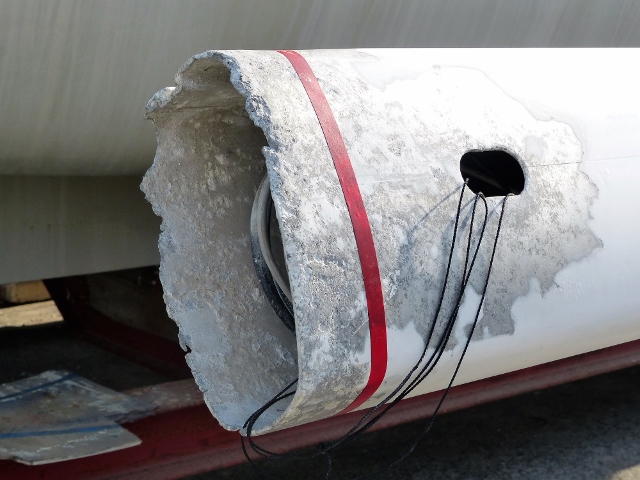 What the surveyor recommended and Mike concurred with was that the damaged part of the base be removed and a platform built to stand in the bilge on which the base could now sit.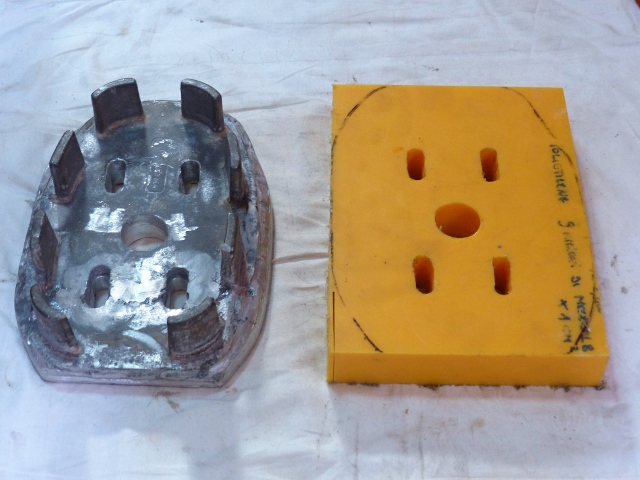 The lower part of this base is polycarbonate which cannot corrode and in both new parts of the base holes have been cut so that any water drains straight through. Everything was repainted….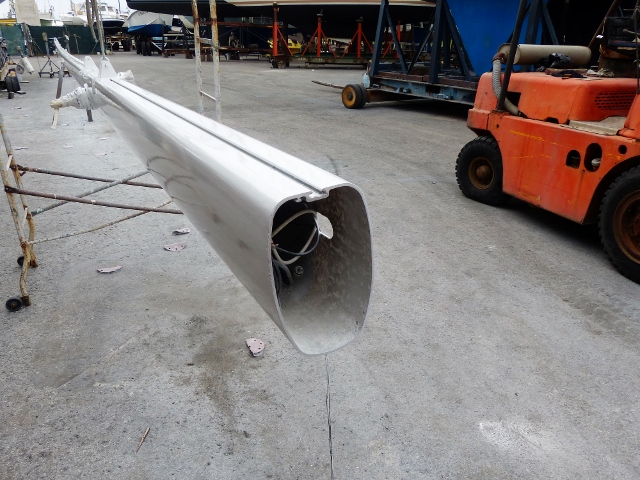 ….and it's all back together looking splendid – and sikoflexed [maybe a word!?] in place.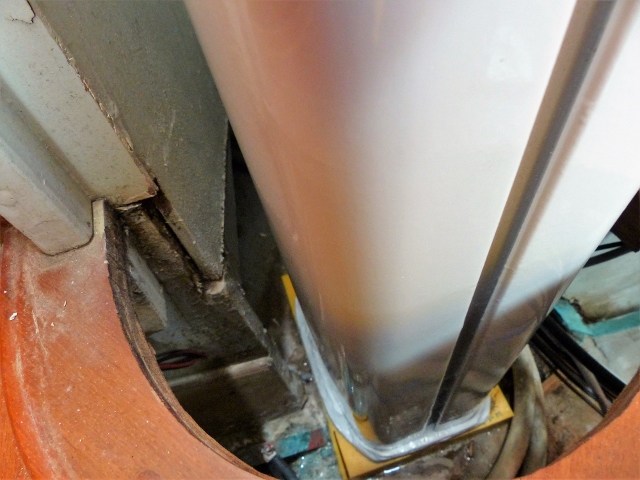 But, as with everything else, this piece of work is only part of the story.
"What", we asked ourselves, "is the point of taking down the mast and only doing that work? Let's have the whole thing painted". Well, as anyone who may have done this themselves will know that means every last thing has to be removed. Halyards, shrouds, electrical equipment, aerials, fixtures and fittings. All off. Spreaders removed for painting as well and similarly all fittings off the boom.
As with the through hulls we asked Carlo and his crew to do this to get things moving but we decided that we wanted to replace it all ourselves…. Brave words which didn't end there. "We should also replace the wiring – stupid not to take that opportunity" …. "and, while we are about it lets add mast steps."
So, there was plenty of work for us to do when we arrived in Livorno on 28th March and, with regard to the mast, this is how it went….
First on were the steps….
…. very carefully measured, avoiding all the other fittings and using the spreaders when appropriate. Two in parallel at the top [well, at a distance that allows Mike to be at chest height with the top. Who the hell wants to balance right at the top!?]
This first task meant we made good use of our old friend "Copperslip" – vital for all screws in a marine environment if you want to be able to get them out again – and we made a new friend "Duralac" which forms a barrier coat between the two different metals.
Next, the mast track…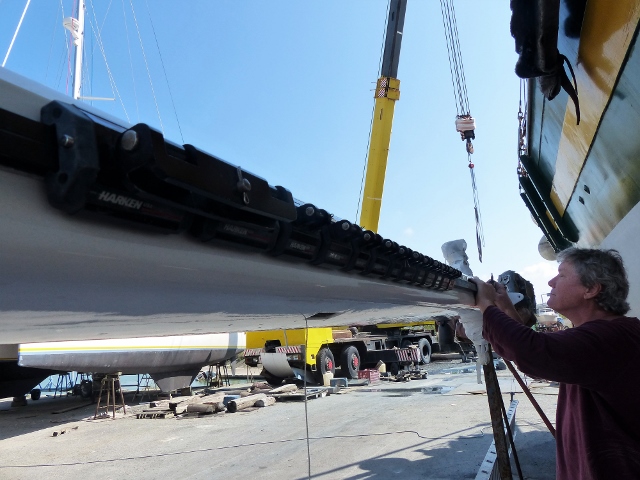 …. which we pushed the cars up and down loads of times to ensure we had smooth running. A trusy file was needed in a couple of spots but all seems good now.
We serviced the winches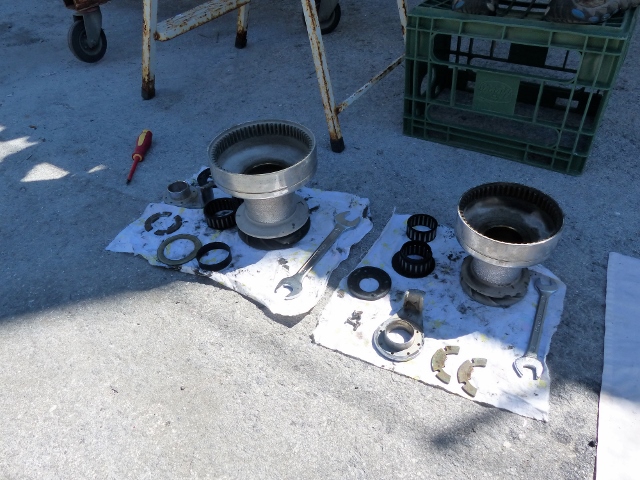 …and then we put back all the sheaves, cleats and other paraphernalia.
The halyards all went back OK – and we serviced the pulleys etc as we went along but, when it came to putting in the new wires we had great fun. This may have been because it is always the case or maybe because we upgraded the wires and therefore had a bit more bulk. Whatever – it created a few tense moments. But we survived. We resorted to our tried and tested favourite ….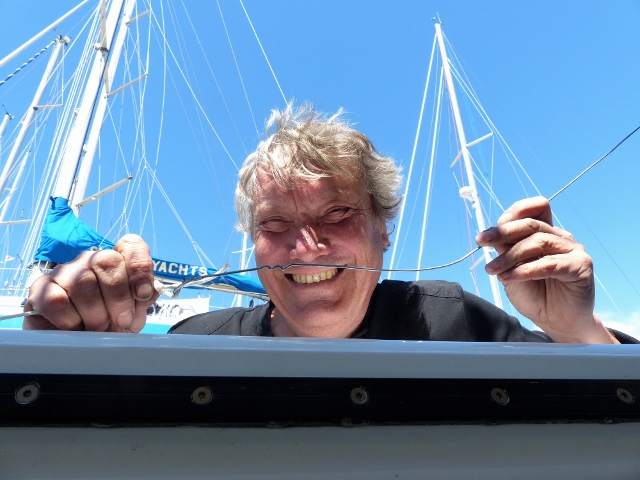 ….the coathanger and, when wires wont go back in from top to bottom then why not try bottom to top? As you can see Mike didn't believe my idea would work…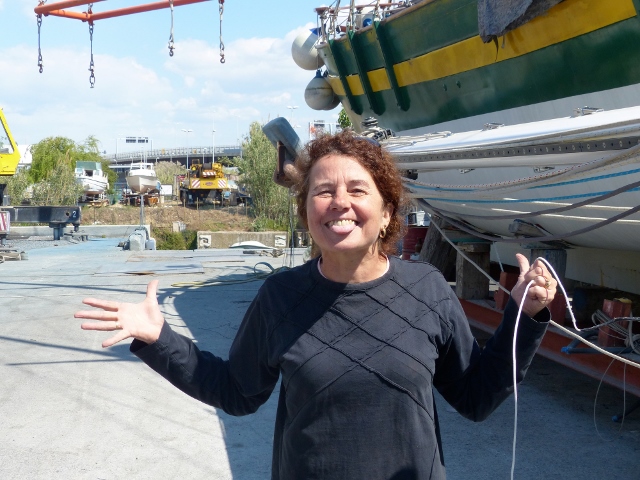 We also ensured we put in sufficient "mice" for the future
During this process Mike acquired a new skill – i.e. wiring the shrouds to the spreaders and he also re-kindled an old one as he has made a complete new set of lazy jacks for the mainsail which involved lots of splicing to hold the thimbles which join all the stays together.  We have only sailed a boat with a slab reefed mainsail once before and that was a charter in Greece, so again it is a new adventure for us.
Finally everything was attached….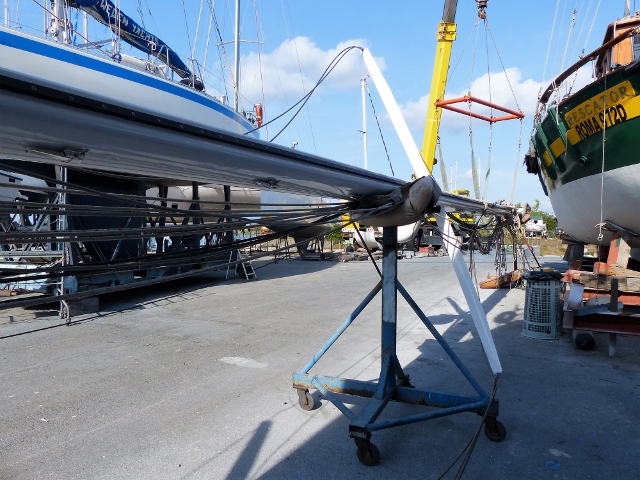 … and don't you just love that horn! Think we will be heard worldwide.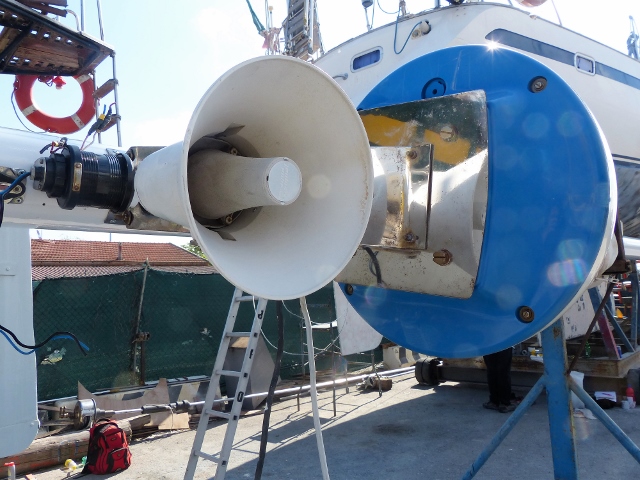 Our next task was to service the engine and genset. As well as it being important to change all the fluids and replace filters, v-belts, impellers etc we thought it was a good idea to get to know these beasts as you can bet your bottom dollar we are going to be thankful we at least know a bit about them. There is much more space in this engine room than we had on "Siga Siga". Mike can almost sit in it – but does that make it any easier? Well, of course not!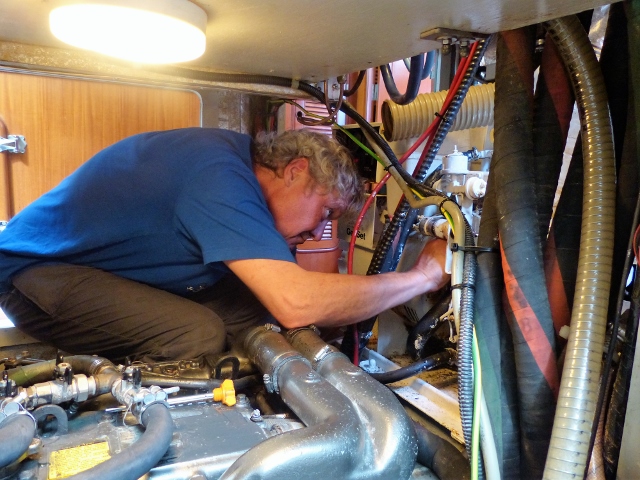 I don't know whether it is engine designers or boat designers who are to blame – or maybe a conspiracy between them – but if they can make an impeller inaccessible then, believe me, they will. We tried all the tools we already had, bought a small pulley puller because we knew a real impeller puller wouldn't fit [having measured the gap], and swore a lot. None of this worked. Finally we found some smallish right angled long nose pliers which did the job – but not without the usual scuffed knuckles. But this was only half the issue because "Owl and Pussycat" is a Taiwanese built boat made for the US market and we are in Europe. Some parts are easily interchangeable but some are not. Both the impellers and, we believe, a couple of the filters which were removed weren't actually the right ones. In respect of the genset impeller this was a bit of a mystery because we found a spare one – a true Onan product – lurking at the bottom of a cupboard. I think it had been forgotten about. We were therefore able to use this and order 4 more spares from the US which were delivered to the UK. With regard to the filters and other engine parts we did manage to source them too – though not without a couple of false starts.
It was a similar issue with the anodes. The max prop and propeller shaft anodes were no problem. Having checked we knew we didn't need one for the bow thruster. The pencil anode in the genset is another story which we haven't solved yet! Our main concern were the two hull anodes as we could not find any which fit and/or which allowed us to get the nuts onto the end of the bolts. Given the number of rectangular anodes available it is hard to believe we couldn't find one. Although we didn't really want to, as a temporary solution we may have been able to put smaller ones on but even that wouldn't work as the holes weren't in the right places. In the end Mike invented some new nuts which look a bit like a small top hat so that part of them go through the holes in the anode and therefore fasten to the bolt whilst the wider part actually holds the anode on. Sorry, a bit of a ramble there and I am sure I have bored many of you. But these are real challenges. Finding a brilliant metal turner was a godsend.
Whilst I am on the theme of buying I think I should explain that there aren't really any chandlers as we know them. There is no on-line "Force 4" or "Marinescene". There are a few very small shops where you can walk in and view products but their range is limited – mainly catering to large motor boats whose occupants like fishing and worthless gadgets. There are suppliers to superyachts but they don't have anything we would [or rather, could] use. We were told that there is a company called "Osculati" – which is probably the largest Italian supplier but their nearest outlet was about 2 hours away and they are not cheap. In terms of pricing – some things are cheaper in Italy such as chain but other things are more expensive. Unless there is no option, buying electronic gear is best avoided here. We were lucky being in the boatyard because Carlo has an account with a supplier [Forniture Nautiche] based in Cecini [about 40 minutes away by car] so we were able to order through him. They would not have accepted us as direct clients.
So buying stuff becomes a full time job in itself. Italy is wonderful in that it retains traditional small corner shops which include "Ferramenta's" [Ironmongers] but we often had to go to three or four before finding e.g the screw or washer we needed.
Finally on this subject is the problem that if you are told of somewhere to go, you have to actually find it. From our experience all Italian cities are full of one way streets and you can end up going round and round. Many small businesses do not have websites but the Italian equivalent of Yellow Pages pinpoints them on a google map using goodness knows what spurious criteria – because even if you manage to navigate to where Google sends you – there is no shop. Either it looks like it closed last century or it's a block of flats or it goes something like this…
I mentioned near the start of this post that we had difficulty finding a courier service. It's hard to believe that finding Fedex – or rather not finding Fedex – would be an issue. Luckily, just as we were about to give up after trying two different addresses I saw a sign on the side of the road for DHL. We followed this, and other signs, for about five miles into and around an industrial estate. We did eventually find them but we still feel it was a lucky break!
I could go on and on but feel that I have said quite enough for one "sitting" – at least I hope you are sitting! So, I have decided to make my planned post a bit shorter.
I will just tell you briefly about some other jobs we have done.
We have commenced changing all the lights to LED's. This will be completed after our visit to UK in July to pick up more bulbs but, amongst others, we have done the masthead anchor light and the tricolour – no need to go up the mast now even though we have the steps! One thing we were quite pleased about was that we found kits in a B&Q equivalent [or almost] which has meant we have been able to convert all our fluorescent tubes [eight in total] for around £38.00.
We have more or less built up a new tool kit. It's now a case of trying to find somewhere to put them all – especially the new angle grinder. Why have a small one when a big one costs less!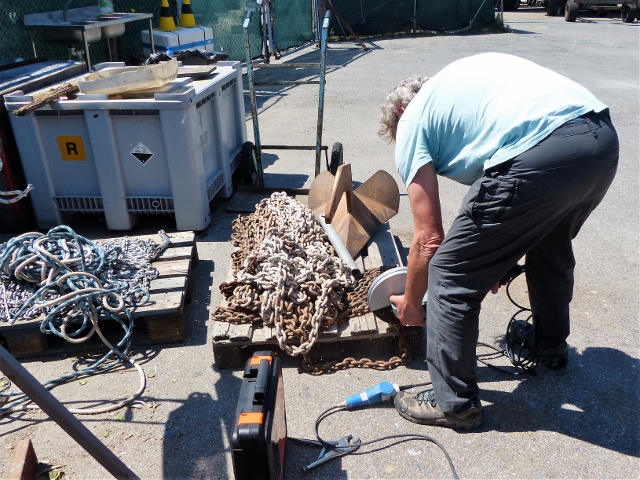 We have done some internal wiring as a result of re-attaching the mast and have taken several facias off and lifted floor panels up to trace wires. So far fairly successfully. We now have a wiring diagram to help us make sense of what goes where in this nice, but complicated control panel.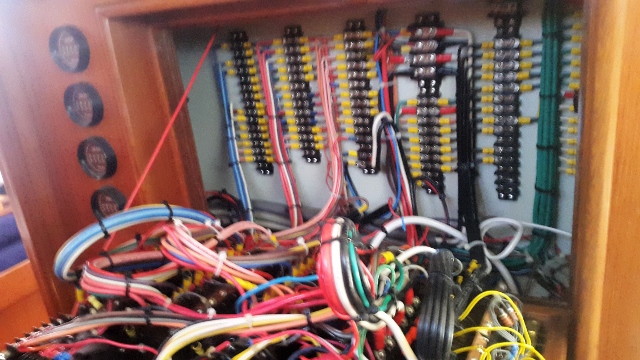 We have replaced the anchor and chain. We now have to decide how much of the old chain to keep with the old anchor as our second anchor system and how much rope to have. We are rather pleased with the chain locker though. More chain than on "Siga Siga" and loads of room.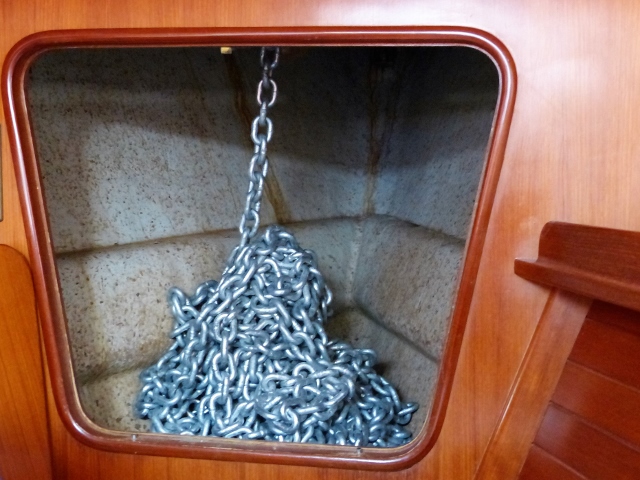 We have new mooring lines. We have polished the stainless steel & serviced the fenders [i.e. blown some up and washed, re-stiched and put new shock cord in the socks]. Strange isn't it that I take photos of Mike at work but he never seems to get ones of me! Not that the polishing and fender jobs are the only things I have done. I make a great mate for most of Mike's jobs and am generally in charge of any soldering and quite a bit of electrical work as I have the steadier – and smaller – hands.
And lastly, but not surprisingly we have started a list of jobs to do. This winter in Spain is looking busy. Although we thought we might leave the sprayhood until the Caribbean I am increasingly thinking it is a priority.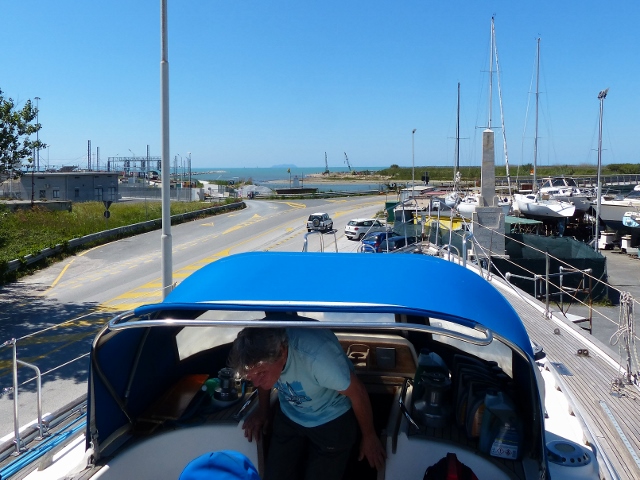 Maybe we will get used to it but it is much lower than "Siga Siga's"- and not as good – so unless we are happy to continue bashing our heads it may have to go sooner rather than later.
We have also had the bottom sand blasted, coated with three layers of epoxy and then Coppercoated.
She looks fine – and, we hope, is ready for the water.
I have just realised that I forgot to say that the mast is, of course, now back on. That was quite a stressful couple of hours when all we could do was stand by and watch it all happen.
But these guys know what they are doing and – it all went without mishap.
Now I am sure that you are fed up of photos of a boat on land and boat parts so, we hope that the next photos you see will be "Owl and Pussycat afloat"….. Watch this space.