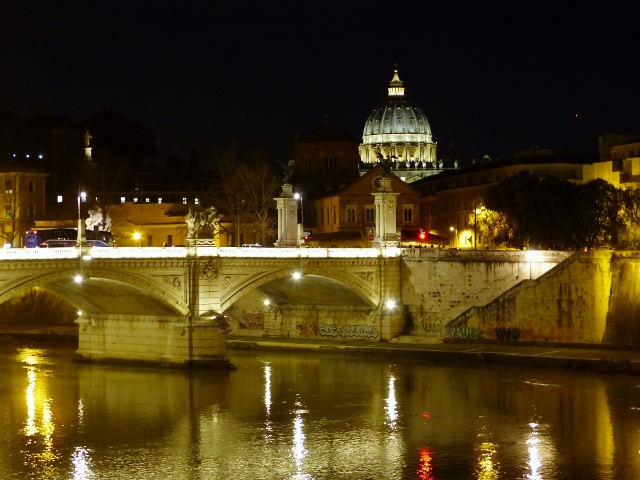 Yeah…. we have a new boat. Not sure what her name is going to be but she is a Taswell 49 and is currently on the hard in Livorno, Italy.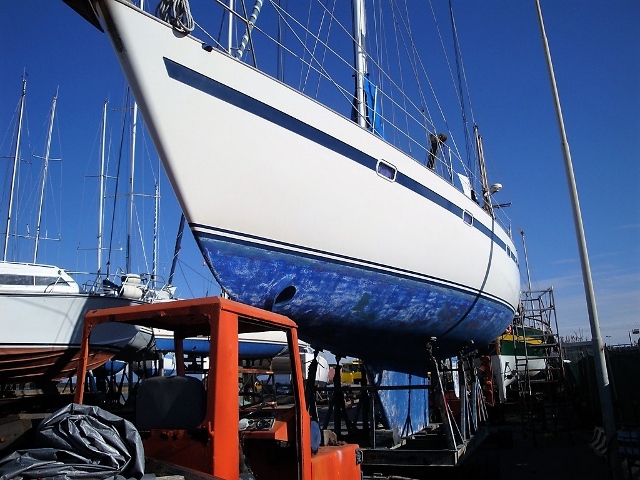 There will be lots more photographs of her in blogs to come but here is a quick preview of the galley….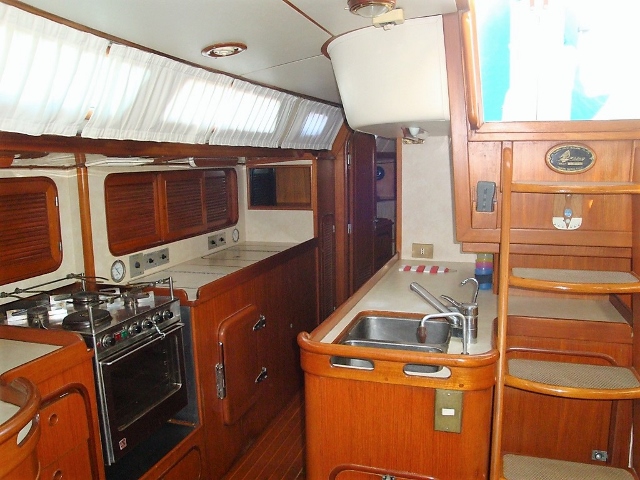 …and the saloon….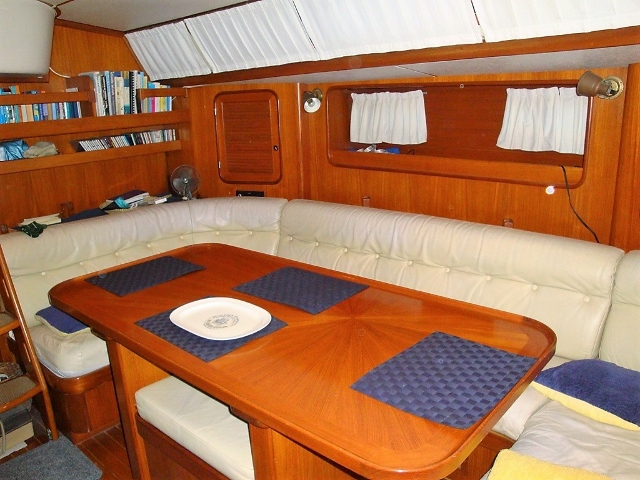 We are really pleased – not only to have found a boat we like – but also that the search is actually over and we can get back to being liveaboards. Well, soon, anyway.
Not that looking hasn't had its compensations. As the title of this blog and the initial photograph suggests, we have had some good times travelling to places we haven't been before. You might remember Cadaques and the NE part of Spain we went to in December and this time, in early February, we were able to visit Rome.
We have also been able to see more of family and friends. At the end of January we spent a night with Steve and Mary and were introduced to a fairly recent addition to the Atthews family….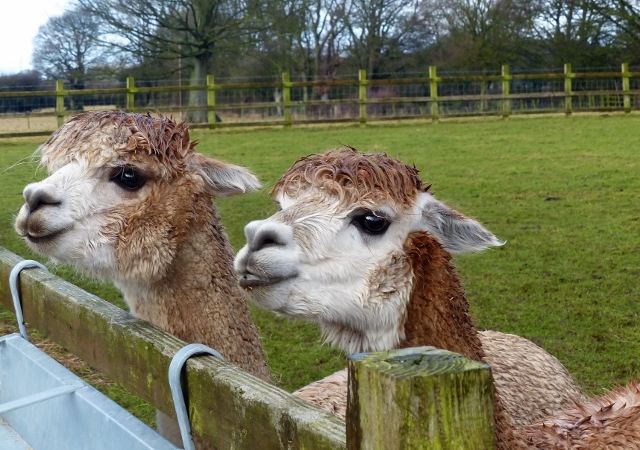 I think the Alpaca on the right is Mary's, but I am no expert in alpaca recognition!
We also went for a lovely walk, starting in Holywell – named for the well at the shrine of St. Winefride. Part of the walk took us down the Greenfield Valley trail – a former railway track, past the ruins of several copper mills and also Basingwerk Abbey.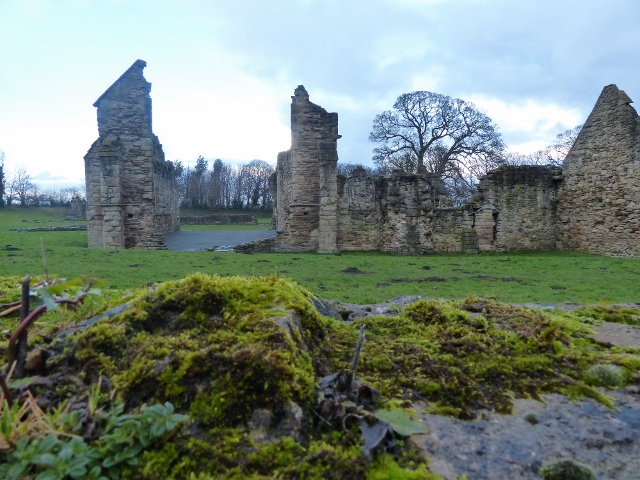 Ahead of us we could see the River Dee and we soon reached the estuary….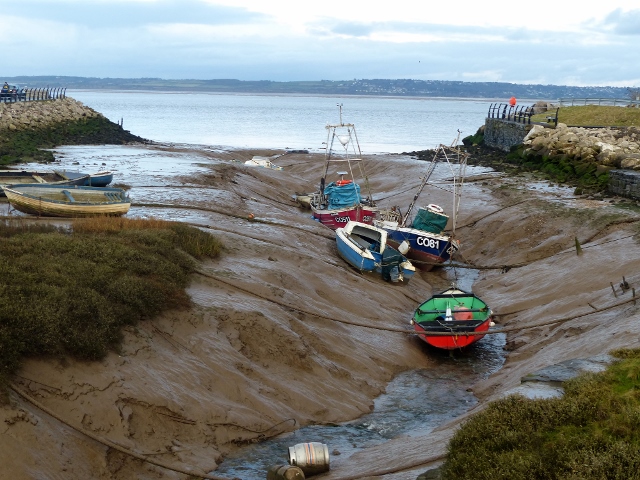 …..with views SE to Connah's Quay power station.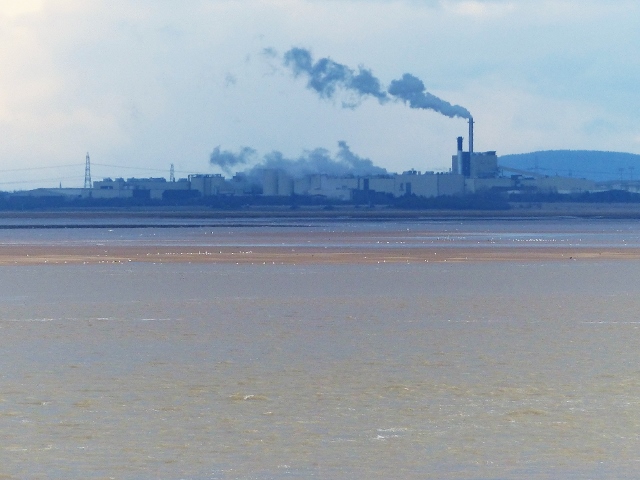 Looking NW towards the mouth of the Dee, we could see across to West Kirby on the Wirral.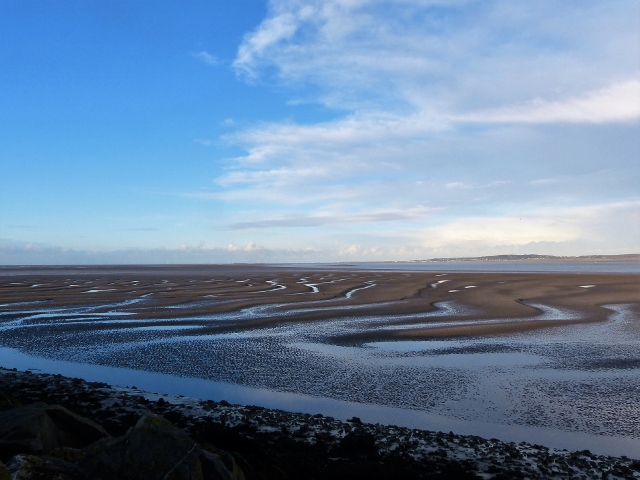 Don't know if the tide always goes out this far… but I have heard you can walk out from W.Kirby to the small island – maybe another time.
Walking toward Mostyn Steve told us about an old ship – the Duke of Lancaster – which was apparently deliberately "beached" with the intention of converting her into a nightclub. Don't think the project went quite according to plan!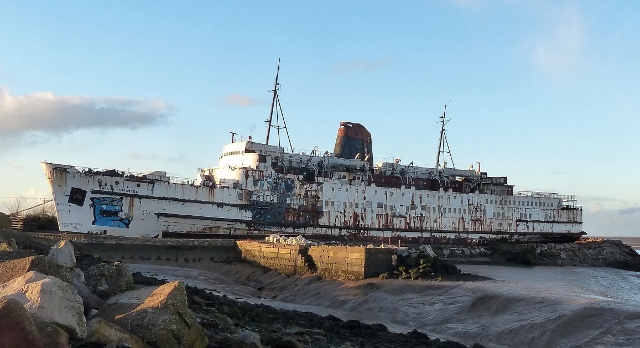 And so….on to Rome. Although Rome is about a four to six hour drive from Livorno, at this time of year there were no convenient flights from Manchester to Pisa [just 30 minutes from Livorno] so we opted for the drive along the Italian coast rather than Manchester to Stansted – well, you would wouldn't you!!
We didn't land until about 9.00pm and therefore spent the first night in the Ciampino district close to the smaller of Rome's two airports. Two things happened which made us wonder if our trip was in some way doomed.
Firstly we arrived at the accommodation, having been ripped off by the taxi driver, to find that we weren't expected as our reservation had been cancelled by Booking.com because of an apparent problem with the debit card. I was most concerned about this because all three hotels had been booked through that website. The proprietor of the B+B was brilliant. She was able to provide us with a different room and also phoned the other hotels [in Livorno and Rome Centre] to check they had our booking – which they did. Phew. So what went wrong with this booking I don't know – but have since found out that a Manchester hotel booking for July, made at the same time as the other three, didn't go through either. Internet connection? Apple? The bookings.com website? Who knows……..
The second "incident" was when we went to collect our hire car the following morning. As well as the instructions for collection being totally wrong which wasted us about 30 minutes, we finally got to the right desk and Mike was asked for his passport, credit card and driving licence. Passport and credit card – fine, but he couldn't see his driving licence in his wallet. He looked and I looked. OK I thought – looks like we are going to be catching a train but then remembered that I still carry the now obsolete green paper sections of our driving licences in our passport wallet. I said something along the lines of "Oh here it is Mike" and we handed it to the car hire guy who processed our booking. Whether he knew that it wasn't the official licence I don't know – but it worked! Just to finish off that story – on our return to the UK I looked for our driving licences in my purse as that was the only other place they could have been. No licences. So, I looked again in Mike's wallet where, tucked away in a "back" slot, which we had both forgotten about, were the licences. We had them all the time.
Fortunately, those two hiccoughs weren't precursors of more and the drive to Livorno went to plan. Given that we have now bought the boat we are going to be spending at least a month in Livorno kitting her out – so you will no doubt get to hear about and see photos of the city. Someone recently described it as "the Grimsby of Italy". Well any Grimsby readers will be pleased to know that when Mike went back recently he found it to be a very pleasant place and during our short time there we found a couple of great pub/bar/restaurants and I think this photo shows that it ain't that bad at all…..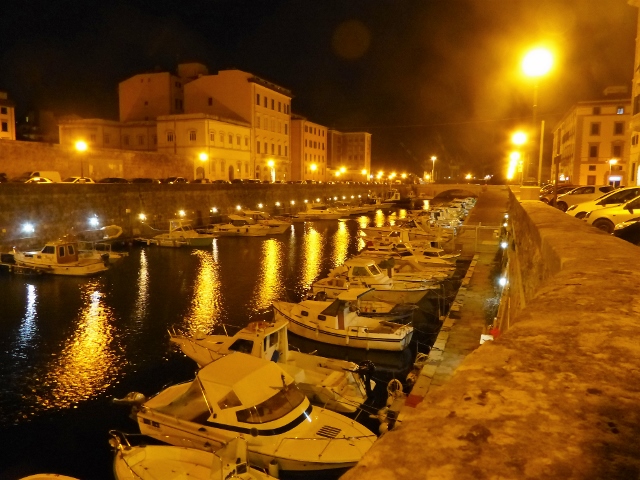 We spent the following morning viewing the boat with Sonia and Luciano who encouraged us to peer into cupboards and look in the bilges etc. and who showed us where things were stored and how they had set things up. We were certainly sufficiently happy with what we saw to believe that a survey would reveal little of concern and, following lots of enthusiastic discussion on the drive back to Rome, we contacted Sonia with an offer and very soon reached an arrangement which we were all happy with. Mike was there last week when the survey was done and he has really got a feel for the boat now and believes that we made a very good choice.
Anyway – about Rome.
Just to say that two days and nights is not sufficient time to see everything but, you can certainly make good inroads – partly because the old city is relatively compact and easy to walk around.
We had pre-purchased tickets for the Vatican museums and as these tickets mean that you don't join the main queue we made a fairly leisurely start strolling through St. Peters Square [just five minutes from our little apartment]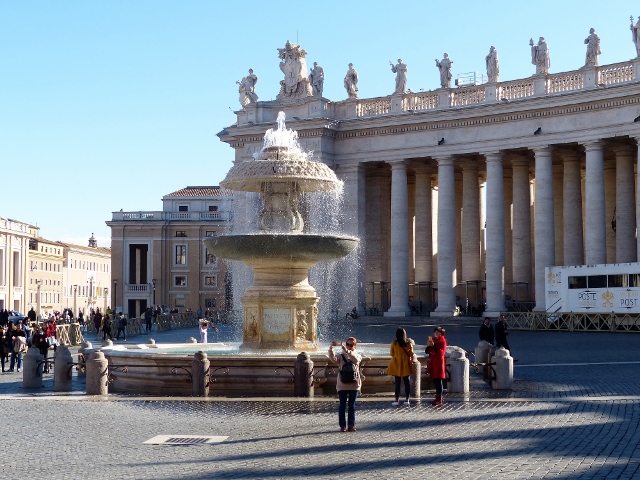 …..and past St. Peter's…..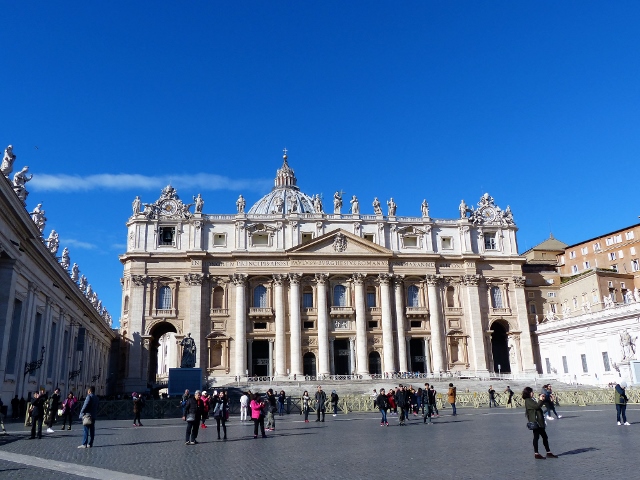 ….towards the museum. We also saw a couple of members of the Swiss Guard in their brilliant uniform……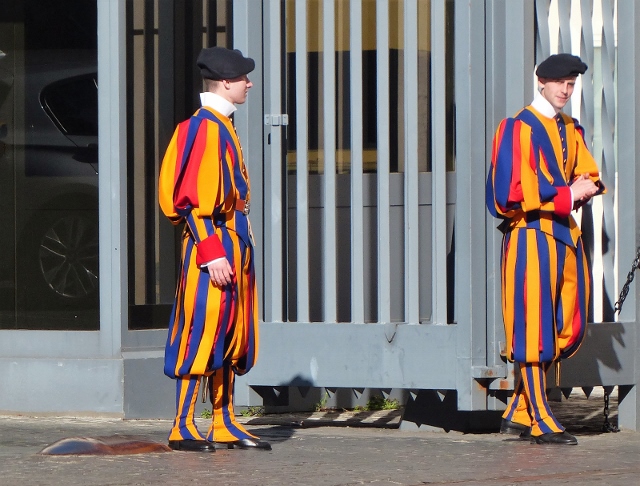 The Vatican Museums are vast and housed in a spectacular building.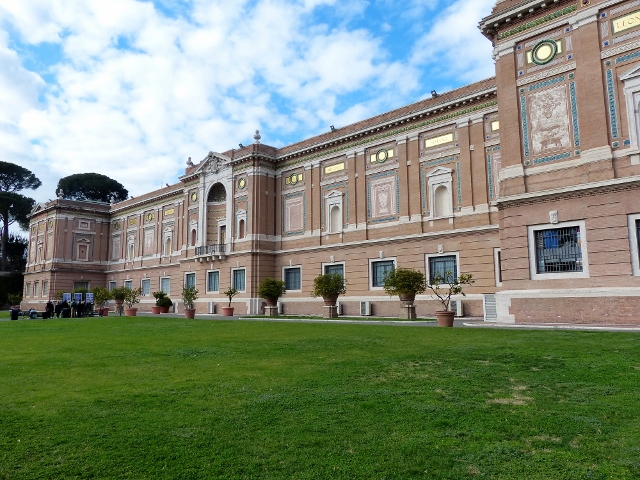 There are, apparently, 7km of exhibitions and one of the greatest art collections in the world. As you will all know, the highlight of the museum tour is, supposedly, the Sistine Chapel. However, call me sacrilegious if you want but I found it to be a real let down. Yes, the ceiling frescoes are beautiful and the "Last Judgement" painting on the wall quite striking – though maybe better before the 41 fig leaves and loincloths had been added to spare the delicate sensitivities of Pope Pius IV – but so are the walls, ceilings and doorways of many of the other rooms and at least you are able to take photographs of those!
There was so much else to find fascinating. Given our lifestyle we rather enjoyed seeing this painting depicting St. Anthony of Padua – the Patron Saint of Shipwrecks!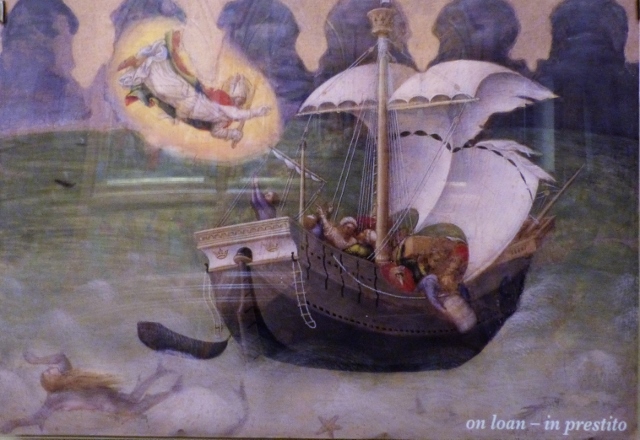 On entering another room there was a whole display of frescoes. I asked Mike when he thought they had been painted and, like me, his impression was that they were relatively modern.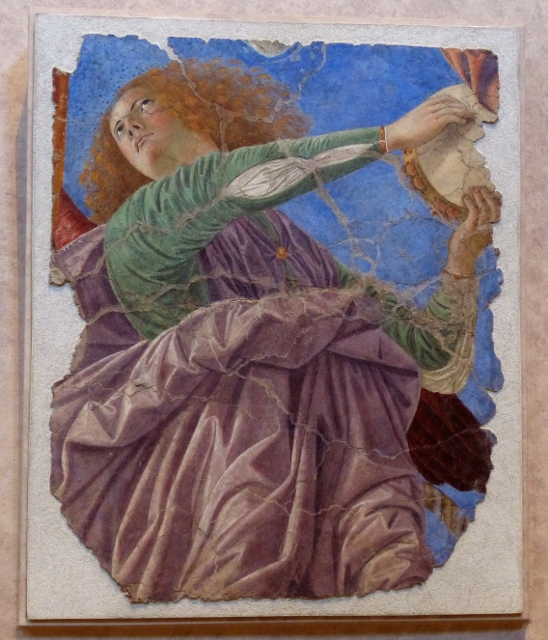 It shows what we know about art because in actual fact the fragments on display were painted in 1480 – a series of music making angels, cherubs and apostles.
As you will have seen from one of the photographs above, the museum exhibits include a huge number of classical statues such as this one of Tiberius Caesar.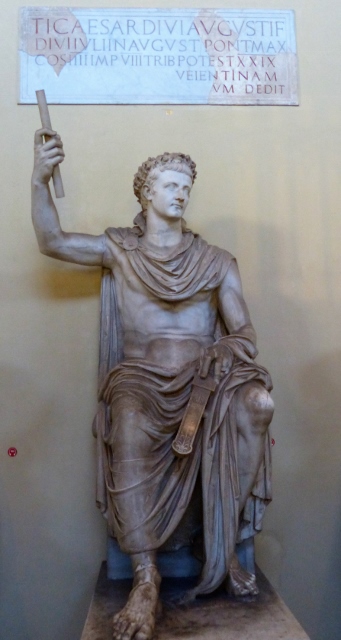 There are also Bernini statues, currently being cleaned and restored.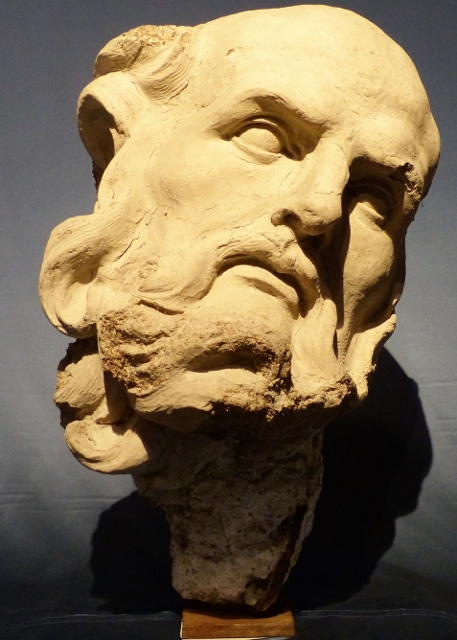 In some of the statues the restorers identified dust deposits which showed that some of the materials used by Bernini and his followers – such as wood and straw- had been affected by insects. As a result, several statues, like this partly restored angel, had to be dis-infested before restoration could begin.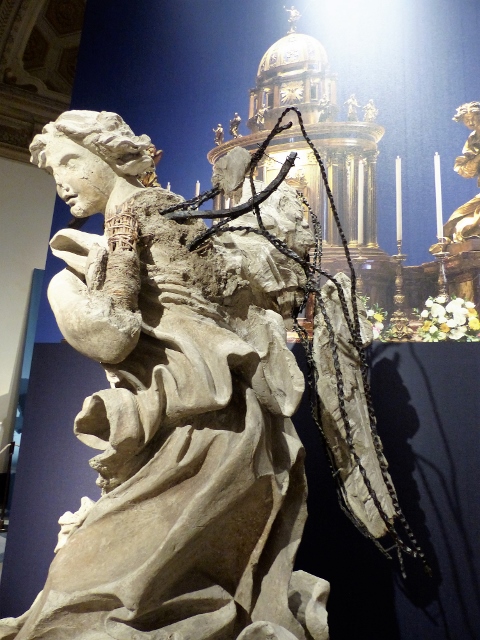 There are three internal courtyards, the most often visited being the "Cortile della Pigna" which takes its name from the Augustan era bronze pine cone…..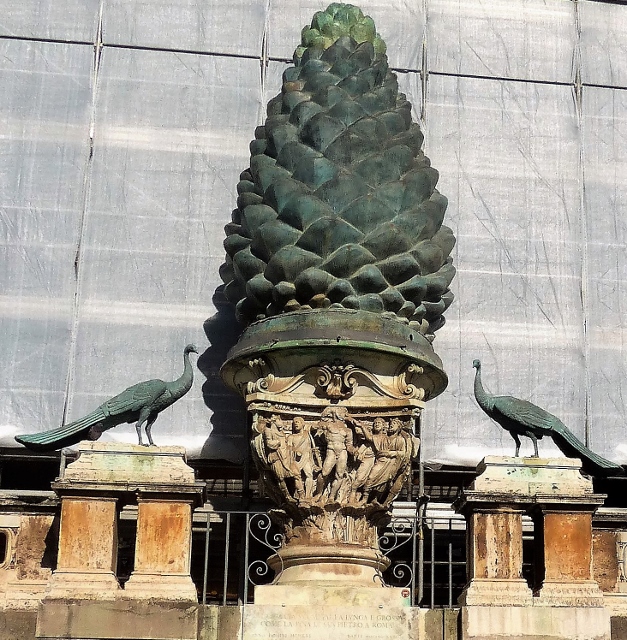 In the centre of this courtyard is the "Sfera", a 4m diameter ball by Italian sculptor Arnaldo Pomodoro.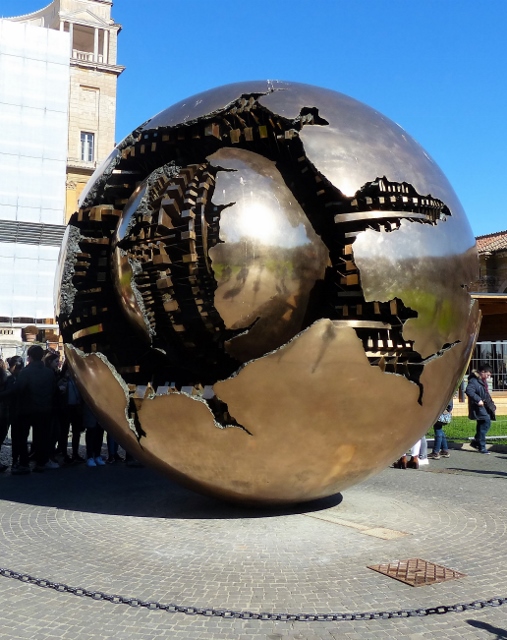 Back inside, the Sala Rotunda features an enormous red basin found at Nero's Domus Aurea [Golden House].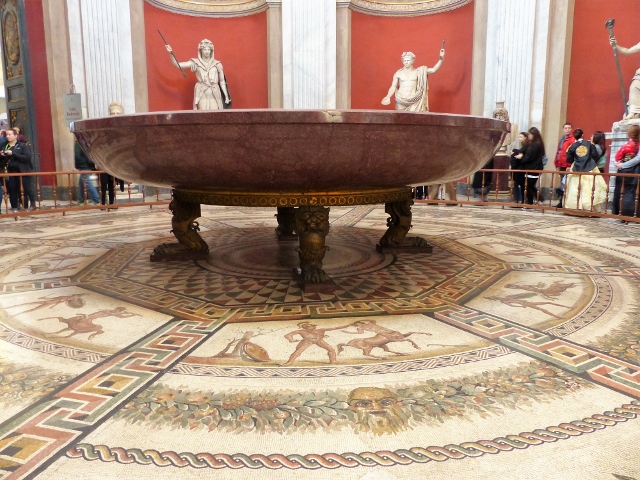 I was equally impressed by the mosaic floor and by others that followed.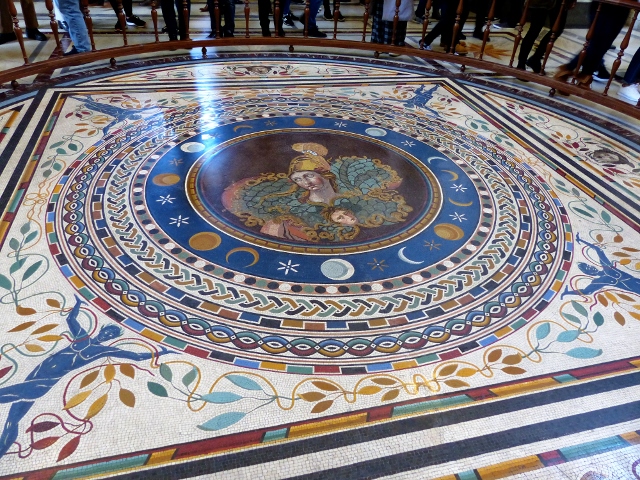 I didn't find an identifying plaque against this….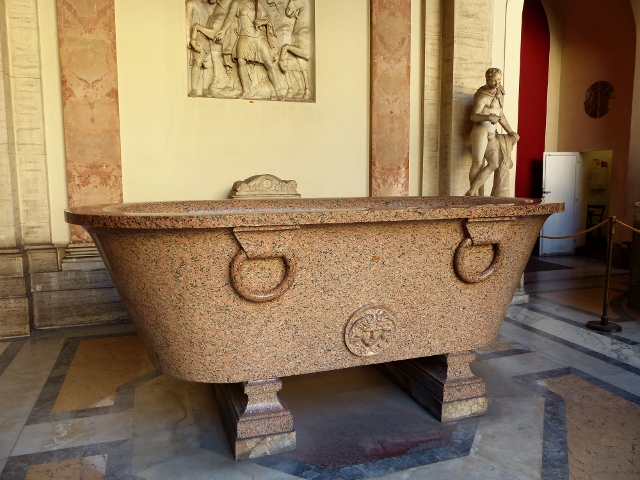 ….but suffice to say it is probably big enough for the post match bath for the Italian Rugby Team!!
There are also many Egyptian and Etruscan artifacts and I have to admit to being more interested in these than the Greek style statuary.
I say Greek style because I had thought that many of the statues I was looking at were Greek and it goes without saying, for people who know me well, that anything Greek is of great interest to me.
However, the statues were Roman copies. Their sculptors got their ideas about shape, form and style from the Greeks.
The "Two Horse Chariot" is in a roped off room and, with the sun streaming in, it was difficult to get a good shot.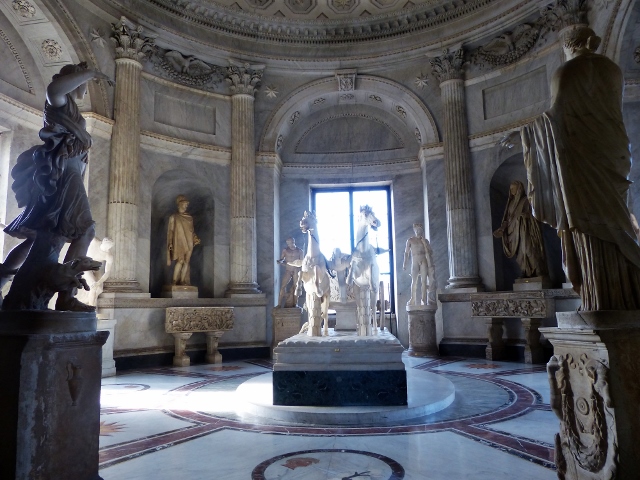 The chariot was used as the episcopal throne in St. Marks, Rome between 1516 and 1771.
Between 1580 and 1583, the then Pope Gregory XIII had 40 huge topographical maps made which are now exhibited in the Galleria della Carte Geografiche. Mike was busy studying our first sailing ground in our new boat!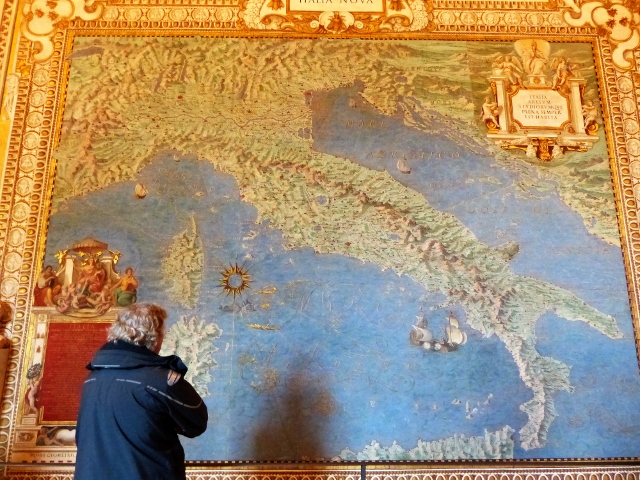 Four frescoed rooms named the "Raphael Rooms" comprised Pope Julius II's private apartment. Rafael only actually painted two of the rooms, students working to his designs decorated the other two.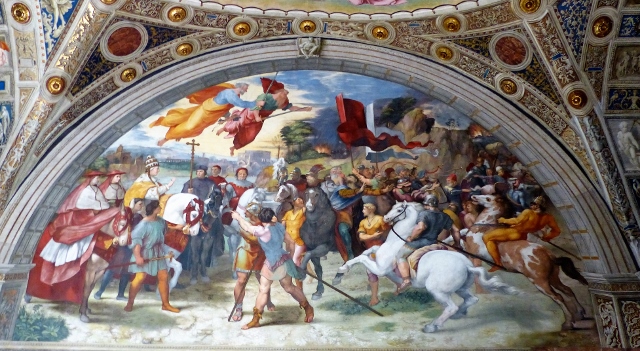 The fresco above was painted after the death of Julius and incorporates his successor Pope Leo X. The fresco is of Pope Leo the Great meeting Attila the Hun in 452AD. Leo X appears in the painting as both Leo the Great and as the cardinal on Leo's right [the furthest left figure in the painting].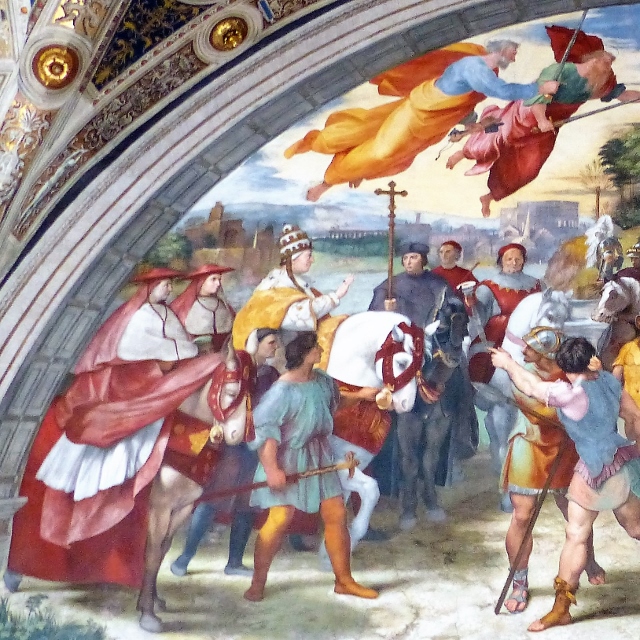 In the other Rafael painted room, the reigning pope witnesses the Expulsion of Heliodorus who had been sent by the King of Syria to steal treasure from the Temple of Jerusalem. The chair bearer on the left has the features of Marcantonio Raimondi, Raphael's engraver and friend and the other bearer resembles the artist himself.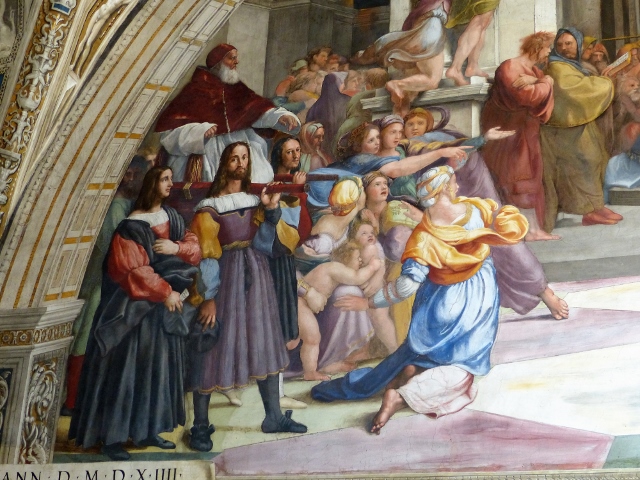 We did not take a guided tour and were quite glad about that as we were able to choose what we did and didn't spend time looking at. I am sure that there were bits that we missed but we spent more time in the museum than those on the tour – though possibly they could go round again? Anyway, one of the rooms they whizzed by without stopping was one containing paintings by more contemporary artists and here we found one by our Spanish friend – Mr Dali…….
Probably the highlight for us was a temporary exhibition of Rembrandt etchings.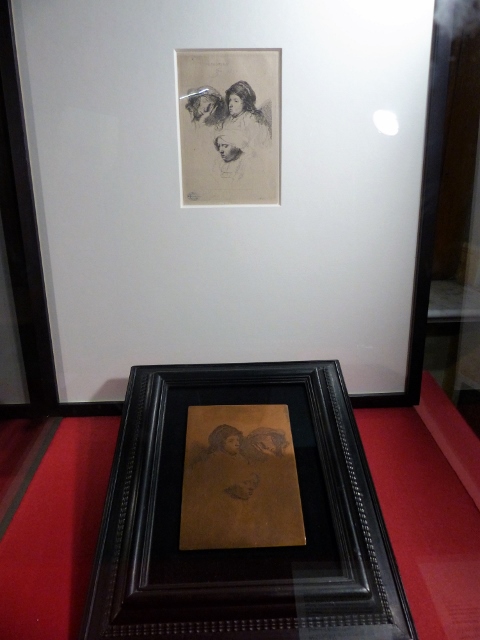 The "Hundred Guilder Print"….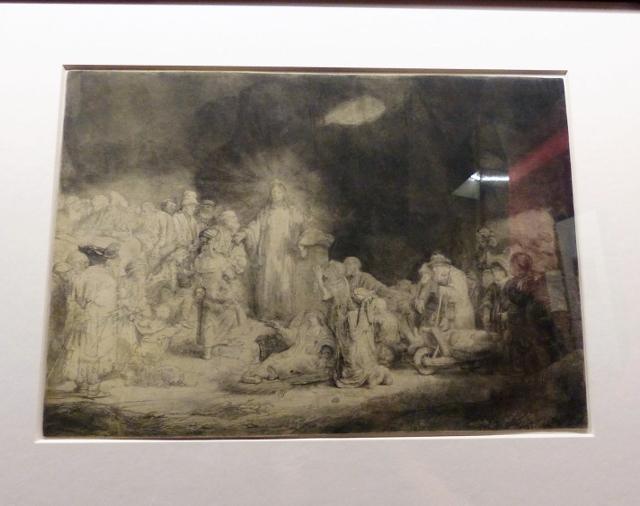 ….is Rembrandt's most famous etching of Jesus healing the sick and it got its name because of the high price paid for just one print from it.
Others I really enjoyed looking at were this….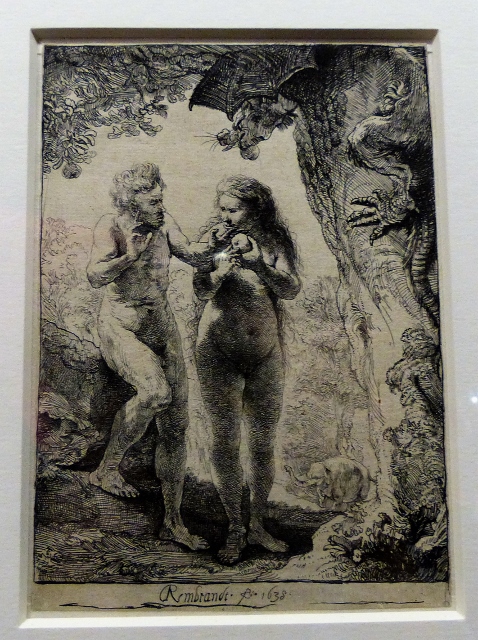 ….of Adam and Eve and this….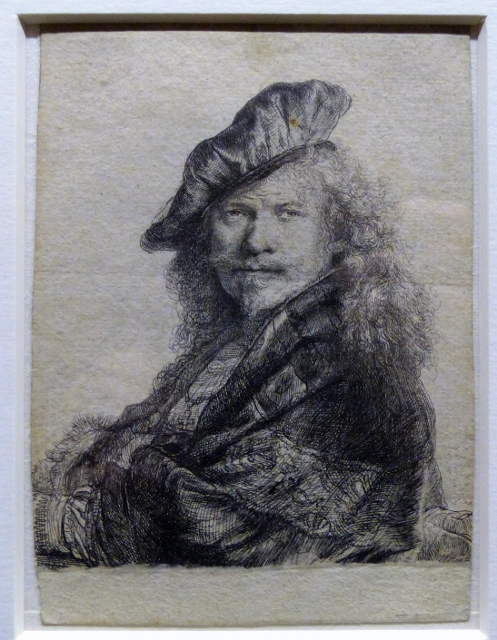 …of Rembrandt himself. Incredible stuff.
By this stage having exhausted ourselves we decided that a late lunch was calling and exited by the amazing spiral staircase.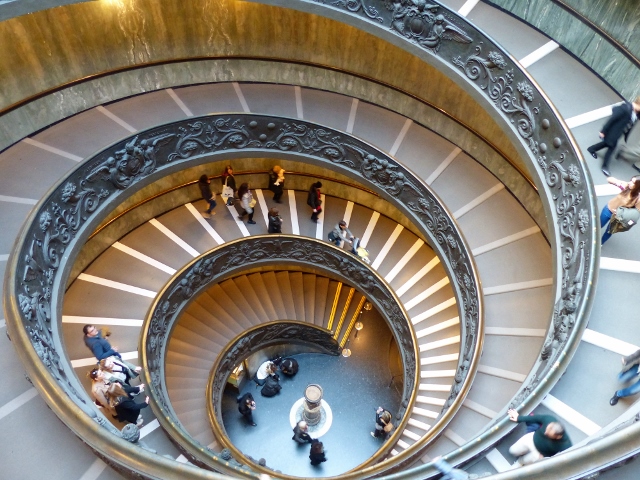 Lunch was taken sitting outside a typical street café…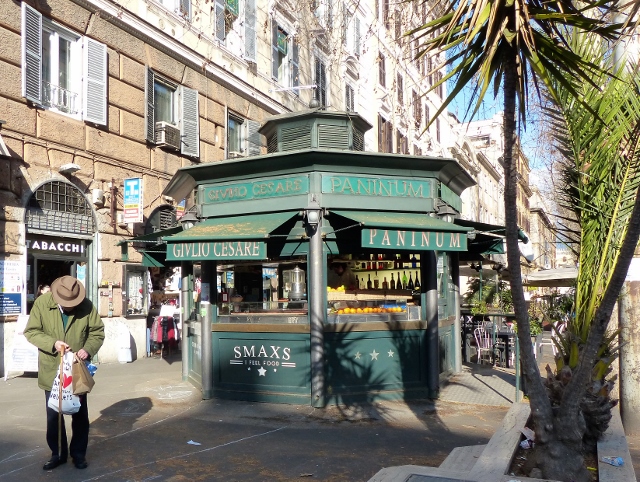 ….and we then just wandered wherever our feet took us. We had intended finding the Spanish Steps and the Trevi Fountain but you should always leave some reason to return and we found it much more pleasant to just stroll. We found ourselves in a less visited part of the "Centro Storico" – the Via Giulia….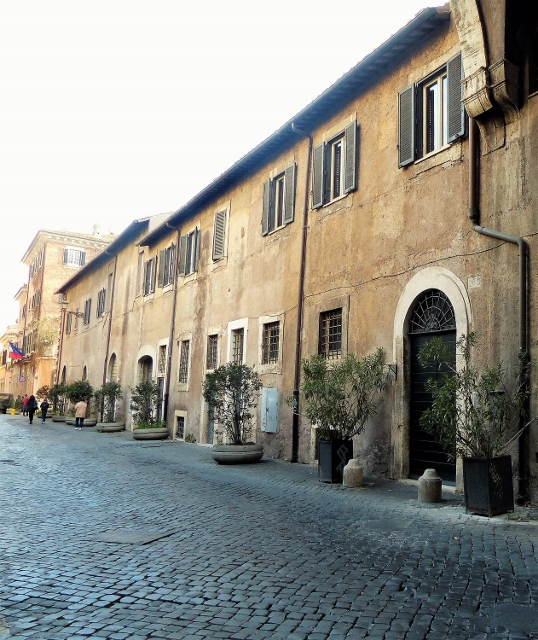 ….with potted orange trees and, at its southern end, the "Fontana del Mascherone".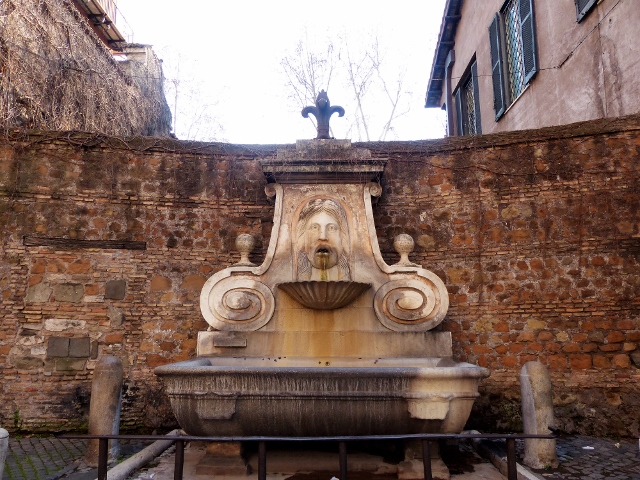 As you can imagine, the cobbled streets, the piazzas and their fountains are as enchanting by night as by day….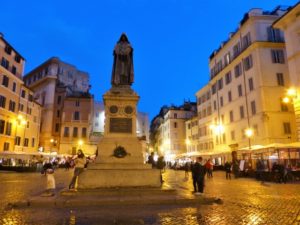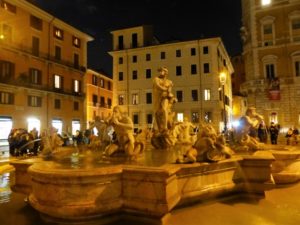 ….and our evening stroll finished with once again crossing St. Peters Square.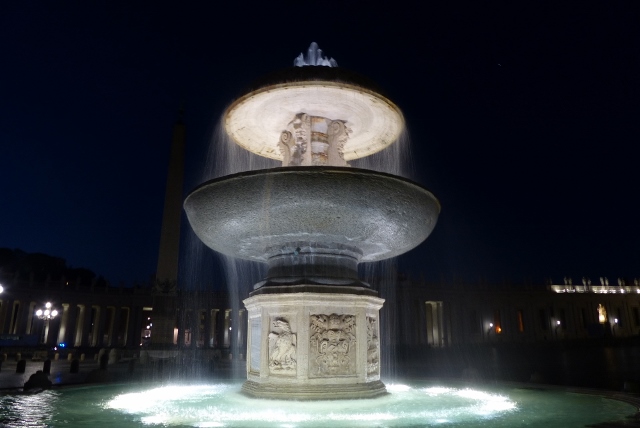 Whilst looking at the Basilica…..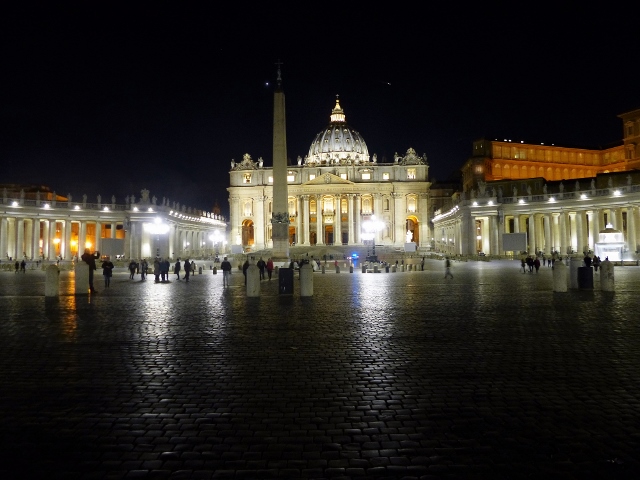 …..we decided we would visit it the following morning – which meant getting up at 6am ready for the doors to open at 7am. I didn't think Mike would accompany me as 6am is definitely not his thing – but morning came and we both made our way back to the square as a lovely dawn was breaking.
The second largest church in the world, St. Peters Basilica is quite spectacular.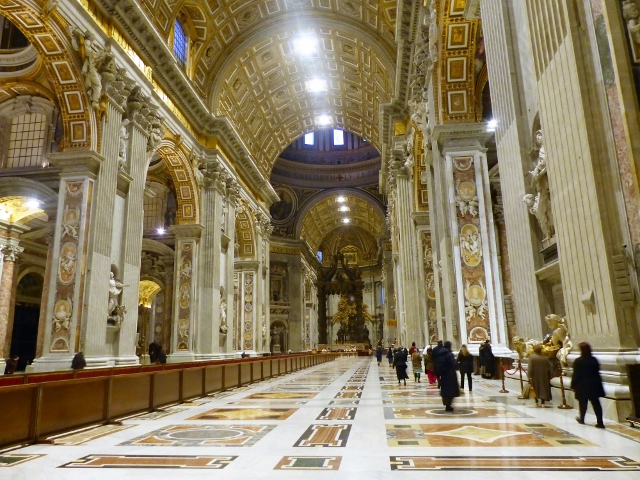 The current church was completed in 1626 having taken 150 years to construct. Wandering round it with few people there meant we could enjoy the magnificence without having to dodge the crowds.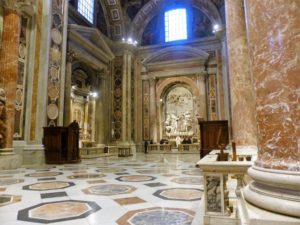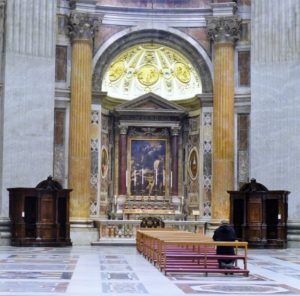 Most of the others who had joined us on the steps just before 7am were worshipers who made their way to one or other of the side alters or chapels for individual prayer or a small group service of which there were about six taking place in different parts of the cathedral.
The right foot of the much-loved statue of St. Peter has been partly worn away down the centuries as a result of all the caresses.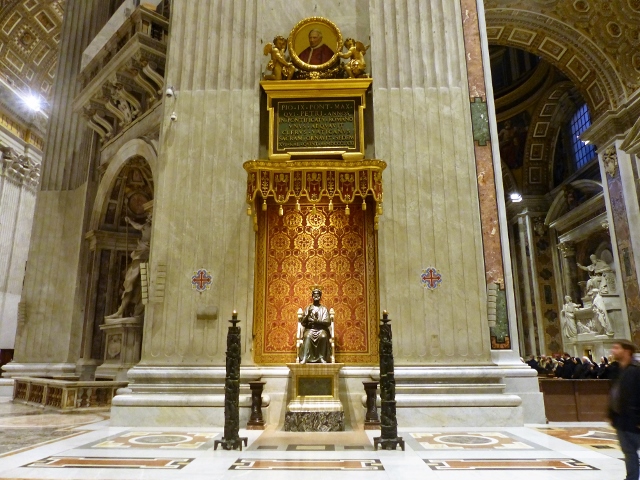 I loved this small font…..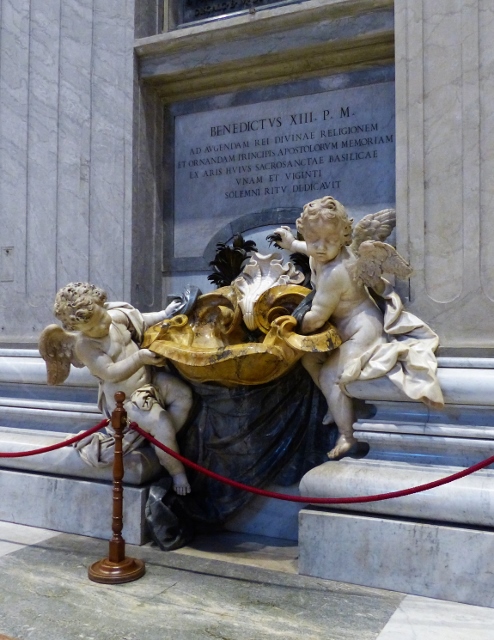 …..and all of the ceiling domes were beautifully painted.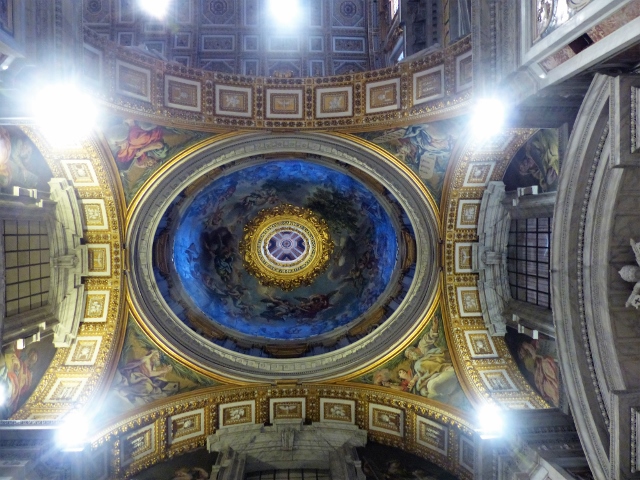 Most memorable of all is Michelangelo's "Pietà" which sits in its own chapel 'behind bullet-proof glass].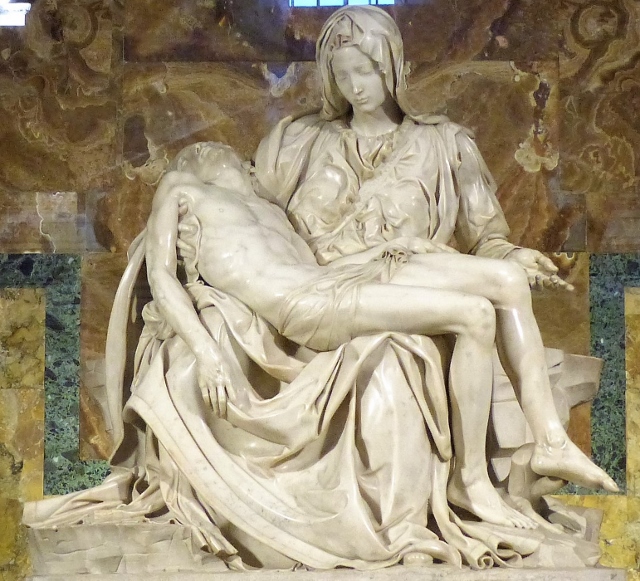 It was sculpted when the artist was only 23 years old and is apparently the only work he ever signed. Quite outstanding.
Back outside I couldn't resist taking yet another photo of the square – I was particularly struck by the cross in the sky mirroring that on the needle.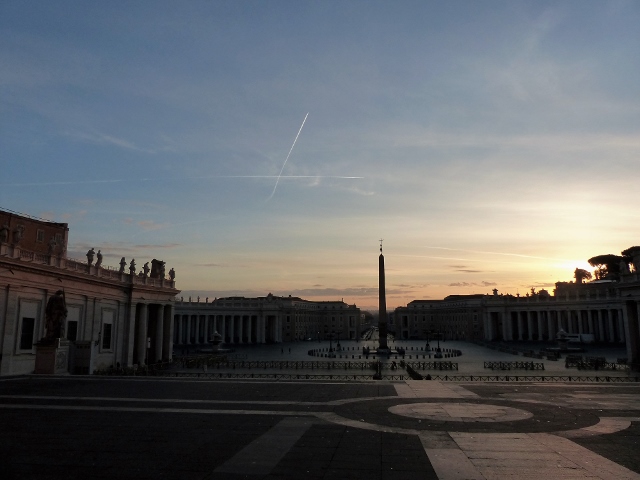 You will note the lack of crowds and by this time it was going up for 8am so we could have left it a little later for our visit – but not much later. By 10.00am the queue was right around the square….

….and we estimated it would take two to three hours of queuing to get into the church.
As you would expect [or know if you have been] there is history at every turn….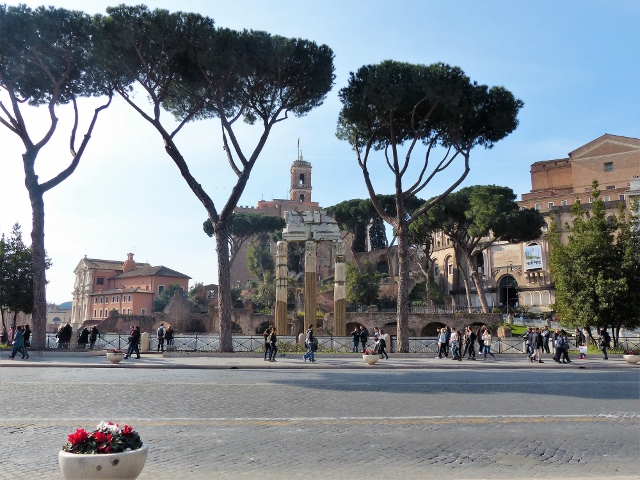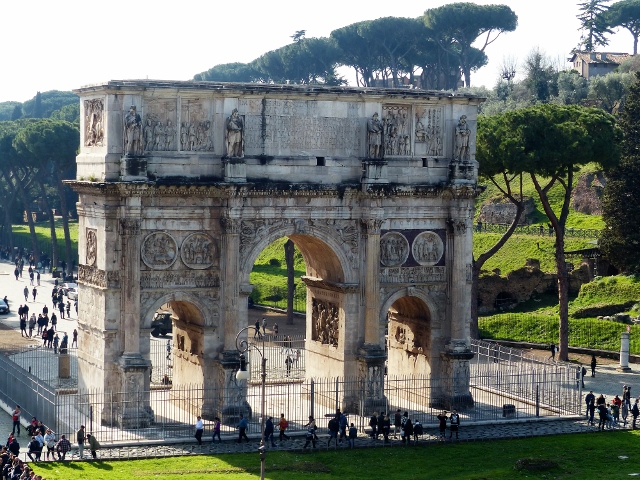 …..and fantastic buildings round every corner.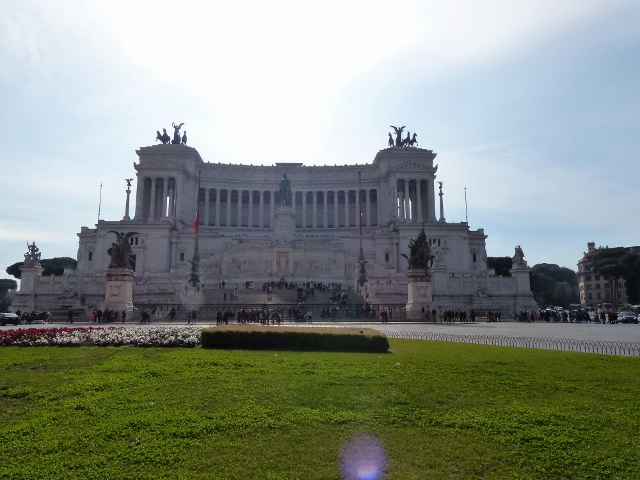 Il Vittoriano is a massive white marble building which dominates the Piazza Venezia and which incorporates the central museum and the Tomb of the Unknown Soldier. Walking towards the Colosseum from Il Vittoriano are the Imperial Forums.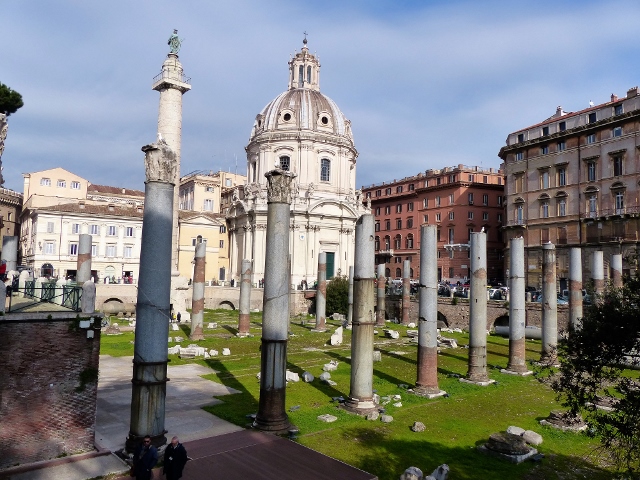 They were largely destroyed/buried when Mussolini bulldozed through in 1933 but excavations have since unearthed them and the landmark "Trajan's Column" stands proud in the middle.
We had also pre-booked tickets for the Colosseum but their "queue-jumping" claim did not work anything like as well as did the Vatican Museum tickets. Basically we seemed to queue just the same as everyone else before finding ourselves in the access limited amphitheatre. I suppose I am glad I have been because it is one of the sights in the world to see – but as sights go it wasn't that brilliant [in our view].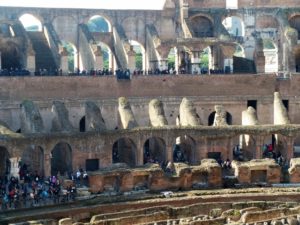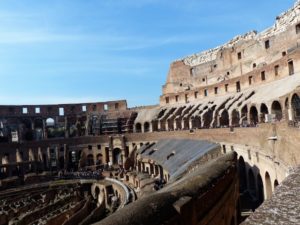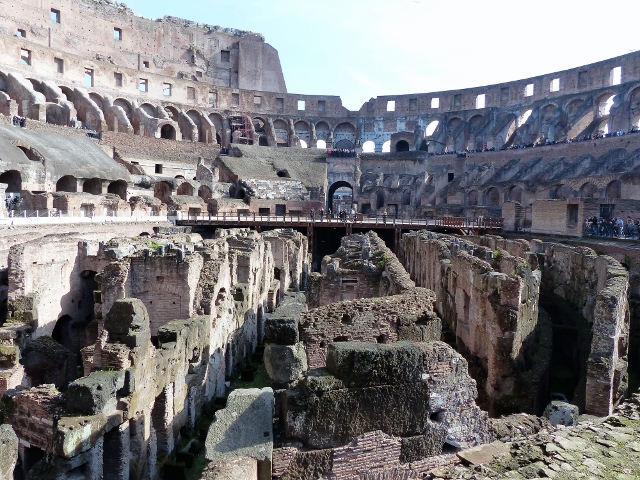 We don't deny that in its day it must have been quite a sight and was certainly a scene of combat where slaves were sent out to fight against each other and/or wild beasts in front of a bloodthirsty crowd who sat variously in individual seats right next to the auditorium or up in the top level of the theatre.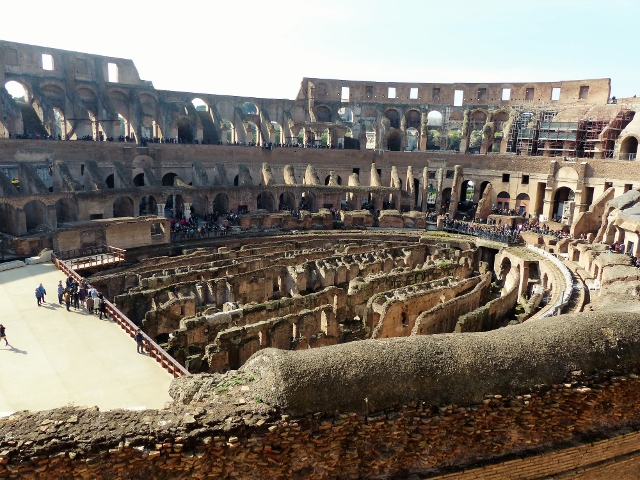 It fell into disrepair after the fall of the Roman Empire and later became a "quarry" for travertine and marble from which it had been partly constructed.

The best thing about the Colosseum ticket was that it also gave access to the Palatine Hill and the Roman Forum. It was on the "Palatino" that Romulus supposedly founded the city in 753BC having killed Remus due to a dispute over the city walls!
Views from the Palatine are brilliant….

At the south-eastern entrance to the Forum, the "Arch of Titus" – said to have been the inspiration for the Arc de Triomphe – incorporates scenes of conquest by Titus over Judea, one panel showing the procession of booty from Jerusalem and the other…..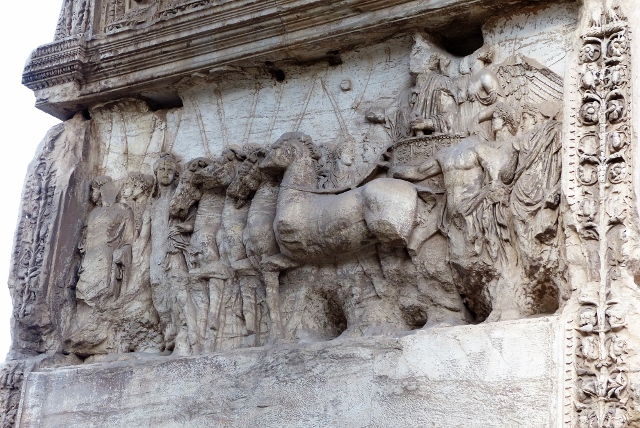 ………Titus on his chariot followed by "Victory".
Some of the building are still being excavated….
…whilst others have been fully exposed showing the scale of what was once Rome's showpiece centre full of temples, houses and public spaces.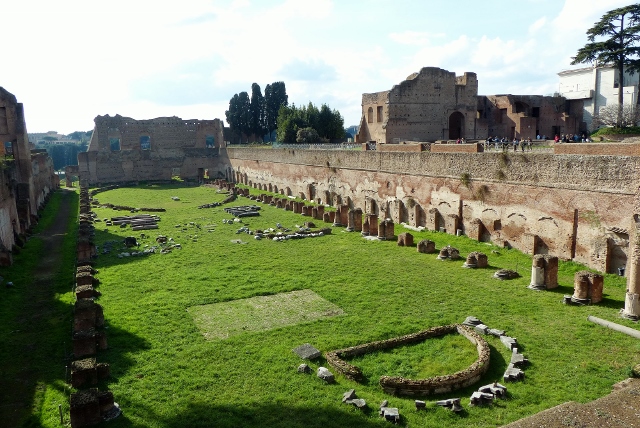 Nothing much now remains of the "Casa della Vestali" – once a luxurious 50 room home to the Vestal Virgins…..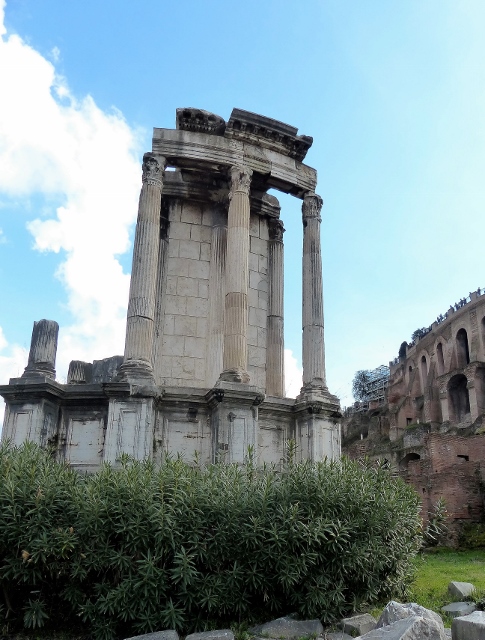 ….and even with a plan of the forum it is still sometimes difficult to decide exactly which of the ruins formed which temple, gate or church.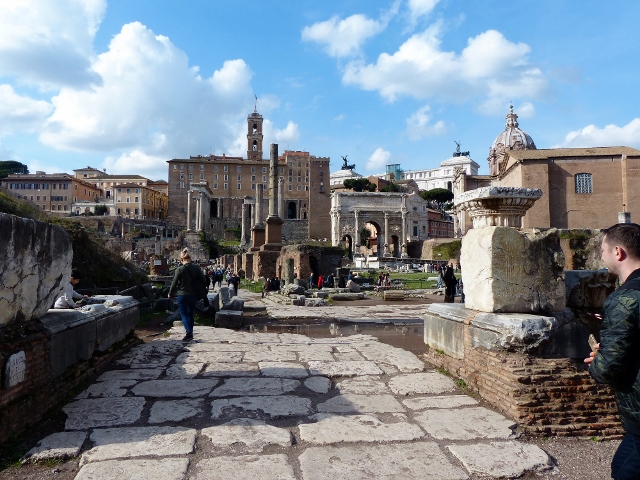 But it was certainly well worth seeing and given that we only had two days I feel we got a real taste of what Rome has to offer and, you never know, regardless of not throwing a coin into the Trevi Fountain, we may be back for more amazing sights in the future.