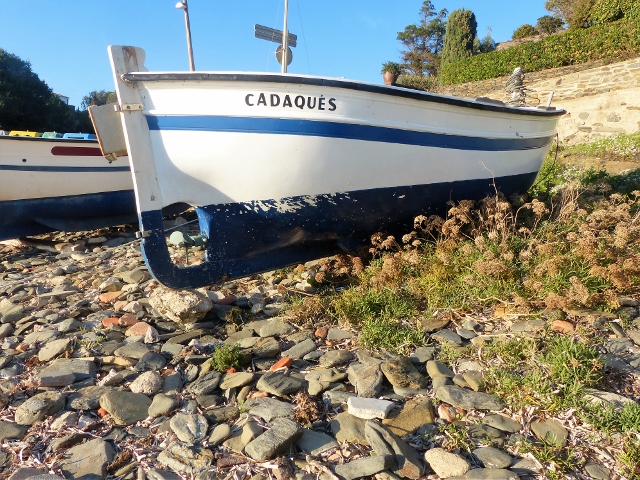 It won't be immediately obvious to anyone dipping into this post that it is really about our search for a new boat because it is mostly about the wonderful time we had in Cadaqués, Spain – with so many thanks to Jack and Christine for allowing us to stay in their lovely home there.
But the hunt is on and as well as going to Spain we have also been to Scotland and to Wales and spent hours and hours and hours on the internet. We have continued to be overwhelmed by offers of help from friends from the use of their houses and cars to emails about known boats for sale. Many of these offers have come from friends in the US and, from a "continuing our journey" point of view it makes a lot of sense for us to be looking to buy there. In fact, there is a boat in Texas that I fell in love with when I first saw her some time ago but unfortunately, on top of everything else, we are suffering from "Brexit fallout". Whilst the US dollar asking price has remained the same, the post Brexit exchange rate means that boats for sale there now cost about 20% more in UK pounds than they would have done in June '16.
Even though our exchange rate with the Euro is also less favourable than 7 months ago the difference is less marked – hence our current concentration on European boats. We have looked at four boats in Spain, three in Scotland and one in Wales.
We saw a very quirky Seastream 46 which we liked, except for the stern cabin and, since it is also our home, it is important that we like where we sleep!
Had we wanted another Moody 44, there is a very good buy – well cared for, well equipped and a good price. However, I have continued to feel that a direct replacement of "Siga Siga" is not what I want and Mike has now set his sights on having a slightly bigger boat.
Unexpectedly, and disappointingly, we were not impressed with the two Moody 47 boats we saw. Sorry to any such boat owners who may be reading this but we felt that the quality of the later 47's is significantly poorer than the early/mid 90's Moody 44 that we had.
The layout of a Halberg Rassey 45 didn't suit us and an Oyster 485 was being given a very thorough look over by a couple from Poland when we arrived at the yard to see her – so that was a none starter.
But – yeah! – we did like the Contest 46, well – one of them. We looked at two, decided that we preferred the two bedroom layout and thought that possibly we might have found our boat. However, our offer was not accepted and it appears that the owner is not willing to negotiate on price. As we had carefully considered the offer based on the current market, boat condition and everything which would need doing to make her "bluewater ready" we still believe our offer was very reasonable and have walked away.
So….still no boat. But we have had fun looking. We discovered that Cardiff is a really nice city, renewed our acquaintance with the marinas of the Clyde and explored a part of Spain we have previously not visited.
Well, that's not strictly true as we have been to Barcelona – but the long weekend we spent there about eight years ago did not involve travelling outside of the city. Now we know that the Catalan countryside and coastline surrounding Barcelona is wonderful and well worth a visit. There are also lots of marinas so, anyone thinking of wintering in Spain might like to check it out.
Having hired a car at Barcelona airport we first travelled south, approximately one and a half hours, to "San Carles de la Rapita". This town is situated on the coast near the mouth of the salt water lagoon known as the "Port dels Afracs". It is an important fishing port, which was evident by the amount of seafood tapas available in the restaurants and bars. Can't quite remember why but we actually ate Serrano ham rather than seafood and also enjoyed being able to sit outside in the early evening for drinks and hot roasted chestnuts from the vendor in the square.
The following morning we wandered down to the Marina……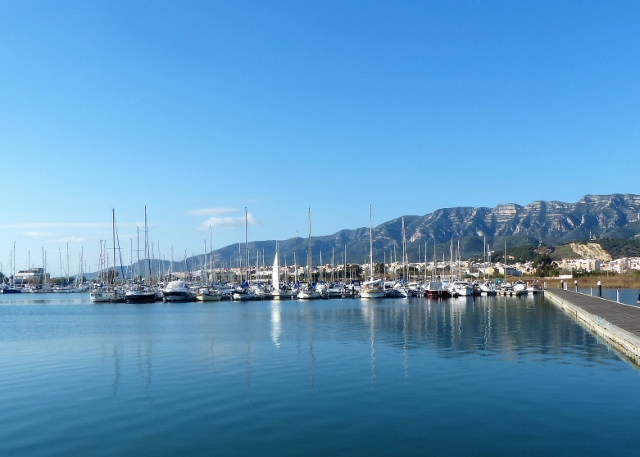 …..to look at our first boat which was on the hard standing. Full credit to the marina who had enabled us to undertake the viewing even though it was a national holiday in Spain [which we hadn't known when we booked the flights and accommodation and contacted the broker]. Having since read up on marinas in the Barcelona area I understand that San Carles is quite popular for wintering boats [especially if you want to remain as a liveaboard as the town is very nice] but that the boats generally need a haul out and clean afterwards because of the high weed content in the water – presumably because it is right on the edge of the lagoon.
We then headed back north, past Barcelona to catch our first glimpse of Cadaqués in the late afternoon light…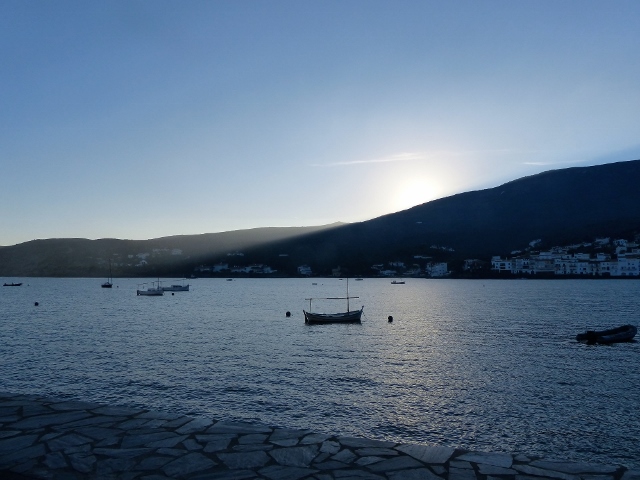 …as we drove through the town and up to Caials on the headland ……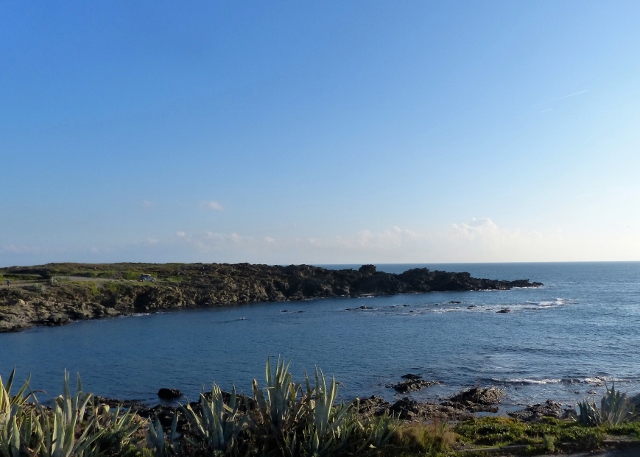 …..where we were staying in Jack and Christine's house. We soon settled in…..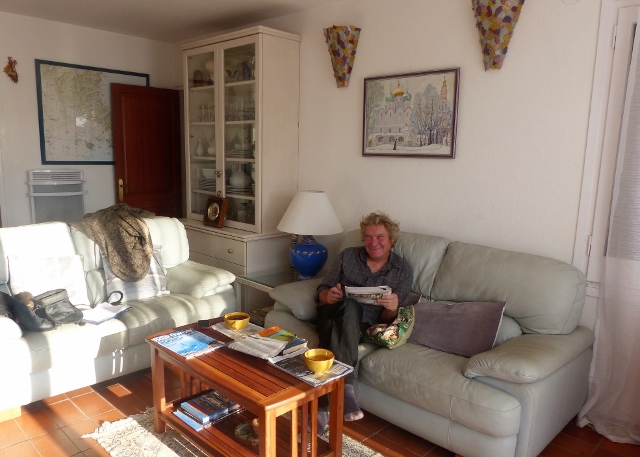 …. and increasingly hoped that the boat just down the road near "Roses" might be the right one for us. Of the two we had come to see in Spain this, from the description, was our first choice and given the area in which she was berthed we felt that we wouldn't mind if there was work to do on her as it would be a nice place to spend a few months – particularly if Jack and Christine were "at home".
Whilst we liked the small town of Roses and had a wonderful lunch on the malecón with views out to sea…..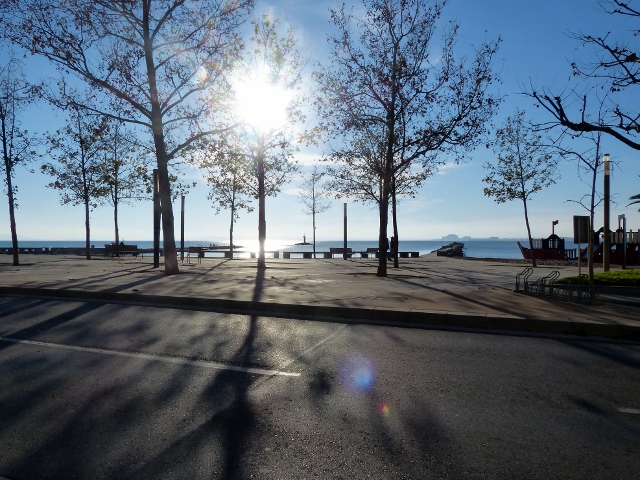 ……. severe disappointment with the boat viewing led us to more online searching and another boat to see, this time in L'Estartit [approx. half way between Cadaqués and Barcelona]. The extremely helpful broker there also took us to see a fourth boat in Empuriabrava, just down the road from Roses.
So, at the end of three days we had seen four boats and put one of them on a shortlist…..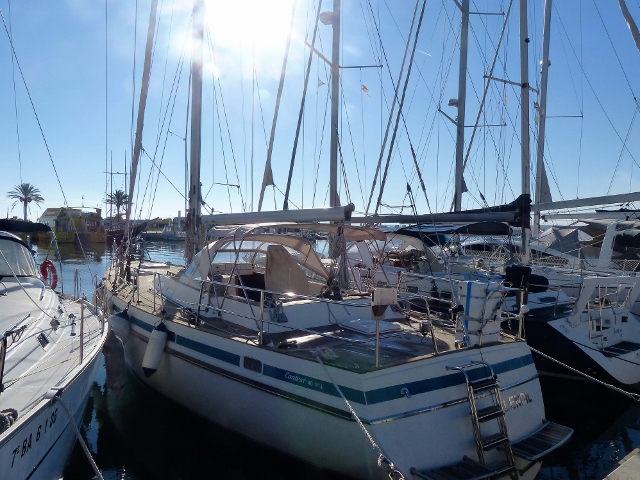 …….to take forward to our viewing of the boats in Scotland and Wales, though as you now know none of them have come to fruition.
We then had to find things to do until our return flights. Hardly a hardship!
We walked into Cadaqués along the cliff path with spectacular views down the coast….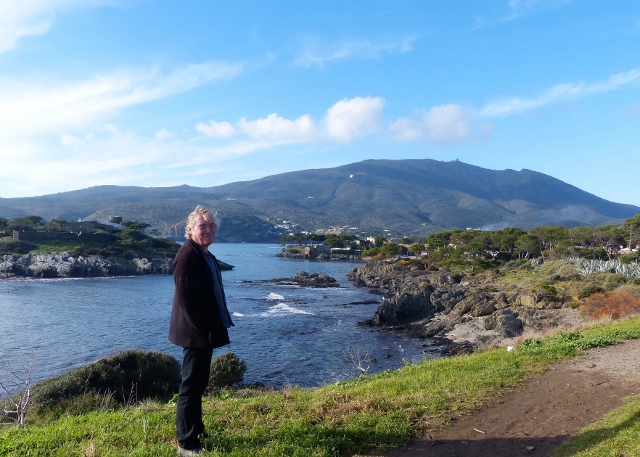 …and also of the town as we rounded the many small headlands…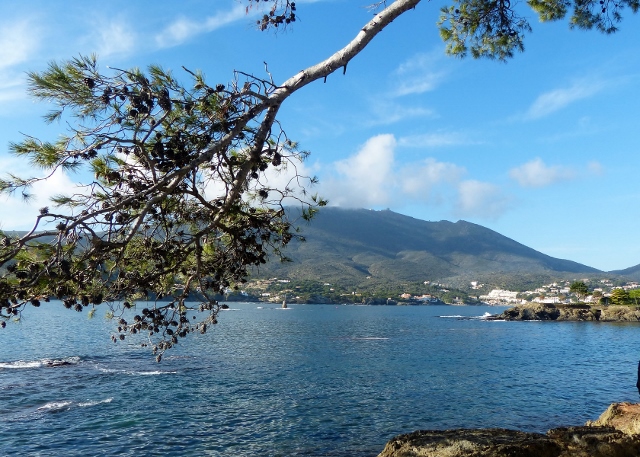 In one bay the water looked pink and, on closer examination, we saw that there were hundreds of jellyfish.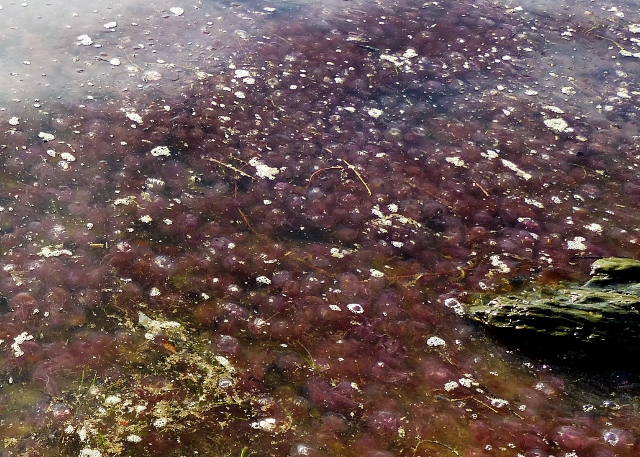 Many had died and floated up to rest on the shingle….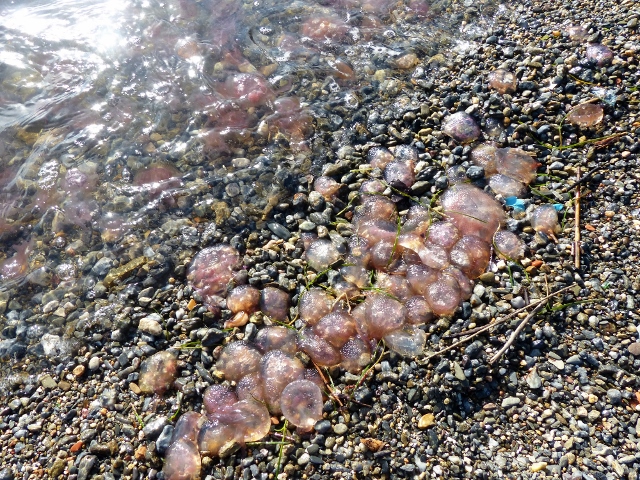 ….but there were a few still swimming around.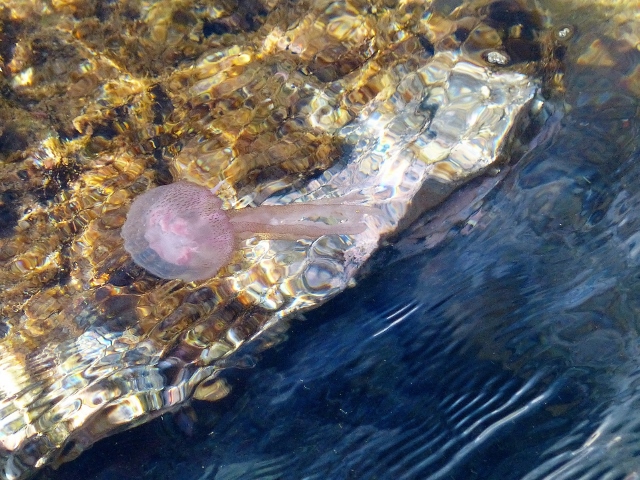 Cadaqués started out life as a fishing village but over the years has expanded as a tourist resort. Having said that, there are no high rise apartments or hotels and all building is restricted by the natural geology of the town, nestled as it is between the hillside and the sea. Narrow passageways criss-cross the town….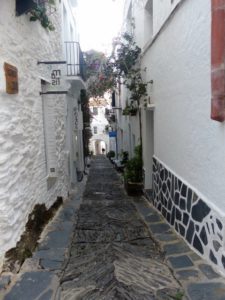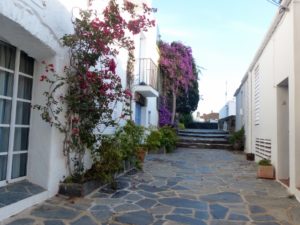 …. and as you wander around you can turn a corner and find a surprising and wonderful view.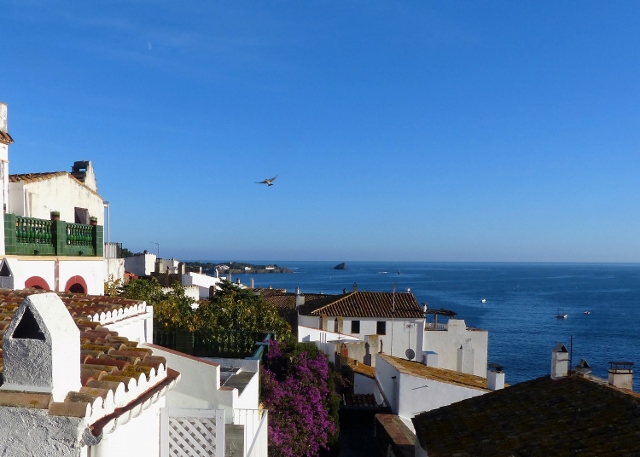 We were there at the start of "Seville orange" season ….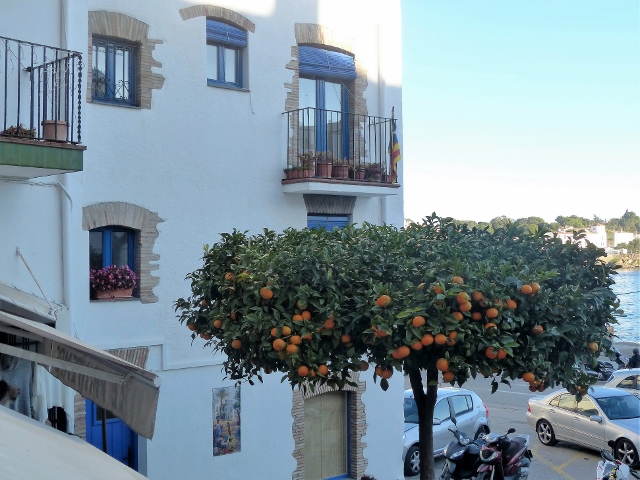 ….though the local inhabitants were very laid back and didn't seem to notice the vibrant colour!
Many of the houses are blue and white and some have very ornate windows….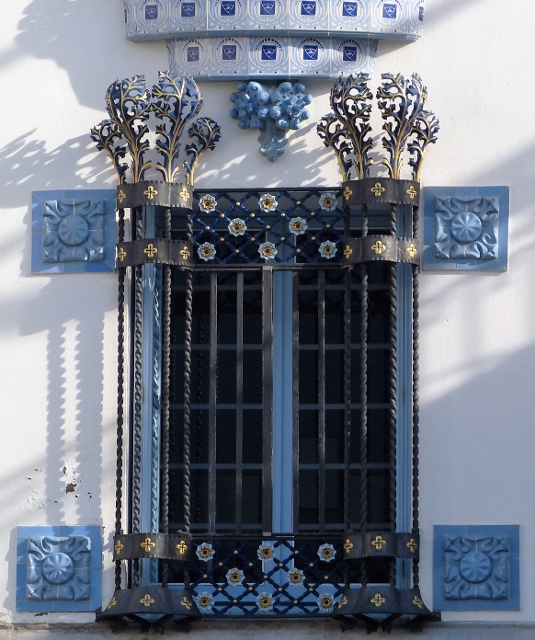 ….and ceramic azulejos decorate the roofs.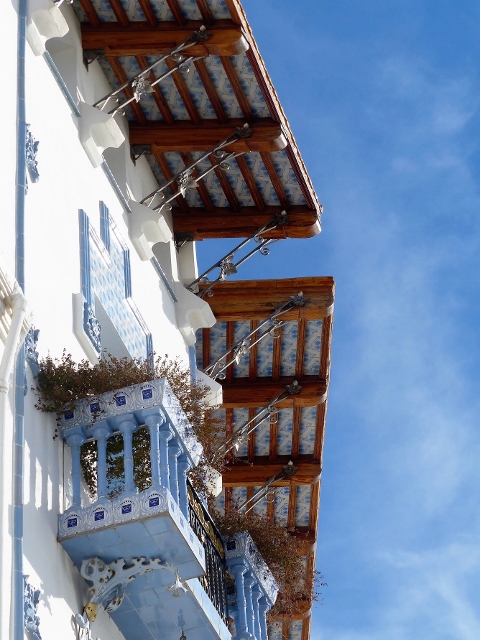 For some reason, which I haven't found an explanation for, a large number of inhabitants of Cadaqués travelled to Cuba during the early C20. Apparently they totalled around 1200 people [approx. one third of the then population]. Many of them became financially successful and later returned to Cadaqués where they constructed the larger houses in the village.
The most famous of the houses is the "Casa Blava" [not my misspelling, it is Catalan for Blue House]….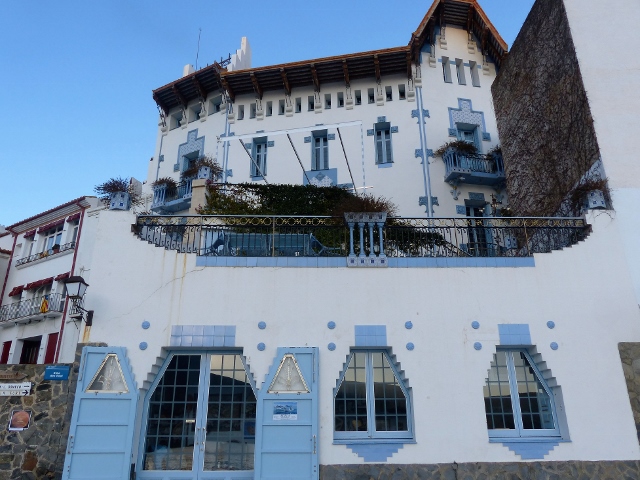 ….seen here again with Mike going to investigate the menu of the wonderful restaurant in the left hand corner….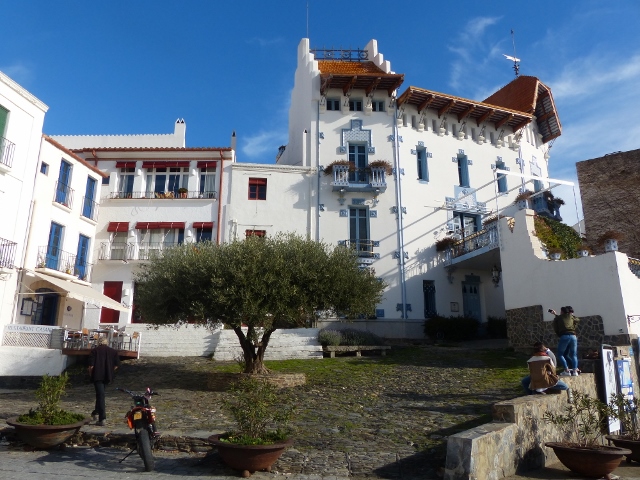 …..the "Casa Nun". Great fish lunch.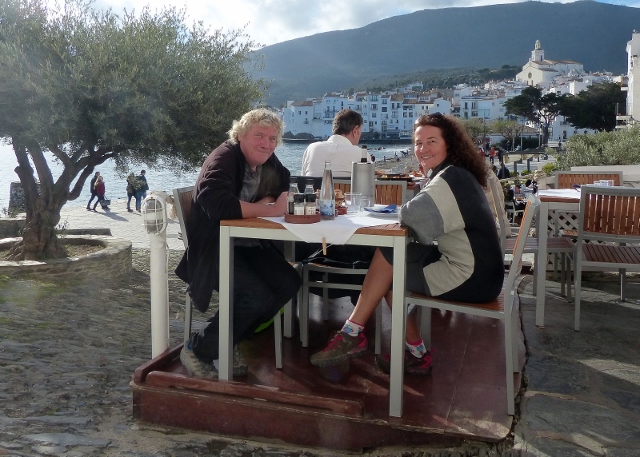 Many famous people have visited Cadaqués, in particular architects and artists such as Picasso, Magritte, Breton and Man Ray. Most significantly, Salvador Dalí, commemorated by a statue in Cadaqués….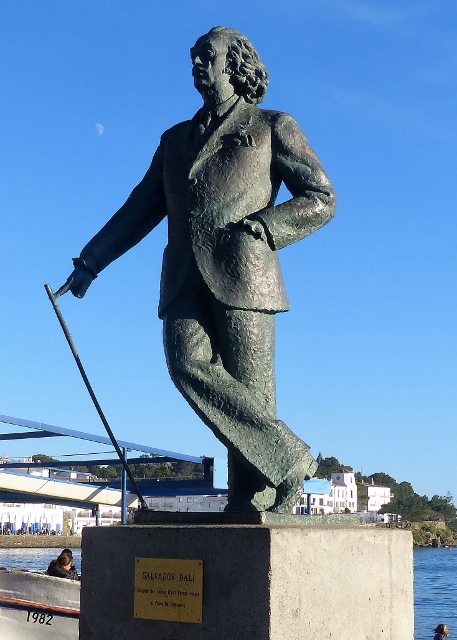 ……built a house at Port Lligat – just over the headland.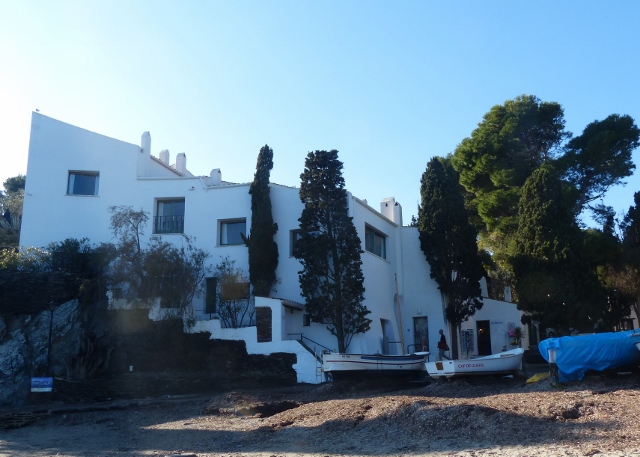 We attempted to walk there "cross country" but took a wrong turn. Still, we had magnificent views of the anchorage…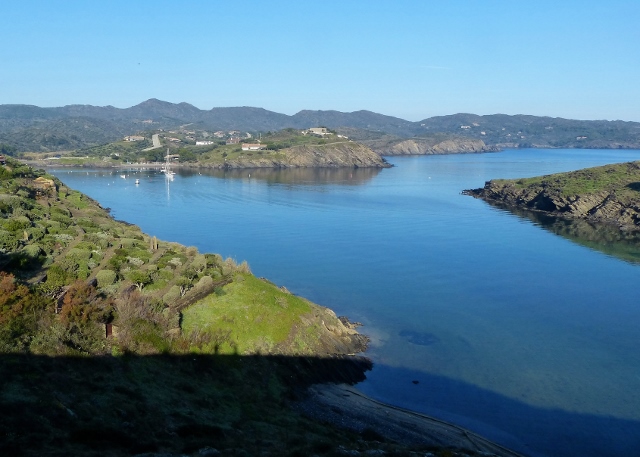 and the port ….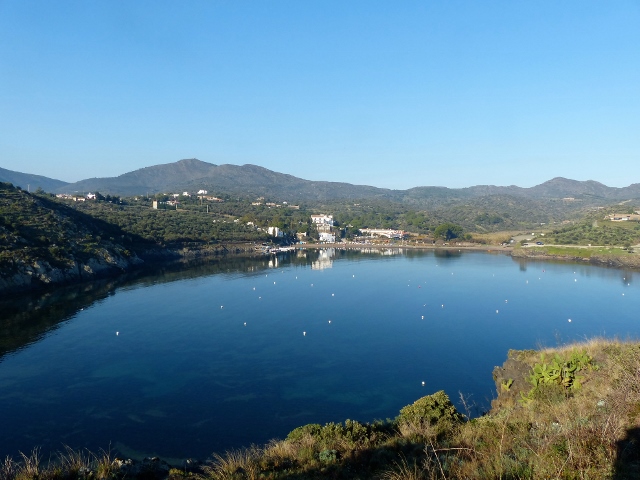 before turning around to collect the car and go by road so that we did not miss our timed appointment to visit the Dalí Museum House. As it was the first week in December it probably wouldn't have mattered – in fact it is most likely that we needn't have booked in advance [as we did] but the website had been so adamant that no booking and/or turning up late would result in missing the opportunity meant that we were eager to get there on time.
Dalí loved this small fishing harbour….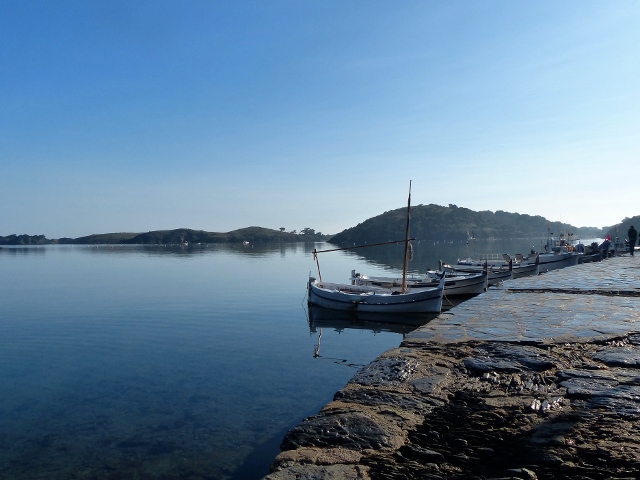 ….. and drawn by the landscape, the light and the isolation, he initially set up home in one of seven fishermen's cabins in Port Lligat in 1930 where, except for a gap of about ten years during the Spanish Civil and Second World Wars, he lived with his wife Gala until her death in 1982. He felt inspired by not only the views from his home….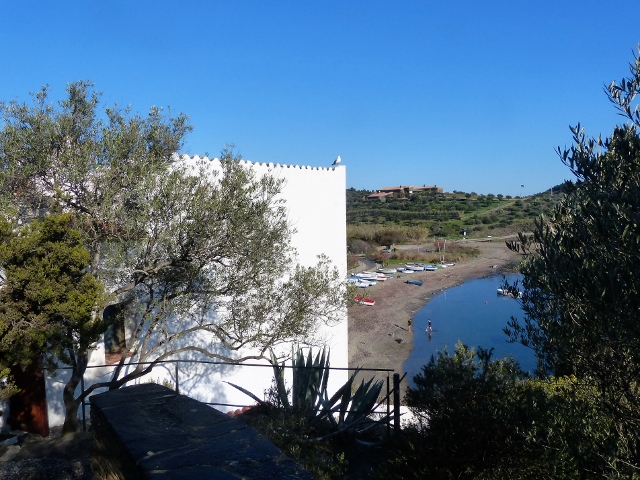 …but also the sense of timelessness and "geological peacefulness"
He gradually took possession of all of the fishermen's huts creating a house on numerous levels with lots of small rooms and corridors. Apparently he deliberately kept some of them small as they were then more womb like.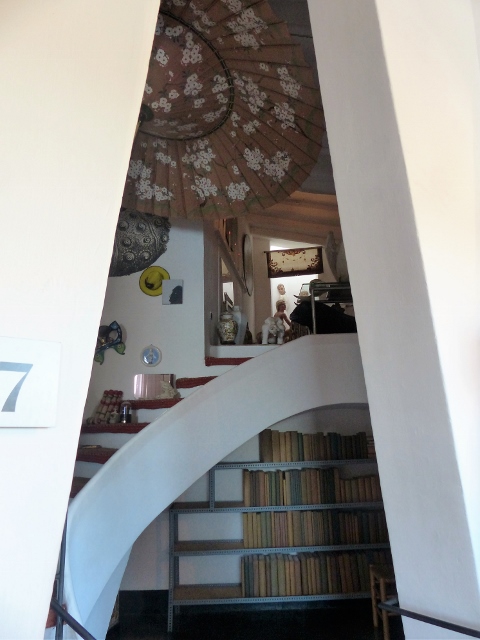 His bedroom, however, was opened out and split level and although you can't see it in this photograph a mirror on the lower level was angled such that he could watch the sunrise out of the lower room window from his bed.
The rooms are packed with objects reflecting his diverse tastes. In the now entrance hall, which was originally the first hut and therefore his whole living quarters is the famous stuffed polar bear.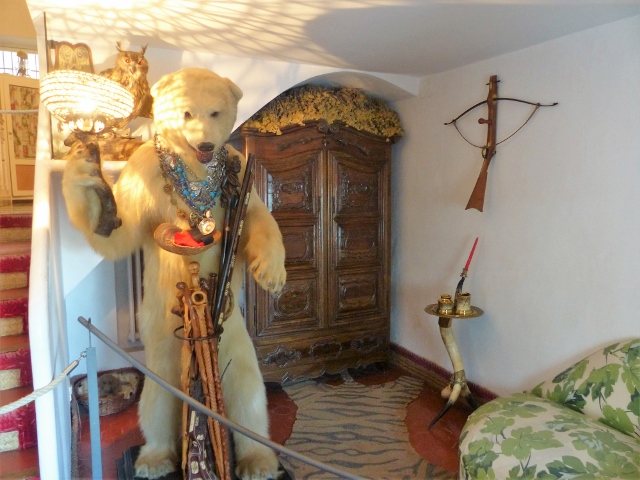 Dalí's three pet swans were kept as watch-keepers to his library and remain, stuffed, in that room.  An owl can also be seen behind the bear.
The studio he used most was built in 1950 and he designed and constructed a special "lift" for his paintings. A frame to which he attached his work could be raised and lowered through a gap approx. 6 inches wide in the floor. He could therefore stand or sit in the studio and paint without having to kneel or climb ladders. The frame can be seen in the photograph below and the bottom few inches of the board are actually below floor level through the gap.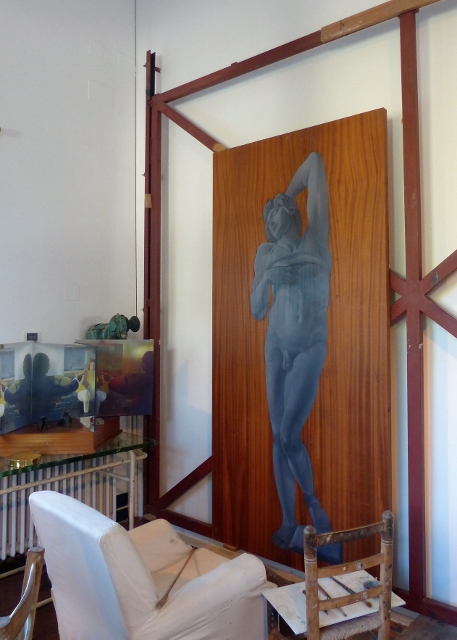 We were told that that picture and the one in the next photo were two unfinished works which he left behind when he left the house.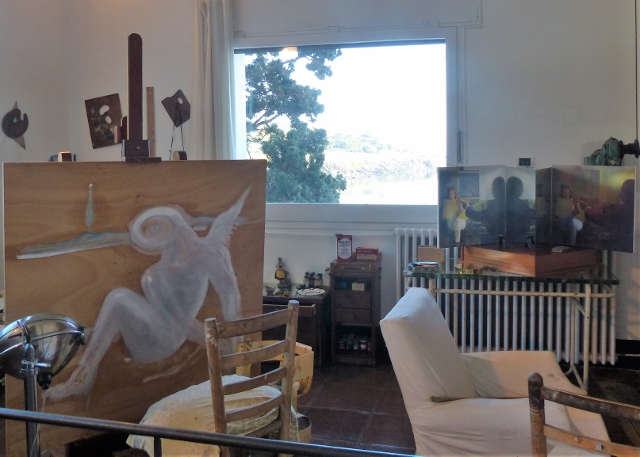 The room which we found most interesting was his oval "acoustic" room.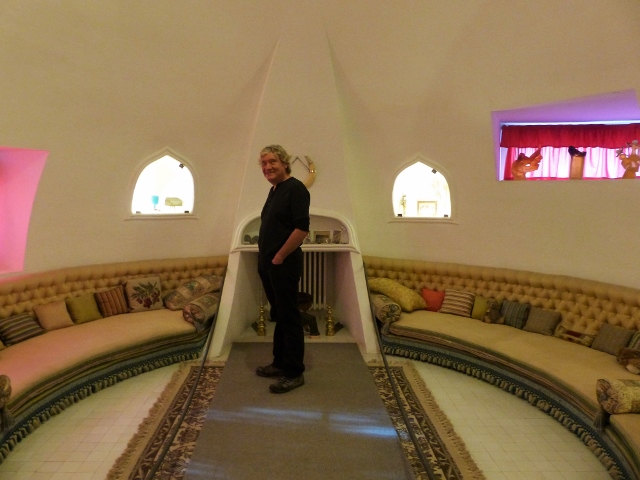 Standing in the middle and dropping a pin would mean that everyone seated around the sides would hear it. It was certainly a strange sensation and it was easy to see how he used it to best advantage for gatherings of people so that they could all easily engage in conversation.
The outside of the house was constructed for his more "public" life with several courtyards for entertaining and an outdoor pool.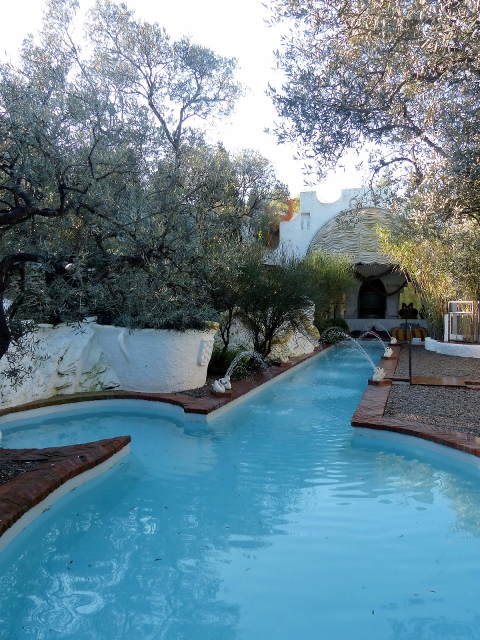 Bizarre art installations are scattered around the gardens…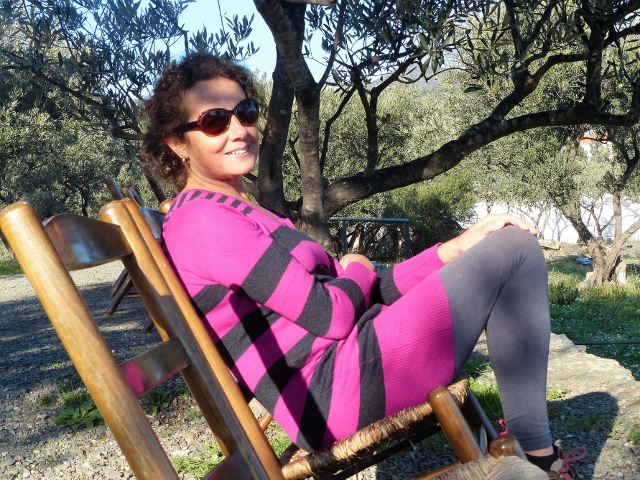 ….oops, no that's me taking in the view from the peaceful upper level of the olive grove.
But most iconic of the artworks, for me, are probably the eggs.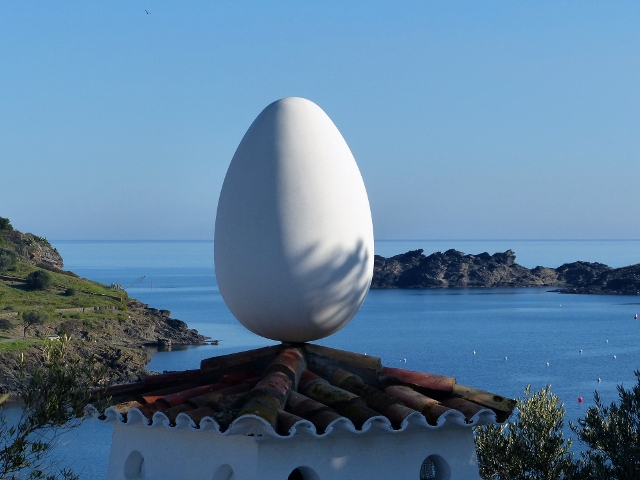 Just north and east of Port Lligat is the Cap de Creus lighthouse, situated on the easternmost headland in Spain. We decided to drive there to see if we could find even more amazing views. We certainly did. The coastline south…..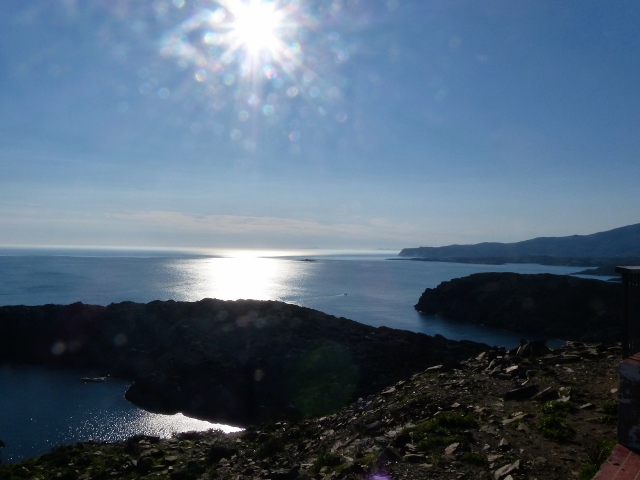 And north….that's France.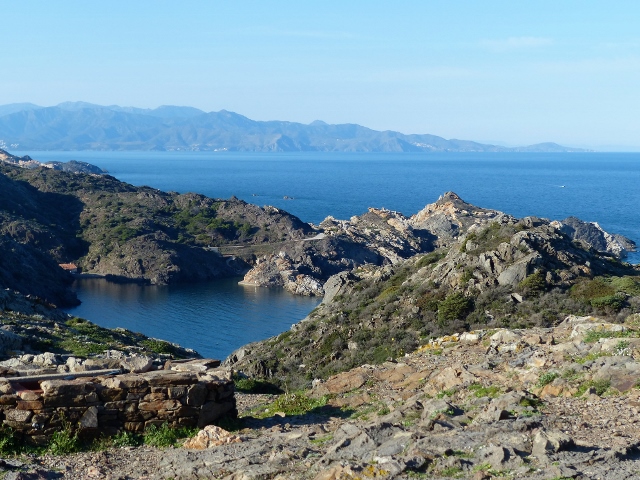 We had a wonderful open air lunch at the restaurant there….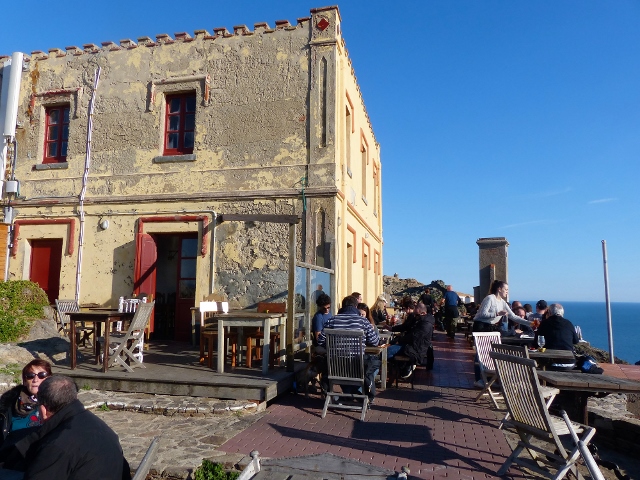 ….and certainly came to understand what Dalí meant by "inspirational light".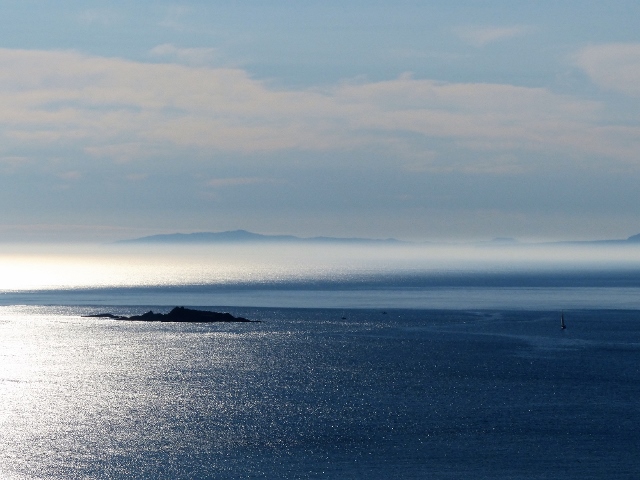 Our third excursion was to the inland Catalan city of Girona on the banks of the River Onyar.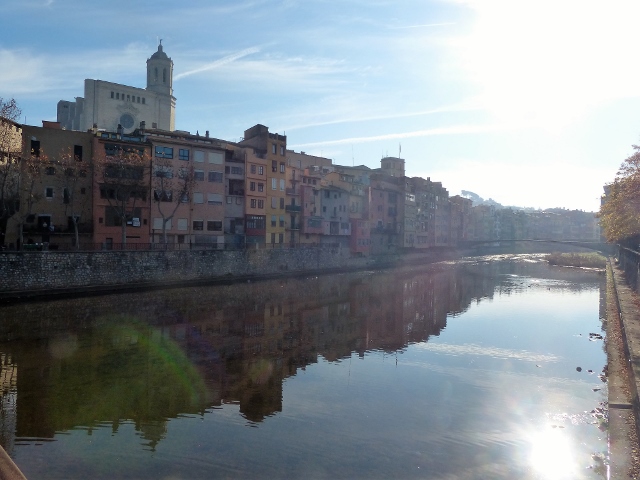 It is known for its medieval architecture and walled old quarter.
Unfortunately we didn't have much time there so didn't go into any of the museums or the cathedral but instead admired them from the outside…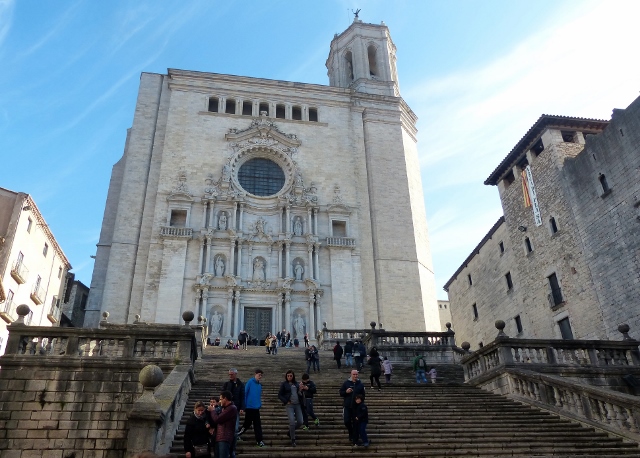 Girona's current university was re-established in 1961 but a centre of religious learning/university existed there in C15 – this being the entrance door…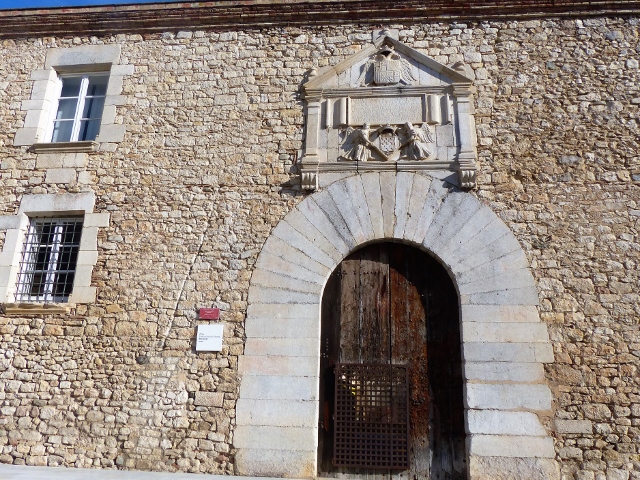 We spent most of our time wandering the old streets and admiring the shopfronts….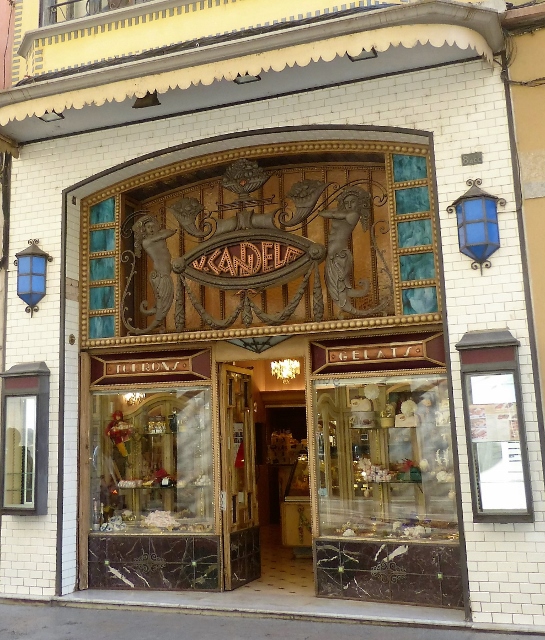 And fountains.

Some of the produce looked excellent…
…. and we also saw a number of florists selling what I initially thought was a form of mistletoe.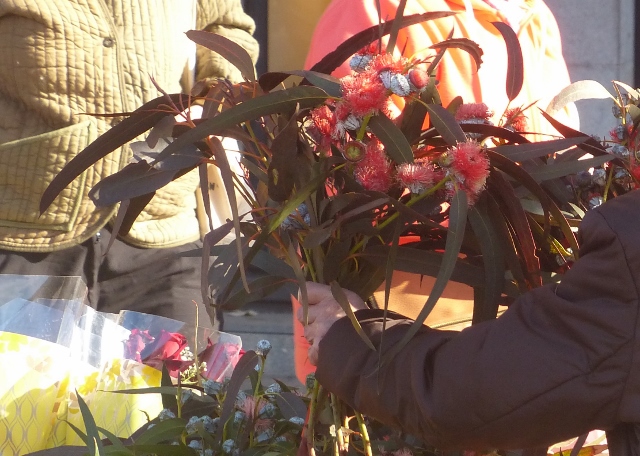 Not sure now what it is but it seemed to be a festive purchase.
Several bridges cross the Onyar from where there are great views of the picturesque colourful houses.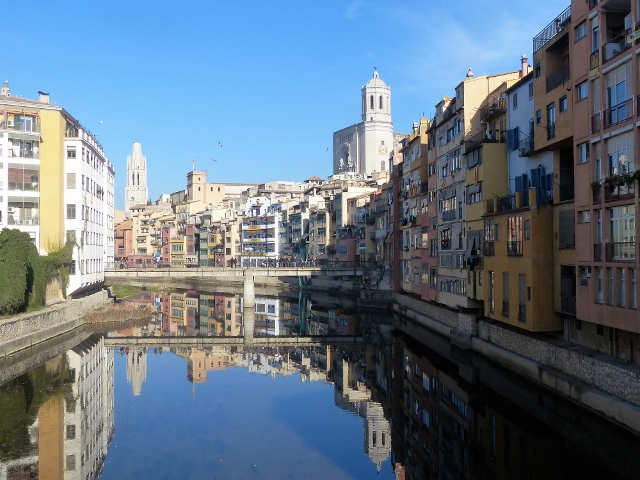 The most famous bridge is the Pont de les Pescateries Velles…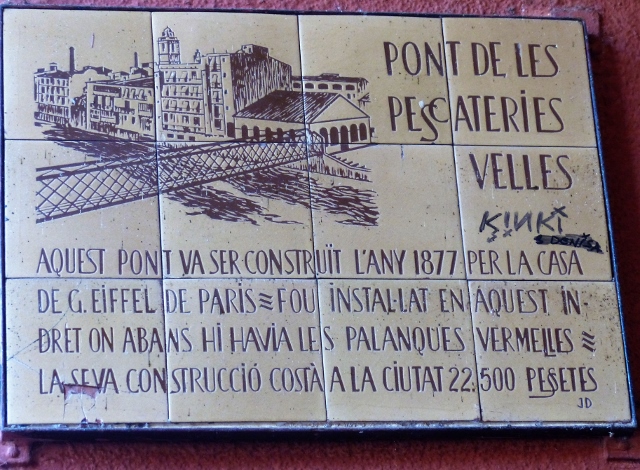 …which, as you can see, was built by Eiffel in 1877 at a cost to the city of 22,500 peso.
Again, you might have noted the Catalan language – a mixture of Spanish and French. Understandably there are many French visitors to the area and I thought we had been mistaken for such when a shop assistant said "Merci" to us. It then became clear that thank you in Catalan is Merci and not Gracias.
Anyway having crossed the bridge….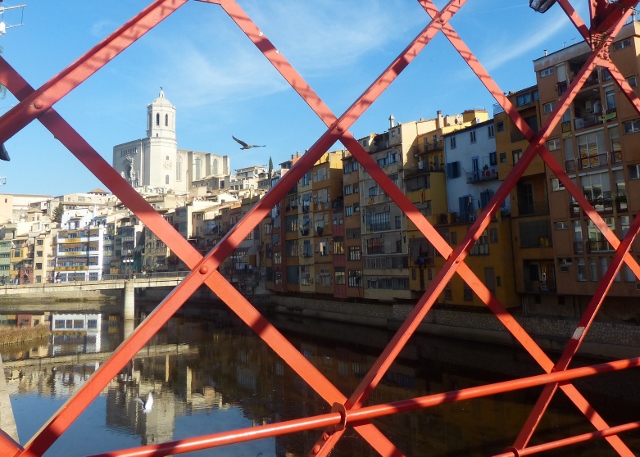 ….we found yet another brilliant tapas lunch….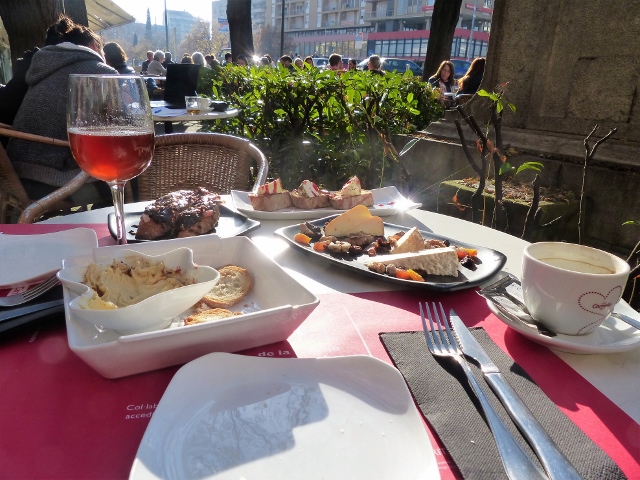 And so, that concluded our quick visit to Girona and our stay in Cadaques.
It was then home for Christmas and New Year courtesy of Chris and John…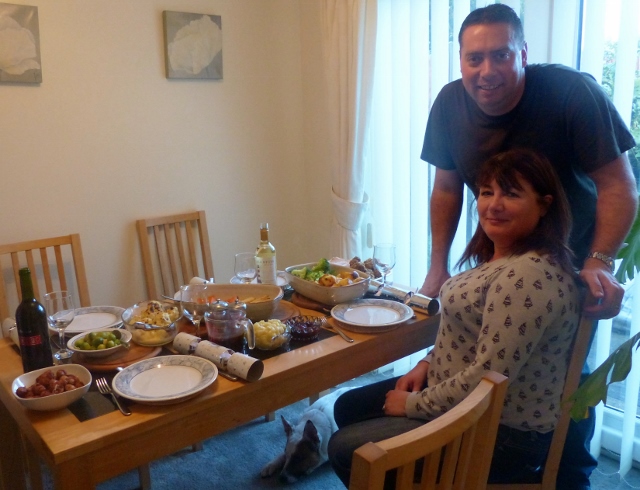 ….and some nice canal walks to remind us that England can be a nice place too.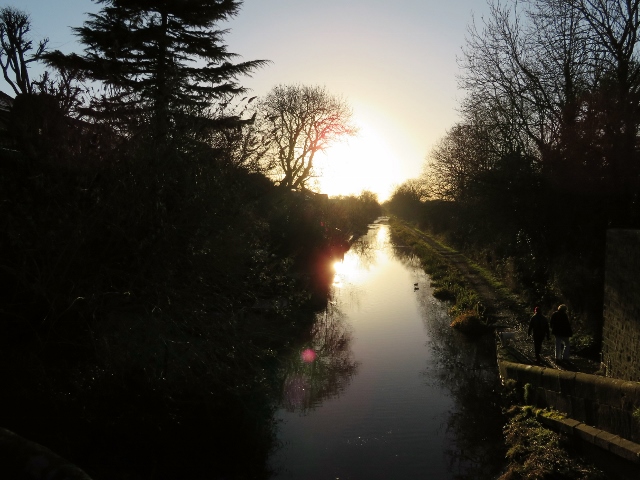 Thanks to Chris for these photos taken on her new camera….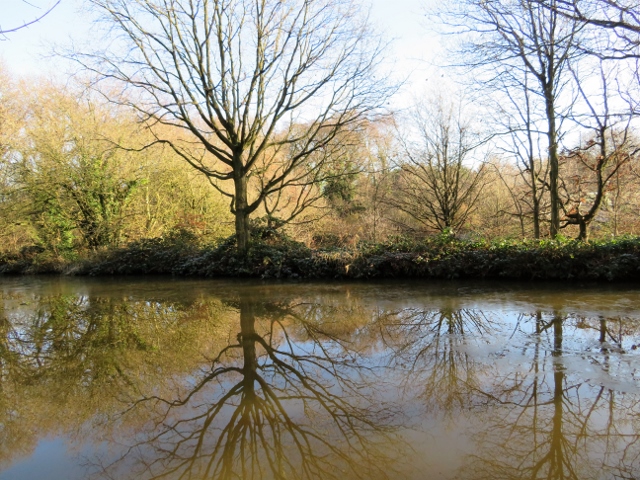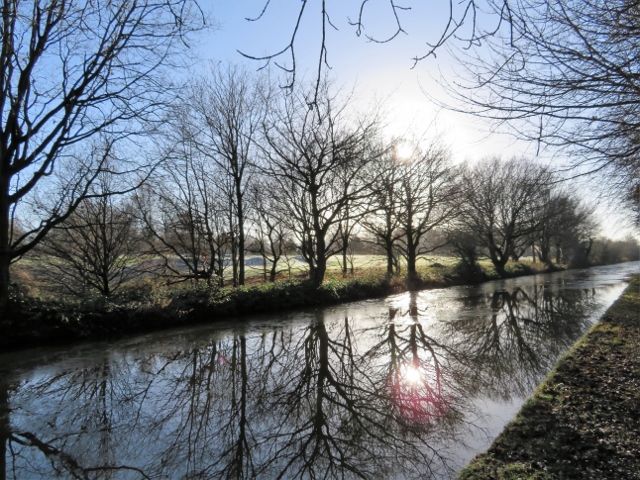 It would be nice to think that next time I write a post I will be able to tell you that we have found a boat – but, realistically this might not be the case! In the meantime we are going to London for a couple of nights and to visit the London Boat Show – we can but dream!!!