This is probably going to be one of the hardest blog posts I have yet written because it is about our sad loss of "Siga Siga". However, it will be cathartic for me and will close one chapter in our lives and be the start of another. Hopefully, it will also enable me to get my thoughts in order about what we have learned during this process – about insurance, about dealing with things in a country where the language and culture differ from you own, and about ourselves as people.
It all started on September 6th when Mike and I were in the UK and I was watching the NOAA website – as I had done every day since we had left "Siga Siga" in Guaymas. I saw that Guaymas had been put on Hurricane watch/alert. For those of you who don't know there are four stages of warning – Tropical Storm watch/alert through to Hurricane warning. So, Guaymas was at stage 3. The predictive map showed the storm passing west of Guaymas and making landfall north so with fingers crossed I followed every update for the next 18 hours. I thought all was OK because the advisory statement which accompanied the last update I read suggested the eye of the storm had passed approx. 100 miles west. So I hoped there may have been residual wind but nothing too bad.
How wrong I was! We have heard a number of versions about the actual conditions but some people talk in knots, some in mph. Whilst knots should be used to describe the speed of a boat and not of the wind it often gets confused and in difficult situations people see and read things differently. So, we have never found out the actual speed of the wind that night. We also understand that because of the configuration of the mountains around Guaymas some wind got funnelled round and some came over the top which meant an increase in speed followed by a kind of eddy on the leeside which was unpredictable. Suffice to say a total of 40 boats were blown over in two of the three dry storage yards in the area and seven boats sank – one of which was "Siga Siga".
We have been asked why we left her in Guaymas. Well, because it is supposed to be one of the safest places in Mexico to leave a boat. It is described in the cruising guides as a good hurricane hole. Guaymas does not have a history of being much impacted by hurricanes and when it has been it is heavy rain rather than wind which has affected the area. So, it was a conscious decision on our part to sail "Siga Siga" to Guaymas.
What we would do differently is haul her out. Though, as I said above 40 boats on the hard blew over and, the photograph below is of the boats which were berthed on the other side of the main pontoon from us.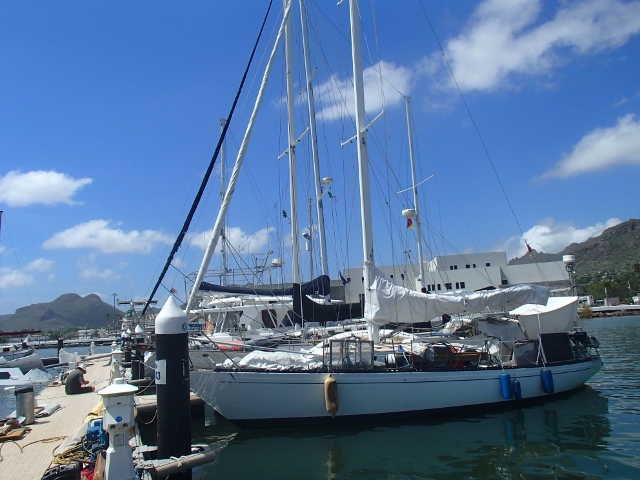 They were there when we left Guaymas and are still there now. They all got a few bumps and scratches but they survived. We could beat ourselves around the head – and privately have done many times! We could ask what we have done in our past lives – is it Karma, fate or what? But, whatever we think or ask or feel it won't change things now – so, enough of this philosophising.
Going back to early morning on 7th September [UK time]…. I sent an email to Marina Fonatur saying that I hoped everything was OK, not expecting to hear in reply that "Siga Siga" had sunk. We received that reply on our return from a lovely evening and meal out with Andrea, David, Fiona and Martin [Mike's sister and family]. To be honest, I thought it was a joke. Psychologists will say this is a normal reaction. I stared and stared at the words before taking it to show Mike. We then spent several hours trying to contact Marina Fonatur by phone and finally spoke to "Eduardo" – who, I now know, is the Marina Administrator and not the yard manager as I had previously thought. We asked him for photographs – probably still hoping it was all a mistake – but also because we knew the Insurance Company would want them. We finally went to bed at about 3am.
At this point I must say a huge thanks to Andrea who sat with us through our frustration, tears, anger, more tears and several glasses of wine – which probably did nothing to reduce the tears!
The next few days were spent talking to Pantaenius [our insurers], filling in forms, communicating with a surveyor they appointed and trying to get "Siga Siga" lifted. We asked three times for quotes and then it was weekend and the yard was closed! It was then that we made the decision to cut short our trip and return to Mexico asap. We cancelled all our plans for the three week camping tour we had hoped to undertake to the Grand Canyon, the Navajo Monument Valley and other National Parks in Arizona. To be fair to the car hire company they took only the £30 deposit. Some campsites refunded us in full and some took a small fee. We did lose money on the three hotel nights we had booked but that was the type of reduced cost booking I had made so there could be no complaints. In the overall scheme of things, forgoing a couple of hundred pounds was nothing in comparison to trying to save our boat.
I firmly believe that if we hadn't returned when we did "Siga Siga" would have remained underwater for the next three weeks. Number One lesson about culture differences. If you aren't there to push, remind, cajole, harass – then it probably won't happen. We know that Manaña is a way of life in Central and South America but I mistakenly thought that for something as important as this it may have been different. I think I was even more surprised about it because the marina also wanted us out of the water.
But wait… there are more "surprises" to come.
Having returned to Guaymas on the overnight bus Mike went immediately to the marina and was put in contact with a diver who was basically a "rip-off" kind of guy who quoted US$5,500 [approx. £4,400] to lift her but he said he couldn't start work on her for a week. Through the contracted surveyor, who Mike then went to meet, we were put in contact with another diver who met us at the marina the following morning at 7am. He quoted about half the first guy's price and said he could start immediately. Given the time difference, we could not contact Pantaenius for their "go-ahead" but we thought it was a fair price and that it was in everyone's best interest to raise her so we gave a deposit and, true to his word, Miguel commenced there and then. The insurers later approved our action.
He had said it would probably take about three days so we alerted the surveyor that we thought she would be on the hard by Monday.
We visited the marina to check on progress on the Saturday when we saw a diver modelling a clay like substance which was then moulded to the damage under the water to patch the holes. Amazing stuff. At that time the estimated time for recovery was still Monday but we visited again on the Sunday just to see and we are so glad we did.
The air balloons had been attached and air was being pumped into the boat forcing the water out.
20 minutes later and up she came……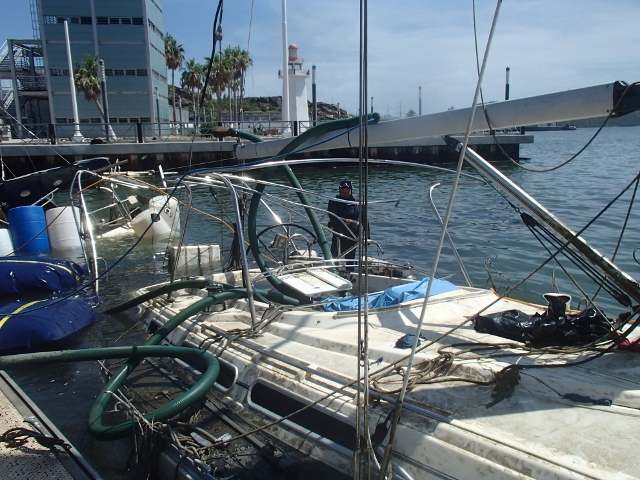 "Well", we thought, "she doesn't look too bad". Obviously all the stainless steel work is damaged beyond repair but it was the hull that was our main concern at that stage. Miguel confirmed that other than some transom damage and front bow damage there were no other holes.
Now this is where it all got very silly again. We phoned the Marina Fonatur travel lift operator.  It was Sunday but we were prepared to pay Sunday rates. He said he couldn't do it. We thought this was because he wasn't available or something but NO – Marina Fonatur did not have any spare stands to put us on!!! We could not believe that a marina with space in their yard and with boats that had sunk on their pontoons, which they wanted raised and out, did not have stands to put us on.
However along with the surprises also came one of the positive things about being part of a cruising community – i.e. the good will. The captain of another boat leant us his car to drive round the bay to Marina Guaymas so that we could get the mobile phone number of the owner of that yard from the security guard. Phoning the yard office itself would have been of no use as it was, as I have said, Sunday.
Gabriel [Marina Guaymas owner] was brilliant. Immediately responsive to our needs he arranged for his travel lift operators to come out [at Sunday rate of course – but that was only to be expected].  Another quick decision we had to make on behalf of Pantaenius which again was approved by them after the event.
On our return to Marina Fonatur Miguel then towed us across the bay with his panga…..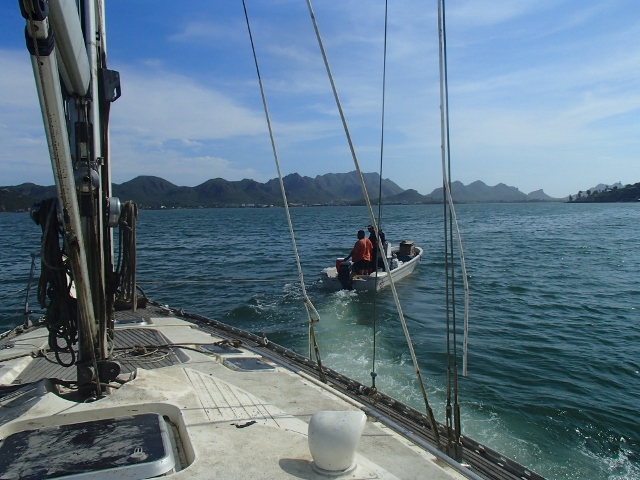 …….. for no additional charge. You can't get better than that.
Lesson number two. There are some good people in this world…. But there are also some less good ones. We heard that various things went missing following the sinking of the boats. Whilst we obviously have no proof, two fibreglass propane tanks, four jerry cans of fuel [two each of diesel and petrol] and six fenders – the latter of which were there when we first saw the boat underwater – all seem to have made good their escape! It was perhaps less surprising, but also damned annoying that the imbibing liquid which was liberated when Miguel had finished pumping water out of the interior….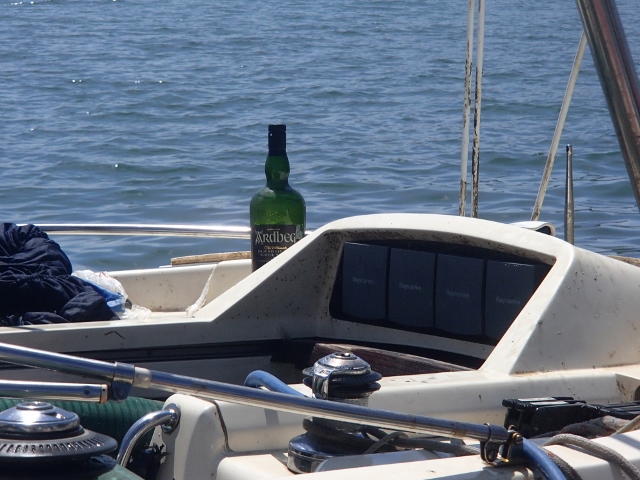 ….had disappeared when we returned from Marina Guaymas in the car.
It seems fairly obvious that someone tried to remove our Rocna and chain [but failed] and there is some suggestion [damage to the wood around the companionway] that a forced entry there was also tried. We are not saying that this was necessarily local people. Some of the cruisers on the docks and in the yard whose boats survived have diving equipment! Again, in the overall scheme of things there was little point in dwelling on this at the time – so we didn't, but had we been in a position to want/need to keep "Siga Siga" all of the above would have been things we needed. There isn't really a lesson to be learned here – people are what they are. Had we left her on the hard, the fenders would have been inside [as that is what we have previously done]. Maybe we will think twice about stuff in lazarettes/lockers in the future?
It took a little time to lift "Siga Siga", for reasons I don't need to go into, so it was going dark by the time she was out of the water. We left her in the slings to return the next day to survey the damage. We felt quite buoyant [excuse the pun] as structurally she seemed pretty sound and, although on the tow across we detected a problem with the rudder, we thought it would probably be fixable.
Monday 19th September – all was revealed! First of all we could see properly the transom damage…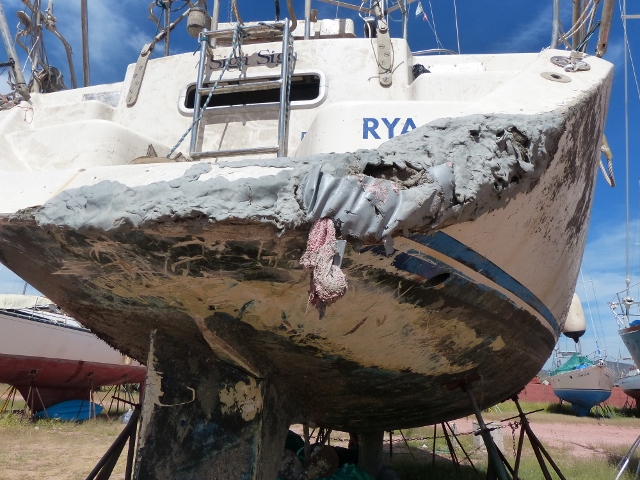 …. Or at least the area the damage covered. Mike also looked closely at the rudder and saw a misalignment so we were fairly sure we had a twisted/broken stock. There was also a small hole in the bottom half of the rudder so we knew it would need to be looked at for water damage inside.
The bow…..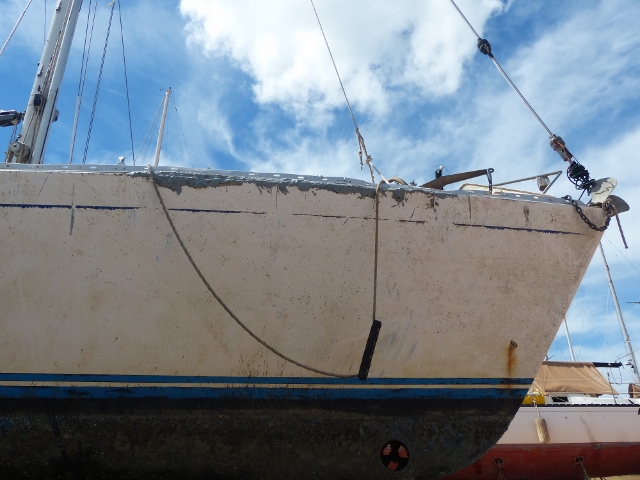 ….well that seemed fairly minimal.
However, when we opened her up and went inside we were pretty taken aback…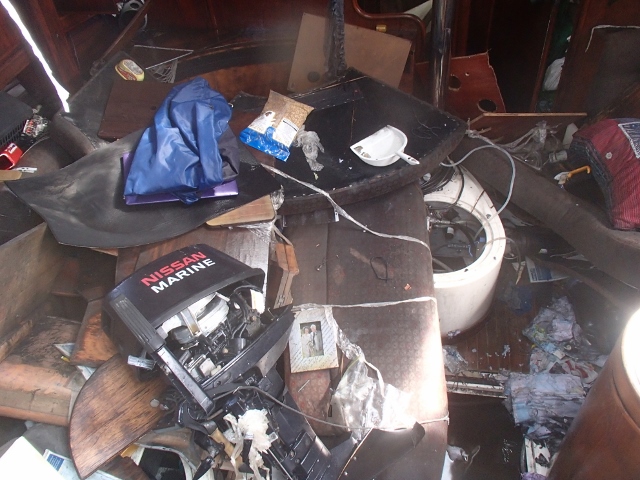 ….it wasn't just a case of water damage – the whole boat looked as though it had been turned upside down. To this day we cannot understand how things from the aft cabin ended up in the forward heads, and from the galley into the front cabin and from the wardrobes onto the top of the fuel tank in the saloon etc. It was just one big jumble. Obviously some stuff might have floated around but a lot of the things were heavy and/or would have become heavy when wet and should, we thought, have stayed more or less where we left them.
What was even clearer was that a lot of muddy, oily silt had also come in and that there was also battery acid and diesel which had floated around.
Upholstery, clothing, bedding etc just fell apart when handled.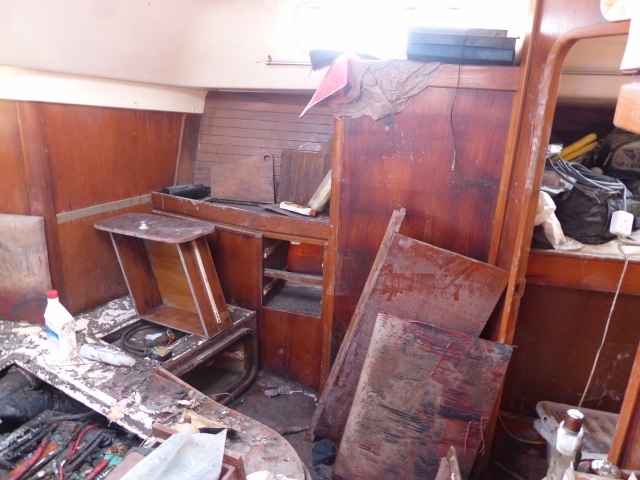 The woodwork wasn't pretty but other than the thinner panels on the doors, most of the wood, once dried, looked salvageable.
Obviously all of the electrics, electronics and wiring were totally destroyed and the engine and outboard – which we had stowed in the saloon – had also been underwater for ten days.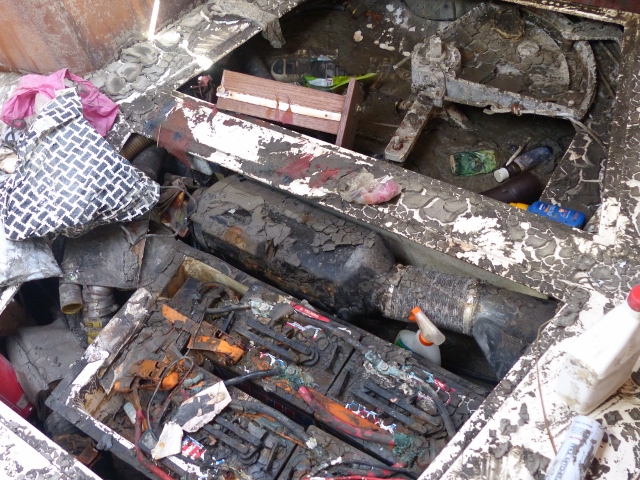 So, having felt reasonably good on the Sunday, we were pretty devastated the following day and I think that's more or less how the next couple of weeks went as our mood and optimism rose and fell daily – sometimes hourly. Taking you through it day by day won't add to the story and certainly not to any enjoyment you may be getting from reading this post so I will try to stick to the main points.
There were a number of things that the insurers wanted us to do:-
Give details of our preparations of the boat before leaving Guaymas
Detail the mitigating actions we had taken following hearing about the sinking
Send a copy of the Marina contract
Provide a full inventory, including costs – with invoices, which would also prove ownership and age of items, so that the 30% reduction could be applied to items over 10 years
Obtain estimates for repairs for all major items
Provide screenshots of adverts for all items for replacement [within reason]
All of this is actually reasonable information for insurers to request. But….
We had no computer other than an iPad, our three laptops having sunk
Having spent five years meticulously keeping a log which included maintenance details, plus all major invoices and all expenditure with dates all I had left was a load of pulp somewhere under the remaining muddy water.
All photographs were stored on the laptops, with backups on three hard drives – also sunk.
Huge shakes of head, lots of exasperation, cries of "How the hell do they think we can provide that with our boat sunk" etc but we just had to get on with it.
The Marina contract was the only easy thing to achieve. Fortunately we are in the habit of taking documentation with us in case an airline operator asks us to prove that we don't need a return ticket to the UK – which has happened once. The information is also useful for border crossings/immigration to prove an address or that we will have a means of transport for leaving etc. So we had the contract.
Despite having been told not to buy anything which might need replacing we had little choice but to buy a computer. Without a computer we could not have provided all the info needed and would have got nowhere! Something we discovered is that with Microsoft 10 the software package generally comes as single language only – at least in Mexico it does. Computers, like some other equipment, are cheaper in Mexico than in the US – they have to be otherwise the majority of Mexicans couldn't afford them. We can understand that Microsoft does not want lots of folk crossing the border from the US to buy computers at a cheaper price [well, maybe we can!]. But, as a person in bona fide need of a computer with all the instructions in English and no means of getting one other than spending loads of dosh and two days to travel back into the US it was very frustrating. The keyboard can be English but the computers language is not. So, as well as getting to grips with the new programme I also had to understand it/work it out in Spanish! As I write this blog post today, I can understand 90% of the instructions but, at the time, on top of the stress of everything else it felt like a last straw.
Given that the first thing on our list was to provide details of preparation, this might be a good time to introduce to you the issue of the marina pontoons. We had stern lines to two main dock cleats from our stern cleats. We had a double line from the front deck cleat to the finger outermost cleat. We had a double spring from mid deck to finger cleats. We had a single line from centre deck to centre finger. Finally a double line from rear deck to rear finger. All lines passed through the fairleads and each line had a piece of plastic hose – approx. 12" long, held in place by a cable tie passed through a hole in the pipe and tightened round the line to prevent chafe from the fairlead. When we were re-floated we had four dock cleats still attached to our lines and all our deck cleats were intact. The surveyor took photographs of these and, we believe, it formed part of his report back to Pantaenius. As well as "confirming" our information to them about our preparations it more or less placed the blame for the severity of the damage on the marina.
An interesting thing we found out was that we were probably the only fully insured boat on the docks! The large boat next to us, who remained afloat, but damaged, contacted us blaming us for his damage and wanting to claim on our insurance. He aggressively announced that his captain said our lines broke and as a result we caused a lot of damage to his bow. When we advised him that our lines were intact and that we had four dock cleats on board he changed his tune and suggested we joined a class action against the marina. We found out as much as we could about that [which wasn't a lot] and reported it back to the insurers. We have since been told by Pantaenius that they have written to Marina Fonatur apportioning blame. But that is an issue for them and no longer our problem.
Another irony about this was that the captain of the aforementioned boat was a young Mexican lad [probably early 20's] whose father works at Marina Guaymas and who was supposed to be quoting for our repairs. We weren't sure how he might react when we "proved" that his son's story to the owner was not strictly true!
Whilst it was a very time consuming task we were able to provide Pantaenius with a spreadsheet giving all the details they required. To prove ownership and, where possible age and condition, we had to more or less photograph everything on the boat. Not only was this a very mucky job with Mike having to dig around the mud to find some things it was also very heart-breaking. Everything that had looked so good was now a shambles but we had to take the time to look at it and photograph it. Those were not good days. In addition, all of this was undertaken in temperatures in the high 90F range [approx. 32C], on a boat in the middle of a gravelly field with no cover. When we tried to wash some things down to either get the details or to see if we could salvage them we were mobbed by mosquitoes who thought the muddy, stinky water with humans at the end was their birthday and Christmas in one!
With regard to quotes then the whole issue of Mexican culture comes into play once more. Not only do we have the manaña affect again but we also have the problem that Mexicans don't like committing anything on paper. There is an issue for them about tax [well isn't there everywhere] but here tax evasion is a way of life – particularly for small craftsmen/businesses. As it happens I did have some quotes on emails from stainless and canvass work we had done in Grenada and in the end we contacted the rigging company in Ardrossan who had done our rigging before we left [Thanks Malc for the contact]. After several follow ups we finally got quotes from Marina Guaymas for paint/gel coat and woodwork. Mike also took an upholsterer to the yard – a guy who had done some work on our sails before we left Guaymas for the UK. Mike then sat with him until he produced something! To be fair though, one look at the boat and finding that we were fully insured, was enough for them to say –  only to themselves, but usually also to us – "well, this is going to be written off". They therefore didn't see anything in it for them to spend time putting a quote together. At the time, although we thought she would be considered a loss there was no guarantee of that and, until we provided quotes the insurers were not going to reach a decision – so it felt as though we were going round and round and getting nowhere.
All in all it took us about three weeks to get all the information and, having sent it off we felt it was a job well done. We were therefore surprised to get a phone call from the surveyor to say someone else needed to look at the boat "to quote". The "to quote" turned out to mean a second person [shipwright] to write a full report to the insurers about the damage and the costs of repair. What the hell had we just spent three weeks doing? Was this a way of checking up on what we had done? What was going on? To add insult to injury he wanted us to provide him with copies of the photos we had taken [and sent to Pantaenius with links to each relevant item on the spreadsheet!] so that he could put them in a report he was being paid for.
Having got over that and reasoned that it could only help our case if he proved we weren't trying to lie about anything we then got an email from him wanting "before" photos. We had told him we had lost all photographs but Mike had to spend half a day going through this blog looking for relevant photos. Fortunately I was able to give hints as to where they might be. Even more fortunately I have the blog! I never expected during the writing of any of the posts that they might be needed for such a purpose.
One important thing we learnt from the shipwright is that our spreadsheet regarding costs did not include much allowance for labour. It never crossed our minds. We have always done our own work. Obviously some of the work that needed doing on "Siga Siga" could only have been done by a specialist – and where we had those quotes their labour costs were included. However, when costing recovery or renewal we should have included labour time/costs for many more things than we did.
Speaking of recovery. There was the issue of whether any of the engines/motors could have been recovered had they been treated/removed quickly. We sought advice on this and did not get the same answer twice! It became clear that to do anything would cost something [obvious I guess] but might not result in anything being recovered – or, if recovered, it might not be reliable/long lived in the future. All we could do was tell Pantaenius what we had been told and ask them what they wanted us to do. In the end, we did nothing with regard to the main engine, outboard, water maker motor etc so I cannot tell you whether there is remedial action which would work. Maybe had she not been underwater for ten days there would have been other choices?
Our policy has a new for old option which comes at a premium. We had not taken that option and therefore for all but the hull we had to deduct 30% from everything over ten years old. We included this in our spreadsheet and, even before the shipwrights added labour costs came into effect, it became clear that the replacement/recovery costs, with the 30% reduction against the appropriate items, were going to exceed the full insured cost.
Annually, at the time of our insurance renewal, Mike has tried to check/re-assess our insurance needs based on what might have aged and what we have added/replaced. He hasn't done it using a spreadsheet or anything – just a vague assessment. He was delighted to find that his calculations were in the right ball park. However, now we have a spreadsheet which can be adapted to any future boat we might take the care to do it more scientifically? It might also be a time to consider whether a new for old premium is worth it but I think if we continue taking the realistic approach it might work out better. New for old would have had no relevance in this case. It might, of course, if the settlement had been other than for a total constructive loss as "Siga Siga" was deemed.
However, being advised she was a total constructive loss was not the end of it. Such a conclusion meant that we retain the boat and the insurers decide what residual value there might be. We were advised that it was less than US$10,000 [£8,000]. We then have the option of keeping the boat and using the settlement to rebuild or to sell the boat or to have her scrapped. We did not want to rebuild. It was a lovely idea on one hand and our thoughts about "Siga Siga" means that individually, and together, we sometimes wondered if that was a possible option. However, realistically we knew that it would take at least two years and, at the end of it all we would have a boat that was compromised and that would most likely be worth about half her former value in real terms [i.e. if we wanted to sell]. She will always be on record as having been sunk.
Selfishly, some may think, it is also not what we "signed up for" over five years ago. But, being honest, we set out to sail – not to spend two years minimum in a boatyard. Obviously, we are not quite that callous about it. You will remember that we spent six months in Shelter Bay, Panama when we had to replace the cylinder head. But that was not a seven day a week job for those six months and there was an improved product at the end. Much of it was waiting for the part to arrive and we were able to travel to other parts of Central America etc. With "Siga Siga" any such travel would just have meant it took longer for recovery and, again being honest, Guaymas is not somewhere I would want to spend two years!
So, try to sell or scrap. We reasoned that there may be someone out there who would want to take on a project [after all there are several projects that have been ongoing for four to six years in Gabriel's yard!]. We advertised on "Craigs list" which is a US site. We contacted two people who had been in touch with Gabriel about possible projects post the hurricane. We had three "bites" which, after we sent the photographs, resulted in one No Reply, one "My wife would kill me" and one "Yikes"!
We went to the dry storage yard in San Carlos [about ten miles away] to try to at least sell the mast/boom to someone who had lost theirs when their boat had toppled. Similar to Gabriel's response, the yard said they would let us know if anyone wanted one. We also left details of our winches, anchors, chains etc. A Mexican yard with a local owner – someone is going to want his cut which is fair enough but doesn't make it easy especially as you don't know whether anyone actually does anything with the information. There are certainly no notice boards. Just after we had done this Pantaenius suggested we should not be trying to sell the boat in parts – but as a whole. We still aren't really clear as to why that should be but did no more at that stage to sell parts.
Now, we also come to the issue of "selling" in Mexico. We have heard constantly on Cruiser morning nets that cruisers cannot sell things in Mexico. On a TIP [Temporary Import Permit] a boat or its parts cannot be sold – or so the "legalese" states and therefore all discussion on the radio is about "swapping or trading for coconuts". Obviously people do sell things but it's more difficult when in the situation we found ourselves.
To cut a long story short we were getting nowhere. There was interest from one guy who had lost his boat and in reality he was offering US$500. In addition, the young rigger who had come to quote [though we never actually got a quote] had shown interest and, when he heard she was a total loss, he got in touch.
In between these times Pantaenius asked the surveyor and shipwright to try to sell her too – basically, we assume, because the shipwright had said there was a residual value. Anyway, he had lost the photographs we had given him earlier so Mike had to meet him with photos which could be printed out, pay for the printing, buy paper/card/glue/pens etc so the shipwright could put together a "board" to take to a Swap Meet.
We were given vague directions to the Swap Meet but not given a time. We spent about one and a half hours getting from our house in Guaymas to the location, for 10am, to find out it was all over. It had started around dawn!
The upshot was the boat did not sell and Pantaenius then informed us the residual value was US $500. We have now sold her to the rigger for that amount. We hope the sale is considered legal. We still have the TIP but Mike is hoping to go with Carlos to the Port Captain and sort that. We have informed the British Registry.
Carlos was over the moon.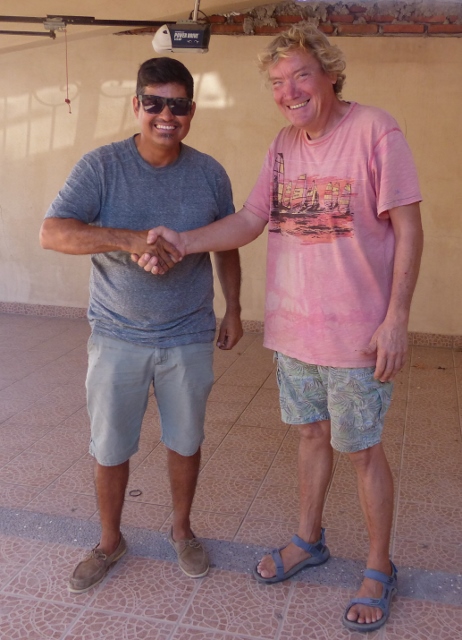 He had expected he would have to pay more, but we felt it was only fair to charge the residual value. There is that Karma thing to think about….
So, there we have it, I think. To summarise the learning points [oh no you say – but it will be a summary]
Don't sink!
If your boat/contents are worth it then have appropriate insurance
Protect your documents/invoices
Have photographs as well as invoices of your major items and photographs of how your boat looks now.
Have copies not just on hard drive but use the cloud – or whatever [something I am going to need to learn]
Communicate with your Insurers. It may be frustrating for you and them at times but persevere and be honest. Leave any battles you feel like having to the end and then hopefully there won't actually be any.
You might need to make decisions before checking with your insurers. If they are important, make them and deal with the consequences later. Chances are – if it's going to increase the probability of recovery they will approve it. For anything else – ask first.
Live/work with the local culture. Very difficult but you aren't going to change it. Your emergency is not their emergency.
You will need a phone, computer, internet. Make it a priority.
Take time out. Find a decent place to live, if you can, and somewhere away from the boatyard.
The little things are important. Finding and recovering a few souvenirs was such a boost for us. No use to anyone else, no real monetary value but they were good moments.
To compensate for every not so good person you come across there are multiple good ones. Thanks to all our friends and family who have been supportive throughout and to those people we didn't know before – or will likely meet again, but who were "golden"
Be strong and, if there is more than one of you, be kind to each other. It's tough, it's upsetting, it's not what you wanted. But you can get through it.
In terms of insurance, our only experience is with Pantaenius. They did exactly what their policy states. If you are thinking of boat insurance for a first time, or changing insurers then, in our view you can't do better.
Finally, farewell "SIGA SIGA". You went down fighting. We will try to remember our time with you in Guaymas as being peaceful at anchor…..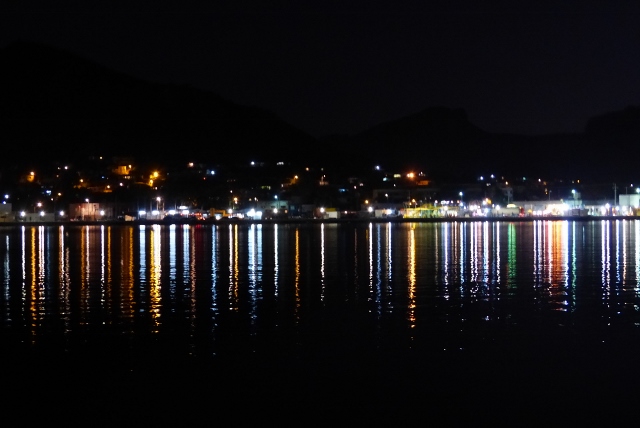 We hope Carlos gets much pleasure from you and that you live on. Your memory will always be there, in our hearts and on this blog.