Well folks, as we still haven't come to the point when I can give you a full account of Siga Siga you will have to put up with a travel post.
Having spent 5 weeks [which felt like 5 months] trying to sort out the boat, the insurance and our heads we felt that we had reached a point when we could leave Guaymas and visit the US for a short time to recharge our batteries, chill with friends and renew our Mexican visas [another story I won't bore you with].
We caught the overnight bus to cross the border, picked up a car in Tucson and headed east. Within a few miles we realised that the US highways are full of roadside "Historic markers". Well not full exactly, because there is a lot of highway, but there are still quite a few. We did comment that we don't celebrate our heritage the same way in the UK but then realised that as we have a lot more history and a lot less road miles we probably wouldn't have the space!
We stopped to read several on our travels and learnt about things like old transport routes, sights of battles, towns which sided with one faction or another and ghost towns.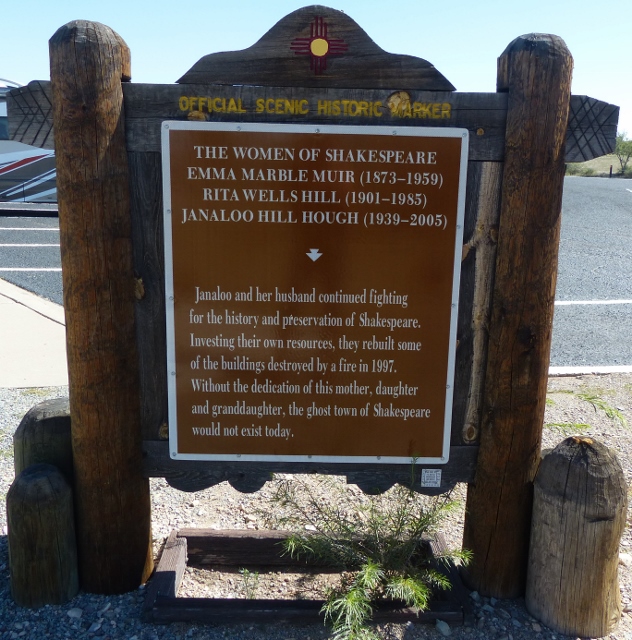 The first real "monumental" stop was across the Rio Grande in Las Cruces.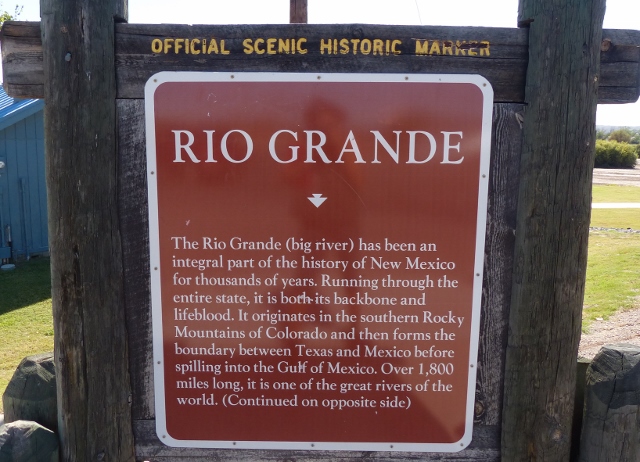 The other side of the sign told us about the series of dams which now channel the water to prevent flooding. Preventing flooding is one thing – but for one of the greatest rivers in the world it was distinctly lacking in water!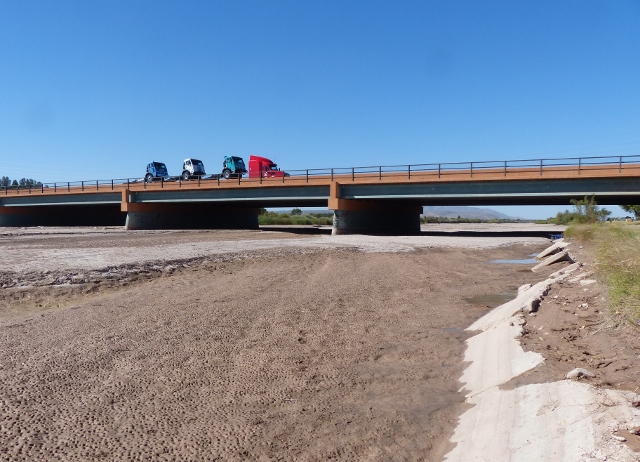 However, I was delighted to know that "Wagon Trains" still cross it!!!!
Our main stop of the day was "White Sands" National Monument – a stunning place in the Tularosa Basin.

Whilst called sand, the dunes are actually comprised of gypsum and look like crisp snow. Covering 275 sq miles, it is the largest gypsum dune-field in the world and was David Bowies "home planet" in the film "The Man who fell to Earth". I was fascinated by the fact that despite the blazing sun the gypsum remains really cool. This is partly because just inches below the surface there is water and the dunes remain moist during even the longest droughts.
We had forgotten that there was a time change between Arizona and New Mexico so we actually arrived at White Sands an hour later than we thought. We therefore didn't have enough time before the park closed to complete the 5 mile Alkali Flat trail [which wasn't flat!] and therefore walked the Backcountry Camping Trail.
This two mile trail was quite enough to get a good flavour of the place as it wound through and over the dunes and it was easy to see why they have markers for you to follow. It would not be difficult to get lost. As its name suggests, this trail had a number of places along it where you could "wild" camp. RV's are not allowed to stay overnight but if you bring your own tent and are happy to put up with no water and no toilets at the sites [though there are some on each car park] then it is a brilliant place to camp. I really wished we could have been able to stay there. A night under what would have been a brilliant starry sky would have been wonderful.
We saw signs of wildlife, including snakes, but didn't actually see any. We made do with the scenery and the lovely grasses…….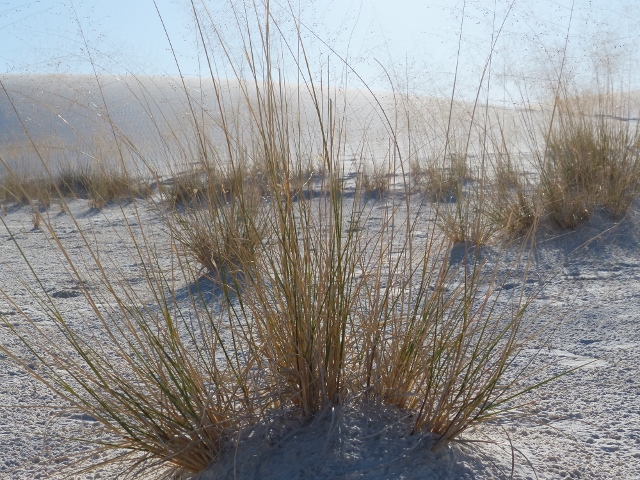 …..and plants which grow there.
Driving another 60 or so miles east meant we had covered 400 miles that day and we were happy to reach Ruidoso where we spent two nights. At 12,000ft and nestling beneath Sierra Blanca, the resort town is popular both summer [to get out of the stifling plains heat] and winter [to ski].
We had a choice the following day, forest walk or historic drive. Whilst a day out of the car might have been nice, we decided we just couldn't miss out on visiting Lincoln County and the town of Lincoln – i.e. "Billy the Kid" country.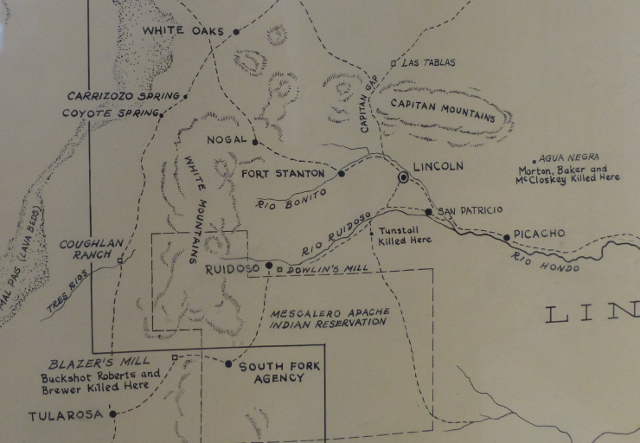 In the 1880's, an area of 22,000 sq miles – which now comprises six New Mexico counties – was just one county with one sheriff. Isolated and wild, the communities of farmers, ranchers, cowboys and merchants were accustomed to governing themselves – or not! There are a lot of myths surrounding W. H. Bonney, born Henry McCarty, fuelled by the sensationalist East Coast press in the late 1800's and fictionalized in books and movies since. In reality, "Billy" was just a young guy of twenty one who got caught up in the Lincoln County "War" which was basically a bloody feud played out between the Murphy-Dolans on one side and the Tunstall faction on the other. I could go on at some length about the background to and the events of the "war" but you might get bored so I will just cover the highlights.
In August 1877 Scottish born John Tunstall opened the second mercantile store/bank in Lincoln [now a museum]…….
……rivaling that of the Irish Murphy/Dolan families. Hand in glove with Sheriff Brady, the Murphy/Dolans claimed Tunstall owed them a debt, sent a posse to the Tunstall ranch to collect cattle to cover it and, in the process, Tunstall was shot dead just 6 months after opening his store. The "war" began.
The Tunstall Ranch foreman, Dick Brewer, was appointed "Constable" by the local JP and swore in W.H Bonney, one of his cattle hands, as a deputy. Numbers on both sides grew and by July fighting had escalated and Lincoln main street became known as "the most dangerous street in America" with Billy somehow getting his reputation based on what the whole gang of Brewers "Regulators" did.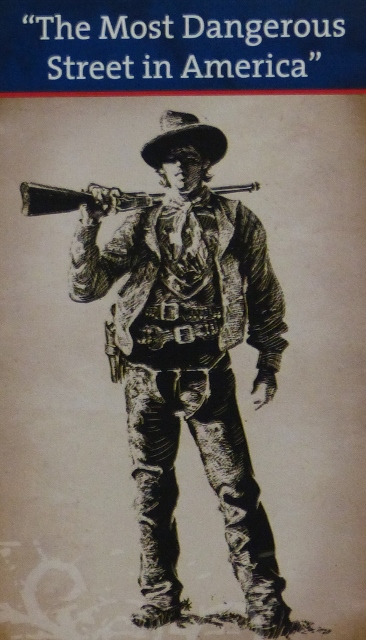 It is believed that Billy shot dead Sheriff Brady – he was certainly found guilty of it – and he did kill two men in 1881 when trying to escape from jail but he was no worse than most – and arguably better than some – of the other protagonists during and after the Lincoln County War.
Looking out of the rear windows of the old Tunstall store and from the upper window of the courthouse, crosses…..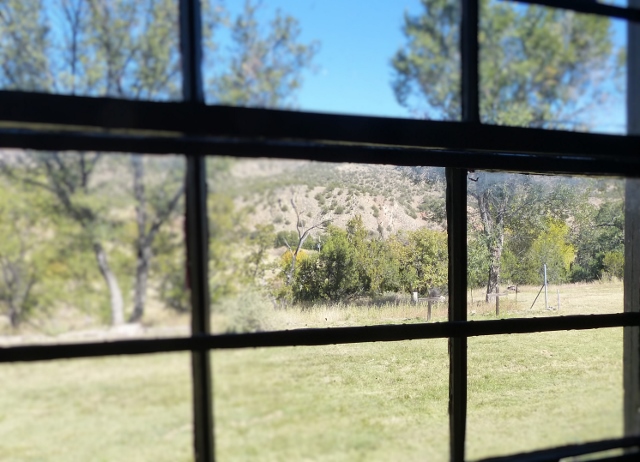 ….. and a stone mark the sites of three of the shootings.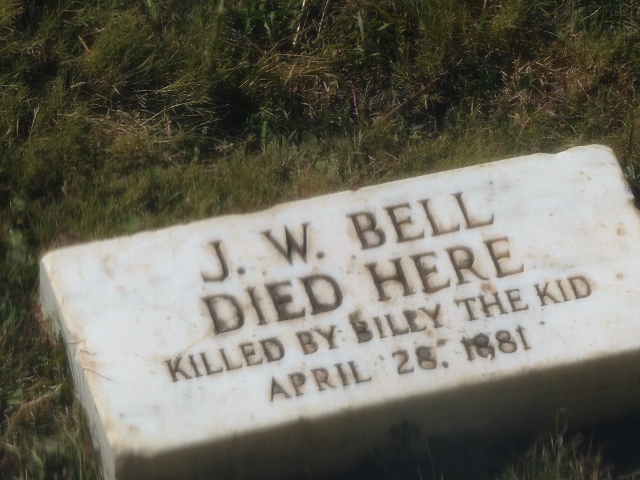 The courtroom itself retains much of its original furnishing.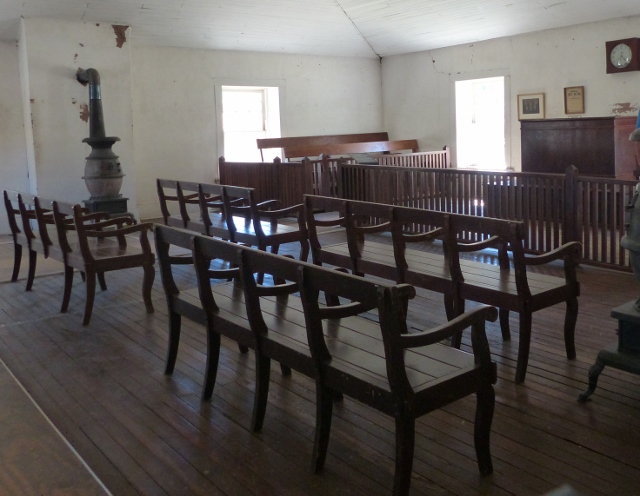 Originally the Murphy-Dolan Store, it was bought by the County in the late 1880's – when the families went bankrupt – and converted to a courthouse. Although I didn't take a photo, the upstairs back room contains what remains of the Masonic Lodge.
Lincoln has been preserved as one of the best "Western" towns in the US. Probably caught up in the same fictionalized ideal I mentioned above I therefore expected saloons with swing doors and rows of livery stables.
Whilst there was the latter…..
….there were no signs at all of swing doors!
The road is lined with some of the old shacks…..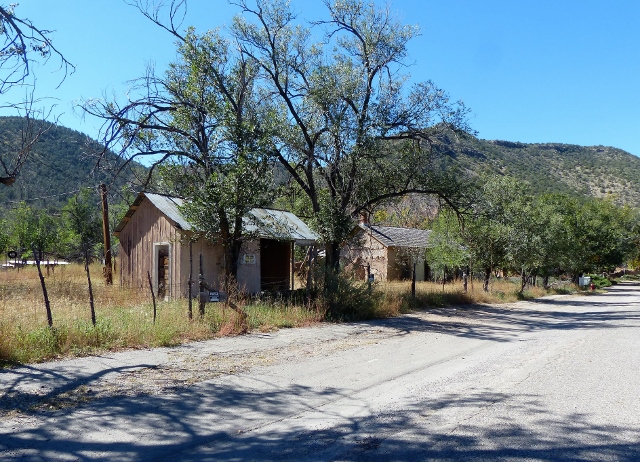 ….and the original post office remains – though I suspect the Zip Code is a more recent addition.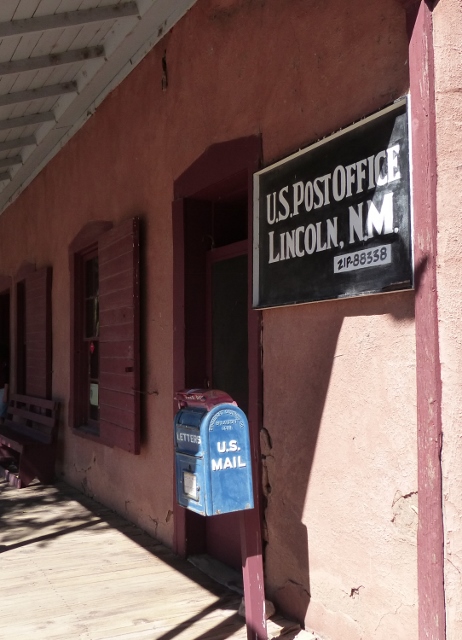 The inside was wonderful…..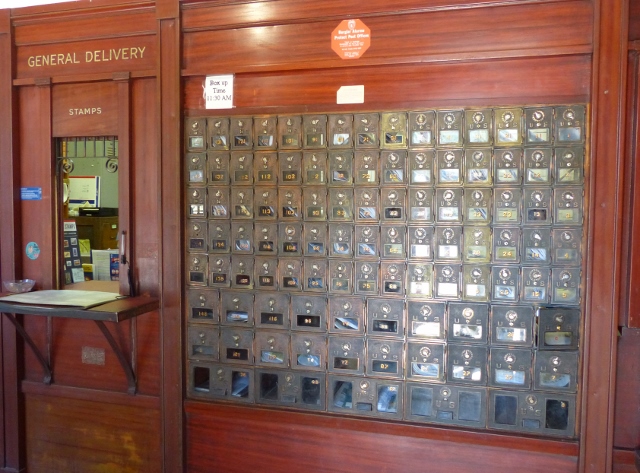 ….but I expect that mail no longer arrives in Lincoln on this.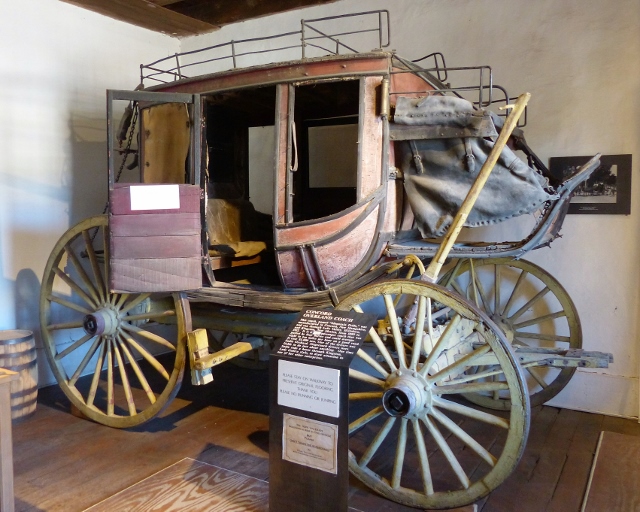 Other means of transporting people and goods were to be seen in the museums….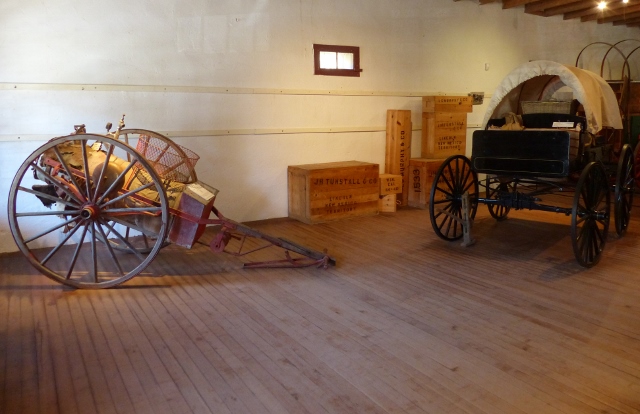 ….as were some old safes.
In the middle of the town is the "Torreón"….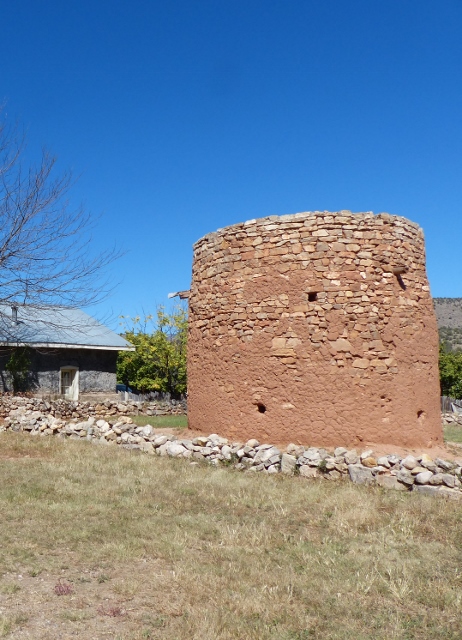 ….. the first stone building in Lincoln when the settlement was known as "La Placita de Rio Bonito". The Spanish speaking settlers, who arrived around 1850, sought shelter and safety there when under siege from the native Mescalero Apaches.
Across the road, the convent and mission of San Juan looked just like those we saw on the Baja Peninsular though we had not, before, seen an organ in one.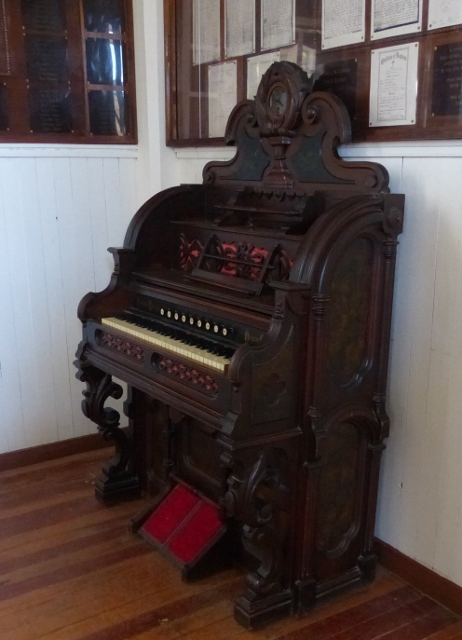 At a cost of US$5 [£4] per person – giving entry to all the museums – it was well worth the money and we thoroughly enjoyed our wander around.
Continuing our round trip back to Ruidoso along a route no doubt followed by Billy et al…..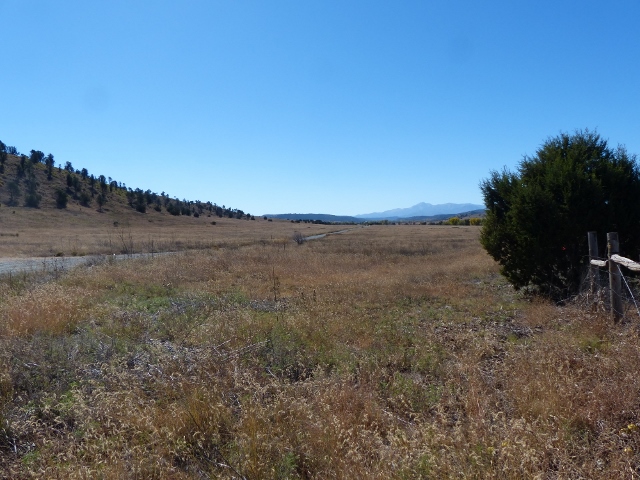 ……we visited the small town of Capitán and learnt all about Smokey Bear – the advertising mascot created to educate the public about forest fires and how to prevent them. "Smokey" was invented in 1944 but, in 1950 – following a huge forest fire in Capitán – a rescued partially burnt and orphaned black bear cub "became" Smokey. Following being healed of his burns he lived his life as a celebrity bear at the National Zoo in Washington, receiving so much fan mail that he was given his own zipcode! Having a real bear as Smokey meant that the wildfire campaign was a great success. The Wall Street Journal did a front page obituary on his death in 1976 – in fact there were so many obits and articles that they fill four scrap books. Following his death he was returned to his original home to be buried and every year thousands of people visit the Smokey Bear Historical State Park – and his grave.
We didn't actually visit the museum and grave but I thought it was a nice story and we did drive down the Boulevard!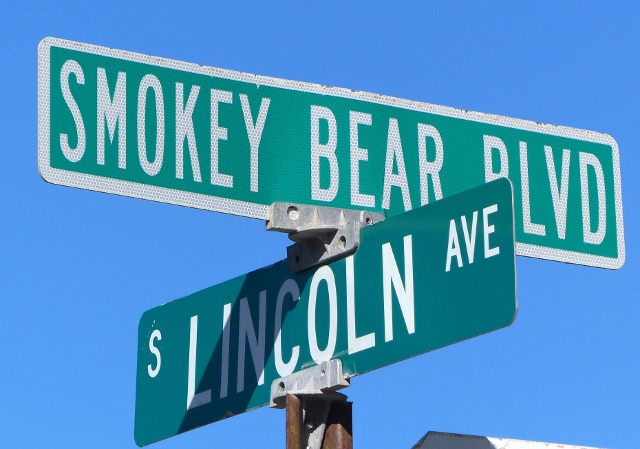 Heading south the following day we drove first to Roswell – another "well if you are in the vicinity you might as well go" kind of things. What a strange place!!! With alien lamp-posts….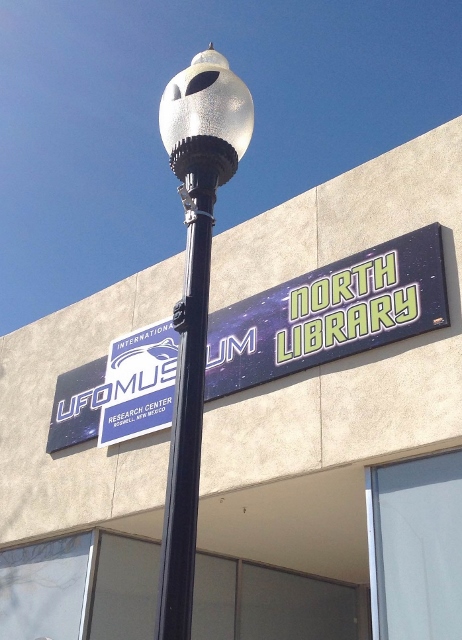 …. and every other building either housing some sort of museum or shop selling lumps of rock, outer space paraphernalia and themed clothing it felt as though if the "Roswell incident" had never happened the town probably wouldn't exist.
Sorry to any readers reading this who are "believers" and I am not saying that there is not life out there, but really…..like this!!!!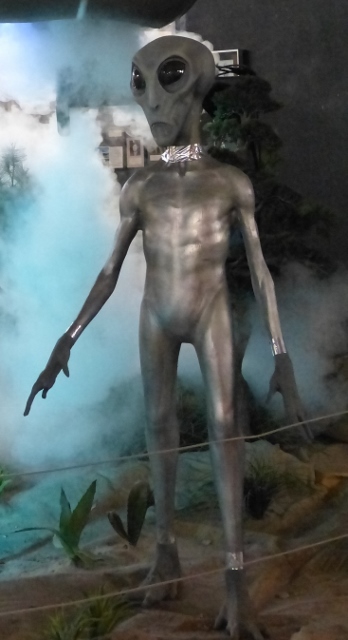 Anyway, the museum was interesting in some ways – even if only to show how people consider light fittings viewed through windows, crockery thrown up into the air and lenticular clouds to be space ships from another planet. My thoughts about the "cover up" are best kept to myself.
From New Mexico it was into Texas for the 750 mile journey down to Port Aransas, stopping overnight in San Angelo, and watching the miles pass by with basically nothing to see but the iconic Oil Field Donkeys.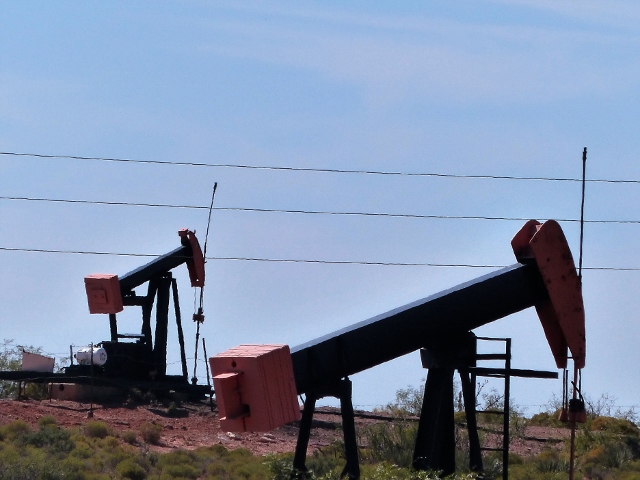 A wonderful welcome awaited us in Texas – firstly our friends John and Diane with whom we stayed and also our friends JD and Linda who have family locally and were on an extended visit. Unfortunately, although John and Diane will be happy, I didn't get a good photo of them and would be slapped for posting the ones I did. I did however capture JD and Linda sharing thoughts on the world and its mysteries with Mike outside their "5th wheel". Why are they called that??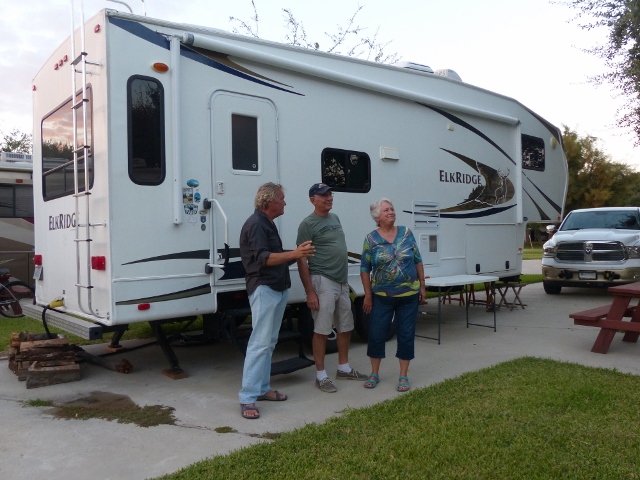 We spent lazy days eating, drinking, chatting and getting our heads around Siga Siga's sinking and what the future might hold for us.
We visited local watering holes….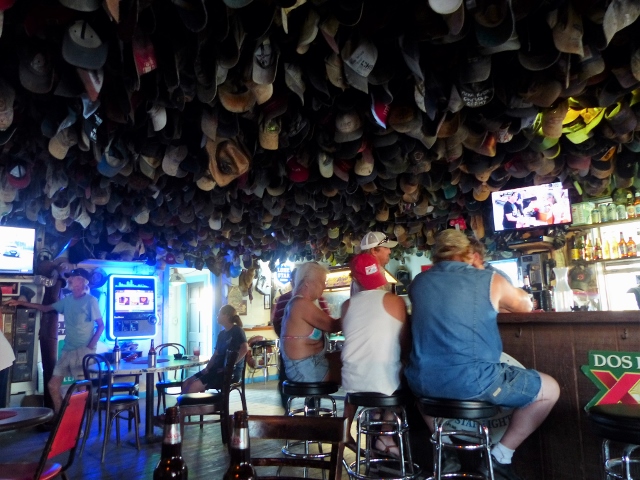 ….and learned the art of shuffleboard.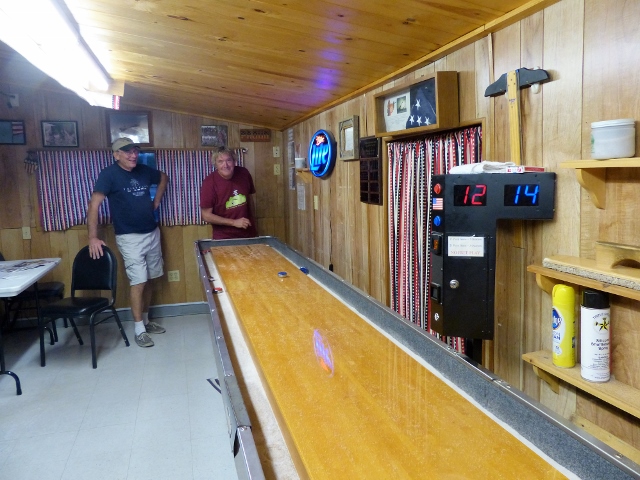 With John and Diane we strolled the beach….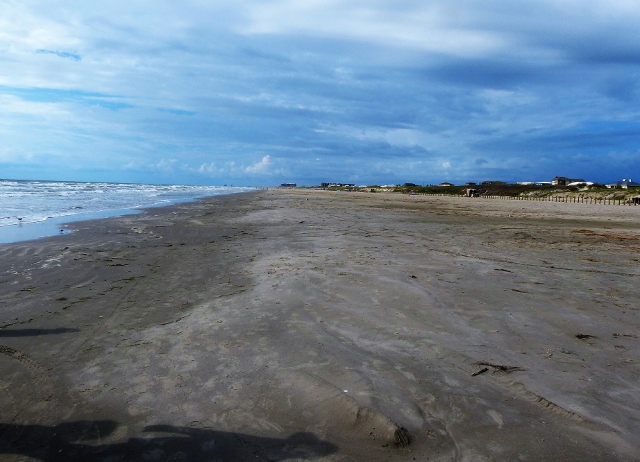 ….and went on some great walks to the wetlands….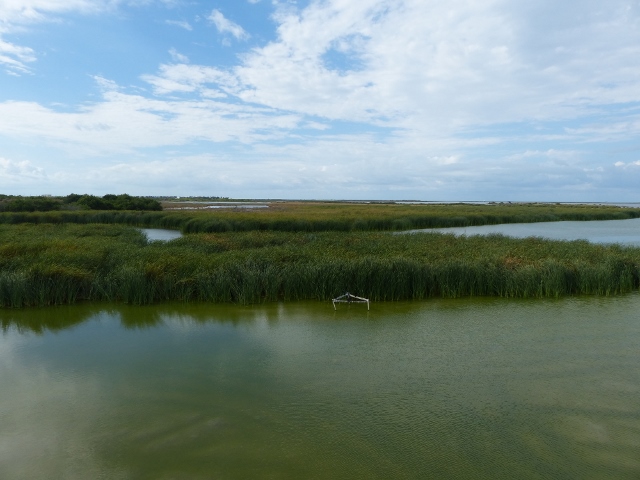 …..where we hoped to see the resident alligators. No alligators but lots of birds.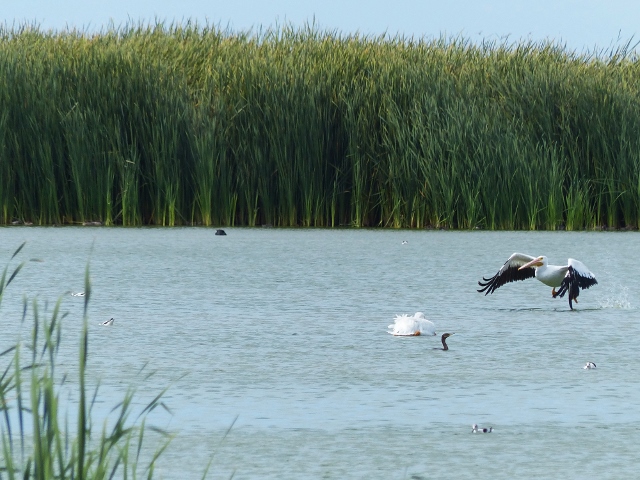 A longer walk took us along the harbour wall where we saw turtles hunting for lunch……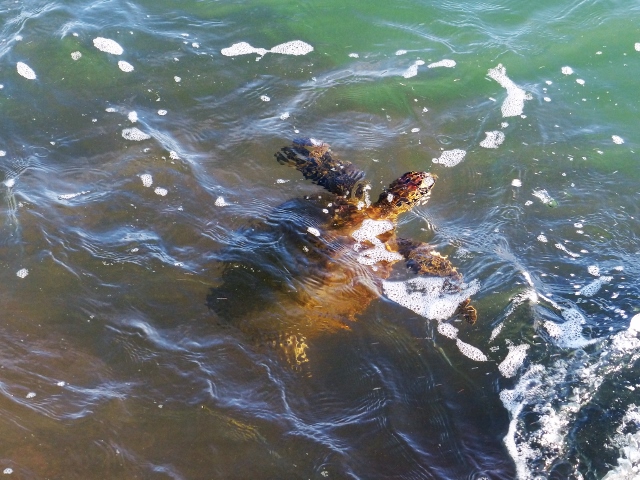 ….and to a different part of the wetlands….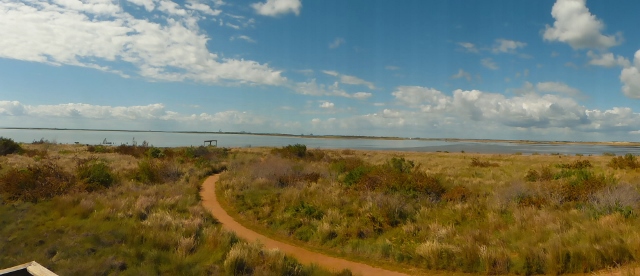 …..with dragonflies….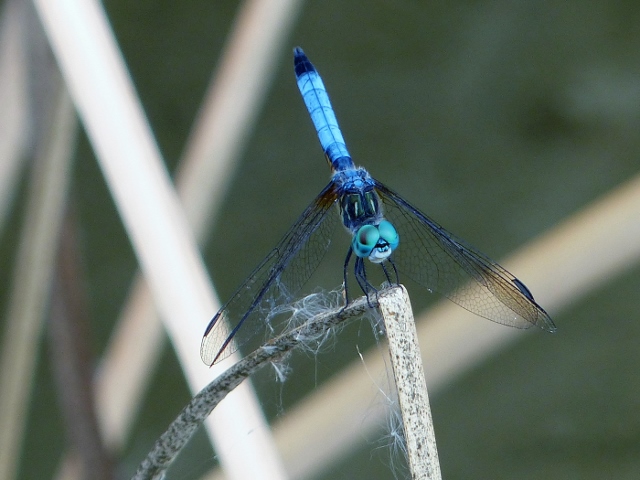 ….and more birds.
The picture above proves that we saw Roseate Spoonbills "in the wild" but I got a much better photograph of one at the Texas State Aquarium which we visited with JD and Linda.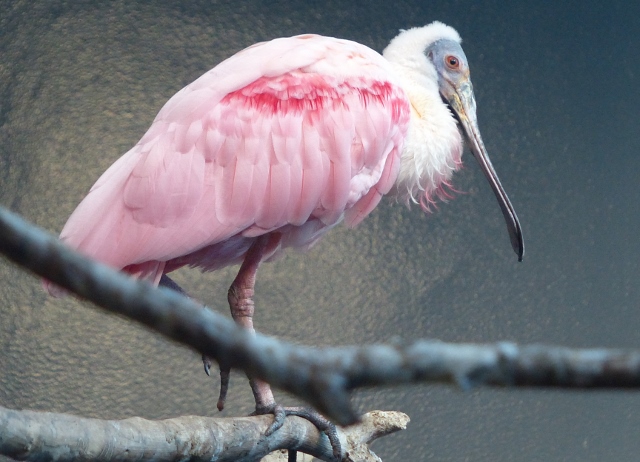 I am not really a zoo kind of person but the turtles….
…..and some of the birds here
…are in captivity as a result of injuries which mean they can't survive in the wild. Those who recover fully are released but, e.g. the Swainson's hawk only has half of one of its wings so has been at the aquarium park for six years.
I was interested to see some soft shell turtles….
….and there were also otters which, I believe, are river otters – not sea otters.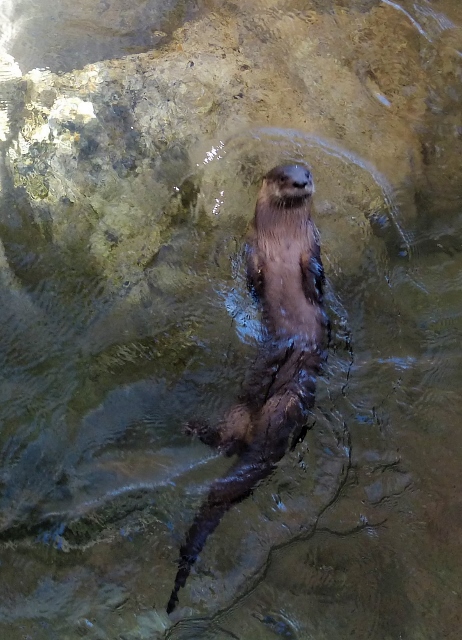 Whilst sea otters float on their backs as this little guy was doing he has paws rather than flippers and had his sleeping area out of the water so will be a river otter.
The best thing about the aquatic park was the actual aquarium which was organised "from the shore to the deep". Typically we didn't realise that until we got to the end and found we had done it the wrong way round! Not that it mattered really.
Some of the sea creatures I have seen "live" such as the seahorse….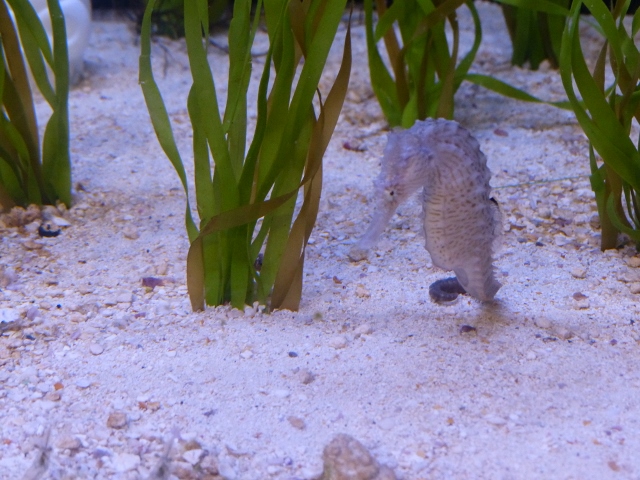 …and many of the fish. But I have not seen a cuttlefish close up….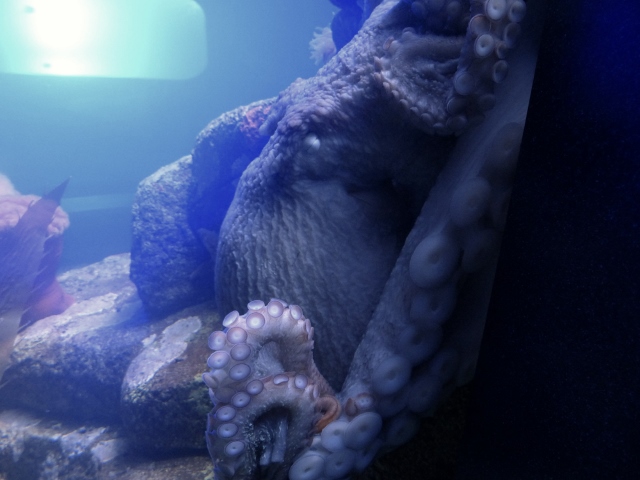 …nor such knobbly starfish – and also the bright blue one whose "arm" [and yes – that is generally what they are called] is just showing in the left of the photograph.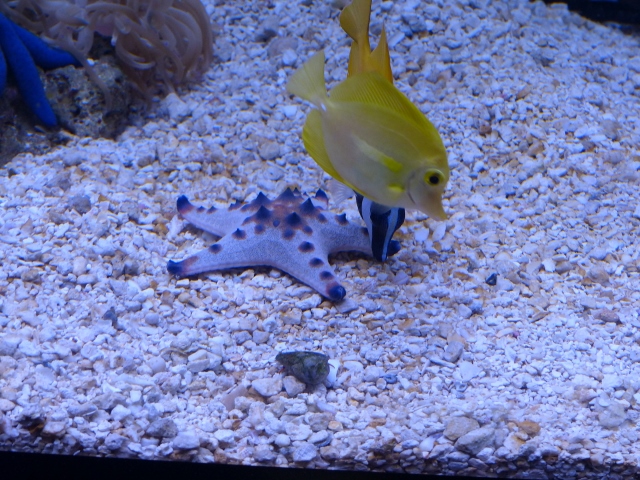 There were also "cannonball" jellies [no longer called jelly fish because they aren't, and never have been, fish]…..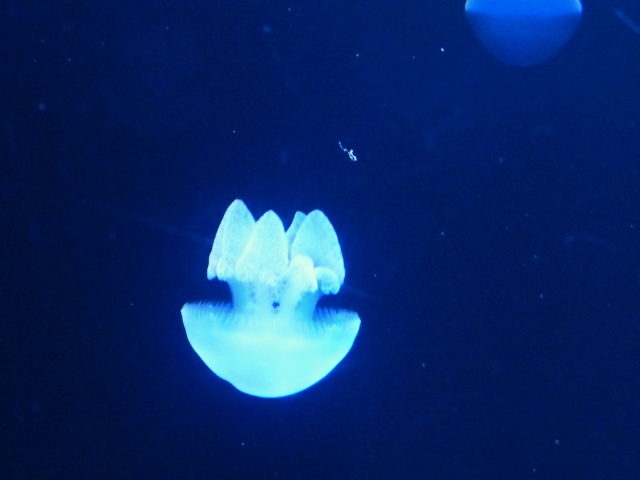 …. But the best exhibit in the whole park was…..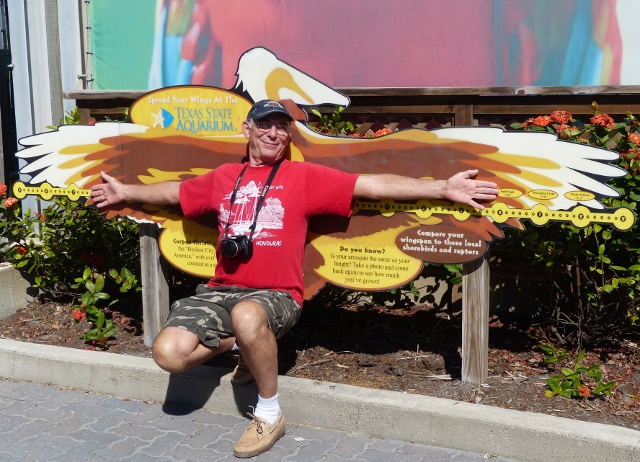 …..JD – measuring his wingspan against the big birds!! I also did it but luckily I was the one with the camera. Both JD and I were pleased to look across and read Golden Eagle against our fingertips – only to realise that the names didn't line up quite as we had thought. We were actually Turkey Buzzards!
Port Aransas is on Mustang Island which is joined to the mainland at one end by a bridge but the quickest way from Port A to the nearest part of the mainland is by ferry. The ferries run 24 hours a day, are frequent and free. Yes, FREE. We did the journey nearly every day for one reason or another but the crossing I liked best was when the sun was lower in the sky…..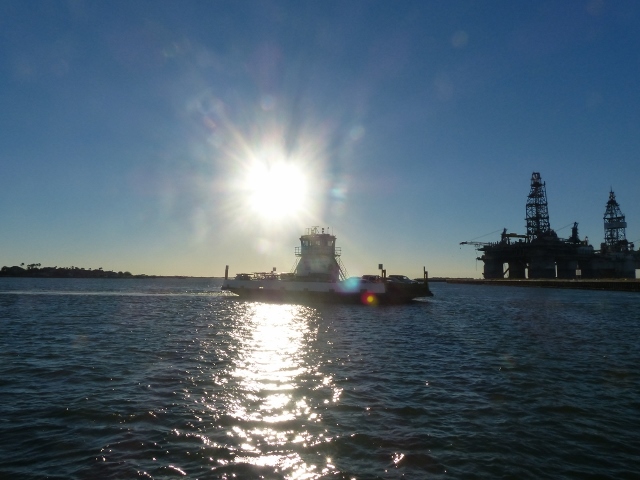 The rigs on the right of the photograph have been towed ashore and are being renovated. They, and others like them, dominate parts of the landscape and are quite a feature of the wider Corpus Christi area where they are built.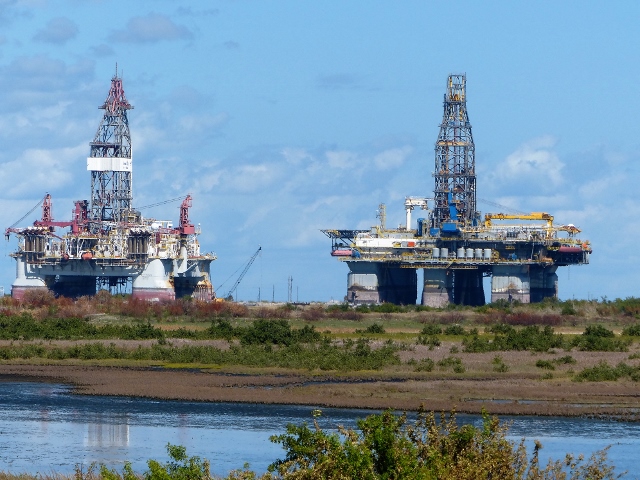 In Corpus Christi we also saw the USS Lexington – an Essex class aircraft carrier built during WWII. We didn't have time to visit her but it would have been interesting. Close up, even though she looks like quite a big ship, you realise just how short the "runway" is [860ft approx.].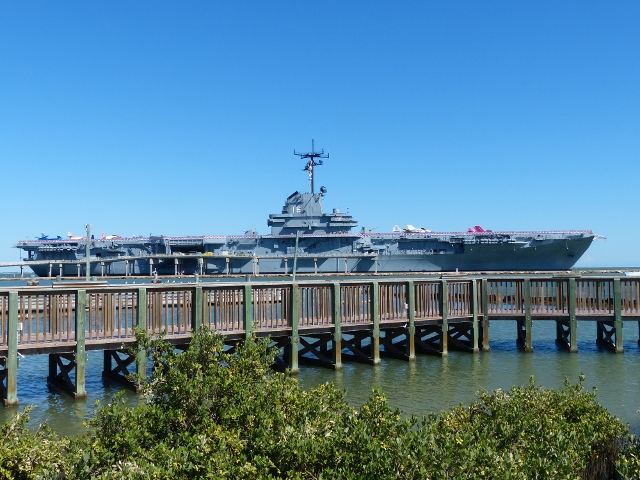 A smaller ship in the harbour is one of the replica Columbus boats – the Niña.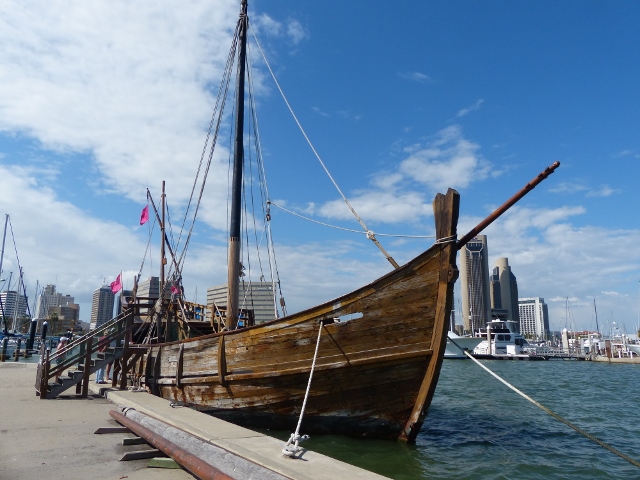 Whilst she looks a lot older than the Lexington she was actually built around the late 1980's. She, along with the replicas of Columbus's other two ships – the Santa Maria and Pinta – were scrapped after a collision with a barge when they sailed to Corpus Christi in 1992. Niña was saved and is again being restored. The other two are buried in the city's rubbish heap.
Time passed all too quickly and we didn't want to be away from Guaymas for too long. So after a week it was a sad goodbye to our four good friends and we began the journey northwards.
We took a slightly different route back through Texas and stopped one night in "Del Rio" before following the Texas/Mexico border up to El Paso and then Las Cruces for a the next night. Not much to report about the journey. Possibly more tiring for Mike than me – though I find being a passenger can be sleep inducing, especially when trying to stay awake as company! One thing we did see was a large white balloon.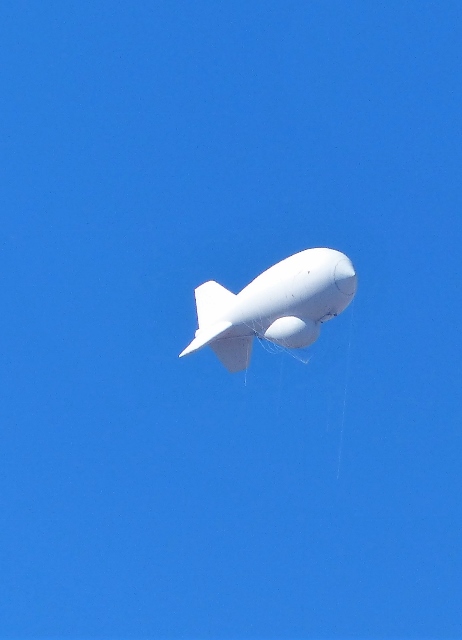 Research has revealed that it is a "Tethered Aerostat Radar" – part of a series of radar with a "viewing" distance covering almost 400 miles [each balloon]. They are used along the Texas/Mexico border in drug interdiction. Quite amazing eh!
Our final night was spent in Tombstone, but there are a couple of worthwhile places to mention before I get to that.
First of all I chose a route from Las Cruces to Tombstone that took us past the Chiricahua Mountains. Whilst there was a dirt road up into the mountains and to the Chiricahua National Monument – a range of thousands of spires – the best access was actually off a different road. We did drive up the tarmac section into the forest which was pretty spectacular in itself….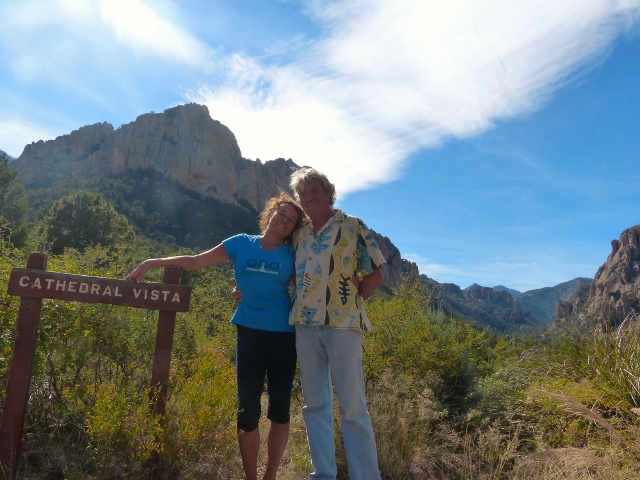 ….. but being in a "normal", small car, we decided against the six mile off road experience.
This was "Geronimo" country….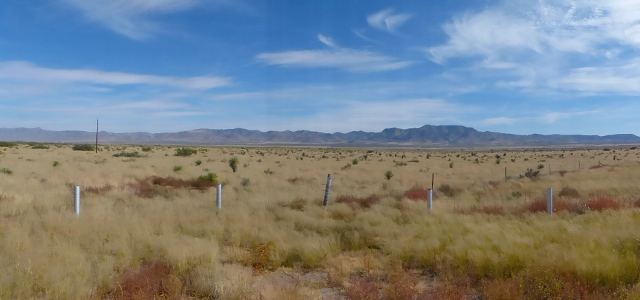 …. where the famous Chief finally gave up his fight for freedom….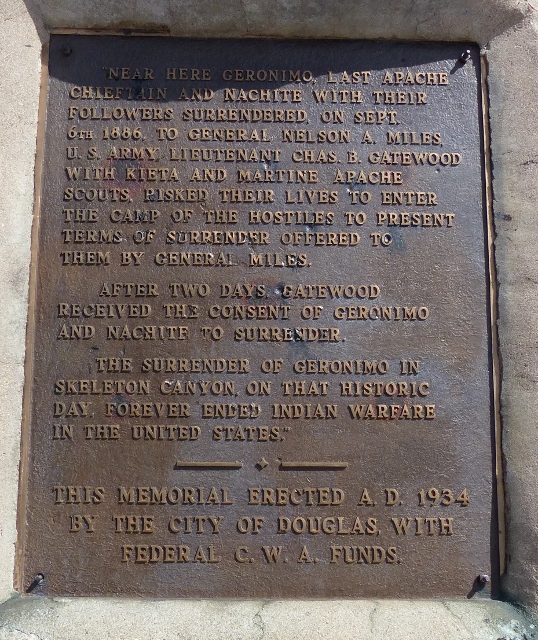 At the risk of possibly upsetting some people, but having now travelled for hours in a car and seen almost nothing and no-one, I have to wonder why early settlers couldn't have left tracts of land to the native people who lived there. There really was enough to go round.
We went to Bisbee, for lunch at the "Copper Queen" hotel….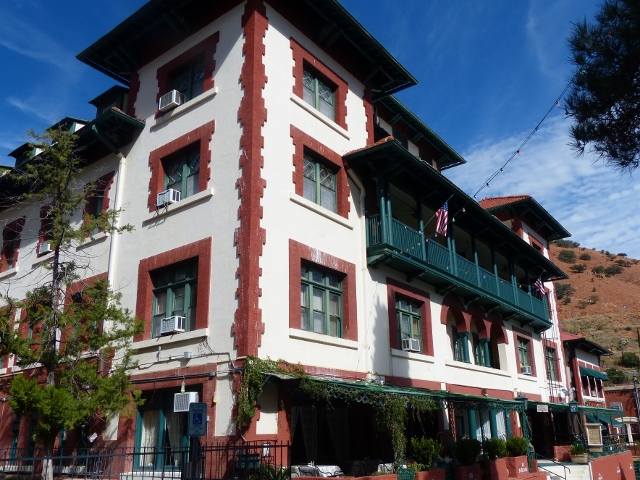 …. which claims to be the oldest hotel in Arizona. The name gives you a clue to the area. It was a copper boom town and in 1902 was, apparently, the biggest town between St Louis and San Francisco. Initially mining was carried out in the traditional manner but as copper prices dwindled this method of extraction of sufficient low grade ore was too costly. The Mining Corporation was lucky to have as its VP and General Manager one Harrison M. Lavender who had a plan. The land was less lucky. It was called strip mining. It made production profitable again – for a while – but it made one giant hole.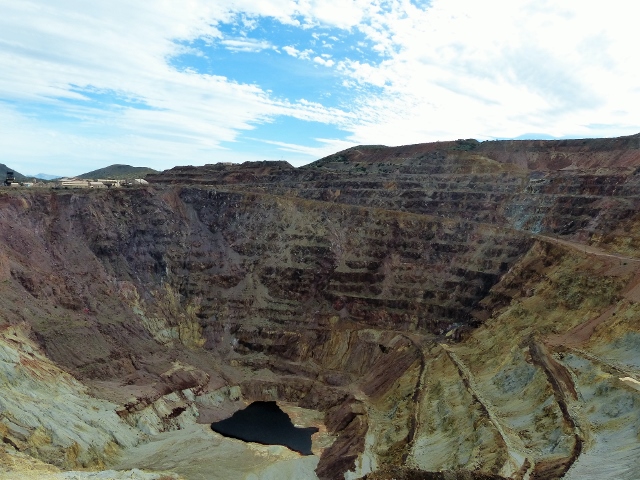 Now a bohemian tourist town it is fun to walk round. The hotel bar….
….comes with its own honky tonk in the corner….
The beer comes from the Brewery round the corner….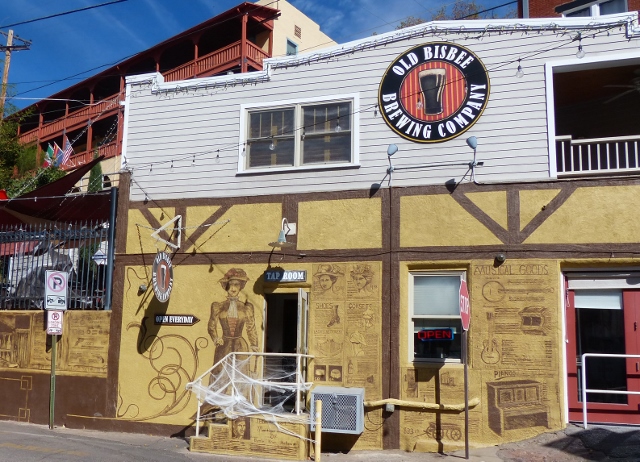 …and the streets are lined with interesting turn of the century buildings….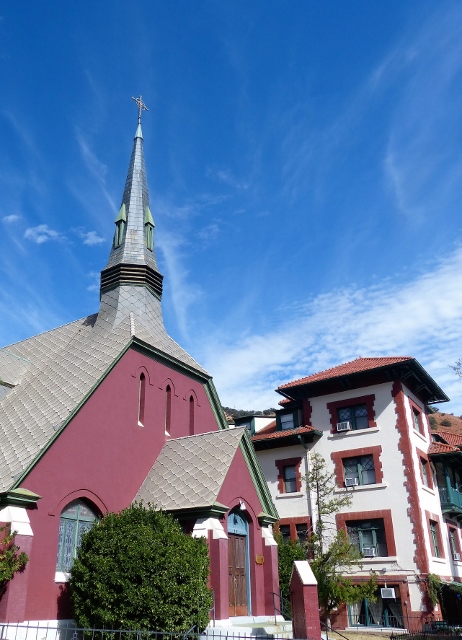 ….and shops – and even the cars have character.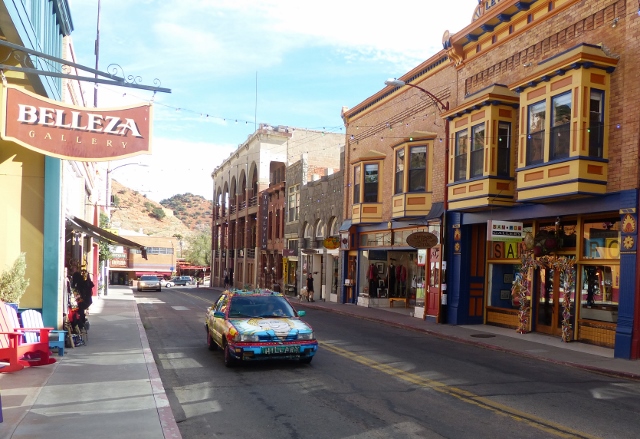 We were particularly impressed with this shop – it's one for you Steve. Well two Steves actually as I am sure both Mr A and Mr C would have enjoyed a browse.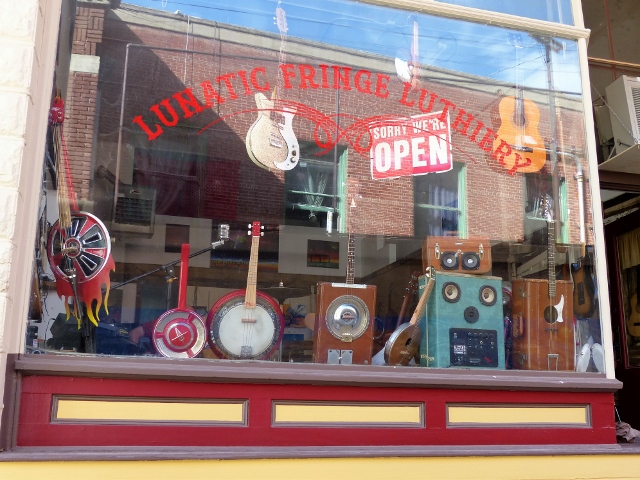 And finally…… Tombstone. You will have to forgive me here as I got a bit carried away with photos.
First of all a picture for Andrea.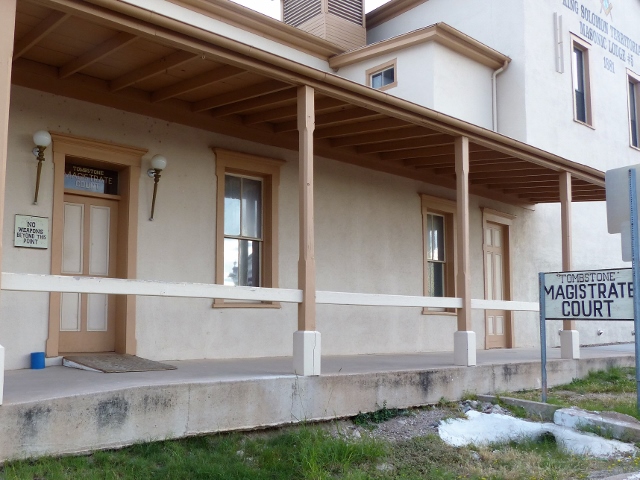 It's still a working court and I just love the sign at the door. The building is the "Scheiffelin Hall" and is the largest adobe building still standing in the US. It was originally the Opera House, and the town's first real courthouse – now a museum – is at the opposite side of town.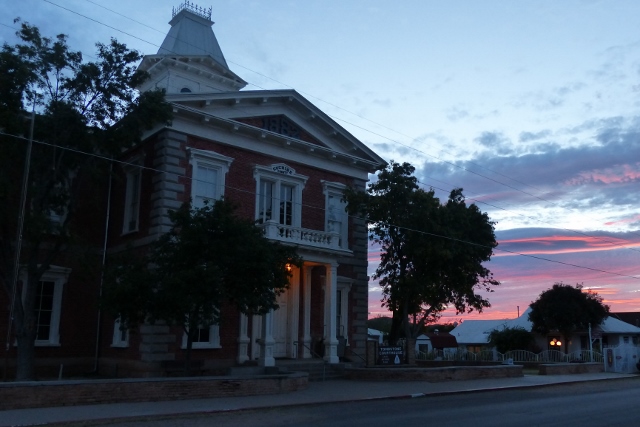 Tombstone buildings look more like I expected a Wild West town to look….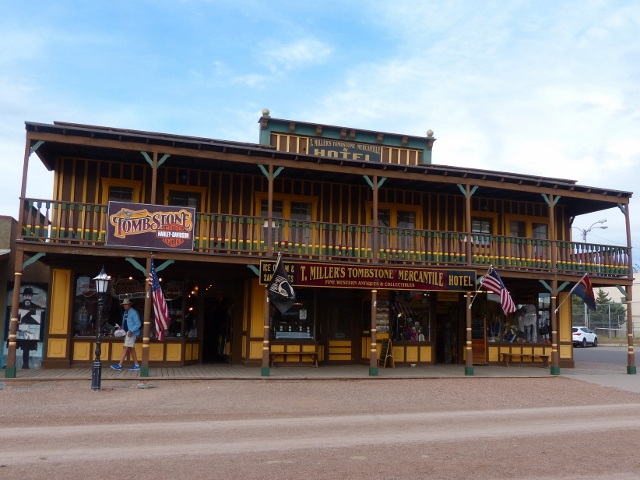 – though there were still no swinging saloon doors! The town is proud of the fact that theirs is not a "stage prop" town and the merchants are keen to retain its authenticity and character.
Unfortunately we were there out of season and there was not a lot of character to be had during the evening – not even in Doc Holliday's Bar!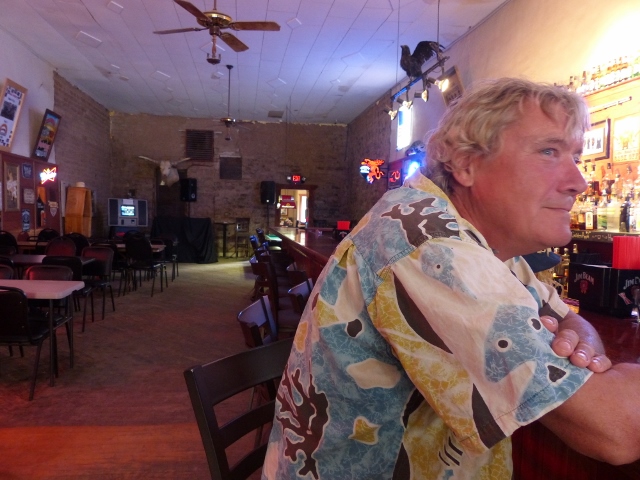 Obviously the OK Corral, seen on the right of the photo below, is one of the town's main attractions….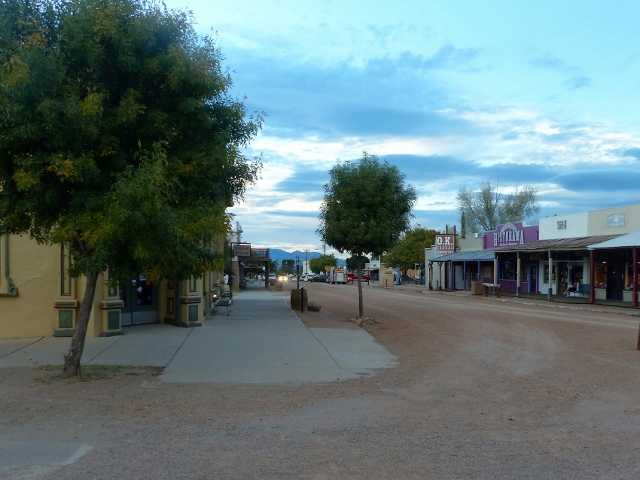 …….but we didn't pay to see the gunfight there. Not sure how long the show lasts but the real fight was over in 30 seconds. A plaque marks the spot.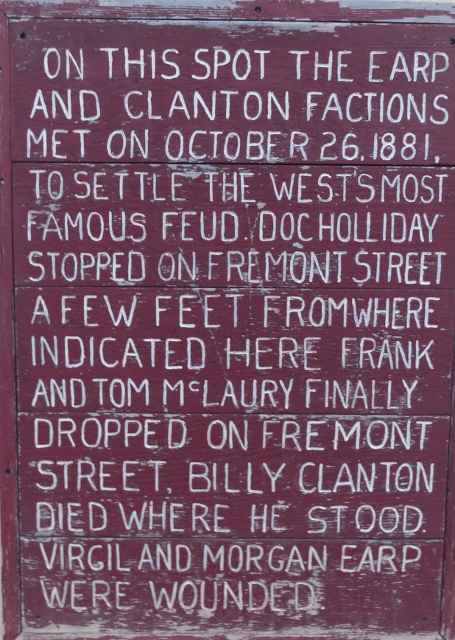 Silver is what brought people to Tombstone. Life was hard but a prosperous town quickly grew. Whilst not the biggest town between St. Louis and San Francisco – as you will remember that was Bisbee – this was the fastest growing. Again, apparently.
We stayed at the Sage Brush Inn….
…. where John Wayne and Maureen O'Hara stayed when filming in the area. Yes, really.
Above I said that it was unfortunate we were there out of season, but maybe it wasn't because we were able to walk round without dodging lots of people and I really indulged my fantasies by taking Sepia photos which, for me, makes it all the more real.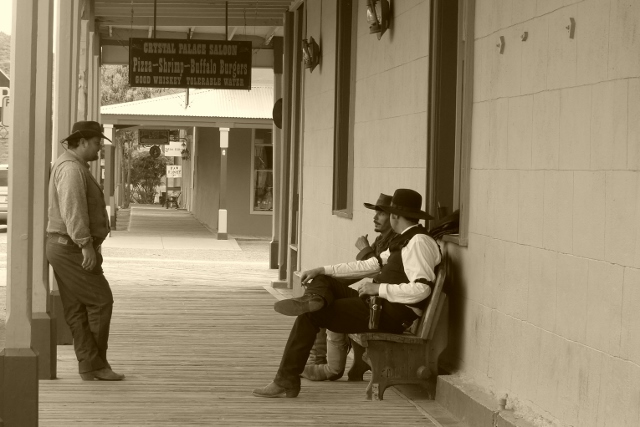 There were approximately 110 bars/saloons/gambling halls in Tombstone and the four largest remain.
Beneath one of them, originally the "Grand Hotel" but now called "Big Nose Kate's", lived Kate's "potman" who was known as the "Swamper".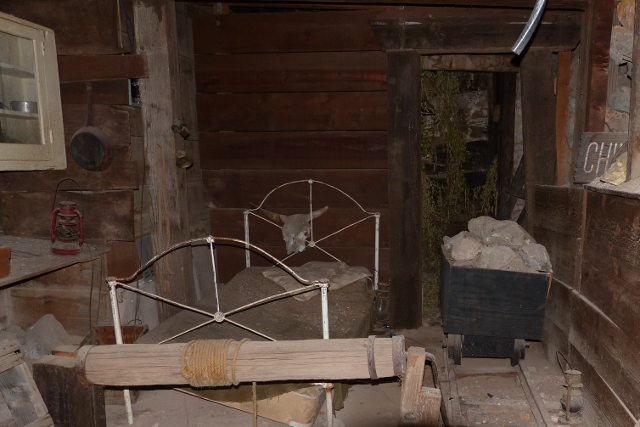 Secretly he buried into the silver mine running below the saloon and hoarded away a significant amount. It is said that his spectre still haunts the building guarding his treasure. Certainly Big Nosed Kate existed – she was Mary Katherine Harmony, one of the several strong willed, flamboyant women who ran saloons at the time.
In fact, there is quite a lot of ghost lore around Tombstone and there are nightly ghost tours of the town as well as in the Theatre. This theatre was also a saloon, gambling hall and brothel and its name originates from the "cages" around the upstairs of the main room and in which the girls plied their trade – the curtains being drawn when they were entertaining.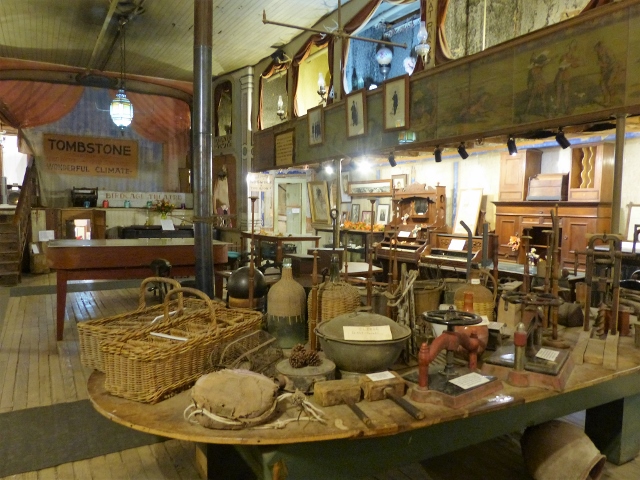 Underneath the stage was a poker hall where the world's longest single poker game ran. It was played continuously for eight years, five months and three days until, in 1892, the owner announced that he was closing the doors of the saloon and told the players to leave. Thinking it was only going to be a short closure, the cards, money etc. were left on the table so that the game could continue. However, the building remained closed until 1934 and the new owners immediately recognised the potential of finding everything left as it was.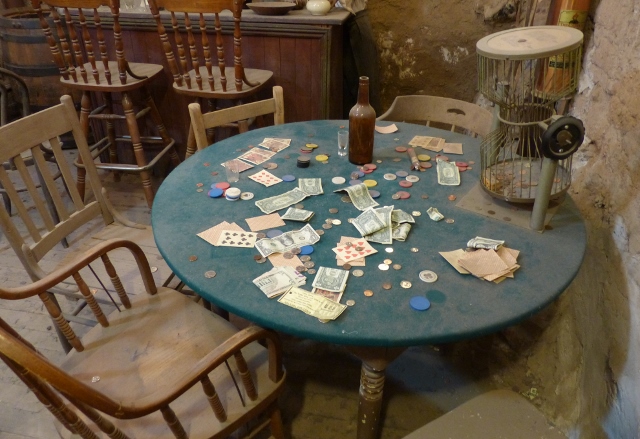 It has been a tourist attraction since.
As a museum it also houses the restored Tombstone hearse which took the town's residents to their final resting place at Boothill Cemetery.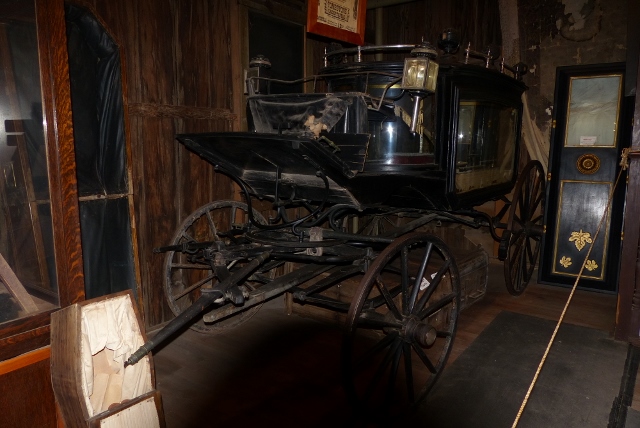 We visited Boothill twice. The first time it was just a stop outside the gate whilst on our trolleybus tour. The second time we went into the graveyard and walked around the 250+ graves.
Not everyone died of "lead poisoning", but some of the deaths sounded pretty gruesome.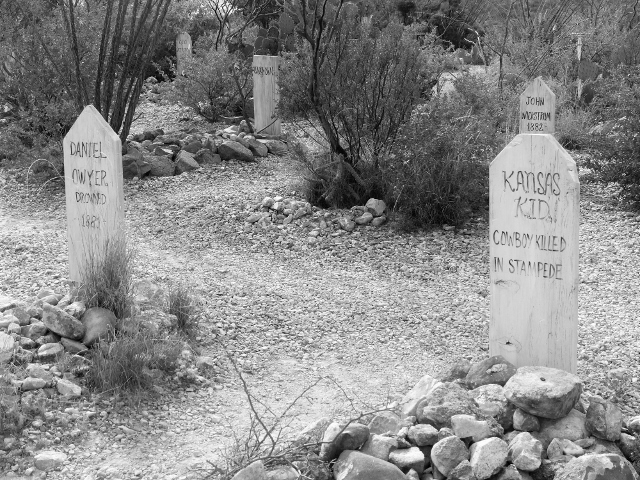 Lynchings were common…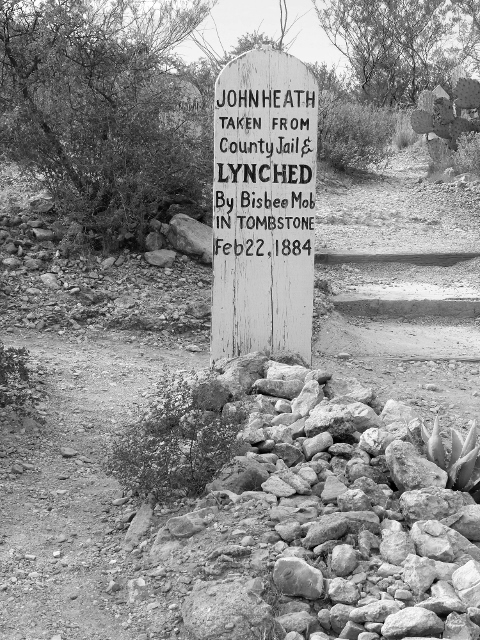 ….and they didn't always get it right!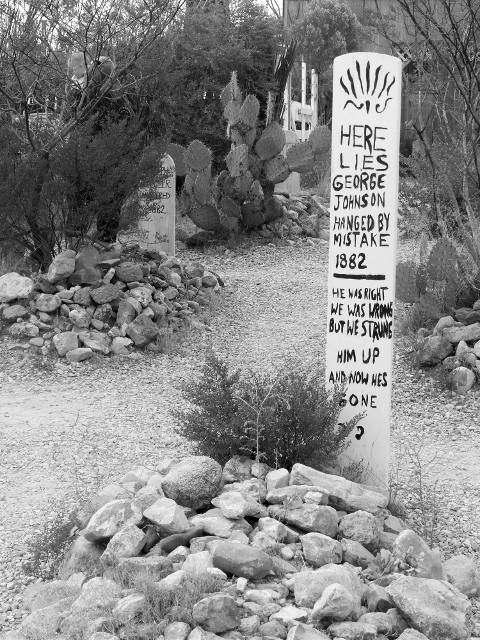 The most famous graves are obviously those of the Clanton and the McClaury men killed by Doc Holliday and the Earpes.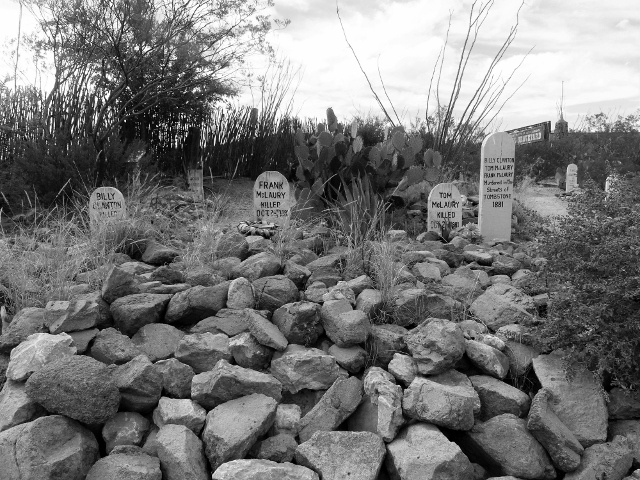 All of these deaths, and the other goings on in Tombstone were reported on in the town's newspaper – aptly named "The Epitaph". Inside the the offices we saw some of the early typesetting machines.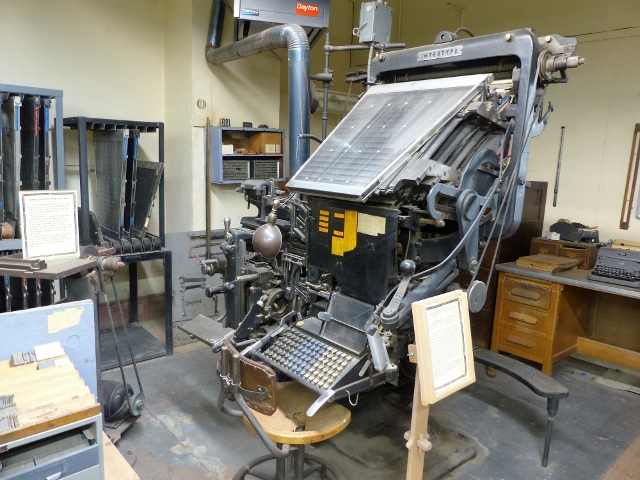 The trolleybus tour….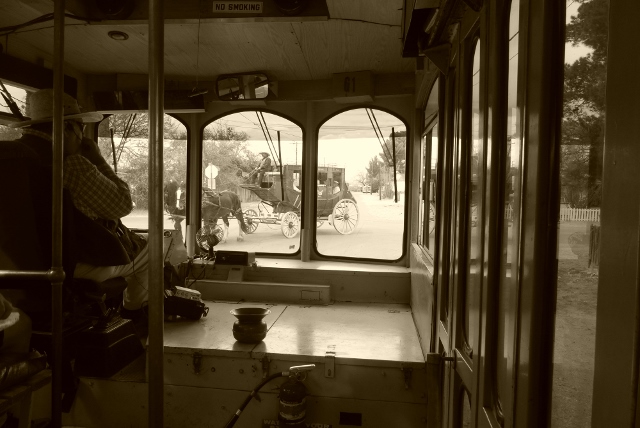 ….with "Big Jeff" at the wheel took us all round the old town which, at about four "blocks" by three, isn't very big.
We were shown all the sights whilst being entertained by a running commentary which was informative and, at times, quite humorous. Jeff worked as part of a company who also put on a half hour show featuring one of Tombstone's Marshalls [who spent most of his time drunk and who's name I have forgotten], "Ringo", one of the towns gun slingers, "Mule Mary" – a female miner and a character who kept switching sides. Again it was humorous and well written and the main actor – the chap who couldn't decide if he was a "baddy" or a "goody" was particularly excellent.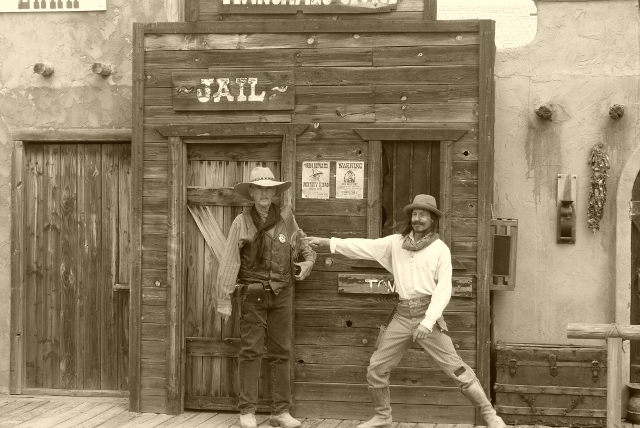 A fun filled morning followed by a drive back to Tucson and then to Guaymas.
So, that was our respite tour. We had lots of fun – and we learnt that Texas is, as it claims, damned big…. Almost as big as the Pizza from Big Nosed Kate's!!