As many of you will know, our visit to the UK this summer ended with some devastating news about Siga Siga – but that is for a different post. This is all about wonderful friends, good times shared and a great wedding.
For this trip our travel arrangements took us via Phoenix and Toronto. From Guaymas, Mexico, the easiest way of leaving the country – without breaking the bank on air fares – is by taking the bus north into Arizona. The travel time seems to vary between seven and ten hours [to Phoenix], so we took the overnight bus and arrived in time to visit a diner for breakfast.
We had been warned that Phoenix is an "oven" between July and September [thanks Allen, you were absolutely right!].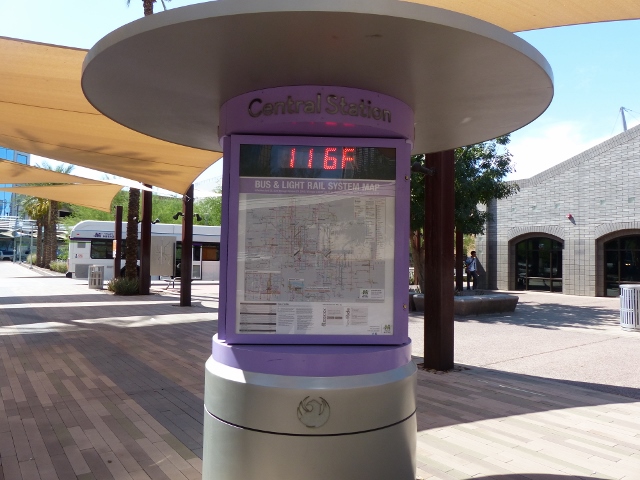 Consequently there was hardly anyone around. Anyone with any sense either leaves the city during the summer months or sits somewhere in air-conditioned buildings.
A further consequence was that many of the city attractions are closed. We passed the closed train museum…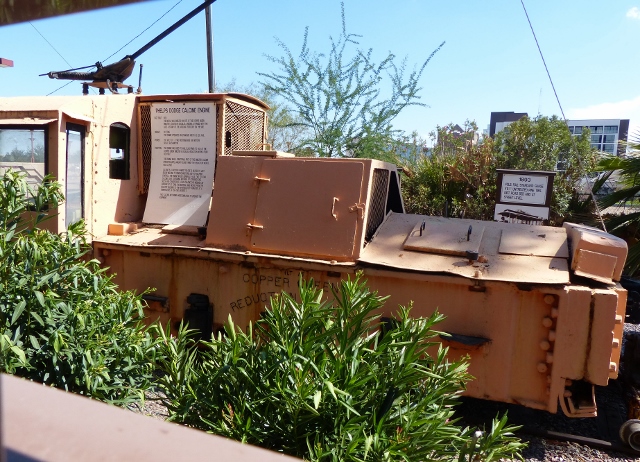 ….though to be honest, it looked as though this might have been closed permanently – which is a shame as there was probably some interesting stuff.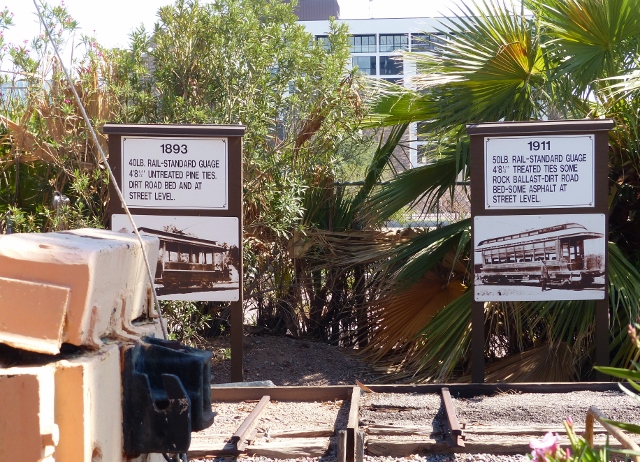 The Art museum is only open for half the week which didn't include Tuesday, so all we saw here was a surprisingly coloured plastic "Made in China" dinosaur in a cage!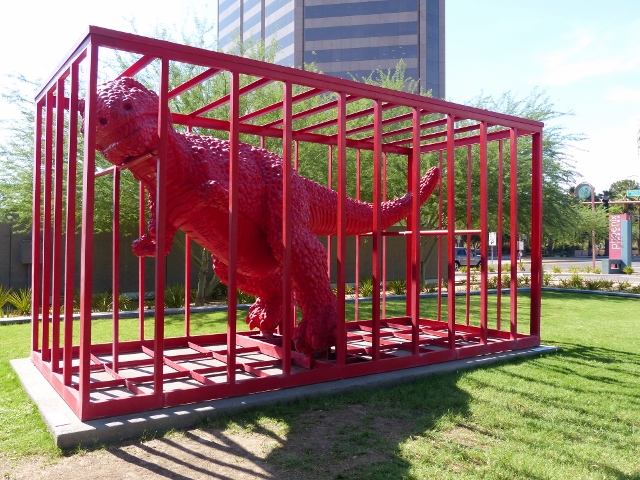 Maybe if the museum had been open we would have learned of its significance?
Finally, we found the "Heard" museum open. This was the museum I had really wanted to see because it highlights the history, culture and art of the South-Western Native American tribes. Unfortunately, it was about 3.30 when we finally got there and it closed at 5pm. As we had plans to have two or three full days in Phoenix in October on our return we decided that we could give more time to the galleries and exhibition rooms at a later date so just wandered around the grounds looking at the various statues….
…..and had a cold drink in the pleasant patio area.
We were particularly interested in this memorial which included those from the First Nation who received the Medal of Honour for their gallantry and actions beyond the call of duty in wars ranging from the Indian Wars to Vietnam.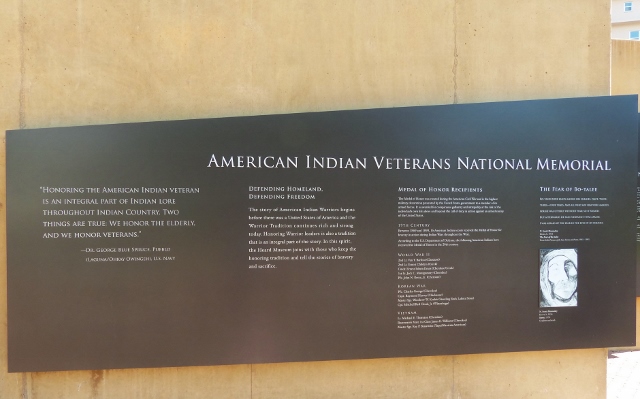 Not quite sure who would have been honoured for what in the Indian Wars but, as the memorial has been erected by the Native American people, they must know.
[The Heard museum awaits my return – as does all the other places we had planned to visit in October – but they are still there if the opportunity arises in the future.]
We hadn't seen anywhere open to eat in the centre of Phoenix so, as we had a day ticket [US $4 per person] for the tram/bus system, we clambered aboard a tram and went to the Tempe district where we found a very adequate watering hole called the Grill on Mill Street.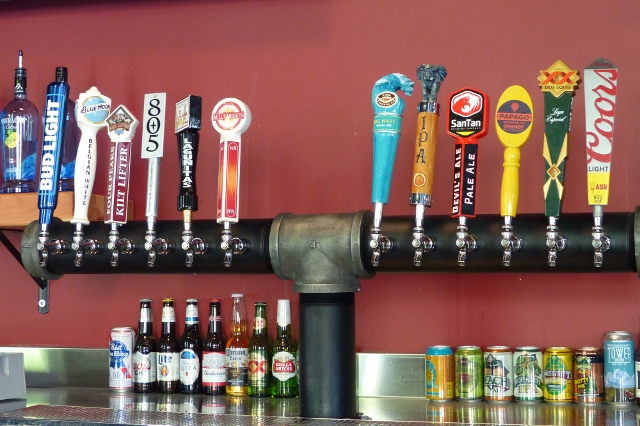 The food was perfectly reasonable as well!
Early the following morning we flew to Toronto where we had a stopover of about 7 hours. An excellent rail connection between the airport and the city meant that we could have a day out and we did a whistle-stop tour of the waterfront.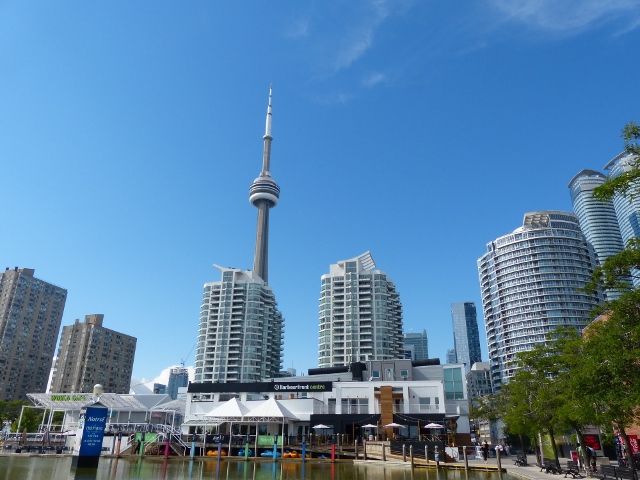 Another great pub….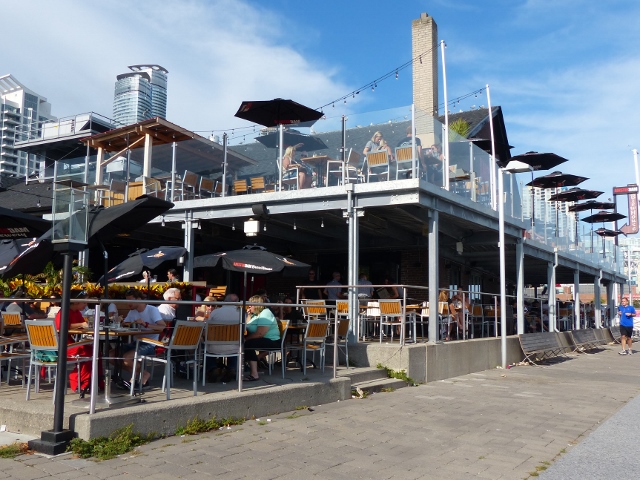 …more beers and food and a relaxing time watching people enjoying their time on the water on "Riverboats"….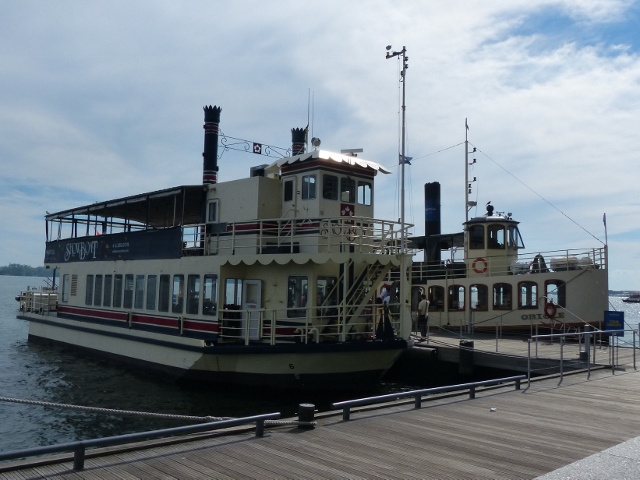 ….and "Galleons" ….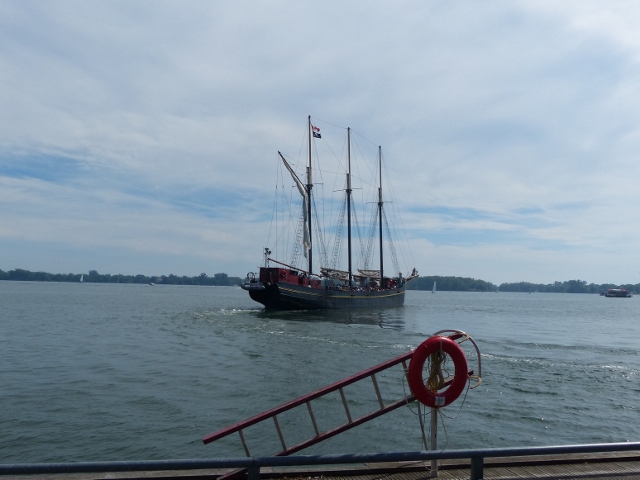 ….and you can just see some sailboats in the background.
Once in the UK we had just under four weeks to pack in everything we wanted to do. Almost immediately after arriving I had a fabulous evening out with the "Sundowners" – my erstwhile colleagues. Why I didn't take a camera I don't know. But it was wonderful to see everyone…. …and it's a date next time I am in the UK. Thanks Sue, Anne, Peter, Steve, John, Paul, Dave.
Similarly I got together with some former school friends – organised by Chris, who then – unfortunately – couldn't attend. I now have some new [or should I say old] friends on FB.
As always happens, we were welcomed everywhere and invited to join people for lunches and dinners out, meals in people's homes and BBQ's. You all know who you are and we once again thank everyone for their hospitality.
We went twice to the Lake District. The first visit was to the Windermere area….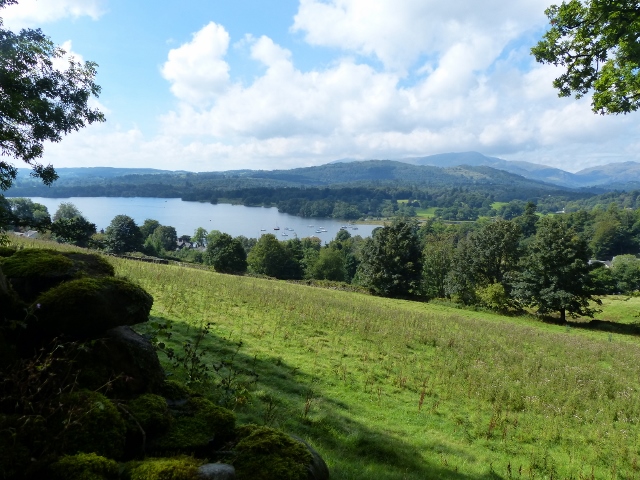 …. specifically to Jenkin Crag where Mike and Andrea scattered Arnold's ashes….
Arnold loved the Lake District and spent many happy hours walking there. He and Marybelle shared a particular love of Jenkin Crag – and that is where he joined her once more.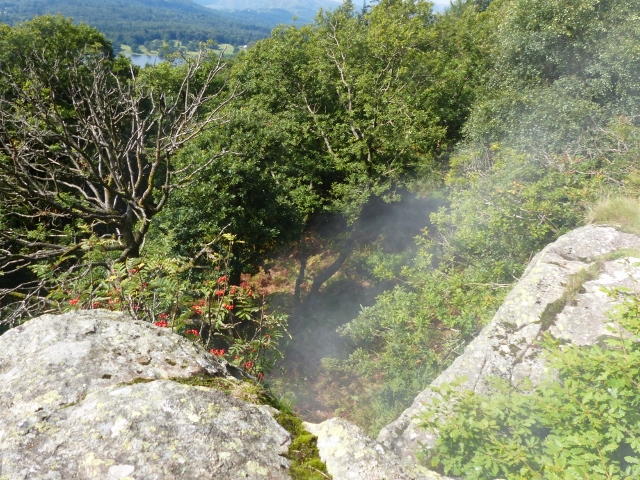 Martin seemed more interested in finding Pokemon, regardless of the ribbing from Fiona….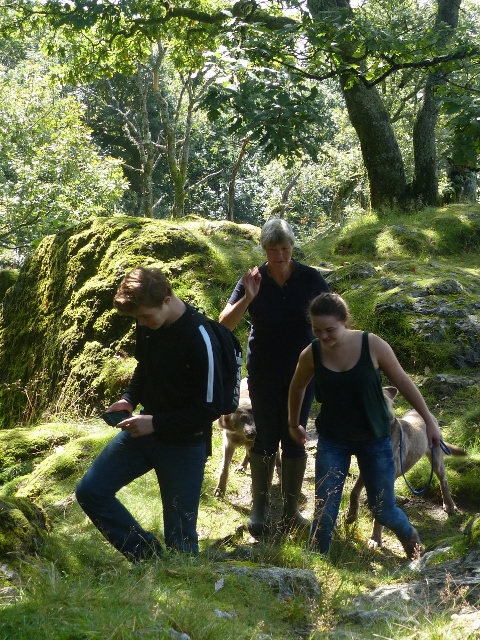 ….and the dogs just waited patiently for their walk to start again.
Our second visit a couple of weeks later was at the kind invitation of Phil and Emma who have a house overlooking Grasmere. A fantastic view from "Huntingstile"….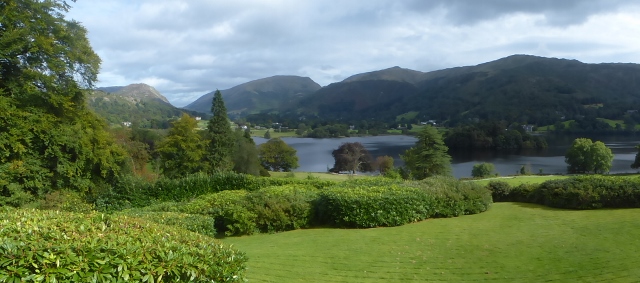 …. which we believe is actually called "Poet's view". We had a great few days there and, in the main the weather was kind. On our second day we were joined by Pete and Marley, left Joel, Georgie and Rae with their respective "sitters" and did a walk over Loughrigg Fell……..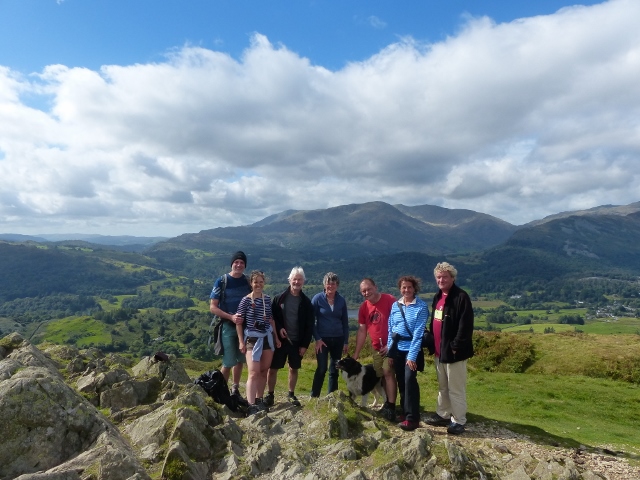 ….had coffee at Skelwith Bridge, then lunch at the Drunken Duck before taking the Black Fell route……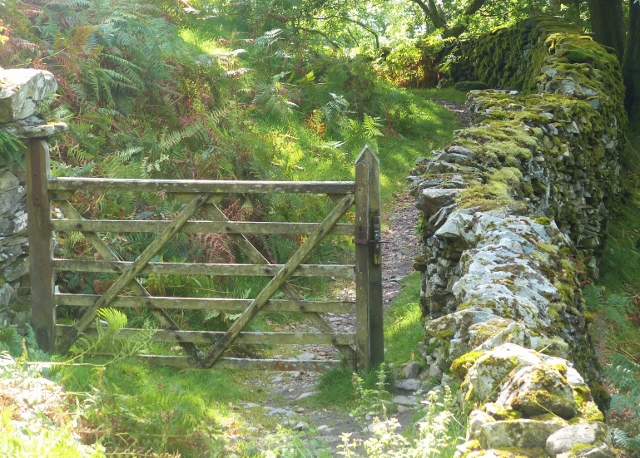 …….. to Elterwater and then over Huntingstile Crag back to Grasmere. A brilliant walk.
Of course beer is always a feature and as well as a stop at the Hawkshead Brewery and Beer Hall – in Staveley, Cumbria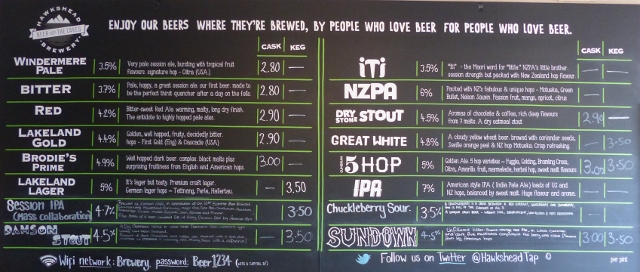 ….. we also managed to coincide the Grasmere trip with a beer festival there. Wonder how that happened!
Quite a range of beers…..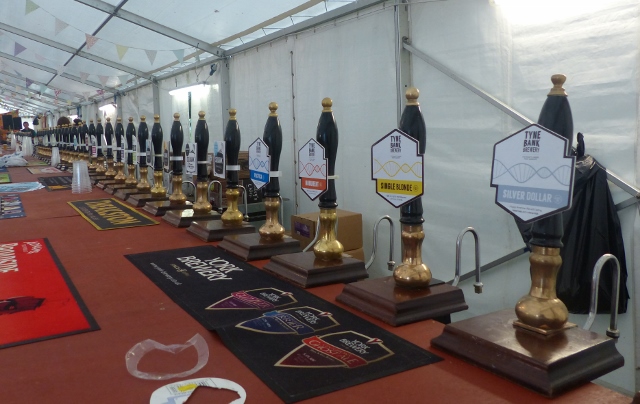 ….and of course the tasting and scoring/notes were taken very seriously. Well for the first couple of pints anyway!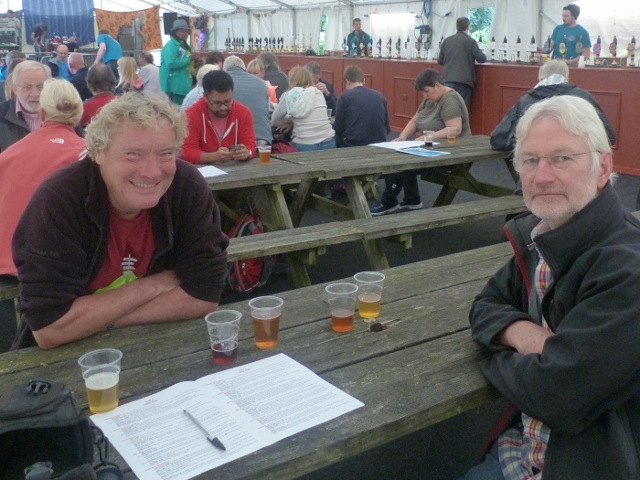 We also did a few walks around Ramsbottom/Bury. On walks near the renovated Bury to Rawtenstall Railway line we saw a number of diesel and steam trains pass by. Sorry any diesel enthusiasts out there – but I do feel steam is much better.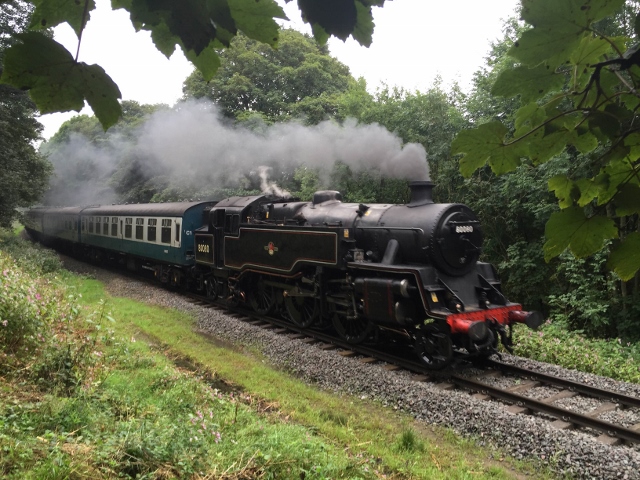 I said that the weather was mainly kind. It was, except for BBQ's! Three BBQ's. Three rainy days/evenings. But we made the best of things as usual.
T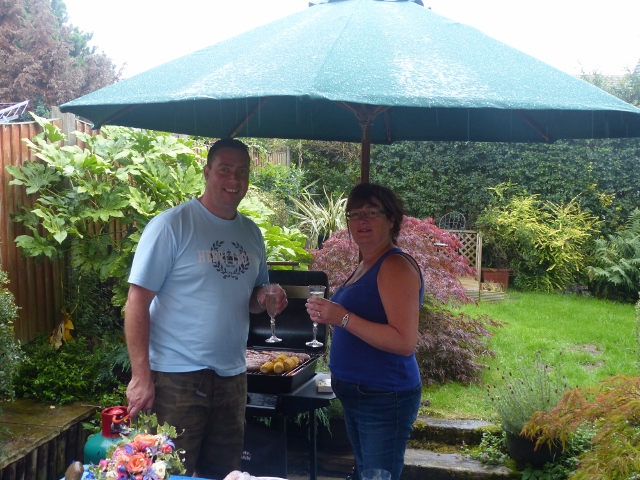 The BBQ at Chris and John's house followed their wedding the day before. What a day that was – and the sun shone throughout.
Below is a selection of my favourite pictures from the ones Mike took on the day.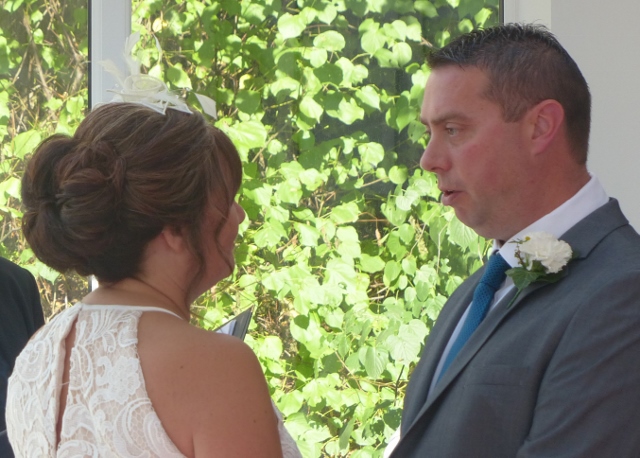 He was supposed to be "official photographer", but – naughtily, though very sensibly – "delegated" the task to Dave. Chris was not best pleased with Mike because Dave was supposed to be a guest only – but it was Dave who actually got "the waggy finger"!!!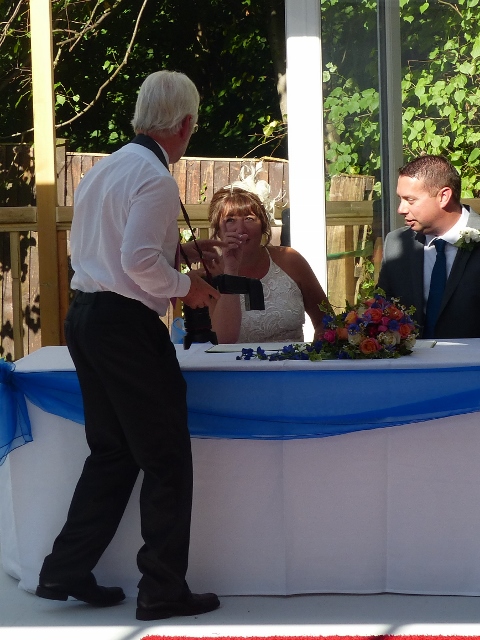 It was a fabulous day from beginning to end with respective families and a few close friends enjoying the ceremony, a wonderful meal and then entertainment – and yet another beer festival – in the evening. A second "cake" was produced by the owner of the Cricket Club – which went down very well….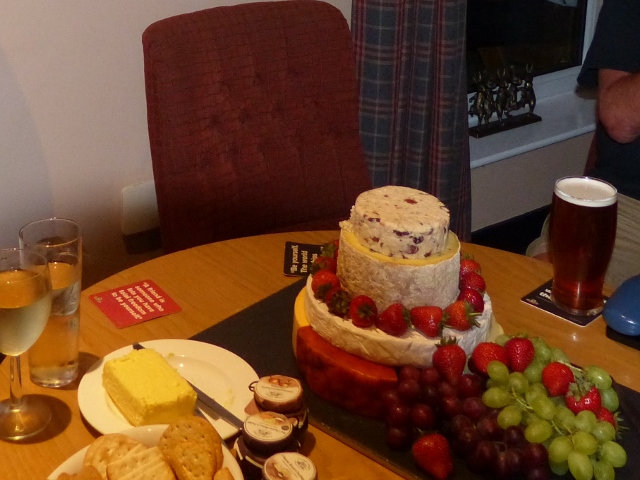 Oh – you haven't seen the first cake yet – Sorry. Here are the bride and groom – with Preston!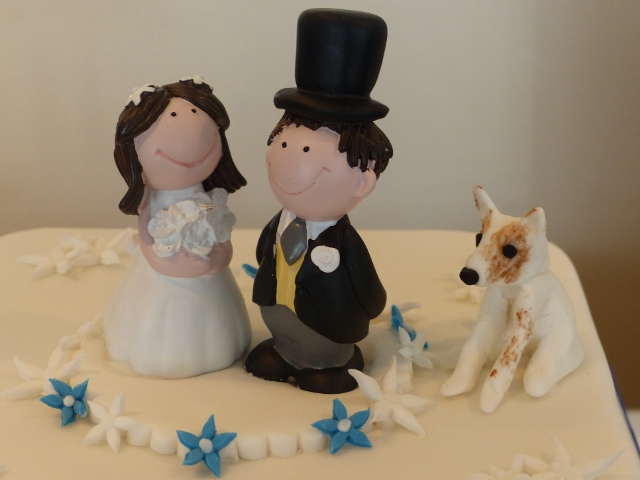 Given that we had flown into Gatwick, we made our way back down south via Bury St Edmunds where we once again visited Andrea and family and also spent a day with Caroline and John.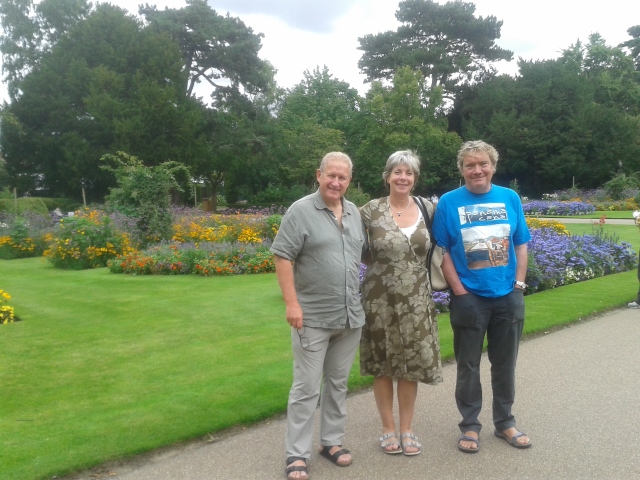 Regardless of having been to the city several times before we hadn't previously walked the Cathedral gardens and it was really nice to do so. Caroline has just been accepted as a city tour guide which she intends to undertake in her spare time – and she managed to put this into practice even before her training for the role actually begins!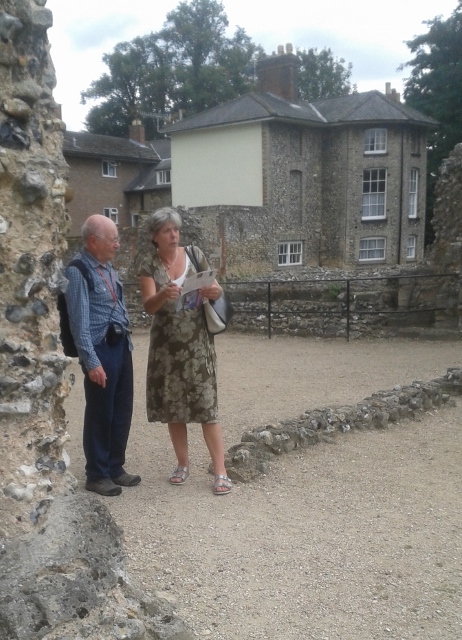 We also saw, and read about, the importance of Bury St. Edmunds in relation to the Magna Carta….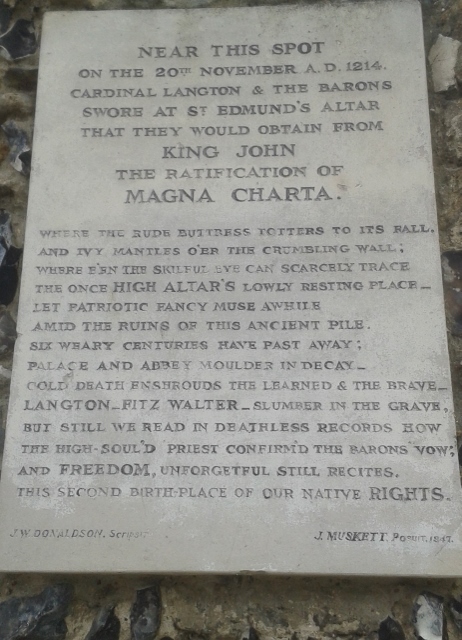 …. and as it was a special weekend of open days we also had a free visit to the small but interesting Moyse museum contained within a preserved medieval town house in the city centre..
Three nights in London with James concluded our visit. Most of it consisted of more breweries and beers….
Sorry Mike I know you think photos of the backs of people are stupid and pointless.
I escaped for a while and wandered the banks of the Thames. It was good to see water craft of all shapes and sizes.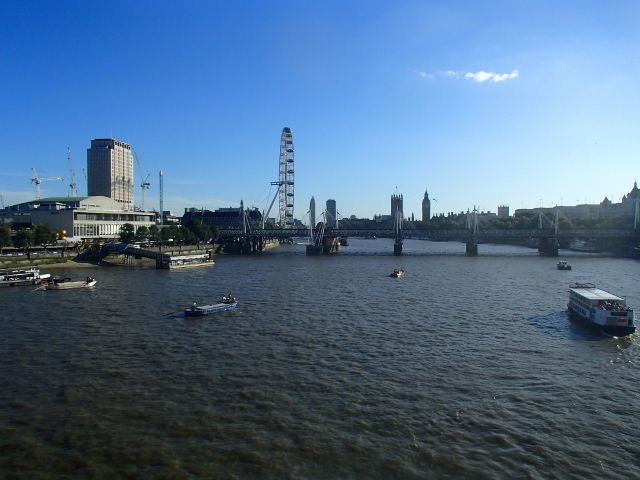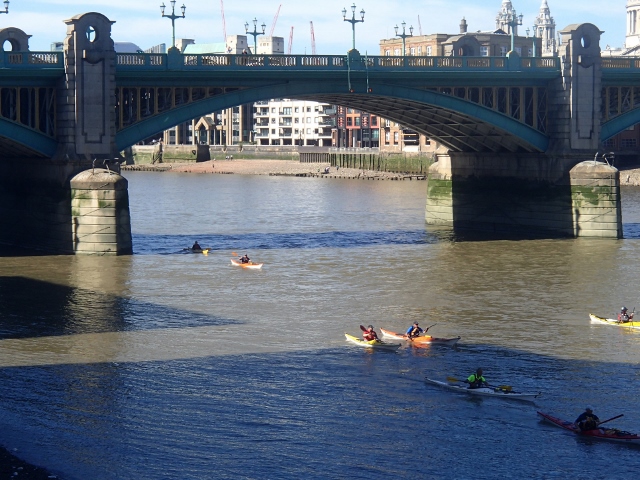 Although I didn't know it at the time I took this photograph….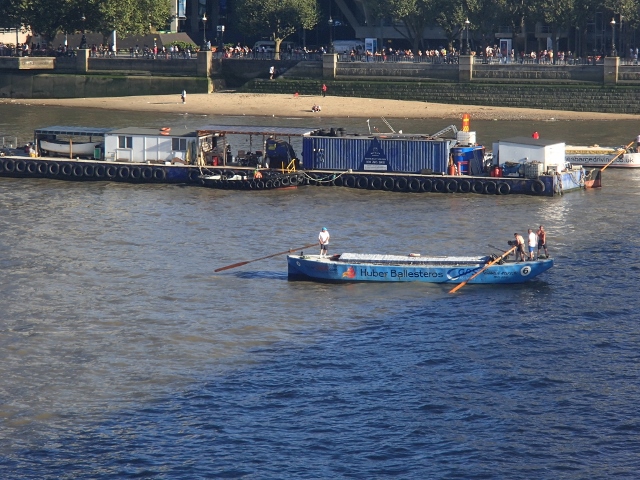 ….I have now found out that this river barge "Huber Ballesteros", named after a current Union leader and political prisoner in Columbia, came second in the 2016 Thames Barge Driving competition held annually by the Company of Watermen and Lightermen. There were three or four of these barges out on the river so I don't know if they were practising for next year or whether they hire them out to anyone who fancies a go. Looked like very hard work to me.
Walking from place to place we crossed the Millennium Bridge and saw "The Cube".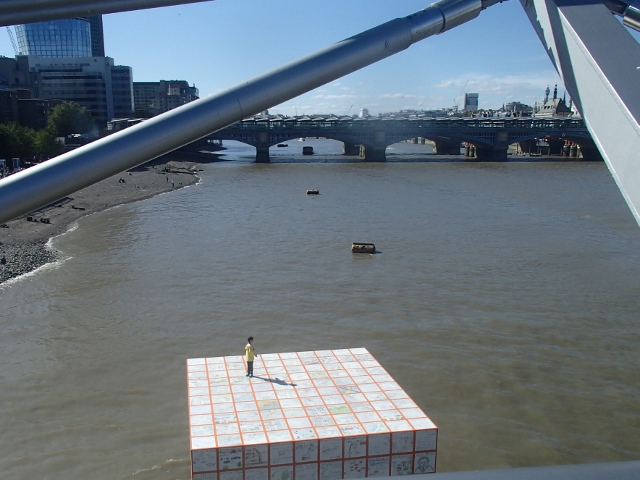 This sculpture was made by the South Korean artist, Ik Joong Kang and is called "Imagining Re-unification". It consists of hundreds of 70cm x70cm drawings transferred from original palm sized sketches on rice paper which were done by North Korean refugees in South Korea. Illuminated at night – which must have been worth seeing – the 7m? cube floated on the Thames for 1 month as part of the "Totally Thames Festival".
Having enjoyed our visit to Windsor Castle on our last trip home we decided to again "do something different" and chose Greenwich. Another great place.
We walked through the park to the Royal Observatory….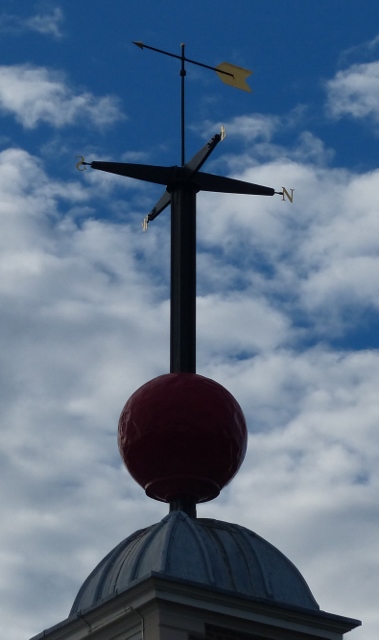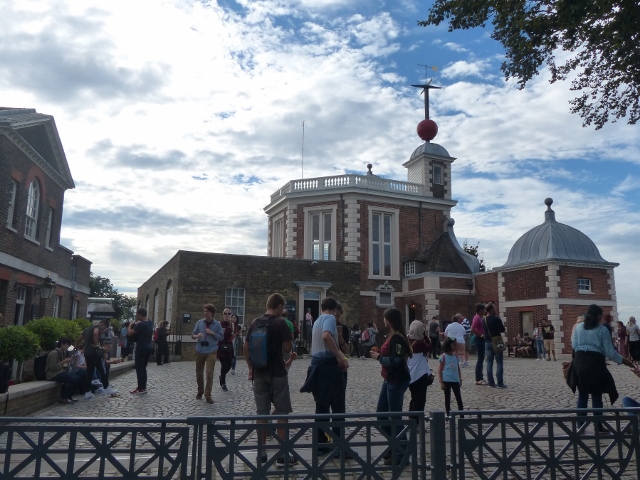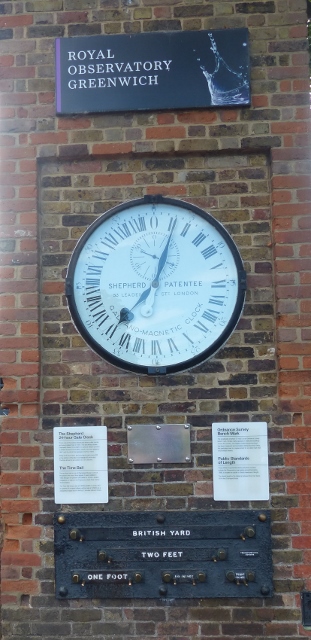 ….. and can now say that as well as having straddled the Equator – or at least the line which represents it [April 2015] – we have also been to the Meridian Line.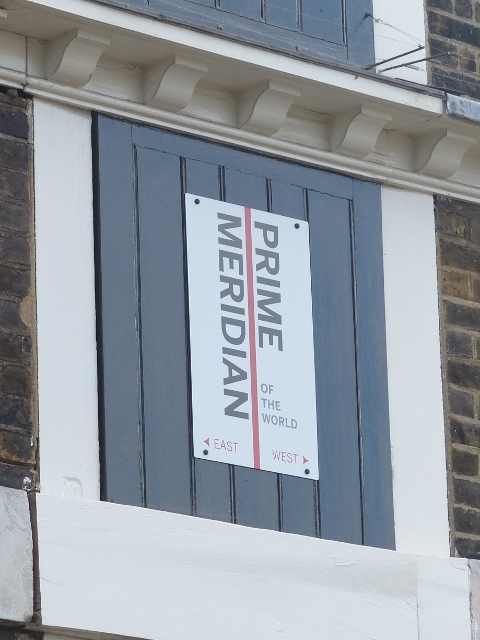 The view of the Naval museum and the skyline behind was quite amazing.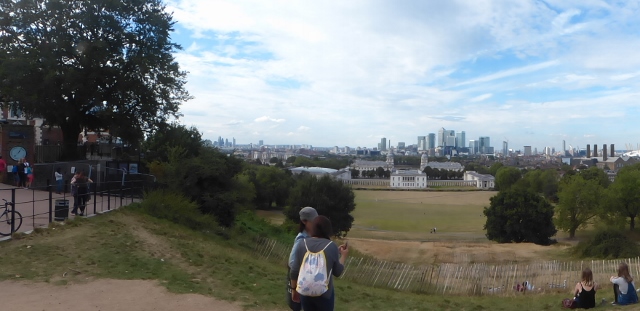 In the museum I found most fascinating the restored iconic painting of Queen Elizabeth I.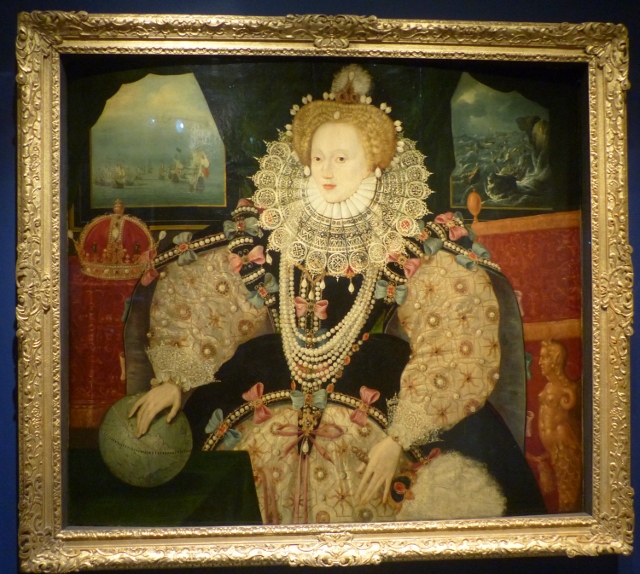 The Armada Portrait was painted when she was in her 50's and commemorates the failed invasion of England by the Spanish in 1588. It was a painting which depicted female power and, according to historians, was packed with meaning and metaphor. Upright posture, open arms and a clear gaze apparently symbolise vitality and strength. Suns, embroidered in gold, signify power and enlightenment and the Moon, and pearls, Chastity. Her fingers on the globe point to the New World and the mermaid on her chair symbolises [Spanish] sailors having being lured to their destruction. It would seem that the two maritime pictures in the background, showing the engagement of the English fleet with the Armada and the wreck of the Spanish ships on the Irish coast, are C18 re-paintings which overlay the C16 originals.
Lastly, the Cutty Sark.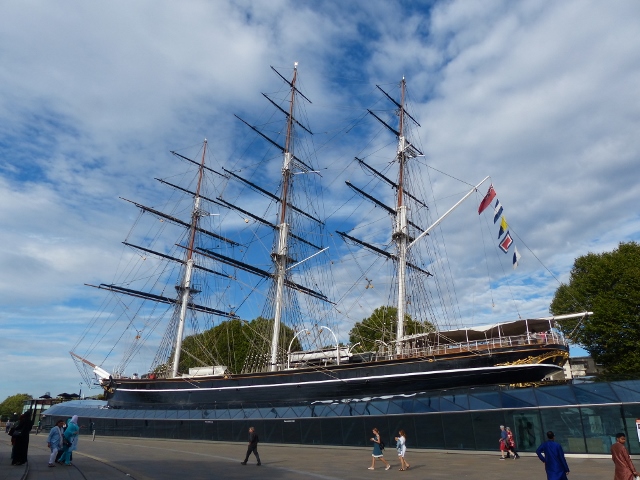 As I said at the outset, our last few days in the UK were severely marred by us having heard that gale force winds associated with Hurricane Newton had destroyed some of the pontoons at Marina Fonatur, Guaymas and that Siga Siga had sunk. We made the decision to cut short our holiday and returned to Guaymas as soon as we could.
All of what has happened between then and now will be written up and posted in due course – but it's not over yet, so we all have to wait for the final outcome.
In the meanwhile we try to remember all the good times, our lovely friends and that things could be a lot worse.