Having returned from our visa run to San Antonio, Texas, we were preparing to leave Mazatlán for the Sea of Cortez when we received an e.mail from Mike's sister, Andrea, giving us the sad news that dad had passed away. Fortunately Mazatlán has an airport with several daily flights to Mexico City from where there are regular flights to the UK so, having received the news on Monday 11th April, we were able to fly out on the Wednesday. We were also lucky to have been in a marina [Fonatur] which had berth space for us to leave Siga Siga.
We had approximately 9 hours between arriving at Mexico City airport and our flight out to Heathrow. As we were able to check in our bags we decided to take the opportunity to see Mexico City itself and caught the Metrobús for a 30 minute ride into the centre.
Not expecting to visit the Centro Histórico we did not have our trusty "Lonely Planet" with us. Had we, it is likely that we would have gained a more favourable impression of the City than the one we actually got. Having since looked at the map, and read the entry for the city [which includes a 3hr "downtown" walk] I can see that we chose to walk entirely the wrong way from the main square!
The Plaza de la Constitución [220m x240m] is one of the largest squares in the world.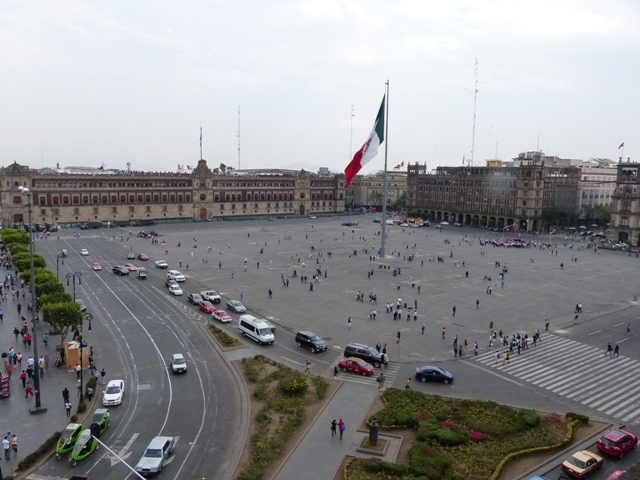 Personally I thought it would benefit from a few trees/plants dotted around, or maybe having been there in May 2007 when the photo artist Spencer Turnick filled the square with 18,000 nude Mexicans might have made it more interesting. The flag is raised every morning at 8am and lowered again at 6pm by the Mexican Army who turn up in trucks, assemble inside the Palacio Nacional and march out to conduct the ceremony.
They have to stop the traffic to cross the road to the square and I loved the way the rear guard picked up the traffic cones and continued to march along.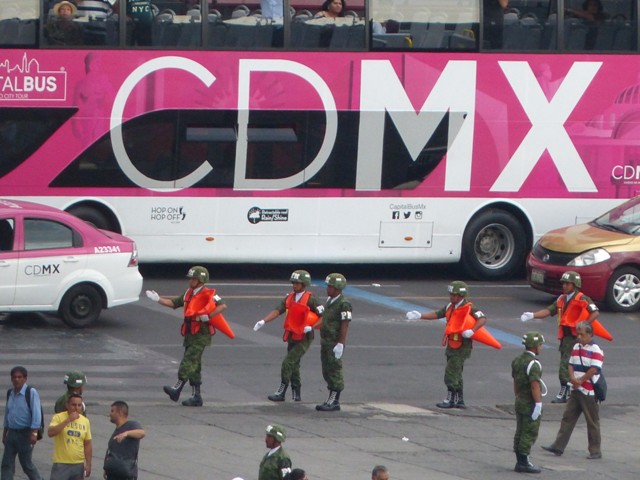 The Plaza is dominated by the Cathedral Metropolitana…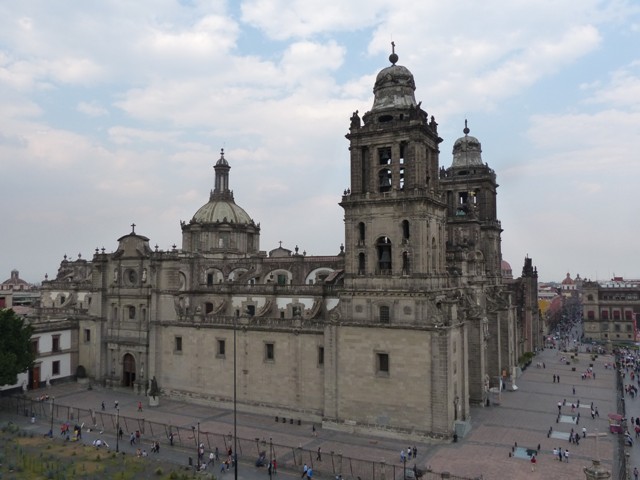 …. the building of which was started in 1573 but remained a work in progress right through the Colonial period so that several different styles were incorporated by successive builders.
Where Mexico City now stands there was once a chain of lakes and islands. The Aztecs, who arrived in the valley in C13 wandered the swampy fringes of the lakes and finally settled on one of the islands. There they built canals and causeways to get around the island and to reach the mainland. Then along came the Spanish and, as with everywhere else they conquered, they razed the Aztec city and built the capital of Nueva Españia on top of the causeways and canals. Soon the large and heavy colonial buildings started sinking into the squishy lake bed and successive floods and torrential rain meant that the city was submerged for five years in the early 1600's. The colonials persevered and by the 1800's had installed drainage systems but the whole city is still slowly sinking. Evidence of this can be seen if you look closely at some of the buildings. The tower and the building below bear witness to the subsidence – it isn't a camera trick – or a bad shot!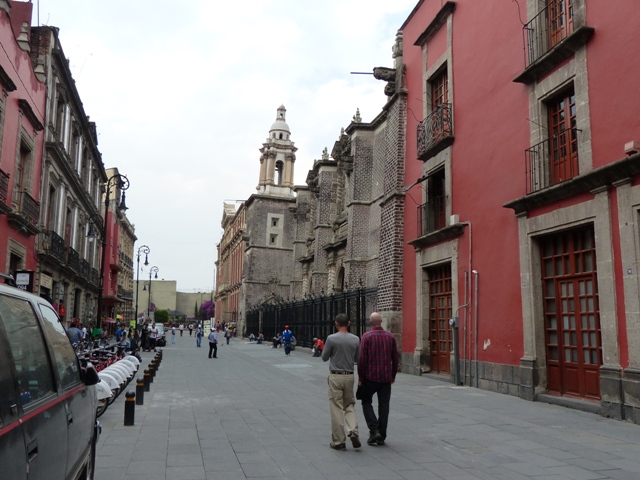 That was about the extent of things of interest during our 6 hours in the city. We did get to eat a non airport meal and have a reasonably priced beer so all was not lost but if we do visit Mexico City again we will make sure to take the guidebook!
As you can imagine, once in the UK we [well, Mike more than myself] had to concentrate on funeral arrangements and probate and such like and although we were really pleased to see family and friends, socialising wasn't our main agenda. Even so we managed a couple of walks in the Suffolk countryside with Andrea and dogs [I think these two are Calypso and Poppy – but I may be wrong – sorry Andrea]….
….and to a couple of pubs in Lancashire with Dave, Maggie and Cath.  We also visited the wonderful old "White Lion" in Barthomely, Cheshire……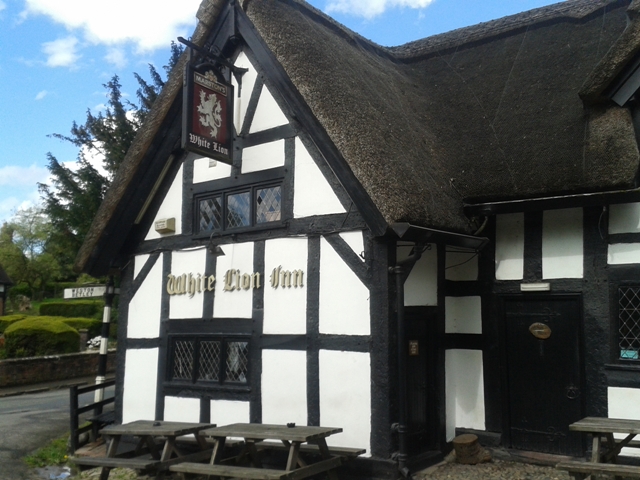 ….and walked along the Trent-Mersey canal with Chris, John and Preston.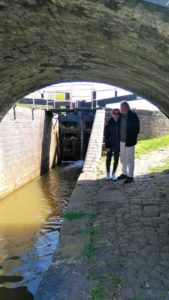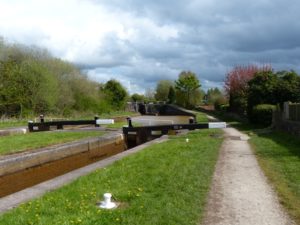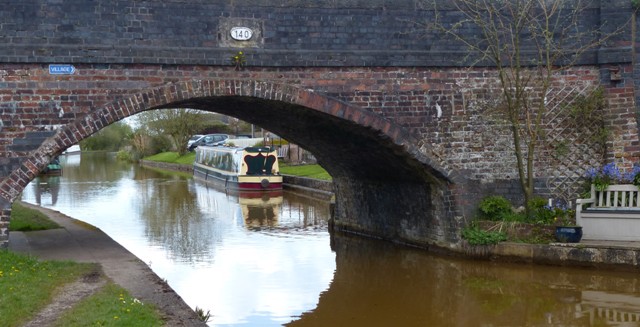 It was also Birthday time for them both while we were there which was nice.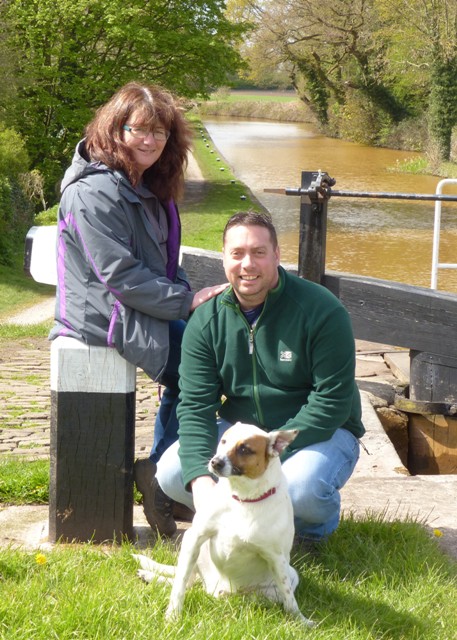 On one of the canal walks we saw what looks like a maintenance yard…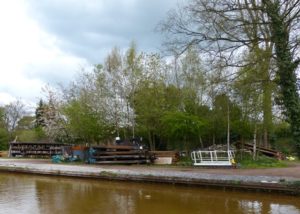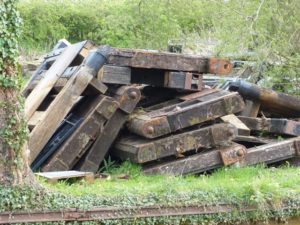 …..and were quite surprised to see a flag familiar to us from the Caribbean and Pacific, but not often seen in Cheshire!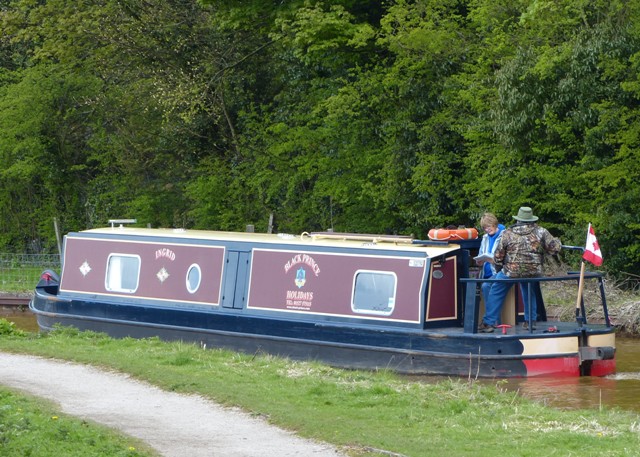 Looking at these photographs you might think that we had great spring weather. The reality was that other than about four days after we arrived and two days before we left again it was pretty awful – i.e. COLD. At first glance this might look like an apple tree in blossom…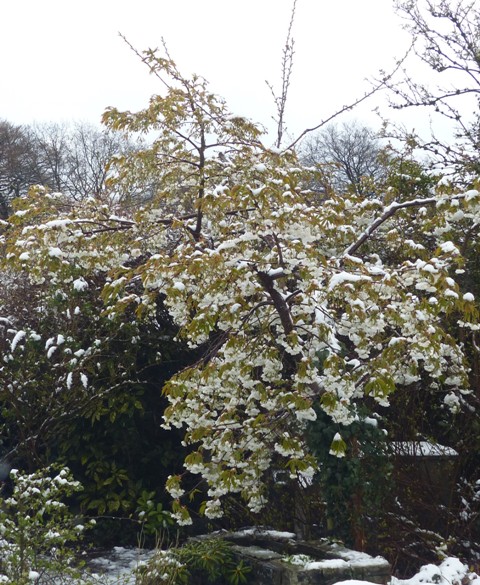 …. but really it is snow and on three mornings we woke to one or two inches of the stuff. Fortunately it melted by mid morning which was lucky for us because the coldest and snowiest day [April 29th] was actually the day of the funeral.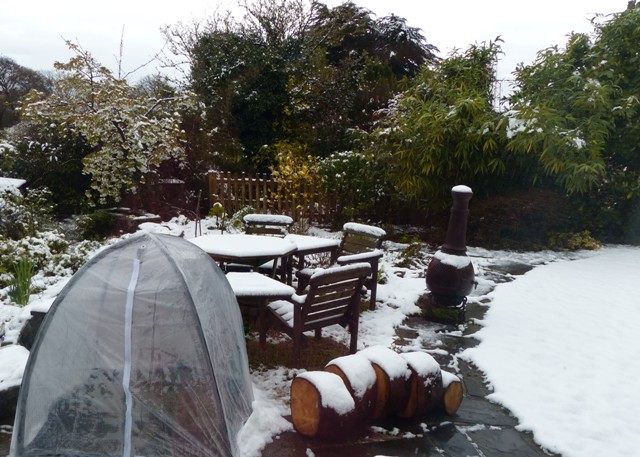 Saying that a funeral went well sounds strange – but it did.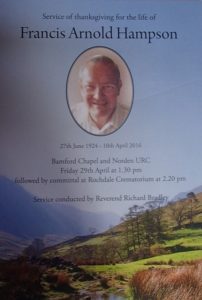 Even though he spent his last few years in Suffolk, several of Arnold's friends from his church and from Probus [a retired professional's organisation he joined later in life] attended the service at Bamford Chapel.
Family and close friends who then went to the committal at Rochdale Crematorium remarked that "Auld Langs Ayne" was a very fitting final tribute to a true gentleman who loved having people around him to share meals and drinks.
Cheers, Arnold and I'm sorry I couldn't find any pansies to photograph but these are for you….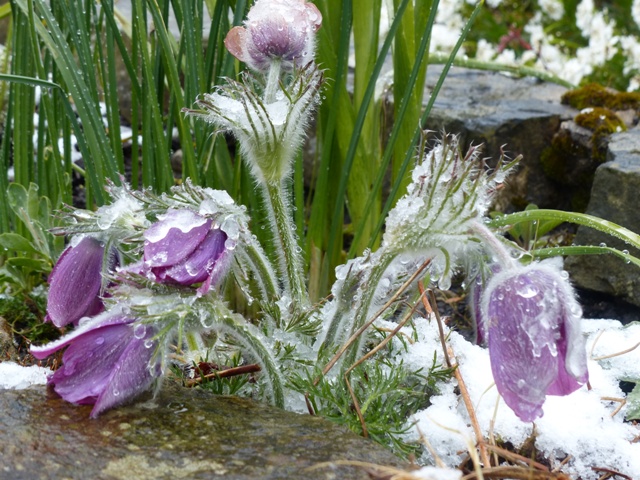 The three weeks passed quickly and on 5th May it was time to fly back to Mexico. We had to return our hire car at 5pm and decided that leaving it to that time of day to be driving along the M25 was not a good idea. So, not having been before we decided to leave Andrea's early in the morning and visit Windsor – which is a stone's throw from the airport.
Windsor Castle really is quite remarkable.

The Moat walk was closed but we were able to see the beautiful gardens which flourish there.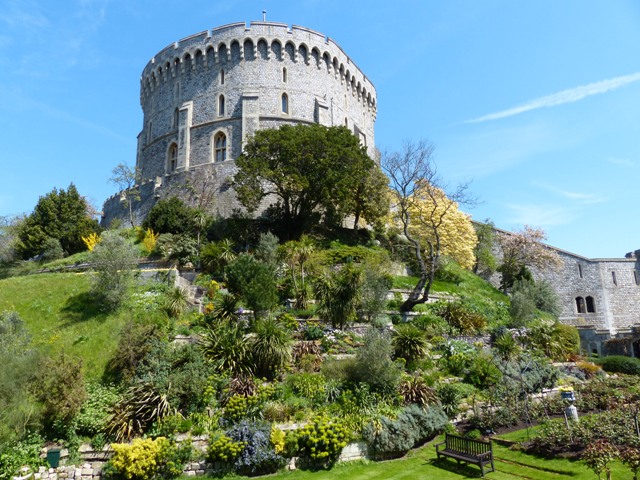 When in residence the Royal Family inhabit this part….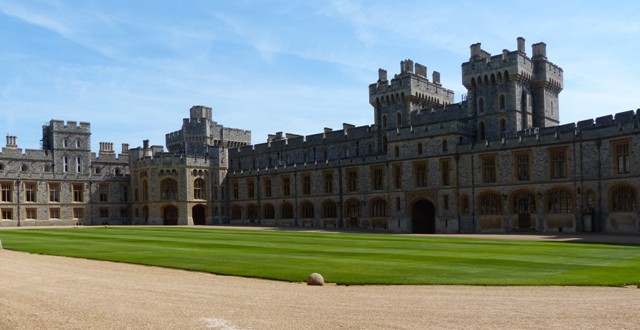 ….which is guarded whether they are "at home" or not! Apparently there is a "Changing of the Guard" ceremony but we didn't know – so didn't see it.
Photographs are not allowed inside the castle but we viewed Queen Mary's Doll's House", designed in 1921 by Sir Edwin Lutyens – the architect who was also responsible for Lindisfarne Castle, the Cenotaph, two sides of the Midland Bank in Manchester, Castle Drogo [in Devon], and New Delhi – among other things! It has working electricity, hot and cold running water, flushing toilets and a library full of classics! All of this is behind glass so you don't really get a true feel for it – but it was interesting. We also visited the State Apartments – impressive.
We rather liked the lamps which adorn many of the castle walls…..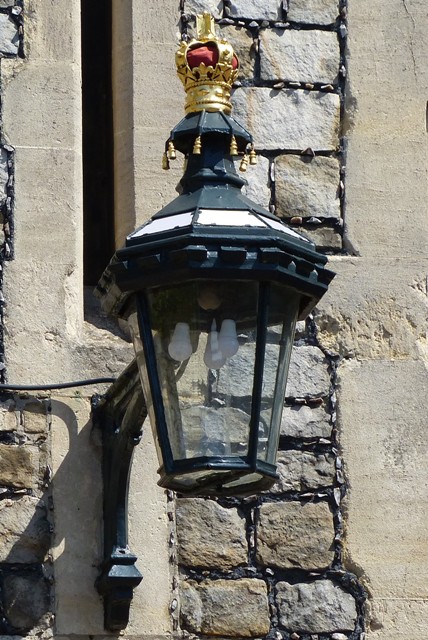 The castle was first built by William the Conqueror and has been lived in by every monarch since Henry 1st who was crowned in 1100. However, this was the only date we actually saw.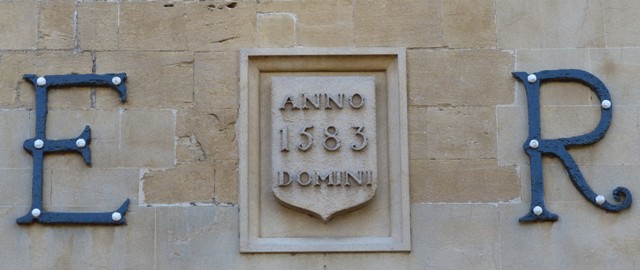 .Most of them are buried in St. George's Chapel in the grounds. An historically fascinating place to visit and another magnificent building inside and out.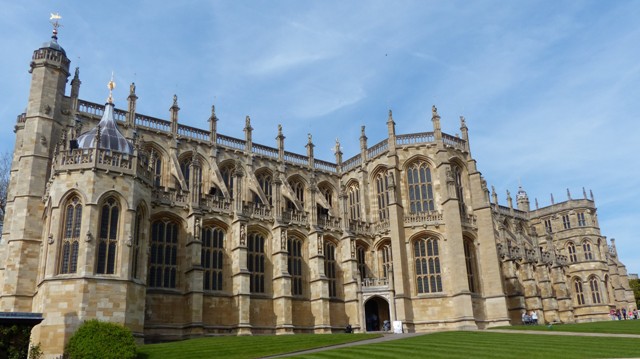 We spent around 5 hours at the castle leaving just enough time for a quick pint…..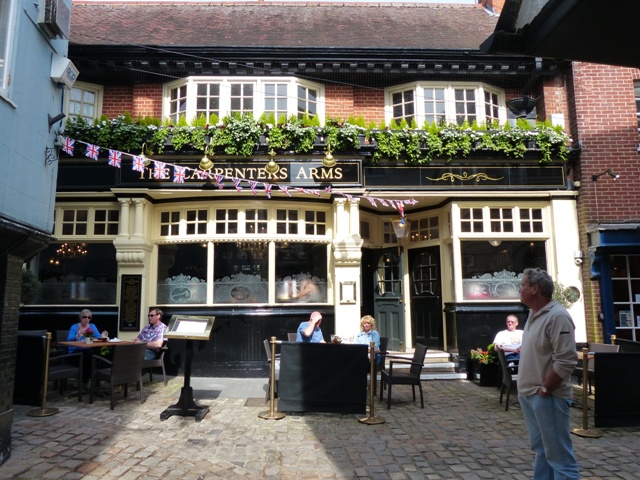 ….. Mike's last taste of decent ale until we are back in the UK again in August.
So, thank you to all family and friends who allowed us to impose on them once again and who supported Mike and Andrea as we said goodbye to Arnold.