Whilst we have a temporary importation document for the boat which means that "Siga Siga" can stay permanently in Mexico [or leave and return as often as we wish] for the next ten years, with our "tourist" visas we can only stay 180 days at a time. Thereafter we have to leave the country for two/three days before returning and getting another 180 days. Apparently some people literally cross the border, turn round and return but legally that isn't allowed so, being the obedient people we are we arranged to spend a couple of nights in Texas. If you look at it another way, having to spend 24 hours plus each way to get to the border why the hell not get something out of it and visit somewhere new/interesting?
The first leg was an overnight bus from Mazatlán to Monterrey [Mexico's Monterrey – not to be confused with the California Monterey!] which went without a hitch and we arrived at the bus terminal at around 9am on 1st April. We then had around 14 hours before our next overnight bus through the border to Texas. This overnight travelling was not by accident or default – as there are plenty of day buses plying both legs – it was more an opportunity for us to see another Mexican City.
The most visitor friendly parts of the city – which are, incidentally, linked – are the Barrio Antiguo, the Gran Plaza, the Paseo Santa Lucia and the Parque Fundidora. We started with the Parque Fundidora which was formerly a vast steel factory complex which has been transformed into a huge urban park.
Many of the smoke stacks have been left standing……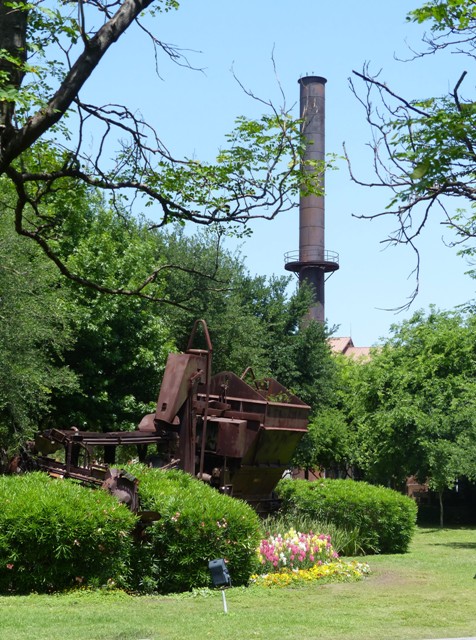 …….and the park is dotted with pieces of old machinery making for some interesting landscaping which reflects the city's heritage.
Three disemboweled red brick factories form exhibition halls [Centro de Los Artes] which host photography, art, sculpture displays as well as dance workshops and film screenings. Only a couple of these were showing work during our visit and, unfortunately, we found little to interest us except for this sculpture which we thought was very clever.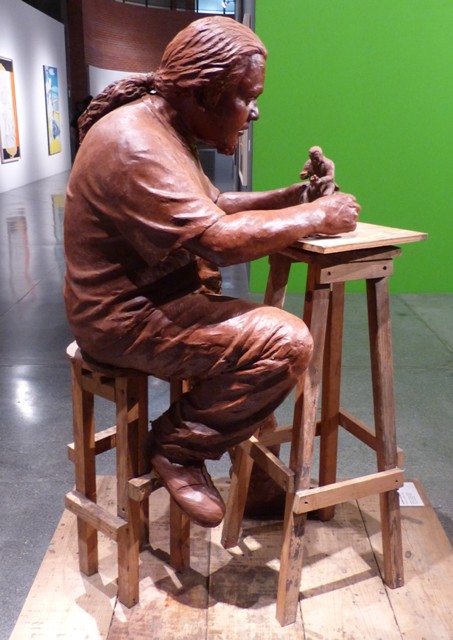 Although it is hard to see from the photograph it is a clay model of a sculptor sculpting himself sculpting himself etc etc.
The main exhibit in the Parque is the blast furnace "Horno 3"….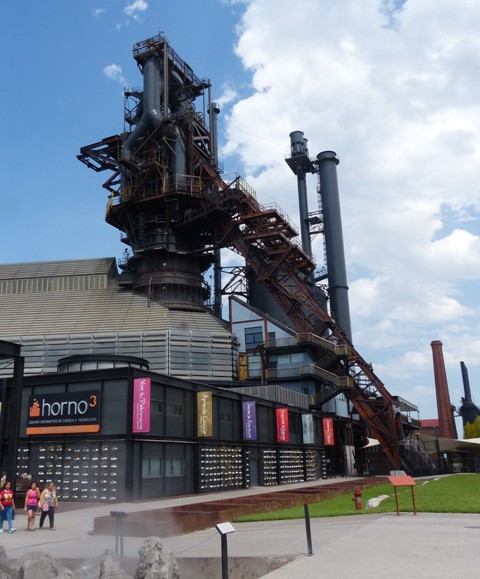 ….with its "steaming rock" entrance and an interactive museum devoted to steel. Many of the exhibits had explanations in English as well as in Spanish and over the course of a couple of hours we learned quite a lot about an industry which still plays a vital part in Mexico's economy. It was fascinating to move around the building and see the magnificent structure…..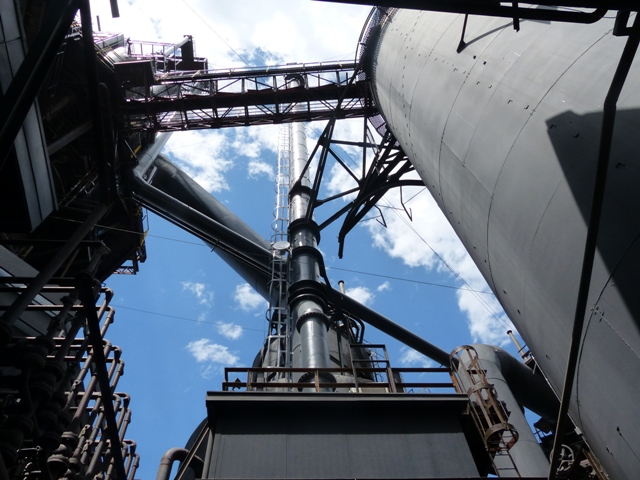 ……as well as to learn about the manufacturing process and the history of steel production.
The Paseo Santa Lucia is a 2.4km waterside walk which twists through the Parque to end [or start] at "Plaza 400 Años" leading to the Gran Plaza. The 1908 Neo-Classical "Palacio de Gobierno" sits at the northern end….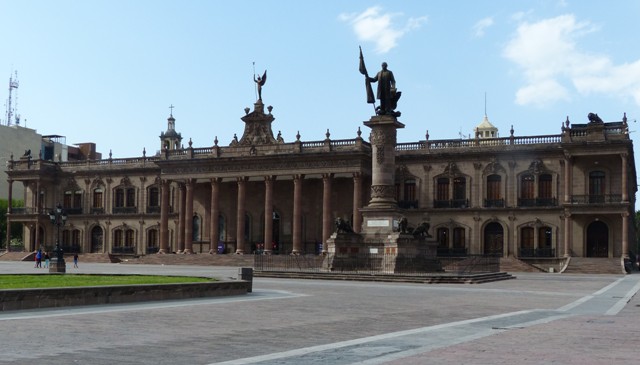 ….whilst more modern structures line the route down towards the Antiguo Barrio.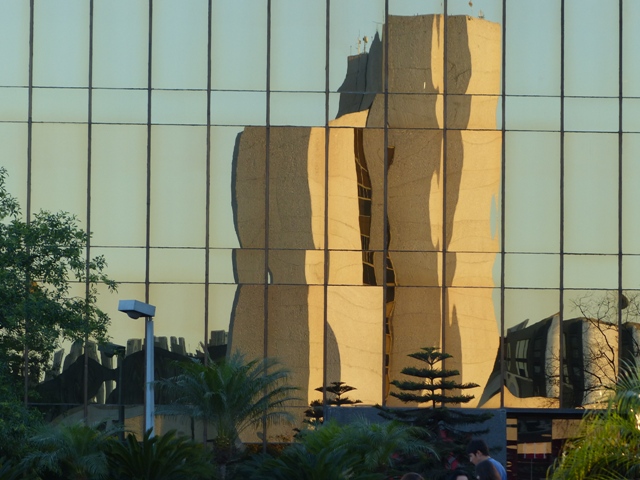 Unfortunately, due to Monterrey's proximity to the US border, the city has seen more than its fair share of violence in the form of drug wars – many of which were played out in the old town. However, after a clamp down by the state government crime rates have fallen [or at least most violent crime is now centred in a Barrio across the river which we were strongly advised to avoid] and the old town is regenerating with a number of trendy bars, restaurants and boutiques opening in the area.
Whilst strolling around looking for somewhere to eat later in the day, we came across an organic market which takes place in the remains of a couple of old buildings not yet renovated. Mike was delighted that we found some beer…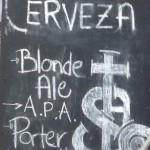 ….and we spent a couple of hours being entertained and generally watching the world go by.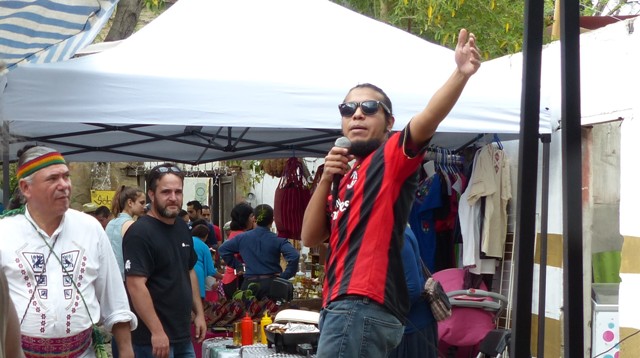 The guy on the left was some sort of "healer" – though because he had set up his stool behind me I didn't get to see exactly what he was doing.
I have to say that, as least as far as we found, Monterrey cannot be described as the culinary capital of Mexico and we had to make do with Pizzas in another Brew Pub! In fact, having now visited, I would also say that there is little to commend Monterrey to the traveller but, if you do find yourself there for a day, following our footsteps through the Parque and attached Plazas would be a good use of your time.
The second overnight leg was by "Greyhound" bus. Well, give me Mexican coaches anytime! The Greyhound was cramped and uncomfortable and a cheap [in quality] version of what we have come to know throughout South America and Mexico. But, it was what we had booked and so it was what we got.
The experience wasn't made any better by a two and a half hour stop/start approach to the border followed by our reception into the US. We did not know that there was a fee for a tourist entry visa [especially as we each have a ten year Visa in our passports] or that the fee had to be paid in US dollars. We only had Mexican Peso. Yes, we were going to the States but when we have crossed any other border [and as many of you will know we have now done plenty of this] where there has been a fee we have been able to pay in either the currency of the country we were leaving or that of which we were entering or there has been a bank at the crossing or, at least, there have been people offering currency exchange. There was none of this. When we offered Pesos we were told we were in the US and only US currency applied – whilst all US citizens fully expect Mexico [and not just the border] to deal in dual currency. We offered our credit and debit cards to be told "Huh – those don't work". I was about to offer to other travellers, in my best Spanish of course, a fairly generous exchange rate if they had dollars they could give us. However, Mike persisted with the debit card and lo and behold the transaction went through first time – much to the border officer's "surprise". All this at 2.30am – and all for $6 each!
San Antonio was another 8 hours away so we arrived mid morning, found our hotel and went in search of brunch. Now, what is it that attracts some Americans to San Antonio? Of course, it is its Mexican influence – so every restaurant was Tacos, Burritos, Huevos Rancheros etc etc. We are not at all averse to this food – after all we have been eating it for six months – but we both had in mind a good breakfast of eggs and bacon and hash browns or "biscuits" or something of that ilk.
We walked further "downtown" and after passing a Vintage Car rally……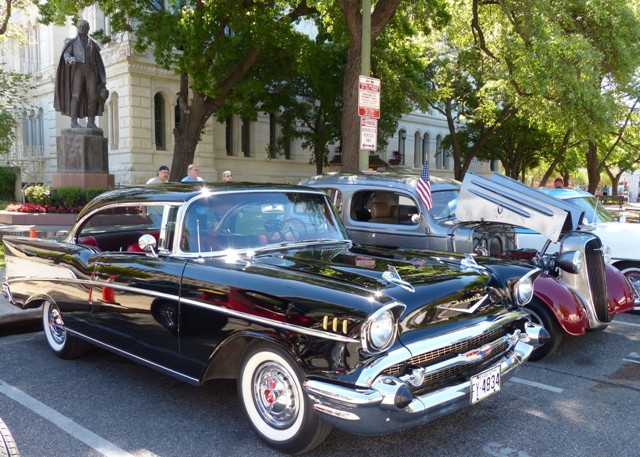 …..we finally found a German cafe called "Shilo's"….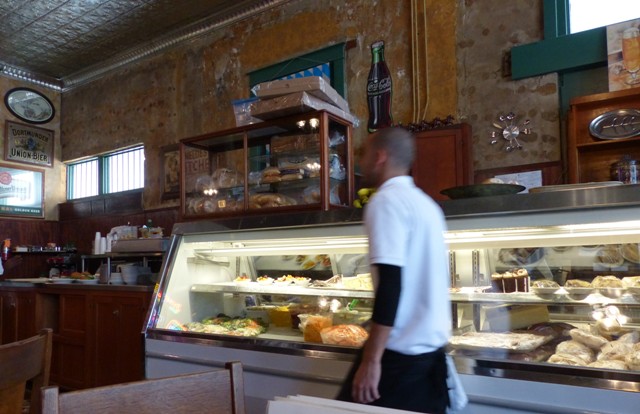 …….where I enjoyed one of their signature dishes – Pea and Ham Soup, and Mike had some Wurst. Well, between us that did mean a version of bacon and sausage!!!
The Mexican [Spanish] influence can also be seen in the architecture – particularly the Cathedral of San Fernando.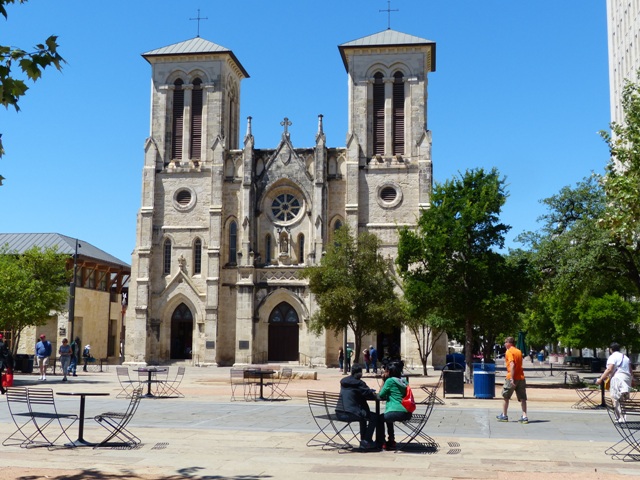 In the same square is the statue dedicated to San Antonio – after all it is where the city's name came from! The site of San Antonio – then a Coahuiltecan village – was visited in 1691 by a Franciscan friar on the feast day of St Anthony and was named San Antonio de Padua in his honour.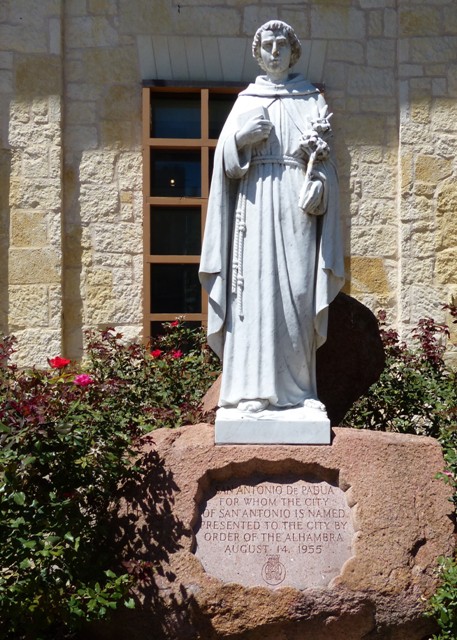 Whilst a Spanish fort was built and a mission founded at San Antonio in 1718 it wasn't until 1731 that the first civilians arrived. These colonists were, in fact, from the Canary Islands….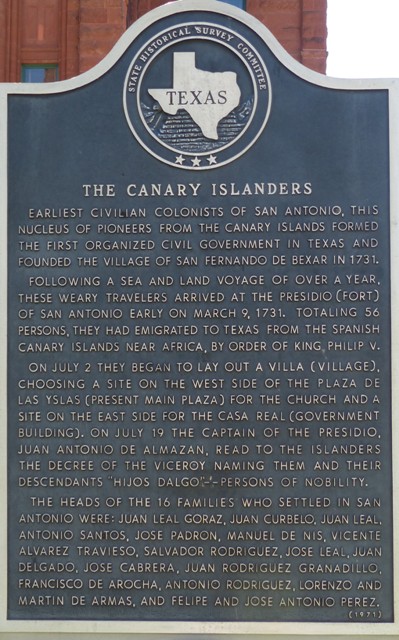 We realised that we are very ignorant of US history particularly in relation to the Southern and Western states. By visiting "Casa Navarro" we learnt quite a lot more about the history of the area – about what was a Spanish colony until 1812 becoming part of Independent Mexico and then, in 1836,  the Republic of Texas.
An original 1850's adobe and limestone home…..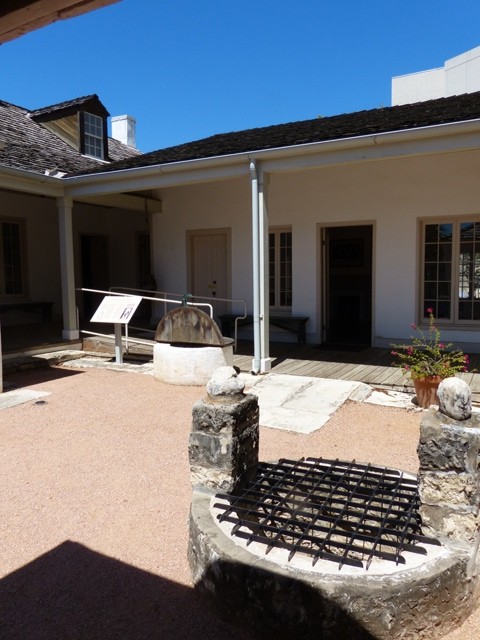 …… the site celebrates the life of José Antonio Navarro, a rancher and merchant who was only one of two native born "Tejanos" to sign the Texas declaration of Independence [from Spain].
Later, Texas joined the U.S [1845] as its 28th state only to declare its secession in 1861 to join the Confederate States. It was then the last state to ratify the 13th, 14th and 15th Amendments and to submit to military law allowing Texas to be re-admitted as a U.S state in 1870.
It is probably fair to say that the most renowned aspect of the above potted history is that the quest for an independent Texas culminated in the famous 1836 battle at the "Alamo".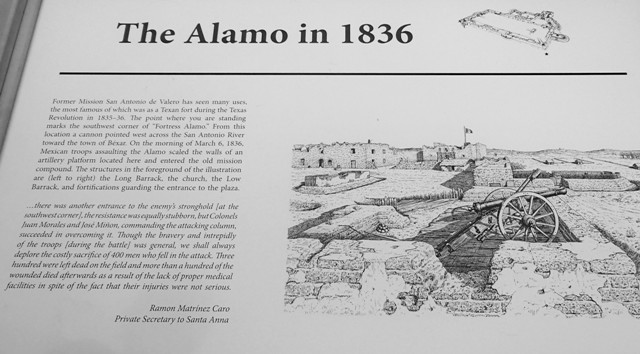 We visited after the museum was closed but managed a peep into what used to be the Long Barrack….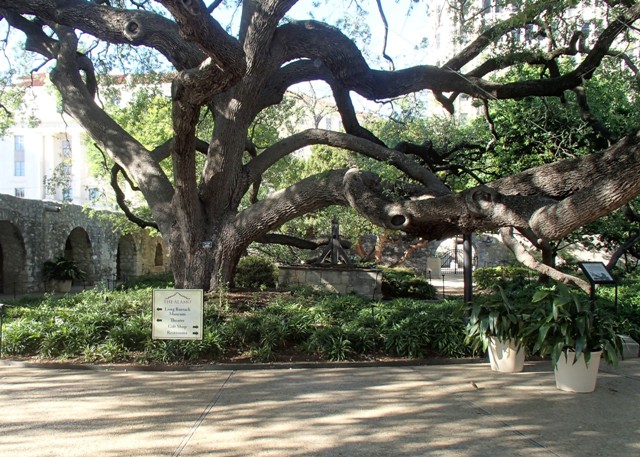 …..and had the obligatory photograph taken in front of the church.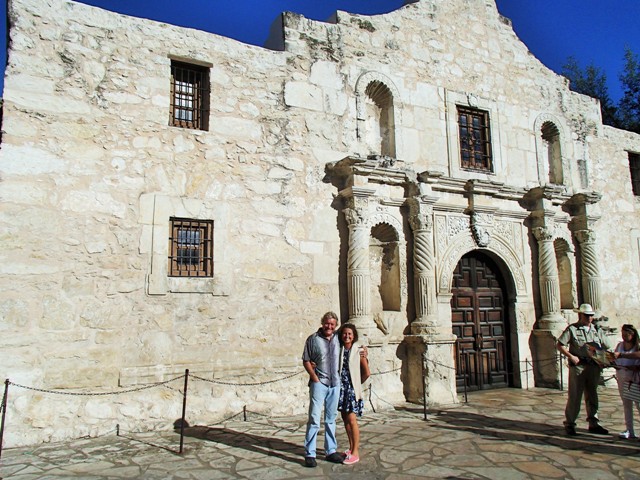 We strolled along the "Riverwalk"….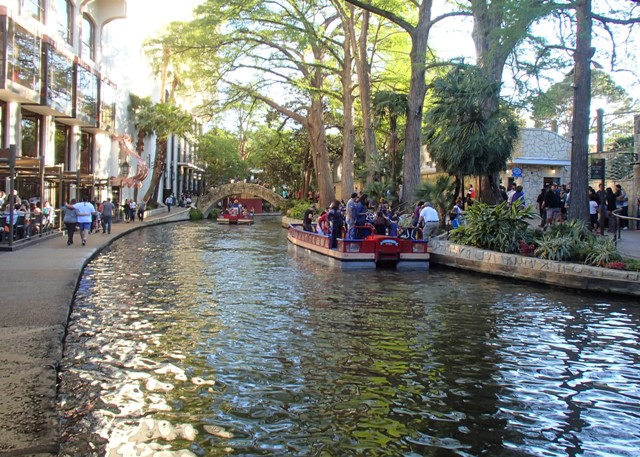 …before treating ourselves to Ribs Texan style [think BIG portions!]
One of the best things about visiting San Antonio was that we were able to meet up with our friends John and Diane of "JASDIP" – well actually JASDIP is sold and they now have a brand new coach [motor-home]. Having at one time lived and worked in San Antonio they were able to tell us about and show us more of the area than we would have seen otherwise.
They particularly wanted us to enjoy some of the surrounding countryside and drove us to "Greune" [pronounced green].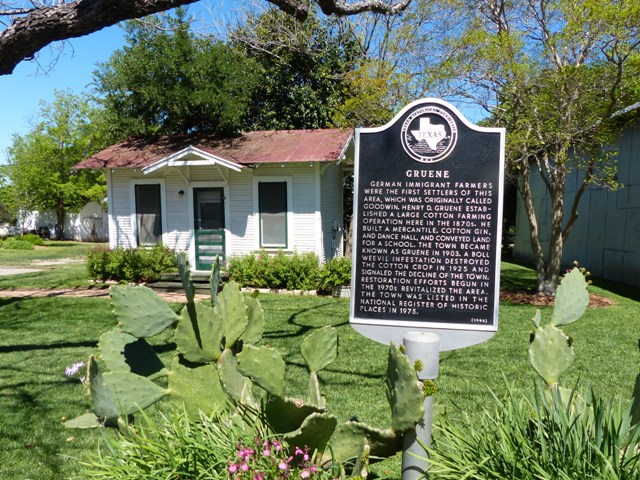 In the valley bottom is a lovely river…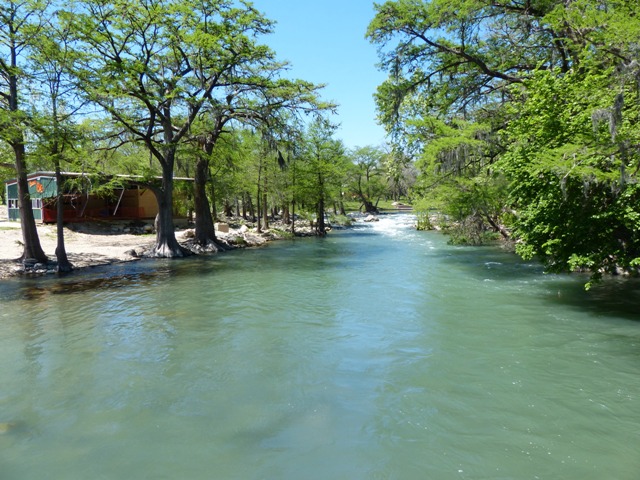 … lovely that is until it floods! The third tree on the left above is also the one on the left in the photograph below and, if you follow the trunk up past the two left hand branches, you will see that opposite the first right hand branch is an arrow. That is the level the water reached during a flood about five years ago.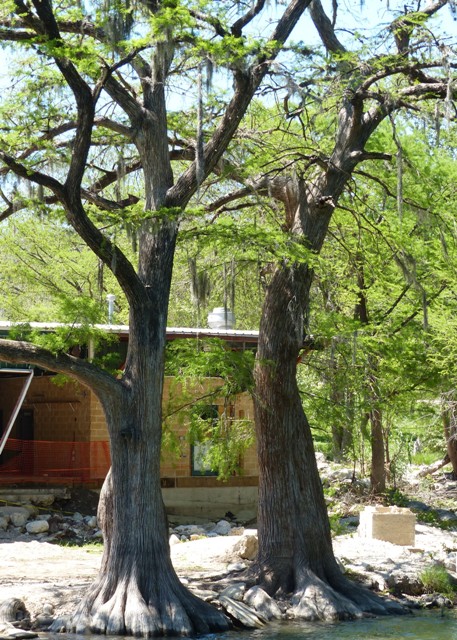 A liquid lunch was enjoyed at one of the Gruene wineries….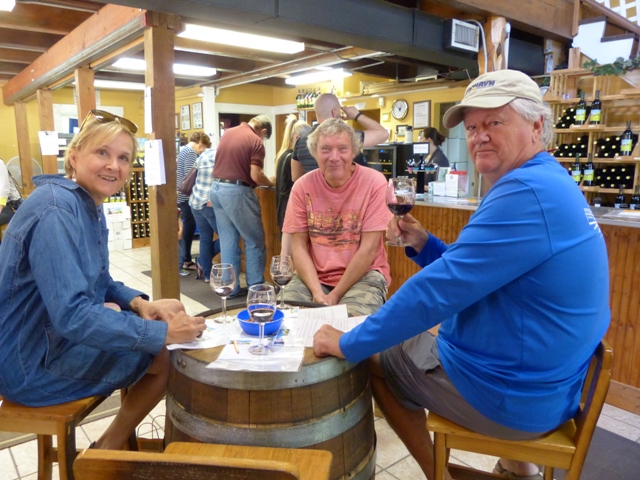 …. where we tasted five wines for $4 [decent sized samples as well]. The local wine is produced from grape concentrates from around the world bought in bulk from Canada. Who remembers Yates' Wine Lodge and British wine?
The "Boys" then wanted beer so off to Gruene "Hall" we went…..
We didn't stay for the band and the line dancing but after a pose with their Lone Star beers….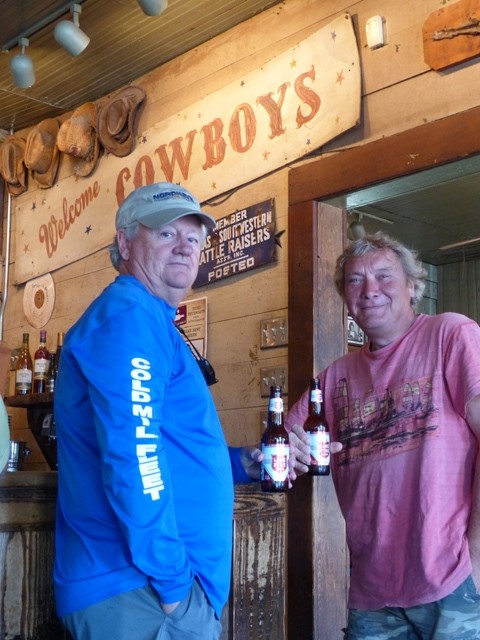 ….we settled down for another chat in the bar.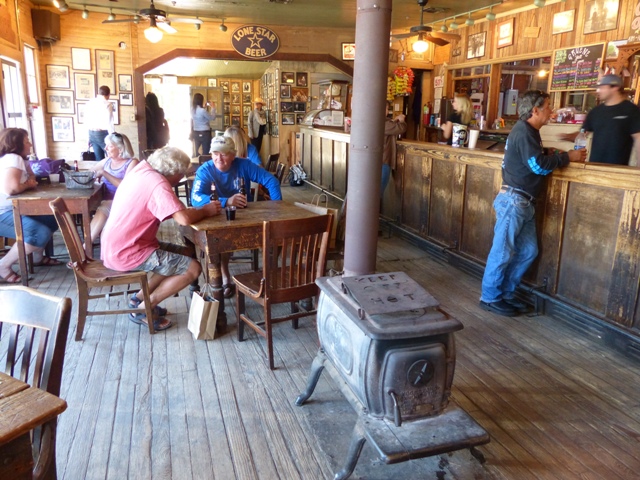 We also visited one of the biggest organic/wholefood supermarkets I have ever seen [back in San Antonio] and later sampled some of the cheese we had bought at a tapas style picnic for four at our hotel pool.
The following morning it was farewell to John and Diane and to San Antonio. The return journey was smoother – it was a daytime Greyhound so no cramped sleeping, a relatively simple [and much quicker] border crossing and a decent overnight Monterrey to Mazatlán final leg. The final mountain range was crossed as dawn broke and we had had some nice mountain views to round off our trip.
We loved the dummy traffic controller with an automated flag waving arm to warn of road works ahead!
So, all in all not a bad Visa run. Wonder where the next one will take us?