Mazatlán is a very popular place with cruisers – especially those wanting to spend time in the Sea of Cortez or who are sailing to/from West Coast US and/or Hawaii. There are two big Marinas [El Cid and Marina Mazatlán] and a third small marina – Marina Fonatur – where we berthed.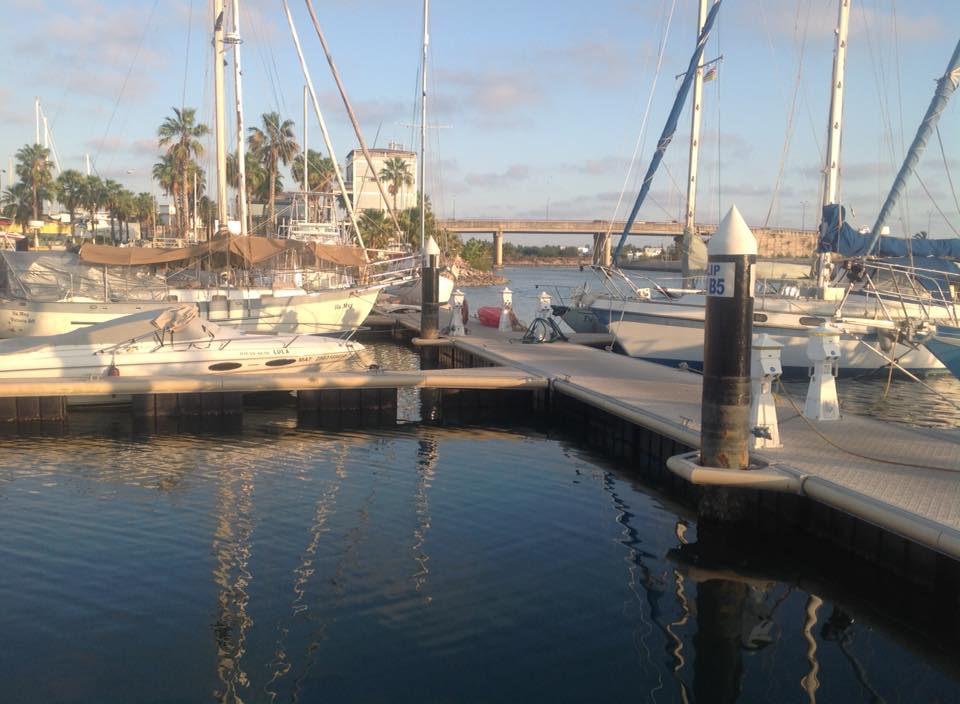 All the marinas are in the Estero Sábalo and are accessed through the narrow breakwater entrance from waypoint 23?16.100'N, 106?264'W. It is a dredged channel and the dredger works from 10.00 – 1500 [or did at the time we entered and exited].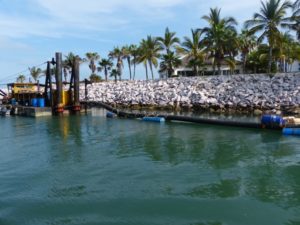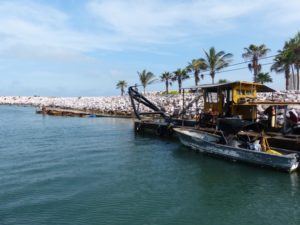 We did not know this and arrived when the dredger was working but he manoeuvred to allow us to pass. It is better to try to pass through the channel during none dredging hours.
We have found the Fonatur marinas to be excellent value and would recommend them. The Mazatlán Fonatur is further up the estuary than El Cid and therefore more protected from swell.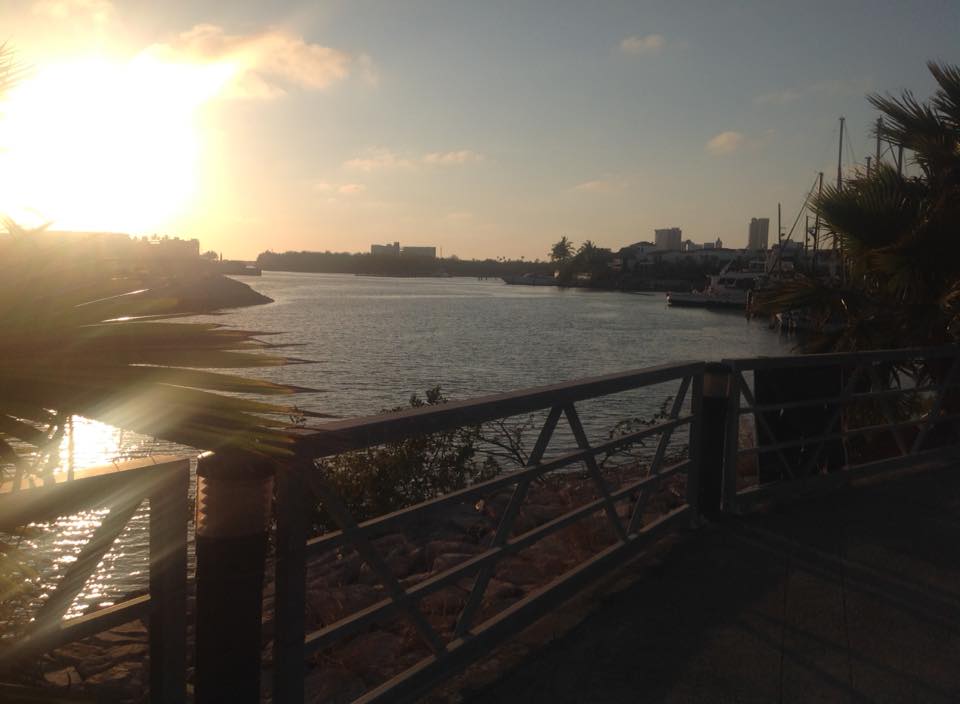 With a self service laundry, a cruisers lounge/book swap and a swimming pool, it is more than fit for purpose. It is also right next door to Marina Mazatlán so a short walk brings you to the couple of restaurants there.
Regular visitors to the blog might recall that we arrived in Mazatlán on 22nd March with the intention of staying for about two weeks. The main purpose was to leave Siga Siga whilst we went to San Antonio, Texas, to renew our Mexican Visas. However, our stay was extended [or rather Siga Siga's stay was extended] because we had to return to the UK for Mike's dad's funeral. The same avid blog readers will be up to date having read about those two trips in detail!
We have now left Mazatlán, having set sail for the Sea of Cortez on May 18th and you will hear all about that in due course. But, in the meantime, I think it would be remiss of me if I didn't tell you a bit more about Mazatlán itself.
In its heyday Mazatlán was one of Mexico's most popular beach destinations and the more recent "Golden Zone" of hotels, bars, restaurants and Señor Frog outlets lies on the bus route between the marinas and the old town. Generally speaking we saw it through the bus window though we twice got off the bus in the "zone" to go to an ATM because we could not find one in either of two main shopping precincts we visited ["Liverpool/Walmart" and "Gran Plaza]. Any cruisers reading this can now be assured that there are several ATMs in the Mega store and in the old town – so unless you want a McDonalds or a Starbucks coffee there is no need to get off the bus.
With regard to buses, the "Sabalo-Centro" bus is the best option for the old town. "Cerritos-Juarez" and "Sabalo-Cocos" both go past the Mega store and the latter also goes to Soriana. All three buses can be flagged down at the Pemex garage at the roundabout close to the marina entrance.
In the centre of the old town, on Plaza Principal, is the C19 "Basílica de la Immaculada Concepcion" with its twin yellow towers….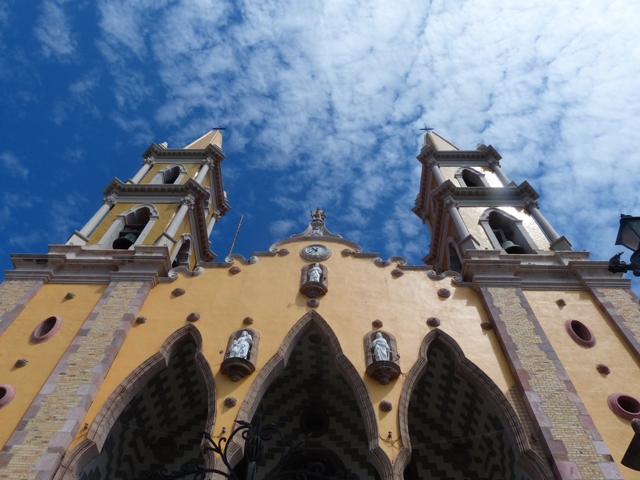 ….and typically ornate interior.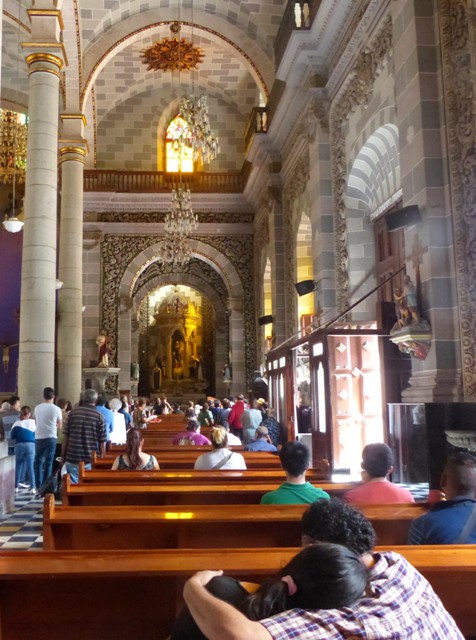 We first visited on Good Friday when some worshipers were engaged in the Vía Cruces [Stations of the Cross].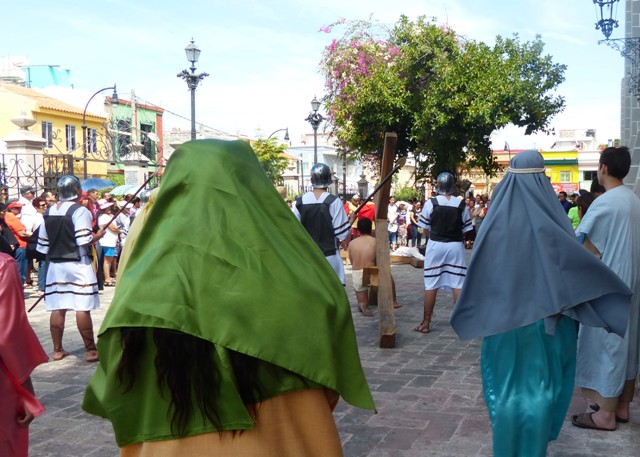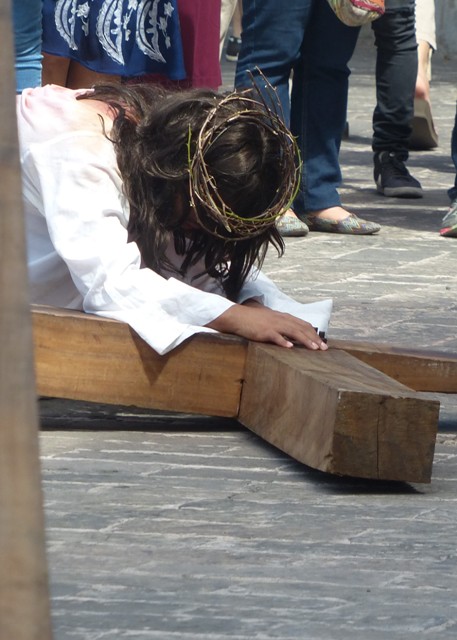 A more popular Plaza [at least with tourists] is the tree lined Plazuela Machado….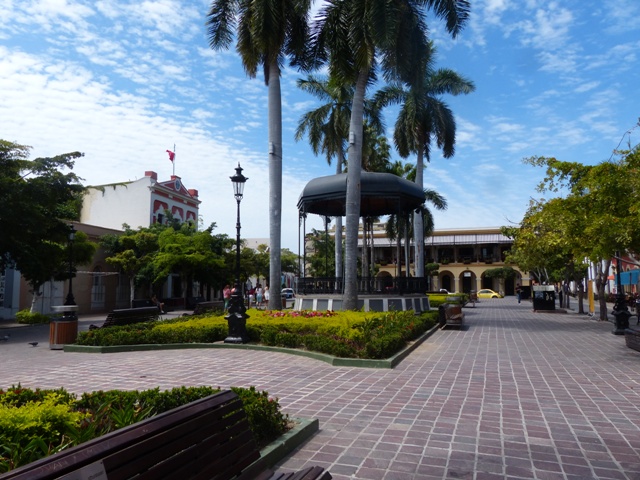 ….. which, like the streets which surround it, is lined with boutiques, art galleries and a range of places to eat – from casual to fine dining.
On the first Friday of every [winter] month an "Art Walk" is held when, from around 4pm – 9pm the galleries are all open with local artists often there to discuss their work. It is possible to book an art walk tour but many people just wander around at their own pace visiting as many galleries as they wish and stopping for the odd drink on the way – which is what we did, along with Mike and Marie off DéjàLà.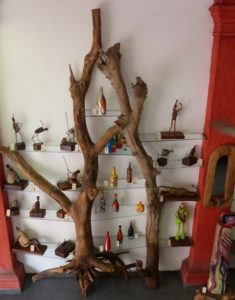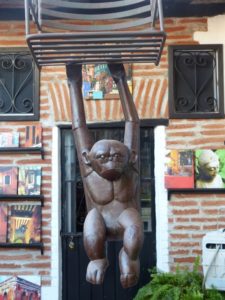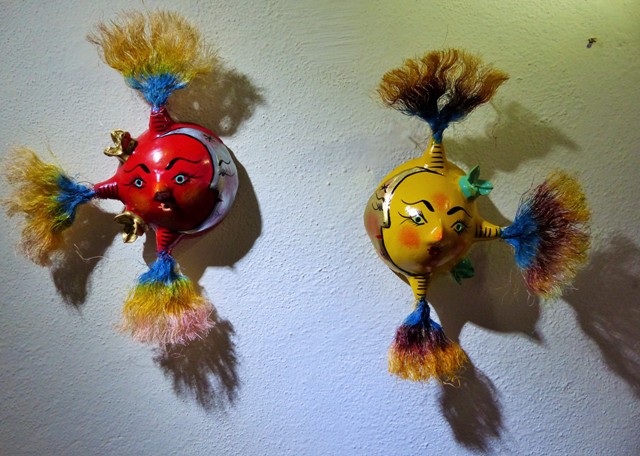 Even though we didn't find anything to buy it was a nice thing to do and a good way of seeing inside some of the old buildings, which house the artists, and also take note of their often ornate exteriors.
The most visited attraction is what was once called "Teatro Rubio" but is now known as the "Teatro Ángela Peralta". Constructed between 1869 and 1874 the theatre was a thriving cultural centre for around 100 years – as an opera house and, later, a cinema and a venue for boxing matches. It was abandoned in 1964 and then battered by Hurricane Olivia in 1975 – leaving it in a very sorry and dilapidated state.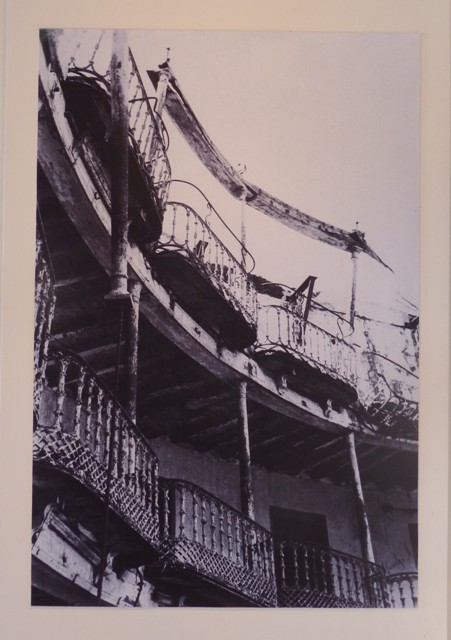 Fortunately local citizens came to the rescue and in 1990 it was declared a National Heritage Site and re-opened two years later, its three tier interior having been restored.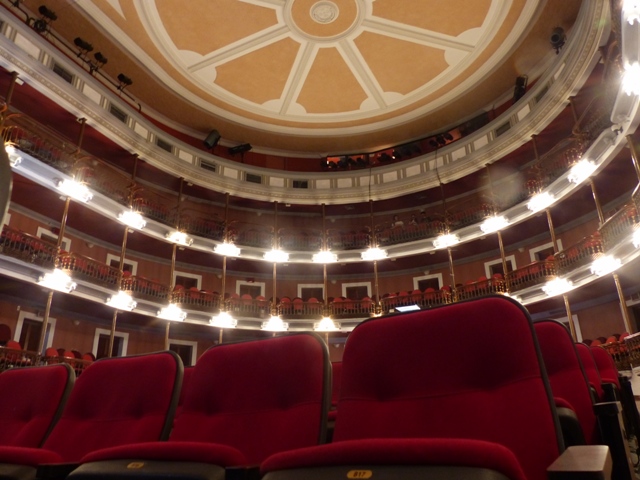 It was at that time that it was dedicated to the former Opera singer Peralta who was due to perform at the theatre in 1883 but who passed away – along with some other members of her troop – shortly after arriving in Mazatlán because of a yellow fever epidemic. Legend has it that she sang one last aria from the balcony of the Hotel Iturbide overlooking the Plazuela.
Mazatlán is a Náhuatl word meaning "place of the deer".  In pre-Columbian times several indigenous tribes lived around the Mazatlán area [Sinaloa] but they were decimated by European diseases post the Spanish invasion in the 1500's. Miners and adventurers moved into the area in the 1560's and the small harbour was used during the 1580's by the English privateer Thomas Cavendish from where he operated in the waters between there and the Baja. Stories abound of the struggles between Spanish Naval forces and pirates from then until the early 1800's when the pirates had been, largely, eradicated – or moved on. Mazatlán quickly became one of the three most important ports of the Pacific coast of the Americas – Valparaiso [Chile] and San Francisco being the other two. It thrived economically and attracted entrepreneurs from all over the world. The above mentioned Plazuela Machado was named after a Filipino investor and we found evidence of German trade with this sign.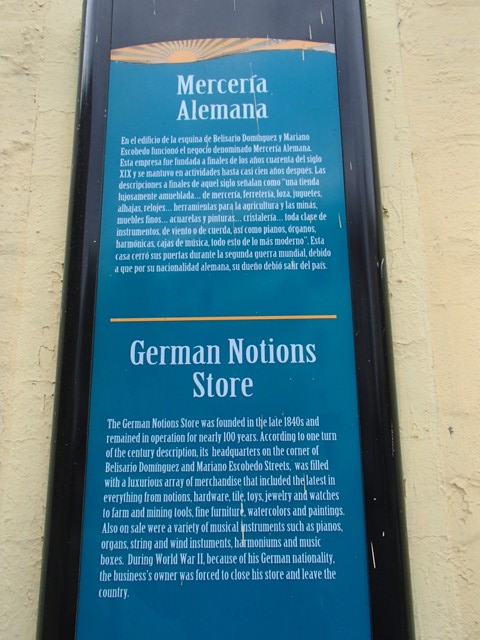 Not knowing what "notions" were in this sense I looked it up and it seems to translate as "Haberdashery".
The first hotel was built in the late 1840's by a Chinese immigrant and several more followed but there were turbulent times ahead – attempts by the French to colonise, when they occupied Mazatlán between 1864 and 1866, and an English blockade in 1868. Despite this, the economy continued to grow and the city developed a potable water system and installed electricity. In 1900 the "Pacifico" Brewery was established which increased prosperity even more and, despite being a battleground during the Mexican revolution, Mazatlán continued to experience growth even through the Great Depression of the 1930's. After WWII deep sea sport fishing was popularised by the likes of John Wayne with Mazatlán being a favoured destination. More hotels and a Malecon were established and by the 1970's tourism was booming and rivalling that of Acapulco. This is perhaps why there are also cliff divers in Mazatlán!
Mazatlán remains the largest port between Long Beach and Panama and is the home of Latin America's biggest commercial shrimp fleet.
The port is best viewed by walking up "Cerro del Crestón"….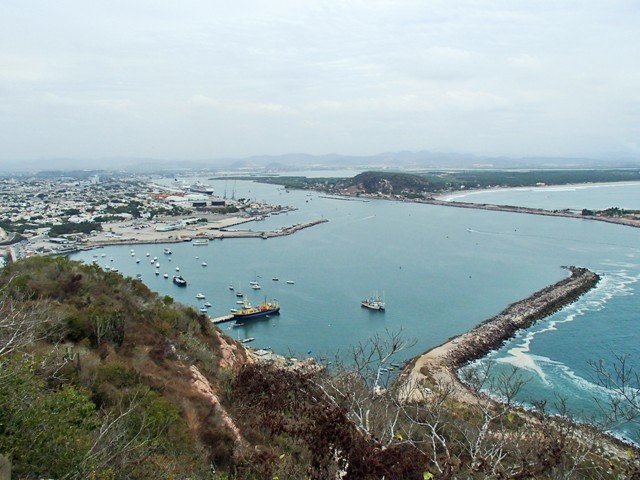 ….at the top of which is "El Faro". As lighthouses go it wasn't actually very impressive. It is only two storeys high [plus light] therefore nowhere near the tallest lighthouse in the world, though it is said to be the second highest from sea level. It is built on a rocky promontory from where a dirt path and then lots of steps lead to the top.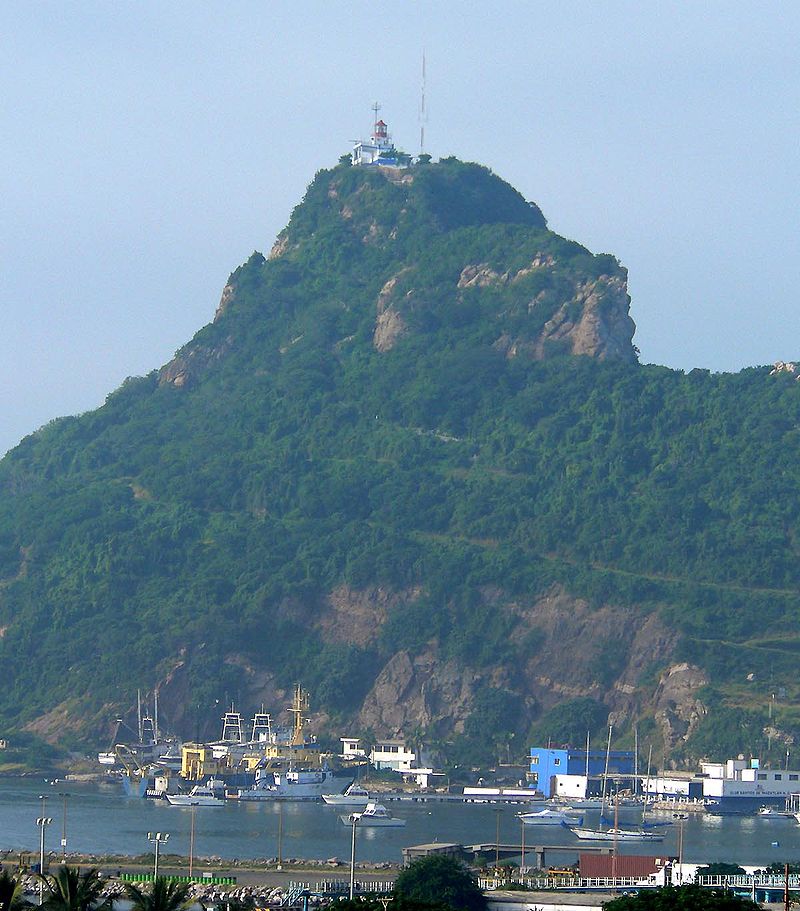 I have Wikipedia to thank for the photograph above – which shows the route up.
On reaching the top we found a chart indicating that elite runners should complete the ascent in 4-5 minutes. We were "excursionistas"!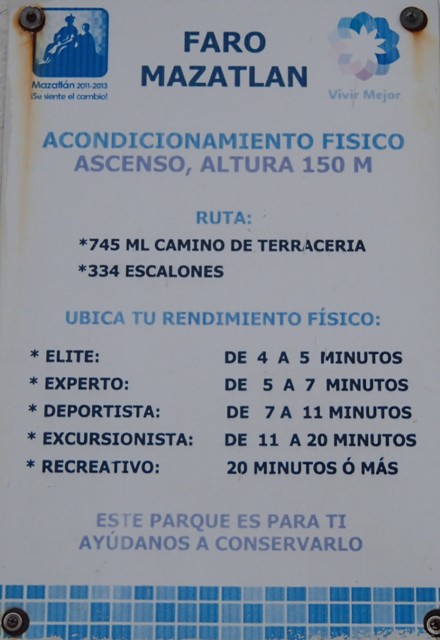 Although we bought water from the little tienda at the top we were ready for more refreshment when we returned to sea level and whilst supping beer and limonada we watched some pelican's being fed fish scraps by the chef. This fish didn't want to go down!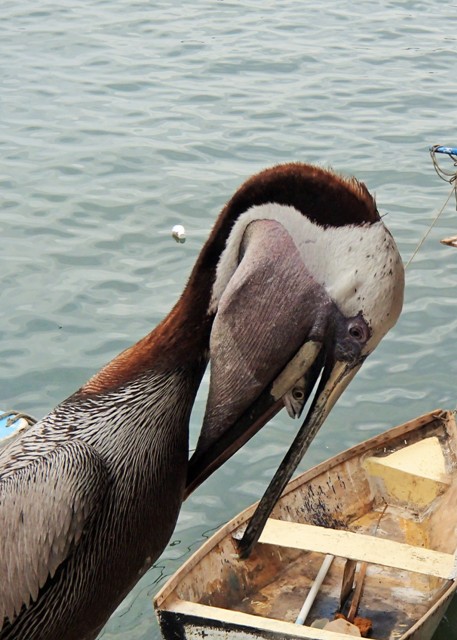 Wandering around the town you never know what you will see next…. Mike loved this.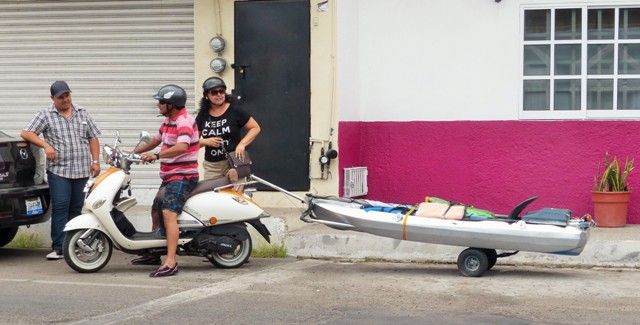 I rather enjoyed watching some Mexican tourists at play – Semana Santa [Holy Week] being an important holiday in Mexico and a time when many of its population take their annual holiday at the seaside.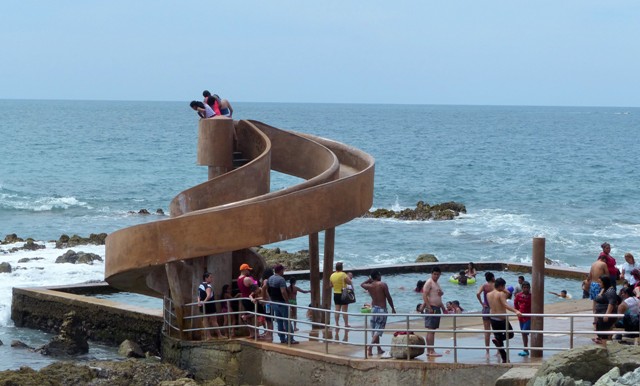 This pool is all that now remains of a large entertainment complex and salt water pool, built in the early 1900;s and mostly destroyed by "Olivia" [you remember from above – the Hurricane of 1975].
The archaeological museum is only small but quite interesting. It displays pre-Hispanic finds such as these mummified remains.
I think the explanation below tells you all you need to know.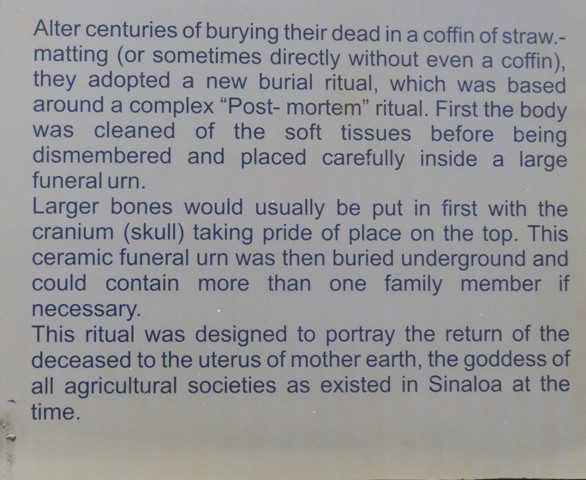 Also displayed was this ball….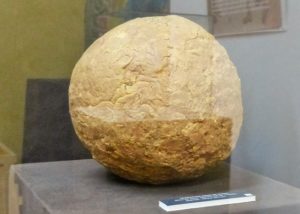 ….used in the Náhuatl game "Ulama", still played today in a few villages in Sinaloa. The field boundaries were defined by large flat stones and this ball game, played from the hip, has similarities with Aztec and Mayan ball games/courts we have seen previously on our travels in that the games were played as part of a festival and that total sexual abstinence was practiced by players beforehand.
In the courtyard was a statue of the emblem of Mexico – the golden eagle perched on a prickly pear cactus devouring a snake.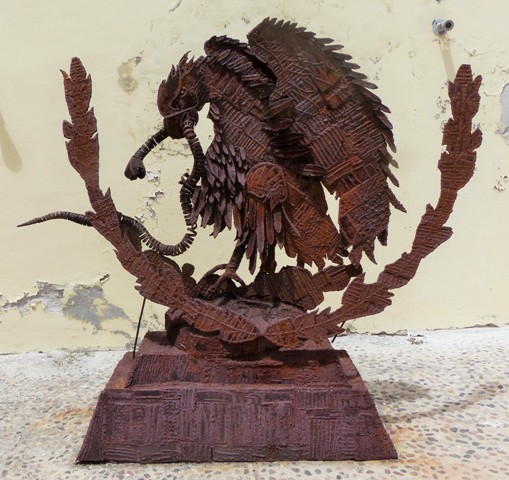 So, that is as much of Mazatlán as we have seen so far except for the supermarkets for provisioning. I mentioned above which buses to catch to get around. If Walmart is your choice it is about 20 minutes walk from marinas Fonatur and Mazatlan. We generally walked both ways [for the exercise] but when we did a large shop prior to leaving took a M$70 [£2.80/US$4.20] taxi. We may have been overcharged!
The supermarkets are large and well stocked, though an alternative for fresh local produce is the central market in town. There are a number of Marine Service Centres – 4 of which can be found right outside Marina Fonatur which undertake work such as antifouling, gel coating, outboard motor repair etc. Being in a large city means that welders, stainless steel fabricators, and a whole range of other marine trades and services are available e.g. we had our spare alternator serviced.
We will be returning to Mazatlán in October – Marina Fonatur already booked – but in the meantime, as I said at the beginning of this post, we left there on May 18th and have started our adventures in the Sea of Cortez.