As many of our family and friends know, James and I managed to surprise Mike for his 60th birthday when James turned up at the "Gecko Rojo" in La Cruz on Saturday 20th February.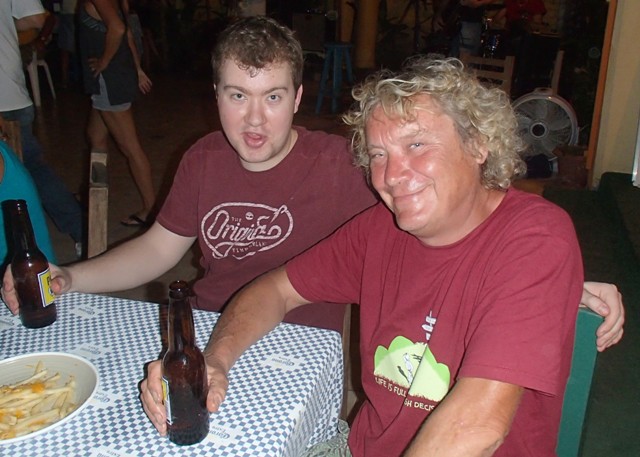 Obviously Mike's birthday was not for a further week but, as those same people know, he is not averse to celebrating his birthday over at least three days – compensating for only having one every four years of course! This year, however, the celebrations – with James – lasted two weeks, a record even for Mike [could this be a challenge for the future?]
A quiet day for recovery was needed the following day – though whether it was recovery from a long flight or from several beers we aren't sure. Probably a combination of both – but the "green juice" [made from apples, cucumbers and limes, among other things] certainly went down well at the Sunday market.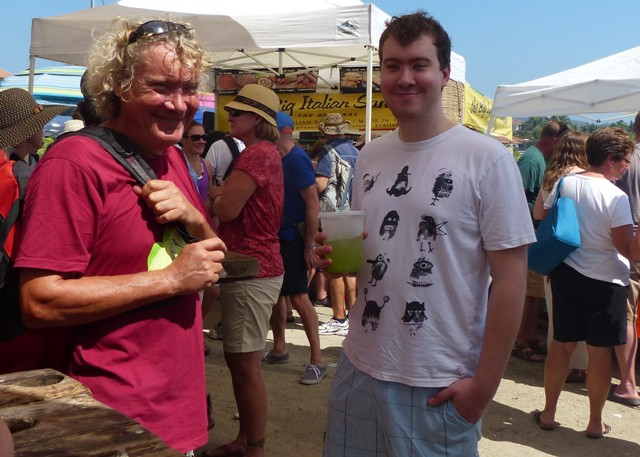 We considered taking James sailing down to Punta de Mita to sample a typical fish meal at a beach palapa but, as sailing probably isn't his favourite pastime, it seemed more sensible to take a bus instead – up the coast to "Sayulita, a fishing village with a sandy beach and surf scene…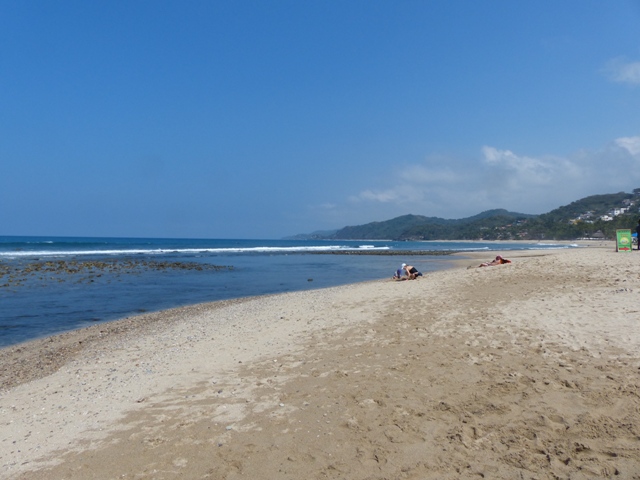 …. and lots of cafes, bars and restaurants. Another good reason for choosing this place is that, due to the surf, it doesn't make for a good anchorage so it was also a chance for Mike and I to visit somewhere we won't be taking the boat. James still got his fish lunch…..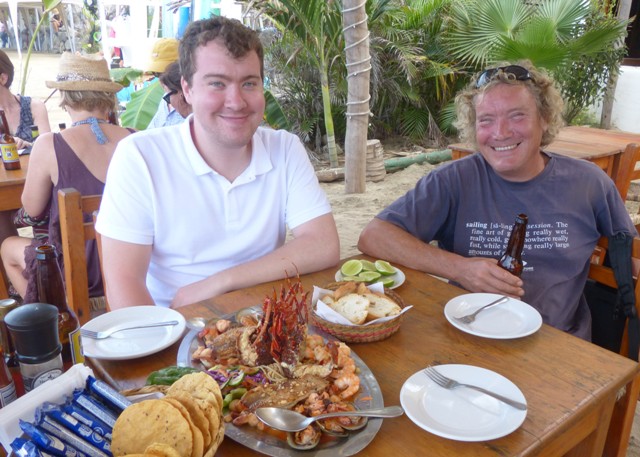 ….got to listen to a traditional strolling band [though not sure how thrilling that was!]….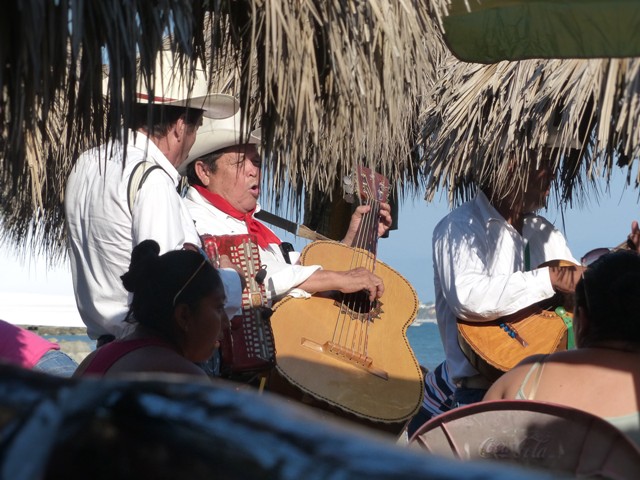 ….and, to top it off in fine style, sampled a couple of craft beers as the afternoon wore on.
We enjoyed Sayulita and the evening didn't stop there – we also had the full moon bonfire to attend.
We spent Tuesday lazing around and gently sailing the boat across the bay to Marina Vallarta. We had hoped to see some whales, but the water in the bay this year is apparently too warm for them and they are staying out at sea. Sightings have been down all season so it wasn't just bad luck on our part.
Our reason for going to Marina Vallarta was to enable us to leave the boat secure whilst we travelled inland for an eight night mini tour. For three people it was more economical by car than by bus and whilst it's not really for me to say – as I wasn't driving – it was a great way to do it as we could stop when we wanted for food or views.  Mexico is huge, so there are considerable distances to cover but the roads are generally very good and the traffic [except in the cities] very light. I think the most frustrating thing for drivers are the massive numbers of "sleeping policemen" at many of the junctions and in all of the towns and villages. [For US friends, "sleeping policemen" are what Brits call the humps in the road used for traffic calming]. Some of these are not very well signposted – if at all, so James and I got quite adept at yelling "Bump" when it appeared that Mike was going to miss seeing one which would likely have resulted in considerable damage to the suspension and/or exhaust.  We don't think it is co-incidental that every town has a garage selling exhaust pipes – usually strategically placed near a "hump"!
Our first stop was….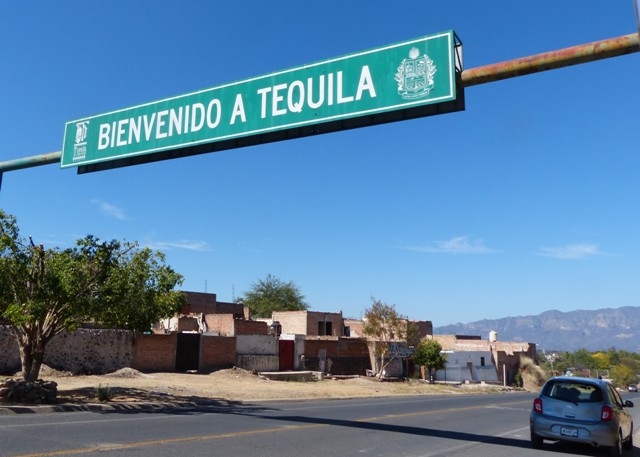 Well, we were passing!
Had we "listened" to the Lonely Planet it is quite possible that we would have by-passed the place because the description "there is nothing particularly enchanting about this sun baked factory town" with "tequila barrel shaped trolleys" and "hour long tours with a free plastic cup of margarita" was not really enticing. But, as I hinted above, we felt that it just had to be done. It would have been very strange to pass up a chance of visiting Tequila – especially as it was on our direct route.
What a surprise. There was a beautiful plaza….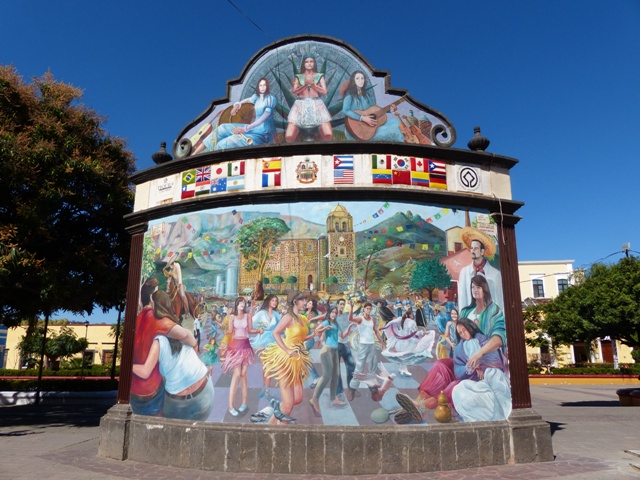 ….. with murals and statues….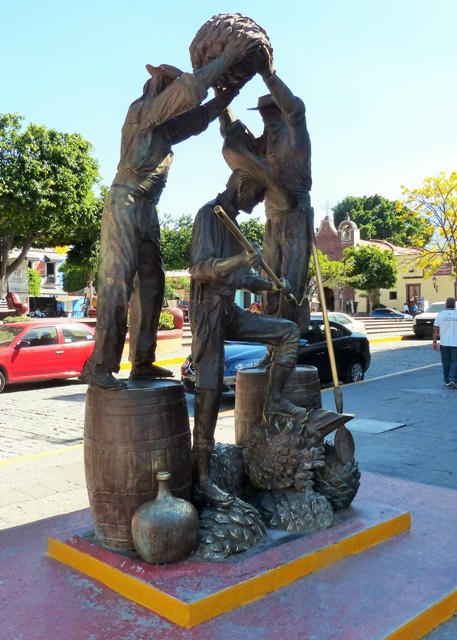 ….and lovely colonial buildings and churches.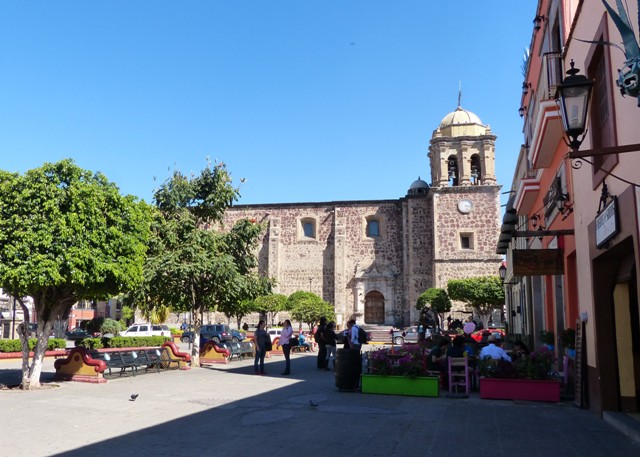 The pavements were clean, the town sun baked but with shady spots and the tour, whilst just over an hour, was very interesting with at least four opportunities to taste the different types of tequila [and serve yourself!].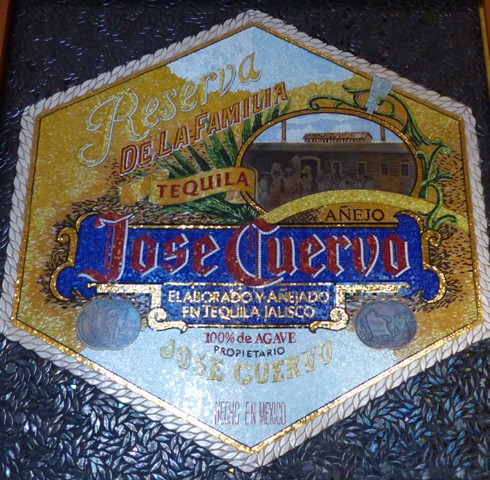 The factory [or at least the small production plant we saw] is in the original family hacienda.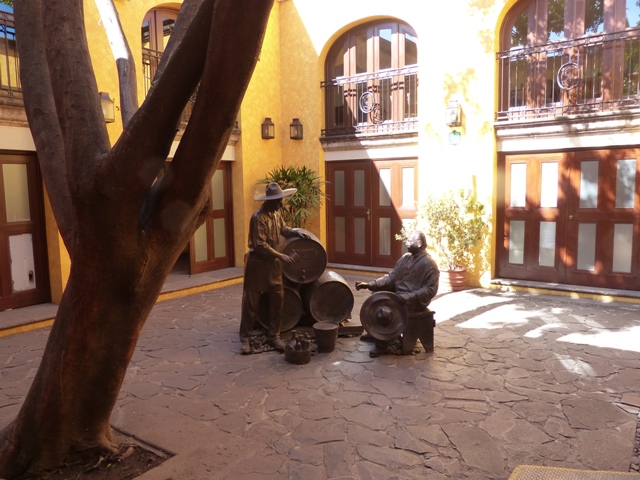 There was a very impressive laboratory – which was off limits for photography – as was most of the production line but it was OK to take pictures of the large ovens….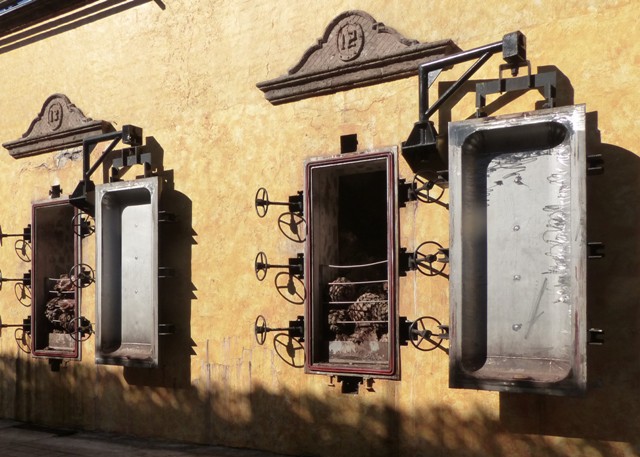 ….and the vintage cars – vehicles the family owned – including some that looked like they may have been used for local distribution.
A bit like the "ravens in the Tower" there is a myth within the Cuervo family that without the bird there is no Tequila, so some poor bird [or rather several over the years] gets to spend its life in a cage.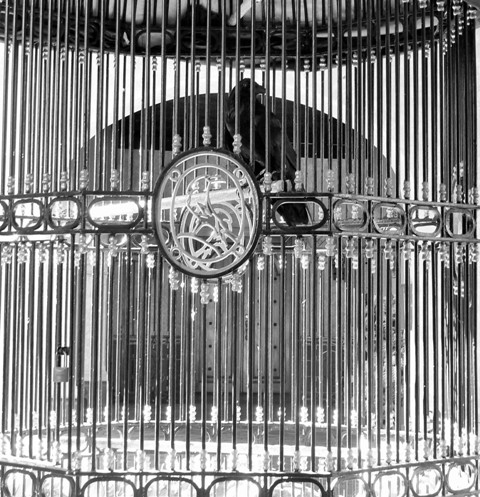 We didn't stay overnight in Tequila though, with hindsight and having seen the place, it would be a nice place to stop. Instead we drove on a further forty or so miles to Guadalajara.
With a population of approximately 1.5 million, Guadalajara is Mexico's "second" city and – as such – is a huge commercial, industrial and communications hub. But, at its centre, the "Centro Historico" is dotted with colonial relics housing museums, government offices, bars and hotels. Our hotel was right in the heart of the old town and, as one of the "colonial relics", was an excellent place to stay and soak up the atmosphere. Nightly "shows" in the courtyard bar included mariachi bands and other popular local musicians who played and sang late into the evening.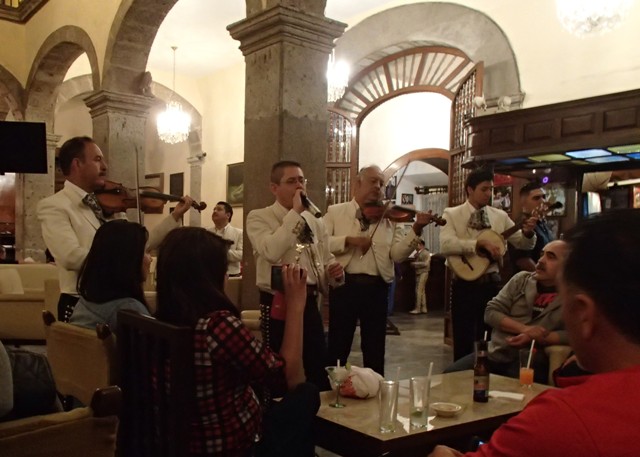 Just up the road was the "Plaza de la Liberation" featuring the statue of Miguel Hidalgo….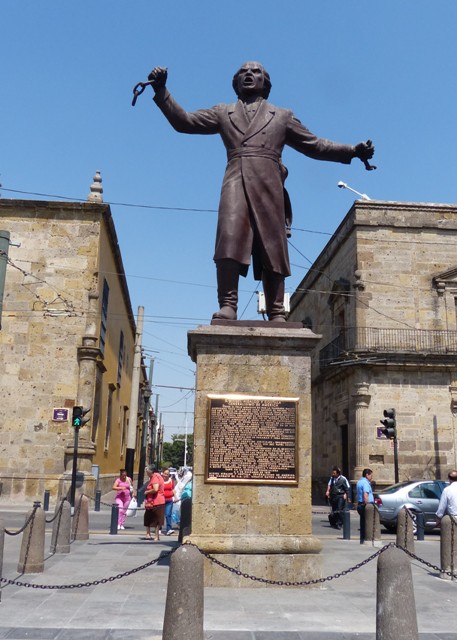 ……the parish priest, who at 5am on September 16th 1810 rang the church bells earlier than usual to summon the villagers and issue the "Grito de Dolores" [also known as the "Grito de Independencia" and literally translated as the Cry of Pain – though the name "Dolores" was coined because it was also that of the parish and the church]. The essence of his speech was "Death to bad government" and started Mexico's War of Independence. He and many of the rebel leaders were captured and executed just one year later, but the rebellion continued and in 1821 Mexico became independent from Spain.
The Plaza is lined with shoeshine stalls….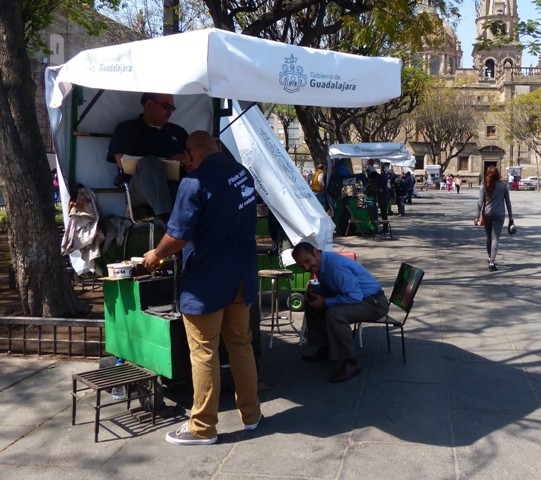 Whilst shoe shine men [I've never seen a woman offering this service] are everywhere in Mexico, the stalls in Guadalajara are probably the most elaborate we have seen. Also visible from the Plaza are the spires of the Cathedral….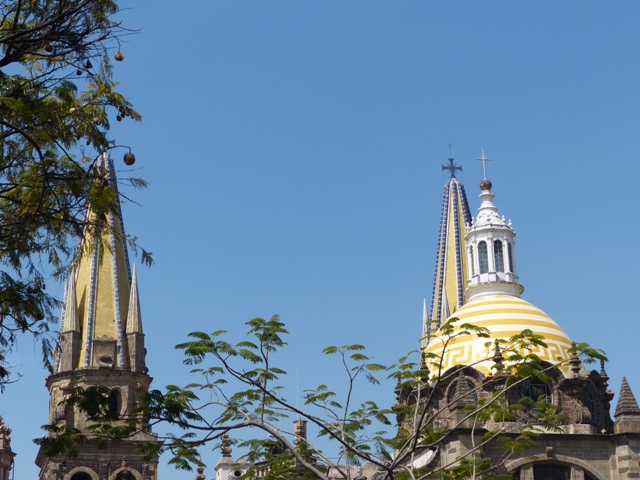 This twin towered building is the city's most conspicuous landmark and is nearly as old as the city itself. With massive gold leaf pillars and eleven small but richly decorated altars the interior is quite magnificent….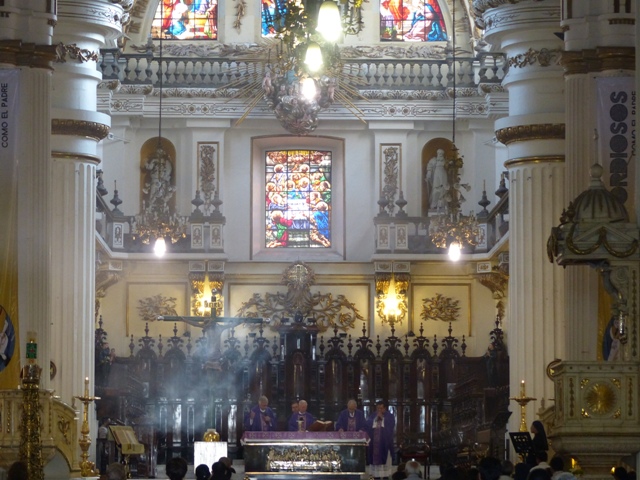 ….as are its stained glass windows [these being from a separate side chapel].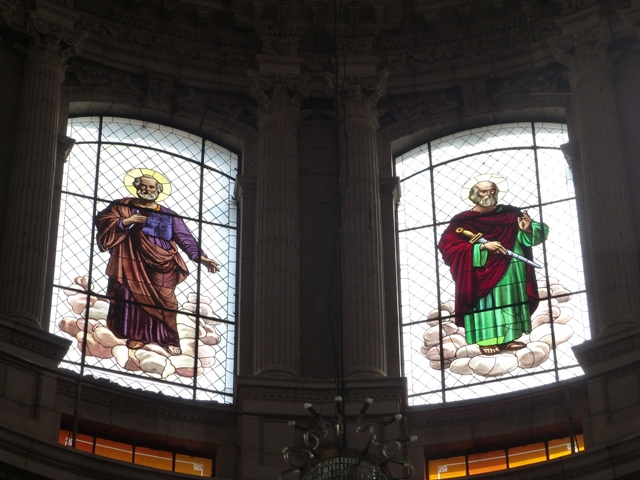 On the south side of the cathedral, the "Plaza de Armas" features a "French Kiosk" built in Art Nouveau style with its pillars adorned with statues representing the four seasons.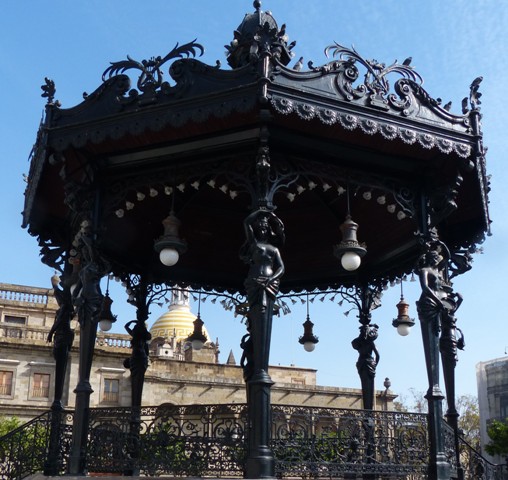 Also overlooking this Plaza is the "Palacio de Gobierno"……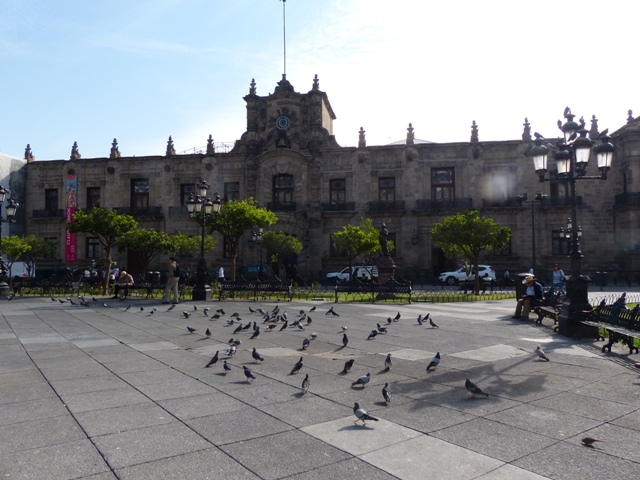 ….. the state government office which, although a working building, is open to the public. It is well known for two murals painted by local artist José Clemente Orozco though these were being renovated when we visited so were covered with scaffolding and sheets!
In the smaller "Seat of Municipal Government" building…….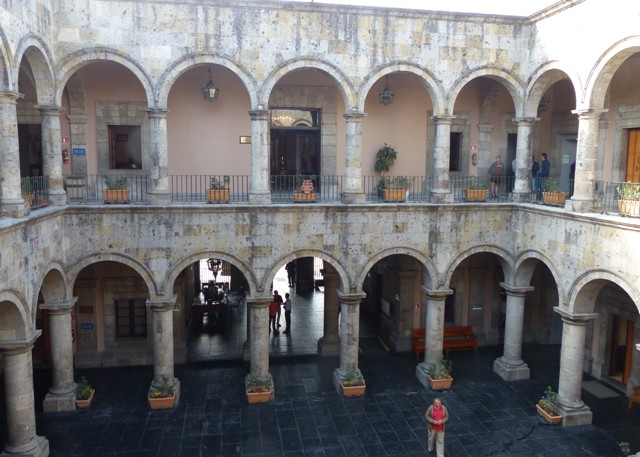 …..we did see a five panel mural by Gabriel Flores which depicted the founding of Guadalajara – though I only managed to take the central three murals….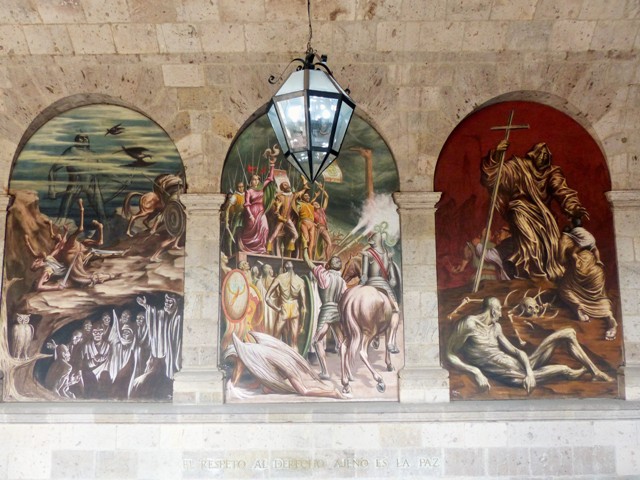 ….. as trying to take all five would have meant suspending myself in thin air on the other side of the balustrade! [Either that or buy a new camera with a wide angle lens].
We then passed the church dedicated to "Our Lady of Mercy" with what is, apparently, an unfinished tower….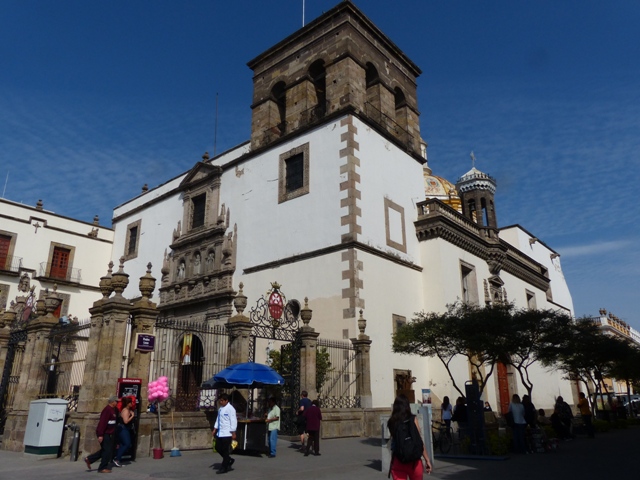 ….. and finally rounded off our morning at the "Rotunda de Los Jaliscences Ilustres"….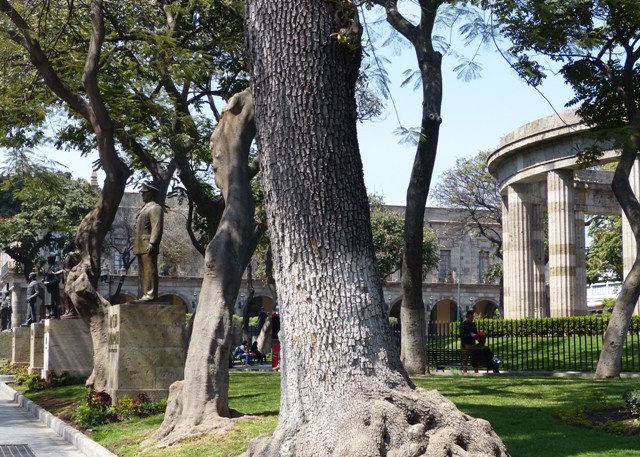 …. a plaza within which several of the state of Jalisco's famous writers, artists, composers and revolutionaries are buried beneath the round pillared monument and they, and others, commemorated by twenty bronze statues surrounding the square.
Our cultural journey continued after lunch with a walk down the "Plaza Tapatía – a modern pedestrian plaza…..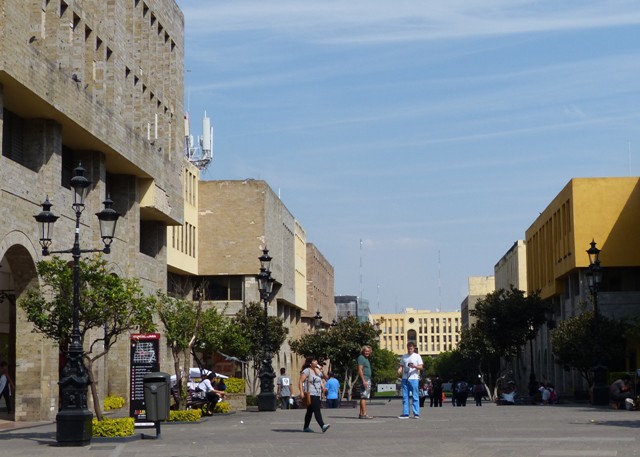 ……which has little to recommend it other than a few fountains….

…..and, at its eastern end some statues by Sergio Bustamante [more about him later]. In the meanwhile "Ear" we were….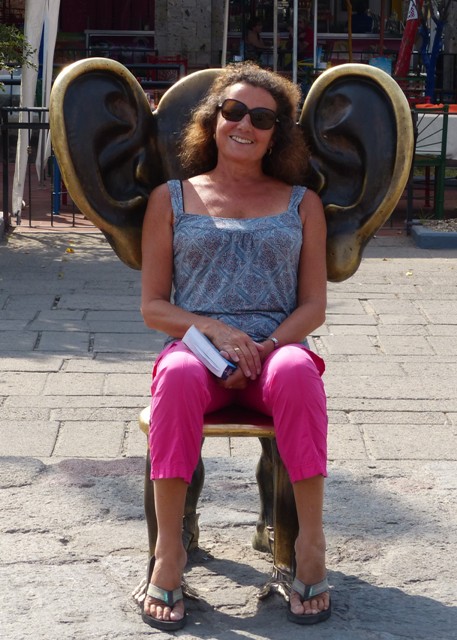 ….just outside the "Instituto Cultural de Cabañas", considered [Lonely Planet] as the city's best sight as it houses a collection of Orozco's works along with that of other modern artists. No photographs allowed – but I have to say that, for me, the building with masses of hidden arched courtyards and a former orphanage and home for invalids was much more interesting than the art it contained.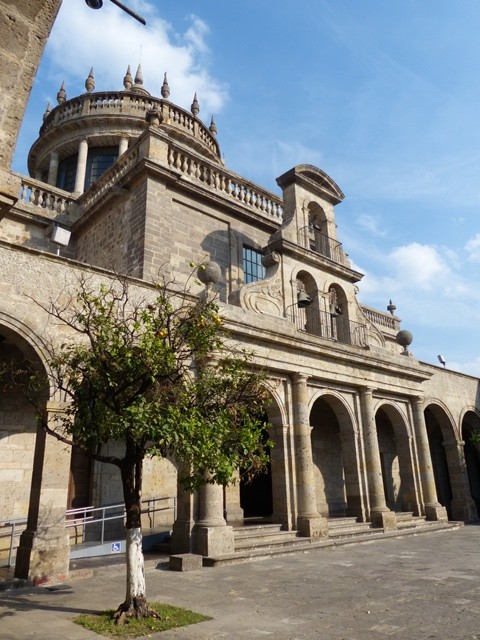 The following day we took a local bus to the Tlaquepaque district of Guadalajara….
……which was once a small colonial town in its own right. Artists now live and have studios in its old pastel coloured mansions and it was here that we found the above mentioned Sergio Bustamante "Family Workshop Studio" ……..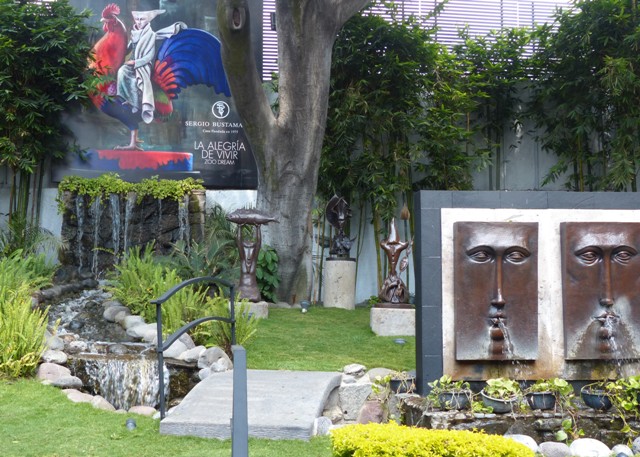 ……….containing a number of his famous bronze statues.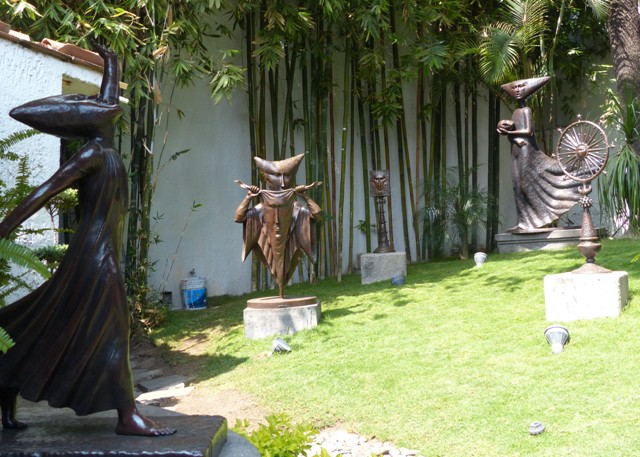 Sergio Bustamante, initially a student of architecture, abandoned this pursuit when his talent for fine art and craft led to paintings, followed by Paper Mache figures and then the creation of sculptures in wood and bronze as well as, since 1992, the introduction of a range of jewellery. His works are now on demand around the globe and, as well as those in Guadalajara we have also seen statues in Guanajuato and Puerto Vallarta. I am now also the proud owner of a pair of small silver earrings, and James sports a natty pair of cuff links.
It was worth visiting Tlaquepaque for this experience alone, though we did round it all off quite well with drinks – "Agave beer" for the guys and a special cocktail for me which is supposed to keep the witches away!!!!?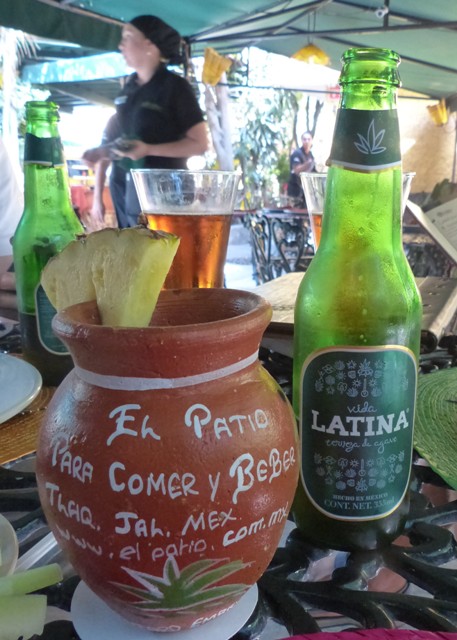 Of course food also featured though, unfortunately, Guadalajara's "better" restaurants are found outside of its historical centre. Comida Typica was what we generally found but the "Birrería las Nueve Esquinas" serving slow cooked lamb or goat stew was something we hadn't tried before. Our best culinary experience there was at "La Fonda de la Noche" – a rambling art nouveau house….
Carlos, the owner, was a delight and we feasted on his "Combination plate" – four separate small dishes which cost just £5 [US$7.50] per person. A bargain.
Then we were off to Guanajuato – a Unesco World Heritage city founded in 1559 in a region rich in silver and gold deposits. We expected it to be a bit like the mining town of Taxco [which you might remember we visited in January] but it was actually much nicer. Both towns are attractive in their architecture and setting, but Guanajuato is far more "lived in", with a local and student population and not, therefore, just a tourist trap.
The city roads twist around the hillside and through tunnels – formally rivers.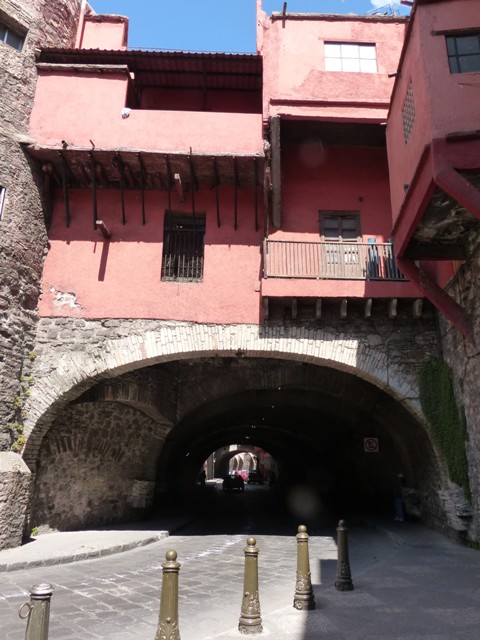 Mike had to drive through one of the longer ones on approach to the city and it was quite worrying due to a number of junctions and crossroads within the tunnel system which were unmarked and where no right of way was obvious. Wacky!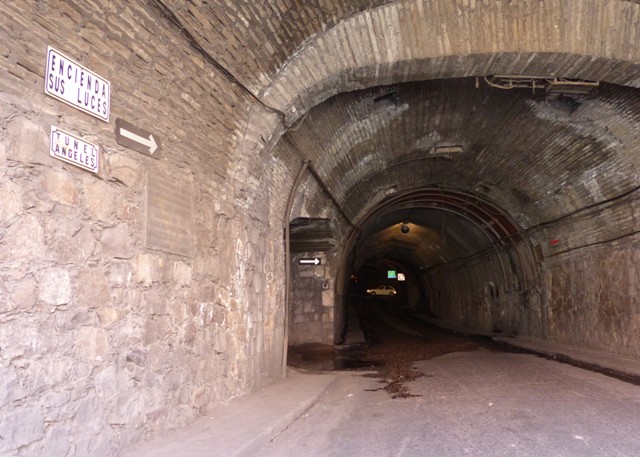 We started each day with coffee from the small cafe just down the street from our accommodation….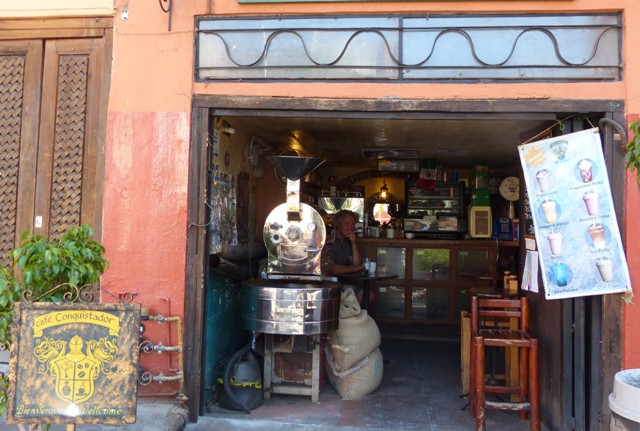 Walking through the city was a delight – taking in the old buildings and seeing statues on nearly every corner. Although in a similar style this one is not actually a Bustamante – but by a woman sculptor whose name I have forgotten – but I think it was Ursula something!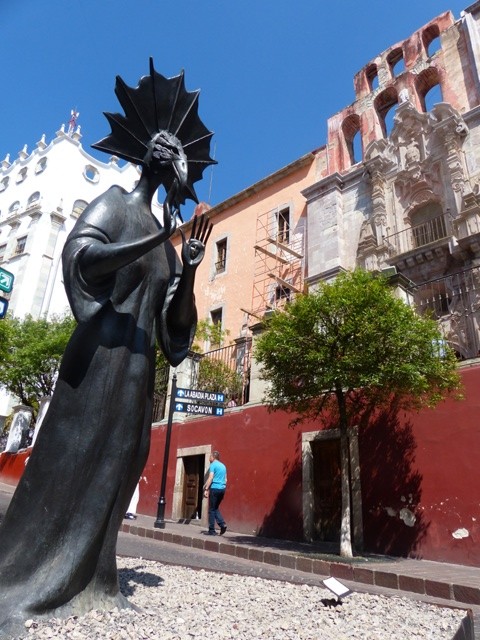 We later came across this statue which Mike recognised immediately…..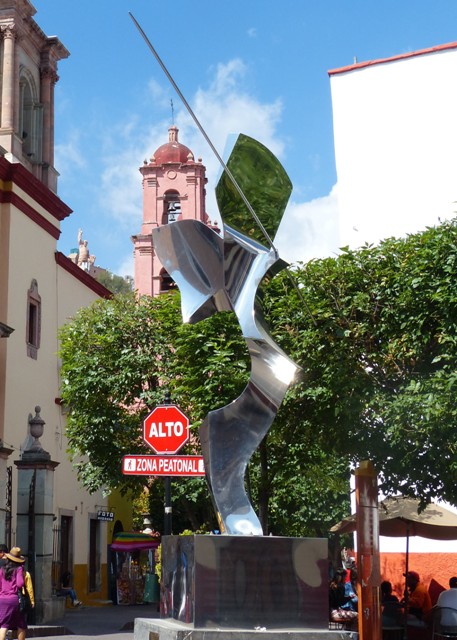 ……though I have to admit that it wasn't until he said "Don Quijote" [Spanish spelling] that I saw a resemblance. Did you get it?
The statue wasn't incidental. In Guanajuato there is a museum dedicated to the Cervantes hero.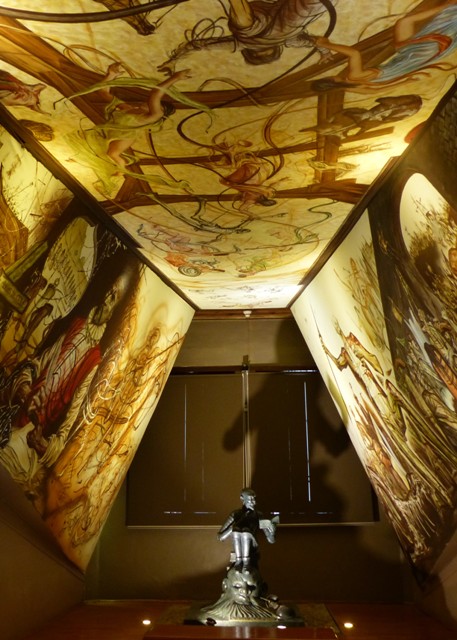 Every exhibit in this fascinating museum relates to the famous man from La Mancha and, of course, his sidekick Sancho Panza.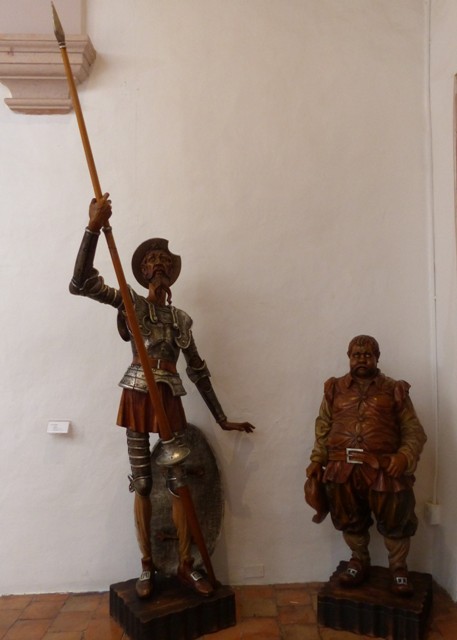 There are paintings, statues, tapestries, porcelain, clocks and postage stamps – totalling over a thousand memorabilia and, as such, one of the largest collections in the world on Don Quixote.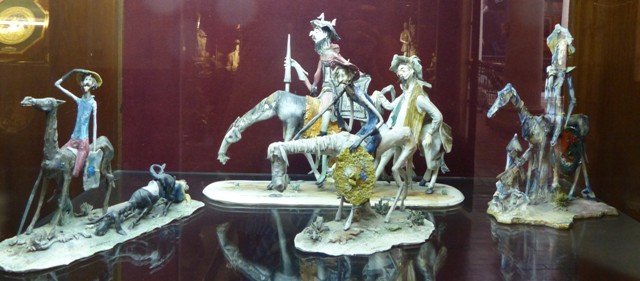 The collection was established by a Spaniard called Eulalio Ferrer who was an inmate at the Argeles-Sur-Mer concentration camp in 1939 and whose reading of "the little book, small in size and in print"…..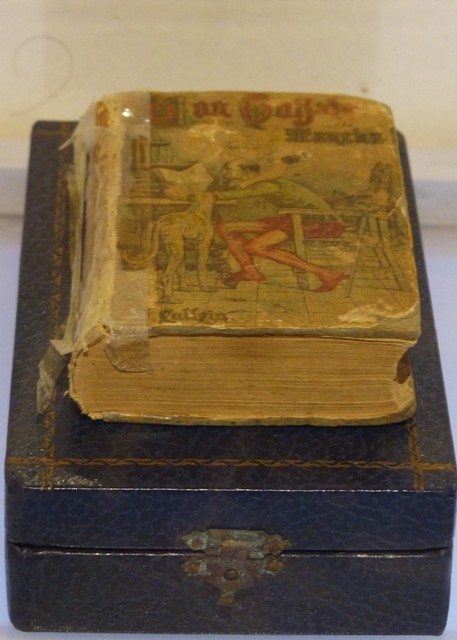 ….fuelled hope in himself and his fellow inmates throughout his days and nights of imprisonment and inspired him to start his collection.  That book – a 1902 Madrid "Calleja"edition – was the centrepiece to several other second volume editions including this 1742 London edition….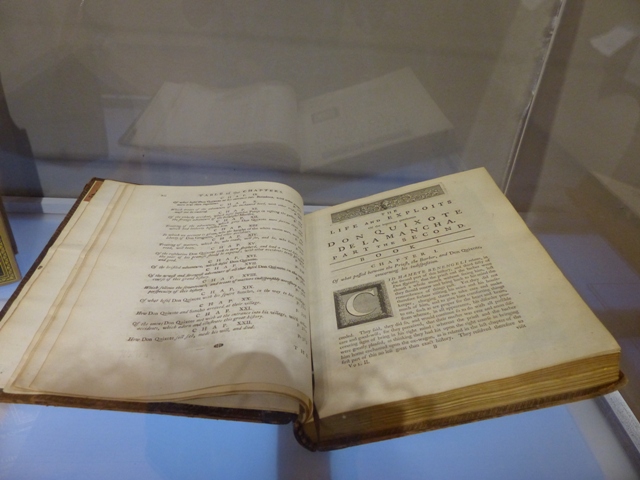 One of my favourite parts of the museum was a series of illustrations by "Trinidad Romero", who depicted Quixote in red [for Love, of life, honesty and righteousness], Sancho in green [the colour of kindness, loyalty and "land"] and the "anonymous others" in black.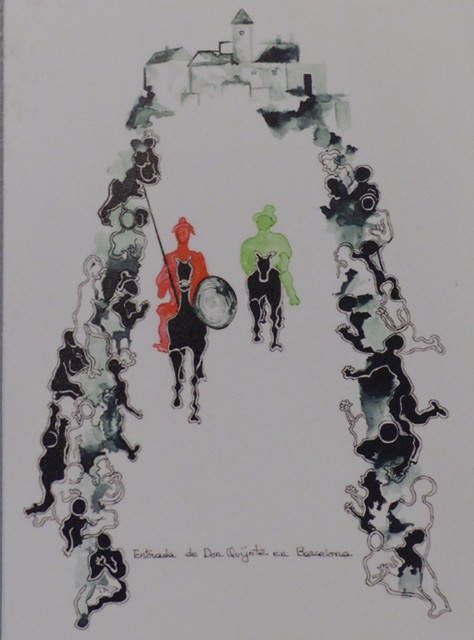 Another hero, but this time local to Guanajuato and a "real" person is "El Pípila. His monument towers over the city……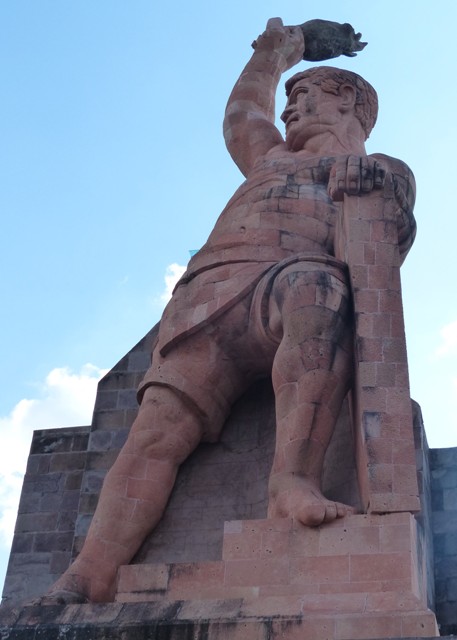 …and honours the young miner who, on September 28th 1810, tied a stone slab to his back to protect him from bullets and torched the Alhóndinga gates, enabling Hidalgo's forces to win the first victory of the Independence movement.  Built between 1798 and 1808 and used initially as a grain store, the building became a "fortress" in 1810 when 300 Spanish troops and loyalist leaders barricaded themselves in against the 20,000 Hidalgo rebels.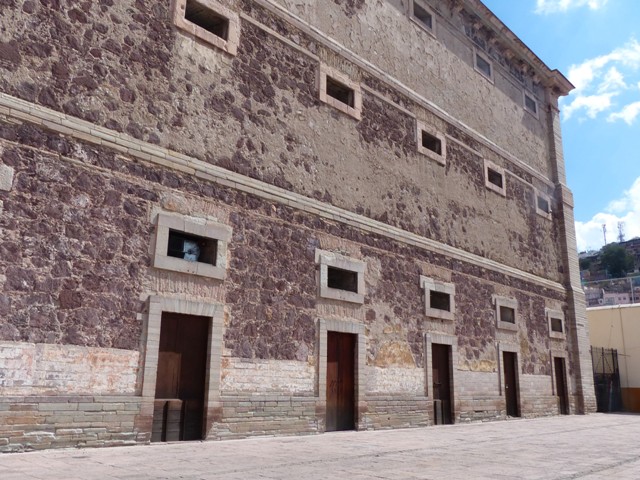 It was later used as an armoury, a school and lastly a prison before becoming the museum it remains today.
Very different in style, and one of the most impressive buildings in the city, is the "Teatro Juárez" built between 1873 and 1903 and festooned with lamps, columns and statues.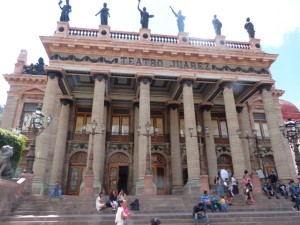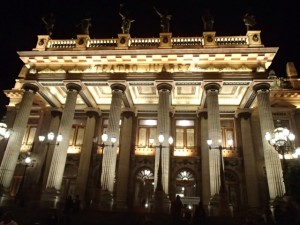 In the evenings young locals [maybe students] dress in costume and engage people in tours, music and dance…..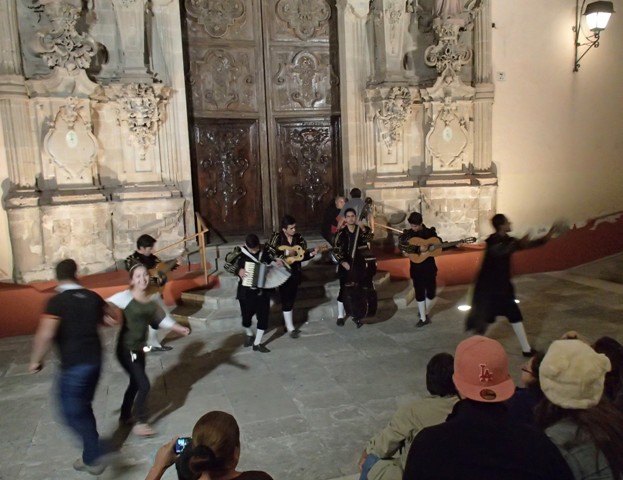 …. and look who also popped up to enliven the proceedings!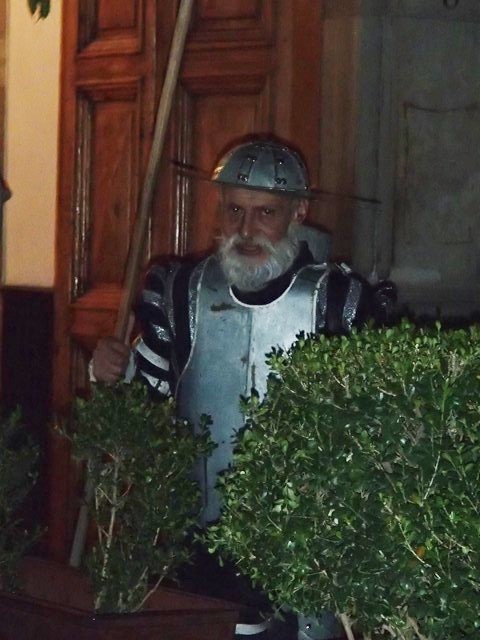 Equally impressive as the buildings are many of the city's plazas, such as Plaza del Baratillo….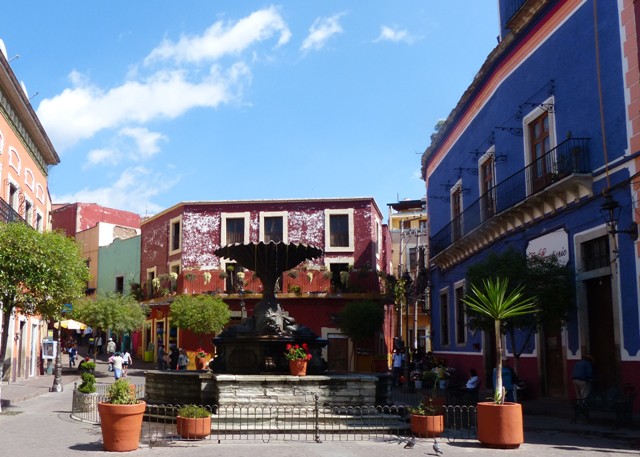 ….and Plazuela de San Fernando.

Many alleyways connect these plazas and the narrowest and most famous of these in Guanajuato is the "Callejón del Beso [The Alley of the Kiss] – the Mexican Romeo and Juliet story.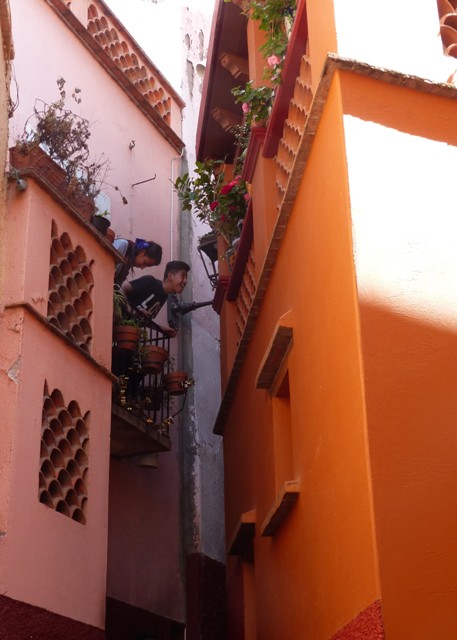 Views from the plazas of the town sprawling up the hillside….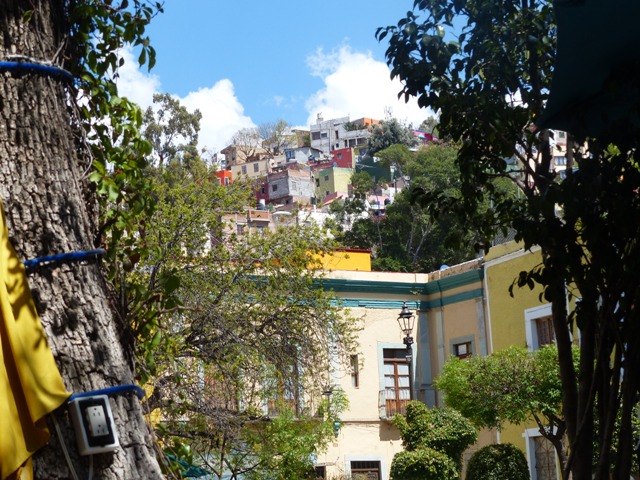 …. are beaten only by the view from the El Pípila monument of the city spread out below.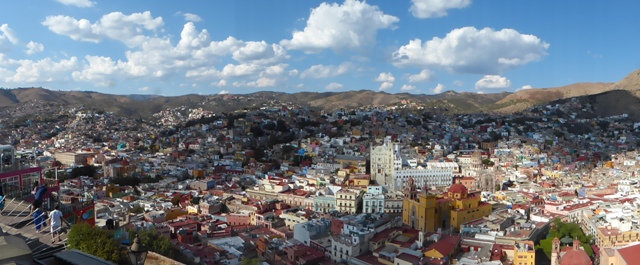 Whilst admiring the view we watched locals drinking one of the more complex versions of "Michelada" – which at its most basic is a mixture of the juice of one or two limes, ice cubes, a dash of salt and cold Mexican beer. This one had added Clamato juice [which in itself is tomato juice infused with clam] and was even more impressive in that the beer bottles were just tipped into the clamato  [rather than the two being mixed before being served] and had a garnish of prawns and cucumber.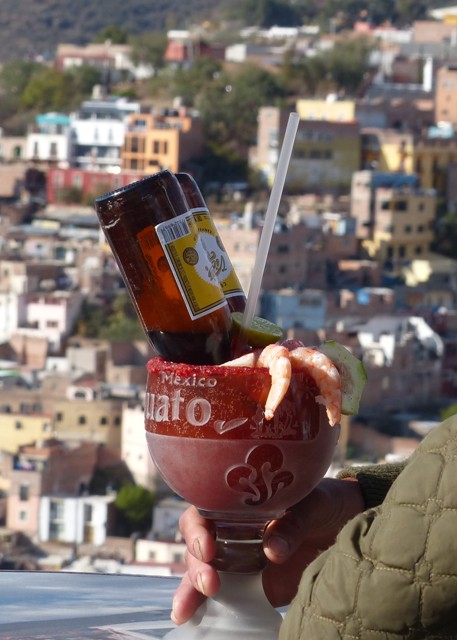 A rather obscure local pastime, which we didn't really understand, involved children attaching balloons to their feet and then trying to stamp on each other's balloons to burst them.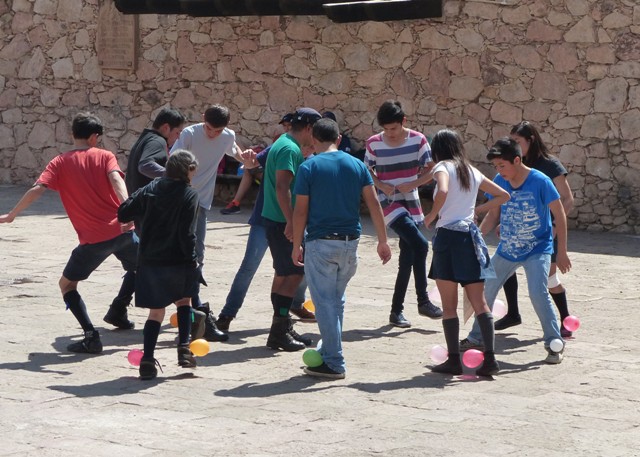 We weren't sure whether this was the whole game or whether they were using it to practice for something else or to improve footwork skills of some sort?
Much more easy to understand, but not immediately noticeable – until he moved – was this living statue who delighted children by inviting them to sit down, wear a hat and play cards with him.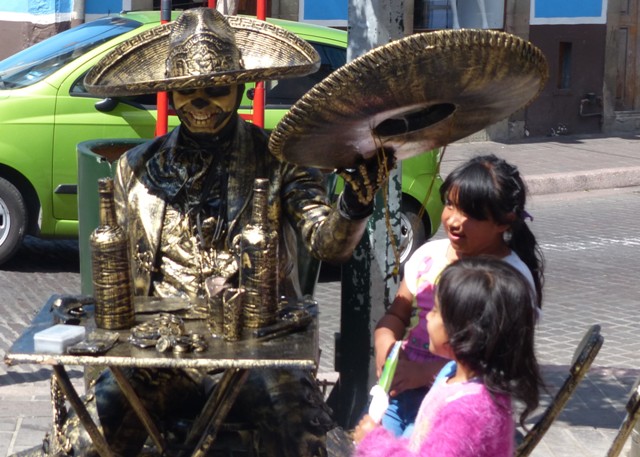 In my introduction to Guanajuato I told you that it was a mining area and it is possible to visit some of the old mine workings. We headed out to the Valenciana district, high above the city, a small village with its "Templo"….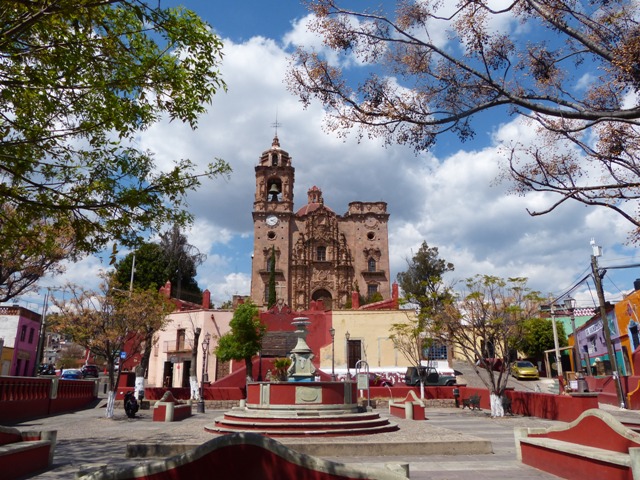 ….and resident donkeys…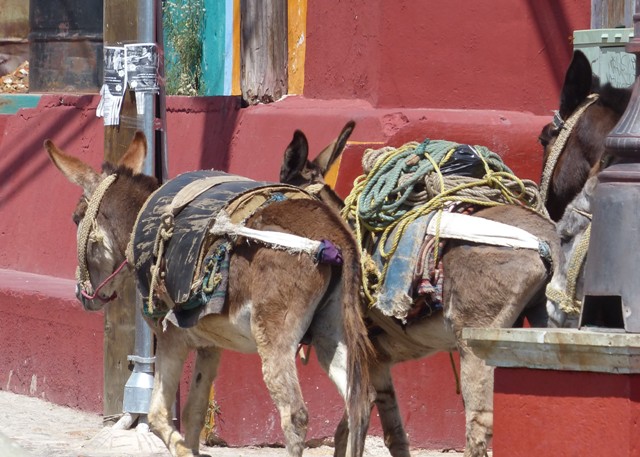 ….. and where, for 250 years, "La Valenciana", the largest mine complex, produced 20 percent of the world's silver.
Our tour guide, an ex-miner….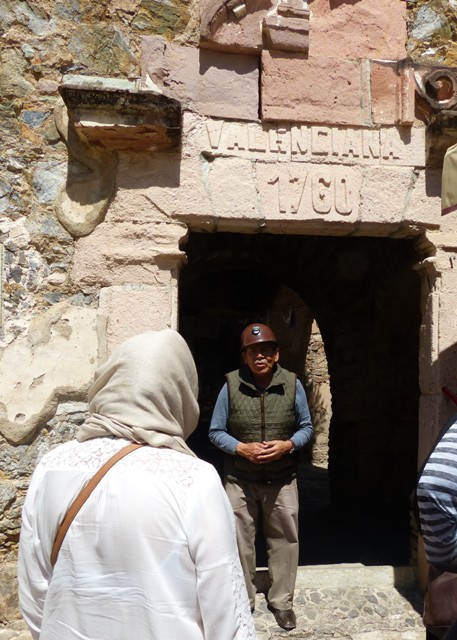 ….took us down one of the shafts [60metres]….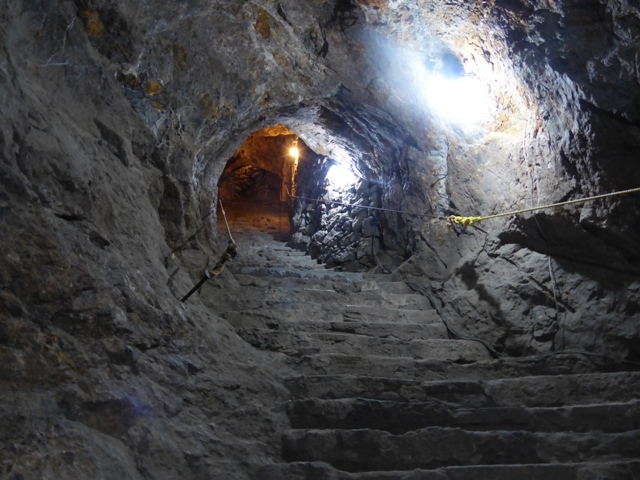 ….and as well as recounting stories of the dangers and life underground [all in Spanish but we got the gist of darkness, dust, and a generally gruelling existence with emphysema to follow] "encouraged" us, much to James's disgust, to pose in fine tourist fashion….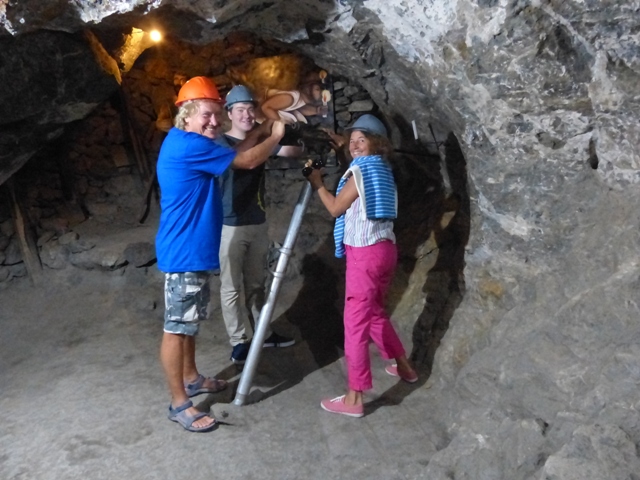 This was actually the 29th February and suitable celebrating had to ensue. A most authentic Mexican drinking experience can best be found at "La Clave Azul"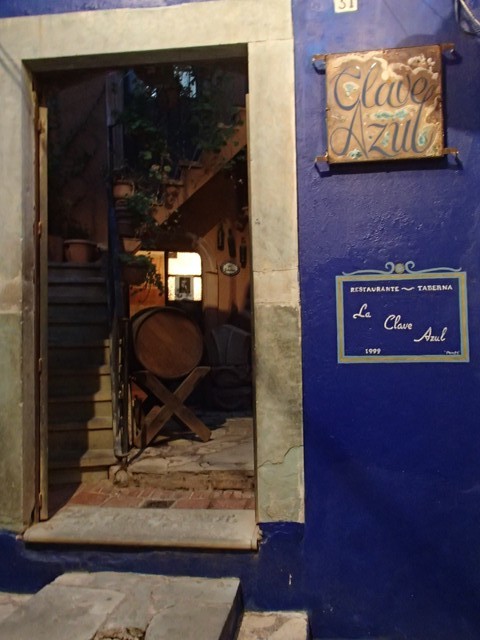 This cantina is packed with artefacts of various descriptions – in particular film posters….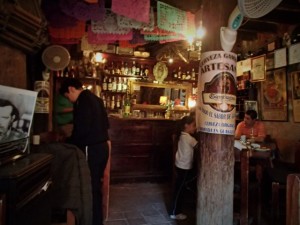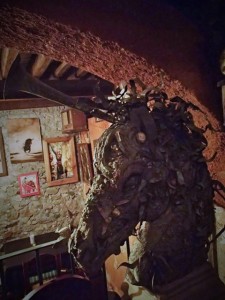 …. but best of all each drink comes with an accompanying "botana" – a tapas like snack. After four of these we didn't need dinner – so just had to keep on drinking! Happy 60th Birthday Mike.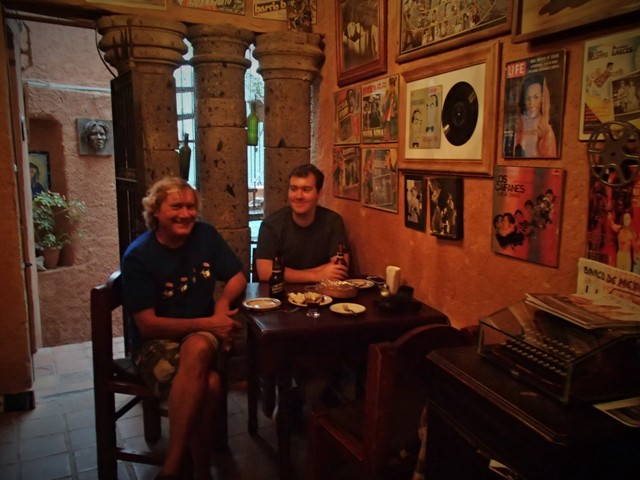 Our final stop on the trip was a small lakeside town called "Ajijic" [pronounced Aheeheeek] with its fairly typical square….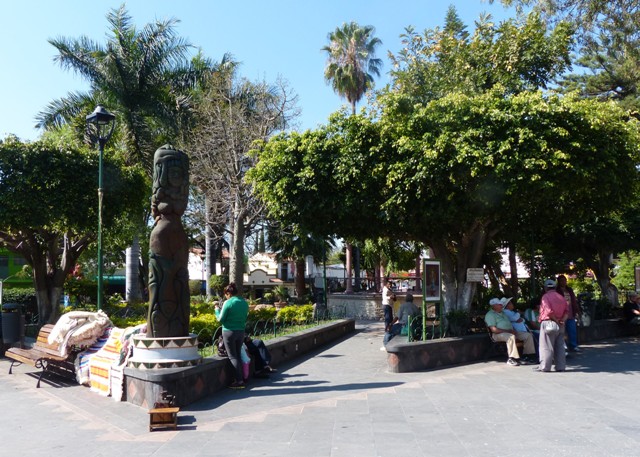 …. and pretty stone church.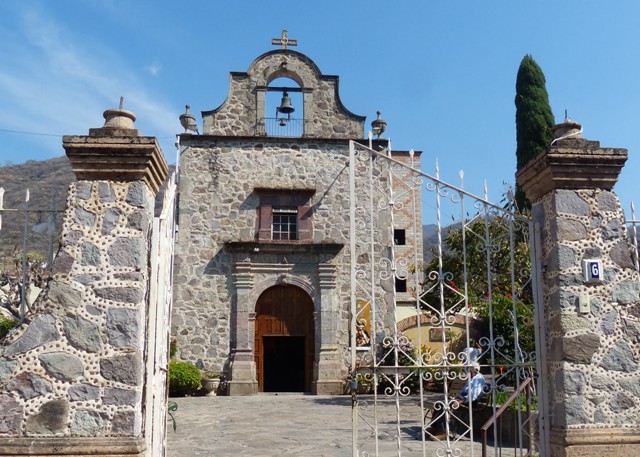 The town is on the banks of Lago de Chapala – down which we had attempted to drive earlier in the day. Mike managed to negotiate the rutted stony trail which wound its way up and down inclines from Ocotlán at the eastern end of the lake until, we think, about 250yards and one insurmountable hill before reaching the cobbled road approaching Chapala. We had no choice but to turn round and bounce our way back again before taking the inland route.
Ah well, reaching Ajijic was certainly an adventure we will remember and was well worth it. In the evening dusk we walked along the water's edge….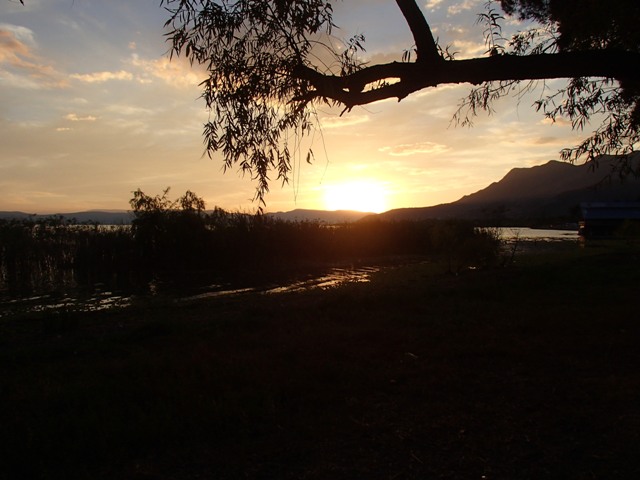 …. until the sun set….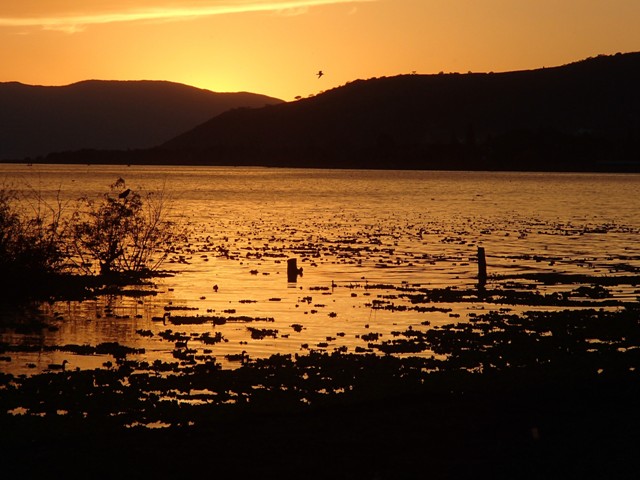 …. when it was time for dinner. To cap it all we found a restaurant with a familiar theme – but totally unrelated to Guanajuato. A Madrid born man has a similar liking for our friend Quixote and brought the theme with him from his restaurant in Spain when he returned to the country of birth of his wife. A very pleasant couple – they gave us some great food – and we had a lovely relaxing evening there.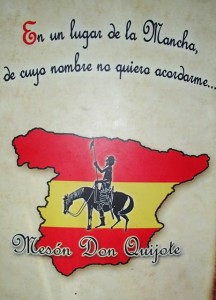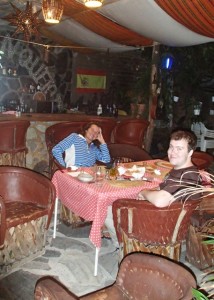 The following day our route back to Marina Vallarta took us through some amazing countryside….

….and over the mountains back to the coast.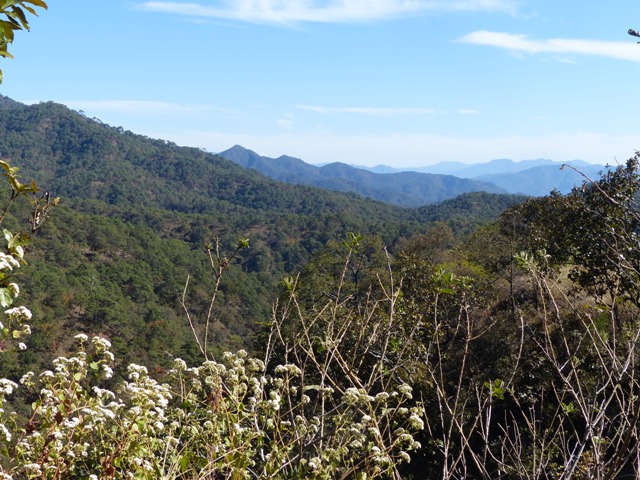 On James's next to last day we went into Puerto Vallarta itself [about 4 miles south of the marina], wandered through the old town and had a great lunch at "La Cerveceria Union". Whilst his holiday wasn't yet over, we just spent the Friday mooching around the marina and then, on Saturday had the unexpected bonus of James's plane being delayed by 11 hours. It was a bonus to us having James there longer though not being able to catch his plane until 4.30am on Sunday [rather than 5.30pm on Saturday] probably didn't feel like much of a bonus to James. I am sure he will prefer to remember the lunchtime in Puerto Vallarta – a really good seafood feast [fish tacos, ceviche, and seared tuna loin], and – a first for James – three types of local Oysters….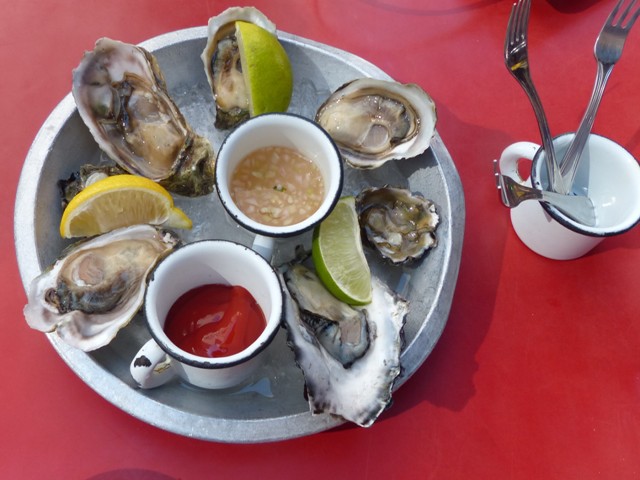 ……and, to wash it all down a final taste [for him, for this year anyway!] of Mexican craft beer….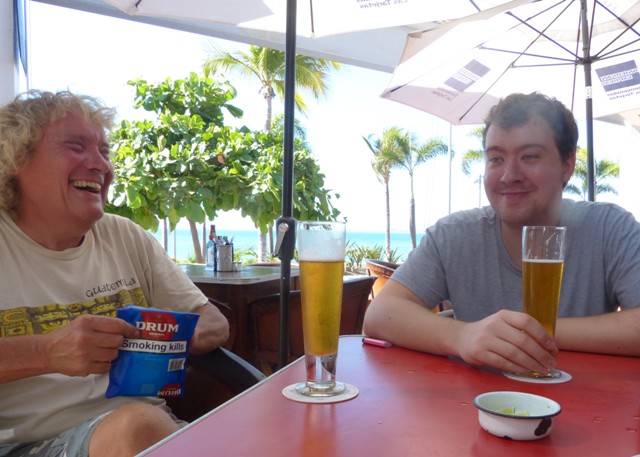 It was a brilliant two weeks and a birthday [and surprise] that Mike will never forget.