Although my last blog post mentioned Puerto Vallarta and La Cruz I was so caught up in the fun we had with James that I didn't go into detail about what is available to the cruiser. So, here we go.
For yachties planning to visit, there are four marinas in Banderas Bay. Staying at any of the marinas means you don't have to report to the Port Captain in person as they send in weekly documentation of boats berthed there. [N.B. That doesn't apply to all marinas in Mexico – but it seems that in Banderas Bay and Mazatlan it does. I am assuming that La Paz, the Cabo area and possibly Ensenada have similar arrangements – but it is always worth checking with the marina.]
We did not visit either Paradise Village Marina or Nuevo Vallarta Marina, both of which are found in the "El Salado" Estuary,  but understand them to offer first class services – and therefore charge a first class rate! At the time of writing, Paradise Village was the only one of the four marinas with potable water. The problem with water at the others is that although advised as non-potable it does contain chlorine so filtration through the watermaker isn't possible unless your system has a primary charcoal filter. We topped up by buying the large returnable 5 gallon jugs at approx £1 [US$1.50] per jug.
We didn't actually stay at Marina Riviera Nayarit [La Cruz] either but used its dinghy dock almost daily [£1.60/US$2.20 per day] whilst anchored outside. This isn't exactly cheap – particularly as the only "service" you get with it is rubbish disposal but, it is very secure and anchoring at La Cruz gives access to all that the village has to offer.
We did stay [twice] in Marina Vallarta.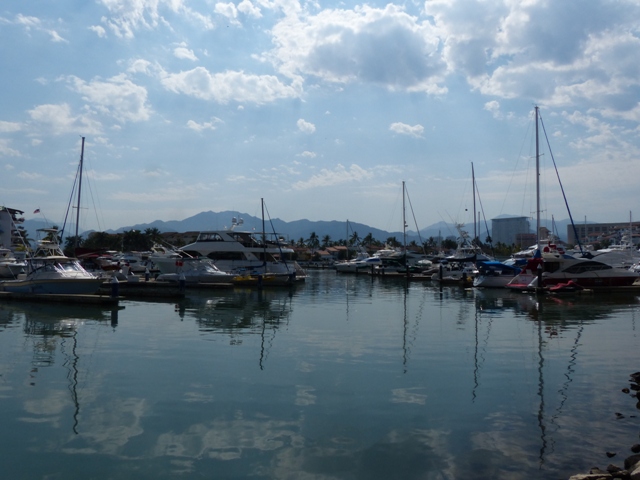 At the time we visited it was the cheapest of the four marinas [approximately £30/US$45 per day including power and water for transient visitors] and whilst its showers aren't exactly the best it is in a great position with easy bus access into Puerto Vallarta and to all the major provisioning places such as Walmart, Commercial Mexicana, Sam's Club and Costco.
Restaurants surround the marina and on Thursday night there is an artisan market [more or less the same as the Sunday one at La Cruz].
There are two main chandlers. Zaragoza – opposite Marina Vallarta – is Mexico's biggest chandler, whilst Todo Vela – on the main highway in La Cruz, is run by two ex-pats. Prices are not cheap – not helped by import tax into Mexico as most of the stuff at both chandleries is brought in from the US. We bought galvanised chain from Todo Vela and new batteries from a small store in PV. Batteries are quite widely available.
There is a very good Cruisers Net on Ch22 every morning [except Sunday] and, as with most places we have been where a net operates, there is a lot of local knowledge and someone can usually tell you where to go to get stuff or where there is a good mechanic, refrigeration expert etc. We were told about a local guy – Miguel – who cleans boat bottoms. On the day before we left we paid him £20 [US$30] and he spent two hours doing an excellent job. Well worth the money.
Banderas Bay is one of the two major "Puddle Jump" venues – the other being Panama – and from around the end of January to early March there are various seminars on subjects such as Pacific weather, How to get the best out of your sails and rigging, Provisioning etc. I imagine they are very similar to those provided as part of the ARC and, perhaps the Baja Ha Ha [though, having not done either of those organised rallies and having been to only one Puddle Jump seminar – even though we aren't jumping yet – I don't really know].
Marina Vallarta comes with its own resident croc…..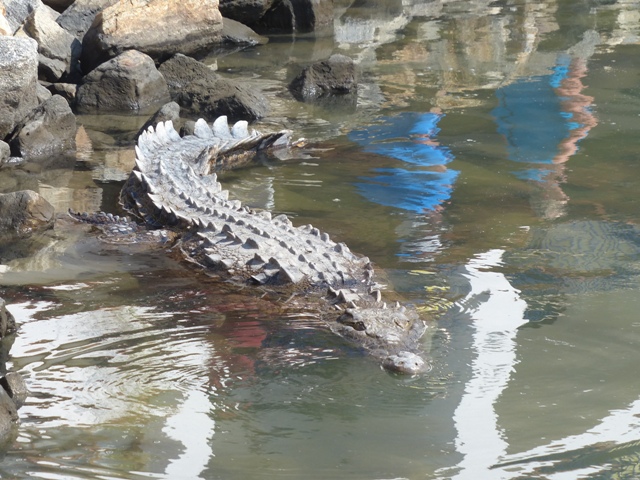 ….whilst the area surrounding La Cruz "warns" of passing Iguanas.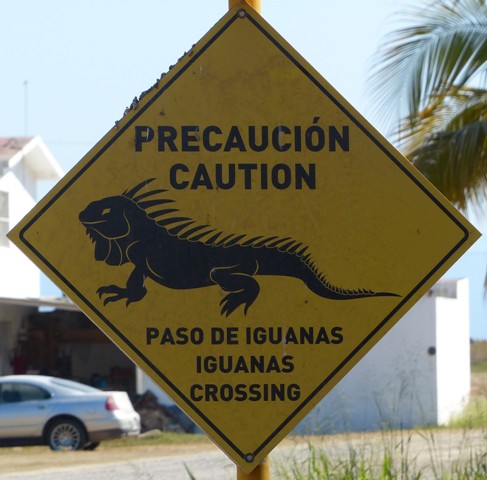 These tree climbing beasts….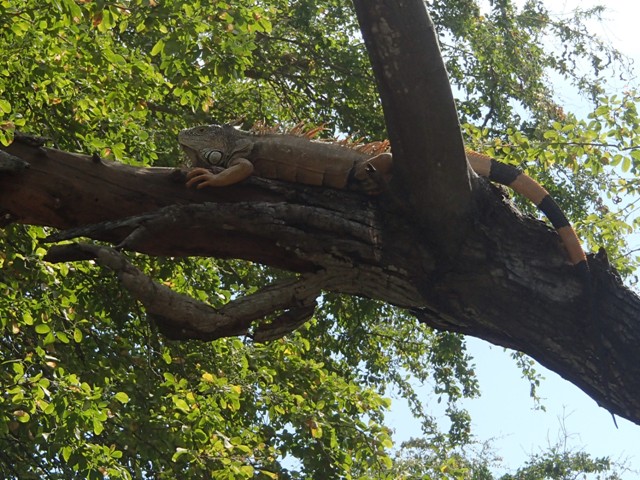 ….are really quite large….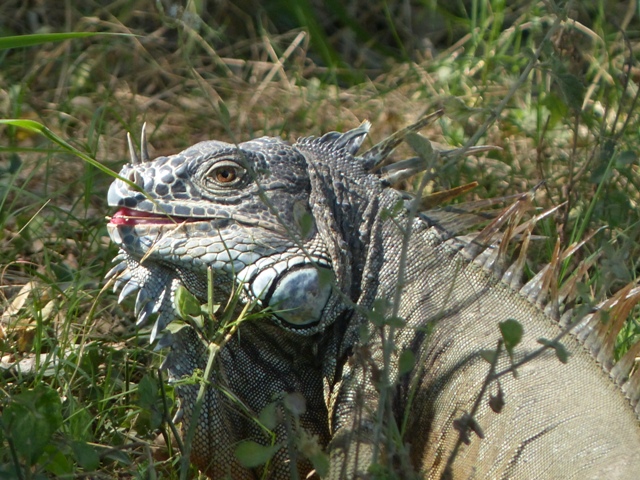 The anchorage at La Cruz fronts a fairly rocky shoreline.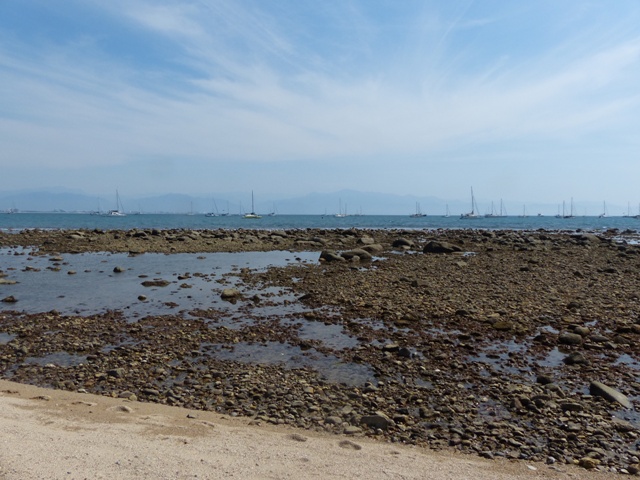 Unfortunately more than one boat has dragged at anchor and ended up on those rocks. Whilst we were told that most of these have been salvageable, that wasn't the case for "Rage" which went ashore whilst we were there.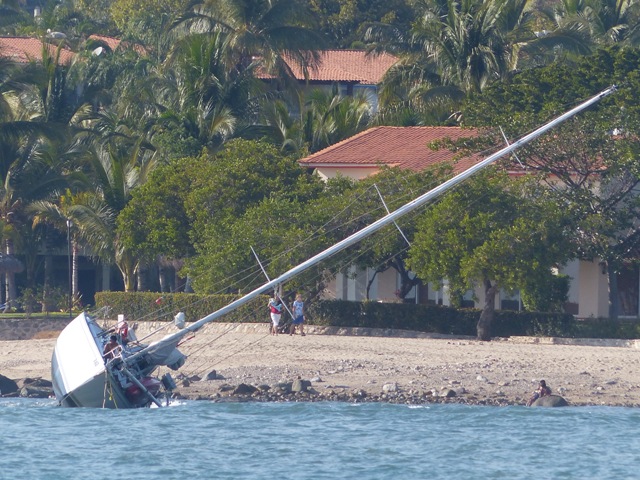 We joined a group of people who, as darkness was falling, scrambled out over the rocks to save as much as we could. It was quite amazing how much stuff we got off in the hour and a half before dark. Over the next few days the mast, winches and all other removable parts were taken ashore before she was taken away. Sad to see.
La Cruz – or to give it its full name – La Cruz de Huanacaxtle is a lovely place to while away a few days – or even weeks. It owes its name to the Elephant Ear tree which grows in the form of a cross [Cruz] and is also known as the "hearing" tree or "the tree with ears" due to the shape of its fruit. There are several restaurants in the village and almost every night there is music at one or more of them.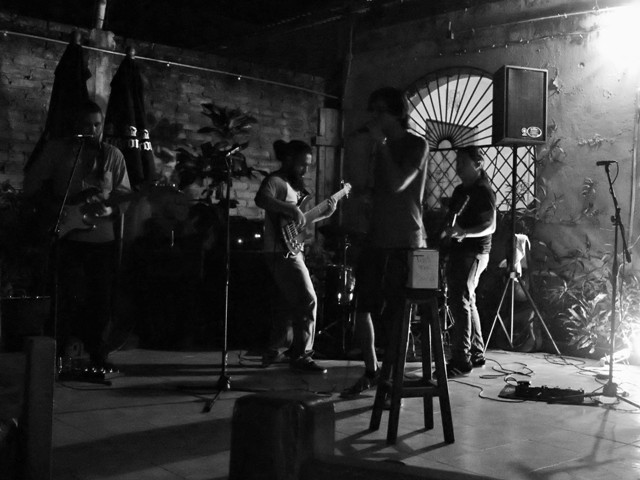 This band was absolutely excellent – great guitarists and a decent singer who entertained us with songs by Led Zeppelin, Pink Floyd, The Beatles and Dire Straits as just part of their repertoire.
A guitar trio treated us to music of a more classical nature one evening at a special fair to promote local business.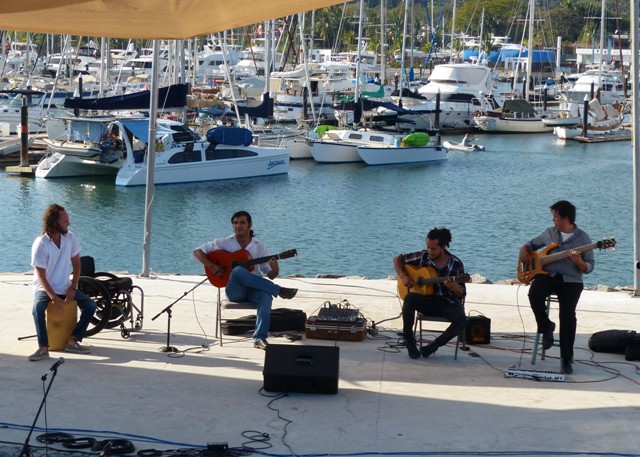 The free samples of tacos and margaritas went down well too!
If you tire of La Cruz then a 10 minute bus ride will get you to the more popular resort of Bucerias. Its main street [the highway] looks fairly shabby but there are good beaches and lots of hotels, restaurants and bars. We wandered around and found some of the quieter parts – which we actually prefer.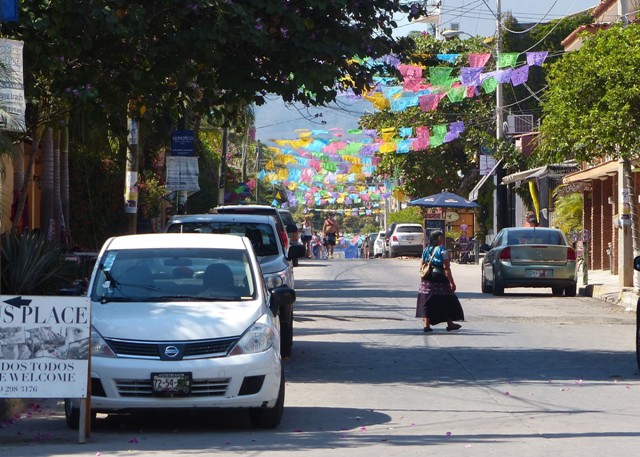 La Cruz to the centre of Puerto Vallarta is an hour long bus ride or, as I said above, it's only about 15 minutes from Marina Vallarta. At the heart of the old town, the Plaza Principal, is fronted by Los Arcos, a small row of arches which have become a symbol of the city.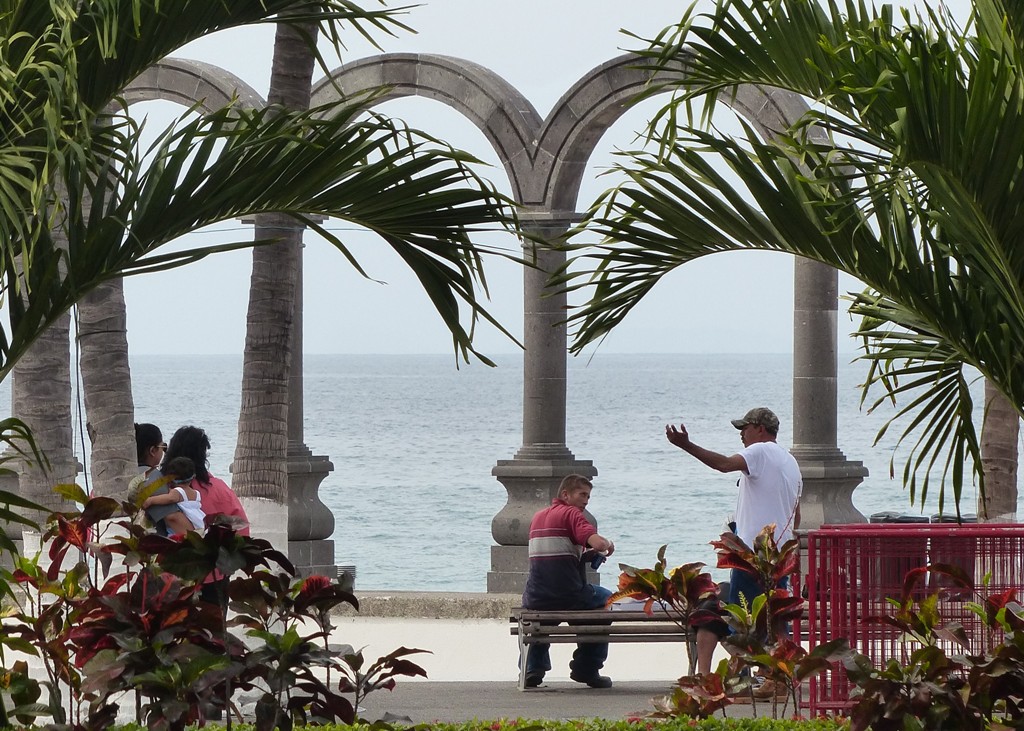 Turn around in the plaza and you see steeple of the "Templo de Guadaloupe" – another Vallarta landmark – with its stained glass window depicting its name…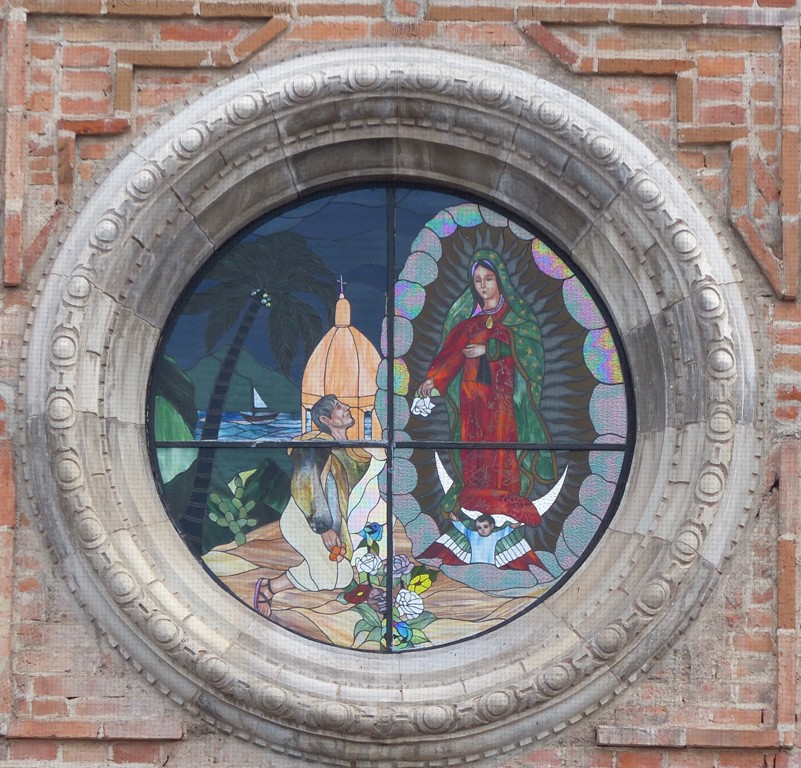 ….and a beautiful crown top.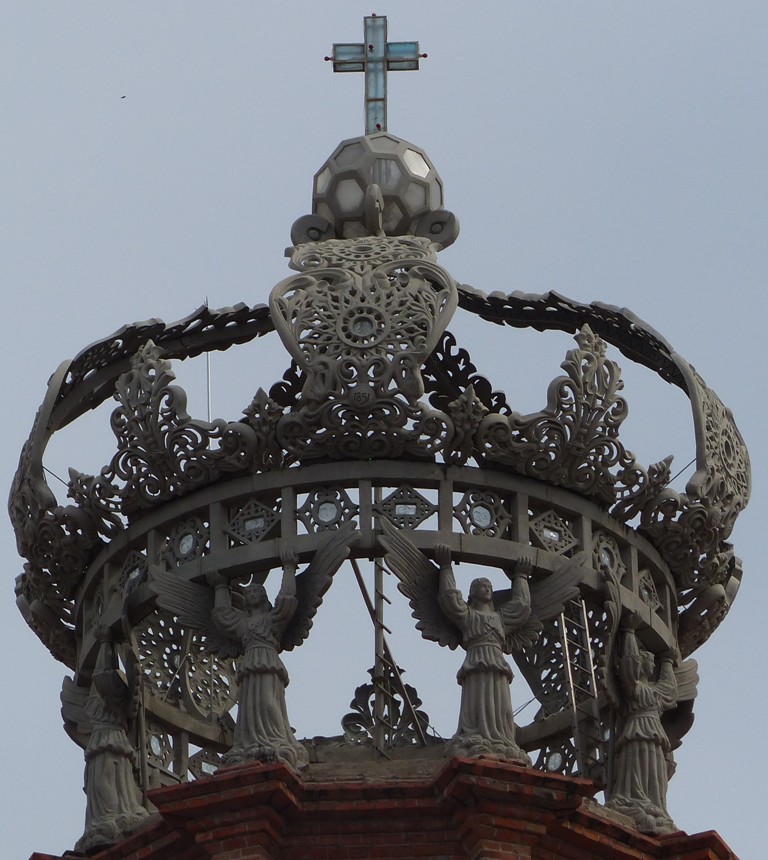 We strolled up the "Isla Cuale" – once the place where the city's earliest residents built their homes – but now a long string of stalls, their owners vying with each other for tourist business. Most people stop half way up [where the stalls end] but we followed it to the convergence of the two branches of the Rio Cuale and came across a small cultural centre which was unfortunately closed, but where we saw some rather imaginative artwork.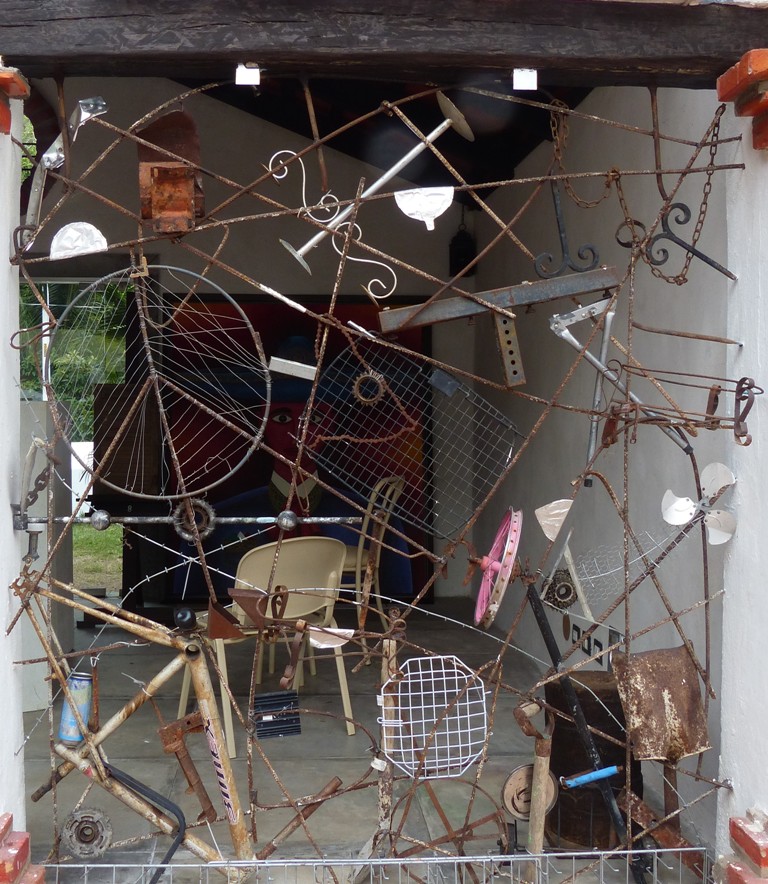 I wrote about Sergio Bustamante in the previous blog and said we had seen some of his work in PV. Several statues line the Malecon – which is a nice place to stroll – and once again the "ears" featured….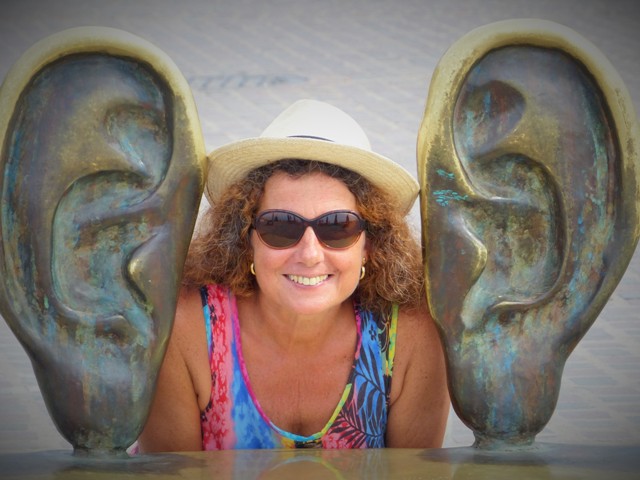 …. as did something that reminded me of "The Pirates of the Caribbean" – [the "Kraken" thing – not Mike!].
Further along is what is probably his most famous sculpture of the ladder with "people" waving out to sea.
So, I hope I have been able to tell you enough to show that Banderas Bay is good for just about everything – and it is hardly surprising that many cruisers base themselves there and/or return year on year.
But, you know us – not ones for hanging around very long – so, six weeks after our arrival off we set off again.
Having visited the fuel dock fairly early in the morning, our first leg took us just nine miles to "Punta de Mita"  – an anchorage at the north western tip of the bay which provides a nice stop on arrival into or before leaving the Bay of Banderas area. Ashore it is now very built up [hotels/condos] and the surf landing doesn't make for an easy visit so we were content to just sit in the cockpit – especially as what started out as a dull day became brighter as late afternoon approached and then developed into a lovely sunset.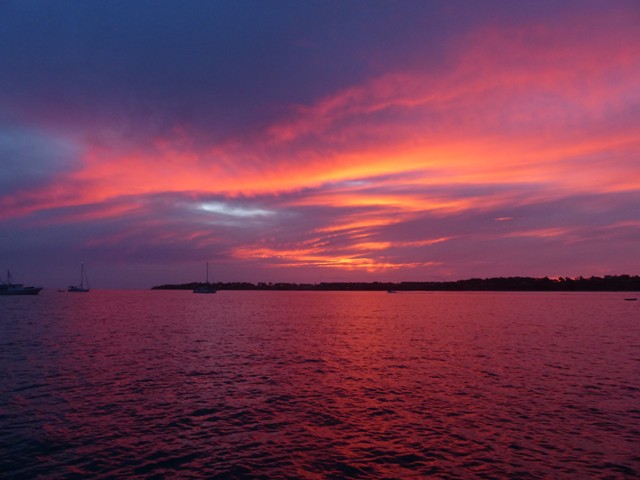 Day two was a 37.5 mile hop up to "Chacala".
About an hour from the Punta de Mita anchorage – and therefore just after rounding the point – we saw two mating turtles. It wasn't something we ever expected to see and, as I don't travel with the camera in the cockpit [maybe I should?], I can't share a photograph with you but it is something we will both remember.
Chacala is described in the Cruising Guide as "the quintessential anchorage most people dream about when setting sail for the warm tropical anchorages of Pacific Mexico". It certainly has a lot going for it. First of all it has a dinghy landing area which is protected from surf…..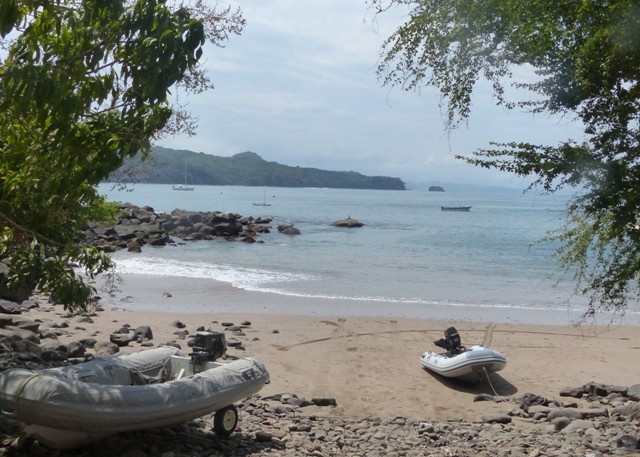 …. a very rare occurrence in Pacific Mexico. Then there is the small town with a really laid back feel….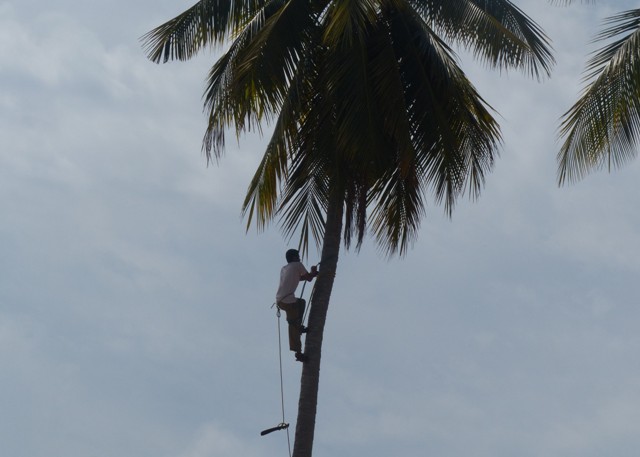 ….. coconut anyone?
There are a few shops….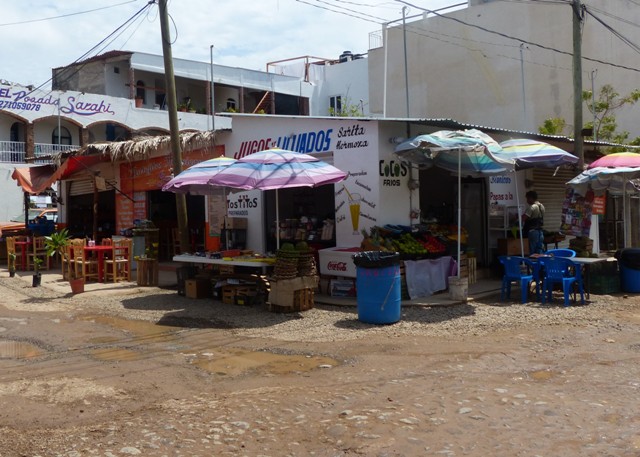 …. a couple of beach restaurants…….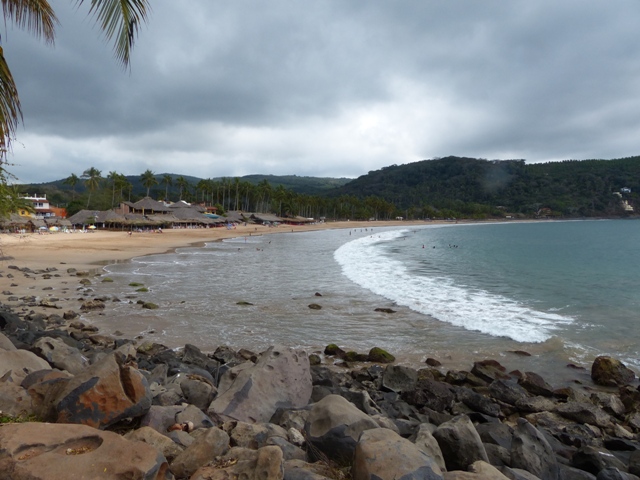 …. and a nice anchorage.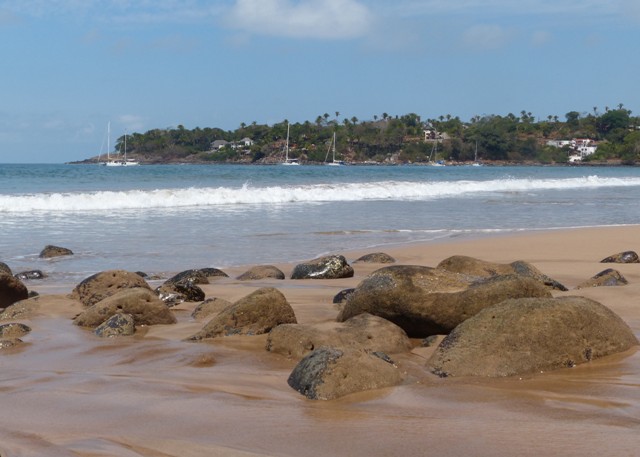 Whilst walking the beach we came across what we believe is a longhorn beetle.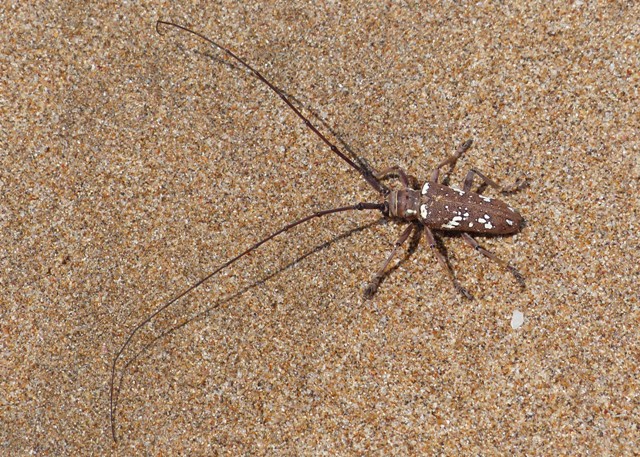 We have tried to identify it more precisely – but do you know how many hundreds [maybe thousands] of types of beetles there are? There are more than a hundred "longhorns" so that is about as far as we got!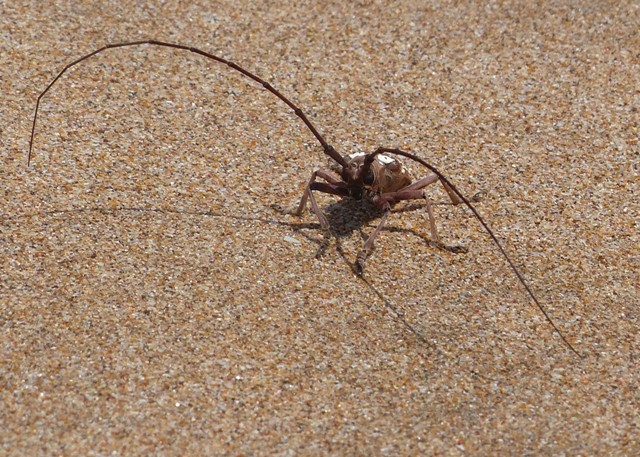 Now, did I say nice anchorage? Well, it was during the first night – but the second night was really quite rolling – so, at 9am the following morning, all the boats shown in the above photograph just sailed away. Maybe it was something we said!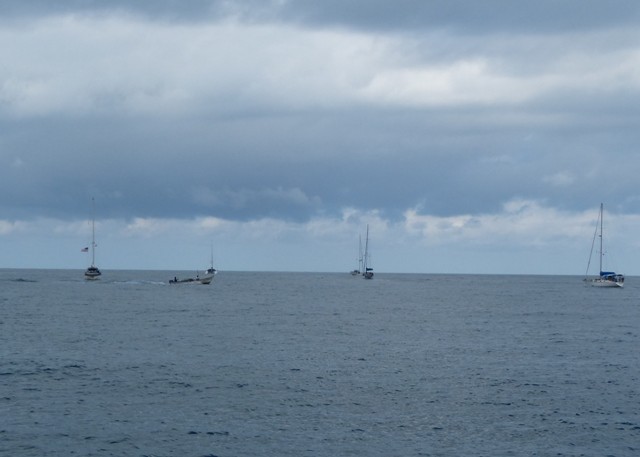 We were told later that such rolling is uncommon in Chacala, though the Cruising Guide does warn of the potential.
We had already planned to leave anyway and followed behind about an hour later and SAILED [Yes, we did, real sailing! ….. which, travelling North and West up Mexico's coast has been very unusual for us – but given the time of year we have done each stage its hardly surprising]. Anyway, we arrived in Ensenada de Matanchén at 2.15pm on 18th March and spent three nights there – not rolling at all.
The anchorage is in a large shallow bay approximately 4 miles south and east of the bar leading into San Blas [obviously the Mexican fishing village, not the Panamanian islands!]. Whilst the bar didn't sound anything like the one in El Salvador we opted for the Ensenada anchorage because of what are described as "pin prick like biting bugs" called "Jejenes" which apparently swarm around the mangroves surrounding San Blas. They are also on the beach at Matanchén, but once out on the boat we weren't bothered much at all.
San Blas sounded worth a visit though, so we decided to walk the three and a half miles into the town. Most people catch taxis – but we enjoyed the leg stretch. What made it even more interesting was the wildlife on the way. We had been told about the Jungle tours which operate in this area most specifically to see crocodiles in the wild but, at M$225 [£9/US$13.50] per person – which is what it would have been had we gone with another couple who were interested – we decided against. For cruisers coming down from the West Coast of Canada/US, this is the first such tour they come across but, as regular readers may remember, we have done the "India River" in Dominica and the "River/Jungle Walk" in the San Blas islands and have also taken our dinghy up many a mangrove creek.
We think we did the right thing because by walking we first of all came to a "crocodile hole". Surrounded by beautiful scenery….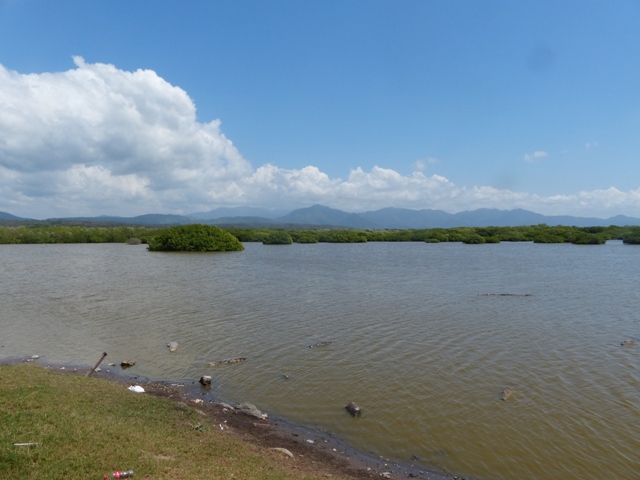 ….we watched them watching us….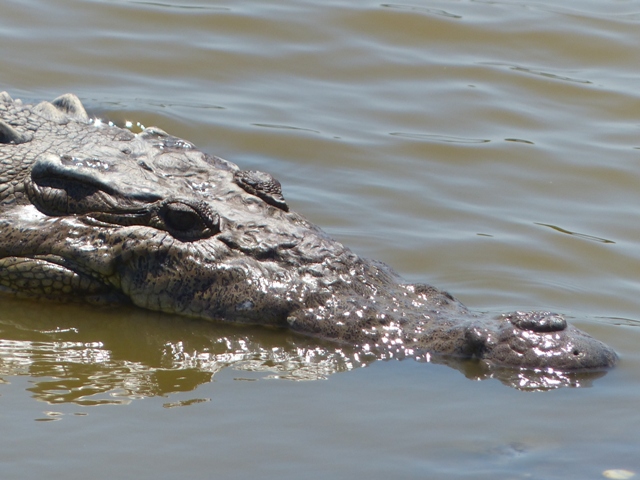 …. and getting a bit tetchy when others got too close!
We also saw lots of birdlife – but that's for a later blog – and laughed at the number of fishing lines which have been caught up on wires above the bridge from where locals fish in the Estero de San Cristobal.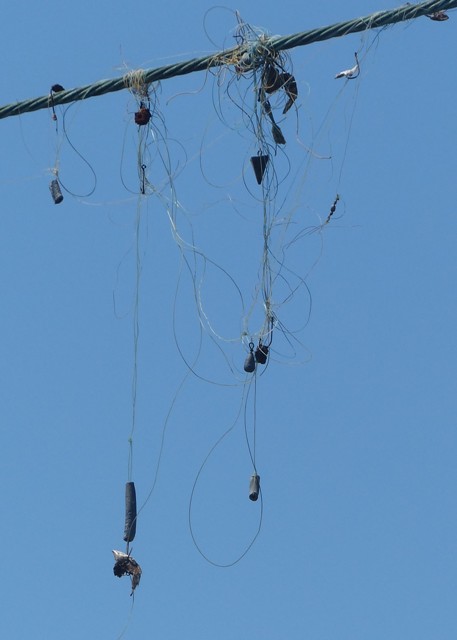 Approaching the town we learnt quite a bit about the town's history from this sign which is, in itself a bit of a relic!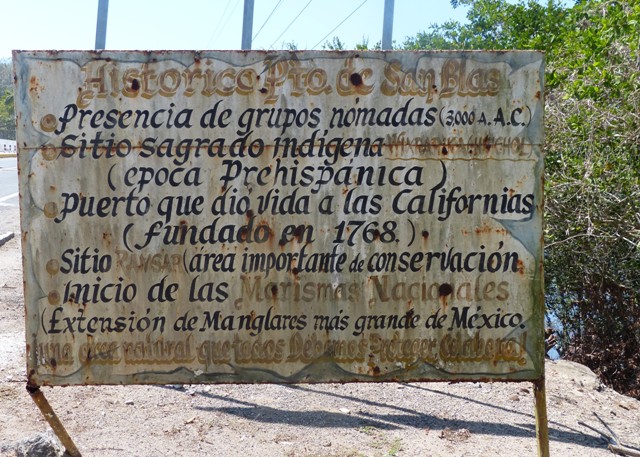 The small town square was surrounded with stalls selling a variety of produce….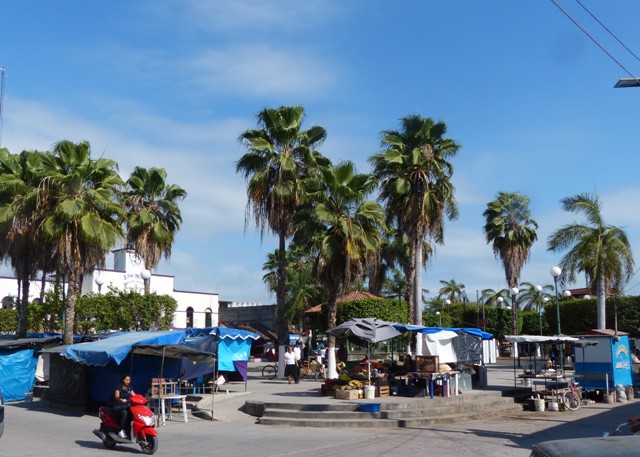 ….. including these lovely roses.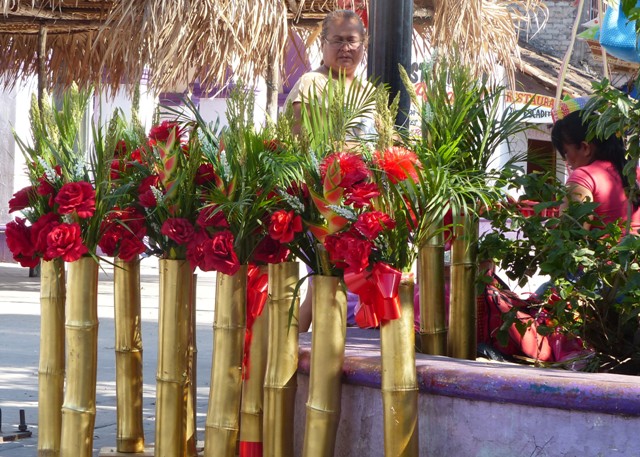 We saw the old custom house – now a cultural centre….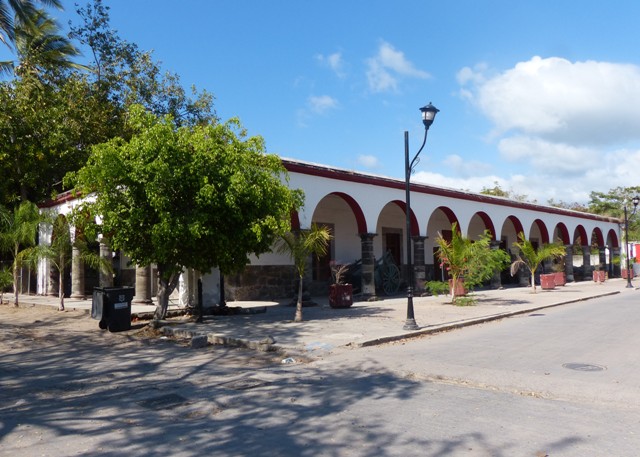 ….and as those of you who can understand some Spanish might have worked out from the sign above, we learned more about San Blas being "the port which gave life to California" – in that on March 12th 1768, from this church …..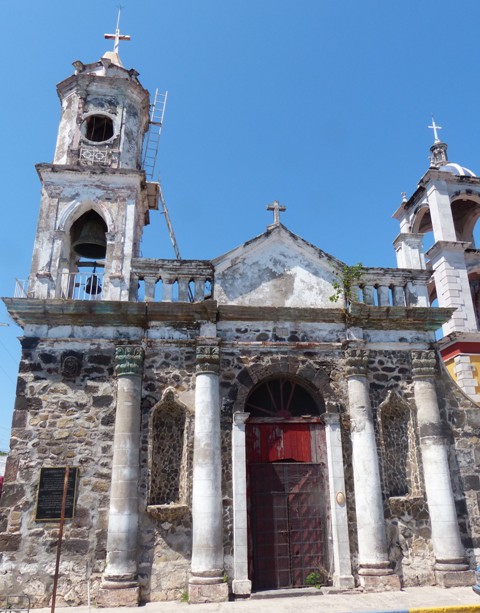 ……. Fray [Father] Junipero Serra boarded the ship "La Purisma", set sail and landed in San Diego on July 1st, marking the beginning of the settlement of California.
On Sunday we did what most Mexican families do and went to the beach. We joined several other yachting couples for a few beers and then started to play "Bones". This was a new game for us – but Mike soon got the hang of it….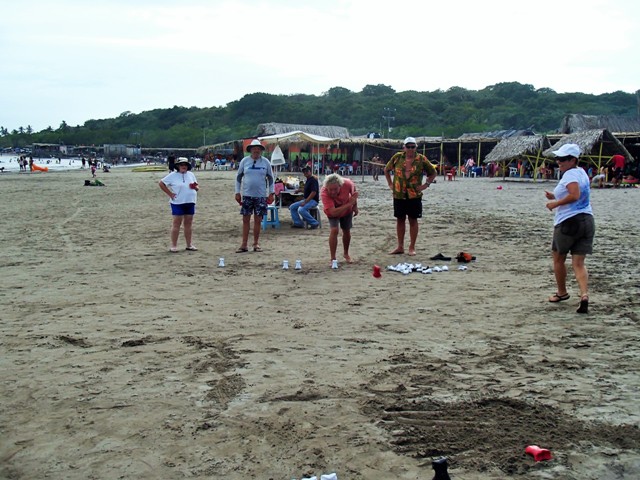 ….before some intrigued Mexicans took over….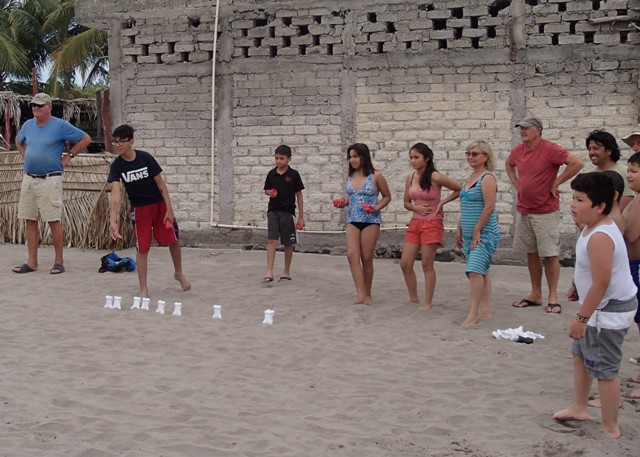 …. and we were left to admire another great sunset.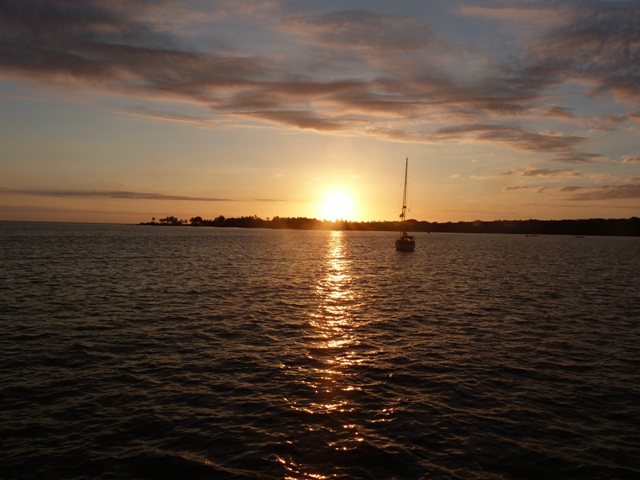 We then had what we thought was a good weather window for the last leg to Mazatlán. We planned to stop for the night at Isla Isabel, an isolated volcanic island 40 miles north of San Blas and dubbed "the Galapagos of Mexico", so that we could go ashore the following day and see the enormous number of nesting birds and resident iguanas. Unfortunately, the further we got from the mainland coast, the windier it got [on the nose this time], bringing with it waves of too great a height for a safe stop on what is a rather marginal anchorage. So, we just carried on and arrived in Mazatlán at 9.30am on 22nd March.
There will be another time for Isla Isabel. In the meantime we, and therefore you, have the Sea of Cortez to look forward to.