The distance from Zihuatanejo to Puerto Vallarta is approximately 370 miles and Mike and I broke the trip up by making eight intermediary stops. The first leg [137 miles] was the longest and took us to the north anchorage of Punta Cabeza Negra. On leaving Zihuatanejo/Isla Grande we hadn't been sure whether or not we would stop at the point but, as we made fairly good time – averaging 5.3 mph which given the current and prevailing wind was more than we had expected – the decision was more or less made for us because, with only 50 miles left to Manzanillo, carrying on would have meant arriving at around 2am.
We spent a pleasant afternoon relaxing and, since the roll wasn't too bad, decided to get some sleep and leave at 4am the following morning to arrive in Manzanillo in the early afternoon.
On the approach to Manzanillo we just about caught sight of fishing line before we sailed into/over it. We could see plastic bottles attached to the line spreading out in both directions and began to follow it. Twice we approached the line hoping we could cross between the bottles and, indeed, that is what we later did but it just so happened that on both the occasions that we approached we could see the line running just below the surface which would have tangled with us had we crossed. We spent about 20 minutes trying to find the end of the line and then spotted a small fishing panga. They explained [loud Spanish and gestures] that what we had thought to do was correct i.e. sail between two bottles. So we gave it another go and finally crossed that line and then another about half a mile further up the coast. All I would say having now experienced this is make sure you approach slowly because sometimes the line between bottles is nearer to the surface than in other places and, as an added precaution, glide over the line with the engine in neutral to reduce further the likelihood of the prop tangling with the line if it isn't as far down as it looks.
The most popular anchorage in Bahia Manzanillo is outside the marina and resort "Las Hades" [The Fairies].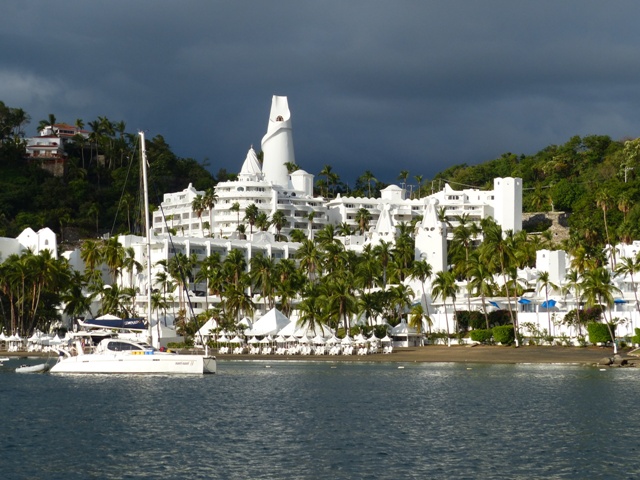 It is both pretty and well protected.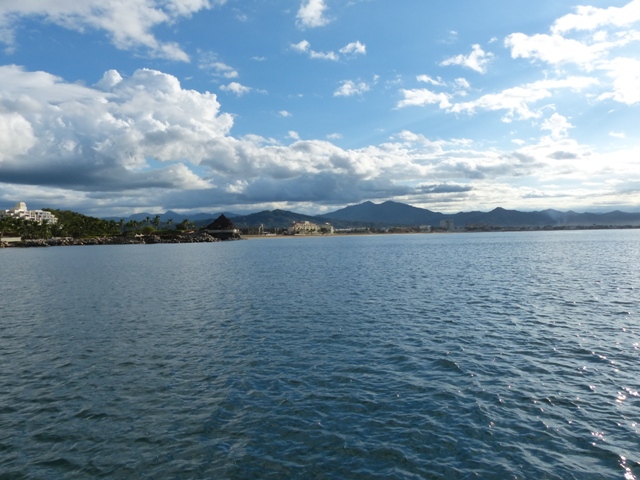 For a daily fee of M$200 [£8/US$12] -or a slightly reduced rate for a week paid in advance- there is dinghy dock access in the marina plus use of the resort pool [nice]…..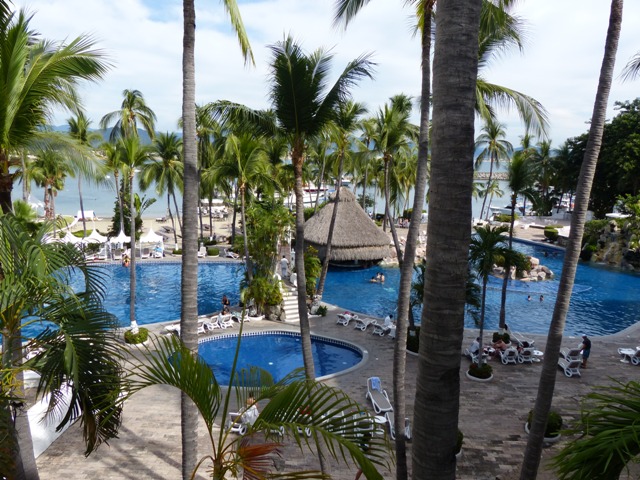 …..showers [not so nice!] and a reduction on drinks/food at a couple of the resort restaurants [which are overpriced in the first place!]. It was very useful when we wanted to bring back a lot of shopping but, if I was to go there again, I would use the small beach to the north of the anchorage for general "getting ashore" and pay for one day of dinghy dock to do the shopping.
The town of Manzanillo is a walk and bus ride away. It is very much a working town with a huge port [Mexico's busiest Pacific commercial seaport] and naval base. There is an alternative anchorage near the sport fishing fleet in town which looked OK when we visited….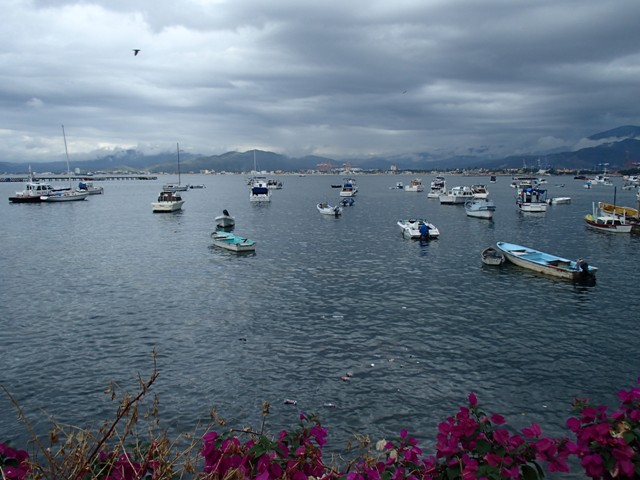 ….. but there are lots of moorings and apparently the ground is reportedly foul due to sunken pangas/chains etc. As there is no dinghy dock and nowhere [we could see] to safely leave a dinghy we were probably better off where we were.
Manzanillo's claim to tourist fame came from the slow motion scene of Bo Derek running down its long golden sandy beach in "10" but tourism remains an afterthought, though serious anglers seem to proclaim it as one of the "Sailfish capitals of the World".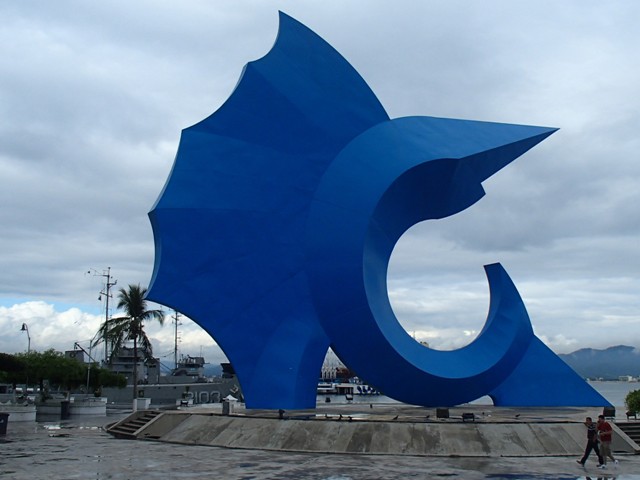 Las Hades marina and resort is on the Peninsular de Santiago which separates the Bahía [bay] of the same name from the Bahía de Manzanillo. There are three potential anchorages in Bahía de Santiago. La Audencia [in the foreground below]…..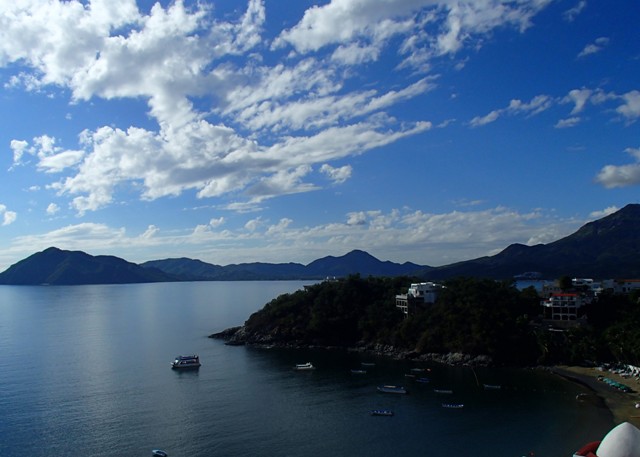 ……has a small beach lined by a couple of large hotels. This anchorage is really only suitable in calm southerly winds, whilst the anchorage in the middle [northern] part of the Bay – just about visible over the peninsular in the photograph – is open to northwest, west and southwest winds and swell and is better known as a surf beach. We chose to anchor at the third option in the north western corner of the bay – at Playa La Boqueta which is protected by Península de Juluapan.
Ashore are several casual beach side restaurants and we enjoyed a seafood meal and a stroll along the beach….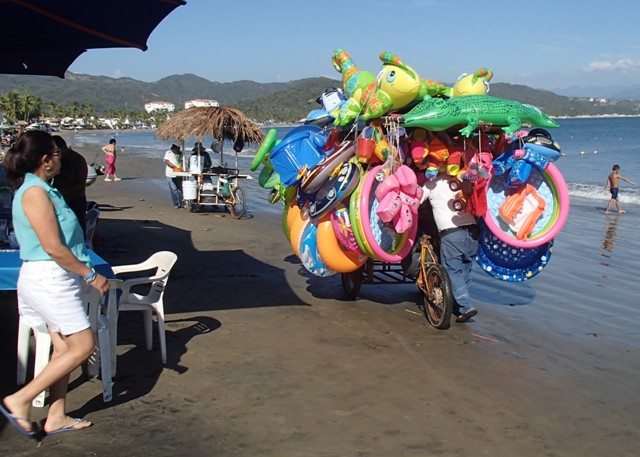 ….. before being dumped when trying to re-launch Nauti Nauti's dinghy! Their dinghy is bigger than ours and therefore more suited to getting four people ashore. They have also attached wheels to make it easier to haul it up the beach. Unfortunately these wheels play no part at all in getting it safely back into the water and through the surf – particularly when a couple of beers have been consumed. Ah well – no real damage done except that Mike's shin took a scraping when he slithered on board after being dunked saving the rest of us! My hero.
The following day Allen and Patricia left for Barra de Navidad whilst Mike and I motored all of five miles into our next anchorage – Ensenada Carrizal – a gem of an anchorage.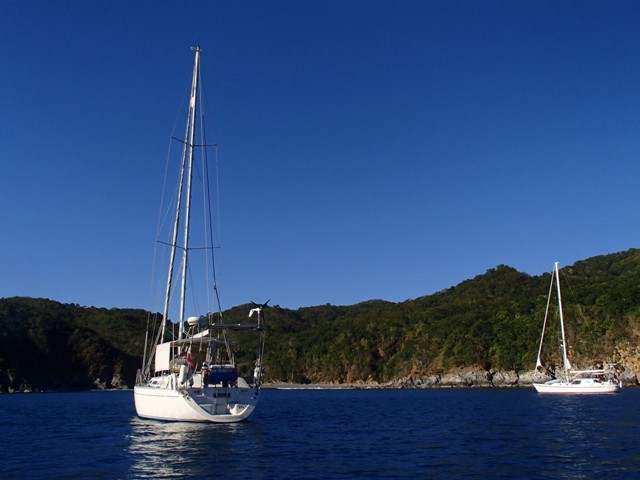 We enjoyed a very quiet 24 hours, swimming and snorkelling the maze of coral reefs surrounding its shorelines. One of these days I will get a good shot underwater – though these are probably better than my last efforts.
What we didn't know was that while we were tucked in the isolated anchorage, about 30 miles inland, at Colima, a volcano was spewing smoke and ash. "Nauti Nauti" captured the sight during their sail north but it was hidden from us by the steep sides of the anchorage.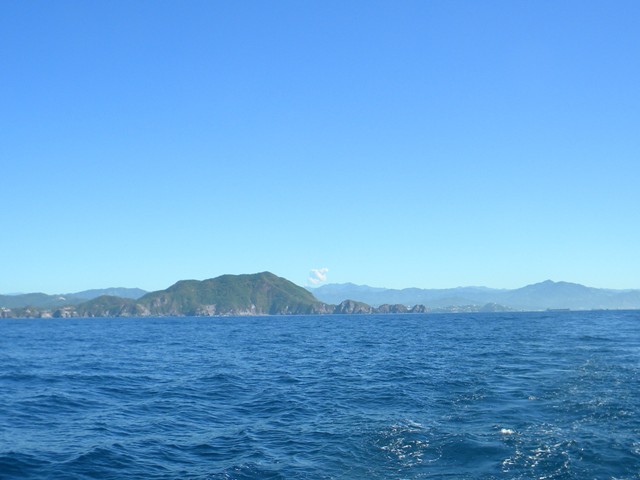 At about the time this volcano was letting off steam we heard from a friend still in El Salvador that he too was watching smoke from Volcán de San Vincente and, when I went on the internet, I read that Popocatépetl [just SE of Mexico City] was also smouldering. It seems that there has been quite a bit of activity over the past  months so we are going to keep an eye on this for the next few weeks.
The following day we followed in the wake of Nauti Nauti and made sure that we stayed well clear of the rocky area at Punta Graham just before Bahía de Navidad. When Hurricane Patricia blasted past here in October 2015 the oil tanker "Los Llanitos" was blown to the shoreline and didn't make it.
We completed the 21 mile journey in four hours.
Unfortunately we didn't manage to get to the actual anchorage for another four and a half hours – because we got stuck in the mud! The entrance into the Lagoon at Barra de Navidad is only buoyed between the breakwater and the marina. Beyond the marina – where the worst shoals are – there are no markings! Clear waypoints are given in  the "Pacific Mexico Cruiser's Guidebook" written by Shawn Breeding and Heather Bansmer [which I would highly recommend to anyone cruising this region]. We duly plotted these onto our electronic chart but just one lapse of concentration whilst making our way down the channel and we were immediately high and dry. Of course, we had chosen the lowest tide to come in on which, if we hadn't strayed by just a few inches would have been OK but, it wasn't to be. We stuck. We are not the first and certainly won't be the last – in fact we saw another boat about five days later – but we did feel pretty stupid at the time. As we were sitting there waiting for the tide to fully ebb and then rise again to a depth which would float us Mike noticed that the wind had changed which meant that as the water rose we would be pushed back further onto the mud we were trying to escape. We thought about this for a few minutes and decided that the best thing we could do was to put the anchor into the dinghy and motor out to drop it in the best place to pull us off the bank as the tide rose. This actually worked perfectly and once the water started to rise it didn't take us long to free ourselves and then make our way to the anchorage….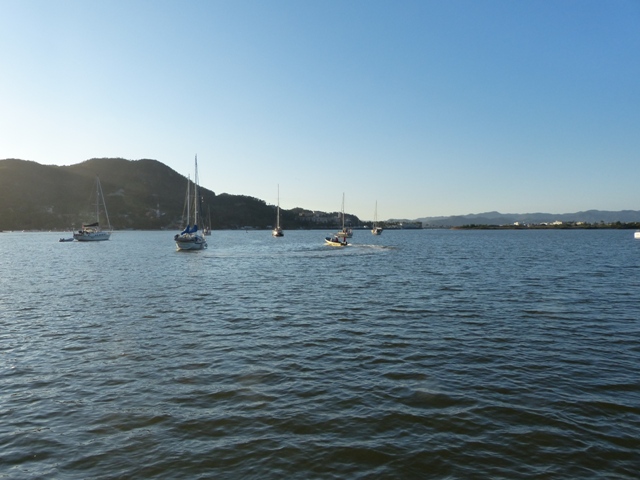 ….which is in a wonderful setting……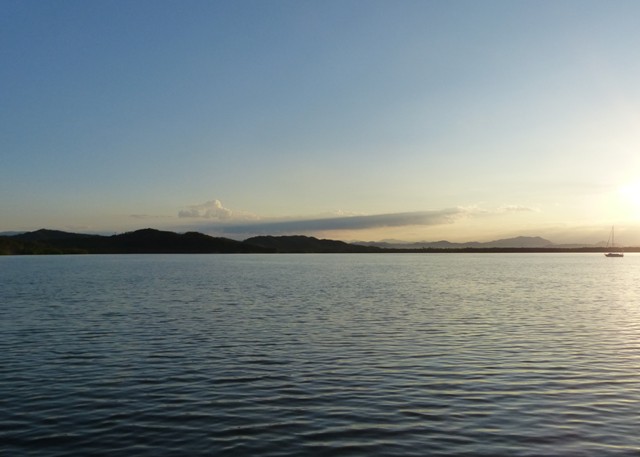 ….surrounded by mountains and mangroves.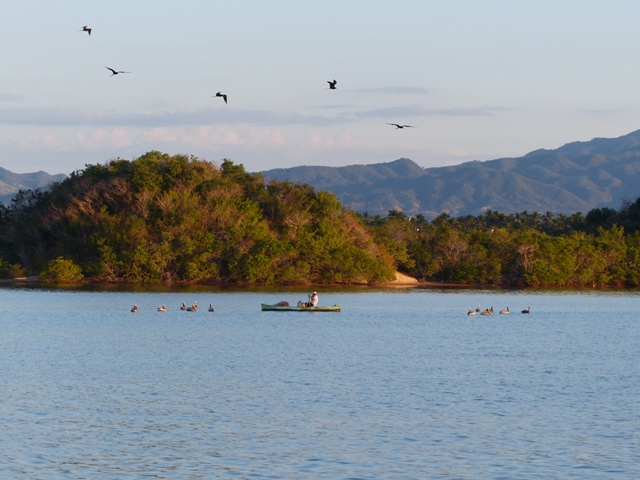 We had heard a lot about "Barra" before arriving there as it is very popular with cruisers during the Christmas/New Year season and it's easy to see why. The town of Barra de Navidad is a very lively place – full of Canadian "snowbirds". There are lots of bars and restaurants and although we only managed one night "on the town" we made the most of it with cocktails on the roof terrace followed by fine dining [great steaks at "La Palapita"] and music in several bars along the waterfront.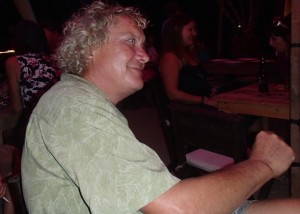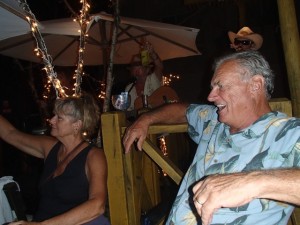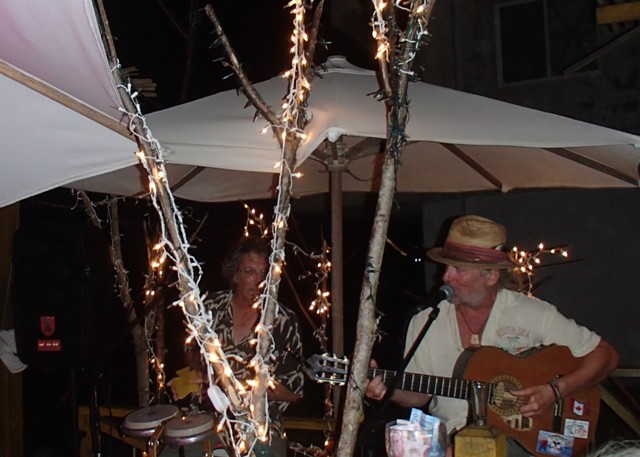 There is a French Baker who has a shop/café in town but who comes every morning to the marina and anchorage……..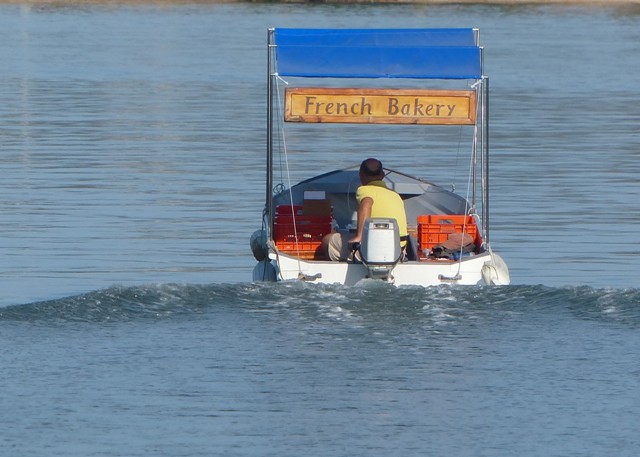 …….bringing bread [including multigrain, rye and wholewheat as well as baguettes], croissants [four types], quiches and pies. We tried, and very much enjoyed, several of his wares!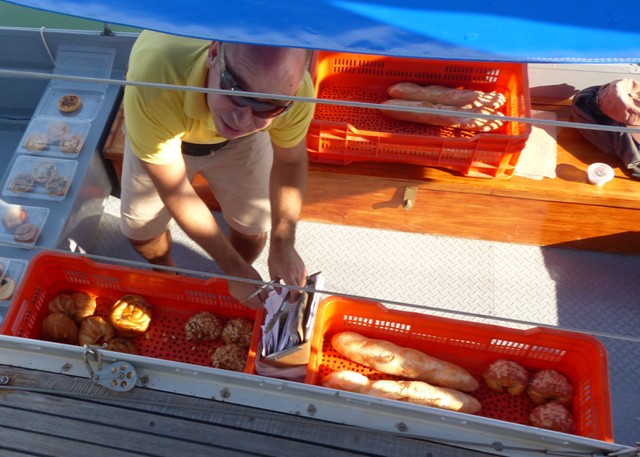 A short bus ride away is the town of Melaque where there is also an anchorage tucked in the top of the bay.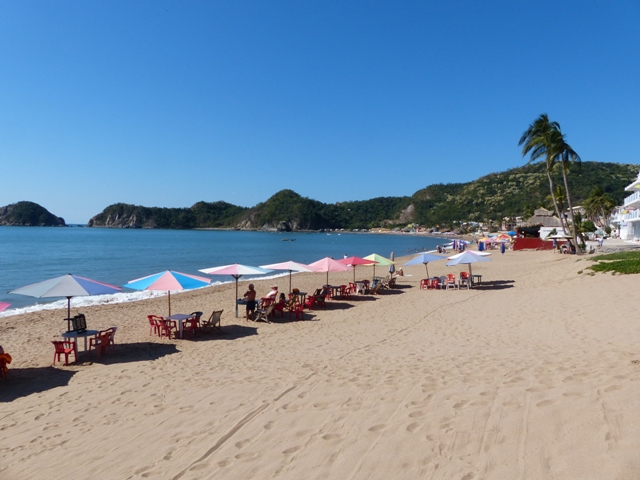 Whilst we didn't visit by boat we did take the bus and found some great small meat and vegetable shops [better than Barra] and a deli called "Super Hawaii" which had a wide range of goodies including Kalamata Olives and some half decent cheese.
One afternoon, after a pleasant lunch at the village of "Colimilla" on the west side of the lagoon – and accessible by dinghy from the anchorage- we wandered around and came upon another "victim" of the hurricane. The small hillside church had been blown down but worshipers had salvaged enough to continue their services until it was rebuilt.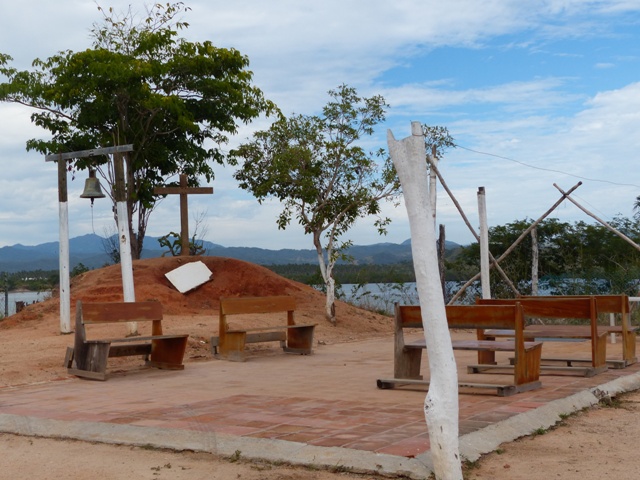 Getting to Barra town from the anchorage is a pleasant 10 minute dinghy ride or you can call a water taxi. It is important to more or less follow the big boat channel even in the dinghy as much of the lagoon is impassable. We took our dinghy every time but with lots of traffic on the water it is particularly important if you are going to be out after dark not to forget a torch. It would be easy for the pangas to hit a dinghy as their engines are louder!
We spent a week in Barra and would certainly go back again [in fact we might do that later this year] but we needed to move on and so, on 29th January we motored out through the channel…..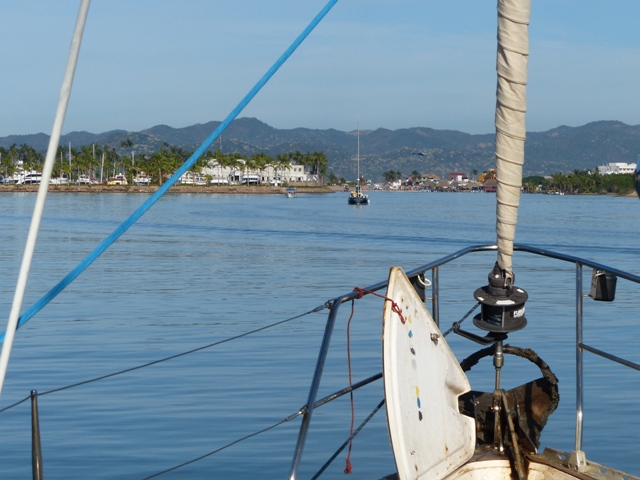 – safely this time! As you can see from the mud on the anchor it is a very "sticky" anchorage – though apparently dragging is not uncommon. We waved goodbye to the town as we passed….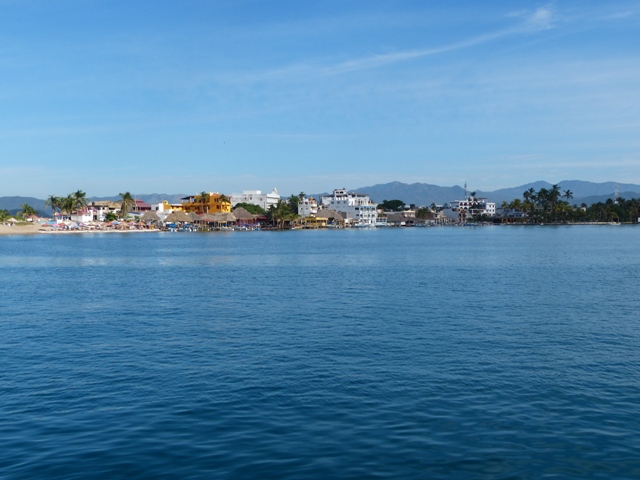 …and went the grand total of another five miles to "Secret Anchorage". Its real name is "Cuastecomate" and we had also heard a lot about this place from cruisers we had met down the road and looked forward to a couple of nights there. Hmmm – it's not exactly secret – there is an all -inclusive resort and a host of beach restaurants. We were there when the roll was particularly [and apparently unusually] bad and because of the swell and surf the dinghy landing was uncomfortable – especially as the beach not in front of the all inclusive is more pebbly…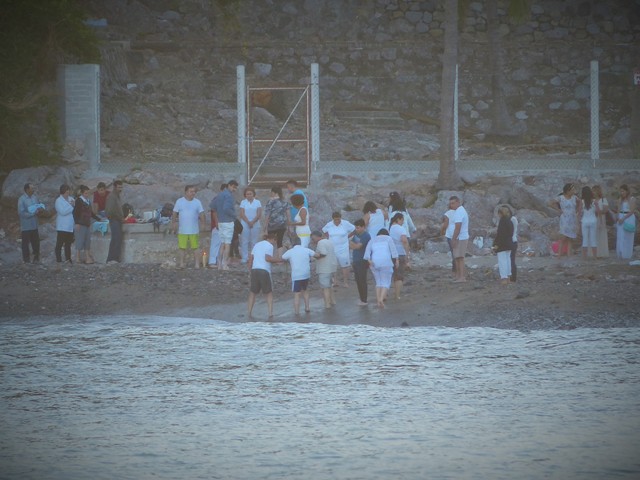 On Sunday morning we did watch what we think was some sort of church service – with children running around whilst adults were being blessed or maybe "baptised" but we didn't find it to be the idyllic venue we had been led to believe we would find. Still, you can't have it all.
Our next to last stop before Puerto Vallarta was the very popular anchorage of "Tenacatita" – a calm and well protected place to drop the hook just 11 miles further north putting it 14 direct miles from Barra de Navidad. Several boaters spend much of the season going between these anchorages and there is quite a community ["clique" for those not part of it"!] which has built up with people returning year after year.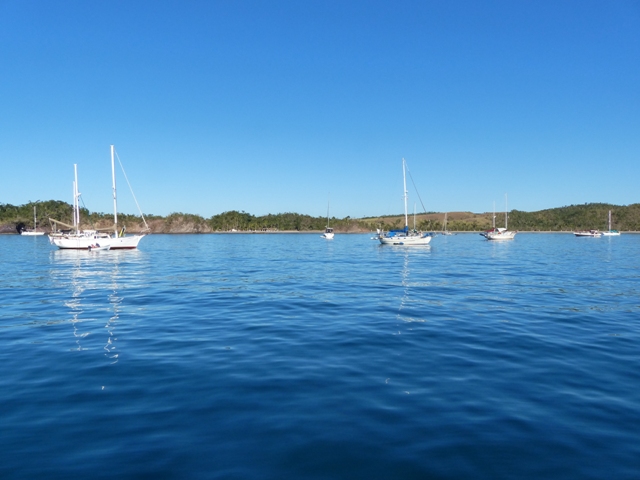 We read about a walk from "Good Dog" beach on the north side of the anchorage but after half an hour of scrabbling our way through undergrowth and up and down shale slopes and getting bitten by mosquitoes we gave up. We also tried to go ashore on the beach but didn't fancy getting tossed into the water yet again. We really do need to perfect beach landings because we are going to miss out if we don't take the [literal] plunge! There isn't actually much to do even if you get to shore – just one beach restaurant and the option of a quite expensive taxi ride round the bay to La Manzanilla [not to be confused with our earlier anchorage of "Manzanillo"]. We think it was possible to arrange for water taxis across the bay as well and, from what we could make out, La Manzanilla might have been quite a nice place to visit but we just relaxed on the boat, Mike resealed a couple of our cabin windows, we read and enjoyed the tranquil evenings.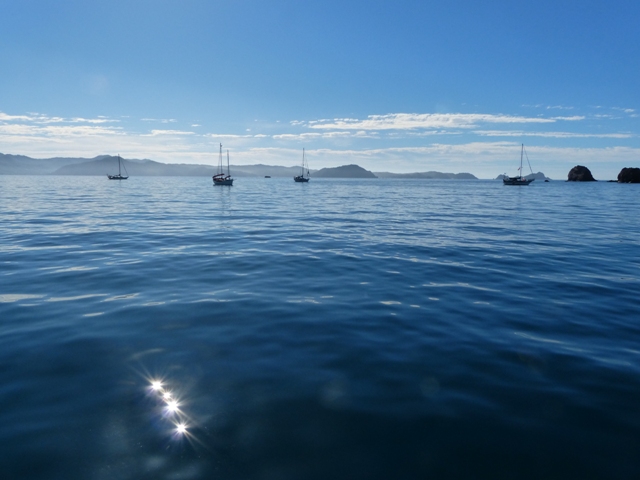 Our final stop was off the large village of "Pérula" at the north end of Bahía Chamela and a 30 mile motorsail from Tenacatita. During the journey I noticed that the batteries weren't charging and after looking into the problem we narrowed it down to the alternator. Fortunately we carry a spare alternator and, having anchored in the early afternoon, we spent a happy hour or two testing the new alternator to check whether it was positive or negative rotor field control which included soldering onto it two wires. During this process I managed to burn the middle finger on my left hand when I stupidly tried to steady the soldering iron – what a dumb thing to do!
OK – so switch alternators – a quick job. Huh! It took us six hours the following day due to different sizes of shaft and spacers requiring modifications to washers and the creation of some new "washers" using a spring! It's amazing what ingenious ideas one can have when emergency measures and "out of the box" thinking has to come into play. So, our time at Pérula was spent fixing stuff and I didn't even take its picture.
We considered spending another night there but the weather for rounding Cabo Corrientes was not going to be as good if we waited so, at 4pm, we pulled out of Bahía Chamela bound for Puerto Vallarta. The 110 mile trip which took 19 hours was totally uneventful – which is as it should be I guess – and though it might not give me anything exciting to write about it does make for a more pleasant existence [and one which I much prefer].
We rounded the Cape early in the morning and then made our way to the eastern end of Bahía de Banderas [the Bay of Flags] where Puerto Vallarta is situated. There is a choice of marinas and we had chosen Marina Vallarta [as cheapskates we understand this is the least expensive option]. To enter the marina you have to pass the Cruise Ship dock and a small shopping mall. I really wondered for a moment whether we had managed to get totally lost either in direction or some kind of time warp had taken us back almost five years – but I assure you that, despite indications to the contrary, we are in Puerto Vallarta, Mexico – having had a great couple of weeks visiting some interesting anchorages to get here.