Yes! "Siga Siga"is on the move. It feels really good to be sailing again, so much so that I have interrupted my posts on Ecuador and Peru to tell you about our recent trip from Panama City [Panama] to Golfito [Costa Rica].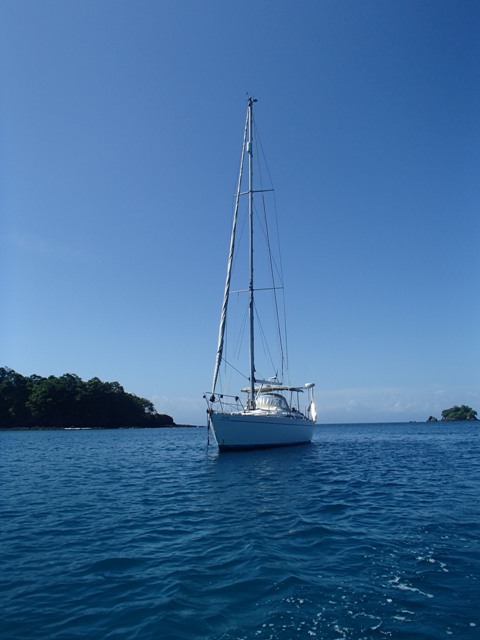 Having restocked the larder and topped up with fuel – the second task taking almost a day because Mike had to dinghy the fuel in jerry cans due to La Playita Marina making a considerable additional charge if you take your boat to the dock?? – we upped anchor at 9am on Tuesday 21st July for our first, and longest, leg of this 350mile trip.
We have heard a lot of talk over the past months about "Punta Mala" [approx 90 miles south of Panama City] and read up on it. Punta Mala translates as the "bad point" and is notorious for its very strong current rounding the point, prevailing winds and chop – all from the north. We had also heard that it is a very busy shipping lane with lots of traffic coming along the bottom of the peninsular and round the point to get to the Pacific side of the Panama Canal.
In respect of the first issue – we were slightly less concerned travelling round the point north to south/east to west than we would have been making the trip the other way as clearly the current etc from the north should have been in our favour and having rounded the point we should have been sheltered from prevailing winds and chop. Even so, we planned to round Punta Mala in daylight, around 20-24 hours after setting off, which would then give us around 12 or so hours of light for the "shipping lane section".
Wouldn't you know it – "Siga Siga" was so happy to be cresting the waves that she whizzed along at an average of 7 knots which meant that Punta Mala was reached in the middle of the night. Maybe we should have taken more account of the favourable current but, for the stretch from La Playita to the point it's only supposed to be about 1 knot so we were anticipating approx 6 knots per hour! Anyway, we needn't have worried, the weather was on our side and we rounded and sailed along the bottom of the peninsular with no problems at all.
Now, about this shipping lane….. Why would we be bothered about that with AIS? Hmmm – therein lies another tale – the ongoing saga of our failing AIS. Sufficient to say, at this stage, that we are in e.mail correspondence with "Digital Yacht" about this failure of the replacement unit after 28 hours use, the first unit having failed after about 50 hours. Different problems but failures all the same!!
However, as far as shipping lanes go it is pretty quiet – and that is an understatement. Maybe at some times of year or on some days of the week or at certain hours it is busy but we were making up seeing something just to give us the feeling of having company!
Mike's second overnight watch finished at 7am and I awoke [yes, I had actually managed a couple of hours sleep] to a fairly overcast sky, a complete contrast to the previous day.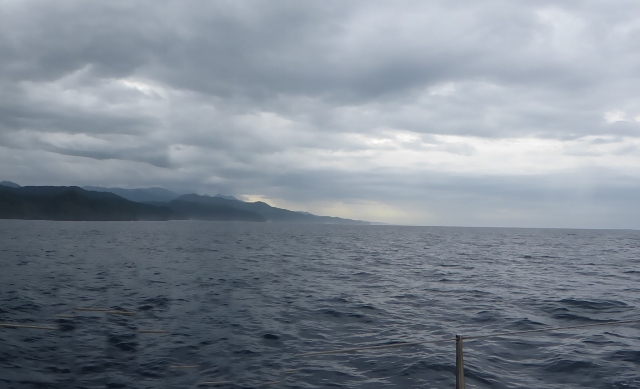 By this time we had almost reached the western point of the peninsular – Punta Mariato – from where it was only about ten miles from our planned first anchorage of Ensenada Naranjo. There are mixed reviews about this anchorage. We had decided that although it was described as only partially protected and "subject to SW swells – particularly in the wet season" [i.e now] we would stop there because we anticipated reaching it mid afternoon and preferred to sleep at anchor, even perhaps a rolling one, than have a consecutive overnight sail.
However, given our excellent time in making the passage we decided to give that anchorage a miss and continue on to another Ensenada Naranjo, this one on the island of Cebaco. We anchored there at 1.15pm and rolled and rolled! With hindsight, having sailed past the first option, looked into the anchorage and seen that it looked fairly calm, maybe we should have stayed there. But, Cebaco it was and we anchored as close to the supply ship "Cebaco Bay" as the fishing boat moorings would allow. Perhaps if we could have anchored closer to the eastern corner, as suggested in the guide, the rolling would have been less but, anyway, the holding was good and we sat out a small squall without dragging.
If you happen to be sailing in these waters you can apparently get diesel [at a cost!] from the "Cebaco Bay". Certainly there was someone on board.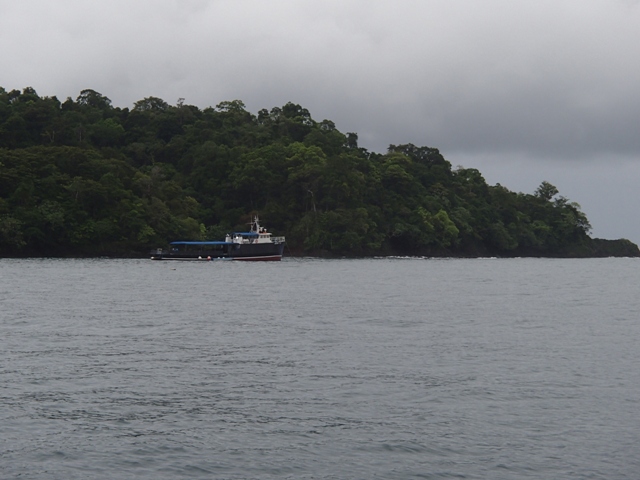 It might be worth just taking a little time to explain that Cebaco is the most easterly island of the "Western Perlas". We didn't know that the islands between Punta Mala and Costa Rica are still called the Perlas but, according to the Port Captain who gave us our exit Zarpe, that is their official name. There are about 20 main islands and lots of little islets. Our plan was to visit four of them as we moved west towards Costa Rica.
It would have been nice to plan for a longer stay but technically the Zarpe only gives you 48hours in Panama waters after issue. It would seem that few people ever take any notice of this technicality but we don't like to "push it" too much and therefore planned our passage through the islands over a seven day period from leaving Panama City. We could have taken the option of clearing out at Puerto Armuelles, the nearest port to Costa Rica but the cruising guide suggested this was seldom the exit port of choice for cruisers and could be "complicated" [whatever that means]. Pedregal was yet another option but this port lies about 9 miles plus up a river/channel system which has to be timed to coincide with sufficient tidal height. Whilst not necessarily difficult it would have taken two days and involved "pesky no-see-ums at sundown" in the mangrove anchorage!
Anyway – on with the trip.
We left Cebaco the following morning [23rd] for the 38mile leg to our second island of choice, Coiba, and promptly – well within 15 minutes – got caught in a thunderstorm. Turning round wasn't really an option because we couldn't see a thing and there are several rocks guarding both sides of the Cebaco entrance so we just kept on going but fortunately had only 30 minutes to endure before it all passed over to leave a bit of a dreary sky but no more storms.
Isla Coiba is the biggest of these islands and part of the Parque Nacional Coiba. The island was apparently inhabited as early as 500 years BC, was a popular haunt for pirates [where in these waters wasn't?!] and then in 1919 was established as a penal colony which prevented any other form of settlement. As a result the environment and wildlife were protected and it is now part of one of the world's largest marine parks and designated exclusively to ecotourism and research.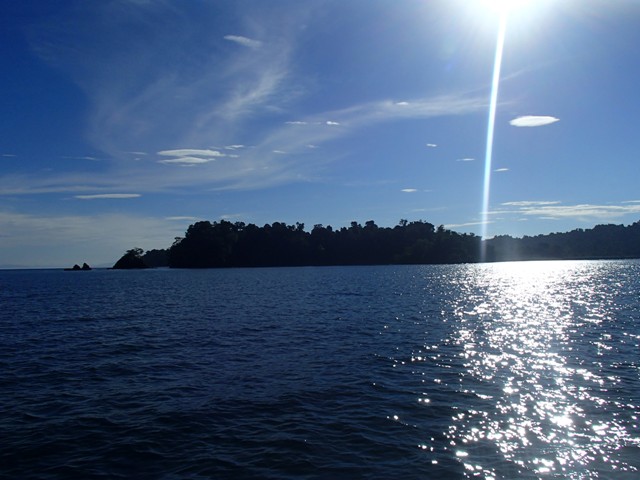 We anchored on the north west side of the island in Ensenada Santa Cruz which, whilst well protected by promontories on both sides, shoals quickly requiring the anchor to be dropped quite close to the outside of the bay.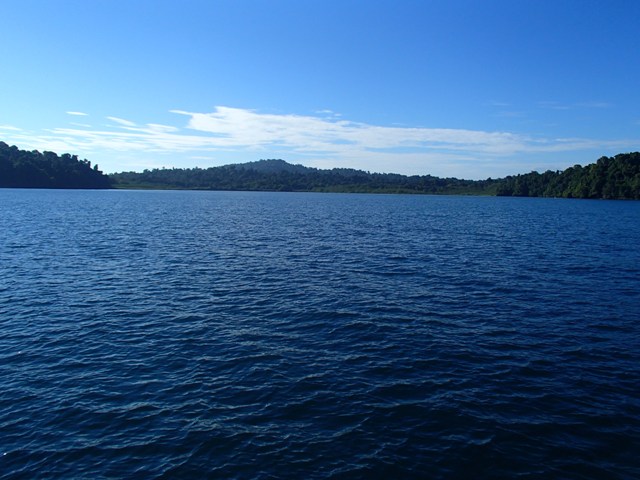 As you can see it is a very peaceful and starkly beautiful place especially as the sun decided to shine during our full day there.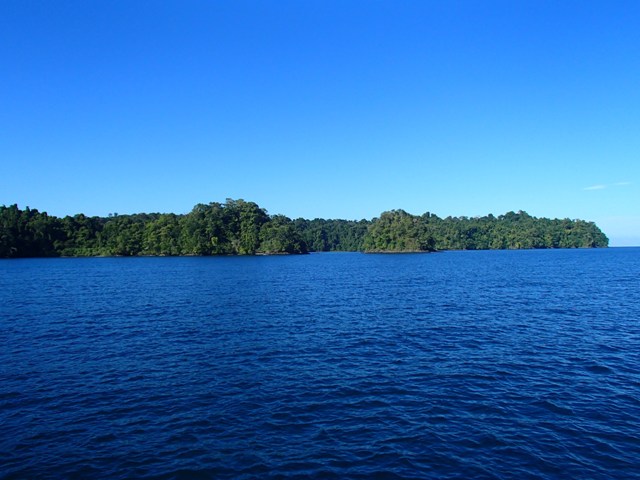 If other cruisers are to be believed, we are one of only a few cruising boats who have anchored in Coiba's waters due to what are apparently exorbitant park fees. However, we didn't see any Park Rangers there [or anyone else actually]. We can't work out whether the park fees apply to all the anchorages on the island and we were just lucky to be there in the "off" season when there are so few boats [we saw one other during our week in the islands] that it isn't worth paying someone to go around collecting fees or whether the charges only apply to certain anchorages where there is scientific research taking place. The Bauhaus cruising guide is ambiguous on this point – though other guides either don't include the island at all or talk about high costs.
We stayed there for two very calm nights and enjoyed the tranquillity and the sunsets.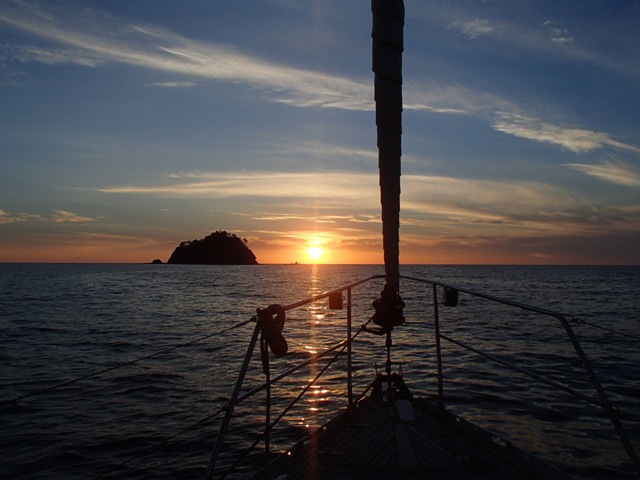 On 25th we woke to the second day of gorgeous weather and had a pleasant motor-sail to Isla Cavada, the northern island of the Islas Secas.
The Islas Secas [like many of these islands] are good for diving. As you know we don't dive but enjoy snorkelling and, although the best sites are apparently to the south west of Cavada and we were anchored on the north east corner, we saw a range of reef fish, including our first puffer fish – typically I had left my camera in the dinghy!
Isla Cavada is one of the more commercially developed of the islands. It boasts its own airport – with terminal! ….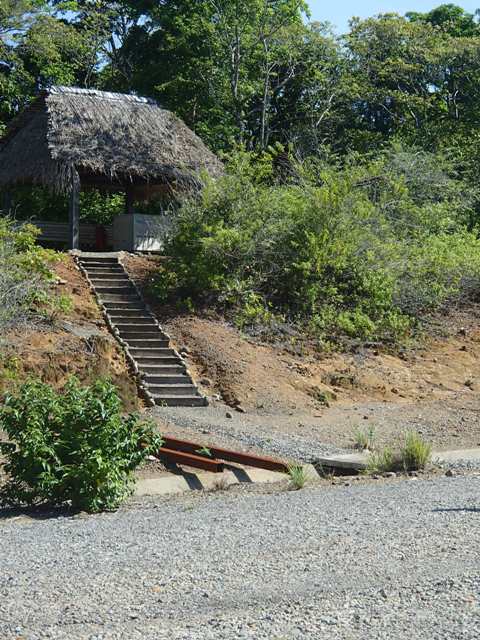 … a runway fit for – well not a jumbo jet that's for sure ….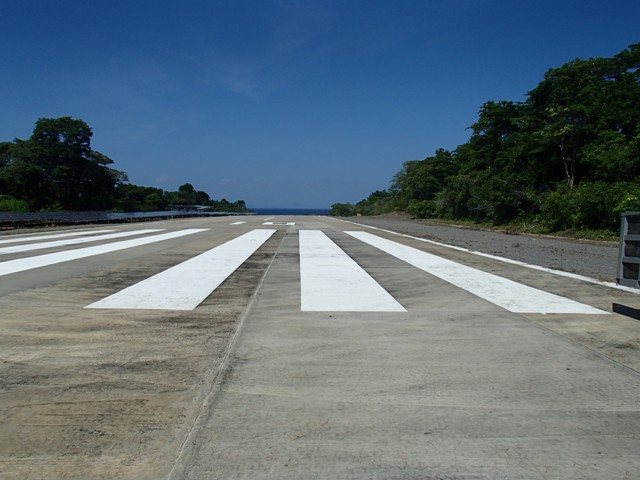 ….. but you don't get many views like this immediately you step off a plane….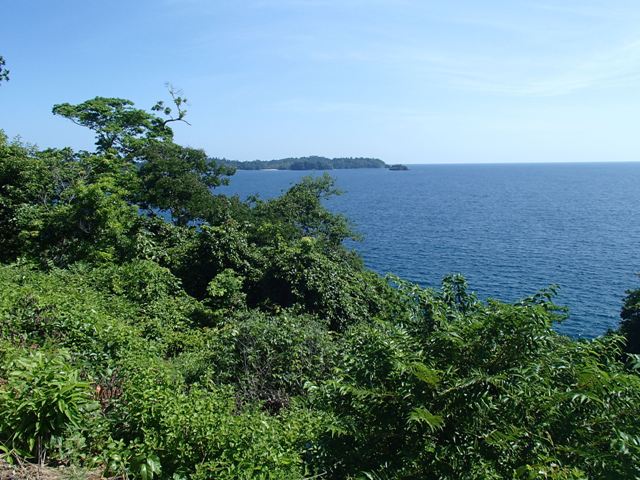 However, before going ashore we needed to fix our dinghy pump which had fallen on the cockpit floor a couple of days previously and broken just under the handle. Mike had glued it but, on first use, it split apart again. So, it was out with the tools and on with the thinking caps.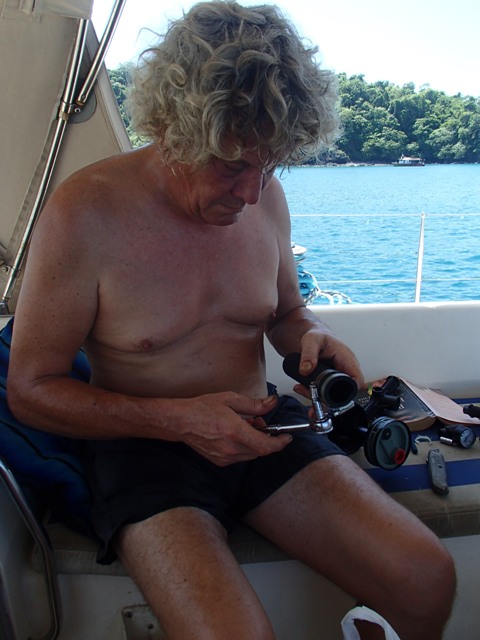 We looked at the problem from all angles [which is fairly easy when its two round pipes one inside the other as it looks pretty much the same from every angle. OK, clever people – there is also the end view!] and came up with the idea of clamping hose around it. Lo and behold – a fully functioning pump once more.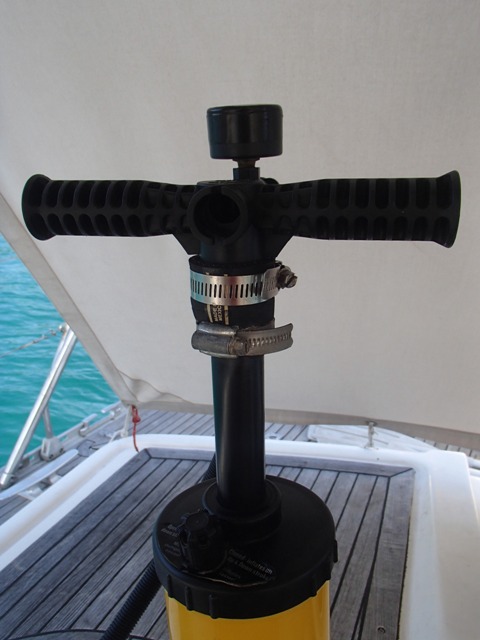 OK, it is a bit scruffy looking but that fits in with us and much of the rest of the boat!
Having got to shore, we also enjoyed some beachcombing …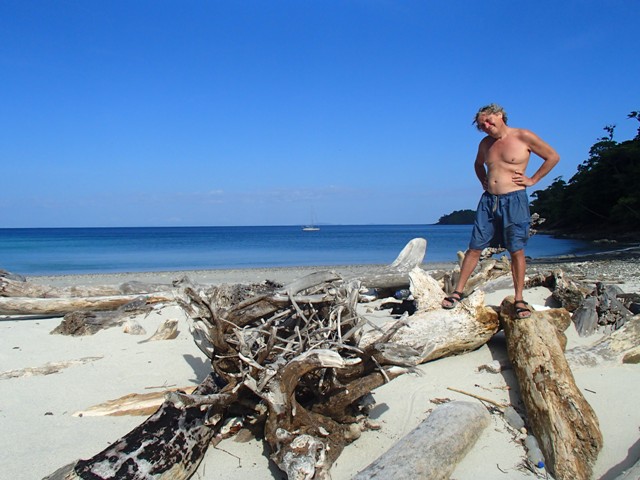 …though mostly we found crabs.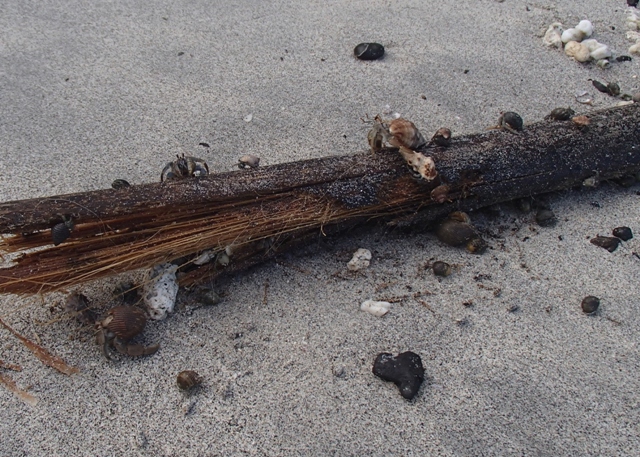 I love the red eyes of this hermit crab….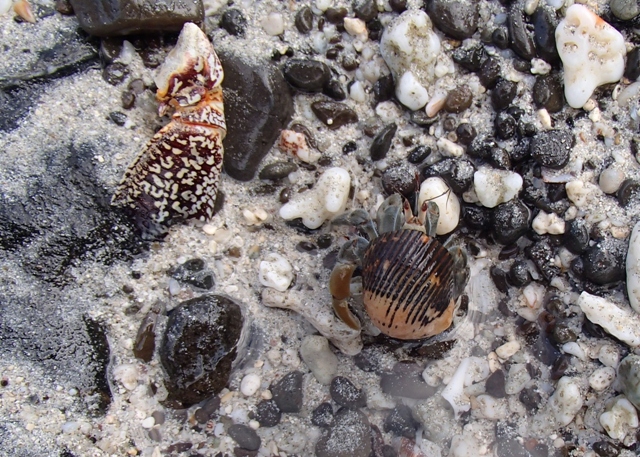 …. and how about this for a crab with camouflage – you can see that if he lay flat he would be pretty hard to spot…..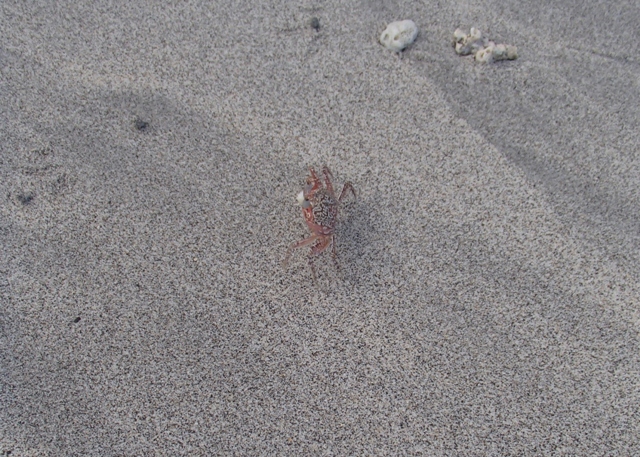 ….as was this sea slug.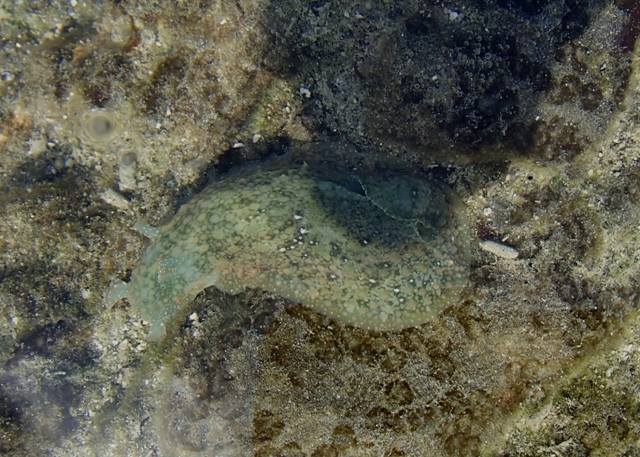 That evening we had a visitor…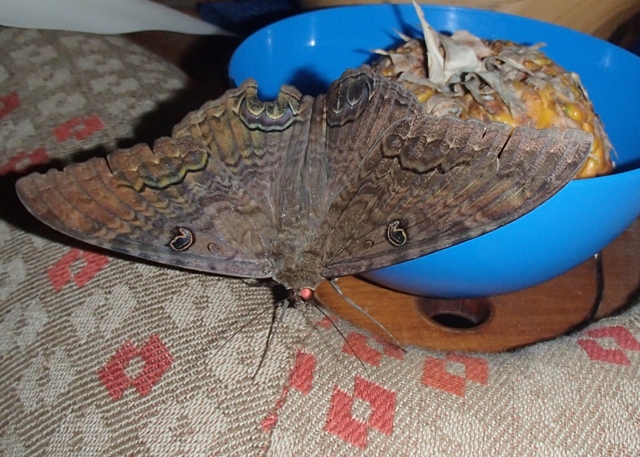 If I tell you that the diameter of the blue bowl is nine inches it will give you some idea of the wing span of this fabulous moth. Needless to say, with my well known phobia of things fluttering around my head/face I made a less than dignified exit while Mike assisted it out of the boat. Time to settle down for another sunset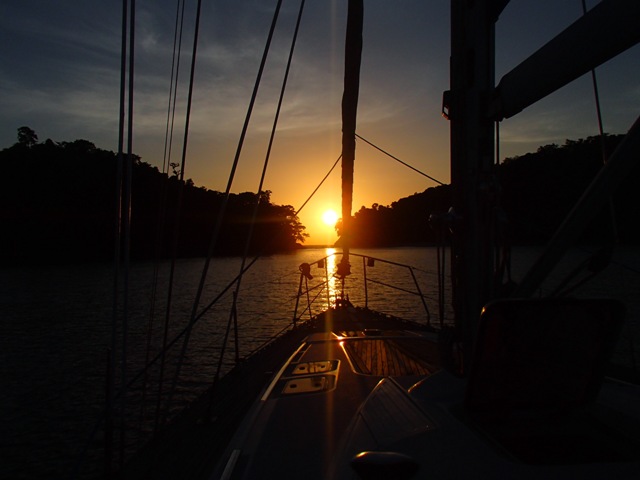 The following morning we were sipping coffee in the cockpit when I heard loud splashing. Thinking it might be leaping Rays – which we have seen from time to time – I turned around to see two whale tails bashing the surface of the water. We were so amazed at what we were watching that by the time we had gathered our wits, and the cameras, for a photo opportunity the stars of the show had glided gracefully out of the bay.
It was now time for us to depart to our final island – Perida.
Isla Perida lies about 30 miles east of Punta Burica which forms the southernmost point of the mainland peninsular where Panama borders Costa Rica. There are several nice anchorages described in the cruising guides with the most popular being on the southern end. However, we recalled our very rolly night on the south facing anchorage on Cebaca and, given that the rainy season is not renowned for its Northerlies we opted instead for the north facing SW anchorage of Ensenada Santa Cruz – yes another Santa Cruz. Good decision – it protected us nicely from the southern swell.
The following day we spent time doing various jobs – like cleaning the waterline – to take us up to a 6pm departure for an overnight sail to Golfito. But, at 4pm the wind [which until this time we had seen precious little of] decided to blow and blow. We debated for a while and decided that to set out when the wind and increasing waves were going to be right on our nose it was foolish to leave so we got out the rum and the playing cards and settled down to another night at Ensenada Santa Cruz.
During our "debate" we had looked again at the cruising guides to see if there were any options to an overnight sail as we feared that if a weather pattern was settling in we might get a similar blow the following night. Whilst Bauhaus does not give Punta Balsa as an option, Sarana's guide does and so we decided that the following day we would sail the 28 miles directly across to Punta Balsa which is about 5 miles north of Punta Burica.
Normally we would not opt for a "roadstead anchorage" but we found it to be well protected from the southerly swell by a sandspit and, although the fairly steeply shelving beach meant we had to stay 100 metres or so from the coastline we spent a pleasant night watching the fishing pangas heading out to the point for the night. Guess this was another good reason for not doing a night sail – there was quite a fleet of them and they don't all [if, indeed, any] have lights!
So, on 29th July we sailed out of Panama and into Costa Rica. The passage from Punta Balsa to Golfito was just over 52 miles and took nine and a half hours. Quite early in the sail we begun to wonder whether we would make it in daylight because, having rounded Punta Burica we hit a 1-2 knot current against us and spent about three hours averaging just 3.5 knots. However, as we progressed towards Golfo Dulce we left the worst of the current behind and resumed our normal 5-6 knot speed.
Golfito greeted us with a fairly spectacular thunderstorm – and the most rain we had seen since leaving Panama City!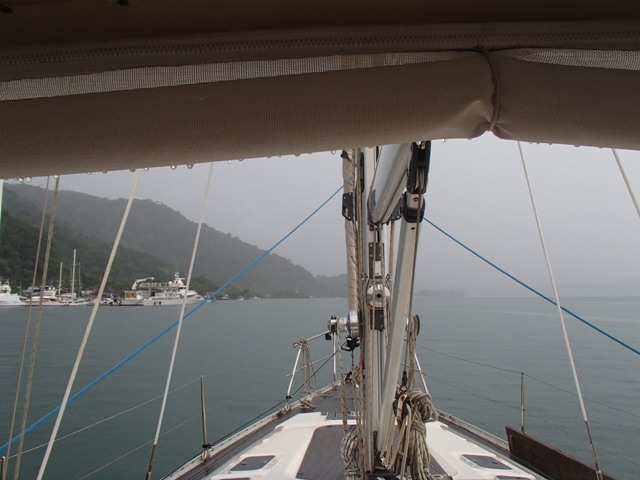 Fortunately whilst a couple of lightening forks rent the skies in the hills overlooking Golfito much of the display was sheet lightening. But it was a damp evening and we just pulled down the tent flaps and sat it out.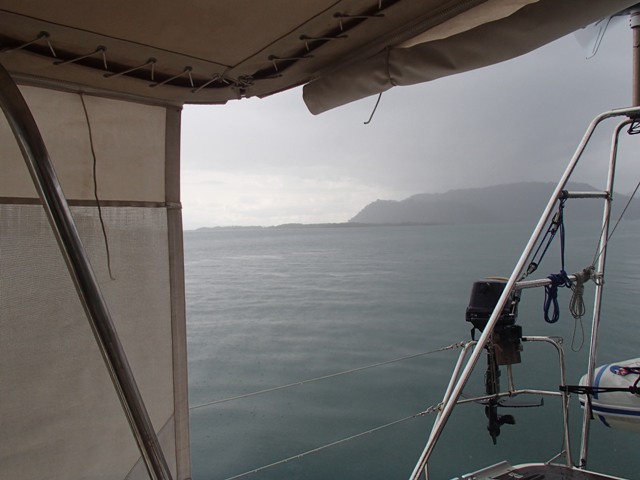 It all looked very different the following morning ….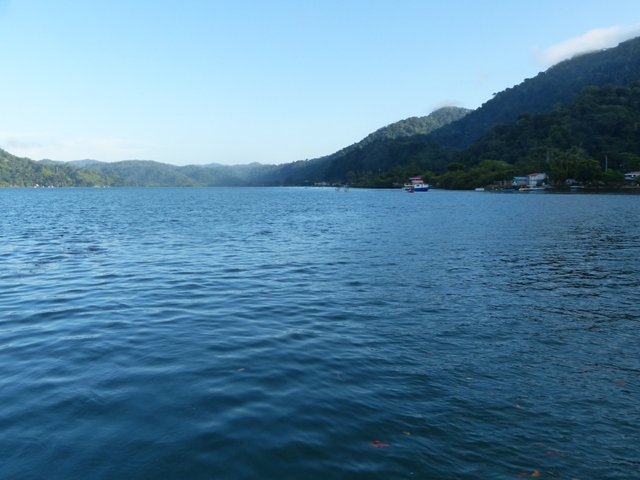 … but, our adventures in Costa Rica are for another day.
So, anyone with time to spare whilst in Panama City and who doesn't mind tackling Punta Mala both ways could easily while away three or four weeks [or more if that's what takes your fancy] in these islands or, if you are braver than us with regard to the "authorities", you could spend more time than we did between checking out of either Panama or Costa Rica and into the other. In reality the likelihood is that if the Coastguards stopped you it would just be a case of leaving the islands to make your way immediately to whichever Port of Entry you were heading for.
There are anchorages for all seasons, clear water, good holding and nice scenery. It reminded us a little of the "Jardins de la Reina" – which long time readers might recall are on the southern side of Cuba. However, whereas those islands had shallow passages and anchorages, in the Western Perlas we never went below 5 metres – so Malc – this is a good spot for DA!
We certainly had a great week. It was lovely to be back on the water and to enjoy the seclusion these islands offer.