You might remember that we left Ecuador on an overnight bus from Loja to Piura, Peru. We arrived there at 7am on Tuesday 7th April, found the place from where our next overnight bus was leaving [opposite side of town], checked in our bags and looked for a way of spending the day. The central "Plaza de Armas" – which, incidentally seems to be the name of the main plaza in every Peruvian town or city – seemed like a good place to start.
The city cathedral, constructed in 1588, is situated on one side and large buildings from the Colonial era on the others.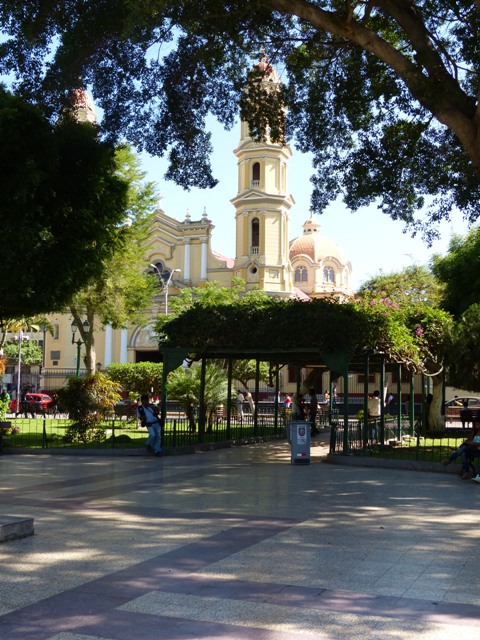 Piura doesn't have much in the way of tourist trappings but we did visit Casa Grau, the restored colonial birthplace of Admiral Miguel Grau – one of Peru's most renowned heroes.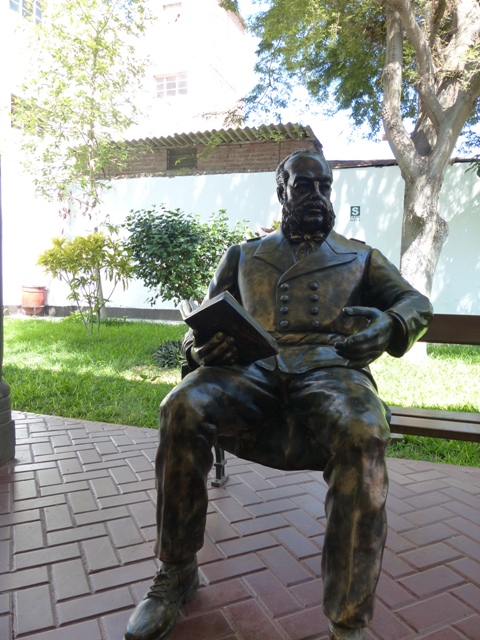 Born in 1834 he attended Nautical School and first went to sea, at age nine, aboard a merchant schooner. He had sailed most of the world by the time he was 19 when he joined the Peruvian Navy.  His main claim to fame was captaining the British built warship "Huáscar" at the outset of the War of the Pacific against Chile [1879-1883]. During a six month period, from April 1879, he captured and/or destroyed several enemy vessels, bombarded port installations and, as a result, delayed a Chilean invasion of Peru by sea. He was killed by an armour piercing shell in a four against one duel during the battle of Angamos in October 1879.
A flying visit, but it was a pleasant place to stretch our legs and have a bite to eat between bus rides.
Our seventeen hour journey to Lima, across the vast emptiness of the Sechura desert, began at 6.30pm that evening. Fortunately we were asleep for much of the time because it is just seemingly a never ending wilderness with occasional signs saying "Privado". We wondered what on earth would make someone want to purchase this land – especially as nothing seemed to be happening on these areas of private property. We found out later that they are mineral rights, mining and mineral processing being Peru's number one source of income.
As we neared Lima the landscape changed from flat plain to enormous sand cliffs.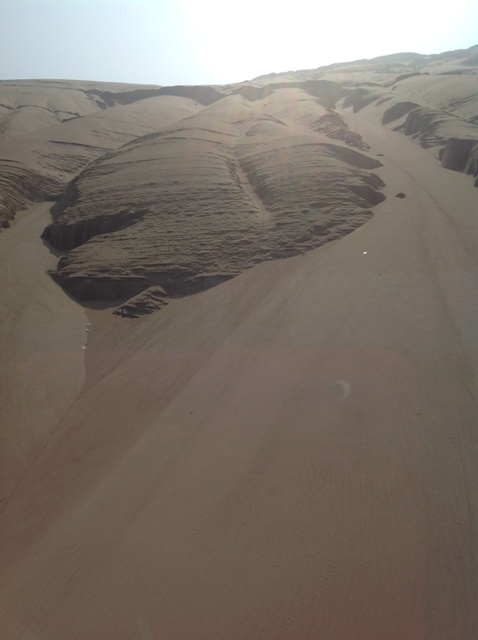 The road runs half way up these cliffs and I can't say that I felt exactly comfortable – I kept thinking that at any time there could be a massive sand avalanche. I am not normally prone to thoughts like this – maybe I was just tired after the long journey.
Our first "dose" of Lima was four days and nights, much of which was spent in the fantastic company of friends Steven and Sandra.
Lima is huge. It covers 800 square miles, has more than 30 municipalities and houses a population of 8.5 million. It is the second driest world capital, has survived several catastrophic earthquakes and has seen the rise and fall of several civilisations.
The heart of the city [Lima Centro] is a grid of crowded streets and we started to get to know it by doing a self guided walking tour which began in Plaza San Martin, named after Peru's liberator.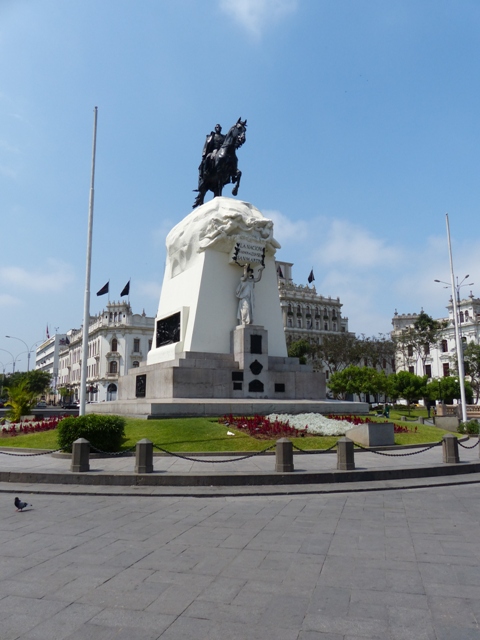 At the base of the statue commemorating José de San Martin is a "Madre Patria", the symbolic mother of Peru. The sculptor was given instruction to give the lady a good crown of flames. No-one gave thought to the fact that, in Spanish, the word for flame has a double meaning – so the craftsman dutifully placed a delightful llama on her head!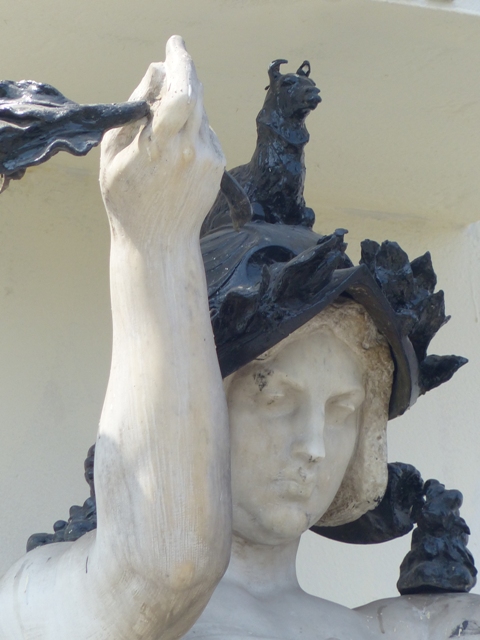 The now pedestrian only street "Jirón de la Union" was once the heart of aristocratic city life. Although much of it now houses bargain shoe stores, cinemas and cheap eateries, there were remnants of what must once have been….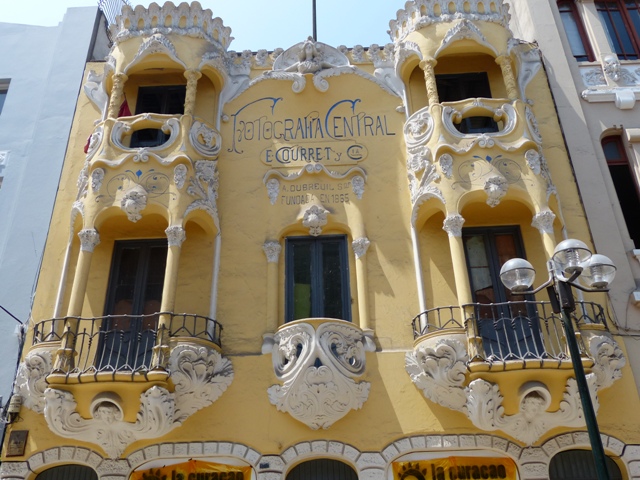 ….. and we also stepped into the Museo Casa "O Ballantyne" where, amongst other artistic displays, were these churches…
They reminded me of school pottery.
The centrepiece of the city [yes, you got it – the Plaza de Armas] has served in the past as a market, a bullpen and an execution site. As well as many other fine buildings, the "Palacio de Gobierno" Peru's presidential palace can be found there. Each day, at noon, is the changing of the guard ceremony. Unfortunately the wrought iron railings don't offer the best photo opportunity but we all enjoyed the precise goosestep style marching to the brass band playing "El Cóndor Pasa".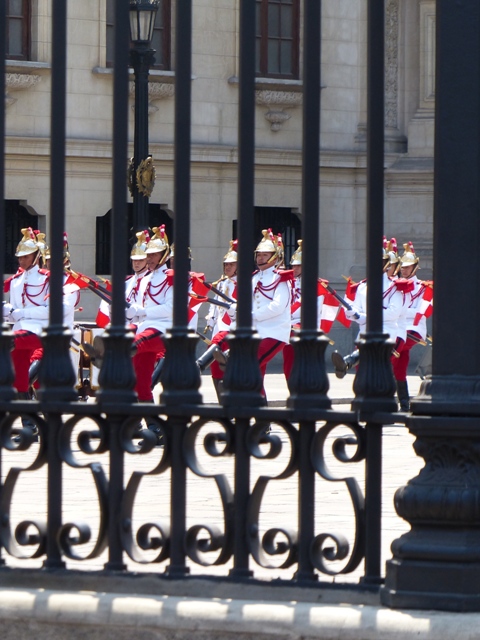 The very ornate Cathedral….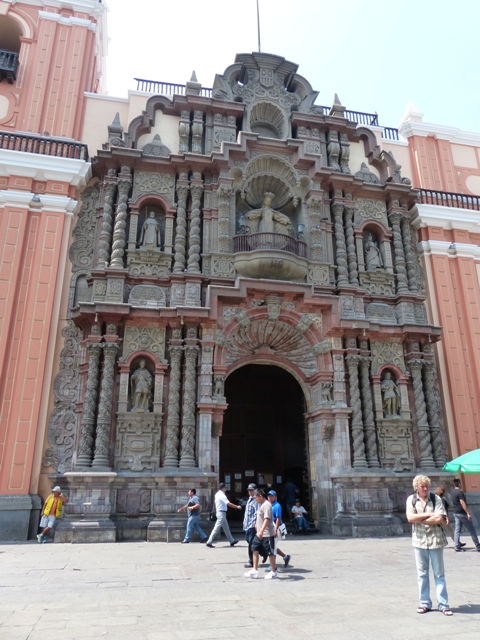 …. and  the adjoining Archbishops Palace are also in the square and I was quite amused by the vultures on the top. [How many vultures do you see?!]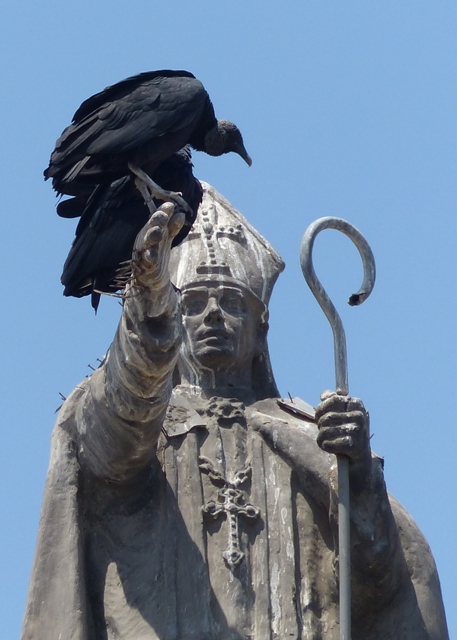 We actually visited the Cathedral and Archbishop's Palace [Palacio Arzobispal] the following day but since I have mentioned it already I might as well tell you now what is inside – apart from the usual religious art [of which, incidentally, I have now seen enough of to last me quite a while!].
Around the inside of the Cathedral are 12 distinct chapels, which were the property of members of the brotherhood or of rich private individuals under which tombs were built for their burial.
Perhaps the most interesting things were the Choral books i.e. large format musical scores which were placed on a lectern in the middle of the choir stall with the boy sopranos positioned in front and the men behind. The series of books contained all the Masses [Advent, Lent, Pentecost etc, etc] and the entire missal was set to music with Gregorian notation.
Built in the mid 1500's the Palace was the place of residence for the Archbishop and for four centuries continued to be the focal point for pastoral policy not only in Peru but for all of South America. In 1924 a new Palace was built, this original being preserved as an important historical site which became a museum opened to the public in 1970. The rooms and furnishings give some idea of the frugal lifestyle these Archbishops must have had!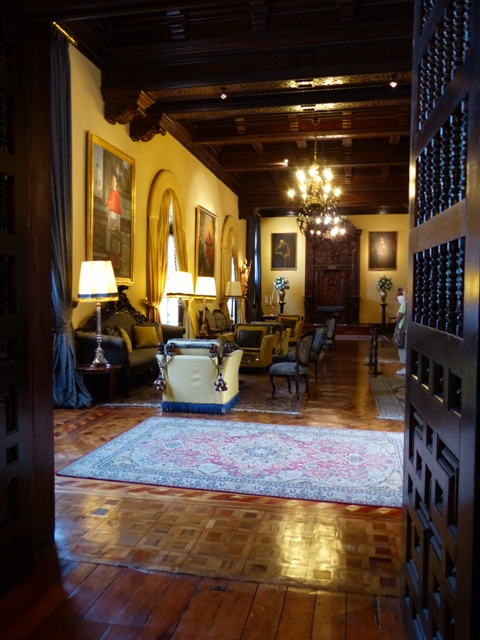 Inside the Crypt of the Cathedral were a number of lead lined boxes and several skulls….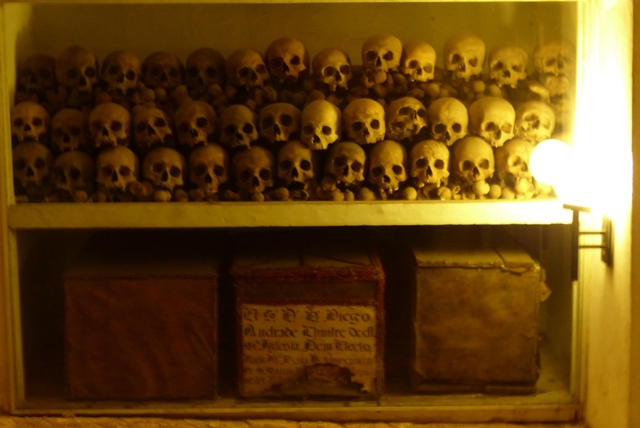 ….however, it is the Monasterio de San Fransisco – another museum – which is famous for its skulls and bones….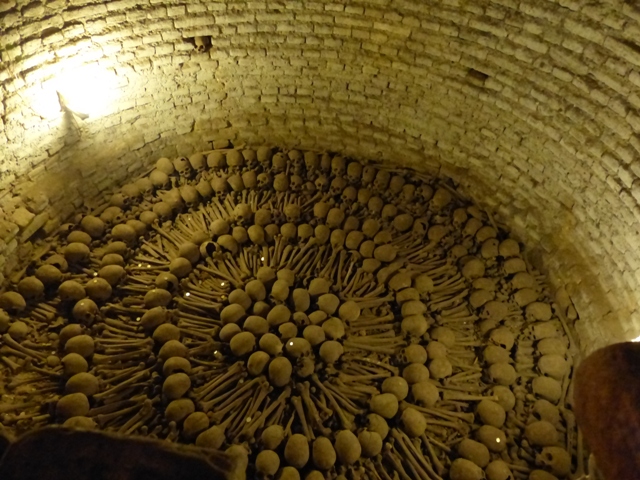 …. where there are an estimated 70,000 remains.
In case you are beginning to worry that we limited our search for Lima's history and culture to palaces, museums and galleries you can now relax. We travelled by local collectivo to La Punta, a narrow peninsular which was once a fishing hamlet and where we enjoyed a seafood lunch, ate a meal in Chinatown and visited one of Lima's institutions "El Cordano". This old world dining hall has served practically every Peruvian President for the past 100 years [or so the book says].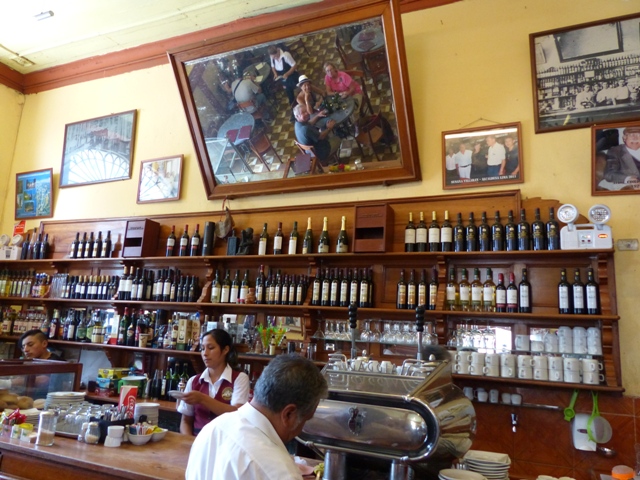 We also went to the seafront area of Miraflores where we walked out on the historic pier….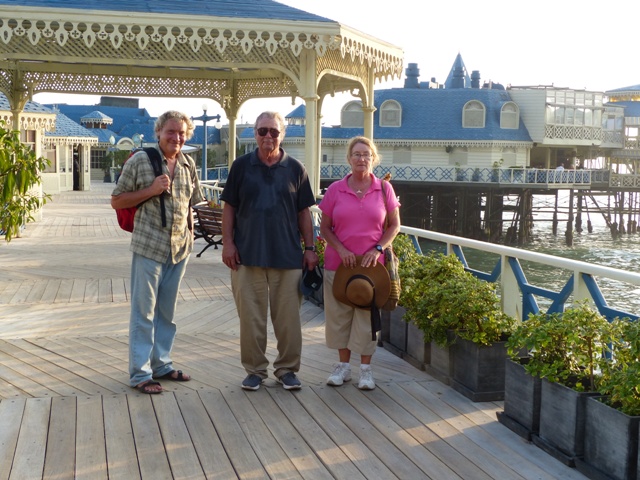 ….and watched the surfers catching waves as the fog rolled in.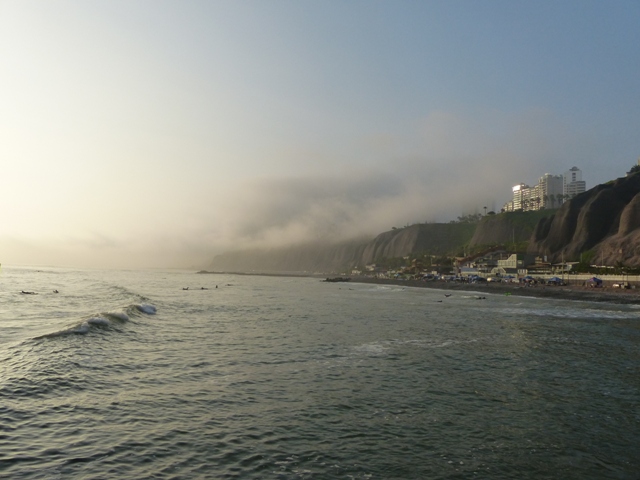 We were actually very lucky on both our visits to Lima that this was the only time we saw fog because the city is well known for being shrouded in fog, known as "garúa", for much of the period April to October.
Unfortunately our time with Steven and Sandra was then over and we left Lima the following day – to return again for a further day and night just over three weeks later when we were in transit from Quito to Huaraz. For our longer stay we had found accommodation in the Miraflores district [where most visitors stay] and the Lonely Planet suggested that staying "downtown" [in the Centre] wasn't a great idea. However, just for one night we thought it would be fine…. and it was. We found a hotel just round the corner from Plaza San Martin – about three streets down from where this photograph was taken.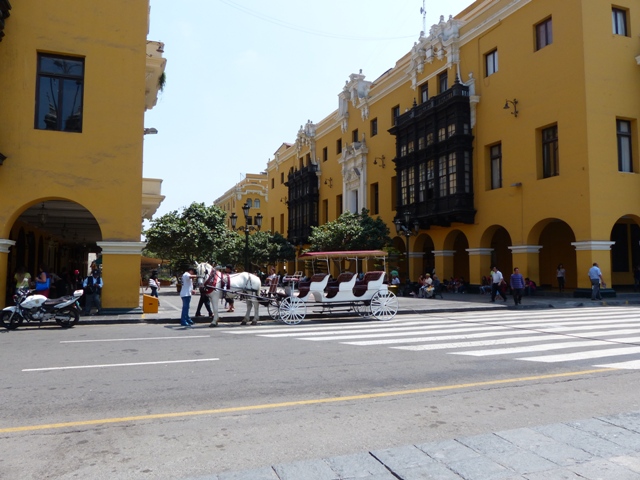 Granted, we were not out after dark in this area but did not feel threatened at all during daylight hours.
Given that we had almost a full day between getting off the plane one morning and taking an early morning bus the following day we decided to take the opportunity to visit the "Barranco" district. A popular place for locals at the weekend, it has its very own Bridge of Sighs – "La Punta de los Suspiros".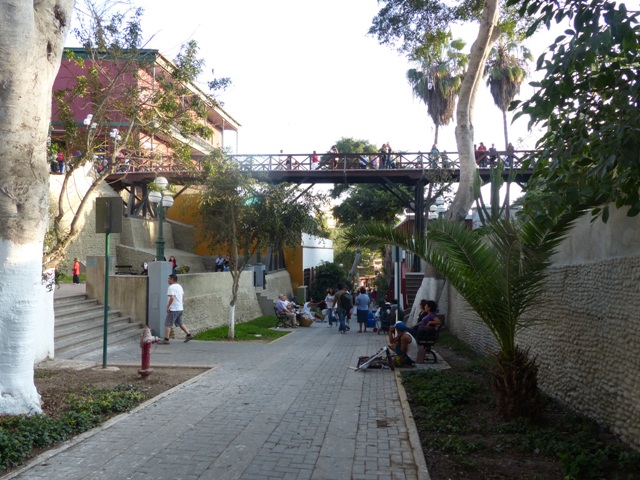 We also witnessed some kind of band display or maybe it was a competition?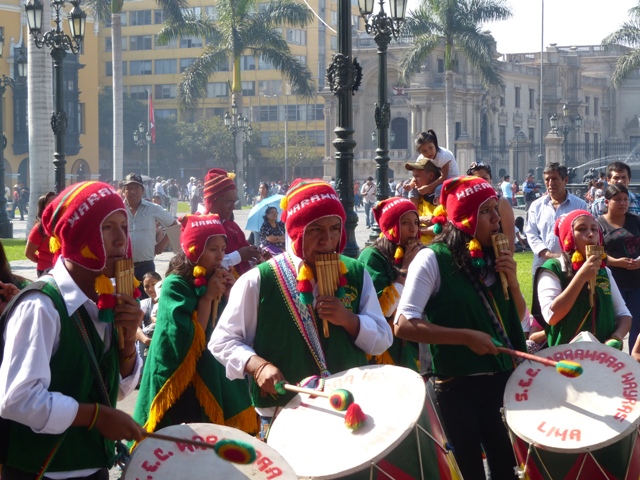 Or, it was possibly linked to some sort of religious festival as the bands walked to and then performed by this statue?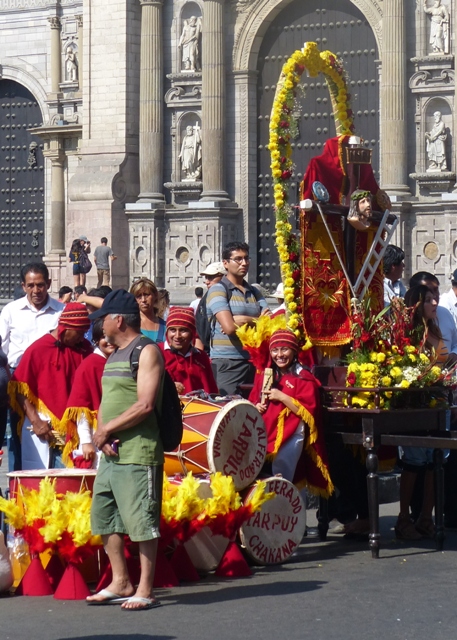 Whatever, it was very colourful and it was great to see and hear the pipes being played.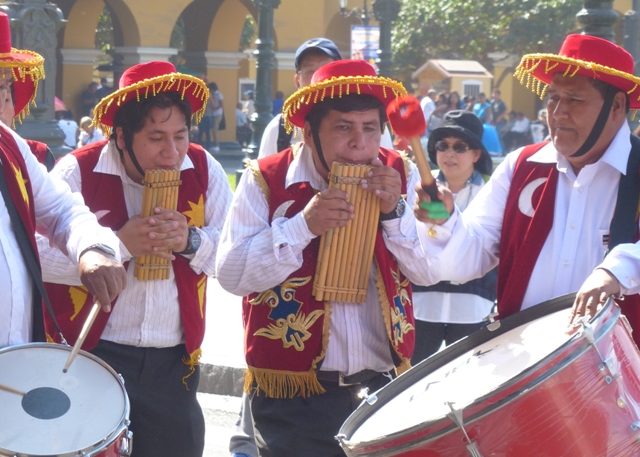 So, some good memories of Lima and lots more about Peru to come in the next blog posts.
Meanwhile yachting friends- if you are considering visiting Lima [and the rest of Peru] and, unlike us, decide you want to go by boat, there is a marina….