Hmmmmm – is this a continuation of the theme of hats I wonder……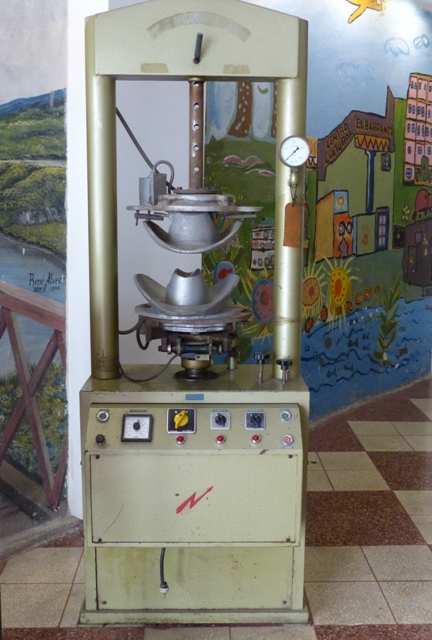 …..No, it's not [quite!] – but I forgot to include photos from the Cuenca hat "museum" in my last post so thought I had better put them in now!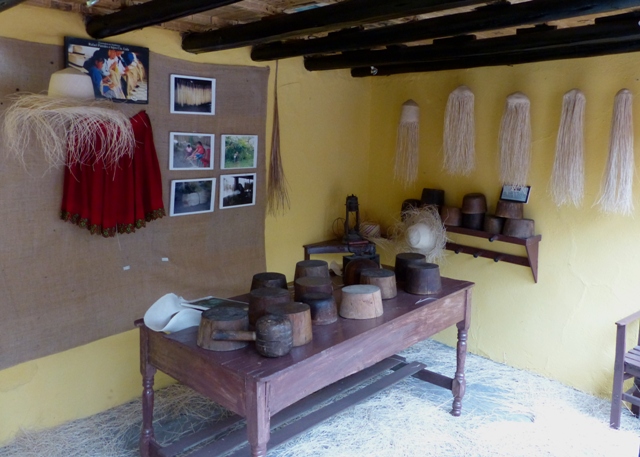 OK – that's got that out of the way and I can now go on to tell you more about the country's third largest, and our favourite Ecuadorian city, Cuenca. It is a beautiful place, very clean and "laid back" and, being much smaller than Quito it is easy to get around the whole of it on foot in a day – but why rush! We spent five days and nights there and enjoyed every minute.
As well as the hat museum we visited the rather strange "Museo de Arte Moderno" – which, we think [hope], was "between exhibitions". Either that or the exhibits are so modern as to be non-existent or of the kind of brick and plaster art which wins the Turner prize. Sorry, all you art buffs reading this who find those things to your taste – but I am afraid I don't and the best part of the museum for me was the enclosed garden!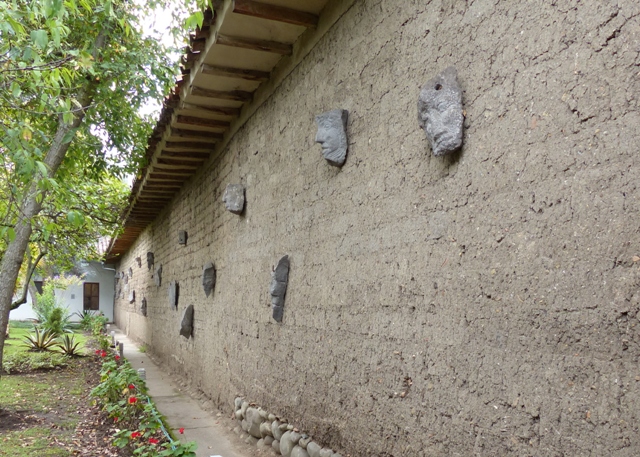 It perhaps didn't help that I was aware that the museum is now housed in what used to be the "home for the insane"!!!!
The" Centro Interamericano de Artes Popular" was much better, with displays of indigenous costumes, handicrafts and artwork from around Latin America. Photographs were not allowed inside so I had to make do with the building – which does portray the kind of beautiful architecture which can be found in colonial Cuenca.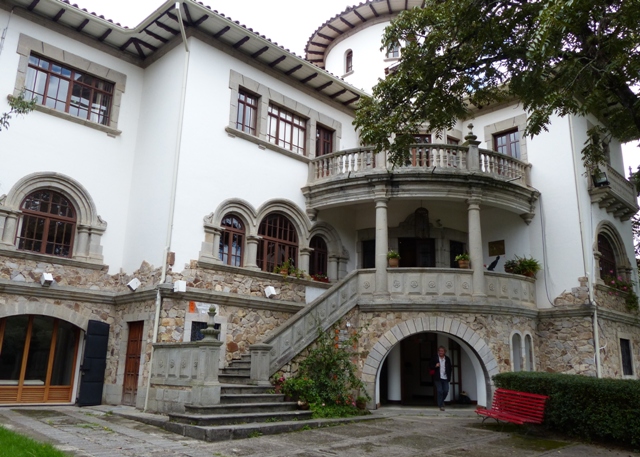 The most interesting museum was the "Museo del Banco Central" which has colourful "animated" exhibitions [which means dressed figures etc – not moving things]. It was a bit of a shame that the part of the museum dedicated to the history of the city, particularly the Cañari people who had lived here for 3,000 years before the arrival of the Incas, was very dark because there was a lot of information given about these pre-Inca and Inca civilisations. This was mainly, but not totally, written in Spanish and therefore with the combination of language and lighting impediments it meant that we perhaps didn't get as much of an understanding of Old Cuenca as we would have liked. Outside the back of the museum is the archaeological park where you walk through what is believed to be the great, but short lived, old city "Tomebamba" [Valley of the Sun]. Thanks to the Spanish conquistadors who carted off most of the stone to build their city on the site, not much remains but you can see the terraces….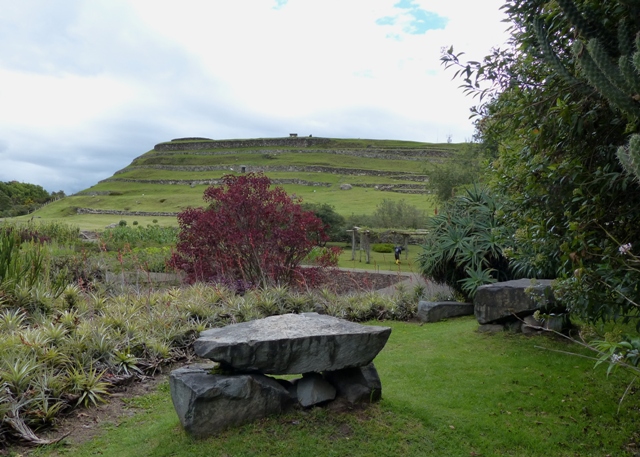 …..  and, just above the middle of the red bush in the photograph is an entrance to one of the burial chambers. The museum has also constructed an "Inca garden" cultivating the main crops used by that civilisation.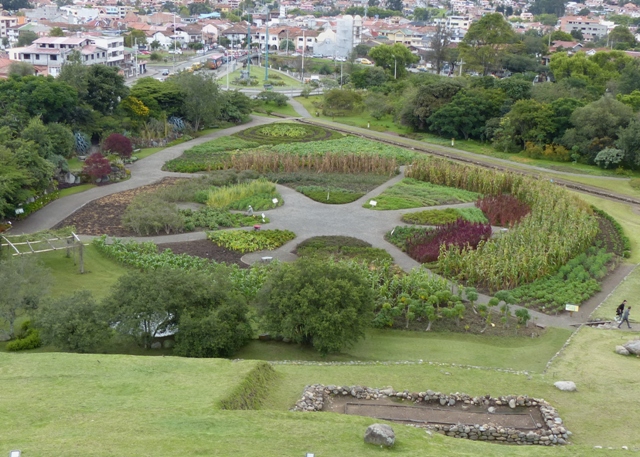 There was also a water garden which, for some reason, I didn't photograph – but apparently water was very significant to the Inca people and the young warrior chief who lived in Tomebamba built the garden for his mother.
The plaza of San Sebastian, with its church of the same name, was once used for bullfights. Apparently it is also the place where a mob of "Cuencanos" battered a member of the famous geodesic expedition [you know, the French one, when they "found" the middle of the world] because he had an affair with a local woman. However, no bulls or marauding mobs when we visited…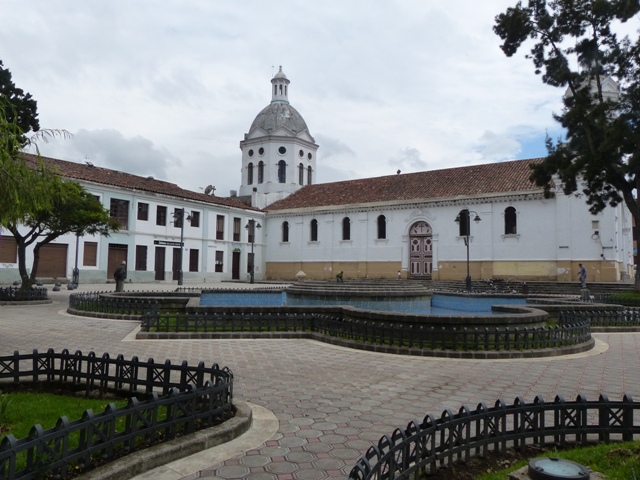 I had noted from the guidebook that around the small plaza [Plazoleta de la Cruz del Vado] on the south western edge of the city there were supposed to be galleries, cafe's and artisanal studios specialising in embroidery, saddles and copperware. The nearest we found to copperware was this sculpture…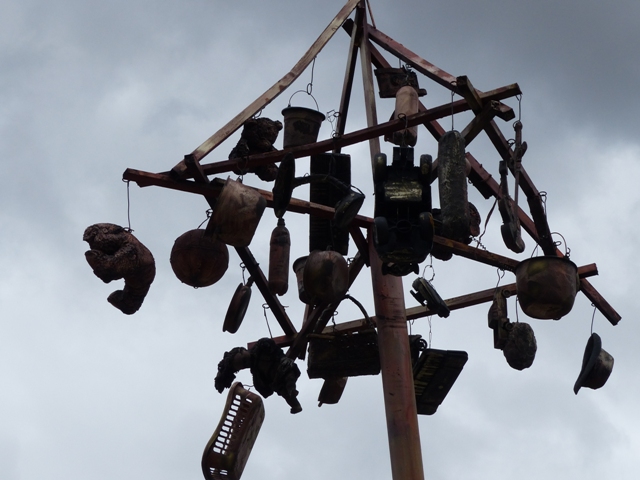 ….and to a cafe, this coconut "stall"!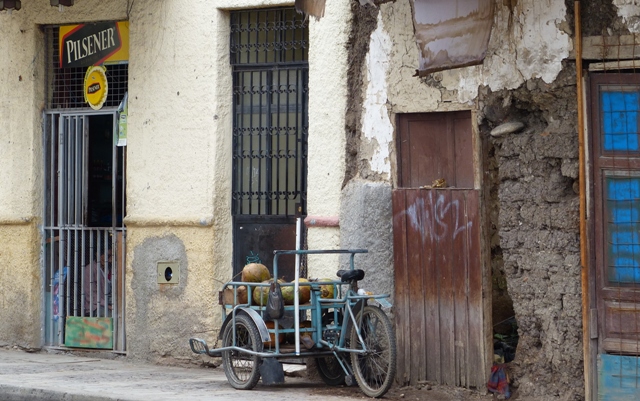 I spoke above of colonial architecture and, above the Rio Tomebamba which runs along the southern part of the city, buildings hang over the river…..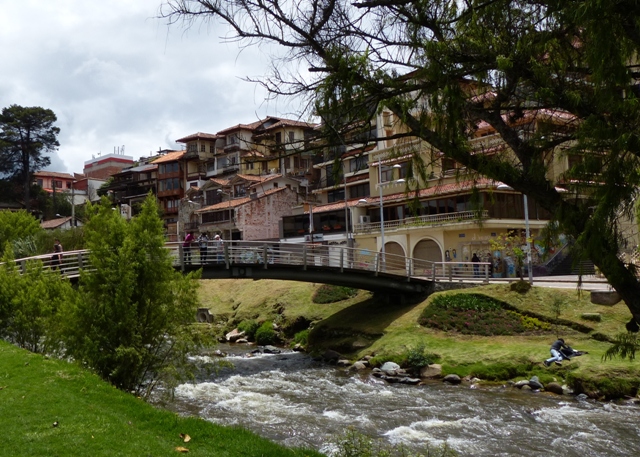 ……. their facades actually opening out onto Calle Larga which runs parallel to the river at the top of "El Barranco". Steep stone stairways connect the top and bottom and, having walked up one of them it was nice to have an excuse to stop to look at a few murals. I was really taken by this one which reminded me very much of "Discworld"….
…. a sad reminder to me of Terry Pratchett's death just two weeks previously.
Since we started travelling in Latin America I have wanted to be in a large town or city for "Semana Santa" [Easter week]. It was really good, therefore, that our timing on this trip allowed us to see the Easter parades in Cuenca even though this city is not as renowned for big celebrations as other cities.
Rather than one big parade it seemed that each "parish" had its own Good Friday "Stations of the Cross". Maybe I should be bolder about taking pictures of such things – but the humble stations, put together outside parishioner's homes, seemed so personal that I just concentrated on the parades between them….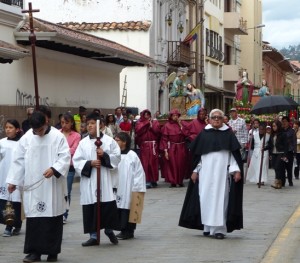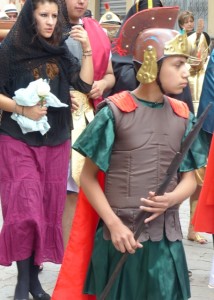 Something that really should be done at Easter, whether you are a food aficionado or not, is eat the soup "Fanesca" .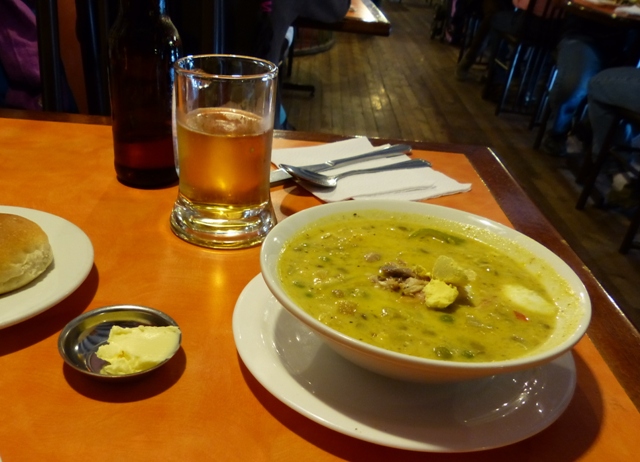 As it happens, Cuenca's version is supposed to be the best in Latin America and we can confirm that it was very good.  Its base is vegetable [usually pumpkin] and salt cod [due to the prohibition of red meat during the festival] and it then contains 12 different types of bean to represent the apostles. We ate it at "Raymipampa" – a Cuenca institution popular with locals. There were queues outside every day so we thought it ought to be a good bet. The interior of the restaurant was quite interesting too….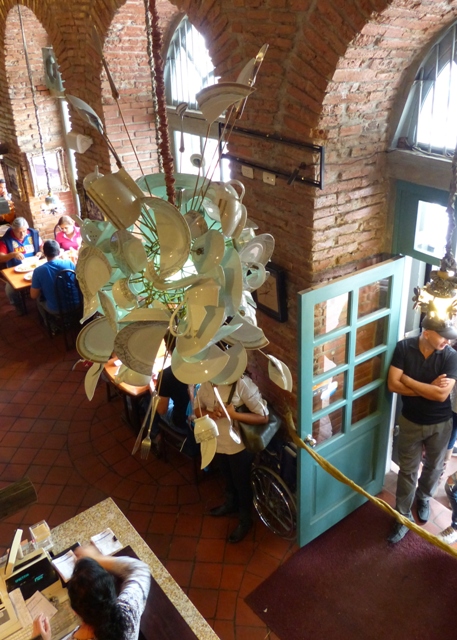 Church obviously plays a big part during the whole of Easter week [and the whole of the year in this devoutly Catholic country] but there isn't the formality and stuffiness of what I think of as "going to church". Families wander in and out throughout services and people congregate in church doorways to meet and greet and pass the time of day. They even have the opportunity to buy a cooling ice…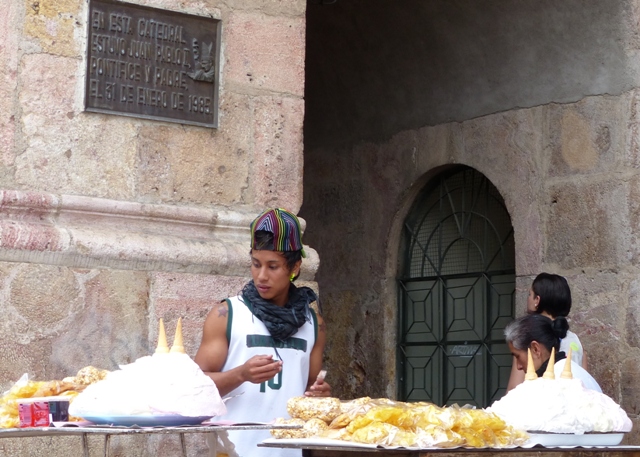 …. though quite what kind of ice cream this is, as it didn't seem to melt, I am not sure – on looking more closely it seemed to have an almost marshmallow texture? Yes, I know – we should have tried it.
Anyway, what else is there to do at Easter?  – maybe a serious card game….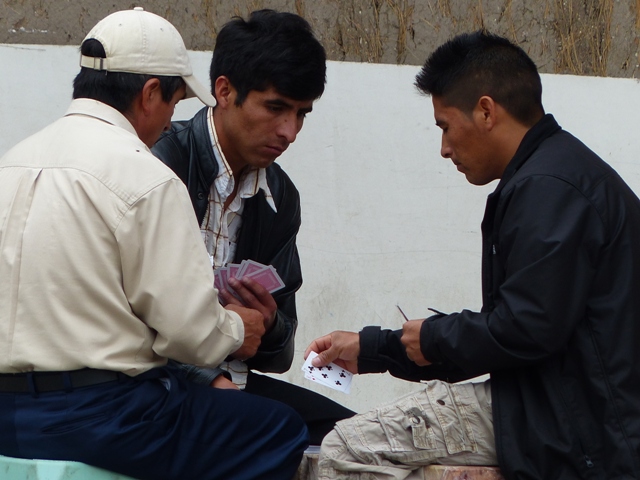 …. or perhaps buy some flowers from the many fragrant smelling stalls….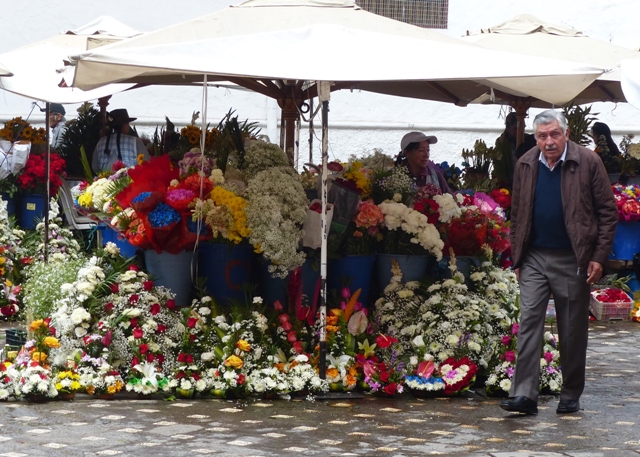 …or, the "Lonely Planet" mentioned three market towns outside of Cuenca. All of the towns written about were supposed to have Sunday markets so what could be better on Easter Sunday, especially as the book said they could be visited in one day [with a sufficiently early start]. Well, as far as we are concerned, they could all be visited in about 1 hour [bus time excluded] because there was not a lot to see. We had thought that on Easter Sunday they would be really interesting but Gualaceo, described as "a craft shopper's paradise with a Feria Artesanal on the far side of the river", was a scruffy town full of fairly low budget shops and no Artisan fair in sight. We did find a food market and if, when reading my earlier blog post about Otavalo, you found the cooking guinea pigs a bit off putting [I did warn you] then you really won't like the photo below….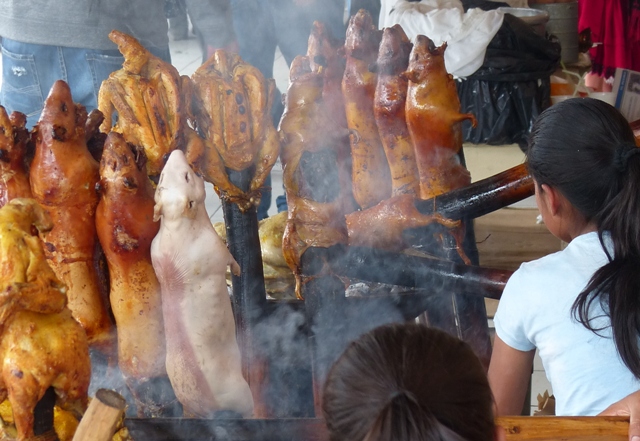 The next town, Chordeleg, was at least cleaner and more attractive and was supposed to be famous for its jewellery. However, most of the shops we looked in had what seemed to be cheap imitations of "exquisite filigree gold and silver". The nicest earrings we saw were those hanging from lampposts up the main street!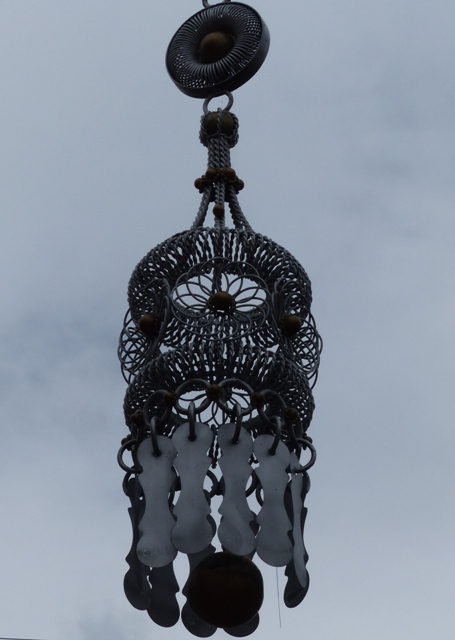 I am afraid to say that we didn't bother with the third town and returned instead to Cuenca for an early evening stroll taking in the nicely lit buildings…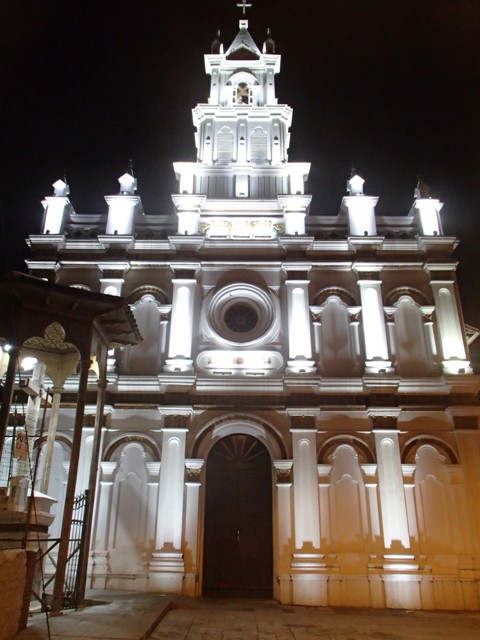 ….and a pre-dinner drink at one of our favourite bars….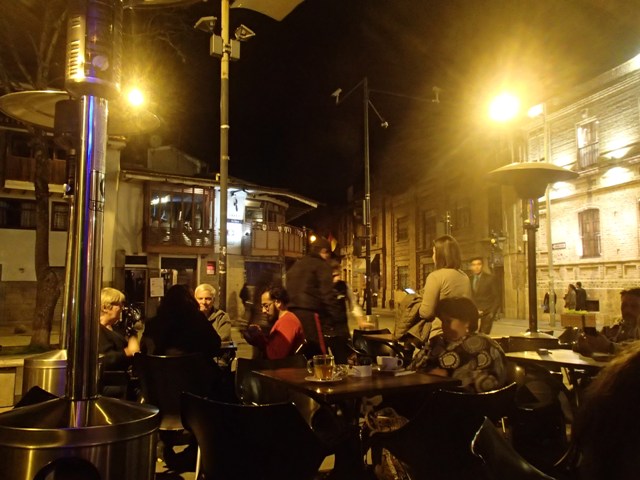 Cuenca is situated in the heart of the Southern Highlands which, surprise, surprise, form another part of the Andean chain. Just to the West of the City [30km], and a bus ride of about 1.5 hours [once you find the right bus!], is "Parque Nacional Cajas". This was a much better day out and highly recommended to anyone who might read this and think of visiting the area.
The park encompasses 2854sq km of "páramo" [high altitude Andean grassland] dotted with hundreds of chilly lakes and surrounded by quite bleak and rough, but beautiful, countryside.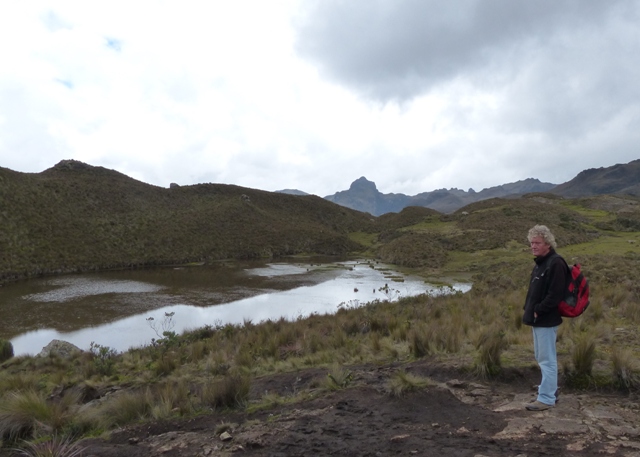 It is a wet area and, at 3,920m [over 12,000ft] it is pretty chilly. I was glad I had taken my scarf which ended up being used as a hat as well! Very fetching.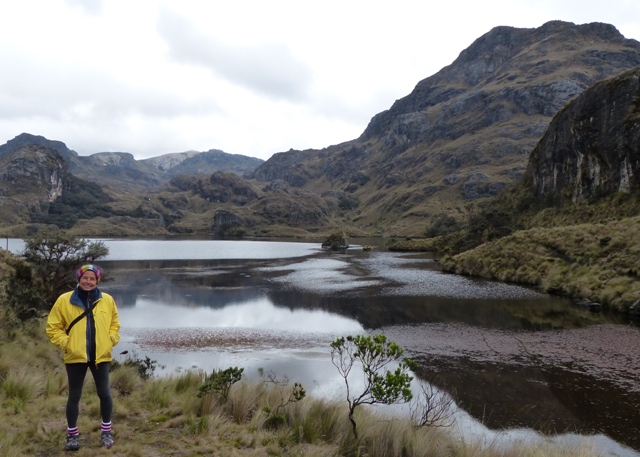 Especially important are small clumps of "Polylepis" trees found in natural hollows and depressions. These trees have adapted to grow at altitudes higher than almost any other tree in the world. In other parts of the park these trees are found in small "forests", but on our short walk we were just lucky enough to see these.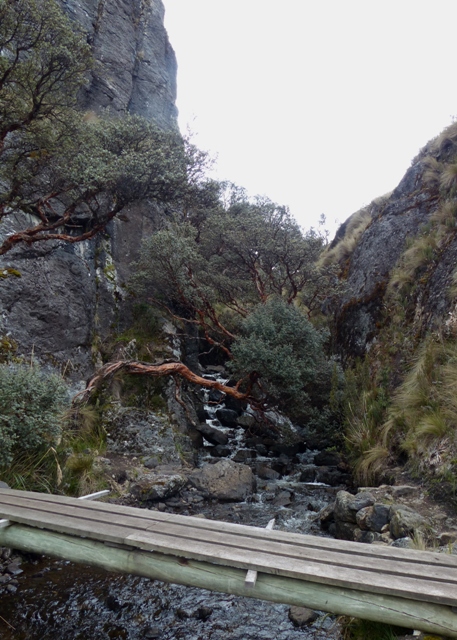 Our walk was around Laguna Trocadero and although the shortest walk in the park, it took us about an hour and a half – just wandering up a slope was quite an effort at that altitude. However, it was really beautiful and a different experience and I particularly enjoyed some of the flora and fungi.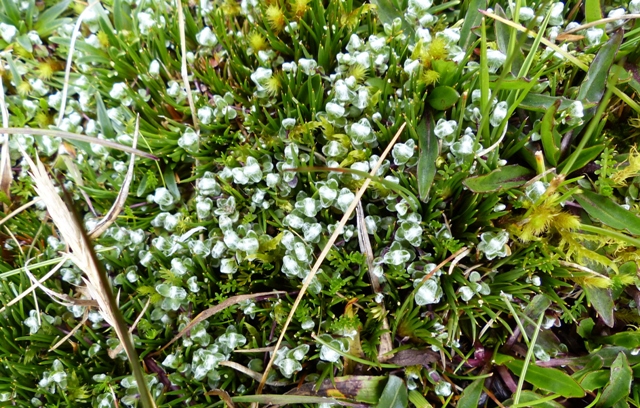 Regular readers of this blog will know that Beer is a recurrent feature and in Cuenca Mike was delighted to find a microbrewery. The old building which housed the brewery and bar was opposite yet another church and just to return briefly to the theme earlier about the family friendly and casual integration of worship with daily life here you see more food vendors and a balloon seller….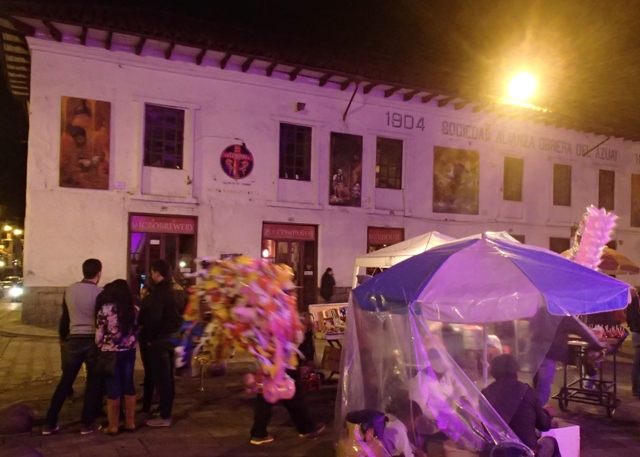 However, as you might imagine, candy-floss and hot dogs [never on Mike's menu of goodies] was not going to detract from the real deal….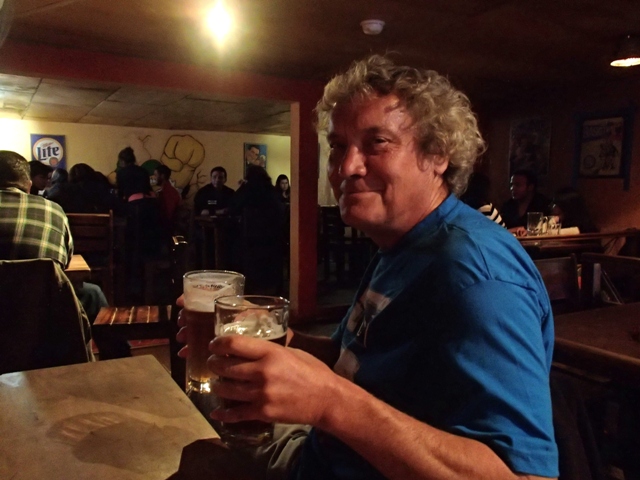 And so, we left Cuenca behind, with a five hour bus ride to the town of Loja…our last – and very short -stop in Ecuador. In just three hours we took in a museum – this time one dedicated to famous Loja musicians. We didn't recognise any names but the small building and its courtyard were quite attractive.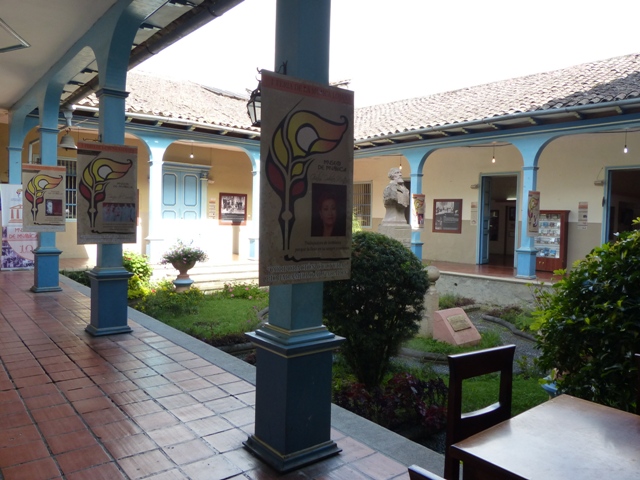 We found the narrow "Calle Lourdes"….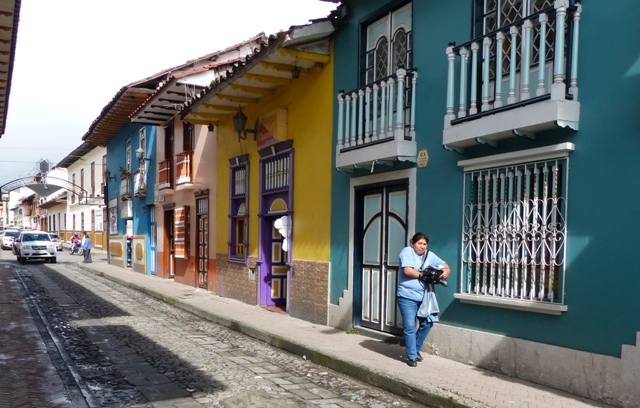 …. the oldest Colonial street in Loja and visited the gateway to the city [Puerta de la Cuidad] ….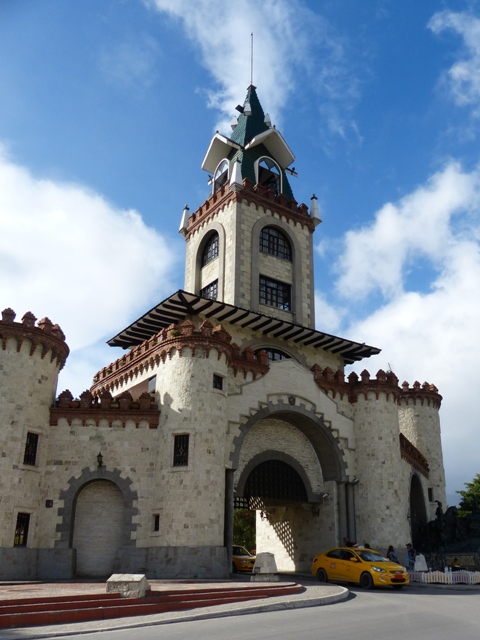 ….. before boarding the 11pm overnight bus to leave Ecuador behind and head for Peru. More adventures…more blog posts to follow.