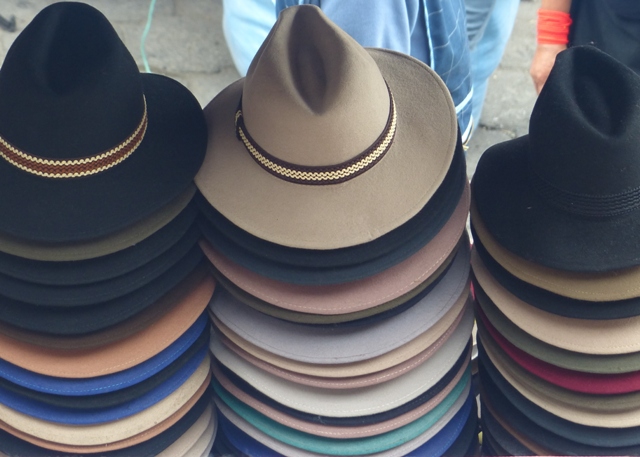 I don't know whether it was the fact of knowing that Panama hats actually come from Ecuador which made me look at what people were wearing on their heads but, whatever it was, during the whole of our trip round Ecuador and Peru I developed quite a fascination for hats.
As a result I took quite a few photos of them and decided to put together a "themed post" – hope you like it.
The first noticeable thing was that in most of Ecuador what we know as "the Panama hat" was nowhere to be seen! In Northern Ecuador, particularly around Otavalo, the preferred hat is a kind of soft felt "fedora". They were worn by both women and men…..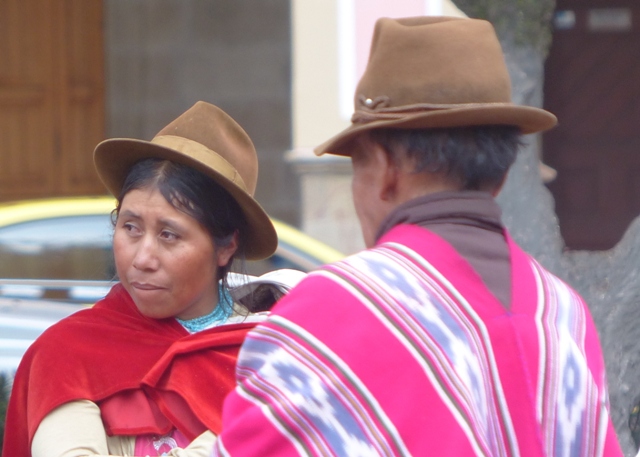 You might also have noticed in the last three photographs versions of the poncho [OK I know, this isn't a hat but – as with all things – I get carried away and my "theme" has already expanded to include other cultural dress!] Anyway, the poncho was traditionally worn by indigenous men and [above and below] you can see further examples of what I mentioned in my last blog post – i.e. men from northern Ecuador with long hair worn in ponytails or plaits….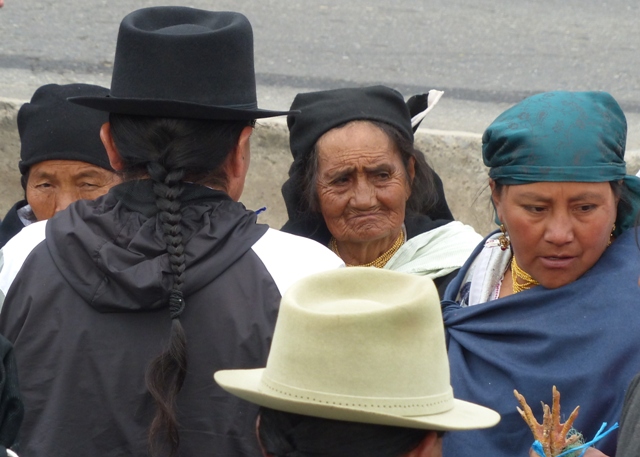 As you can see, not all women wore hats – there were silk or thickly woven cloth headscarves which were folded in various ways….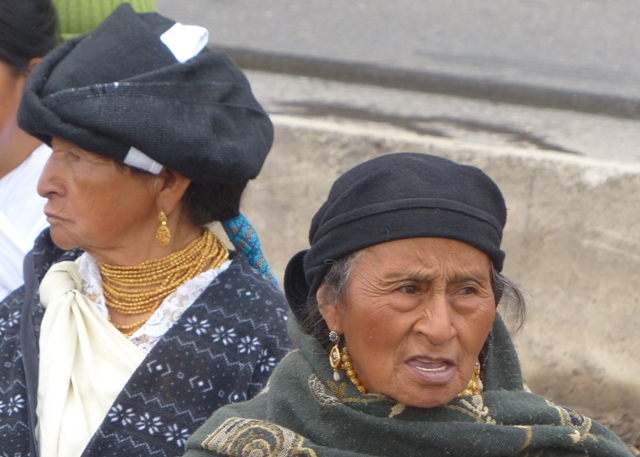 ….and the lady on the left also has her hair wrapped in a thin strip of brightly coloured material which was not unlike the braiding we saw two years ago in Guatamala.
In Riobamba [middle of Ecuador], women wore these sporty little numbers…..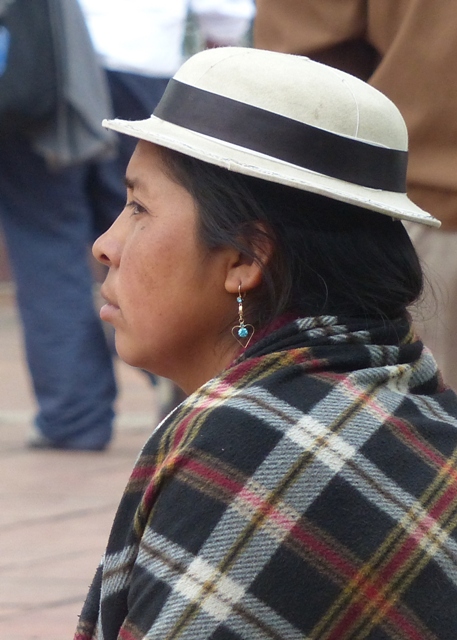 ….so it was not until around Cuenca that we begun to find hats more resembling what we recognise as the Panama…
….made from plaited straw and, in these photographs, the traditional women's version of the Panama hat.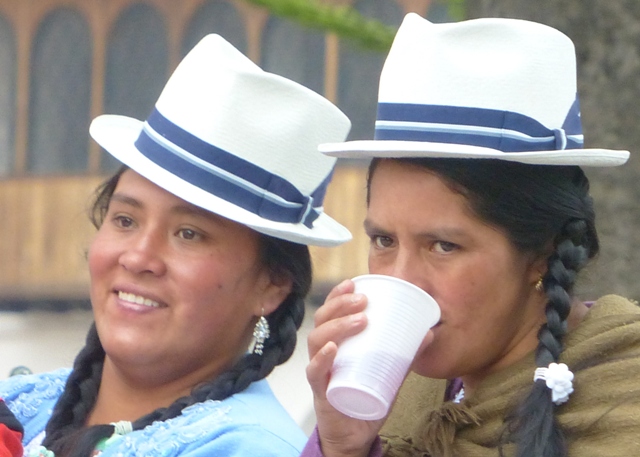 As appears to be common to those Central and South American countries we have visited it is more often the women who wear a fuller version of the traditional dress.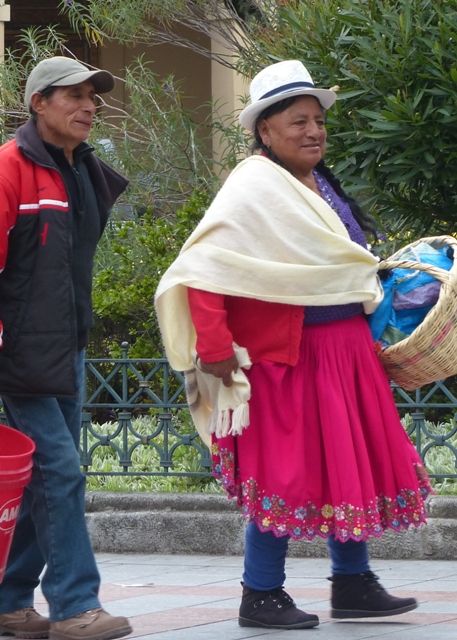 The skirts, called "polleras", fall just below the knee and have distinctive embroidered hems which identify which community the woman comes from. I have read that whilst the skirts, when finely made, can cost hundreds of pounds, it is the shawl which is their most prized possession – especially the fringed version made with a pre-Colombian weaving technique called "ikat".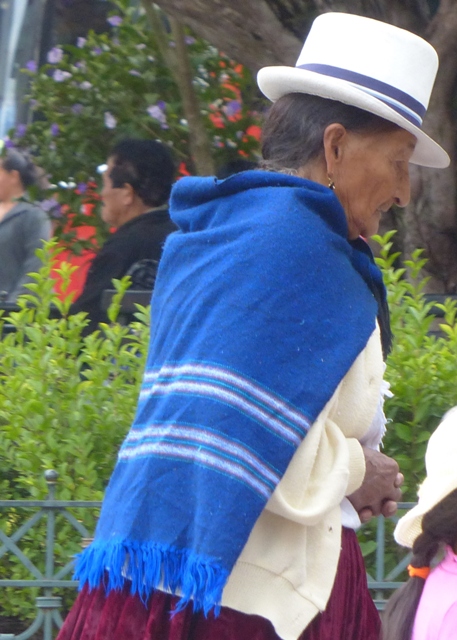 Men, it seems, wear the "real thing"….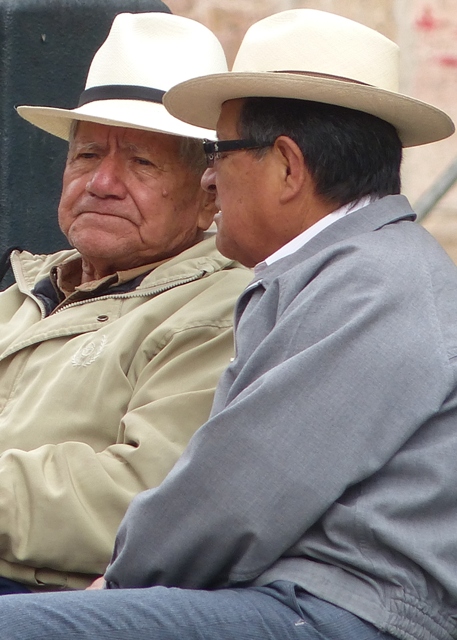 ….and there are also hats made in different shapes and shades for the "modern woman"….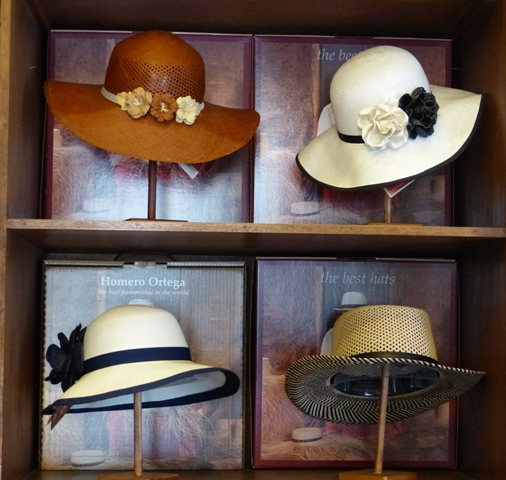 All of them qualify as "sombrero de paja toquilla" – made from the fibrous fronds of the Toquilla Palm which grows in the arid inland regions of the central Ecuadorian coast, particularly around Monticristi. The palm fronds are beaten, split and boiled before being hung out to dry and some are bleached by being soaked in sulphur. This processing is undertaken on the coast but most of the finished straw is purchased by buyers from Cuenca and the surrounding area as Cuenca is the centre for the craft of Panama hat making.
The weaving process is also arduous and the best weavers apparently only work during the evening and early morning so that sweat will not mar their hats. It is said that some weavers will only work by moonlight? Weave varies from fairly loose to tight and result in four grades of hat – standard, superior, fino and superfino. If you hold a real superfino up to the light, you shouldn't see a single hole, it should hold water without dripping and be sufficiently soft and pliable to be rolled up and pulled through a man's ring. It will cost you between £350 [$500] if bought in Ecuador and around £1,000 [$1500] in Europe and North America!
The straw hat has also crossed into Peru. In the Cordillera mountain region we saw a slightly different version – taller crowns and stiffer textured.
In Peru there were lots of examples of hats defining communities. This type of hat has a specific design based on the village in which it was made and we were told that the symbols are significant and tell the story of the village.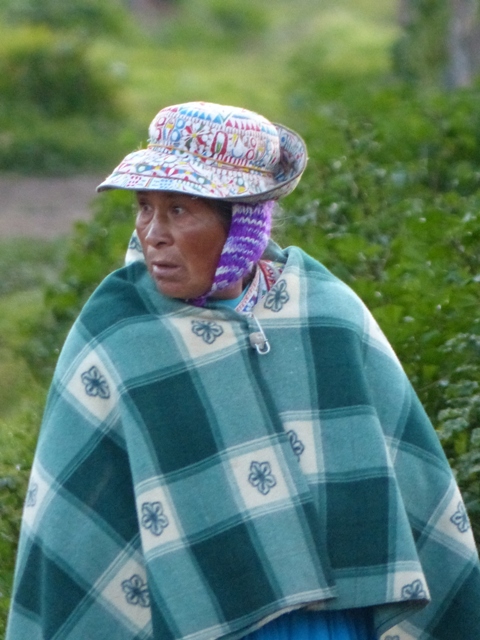 As well as specific communities, different areas have very different hat styles. The lady above came from the village of Pinchollo in the Colca Canyon, whereas this woman is from the Colca Valley.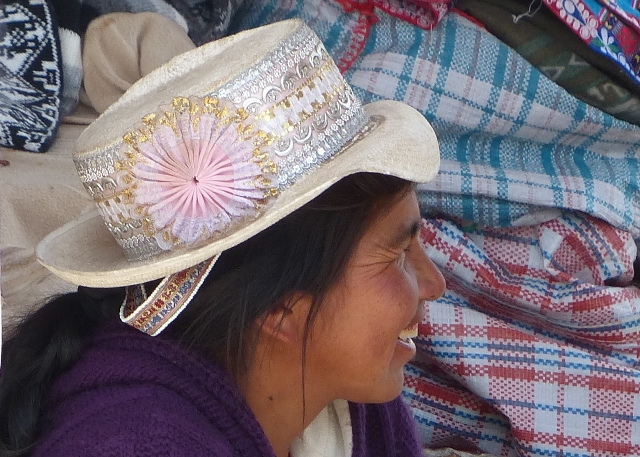 Right at the bottom of the Colca Canyon is the village of Cabanaconde and here it was shawls as much as hats which were significant…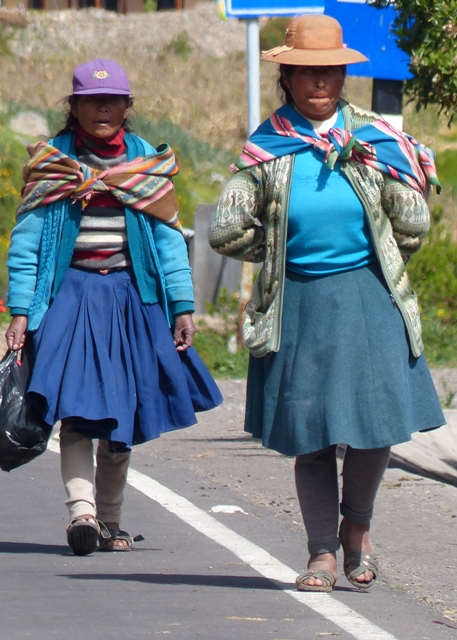 The "bowler" hat is most often associated with women from Bolivia. However, given that the border of Bolivia and Peru runs across the middle of Lake Titicaca it is perhaps unsurprising that bowlers are also worn by the women of Puno.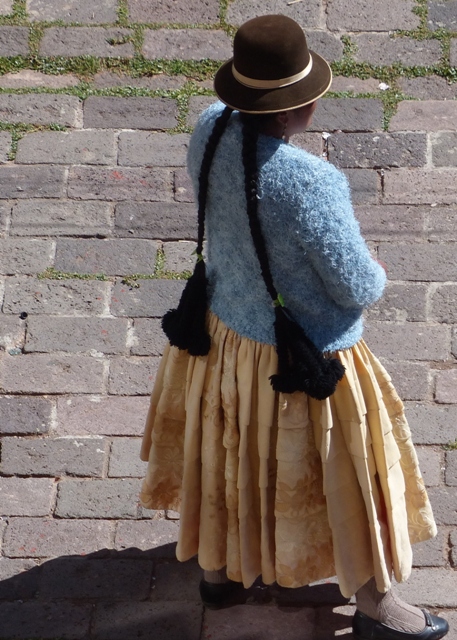 I particularly like the shaggy woollen hair "extensions" which she has attached.
The bowler was introduced to the Lake Titicaca region in the 1800's because of British trade in the area. It was thought that Peruvian and Bolivian business men might wear them. They did not pick up the habit but apparently the local women thought they were a brilliant idea and they have been wearing them ever since!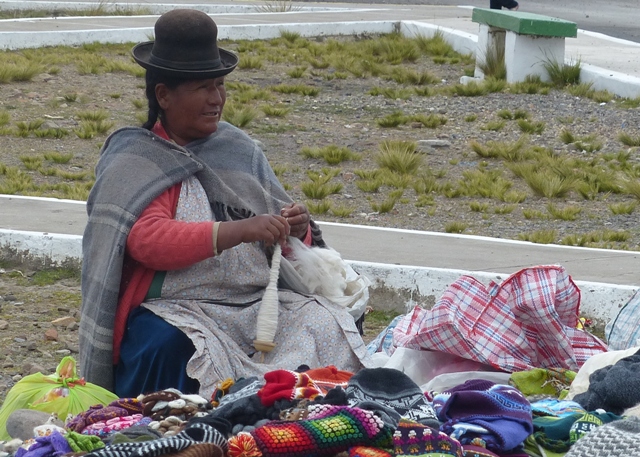 On Lake Titicaca itself the "Uros" women from the reed island communities didn't seem to favour one particular type of hat as long as it protected them from the sun but many had those interesting bobbles at the end of their plaits. I am guessing that the girl [she was at school] in the earlier photograph either lives on a floating island or now lives on the mainland but her family comes from that community.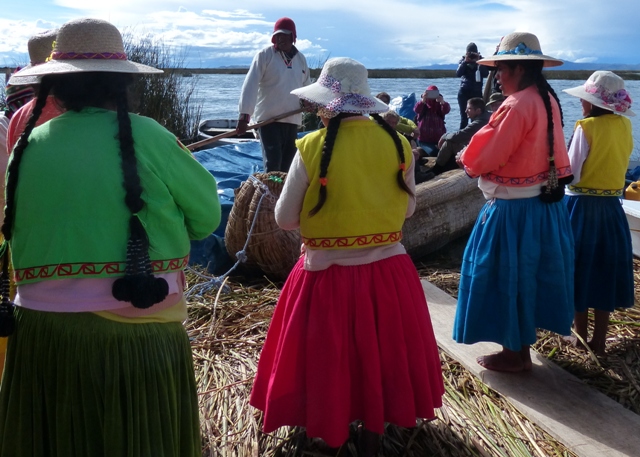 On the Capachica peninsular [NW Titicaca] we told about the different hats worn by the men there. The hat on the right is worn by a young boy [before puberty], the one on the left by an unmarried man [any age post puberty] and the one in the middle by a married man.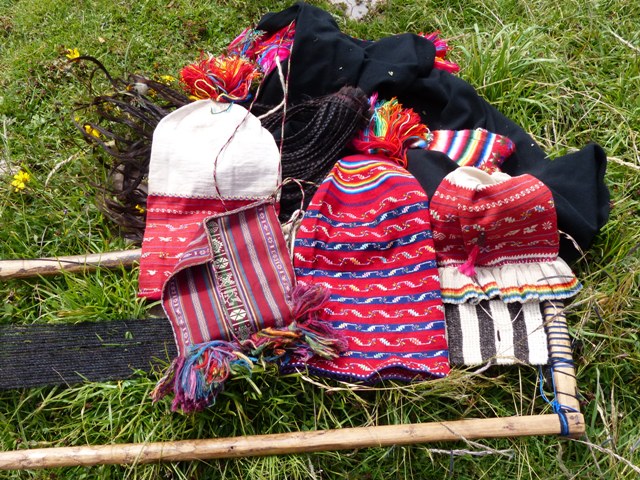 The bag shown in the photograph is carried by both men and women – it is where they keep their coca leaves which have been dried and which they chew.
The most elaborate costume we saw was worn by a woman trying to attract tourists to have photographs taken with her and her baby alpaca. She would probably have been rather cross if she knew I had managed to take this shot!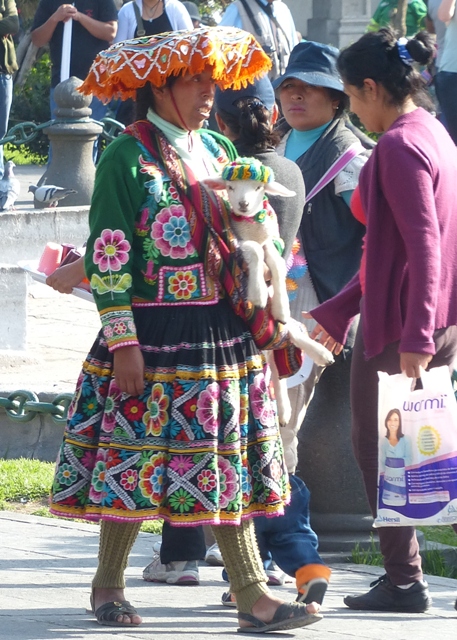 These almost as elaborate clothes and hats were not however tourist trappings. There were several girls coming back from school wearing this "uniform" [?] in the small town of Ollantaytambo in the Sacred Valley.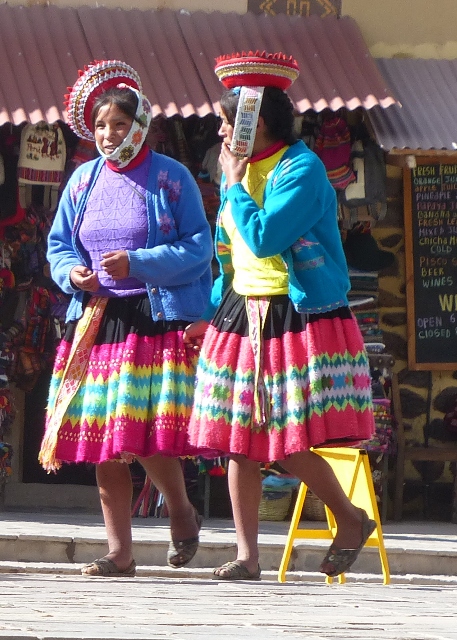 Also in Ollantaytambo were these guys who had just got off a work truck…..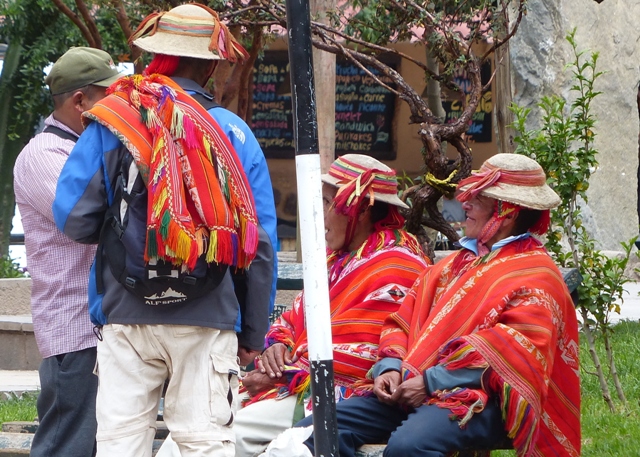 …..and  at Pisac , again in the Sacred Valley, this lady was setting up her craft stall.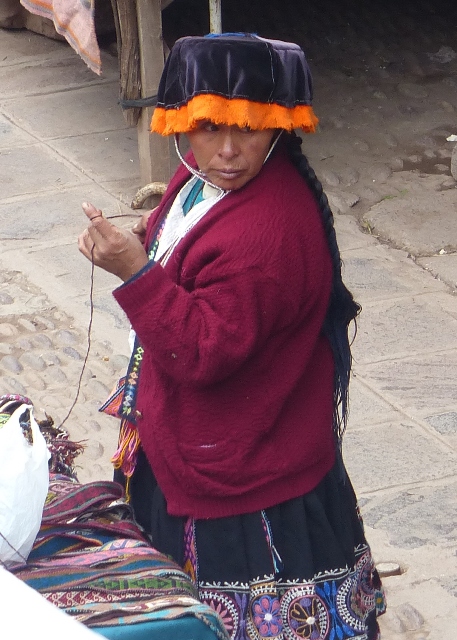 In Cuzco – Peru's second city and the Inca Capital – Sunday brought out families and couples wearing their best clothes – Hope you are reading this post, Mary as I think this would be your favourite!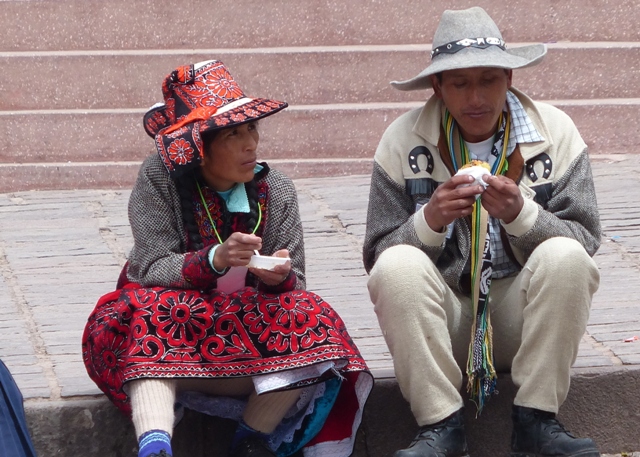 So, as I hope I have been able to show without boring you too much, hats come in all shapes, sizes, colours and designs but one thing is clear – they have to be protected and, if rain threatens, out comes the plastic bag!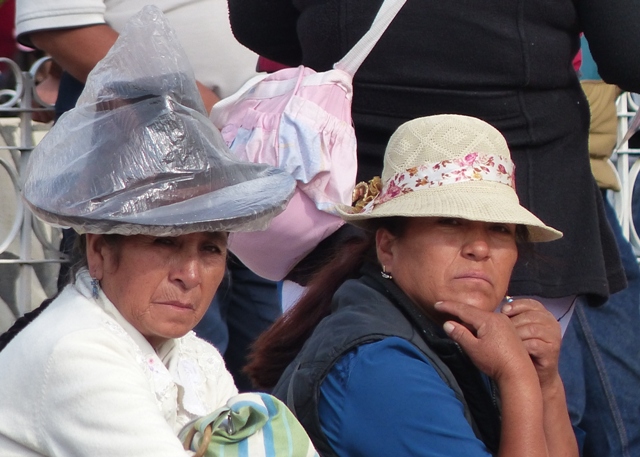 As I said at the outset I started this whole theme because I was interested in the Panama hat but I forgot to tell you how it got its misnomer. Those hats made in Ecuador were both exported via Panama and also became popular with workers on the Panama Canal. They therefore became more associated with Panama and took on that name, the real name of Monticristi being lost en route! Whatever, it remains my favourite of hats…..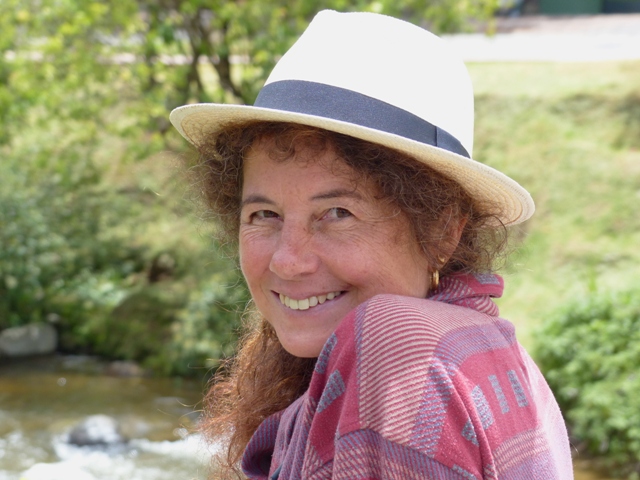 …..and No – it is not a superfino ! The budget does not run to that.