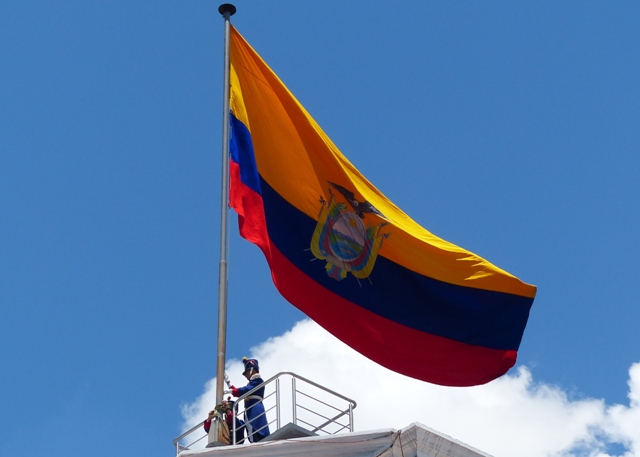 High in the Andes lies Ecuador's capital city, Quito. At the time the Spanish arrived it was a major Inca city but, not wanting it to fall into the conqueror's hands, the Quitu people razed it to the ground and no Inca ruins remain. The old town is therefore very colonial with its C17th monastery [San Diego]….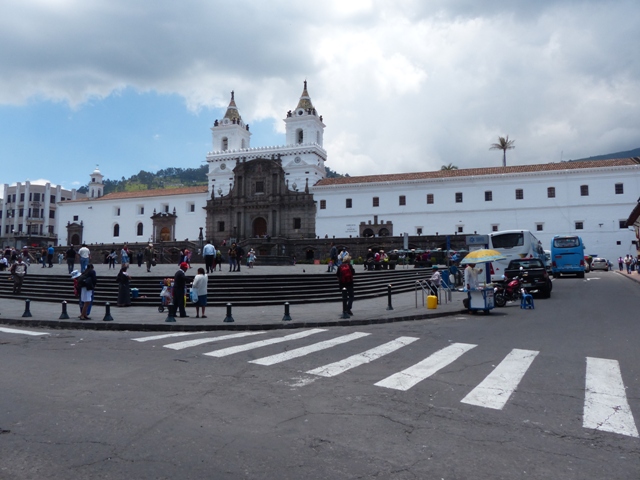 ….and the famous La Compañia de Jesús , Quito's most ornate Baroque church.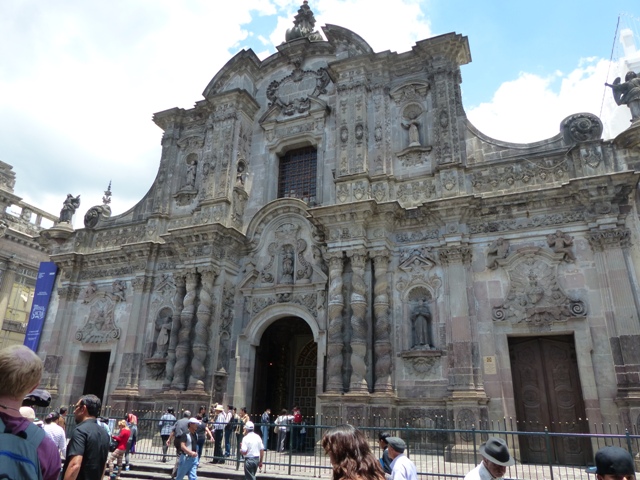 We duly paid our $4 each but, to be honest, did not find it that "different" or exciting. It is supposed to be the most beautiful church in Ecuador but gilt everywhere and dark religious art is not for us.
We were far more entertained by the weekly changing of the guard outside the presidential palace……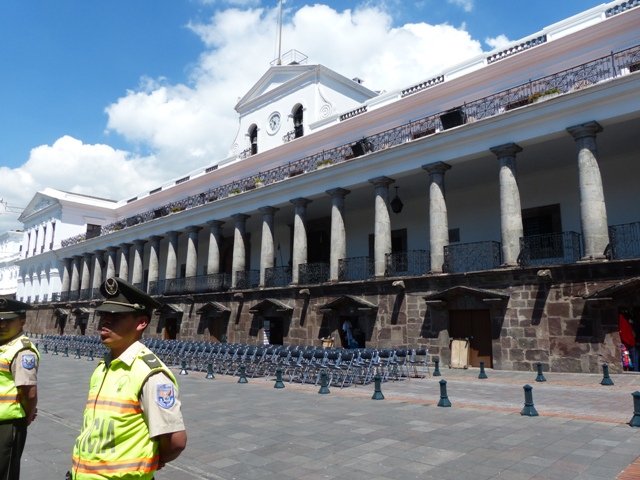 No – those chairs are not the guard – they are where schoolchildren were invited to sit before visiting the palace!
Pomp and ceremony were the order of the day [well, maybe not quite the day – really just an hour]….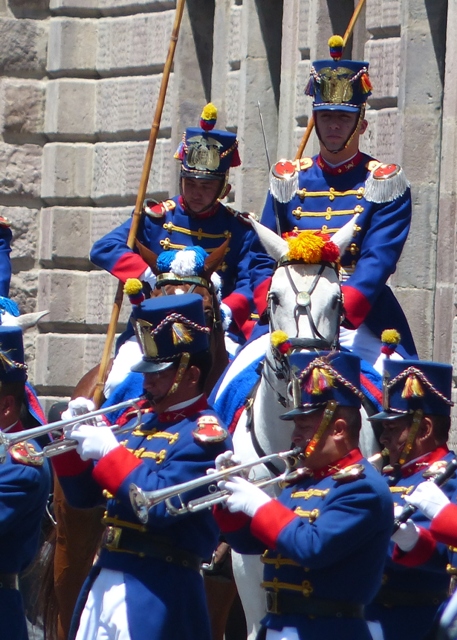 We discovered, not unsurprisingly, that the "secret service" look the same everywhere….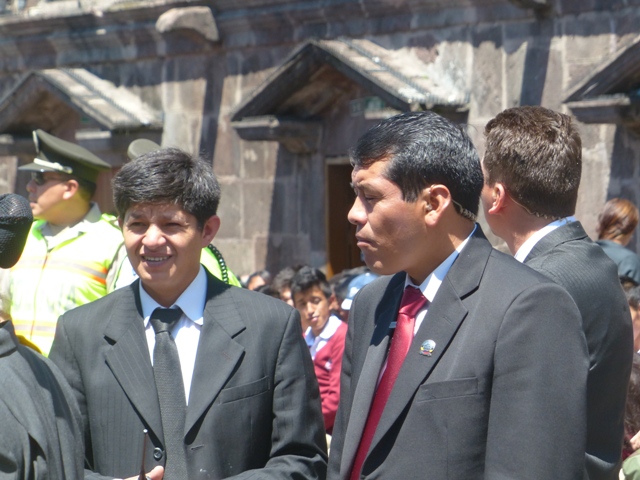 ….and were rather amused by the guards along the parapet who alternated between those with ornamental weapons and those with real ones!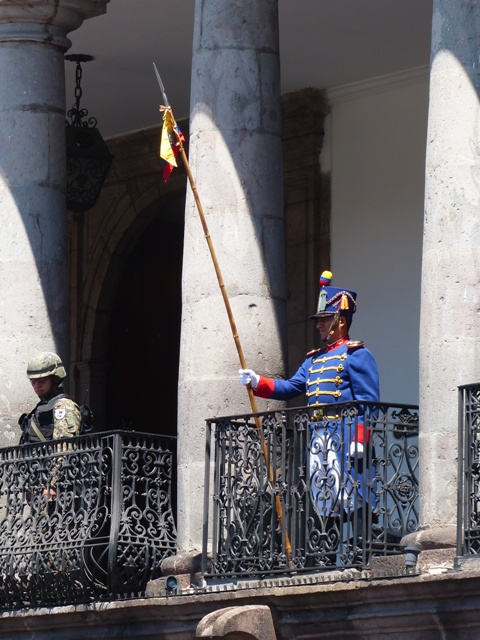 At 11am everyone stood to attention……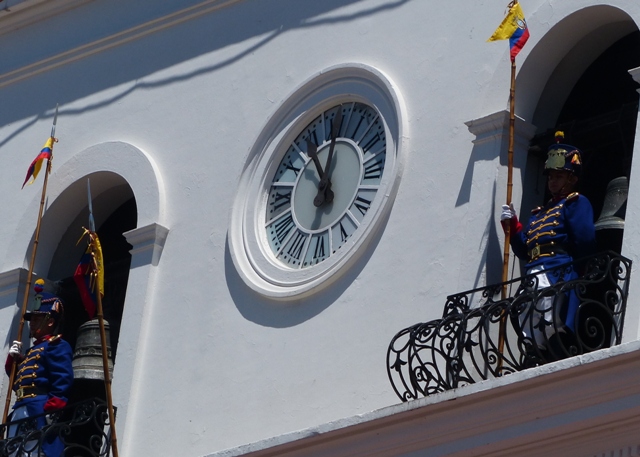 ….for "El Presidente" and visiting dignitaries.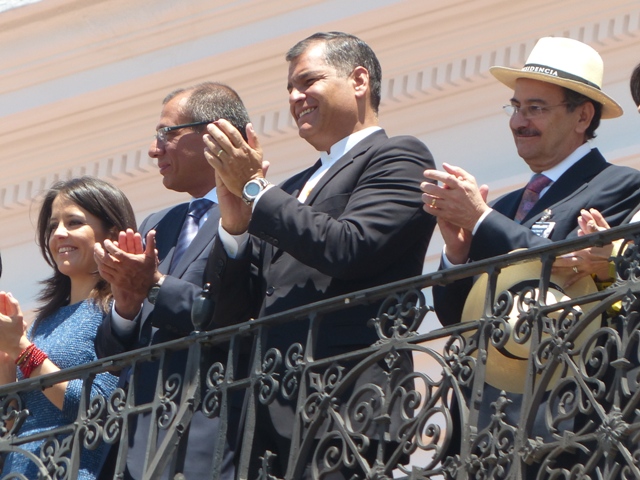 We aren't sure if the president appears every Monday morning for the changing of the guard but lots of people turned up [just in case?] and he certainly seemed very popular.
We did the walking tour of the old town which took in views of La Virgen de Quito with her crown of stars and chained dragon [at least that is what the guide book says she is standing on!]……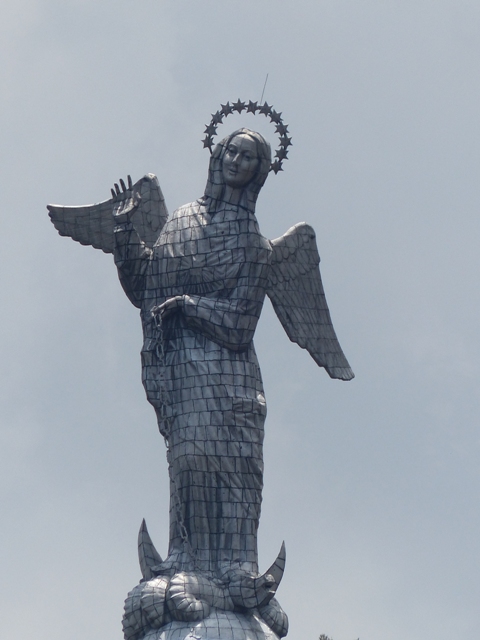 ….and La Ronda, one of the most popular streets for tourists….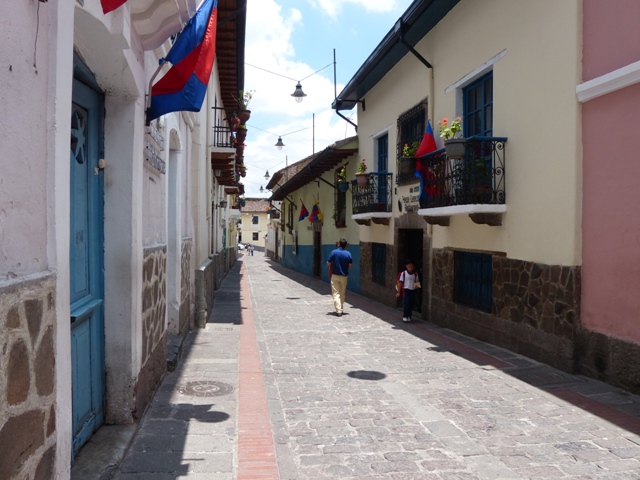 We walked down it about three times whilst in Quito and never saw anything open! In fact, we were really quite disappointed by Quito. The old town more or less shut after about 6pm and the tourist part of town [Mariscal Sucre] we found to be quite awful with its overpriced bars and restaurants serving mediocre food and dreadful beer.
We were rather glad that we had chosen not to stay there but in the San Blas district between the two. Our hostel, of the same name, was very welcoming…..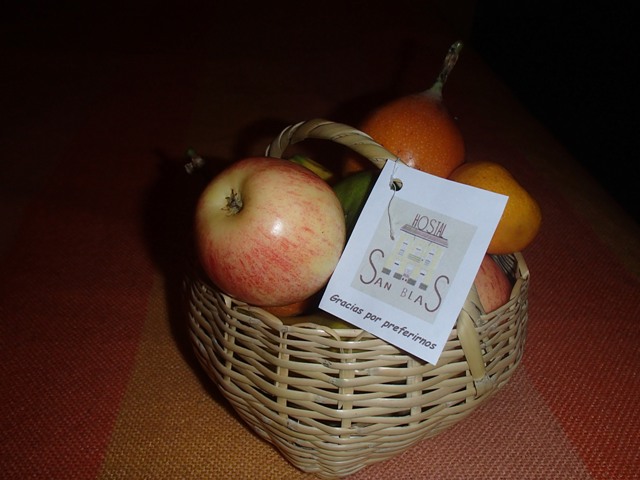 …… and was situated right on the plaza next to the small church.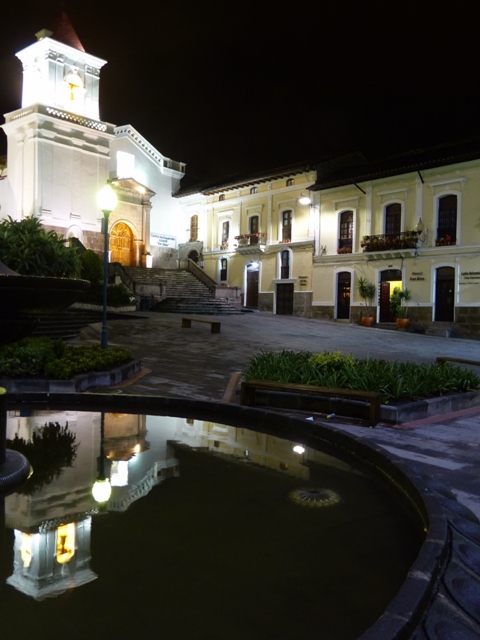 It was very peaceful and pleasant – especially at night with its colourful fountains….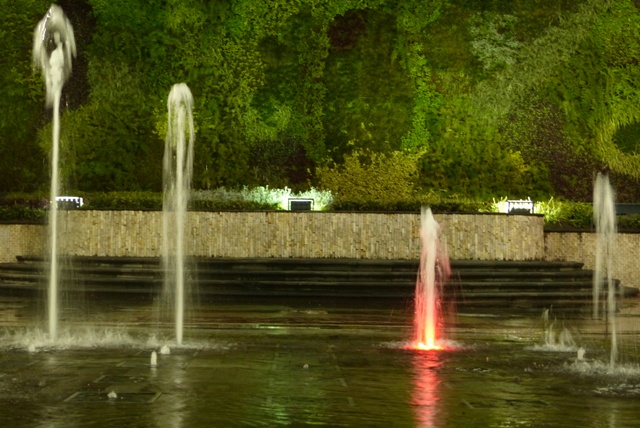 ….and central to the plaza was the statue of Hermano [Brother] Miguel…..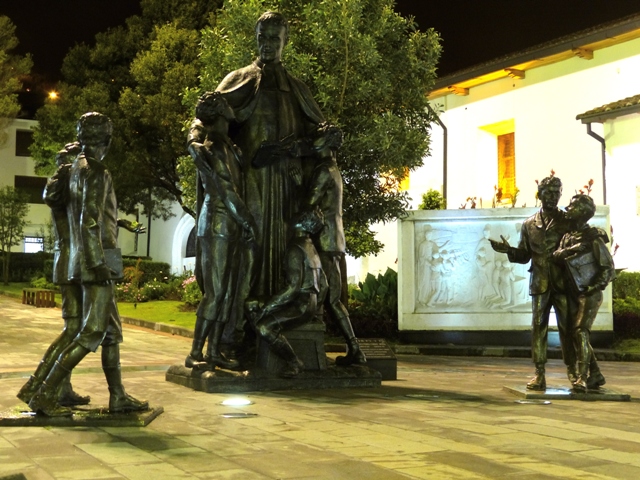 …… who was dedicated to the teaching of children of all classes and who promoted the building of schools across Ecuador.
Schooling is very important still…..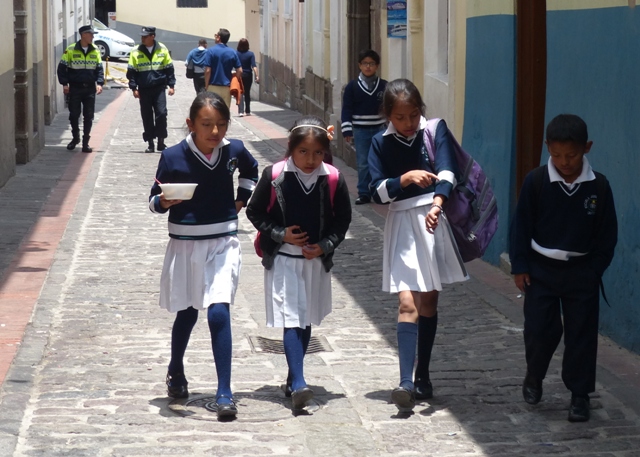 …..with nearly all children in uniform and little evidence of children not being encouraged to attend.
Whilst the town itself did not over impress us, it does have some very good museums, Casa Museo Maria Augusta Urrutiá, the Museo de la Cuidad and La Museo National being three that caught our eye. As well as the usual arts and ceramics we were impressed by the model exhibits such as this depiction of a typical tribal hut….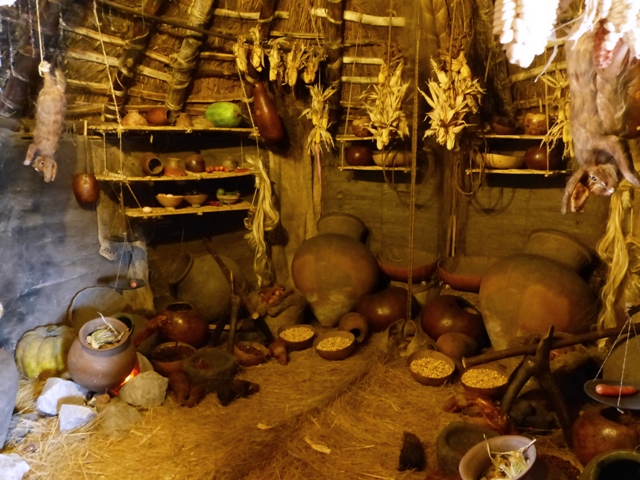 …..this of the conquistadors leading slaves into the Amazon and being attacked by natives….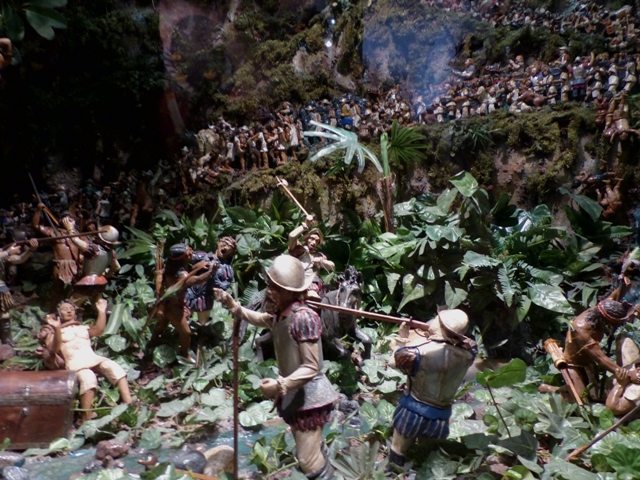 …and this of the city of Quito…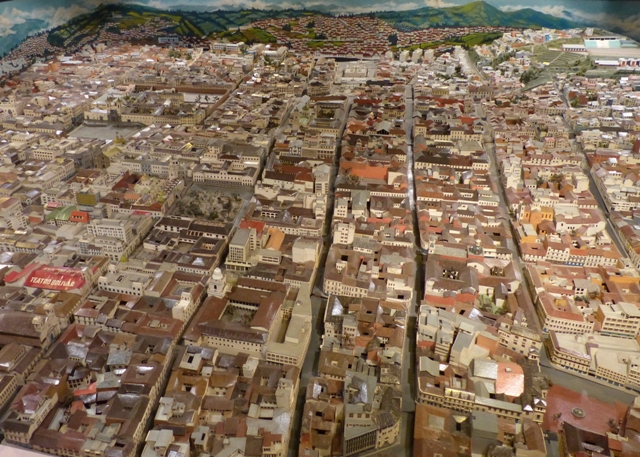 It is probably not possible to visit Ecuador and not see "El Mital del Mundo" – the middle of the world.
OK, so of course it is possible, because many people don't bother but, although it sounded like it might be a bit corny, we decided to give it a chance.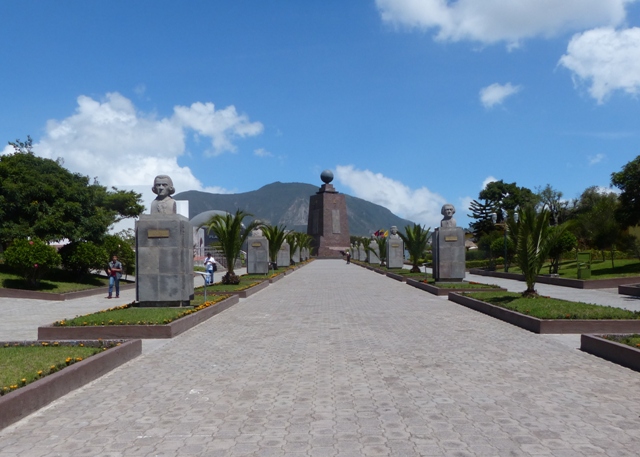 We are very glad we did as we had a great day out. We straddled the equator…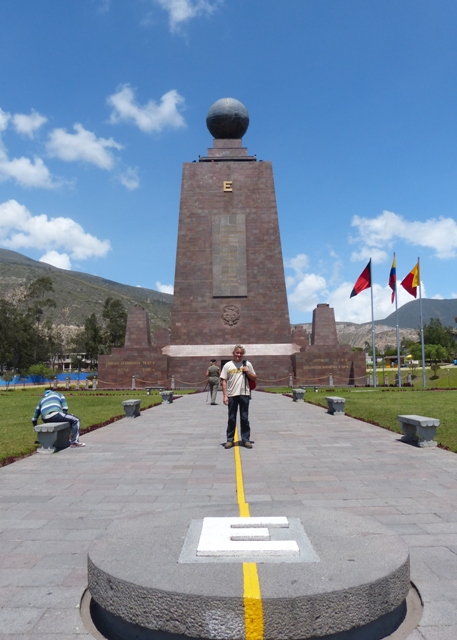 …."played" with the shadows at midday….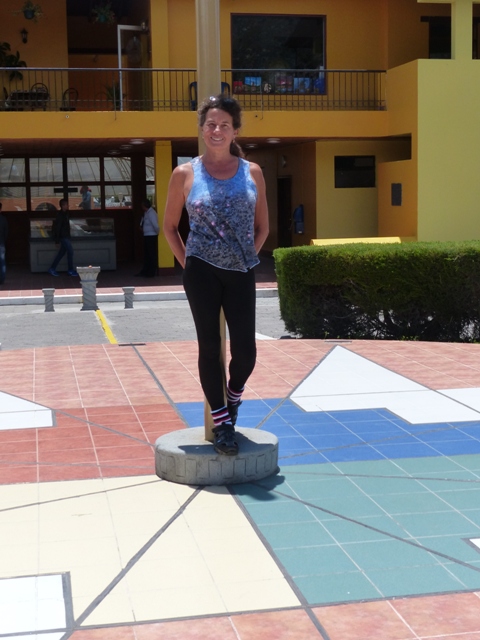 ….took in the views from the top of the tower….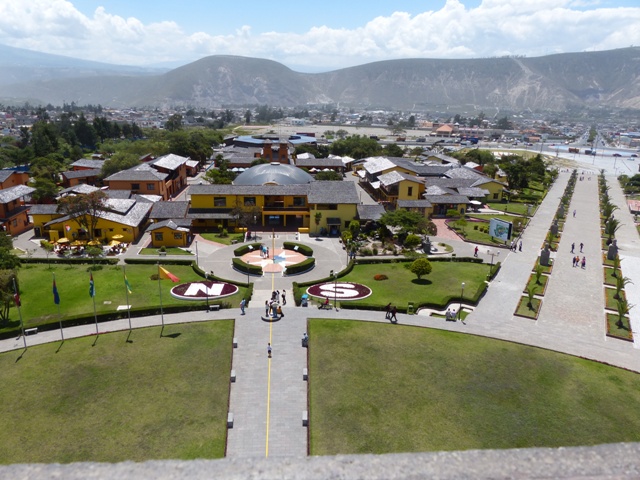 ….and visited the various exhibitions. One memorable one was a photographic exhibition of the volcanoes and peaks of southern America – some amazing views and some interesting photographic splicing techniques to get the panoramas but, unsurprisingly, no photos of the photos allowed!
Mike's favourite exhibition was that of the painter Guayasamín.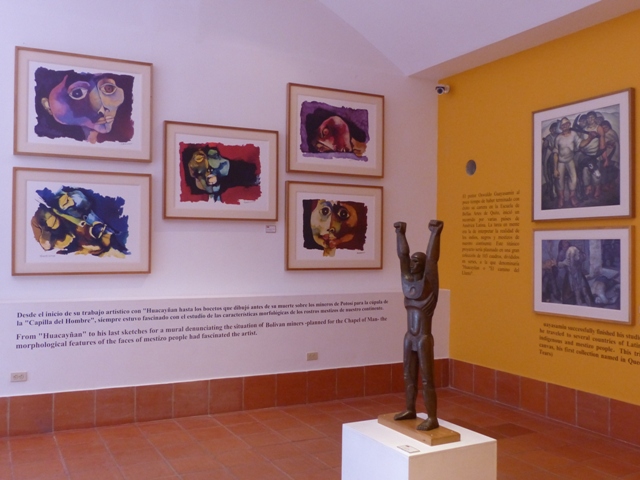 Oswaldo Guayasamin [1919 – 1999] was an Ecuadorian master painter and sculptor. It would take too long to describe his life and works but he was particularly inspired by, on the one hand, man's cruelty to man and, on the other, the potential for greatness and compassion within humanity. "Big hands and feet" are a particular feature of his paintings – especially those related to suffering but, in true Mike spirit, his favourite picture of all was one about caring…..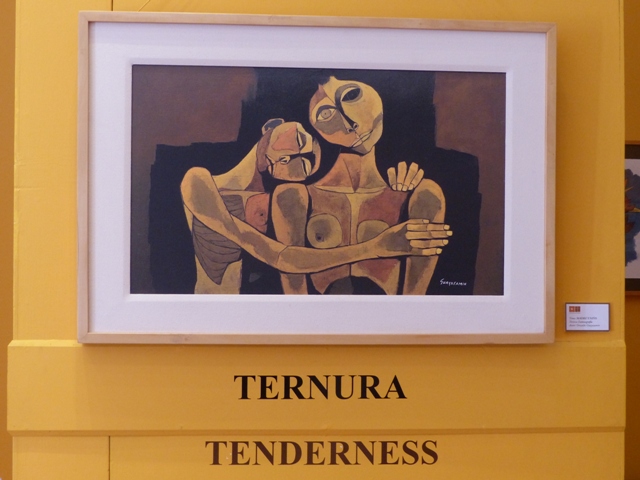 So inspired were we by the exhibition at the middle of the world that we took a trip out to one of the suburbs of Quito where he lived. His home has become a museum dedicated to his life and work and is well worth a visit. His most famous work, the monumental "Capella del Hombre", is within the grounds of his house and contains many of his best paintings and sculptures.  Once again, no photographs are allowed inside the house or the monument but we will long remember it as a great place to visit – and we did get a couple of photographs outside – of his cars!
Also just outside the city is the historic neighbourhood of Guápulo and its C17 Sanctuario.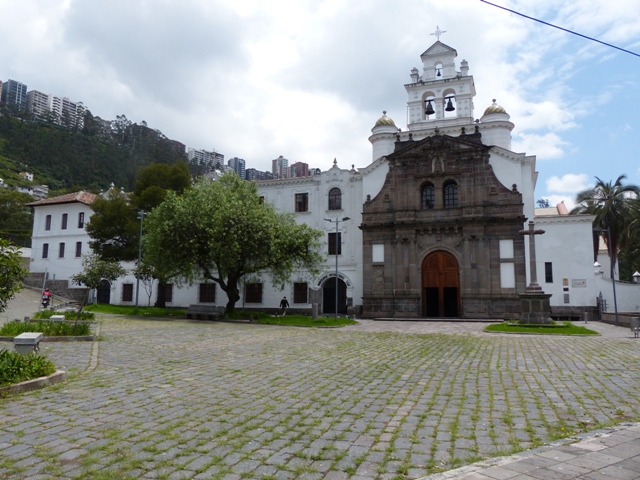 Leading down to the sanctuary are cobbled streets and many steps. We were glad of the fairly regular buses for the return journey but, on our stroll down, enjoyed seeing some of the ramshackle houses and those decorated in a manner reminiscent of Gaudí…..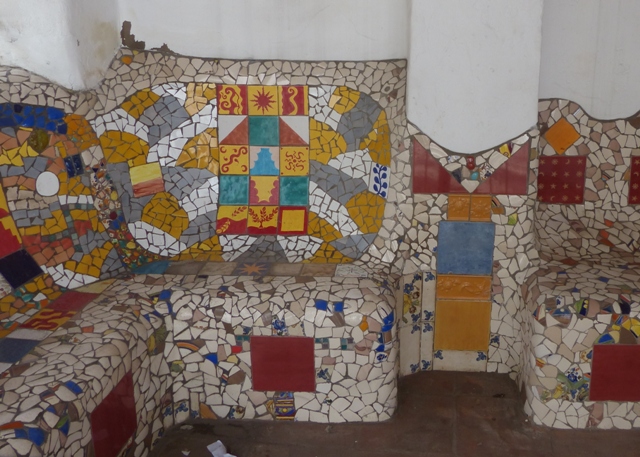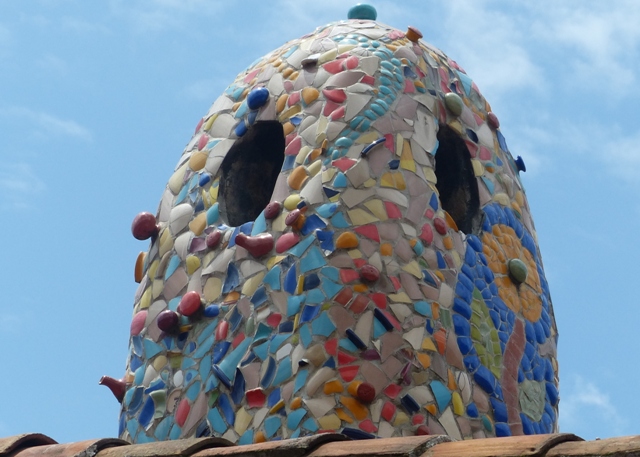 We happened to be in Quito on Palm Sunday and loved the various palm based displays being bought to take home….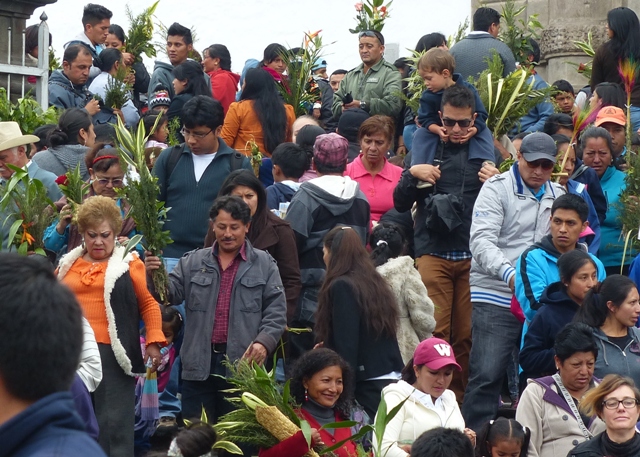 We also wondered at some of the Sunday stalls. What do you think these snails were for?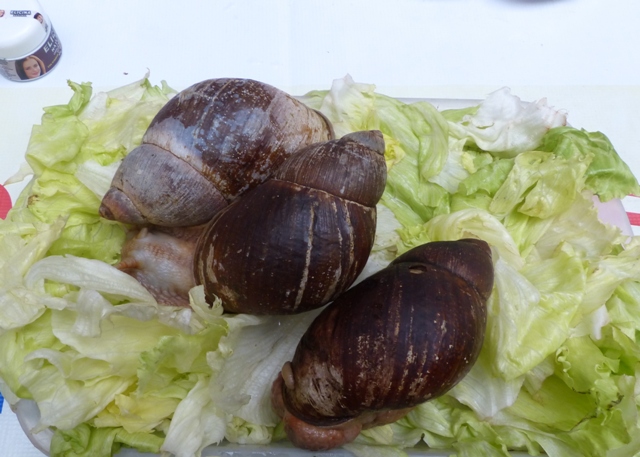 Whilst they might have been displayed on lettuce, this was for their nourishment – they weren't for ours! The clue is in the top left of the photograph – they are for making skin care cream – well, apparently not actually them, but their secretions. Hhhhmmmm!
From Quito we took two "side trips" into the Northern Highlands.
First of all we visited Otavalo, which turned out to be one of our favourite places in Ecuador.
The town is really clean [as is all of Ecuador incidentally – no piles of litter as found in all the other Central and South American countries we have visited].
One of the most noticeable things for me in Otavalo was the hair of some of the men. Several, both young and old wore their hair long – either braided, hanging down their backs or in ponytails……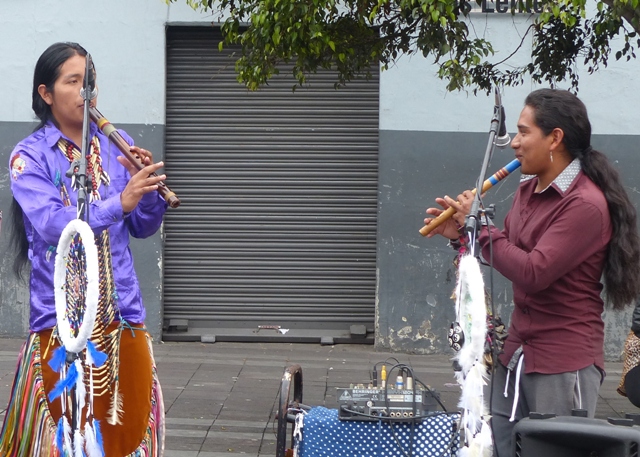 ….and, in the centre of town the Plaza de Ponchos overlooks the small church and is the setting for the statue in tribute to "Rumiñawi, a Kichwa Chief, from whom, I guess, these guys are descendants.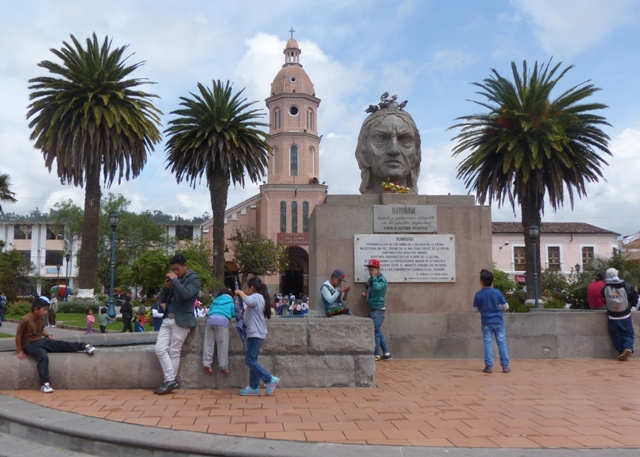 Maybe I was inspired by all the art mentioned above but, whatever, I decided to use a different setting when taking a photograph of the town from our hostel roof. Hope you like it too…..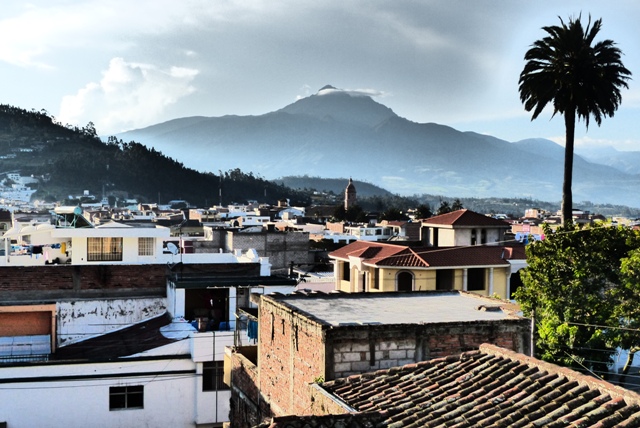 Otavalo is a student town and we really enjoyed the nightlife there – several bars with real ale and good music.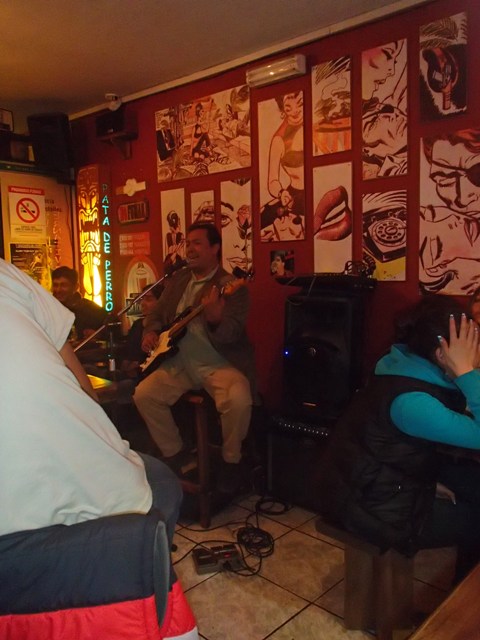 The town is actually best known for its markets as, for hundreds of years, it has been one of the most important centres of "commerce" in the Andes. Vendors hawk everything from locally made crafts – particularly textiles…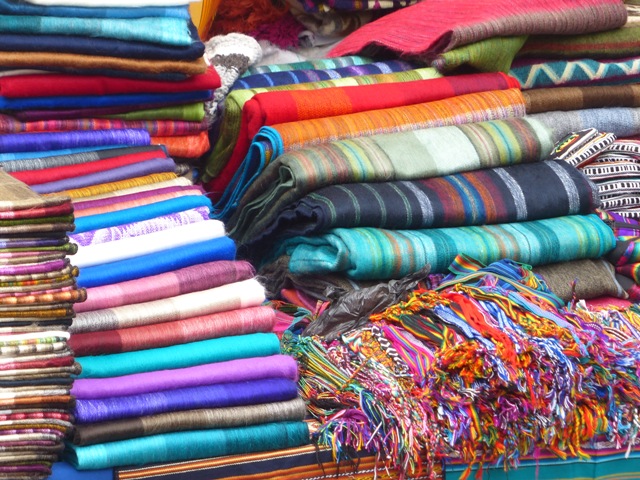 ….to exceptional vegetables…..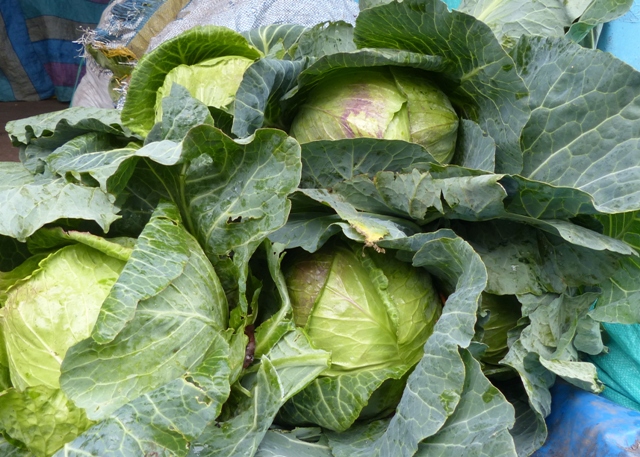 Talking of crafts, there are several shops and stalls selling beautifully embroidered blouses….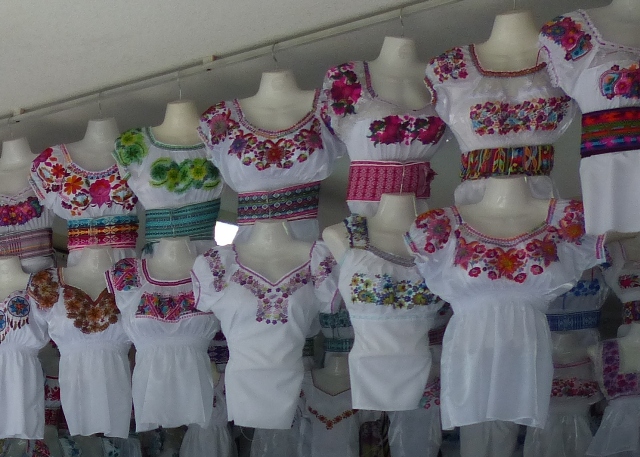 ….maybe not my taste but the work that goes into them is quite incredible and it is a shame that the poor people who spend hours at delicate needlework are also out on the streets, children swaddled on their backs, trying to sell cigarettes and sweets [often just one at a time for a few cents].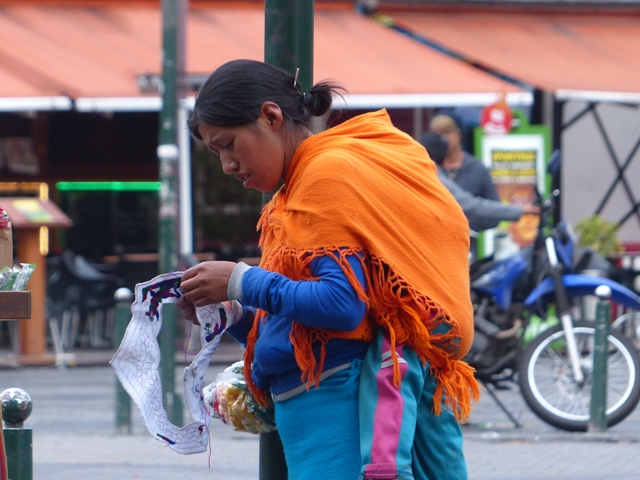 Although the main part of the market is a daily occurrence, on Saturday the real action happens when the stalls spread across the road and lead to the morning animal market.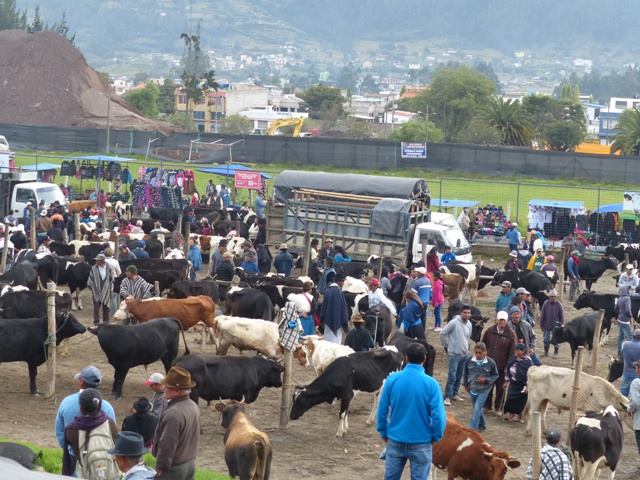 There are the usual animals up for sale- cattle of various sizes….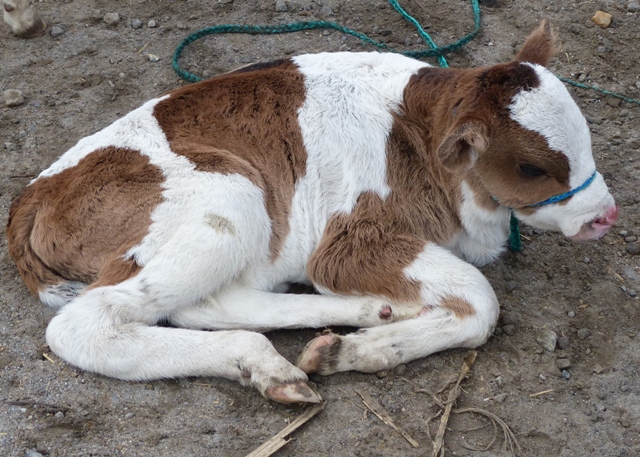 ….chickens and pigs….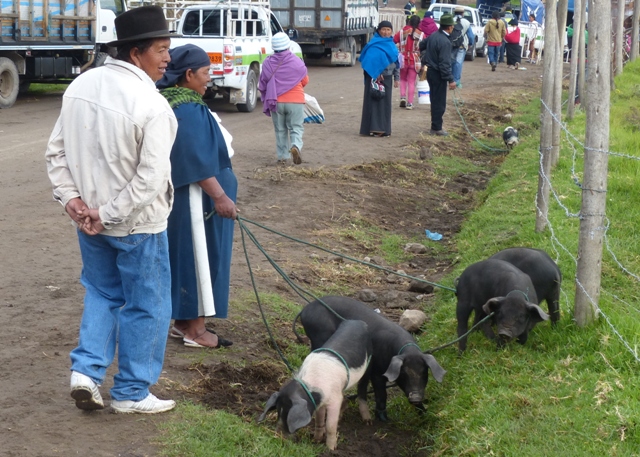 But, perhaps a bit more curiously [unless you are an Ecuadorian or Peruvian] there are Guinea Pigs….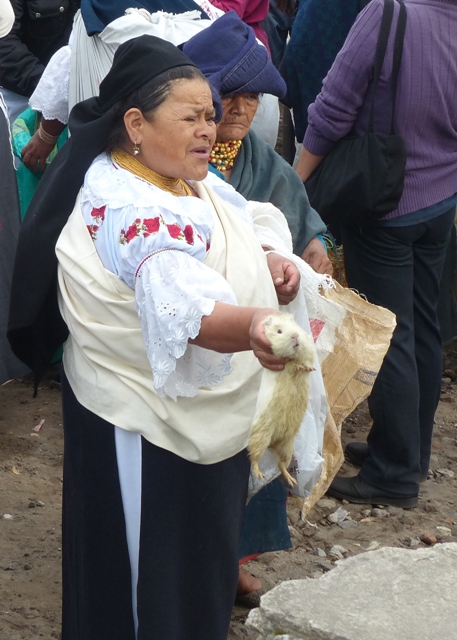 Now, these are not being sold as pets – but, as many of you already know, for eating. We had read about this culinary practice before travelling to Ecuador and Peru but it was still quite strange seeing them being exhibited and prodded at market. Perhaps more disconcerting was seeing them being cooked – those with squeamish tendencies look away now!
Firstly, ready to cook and placed on the grill….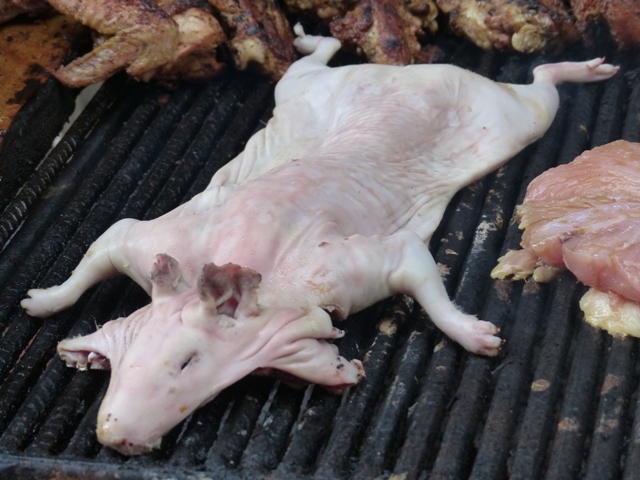 ….and "done".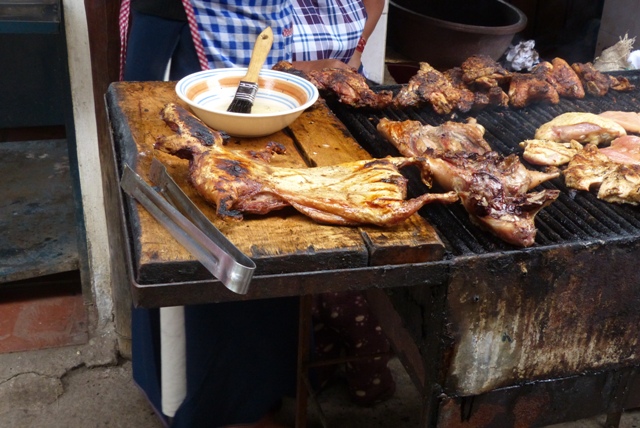 The above two photographs were taken at one of about three food stalls just outside of Otavalo and next to a lovely waterfall walk.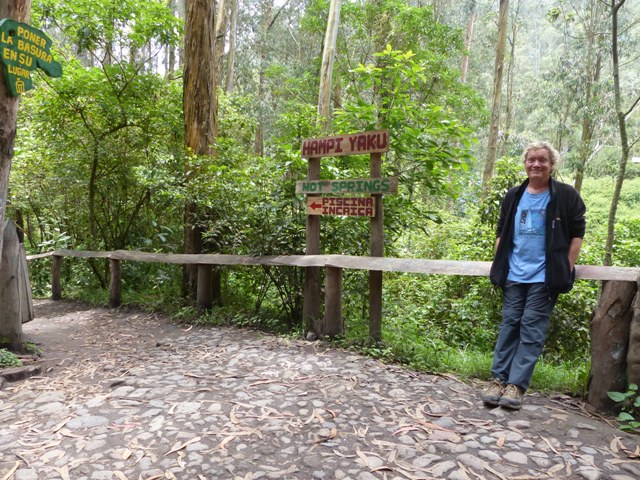 The waterfall was reached by following the old train line and then a dirt track out of town for about 2 miles. There is no mention of the walk in the guidebook – we were told about it by our hostel – but it is fairly well signposted, easy to find and well worth it.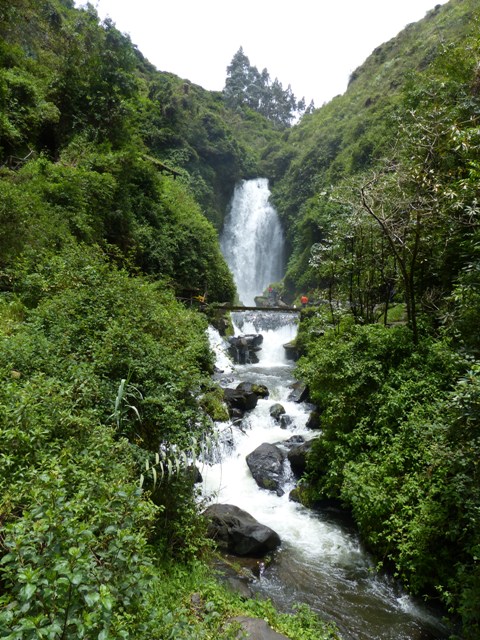 If you happen to prefer pitching a tent or fancy a night in a wood and thatch construction then this is the place for you.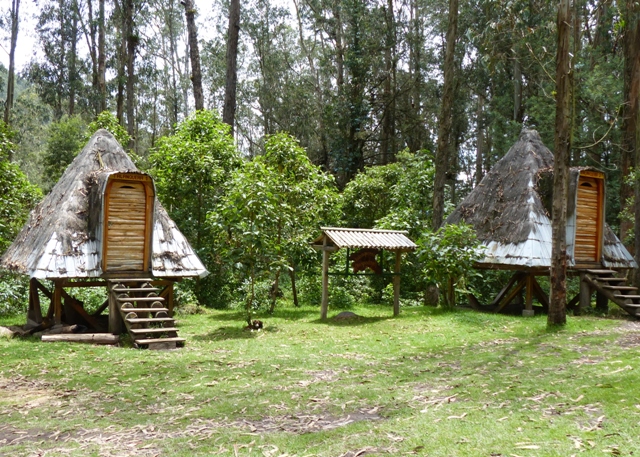 Idyllic – and, although we didn't partake of the guinea pig, we still enjoyed a great BBQ lunch [including a beer] for about $3 each.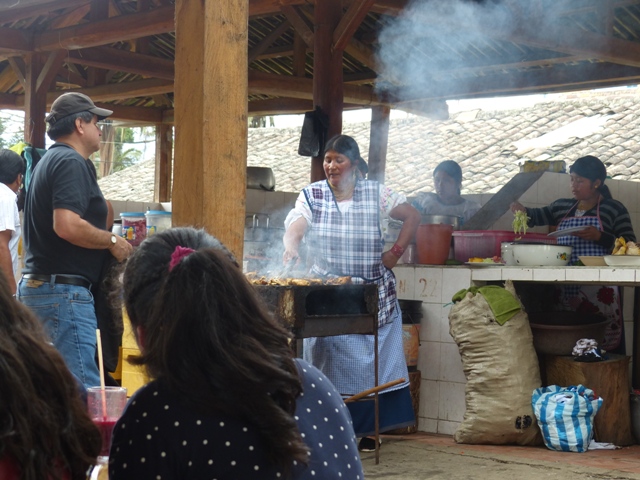 Our second "side trip" was to the small town of "Mindo". The town is, undoubtedly, in a breathtaking setting surrounded by mountainsides of cloud forest but, as a town, we felt it lacked character. It has become a tourist centre and was, when we visited it, getting a street makeover.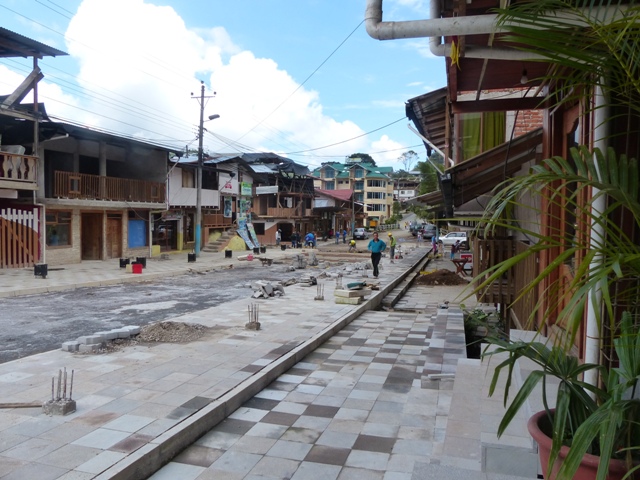 It is popular with thrill seekers [zip lines etc] and bird watchers. It was perhaps the bird-watching bit which attracted me and I did get one or two good shots which will feature in a later blog post about "aves" [birds]. However, as a place, it wasn't really our cup of tea though we were quite happy to spend one night there. I particularly enjoyed an early morning walk when I was able to witness the misty morning….
and the early blue skies and sunshine….
…before the rainforest did what rainforests do! Even so, having managed to get Mike out of bed on my return we were able to get another walk in before those rains came and, when the clouds are forming overhead and its a case of take your shoes off to cross the stream or try to balance on the bamboo pole with a drop to your left, you know its time to turn around……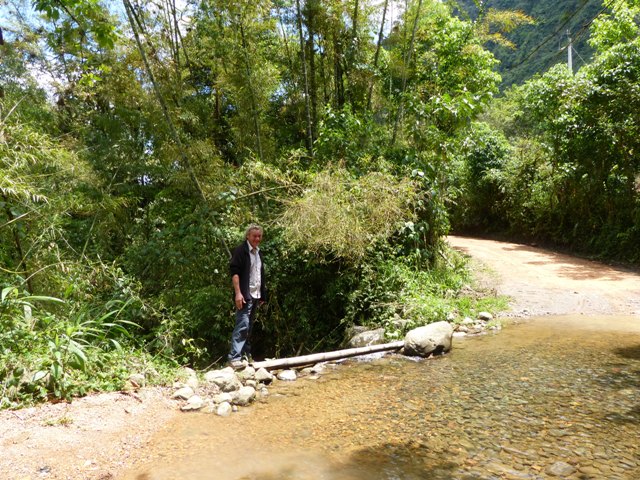 So, that was it for Quito and the Northern Highlands. Just before we leave it I want to mention the fantastic transport system we found there. Getting around was easy and cheap on the excellent system of trams – e.g. even though the journey from the north to the south of the [greater] city was about two hours duration – it cost about $0.70 [50p].
At the southern [main] bus station from where we took our first overnight bus of the trip was a typical food court.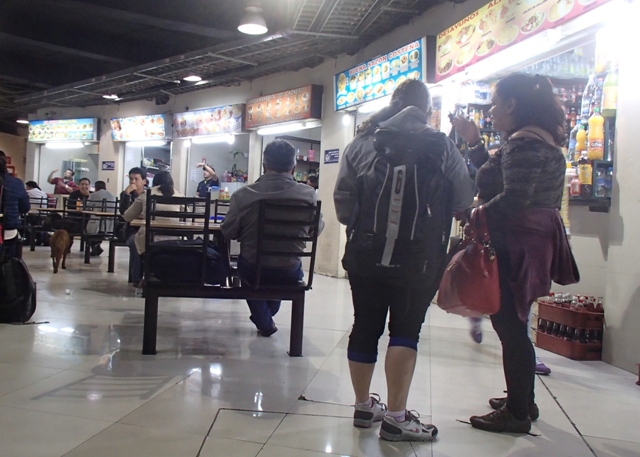 These places are quite fascinating. Dogs wander around – obviously strays on the scrounge – but the floors are continually being cleaned and the stalls are immaculate. Each stallholder shouts loudly at every newcomer and waves frantically at his/her menu which is written above the stall. ALL the menus are exactly the same! We would have loved to see a stall selling something different – but No. So its just a case of pick who shouts loudest – or who doesn't – and the likelihood is that whichever you choose it will be filling and OK and great value for money.
So, Quito was not our favourite city – but certainly one worth visiting anyway and great for access to the highlands of the north.