Well, here I am again – at last. I have finally started writing about our inland trip to Ecuador and Peru.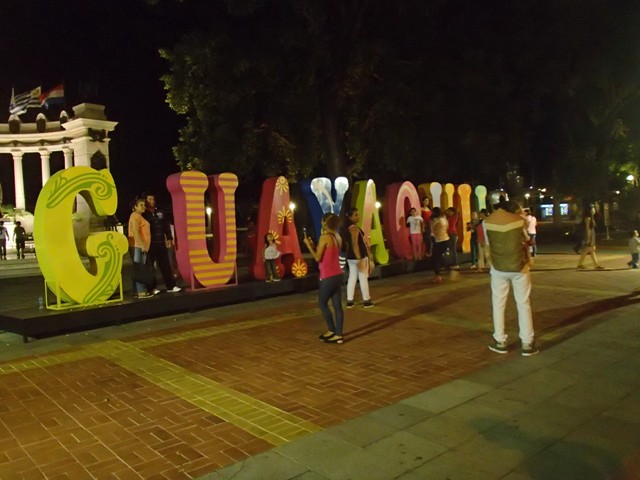 We flew from Panama to the second largest city in Ecuador – Guayaquil. One of the reasons for choosing Guayaquil rather than Quito as our starting point is that it was the best location to enable us to complete a kind of circular route round the two countries seeing the whole of Ecuador first [well, not the whole exactly – but you know what I mean] and then all of Peru. Secondly, because Guayaquil is at sea level we were able to plan a more gradual ascent to the higher altitudes – which we had been advised would be a good idea.
First experiences of a country you have never visited before are often quite defining. We exited the airport and went to catch the bus to town which the Lonely Planet told us cost $0.25. This was quite correct but what we didn't know is that whilst the paper money is the same as US dollar notes, the Ecuadorian coinage – whilst still being "bits" and "quarters" – has "Ecuador" rather than "United States" stamped on it and seems to weigh either slightly more or slightly less or be just a little different in size because the ticket machine wouldn't take our U.S. ones. There was no one in the booth to enable us to buy tickets with a note and then get change so we just stood there looking stupid! Two people tried to help us with the machine and then a third person worked out what was wrong and just paid for us to get on the bus. Whilst $0.50 might not be much in monetary terms, I suspect there are several cities in the world where no-one would have come forward to either help or pay for two "foreigners". Having got off the bus to walk to our hotel we were waved at and had "Hello gringo" and "Welcome to Ecuador" shouted at us by what some people might think were dubious looking guys carrying beer cans. This welcome has stuck in our minds ever since and I have to say that the Ecuadorian people are some of the friendliest we have met.
Few tourists spend much time in Guayaquil but there is actually quite a lot to see and do and we easily filled our one full day and two night stay
We strolled through "Parque Bolívar" – only a small park but famous for the many iguanas which have made it their home….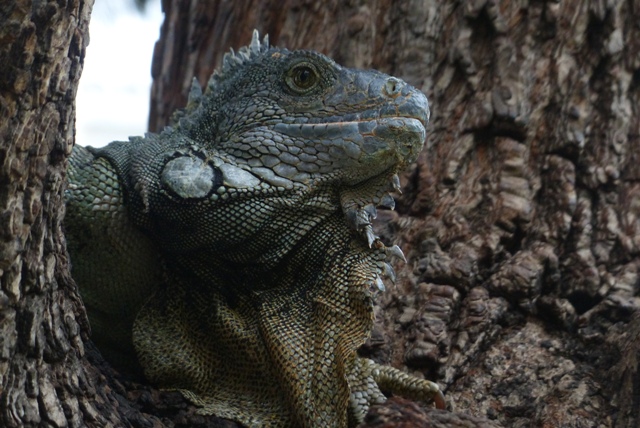 …. visited two museums -Museo Nahim Isaias [$1] and Museo Artopologico y de Arte Contemporáneo [Free] and wandered the streets, old and new, looking at the architecture….
We also saw, not unexpectedly, that some people have to make do with their "home" on the street.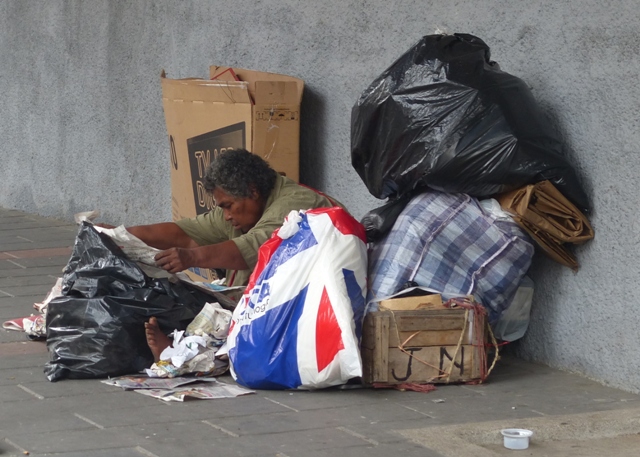 Bronze statues seem to be a major feature and we particularly liked these two depicting the judges…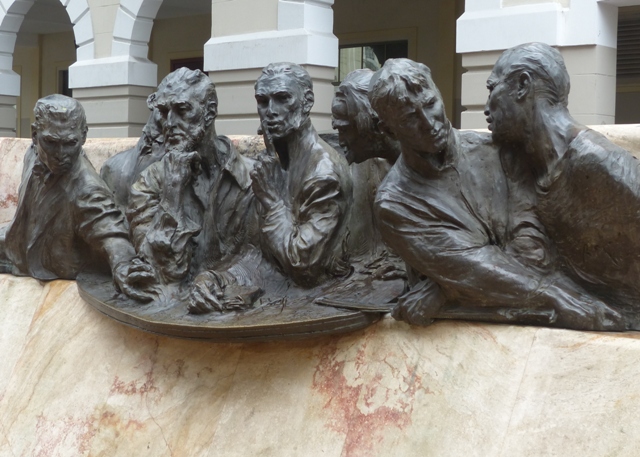 …..and the accused with their gaolers……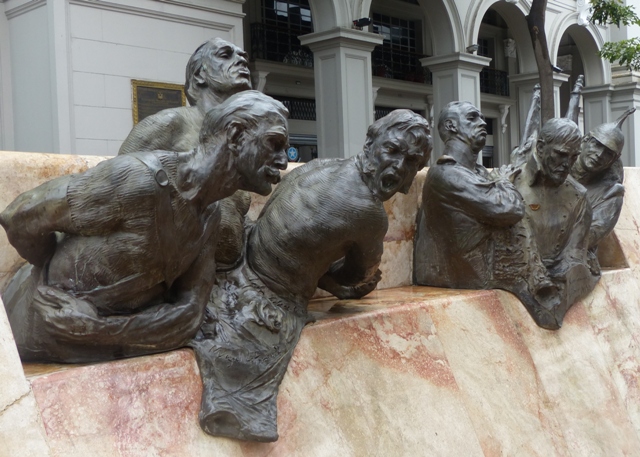 A popular figure – particularly, but not exclusively, with children was this chap [a kind of cross between Noddy and a Smurf!]….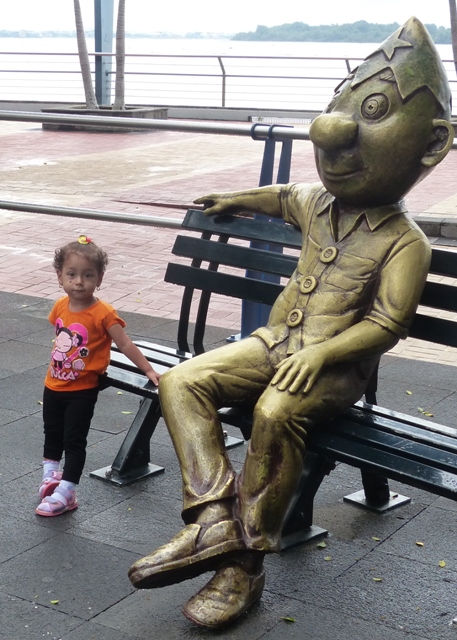 ….and this statue is a monument to José Joaquín de Olmedo….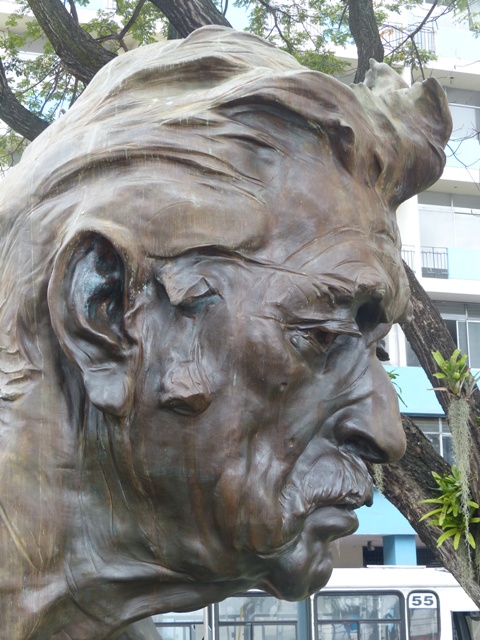 ….. who was a poet and the president of the first Ecuadorian territory to be independent of Spanish rule. The base of the statue had LFC carved in big letters – not sure what it related to but it did draw my eye [Sorry John! Though I guess Malc will approve!]
The above last two statues were on the waterfront [El Malécon] which is, apparently, one of the most extensive urban renewal projects in South America – a 2.5km gated, policed public space with ponds, playgrounds, gardens, restaurants, shops etc.
At the southern end of the promenade is a 30 metre high Moorish – style clock tower ["Torre del Reloj o Morisca"]….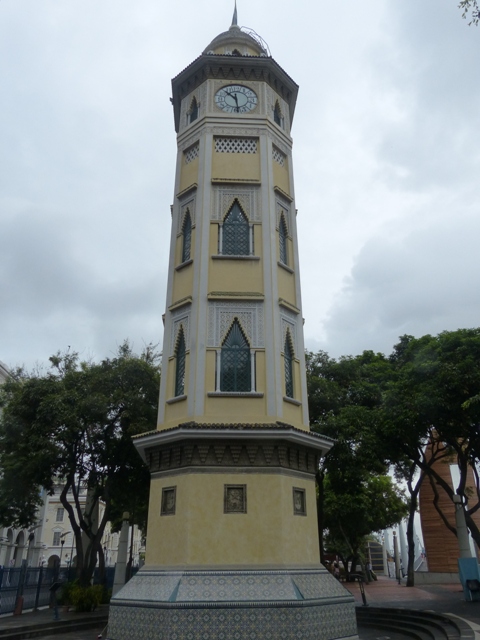 …. which originally dates from 1770 – but has been replaced several times since, this latest having been built  in 1931. A simple iron staircase…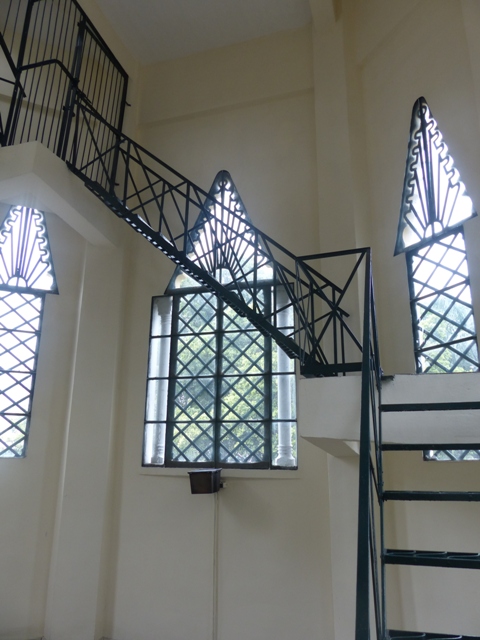 ….gives access to the clock mechanism [made in London – well, where else!]….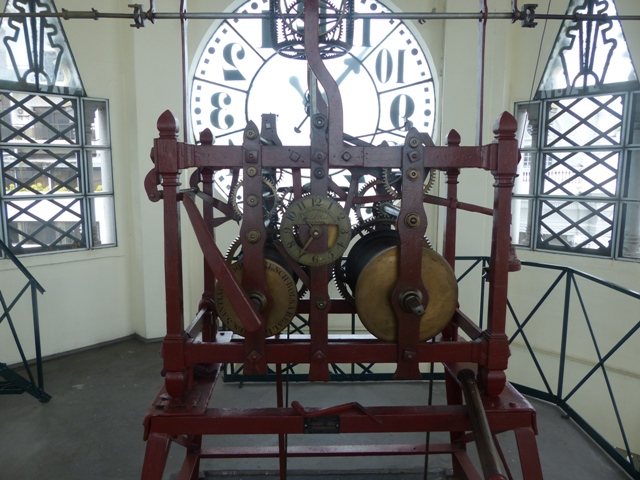 …. and to the platform at the top from where there is a good view of the Rió Guayas and, in the background, the biggest bridge in Ecuador – the Puente Rafael Mendoza Aviles. I guess with a name that long it has to have a decent span!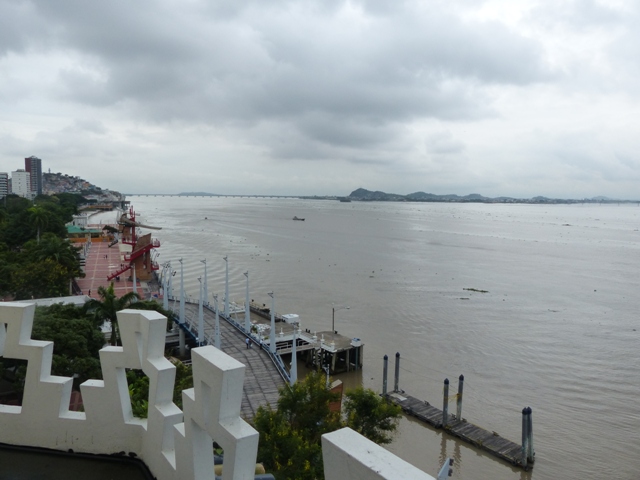 When we were originally thinking of visiting Ecuador by boat the Rió Guayas was one of the options for anchoring. Having now seen it I am glad we left the boat in Panama! As well as being very murky with logs and weeds floating around in it, the tidal flow was really quite strong and probably a stern as well as bow anchor would have been the best method. From the looks of it the holding would have been good though – loads of mud.
There are two Yacht Clubs – a posh Naval one and a less posh one for everyone else……
…..but there was no sign of boats at either of them which was perhaps not surprising having seen the mooring options…..
Wooden structures along the Malecón have also been constructed with a nautical theme….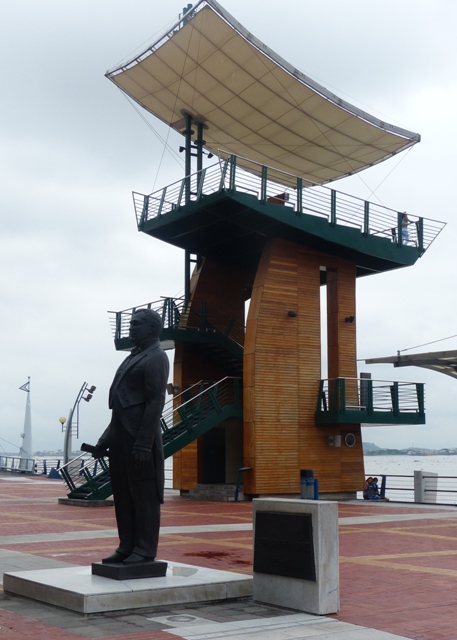 …..well I think they resembled sails even if no one else does….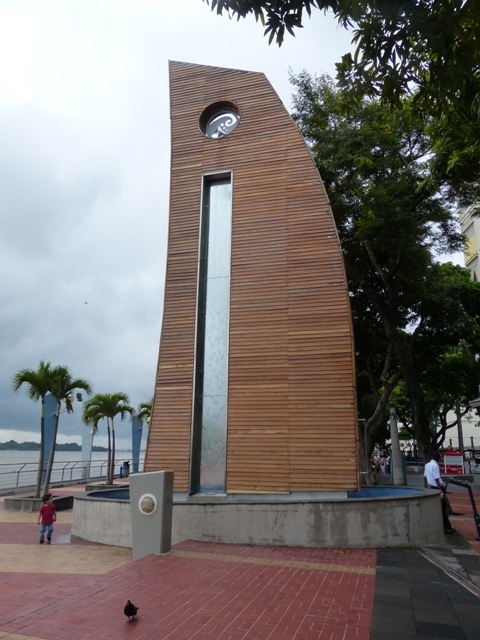 At the northern end of the waterfront promenade is the most famous Guayaquil tourist attraction….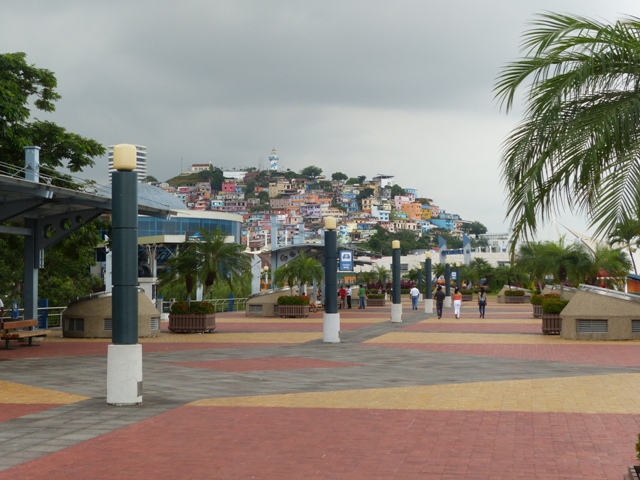 ….. the historic neighbourhoods of Las Peñas and Cerro Santa Ana.
They have been revamped into an idealised version of quaint hill villages with "Numa Pompilio Llona" being the most famous street ….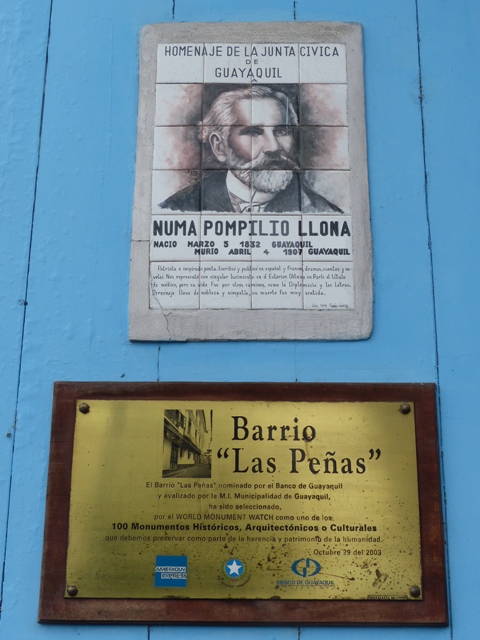 …..though when we visited mid afternoon the galleries and souvenir shops etc were all closed! What you see though isn't necessarily what you get. Many of the houses are still lived in and although the brightly coloured houses and cobbled streets look attractive……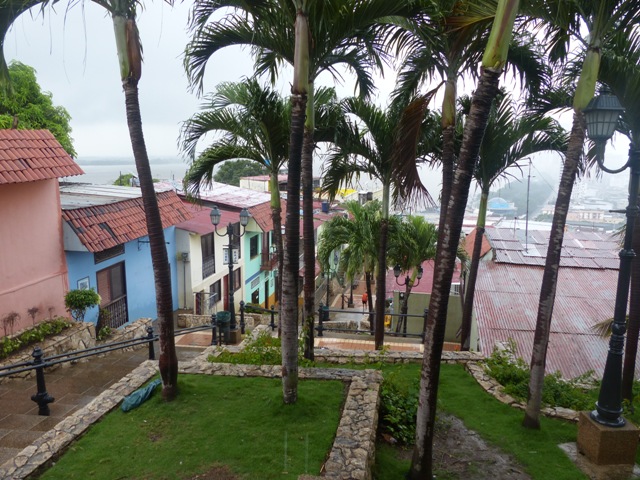 … a peek through windows or doors reveals a slightly less sanitized view. Unfortunately my attempt at photographing bare rough walled interiors with sparse rickety furniture and the ubiquitous TV and satellite dish didn't come out as I had hoped – but I am sure you get the picture.
444 steps lead up to the top of Cerro Santa Anna with its "hill fortress" [Fortin del Cerro] and lighthouse.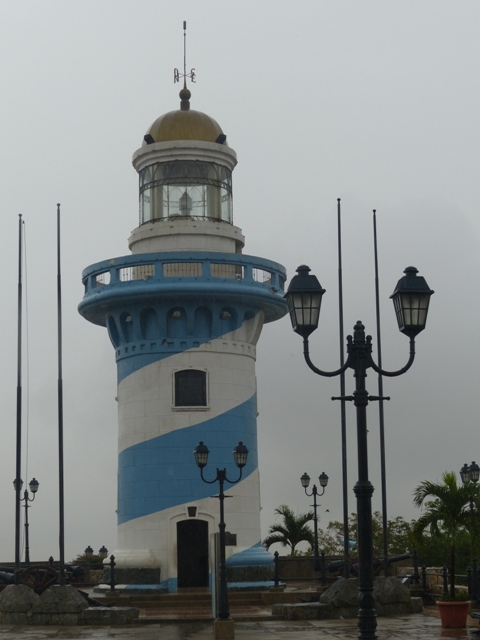 Entrance to the lighthouse is free and we rather liked the maps adorning the inner walls……
……..and the views looking north over Las Peñas and the church of Santo Domingo [the oldest church in Guayaquil founded in 1548]…..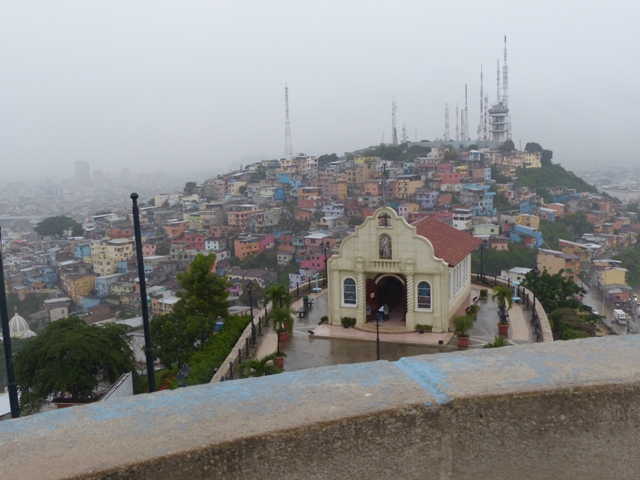 …. and south over the "new" city.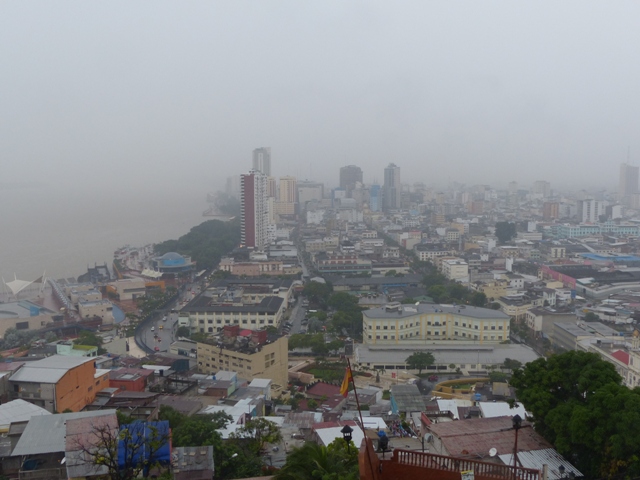 As you will have seen from several of these photographs, we didn't necessarily see Guayaquil at its best as cloud and then drizzle and eventually heavy rain was the order of the day. But generally during the rainy season the evening skies clear and people come out to stroll, play and eat.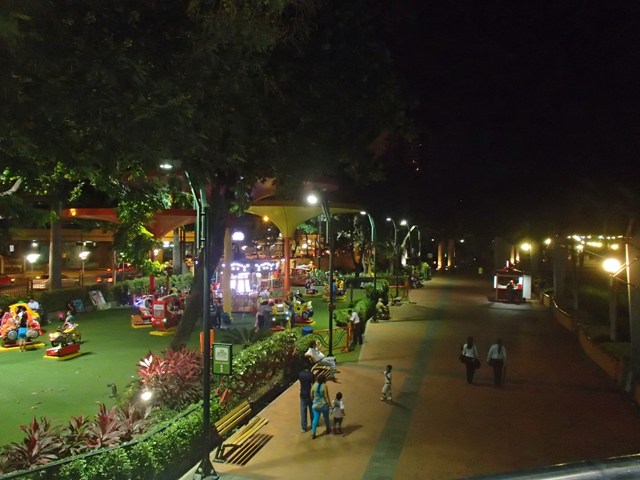 So, after a whistle-stop tour of Guayaquil, the next day we caught the bus to Riobamba. You may recall above that I spoke of acclimatisation and our scheduled stop in Riobamba was part of the plan to minimise any altitude sickness. At 2750 metres I thought one night there, followed by a couple of nights in Baños at 1800 metres would set us up for visiting Quito and the northern highland at 2850 metres plus.
Knowing what I know now, I would give Riobamba a miss! Well, it would still be necessary to catch a bus to there and then an onward one to Baños – but as for stopping the night – probably not. I had also planned the stop because the Lonely Planet bus schedules suggested that Guayaquil to Baños might be too much for one day. Roads have improved – it could easily be done in one.
Anyway – we did stay in Riobamba and jolly cold it was too! It really hasn't got much going for it – basically it is a working town with a fairly typical Cathedral on one side of the plaza gardens….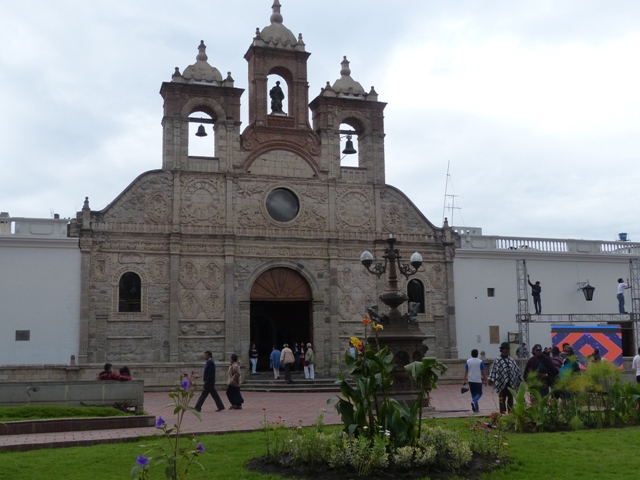 Other than finding a bar called "Abbey Road" [N.B. The Beatles are really popular in Ecuador] our most exciting moments were watching a practising marching band….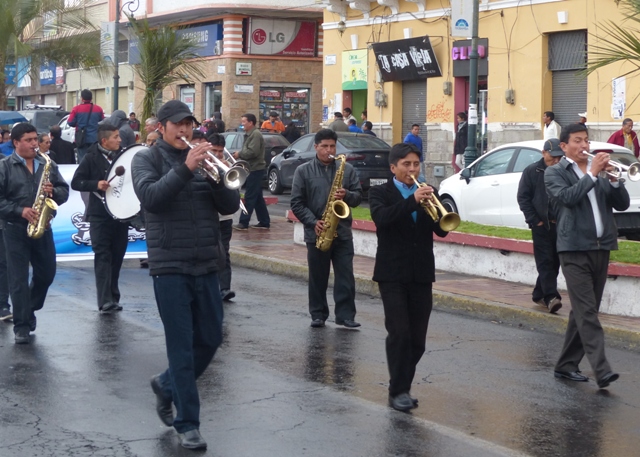 …. and seeing a steam train at the "historic" train station.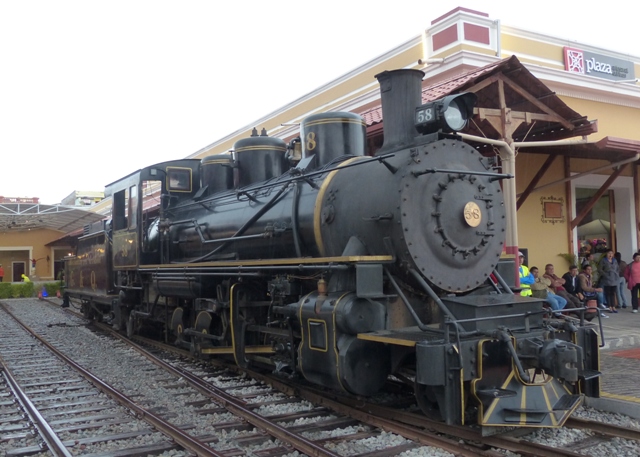 Personally, I didn't think the modern "Plaza" sign was much in keeping with history!
It was still rather cloudy the following day when we arrived in Baños but undeterred we set out to see what it had to offer. What a difference from Riobamba. For anyone visiting Ecuador I would say this is a must visit place. The setting is really quite amazing. Unfortunately, with the cloud cover that day we could only just make out the snow capped Volcán Tungurahua….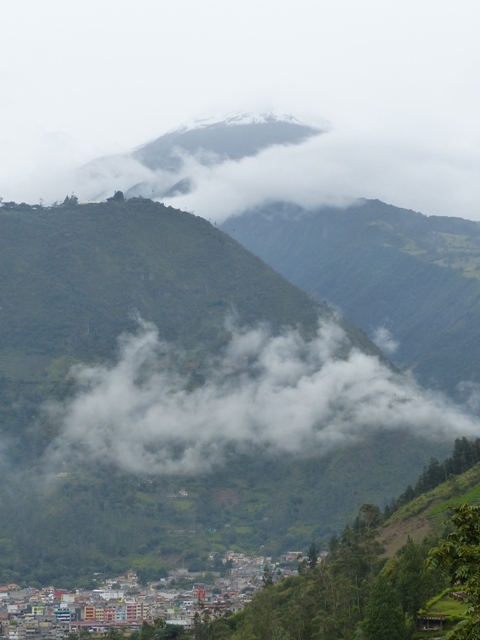 ….. which is a shame because as an active volcano which last erupted in 2011 it is reputedly quite spectacular. The volcano can only be seen from certain vantage points in the town  – basically when on the northern side of the river -and whilst, as you will see soon, we did have beautiful clear skies during our two days there, we were then on the south side of the river and therefore the only photo I got was the one above.
We walked along to the Puente San Fransisco which spans the gorge and river…..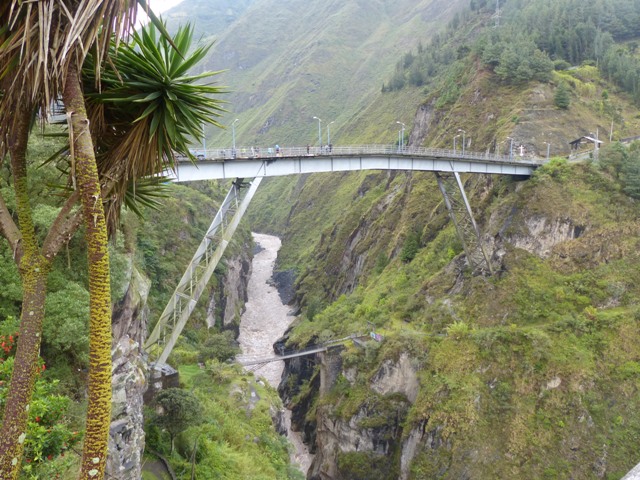 ….and then east along the road out of town to visit the "Eco Zoologico St Martin". We are not really zoo people but I had looked this place up on the internet and decided that its approach to animal welfare and conservation was commendable and thought it might be OK. We were very pleasantly surprised and for $2.50[£1.75] found it a very worthwhile place to spend the afternoon. There were several species of endangered birds and animals including condors – but I have better photographs of these from elsewhere. Albeit they were kept in relatively large enclosed areas it still means wire mesh frontages got in the way of some shots – but as this was the only time I saw this bird – the rather spectacularly adorned Gritador Unicornio [a Horned Screamer] –  I have included it.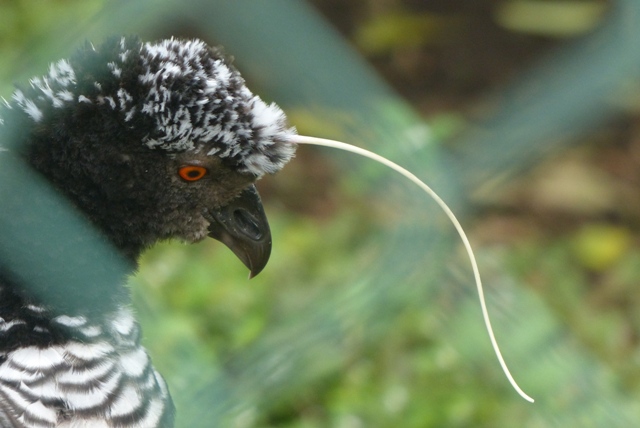 Similarly the wire got in the way with these Ocelots and, even trying to alter the depth of field didn't help. Perhaps I should have tried harder – though I actually rather like the effect I ended up with!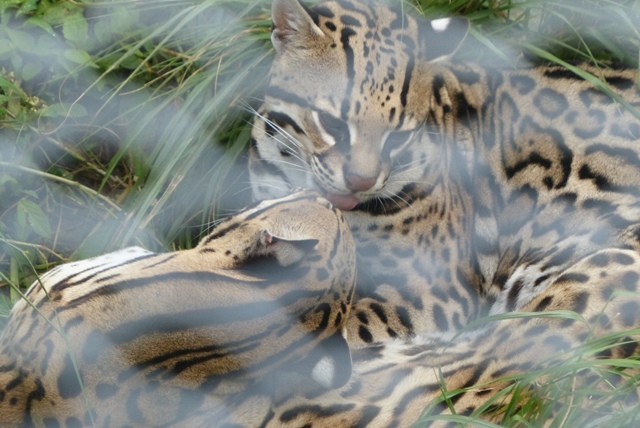 There were also Peccary….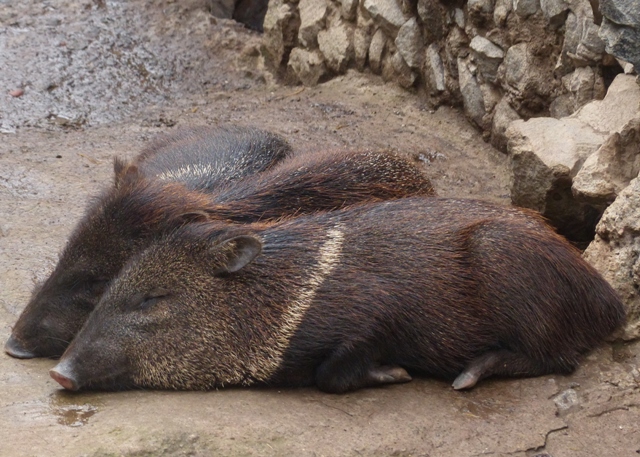 …..and Agouti…….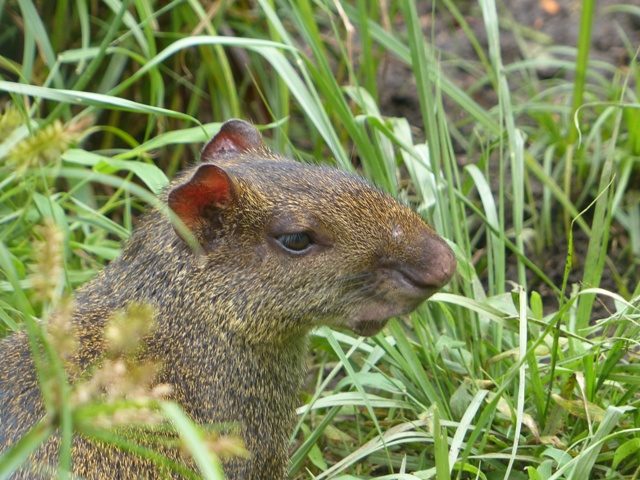 …..Mountain Lion……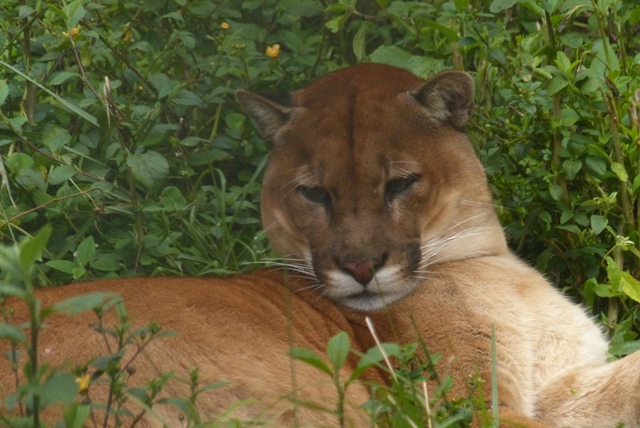 ….and Leopard……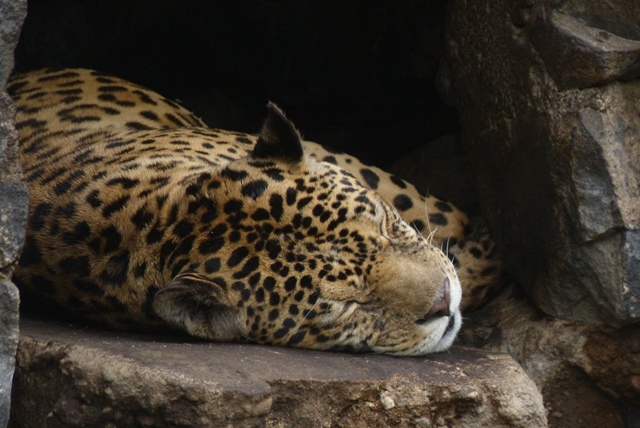 But, most important of all – the Galapagos Giant Tortoise.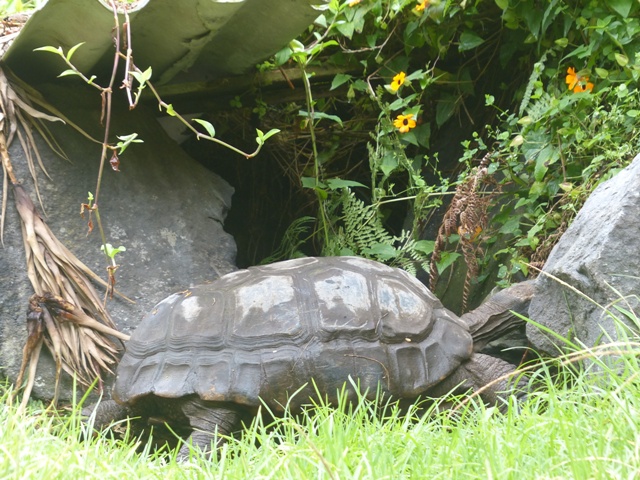 I thought this was particularly exciting as "George", the well known giant tortoise who lived in the Galapagos, has died – so maybe this elderly chap is one of the oldest left.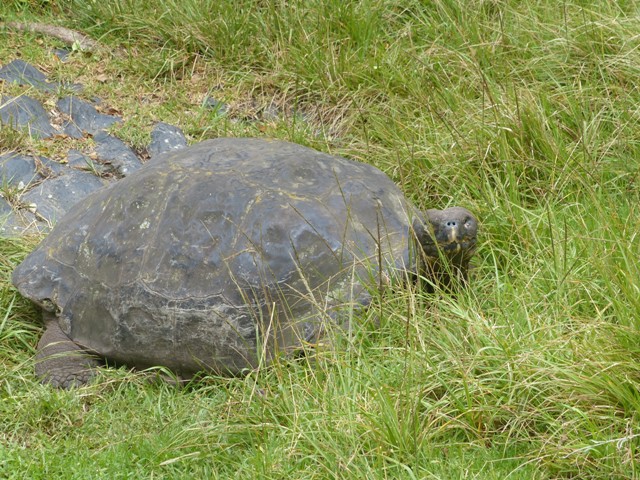 Baños is named after its many steaming thermal springs and I treated myself to a traditional steam bath. Mike decided against this "pleasure" and also failed to turn up with the camera so there is no record of me sitting in a big cube filled with eucalyptus leaves sweating profusely before subjecting myself to freezing water "baths" and then being hosed down to invigorate the blood. You are probably very glad about that – but not as much as I am. I imagine my facial expressions at times were not for public viewing!
The Basilica de Nuestra Señora de Agua Santa is a beautiful small church ……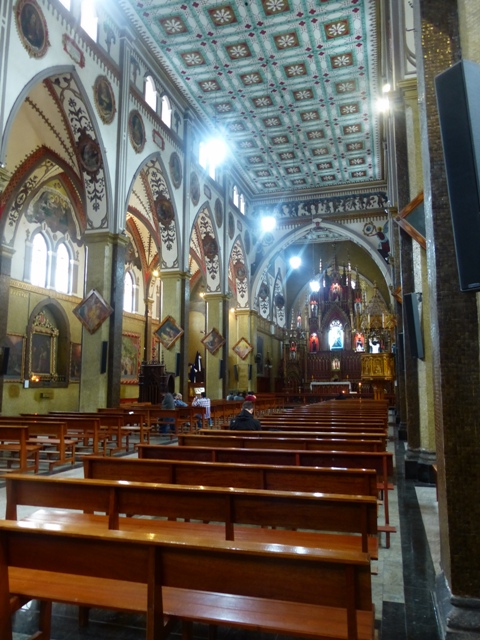 ……..  dedicated to the Virgin of the Holy Water who is credited with several local miracles. These are depicted in paintings which surround the interior of the church. Apparently the most famous of them tells the story of Señor X [whether that is "X" because they don't know who he was or "X" as in 10 I don't know?]. Whatever, on 30 January 1904 he fell off his horse as he was crossing the Rio Pastaza bridge and, as he fell 70m to the torrents below, yelled "Holy Mother of the Holy water" [in Spanish though I guess!] and was saved.
Thought I had taken a photo of that miracle – but obviously didn't – or its miraculously disappeared!. Anyway…….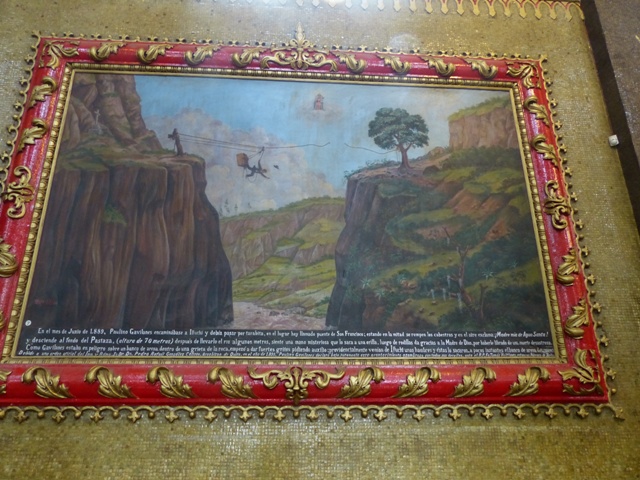 …..there are also painting of people surviving snapped aerial wire crossings, burning buildings, volcanic eruptions and other such mishaps.
As I said above, on our second day the sun came out and, seeing the clouds away in the distance I took some quick shots from our hostel roof just in case
I needn't have worried. It remained absolutely beautiful all day. We did the La Virgen del Agua Santa walk which took us first to Bellavista for views over the town from the east….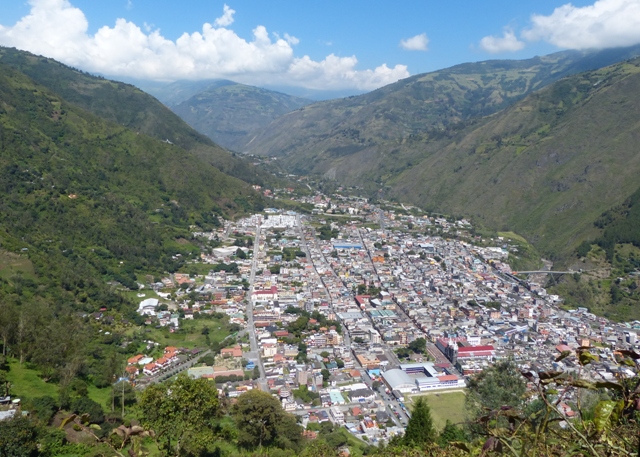 …..then up to the Casa de Orquidas…..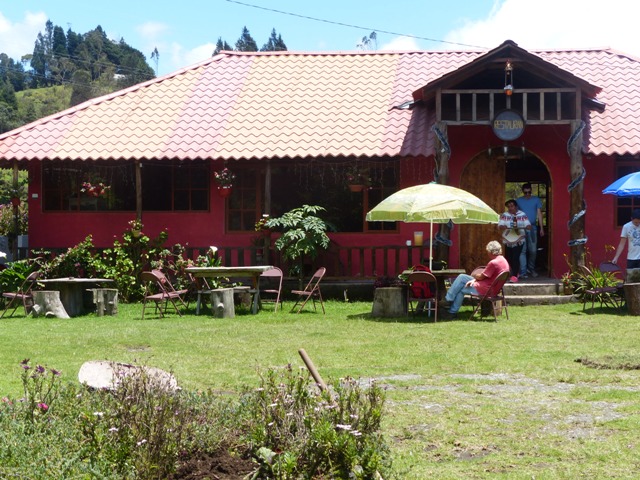 …… for much needed cold refreshment . It was jolly warm at over 2,000 metres when the sun was out – even in late autumn [i.e. the southern hemisphere in late April].
Although they were"pets" of the hotel owners I was enchanted to encounter my first alpaca……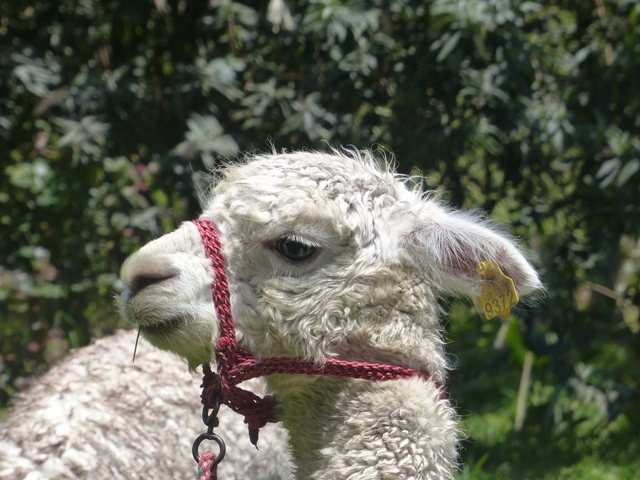 …… and llama.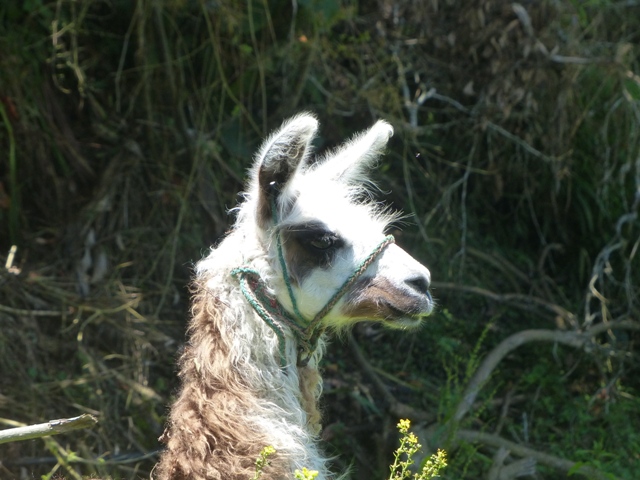 From there we contoured the hillside to arrive at the statue of the virgin – which two young local girls had scrambled up….
….and from where we had another spectacular view of the town, this time from the west.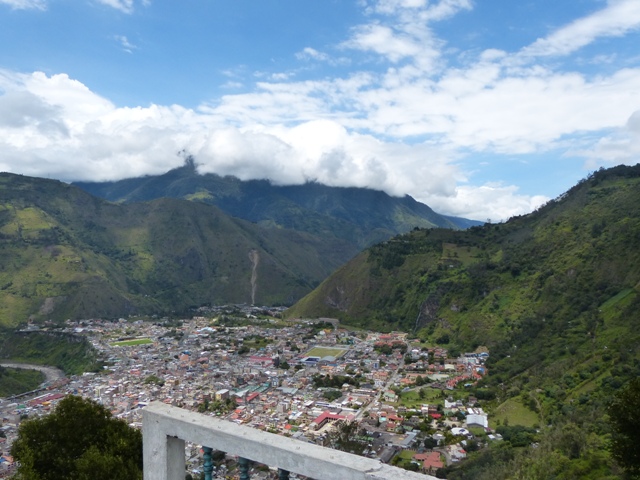 A great day with a fabulous 10k "high level" walk which took us approx 4hrs to complete, giving us splendid views and  from which we descended 686 steps to get back to town.
If after a long walk you need sustenance and/or you have a sweet tooth, sugar products are available all over town….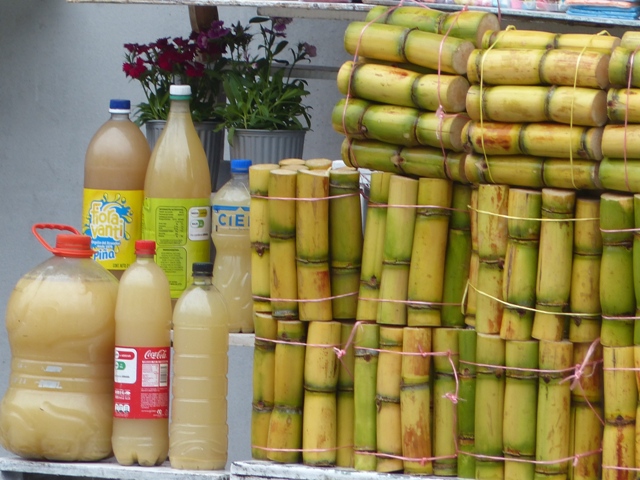 …. most famously, Baños "toffee" which is made from spun sugar and coloured before being pulled, stretched and twisted to make the correct consistency.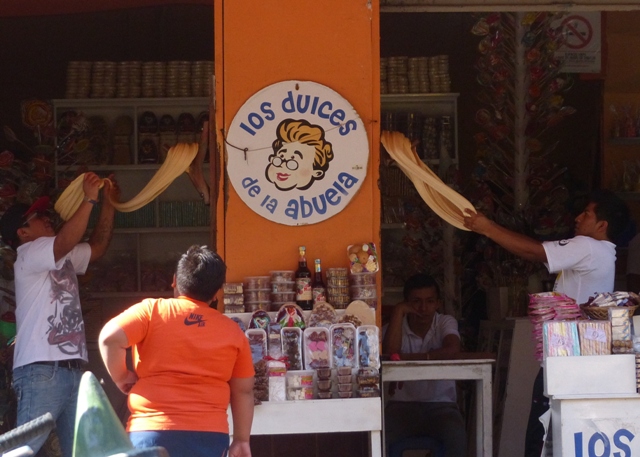 Fascinating to watch it being made whilst sipping coffee and eating pastries [about as sweet as my tooth gets]. There is, in fact, quite a European feel to the town and we also enjoyed eating Tapas and Paella [two separate evenings I hasten to add] in one restaurant before enjoying a nightcap sitting at a street cafe…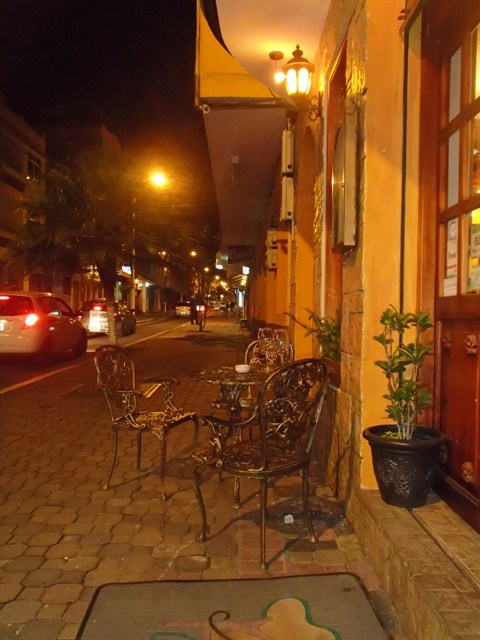 A fabulous place and we departed Baños from its very colourful bus station feeling that all in all we had had a great first five day introduction to Ecuador.