This post is actually out of sequence because there are going to be several [Yes…. several!] posts covering the period end March to early May which we have just spent travelling in Ecuador and Peru.  However, as I haven't been able to get my humble brain around how to organise those yet and since I am still trying to sift through what originally amounted to more than 3,000 photographs [I have now got it down to just over 2,000 – and don't worry – more culling to go before the blog(s)] I decided to tell you about our fun day witnessing history in the making.
On Sunday [17th May] the Expanded Panama Canal had an "Open Day" to which people were invited to "live a moment of history" and tour the new Pacific-side locks. As this was advertised as a one day only opportunity before the locks are filled with water…. and a free event…. we decided it was something that could not be missed.
So did the rest of Panama….or so it felt!
The event opened at 8am and we understood that special buses [run by the metrobus company so not exactly free – but at 25 cents a trip who is counting] would be available for the ride from the main bus terminal to the Cocolí canal site.  We arrived at the bus terminal at around 9.25am to join a rather long queue which didn't move at all for about 40 minutes because as far as we could make out, the special buses didn't actually start running until 10am. Rather strange for an 8am start – but this is Panama.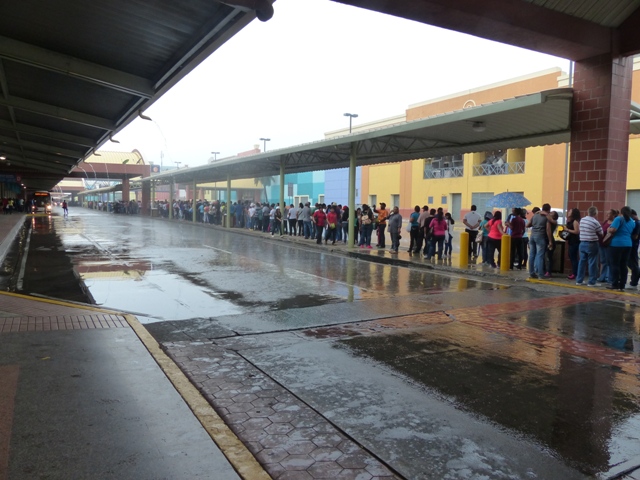 As you can see from the photograph, it was also pouring with rain by this time – so the queue actually acted in our favour because it took us so long to get on the bus that the rain had more or less stopped by the time we got to the canal zone for more queuing….
Surprisingly, as this is Central America where the concept of a queue is virtually non-existent, 90% of people were really orderly and polite and kept in line and the crowd seemed entertained by these guys who decided they didn't want to enter into history but enter in to the canal zone [at least that is how it translates literally – maybe colloquially it means something slightly different?]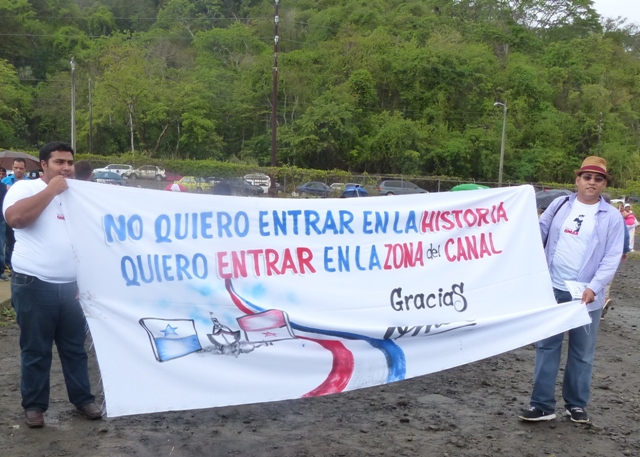 Anyway, we finally made it and were able to walk along what will be the bottom of the lock. There are three chambers in total and we understand that each one is 427 metres long and 55 metres wide.  It is hard to get a proper perspective in a photograph but with the chambers and the added space for the gates etc the full lock will be almost a mile long.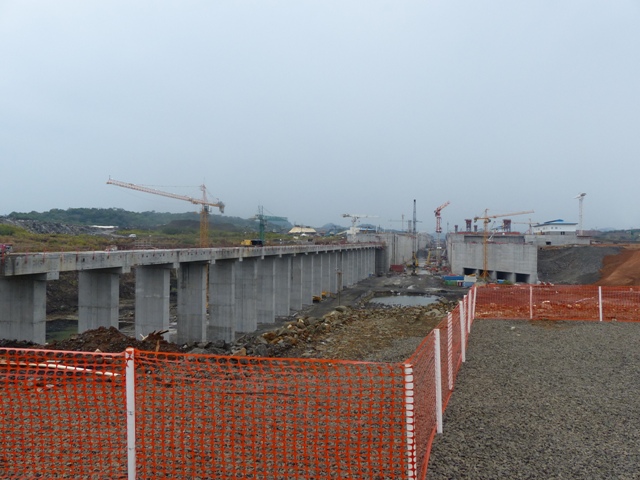 The walls are 32 metres high….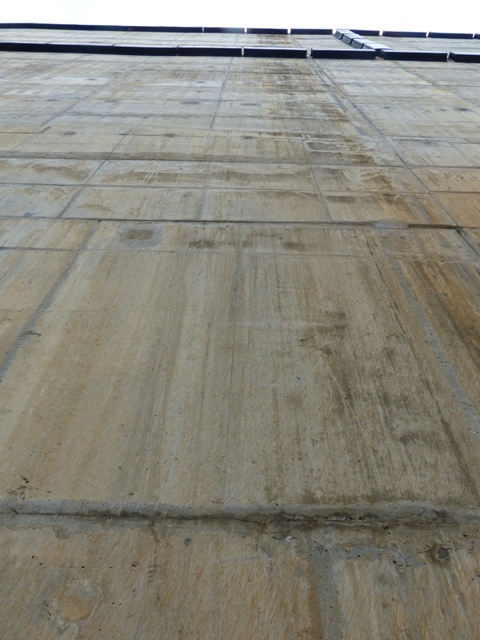 ….which we can confirm because here are the measurements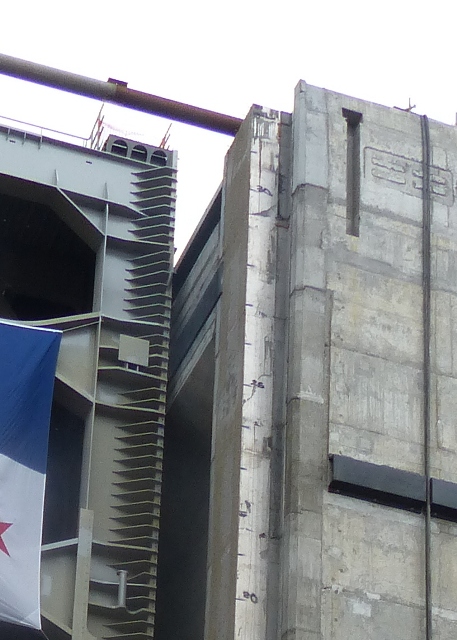 Instead of two swinging gates [like most locks], these gates are single, will slide out horizontally on tracks….
and, according to the paperwork we were given, each gate weighs 4,242 tons.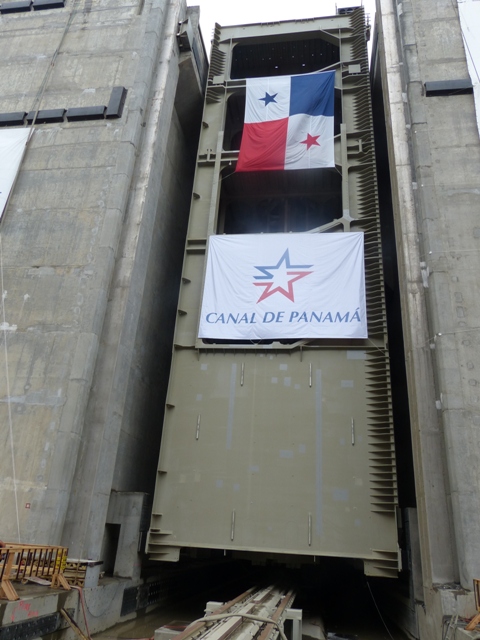 They were made in, and shipped from, Italy and were then transported up the canal to their current position on a specially made barge which we saw whilst we were at Shelter Bay.
There are 40 "drains" in each chamber for the entry and exit of the water at the base of the locks. Each of these is 8.3metres wide and 6.5 metres high.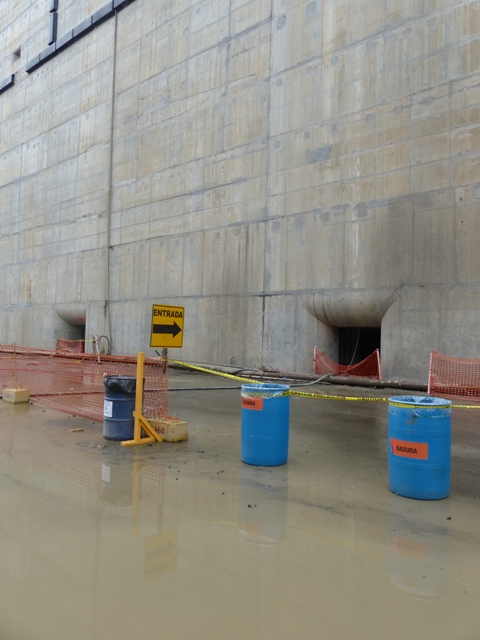 I don't know how much volume of water per second this will put into the chambers but knowing the force of the "old" lock system I suspect it will be something I wouldn't like to try to hold a boat against – which is OK because this new third lane is only for the PanPacific carriers [or whatever these superships are called].
What I am sure of is that the pump running the system is a bit bigger than the one they were using to drain some of the rainwater away!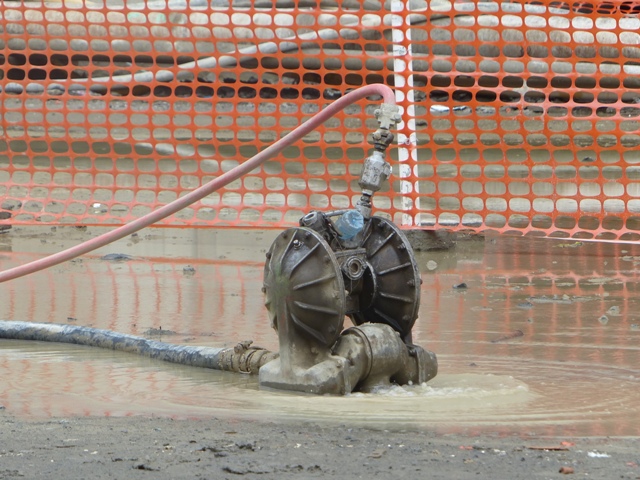 My final factoid is that 2.4 million cubic metres of concrete has been used to build the locks. It has all been done on site and there are mountains of sand, cement and basalt still there. If Mike's interpretation of what the "guide" on one of the site visit buses told us is correct, it is actually rather more than 2.4 million tons of concrete that has been made. The first lot was, apparently, mixed without the basalt and it had to be removed and done again. We don't know how much truth there is in that story but one thing our trip to South America did for us is improve our understanding of spoken Spanish so we think it is at least what was said. Whether it is true is a different matter but I can't see why it would have been said otherwise.
So that just about sums it up….except, of course, that we had to join more queues to get back home again [we worked out we stood in one queue or another for a total of six hours!]….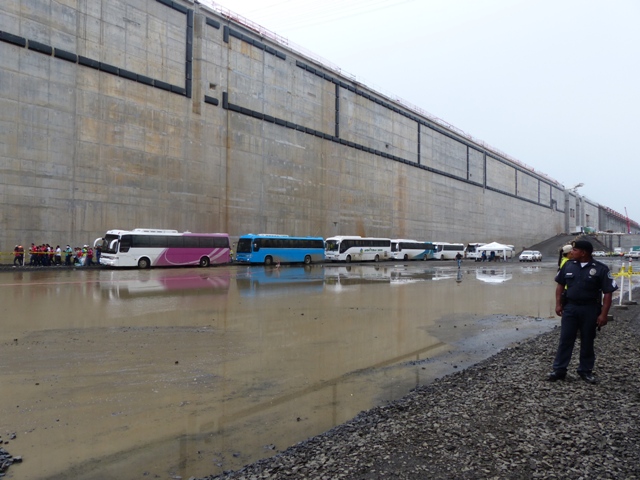 Malc, Steve [T] and no doubt other boys who like toys will be pleased to know that there was a drone there recording it all….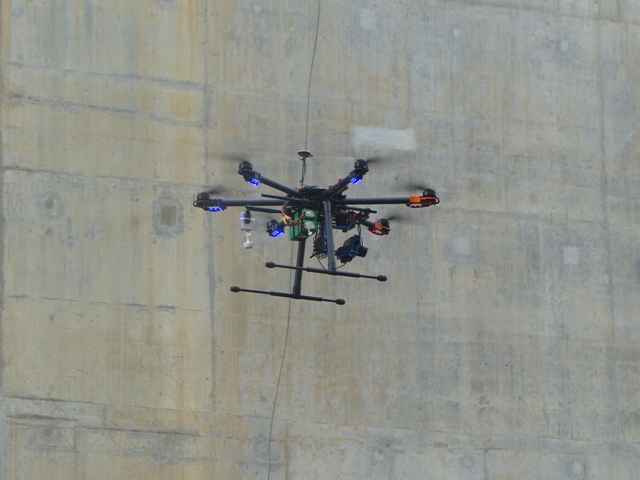 ……well four actually but although I am sometimes accused of posting similar photos [beaches, anchorages etc] I thought four pictures of identical drones was going a bit far!  [The public were forbidden to take theirs – so it doesn't matter that, unlike some of you, we don't own one].
As you can see from the above photos, there is clearly some work still left for the contractors to do but we understand that they are going to start some testing soon with a view to the extension opening on April 1st 2016 [an auspicious date methinks!]
Overall we had a good and memorable day out and will probably be amongst only a handful of Brits [if that] who can say they have walked the third lane of the Panama Canal.