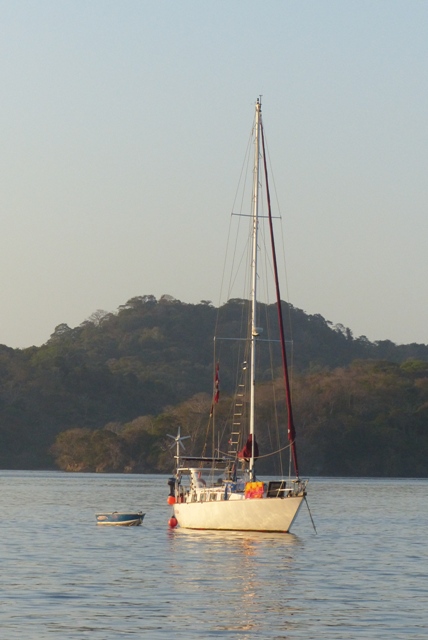 This post isn't one I ever expected to write or wanted to have to write but, whilst we were away on our trip to Ecuador and Peru, we received news from Panama that our dear friends Randy and Dawn were in trouble on the high seas. I won't keep you in suspense……they are both alive and well….but unfortunately, "Nirvana Now"- their lovely boat, is at the bottom of the ocean.
Family and friends who read my blog regularly might remember that we first met Randy and Dawn last year at Shelter Bay marina. We were line-handlers for them through the Panama Canal in early January and, after our canal transit they were ready to welcome us at La Playita anchorage where we anchored next to them.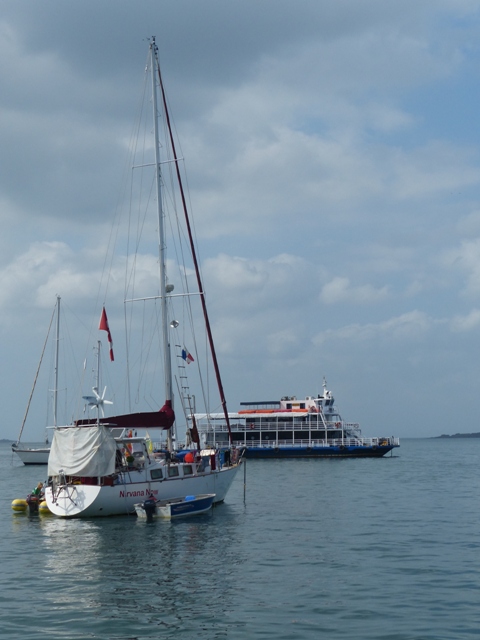 "Nirvana Now" left the anchorage on Wed February 11th 2015…..
to sail to La Perlas Islands and wait there for a suitable weather window for the approximate 4,000 mile voyage to the Marquesas.
We joined them in the Perlas on 15th Feb for 11 days of sailing round the islands during which time they tried out their spinnaker – in preparation for those times when they fully expected to be in light winds.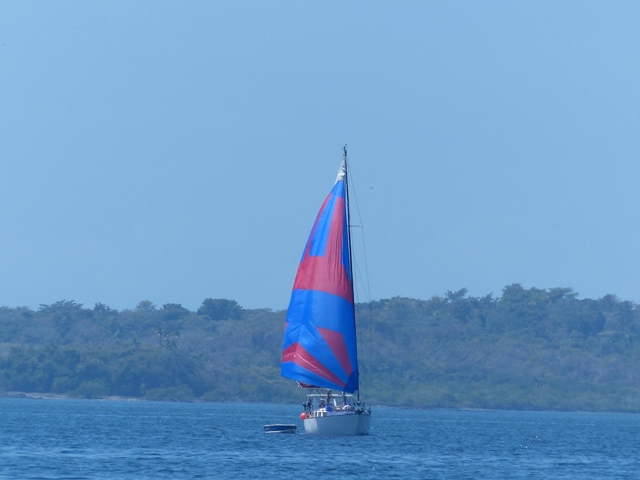 We had great fun with them, as always, and it was a sad farewell when we left on 26th.
We tried to keep in contact by SSB but our signal back in La Playita was poor. However, we knew they were leaving at the beginning of March in the company of "Blue Pelican" and we managed to keep in touch via sailmail.
According to an e.mail we received in mid March, after their first week at sea – which went quite well, with one day seeing them cover 165 miles, things started to go awry. On March 15th we heard that Blue Pelican had gone north of the Galapagos but they had gone south and got caught in a current pushing them towards the Galapagos which they couldn't get out of for two days. They then had to motor sail for a further two days to clear the Galapagos which used up more fuel than they would have liked by this stage of the journey. A period of 3 days with mileages of less than 60 miles per day followed and then they  hit the doldrums and spent several days going nowhere – and even on one day 12 miles backwards! So, at 15 days out and only 1,000 miles covered this wasn't the best news. But, Randy and Dawn being the people they are, reported as being in generally good spirits, that they were studying celestial navigation and French to keep themselves occupied and that they had plenty of food
Dawn's email of 25th March [which turned out to be our last e.mail exchange before things started going really badly for them] said that they were 24 days at sea with 2,500 miles to go but generally all was OK.
We were therefore horrified when on April 8th we got an e.mail from John and Jerie ["Peking" – who were still in Panama] to advise us that "Nirvana Now" had called Mayday. The e.mail told us they had had some damage but were in good spirits and that two boats [which we later found out were a UK registered "superyacht"  "Athos of London", and "Continuum" , a Caliber 40 registered in N.Carolina]had diverted and were on their way to them.
Continuum was the first to arrive and Randy and Dawn transferred to her on April 9th
It doesn't seem fitting for me to try to describe in this post about the last hours on board "Nirvana Now". I wasn't there and can't begin to know how it must have felt but Randy wrote an article for the magazine Latitude 38. I shared this a couple of weeks ago on Facebook but since not all of you are on FB you won't have seen it – and even if you are you might not have known why I shared it! So, if you are interested it can be found at www.latitude38.com. [You may have to search – the article was published on April 27th]
It is so very sad that "Nirvana Now" sank and I hope she is providing as much of a home for some creatures of the sea as she did for Randy and Dawn. But, at the end of the day, when the news reached us that Randy and Dawn were safe that was all that really seemed to matter. It is so heartening to know that sailors are there for each other and that coastguard to ship and ship to ship communications via SSB, VHF, satellite phone and relay all come together in times like this.
So, "Nirvana Now" will be much missed by Randy and Dawn – and I am sure by many others who will remember very happy times on board. Mike and I will not forget her riding at anchor alongside us.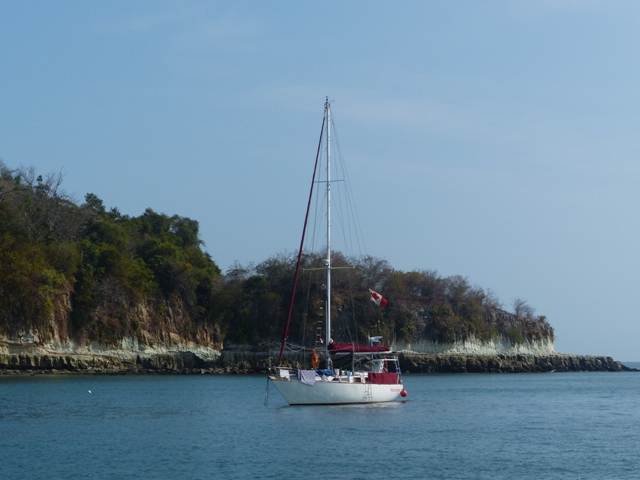 Randy and Dawn are now in Canada, recovering and regrouping. Dawn tells us that Randy is busy looking for another boat and that, having spent time on "Continuum", she would like it to have an in-boat shower! Good for you Dawn – stick to that plan.
So, much love to Randy and Dawn – hope to catch up again somewhere, sometime…….. and remembering the good times.