Well this may [or of course may not once I get going] become the least wordy blog yet. We are about to leave for a long road trip in Ecuador and Peru but it is a while since I posted an update and I don't want all you guys to forget us.
It is also important that I tell you about the lovely Las Perlas Islands and the short "circumnavigation" of them that we did a couple of weeks ago.
The Perlas Islands were given their current name by the Spanish when two conquistadores defeated the indigenous king Tio, stole a large amount of his pearls and enslaved his divers. The 31 carat "peregrine" pearl belonging to Mary Tudor came from these islands.
To get there we left La Playita anchorage [Panama City] at 7.30am on 15th Feb for what we expected to be a 7-8 hour journey to the nearest island of Contadora. We had perfect weather and "flew", averaging 6.2kn and arrived at 1.25pm. A splendid sail.
There we were greeted by friends ["Peking" and "Nirvana Now"] telling us drinks on the beach had been arranged for 5pm…..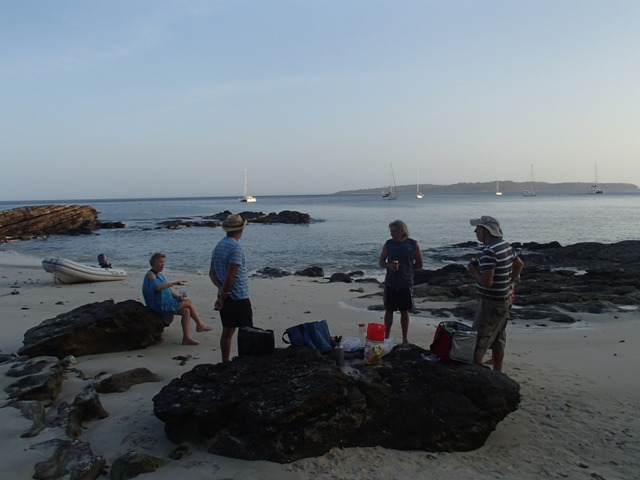 …..what better start can you get than that?
Contadora is the most developed of the Perlas Islands and a favourite weekend destination for Panamanians – particularly sports fishers. Hence the anchorage was a bit crowded [yup this is crowded!] …..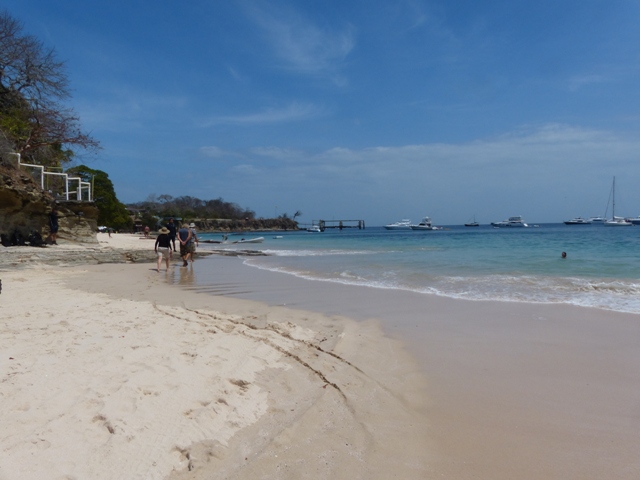 ….and there are bars to visit.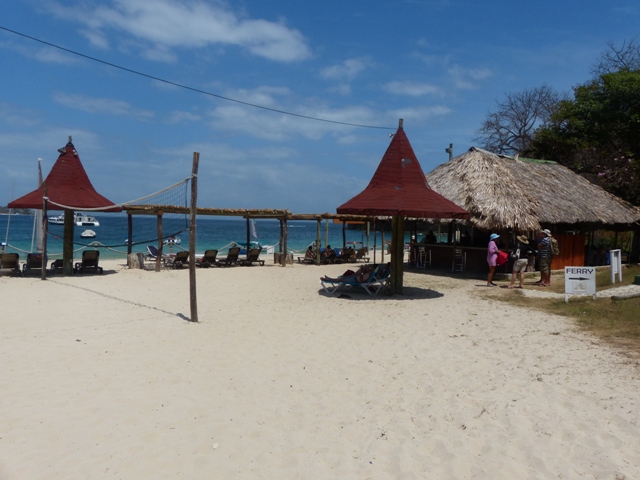 It would have been nice to have been able to take the 3J's to these islands as, though still a bit murky, the snorkelling was better than James, John and John found on Isla Taboga following our canal transit. The waters become murkier at this time of year as they cool, making conditions ripe for plankton etc.
Still, I was able to see a few shoals of fish…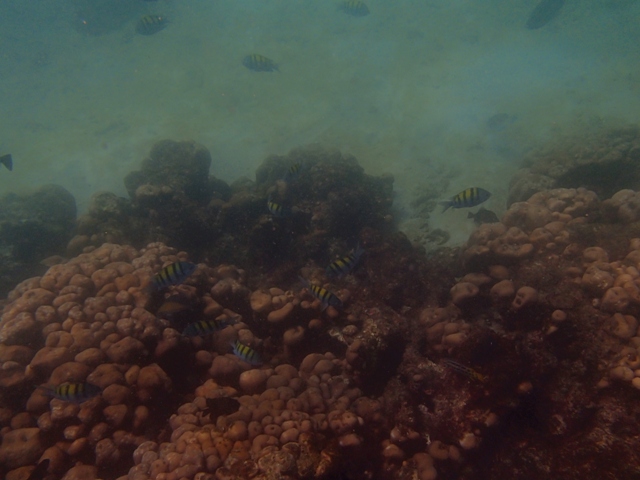 ….and also managed to get this photo of a pipe fish.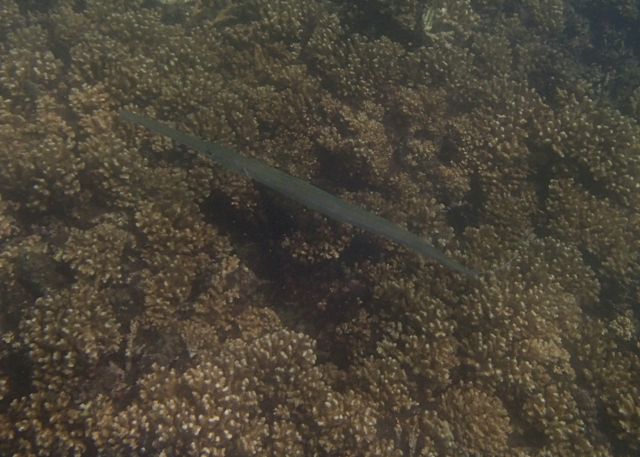 At least that what I think it is – and, although the photo doesn't really give the perspective it was about 2 ft long!
From Contadora we went to Isla Casaya where we spent a couple of nights watching the tide changes.
You are probably now thinking that things must have come to a sorry state if we find watching tides rise a fall a pastime. But, it is just great for us to be doing anything at anchor after so long in Shelter Bay and tides are something we have to study again – there is a significant range in these parts [6m/18ft]. It is something we haven't had to consider for the past two years.
At one low tide we took the dinghy out and came across an interesting current just off one of the points. It looked as though the water height in the background was about 6" lower than the calmer water in front.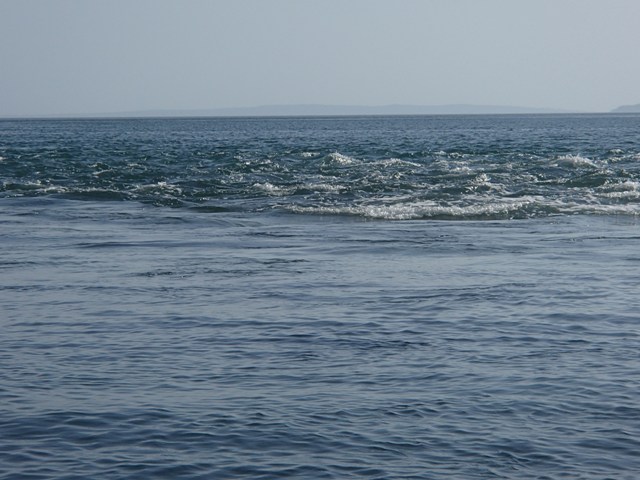 We had to rev the dinghy hard to get away from there – the current was really strong and could have pulled us through.
We also found more tranquil places like this small hamlet on Isla Casayeta……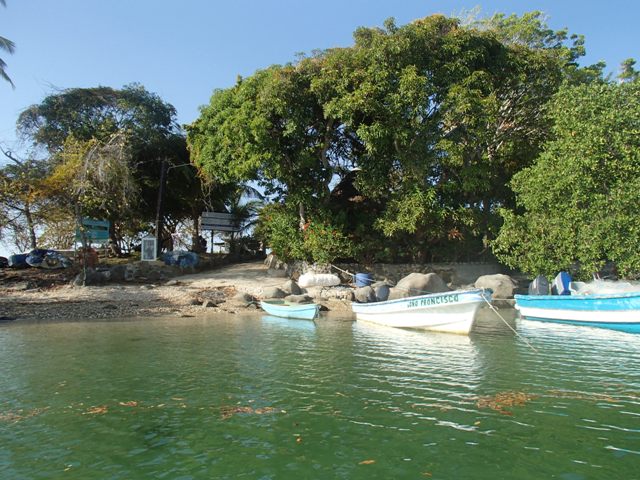 One of our favourite anchorages was between Isla Espiritu Santo and the eastern side of Isla del Rey.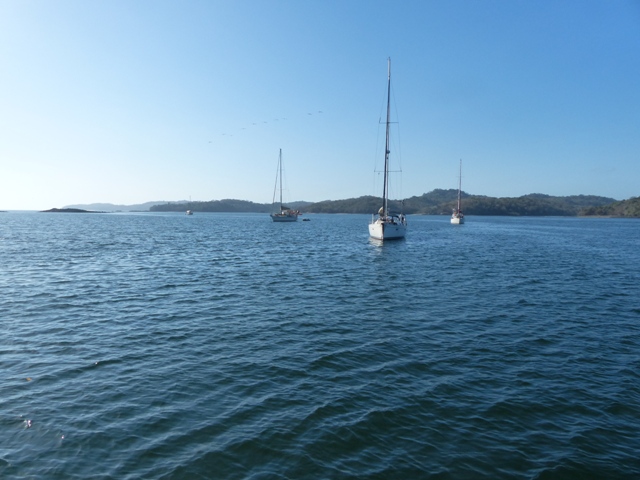 The island was a nice size for wandering around – at low tide and on our walk Mike and I found what we thought would be an excellent BBQ spot….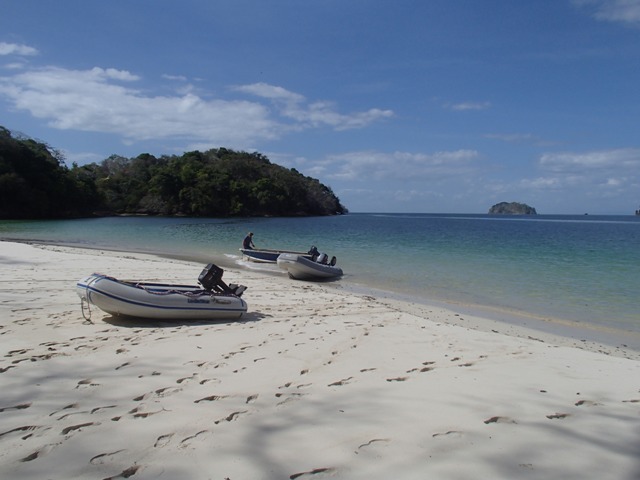 The "party boats" arrived at around half tide, had some fun in the sun….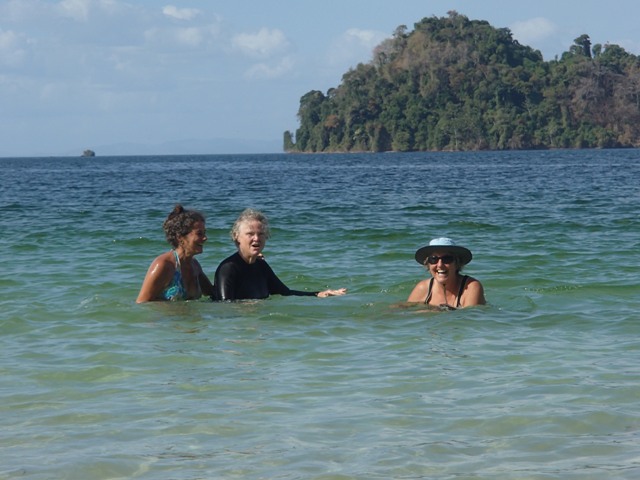 …..and made some new friends Nora and Baha, [a Turkish couple on their boat "Tutkum"] and their splendid dog "Salty"….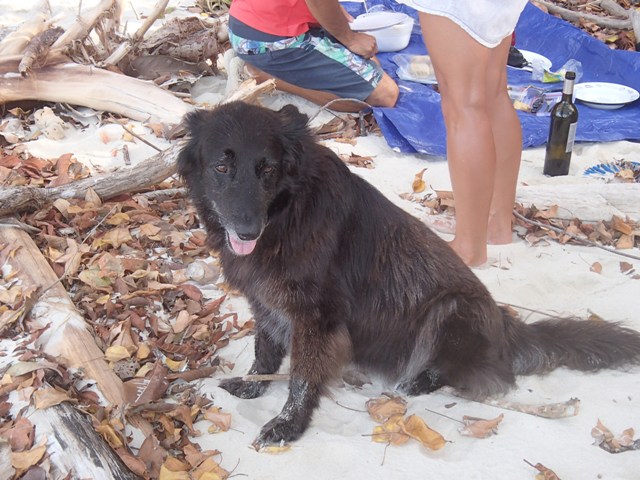 Unfortunately, despite trying to summon the assistance of Canute, we soon found ourselves bundled up towards the cliffs…..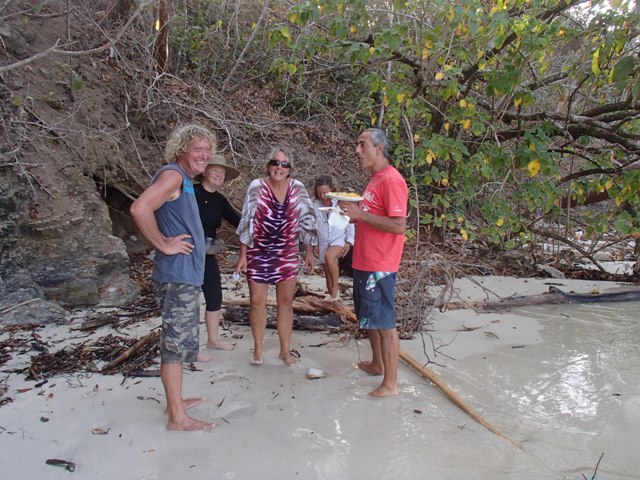 ….with the water getting ever closer….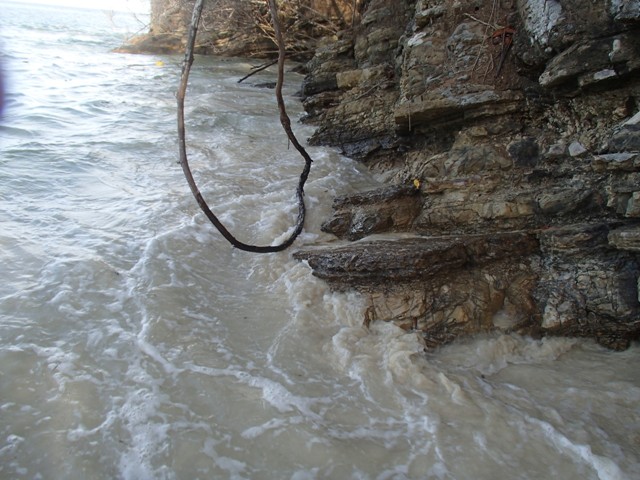 ….so had to abandon all hope of that last shared drink on the beach. We retired to Siga Siga instead. Well, you didn't think the drink was going to be abandoned too did you!
We did see very good use made of the tidal range and lovely sand at this anchorage…..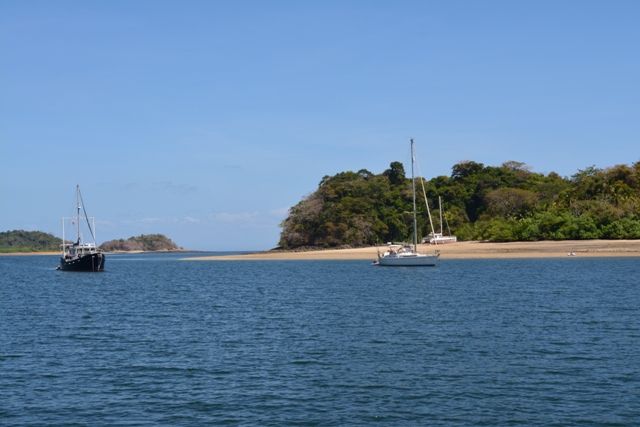 The catamaran in the background "beached" itself on both mornings we were there to undertake a "bottom job". He managed to sand off all the old anti-foul and later, we presume, painted new stuff on.
However, we didn't wait around to see that. "Peking" returned to an appointment with a wind generator fixer in Panama City and we, with Dawn and Randy, sailed off to find pastures new.
There was little wind so we decided to try out the asymmetric. As usual there was some head scratching and untwisting as we tried to figure out exactly how it goes….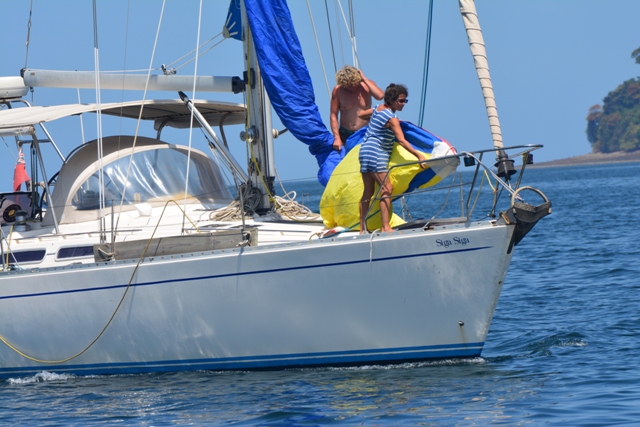 …. and finally up she went….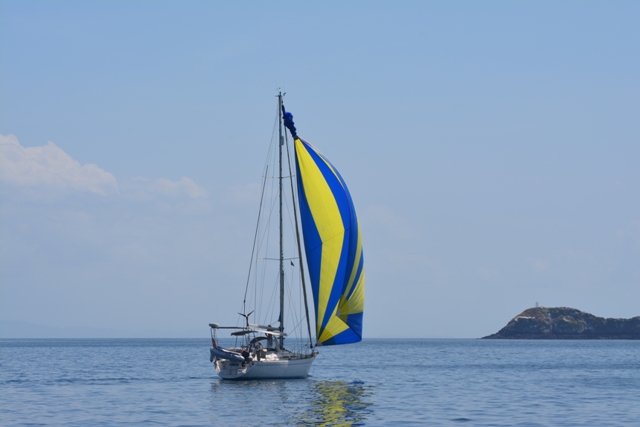 But, it didn't really look right and we noticed that we couldn't get the snuffer right up and realised there was "something funny" going on at the top of the mast. A later trip round the boat in the dinghy taking photos from various angles revealed a semi frayed halyard. The halyard has always been a bit too big [it came with the boat] but, as we have rarely had conditions suitable for flying this sail we haven't really bothered. We realised that going across the Pacific is going to be a different matter – so we bit the bullet and have bought and fitted a new halyard – Mike's splicing has come on a treat!
Our next stop was further down the island of del Rey – the anchorage at the mouth of the Rio Cacique.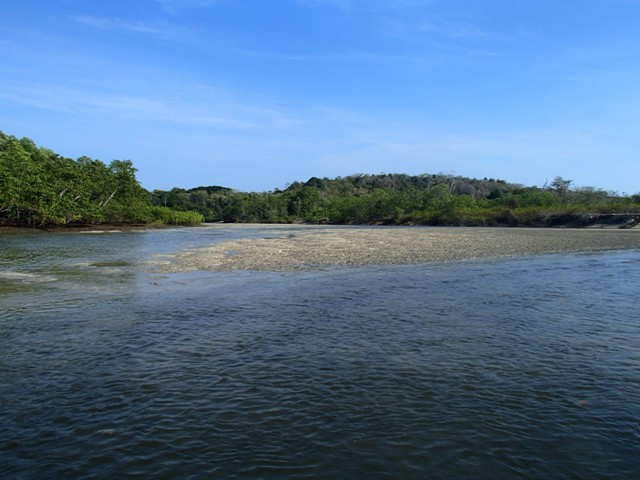 We explored the river……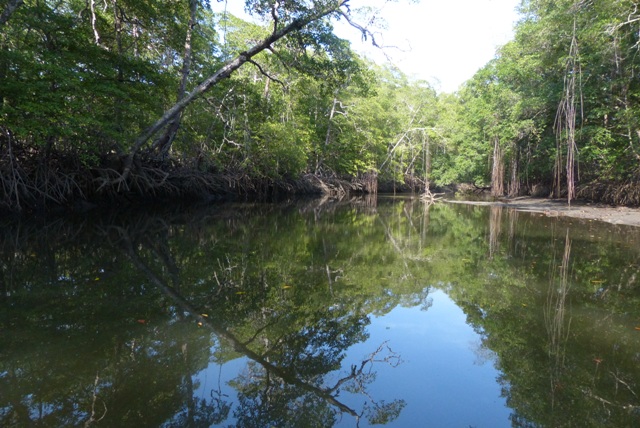 ……courtesy of Dawn and Randy……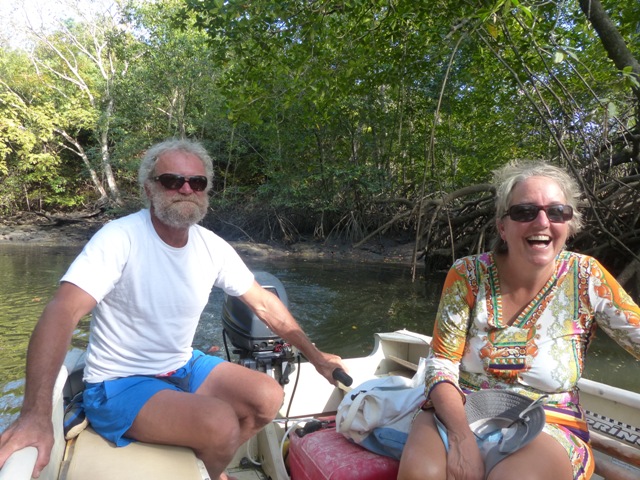 But there wasn't really very much to see. No crocodiles in these banks [well, not that we saw], just some sand pipers or whatever these chaps are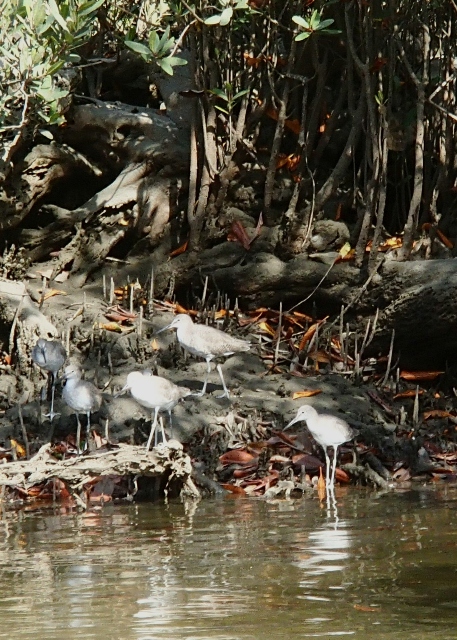 The following morning we did a short early sail to the small fishing village of Esmeralda…….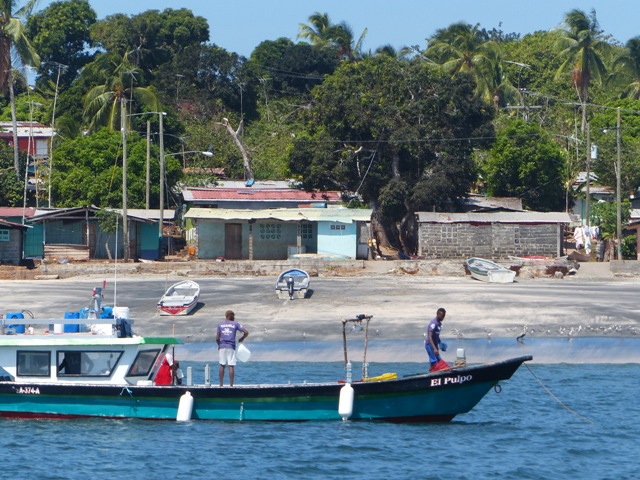 ….where the days catch was just being landed – so, of course we bought some. Lovely and fresh……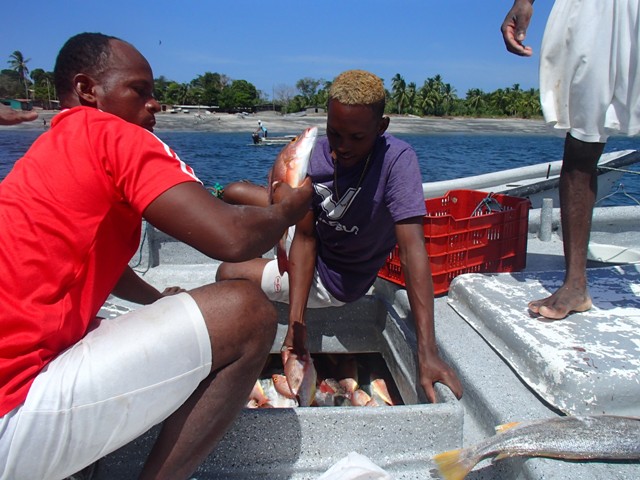 We went ashore to try to find diesel for "Nirvana Now". A walk round the village [$1] to our "guide" resulted in the jerry can being filled….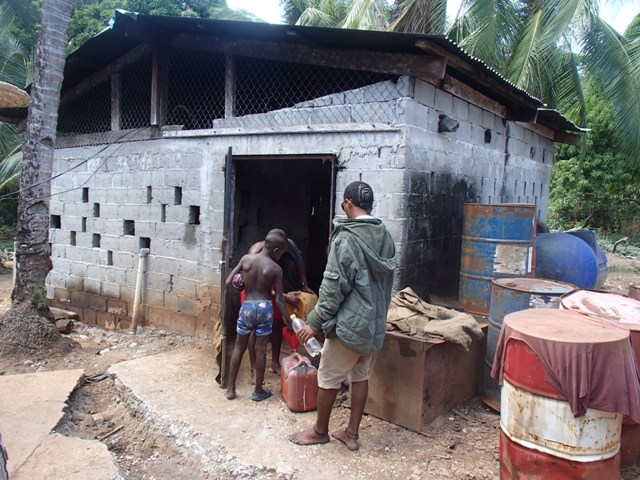 ….I love his haircut – but wearing that coat in 90+ degrees F?????
This might be a good time to tell you that we are now the proud owners of a Racor filter – which filters water out of fuel whilst it is being filled from either a pump or can. Much of the fuel in e.g. San Blas, Portobello and, we assume the islands in the South Pacific will come from places like this so we want to do as much as we can to supplement the pre filter and filter system we already have which filters dirt – but not water. We don't know how good these things are but any port in a storm!
The local people were really friendly and helpful and glad to see a couple of boats stop by. These cheeky chaps went away happy because we gave them a can of cheap cola each…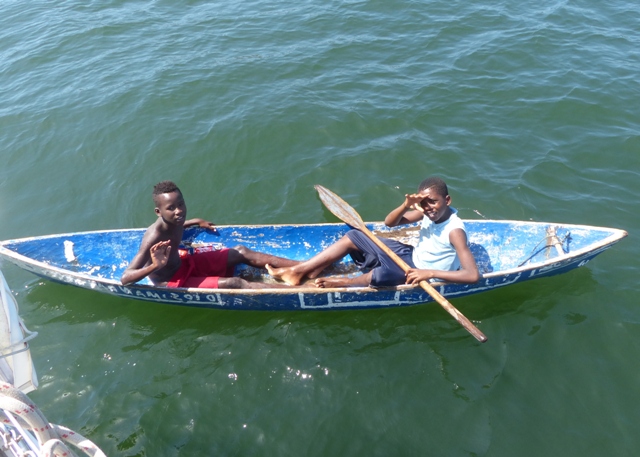 …. and these guys earned a dollar from Dawn and Randy for "guarding" the dinghy.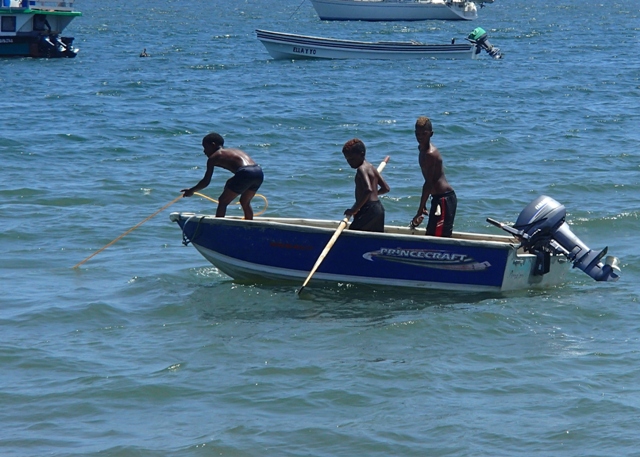 Although the anchorage was very pleasant….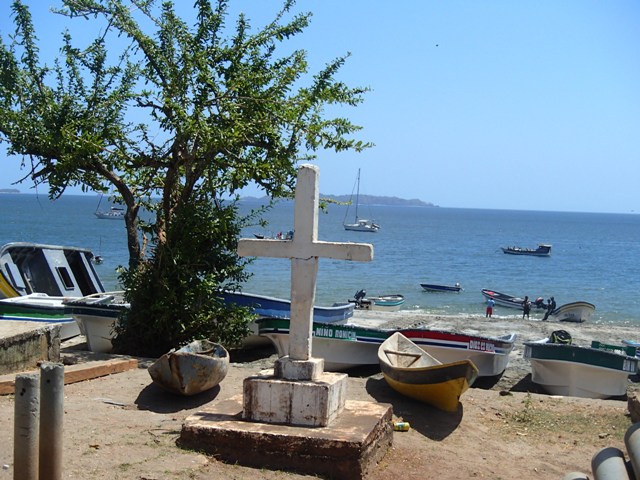 …. we had already planned our day and another 15 miles beckoned to take us to the SW of Isla San José. With hindsight I wouldn't choose this anchorage again [Ensenada Playa Grande] – there is a much nicer one on the NW of Isla Pedro Gonzales to the north of San José but, for anyone going out of the Gulf of Panama wanting a final night at anchor before setting out for Ecuador/Galapagos/Marquesas/Costa Rica then its not a bad place to stay
However, we didn't know that at the time and the cruising guide said there were caves to explore on the point so we took to our dinghys again…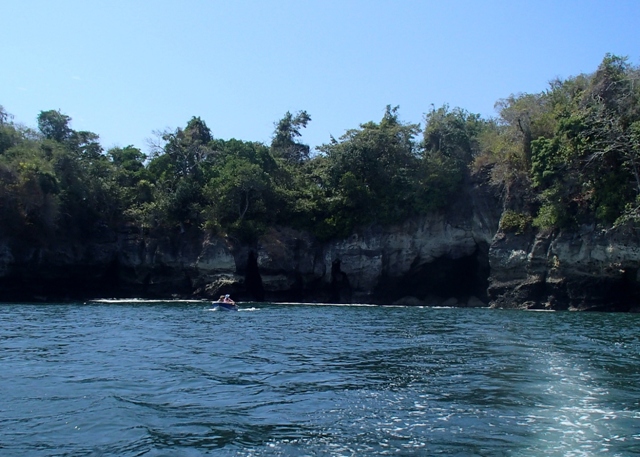 ….only to be disappointed. Some people might take their dinghy in to these caves – maybe at a different tidal state – but it looked pretty much like climbing into a washing machine on full spin to us!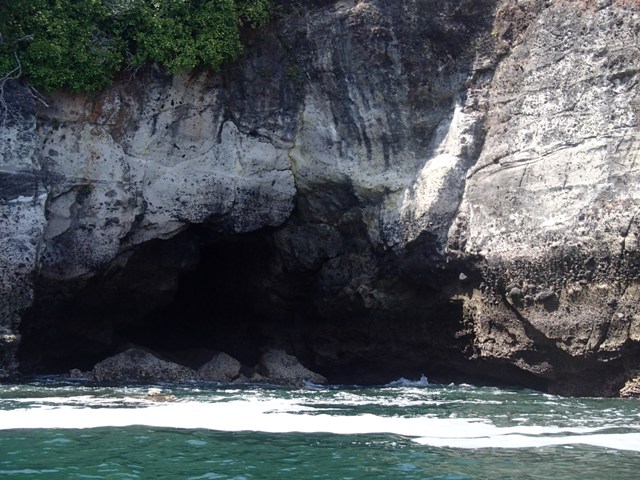 Our final anchorage was between the islands of Chapera and Mogo Mogo [which is where the panorama photo at the top of this post was taken].
Isla Chapera is possibly the best known Perlas Island – though you might not realise it. It is apparently the island used in the "Survivor" series.  As I didn't watch that series I can't comment but it was certainly an incredibly beautiful anchorage….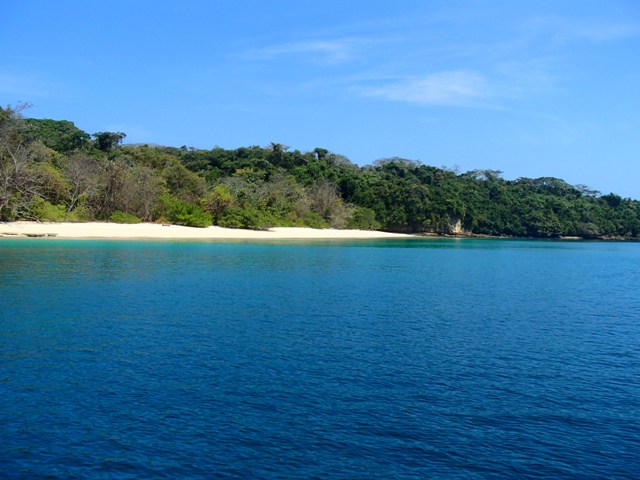 The water was the clearest we saw – though being a sandy bottom there weren't any reefs to explore.
We then said goodbye to Las Perlas having spent an excellent 10 days there. Unfortunately our sail back to Panama City did not match our sail out. There was no wind at all – not a bad thing – but it did mean the engine on all the way. Still, we made several gallons of water.
Back in Panama we have immersed ourselves once more into the cruising community at this side of the canal. It is much more active with an excellent daily [except Sunday] cruisers net on Channel  74, a pizza night on Thursdays and Dim Sum on Tuesday mornings. Yes, Dim Sum….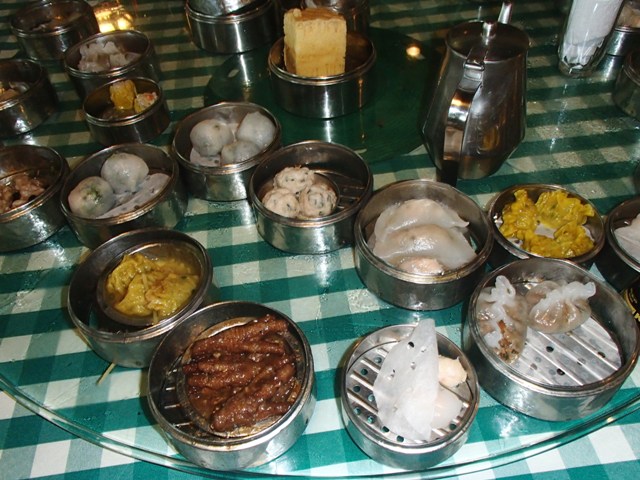 …..including chicken feet – if you have the stomach for it at 10.00am [or anytime for that matter!]
We have also been culture vultures when we visited the beautiful old theatre ….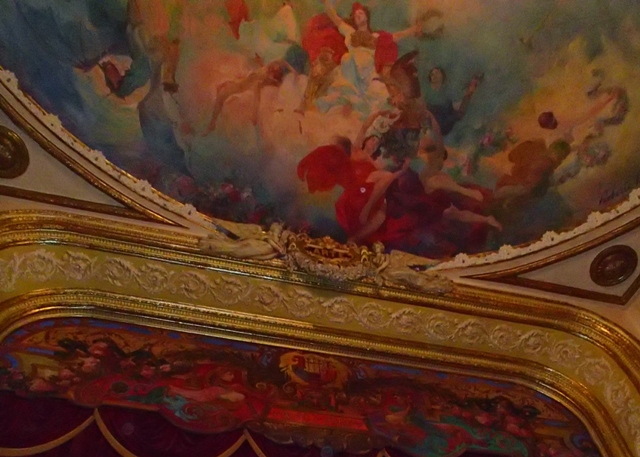 ….to listen to concert performed by firstly by "Duo Bellona" [a guitar and a flute] and then "Ensemble NYC" [guitar and cello]. Not the kind of thing we would want to do all the time but it is good to experience something different once in a while.
As yet we haven't visited the newly opened Bio-museum which is only a short stroll along the causeway from the anchorage. If the inside is anything like as interesting as the out it will be worth seeing….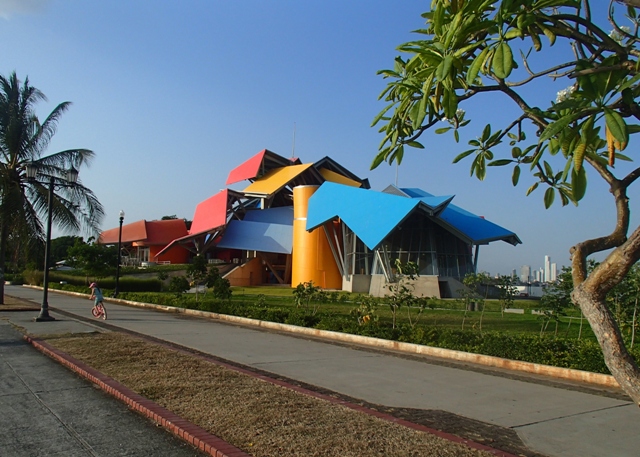 Maybe when we get back from our trip.
So, the words tumbled out after all – sorry, but hoped you enjoyed my ramblings and the photographs of the lovely Perlas.