So, here we have a very short blog post to "square the circle" of our inland trip. It is just a few quick words on Costa Rica and Honduras, both of which we had to pass through, twice.
Many of you will know that the capital city of Costa Rica is San José but what you might not know is how small it is. Although there are 1.5 million people living in its metropolitan area there are only 350,000 in the city itself and it is possible to walk from one side of the centre to the other in about 30 minutes – we know as we did it about four times!
We didn´t find very much to see or do in San José and it won´t go down as a "must do" recommendation. Aside from a theatre and the cathedral, both of which are fairly attractive buildings, it is a city which could have been anywhere in the world – certainly in the North American world – with at least 10 McDonalds [and those are just the ones that we saw] and seemingly hundreds of shoe shops and sports shops.
The only thing of real interest that we found was a good pub quite close to our accommodation….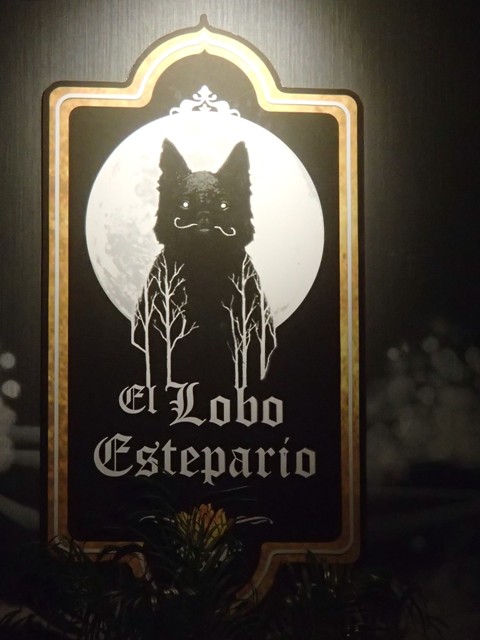 ….which sold decent beer….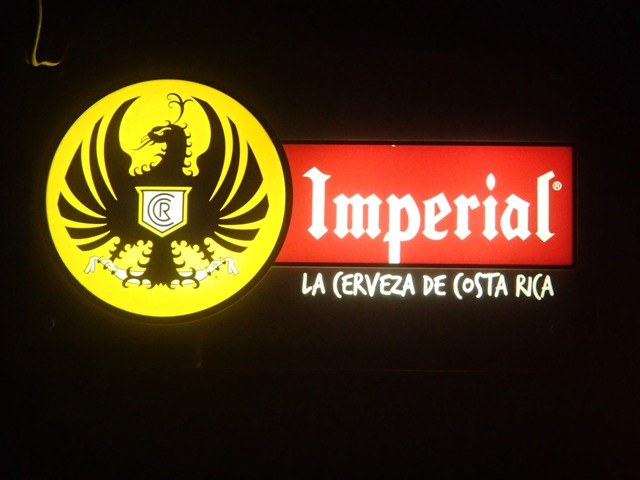 ….and food at a reasonable price.
Compared to Panama, Costa Rica is expensive and compared to Nicaragua and El Salvador it is extortionate. This pizza was $20 [£14] which is probably about comparable with the UK?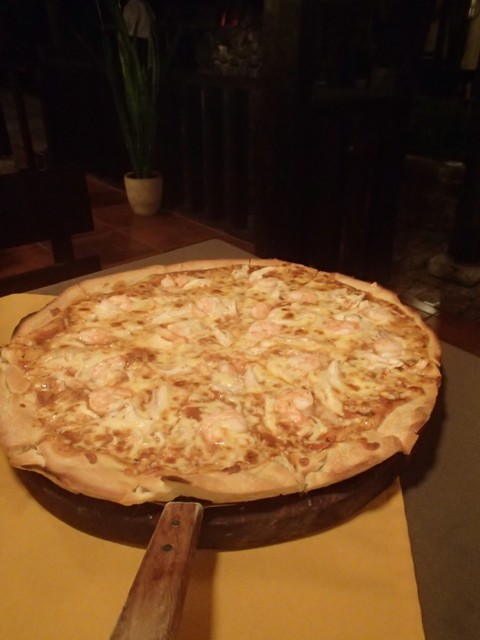 But I couldn´t get over the cost of this "salad"….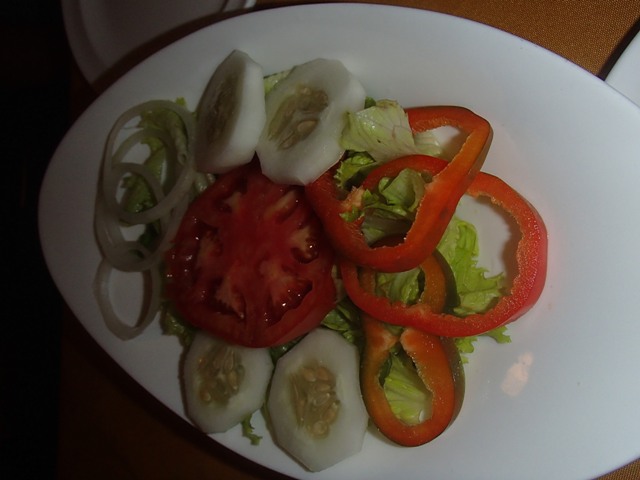 ….$10 [£7] for a lettuce leaf, a slice of tomato and some bits of onion, cucumber and pepper.
On our way "up" we also stopped in Liberia, Costa Rica, which was actually a much nicer city. Again only small but it had quite a pretty central park…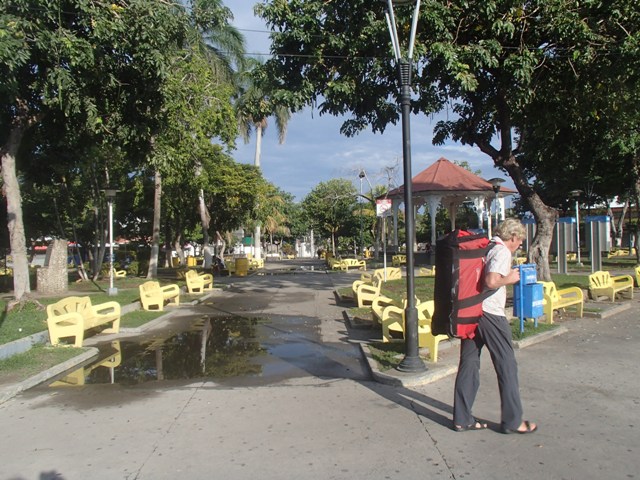 ….and a modern cathedral.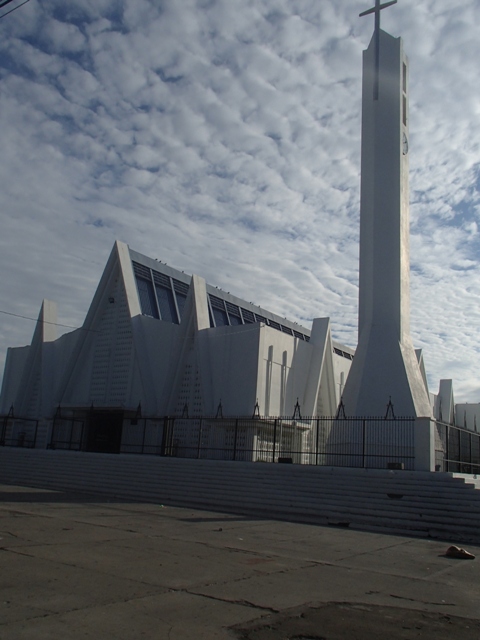 Choluteca and San Marcos de Colón were the two towns we stayed at in Honduras. It is apparently possible to get through Honduras from Nicaragua to El Salvador without stopping for a night but, since we hadn´t seen the border towns in any of those countries we opted for Choluteca on our way "up". Basically we chose it because the Lonely Planet suggested that there was a good hotel right on the main road, easily accessible for travelers. There was, but it was full! It was the first time that we hadn´t booked ahead – mainly because the hotel didn´t have a web site and didn´t appear in any of the usual accommodation sites. It was a nice place and had a pool and a nice restaurant [which we ate in] but we ended up staying down the road at a slightly less salubrious place!
Having seen the sleepy town of San Marcos de Colón….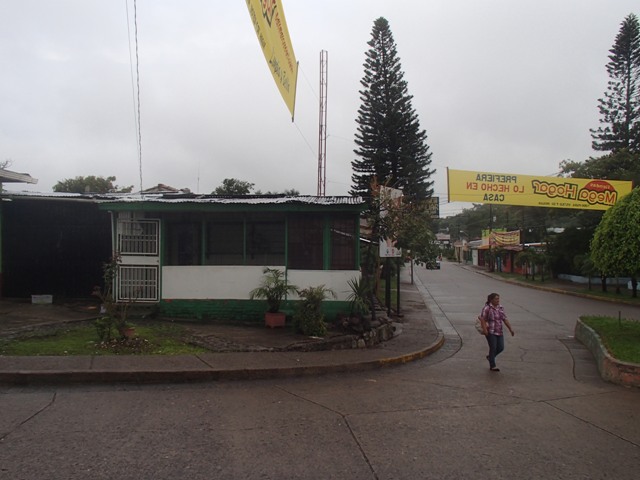 ……on our first trip through we decided to stay there on our way back. San Marcos is only about ten minutes from the border and we had hoped that by staying here we would get a flying start the following morning down to Grenada. Unfortunately the ten minute journey is undertaken in a microbus which waits until it is full before leaving. This is not unusual but we hadn´t expected the two hour delay that we got! Oh well, it was quite a nice place to stay and we did find a local quirky restaurant to eat in…..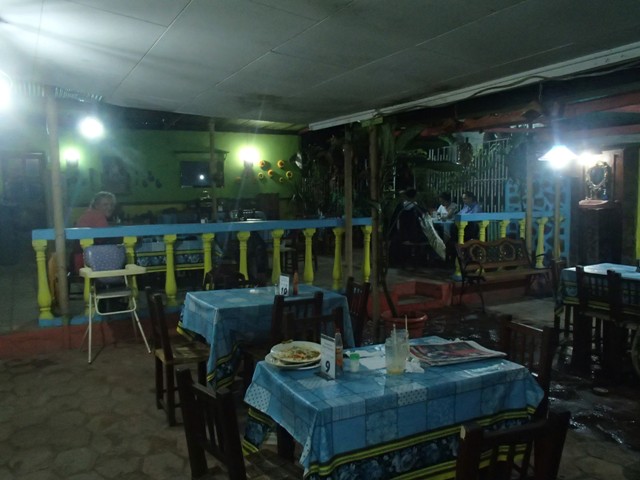 ….even if they did serve me the wrong meal! Such is life.
So, that´s that. At less than 600 words it must be a record!!!!