Well, I was hoping that my last blog of 2014 would be about the engine problems and the solving of them. Unfortunately – we are not quite there yet, so you will have to wait until next year for that thrilling installment!
Meanwhile, having had to entertain myself during our extended stay here – and after getting a new camera for my birthday, I have developed a bit of a hobby taking photographs and you are therefore going to be subjected to lots of pictures of some of the flora and fauna found around Shelter Bay. If you don´t like birds, animals and flowers I guess its time for you to close down this post, but hopefully you will persevere .
To begin, it seems fitting to try to describe Shelter Bay – so that you can get a "feel" for the environment.  It started life as a US Army base –"Fort Sherman"….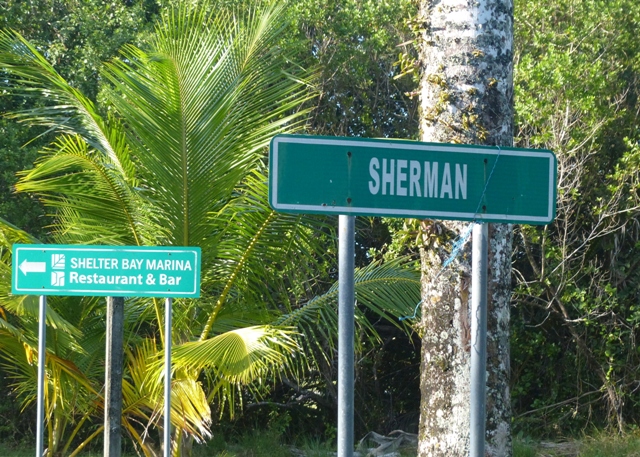 …… staffed during the time the US ran the Panama Canal – and was also used for jungle training during the Vietnam war. Our friend Allen ["Nauti Nauti"] told us he was sent here for that purpose. It is now rather dilapidated with most of the original buildings in ruins and the road full of potholes.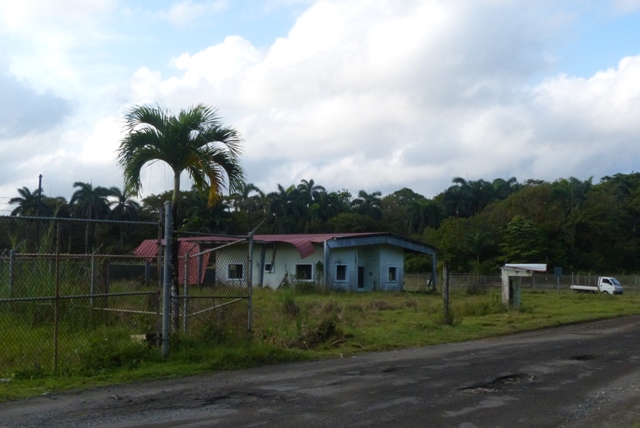 There are a few reminders of the infrastructure….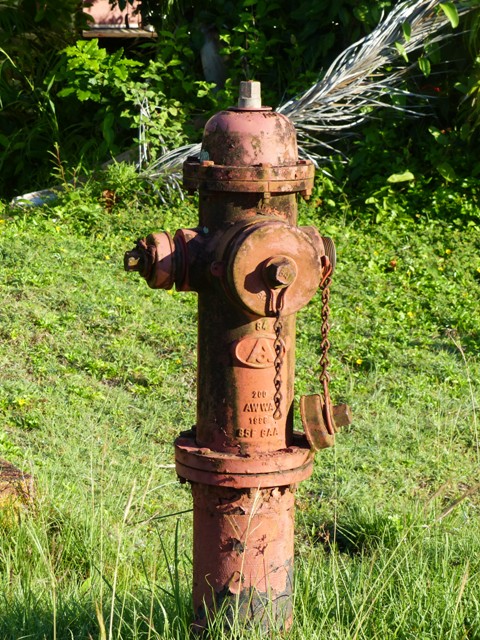 ….and the old theatre, just visible on the left of the photograph of the marina, is now a sail loft.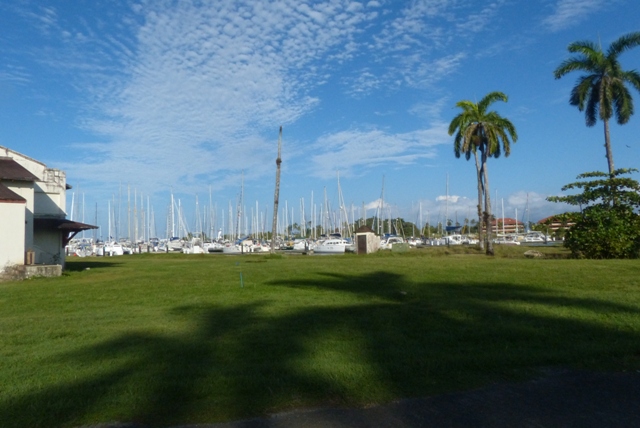 The canal runs along the eastern perimeter…..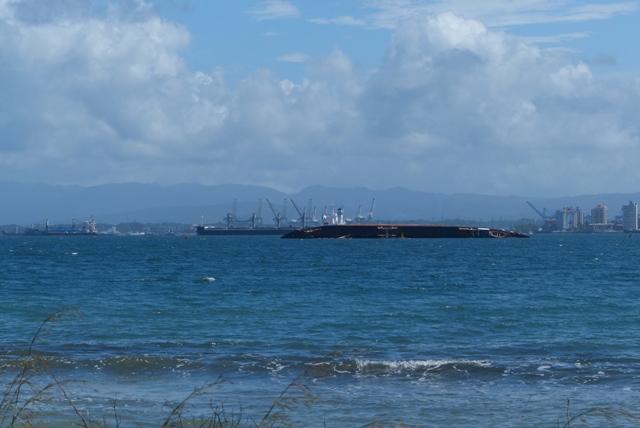 ….and the cranes on the Colon side are an interesting backdrop to some of the original administrative buildings.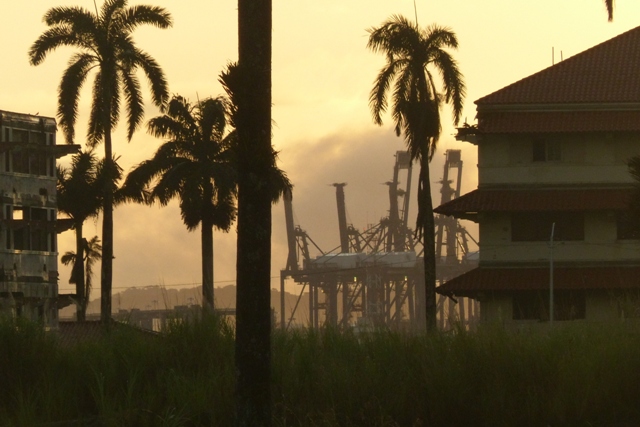 The "quarters" near to the entrance….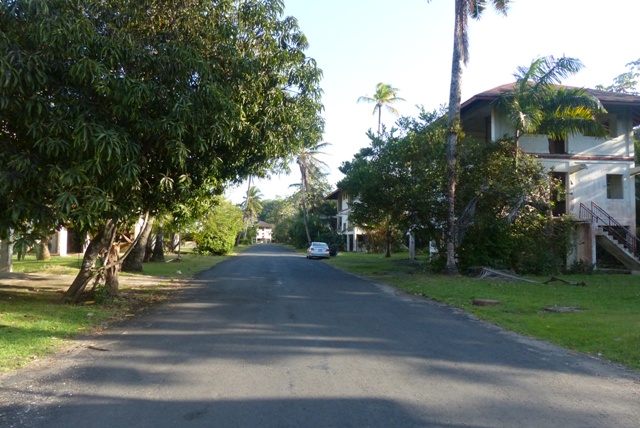 are now home only to bats….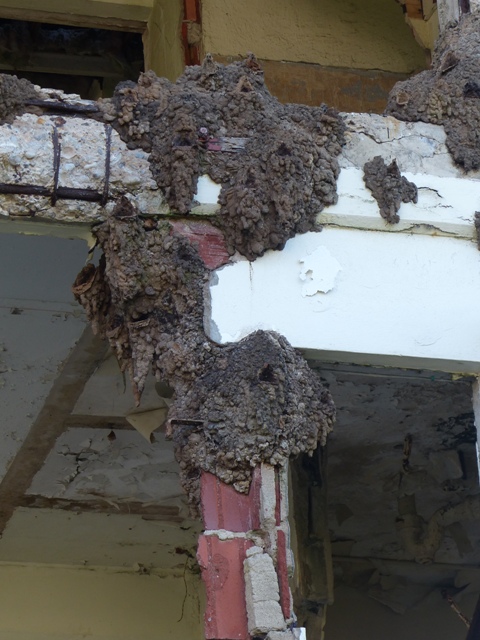 …..more of which can be found in "Battery Mower" [I kid you not!]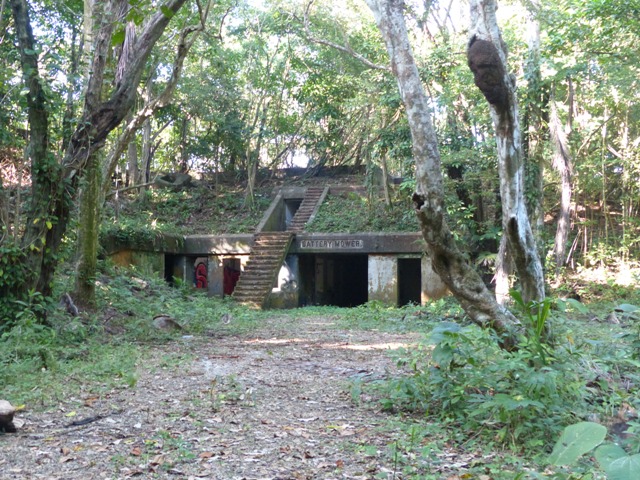 There are two beaches nearby, the closest is rather littered with plastic…….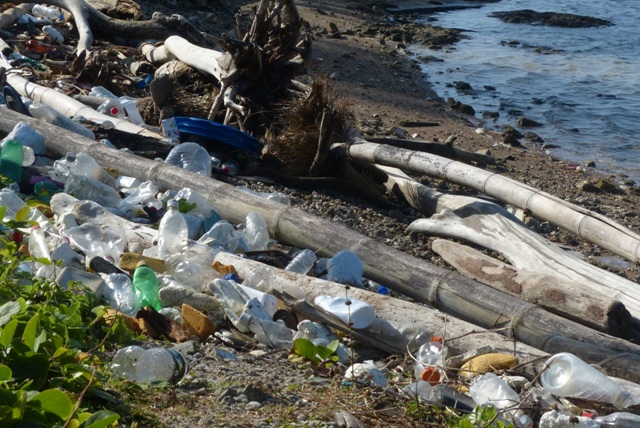 but "Diablo" beach –which I also mentioned in an earlier post – is popular with locals, particularly for catching octopus.
The walk to Diablo beach takes about 25 minutes and has become one of my two favourite strolls …..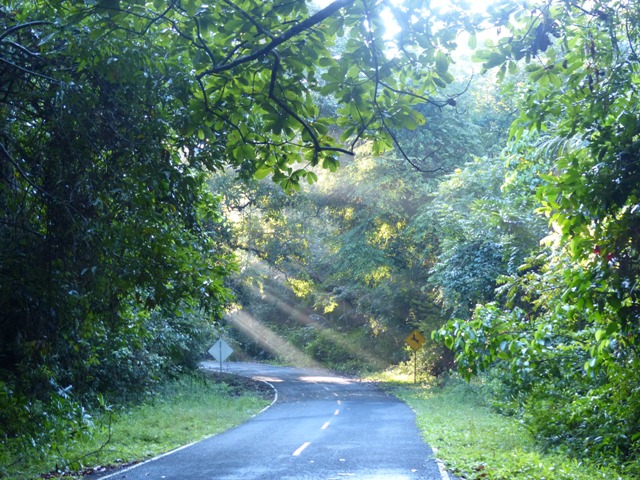 …particularly early in the morning….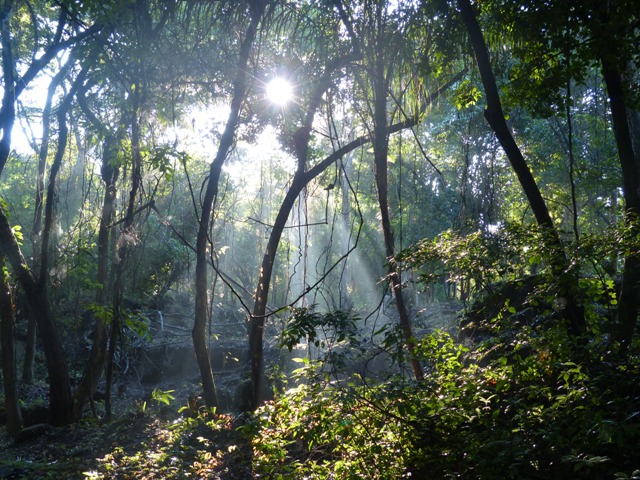 I have usually walked as far as the river crossing, in the hope of seeing a crocodile but the nearest I have come to any kind of river life is a turtle….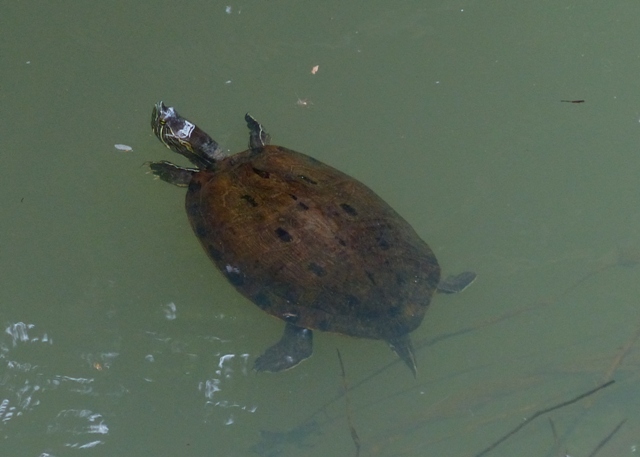 ….and I was lucky to spot that because from a distance it looked like a coconut floating downstream!
Actually, the above statement is a bit of a lie because, after all, insects are also creatures and Dragonflies can be found on the river….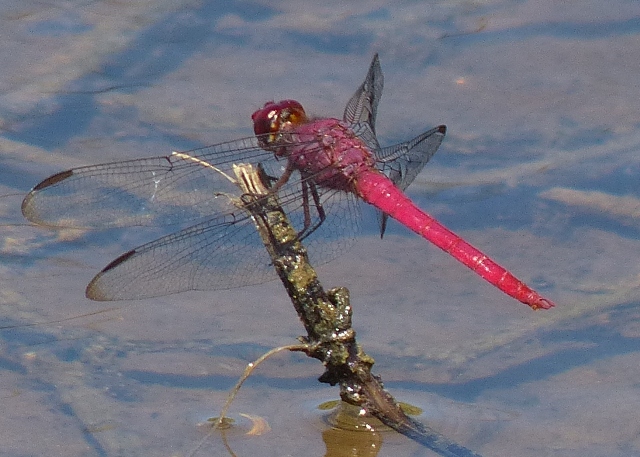 They can also be found in the cockpit at rather unusual times of day – or should I say night! Fortunately Mike spotted this giant before it scared me to death….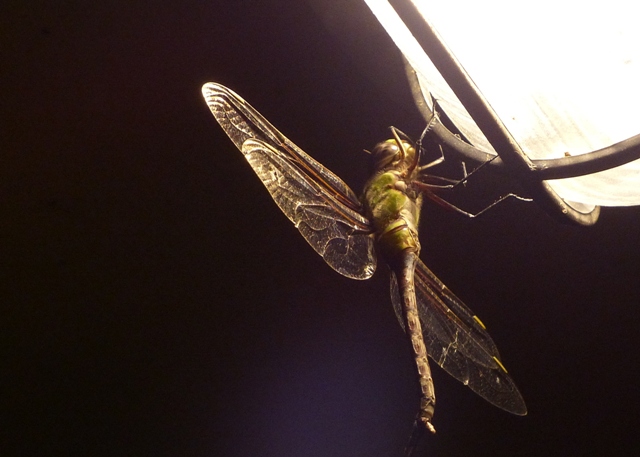 My other regular walk is around "the loop" ….
……where there are several Toucan nesting in the trees. I have heard them many times and seen them flying well above the treeline but, as yet I haven´t managed to capture one on camera.
Two birds which are impossible to miss, because there are so many of them, are the black vulture and the turkey vulture.
These birds can be seen overhead at all times of day…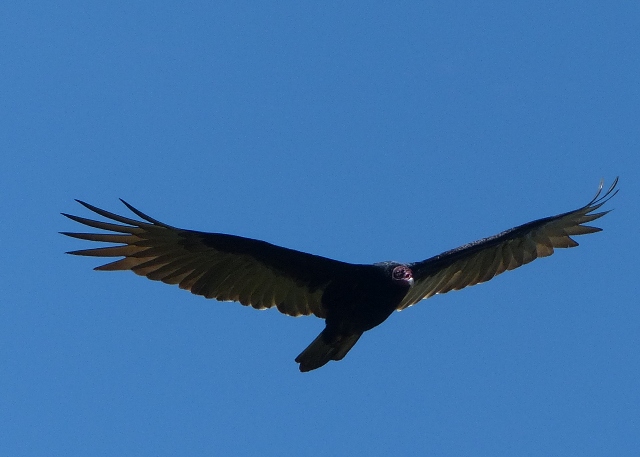 ….and they perch on posts, trees and rooftops in the early morning drying their wings….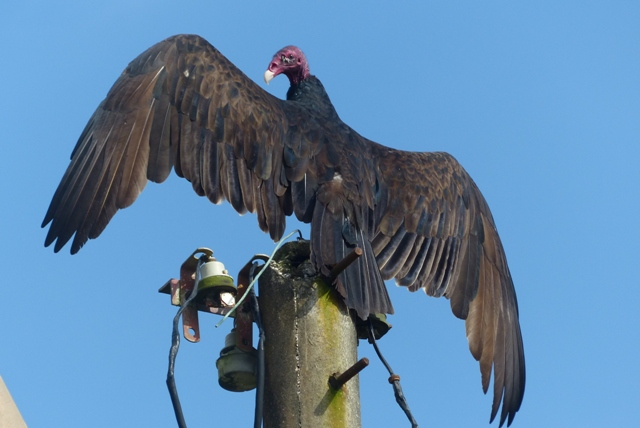 …..and looking for something to scavenge.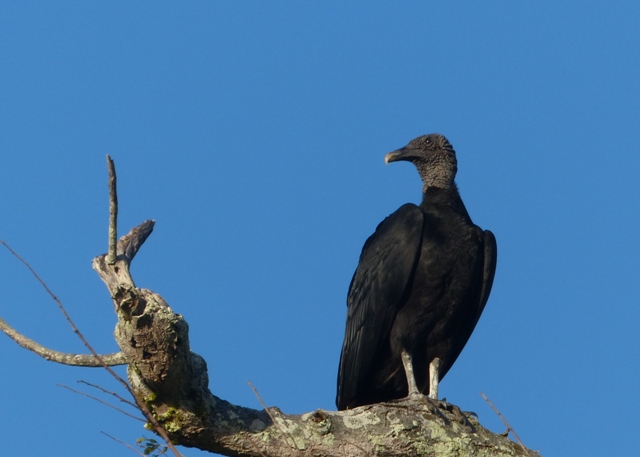 Mike really doesn´t like them and I think most people find them quite foul and dirty, which is hardly surprising when you think that more than 500 toxins and other mictroorganisms live on a vultures face – not to mention other things. Although the result is a bit blurry I have made a close up of the turkey vultures face and you can see the maggots on it….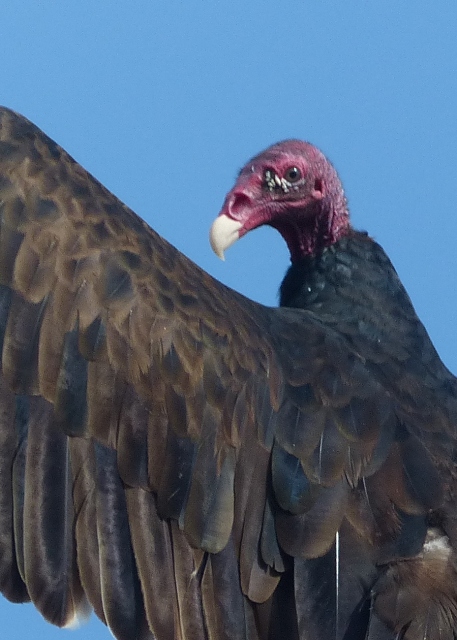 Whilst we might not like them, there are concerns in Asia that vulture numbers are dropping because the result is actually a greater spread of disease among the human population. By scavenging the rubbish, as they do at Shelter Bay….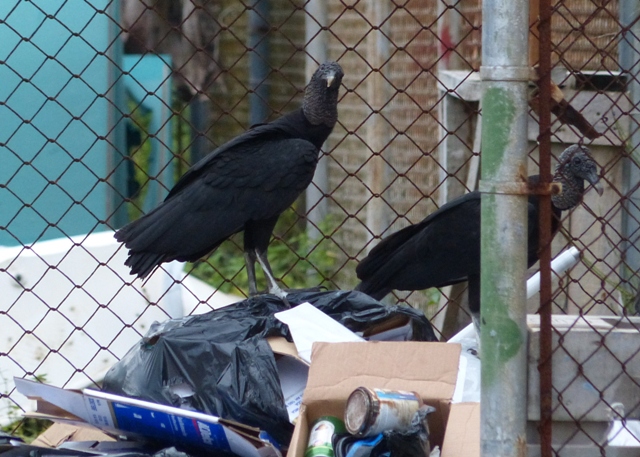 ….they reduce the number of rats and also "clean up" any rotting leftovers.
Another creature I spotted perusing some rubbish early one morning was a Coatimundi….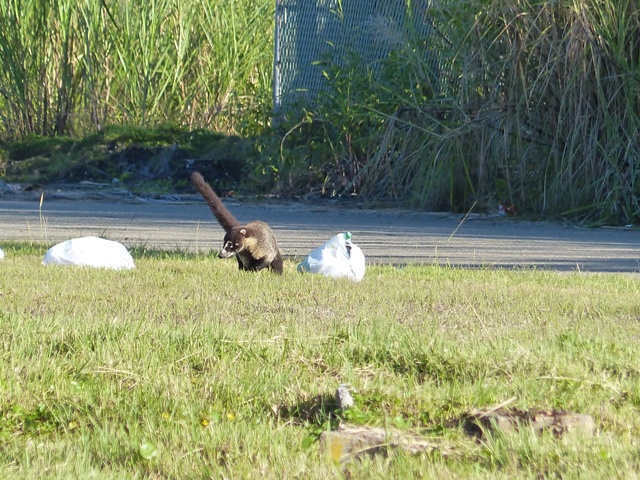 ….but being shy and nervous, he was a bit quick off the mark once he spotted me…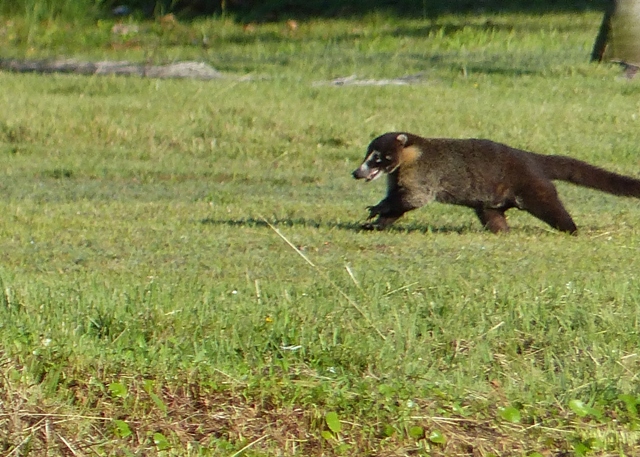 Similarly nervous and swift moving is the Capuchin Monkey, but fortunately I managed to find one contemplating life…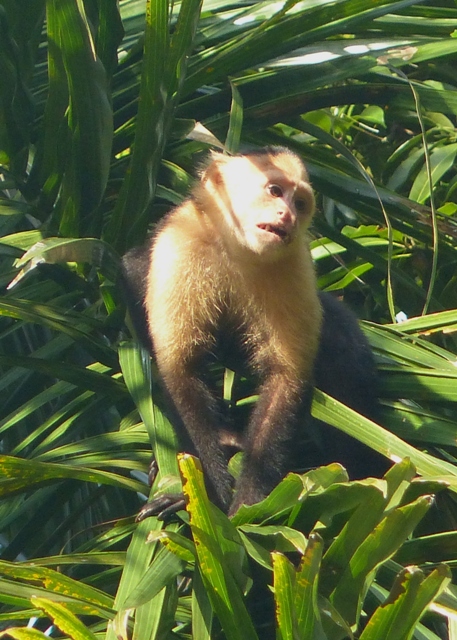 Another couple were busy eating their breakfast berries….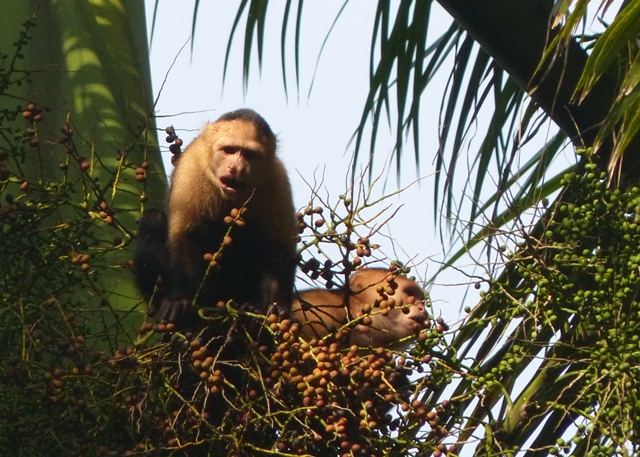 ….but on seeing me one bared it´s teeth….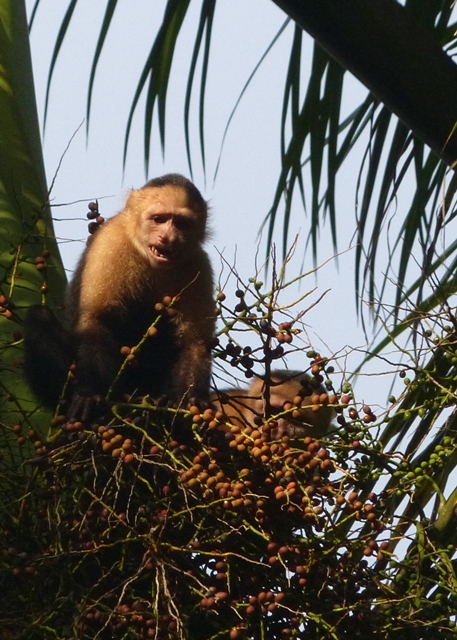 ….. jumped up and down in anger and then they both scooted away.
Far more nosy and "friendly" are the Howler Monkeys – but only if you consider having twigs and monkey shit thrown at you as constituting  "friendly"! However, they are quite happy to have people wander around gazing up into the trees to look at them.
They can grow to quite a size…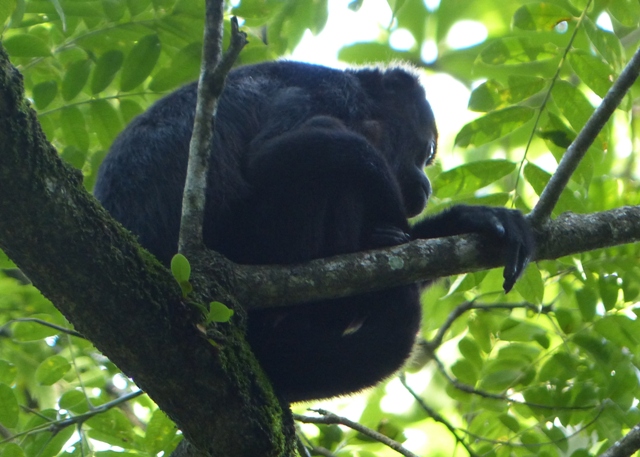 …but mainly we have seen slightly smaller ones…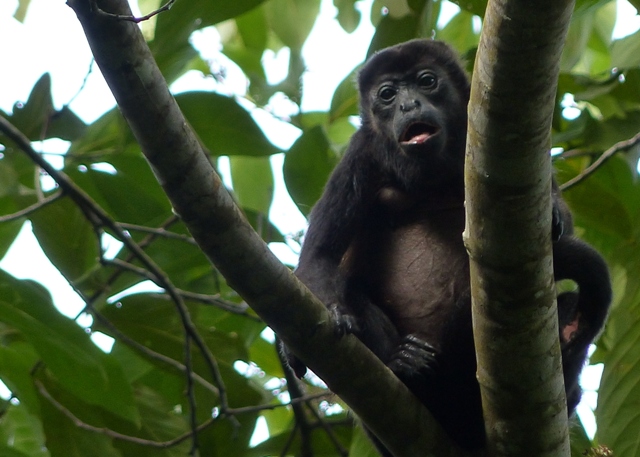 …and some really cute babies….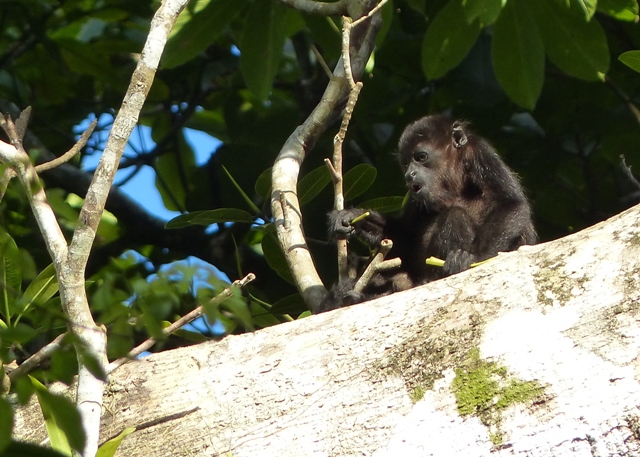 Listening to them, you would think it was a much bigger animal that made the loud howl they are named for…..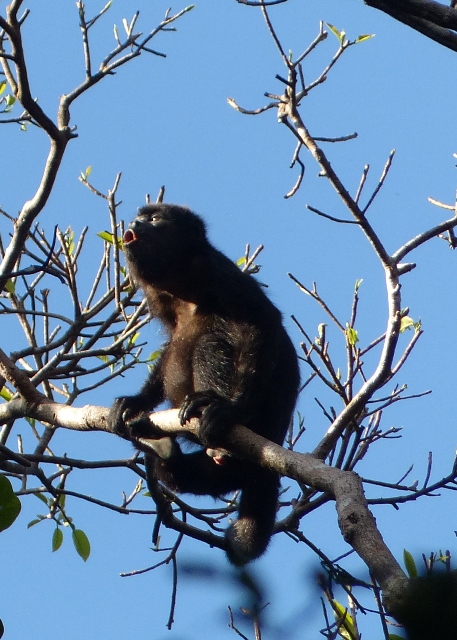 Some creatures are found in the most unlikely of places. I went for a shower one day and rushed back for my camera to take the Owl Butterfly which must have flown in through the open window…..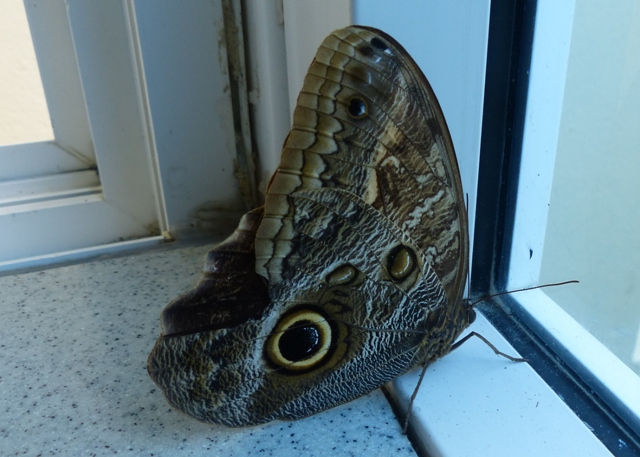 They are one of the larger butterfly species in Central America with a wingspan of 15cm [6inches].
Beautiful brilliant blue butterflies are everywhere – except where I want them to be when I have my camera with me – and all of them flit from flower to flower so much that they are hard to follow. This small butterfly [Yes, I know, its not the alliterative blue one!] finally landed so I snapped it quickly – and I rather like the flower as well….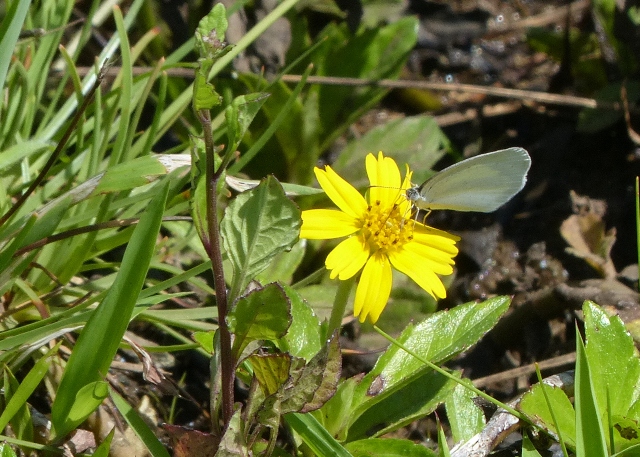 Surprisingly enough there aren´t that many flowers around. I have found an orchid….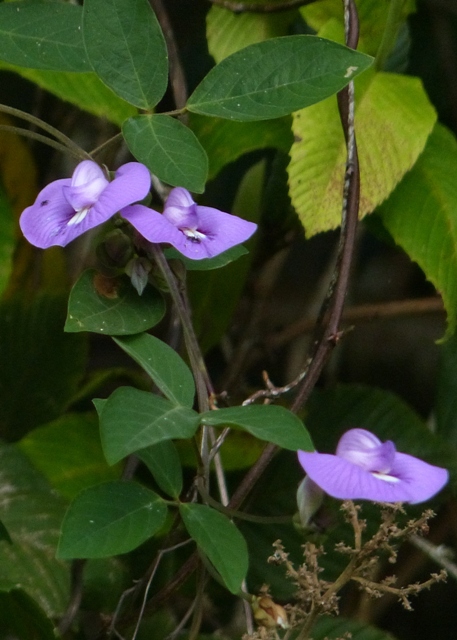 …. a "typical" jungle plant…..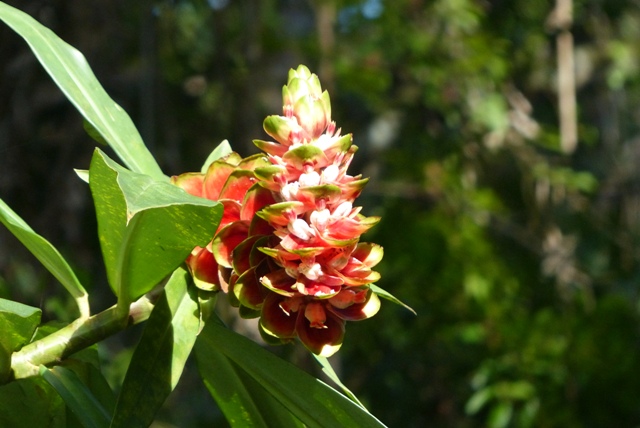 …and this, which is actually a weed.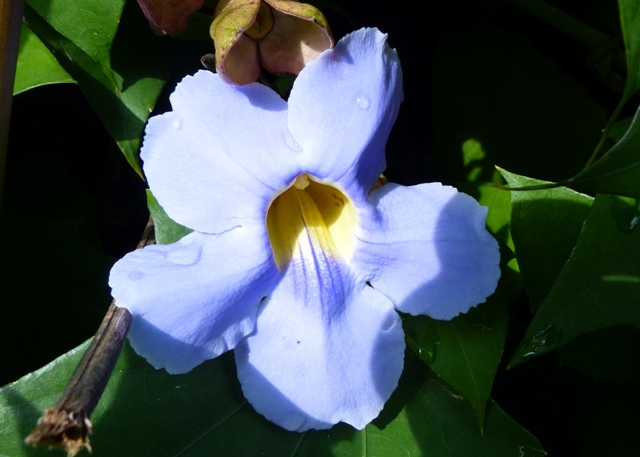 I was practicing with macro and rather liked the dewdrops – but surprised myself even more [yes, its fairly obvious I am an amateur at this hobby because I get excited about the smallest things!] when I managed to catch a raindrop falling from a leaf [to the middle right of the photo]….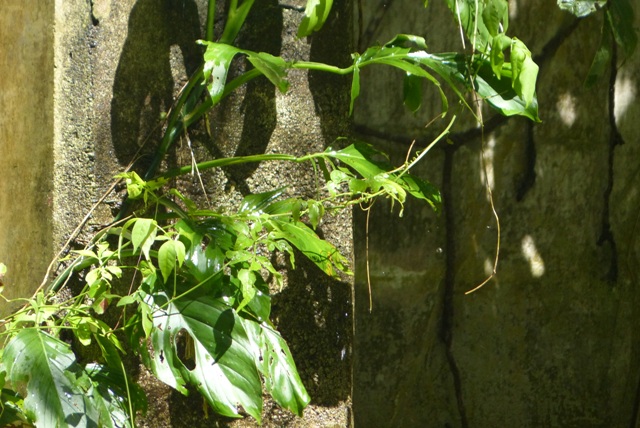 ….then bouncing off a stem.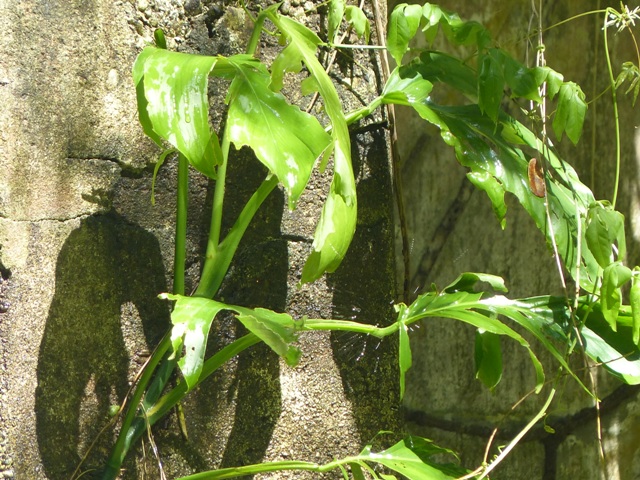 Shelter Bay is an excellent place for bird spotting. Because of the water there are Egret, both the Snowy….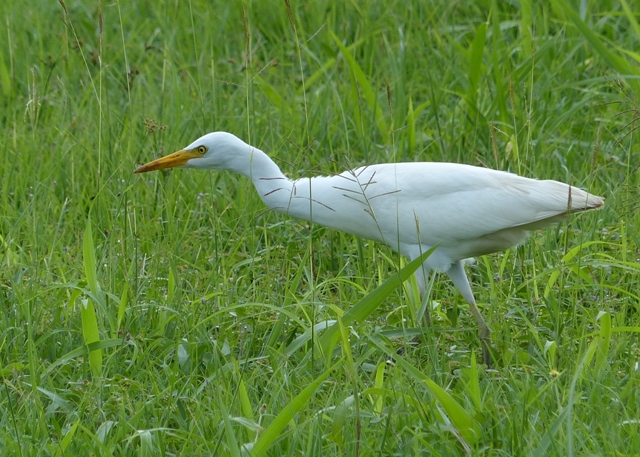 …..and the Great…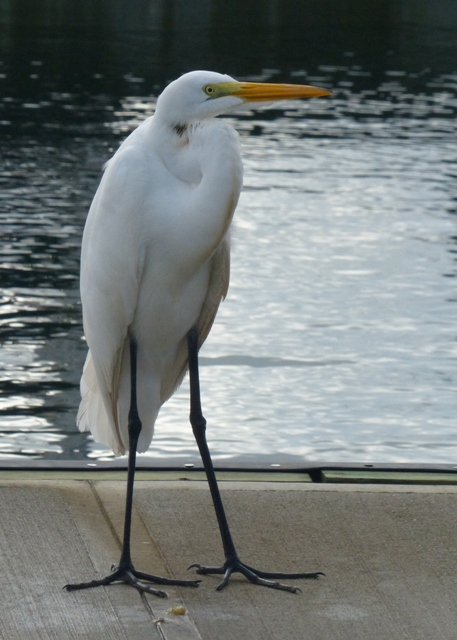 There are Southern Lapwing – female and male….
….which peck around in the grass near the water´s edge and I also saw what I think is some kind of wagtail…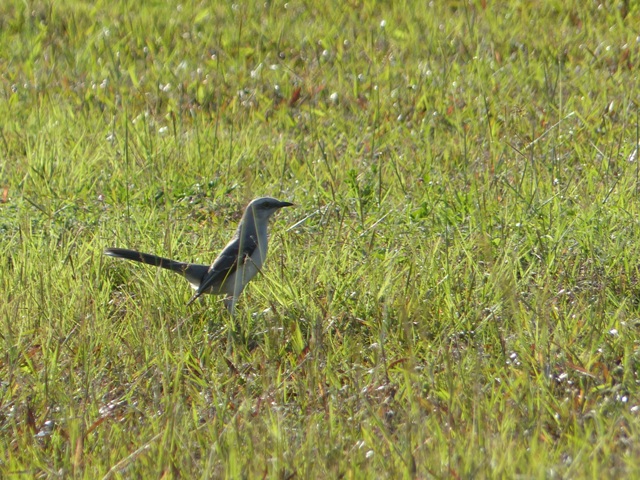 There are quite a few birds which I haven´t been able to name. One, fairly common, which also seems to like being near water ……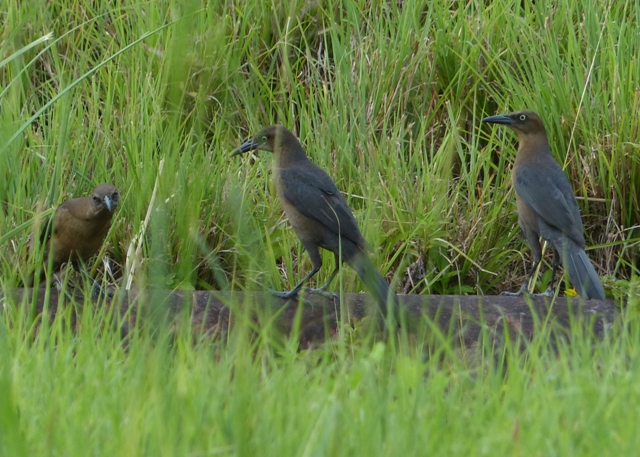 ….and the following which may be some form of flycatcher or they may be part of the sparrow family?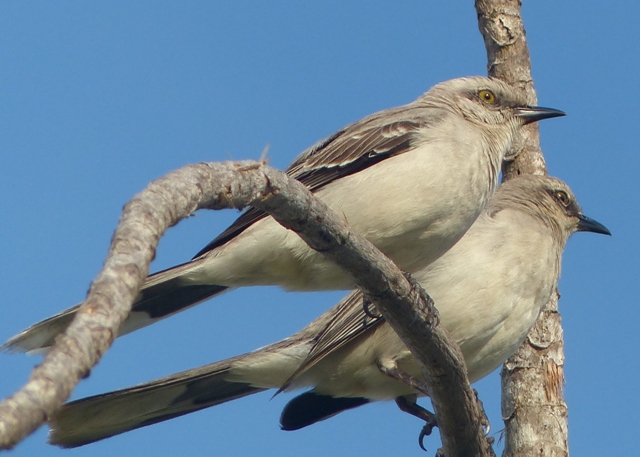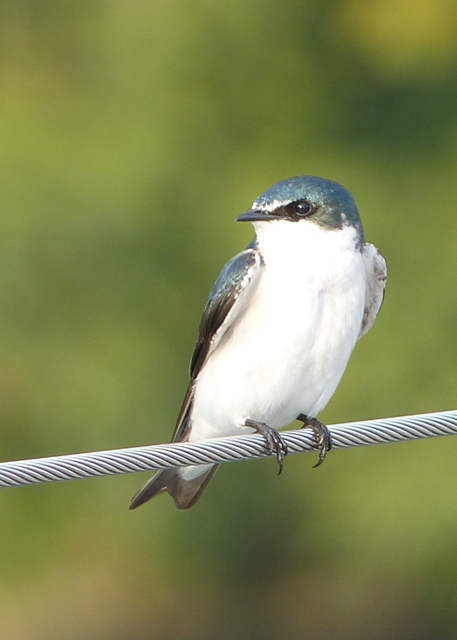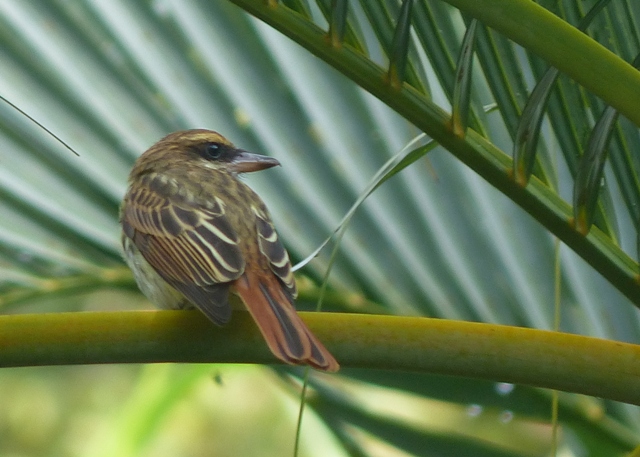 I am less sure about the last of the above three but one thing I have learnt about the first two birds is that they are "Passerines". Approximately half of all birds are in this category and their most distinguishing characteristic is the anisodactyl arrangement of toes – three facing forward and one backward which allows them to cling to both horizontal and near vertical perches.
One of the largest Passerines is the Giant Cowbird….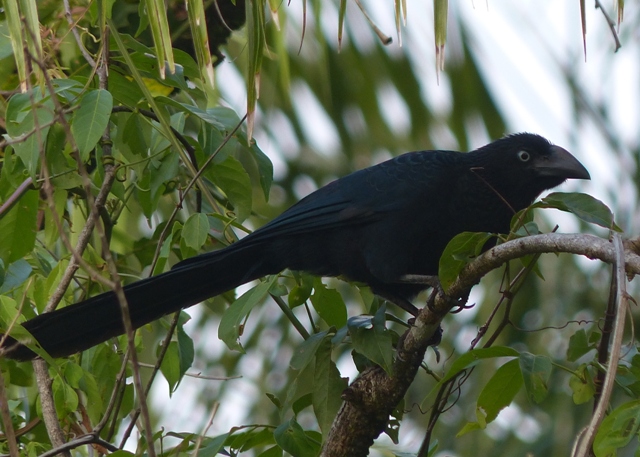 ….which is apparently also a brood parasite i.e. it lays its eggs in other bird´s nests.
The final bird I haven´t been to identify at all is this beauty….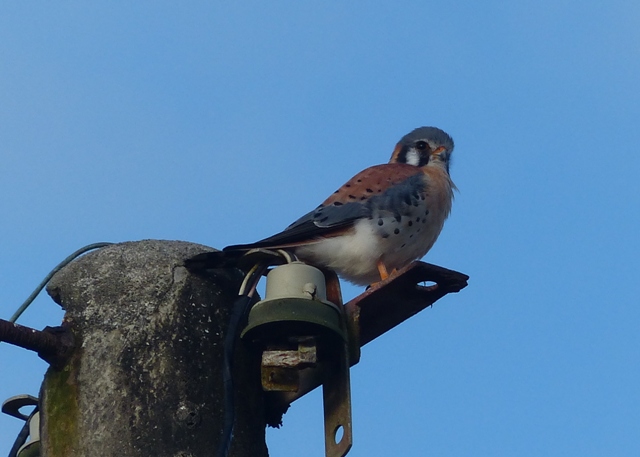 I am wondering if it is a baby and maybe, given the beak, some kind of hawk?
Two hawks which I have been able to put names to are the Yellow Headed Caracara….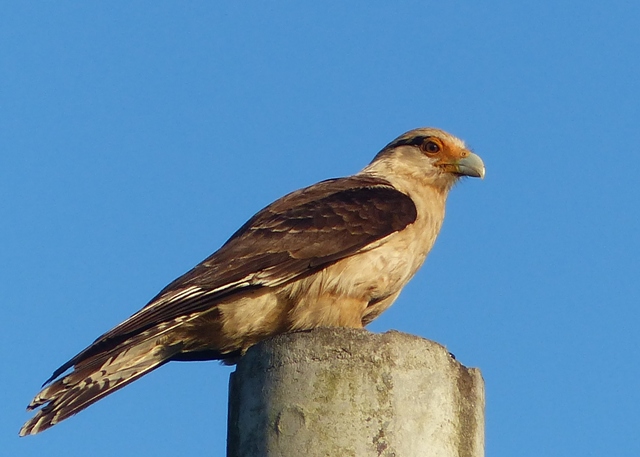 …. which is native to South America and also found in southern Central America, and Swainson´s Hawk…..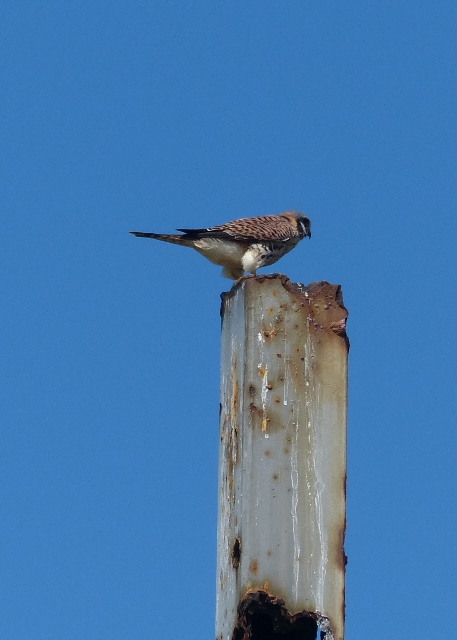 ….which is actually a native of the Northern US great plains but which migrates south in winter.
Another migratory bird which visited for a few weeks is the Baltimore Oriole….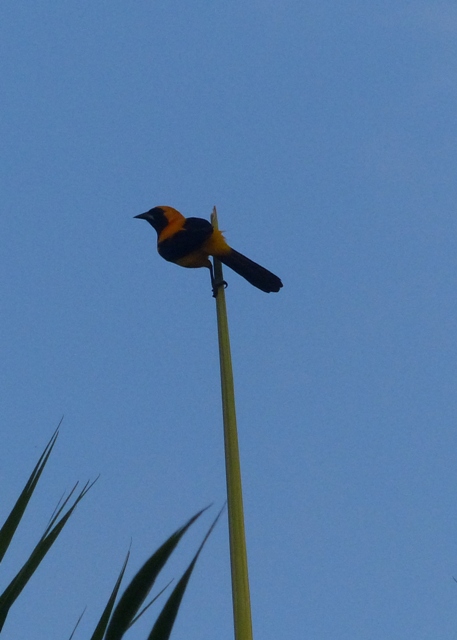 It has a very strange song – almost like a record winding down – you are never sure whether it will hit the last note of its "tune".
One bird who´s tune is heard regularly is the beautiful Kiskadee.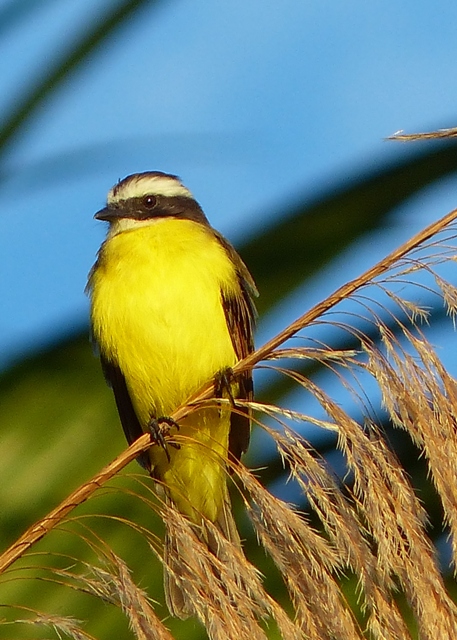 This is the Greater Kiskadee which is distinguishable from the Lesser Kiskadee by the yellow patch on its crown….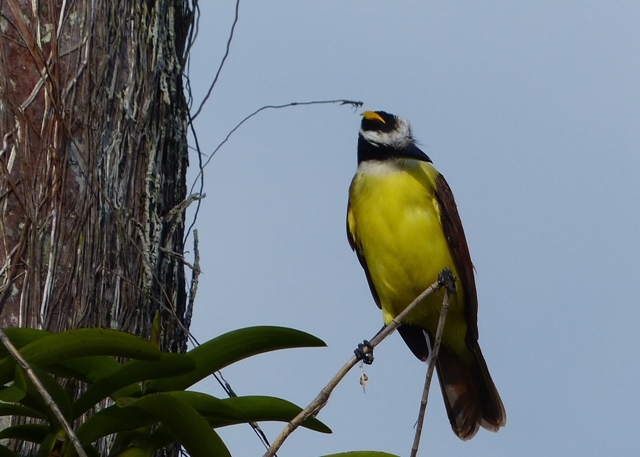 It is apparently quite easy to confuse the Kiskadee with a Tropical Kingbird….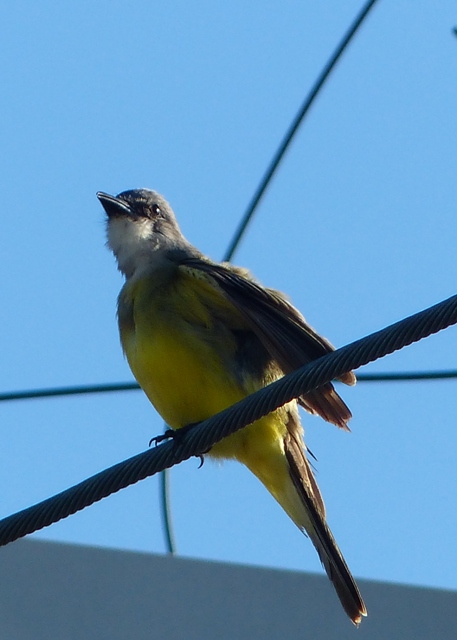 …….well it nearly fooled me, but the kingbird says "pip, pip, pip" rather than singing "Kis-ka-dee". Isn´t it amazing what you can learn!
There is also another similar looking bird – which may or may not be a female Lemon Rumped Tanager….
What I do know is that this lovely little bird is a definitely a Tanager – a Blue/Grey one….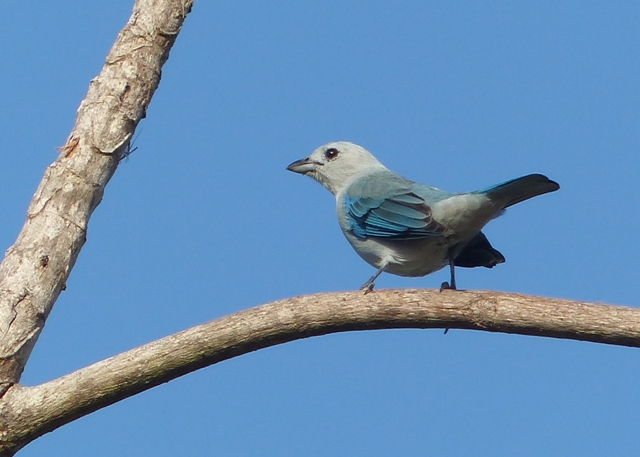 I saw several of them in a tree which has now lost it foliage and the birds seem to have disappeared as well so I am glad I saw them when I did.
An obvious foliage loving bird is the Hummingbird….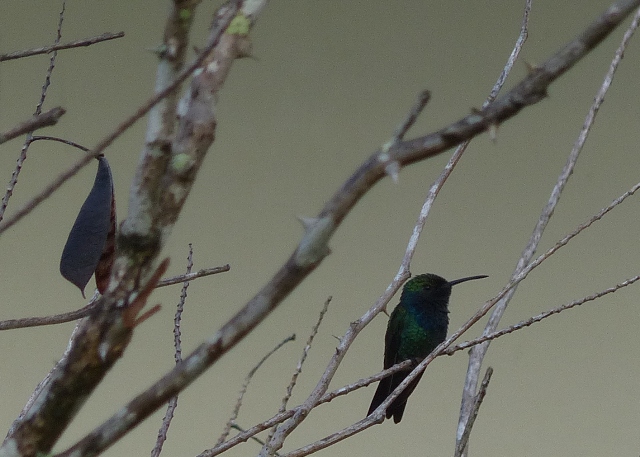 These birds always make me smile when I see them and, as many of you know, she became the subject of our Christmas Card this year….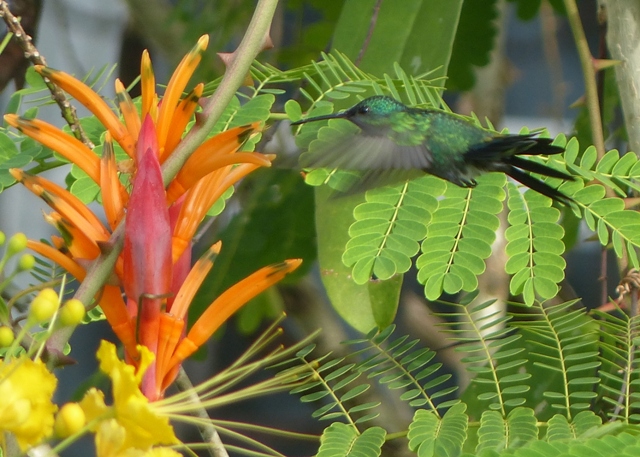 There are birds here similar to those found in the UK e.g. The Ruddy Ground Dove – here, not living up to its name by sitting in a tree!……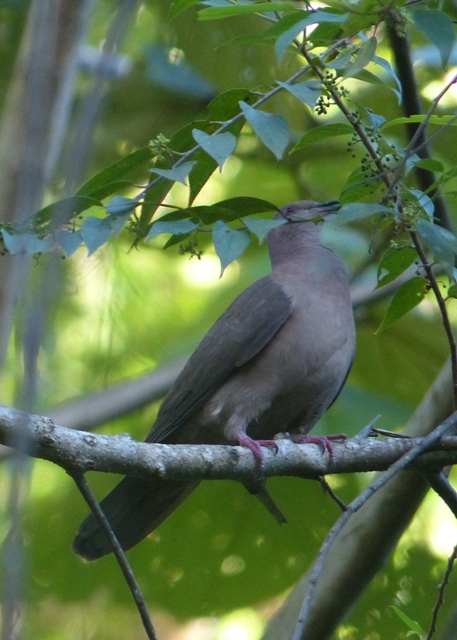 ….and woodpeckers….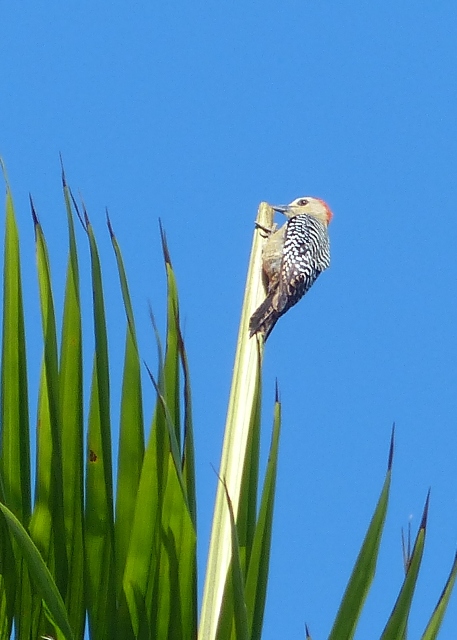 But I think it's the Tropical birds which are really special – they are so colourful.
The most well known are, of course parrots and macaws. On one occasion Mike and I saw a red parrot but the camera battery had died – too many monkey photos! I have, however seen quite a few green parrots….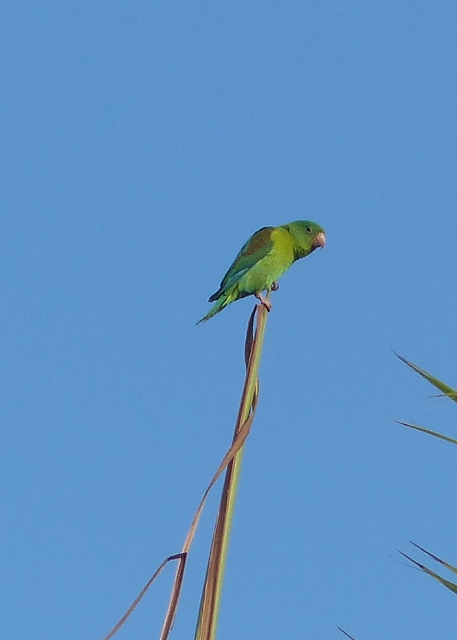 ….cheeky little things aren´t they!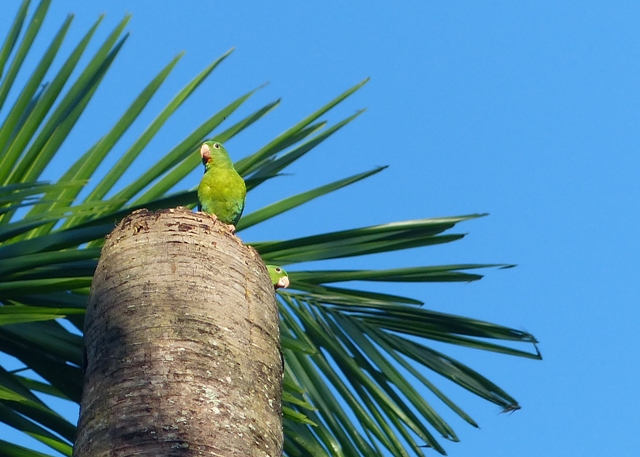 My "best find" birds have been two different Trogon. They belong to the same family as the Resplendent Quetzal which, you might remember, I got a vague photograph of when we visited Boquete. Oh that I had had my new camera.
Here is the White Tailed Trogan….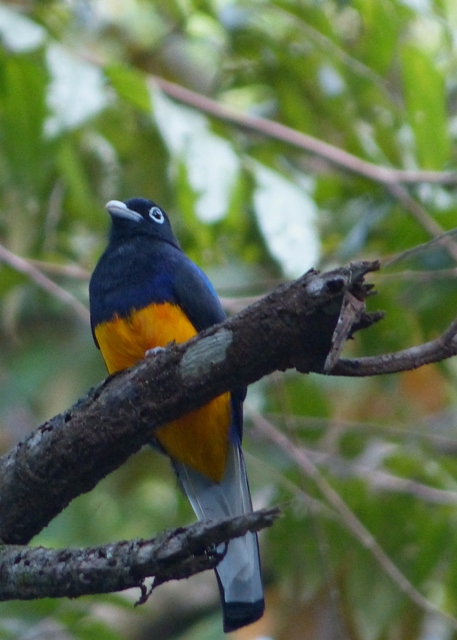 ….and the superb Gartered Trogon.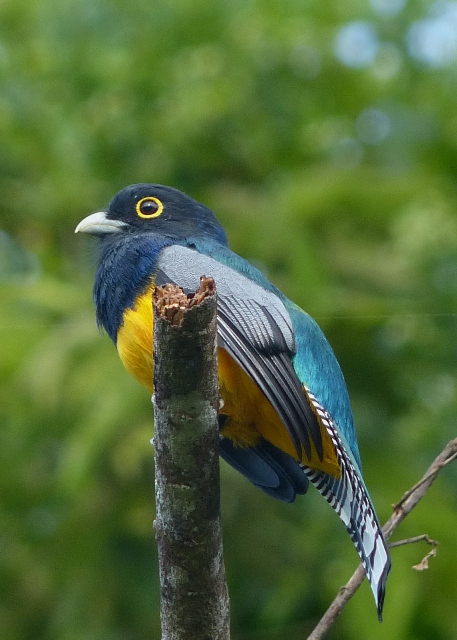 Talking of "best finds", I think the most unusual wildlife I have found is this….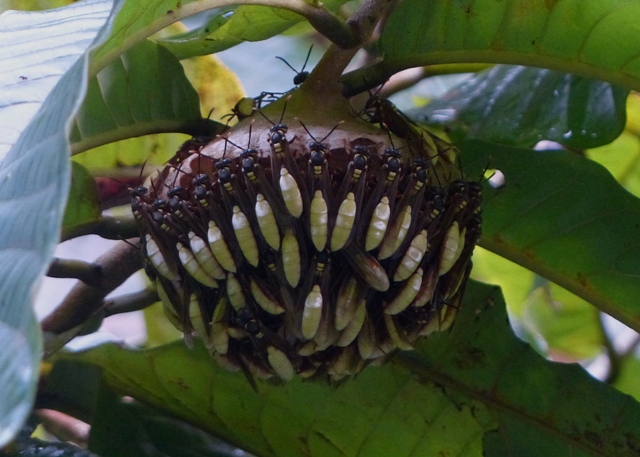 ….it is a "Nocturnal Wasp´s" Nest. I took it on one of my earliest sorties with the camera. I thought I had taken a photograph of a tree bud until I saw the photo on the laptop and realized it was something rather more special.
But, my most special find of all is this super Sloth.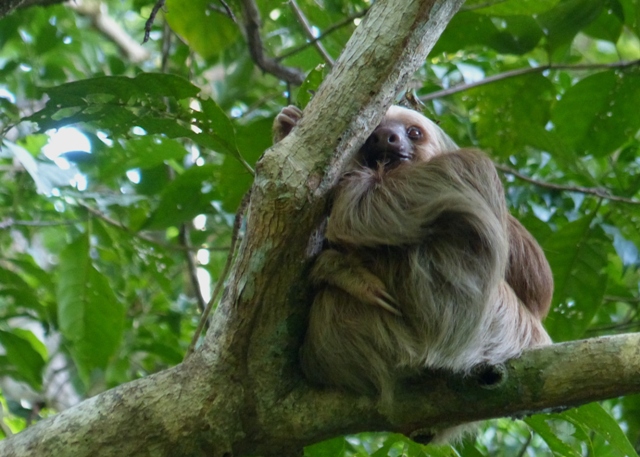 Sloths are meant to be everywhere but, try as I might, I have only seen this one. I will keep on looking.
In the meantime, I hope you have enjoyed looking at the wildlife. I have certainly enjoyed it and am so glad I have my camera to capture some better shots. I will finish with the first shot I took with it – its not in Shelter Bay, it was taken in Panama – but it is wildlife and a bird I love to see….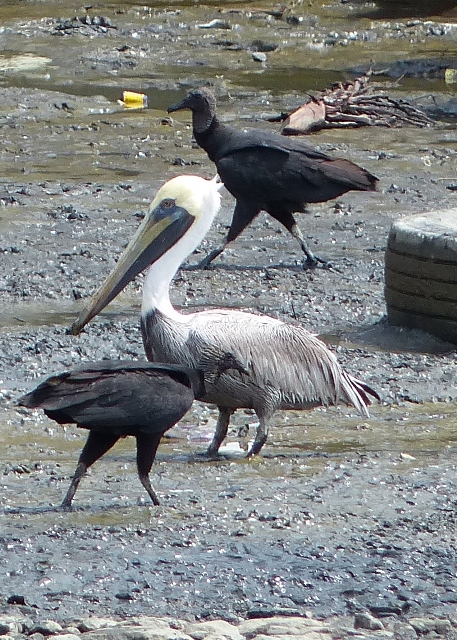 [No…. not the vultures!…..]