When we were planning our Central America trip we knew that we definitely wanted to go to Nicaragua and, as readers of the previous post will know, this was a really good decision. What we wondered was whether we also wanted to travel further north into El Salvador. I was keener to do this than Mike and, since I am the "travel guide", I decided a two week visit would be a good idea.
El Salvador is the smallest of the Central American countries and the most densely populated. Its currency is the US dollar but it doesn´t actually attract that many tourists – certainly not from the US – as many Americans are concerned that El Salvador is unsafe. There is a gang problem in the capital, San Salvador, but it is confined to certain "no go barrios" – which is the same for many cities worldwide. In parts of San Salvador homes and businesses are surrounded by razor wire but, once out into the outlying towns and villages and up in the mountains there is little evidence at all of a need to be concerned. We found that taking "normal tourist precaution" left us feeling secure for our personal welfare and belongings.
We actually got it wrong once – during our first day in San Salvador we mistakenly wandered into one of these no go areas where the main road became a side road and then an alley and then got even smaller! However, having asked a young woman which route to take to get out she promptly left her young baby with her friend and led us on a twisty journey through the barrio and safely out the other side. She stopped to speak to a few women friends en-route, probably to explain what she was doing with the stupid gringos, and chatted to us in slow Spanish so that we could understand her. She confirmed that there is a problem with young men, guns and knives but as soon as we reached the Zona Rosa area [our destination] she basically told us that from there on we wouldn´t be bothered at all.
Aside from a couple of these barrios, the main part of San Salvador is split into three distinct zones. We were staying in a hotel in the quiet residential area surrounding the University, Zona Rosa forms the up-market hotel/business/fast food outlet/shopping mall district and the third part is the original city centre.
We had started our day with, what we thought would be, an easy walk into the centre. It became a two hour trial with frequent consultations of the map – held at every conceivable angle – and several about turns as we struggled to find our way through a maze of largely unmarked streets. We finally came to the central plaza….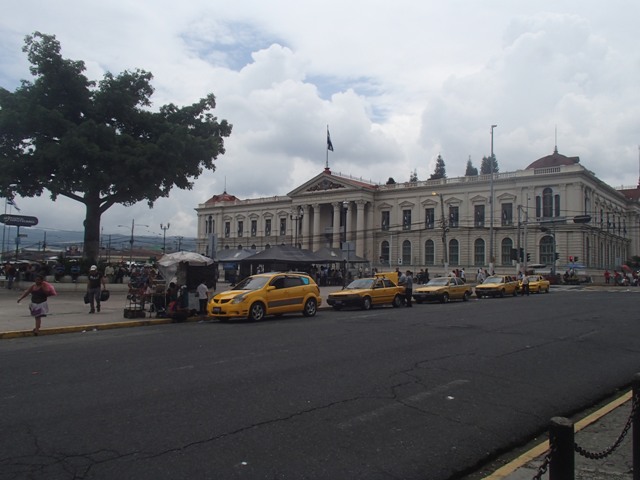 …with the "Palacio National" on one side and similar buildings on two other sides. We decided to do what the locals do and sat on one of the low walls surrounding some of the trees and were promptly delivered of a huge slimy greenish present – a great splat from a passing pigeon – which didn´t help with our much needed map! Though I guess we should be grateful it didn´t land on our heads. Good start to the day so far!
The guide book told us that if we wanted to visit just one church [and one per town is generally enough for us] then we should go to "Inglesia del Rosario". So, dutifully, we made our way in the appropriate direction but on approach I said to Mike "Surely that can´t be it? It looks abandoned – or worse!"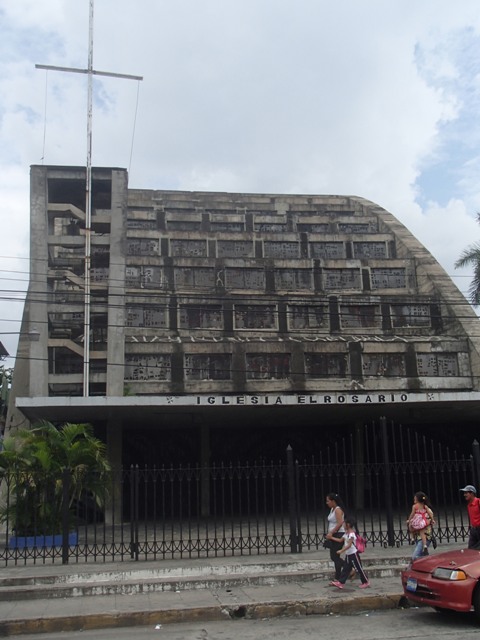 But it was open – well, just – it closed for lunch [?] about 30 seconds after we arrived so we only had enough time to look through the door and take a quick snap of its [only] attraction.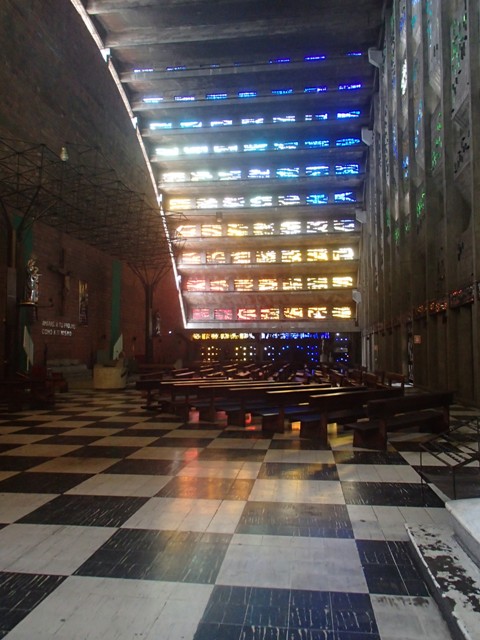 The rest of the city centre was a jumble of concrete buildings with market stalls along the pavements and roads.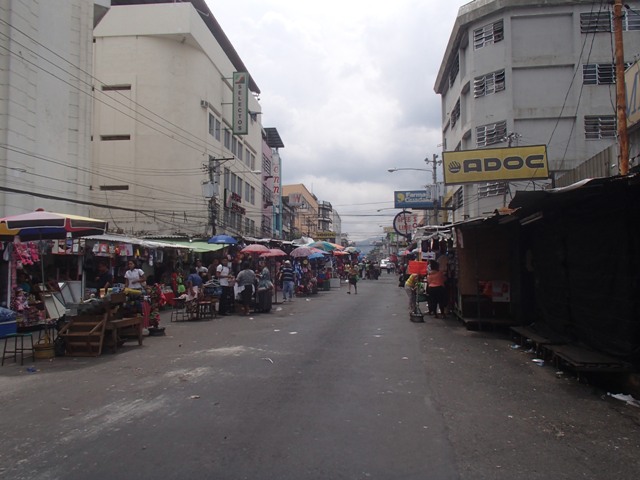 There was nothing here to entice us so we decided to go to Zona Rosa for lunch – which is when we got lost and had the "adventure" outlined above. In a nutshell – it is fair to say that our introduction to San Salvador was not the best. In total we walked for about 6 hours and found nothing we wanted to eat [it wasn´t until we finally got to Zona Rosa that we realized that places like "McDonalds", "Krispy Kreme Donut" or one or other variety of "Tex Mex" were our only choices]. We did pass the "Plaza las Américas" with the Savior of the World [El Salvador del Mundo] statue at its centre…..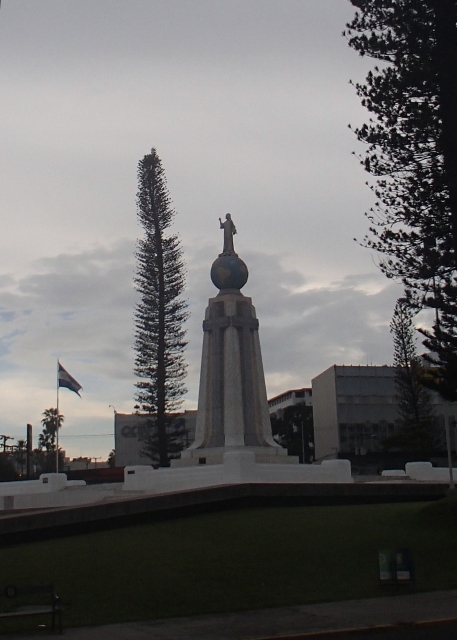 …..and, in Parque Bolivar we saw what was probably the most interesting of all the city´s sights ….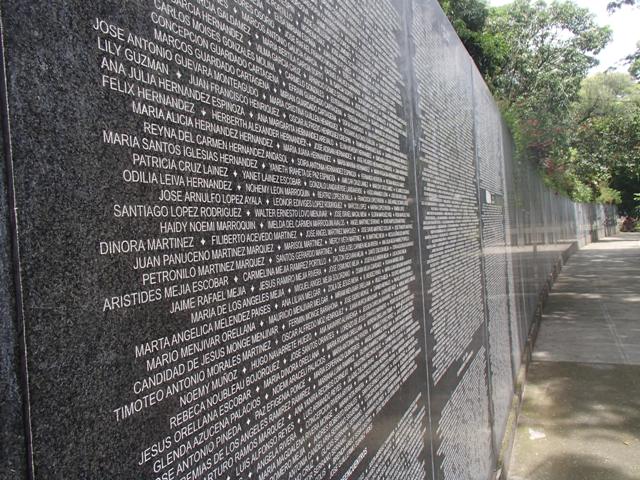 …..this monument to the 75,000 people who died in El Salvador´s 12 year Civil War which only ended in 1992.
So, footsore and weary, we headed back towards our hotel, wondering how on earth we were going to spend the next three days in the City. Fortunately we chanced upon a number of small café/bars which were in the residential neighborhood and in which we found food we actually liked! Our first stop was Café La "T"……. described as a "lefty" hangout with some great wall art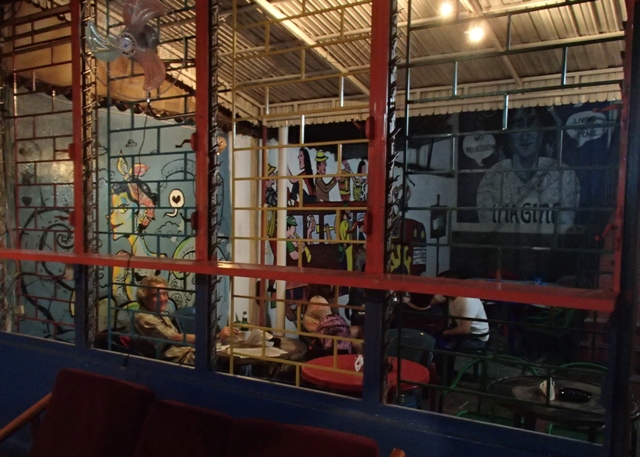 ……and, over the next couple of nights we also visited two local pubs, both of which were student hangouts where your crate empties were counted at the end of the night as your bill……and where there was decent music and real beer….
What we also found was that San Salvador is actually an excellent base from which to visit nearby towns, volcanoes, gardens etc. Buses are easy to use and cheap, the people are very friendly and there is really quite a lot to see and do.
We visited Volcán San Salvador where the "El Boquerón – "Big Mouth" crater [1,893m/6,150ft] contains within it a small [45m/150ft], perfectly symmetrical cone.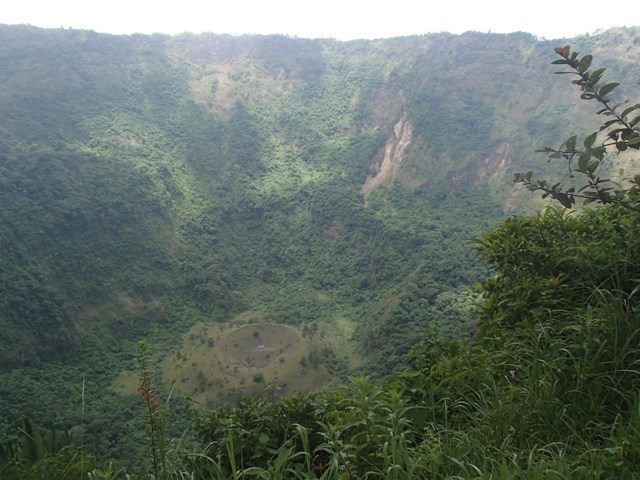 We ate local raspberries [$1/65p per bowl] from a roadside stall….
….and fancied ourselves in a small exhibition of culture!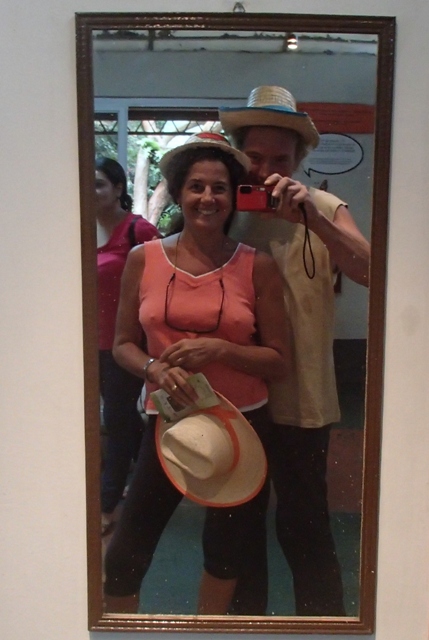 We went to the pleasant small town of Santa Tecla…..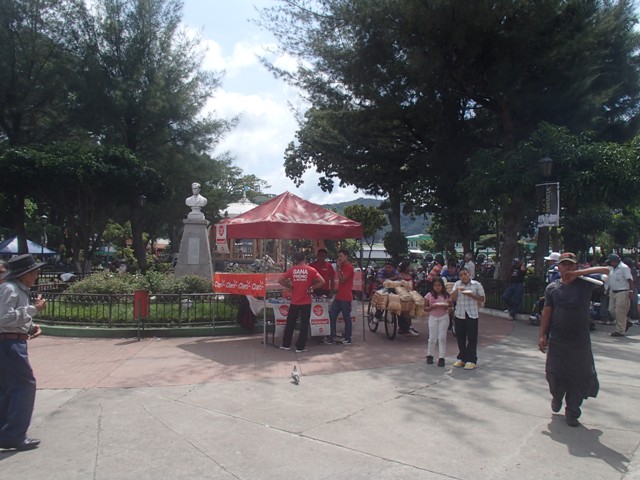 … [which had a great coffee and cake shop] and saw this very strange church.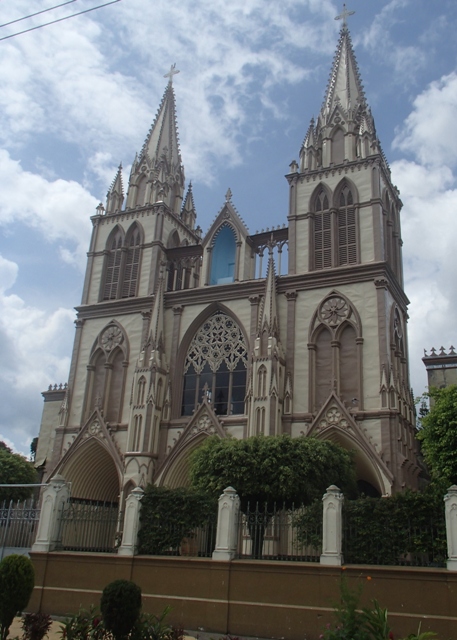 Would you have guessed it is made from tin panels?
We went to what is probably the best museum we have visited in the whole of Central America….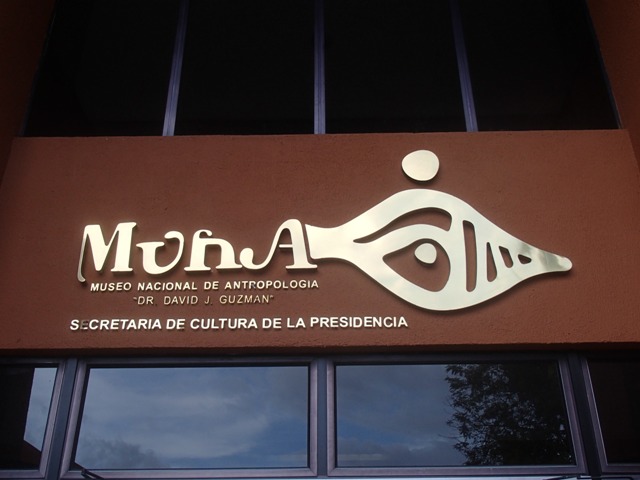 ….where the exhibits were beautifully presented, well documented in both Spanish and English and of excellent quality…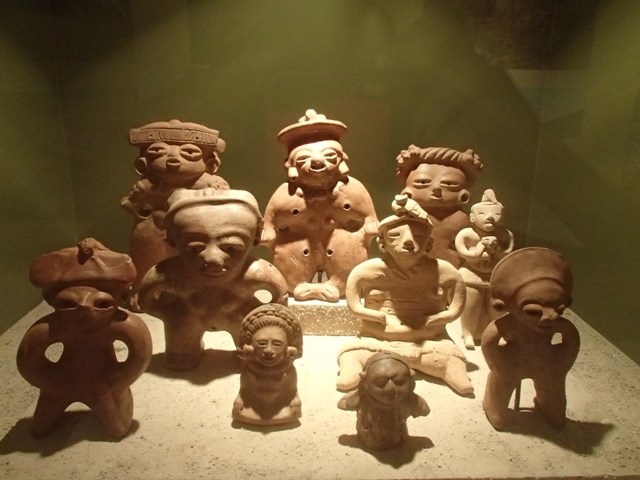 We also managed to find the "Museo de Arte Popular", a small gem of a museum dedicated to folk art such as weaving, though best known for its collection of "sopresas" which are miniature scenes of life modeled in clay….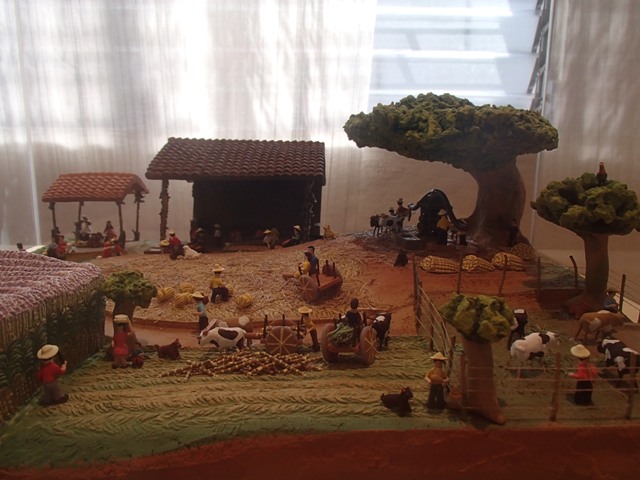 ….and, of course Mike was particularly taken with this one….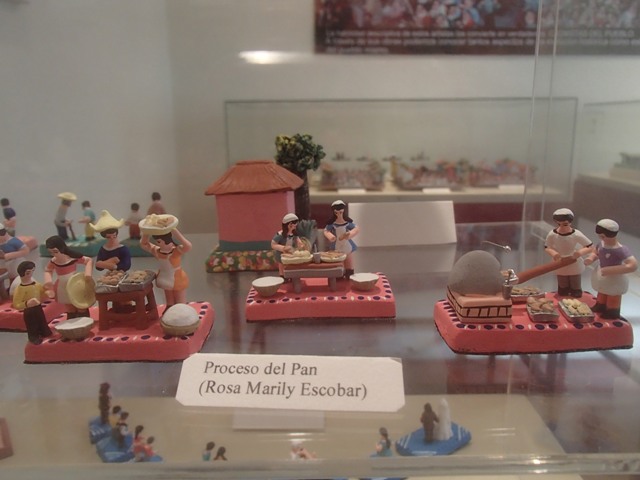 We passed through the attractive old town "Antiguo Cuscatlán….all decked out for Independence Day….
…..on our way to "El Jardin Botanico La Laguna"…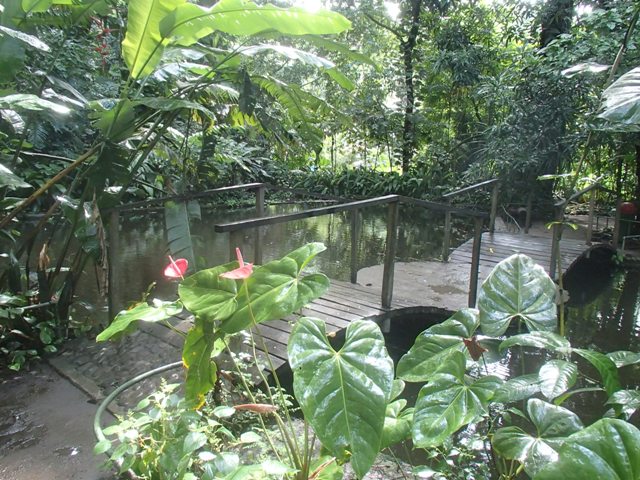 As well as being a botanical garden was also a garden centre [Maggie and Chris would be proud of us!]…..
It was also a place where locals come to feed and photograph the turtles.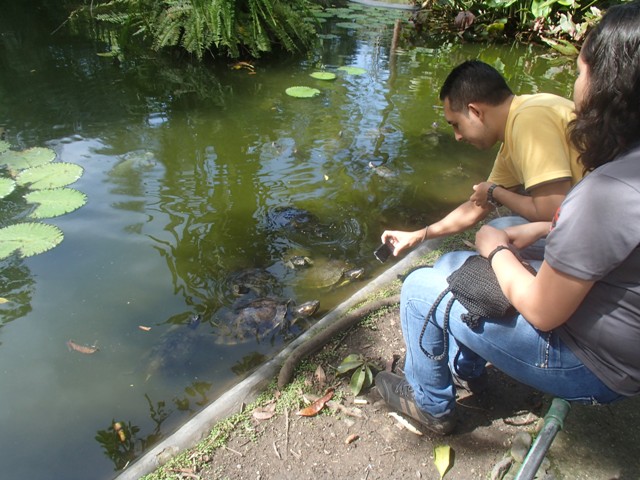 Our final visit from San Salvador was to "La Libertad". From the description in the "Lonely Planet" which included phrases like "infamous port….an uneasy mix of drugs, crime and surfing" and "sticky fish market" and "stinking hot working class city with loud mouth touting" you would think it should be avoided at all costs. But other phrases like "cool café´s, bars and restaurants" and "highly recommended ´cazuela´ [seafood soup]" and "shrimp cocktails on the beach front" tempted us. It was a great day out. The pier stretches out into the sea and at its end has two cranes which haul all the fishing boats onto it….
……and it has a well stocked, airy, and not sticky, fish market at the promenade end…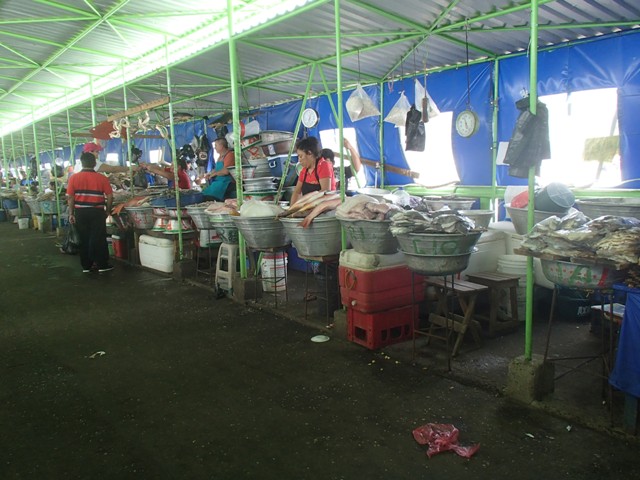 The weather in the mid afternoon brought large dark clouds and in that light the town reminded us of the Fylde coast in the 1960´s [for all non UK friends – that is in the NW of England where Mike and I grew up!]
….and the food was delicious – and nothing like 1960´s Britain!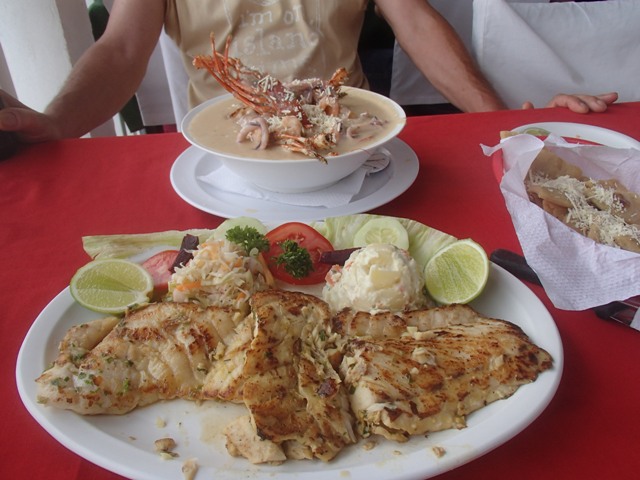 So, after an inauspicious first day San Salvador turned out to be a great place to stay – and the rest of El Salvador proved the same.
We moved next to Santa Ana, a town with a colonial past…. where some buildings are less renovated….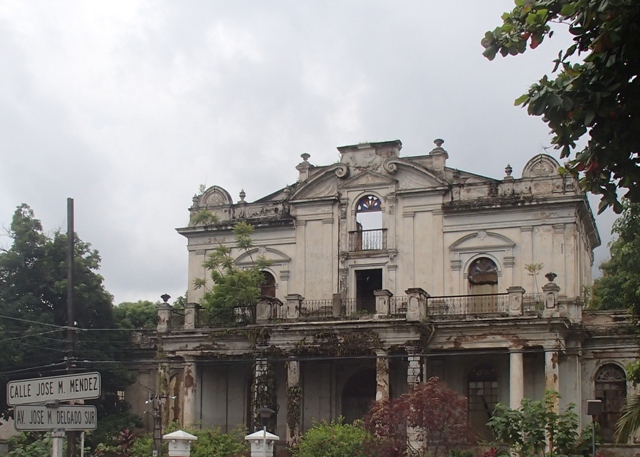 …than others….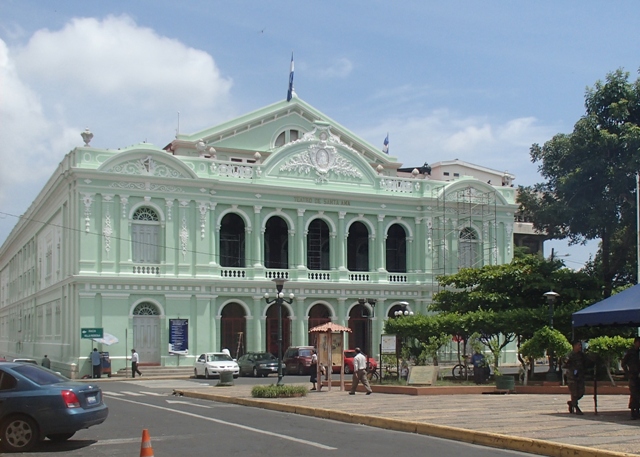 It also has a large Neo-Gothic cathedral….….and an enthusiastic Police Band!
From Santa Ana we ventured to the "Parque National Los Volcanes". This turned out to be rather a disappointing day. We had been told there was a 9am bus which, with a journey time of 1.5 hours, would have got us to the park in time for any one of the four available guided walks which leave at 11am. There wasn´t a 9.00am bus. To get to the park in time we needed to have caught the 7.30am bus – not that Mike would have liked that very much anyway! Because the website advertised a smaller self guided walk we decided we would make the trip – only to get there and find that the self guided trip wasn´t – you had to take a park ranger with you – and pay a "tip". The 45 minute walk could be [and was] completed in far less time than that and the time of year meant the rain clouds were around so there was really nothing to see.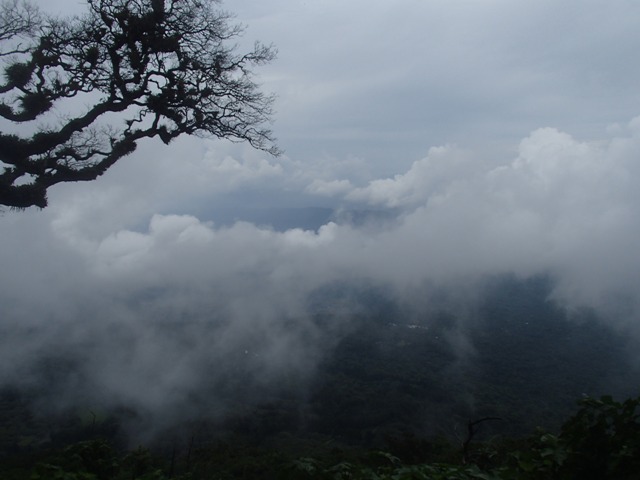 Ah well!
A much better day trip from Santa Ana was to "Lago de Coatepeque" where the views were magnificent….

However, we almost got this trip wrong as well. As the bus descended into the volcanic crater most of the passengers stood up to get off. We could see lakeside buildings and thought we must be there so got off too. No! This was the stop for a small village….the lakeside restaurants and hotels were about three miles away down a dirt track – which the bus proceeded to follow. Having realized our mistake, but not at that time knowing how far it was, we set off. Fortunately an elderly couple in a "pick up" truck stopped and, yep, picked us up! Mike was particularly pleased about this because throughout our travels we have seen lots of locals travelling in this way – but we had never before managed it ourselves.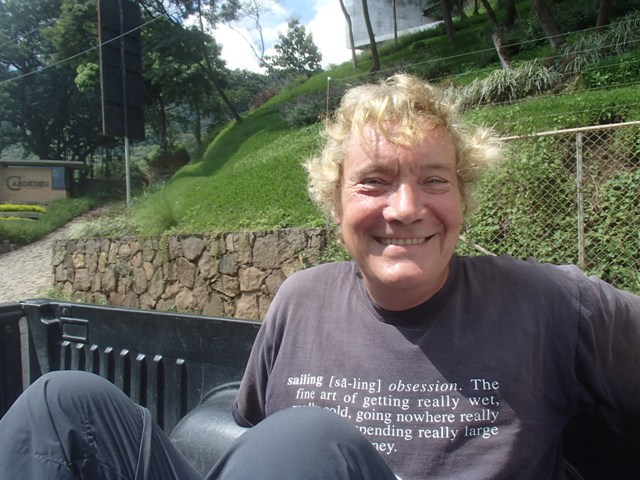 It turned out that the couple, although kind in stopping, had an ulterior motive. They were the owners of one of the lakeside restaurants! Despite its name [a place we have always said we wouldn´t visit!]….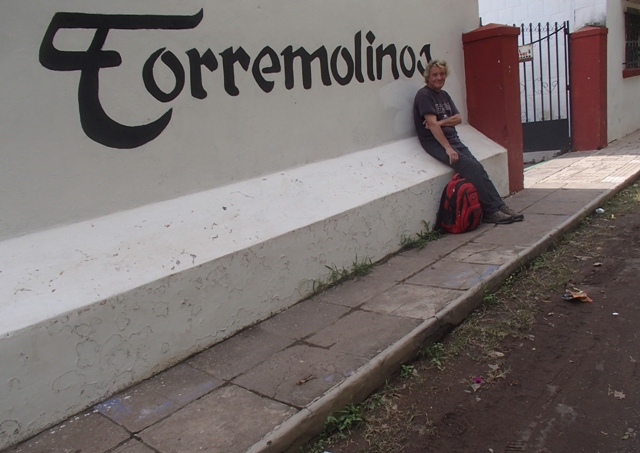 …it was actually the restaurant we had read about and were heading for, so all was fine and, it was an absolutely splendid place to have lunch and look out over the other lakeside restaurants….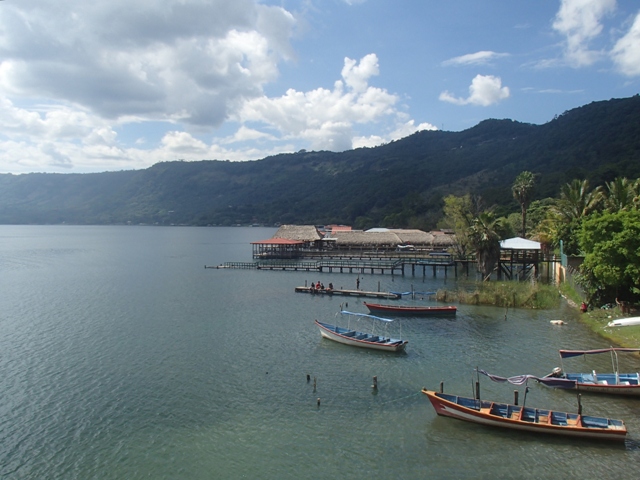 …..and across to the volcano we had visited the previous day – still in cloud!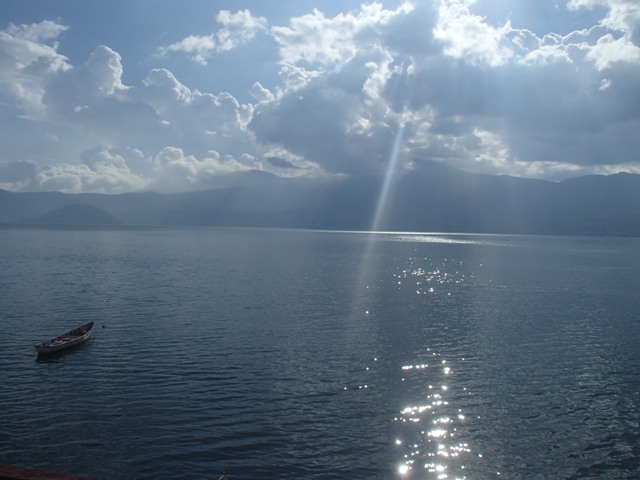 We found out that for $35 [approx £23] we could have stayed the night. Had we known it advance then it would have been a nice thing to do because I am sure that an evening drink on the lakeside watching the sun set would have been quite stunning.
One of the main reasons I had wanted to include El Salvador in our itinerary was because of the famous food festivals held on the "Ruta de las Flores", in the north of the country,  described as "lazy weekends of gastronomy". I don´t know why Mike wasn´t keen on El Salvador – that description alone got my attention! The route is a winding road about 36 miles long which passes through the mountain villages of Juayúa, Apenaca and Ataco.
We had opted to stay in Juayúa – which, although nearly impossible for me to remember how to pronounce – its "Why – ooh – ah" – was probably the right choice because it housed what is possibly the best restaurant in Central America. The chef at "R&R" is a self taught local guy who, using no salt but lots of local produce and interesting flowers and herbs as seasoning produces the most unusual but deliciously tasty meals. Maybe his presentation wouldn´t pass muster on Masterchef….
….but his skill would. Amazingly, all the different sauces blended together into a taste sensation and the potatoes served in their little stone pot were delicious. We went twice! Thanks, Carlos, for your fabulous dishes…. sorry about the blurred photo!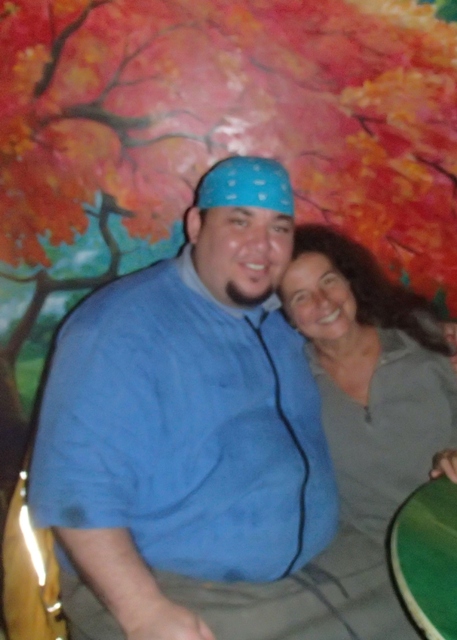 A twenty minute walk downhill from Juayúa  is Los Chorros de Calera – a waterfall which runs over fractured cliffs.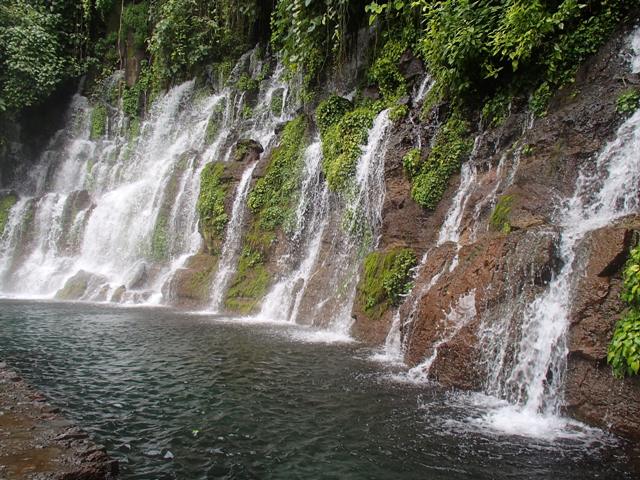 Maybe not the most spectacular of waterfalls but it was a pleasant cool walk – particularly the bit beyond a gate which, apparently, we weren´t supposed to go through and from where, having reached the burbling little stream at the bottom, we were turned back.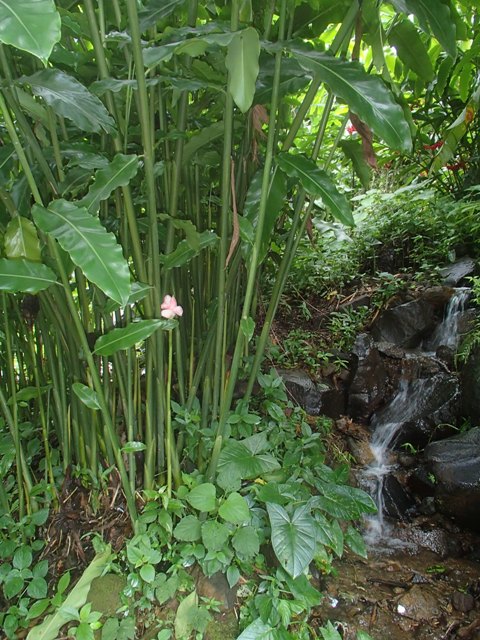 A similar length walk from the other side of town brought us to the village of Salcóatitlan where on opposite corners can be found quaint houses, some modernised and some not.
The village is best known for its Cheesecake which is nothing like the cheesecake we know. It is a cake and made with cheese but I have to admit to not being very keen, but one of the cafes which sold it was a very welcome shelter from a short, but heavy, storm.
As I said earlier, the Flower Route is popular for its food festivals and we enjoyed a happy half hour watching the restaurateurs erect stalls in the streets on Friday evening ready for the Sat/Sun feast.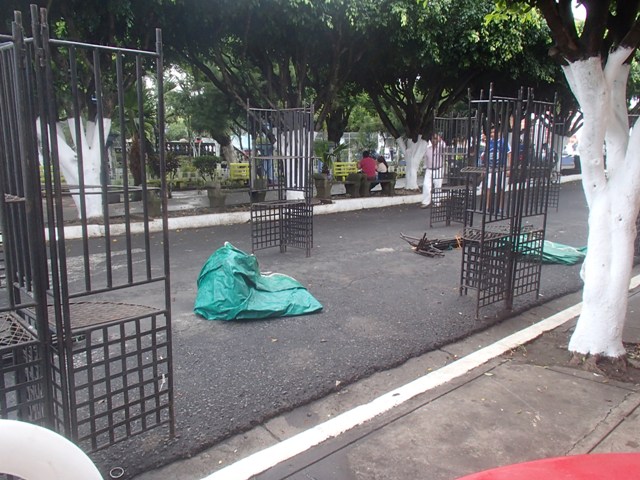 OK – so it doesn´t look very exciting but that,s what passes for entertainment sometimes and, of course, we did have a beer to help us pass the time! The stalls take up one side of the main square and spill into the surrounding streets and, on Saturday morning, other "buy me/ride me" trappings appear.
Other than a few other backpackers, all the weekend visitors were from El Salvador [or maybe Honduras – the country which basically surrounds El S] and everyone seemed to have a good time – even when it poured down….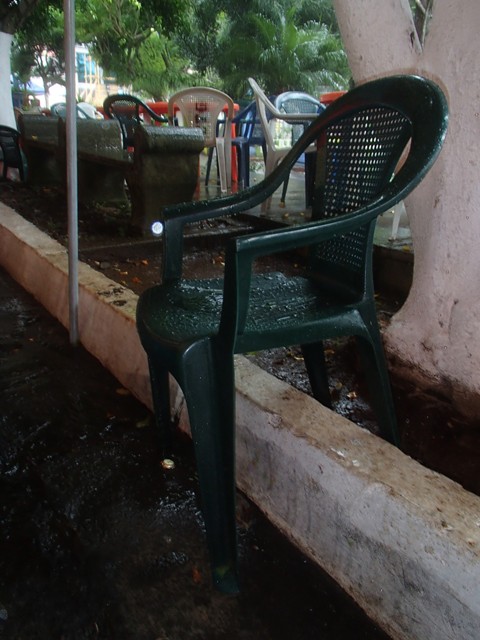 All the food is cooked on BBQ´s…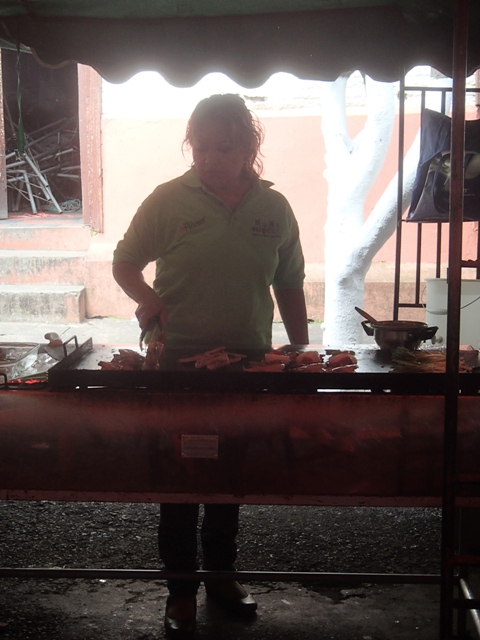 ..and, although we didn´t see it, apparently guinea pig and iguana is sometimes sold. We did see whole frogs but weren´t tempted – we opted for a kebab of mixed pork, chicken and large prawn – which has a strange orange glow caused by the tents – not by food colouring!
Our accommodation in Juayúa was really quite special. As well as a lovely garden to sit in [which featured in one of the photographs in my earlier post about travel in Central America] we had our own "little garden" and fountain as the patio to our room. Very romantic!
We did day trips to both Apenaca and Ataco and in both villages found colourful murals depicting local life…
….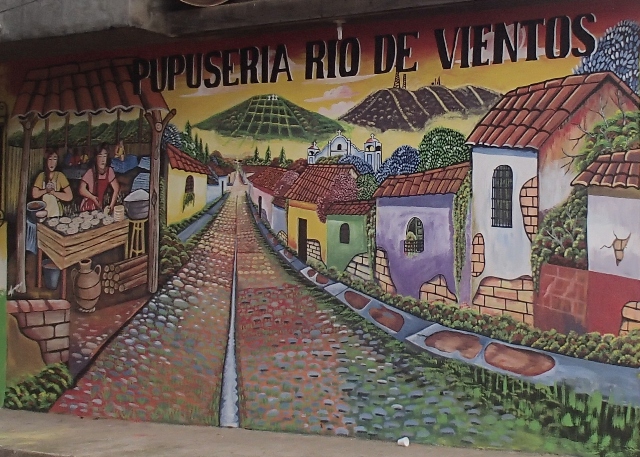 …people and and produce.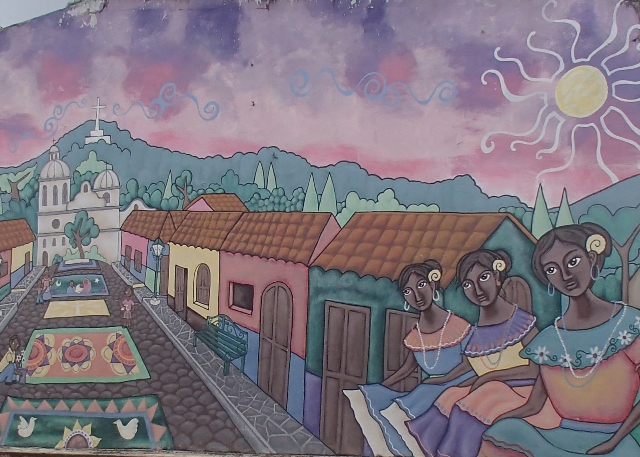 Ataco was the most touristy of the three villages, with lots of shops and boutiques lining its cobbled streets….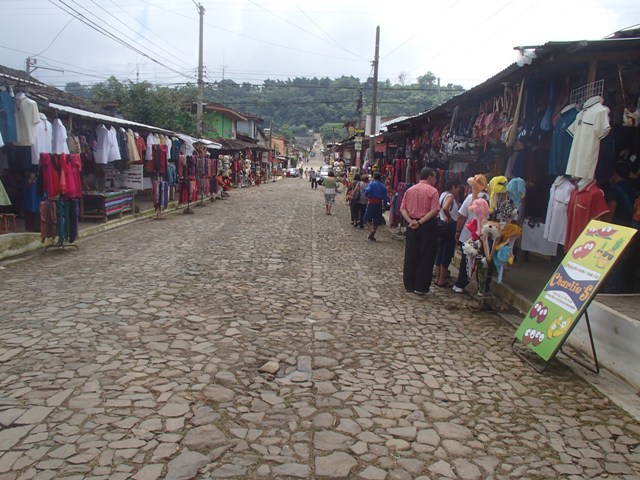 ….and from Apenaca we walked up to the "Laguna de las Ninfas" – not that we would have known immediately from looking at the lake that "water lily" was the translation! But, look closely and you can see the pads on the right.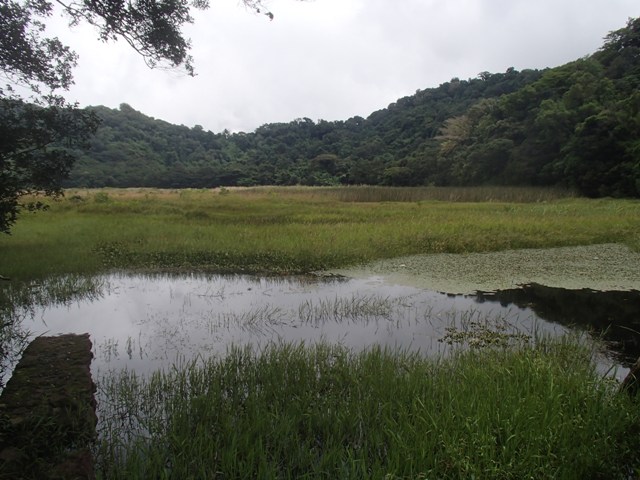 Our final destination in El Salvador was Alegría, another mountain village – this time towards the southern end of the country.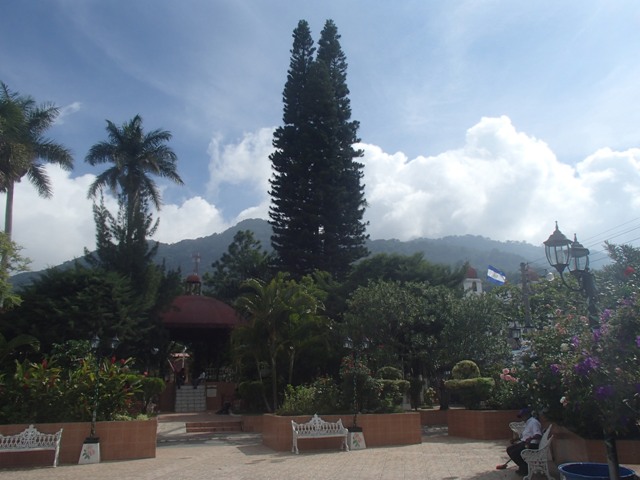 Nestled in the mountains, a short stroll to the viewpoint gave us a panoramic view of the surrounding countryside…

….and from a nearby restaurant a view of the valley below – underneath the cotton wool clouds.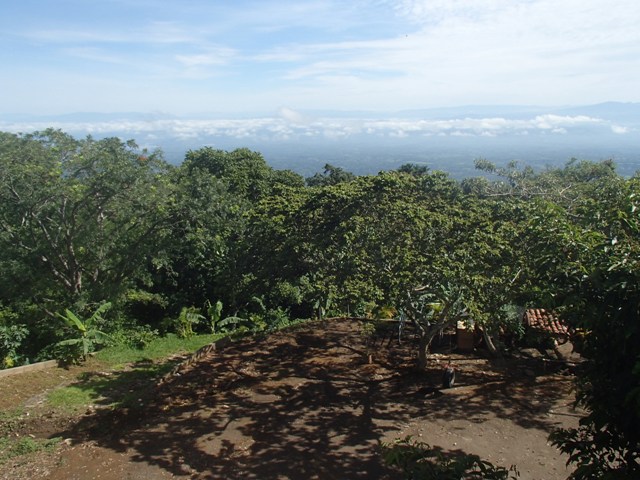 Alegría was very quiet but had a couple of places to eat and drink – we were very sorry not have realised that the super corner bar "Sonata Alegría" served tapas. We had avoided it because it advertised Karaoke but when we finally braved its portals we found an extremely friendly owner who streamed music through a computer and gave us a free hand in our selection.
Another walk and another lagoon – this time a 45 minute uphill walk along a shady cobblestone lane…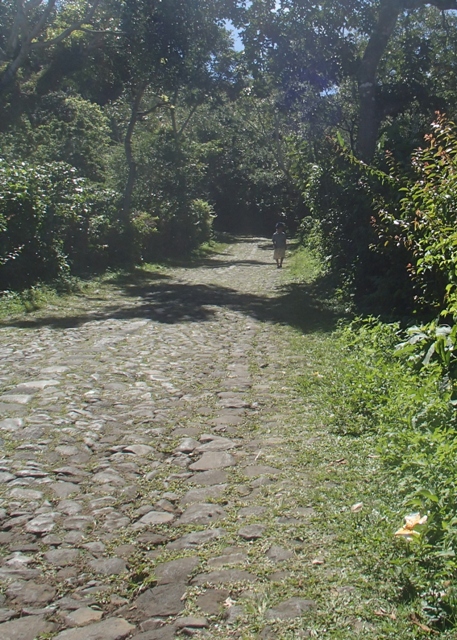 ….with, once again, lovely views….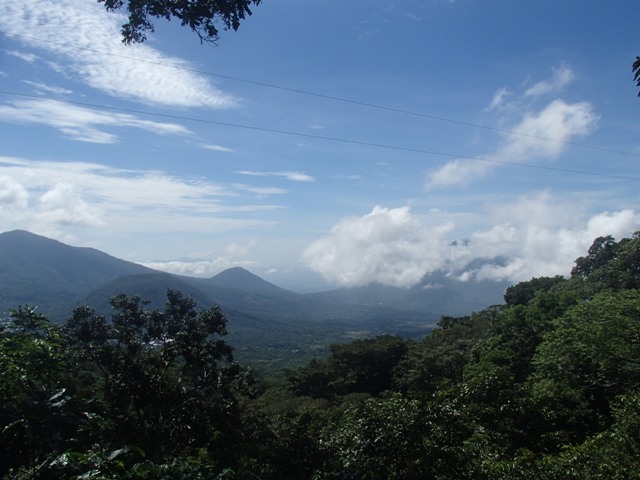 ….and finally the crater lake itself – much depleted of water, though very serene and relaxing.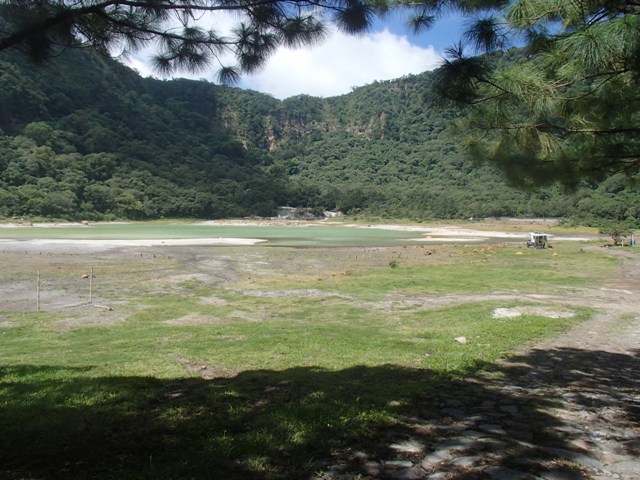 The nearby village of Berlin was slightly more bustling….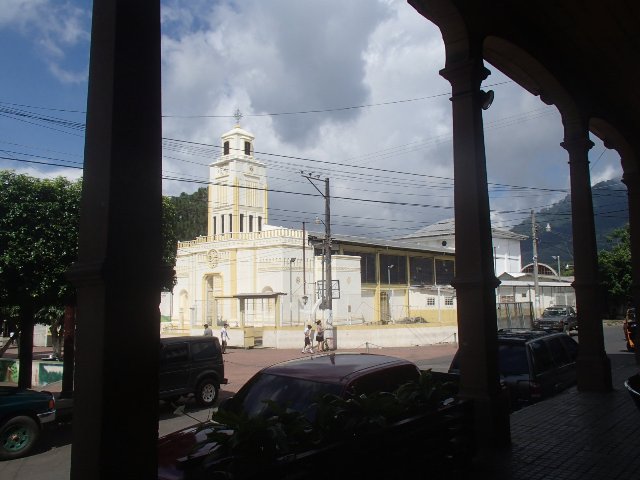 …well, there are four people in this photo!….and we sat, overlooking the church and square and enjoyed a "rum granizado" – which was pretty much like a piña colada. Yummy…..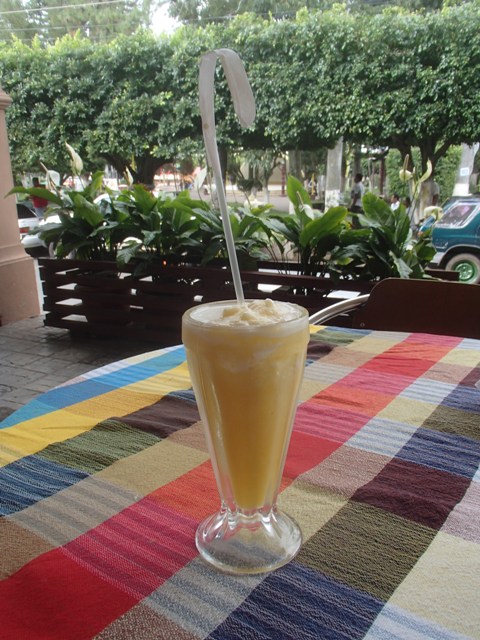 And so we left El Salvador, happy we had visited, with memories of beautiful countryside, a capital city which, when you got used to it, was actually a great place to stay and very laid back, un-tourist spoilt local hospitality.