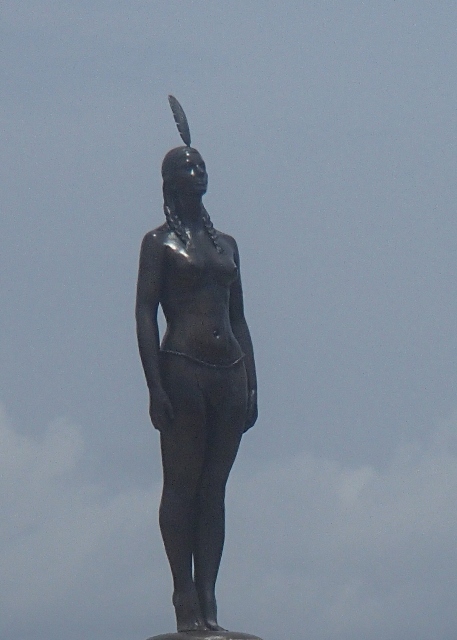 As you will have worked out from the last blog post we really love Cartagena and have continued to take advantage of all it has to offer. However something we weren't expecting, and which most visitors to the city don't get the chance to see, was the "Sail Cartagena de Indias 2014" Tall Ships Festival.
This took place over a five day period when six tall ships from Central and South America were joined by two coastguard boats [US and Netherlands] and a marine exploration vessel. Entry was free and I think the whole of Cartagena turned up! They were particularly interested in looking around the Colombian flagship "Gloria"…
….but the queues for her were so long that we decided that we would visit "Esmeralda" instead. She was from Chile and, like the Brasilian ship Mike and I had visited the day before [when we didn't have a camera], she was very impressive.
We particularly liked the navigation lights….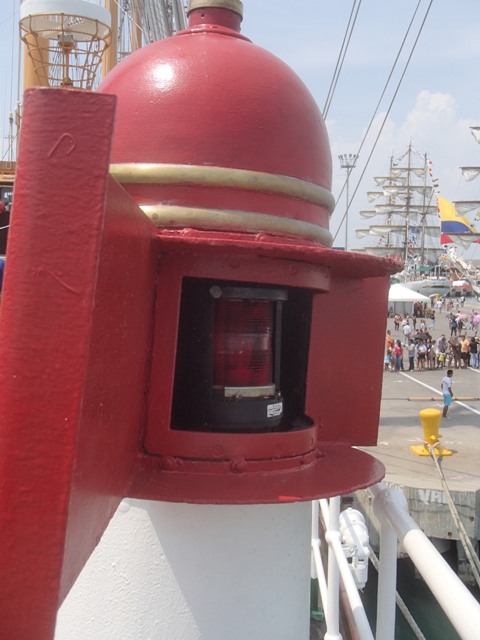 ….and the ropework….
I dread to think what would have happened if I had pulled these belaying pins….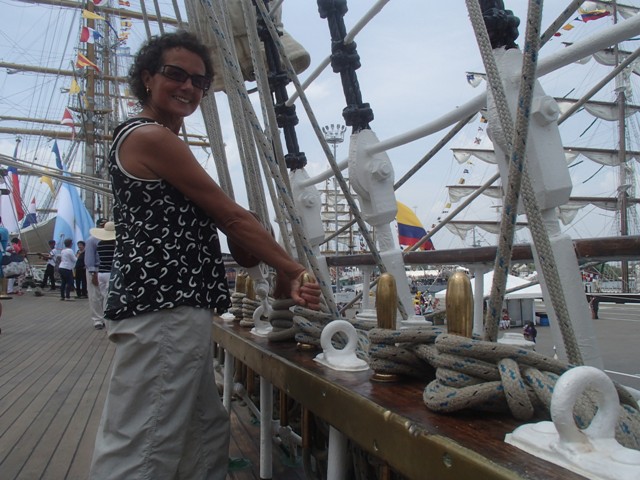 ….but I was safe here because the guns were ornamental only [I think!].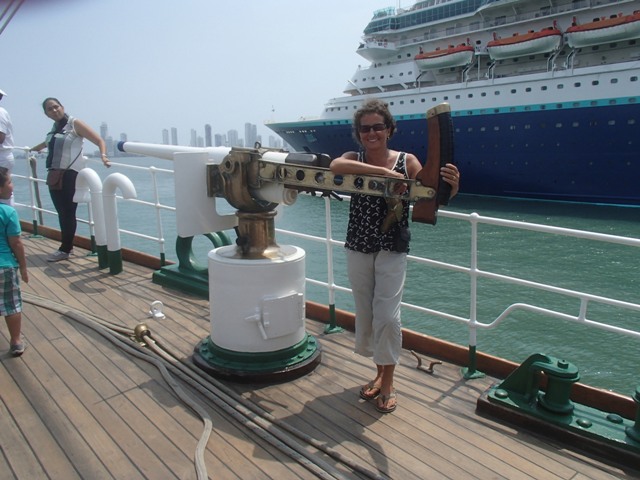 Also, fellow yachties, I am sure that when you have to service your windlass – you will be delighted that it doesn't look like this beastie….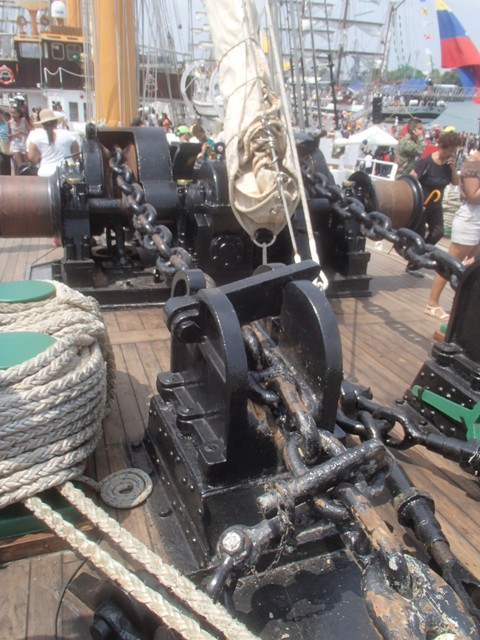 There was a band playing to entertain us as we waited – which Mike particularly enjoyed for obvious reasons….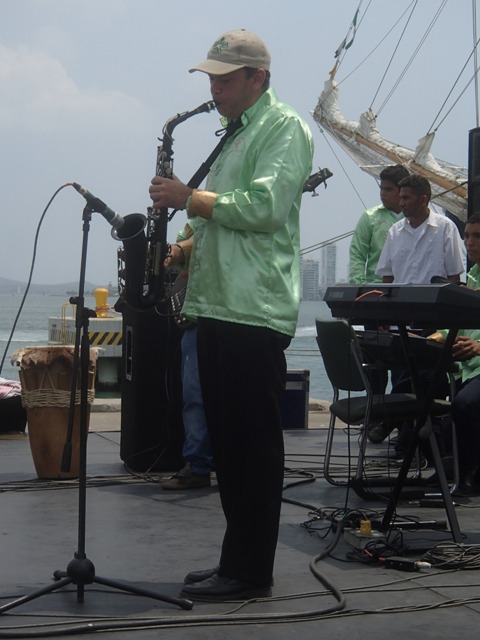 ….though unfortunately we couldn't hear them during our longest wait to board the US Coastguard boat.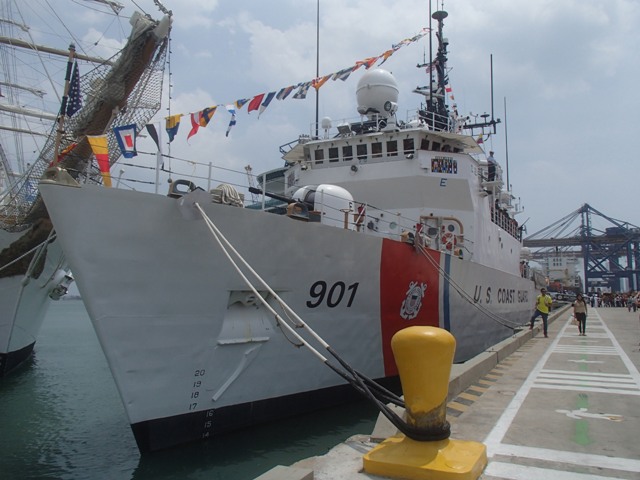 Once onboard we asked several questions about navigation and other equipment and were particularly impressed by this gun….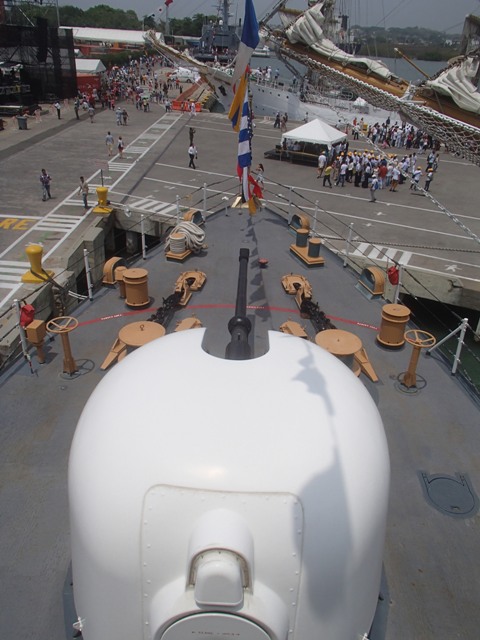 ….which is controlled by radar.
Perhaps best of all was watching the ships leave under sail. We had a great view from the anchorage of the Brasilian, Venezualan, Argentinian and Colombian boats….
….and thought that their send off by water cannon was good fun….
Most impressive was the Mexican ship which sailed right past us…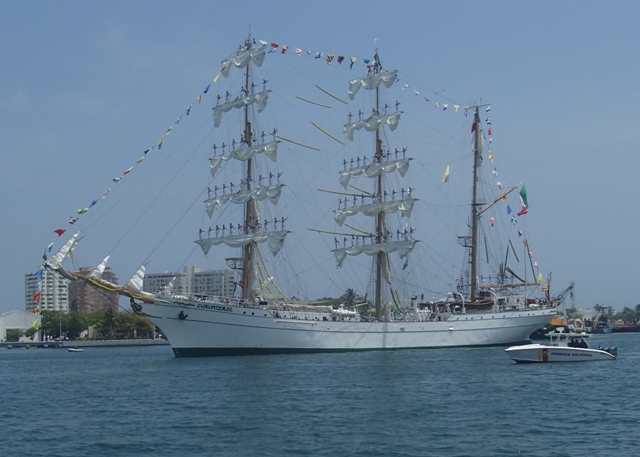 ….with her crew aloft…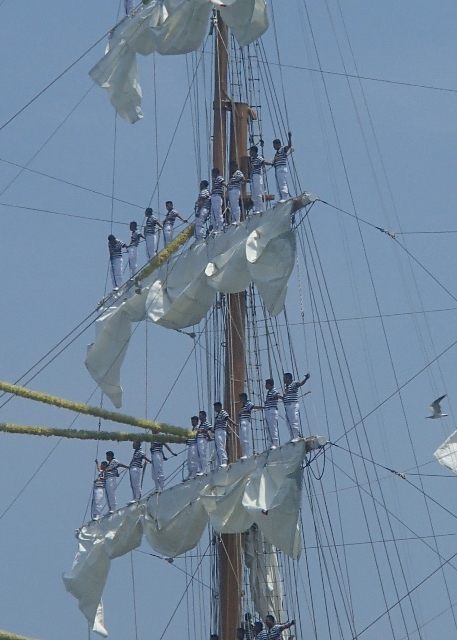 Hope Mike doesn't get any funny ideas about me standing on the spreaders like that!
Anyway, back to things which all visitors can enjoy. Whether you sail yourself there [as obviously we did] or whether you take a day trip or book a hotel one thing not to miss from Cartagena is a visit to the "Archipelago Nuestra Señora del Rosario".
The 21mile/35km trip took us about 4 hours each way – both journeys having to be undertaken by motor due to lack of wind. We spent the first three nights at Isla Grande where we enjoyed peaceful, calm evenings watching the local fishermen….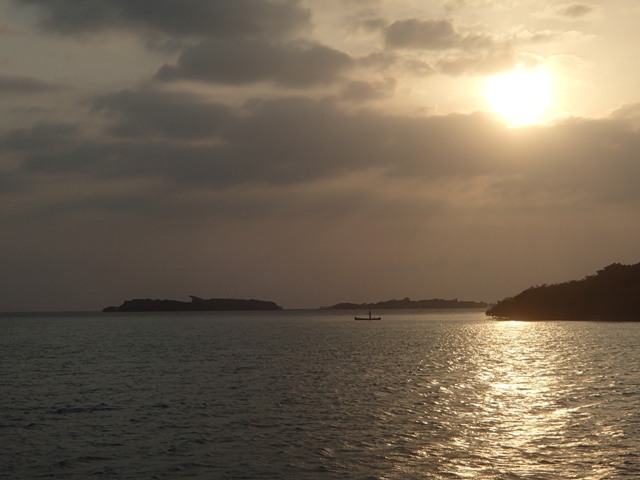 …. and sunny days swimming in beautiful turquoise water. We expected to be inundated with people trying to sell us stuff but only a couple turned up. First along was this guy….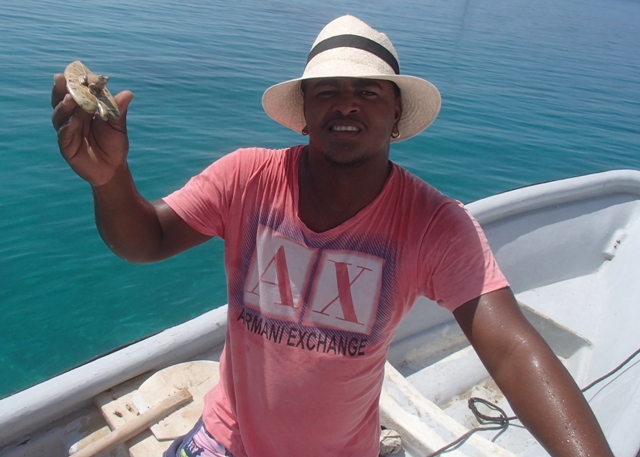 …who made quite tasteful carvings – yeah – so I was suckered again before he went to try his luck with Jack and Christine on "Mekeia"….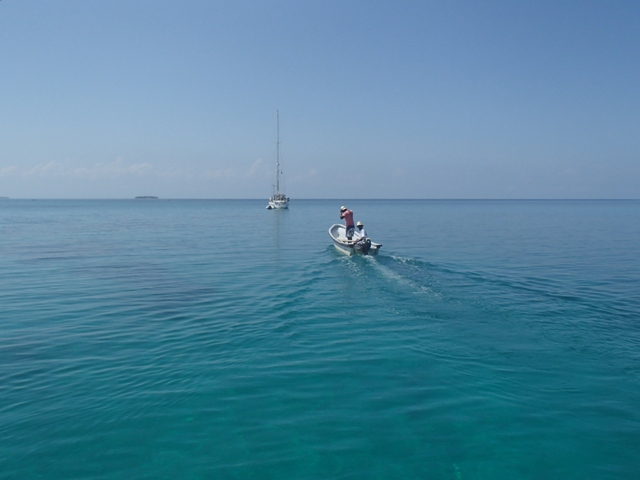 ….. who weren't such a soft touch! [Though they were taken for US$40 for two lobsters later that day by vendor number two].
On the second day we took the dinghies to what looked like a hotel but turned out to be a training camp for the navy. Not sure we would have been allowed ashore there had there been any recruits there but, as there weren't, the caretaker was pleased to see us and sent his son as our "guide" round the western part of the island.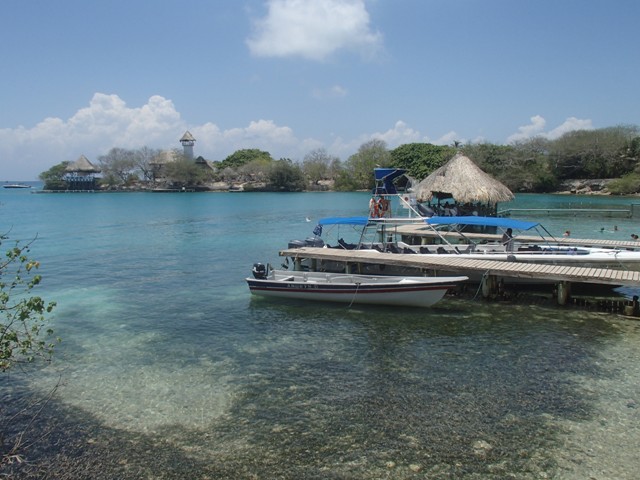 Not sure that we actually wanted a guide but he did take us to his school and showed us his desk, which he was rather proud of, and other than a small tip he only asked for a drink of orange when we got to the main shop in the small village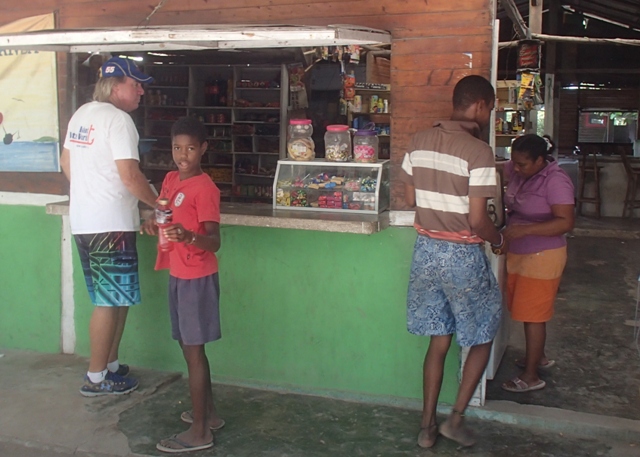 We then circumnavigated the island by dinghy, stopping off at the bar we had spotted at a small hotel [as per the photo two above].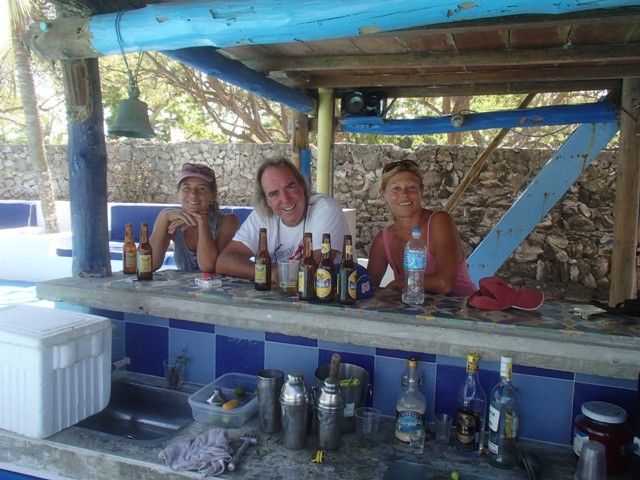 We also admired some rather cheecky mackaws….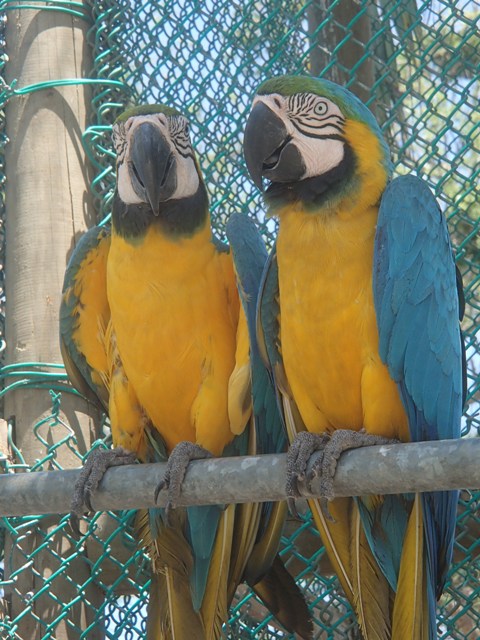 The second set of three nights was spent at Cholón, Isla de Barú. This "island" is, in fact, a jutting spit of the mainland and is surrounded by mangroves. Although the water is not as clear as at Isla Grande, it was still great for swimming and had a splendid beach bar which we visited for lunch one day.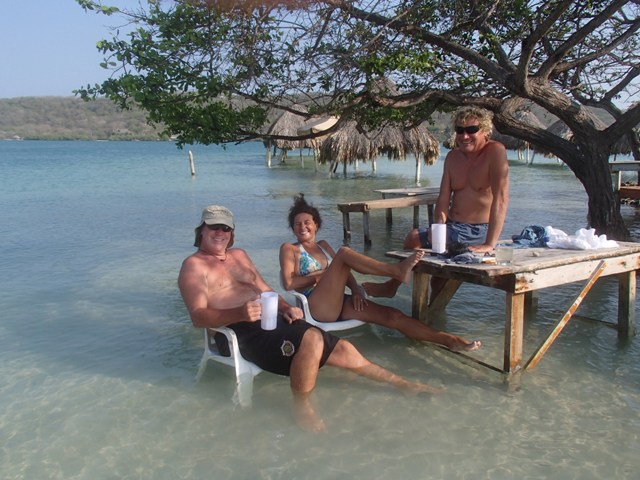 The bar, restaurant and craft stalls are set up specifically for day trippers so all the local concessionaires leave at about 5pm. Aha we thought, what a splendid place to return for sundowners – which we did on two nights – taking "Mike's Pig Bar" with us!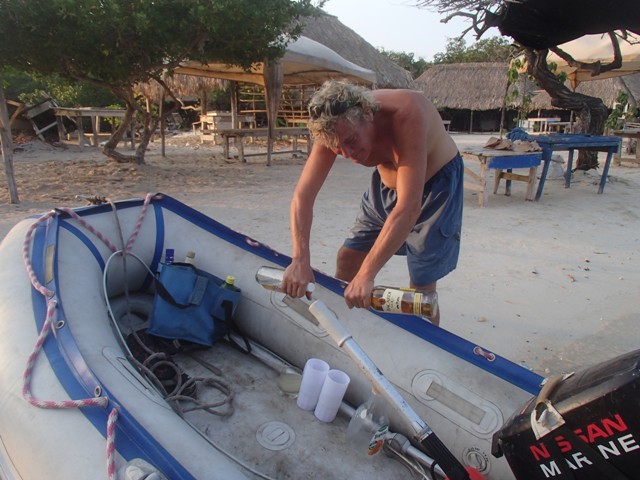 Having Jack and Christine here in Cartagena at the same time as us has been brilliant – not only for their company and friendship but also because of splendid things like Tarte Tatin Number 2!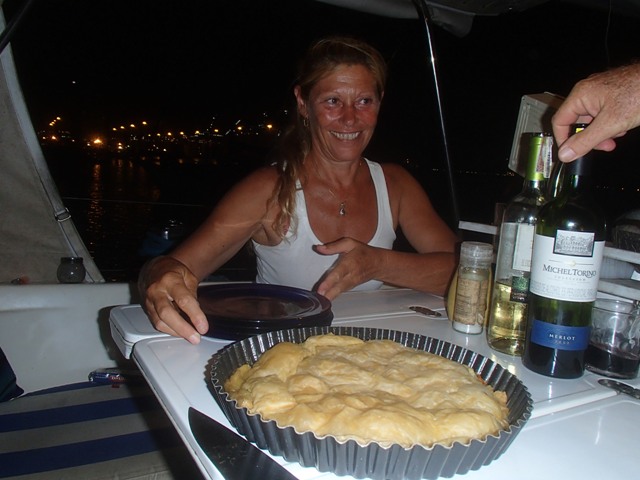 ….and their willingness to look after "Siga Siga" so that Mike and I could visit Santa Marta for a couple of days without having to put the boat into the marina.
Santa Marta is another colonial city about 120miles/200km North East of Cartagena. Strategically placed to allow efficient transport of untold treasures from the nearby Sierra Nevada de Santa Marta to the Old World, the city flourished during C16, at the same time wiping out the indigenous "Tayrona" Indians who tried to stop the plunder.
The old town is much smaller than Cartagena's but it has a beautiful cathedral…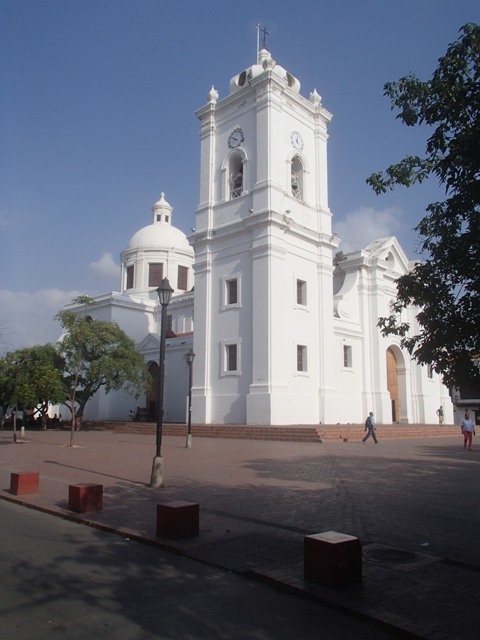 Night life is centred around San Fransisco Plaza – which is great for people watching, and along several pedestrian only pavements.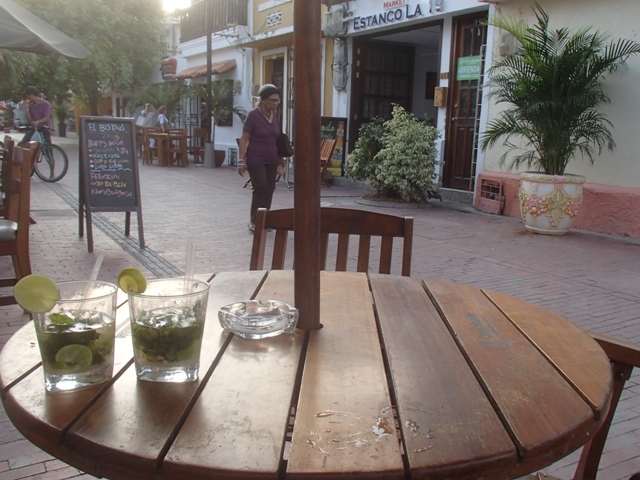 We actually felt that Santa Marta offered more by way of pavement cafe's than does Cartagena and, if any cruisers are taking the southern Caribbean route from Trinidad or the Dutch Antilles to Panama then stopping off in Santa Marta for a couple of evenings R+R to escape the renowned very windy offshore waters wouldn't be a bad idea. There is a pleasant marina and it is also possible to anchor in the bay.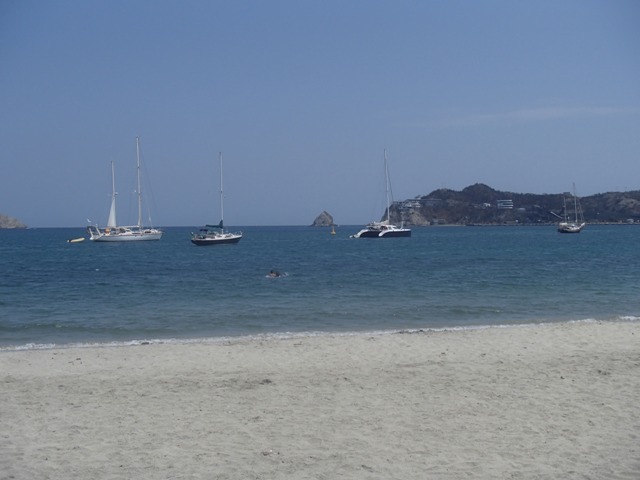 [NB. It is necessary to use an agent in all Colombian entry ports and a Zarpe is required before moving from Santa Marta to another Colombian port or internationally]
Maybe Santa Marta's biggest claim to fame is the "Quinta de San Pedro Alejandrino"….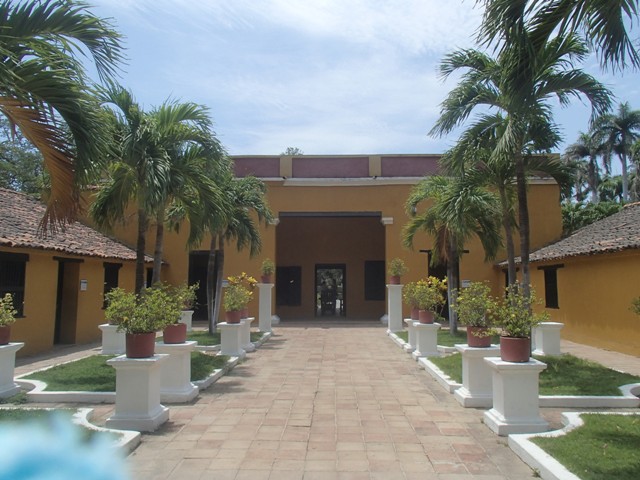 ….this being the grand hacienda built in C17 where Simón Bolívar spent his final days. He arrived at the hacienda over this small bridge [there is a small stream running beneath but its not really much of a bridge]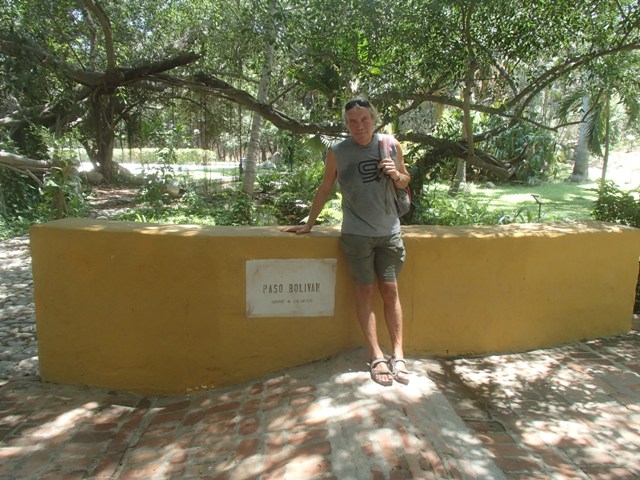 …as the guest of his friend Joaquín de Mier and died, from pulmonary tuberculosis, in this bed….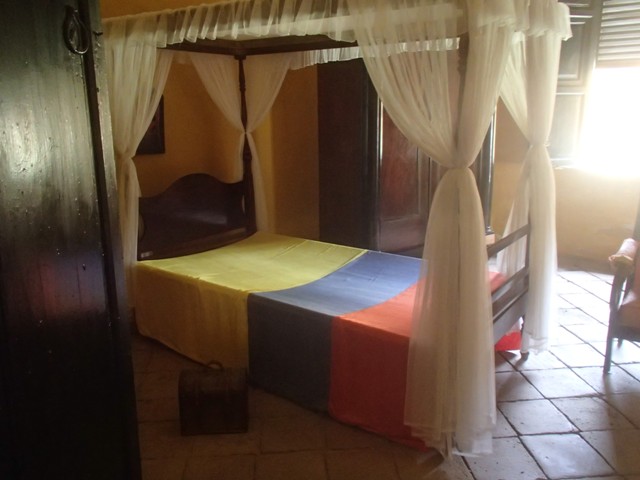 As well as the hacienda there is also a contemporary art museum, uniting art from the Americas, and several statues and artworks about Bolívar are scattered around the memorial botanical gardens surrounding the hacienda.
Meanwhile, back in Cartagena, another much less well known "saviour" is commemorated – this being Blas de Lezo, a Spanish officer who with 6 ships and 3,600 men repelled the fleet of 186 ships and 25,000 men under the command of English Admiral Edward Vernon. Vernon had been so sure that he was going to take Cartagena easily that he had pre-commissioned medals bearing the words "True British Heroes took Cartagena". A statue of Vernon and a replica of this medal were erected as a permanent laughing stock.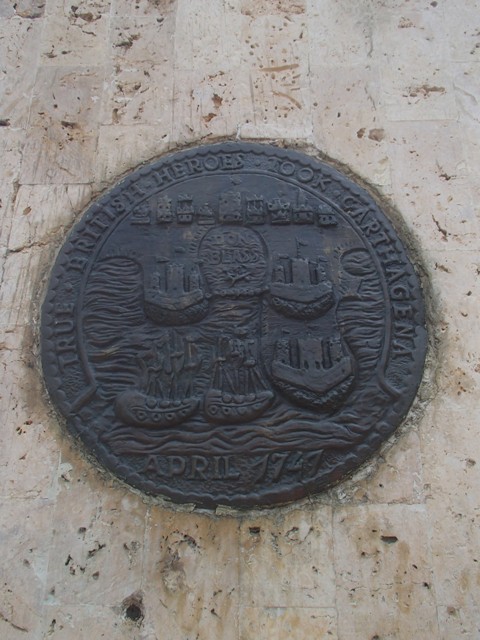 To show a bit of patriotism [who – me!] and to be fair to Vernon – who really did manage to snatch defeat from the jaws of victory – the excellent fortifications surrounding Cartagena probably also played a part. There are several surviving fortresses and castles of various sizes guarding the entrances to the inner harbour and the city and no visit to Cartagena is complete without spending some time at the "Castillo de San Félipe de Barajas, Colombia's [and , I believe, South America's] strongest fortress ever built.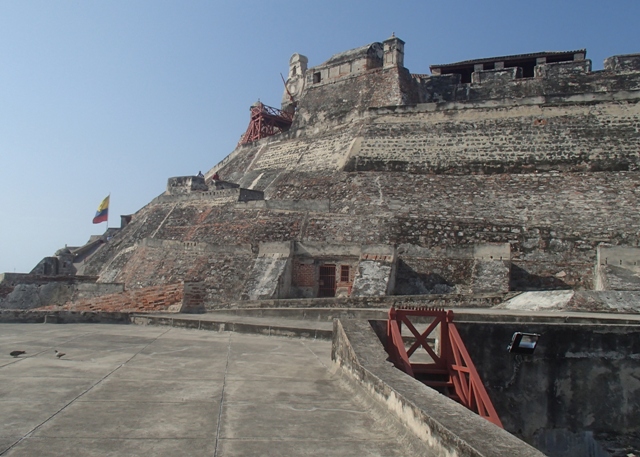 The fortress covers an entire hilltop overlooking the city…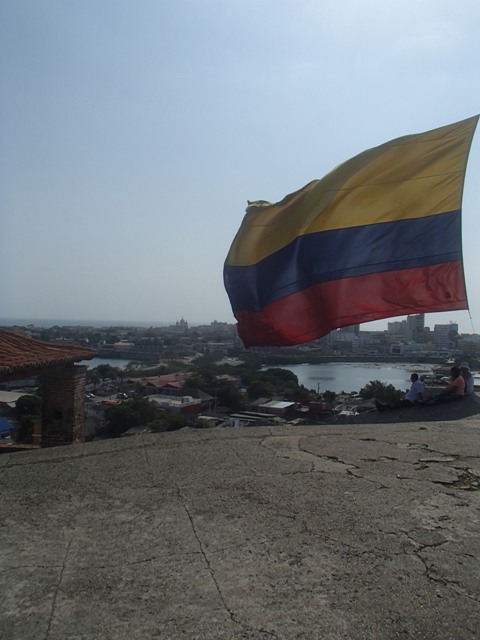 A matrix of complex underground passages….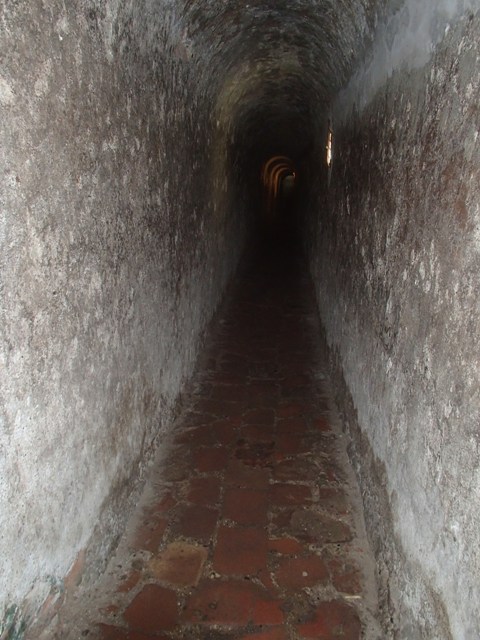 …..enabled supplies to be stored and moved around without exposing troops to enemy fire, maximised even the smallest sound to alert those in the fort of enemies approaching across the terrain outside and, had the castle been breached, would have provided a maze of tunnels – some with dead ends – to completely confuse the invaders [They certainly confused us!].
The fortifications surrounding Cartagena are best understood by visiting the Naval Museum which displays the usual artifacts of battles at sea but also some very good miniature reconstructions of the buildings and the campaigns. Some of the exhibits are really quite fun – like this exploding ship….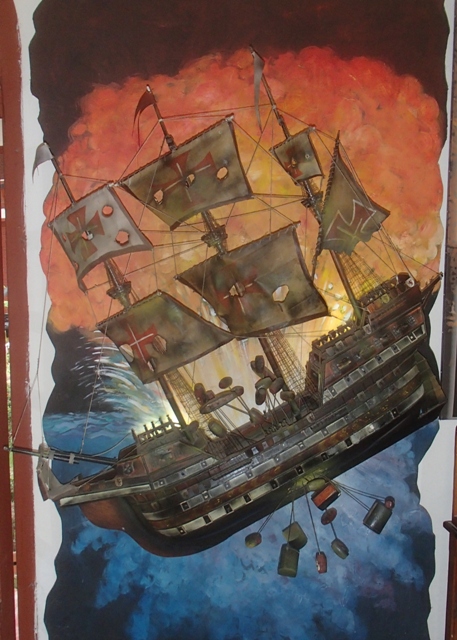 ….and the building itself is yet another good example of Colonial architecture.
Just to put your minds at rest about our priorities, as well as sightseeing and socialising we have been doing some small jobs such servicing the engine, having the mattress covers replaced, varnishing part of the galley and fitting a new bus-bar.
Now,sadly, we are now coming towards the end of our stay in Cartagena. Subject to a good forecast we will leave in about seven days – during which time we may find more things about Cartagena to tell you. But in case we don't I will end with one of our favourite topics – food.
We have come to really enjoy ice cold fresh juices pressed to order and love looking at the abundance of fresh fruits available on most street corners.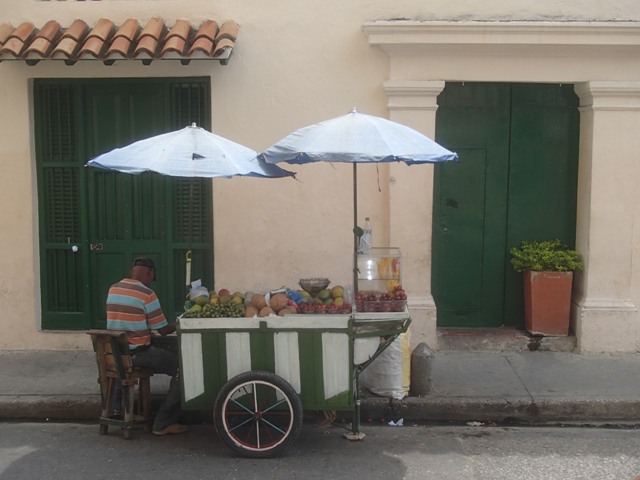 We continue to feast on "local" lunches which are filling, well cooked and, at 6,000COP [£2/US$3] excellent value.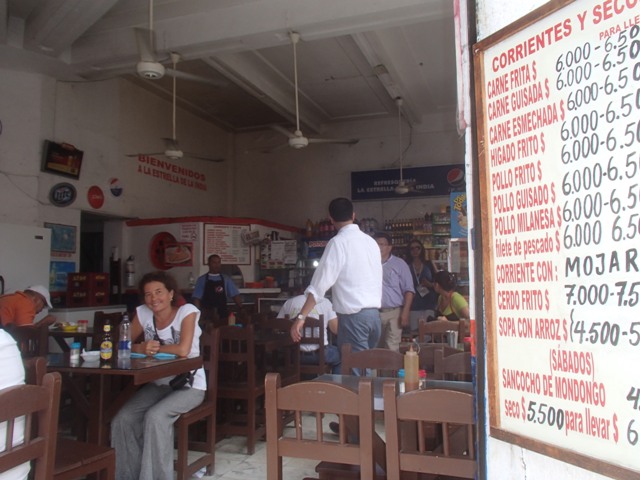 We also continue to enjoy getting out and about in the evenings, walking through vibrant streets….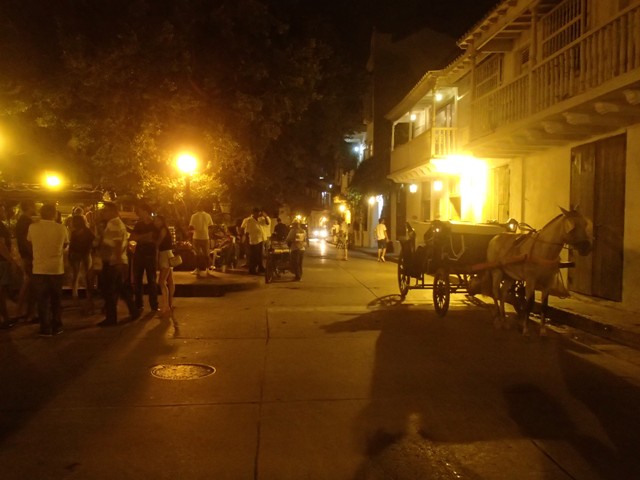 …visiting restaurants such as this Peruvian parilla [steakhouse]…..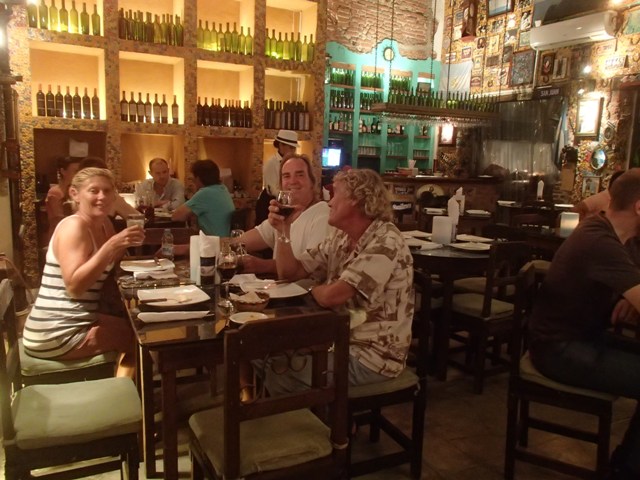 …and wandering to our favourite hangout – the Plaza de la Trinidad in the Getsemani district.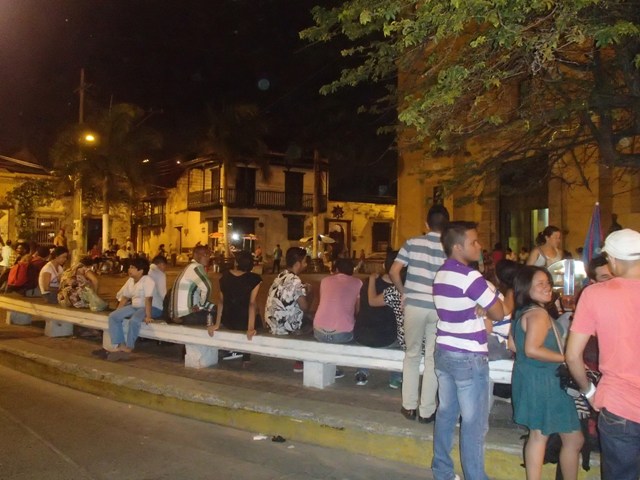 We have said "Goodbye" to Jack and Christine who are now spending time in Europe before returning to Cartagena in about 6 weeks. We hope to meet up with them again.
So, until next time, although we really liked "Esmeralda"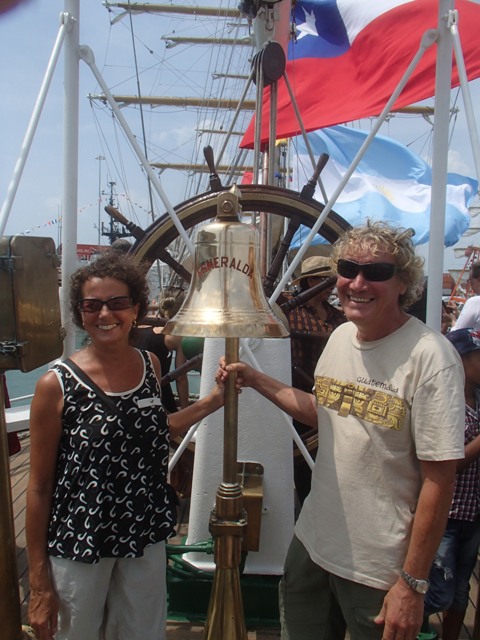 "Siga Siga" is still the boat for us!