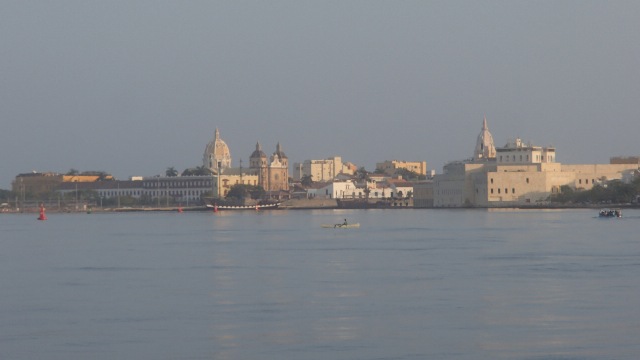 When we left the UK, a number of places we have been e.g. Haiti, Cuba and Guatemala were not on our list of countries to visit possibly because they are not on the "usual" route through the Caribbean to the Panama Canal and beyond and/or possibly because they had/have a reputation of being "unsafe". But, if you have been reading our blog since we left [long service medals go to Chris, Andrea, Malc, Steve T and possibly others]then you will know that those above mentioned countries were surprising not only because we actually visited them but also because we loved them – their rich cultures, their people, their "difference". Columbia is another country to add to that list.
As you know, our introduction to Colombia was the island of Providencia, followed immediately by San Andres and, having had those tastes of Colombian hospitality and having been told that Cartagena was a beautiful colonial city we knew we wanted to visit. We have not been disappointed.
Cartagena, in the Bolívar region of Colombia, was founded in 1533 and formed a vital part of the Spanish defence strategy. The photograph at the top of this post – taken from the anchorage on the morning after our arrival – gives some indication of its beginnings as a walled military fortress through its growth into a busy seaport and then to the rich colonial stronghold it became prior to its liberation from Spain in 1820.
Taking a wider view from the anchorage…..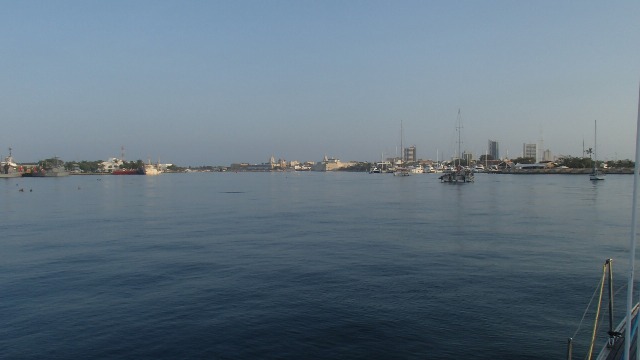 ….. there is the "Club de Pesca" [on the right hand side of the photograph], a private yacht club which doesn't seem to have berths for visiting yachties – and the naval dockyard on the left. The main anchorage is outside of "Club Nautico" which is currently being renovated and where it is also possible to berth – at a price. Maybe we were spoiled by Guatemala prices but for an unfinished site [no showers/toilets/bar/restaurant] to charge £50 per night seems a bit steep. However, the  anchorage outside Club Nautico is free and the marina is within easy walking distance of the old city [15 minutes], has 24 hour security and is therefore great for leaving the dinghy, is linked to propane and laundry services [at reasonable rates] and provides rubbish disposal and unlimited free water [by jerry can]. Thus we have availed ourselves of the £20 per week dinghy dock facility which is worth it for the water alone – given that running the water-maker in this busy harbour wouldn't be the best idea.
Club Nautico is in the Manga district of the city which is mainly residential with many new build high rises interspersed with small "tiendas" [shops] and beautiful older houses……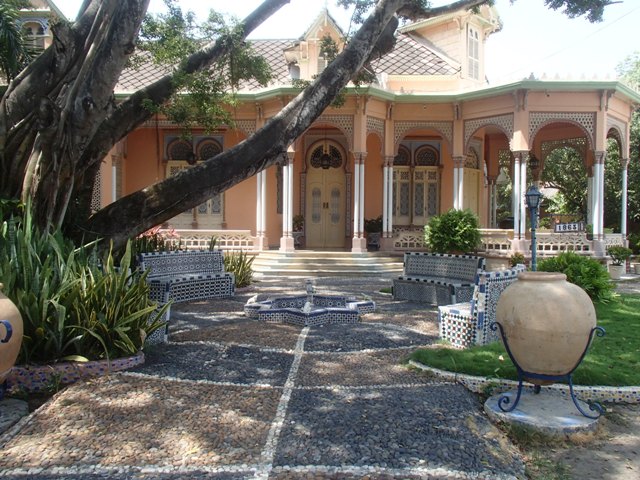 …..which brings us nicely to the subject of culture. Could there, I wonder, be a better place to start than with the BBC? Certainly not in Mike's book, where proximity to decent beer is high on his indicators of culture – hence his delight in finding the Bogotá Beer Company!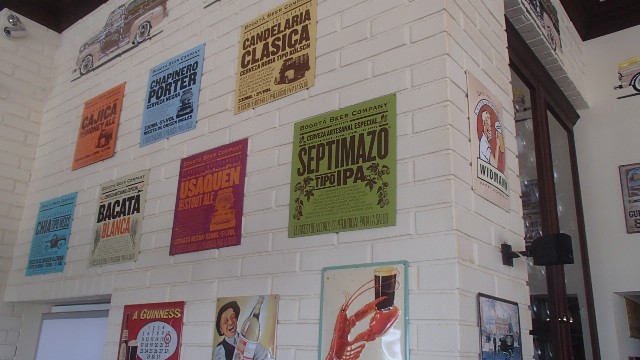 They make quite a range of ales. Unfortunately the IPA was not available, but their "Cerveza Roja" was and their "Cerveza Negra" and another couple – but those names escape me. The main BBC outlet is in the Bocogrande district of Cartagena – the hotel zone – which stretches along the north western shore rather like Blackpool beach.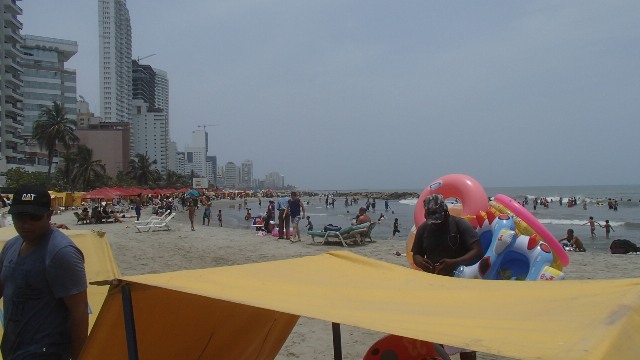 It's has that "kiss me quick" tacky feel – but with Panama hats replacing Cowboy hats. Offers of massage, the constant options to purchase fake sunglasses or watches and the several rip off beach cafes are about the same.
Not all of the beaches are quite that bad. At the bottom end of Bocogrande is "El Laguito" which is adjacent to the small boat entrance to the harbour and where we found a very nice small restaurant and a decent place to swim.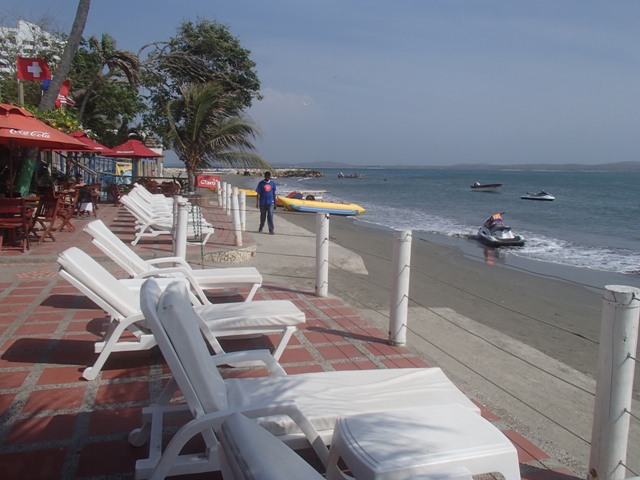 What used to be the "charming fishing village" of La Boquilla [or so it is described in our Bradt guidebook] has morphed into another collection of beach restaurants but at least here the beach was less crowded and the vendors fewer and farther between.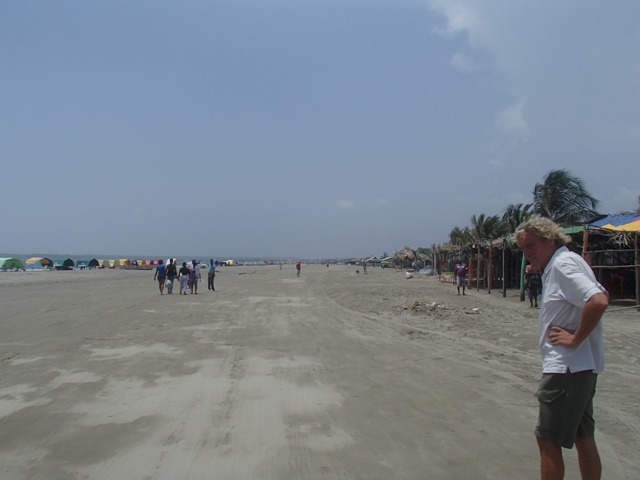 But, whilst Colombians may come to Cartagena for its beach life, it wasn't the purpose of our visit so onto more important things – like architecture. One building which displays a typical grand stone entrance…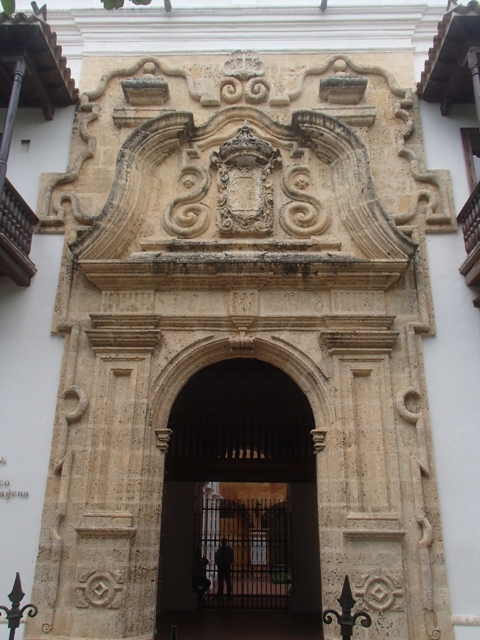 ….and whitewashed stucco walls with wooden balconies….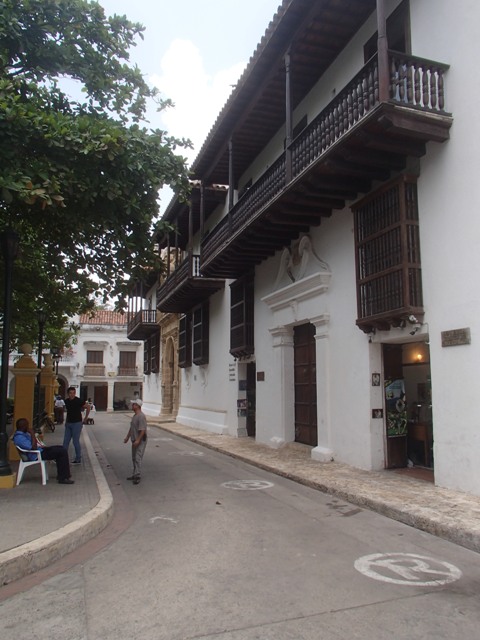 …is the Palacío de la Inquisición. As its name suggests, this museum used to be the Punishment Tribunal of the Holy Office, seemingly [in my view] lived in by a group of sadistic men who got their kicks out of torturing and killing mainly women accused and found guilty of blasphemy and/or black magic – that old witch hunt thing which was prevalent throughout Europe and, thus, its colonies. During a 45 year span 800 people were tried and put to death from this building and several instruments of torture are displayed. Interestingly under each of these exhibits was a sign saying something along the lines of "this was used regularly in Europe to… [whatever it did] …. but never used in Cartagena". So, exactly what was used for the purpose of torture in Cartagena remains a mystery but what was on display were the Cartagena "scales" used to "weigh" whether a person was guilty or not. Basically for every centimetre of height a person was [above 1 metre] they were supposed to weigh 1 kilo. Any more or any less meant you were guilty. I have weighed 10st 2lb but only during a few weeks in my first year at university when booze and food replaced exercise. It was obviously the "enlightened period of my life!
Wandering the streets of Cartagena is a pleasure in itself – each street a riot of colour.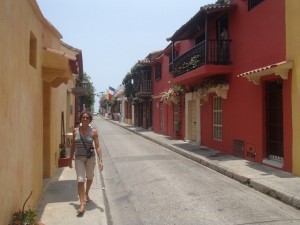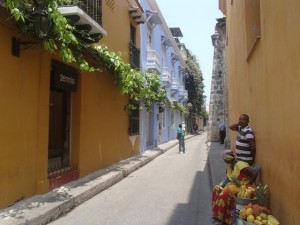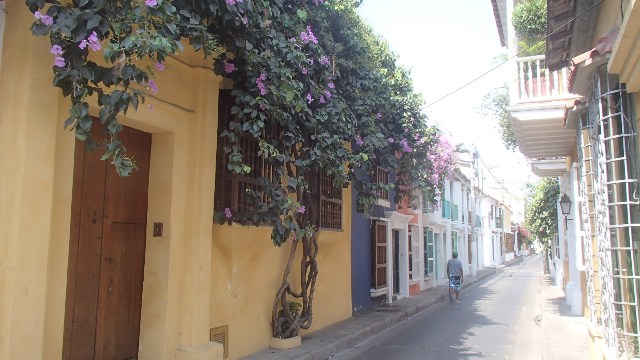 Perhaps the best known landmark by day, or night, is the clock tower….
…..closely followed by the cathedral……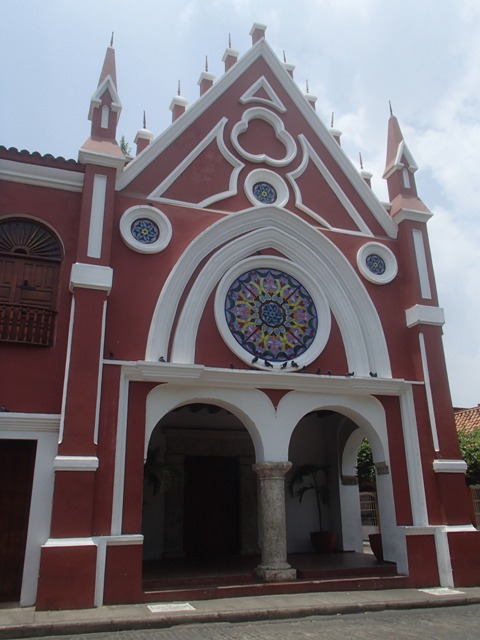 ….. and Los Coches Square.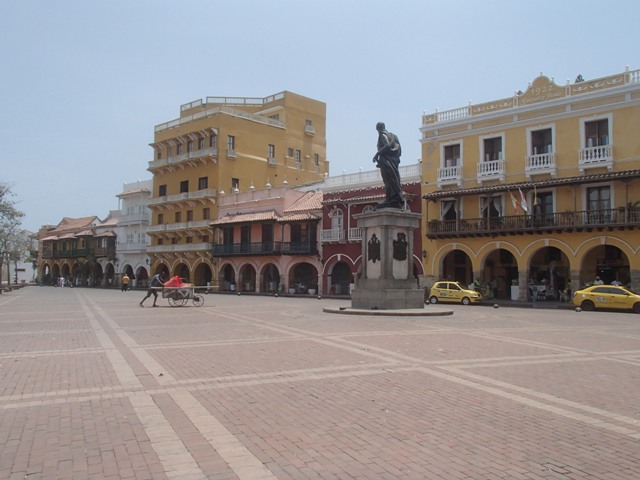 This square [which is really a triangle] was originally called "Plaza de la Yerba" – referring to the slave market which historically took place there [more than 1 million slaves came through Cartagena] but the name was changed more recently to "Plaza de los Coches".   "Los Coche" are carriages, which congregate there now during the early evening to take tourists on trips round the city.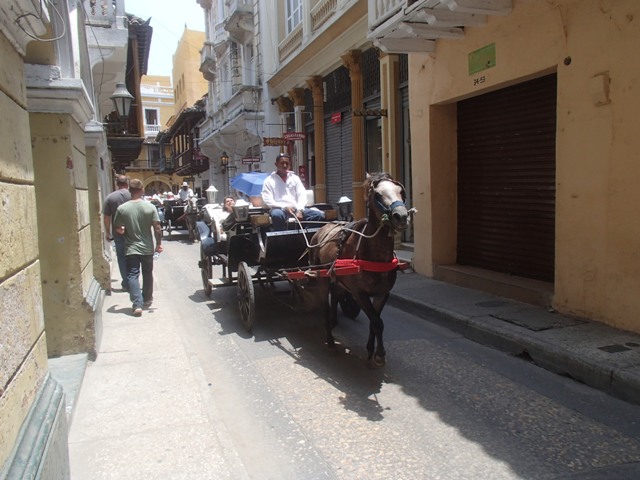 Many of the above photographs were taken on "Holy Thursday" which, we now know is a holiday in Colombia. Most shops were closed and many people were at home celebrating with their families. But, it gave us a chance to look around unimpeded.
Art also plays an important role in the city. There are lots of statues around – which reminds me that I need to get my camera out more often [Did I hear a cry of "Oh no, not more photos"] because the only sculpture photo I have thus far is this one taken by Mike.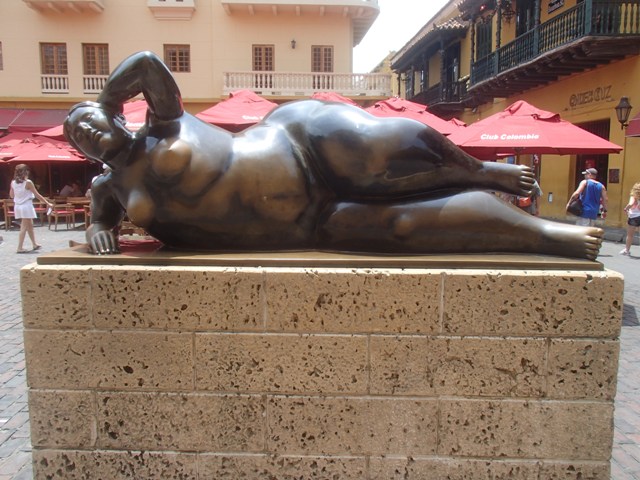 Like many cities graffiti too plays its part in making some of the more dilapidated buildings more pleasing to the eye. I particularly like this arrangement – quite an original concept I thought.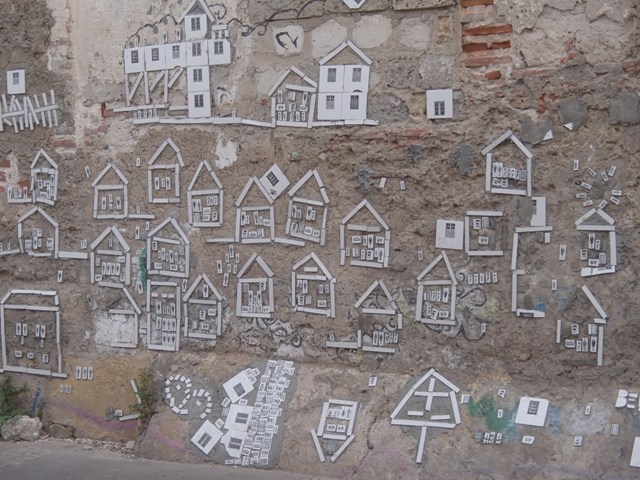 For culture of a rather different sort, on one evening recently we went to see a French film – with Spanish subtitles.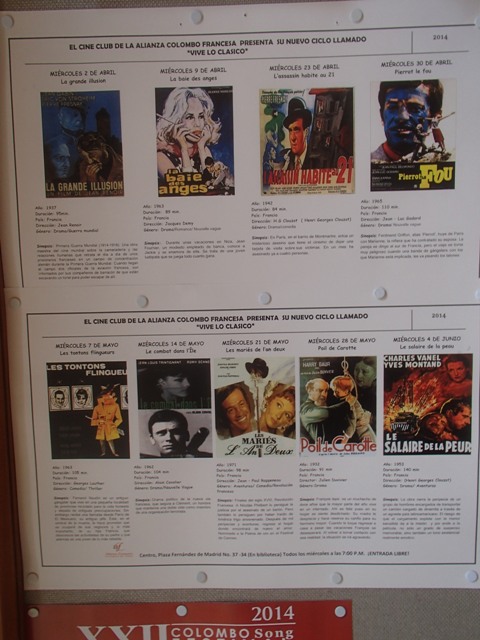 It was a good job it was a comedy so I could at least follow some of it because with my very limited Spanish and a main actor with a very typically French low, gravelly "Hehawhehawhehaw" sound I didn't stand a chance. Our reason for attending is that we have been joined by our mate Jack – the feckin Irish Bostonian we originally met in Grenada. He now travels with his [relatively new] partner Christine who is French and who is a whizz at languages. She has learnt more in two weeks than we have in a year. Ah well, some have got it, others haven't!
Another friend, Kevin, who we also first met in Grenada is also a really good Spanish speaker. He was here when we arrived and he took us on our first walk around the walls of the city.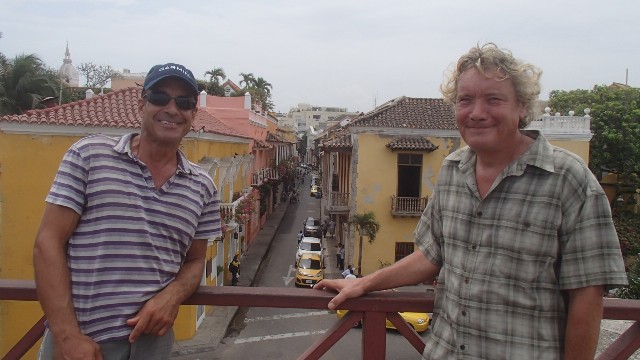 He was also very helpful in showing us where to get engine filters and V-belts and arranged for a local guy to replace the UV strip on our genoa – just some of the jobs we have undertaken whilst in Cartagena. Some boat parts are not easy to come by. We are currently struggling to find replacement valves for our shower pump and also plumbing parts for Mike to adapt our water tank system. Although we were unable to replace a lost ventilation cowl with a plastic one we did find a local guy who fashioned them in fibreglass – and all of that transaction was undertaken without the help of Kevin [who had by then left] or Christine – so maybe we can just about communicate enough in Spanglish and sign language.
We had a couple of days when all three friends were here at the same time and shared a pleasant day sight-seeing – stopping off in Plazuela San Diego for the guys to engage in a bit of "man talk" with a local guy who has sailed more miles than all of us put together.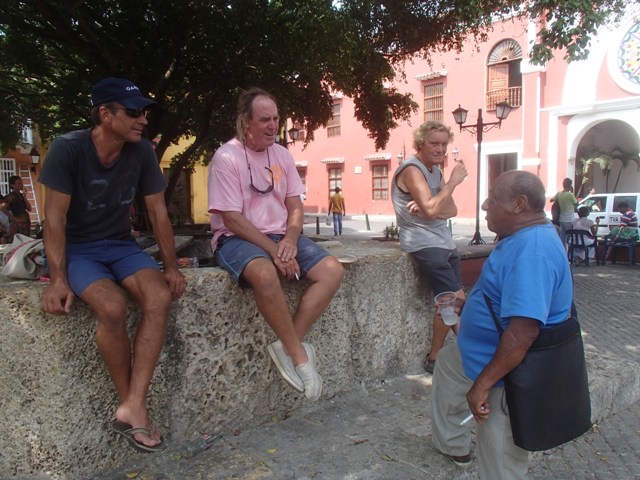 He was a merchant seaman and had been to Scandinavia, Africa and Greece as well as to most of the Americas.
Talking of "man things" – what do you think is happening here…….?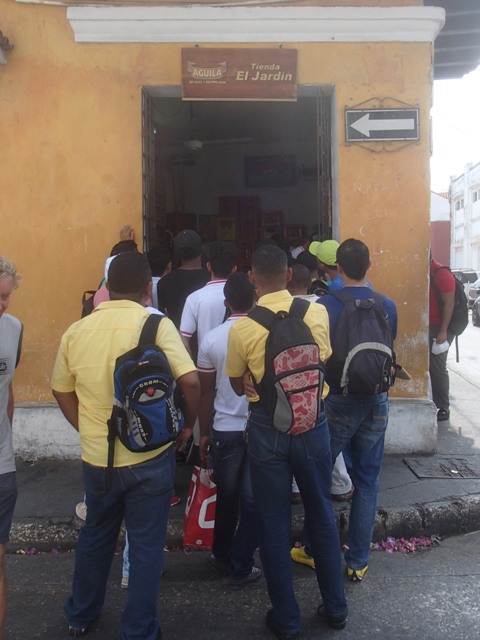 Yep – a football match showing on TV in a small bar. It was one of the semi-finals of the European Cup with all the locals willing Athlético Madrid to win. The final – with Athlético Madrid v Réal Madrid next Saturday could prove interesting!
Whilst we enjoy local bars ["really", I hear you say "wouldn't have guessed that in a million years"] we prefer, if possible, outside bars and have been back four times to "Bar Corner" as we have named this particular establishment.
It might not serve BBC beer but it's a great little, local place with lots of character and lunch [meat, cassava – a root vegetable a bit like a potato – and salad] for £2.40/US$3.50 and Club Colombia [perhaps our preferred local beer] for 90p/US$1.25.
Street restaurants are a little harder to find here than in Europe – it is probably because it is generally hot and people like air conditioning but we did have a really pleasant evening in the old city with Jack and Christine at a Peruvian restaurant.
A couple of other people with whom we have shared some nice meals are Ed and Tif. You may perhaps remember that I mentioned meeting a boat in the San Blas called "Antigone". For the past four years Ed and Tif have been leaving "Antigone" in Cartagena for about 6 months whilst they return to Colorado. They have shown us some good places to eat – including this Chinese restaurant which serves excellent Fish soup.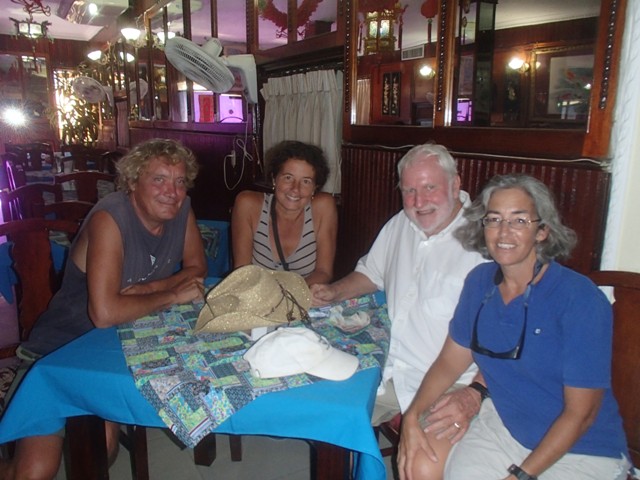 And so – to the end of this post about Cartagena. There will be more on Colombia because I haven't included the Islas Rosarios where we spent six nights last week and we are off to Santa Marta for a couple of nights later this week – but you can't have everything in one episode…. I need to keep my readers in suspense!
Meanwhile to end with a bit of camera fun. Whilst walking around one day I found a new button to play with. So here are four views of the same fountain….
…..the last of which was taken using the new panoramic feature which I found. OK, I didn't get it quite right because the way I was using it was to take tall buildings – but I think it makes quite an interesting photo. However, later that night I was able to put it to its proper use and leave you, for now, with a view from our anchorage at night.