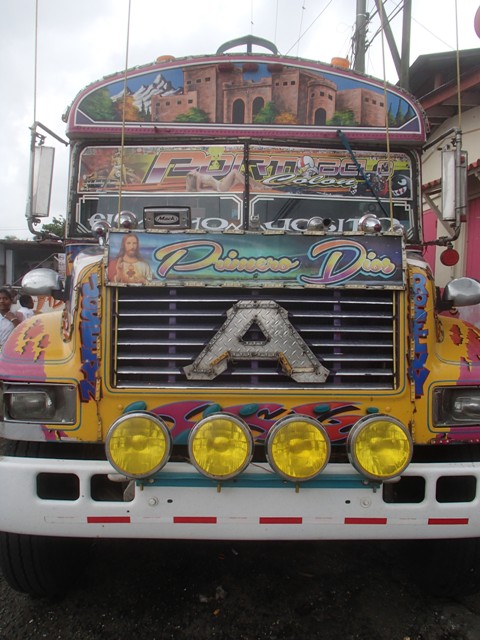 Tomorrow [Sunday 22 June] we are hoping to set off on the last leg of the 450 mile trip from Cartagena to Bocas del Toro. I say hoping, because it rather depends on the weather. Having said that, at this time of year fine weather in the morning is not a good indicator of fine weather all day – or even for the next hour though, in the main, we have so far been fortunate with weather whilst actually under sail.
Hhmmm, I also realise that "under sail" is rather a misnomer because along with the rainy season comes a season of little or no wind – except in the squalls that is. So, as a result we have motored or motor-sailed the 300 miles already completed. The final 150 miles are also likely to be, at best, motor-sailing and on this leg we will have the added encumbrance of a counter current averaging 2 knots against us – Great Joy!
So we are currently in Shelter Bay Marina, near Colon, having arrived yesterday to refuel and spend a couple of nights.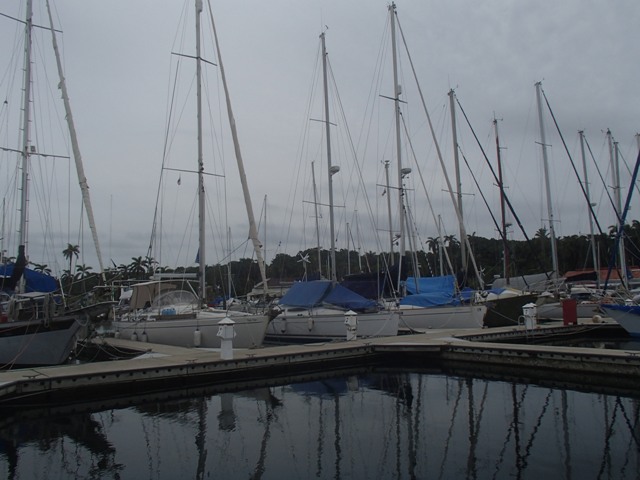 Shelter Bay is the marina which most boats going through the canal East to West use to undertake last minute jobs, get measured, provision etc and therefore most of our "neighbours" are talking about canal transit. Therefore it has been a good place to pick up some hints and tips for when we finally get round to going through ourselves.
Meanwhile, its about time I started to tell you about this journey, the first leg of which was a the short hop from Cartagena back down to Isla Grande [Islas Rosarios, Colombia] for a much needed bottom clean. On our previous trip to and from Isla Grande we had noticed that Siga Siga was a bit sluggish and this time we struggled to get her to go more than 3.5 knots per hour. We had been warned that Cartagena was a breeding ground for barnacles but we were surprised by the size and number we had picked up – along with clumps of mussels and a whole host of crabs [if crabs can come in hosts] – all of which caused lots of friction and really slowed the boat down.
Neither Mike nor I can scuba dive [and we don't have any equipment anyway] so, as I am probably the better swimmer – particularly underwater – it was up to me to dive down and scrape the propeller. I lost count after 30 dives! I am sure that Chris will remember Mike's back after he once dived in Greece to free a line – well, I hadn't forgotten either and wore one of Mike's thick long sleeved T-shirts and a pair of heavy duty gloves. Shame Mike didn't manage to get a photo of me as I was surely the belle of the boat! Mike started on the waterline and as far under the hull as he and the plastic scraper could reach. We would like to thank Jack for showing us a better way of managing this job – by using one of those suction pads used to carry glass attached to the side of the hull. It is much easier to hang onto and push against its handle than to try to tread water all the time. All in all we spent about five hours on the job and were practically asleep on our feet by the time we finished. Still, it was worth it – we got our normal speed back.
We left the Rosarios at first light the following morning [05.30]…..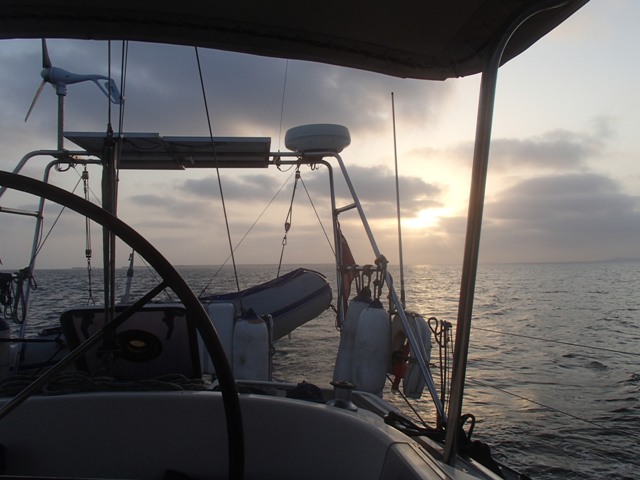 …..and had an uneventful 29 hour crossing to Nargana, San Blas where we met up with our friend Kevin for an evening of beer and catch up stories. Our "biggest" story was that of the dead AIS. You may remember that we fitted it whilst in the Rio and have therefore only actually used it for six months before, in the words of the manufacturer, "the internal processor has catastrophically failed". We have been told we need to send it to them for inspection and service. Like all manufacturers of marine equipment they seem not to understand that we use this equipment on sea voyages. These sea voyages take us to far flung places around the world and "returning" something is nigh impossible – or, at best, b…. costly. Still, we have little choice and will have to find out the price of shipping when we get to Bocas. So, having sung its virtues we are AISless and about to cross the world's busiest shipping lane! But we carry on regardless.
Our intention on reaching the Kuna Yala was to sail through it quite quickly – which is exactly what we did.  Our sail away from Nargana was delayed slightly as we had to wait for our first heavy rain of the season to pass over the village…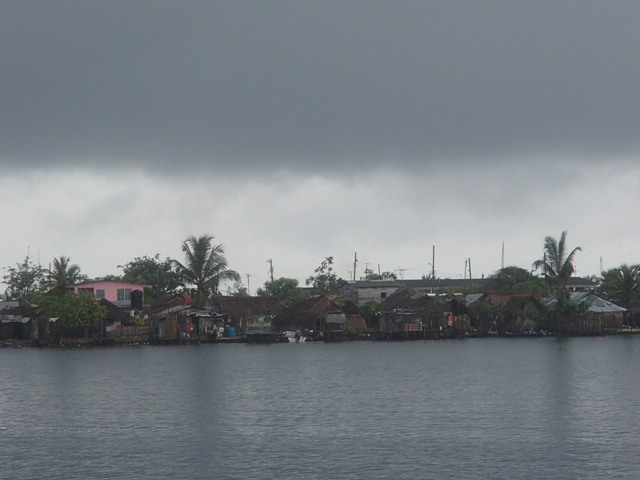 ….initially leaving behind a grey landscape with steam rising from the forest.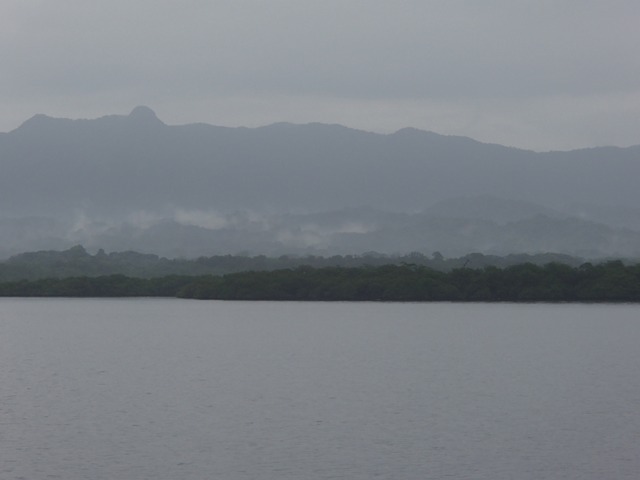 However, it soon cleared up and we left about 30 minutes later to motor in bright sunshine over a glassy sea.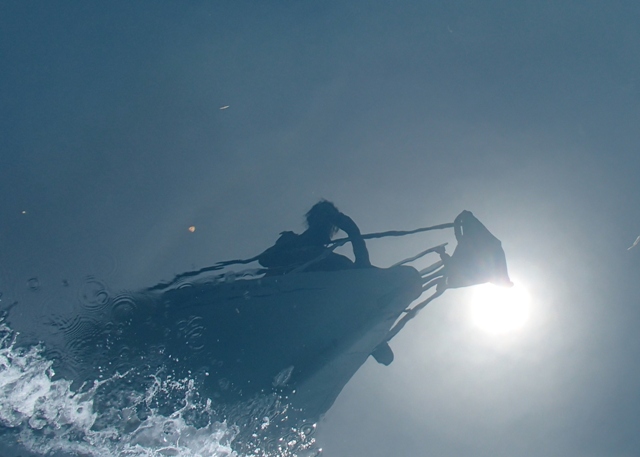 We spent two nights anchored off the island of Salardup where we went ashore for a fish meal….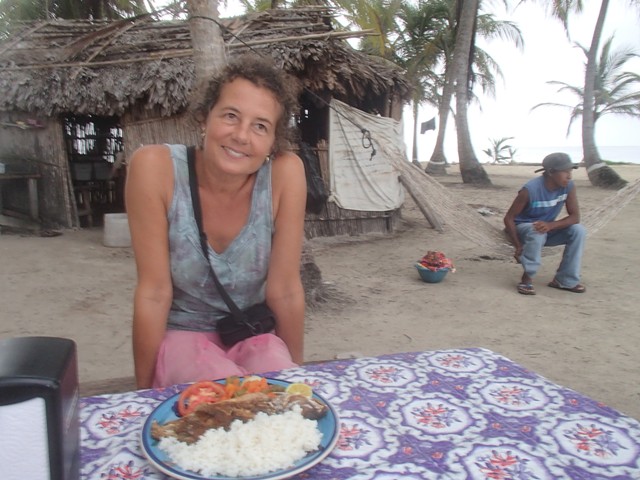 …..prepared by the Lopez family who we first met when we sailed through in April.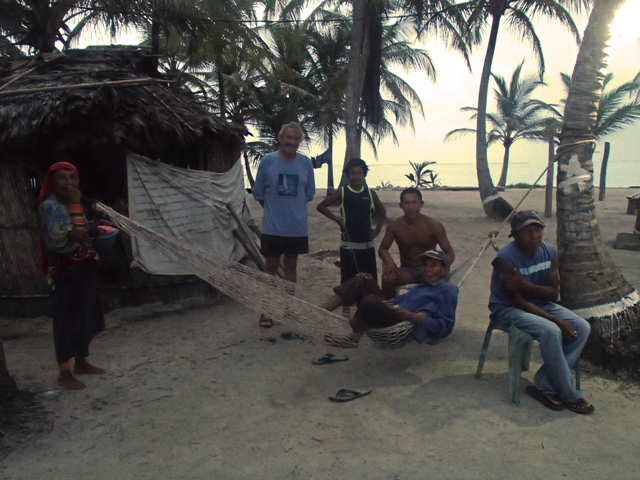 After eating we watched the sun setting behind the island…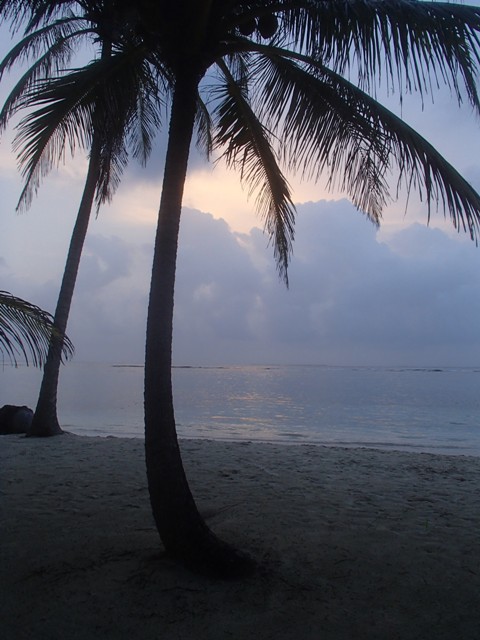 ….well, no trip through the Kuna Yala would be complete without at least one "palm tree photo"!
After clearing in at El Porvenir we had a night in the West Lemons and then, on 10th June, left the Kuna Yala intending to sail 35 miles to spend the night at the anchorage outside Green Turtle Marina and go into the marina for fuel the following morning.
So much for the plan! On arrival we were disappointed [well maybe alarmed would be more accurate in my case] that the bay, described as "smooth" for most of the year was a very rolly exposed spot with a rock shelf around three sides at about two and a half boat lengths from where you needed to [and we did]drop the anchor. So we thought that we would take the dinghy in and find out the cost of staying the night in the marina – especially as one cruiser had said that if you fill up with fuel they will sometimes allow you to stay overnight on the fuel dock free or at a reduced rate.
But, Plan B went down the spout as well. No fuel and Mike's hopeful "¿Mañana" was met with a shrug and a speech in rapid Spanish which we managed to interpret as meaning that no fuel was expected any time soon. On the positive side, having set out before 8am that morning meant that there was enough daylight left for us to get to Isla Grande [no  not the previous one – another Isla Grande – this time off the coast of Panama, just round the headland from Portobelo].
Isla Grande is supposedly popular with tourists from Panama with "many small hotels, bungalows, restaurants and weekend houses". What the Guide Book didn't say is that most of these are empty or closed. Maybe there is more life at the weekend? Maybe there is more life in the high season [low season is supposed to start in June]? There were signs of activity such as a pavement being built/replaced but all in all the island had a "has been" kind of feel to it.
Part way back from our walk to the end of the island it started to drizzle. We debated sheltering but decided that we would make a run for it. Bad decision. The heavens opened and we got absolutely drenched.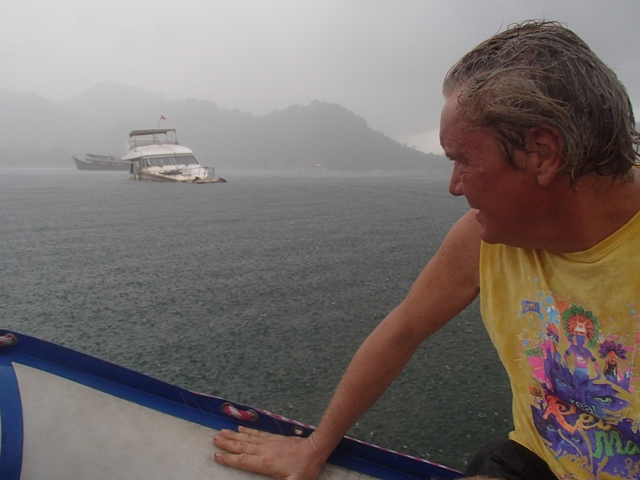 Still, its warm rain, its a free shower and its something we are going to have to get used to for the next five months.
It was then off once more – for the two and a half hour trip round to Portobelo. On arriving in the large bay we were quite surprised by the number of boats at anchor. There were probably about fifty, half of which looked to be occupied and, as we found out later, several of the occupied boats are ex-Pats from Europe and the States who found their way there three or four years ago and haven't moved since. Two of the crews are now owners of bar/restaurants [Casa Vela and Captain Jack's] and, as you expect, over the next few days we visited both establishments. Most visited was Casa Vela, partly because beer was only 86p [US$1.25] but mainly because it was a safe and handy place to leave the dinghy.
Portobelo was once the greatest Spanish Port in Central America and the remains of three forts surround the bay. Protecting the bay from the southern bank was "Fuerte Santiago" ….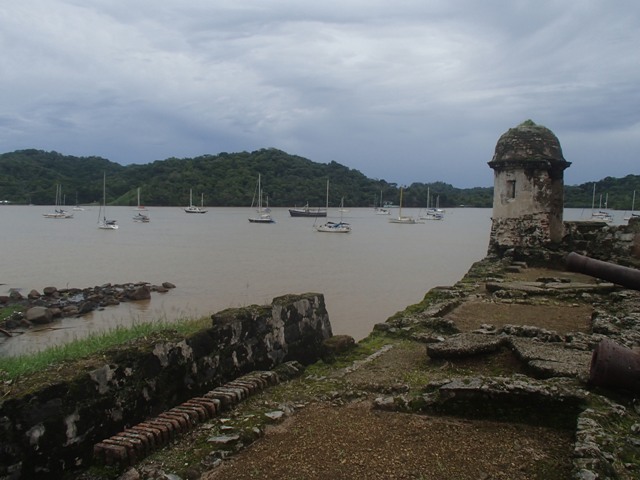 …. and, if you look across the bay, "Fuerte San Fernando" occupied the grassy slope on the northern shore. The ruins of "Fuerte Santiago" are the best preserved and the fort is still occupied – by small vultures!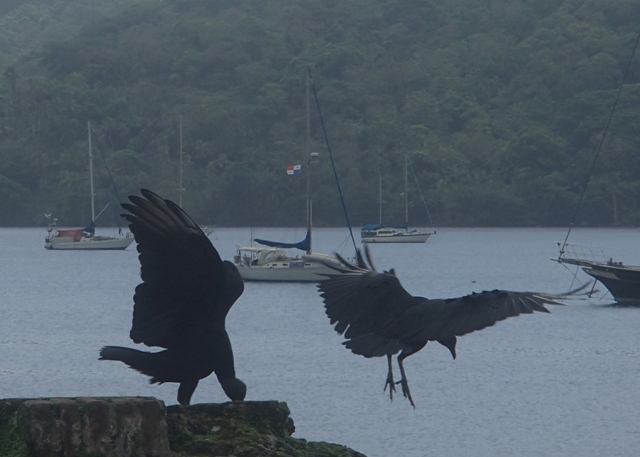 From the gun battery you can look back into town to the old "Real Aduana" [Custom House].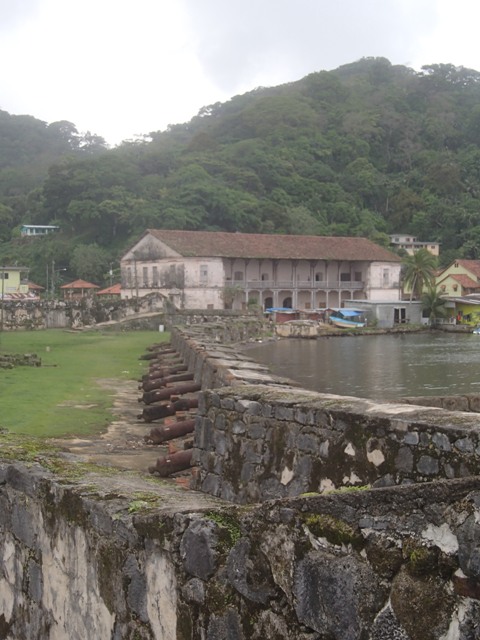 Inside the custom house is a small museum which was quite interesting though it is the building itself which is most memorable.
Looking out from the top floor of the custom house it is hard to believe that Portobelo was once such a thriving port as it is now a fairly run down town consisting of about fifteen blocks of homes and businesses lining the road and surrounding the ruins of "Santiago".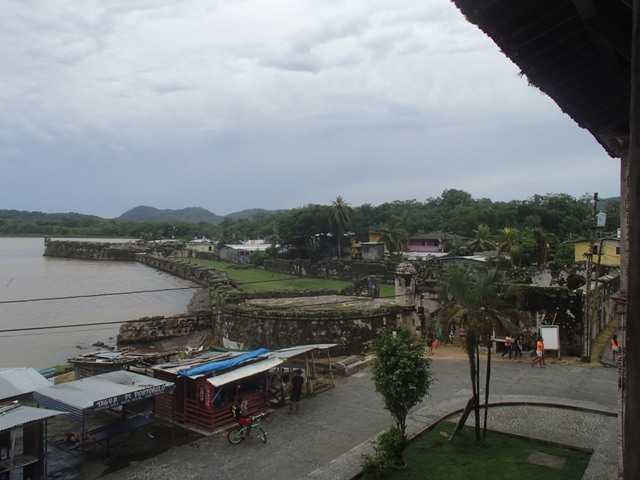 At its centre stands the old Colonial Church built in 1776…
….within which is what is possibly Portobelo's largest claim to fame…..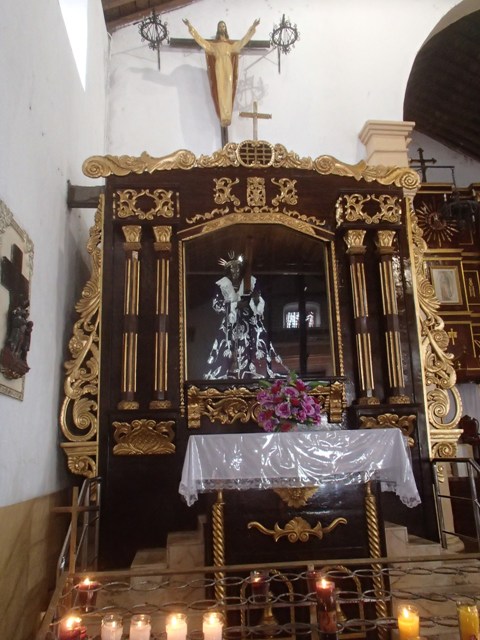 ……the Black Christ. On October 21st each year the Festival of the Black Christ apparently attracts hundreds of pilgrims, many of whom wear the same royal purple colour as the statues clothes. I found I was rather disappointed with the statue. I had expected the figure to look African. It didn't. It was like any other statue of Christ but black.
Portobelo's other claim to fame is Ismael Rivera – a singer of some repute. His statue stands in the park – though I am not certain of the significance of the other heads and there was no explanation given.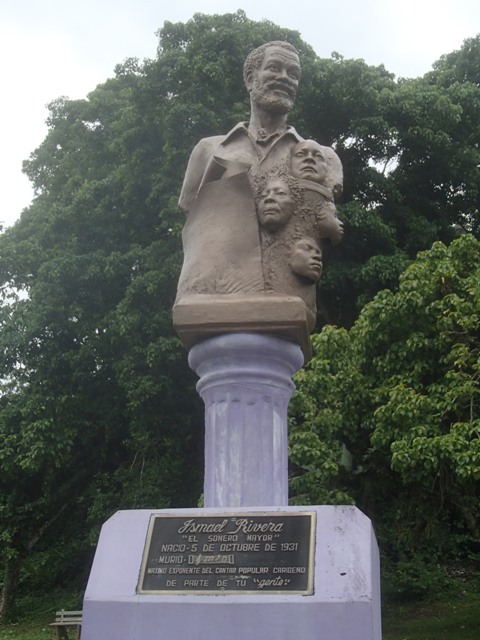 One of our days in Portobelo was spent confined to the boat – by rain. It poured down all day with a significant thunderstorm in the morning and another in the evening. Now, what was it I said earlier about free showers?!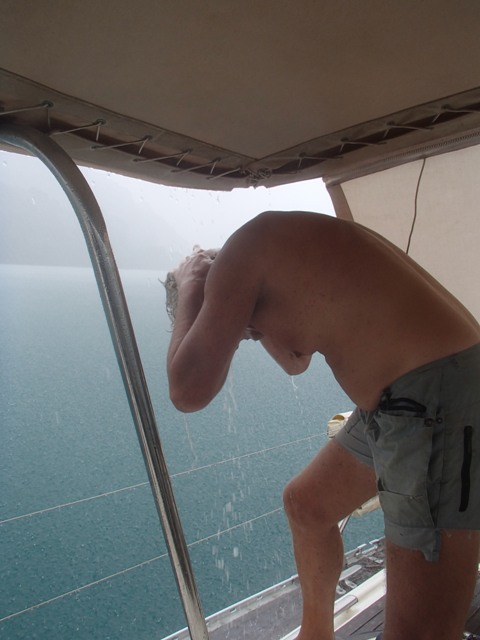 The storm had quite an impact on the colour of the water in the bay…turning it a kind of muddy orange….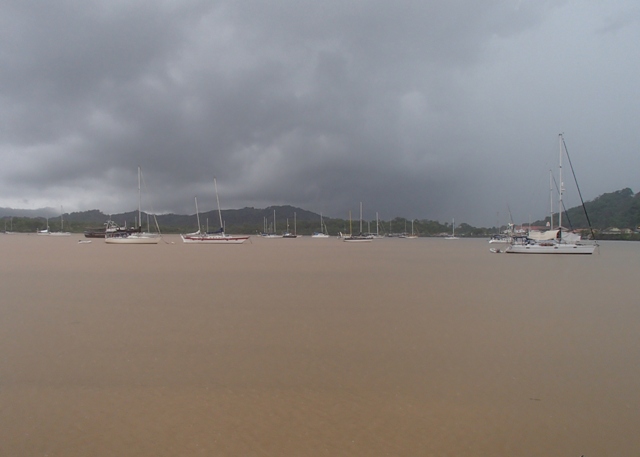 ….which was really quite interesting when it came to flushing the heads!
We went on one bus trip and, as in Guatemala it was on beautifully painted ex US school buses [as per the photo at the top of this post]. Chris [sis] will be delighted to hear that there was not just one, but two, supermarkets at the end of the journey in Sabanista – a district about 10 minutes outside of Colon. We picked up a few odds and ends but had really done the journey to see something of the countryside during the one hour each way trip – which was a bit unfortunate on the way back because it was raining again so we couldn't see out.
And so ended our stay in Portobelo….or so we thought! On 17th June we set out for Shelter Bay but at about 2 miles out the engine stopped – just as a heavy rainfall started. We put up the genoa and slowly headed back to land – after the squall passed we were left with about 5 knots of wind. Once inside the bay the effect of the land on the wind meant that the five knots were now on the bow and we began to drift slowly towards the southern shore. Fortunately, a catamaran which had just sailed in from Colombia saw our plight and came to give us a tow. Many thanks are due [and were later duly given in the form of a bottle of wine] to the Swedish crew on "Bay Dreamer".
So, we set about trying to find out what was wrong. We knew we were low on fuel but the gauge was still showing that we had fuel in the tank and, as I keep track of all our engine hours and fuel consumption, I calculated we should have had about 60 litres – certainly enough for the four/five hour journey to Colon. On looking in the engine room Mike thought that the outlet pipe on the seawater cooling system was empty so that is where we started our investigation but fortunately there was no problem there – it was just that we couldn't see water moving through even though it was there. So, the obvious next step was to check the fuel filters. These were new in Cartagena when we serviced the engine but, on taking off the pre filter we found a bit of gunk. So, we replaced it and checked everything else. We wondered whether the rolling and seesawing overnight and the still rolling waves making for a bouncy passage when we set out had stirred up some dirt lying in the bottom of the tank and, although as part of our investigations we had siphoned off a bit of fuel and found it OK, we still though maybe a few particles of gunk could have got through.  Anyway, we bled the injectors etc and the engine started and ran for half an hour. Great….or so we thought!
The following day, off we went again. This time we were in much flatter water as all the effects of storms and heavy rain had gone, leaving the passage fairly smooth. However, at about one and a half miles out the engine died again. So, it was out with the genoa once more and this time the winds were more favourable – still only 4 knots but at least they stayed behind us/on our side all the way and Mike was able to sail us safely back to our anchoring spot.
We decided that there must be something wrong with the fuel and went ashore to find out if anyone knew anything about flushing fuel systems. Our main problem, as we saw it, was that we have never had any access to the fuel tank. There is one cover which, when lifted reveals the pipework into the tank, the fuel gauge, a couple of "spare" holes with bolts in them and the shut off valve. Mike has looked and felt under the tank from the engine room and from the bilge but found no signs of a bleed off system or inspection hatch. So, how could we flush and clean a fuel tank through a half inch hole in the top [which we had used the day before for siphoning and found that tricky enough]. Mike searched the Moody website once again and concluded that there may or may not be an inspection hatch somewhere! There was no definitive answer, though some people reported having found an inspection cover near the front of the tank. "Captain Jack's" owner offered us a diesel pump and a 50 gallon drum to use if we were able to find some way in so we went back to the boat to see if we could work anything out. By judicious use of torch and our trusty mirror on a stick we managed to see under the work surface in front of the cover and detected some bolts. The same posts on the website which mentioned finding the hatch had said that to access it one needed to pull out the entire wooden surround underneath the companionway.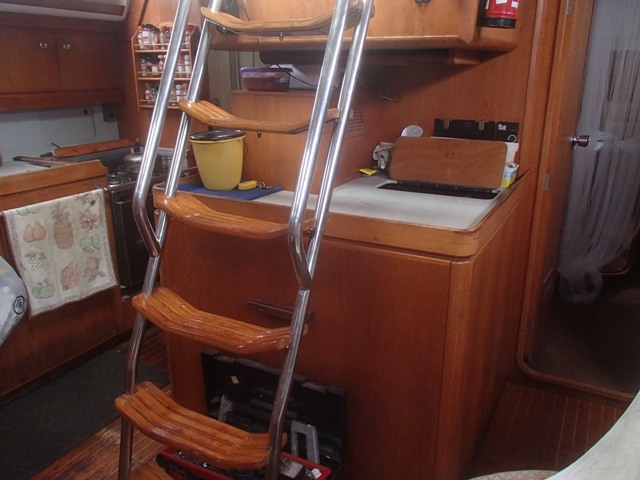 As you can see, that is quite a sturdy fixture which we didn't want to spoil and which we didn't want to weaken because we regularly grab it when moving around the boat whilst sailing.
Although I really dislike making holes anywhere in the boat we decided that a hole in the work surface had to be a better idea that removing the structure. So, Mike measured the best he could underneath the surface and I drew a plan based on his measurements. We then drew on top of the work surface what we hoped would be an access to the hatch….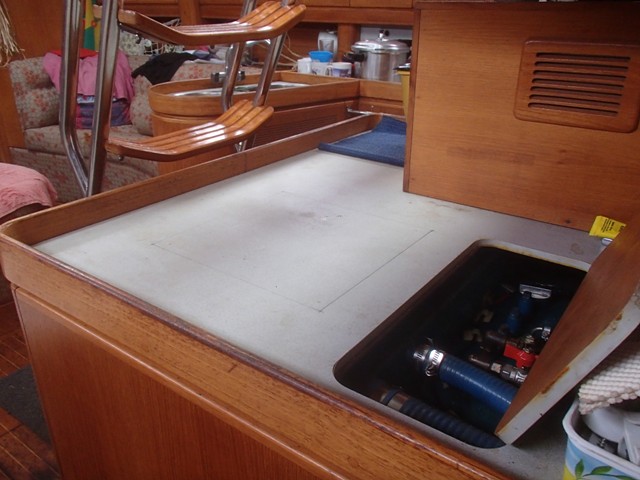 ….Mike then spent 2 hours sawing and….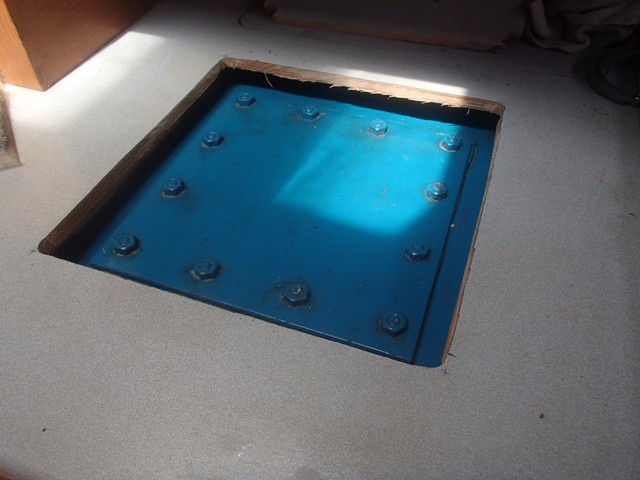 We then had the task of removing the hatch cover. All the bolts came away easily but we then had to break the seal. With hindsight we should have made the hole about 1-2" bigger all round but Mike finally managed to prise it off using a claw hammer side on. We looked into the tank expecting to see all sorts of gunk/bacteria/contaminated fuel …… only to find that we had basically just run out of fuel!!!!! The fuel gauge is lower that the fuel outlet hole so continues to show fuel in the tank even though the level isn't sufficient to be drawn into the engine. The sides of the tank were basically clean and feeling around in the bottom revealed no problems there.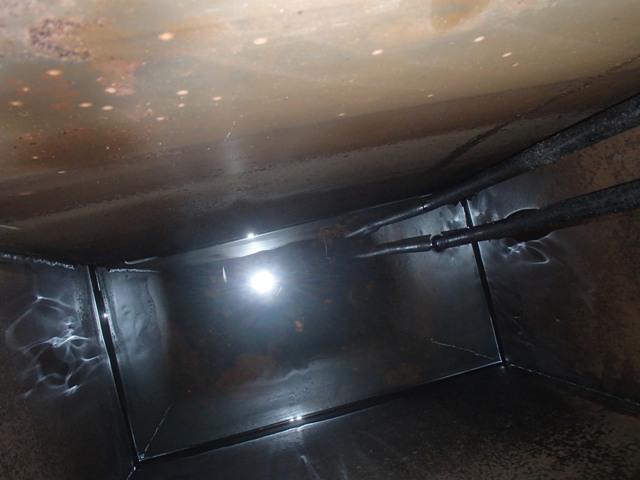 So, problem resolved. We had 10 gallons of fuel on board which we had decided not to put in when the engine stopped because all along we were thinking that we must have a contaminated system.  We bought another 10 gallons and jerried those out to the boat and put them in as well giving us more than enough to get to Shelter Bay. I said above that I have a system of calculating fuel use. I realise now that I need to be more aware of the engine hours used raising the anchor and to watch more accurately any time we run the engine whilst at anchor when we need a boost to the electricity. I have just been estimating e.g. 30 minutes when it might have been 45 etc and over time this all adds up. We also think that during the three journeys I spoke of above when we had barnacles on the bottom we used more revs than normal and therefore probably more fuel per hour.
However, on the positive side we now know where the fuel tank inspection hatch is, we have access to it and we know that, at least for now, we do not have a contaminated fuel tank.
So, here we are in Shelter Bay after an uneventful journey four hour motor sail from Portobelo – third time lucky eh! We now have a full fuel tank and are ready for the next adventure. Bocas here we come.