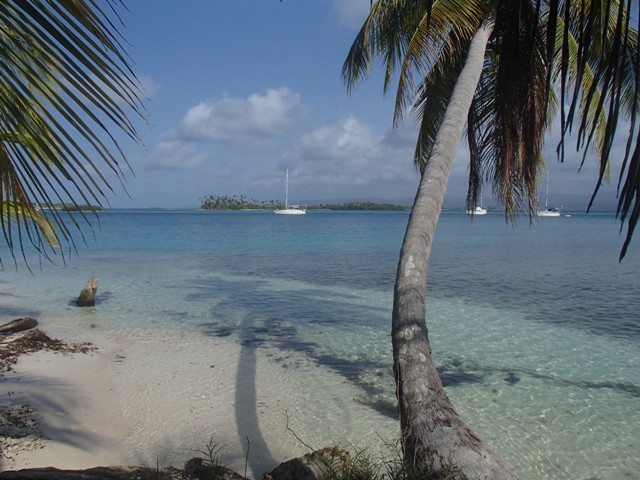 Well, where should I begin? I am going to try to capture our four and a bit weeks in the San Blas islands of Panama. As a result there should be a little of something for everyone – information about inter-island sailing and anchorages, insight into some Kuna life and customs, some thoughts about provisioning for anyone planning to visit the islands and plenty of photos.
Maybe the best place to start is with first impressions. You may remember from the last entry that we arrived in Isla Porvenir at around midday.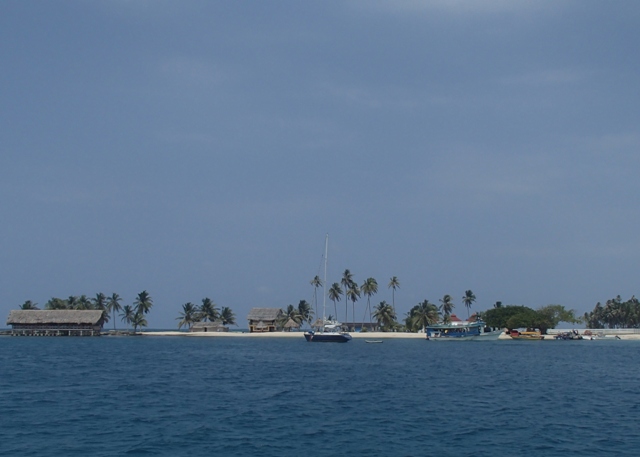 The sun was shining, the anchorage was calm and everything was looking good – until it came to anchoring. Where possible we like to anchor in about 4-5m [but are also used to anything up to 10m] and we obviously look for a nice sand or mud bottom. Here there was sand but the only places we could find what we consider a decent depth were already taken. Well, we thought, it just means that we have more chain out than normal. Unfortunately that meant that having anchored and dropped back we were practically sitting on top of a reef – a shallow one at that i.e. a dinghy couldn't cross it. We debated moving but couldn't see anywhere else we could go. Because it was calm and forecast to remain that way, at least for the next 24 hours, we decided to at least clear in – pretty vital really – and then make a decision whether to move or not.
Clearance was really quick and easy. Basically Isla Porvenir is an island with an airport runway, a small hotel, a restaurant and an office block containing the customs and immigration and, we think, a few naval folk.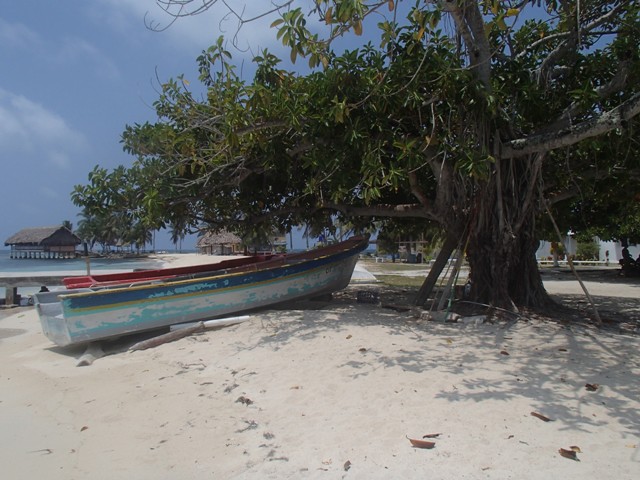 We were charged US$100 [£70] each for immigration and US$193 [£139] for the boat. US$180 [£126] of the boat charge is for a 1 year cruising permit which is multi entry [or so we believe] so it is not as bad as it first seems particularly as we will be going back to Panama again. [On leaving after our 4 week stay we were charged another US$17 [£11.70] for the Zarpe but nothing for immigration/passport.]
We had a brief look round, decided that what had looked like us hanging over the reef wasn't as bad when viewed from the dinghy as from the stern and that in light winds we shouldn't move anyway so we would stay. A nap, a drink and a meal later and all was well. Overall therefore not a bad first impression and on the following day there was a handy restaurant for lunch.
Speaking of restaurants and bars – maybe that is what I should discuss next. We had been told that there were very few. That is true! Aside from the one above at Isla Porvenir [and the other one at the hotel on Porvenir where we ate on the last evening – though the least said about the results of that for Mike, the better], we found a bar in the West Lemmons [Yes, double "m"] which we believe also did food, a new restaurant at the same W. Lemmons anchorage which wasn't doing food when we were there, a hotel restaurant on Kuanidup [Los Grillos] which told us they couldn't give us dinner when we asked, a small outdoor table [Larry's] on Salardup and a hotel/restaurant in the East Lemmons.
The food at all the restaurants is generally the same – fish [sometimes chicken], rice and a salad of lettuce, tomato and cucumber. This usually costs around US$6 [£4.00].
The "towns" also have a couple of restaurants. We liked the look of one in Nargana but it had a kid's party going on. An interesting looking bar….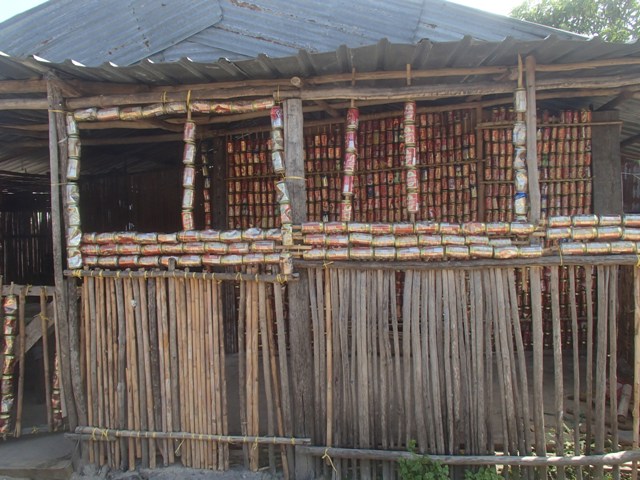 ….was closed but we finally found a drink in what we have been told is a new bar which serves food on Thurs-Saturday.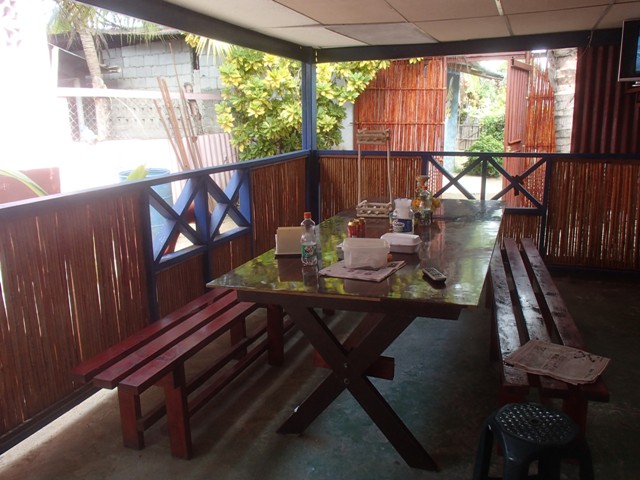 We also saw a kind of cafeteria on Carti which was basically a couple of tables in a shop. We bought some vegetables at the shop but didn't eat there. Obviously we didn't visit all the islands or other towns on the mainland further east – though the ones we did visit are supposedly more geared towards tourism/cruising boats than those we missed – thus it is clear that opportunities for eating out in the Kuna Yala are, as we had expected, few and far between and when you do find a restaurant it is very limited.
We thought, therefore, that when there were several cruisers at an anchorage there would be quite a lot of social get togethers on boats. Not so. We invited two different crews onto Siga Siga quite early in our stay when there were only us and, on those nights, one other boat in the anchorage. We had another couple on board who had told us about a "party" which was supposed to be happening but didn't. Well, it did – but had turned into a meal at a local Kuna house that one of the boat crew had got to know and arranged and wasn't "open" to strangers. We spoke to the couples on two boats when we arrived at Carti [basically to find out where the shop was] and formed a sun-downer group on "Antigone" one night and "Sea Schell" [their surname is Schell] the next night and….that was it.
It wasn't that we were being the reluctant Brits or anything. It seems that it is just the way it is. We listened to the San Blas net which operates on SSB rather than VHF. This automatically excludes about half the boats but probably can't be helped because of the wide geographical area it tries to cover. Having announced our arrival on the first day we then listened most mornings and joined in sometimes but generally it was the same dozen boats signing in every day. Absolutely no problem with that though I am not sure quite what the purpose was of each boat saying something like "*** here, still at the hot tub, no QST's [whatever they are], no traffic". Occasionally someone would ask for information but we must have heard the same topics covered at least three times – and always by the same people. It didn't sound as though it was someone new trying to find something out. The favourite topic seemed to be how to get internet – which was near nigh impossible. It seemed that several cruisers bought data chips for their phones but couldn't get them activated and when they did there are only really two places which get a signal – Nargana and Porvenir – and the best time for downloading seems to be 3am! We tried to find a data chip for our computer stick but couldn't and we decided that the hassle of making it work [or not] was not worth it for the time we were there as we have sailmail e.mail anyway.
Once we heard a swap meet being organised – i.e. an island anchorage being designated as a place to meet up and buy/sell/swap your "Treasures of the Bilge" but there was no suggestion of anything else.
Perhaps what was even more strange [because maybe you wouldn't want to announce over the net that it was Sundown drinks on "Siga Siga" tonight] was that there was very little visual evidence of inter boat activity. We tended to spend two or three nights at each anchorage and we know that some of the boats in them knew each other – they were the ones on the radio in the morning – but they didn't visit. Quite often it was hard to tell that the boats were even occupied because no-one ever appeared on deck. The only give away was when the vegetable boat came round and suddenly everyone popped their heads up.
One day we deliberately went ashore when we saw about four other dinghies head to the beach around 4pm. We thought there might be a bar – and there was. This was "Larry's" which I mentioned earlier – but the cruisers hadn't congregated at the bar – they were playing Boules. Great – we joined in….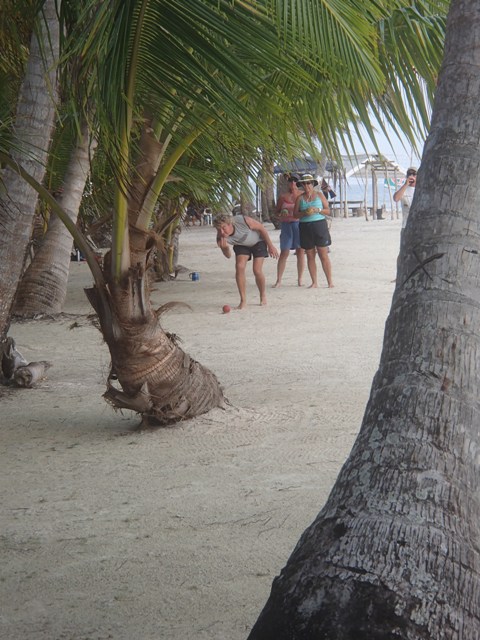 ….. and expected that everyone would go for a drink/food afterwards. But No. "Larry's" island belongs to the "Lopez" family. Like many Kuna their family has lived on the island for years and they can charge people who go ashore. Larry charged US$2 per person OR you could buy a beer for US$2 and that counted. Well, obviously you buy a beer. However what the other cruisers did was took their own beer ashore, bought one in payment and then proceeded to stay ashore playing Boules for a couple of hours drinking their own. I thought this was a bit unfair. As far as we saw – none of the other boats ate there either – which is a shame because it was probably the best of the four fish meals we had. We think the fish may have been smoked. Certainly it tasted that way and on another island we saw what I think looked like a smokery….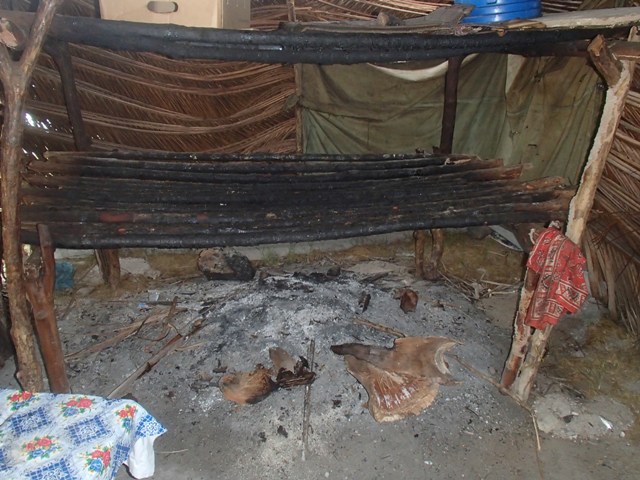 Mike said he thought it was just a sleeping hut but, if so, I don't fancy that bed much. Since most/all other Kuna beds I have seen are hammocks I think I am nearer to being right?
Anchored off Nabadup were about six boats which again seemed to communicate only by radio. We heard them every day on the net and, when within range, on VHF. At least three of those boats were there for the whole 4 weeks we were in the Kuna Yala [and possibly had been there longer] and we know that one of them didn't move for the whole season. The previous season they had spent the whole time anchored at the next island down. This seems to be the pattern for some of the regulars who return year on year to the Kuna Yala. Other favourite spots are the "swimming pool" and the "hot tub" – two anchorages next to each other in the Hollandes, the Coco Banderos islands and Chichime. It was great to visit them all – but stay there for weeks on end? There is nothing to do.
I will come back to activities in a minute but perhaps now is the time to say that we really missed cruising with friends. It could have been a whole different experience had we been with "Matador"/"Beatrice"/"Kokopelli"/"Yonder"/"Jasdip"/"Cocina"/"Nauti Nauti"/"Peking" – to name but a few. It could have been a whole different experience had there been new boats to become friends with – I guess "Antigone" and "Sea Schell" might have provided that opportunity but Sea Schell went West to Portobello and we just didn't come across Antigone again and they don't have SSB. Its not that Mike and I need other company – we are quite happy on our own – but it is nice to share.
Meanwhile – back to what there is to do. Clearly these are beautiful islands with reefs all around. So, snorkeling. Well yes, we do enjoy snorkeling but firstly it is not something we necessarily want to do every day, secondly we had cloudy weather for all but four days which means that the light isn't at its best, thirdly some of the better snorkeling is reputedly at the north side of the islands which should only be attempted on rare days when there is little/no surf [we didn't get these days] and finally –and most disappointing of all – the reefs we saw are in a pretty poor state. We found one wall at the Coco Banderos which was good mainly because there were schools of fairly inedible reef fish there but other places we swam had bleached/dead coral, few fish and not much sign of other seafood.
I deliberately wrote inedible reef fish because these islands have been fished clean of practically all edible fish. We are fairly useless at catching stuff anyway – but others we spoke to have had basically no luck either. Whilst we were visiting it was "off season" for lobster/crab and conch – but several Kuna were coming round with them for sale. What was more worrying/annoying is that some boats were buying them.
We aren't divers and maybe the reefs would be better seen in that way – but it is not allowed so, diving friends, don't expect to be able to do it. Its snorkeling or nothing.
We love walking but the islands are really small – so no exercise there. We watched one guy walk twelve times [taking about 4-5 minutes each time] round an island. He did exactly the same thing on the same island two evenings later. That was the only time we saw him and we saw his partner only when she dinghied him to the beach.
We did manage two longer walks. The first was when we anchored in a mangrove inlet fairly close to Isla Porvenir. We took the dinghy to a little beach…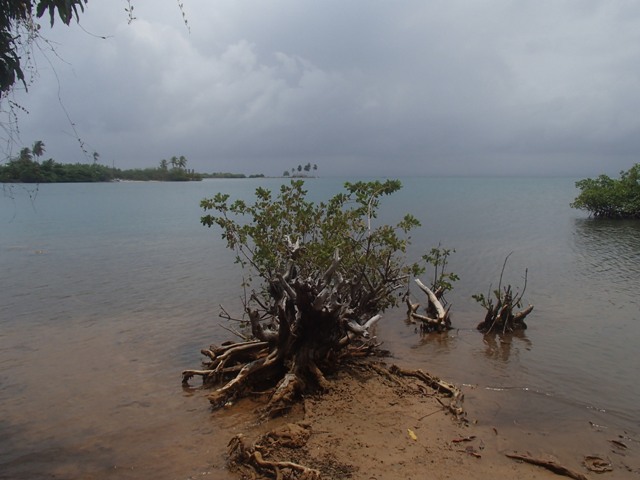 ….and walked up the hill to the radio tower from where we saw views of nearby islands.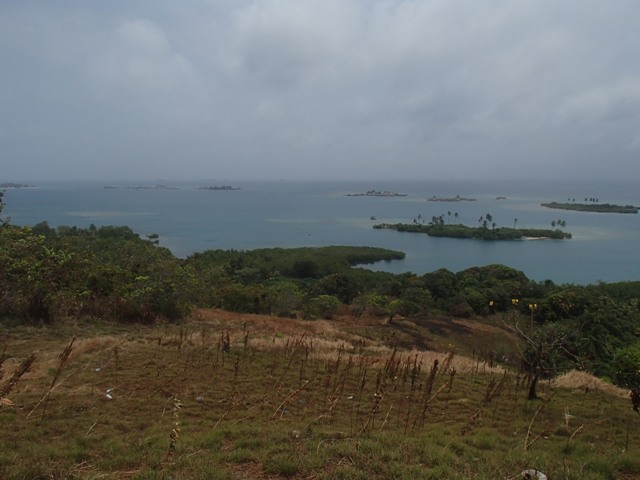 We also walked over a different hill to some buildings which we discovered were burial huts which were in various stages of construction.
Each Kuna community has its own burial ground and we were told a little bit about these when we went on our second walk – this one a guided walk with Lisa. The photograph below is Lisa's family's burial hut….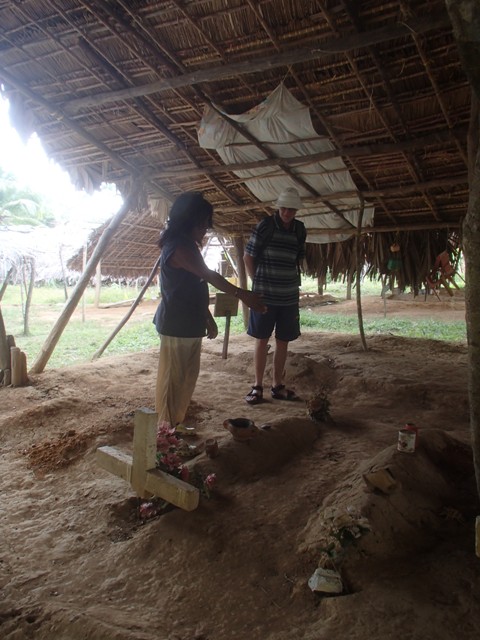 …. with her father and mothers graves in front of her as she points.
The Kuna tend the graves quite often and have commemorative meals and ceremonies with food cooked at the burial sites.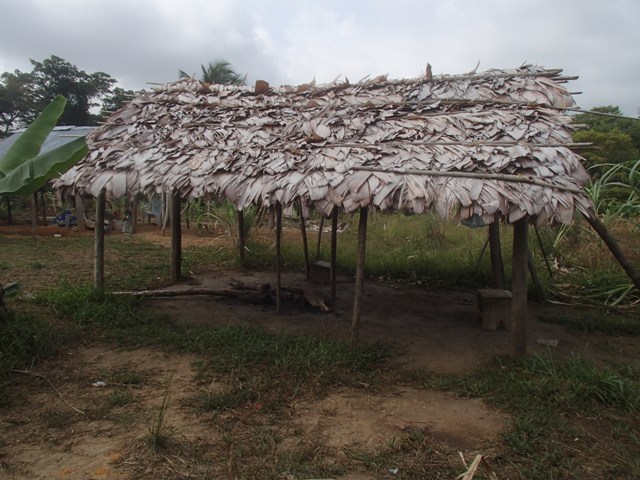 She told us that this hut is on her land and that she has also allowed other families to build huts there as it is further from the river than the original site and therefore drier. She explained that she doesn't charge for the land but they have to provide their own building materials.
The walking day with Lisa started with a 45 minute crossing by Panga to the mainland. A helping hand over the sandbar….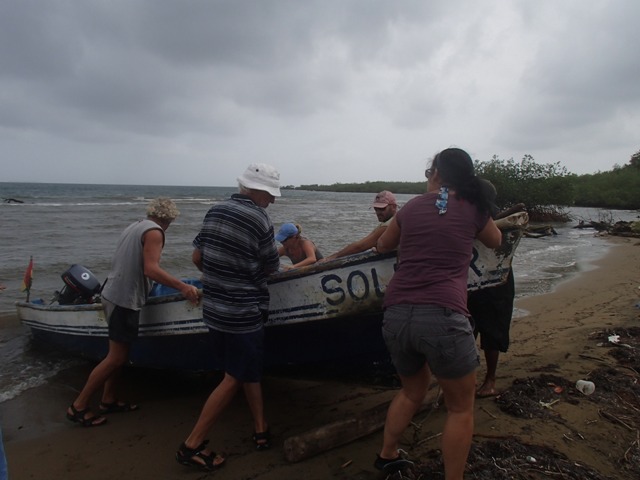 ….was followed by a short trip up the river…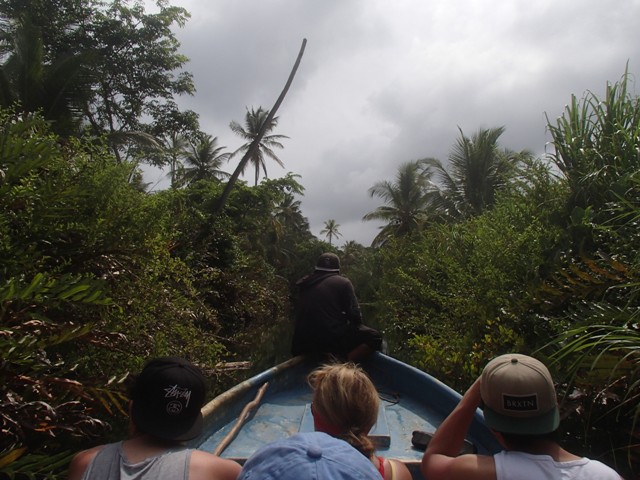 We then clamboured out and walked for about two hours – including the trip to the burial site. On the way we were told that the Kuna lands were not colonised by the Spanish conquistadores mainly because of the surrounding mountains which are high and steep. In fact, it is likely that much of this inland Panamanian mountain region has remained totally untouched by mankind.
Lisa's favourite part of the trip seemed to be gathering what she calls "Marilyn Monroe" plants. I guess you can see what she means….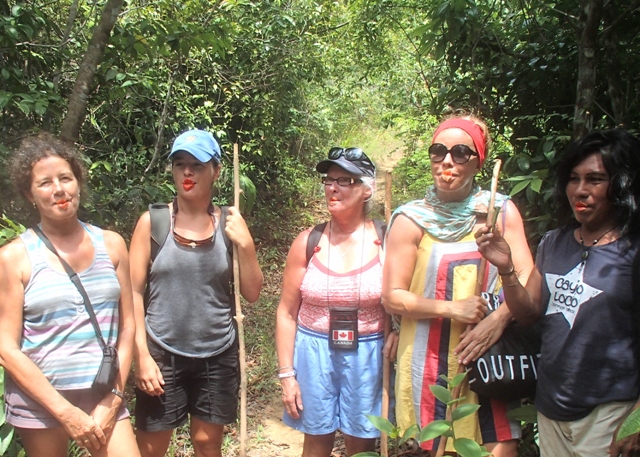 Personally it wasn't the look I would choose for myself!
Lunch was eaten at the waterfall at the top end of the walk after which we had the option of taking the same walking route back or the wetter river route.
No contest – though maybe in the wet season this could be quite a challenging option. The trip cost US$20 per person and we paid US$1 each to Lisa's colleague/friend who carried the rucksacks back down the walk whilst we did the river bit.
Although I spoke above about the Kuna Yala consisting of beautiful small islands I realise I haven't shown you any anchorages so…here we go.
There are mangrove anchorages ….
….which we went to when we were told the winds were really going to rise. They didn't – well obviously we were safely out of the wind, but there was no evidence of anything approaching the 35k forecast.
There are sandy/beach anchorages…..
….with very beautiful turquoise waters.
Some anchorages are quite busy like Chichime…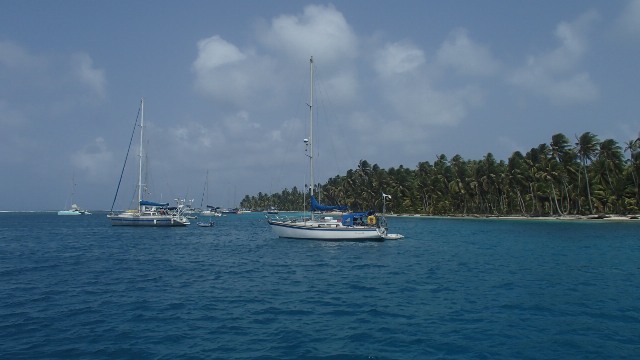 …others almost empty – tranquil at dusk.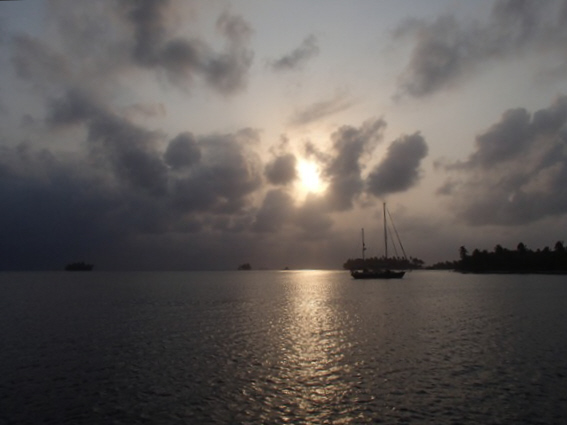 We saw storms begin to develop over the anchorage….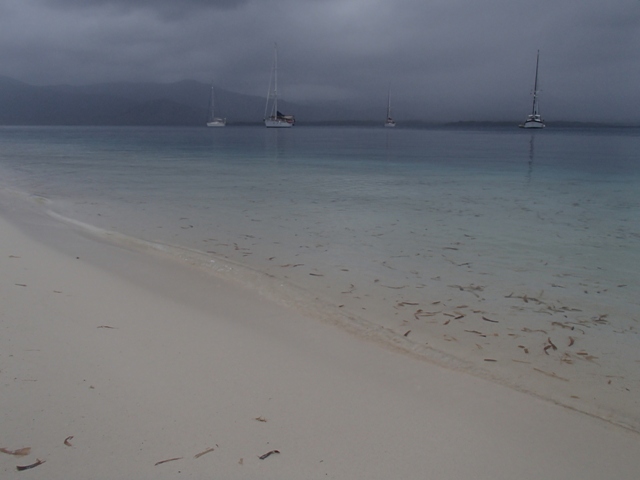 ….though we didn't actually have one drop of rain – that was falling inland.
We obviously had lots of sunsets too….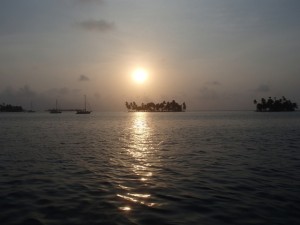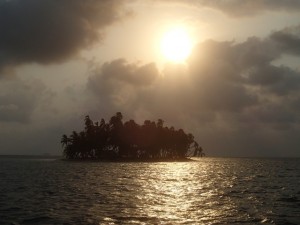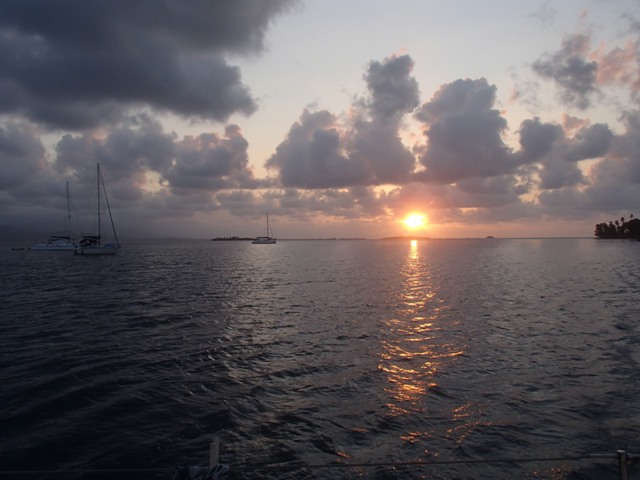 I also decided one night to have a bit of fun with the camera and take a "dramatic" anchorage photo…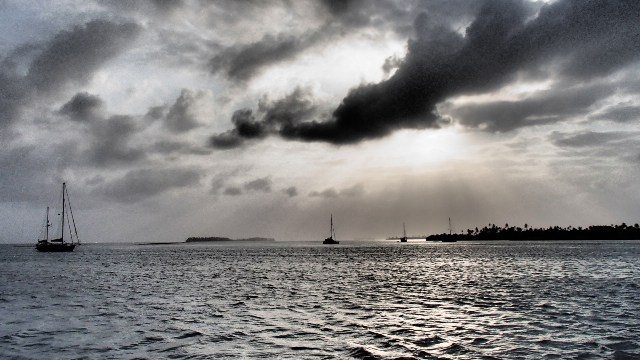 Our two favourites were the Coco Banderos…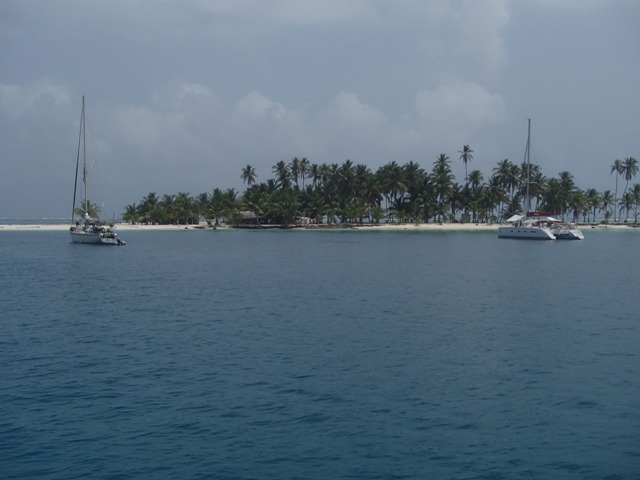 ….and the East Lemmons….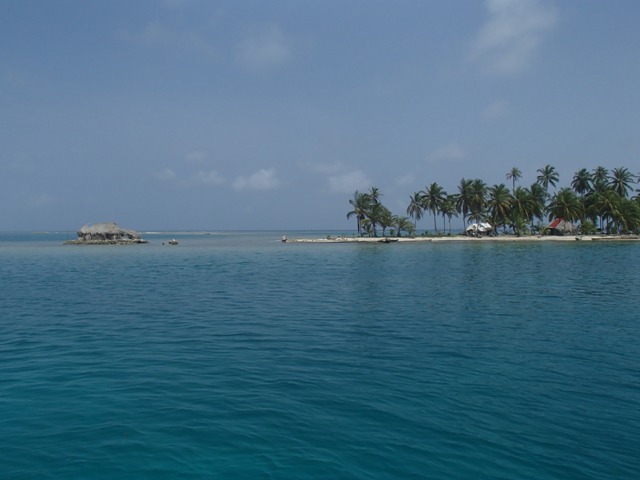 ….though both of these [along with some others] are very exposed to wind.
For reasons explained right at the beginning of this post, it can be quite difficult to find what we look for in a safe anchorage. Many of them have narrow and shallow entrances through reefs and shoals but then drop off to 18m plus. Unlike in some parts of the world the drop off is really close to shore so you don't get a gently shelving beach – it stays at 18m to within half a boat length of the exposed beach. Many of the boats look as if they are going to run aground and actually drop their anchors in this shallower water and then fall back off the beach. We are told that at the time of year we were in the Kuna Yala there aren't the 180degree wind shifts and that anchoring in this way is safe. We just couldn't bring ourselves to do it so were anchoring in deeper water and then having to look for plenty of room – which again isn't easy as many anchorages are small. We were there when at least half the normal volume of boats had gone – so what it is like in high season I don't know.
Some things we did enjoy were the half day and day sails between anchorages. The longest sail we did was 28 miles, the shortest 4.6 miles. We tended to try to look for something at around 10 miles which meant that we zig zagged around a little bit but it was something to do, generally done under sail and very pleasant. Because the islands form a kind of east-west chain the prevailing winds are good for getting around. Unlike Belize where once behind the reef you are in calm waters, here there are groups of islands each behind their own reef system so there can be exposure to quite hefty sea states between the island groups but we didn't encounter anything too uncomfortable and the distances meant any discomfort was short lived. So, as a sailing ground its not a bad place to be.
Trips by dinghy up some of the smaller rivers are also possible and we went to two – one almost completely mangrove lined and the other, mixed woodland
There are supposed to be small crocodiles up some. We didn't see any. In fact, we didn't really see much wildlife at all e.g. we had expected to see iguanas but maybe almost anything that moves is taken for food? That isn't to say we didn't see any new flora/fauna. Mike spotted this tiny frog [well his legs wouldn't really make a meal for anyone]…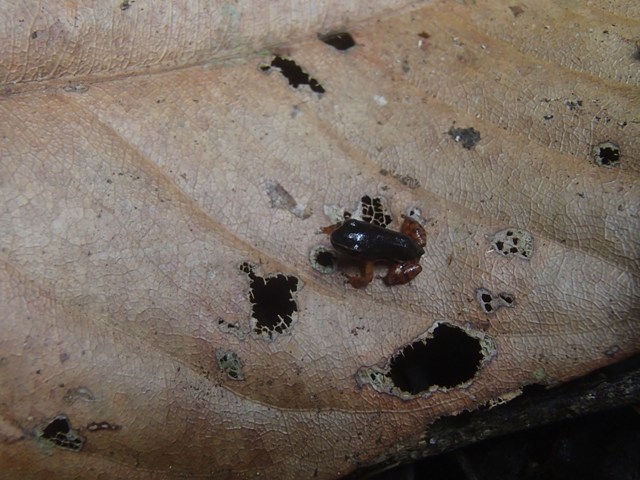 We saw a patch of baby pineapple…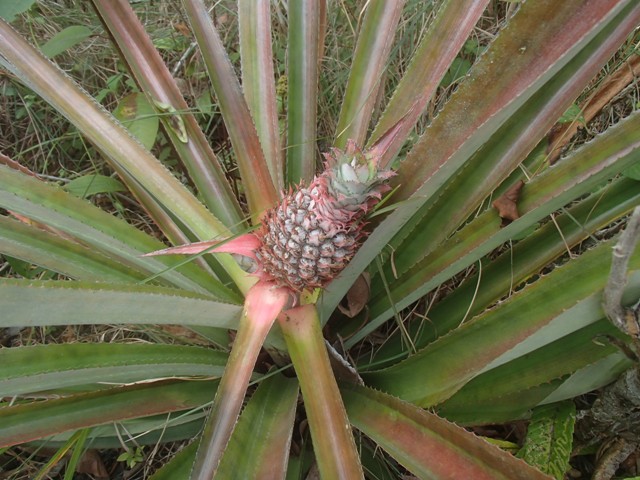 ….some lovely orchids….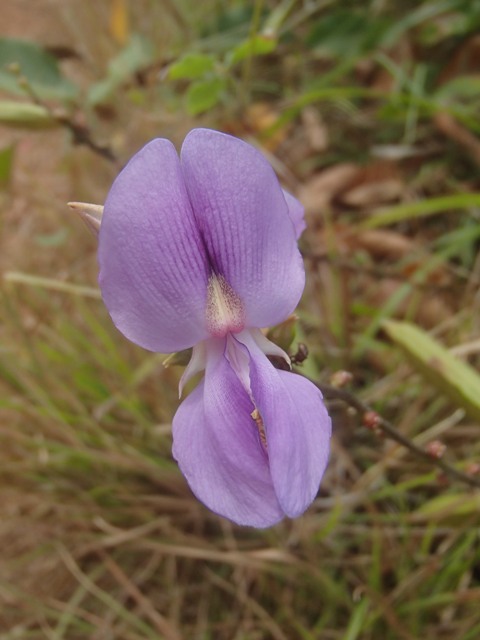 …passionflower….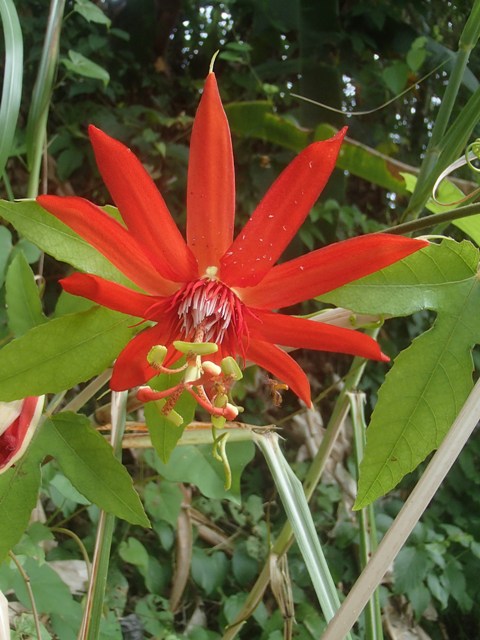 …and this rather unusual fruit with a vibrant yellow flower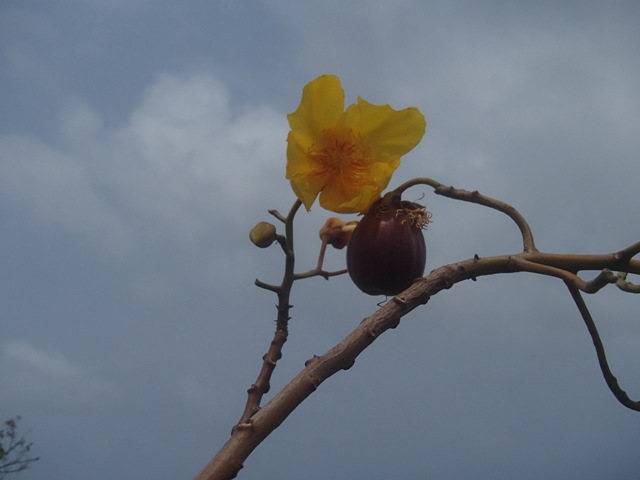 Before coming to the Kuna Yala we had been looking forward to seeing the villages. Again, very interesting the first time – and maybe the second – but seen one and you have seen them all.
This shop [Tienda] on Nalenuga wasn't totally typical as it had a lot more in it than most we saw –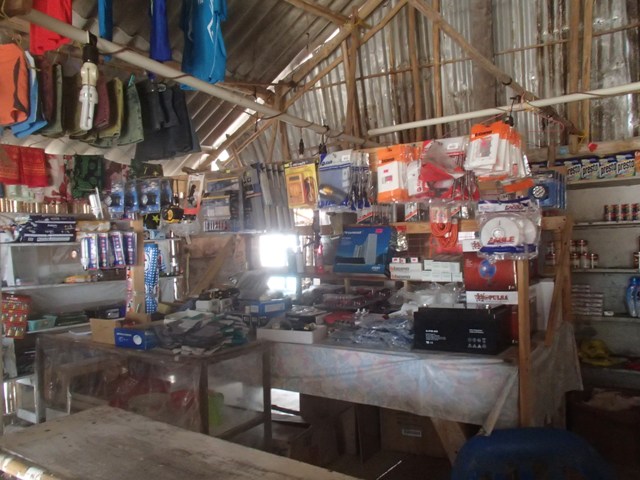 – even those in the towns only had a few goods. We tried three different shops for flour on Nargana [the biggest island we visited] without managing to buy any. The islands are rather reliant on what the trading boats bring in. We were quite surprised to find that most of them come from Colombia rather than mainland Panama.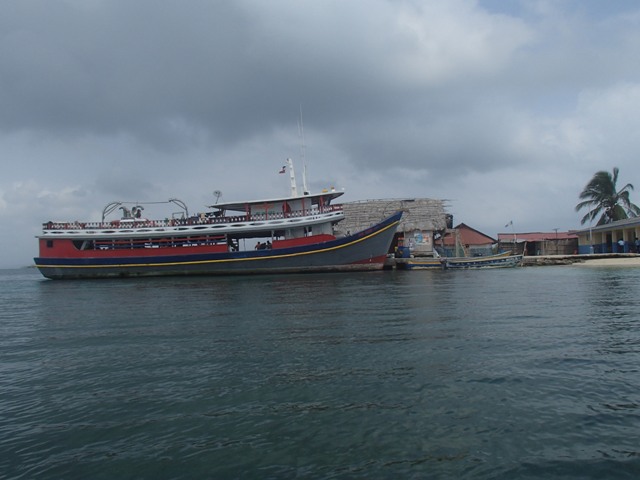 Most of our produce was purchased from vegetable boats which come round to [some] anchorages. We aren't sure whether they continue to do this during the June – October months as we have been told there are only about 30 boats stay around and they are spread over quite a lot of miles – but we bought from three boats during our stay and we were quite surprised with the quality of the produce.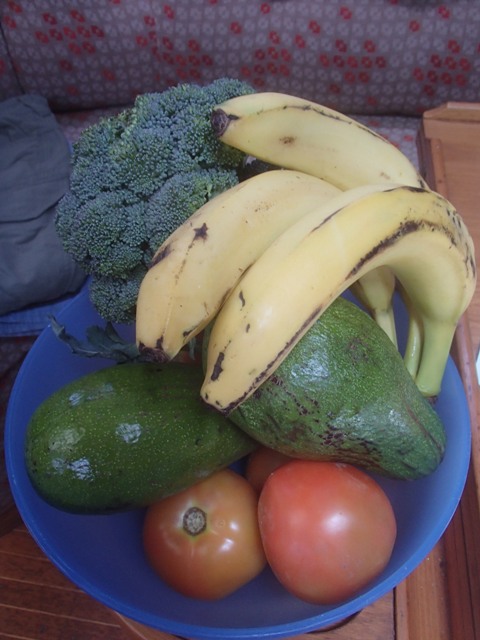 We were also able to buy whole chicken [twice] – both of which were very fresh and really tasty. We were offered fish twice – well three times actually but one of them wanted money in advance – we were not born yesterday!
There is Kuna bread for sale, mainly in the towns rather than on the islands but it has a sweet/cinnamon flavour which we don't like for sandwiches so we mainly made our own. In the course of looking for another recipe I came across instructions for pressure cooker bread. Its not actually pressure cooked, rather it is cooked in the pressure cooker with the lid sealed but the pressure valve left off. It did take about an hour to cook so much more of a gas guzzler than the flatbread we normally make but it was nice for a change and quite impressive really…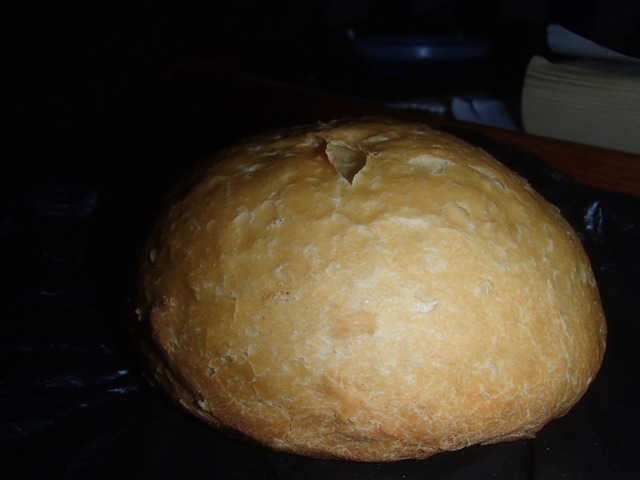 So, in terms of advice about provisioning prior to setting sail for these islands I would say that you are likely to find more fresh fruit and vegetables than you might think – but a few cans here and there wouldn't go amiss, especially if you want to ring the changes. The staples are Bananas, Plantains, Yuka, Potatoes [very good], Onions and Carrots. We also saw Broccoli, Aubergine [Eggplant for our US friends!], Mangoes, Avocadoes and Green Beans. It is probably the luck of the draw – which anchorage you are in might mean you get the boat earlier in the day and therefore more choice – and the time of year will probably impact on both the staples and the more unusual. If you like Ham or Bacon then get it beforehand. Tinned tuna is available but I am not sure about quality [we once had, or rather the fish around the boat had, something which resembled cat food -and cheap cat food at that- which came in a tin marked tuna – but this wasn't in the Kuna Yala because I had come pre-prepared]. You can get eggs quite easily and we saw rice. Other dried goods seemed harder to find and anything like condiments very difficult. "Clos" wine and beer was on sale in many places though I am less sure about spirits. Before setting out we bought packet mixers for making grapefruit, orange and lemon juices to use as mixers which was probably a good idea as we only saw Coke and some lurid fizzy drinks.
Just before we get off the subject of provisioning it might be worth my mentioning fuel and water. It is possible to buy outboard few on most of the islands with villages on them. It might also be possible to get diesel there too. In both cases it is jerry can though I think I saw a small boat come out to a cruising yacht with a barrel on board and a hand pump. However, in the case of both types of fuel I think I would only buy it in an emergency because it isn't stored in big tanks underground. There is a strong possibility the fuel is contaminated so I would advise arriving with plenty of fuel.
With regard to water – there is [apparently] a small concrete dock at Azucar against which you can dock and fill up. We went there and circled the island as much as the shallows allowed and could not find any dock we would consider putting Siga Siga against. We have a water maker so it wasn't vital and at Nargana we found a guy who brings 50 gallon/200ltr tubs to your boat. Its a bit of a job getting it on board by the bucket load and through a funnel [a siphon doesn't work as his boat is too low] – but it helped top us up. The water quality is very good – it is piped from the mainland.
For laundry purposes it seems the long term cruisers take their washing and soap up Rio Diablo and do it themselves in the river. For a four week stay we didn't find this necessary.
A couple of times I have mentioned Nargana ["Yandup" in Kuna] and this, and its "sister" island "Carazon de Jesus" [Akuanusatupu] – they are joined by a bridge – are probably the most westernised islands we visited. The mainstreet….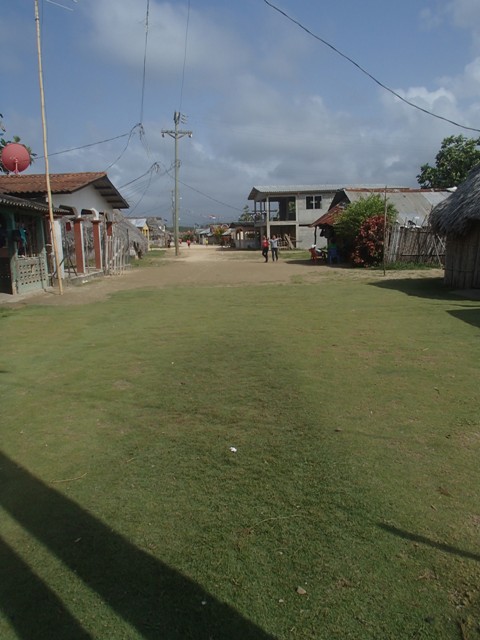 …and the square….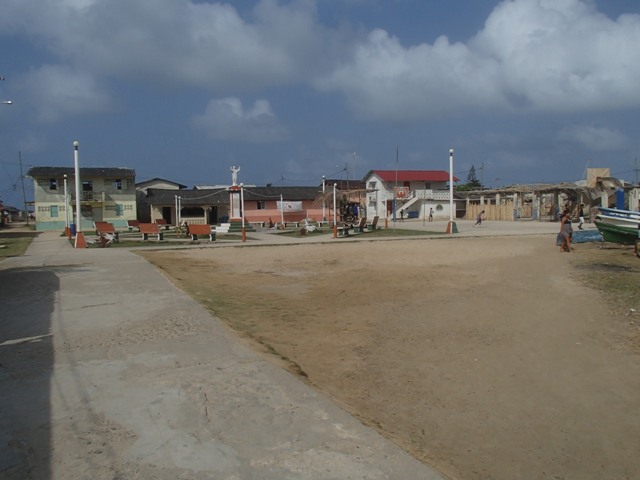 …were bigger than the jumbled narrow streets we saw in most places. There were even lamp-posts…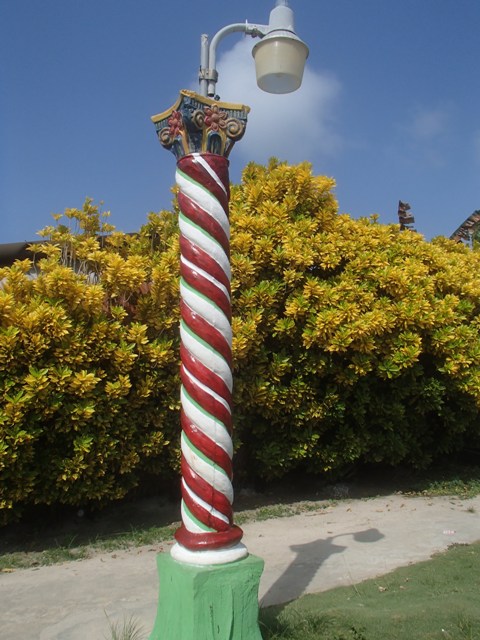 ….though the toilets were just the same as any other island…..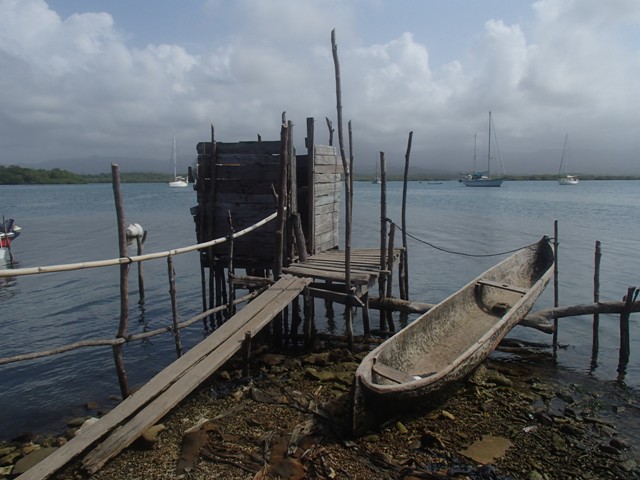 ….not the islands to anchor off if you want to make water or swim!
In the main the people are lovely. There were one or two things we didn't like e.g. a family putting a budgerigar on a baby's head to encourage us to take a photo for money [we didn't] and guys putting young women with babies into their boats to try to encourage us to give them fuel "to get the baby to the only clinic, on the mainland". We know from walking around that there are very good clinics on many of the islands and we had watched that same boat zoom around an anchorage for so long that if they really needed to get to hospital they could have done so. But this is no different to anywhere else and fairly untypical.
What did surprise us is that the main language is Spanish. It is taught in all the schools – in fact we think all lessons were taught in Spanish. So, the Kuna dictionary I had downloaded from the internet was not needed and we got by in Spanglish. We did learn that as well as being a Greek word and a Spanish word "Siga" is also a Kuna word – for beard. Maybe someone has been looking at our waterline which seems to be developing just such a thing!
Most Kuna men and some women wear western dress. It is mainly older women who have retained their traditional costume. These women are also the Kuna least liking any photographs being taken – so I am afraid I resorted to underhand photography on a couple of occasions. As a consequence the photos aren't very clear but you should get a vague idea of the traditional dress.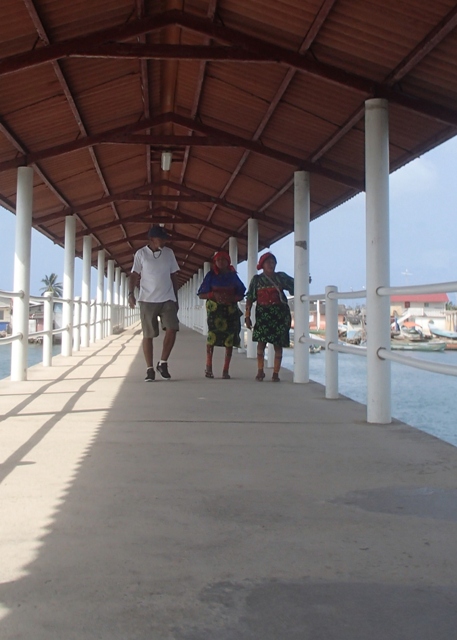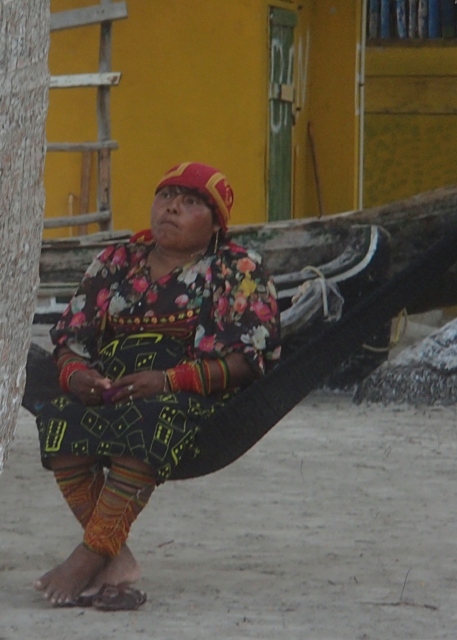 The most well known article of clothing is the "Mola" – well, the Mola is not a piece of clothing in itself – it is the embroidered rectangle of cloth which makes up the middle part of the woman's top. There are panels both at front and back and they are sometimes of traditional line design though more often we saw depictions of fish, flowers and birds. Of course everyone tries to sell you a mola and several islands have lines of them up for sale.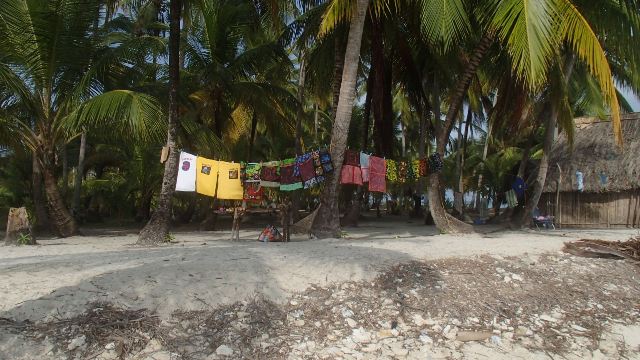 The "good" ones have many layers of stitching but are sold for up to US$100. I am afraid that we didn't buy the best quality which this guy makes and was selling – even though they were lovely. I opted for this simpler three layer option which we managed to get for US$40.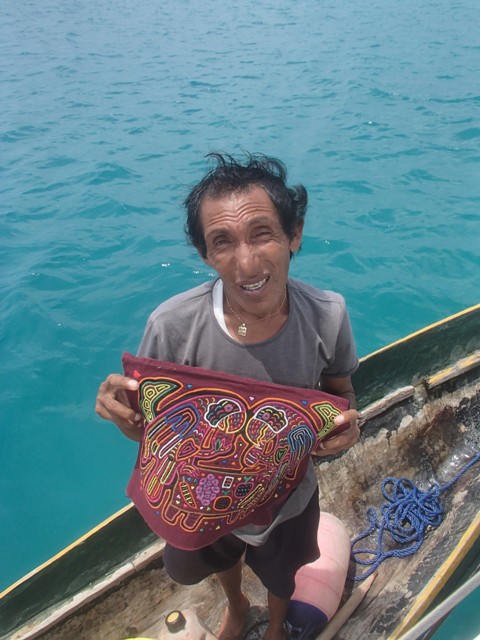 Another traditional craft is Ulu [Canoe] making. These boats are used for fishing and general transport. They are amazing – and not dissimilar to those on Haiti.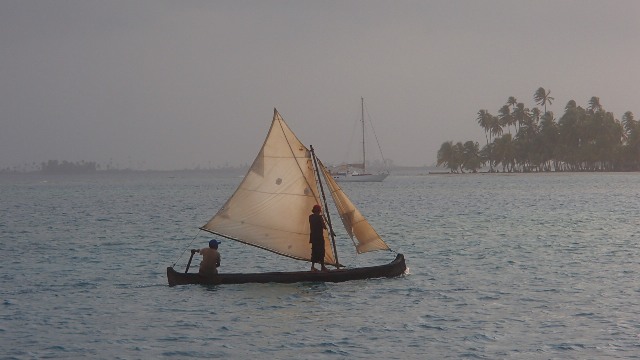 As the islands become more westernised so does the food – and the packaging. As a result there is a lot of rubbish to be seen on the windward side of the islands and the shores of the mainland. We had three different big bags on board for tin cans, plastic bottles and glass – our own recycling station! We brought all of this to Colombia. We did have two fires to burn our flammable rubbish – apparently any uninhabited island like this one next to Kuanidup can be used…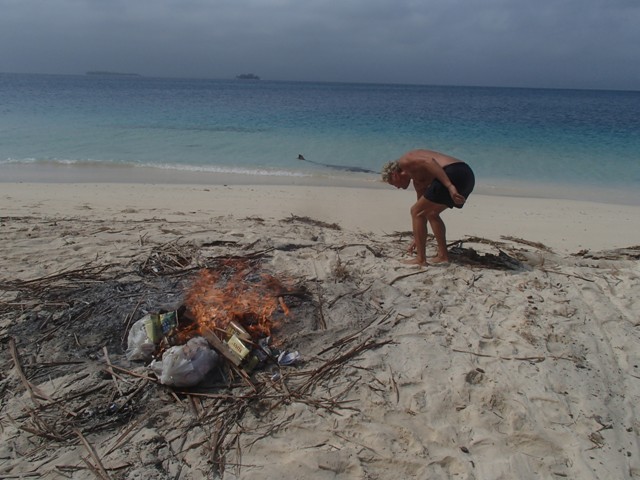 ….though we were a bit dismayed when we went to this regularly used "fire island" at Chichime to find that it was covered in glass and metal.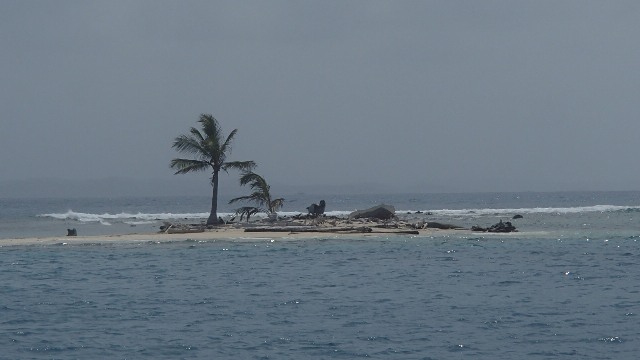 Clearly not everyone takes their non-burnable rubbish away.
The subject of rubbish disposal doesn't really seem like the best way to end a blog but I think I have said more or less all there is to say. I don't know how objective I have managed to be but it is my/our blog so it can't really be written without some personal perspective.
The last sailor we spoke to before leaving San Andres for the Kuna Yala said that the best description/idea he could give us about it was repeating what a sailor new to the islands had said over the radio in answer to the question "How long do you think you will spend here". Apparently there was a pause and the assumption was he was looking around before answering in an awed voice "Forever". Many people we have met say it is the best place they have visited. As the title of this post suggests Mike and I don't really see it that way. It's not a bad place and you certainly don't spend lots of cash. We may have visited at the wrong time [mainly cloudy], not been to the right places [where else was there], not been with friends [big mistake], but all in all we found it hyped up to being much more than it really is – for us it was definitely a case of the Emperor's New Clothes. But – you don't have to take our word for it ….and we are still smiling!