So yachting friends, this first bit is for you as the last blog post was sadly lacking in all things nautical. Actually, this first bit is for all friends if you choose to read it!
We left Cayo Matias, Cuba at 1055 on April 13th – which, incidentally, wasn't a Friday – and spent the first 12 hours turning the engine off and on as the wind rose and fell and rose and fell again and finally, at 23.00, rose to between 13 and 19 knots and stayed there for the next 36 hours thus giving us a great sail across to the Mexican coast. The first day and night, and some of the next day, was also spent getting out of Cuban waters – Cuba really is a big island. Isla Juventude, a "small island" off Cuba's south west coast, took us over 12 hours to pass and we then sailed parallel to land – approx 50 miles offshore – for another 20 hours before getting to the Yucatan Strait
This Strait is renowned for its current and to best understand it you need to consider that it is the main link between the Caribbean and the Gulf of Mexico. It is only 110 miles wide – which might sound like a lot of miles – but all the west and northwest flowing currents of the Caribbean merge to form the Yucatan current which is then funnelled through this gap. The direction of current is north with an average rate of around 4 knots. We were sailing west/southwest and didn't therefore feel the full force of it against us for most of the journey but it reaches maximum rate when passing over Arrowsmith bank, which was on our route. Actually, unless one decided to do a considerable detour then the Arrowsmith bank is on everyone's route if they are sailing to Mexico from the east/northeast so avoiding it wasn't really an option. Siga Siga was sailing brilliantly and averaging around 7 knots. Unfortunately over the Arrowsmith bank our SOG [speed over ground] was nearer 3.5 knots! Fortunately the bank isn't that big and we only had to put up with the most severe impact of the current for about 4 hours.
But the Yucatan channel does have its compensations….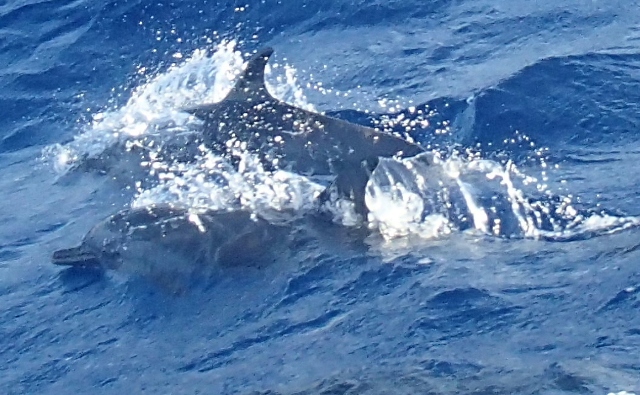 There were actually about 15 of them. They were bigger than the ones we saw and photographed in the Bay of Biscay and didn't leap out of the water as much. Of course, when they did my camera was usually pointing elsewhere and I had some great photos [now deleted] of nothing but sea or of my feet as I tried to get a shot of them riding the bow wave.
Anyway, on 15th April we arrived at Isla Mujeres which is just off the Mexican coast opposite Cancún. I am not quite sure what I expected – possibly something like the Costa del Sol – not that I have ever been there, so don't really know what I am talking about – but we all carry images around in our heads which may well be very unjust ones. Whatever, Isla Mujeres wasn't like I had imagined it – though Cancún was!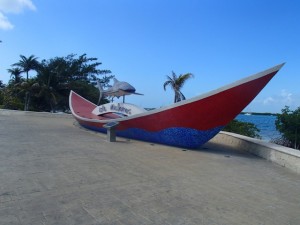 Isla Mujeres, the "Island of Women" [as translated from Spanish] is about 5 miles long and only approximately a quarter of a mile wide and has one main anchorage off the small town at the north end. It is an official Port of Entry and despite the fact that we had to have most of our documents copied five times for various officials, stamps and possibly toilet paper as I can't think of any other reason they needed so many copies, and that Mike had to return 24 hours later for the Customs man, clearing in wasn't really a problem. We have heard tales of boats having to have a permit costing US$50 if a stay of more than 7 days is planned – and to go across to Cancún to get it – but no-one said anything to us about that and "Hunda" [Dorothy and Duncan] who we met there had stayed for six weeks last year and didn't have a problem.  We also heard tales about the health official visiting boats and confiscating foodstuffs but we didn't encounter that either.
We knew that we were only going to be in Mexico for a short time but decided that we had to visit a least one Mayan site. Initially it was our intention to leave Isla Mujeres after a few days and sail down the Mexican coast, anchoring at a few places, visiting a site or two on the way and clear out from Xcalak near the border with Belize. Unfortunately we then heard that Xcalak was [we think, temporarily] closed as a port of clearance due to the ill-health of the main official? This seems a bit unlikely because if it is a port of clearance then surely there would be stand in officials? Or, maybe not? Anyway, the only other place we could have cleared out was the island of Cozumel but that is only one third of the way down so, since we knew where all the buildings were in Mujeres and had met the officials, we decided to clear out from there. This meant that any visits to the mainland had to be done from Isla Mujeres.
Having read the Lonely Planet I rather liked the idea of a trip to Tulum and Cobá which would take in two sites and allow us to indulge in one of our favourite pastimes of travelling by local bus. However, the bus times between these places meant that we would have been away from the boat for three days and two nights. Although, as you will remember, we left the boat at anchor in Cienfuegos when we went on our two short trips in Cuba, leaving it anchored in Isla Mujeres would be a whole heap different. First of all, Cienfuegos is in a very large and sheltered bay, the anchorage at Isla Mujeres is open to the north and, given that the island is so small and flat, there isn't really much protection from wind coming from any direction. Secondly, and perhaps more important as the forecast was for calm settled weather, so the anchorage would have probably been OK in that respect, at Cienfuegos we were anchored off the marina with 24 hour security. There is no security anchored in Isla Mujeres roadstead "Harbour". We could have taken it to one of the two marinas but that would have meant paying for a berth for four nights [the two nights of our trip plus the one before the early ferry to the mainland and the one following our evening return] – and the marinas aren't cheap in Mexico. So we had to find a day trip.
Dorothy and Duncan recommended the trip to Chichén Itzá which is one of the main Mayan sites. I wasn't sure about going there because it is very popular with holidaymakers and cruise liners and has a reputation of being "touristy". Of course I realise that most sites are going to be touristy but I didn't want to end up one of a crocodile of people following other umbrella led crocodiles. But, it was the only real option available so rather than not visit anywhere – Chichén Itzá it was.
The trip didn't get off to the best of starts [well it wouldn't if it meant me having to get Mike up at 5.30am to catch the 6.30 ferry]. Aside from that we spent about an hour, having been picked up at the ferry terminal by minibus, driving around Cancún's massive hotel district picking up some more people before being taken to a car park at "Wet 'n Wild" where all the tour buses meet and exchange passengers. We were then told it was a 100 mile journey from Cancún to the site. Oh well – a chance to see some of the countryside. However, there is nothing to see! The roads are long and straight and most of the journey is on the main highway which, like most motorways, doesn't go through towns and which was lined on both sides by scrubby bushes which you couldn't see over.
The good news was that we were stopping off part way to call at a "Cenote" which is, basically, an underground cave where the roof has fallen in. The even better news was that at the Cenote was, we were told, a Tequila museum. So, things were beginning to look up. That is, until we reached the Cenote….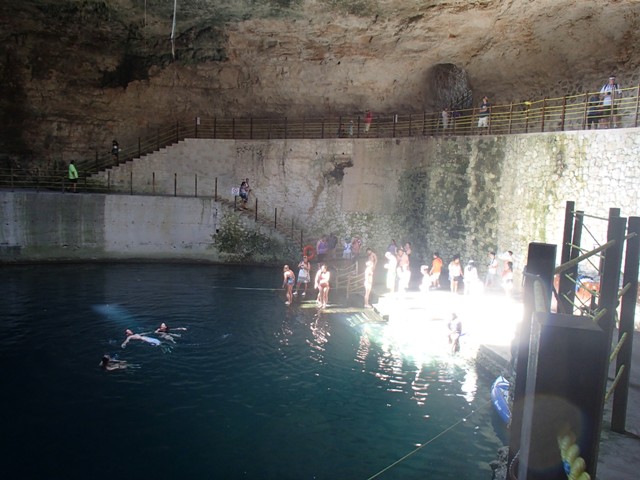 It looks OK and it is what it says on the tin [i.e. the underground cave where the roof has fallen in] but there is rather a lot of concrete and some changing rooms and various tourist trappings and, horror of horrors, the tequila museum wasn't a museum at all! We were taken in hand by a "guide" who rushed us past a small field of Agave plants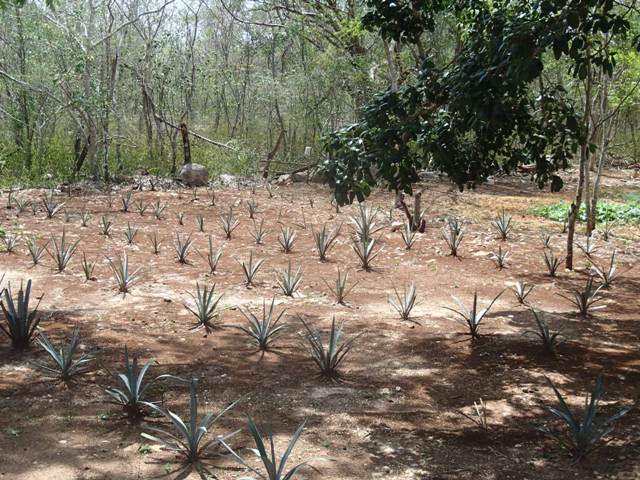 "which is what tequila is made from but no tequila is made from these they are just here for you to see" and past a reconstructed processing vat "which is really much bigger than that" and wasn't even worth a photograph into the "museum" which was actually six separate areas for each guide to tell you about the 750ml bottle of tequila you could buy for the excellent price of US$62 [£43] and that was the cheap one!
Back on the bus we were told that our next stop was lunch [included in the price] with a bar [drinks not included]. As it turned out, this wasn't actually too bad. The place was, again, full of folk trying to sell various trinkets but the food was fine and plentiful [a help yourself buffet], the price of the drinks wasn't as much as we expected and we were entertained by traditional dancers.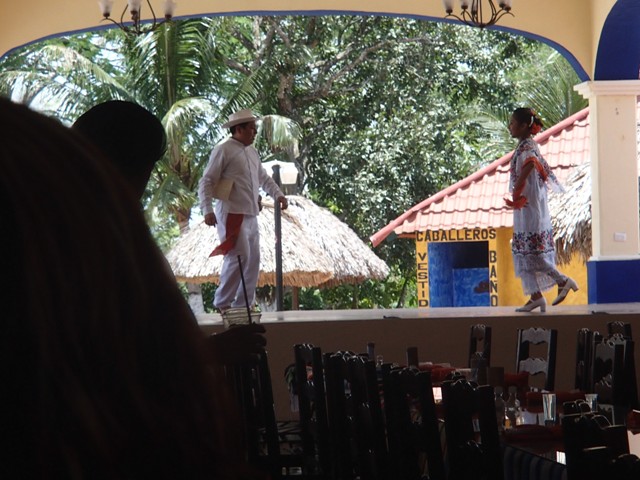 Finally, at around 2pm we arrived at Chichén Itzá and I am delighted to tell you that this place was worth the trip and everything that had gone before.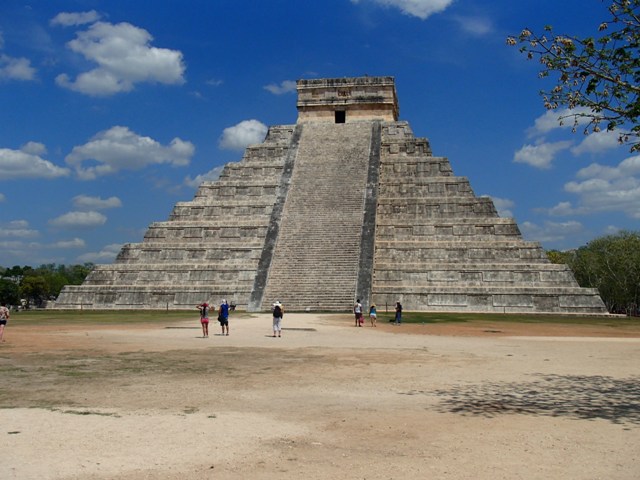 Clearly, the place is touristy but April is late in the season and although Cruise ships are still around there were none visiting on the day we were there so we were able to see the site unimpeded. Chichén Itzá was a religious, and therefore, sacrificial site. Young women who were born on sacred days [I guess there must have been quite a few of these] were brought up to volunteer to appease the rain god by leaping into the main cenote on the site. To encourage them to take the plunge they drank a mixture of tequila, honey and herbs. It was obviously strong enough to get them drunk – but one sip of the sickly stuff was enough for Mike and I to say – yep – jumping was possibly the best option anyway! To make sure they sank they were decorated with heavy belts, armlets and necklaces which must have been worth a fortune in metals and gems.
Young men who were born on sacred days didn't have it any better! The belief was that when the sun sank the sun god lost its strength so had to be revived regularly with blood. A continuous ball game took place during the daylight hours and the captain of the winning team [each game was won when just one goal was scored] was rewarded by having his head cut off by the captain of the losing team! [Maybe this is something FIFA would like to consider?]
Anyway, generally it took longer than one day for a goal to be scored – oh goody that means that less than 365 young men were sacrificed each year! The goal post was high on the wall [a bit like a basketball hoop on its side – see photo below] and the ball was about 8lb [4 kilo] in weight.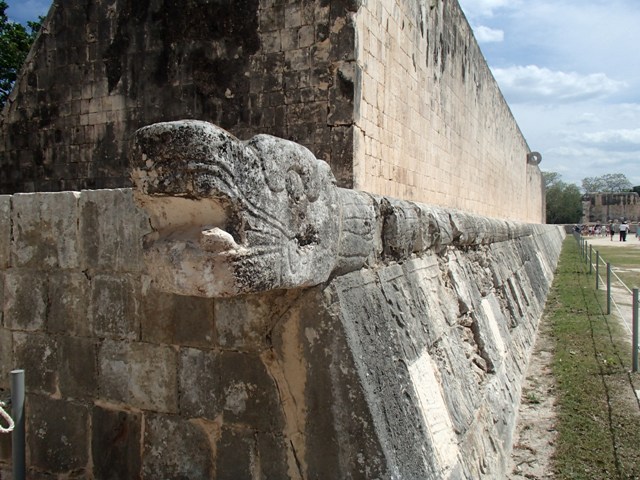 The serpent drank the blood on behalf of the gods and the symbol of the serpent was found in many places across the site.
We also learnt about the caste system and how it was possible to differentiate on sight between the high and low born. It is likely that the rich people's clothes and jewellery were a bit of a giveaway but there was also the sloping head – it went to a point rather than being flat. This was caused by a board being strapped to a baby's head at birth to deform the skull. Rich girl babies also had a ball fastened into place on the bridge of the nose which they stared at giving them, 12 months later, crossed eyes which remained with them throughout their lives. On getting their second set of teeth, young rich boys had them serrated along the bottom edge so that they looked like a saw. Not exactly the facial features that we would consider signs of quality but there you have it!
Perhaps what the Mayans are most renowned for is their calendar. Actually there were three calendars, the long one, the short one and, I think, the lunar one. It is said that they used these calendars to predict future world events and several catastrophes with dates were cited as have been foreseen and written about by the Mayan priests. It is perhaps not surprising that all the events that were predicted were bad ones, as fear is a great controller but fortunately their prediction about "the end of the world" was wrong. December 23rd 2012 has now passed by.
What is clear is that they had a level of intelligence and mathematical knowledge which enabled them to build fantastic structures – based on numbers. Perhaps the most amazing was the echoes created. In the "ballpark" one clap anywhere between the two long walls created an echo which bounced seven times back and forth. A clap when standing at the base of the temple within the boundary of the centre steps created an echo which sounded like an eagle. One step to the right or left of the staircase and there was no echo.
The Mayans also built a wall to commemorate the dead.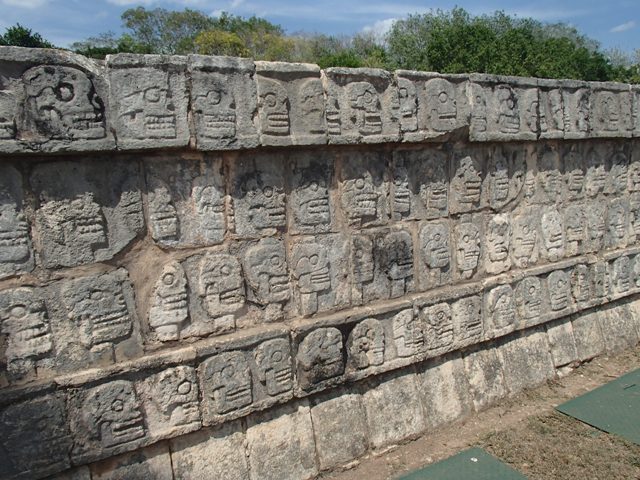 This was a kind of burial ground where skulls were placed in a cavity behind the wall. They didn't totally discriminate between warriors and enemies in that all the skulls were given a final resting place. First of all, however, the heads of enemies were placed on a stake and, once within the wall, they were "guarded" by the dead warriors. The warrior's skulls are in the top and bottom rows. The middle rows of carving also depict the stake below the skull.
We had wondered why china skulls were available for tourists to buy. We now understand [well kind of – if that's your thing] but we did think they made a colourful display even if buying one wasn't high on our list of mementos.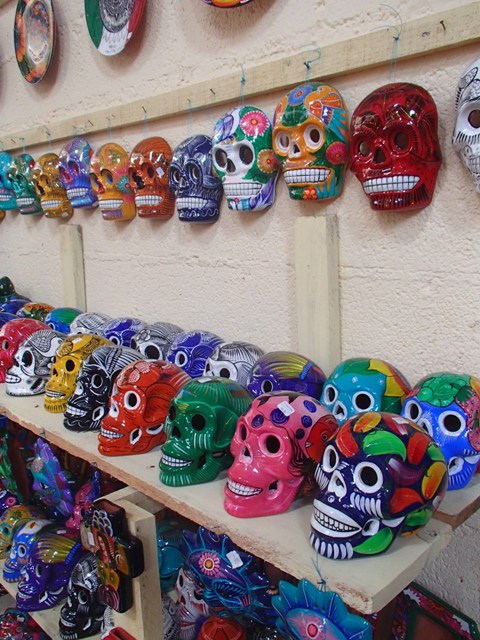 Our journey back to Cancún was broken with a short visit to the town of Valladolid. This looked like quite a nice place and we would have liked to be able to stay for longer but the 20 minute stop only gave us time to walk round the plaza and wish we had a sun hat with slots for ears!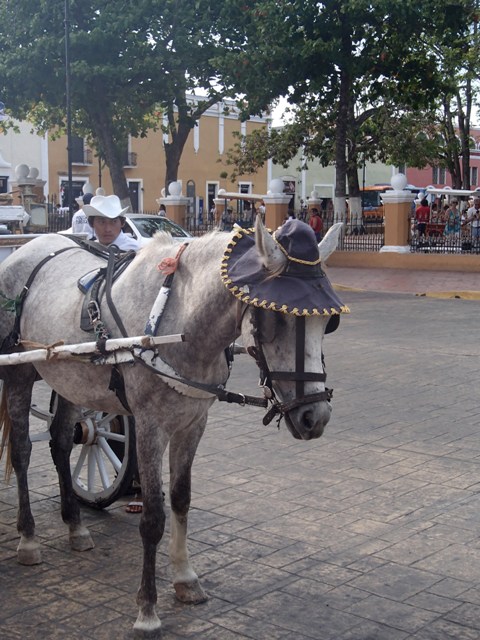 As I hinted earlier, I don't think I would like to holiday in Cancún itself. To me the place looked soulless with what appeared to be all inclusive hotels stretching for about five miles along the shore. There were a couple of malls with one or two restaurants in them but these were few and far between. Closer to the town centre there was evidence of a greater opportunity to get out and about – but before the place became a resort there was no Cancún. The whole thing is purpose built.
Isla Mujeres, on the other hand, is a great place. The town is fairly lively – especially during the day. By eleven pm most restaurants have closed. There are two good supermarkets – so provisioning was fine. Prices for eating and drinking out aren't bad – especially if you choose a more local restaurant. We particularly liked the "Cockleteria Justicia Social" which is linked to a fish co-operative in some way and which had reasonable wifi connection too.
The main form of transport on the island is the Golf Cart….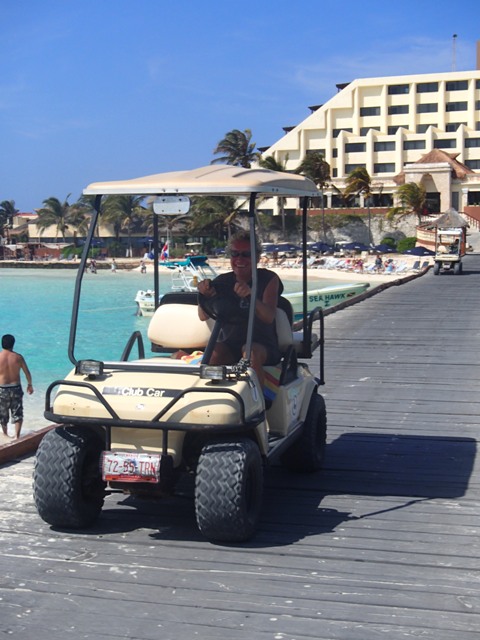 and we decided to give this a try. It was made better by sharing our day out with a couple from South Africa called Larry and Marlo [on "Beatrice"]. As you can imagine, taking a tour of an island which is only one and a quarter square miles doesn't take that long – but we took in some magnificent views of both the east and west coasts,
and visited the sculpture park at the bottom of the island….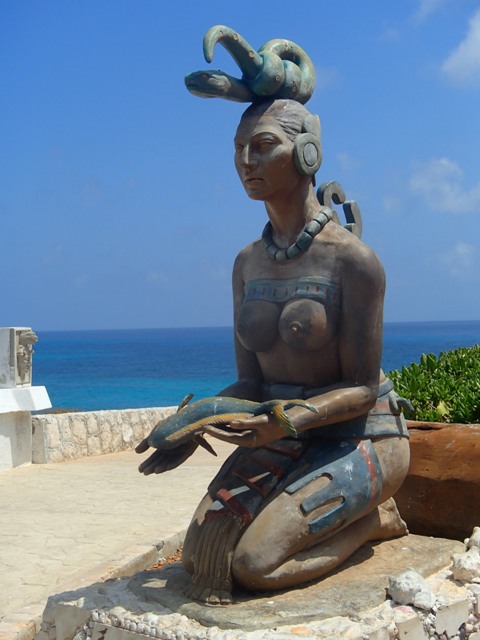 We didn't actually pay the US$3 to go round the small exhibits on the cliff top because the sculptures in the photos above and below seemed to be the main attractions.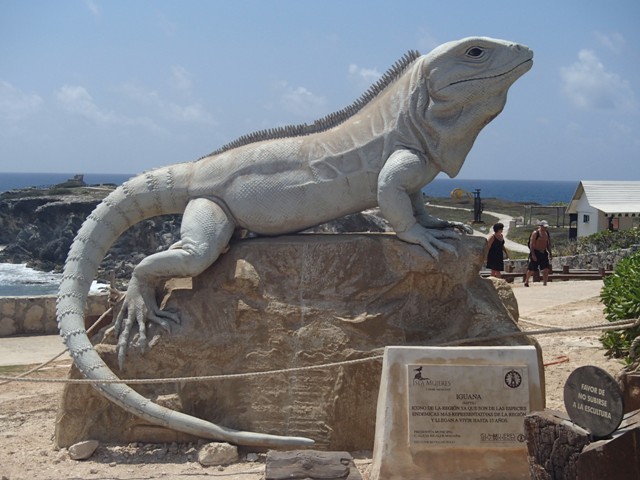 We then came across a real iguana – though I didn't think much of his culinary preferences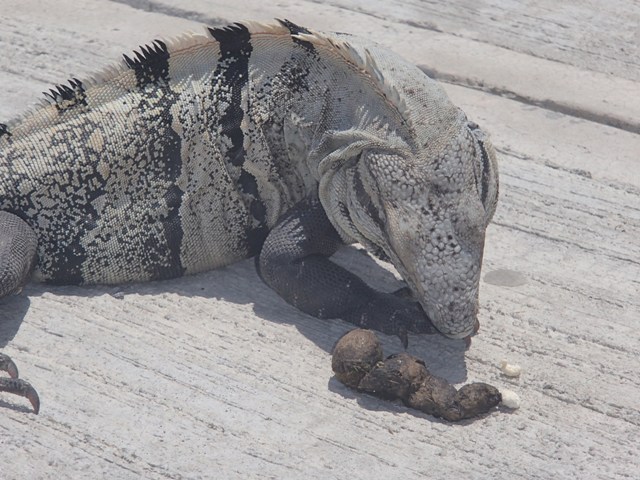 and viewed this rather strange house which has been built on a float made out of recycled bottles….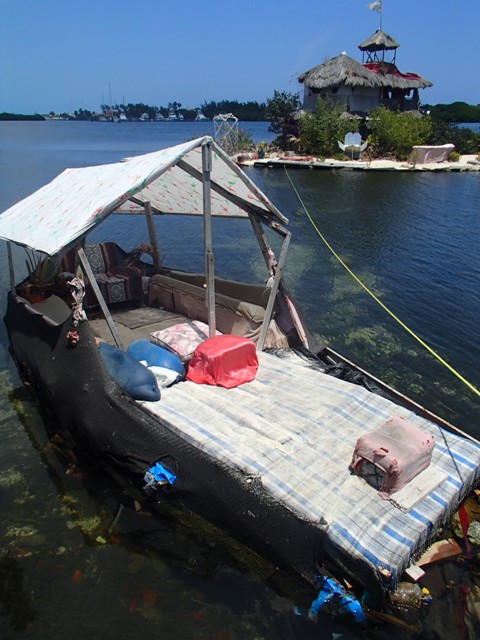 There is also a separately floating dog kennel but I couldn't get that in the picture of the house.
On the Sunday before we left Larry organised a BBQ for us, "Hunda" and "Beatrice". We had a brilliant time and shared stories about places visited and yet to see. Before the BBQ itself Mike had a little rest….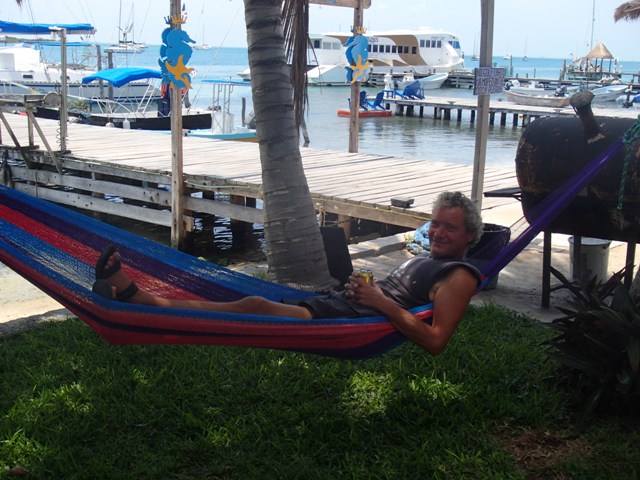 ….after all, one has to build up to evenings of merriment. We have now said Cheerio to our fellow UK cruisers on "Hunda" as they are making their way to the States but we  – and therefore you – should be seeing more of Larry and Marlo as we have booked the same marina as them in the Rio Dulce for the forthcoming hurricane season.
In the meanwhile…. we have now sailed to Belize where we arrived 4 days after leaving Isla Mujeres. Cruisers need to know that digital charts for Central America are not good. Although some time out of date with regard to clearance and practicalities etc; the cruising guide written by Captain Freya Rauscher [which we now refer to as the Blue Book] is a vital guide to navigating these waters.
During the day we sailed inside the 25 metre line of Mexico's coast. This gave us an excellent view of the mainland and kept us out of the opposing current. We encountered one dive boat operator who objected to us sailing close to shore. Had I spoken Spanish, or he English, we might have had a debate about how we were sailing, not motoring and how we were watching all the time for boats and/or dive floats as opposed to the numerous dive boats which constantly roar around anchorages regardless of who may be in the water off a sailing boat or another dive boat.
We spent one night at anchor at Hut Point and then during the other nights we moved off shore to be well clear of the reef which is ever present down this coastline.  On the basis of the Yucatan current, which is still effective part way down Mexico, we calculated that it would take us around 48 hours from Hut Point before we arrived at Long Cay Pass [our way into Belize]. In reality it took less than that. Long before we got to Belize we had discounted the reef pass at San Pedro, Ambergris Cay – even though that was our port of clearance- [horror stories from other cruisers, which having now seen it are probably true] but as we reached it at a fairly sensible time of day – for the light on the reefs – it meant that our arrival 15 miles south at Long Cay was in the encroaching dark. We therefore took the intelligent decision to remain outside the reef overnight. This meant trimming the sails and trying to find a course between the reef and the Turneffe Islands which gave a smooth enough passage for sleep, which didn't take us too close to any reef hazard but which kept us sufficiently close to our goal ready for the morning approach.
It was all executed perfectly, under Mike's direction of course. What we hadn't expected was that at 6am when I came on watch to allow Mike a couple of hours sleep as we made our way back over the 12 miles to the pass there would be a squall brewing!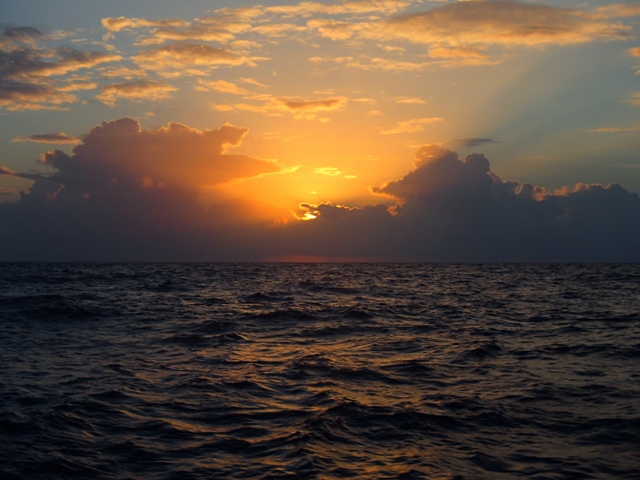 It really was those colours as the sun rose.
There had been nothing in the grib about bad weather and, to be fair, as it only lasted 30 minutes and the gribs we download have 3 hour intervals then it wouldn't really have shown up. In the event there wasn't a problem, it just delayed us. Then, once over the reef itself but in a shallow channel, another raincloud obliterated our vision at a fairly vital moment but gave us a lovely rainbow after it passed….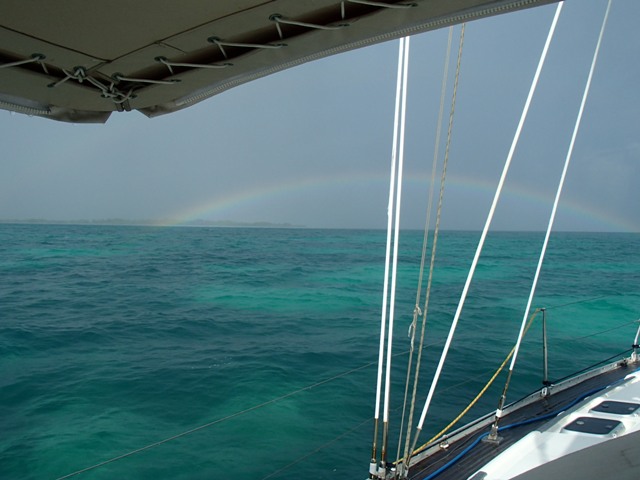 …and the waypoints in the "Blue Book" were spot on so we passed through the channel without incident.
So, having cleared in at Ambergris Cay and having now moved to Cay Caulker we have passed a week alternately lazing around and preparing Siga Siga for Dave and Mag's visit. We hope that our plans for their stay with us meet with their approval and, I expect, the next blog will tell you whether they did or didn't – and whether they were good plans or not.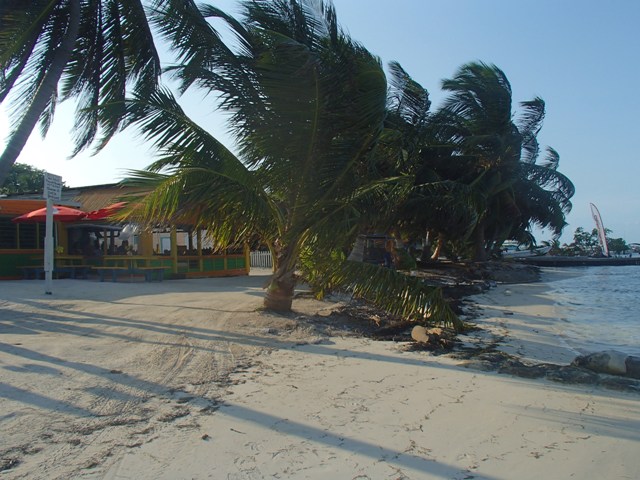 As we sit in the Barrier Reef bar on the beach, posting this entry, we are waiting for their ferry from Belize to arrive…..
Happy Days.