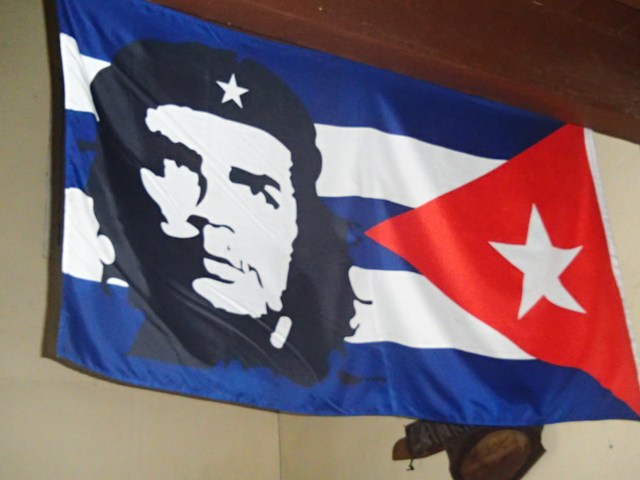 I am not quite sure how to begin to tell you about Cuba as there is so much to say. I know I write quite a lot in all of my posts but, if I am not careful, this installment could turn out a bit like a book and then everyone, especially Dave who doesn't really like lots of words, might get fed up and not read it all and miss the good bits. So, I will try to be selective and concentrate on the key aspects of our visit to Cuba.
You might remember that I told you we anchored at the Marina, next door to the rather impressive looking Club Cienfuegos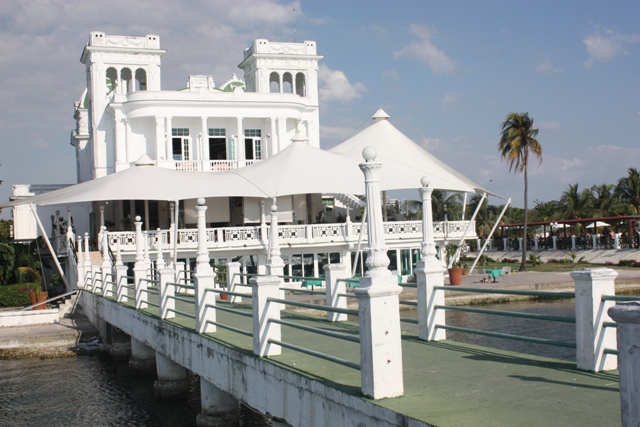 where we spent one night sipping Mojito whilst watching the sun go down and listening to several local families singing along to guitars.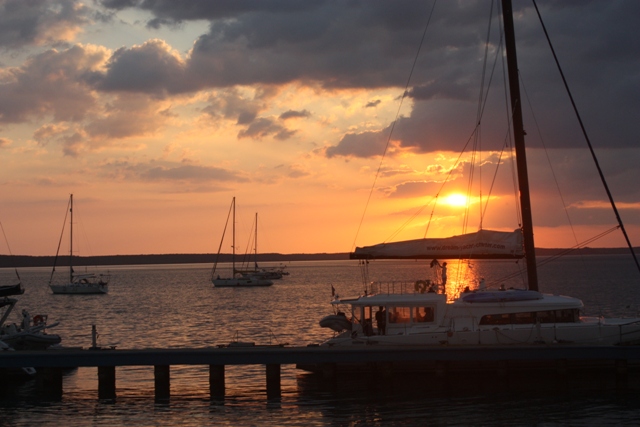 Saturday lunch time also seems to be a popular time for family and friends to gather. This was the marina bar which local people seemed to use more than the cruisers did – maybe it was the "pitchers" of beer which came in a container with a tap at the bottom. [You can just see one next to the woman in the black and white striped t-shirt]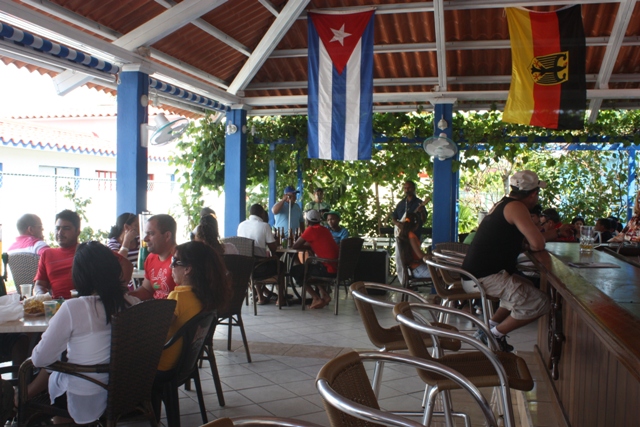 Family life is very important in Cuba. Of all the Caribbean islands we have been to, Cuba has the strongest sense of settled marriage/partnership and stable family life. Cubans are happy to tell you stories about their fathers, mothers, uncles, children etc. and about how they are working together as a family to make a business. Yes, a business….private enterprise is an up and coming thing for Cuba. There are now many private restaurants and the "Casa Particular" system of being able to rent a room in someone's house is thriving. Although the landlord/lady has to keep careful records about how many rooms are let and for how many nights – presumably for some sort of Tax – the ledger doesn't record how often the guests had breakfast, which is optional. A room costs about 25CUC [£17.50] per night. Most of the rooms we stayed in had two double beds and we saw one room [which our friends stayed in] which had three beds. So, if two couples are happy to share or you are a family then renting a room offers excellent value, clean accommodation and you also get to meet local people and see some beautiful colonial homes.
The optional breakfast cost about 5CUC [£3.50] each and is probably the cheapest way to get a good breakfast. You get fresh juice, fresh fruit [a platter of whatever fruit is in season – we got mango, pineapple, papaya, guava and banana], ham, cheese, eggs [which can be fried or as an omelette – the latter of which comes with optional onion and/or chorizo], bread, honey and coffee. It was certainly possible to eat so much at breakfast that lunch was either non-existent or just a snack. But, as I have said, the host didn't need to declare this and therefore made quite a bit of money as a result. You might be thinking that I am exaggerating when I say that quite a bit of money can be made but you need to know that a doctors wage, for example, is the equivalent of 10CUC per week [£7].
You may now be wondering how a person possibly manages on this and it's probably about the right time for me to tell you about the dual monetary system. The CUC is a "Cuban convertible peso" and is the money which tourists normally have to use. It is also the currency which has to be used to buy many "luxury" goods. There is also the "Peso National" which is the currency in which Cubans are paid and what they use for everyday life. This double economy has reinvigorated the class system which the revolution sought to neutralise and there are clear signs of the "haves" and "have nots". The whole subject of economy and politics remains a ticklish one and we only got partial answers to questions asked so we don't really understand exactly what is going on and whether Cubans would prefer to retain the post revolutionary ideals or to embrace change. Perhaps not surprisingly it felt like the older generation sits in the no change camp whilst the younger people feel frustrated and would like to move on.
The ban on tourists exchanging CUC for Nationals seems to have been lifted as we, and others, went to the Bureau de Change for this purpose. We exchanged 50 CUC on our first day but had to change back the equivalent of 40 CUC on our last because, whilst tourists are now allowed to have them, spending them is rather more difficult.  The best place to use them is at the local market.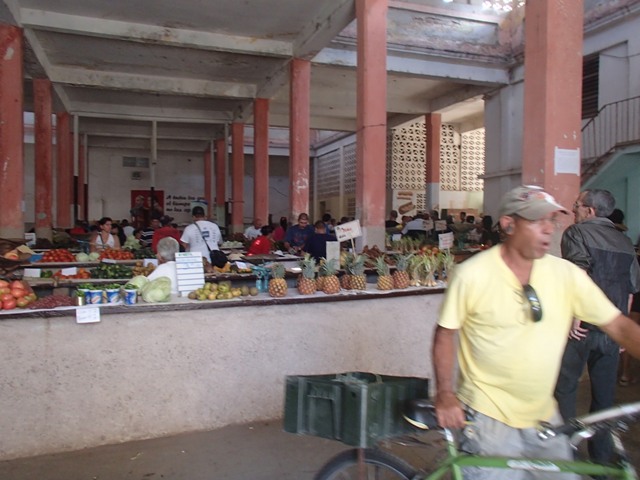 As well as fruit and veg there is also a meat section – which seems to be mainly pork or chicken but occasionally beef can be obtained.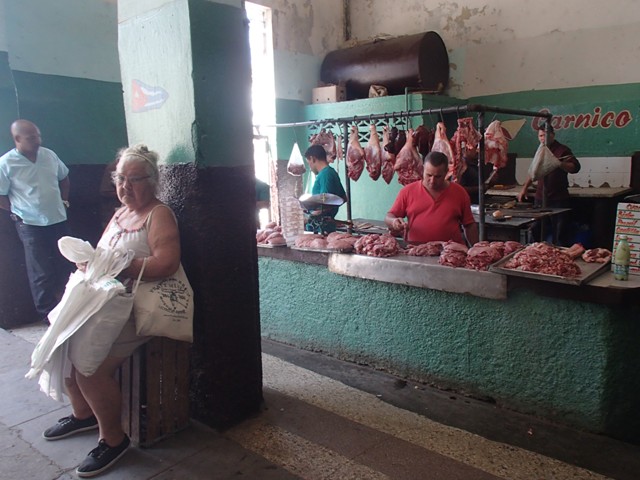 There are also small kiosks selling pork buns or pizzas which are paid for in Nationals and cost next to nothing. On one, rather strange, occasion in a small "government" cafe we bought two breakfast tortilla which cost 5 nationals [14p] each but had to pay CUC 3 [£2.10] for our two coffees. We aren't even sure that they made the coffee themselves. We think they possibly had to go out to a tourist cafe to buy them!
All in all, as well as the two tortillas, our 10 CUC worth of Nationals [£7.00] bought us 3 pizza, 4 pork buns, 4 loaves bread, enough meat for two meals, enough veg for five meals, and 25 cigars.
Now, you are possibly thinking that there must be a story to be told about cigars if 25 of them can be bought as part of a list of purchases costing so little – and you are right – read on!
As you know, Mike likes the occasional cigar and although you might remember him almost buying some in San Juan, he has maintained that Cuba has to be the place to try them and buy them. There are several chaps who stop you in the street asking if you want to buy cigars "at a good price" and they probably are a good price though some people warned us that they are not what they say on the box. We don't know because we didn't buy any in this way. Mike did remark, however, that even if the cigars weren't the real thing, the boxes they came in were worth the money – being made of beautifully polished wood.
Anyway, his first purchase – from a tourist shop – was 20 small sized Montecristo costing around £7.00. He then decided one night that he would like to try one of the bigger ones and so paid the equivalent of £3.50 which probably isn't too bad given that it was in a fairly posh restaurant/bar.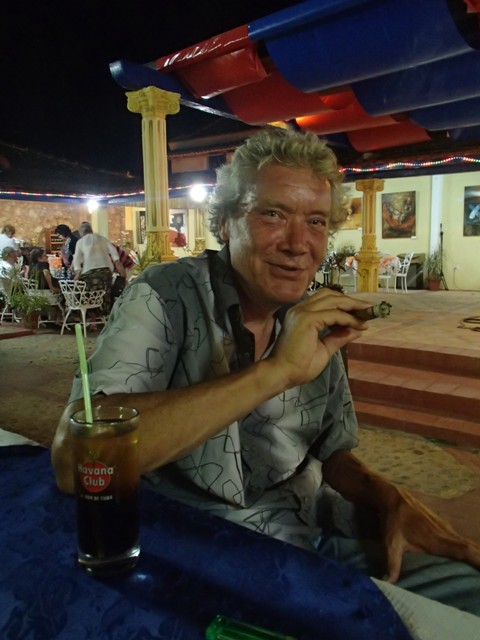 Just as an aside, Mike's bigger one was actually medium sized in Cuban terms – the one being smoked by this guy constituting a big one [and what about his fantastic beard too!]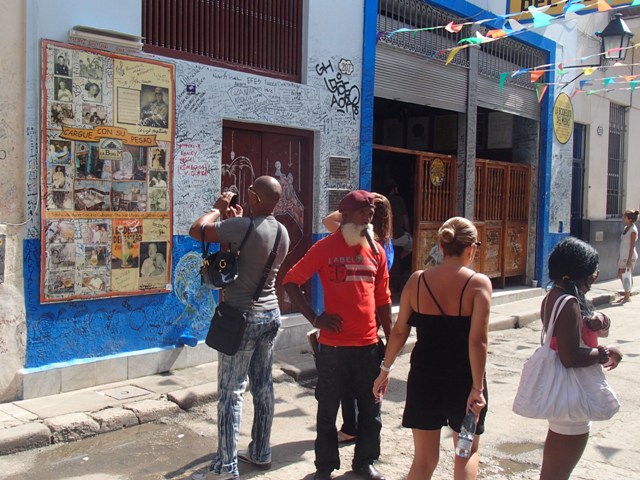 Then, on our night in Santa Clara [I'll tell you more about the trip in a while] we went to a rooftop bar and got talking to three Cuban guys who were there for a chess tournament. Mike rolled a cigarette and they showed great interest in this and two of them tried one. Rolling tobacco isn't available in Cuba and they went on to say that they could only afford very cheap cigars and didn't think they were very good. As you might expect Mike then decided he wanted to try a cheap cigar so one of his new found friends went off to buy a couple which cost 1 Peso Nationals each [just under 3p].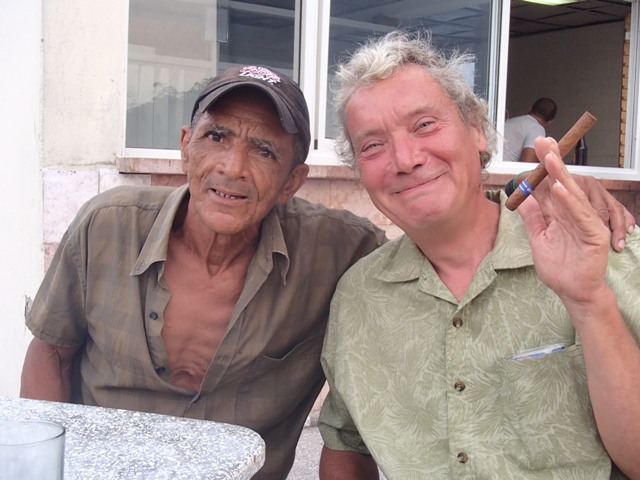 At this stage Mike, who thought that there was absolutely nothing at all cheap and nasty about what he had been given, began to think that the £7.00 he had paid for 20 small ones and the big one at £3.50 wasn't as good as he had first thought. So…the search began. However, finding a shop that will sell peso nationals cigars to a non Cuban isn't easy. In Habana he found a pack of what are probably sold to Cubans for the peso nationals but for which he had to pay 8CUC and he therefore got 25 medium sized ones for around £5.60 which isn't a bad deal. However, on our last day, when in the market buying our provisions for the journey, he hit the jackpot. A small food and drink stall had an open packet from which locals were buying their 1 peso cigar. He asked if they had a full packet he could buy and he wasn't turned away and is therefore now the proud owner of 25 cigars which cost 70p.
Of course, he is now kicking himself for not asking for two packets!
I said it was going to be difficult to describe Cuba in only a few words and really the above has only scratched the surface. So, its perhaps time for a few photos to entertain you and explain in pictures another of the things Cuba is most famous for having – old American Cars….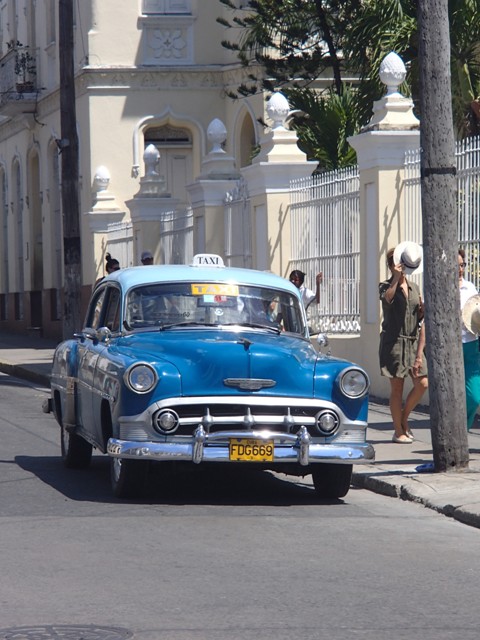 The next two are ones we travelled in on our trips to Trinidad [with our French Canadian friends]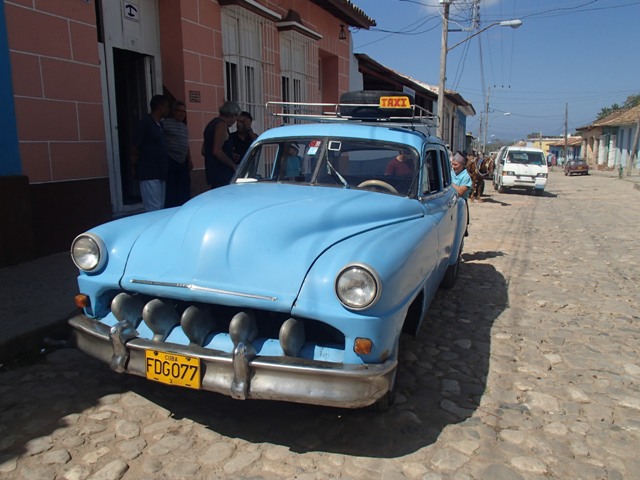 and to Santa Clara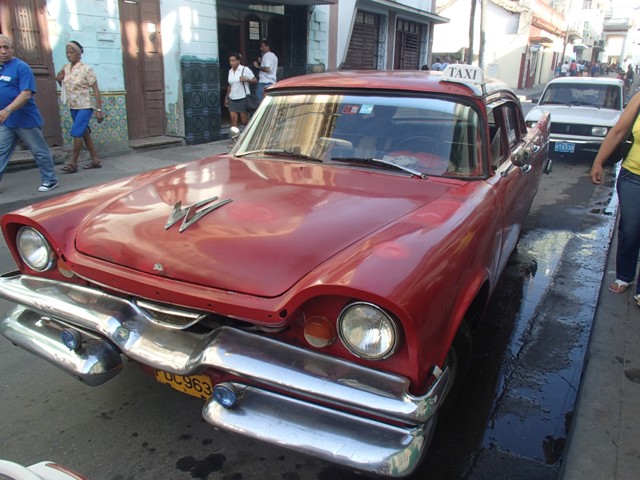 and, just to prove that we were really in them
As well as cars there are also motorbikes – wonder if Kev and Kerstin would like to do their world tour on this?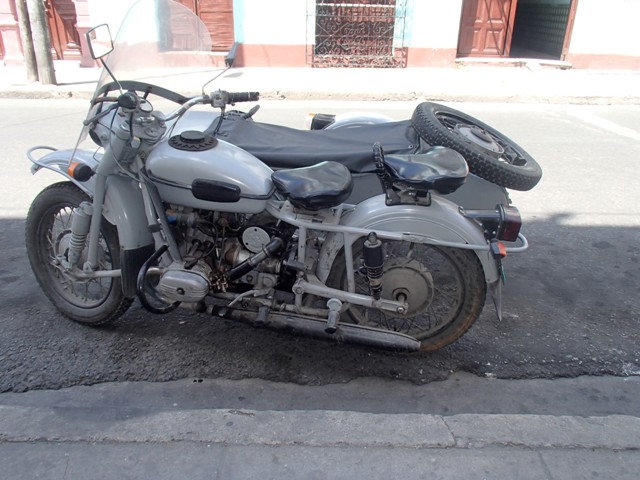 and last, but not least, one to bring back happy memories for Dave [and all those who travelled with him].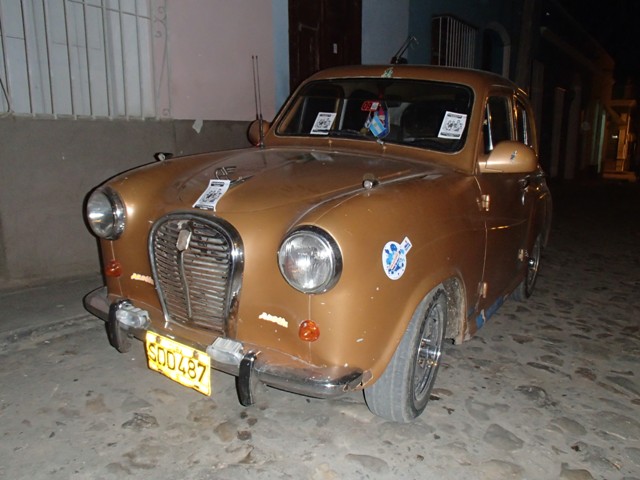 But perhaps it doesn't actually stop there. If you can't afford the real thing, you can always buy a wooden one!!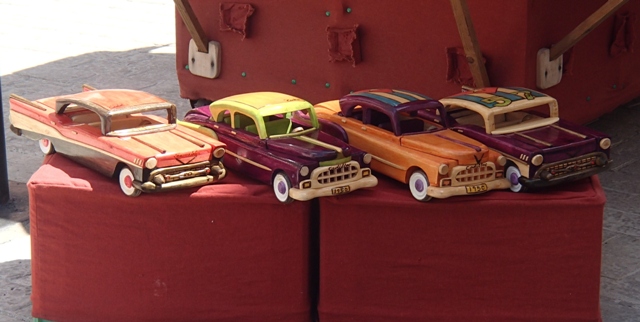 I think it's now time that I got on with the promise I made at the end of the last blog post and told you about the places we visited. First of all, Cienfuegos – our "base". The town was a 30 minute walk from the marina along the pleasant Malecón [promenade] which, as well as providing views over the bay, is where the statue of Benny Moré is found. He was one of Cuba's most famous singers known as the Mambo King and also El Bárbaro del Ritmo [the barbarian of rhythm].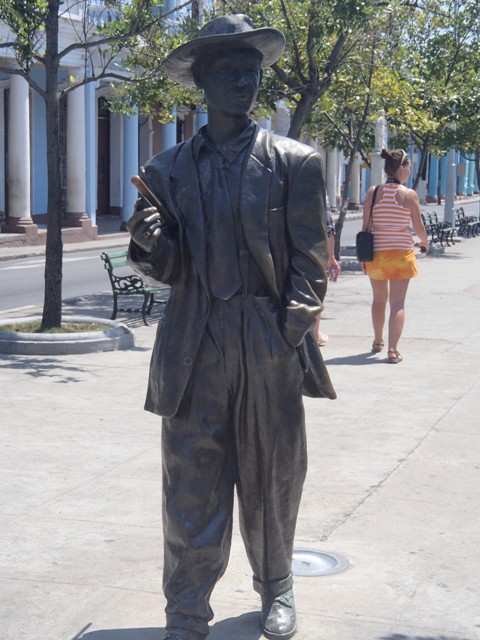 Music and Theatre have long been an integral part of Cuban life and Cienfuegos is the home of the famous Theatro Thómas Terry where very well known international artists once performed.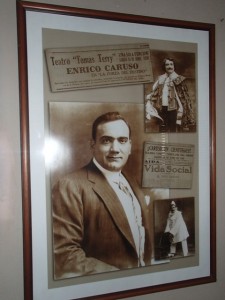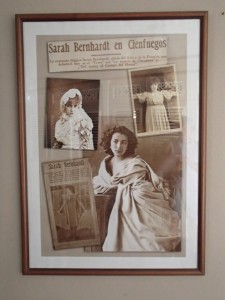 This, and other theatres, are still frequented regularly but as the only performance which we saw advertised was a stand up comedy show we didn't bother. As many of you know – I often don't enjoy comedy acts in the UK. Trying to understand one in Spanish with humour derived from the Cuban culture which I also don't understand would have been well beyond me.
Much of the architecture is neo-classical such as the Cathedral erected in 1869. [Sorry, but yes, there are modern cars too!]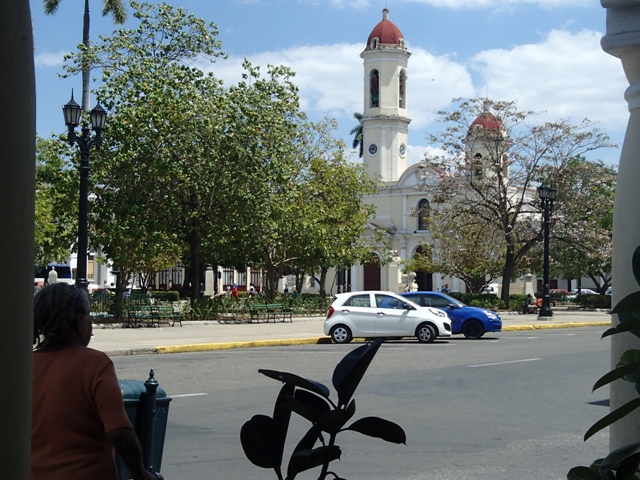 This former Palacio de Ferrer gives some indication of the French influence to many of the buildings but unfortunately access to the tower is no longer possible – or wasn't when we were there…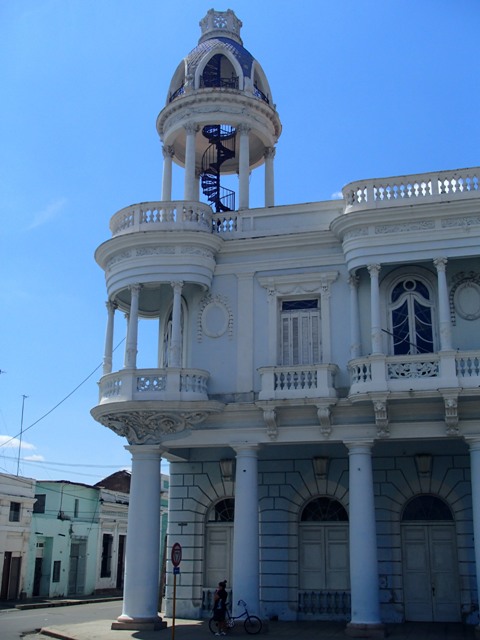 …and, in keeping with the French tradition, Cienfuegos boasts its own "Arco de Triunfo" – dedicated to Cuban independence.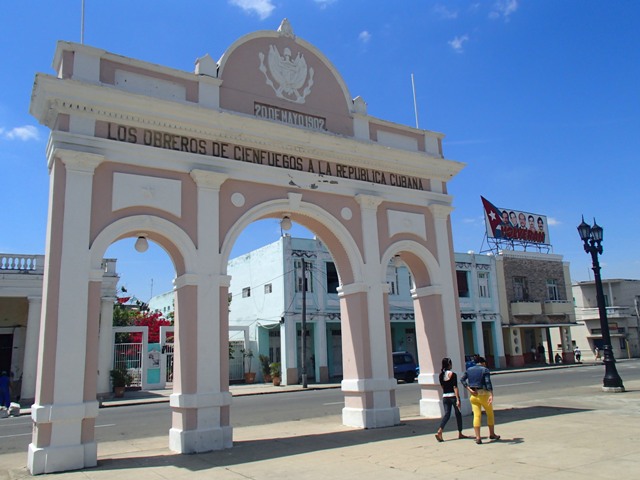 The ultimate in grandiosity is the fabulous Moorish-style Palacio de Valle built in 1917 by a Spaniard -an outrageous jumble of tiles and turrets, crenellated edges and scalloped arches.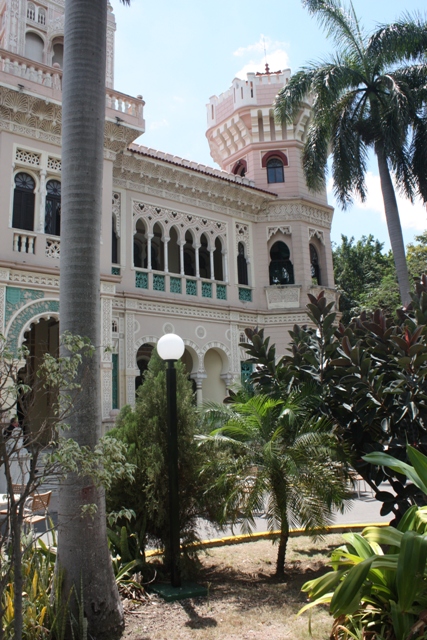 There is a very different feel to the town of Trinidad which has large pastel painted colonial mansions and cobbled streets.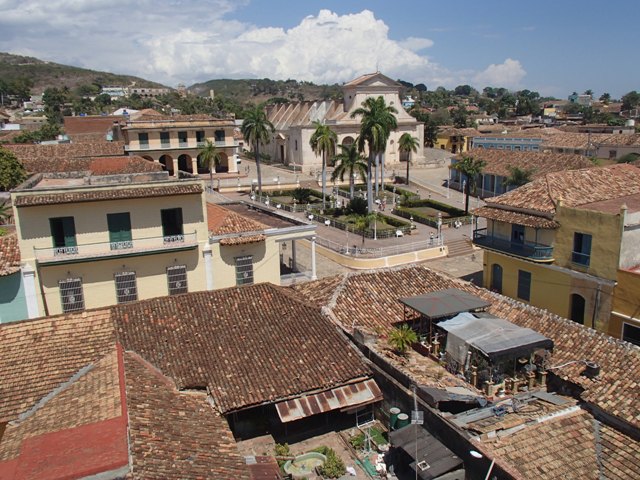 The distant mountains provide a suitable dramatic setting – not to mention a change of scenery as most of Cuba is totally flat.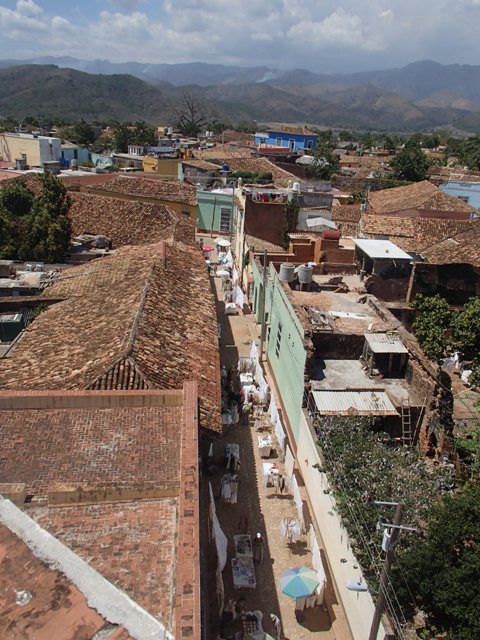 Travelling to Trinidad from Cienfuegos we passed well cultivated fields which are worked by farmers with teams of oxen. The old traditions survive and the horse and donkey are also much used for transport…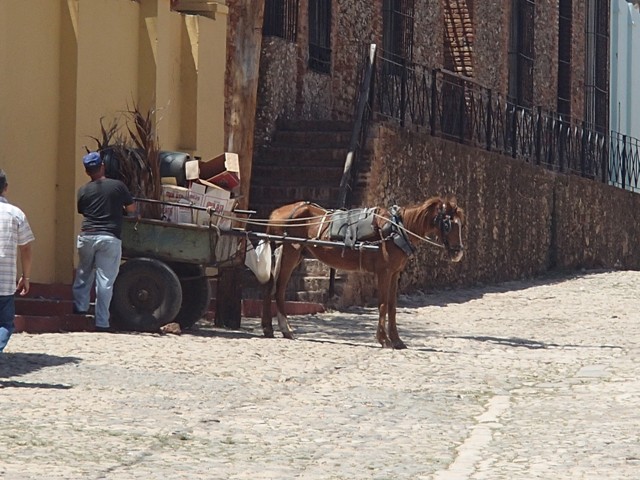 …or for tourism.  The sign says "For rent" referring to an arrangement that man and beast can be photographed for a fee. He didn't spot me [the man that is, not sure whether the donkey did]!
Trinidad is also famous for its music. I have already mentioned mambo and sounds of this – as well as rumba, salsa and chachachá – can be heard all over the town particularly at the Casa de la Música which is spread over a steep set of outdoor steps with performances by day…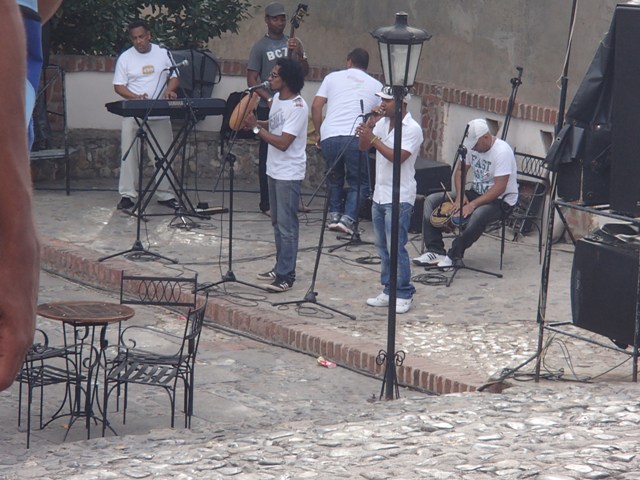 …and by night…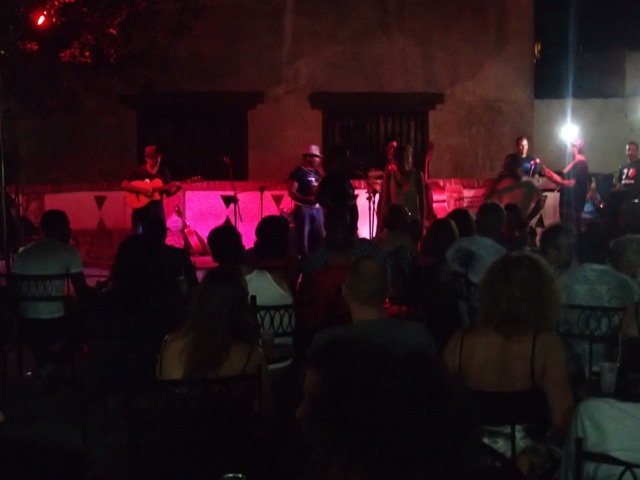 From Trinidad we took a day trip to the Valle de los Ingenios [Valley of the Sugar Mills] where sugar production flourished in colonial times.  The valley's main sight is the Manaca Ignaza which was built in 1750, then purchased in 1795 by Pedro Ignaza who became one of the wealthiest men in Cuba at that time by trafficking in slaves. The 44metre tower next to the hacienda was used to watch the slaves and the bell in front of the house served to summon them.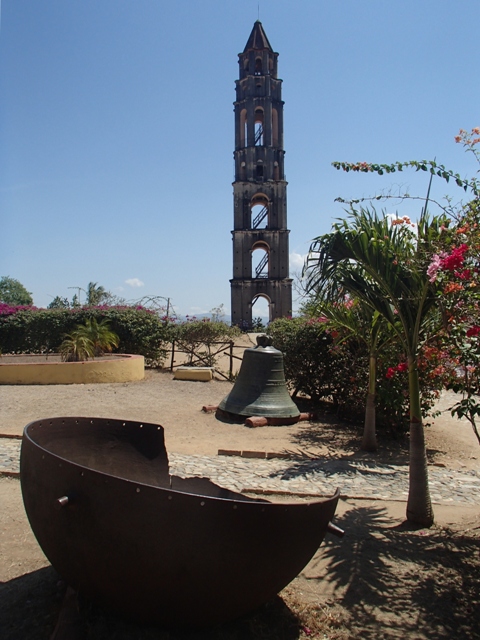 A "new" sight which is being renovated is the old distillery a little further down the valley. There is still some way to go if it is to be fully restored!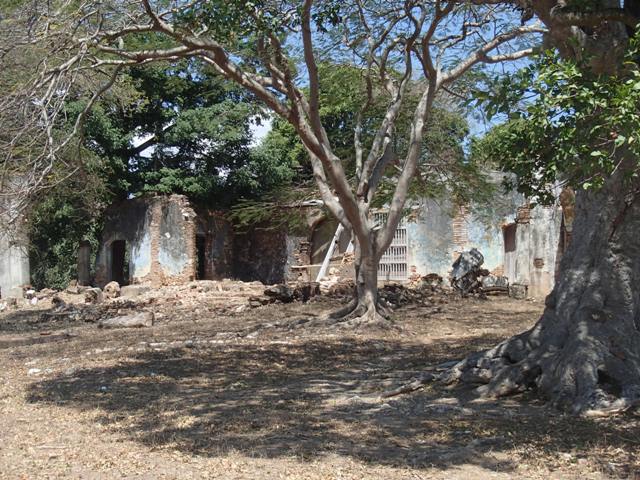 As I said above, we visited Trinidad with our French Canadian friends. On our return to Cienfuegos it was time to say a sad goodbye to Martin, France, Juliette and Elianne who were sailing round the Cuban coast to Habana and then returning to Canada.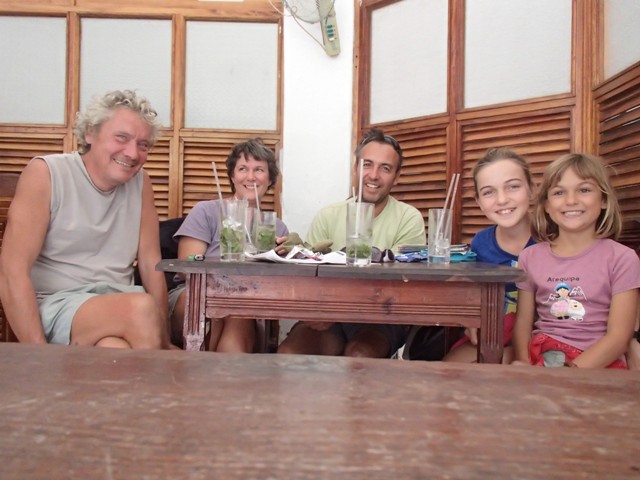 We too were going to visit Habana – but by public transport. Before that, however, we went to Santa Clara [which is also known as Villa Clara – though we don't know why?]. What we do know is what Santa Clara is famous for, the Argentinian doctor turned revolutionary who never actually spent much time there but who "adopted" it as his home town due to it being the site of his most renowned military victory. Yes, you've got it, Ernesto "Che" Guevara.
The "Monumento a la toma del tren Blindado is a rather strange reconstruction of the ambush of a 22 car armoured train containing 408 heavily armed Batista troops by an 18 man team led by Che. The battle lasted just 90 minutes and the bulldozer in the picture played an important part in the ambush.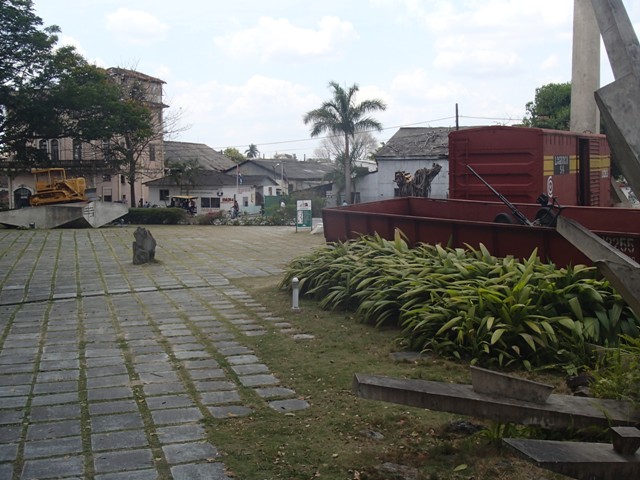 The carriages used in the monument are five of the original armoured cars.
Perhaps more impressive is the Che monument.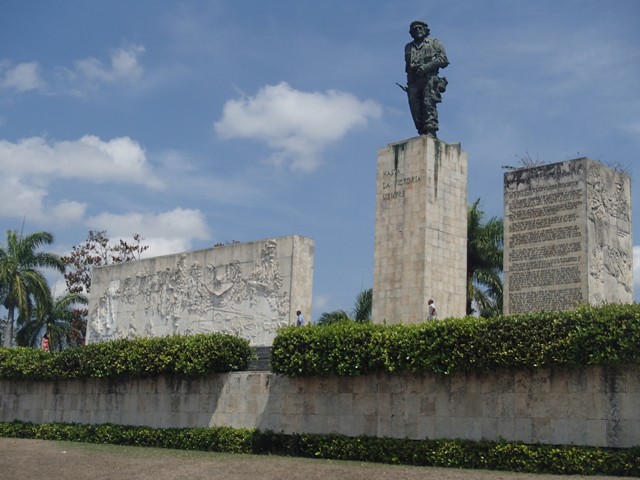 The statue was erected in 1987 to mark the 20th anniversary of Che's "murder by the CIA" in Bolivia. In 1997 the remains of Che and 16 other guerillas were recovered from a mass grave in Bolivia and reburied in the mausoleum [no photos allowed]. The museum next door contains a large number of Che photographs – he really did have a film star image.
Santa Clara is described as a friendly city with a progressive outlook. It was certainly friendly – our host was most welcoming and helpful.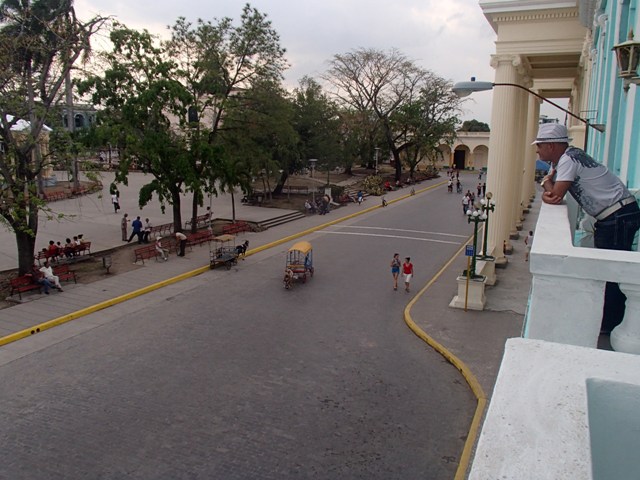 We think he must have worn the hat to bed as we never saw him without it!
We think that the "progressive" aspect of Santa Clara might be a result of the large student population.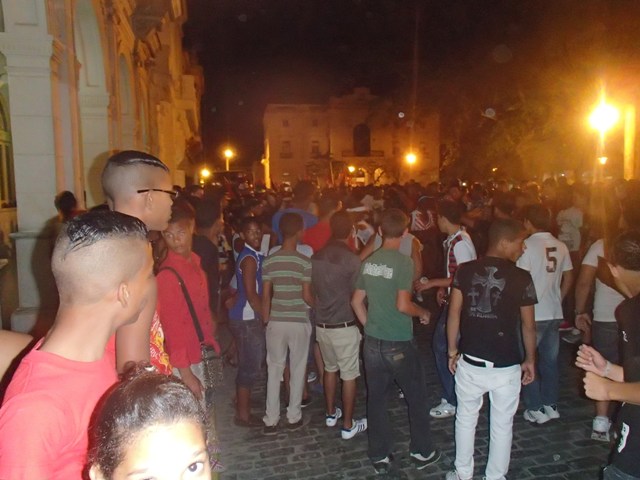 Our room overlooked the square and later that night, after a meal in the courtyard of another Casa Particular where we had tried, but failed to get a room…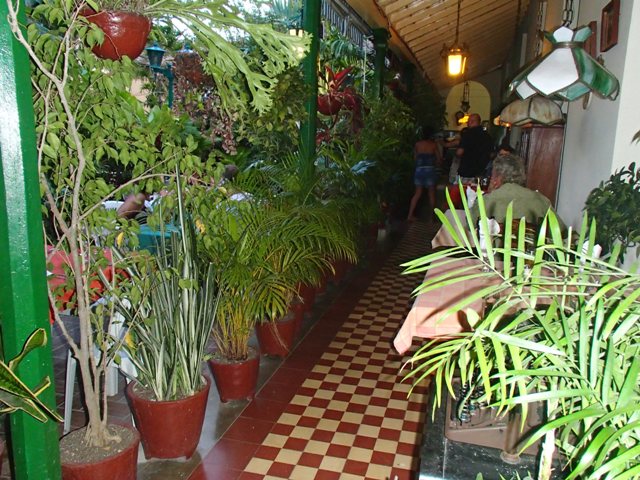 …we sat on the balcony with a bottle of wine watching the students partying.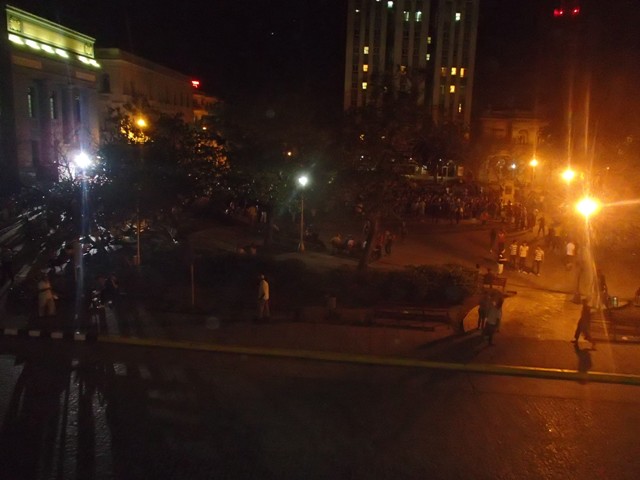 Going back to Che, he appears to have been the popular face of the revolution – almost like a modern day Robin Hood. He, along with Camilo Cienfuegos, supported Fidel Castro and his brother Raúl in the overthrow of the Batista government. Raúl seems to be less of a "celebrity", the famous three being depicted in this statue inside the Museum of the Revolution.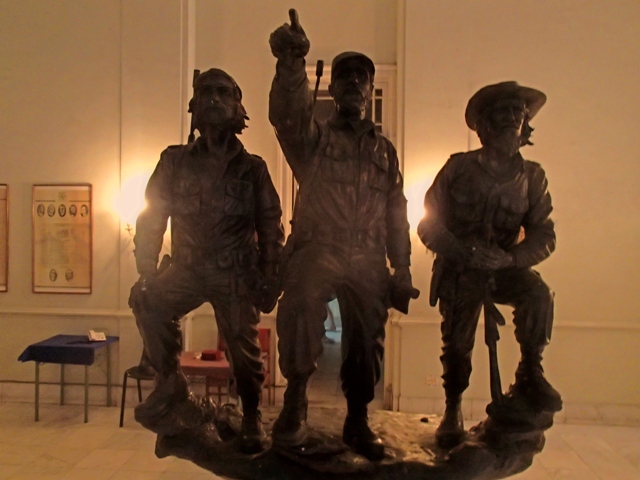 This museum, housed in the former Palacio Presidencial in Habana contains room after room documenting the events leading up to the revolution, the revolution itself and the changes the post revolutionary government brought to Cuba. We visited it on our first day in Habana as the city greeted us with a thunderstorm and rain which lasted for much of the day – so it was either the museum or sit in a bar – and surprising as it might seem we chose the former.
Modern statues also abound in Habana such as this one which rather took my eye…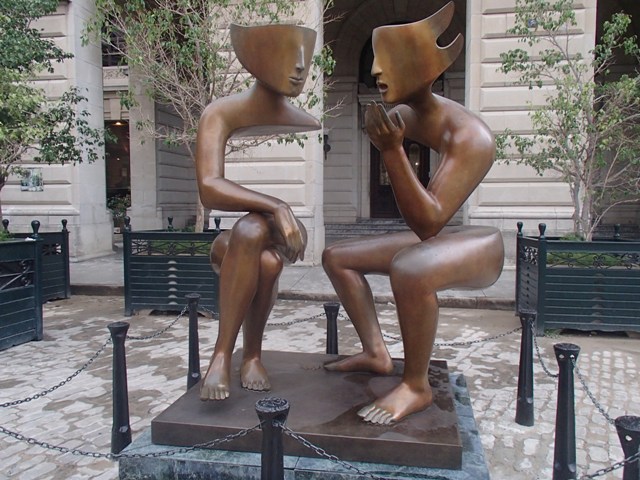 and a more unexpected one…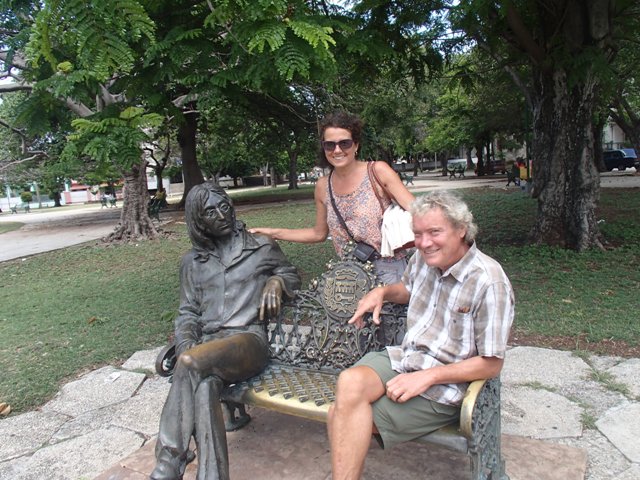 Jazz was considered the music of the enemy in the revolution's most dogmatic days and similarly music from capitalist countries was banned. However, because of his later beliefs and lifestyle John Lennon was accepted and with his music and that of the Beatles he paved the way for the current hip-hop, dancehall and reggae sounds called "reggaeton".
Another name seemingly synonymous with Habana is Ernest Hemmingway.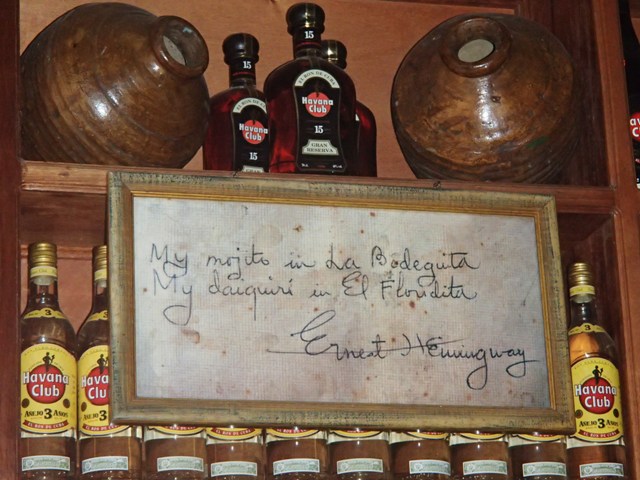 La Bodeguita del Medio is very much a tourist trap selling overpriced Mojito – but it had to be done.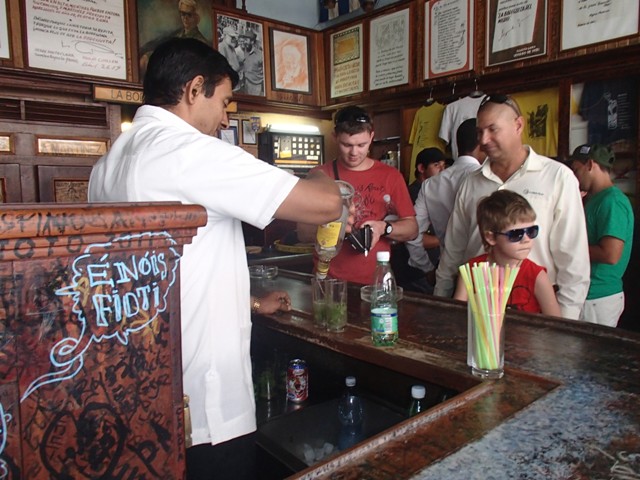 Habana is full of crumbling but breathtaking buildings….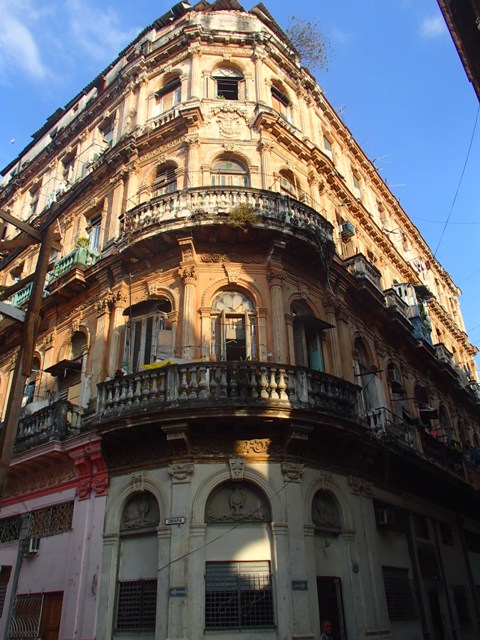 Many of the city centre streets are dirty – yet have vibrancy only found in Habana. Like in most capital cities in the world it is here that the "have nots" are more visible – perhaps because the trappings of the "haves" sit alongside.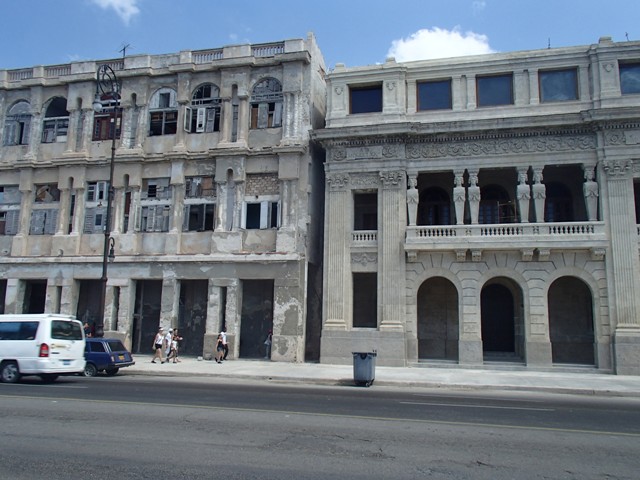 In this photograph people live in the building on the left. The one on the right has been renovated as apartments. Currently it is uninhabited and we were not sure whether it is for rich Cubans to buy/rent or for tourism. The buildings fronted Habanas malecón, an 8km seawall and promenade constructed in 1901. We walked about half the length of it on our last day and watched the locals enjoying the water.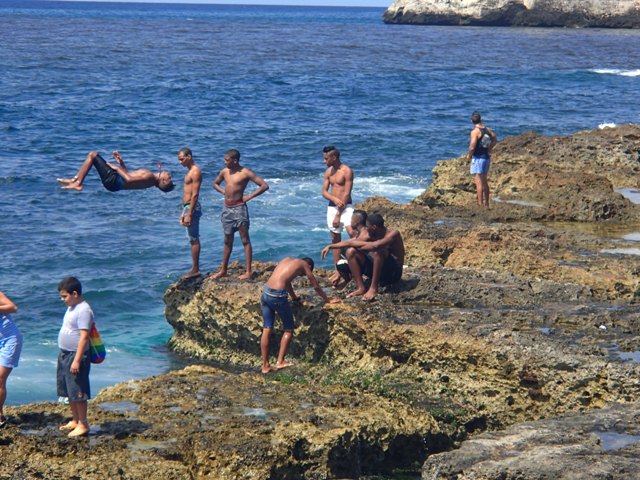 Given the surrounding coral I don't think I would have attempted that somersault even when I was capable of managing it!
The malecón was our way back to the old town from the more modern part of Habana called Vedado where we saw the Necropolis Cristóbal Colón, Cuba's largest cemetery.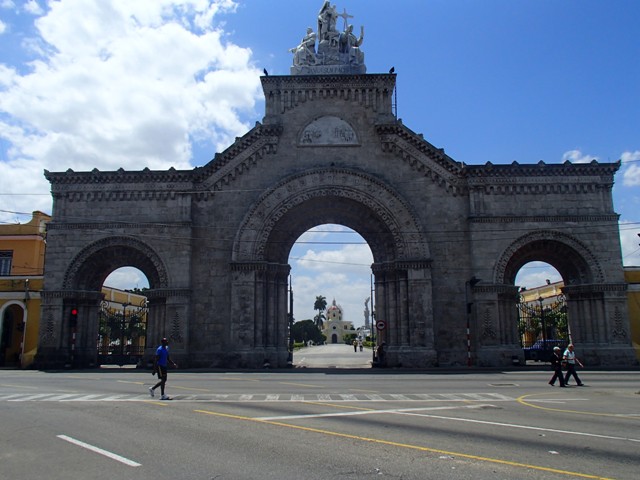 Apparently you can buy a map and walk around but it isn't really our thing.
We also saw the Plaza de la Revolution. Although it is the place where Fidel often addressed more than 1.2 million supporters it was actually built under Batista to commemorate another Cuban national hero – José Marti.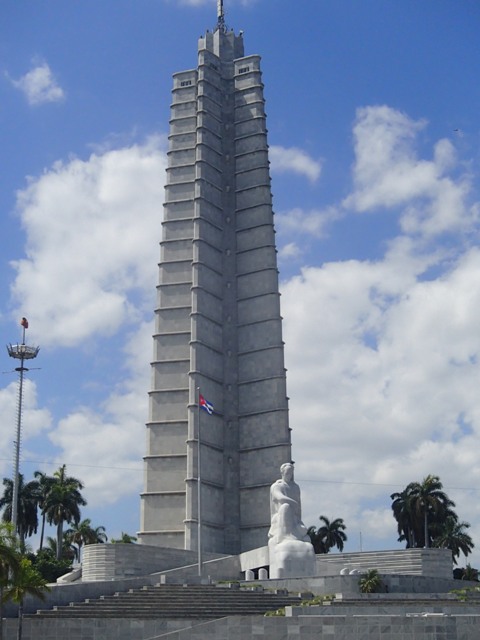 There is a 129 meter high viewpoint but unfortunately [though probably secretly to Mike's delight] it was closed on Sundays.
Whilst in Habana we met up with our friends Stu and Steph who spent hurricane season in the US. It was great to catch up on everything that had been happening to them since we last saw them 12 months beforehand in the BVI's. They were on their boat "Matador"in the Hemingway Marina about 8 miles away so after sharing some lunchtime drinks in the brewery and an inexpensive but good early evening meal they left us and we went on to enjoy the Saturday night sights of Old Habana. Probably the last thing we expected to hear was the sounds of Irish music. However, on investigating further we found that a group of Irish folk, including a music teacher, have been coming to Habana for a number of years, spending a couple of weeks teaching Cuban people to play the Pipes and the Bhodran.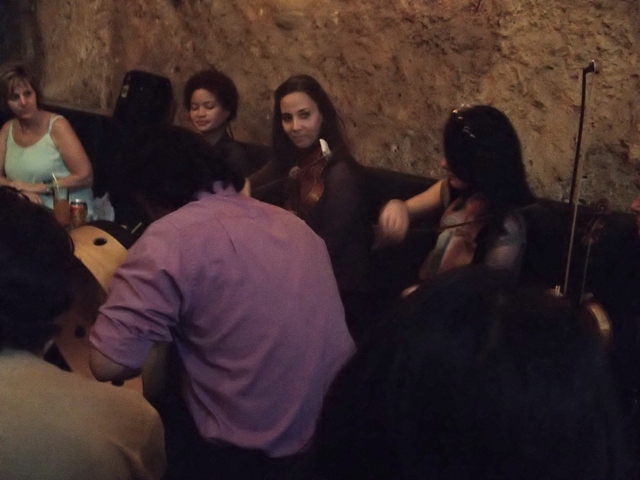 As a result of this "Las Estaciones" bar and restaurant has won the Celtic Life award.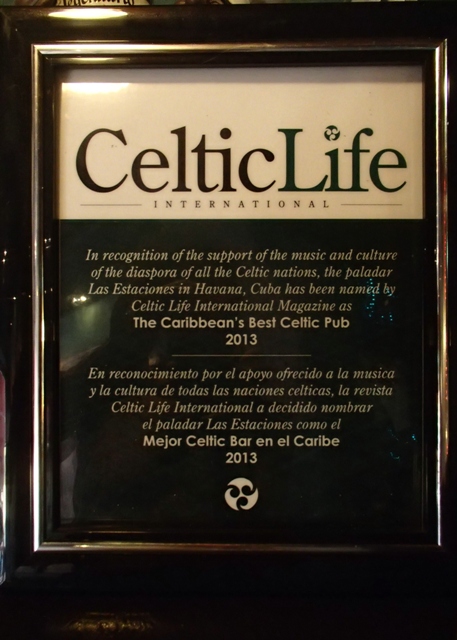 We were also rather impressed by its poster in the toilet…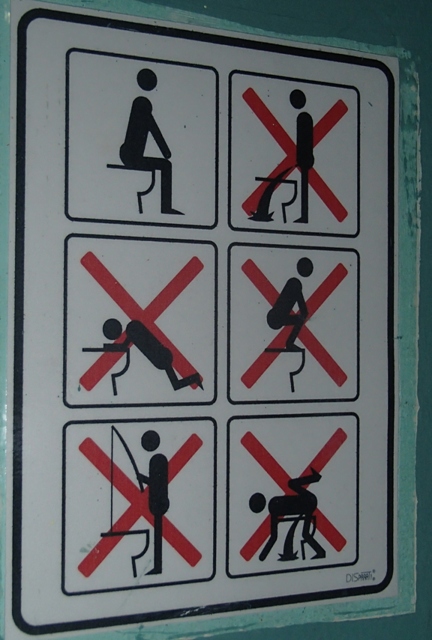 So, maybe this rather schoolboy sense of humour signals that it's about time to end this post. But before I do I want to tell you about travel in Cuba. There are buses which run between most of the major towns but, on the approach to the bus station, there are "touts" who offer the traveller trips in cars. This is how we got our rides in the two American cars and also in other taxis as we went from place to place. The amazing thing is that the taxi costs the same as or even less than the bus. Another sign of enterprise and growing business acumen, especially as on one occasion our taxi driver bought fuel at a reduced rate from some lorry drivers whose fuel is provided by the government! As I said Cuba is at times quite difficult to figure out.
After our travels across the mainland it was time to set sail again. Having left Cienfuegos we anchored at three Cays as we made our way west. Although pleasant anchorages they were a bit unremarkable and we didn't linger.
Apologies to our yachty friends who may have found this installment rather lacking in boating tales. However, I hope you all enjoyed a small taste of Cuba. We found it absolutely fascinating and are really pleased to have visited on what we think is the cusp of change.
Cuba Libre!