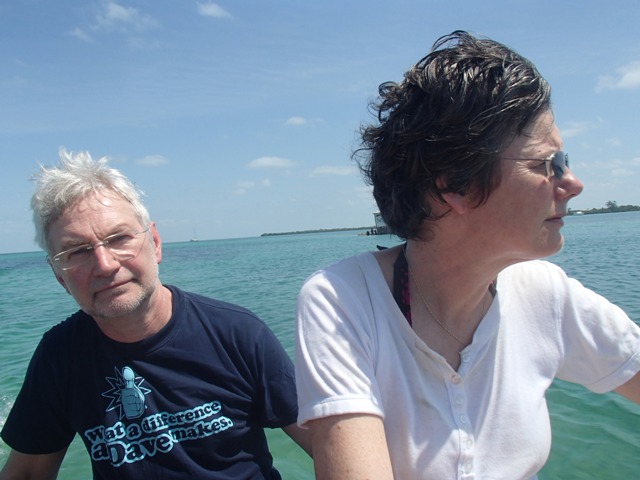 Isn't it wonderful when it all comes together…. the weather was perfect, the sailing was good, the places visited were picturesque, the reef lived up to its expectations, the beers flowed [as you would expect], friends old and new met each other, Dave ticked several boxes on his wish list and Mag did lots of snorkelling which she hasn't really done before…..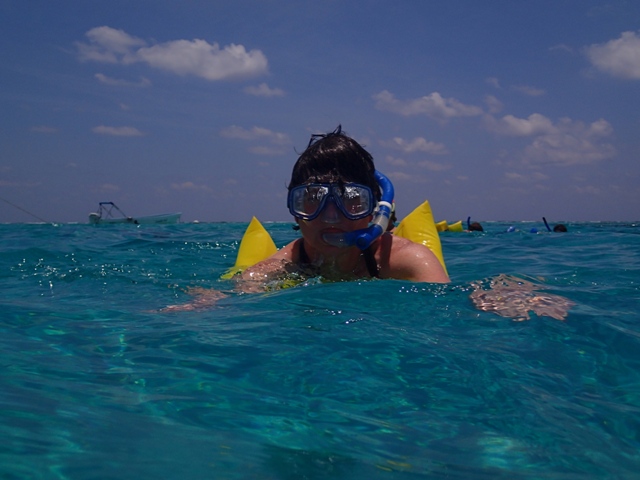 Sorry Mag, I wouldn't have taken the photo, but since Dave did I felt I had to include it!
Anyway, you will recall that we were waiting for them to arrive in Caye Caulker when I posted the last blog entry and at 12.45 pm on 7th May along came the water taxi from Belize City and disembarked them and their luggage….well, most of their luggage. Their largest suitcase, which also contained several items for us, took a detour to Ambergris Cay. Fretting about where is would end up then ensued and we all had to be fortified by beer until fortunately, by 3.30pm, it had returned to Cay Caulker intact and Dave unpacked lots of new toys for Mike such as an AIS [without an aerial – but that's a story for another time].
He also unpacked a toy for himself and proceeded to put it together….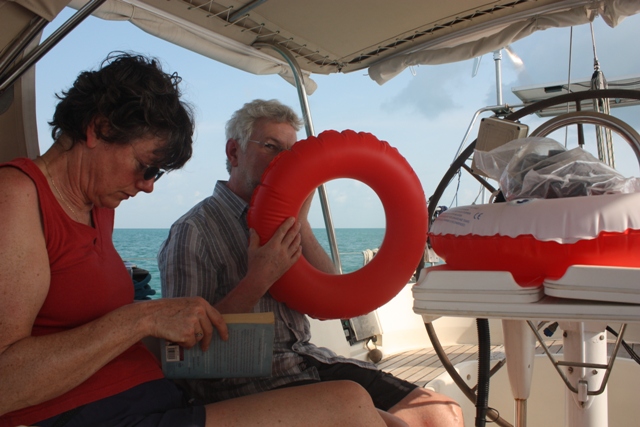 You may well be wondering what on earth Dave needs with not just one, but two rubber rings. Well here is the finished product being carefully handled by Mike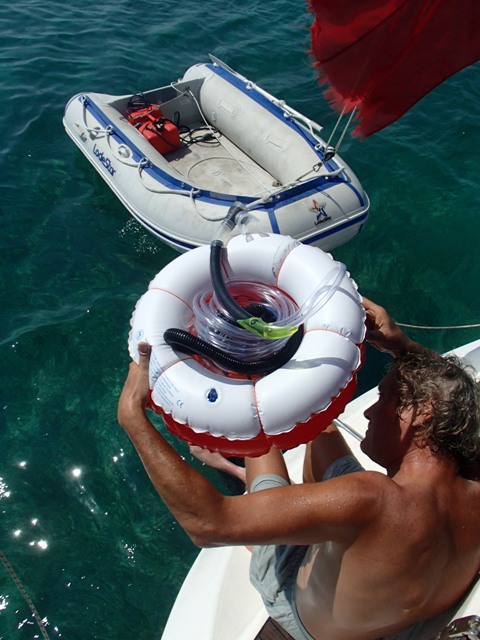 And Dave trying it out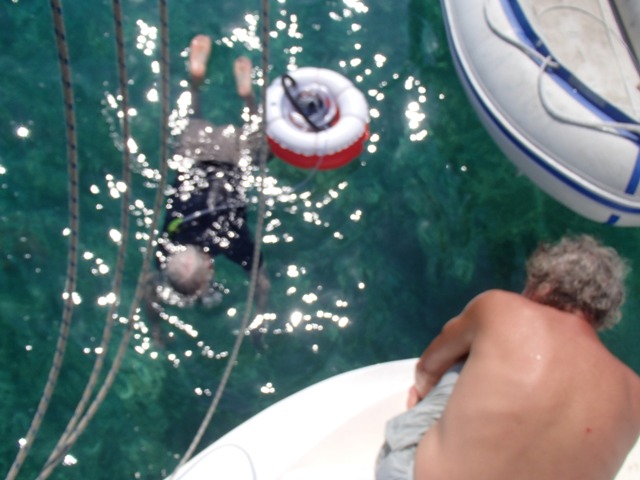 Such a great idea. It's a shame that Mark1 didn't quite have the desired effect. Whilst breathing through the tube was quite possible on the surface, under the water the pressure was too much for the pump to cope with and breathing stopped – well breathing didn't but air through the tube did….so all the component parts were dismantled and are now back with Dave in the UK awaiting further modification in Mark2.
In case you are still wondering what it is – it's a contraption for allowing a snorkeller to "dive" to about ten feet and not have to keep coming up for air. Such things are now available on the market for an incredible sum of money [£2,000 – £3,000] and Dave thought that having one would enable him to take more/better underwater photographs and that he could leave it for us to use for small hull jobs and/or removing fishing line and other such stuff from the propeller etc. It certainly has potential and we look forward to Mark2 another year.
Quite why Dave thinks that he needs to take better underwater photos I'm not sure. The following look pretty good to me……
You might be wondering why I have so many photos which Dave has taken. Well, being the professional photographer that he is, he bought a new underwater camera – but forgot to put a SIM card in it! So he had to borrow one of ours, store his pictures on our computer and have them transferred to disc to take home.
The photographs were taken at various snorkelling sites as we sailed down the Cays from Caye Caulker to Placencia. You might not know, as we didn't until reading about Belize, that the world's second largest barrier reef extends down the coast. We overheard some Australians talking and their view was that the reef here surpasses the Great Barrier Reef in quantity and size of fish and in the quality of the reef itself. Apparently less of this reef has died.
We wanted Dave and Mag to have the best possible experience but we were a bit concerned that we wouldn't be able to take them to the best snorkelling sites – particularly as we have never sailed these waters before – and so we suggested they sign up for an organised snorkelling trip at Caye Caulker. I went along too and it was a fabulous half day. Our trip guide was a Mayan guy called "Marph" from French Angel Expedition who swam with us pointing out fish, coral and other sea dwellers as we went along.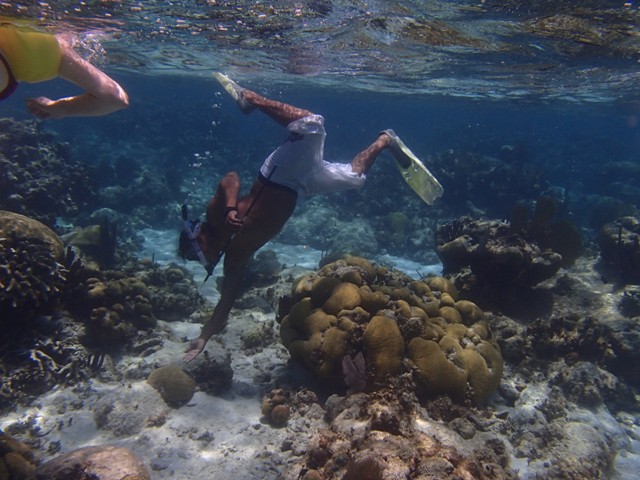 He was so at home in the water, his movements almost balletic and he also had a trick or two up his sleeve, such as blowing water rings…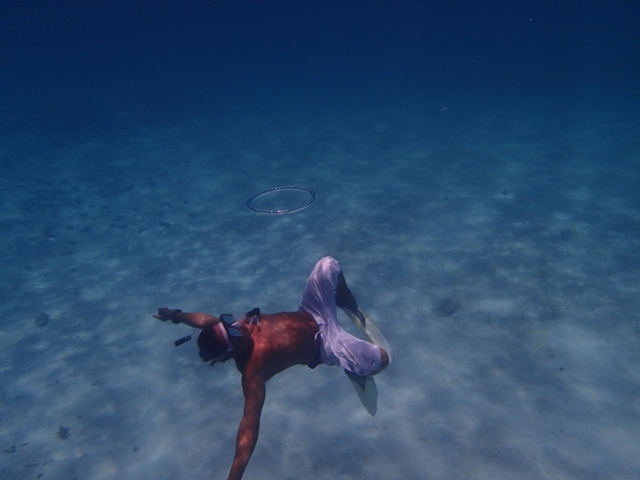 One of Dave's must see things was a Ray and, as well as snorkelling stops at two extensive coral sites,  part of the guided trip was to "Shark/Ray Village" just to the south of Caye Culker where his wish came true.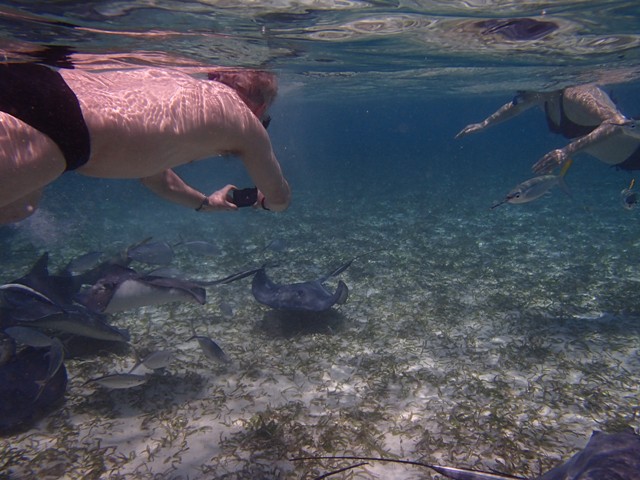 These are Southern Stingray. Unfortunately, not as colourful as the Spotted Ray but amazing all the same.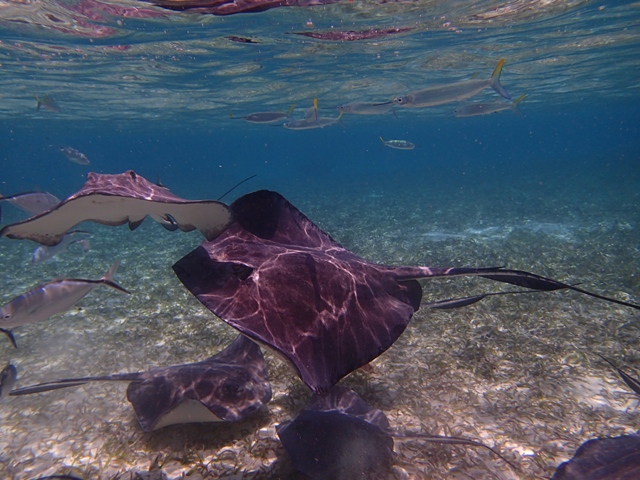 Given its name we also saw several nurse sharks…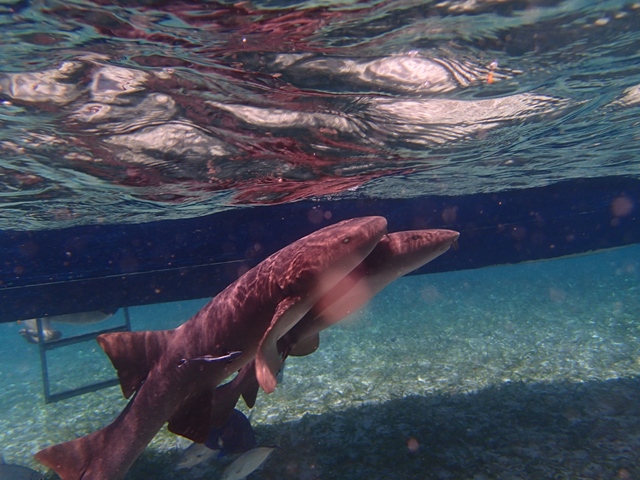 Maybe the most unexpected experience of the day was when Marph pulled alongside a small jetty just after departure, stuck an ice cream container into the water and came out with this….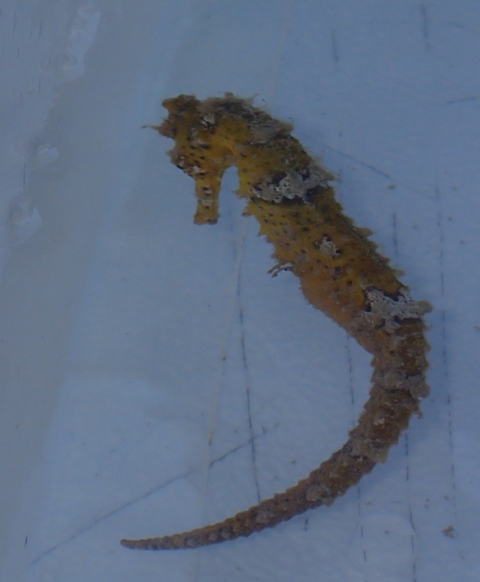 We were all so delighted at seeing a sea horse that once back on land we picked Mike up [he had stayed on shore to play with his new iPad] and took him to the jetty where we were lucky to find this one hidden among the foliage.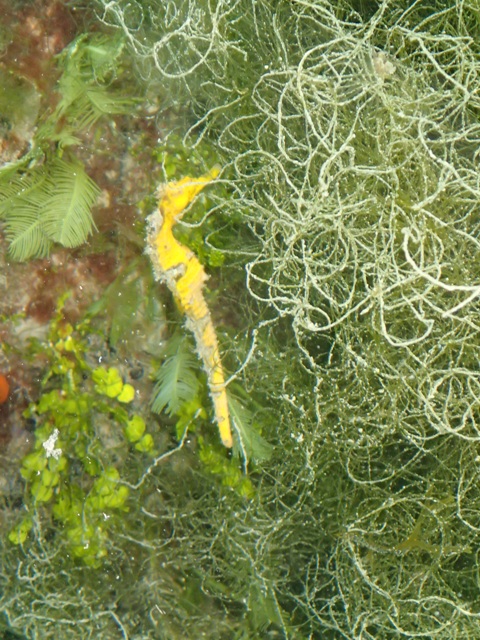 Although they are bright in colour they are really quite small and difficult to spot.
Part of Mag's difficulty with snorkelling has been not being able to see properly and although she brought with her a set of prescription goggles, she didn't have a nose clip. Unexpectedly, the French Angel company were able to provide her with a prescription mask and this was so successful that high on her shopping list on return to the UK is a full face mask of her own. In the meantime, Dave found a cheap nose clip which rather wisely Mag decided not to use but which is modelled below….
Something else on Dave's wish list was Iguanas and before leaving Caye Caulker we took him to "Iguana wall" – a short stony wall near the mangroves which we had previously discovered seemed to attract them to allow basking in the hot sun.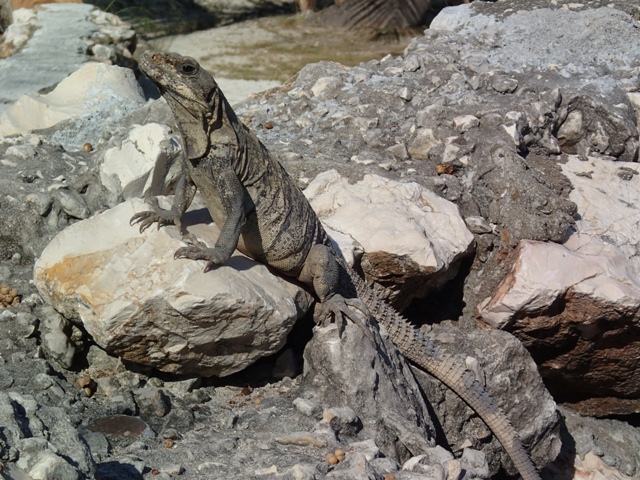 The distance from Caye Caulker to Placencia is around 100 miles and we found four different cays on the way to break the journey into manageable chunks which meant that on each day we could sail in the morning and then have time for swimming, relaxing or wandering around the very small islands. Our first stop was at Middle Long Cay which provided a wreck dive. Unfortunately in parts the water clarity was poor but there were lots of fish – at times it was almost like swimming through a "fishstorm"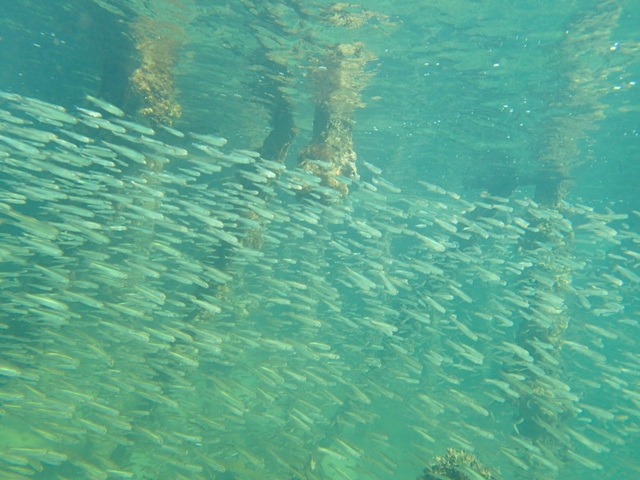 The following day we went to Tobacco Cay – which was probably our favourite as the reef was stunning, the water really clear and, to top it all, on the way there Dave caught a fish for lunch.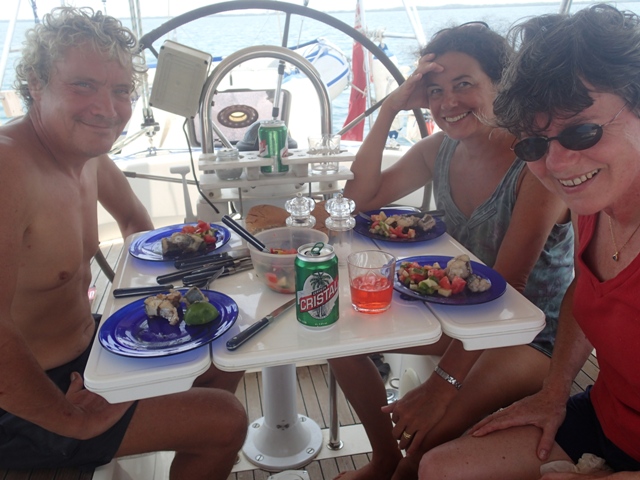 There is a small bar and resort on the Cay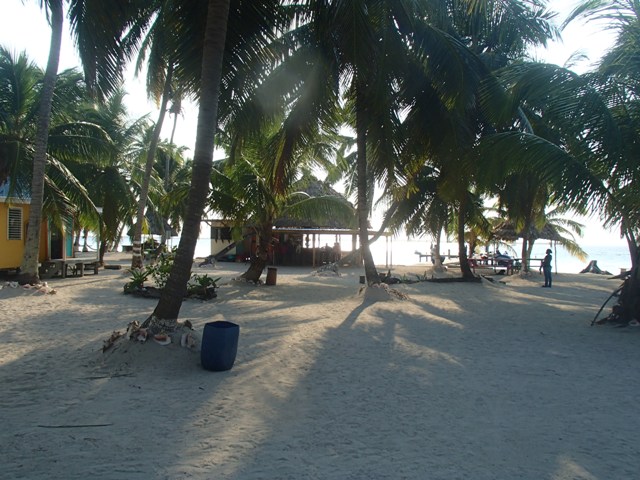 and we enjoyed sundowners with Stu and Steph who had come north from South Water Cay to join us. They then stayed at Tobacco Cay whilst we went to South Water…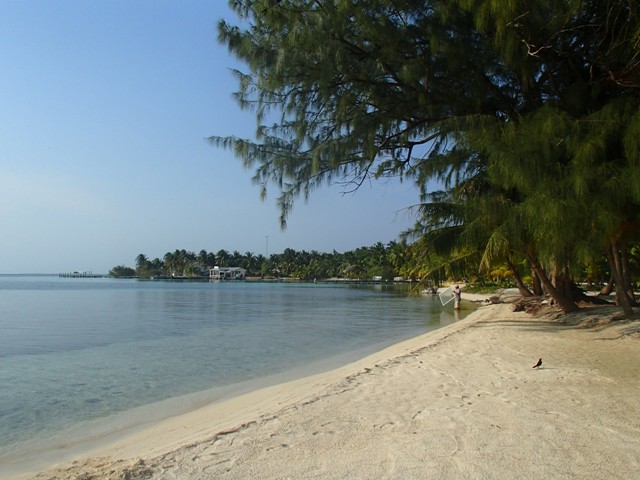 another stunning island with two "resorts". We decided that we would quite like to eat out and therefore took the dinghy to each in turn [as there is a fence across the island separating them!] to see what was on offer. We had been told by resort 1 that we would need to order in advance if we wanted to eat there so, having been to resort 2 and decided that was too expensive we returned to resort 1 at around 3pm. Dave went to speak to the chap who he found lounging around in a hammock. As far as I can recall from Dave's account when he came back to the dinghy, the conversation went something like this…
"Hello again, we would like to book for four people please"
"Oh no, you are too late… I would have to cook rice"
"Cook rice!….. but that only takes about 15 minutes and its only 3pm. We don't want to eat until 7pm"
"Oh no, it's too late, I would have to go out and catch a fish. You can't eat here tonight"
So, that was that – we couldn't eat there and £20 equivalent per person [without tax] for soup, pork chop or conch and then ice cream at resort 2 had already been discounted. Therefore we had another enjoyable evening on the boat and indulged in a round or two of Mexican Train dominoes.
Our final cay was North Long Cocoa. This, we now know, is a private island, mainly mangrove and, we have since found out, operated by "Sanctuary" resorts who are building a huge complex- including a marina – at Sapodilla Lagoon on the mainland. They use this island to entice guests to buy a plot of land at the complex as day trips to the Cay come as part of the package.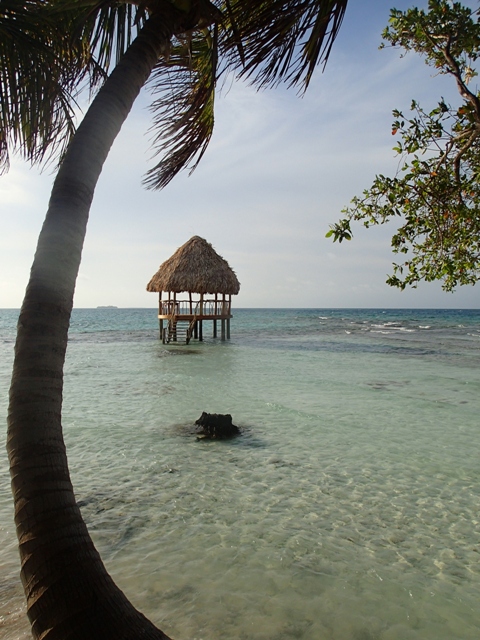 Anyway, Dave decided that he wanted to snorkel in the mangroves and then he wandered ashore – to be "greeted" by a mastiff and a german shepherd. He high tailed it back into the water, fell over and the mastiff caught him up – to try to lick him to death!
Stu and Steph joined us again and as well as accompanying Stu on a snorkelling trip to try to kill off some of the predatory lion fish [which the park rangers encourage] Dave managed to find time for a trip round the cay in Steph's kayak.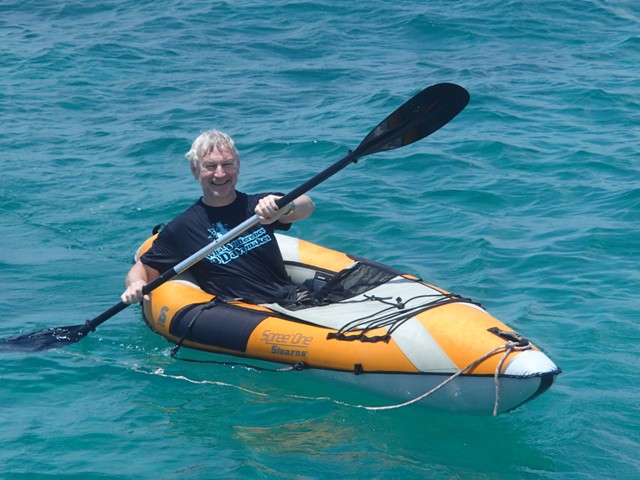 Just as an aside, Dave does have other t-shirts. This one had been relegated to the swimming t-shirt at this stage, but it is a brilliant slogan.
We arrived in Placencia on 13th May. The small town of approximately 1,200 people is perched at the end of a long sandy peninsular, has a lagoon on its western side and a palm lined beach on its eastern edge.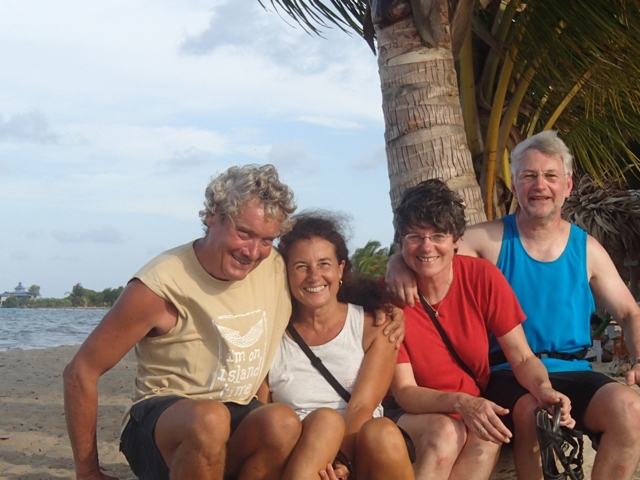 We had two nights here, the first spent in the town and the second on "Matador" where we enjoyed a multi fish BBQ – courtesy of Stuart who seems to be able to catch anything, anywhere. We tasted King Mackerel, Spanish Mackerel [like a small tuna], Barracuda [a small one], Yellowfin Snapper and Grouper. We were then treated to a music night with Stuart on guitar…..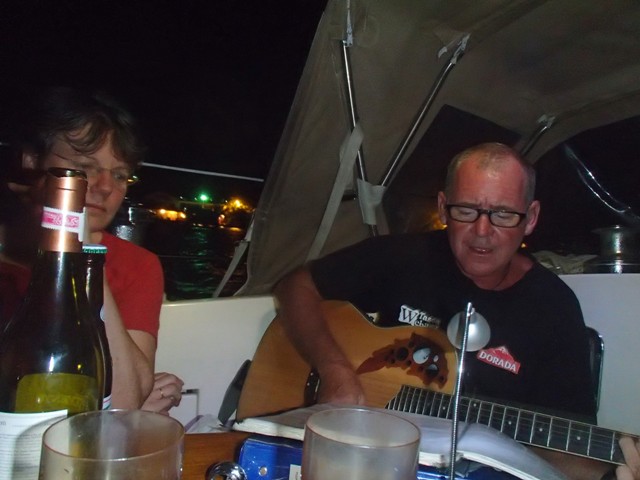 Steph on the violin, Dave keeping rhythm on the bongo drums and Mike playing the maraca – though he seemed to prefer drinking the beer….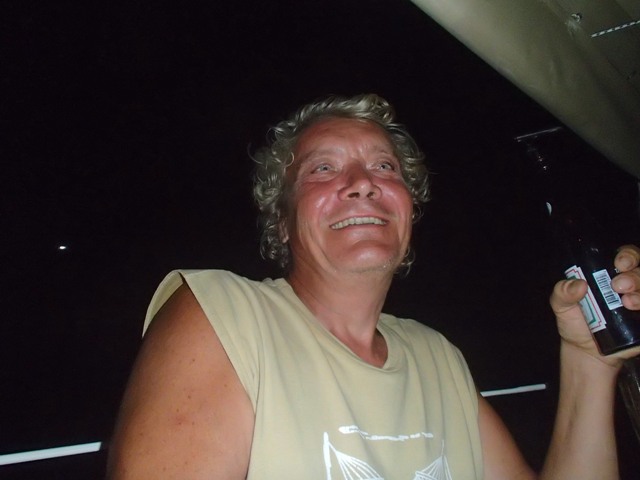 A great evening…..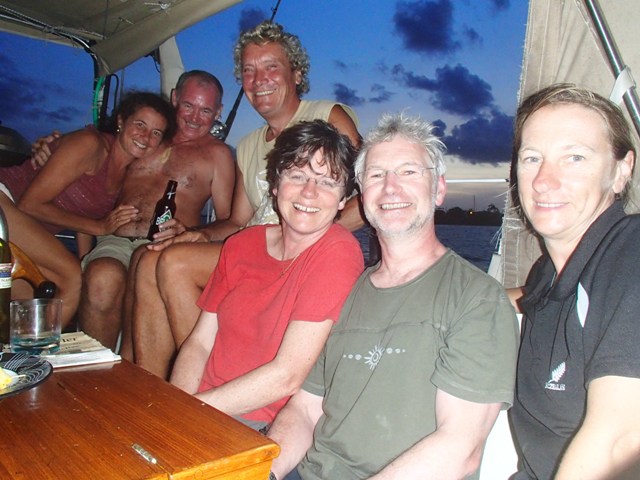 Dave and Mag visited us as part of a slightly longer trip because they had taken in Antigua, Guatamala on their way out – to climb the volcano and were going to Tikal, Guatamala before returning home. Their bus to Tikal was from Belize City and we decided to accompany them to the City and spend the night there. The bus journey from Placencia was a bit of a trial. It left at 6.15am – which meant getting up at 5am – and took approximately 4.5 hours in very uncomfortable seats. At one time the bus had been an American school bus so the seats were even closer together than on a "SqueezyJet" flight. Also, the bus driver decided to entertain us with reggae music played loudly from the radio which might have been OK in the evening but was a bit much so early in the day. But, we survived and also managed to find our hotel without too much mishap.
Belize City has very little to recommend it. Most people sensibly pass through on their way to the Cays but because Dave and Mag had to catch their bus at 9am the following morning we had little choice but to stay. We had a walk to Bird Isle [no birds] where we had lunch and stopped at Government House….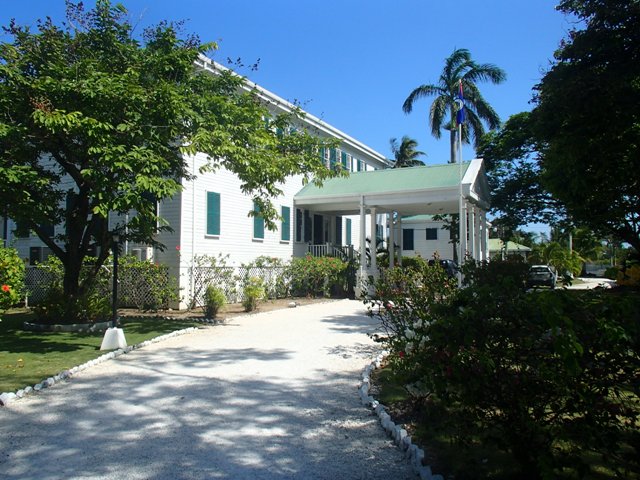 ….. where we learnt a bit about Mahogany export and also about how the governor's wife fed and sheltered a couple of hundred people in the house following the hurricane  in 1961, before finding the Riverside Inn which was probably just about the best thing Belize City had to offer. It was rather like a British gastropub and we enjoyed cocktails, good food and a final drink on the terrace.
It was then time to bid a very sad farewell. We had an absolutely brilliant time during the ten days Dave and Mag were with us and we are pretty sure they did too.