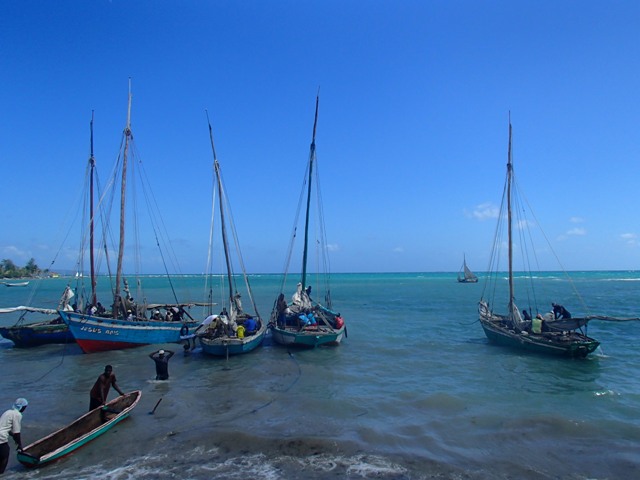 At the end of the last blog post we had sailed along the south coast of Hispaniola as far as the DR/Haiti border and, as 14th Feb dawned, we were looking forward to a day sail to Jacmel – a former coffee port about half way along the southern Haitian coastline. The intention was to arrive mid afternoon, to clear customs and to spend the evening eating a nice steak meal on board. We were then going to go ashore the following day for a look at the town and an early lunch before an overnight sail to Ìle à Vache. Well, so much for the romantic meal at anchor! And so much for visiting Jacmel!  Initially it was all going well and we were making good headway when over a period of about an hour the wind direction changed and the waves started to come from the south east. In terms of sailing this was no problem but Jacmel is a SE facing harbour and, we are told, untenable in such conditions. So, those best laid plans went awry yet again and we spent Valentine's night on alternate four hour watches!
We therefore arrived at Ìle à Vache one day ahead of schedule – which had its compensations because waiting there to meet us were Steve and Carol [Innamorata] who we met in Barbados and had last seen in the BVI's in April 2012. It is brilliant to see good friends whether we have known them for many years or they are more recent mates and a few beers were shared as we caught up on each other's news. They had sailed down from the Bahamas in the company of Pam and Dennis [Glide] who have been sailing these waters for many years but who had never before been to Ìle à Vache.
The anchorage is called Port Morgan, unsurprisingly named after the famous pirate Henry Morgan who is rumoured to have sheltered here, and it lies in the larger Baíe à Feret, which fortunately doesn't appear to be named after any small furry animals which might be running around!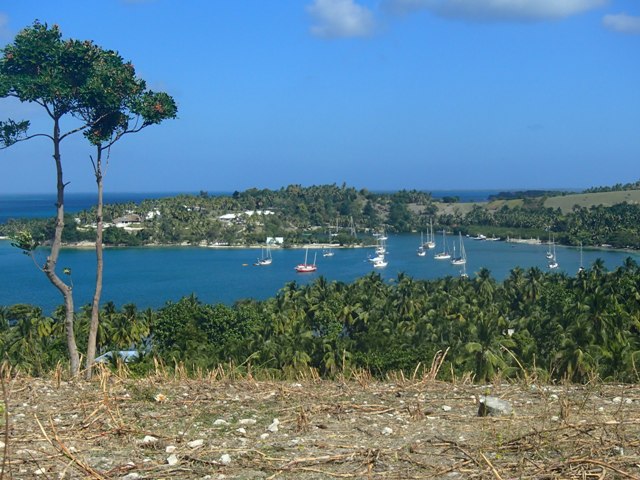 We were quite tired following our overnight passage so opted for an early night – particularly as we had agreed to join Steve, Carol, Pam and Dennis on a trip to Les Cayes [mainland Haiti] the following day, which meant being up in time for the 8.15am water taxi.
I don't think I have the words to describe the experiences of this day trip, in fact the whole of our time in Ile a Vache/Haiti is almost impossible to portray properly – but I will try, and you might also notice that there are a few more photographs than usual as pictures speak louder than words.
A water taxi ride from the island to the mainland actually involves two boats, the largest of which is a slightly leaking wooden boat about 20 feet long with a very dodgy outboard. This covers the 15km [9mile] crossing in approximately 45 minutes. There is nowhere to dock and therefore about 100 metres out the boat anchors and a smaller boat is "punted" out to meet it. In wavy conditions and trying not to lose shoes, sunglasses or self overboard each person transfers to the smaller boat which transports you to within approximately 10 metres from the shore.  Then…..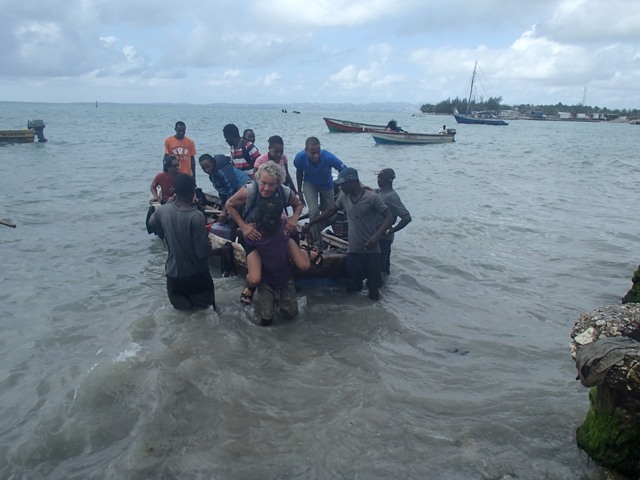 Piggy Back anyone!
Once ashore we made our way into the town, escorted by Karma, a local from Ìle à Vache who was doing some shopping for Frank but who also seemed to feel that we would need help in finding our way around. It was useful having him assist when we needed to exchange US$'s for the local currency – Gourdes [no, not the hanging from a tree Gourds, but the very scruffy, much handled paper and coin Gourdes which, to complicate things further was actually pronounced "Goood"]. Whilst US dollars are used for most things in Haiti, when buying from local markets or purchasing small things the Gourde is often the preferred currency of the vendor. This is probably because they don't actually use US cents. The smallest US denomination accepted is the dollar bill.
It was a surprisingly large town and it is clear that they are trying to improve the infrastructure.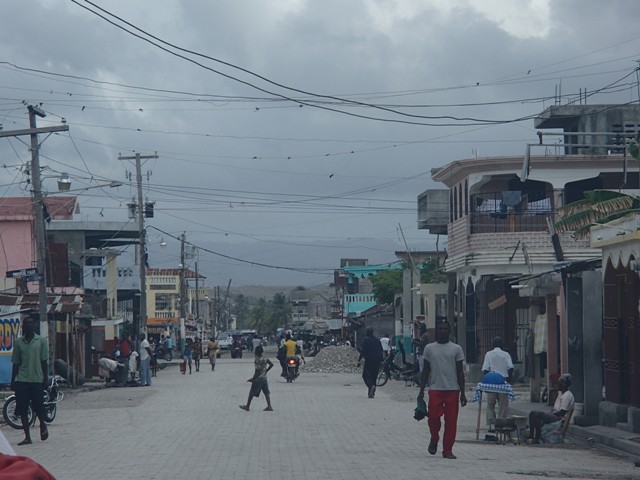 There was a lot of road working going on though we understand that the damage to the roads was not caused by the Earthquake in January 2010. However, much of the country's spare money [not that there is a lot of that] and/or aid has gone to rebuilding Port au Prince and the surrounding areas which, as you know, were badly hit. It probably didn't help matters that Hurricane Sandy passed over Haiti and undid some of the repairs that had been made.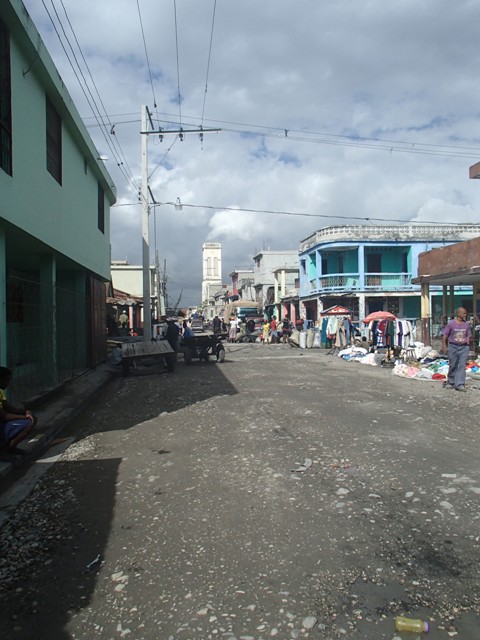 You will recall that we had done plenty of provisioning before leaving Boca Chica [DR] and so we didn't really need to buy much – which was a good job because there wasn't much to buy! Well, that's not strictly true. There was very little in the way of food but, to everyone's surprise, Pam and Dennis were able to source both hydraulic fluid and also coolant for their freezer.
Even though the market didn't have much by way fresh produce there was a good array of dried herbs and spices, rice, flour and dried beans.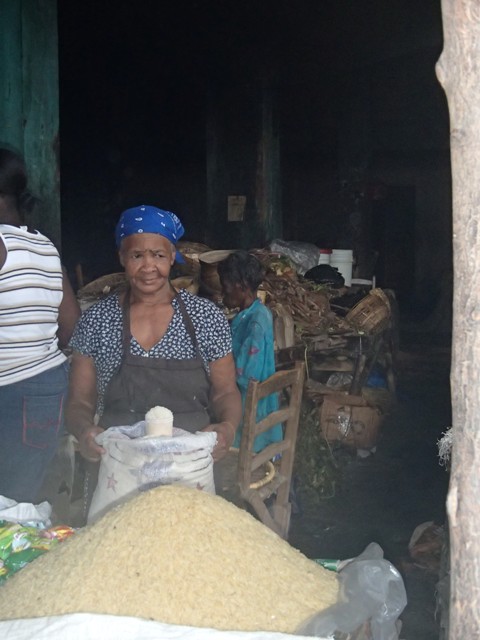 I was lucky enough to find a lady who was happy to have her photograph taken [for a modest tip]. Taking photographs of people in Haiti without asking permission first is not a good idea. Many people turn their heads even if you are taking a photograph of a building and our friends were also prevented from taking a photograph of some animals. Whilst the exaggerated "Voodoo" of James Bond films is not prevalent, many of the older generation [and some of those in their 20's and 30's] are very superstitious. Fortunately the children seem to like having their photos taken and really enjoy looking at them afterwards.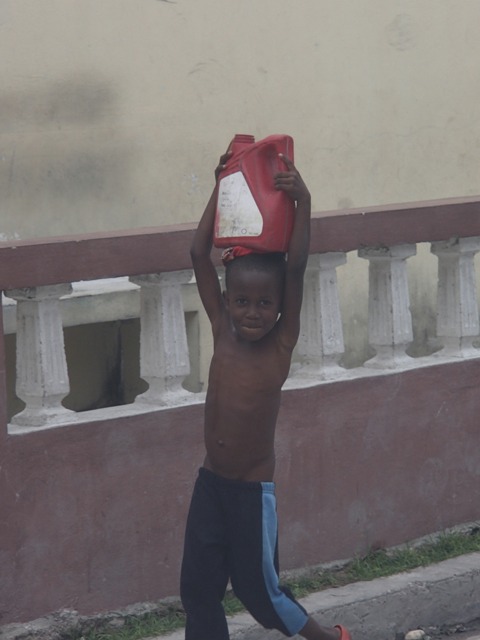 You might be able to deduce, from the street photographs, the French colonial influence in the buildings. It was perhaps most obvious when we were able to see inside some of the buildings which appear to have been unaltered by time or troubles.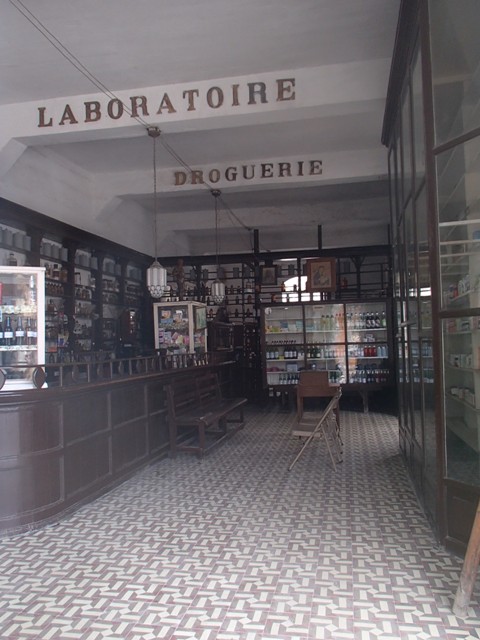 We also found a wonderful cafe where we enjoyed ham and cheese brunch muffins [as in burger rolls] washed down with strong black coffee. The coffee was a bit overwhelming for me but the muffins were excellent.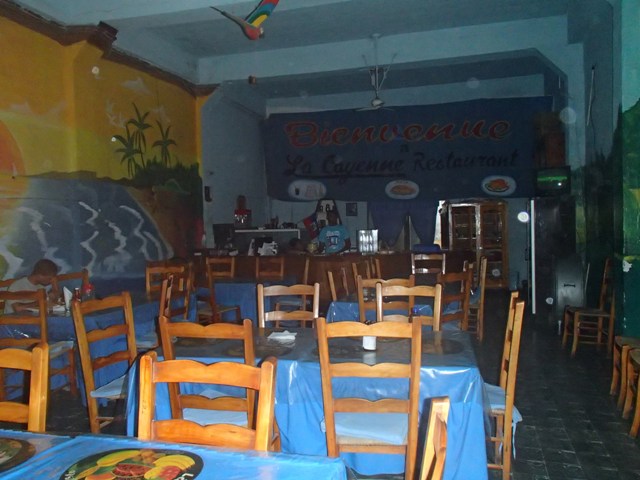 The water taxi back to the island left at around 1.30 pm so after our trip round the town we wandered to the eastern part of the harbour where produce was being loaded and unloaded from a large ship at anchor about a quarter of a mile offshore. The small boats were plying between shore and ship and dugout canoes or guys stripped to the waist [or naked] were ferrying the goods the last few yards.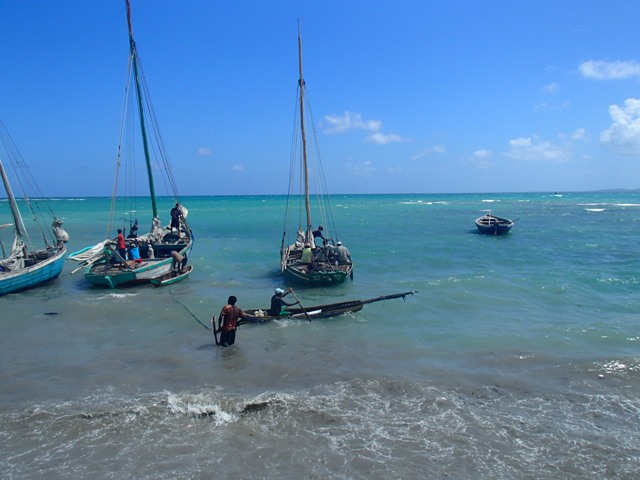 The return journey to the island was a reverse of the trip out – piggy back, small "punt" and leaky boat. However in the late morning/early afternoon the wind increases and so do the waves and therefore shortly after leaving the shore a tarpaulin was passed from one side of the boat to the other to "protect" the passengers.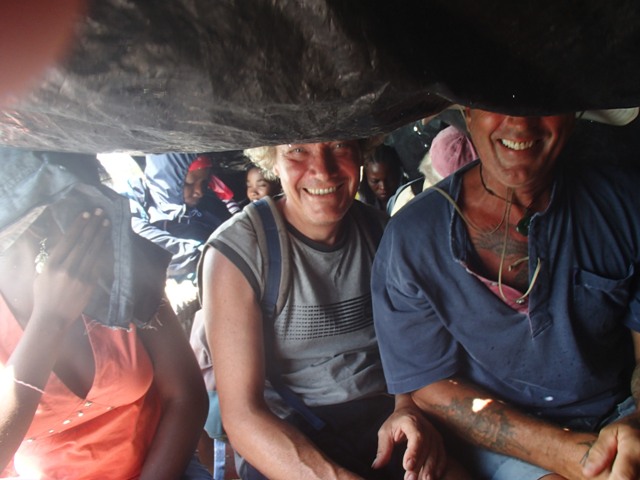 There was much hilarity [or was it hysteria!] and whilst I managed to be on the leeward side and therefore less subject to being battered I was dripped on [for drip, read stream] and I think that Carol got the best seat in the middle.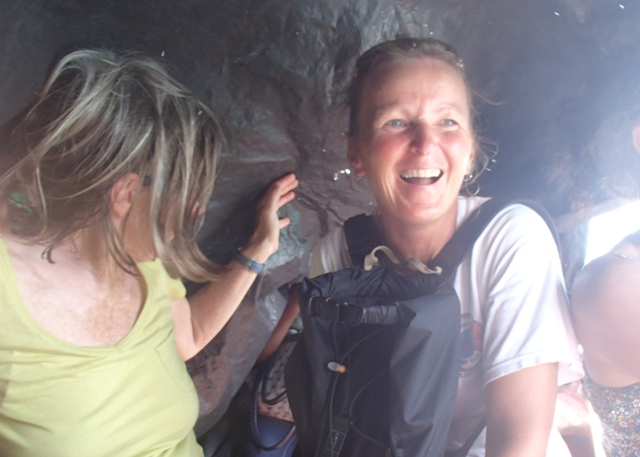 You might have worked out by now that boats play a large part in the lives of the islanders. There are local sailboats which ply between the island and the mainland and which are also used for fishing.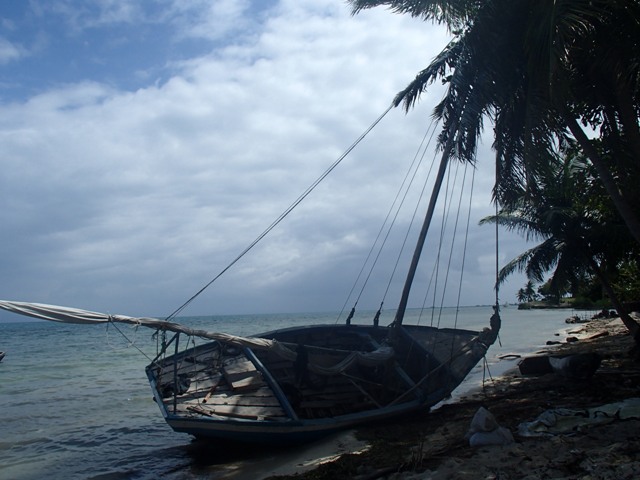 They have a disproportionate amount of sail and to balance them some of the crew stand on boards.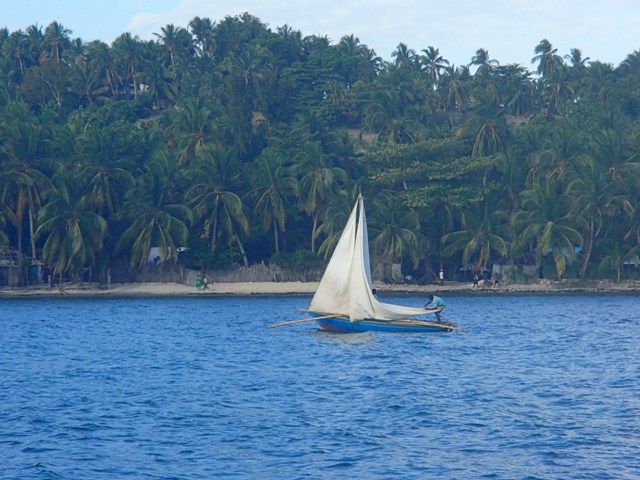 They don't have an engine, so when the wind drops long oars are deployed. I believe these boats are one of the few remaining examples in the world of sailing craft whose design and use hasn't changed for hundreds of years. When I took this photograph Mike commented that it was difficult to tell whether these were boats under construction, or falling apart! [It was definitely the former]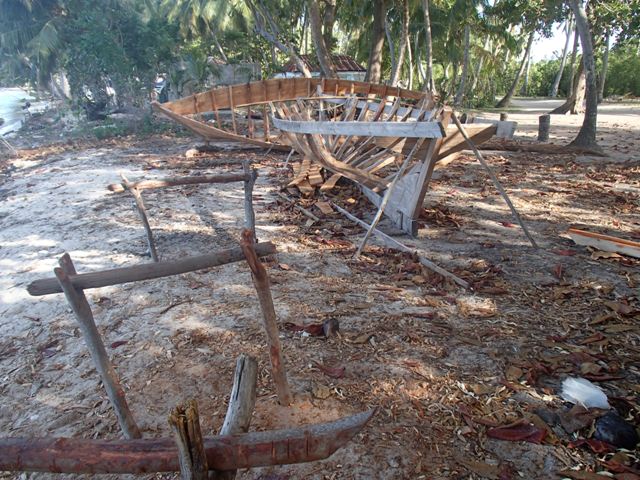 Very much under construction was this dugout canoe [Bois-Fouilles].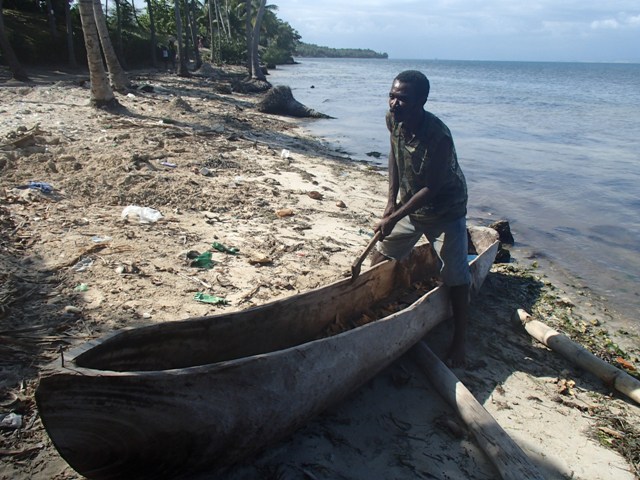 It is amazing that local fishermen use these in conditions that we would think twice about because, as Mike found out, they aren't that easy!  Under instruction from Jermin, a local "boat boy", he managed to get aboard with only a bit of a wobble…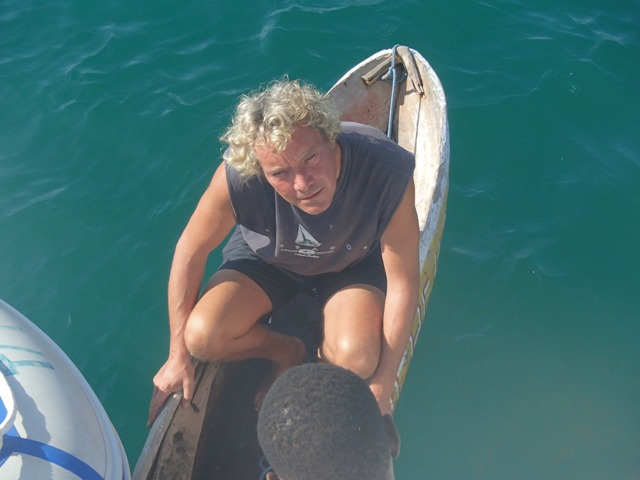 And off we go…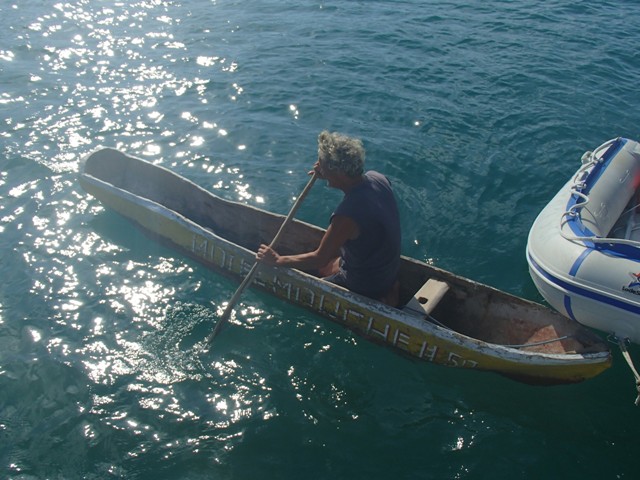 Phew, made it without falling in – a massive trip of about thirty metres!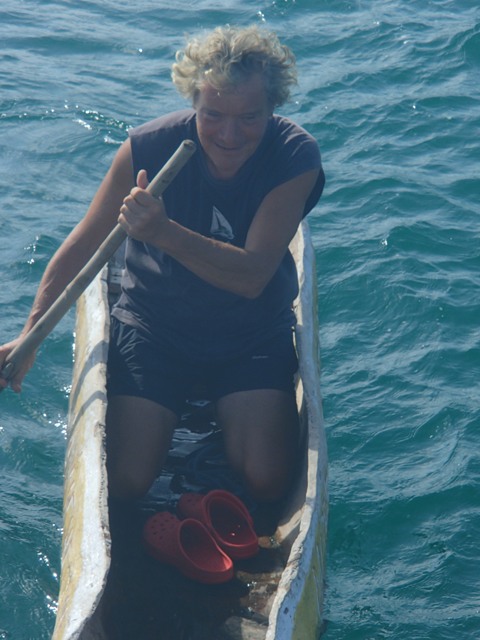 Boat boys abound in the bay. Cruisers are viewed both as a source of income from the sale of courtesy flags, fruit, beer etc and a source of entertainment. The boys are quite happy to hang on to the side of the boat and converse in whatever language seems best. The local language is Creole, but most of the local people also speak French. Some of the older boys speak English which they learn at school on the mainland – if they are fortunate enough to go there. We managed to learn a couple of Creole words. "Mèsi" you might work out for yourselves is a form of "Merci" but how about "Como ou eely"? This is the way to ask someone's name and is a kind of mixture of French and English translating loosely as "Who are you really".
Depending on one's mood, the regular arrival of the boys throughout the day can be a welcome thing or a nuisance but, if the latter is the case they generally get the message quite quickly. The younger boys tend to come alongside wanting to take away boat rubbish, for their dollar fee, but there is nowhere for them to take it so we built up quite a store of bin bags in our lazarette. We did notice that an area of land on the outer edge of the village is set aside for rubbish and that this is set fire to on a fairly regular basis but it doesn't do much to get rid of plastic bottles, cartons and tin cans.
The village at the anchorage is Caille Coq. There is no electricity or running water but it is kept very neat and tidy. There is no road, only a footpath, but the delineation between path and garden is clearly marked by rows of cactus, conch or sticks stuck into the ground. The cactus trees are dual purpose as they are also used as washing lines because the spines stop the clothes blowing away. Some of the villagers have small plots of land on which they grow a range of vegetables and, once again these are beautifully tended. They also keep goats, pigs and cattle and all the animals we saw were in very good condition.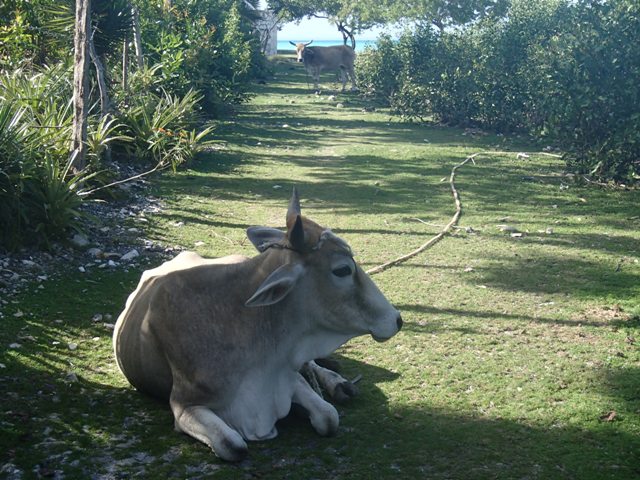 There is a village bakery, a small shop and a couple of bars. The bars aren't always open and, even when they are, their beer isn't necessarily cold! As I stated above there is no electricity. One or two people have installed solar panels but these aren't very large and would be hard pressed to keep a beer fridge cold. So, for a cold beer the best thing is to buy from the local women who sit in the village square with large cool boxes filled with ice. A small beer cost about US$2.50 [£1.75] but, considering the ice has to be brought from the mainland by the water taxi or one of the little local boats, this is actually quite a bargain!
Ìle à Vache is a very beautiful island and Mike and I had two or three peaceful walks discovering beaches, mangroves and small villages.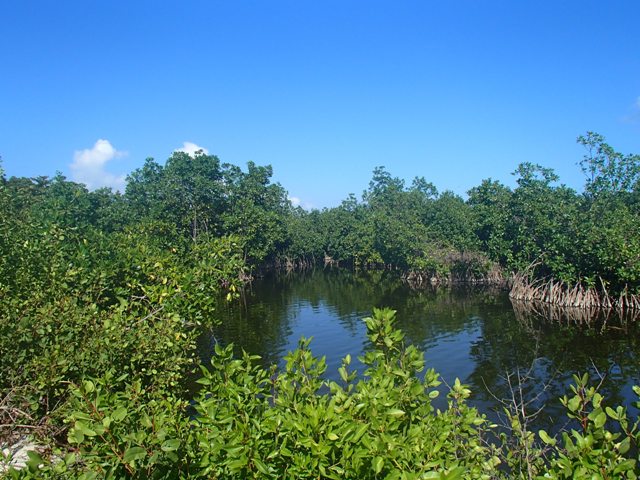 Most often local children or teenagers will offer to be guides and it is generally quite easy to refuse. It is a bit more difficult, however, when you are lost! Well, its probably near impossible to get really lost because all paths seem to lead eventually to Caille Coq or to the larger village of Madam Bernard but sometimes it is difficult to work out how to get to somewhere else that you have heard of but can't actually find. Such was the case one day when, with Carol and Steve, we were looking for a new hotel that has been built on the west facing coast. We had been told that it had internet so we were on a mission. Part way up the hillside we were suddenly hailed with "Carol" [the reason for which will become clear later] and four children ran up to greet us and then proceeded to guide us along winding paths, along beaches and up and down hillsides until we came to our destination.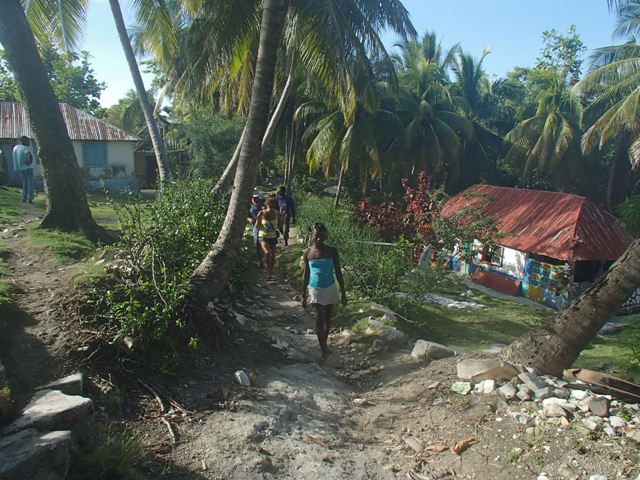 The Abako Bay resort is certainly a get away from it all place. We think that the hotel has a small motorboat to ferry its guests – well we certainly hope so because the water taxi experience would freak most folk out at the start of a holiday and heaven knows where the suitcases would go. There are two helipads at the hotel for the more affluent visitor which, apparently, has included George Bush [not sure whether that was senior or junior] but we didn't see/hear any evidence of helicopters over the island while we were there.
We rewarded the children, and ourselves, with a cold drink after which it was photo-shoot time….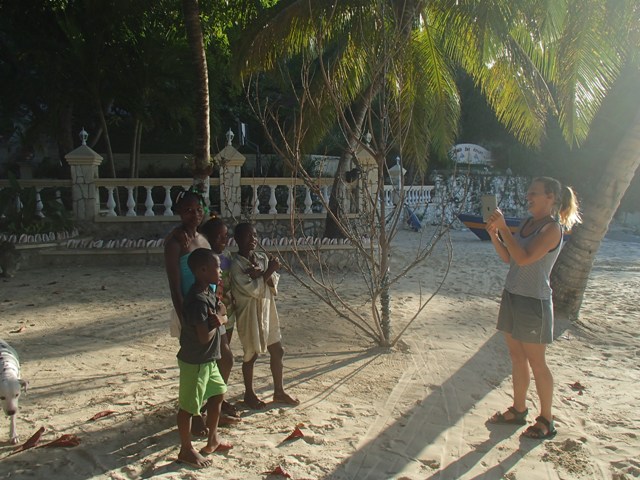 ….and whilst this is the only IT spot in "IT" [or at least in Ìle à Vache] it sure isn't a bad place to sit and communicate with the rest of the world.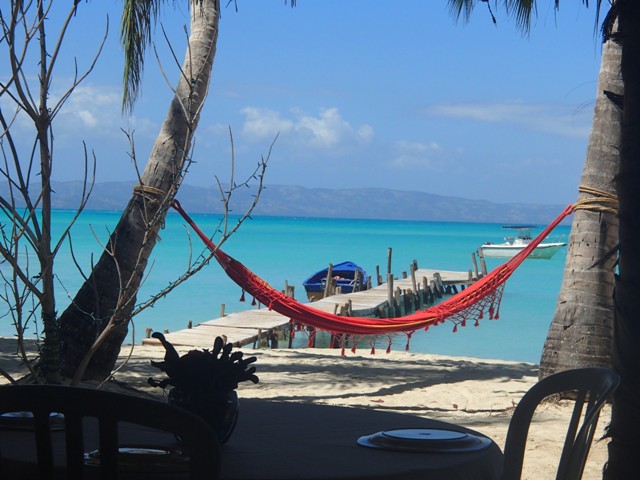 The walk out to the hotel took about two hours and we were very concerned that the trip back would be the same, but there was a short cut. Quite why the children hadn't turned us around when they met us we don't know but it was probably because we were walking in a certain direction and they thought that was the direction we really wanted to go in even though it was the long way round? We still had to start the return journey by walking back along the beach and, having been treated to coca cola, there was a certain exuberance in evidence.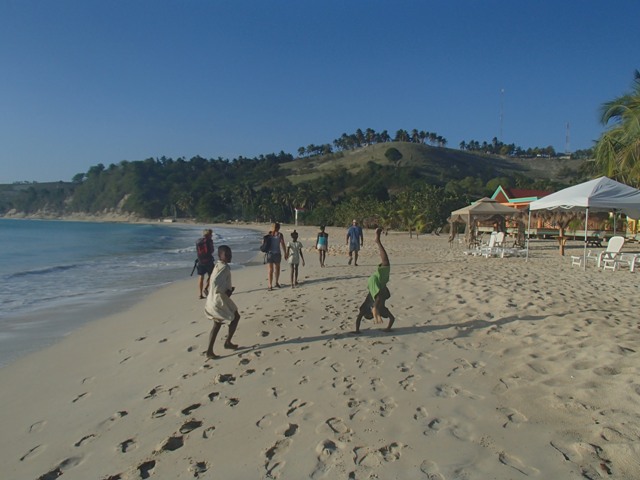 I said above that I would explain why our small guides came running up calling "Carol". It was because of Shayone – the smaller of the two girls. She had met, and latched onto, Carol at a small "party" Frank arranged for the cruisers who had brought goodies for the orphanage and to which local people also came. The party commenced with a kind of lottery for local fishermen because some sails, some fishing floats and other bits of fishing tackle had been donated by several people and Frank didn't know how better to distribute them fairly. The "lottery" consisted of each fisherman drawing a domino and the one with the highest number of spots "won" the particular item. I really cannot describe how humble I felt watching this. Even as I write now I can feel the same tears at the back of my eyes that I let fall then at the sight of a man in his fifties being so happy and feeling so lucky at winning a six inch battered and abused fishing float.
Food was provided [beautifully fried chicken, rice and beans, salad] and although I ate some I gave most of my share to some of the children who were there.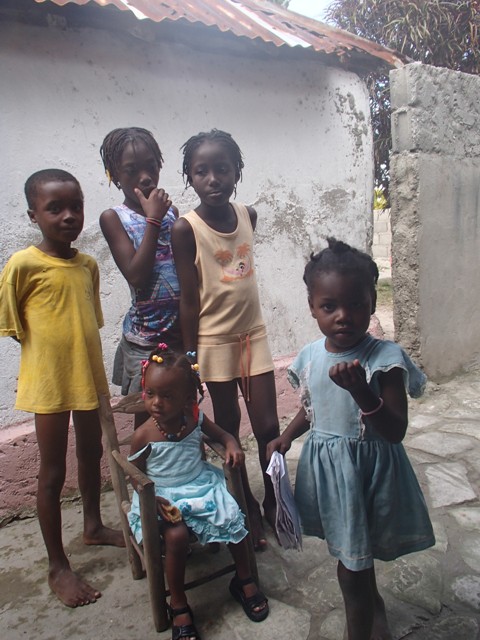 Its' interesting that, if offered a juicy piece of flesh or a bone, most will go for the bone and consume it all. Unfortunately my camera battery ran out and I wasn't able to capture many of the mostly happy images of the late afternoon/early evening get-together but with a last shot Mike did manage to get a photograph of the local band who entertained us.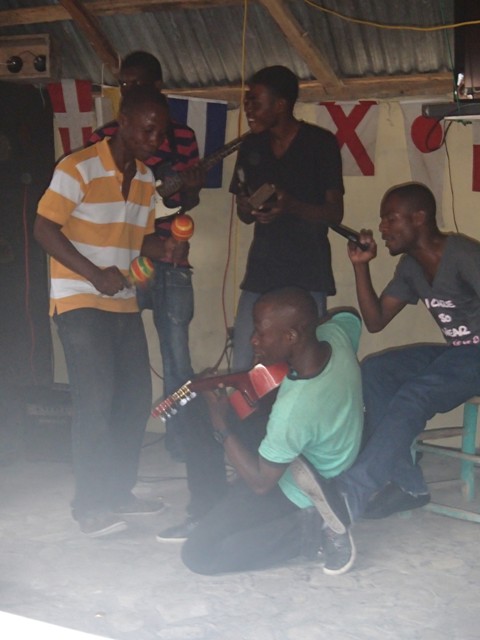 The band was lead by Laguerre Lassarony who, in this photograph, managed to be hiding behind the pillar. He is now Mike's new best friend because Mike donated to the band my old work computer which has been sitting doing nothing since we left the UK. It is very slow and we are not even sure if the battery works but Laguerre and the band were delighted with it. We needed to delete a photograph archive from the hard drive so it was the following day before Laguerre could collect it and he then accompanied us, passing his family house on the way, to Madam Bernard where we went to visit the orphanage.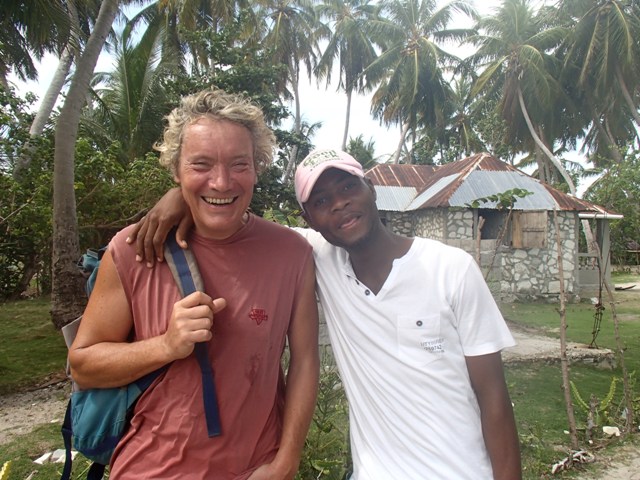 A major part of our reason for visiting Ìle à Vache was to meet Sister Flora and to take her various supplies. [You will remember the Pampers from the last post].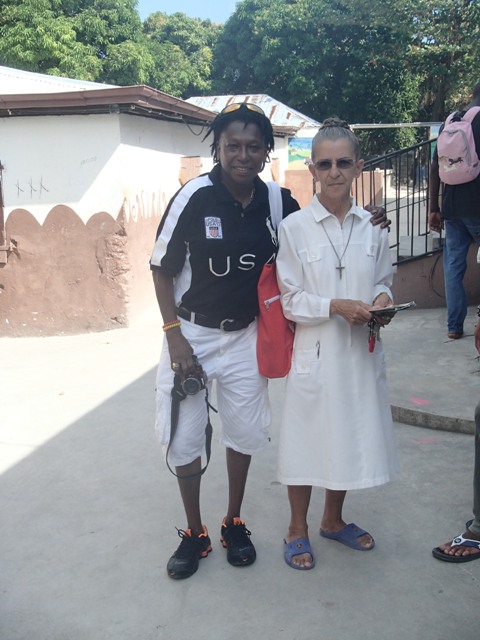 Sister Flora, pictured here with Frank's crew member Monica [a lovely, lively Grenadian woman] started the orphanage about twenty years ago. She used to receive some aid from the US but we are given to understand that is no longer available to her so she manages mainly on donations and good will. We met four Irish people who were there for two weeks making wheelchair ramps etc. They told us it was their fourth visit and, with other members of their organisation, they have built new accommodations as well as a playground. There are currently 76 children in the orphanage, 25 of them disabled [some quite severely so] though Carol, who is a trained nurse, explained to me that if some of them could have had what she described as a relatively cheap and simple operation earlier in their lives their disabilities would have been far less.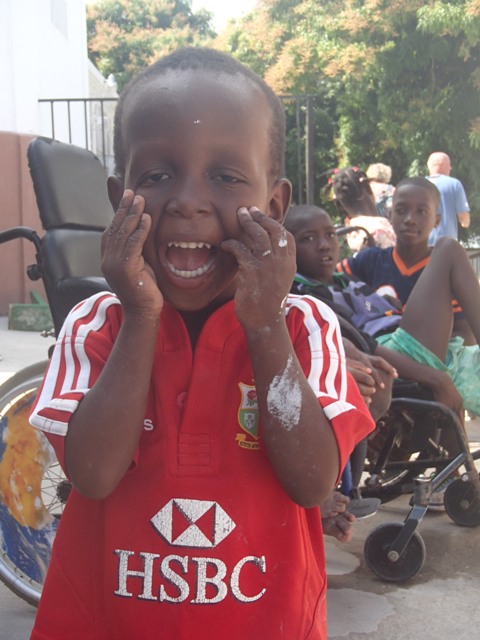 The children all seemed happy and all the non-disabled children of school age attend the school across the road. They were rather pleased that school was over for the day when we visited [lessons seem to be 8am until around 1.30pm] because it meant that they could get their share of the sweets and balloons.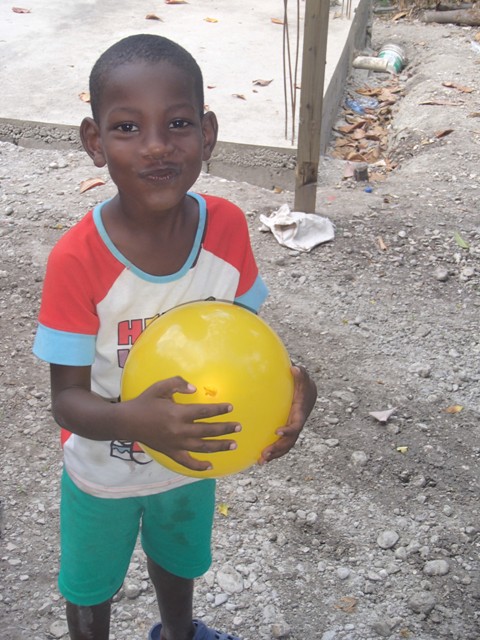 Again, it was a heart wrenching experience that children could, in this day and age, have so much fun with a balloon. Can you imagine European kids being so absorbed? Not a Nintendo in sight!
The village of Madam Bernard is also where the twice weekly island market is held. Although the stalls were smaller than those on the mainland they sold pretty much the same thing but the "car park" was rather surprising…..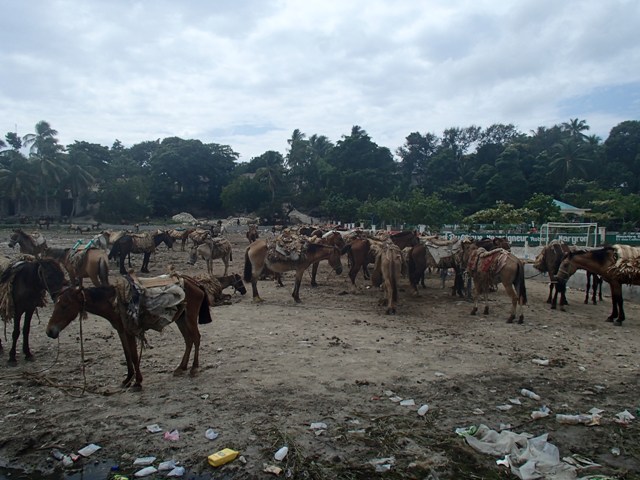 ….or maybe not – if you have by now come to understand, from my attempt at portraying Ìle à Vache, that the simple things in life are sometimes the only option.
On our walk from Caille Coq to Madam Bernard, which took about two hours, we came across this grave.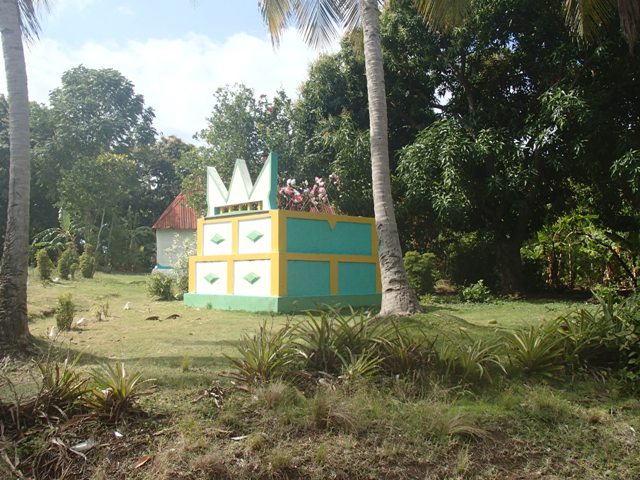 There are four compartments in each grave and we understand that, as in some other countries, people are interred for a year or so until they are just bones, at which time there is another ceremony to actually bury them. We don't know whether the flowers indicate interment or burial.
Encountered on our walk back was a wooden vat of….. well, have a guess…..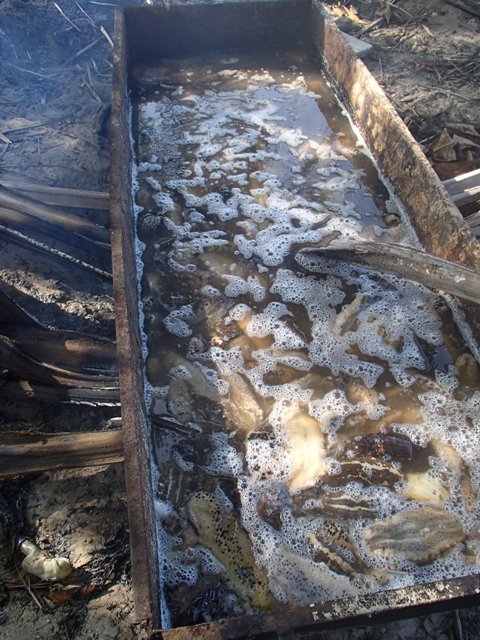 They are sea slugs which were being boiled up for, so we were told, export to China. It all sounded a bit strange but we were assured that there is a boat from China which comes weekly. We guess that the small scale production of whatever it is that boiled sea slugs ends up like was only one of many such "cottage industries" if a boat really did come weekly. I am pleased to say that whilst fishermen came to the boat to offer us crabs, lobster and fish none of them offered sea slugs. Maybe the Chinese market is more lucrative?
Speaking of fish and lobsters…. on our next to last evening we "engaged" a local woman to prepare our evening meal which included Red Snapper. Well, let's say her husband engaged her on his behalf! What we thought we had done was arrange for her to cook the meal at home and for us to pick it up at sunset – a kind of take-away. We managed to lose something in translation because, in reality, the offer was that she would either come out to the boat to cook it for us, or we could go to her house to eat it. The husband thought we had gone for the latter and was therefore surprised when only Mike turned up on the beach at sunset. However, the couple were very accommodating and just packed everything up in Tupperware, wrapped it all in a Christmas tablecloth and enabled Mike to bring it back as a take-away. Maybe this will be a third option in the future.
In respect of the lobster, Mike decided to expand his culinary experiences and buy live lobster [the Langousta which you may remember we had at Isla Beata were dead when we bought them]. However, maybe it was fate intervening but just after we had bought them our "neighbour", Elise, came by and invited us for an evening meal on her boat. It so happened that she was also cooking lobster – so we threw ours into her pot. Well, actually she did. Elise and her husband, Bruno, live aboard "Joakai" – a junk. No, not a piece of junk – but a boat which has been made in the style of a junk and painted bright red with a black and white eye at the front.  We were also joined by Mungo – a single hander. Mike was encouraged by the others to take his saxophone on board for an unstructured music session [now wasn't that polite of me!]. Elise plays clarinet, Bruno the guitar and Mungo seemingly almost anything he can pluck, blow or hit. It was what might be described as a bohemian evening with a couple of games of Perudo thrown in. I returned to the boat at around 1am [fortunately with the saxophone]. I found Mike in the cockpit the following morning. He had apparently been escorted back after falling asleep in their cockpit and then falling down their companionway. It must have been something he ate…..
Whilst we are discussing parties, as many of you know, on non-leap years Mike has at least two birthdays. This year it was decided that his birthday celebrations would begin on Ìle à Vache so that Carol, Steve, Pam and Dennis could join in. We all contributed various bits and pieces and ended up with an excellent, almost Greek, meal. This time it was Mexican Train rather than Perudo and, although a good evening was had by all, everyone made it back to their own boats unaided. A rousing chorus of Happy Birthday accompanied the candle with the biscuit cake underneath!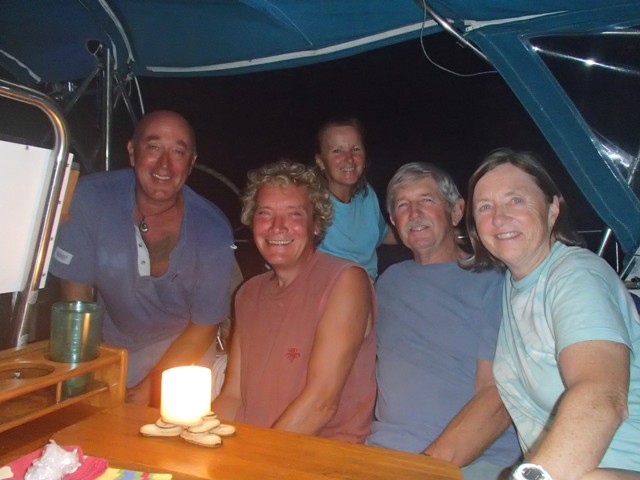 You may have noticed that I haven't said very much about the authorities or clearance etc. We are advised by Frank that in all the years he has been visiting Ìle à Vache he hasn't cleared in or out. He, however, has been coming from and returning to the Dominican Republic where he is well known by the coastguard, the various Comandante and the immigration authorities. We have always tried to have watertight paperwork and wanted at least a stamp in the passport, which we got, to prove to our next port of call that we had not been wandering the Caribbean willy-nilly. A sure way of attracting the attention of Drug Enforcement or Immigration is to have a longer than reasonable time lag between ports. However, I see no point in going into detail because all the information a cruiser might need can be found in the aforementioned free cruising guides [even if Frank doesn't always follow his own advice!]
So, I am not going to suggest that all of our non sailor friends rush out and book tickets for Haiti/Ìle à Vache – though if you did it would probably be a holiday you would never forget. But, for cruisers crossing from the better known Caribbean islands to Central America or going up to the Bahamas it is a "should not be missed" opportunity.
It is safe, it is beautiful, the anchorage is calm and secure [but get there soon as there is talk of mooring buoys], the people are wonderful, the experiences are some which you probably won't have had before and the whole thing just takes your breath away.