As we sailed into the sunset at the end of the last blog post we also sailed into calmer waters as we moved out of the Mona Passage towards mainland Dominican Republic. It is fair to say that we weren't actually in the Mona Passage itself – which is the route that most cruisers take as they sail from or to the Bahamas. Our course was from the south coast of Puerto Rico to the south coast of Hispaniola i.e. the DR and Haiti. For cruisers considering spending some time in this part of the world there is a series of free cruising guides [www.freecruisingguides.com], written by Frank Virgintino, which encourage sailors to consider the south coast route as an alternative. Having now crossed the southern end of the Mona Passage – and therefore nowhere near those squiggly markings on the chart in the middle of the Passage which denote something along the lines of "sail here and you will get blatted" – I believe that Frank makes a good suggestion!
It is perhaps Frank's "fault" that we were sailing the Hispaniola waters at all. When we arrived in the Caribbean 15 months ago our plan was to sail to Panama via the ABC islands. Plans change, constantly, as you listen to other cruisers experiences and recommendations and having accessed an article in the monthly cruisers magazine "Caribbean Compass" about a guided trip to Haiti we decided that the northern route would be both good fun and an opportunity to visit somewhere we wouldn't have considered travelling alone – namely Haiti.
However, you will have to wait until the next instalment to hear about Haiti because first I want to tell you about our adventures in the Dominican Republic.
The 147 mile run from Boqueron [Puerto Rico] to Boca Chica [DR] took almost 29 hours. Boca Chica lies approx 75 miles from the eastern end of the DR and we could have stopped at one or two places before Boca Chica to clear in and spend time but we had an appointment for 4th February to meet with the other members of the flotilla so, having not left Puerto Rico until 2nd Feb we hadn't much choice! Now don't start to worry about us – we haven't gone totally crazy setting silly timescales and putting ourselves at risk. We had seen the grib and knew that we had fair weather and good winds for the crossing and we did have 24 hours grace should we have needed to pull in sooner.
So, having arrived at Marina Zar Par, we cleared all the authorities quite quickly [they are based in the marina] and had the afternoon to spend wandering into the village of Boca Chica.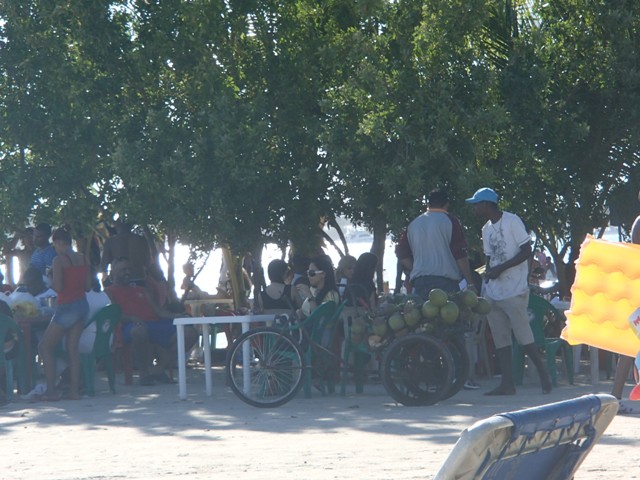 Being a Sunday the town beach was full of families out for the day, enjoying the fish meals on offer and drinking the afternoon away. As you know, we are not averse to the odd drink or two – but a bottle of Scotch at lunchtime? We later learnt that drinking Scotch is a sign of affluence in the DR and the most prestigious label is the Johnnie Walker Green label – which we have never seen in the UK. It appears it is a flourishing export market.
On the following evening we went to the marina bar to meet with Frank and the other members of the flotilla.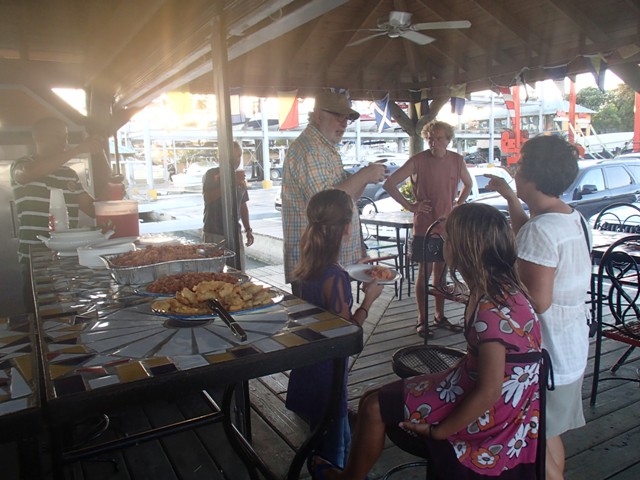 To our disappointment we learnt that of the twelve boats that had signed up only four had made it to Boca Chica and one of those had engine problems so there would only be three plus Frank and his crew [Monica and Clement] on "Raffles Light".  The two other boats were "Desirade" [Jean and Monique] and "Don Quillechotte" [Martin, France and their two young daughters] – both French Canadian.
The first task for the small group was to take a trip to the PriceSmart outlet to provision.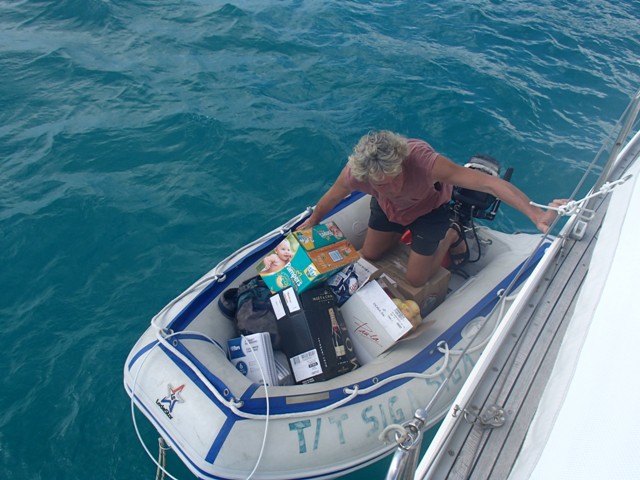 As you can see, amongst other things we found a box of wine and, just in case you were thinking that we had regressed, the Pampers were for the orphanage at Ile a Vache – along with much needed dried milk and rice and some pencils and paper, balloons and sweets for the children.
The second task was to think about possible stopping points between Boca Chica and Ile a Vache and determine our route and timeframe. It became apparent quite quickly that even the small flotilla wasn't going to be a flotilla after all. The French Canadian boats wanted to take their time and travel short distances where possible. Frank, on the other hand, didn't want to delay too much because he is the owner of a large marina in New York which got severely hit by hurricane Sandy and the manager there was pushing him to return to the US to sort out the insurance company who were doing what some insurance companies do best and refusing to pay out. So, Mike and I were faced with a bit of a dilemma. We really liked the other people and it would have been good to spend time seeing a couple of additional places in the DR but we had "signed up" to sail with Frank. Our "integrity" won the day and we decided to sail alongside Raffles Light.
But there was still time for some sightseeing – partly because a weather front was delaying our departure until the Saturday – so we caught the local bus into the city of Santo Domingo. You might remember from the last post but one that San Juan [PR] was the second oldest colonial city in the Americas and that Santo Domingo was the first.
At the heart of the city is the Zona Colonial, which contains several New World firsts – the oldest church, the oldest street, the oldest fortress and the oldest cathedral, all of which we visited.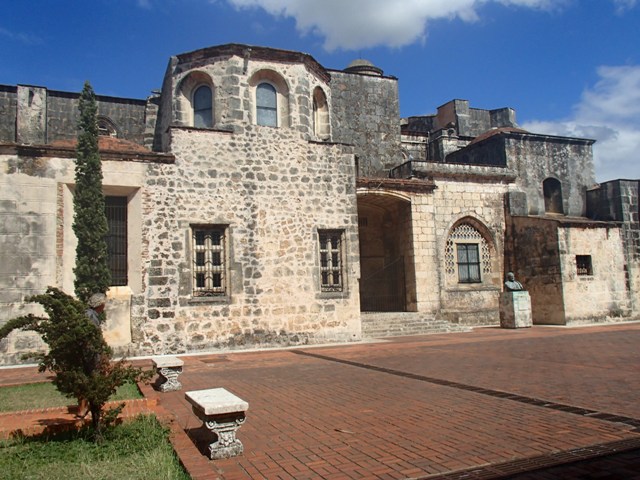 Construction of the cathedral technically began when Columbus set the first stone in 1514 but it didn't begin in earnest until after the arrival of the first bishop in 1521. Some of the cathedral – or at least some of the small structures around it – was made using coral blocks.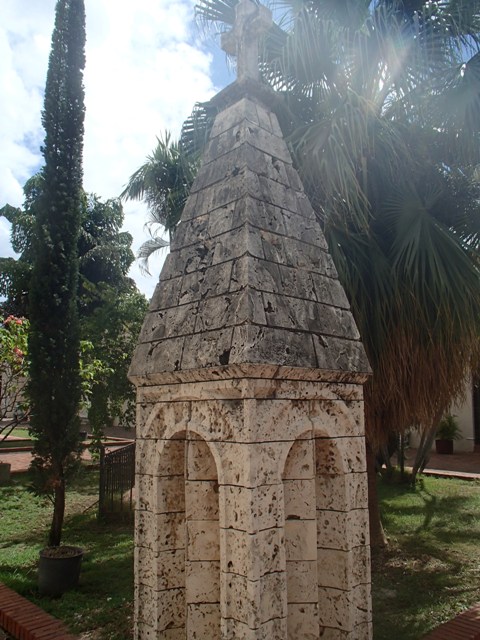 We were quite surprised to see the Nativity still set up in one section of the cathedral…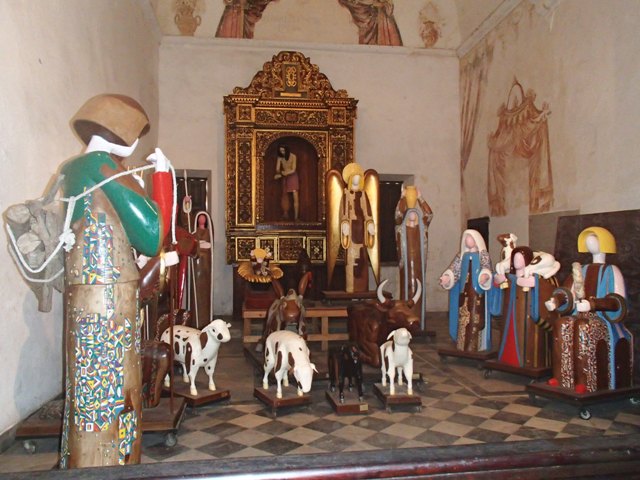 …maybe it stays there all year – though we also noted in Puerto Rico that the Xmas celebration goes on well into January as Three Kings Day is considered the most important festival of the season.
Maybe it's because we didn't spend a night here, but we didn't find Santo Domingo as interesting, or as picturesque, as San Juan. We did find one end of the long main pedestrian street [El Conde] had a kind of Cafe Culture feel…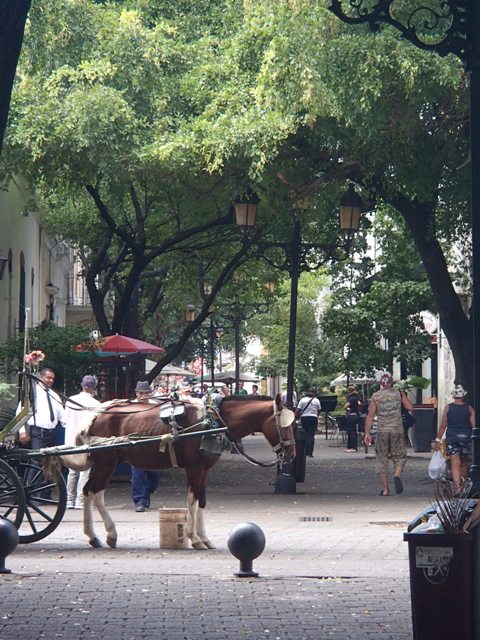 but much of the rest of the street was devoted to cheap and gaudy tourist shops. Opportunities for eating and drinking were more difficult to find as well – though there was one particular gem we chanced upon where we watched them grinding local coffee for out-sales as well as for consumption inside which, if you recall our Puerto Rico tales of the impossibilities of finding coffee, was a step forward!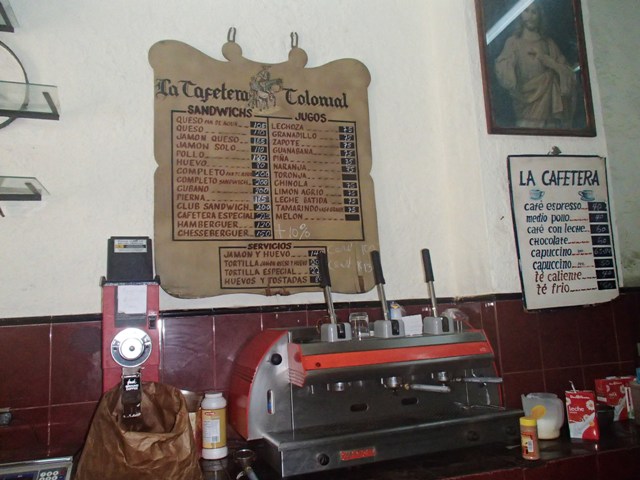 Saturday came round quite quickly and, having spent the morning topping up the fuel and the purse [we found that we needed US dollars for Haiti], we set sail at 2.30pm heading for Isla Beata, the two French Canadian boats planning to leave about five hours later for Salinas. Having motored round the reef which protects Marina Zar Par we turned the engine off and set the sails so that we were making 5 to 6 knots in order to arrive at Isla Beata at dawn.
So much for best laid plans. "Raffles Light" was about 30 minutes behind us but as we watched her over the next couple of hours she seemed to be having trouble holding a course. At just after 7pm we got a call on the radio and Frank informed us that his autopilot was broken and that, although he wasn't too worried about the trip west to Ile a Vache, he didn't fancy the hard beat back to windward without autopilot on the return journey. Therefore he was going to make a detour to Salinas to fix it. So, about turn – well, not exactly about turn, but a change of course which placed us right where we didn't want to be – waves on the stern quarter, wind strength increasing and a shorter journey meaning that we needed to try to slow down or risk entering an unknown bay [with fish traps in it] in the dark. We reefed, passed an uncomfortable night rocking and rolling and watching the lightening in the distance and then more or less hove to just outside Salinas for a couple of hours until dawn broke at about 6am and we could make our way into the inner bay to anchor. [The French Canadians arrived about 2 hours later having had a more pleasant journey down the coast!]
The good thing about this detour was that we were able to see Salinas which lives up to its name as a place of salt production.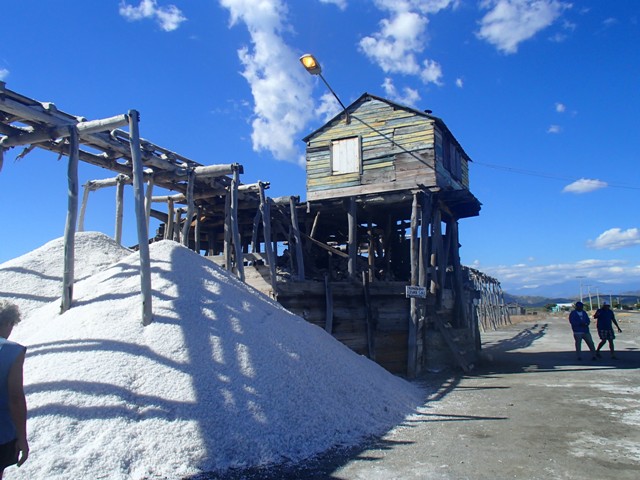 The village is quite small with just a few small shops and cafe's which seem to be popular at the weekend. The anchorage is very sheltered which is a good thing because the 24 hour weather window we had chosen, ostensibly to get to Isla Beata, was now over and we were in for a night of unsettled weather.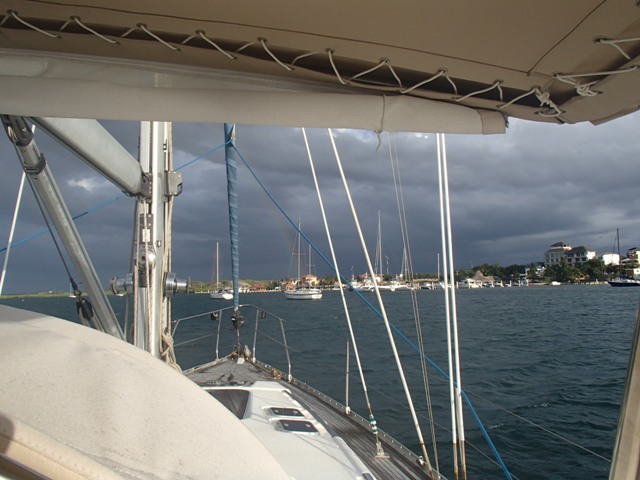 Still, with "weather" come rainbows [and that's Raffles Light]….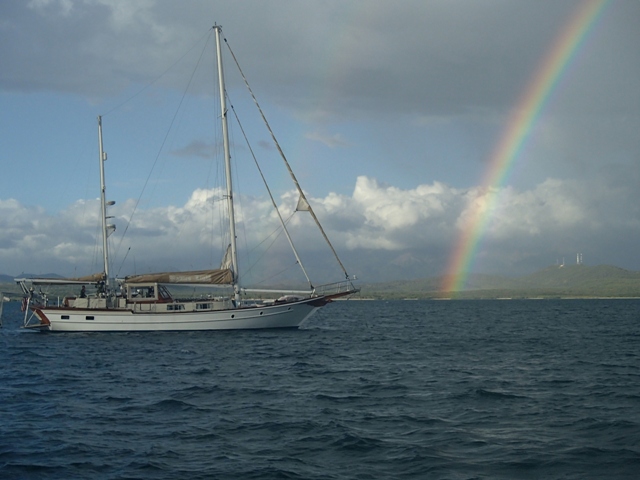 and, as you will have noticed in the photograph of the salt [above,] it was preceded by an excellent blue sky day.
Something that I haven't told you about is the "Despacho" system. In the DR there are two sorts of Despacho – the national [for going port to port within the DR] and the international [for leaving the DR]. Because we were supposedly leaving the DR – albeit via Isla Beata – we had an international Despacho. However, here we were, in Salinas, for which we should have had a national one. Apparently it is possible to stop with an international one if there is a need – which includes boat problems so, because Frank's autopilot needed fixing we were OK. However, I would not like to have done this by ourselves as explaining it all might have been rather more than our meagre Spanish allows. As a result, we are now the proud owners of a new Spanish dictionary [as well as the "Learn Spanish" book we already had] and we have copied an audio language course from some friends and Mike is determined that we [well he actually] learns more of the language.
Anyway, back to our travels and another overnight journey from Salinas to Isla Beata during which we recorded gusts of 37-40 knots with an average wind speed of 33 knots which meant that we "sailed a handkerchief". Under normal conditions it is possible to pass down the channel on the northern side of the island but as these weren't exactly normal conditions we had to go round the south end of the island and we anchored safely off the north west corner at 10.45am on 12th February.
Whilst we did anchor safely there were several minutes when we wondered whether we would make the anchorage because we managed to "catch" a lobster pot. We noticed that we didn't have as much steerage to starboard as usual and that when the autopilot was off the wheel was very stiff. Looking out over the transom we could see a plastic bottle bobbing along behind. I grabbed the knife and went to cut the line only to realise that it wasn't just the bottle that we were dragging but the lobster pot itself. These pots are about four to six feet long and weighted with pebbles and this weight made it very difficult to pull the line in sufficiently to be able to cut it. Fortunately with a lot of huffing and puffing and judicious use of the boat hook we set ourselves free. I have to say that as drogue anchor alternatives go this would have been a good one! The excitement wasn't quite over though as some line was still caught but we managed to clear that once anchored. Lobster pots and fish traps are certainly a hazard in these waters. We are sorry to have destroyed a part of someone's livelihood, especially as we had worked hard to avoid many others, but we caught this one because it was "floating" beneath the water and was therefore invisible.
Isla Beata's anchorage is extremely beautiful and, even in the windy conditions remained calm.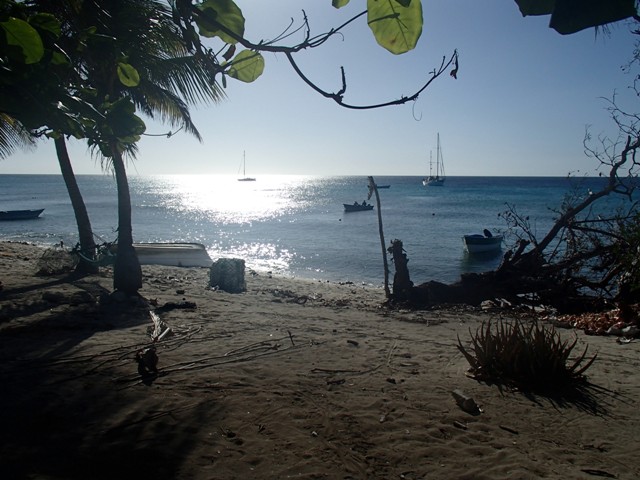 The water is clear and there is a pleasant view of the small fishing village on the shore. We couldn't quite work out whether or not the village was permanent. We think it is possible that the fishermen come and go, spending some time here and some on the mainland but that they do this in a way that means there are always several of them there at any given time.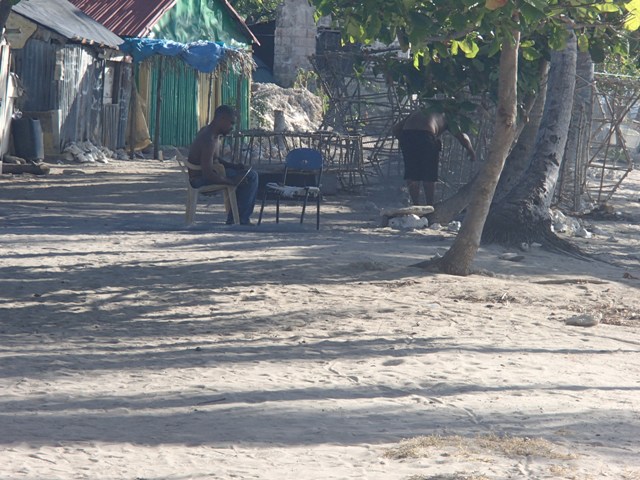 The path through the village was bounded by conch shells and, although the floors of the homes and "shops" were sand they were clearly brushed daily. We decided to take a walk around and were joined by a local man who took us to the island's well. We thought that he was proudly showing us the village water supply but later it became clear that what he was trying to do was show us that the islanders needed water. Often a "guide", whether self appointed or otherwise, wants a bit of money for showing you around. This guy wanted water. He brought containers out to the boats and took away 23 gallons. It's good to know that we now have our watermaker and are able to give much needed water without leaving ourselves short.
Whilst the fishermen may come and go the iguanas are permanent residents – and some of them look as though they have been here for quite some time…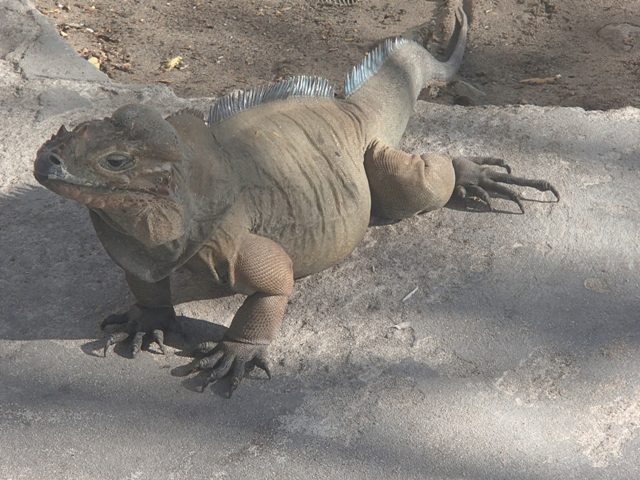 Whilst on the island we bought four small lobsters [Langousta] for the princely sum of £2.00. They made excellent paella for dinner that evening.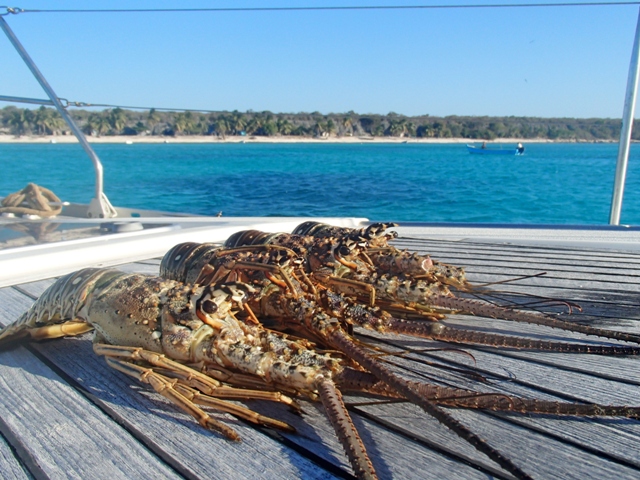 As a concession to the overnight passages Frank suggested a short 20 mile journey the following day to Bahia de Las Aguilas [the Bay of Eagles]. This is a practically deserted bay about 8 miles from the DR/Haiti border.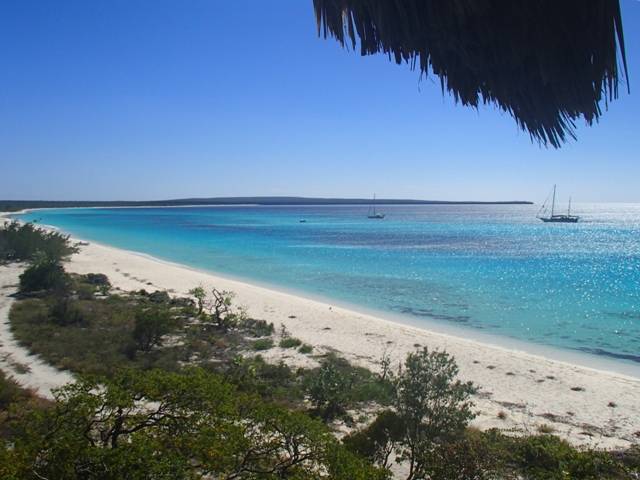 The only other people there were half a dozen tourists who had been brought by fishermen from Cabo Rojo but, given the length of the beach and the fact that they left well before sundown, they were hardly noticeable. We spent a very happy couple of hours wandering along a track behind the beach and then back along the foreshore collecting a small "nature table".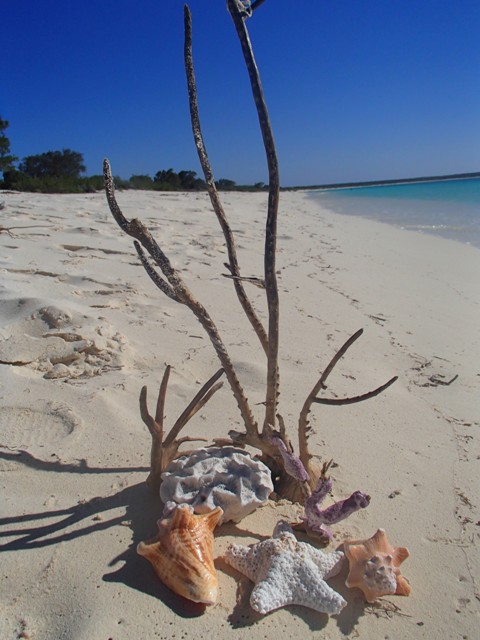 Whilst we were spending a lazy day Frank and his crew visited a new bar near Cabo Rojo which is just opening and which he wants to include in an update of his cruising guide. He also sourced some local fish and treated us to a Spaghetti Marinara that night aboard Raffles. An excellent evening – and for a man who doesn't drink, the wine and port seemed to flow quite well!
And so, that ends our time in the Dominican Republic. We would have perhaps liked to spend more time there – though to do so would, as I said earlier, mean we needed to speak some Spanish to get the full benefit of the country. We do think that there is merit in taking this south coast route as there are some beautiful places to visit without the intrusion of the all-inclusive resorts which are along the north coast – but the distances are long and many passages need to be overnight. However, we are glad not to have missed it and will remember, in particular, Isla Beata as a very beautiful, peaceful and friendly spot to drop the hook.