We are just about to leave Jamaica and know that any form of contact with family and friends is likely to be difficult for at least the next ten days or so – until we reach mainland Cuba.  I therefore thought it might be a good idea to bring you up to date and to let you all know that we are in great form having spent the last 3 weeks here in "Bob Land".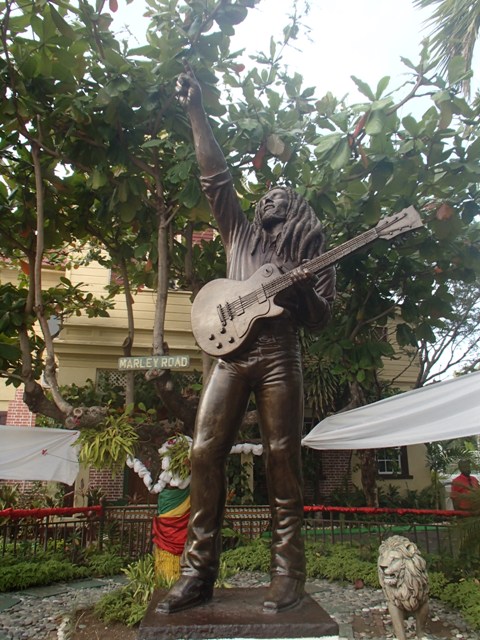 From Ìle à Vache, we made the crossing to Port Antonio [at the eastern end of Jamaica's north coast] in just less than 30 hours. For the first couple of hours progress was slow[ish] but steady at 5 knots but once round the mainland peninsular we picked up speed and averaged 6.5 knots for most of the first day. Overnight the wind dropped necessitating a few hours of motoring and then motor sailing until around 9am on the 25th Feb when the wind freshened and we were sailing again towards and then along the north coast of Jamaica. We had excellent views of the John Crow and Blue Mountain ranges, the Blue Mountains rising to over 7,000ft.
Port Antonio offers excellent protection inside the West Harbour behind Navy Island. We are not sure whether East Harbour is still used though there are some old large ship moorings near the entrance. The anchorage is part of the Port Antonio Marina facility, overseen by the Jamaica Port Authority, and the various officials come in turn to complete the necessary paperwork. It took us 4 hours of form filling and "hosting" visits by professional and friendly Quarantine, Drug Enforcement, Marine Police, Coastguard, Customs and Immigration Officers. The Jamaican Quarantine rules mean we were not allowed to step foot, even onto the pontoon, until we had been cleared medically. We have never encountered this before but after a few questions about our health and a look in our cupboards checking dates on tins of food etc we, and the boat, were declared fit. As the afternoon progressed we were very glad to have a printer/photocopier on board as that saved us from a few more forms – and we are now also short several staples and paperclips as it seems as though we were expected to provide these too! However, there is no cost to actual clearance or for the cruising permit provided – which is then checked at every main port of call.
There are docking facilities as well as an anchorage but being budget conscious cruisers we opted for the US$15 per night "cheap seats". We were still able to avail ourselves of the showers, laundry, internet and swimming pool.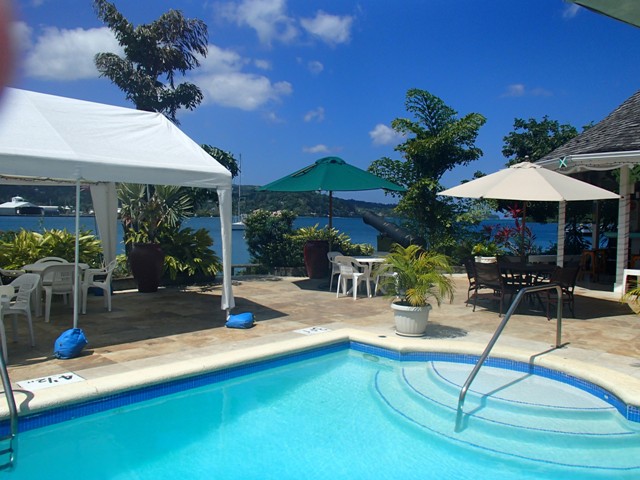 The bar also took Mike's fancy – and not just for the obvious reason, but because it is called "Marybelles" [for those of you who don't know Mike's mum was Marybelle].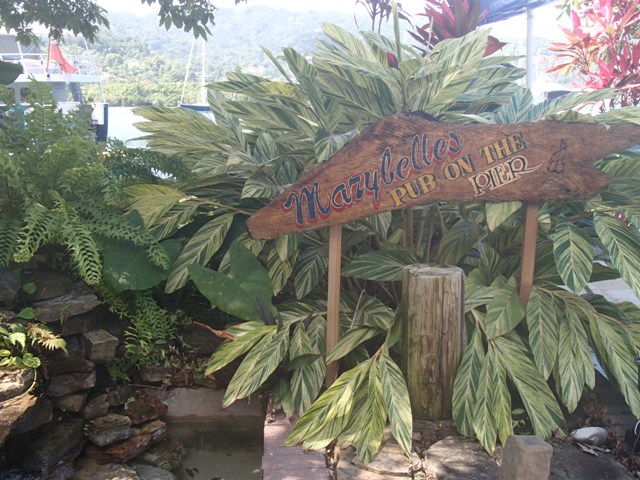 The town of Port Antonio [2 minutes walk] is very friendly and "local" with several supermarkets, an open market and banks etc. A walk around East Harbour – along which there are several small bars and restaurants – brought us to the lighthouse on the point. Whilst out on this walk I discovered a different setting on my camera called "magic" which takes photographs  with various effects such as "fragmented", "reflection", "fish eye" etc! I didn't try them all but this shot was taken on "dramatic"…..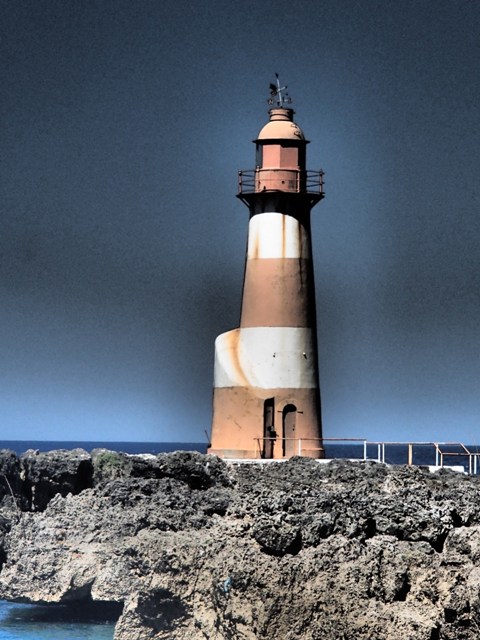 ….the ones on the settings "punk", "watercolour" and "drawing" are now deleted!
Whilst wandering across the coral beach – not to be recommended without footwear – we saw what looked a bit like fossilized trilobites. We soon realised that if they were fossilized they hadn't necessarily been there as long as we originally thought because in the rock pools were some unfossilized ones…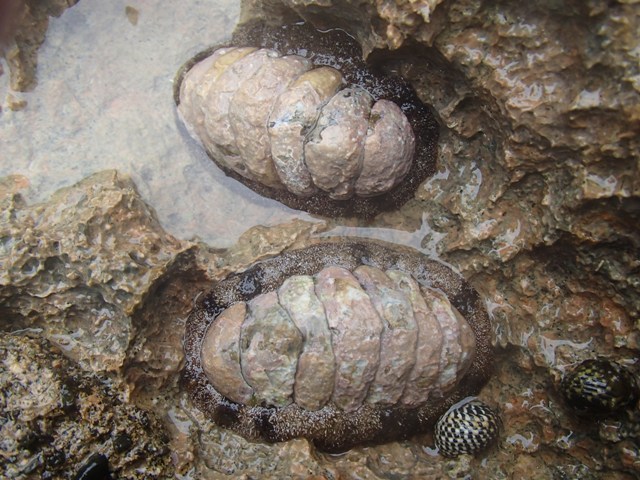 Wonder if anyone eats them?
Speaking of food, you will remember that we started celebrating Mike's birthday with friends and a biscuit-cake at Ìle à Vache. Well, for his "real" birthday – or about as near as it can get – he decided a trip to Kingston Town was called for. We hadn't realised that Kingston was approx 100km [60 miles] from Port Antonio and that the bus journey would take 2.5 hours there [not to mention 3 hours back because we had to get out of Kingston in the rush hour]. First of all the bus follows the coastline – or at least in the best manner it can – i.e. up and down various small hills between bays and then after about 30km, it turns inland and traverses the mountains. The road was rather narrow and the drops vertiginous so it's a good job I had my usual window seat as Mike would not have been a happy birthday boy had he seen what I saw. On arrival in the capital it was definitely time for a spot of lunch and we headed for the Mahogany Tree Bar at Devon House where we enjoyed excellent Salt Fish cakes.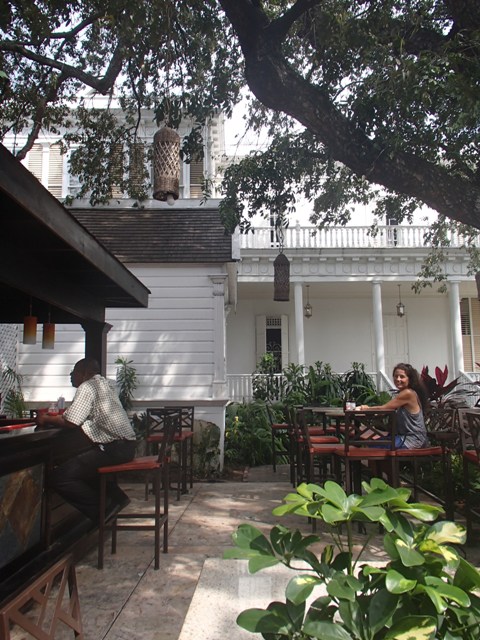 Unfortunately we didn't have time for viewing the inside of Devon House as there was a very important museum to visit. Like most of Jamaica's tourist attractions the entry charge to the Marley museum is US$20 per person. This is more than most attractions on the previous islands we have been to but it was a birthday treat and really one can't visit Jamaica and not do it. Much of the museum is devoted to photographs and framed album covers rather than personal artefacts, and the still used recording studio is out of bounds, but the film-show was quite interesting and we did learn that the "three little birds" he refers to in one of his songs were his backing group which included his wife Rita. Many of you might have known this already and also that there was an attempt on his life the day before a big Peace concert when some folk broke into the grounds of his house and shot several bullets at the band that were practicing at the time. You might also know that he died of cancer which could have been prevented had he had a big toe removed but he chose not to because of his Rastafarian beliefs. All of this was news to me, as was that his second favourite pastime was football. Funnily enough, I knew what his favourite one was but didn't know that he also had a favourite place for doing it which Mike just had to try out….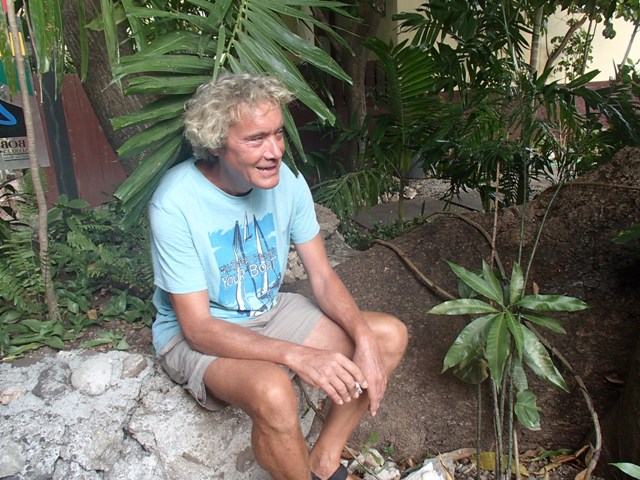 I hasten to add that the cigarette was perfectly legal which meant that Mike couldn't really get that true Bob feelin…..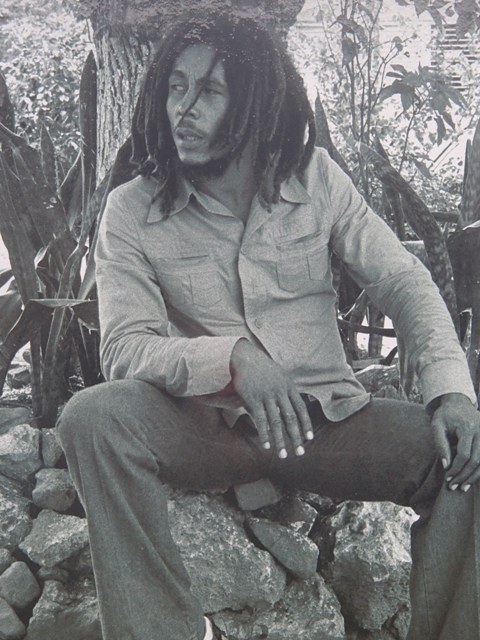 Talking of cigarettes – legal or otherwise – Jamaica is certainly an island of contrasts. Marijuana, though technically illegal, is smoked absolutely everywhere and every second person you meet asks if you want to buy some. Some cruisers do, we haven't. On the other hand, try buying tobacco and its' nearly impossible. Cruise ship malls and duty free shops [and there are many, many of these] advertise tobacco but what they mean is either Marlborough cigarettes or Cigars. We finally found some rolling tobacco in the market in Port Antonio which looks rather like something a dog leaves behind….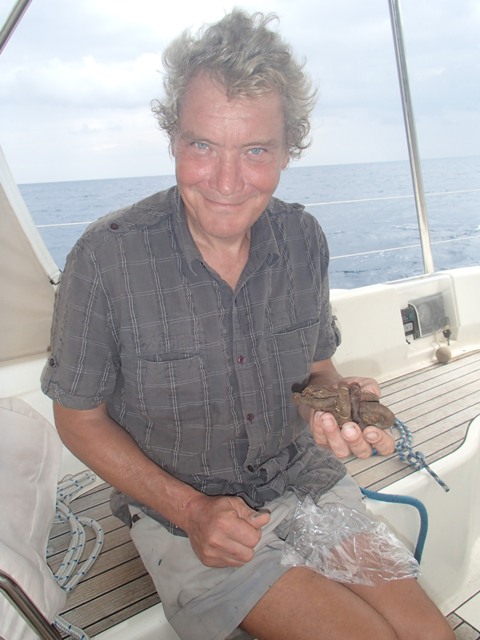 Fortunately Mike assures me it doesn't taste like that!
We have had what might be called "variable" weather whilst here in Jamaica. When we were in Port Antonio it rained constantly for nearly five days. This is the most continuous rain we have seen since leaving Liverpool – and it is supposed to be the dry season. We have been told that it is often like this in the winter when a cold front comes down from Florida [by cold think approx 20 degrees C (70F)]. What is slightly less usual is one cold front immediately followed by another…. and another.
Still, we did manage to get out and about and on one day we went to Boston Bay…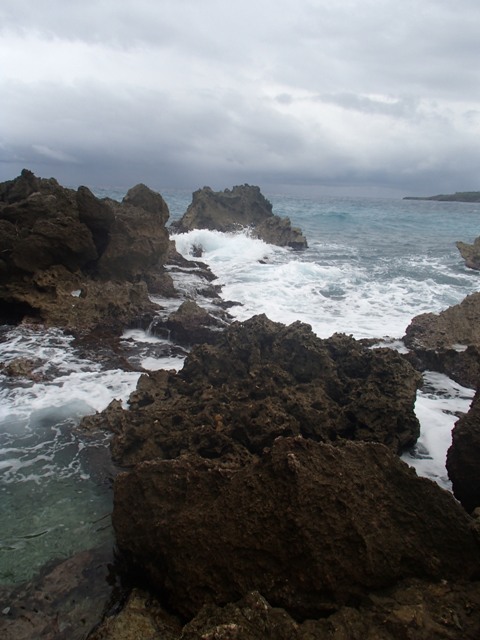 ….which is reputedly the "home" of Jerk Pork. From most roadside snack shacks it comes wrapped in paper and is served with baked sweet potato – kind of like the British take-away Fish 'n Chips.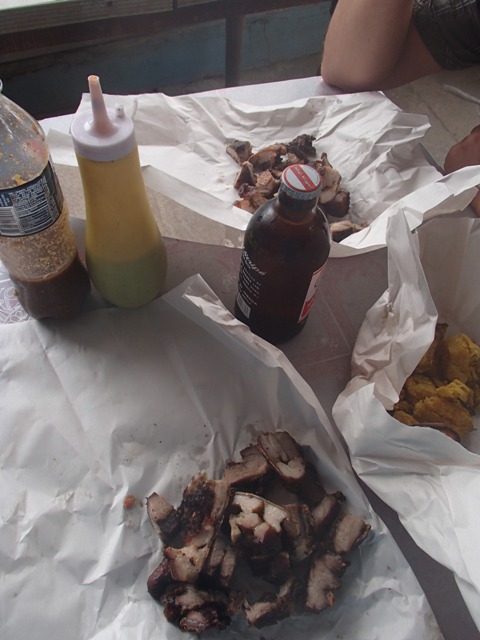 Whilst the photo [above] of the rocks and surf might not have made you immediately think "Ooh, must get my board out" – it is in fact famous [at least in Jamaica] as a surfing beach and, just to prove it we have "ready"…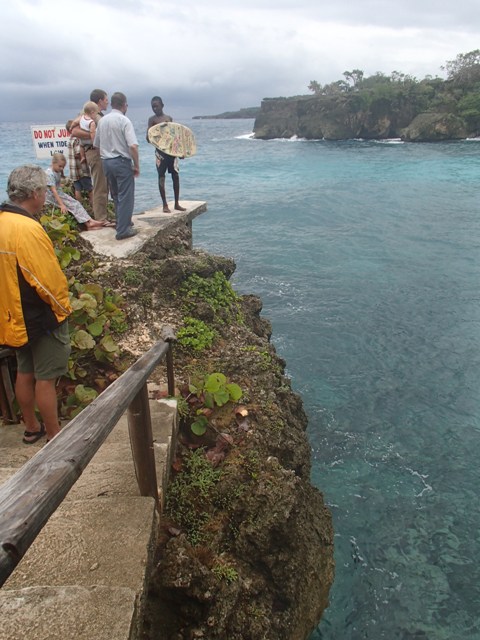 "steady"….
"go"….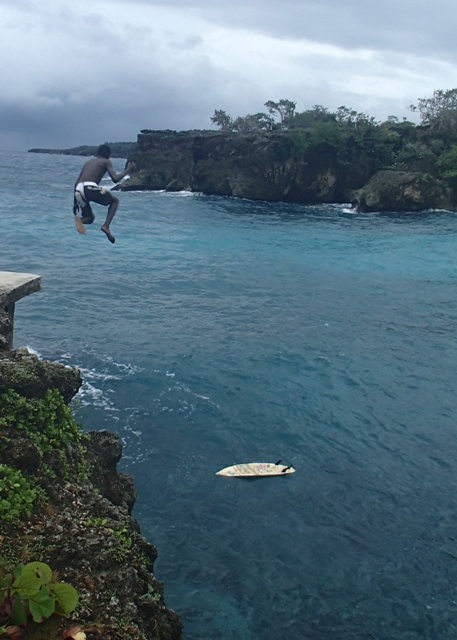 "surf".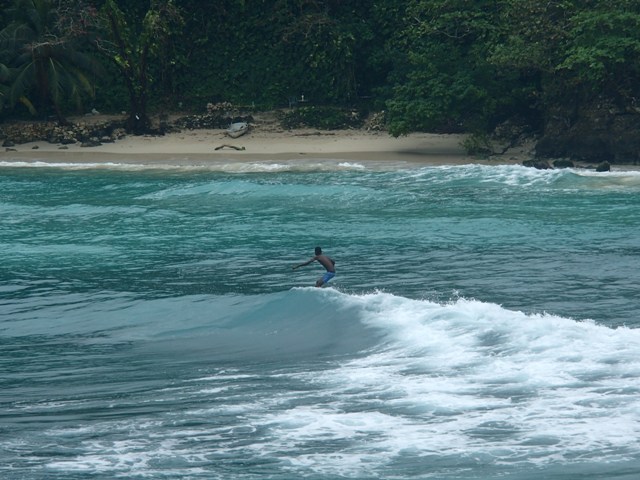 Not quite the conventional entry into the water but the locals seem to favour it. There are a few guys who actually live on and around the beach and each one who came up and chatted to us told us he was THE surf coach. They supplement their income by making jewellery and other wood carvings and our friend of the morning, Ramone, was desperately trying to coerce us into buying his fish.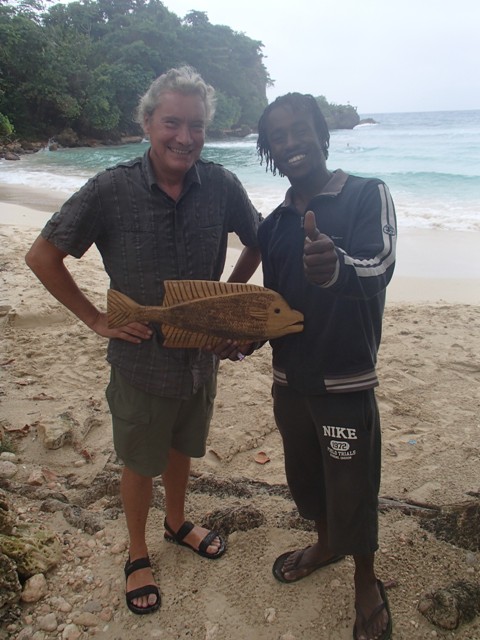 We resisted, though in doing so I managed to end up purchasing a kind of hair slide. Still, at least its small and useful.
Having allowed the cold fronts to pass through we began to make our way west and on 7th March had a pleasant sail to Port Maria. This small bay isn't much used by cruisers but we found it to be a very useful overnight stop. Cabarita, the small island in the middle of the bay, sheltered us from the worst of the wind but there was still some roll which resulted in us both being wide awake quite early. There are compensations though and with a nice cuppa in hand we watched the fishermen readying themselves for an early morning catch before we set sail at 7am.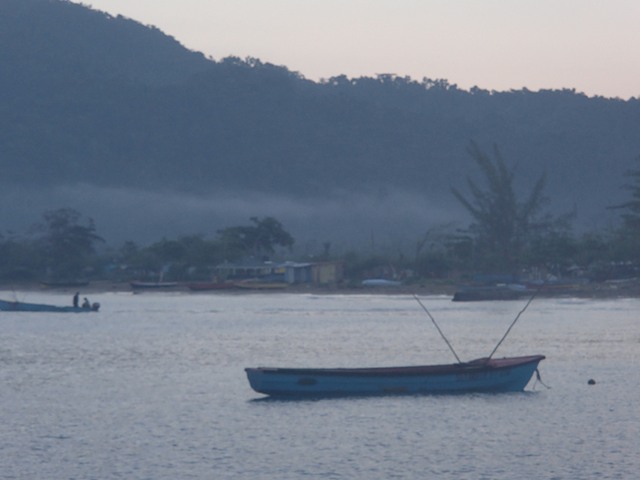 Our next port of call was Ocho Rios. Once, apparently, a sleepy fishing village, it is now very much a tourist town with Cruise ships calling a couple of times a week and hotels lining the beach. With a reef across part of the bay it provides a very safe, free anchorage though we had to sail rather closer to the reef than we might have liked because when the Cruise ship anchors with its lines tied to pillars jutting out into the bay it is necessary to sail round all the pillars instead of between them [which is possible when the ships aren't in].
At both Port Antonio and at Ocho Rios we have met one of the other boats from the Haiti "flotilla" – "Don Quillechotte" [which I mentioned in the DR and Haiti posts]. Although we have been travelling in a kind of tandem, we hadn't previously planned any days out together but at Ocho Rios we decided to join forces for the very popular trip to the Dunn's River Falls [best undertaken when one of the aforementioned Cruise ships is not in dock]. What an excellent day it was. A local taxi driver was happy to squeeze six of us into his car and did the round trip for a reasonable fare which was even more reasonable when split into two.
Once at Dunn's River we walked through the gardens alongside the series of waterfalls which cascade down the hillside and finish on the beach. The photograph below shows one of the middle falls.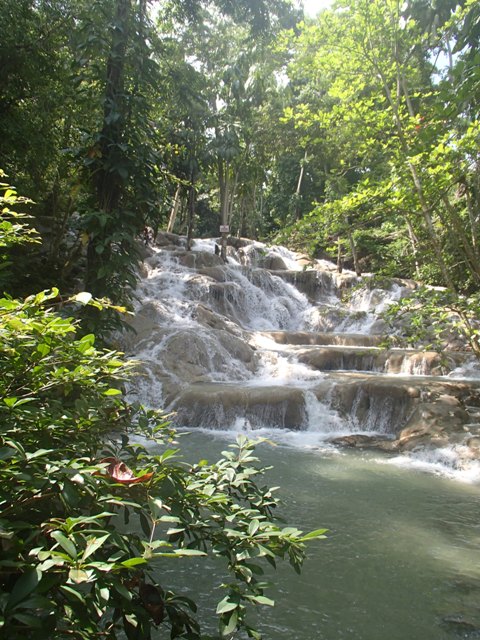 The walk up the falls takes about one and a half hours, stopping from time to time to have a bit of a slide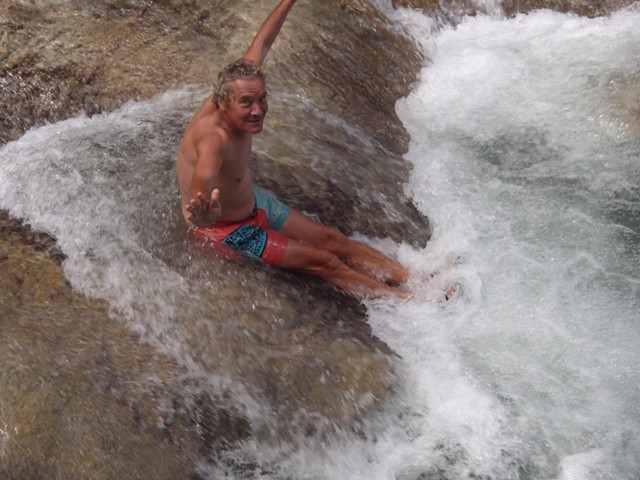 Or a refreshing "shower"….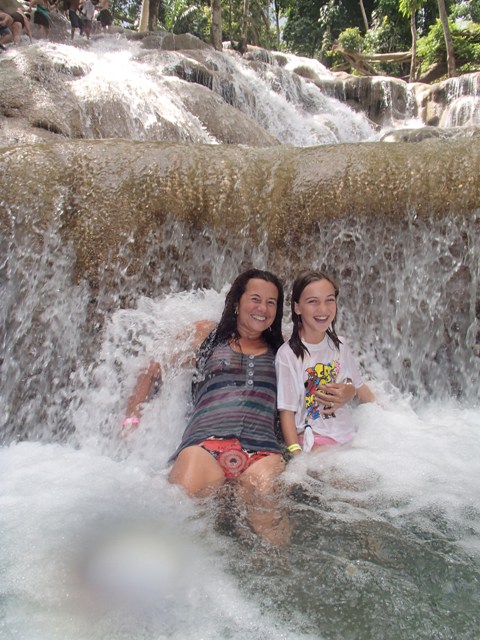 The beautiful young lady with me is Juliette, the elder of Martin and France's two daughters. Both girls enjoy fun and adventure and after we had returned to our respective boats Elienne, the younger daughter, showed us just how we ought to approach mast climbing….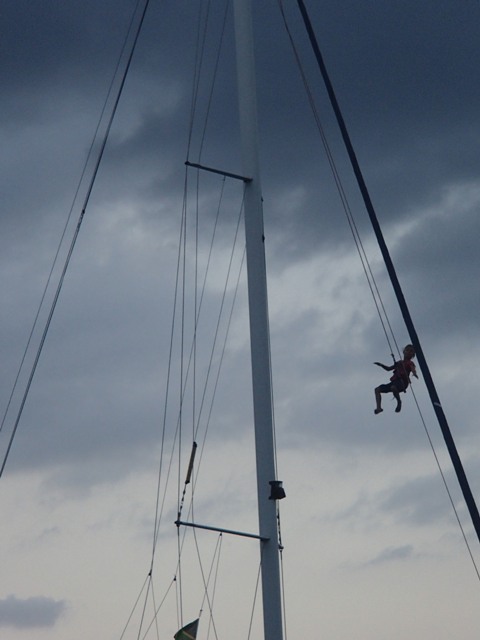 Whilst in Ocho Rios we managed to stock up on a few goodies like Feta cheese and Lamb steaks and, as usual, we looked for some wine to accompany our evening meal. Wine isn't cheap in Jamaica so I should have known that something that cost the equivalent of approximately £3.00 was not going to be the best and, after all, whoever heard of grapes growing here or Jamaican wine production?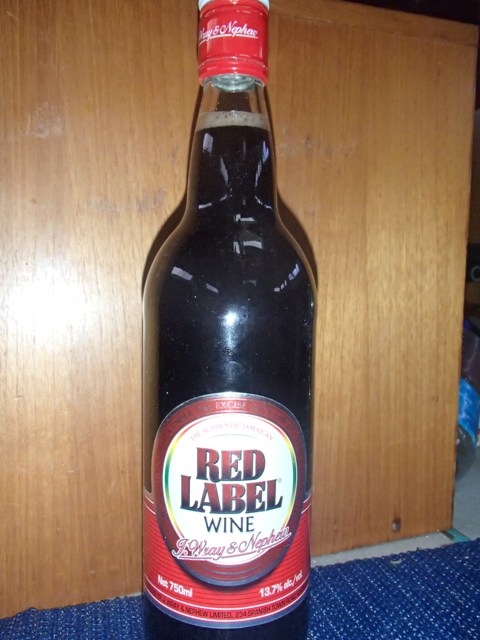 Well, it might say Jamaican wine but we decided it has probably never been near a grape. Goodness knows what it is really made of but imagine cough medicine mixed with cherry brandy and you are nearly there!
On 11th March it was time to make a move again… or at least try to. Don Quillechotte found that they were rather too well anchored….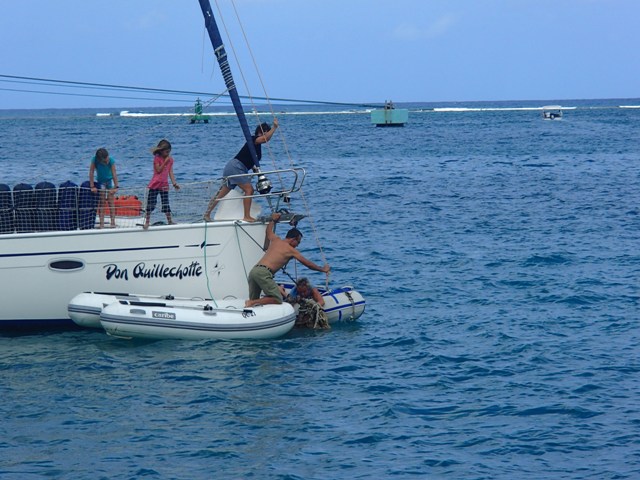 They had managed to catch a very old anchor and thick mooring rope but after lots of strategic use of halyard and knife we were off.
The distance from Ocho Rios to Montego Bay is about 57 miles and we decided to split this with another one night stay – this time in Discovery Bay. If you manage to ignore the fact that the west side of the bay is a Bauxite mine with large ore carrying ships entering and leaving daily then what you see is a very calm and beautiful anchorage. So, just keep looking east at the series of small beaches fringing clear turquoise waters and you stay very happy. The clarity of the water also came in handy when Mike had to take a little dip under the boat again to free us from the remains of another fish trap. It wasn't as dramatic as the one we told you about at Isla Beata [DR] but it wiped the smirks off our faces from the morning anchor antics of Don Q!
The journeys from Ocho Rios to Discovery Bay and Discovery Bay to Montego Bay were both done under sail so we will remember the north coast of Jamaica as providing us with pleasant, environmentally friendly cruising waters – though don't forget, we are going west and therefore not trying to battle the prevailing NE/E winds.
The anchorage at Montego Bay is outside the Yacht Club where once again there is the choice of a pontoon or to stay at anchor. A charge at anchor of US$6 per person per day provides similar facilities to those at Port Antonio except that the town is a lot further away [50 minutes walk].
So…Montego Bay itself. We decided that just as it is impossible to pass through Jamaica and not visit the Bob Marley museum we really couldn't miss Montego Bay either. Well…. maybe we could have, as whatever it may have been like in its heyday [as we assume it really did have one] it is rather worn at the edges now. Or…maybe we couldn't have because "downtown" has quite a nice feel to it – at least in the daytime.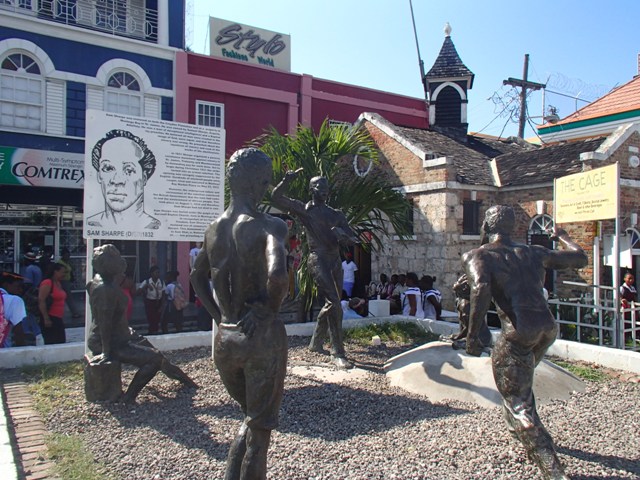 The hero of Montego Bay – and one of the heroes of Jamaica – is Sam Sharpe who inspired the last and largest Jamaican slave revolt in 1831 which came to be known as the Christmas Rebellion. As a Deacon of the Burchell Baptist Church, he advocated passive resistance but the rebellion turned violent with approximately 20,000 slaves razing plantations and murdering 14 colonial planters. After approximately 1000 slaves had been killed, they were falsely tricked by the local landowners into halting the rebellion by being promised immediate abolition. Instead, for about six weeks following its suppression Magistrates handed down death sentences. Among the 400 hanged was "Daddy" Sam Sharpe, and many more were whipped. However, there was a backlash wave of revulsion in England causing the British Parliament to finally abolish slavery. Transgressors such as the ones brought to trial during this time – and those who fell foul of the law in later years awaited sentencing in the nearby Cage.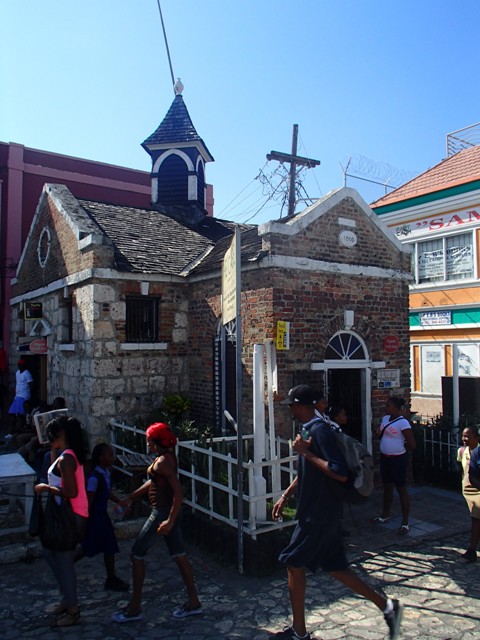 Parts of Montego Bay retain Georgian buildings but in the main these show signs of decay. Much better preserved is the small town of Falmouth in the Parish of Trelawny.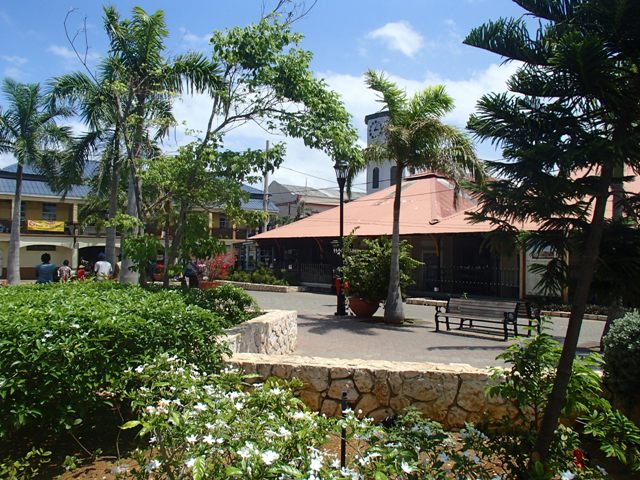 No signs of the Poldarks [for those who remember that TV series] or of cream teas which the name conjures up, but we did learn that Falmouth was the first municipality in the Americas, even before New York City, to have piped water. Starting in 1798 water was supplied to the town and ships in the harbour  from a gravity fed system which included a 20ft Persian water wheel [not sure what the significance of Persian is?] and a series of canals and sluices from the Martha Brae river. A huge circular reservoir was built in the town square and remained in operation for more than 150 years. As well as an old market hall and a rather splendid yellow courthouse we came across a number of houses dotted around the town which have been well preserved.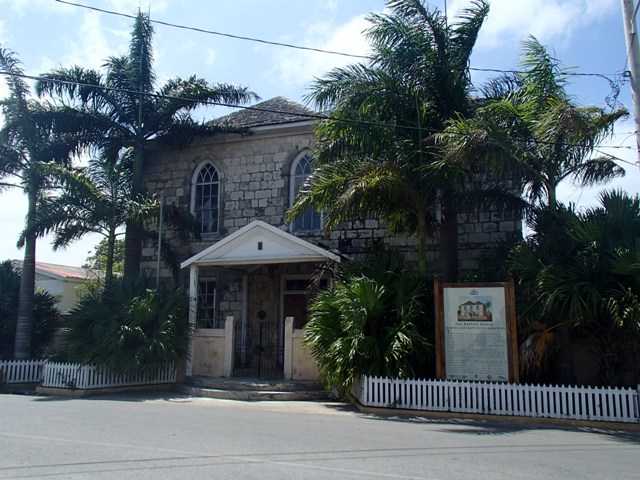 Back to Montego Bay and "Uptown", which is basically one long road – Gloucester Road.  It is more commonly known as the "hip-strip" – which probably tells you all you need to know. As I said before it probably isn't as hip as it used to be, but we did call in at Jimmy Buffett's Margaritaville for what was actually an excellent Margarita and a fairly good view.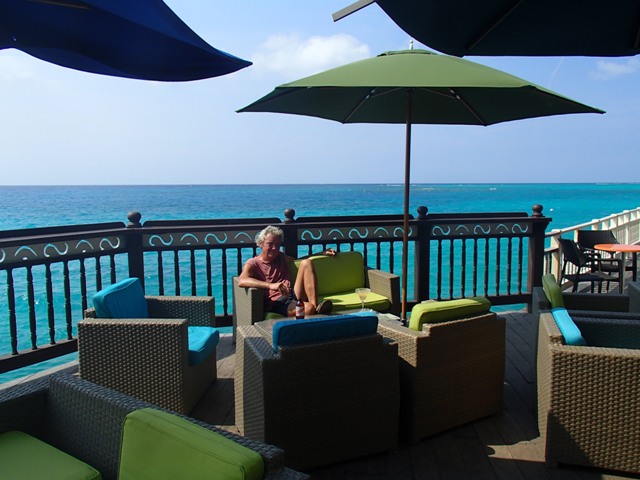 Throughout this post you will have noted me talking about "downtown" in relation to both Kingston and Montego Bay. In both cases advice to tourists is not to go there after dark. In fact we didn't visit downtown Kingston at all – basically because, according to the Lonely Planet, there is nothing much to see except the urban grid environment and an historic waterfront. The travel guide goes on to state that Jamaica averages four murders per day with 75% of these taking place in the shanty towns of West Kingston. The probability is that we could have visited quite safely but we had witnessed a serious attack by two men on another during our walk to the lighthouse at Port Antonio so why risk it. I am afraid that we didn't do anything about the guy who was being attacked. Although it took place in daylight, it was in a fairly isolated place and the aggressors were pretty hefty guys with rocks in their hands. We spoke to a few people about it afterwards and every one of them said we had done right by just carrying on walking but I didn't find it an easy thing to do.
During our travels through the Caribbean a number of local people [particularly in Barbados and Grenada] suggested that we shouldn't bother with Jamaica. They didn't like it and warned us of violence and also of hassle from hustlers and touts. What we have to remember is that there is violence in cities all over the world and that although we did get hassled more in Jamaica than any other island and, at times, felt "ripped off" by prices, to put it into perspective we have met and spoken to many, many more nice and friendly people and visited restaurants where we have been charged the same as a local for excellent Curry Goat, Oxtail Stew, Baked Chicken etc etc.
So, our Jamaca experience has been mixed but overall worthwhile. It is on our route to Cuba and we are pleased not to have just passed it by and, just in case since reading the opening paragraph of this blog post you have been wondering whether we are now going to be ten days at sea, we aren't! The crossing is actually just an overnight one which brings us to Cabo Cruz. However, for reasons which will be expanded on in the next blog, we won't actually make landfall there but will, instead, travel up the "Archipiélago de los Jardines de la Reina" and formally enter Cuba at Cienfuegos.
Until then this is the final Happy Birthday Mike photograph for this year….and he has had a haircut since!!!!