Our original intention, once in Grenada, was to hop up the islands alternately and visit the others on the way back down. Thus, on leaving Carriacou [which you will remember is part of Grenada] we had planned on by-passing St. Vincent and the Grenadines and going straight to St. Lucia. However, generally speaking checking in and out of islands isn't particularly expensive [certainly nothing like we thought it would be] and, skipping islands or island chains means overnight passages. Now overnight passages are not something we are averse to and, as you will be fully aware, we have experienced several of them but we are being more laid back about the whole thing and have, therefore, decided to stop off at all of the islands on the way up and again on the way down.
Having said that, St. Vincent and the Grenadines is somewhere we definitely want to spend a good couple of weeks or more at the end of June/early July because the farther south at that time of year the better, supposedly, in terms of weather. Thus, although we anchored overnight at Bequia [the island just below St. Vincent] we chose not to visit any of the others in the Grenadines chain.
Our journey from Carriacou to Bequia, on 12th February, was completed under sail. This was a very pleasant surprise to us given the journey up to Carriacou from Grenada. At this time of year travelling north in the Windward islands means, more often than not, heading more or less straight into wind – or at least too close to wind for Siga Siga.  As always, there are tacking options – but with 40 mile passages over the shortest possible distance plus the additional distance necessary to be able to execute tacks successfully this would mean almost double the journey time, thus negating our decision to be at anchor overnight. However on this day, with winds from the east rather than the more usual north east, we were able to average 6 knots under what was, for us, quite a close haul and complete the 42 mile trip in 7 hours. [Yes I know that 7 hours is obvious if we averaged 6 knots over 42 miles!]
Admiralty Bay, with Bequia's only town, Port Elizabeth, at its head, is a huge well protected bay. According to the pilot it offers a range of anchoring options and, although the pilot mentions that there are moorings available [at approx 15$EC], the suggestion is that the majority of people anchor. Not so! We arrived on Sunday which, when you think about it is the first day of many people's charter holidays – and there are about four or five charter companies based on St. Vincent. So, the first port of call for many of them is Bequia.
As most of you know, we have been on several charter holidays, and those of you who have been with us will remember that the first night out can be a traumatic one! It's a borrowed boat, it's unfamiliar and maybe you haven't sailed since the year before. So, we are not blaming charterers for wanting to pick up a mooring buoy. However, quite understandably the locals have recognised this and have flooded the bay with moorings. On approach about five motor boats sped out each trying to get us to follow them to their mooring. Well, we didn't want this – we prefer to anchor. I know that when Chris [sis] is reading this she will be thinking that she too would prefer a buoy – but, as the pilot says, many of these buoys are not registered [i.e. are "illegal"] and Mike has seen that many of them are only a couple of car wheel hubs stuck together – they are not concrete blocks. In above average winds any of them could be totally unstable – especially with a boat of our tonnage…..
….and why pay for a mooring when we have a very reliable anchor which is tried and tested. But, having waved all the "boat boys" away we found it quite difficult to find an anchoring spot which wasn't in amongst the many moorings. In fact, we ended up as far to the side of one set of moorings as we could without blocking the ferry/fishing boat fairway. Unfortunately one of the moorings owners decided that we were too close and were preventing him putting someone on that mooring. A few words were exchanged but, by this time it was growing dark and we didn't think that anyone else would be coming in so we just sat tight – thinking that if push came to shove we would move if necessary. We didn't need to.
Technically, one shouldn't go ashore until cleared into a country but, we had been advised by a friend [Rik] that no one would notice in Bequia. He was probably right given the number of boats coming in but what with the chance of the moorings guy needing his mooring and the fact that we had plenty of food etc on board we just stayed where we were and thus, have only seen Bequia from the comfort of the cockpit. It did look like a good place and we therefore look forward to our return – though knowing what we now know, we will probably anchor off "Tony Gibbons" beach which cruising liveaboards rather than charter boats tend to favour.
13th Feb and an early start for St. Lucia – leaving at 08.00am for a 49 mile journey to Vieux Fort. The pilot gives the option of a windward passage east of St. Vincent in settled weather and Mike and I had both studied the options and felt that this would be good for us as we were aiming for the south east corner of St. Lucia rather than the south west. We are still unsure as to whether this was the right choice and certainly, about 2 hours in we were feeling that it was not! There is one heck of a current running through the channel at Mulligan Cay and at times we were only achieving about 2 knots per hour speed over ground. Fortunately, however, once round Yambu Head we began to make good progress and were able to motor sail the last 30 miles – and Mike had two dolphins for company during a period when I had a snooze.
We arrived too late for clearance but, because we knew we were going to clear in the following day, we decided to take a walk into what looked like a busy fishing harbour – thought there may be the chance of very fresh fish for tea as some boats were just returning. Vieux Fort is probably the place most like the Cape Verde's we have seen, so far, in the Caribbean – economically very poor. We couldn't quite work out what was happening in the fish market as there were no official "stalls" – and although Mike saw money changing hands we weren't quite sure what people were actually buying i.e. whole fish or parts of fish?… and the fish were, on the whole, too large for two of us. I was rather put off the whole place, to say the least; when I saw what I am sure was a dolphin head next to one stall. Maybe it wasn't but, as I said, these people are poor. So, we went to the supermarket at the top of the town – which was surprisingly OK but we made the decision to leave early again and actually clear into St. Lucia at Soufriere rather than make the trip back through the fishing harbour and into the commercial harbour at Vieux Fort. We did see the advantage of Vieux Fort as one catamaran was clearly there to pick up family or guests – the airport being only about 1 mile away. But I think that would be the only reason I returned there – even though we have heard that at the other side of the small peninsular at the SE corner there is a great beach.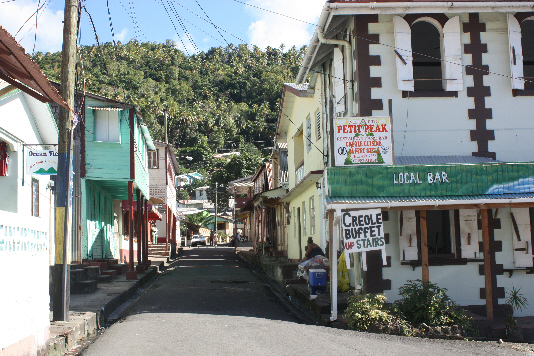 Soufriere is only 13 miles from Vieux Fort in distance but in attractiveness it is miles apart. First of all there are the "Pitons", twin volcanic peaks – which are the symbol of St. Lucia. It is possible to pick up a mooring in the bay between the Pitons – and in this case the moorings are safe and official as they are within the National Park where anchoring is not allowed due to the coral and therefore the moorings are placed and maintained by the Soufriere Marine Management Association [SMMA]. Being as we had to clear in we couldn't stop here as there is no customs, the beach between the Pitons being part of the Jalousie plantation – apparently one of the Windward's most elegant resorts. It is open to the public for dining but is described in the pilot as "cost A". There is no actual price linked to the letters [as the actual price will change year on year – it is for comparison], but suffice to say we have generally been eating in "cost C or D" – and there is no "E"!
We chose to pick up a mooring at the "Bat Cave" – it had to be done. There may have been bats but if there were we didn't see them – though I was more interested in whether a batmobile would exit from the cleft in the rock! Because it is a National Park, the placing of illegal moorings isn't possible so, to make a living here, the boat boys approach in their motor boats offering to help you to moor – for a price! We didn't want this either and politely stated such and, perhaps because we remained stoically intent on our own task and didn't engage at all other than polite "No thank you's" – which I think is the best approach – we were then left alone. It is at this moment, when you have sent away the offer of help that you hope that the technique of picking up a mooring buoy hasn't deserted you having not done it since the previous July – and with steep cliffs dead ahead! Not to worry – accomplished first time – phew!
We have since learnt that some people [again charter boats] who have taken up the offer made by the boat boys have been asked for 50$US [approx £34] for the privilege…. especially as the "privilege" is literally being handed the line before the boat boy speeds off to intercept the next unsuspecting yacht. That might just be a tale – but it was what we were told – though all the other liveaboards we have spoken to have taken a similar course of action as us. One would think that the locals would begin to spot the difference between the two types of boat – those that look like they are carrying enough pieces of metal and spare parts to open a scrap-yard and those that aren't!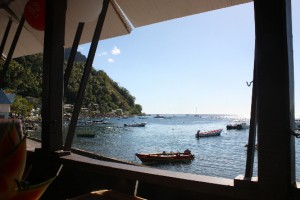 We took Pig to the dingy dock at the Hummingbird [you can tell why Soufriere is appealing] and cleared in without any hassle – even though it was hotter inside the customs office than outside – with the outside temperature an average 90 degrees. Being Valentine's Day we decided we would share a lunch time drink with a view before looking round what, as you will have seen from the photo above, is a small and pretty town.
When we returned to the Hummingbird dingy dock we were slightly less enamoured with it as the small current there results in the dingy being forced beneath the concrete dock, scraping the top of the outboard in the process. We wondered why other people seemed to use the town dock which was further to motor, had young boys wanting a tip for looking after the dingy and missed out a walk along the beach – now we know.
We decided to have a go at snorkelling here as the purpose of the marine park, as already noted, is to protect the coral – and we weren't disappointed because there was loads of it right below the boat – large waving fans, huge brain coral, urchins and fish. We were, as in Barbados, a little disappointed by the lack of clarity in the water – but we are beginning to believe it may just be our [bad] luck. Friends have had very clear swims in all the places we have tried.
Our intention for Valentine's evening was to have a drink at "Skippers" – which we had seen earlier on our stroll round – and then a meal at "Archie's" next door – which looked more like a small restaurant – "Skippers" looking more like a bar. In the end we just stayed in Skippers and, although the food wasn't brilliant it was certainly good enough and the people were very friendly and the atmosphere really good with a mixed crowd of locals and yachties – mainly locals.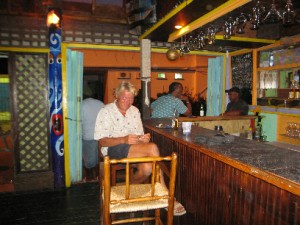 It was in Soufriere that Mike noticed that we appeared to have an alternator problem as our batteries were not charging – well the domestic bank was because that also gets power from the wind generator and the solar panel – but the engine battery and bow thruster battery weren't.  As it happens we were planning our next stop at Pigeon Island which is in Rodney Bay at the top of St. Lucia. Also in Rodney Bay is the large marina to which all yachts go at the end of the ARC so we felt sure that whatever was wrong with it we would be able to get the parts to fix it. The marina also offers a mooring option – with the same use of facilities but at a cheaper rate – and we decided this was the just the thing for us, especially having just practiced our mooring manoeuvre. What we didn't know was that the moorings in the marina are of the "thread the warp through the eye of the needle" type but, we were not fazed and our tried and tested method used many times in Lamlash Bay, Arran worked beautifully here. I must say that lying down on a dry deck in the sunshine and leaning out over the boat in calm water is a rather more pleasant experience than on a rain lashed deck in 3 foot [plus] waves – though that is not really fair to Lamlash as we enjoyed some beautiful weather and evenings there.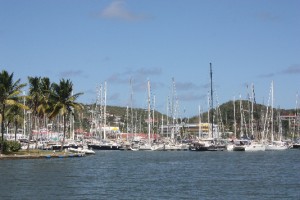 Now [Big] Steve don't start getting tetchy that I am reporting another broken thing – everything has a shelf life and it appears that our alternator had reached its end – so we haven't actually broken it, we have just tired it out. Mike had actually diagnosed this by undertaking various tests but we decided that rather than just go and buy a new alternator we would get a second opinion. So, welcome aboard to Stanley, who worked for Egbert at MarinTek. Between them Stanley and Egbert were able to inform us that "Yes, the alternator is broken" and "Yes we can replace it for you" BUT you will also need to buy a battery isolator, which we don't have. There are likely to be lots of technical explanations for why the new alternator is different and why we needed an extra bit of kit – and if anyone wants the details then Mike is your man. What I understand by it all is that the modern replacement only has one "outlet" whereas our original one has two. So, armed with details of what to purchase as provided by Egbert, Mike trotted off to the marina chandlery and bought what we thought was needed.
Now, we start getting into island time! Stanley can only fit alternators, Egbert has to do wiring. Stanley is available Friday but Egbert isn't so both Egbert and Stanley will come on Monday. "I don't think so" said I . Fortunately, having more or less taken the engine out in Portugal and again watched Stanley remove the alternator here Mike was pretty sure he could manage to replace it himself and, having read the wiring diagram was confident about that too. I guess if he hadn't been then I would have lost that argument!
To be fair to Stanley, he was very apologetic that he wasn't able to do it – and we didn't get charged for his time to remove it or to diagnose that the alternator was, indeed, dead. But, Mike was now told that the new one wouldn't fit in quite the same way and that he needed a bracket re-drilling and a "bush" cutting and so it was off to see "the Chinaman" Before anyone erupts at my phraseology, this is how the guy was referred as by the St. Lucia mechanics. Mike found out that his given name was Leonard and proceeded to call him that.
True to his word, Mike fitted both alternator and new toy – but it didn't work! The alternator did, and was giving out the correct voltage, but what Egbert had failed to realise, and Mike didn't know was significant was that the recommended bit of kit wouldn't work with three battery banks – only two.
A rummage through two marina catalogues [we are building a nice collection now] and Mike was able to find what he wanted. Unfortunately the chandlers at Rodney Bay didn't have it and didn't seem to think they could get one any time soon. Well, actually they didn't really seem that interested. However, they were willing to give us our money back when we returned the split charger unused.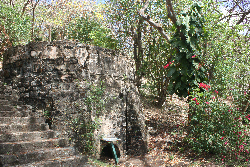 All of this took time because there was a weekend involved during which the chandlers was closed and so, on Sunday, we decided to take a walk and visit Pigeon Island by walking along the coast and causeway. What a great place and certainly a place to anchor on our way back down the islands. Pigeon Island was the main base for the British Navy, principally because of its proximity to Martinique, the main French base. There was a fort, a hospital, barracks, storerooms etc all of which, although ruined, are now within a park area under the management of the St. Lucia National Trust. We spent a pleasant couple of hours touring the park – and walking up and down the two hills which gave such good views of the St. Lucia channel to the chaps manning the fort.
Although a small charge is made for the park, it is possible to come ashore [free] from the popular anchorage at the small dingy dock at "Jambe de Bois" – a small, very interesting restaurant named after a local Pirate. Here, as well as good meals and drinks you can browse local art and a bookswap site is provided for yachts. Free entry is only to the cafe though.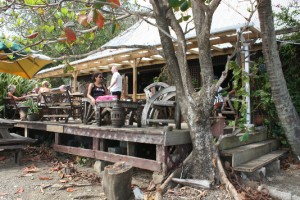 The other thing about Rodney Bay which is worth reporting is "Razamataz" which is an Indian Restaurant and Takeaway. The food is very authentic but made with local ingredients so e.g. the Mango Chutney tasted of fresh mangoes. They have a Happy Hour when cocktails are two for one and we indulged in Marguaritas which were excellent. During happy hour it is possible to eat very reasonably priced snack food like Pakora at the bar at approximately 5$EC per portion [£1.25]. However, we decided that we would have a takeaway and, in good Indian style, there was enough left over for lunch the following day.
Our original intention had been to arrive at Martinique on Saturday 18th Feb in good time for Carnival and also to meet up with Steve and Steph on "Matador" who we hadn't seen since Barbados and who had, in the interim, entered the Mount Gay Rum Race and won the warm up "Between the Restaurant" Race.
As you will have worked out from the earlier paragraphs, Saturday – and Sunday – came and went and we were still in St.Lucia. However, hopeful that the correct battery isolator would be available on Martinique we set sail at 10.30 on Monday 20th bound for Fort de France. Unfortunately we only managed about one and a half hours sailing as the wind wasn't in our favour. Still, from Martinique north we are going to be in the Leewards and should be able to sail from island to island – we will remain hopeful until we are proved wrong.
We anchored in Fort de France at just after 4pm and tried to get clearance but everything was closed as, although Carnival is officially three days long [well maybe two and a half], the chandlers [where the main clearance is done] had shut on Friday and would reopen on Thursday 23rd.
So, we settled down to enjoy Carnival, about which you will hear in due course…..