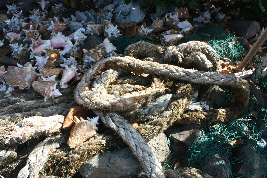 8.00am on 19th Jan and it was up with the anchor and off to Port St. Charles for some duty free fuel [which you can get after clearing out] and the water tanks refilled. It was really good to get a proper supply of water on board. Filling jerry cans at the Yacht Club and/or Cruising Club worked but it wasn't exactly convenient! Once round Barbados main port we made quite good time up the coast and had docked, fuelled, been taken in a fancy jeep through the Port St. Charles complex to reception and back [to pay] and departed again all by 11am.
The journey took just under 12 hours with only 2 hours of engine time – and most of that was whilst negotiating the coral reefs off Petit Martinique. We could have completed the trip in less time but it was still dark as we were approaching and, as there was also quite a bit of cloud and the winds gusting at Force 6-7, we decided that discretion was required and therefore waited for sun up before proceeding closer. We managed a couple of quick chats on the VHF with Steve and Carol [Innamorata] as they were on a similar course to us making for Union Island.
On arrival we took the advice from the pilot of picking up one of the mooring buoys for the Palm Beach restaurant as the holding on Petit Martinique is reportedly poor. This was later demonstrated when another liveaboard yacht tried four times before also picking up a buoy.
So, where is Petit Martinique [PM]? I had never heard of it before, nor of Petit St Vincent [PSV], which is just under one nautical mile away. Well, PSV is part of St. Vincent and the Grenadines which kind of makes good sense. PM, however, is the "outpost" of Grenada, and nothing at all to do with Martinique or the Grenadines. In fact, contrary to what one might think, the Grenadines have no affiliation to Grenada as, aside from the usual small islands/islets which abound, "Grenada" consists of PM, Carriacou and Grenada itself as travelled from north to south and in increasing size.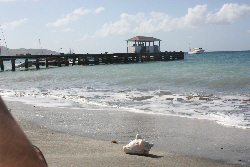 Petit Martinique is everything that one conjures up when picturing the Caribbean. It is very small, extremely laid back and very quiet. It is so quiet that whilst there is a bank, it only opens on Tuesday and Thursday – which was initially a bit of a problem because we arrived on Friday! We had Barbados dollars, but no Eastern Caribbean [EC] dollars and hadn't thought to take ashore the few US dollars that we have. However, having taken one of the Palm Beach buoys, our intention was to eat there in the evening and, luckily, they were happy for us to pay with a card so we booked a table as this was the only restaurant we could see and we had heard that it was frequented by cruising folk anchored in PSV – basically because PSV is just one big [well, very small island sized], posh resort. Later we realised we needn't have booked! I said it was quiet.
Making our way back to the dingy dock, as we couldn't even buy a beer, we were stopped by Osbert who asked us if we would visit his "enterprise". We explained that we had no money but he insisted that there was no charge; he just wanted to show us what he did.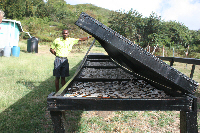 Basically Mr. Osbert Felix applied for funding for a humanitarian project to make "flour". Under the terms of the funding he cannot sell his products and he gives them to hospitals, schools and churches [to dole out to the poor]. They use the flour to make porridge, fritters and a range of other things. The amazing thing is that most of the flour is made from something called a "Bluggoe" which is a type of banana – but he also uses other produce too. He is a one man operation. He buys in the bluggoe [using the funding and other donations], then peels and slices them lengthways and puts them into driers which he made himself. Once they are dried chips he grinds them in a small hand grinder and packages them. He wanted to give us some flour but, as we had no money to make a donation we refused [several times] to take the flour. He was just so pleased that we had taken an interest in what he was doing and that we walked with him to see his driers. If you want to know more then visit www.petitemartinique.com/humanitarian-programme.htm.
Another thing about PM is that the two or three shops only seem to open in the morning and there isn't actually very much in them to buy. However, there were some basics we needed and we really wanted to stay another night so, Mike asked Matthew's "supermarket" if they would take a card and, surprisingly, not only did they let us use a card they also gave us some "cash back". I don't think this is something that can be relied on or that happens with them very often but perhaps we just looked trustworthy or something? Having obtained EC dollars we soon parted company with 30 of them [£7.50] buying a Cero [Spanish Mackerel] from two young men in a small fishing boat. Looking back, and having bought fish from several fish markets since, we now know that we were overcharged and that bargaining is the name of the game, but it was still a very good sized meal for two and certainly very fresh.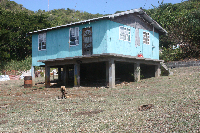 We decided to do a walking tour of the island – which is all of three miles round – on a road for about half of it and then a track and then a goat trail. We had great views and saw that most of the houses are built on a platform. We couldn't decide whether this is because of rain [to keep the floor off the ground], or for storage or goat/chicken shelter, or because the ground is very sloping and to get the floors flat there needs to be a level foundation built which is easiest to do as the platform.
And that's about all there is to Petit Martinique – a huge contrast to Barbados in many ways and well worth the stop. For cruising friends, what is important for you to know is that you cannot clear into or out of Grenada on PM. However, the authorities recognise that yachts aren't going to stop there if they have to go to Carriacou further south to clear in first or, when leaving, return to Carriacou to clear out and, as long as the stay is only a night or two whilst "in transit" they don't mind. Yachts cleared into St Vincent and the Grenadines can also visit – again for a short stay only.
22nd January, a rather dull and rainy day, saw us travelling south to Grenada. We were able to sail for three quarters of the eight and a half hour journey but had to huddle under the sprayhood when it really rained as, of course, the wind was behind us and we were therefore exposed to all elements!
We had chosen Prickly Bay as our port of entry. This bay lies on the south coast of Grenada and is one of several brilliant inlets along that coast which provide secure anchorage – where the boat doesn't roll [well, not much anyway – nothing like Barbados]. Hurrah!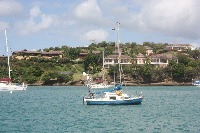 We know that several folk think we are quite mad doing what we are doing. Well, on our first evening in Prickly Bay we shared the usual tales with a young couple who had just arrived, straight from the Canaries, having taken 27 days in a 29 foot wooden boat and, this one [and others very like it] has clearly made it too, even whilst carrying its tender, somehow, which is almost as big as it is!
Prickly Bay is a great place to be based because it is close to a short bus route into the capital of St. George. There is also good access to Grand Anse [beach area] which we needed as we were meeting up with Phil and Emma and, perhaps most important of all, there is Budget Marine – where Mike spent many a happy hour. Sis knows how much we like visiting supermarkets – well I think that Mike took the same principle with the chandlery as I don't think a day passed without him popping in for some electrical wiring or screws or other small items, as well as picking up the navigation light we had ordered. Perhaps one of the best buys was a small fridge fan which Mike has attached to the fridge motor resulting in a far more efficiently operating fridge – in both battery usage terms and in coldness.
The purchase of the week, though, was the wifi booster antenna which we got from Rikky at "De Big Fish". This has considerably improved our reception and means that with a good site we can also now Skype – the wonders of free communication.
So, having spent a few days on boat maintenance it was time for a bit of fun and we were delighted to meet up with Phil and Emma for a meal at BB's Crabback – which takes its name from its signature starter dish. We couldn't decide whether to vote it the dish of the evening – but a gingered lambi starter was also in the running and we think it was a bit of a neck and neck finish. The Saltcod fritters I had ordered were, unfortunately, not in the running at all!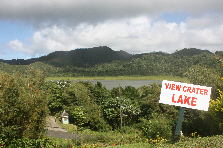 Phil and Emma hired a car for the day and, with good planning on Emma's part and driving on Phil's we managed to tour the whole island, seeing everything we wanted to see. We started out at the Grand Etang National Park with its crater lake. I was kind of expecting something a bit more spectacular, but it was nice enough even if it was not possible to walk the trail around it as it was too muddy. We could have actually seen the lake and had refreshments in the bar without paying the Visitor Centre entrance fee but we didn't know that at the time and it was only the equivalent of about £1.20 each anyway [which seemed to be the approximate price of all the attractions we visited].
What the Visitor Centre did have was a rather inquisitive monkey who, unlike those in Barbados which were really difficult to spot, is well used to posing for the camera.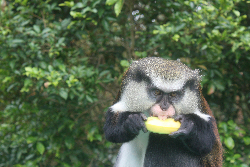 Our second stop was the "River Antoine" Rum Distillery.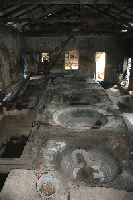 Here we followed production from cane to bottle – some of which was carried out in seemingly less than sanitary conditions but, since the sugar is heated several times to considerable temperatures, it really doesn't matter. There was the usual tasting at the end and the Grenadians like to mix their tipple with, unsurprisingly, extract of Grenadine, or sometimes, more interestingly but no less sweet, with extract of sorrel. They only produce white rum at this distillery and it comes in two strengths – 69% for those who are getting a plane back home [as anything over that can't be exported] and 75% for consumption in Grenada. It won't strain you brain cells much for you to guess which one Mike bought!
Talking of brightly coloured and sweet beverages – what do you make of these beauties?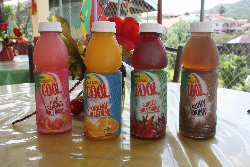 We had lunch in Sauteurs at the top of the island and, despite the fact that there was a Carib [local beer] sign outside the restaurant called "The Best in Town", there was no beer. Well, to be exact there was no alcohol at all so we fought over who was going to have the least lurid of the above. But who can complain when the Chicken or Fish lunch plate [with rice, veg etc etc] was only about £3.25 each. It was huge, though Mike later informed us that he had only ordered the small lunch. Heaven knows what the large one would have been like.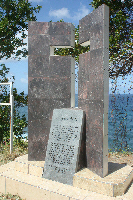 Our reason for stopping at Sauteurs was to visit Carib's Leap – which incidentally we actually did before lunch. As French language scholars will know, Sauteurs means Jumpers and the name stems from 1651 when in an effort to escape the advancing French army, the local Carib families elected to throw themselves off the 130foot high cliffs.
Our afternoon started with a tour of the nutmeg processing station at Gouyave. It is one of three surviving processing plants on the island, all of them now only managing approximately 10% of their original production because of the vast numbers of nutmeg trees devastated by Hurricane Ivan. The processing equipment was somewhat primitive but, as our guide told us – doing it this way keeps people in work – just like at the rum distillery where all work is undertaken manually.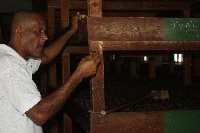 Our last port of call was Concord Falls. What a great way to finish. The lower falls is the point at which you can look at the water as it cascades over the final drop and have a swim if you want and visit the cafe. It is also the point at which you collect a guide who isn't paid other than by any tip he receives.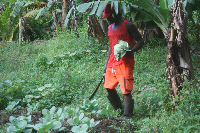 Our machete wielding friend took us on a one and a half hour trip up and down the valley to the middle falls. He was fascinating and kept digging up herbs, fruit and vegetables for us to taste. He gave us specimens to take away and told us what herbs to eat with what. The most amazing thing for me was this cocoa plant……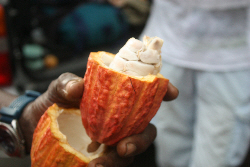 And it was also great to see the Birds of Paradise blooming in the wild rather than as a cut flower in airport departure shops.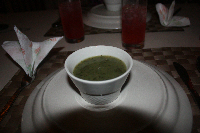 Our guide also told us all about Dasheen and Callalloo [one being the root vegetable and the other the leafy top]. Amongst other things, Dasheen can be made into Fritters and Callalloo into soup and it was great that our meal at "Patricks" that evening included both of these. For any visitor to Grenada I would say Patricks is a "must do". It is a small local restaurant which has a set taster meal of about 16 different dishes. The portions are about tapas sized with e.g. one fritter each, but we certainly weren't hungry at the end. They also make a mean Rum Punch.
Phil and Emma also fancied a trip on the boat and we elected to take them up past St. George to "Dragon Bay" which is the site of the Grenada Marine Sculpture Park, where there are reputedly a number of sculptures to be seen if snorkelling or diving. Phil and Emma did the snorkelling [we only have 2 snorkels and masks] and anyway, I stayed on board to make the lunch. Our plan had been that Mike and I would return to Dragon Bay on our way between Grenada and Carriacou so that we too could view the sculptures but after a couple of hours on the mooring buoy, which made Barbados seem like flat calm, we decided against it!
This small trip was another landmark for us as we passed 5,000miles and 1,000 hours of sailing and so we celebrated with a bottle of fizz and it was great to have friends to share the celebration with.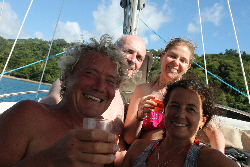 It was then goodbye to Phil and Emma , who still had a couple of days of holiday left and also, on Sunday 5th February [Happy 60th birthday to Paul (Hodgkinson)] goodbye to Prickly Bay as we decided to go and look at Hog Island – which is the grand total of 2.5 miles away. I said there are lots of great inlets in this part of Grenada.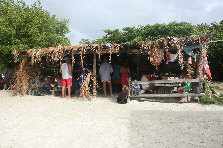 Hog Island anchorage is a huge protected bay – almost a lagoon, as there is a big reef which crosses in front of most of it requiring careful eyeball and chart navigation and probably best tackled only in good daylight. As a result it is really calm and is probably one of the most popular cruising hangouts in the Caribbean – we spoke to a number of people who stay there at anchor throughout hurricane season. What makes it even more special is Roger's Bar – which should perhaps be called Roger's and Mary's Bar as he tends bar and she does all the cooking in her open air kitchen. It is a perfect place to chill out, make new friends and enjoy the weekly Sunday late afternoon "party". There is occasional live music, sometimes provided by local bands and sometimes by Matt and Ray [two yachties – one American and one British] who also play at De Big Fish and other venues from time to time. Because we were at Hog Island for Grenada Independence Day [February 7th] we got to see a band and experience another party.
So, what to say about Independence Day. What a fabulously colourful day. Practically the whole nation decks out in the national colours – even the goats!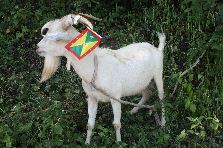 We weren't sure whether there would be any public transport but decided we would go out for a walk and see what happened. We probably walked for about 45 minutes and then came across a young woman all dressed up who asked us where we were trying to go. She seemed to think we should go to the Stadium and watch the parade and then proceeded to hitch a ride for us all. She was actually going on a half day cruise from the Carenage but as this is only a short way from the stadium she didn't see any problem in her lift taking us a bit further. Neither did it seem to bother either of the two drivers who picked the three of us up. Once at the stadium we were still a bit unsure of what was going to happen and at what time but it was free entry and everyone seemed to be wandering in at around 1.30 so we did the same. Firstly there were small troupes of people representing different sections of the community e.g. fishermen and then came the main parade of army, police force, St John's ambulance, girl guides etc and, rather fascinatingly HM Prison Service!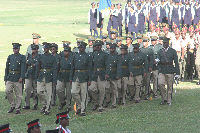 There were stilt walkers, maypole dancers and vendors selling snacks and flags – all together making a brilliant spectacle.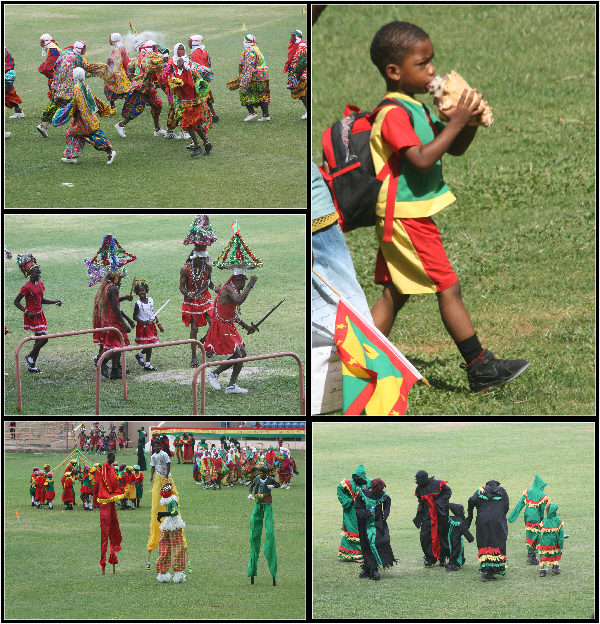 Once  everyone had paraded in there was a bit of a wait for the Dignitaries to arrive and there were several casualties of the heat among the ranks standing "at ease" waiting to be inspected by the Governor General. The Prime Minister is a really popular guy in Grenada and was loudly cheered when he arrived. It's a bit unfortunate that his motor cycle escort failed to properly maintain his vehicle which stalled in the middle of things and had to be unceremoniously pushed to one side!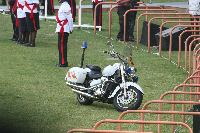 Further entertainment was provided by 10 members of the Parachute regiment, one of whom almost side swiped the stadium roof and another of whom landed about half way up one of the tiers of seats – Ouch!
Really glad to have been part of it and to be able witness the pride of the islanders in their nation.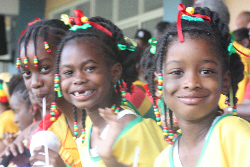 Finally in our "Grenada" tour we visited the island of Carriacou .We don't know what it is about sailing up and down the coast of Grenada but just as on our trip down, the trip up was also undertaken on a bit of a wet day. Travelling in a NE direction and therefore straight into wind we had to tack across very mushy seas so it wasn't our most spectacular voyage and we were glad to enter Tyrell Bay just before 6pm.
We were delighted when at about 6.15pm – just as it was time to pour the Gin and Tonics, our friend Rik arrived in his dingy off his yacht Masquerana. We had arranged to meet on the 10th and we were both in Tyrell Bay a day early so we chewed the cud and shared a meal.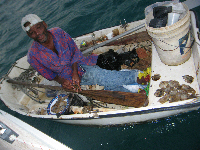 Tyrell Bay is a small, pretty anchorage. There is a haul out facility on one side of the bay and a mangrove swamp on the other. The head of the bay is dotted with a few buildings – many of them small bars or cafes. It doesn't take long to look around so there is plenty of time to take things easy, swim and enjoy life. Rik had arranged for a delivery of Mangrove Oysters and he certainly showed us how to enter into the bargaining game with John who chooses to go by the name of "Warrior". Mike thinks that Warrior was a bit p….. by Rik's skills at bargaining but, because he was using cricket analogy to explain all this to Mike, it was all rather lost in translation!
The pilot tells us that the Carriacou customs is only open on weekdays. We really wanted to leave on Monday 13th and decided that, since we wanted to visit the capital of Hillsborough on the Saturday anyway that we would take our papers just in case. Not only were they open on Saturday but also on Sunday. We therefore had the option of clearing out there and then and actually moving on Sunday – or returning to Hillsborough on the Sunday to clear out and then leave on the Monday. We chose the former.
Hillsborough is a small thriving town. Unfortunately we missed the fish market as it closed at about noon – but we did manage to find the bakery and Mike had a happy few minutes reminiscing about bakery machines with Lucille.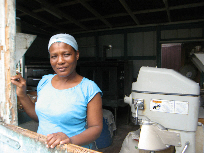 Back in Tyrell Bay we decided to go for a walk in the mangrove swamp as there are supposed to be iguanas and I wanted to see if we could spot one. Unfortunately we chose the wrong way to explore the swamp. From above, it is clear that the best way is by dingy – but we didn't know that until we had twice tried to enter from the road and literally got bogged down and then walked up the hill at the far side of it.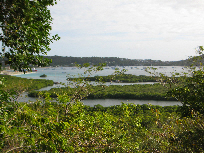 However, the walk wasn't wasted as we dropped down into the small bay of L'Esterre. If we stay on Carriacou again we will be really tempted to pick up a mooring here or out on Sandy Island. As well as being a beautiful place, we were also pleased to make the acquaintance of Curtis who is struggling to keep his small bar business afloat [pardon the pun!].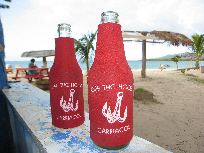 Also anchored in Tyrell Bay were Mark and Amanda [Balvenie] who we met in Barbados. Our final evening in the bay was spent on their yacht where, at last, we got to meet Chris and Irene from Cuttyhunk who we have heard a lot about – partly because they sailed to the Americas Cup in Valencia in 2007 in just 4 months all the way from New Zealand – and going the "wrong way" across the Pacific to do so. http://32nd.americascup.com/en/scripts/print/popup_print.php?idRubrique=35&idContent=23547&lang=en
The four New Zealanders were great company and gave us lots of ideas for later in our journey when we go down under.
So, all in all a fabulous 3 weeks and, as we have now booked haul out at Grenada Marine for the hurricane season, we will be returning and will no doubt have more adventures to report from Grenada later in the year.